September 30 - October 6, 2012: Issue 78
Betty King
I think I will start by saying my great grandfather James came here in the ship 'Clydesdale' in 1792. He came from Boxford, Suffolk, England. In no time he met and married Susannah Clarke at St Andrews Church of England, Patrick's Plains, Singelton on the 24th of September, 1838. She was the granddaughter of William Singleton who helped form the … of Singleton; he was a convict who came on the ship 'The Pitt' with their father, mother and brother Benjamin.
James and Suzanna settled near Tamworth and opened an Inn for Cobb and Co coaches; later it became a Post Office and a town called Kingstown after my great great grandparents. They settled in, grandmother acting as midwife to all the other settlers and grandfather caring for all the horses that called in, besides looking after the travellers with lunches and accommodation. They had 12 children. My grandfather was their fifth son William.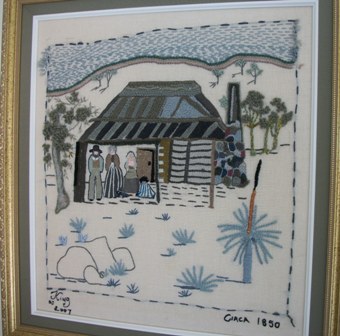 William loved horses and he was buying draft horses in Uralla where he met my grandmother Elizabeth Chapman shepherding sheep because in the early days there were no fences and all the sheep had to be shepherded. He fell in love with her and they soon married and came back to Kingstown and settled down. Like most families they had 12 children, my father being the youngest. Grandfather William applied for a land grant and was soon following his brother Ruben to Ironbark Creek Barraba where they were allocated 12,000 acres of good country for sheep and wool. Grandfather and the eldest children set off on horseback with tools in a dray where they set up their first dwelling, a bark and slab house like so many during the 1800's.
My grandmother and the youngest children set off about 8 months later. In that time a little house was built when grandmother reached Ironbark it was a big drought and my father was born in the January. My grandfather William soon built a woolshed and blacksmiths shop beside the stables and yards for the stock. Then he built a beautiful Federation Country house with a wide verandah all round; so good for the climate; not forgetting the boys house that was like the American bunk house with pegs for the saddles and bridles and a verandah big enough to leave their shoes. Grandfather employed a Governess who taught the children including my father, misc, arts and general studies.
When my father was 24 he was buying wool, skins and dealing; he was also a grazier and wool classer. He travelled a lot dealing and one day he visited the property of my mother's parents who were on the Bundarra Road, almost 20 kilometres from 'Tower Hill'; my grandparents property.
My aunt Vera was standing by the letterbox so my father said "I am buying skins and wool, would your flock have any to sell", and she said "Go up to the house on the other side of the creek and see my mother. Dad proceeded and that's when my mother Dorothy appeared. My father was smitten by this beautiful girl. He wasted no time becoming acquainted. I think my mum was also impressed with this blue eyed slim country Aussie boy.
My mother's mother had just lost her second husband, a Great War soldier 1914-1918, he was with the Light Horse, so she was selling the property top move to Sydney. After quite some time my father invited my mother to come with him to stay at 'Tower Hill' while they sold the Bundarra property called 'Peach Tree'.
My mother was like a fish out of water with my father's family who were very early Victorian; very straight laced, whereas my mother's family were from French stock and more bohemian. However, it was soon obvious that my parents were in love and wanted to marry. When grandfather saw that his youngest child was getting married he thought of the property adjoining his, paid to have a new house built for us and stocked it with sheep, cattle, horses etc. they wanted to keep him close to home.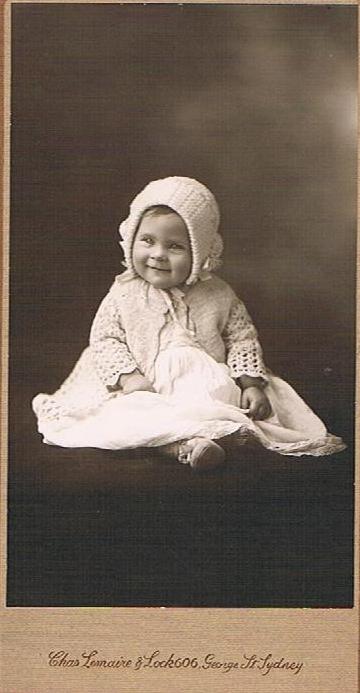 When I was born on 6.11.1922 grandfather and grandmother were so in love with me. I grew up in a very privileged environment, all my aunts and uncles fussed over me. As a tiny tot I would walk over to 'Tower Hill' to see my grandparents. They were so happy to have me with them. My mother went every year to see her mother and family in Sydney; also to have the latest fashions and hats. We kept up with all the early inventions; having a refrigerator very early, and the first Model T Ford in the district.
It soon became evident to my grandfather that my mother wasn't happy with the country life. she never gave my father peace, always saying she wanted to live in Sydney near her family. She found the country hot, dry, without green vegetables. She kept up the please to leave and start a new life in Sydney. finally my father had to give in because he loved my mother.
When my garndparents heard they intended to leave it nearly killed them and insisted my father pass the property over to his brother Burt.
We arrived in Sydney in 1930. my father had money to deal with but he was a man of the Bush and really never happy in the city. When we arrived it was the start of the Great Depression. People were losing all their savings, couldn't afford their mortgages and walking out on their houses.
We first of all rented a house in Bronte. I remember smelling all the new furniture and crockery. Then we got boarders. After that mum decided to open a shop in Bondi Junction selling tea and coffee and lunches. This premises was on Oxford Street. My father supplied a glass bee hive to put in the window. It created such a commotion that the police asked him to move it. It was a drawcard for selling honey.
Dad continued to do his dealing and his Apiary. He found it necessary to travel to the country from time to time finding honey flows and attending to his bees. My mother's brothers helped in the shop, helping themselves to cigarettes. Soon it was quite evident that we were not making money and it was harder and harder to pay the rent. I had started school in Bondi. I must have missed the country life because I started to get sick and my mother was up and down stairs to look after me and the shop. When my grandmother heard I was sick she travelled down to Sydney by train. At the time she must have been in her 80's, and took me home to Barraba and Tower Hill with all my animal friends. Throughout my life I have called Tower Hill 'home'. When we couldn't pay the rent anymore we did what hundreds of people were doing; we packed up in the night all we could carry in a truck and did a 'Moonlight Flit' to a house on the main highway in Ryde. I remember seeing tins of biscuits, chests of tea and other things from the shop.
I started school at Ryde. It was about 1930 still. I would have been 8. While we were living there I started to attend Miss Williams dancing school at crows Nest. She taught me Ballet, Tap, Toe, Irish, Scottish, Stage presentation; a very good grounding for whatever comes later. My mother was a wonderful seamstress and made me some fabulous costumes for concerts I appeared in.
After Ryde we moved to Phoenix Street, Lane Cove where my brother Barry was born. There was 8 years between us so I was a little mother to him. He was a delicate child and he caught diphtheria and was difficult to rear after that. After Lane Cove we moved to High Street, Willoughby. My cousin Joan also lived there in Mowbray road and we saw a lot of each other despite a five year difference in our ages. My father all this time was dealing in any way he could. He had money in the bank but one day he went to get money for a big deal and they would only allow him $10. the Banks closed; it was a very dark time for everyone.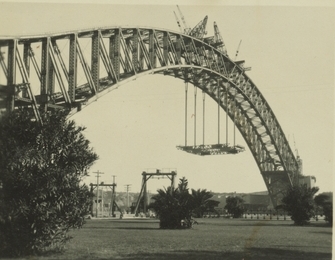 Our next move was to High Street, North Sydney, right in the middle of what is now the expressway over the Sydney Harbour Bridge. I don't remember ever going to school while we were living there. My parents were having a big struggle at this time. My mother's mother 'Nana' lived in Kirribilli. I remember visiting her and she owned a pianola; the whole family loved it and had lots of parties singing around the pianola. Nan then moved to North Sydney, close to Luna Park, where we had an excellent view of the Sydney Harbour Bridge; at that time the two arches were coming together and we all watched to see this (1930-31). My father at this time had an accident and was on crutches but he walked with us on the bridge the day it opened, to the first pylon.
Dad said one day "I have to find somewhere to take my bees in the winter so that its warm and they have blossoms to keep them going. " he came back and said "I have found the best part of Australia; warm in winter, no hail, plenty of Flora. It's called the Northern Beaches and we are going to live over there. we will go this weekend, pitch a tent and have a look for a stand for the bees."
We came to Garden street, near Taiyul road and set up camp on top of the hill. There were no houses except behind us on Warraba road. There was a Dairy. Hat night it rained and our tent leaked, wetting our beds. Next morning dad said we will all go for a walk and we went along Taiyul street where we met a lady on her balcony. It was Leila Thompson, a widow with four children who had just lost her husband in the Police Force. Dad made himself known and said we were camping and that his children had got wet last night.
Leila said "See that house next to me. Well, nobody has lived there for years. The owners have never appeared. Why don't you and your family stay there tonight." We walked into the house; it was very dusty with blackberry vines growing through the windows. Dad and mum discussed if we would go home or do as she suggested; with brooms and energy we invaded the house. We stayed a few days during which time dad had surveyed other parts including Bilgola Plateau and up to Palm Beach. He found magnificent stands of wonderful trees and Flora. There were no houses in those early days on Bilgola and very few on surrounding hills overlooking the ocean.
About a week later we moved all our belongings from North Sydney and took up residence at No 76 Taiyul Street, North Narrabeen. Then known as 'Greenhills'. We lived there for quite a few years and no owners ever appeared although we were always trying to find them. This is what happened during the Depression; people were abandoning their homes. While living here we would also visit my Nan in North Sydney, watching the bridge being built and getting closer to completion. In 1932, when I was 10, the Bridge opened. Our whole family went that day, onto the Bridge. What a day. The rest is history.
One day the owners came and we told them how we had been asking and searching to try and find them and showed all the improvements dad had made to the house; a stone fireplace and wood stove, a garden. Every house we have ever had we made a garden.
So then we moved to Warraba Road. On top of the hill there was another large house with more bedrooms. So my mother took two boarders who were milkmen. I was at school at Narrabeen until the boys pinched my ball and I went home crying to my mother. She said "you are not going to stay at that rough school anymore. I am going to send you to the Convent school at Dee Why.". So from then on I went to St Kevin's in Oaks avenue, Dee Why. Mum paid two shillings a week and that was a lot in 1932. I would be given 6d/- to catch the tram from Narrabeen; the fare was 1d each way so I had for pennies left for lunch.
About this time my father introduced my mother to the big auctions in Castlereagh street, 'Christies'. They travelled by tram to Manly and then the ferry to Circular Quay. There were plenty of trams running into the city from there. Big suitcases would be moved around the round counter and people would just have time to glance into the case. If my parents saw any item they knew they could sell they bid for the 'lot'. They would struggle home with two or three suitcases, maybe paying about 2d/- each. When they got home my brother Barry and I would sit and watch them go through the contents. We got quite a lot of surprises sometimes; there would be boxes with jewellery, watches, tennis raquets and bric a'brac. Our neighbours and people form as far away as Palm Beach heard about us and came asking my mum if she had any golf slacks or a pair of shoes size – for their husband. Soon they had a good clientele.
My dad was also dealing in scrap metal that he sold to Sims metals. He still had his bees and we used the honey quite a lot of barter, exchanging honey for meat, groceries and even drapers goods at Narrabeen for dad's shirts and our linen. He never ever had to take the dole even though there was a system of working on the roads for a dole cheque. Beside all these avenues my mum was busy knitting for people and making dresses; she as very clever with a needle.
The Depression for us was over; we started to feel quite privileged. My Grandmother travelled down from Barraba to see us and I used to go up there for my school holidays.
My dancing was always a part of my life and I kept up my lessons. After we moved to the Northern Beaches my mother's family all came as well. Joan was first at Hardboard, and then they moved to Manly. Aunite Vera and Uncle Harry lived in Powerworks road and then near the Lake. My Nan also lived in Warrabba road and then Collaroy. This was when they were all having a few bets on the horses with the S P Bookie. My mum won $10 on a horse so she put a deposit on a block of land in Gondola road, Narrabeen; this turned out to be our first home.
After Warraba road, Greenhills, we moved to Garden Street, Warriewood; the boarders came with us. My father bought me a Malvern Star bicycle so I could get to the Narrabeen Tram terminus to catch the tram to school. The whole valley was filled with greenhouses and paddocks farmed by Yugoslavian people.
At school I as getting on very well. I was School Captain of our basketball team. I won a medal for physical culture. We took part in school plays, marches and Christmas concerts. This provided me with a very good all round education including painting and French language.
When I was 16 we moved house to our own shop in Pittwater Road, Narrabeen, across from the Sands Hotel. We were well known for second-hand goods, people were still feeling the effects of the Depression, so it took my parents all their time to keep up the buying at Christies to keep the shop going. Then my mother had a car accident where she had a smashed cheekbone and that put her out of action for a long time. These were the years we started to hear rumbles of trouble in Europe. Hitler became a well known name. we heard about the dreadful things that were happening. In 1933 Hitler became Chancellor. In 1936 Germany began rearming. In 1939 Hitler invaded Poland and I remember hearing Churchill saying on the radio "England is at war with Germany."
This made a big difference to our boys who, up to this point on the Northern Beaches, never wore shoes, only dressed in shorts and swimmers most of the time. when they started to enlist they thought it was wonderful to get 5/- a day, a pair of new boots and uniform, and smokes in those days. At this time I was visiting my cousin Joan in Manly. She had just won a beachgirl competition to be 'Miss Manly'. We spent lots of time surfing on Manly Beach and one day two representatives of Jantzen swimwear approached us and offered us work as models for bikinis. We did this as well as other modelling work including PIX magazine.
Joan found an airman boyfriend who also lived in Manly, his brothers also doing Round-the-World flying, Air Races and the like. One day we went to see Charles Kingsford Smith at Mascot where Neville and Geoff Hemsworth were stationed. The airport was just a grass paddock with an old tin shed in the middle. Charles Kingsford Smith was taking people up for Joy Rides. The next eventful thing I attended was Amy Johnson's solo flight around the world. My mother took me to see her arrive.
My Nana knew all about my dancing so she took me to see Pavlova, the famous European ballerina; she was like swan's down on toes and seemed to float over the stage. She was truly amazing for a little girl like myself who was trying to dance 'well' at that stage. About this time, when I was 16, I went to visit my cousin Joan at anly and my cousin Norman, who worked at the Australia Hotel, had his best friend to visit, 'Arthur Fudge'. He also worked at the Australia Hotel; he was a Chemist's son from Ultimo. We met and it was love at first sight. I had my first boyfriend. We both invited each other to meet our parents and we took in turns to have weekends in each other's homes.
It didn't take long for him to join the Army with the 6th Division, the first to sail out of Sydney for the Middle East. He was a Rat of Tobruk, very famous in the war. We corresponded throughout the war. I ended up nursing. When he came home too much water had gone under the bridge and I found I wasn't in love wth him at all even though we had become engaged by mail.
I ended up marrying a boy who my cousin introduced me to; Les Ball, who was in the Armoured Division. We had four children. The War years to me were a nightmare. I had to live in a Soldiers Settlement house for two years before we were eligible for a Housing Commission house at East Hills. The children were half the time living with relatives and they had a lot of sickness, Charlie having Rheumatic fever and Christine had a bad attack of fungie worms on her head. We had to shave all her hair off. We survived and eventually went home to my mother and husband number two, Bill Duncan at Narrabeen. He owned a taxi and wanted a driver. My husband gave up his job with Federal Trucks (Crouch and Sons at Camperdown). After working as a relief driver for quite a while he put in for a taxi licence himself. Being a Returned serviceman, he didn't have to wait long and we got our own Manly-Warringah cab.
It was necessary to find a house and move from East Hills. We found an unfinished house whose owner, Mrs Reid, was an elderly lady who had passed away in the premises. I was absolutely overjoyed to know I was finally going to return to my beloved Northern Beaches. Our home still remains in Ingleside road, Ingleside. There were a lot of Italian people who had moved into Ingleside, still very rural then, and were farming tomatoes and had orchards. The Romanos who had the Pasadena at Church Point were our neighbours and taught me a lot about cooking. They were growing olives and had to change the water every day when curing them. They were lovely friendly people and I got on well with them. The children all attended schools in Narrabeen. My first husband, Les, who still lives in this house is the oldest Veteran at Pittwater RSL at 94 years presently, soon to turn 95.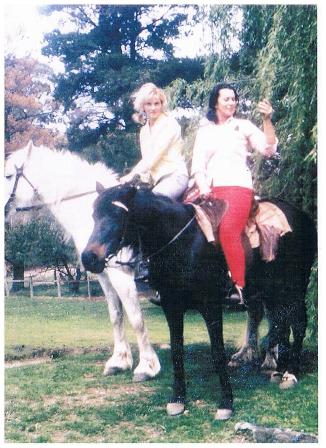 My marriage was going from bad to worse. I went to Melbourne and worked in my old job at the Royal Park Psychiatric Hospital in Brunswick. I wasn't gone long when my husband served me with Divorce papers. He wanted to re-marry and they had another three children. I lived in Melbourne for 32 years. After that I went to live with my father in Manilla, N.S.W. He had bought an old Federation house on the road going to Barraba. I had saved quite an amount of money in Melbourne so I used it to help my father repair his truck and the house. I painted the house myself and made it into a home.
When my money ran out I found it necessary to return to Sydney and go to work for David Jones. It was in these years that I met my second husband, Robert Medek, a Czechoslovakian. We were married at the Wayside Chapel by Ted Noffs; it was quite a well known place to be married in 1967. We bought a unit at Roslyn Gardens for $9000.00. He was a man who loved to make money so it wasn't long before we had bought another unit at Howard Avenue, Dee Why beach. On weekends we would look and buy blocks of land and resell them. My brother Barry owned 25 acres in Ebenezer on the Hawkesbury River. He really wanted to live in the New England hills so at this time he told us the place was on the market. We ended up buying the 25 acres and we used it at first as a weekender. Robert loved it and was always more then ready to set off after a week in his shop; key cutting and engraving at Neutral Bay village. My mother came to live at Ebenzer after her husband Bill Duncan died. We put in extensive gardens and orchards.
Picture to left is of Betty (l) and her cousin Joan (r).
One week we had a three day holiday weekend and we were looking forward to this with great anticipation. I picked Robert up after he finished on the Saturday morning and we stopped at the hardware store for him to buy an extension ladder by which to prune the fruit trees. At the end of our journey he said "Well, bet we will be there in about 10 minutes."
Just then some dogs had frightened a horse that was in a paddock above the road. It literally flew over the fence and came crashing down on our car right at that moment, its hoof crashing through our windshield, right on to Robert's head, and killed him instantly. I was showered in glass and knocked unconscious.
The next thing I knew a policeman was talking to me through the window saying, "Stay still. The ambulance is on its way."
I was in hospital for quite a while and it was headline news on radio and television. My children heard it and said, "That sound like mum and Robert." My poor mother was waiting lunch for us but the next thing she knew the police were at the door. I lost my husband after only 12 years and I was lucky to recover. The horse also died.
During my marriage to Robert he took me on a trip around the world; visiting all the main countries, including Germany. We stood on the Autobahn and he said" See over there, that's Czechoslovakia". That was as close as he ever came to going home. He had escaped many years before so would have been taken (imprisoned) if he had entered what was then a communist country adjoined by the USSR after World War II.
I was left on my own then, with my mother at Ebenezer. I decided to sell the unit in Dee Why and move to Ebenezer. In the meantime my niece Wendy Serucci was married to san Italian boy and Robert and I were often at barbecues with them and their uncle Joe Romano. We were friendly at the funeral of his wife. He said, "I have just lost my wife, so you and I are in the same boat at the moment."
Joe would visit me at Ebenezer and hep with the engines and water supply to our tanks ad many other jobs that one would expect on a rural property. It was soon plain to see that I really needed him around. I knew that we were worlds apart but id didn't really care that much because I knew I couldn't' carry on without help and there was no one else in my life to love. Joe had relatives in Italy and we decided to make a trip. We visited the whole of Italy but went down to his cousin who lived in Calabria. We actually went three times and the last visit spent eight months with his cousin who owned a large property, villa, Post Office, Restaurant and Olive Grove and Orange Grove. It was very picturesque typical Italian scene. I learnt a new way of cooking and got on well with his cousin Maria Albanesi. The local Catholic Church took a bus trip to Rome and Venice and I was invited to go with the local ladies. It was unusual as we stayed in monasteries; places tourists never see. I was very lucky.
My mother decided to return to Dee Why when we came back. She lived in the Uniting Church Village and was very happy to be close to shops, TAB and clubs. I myself had had enough of the farming type of life so I decided to move back home to the Northern Beaches. I sold the property and my daughter Carlie helped me find the townhouse in Warriewood. Very close to my old home in Garden street. I was home.
My life took on a whole new phase; I went back to swimming at Narrabeen, joined the Christine's Happy Tappers at Narrabeen, rode my bicycle whenever possible. At this time I was also interested in being an extra and I was doing a part on a movie called 'Looking for Natalie Wood'. It was screened in America so we didn't get the opportunity to see it here. My small part was with a young Natalie Wood in the ice-cream parlour; also walking along the street to post a letter.
I then joined a new agency called 'room' at Neutral Bay. Since then I have been on television for quiet a few advertisements. I was 78 when I started this and still keep going at it. In 2009 I was in 'Home and Away', in 2012 I appeared in 'Packed to the Rafters'. Rake is coming to Channel 2 (ABC) now and it is the latest thing I've done. I also got quite a good part in the Eurovision Talent Quest. I was on the 'Promo' and have some good photos of that particular time.
In two months time, 6th of November, 2012, I will be 90. It has come so quickly but I have done a lot in that time. Now I have four children eight grandchildren and five great-grandchildren. Four wonderful great-grandsons and the most beautiful little granddaughter, Estella Belle; she belongs to Edwina and Robbie Grogan.
I now belong to the Mona Vale Hospital Auxiliary.
What are the main changes you've noticed in Warriewood since the 1930's?
The main would be the creeks in the valley. The farmers used to spray DDT on the tomatoes and this leaked into the ground and waters. We used to have yabbies in all the creeks, beautiful big ones. We used to get a bit of meat and put a string in and catch yabbies when we first came here. That killed the creeks, they're just starting now to recuperate. I look at the water and I see it is becoming clearer.
What is your favourite place in Pittwater and why?
West Head. When I go up there, I'm not aboriginal, but I cry, because the emotion of all you see before you; Palm Beach, the Hawkesbury, Lion Island, there's goannas running around. It's really like Australia was; it's pristine. I went on a bushwalk last Sunday conducted by Les McLeod who showed us a footprint in the rock and told us that was pointing towards where to go to the women's parts of that area. And he said "the men's part is over here." It was so interesting. He covered himself in ochre and put ochre on my face too before I could go into the sacred site. We ate kangaroo cooked by Laurie Bimson, he's my first cousin's child.
What is your 'motto for life' or a favourite phrase you try to live by?
To enjoy everyday! Enjoy yourself!
Picture of Sydney Harbour Bridge from Album 71: Photographs of the Allen family, 18 May 1930 - 26 January 1931, courtesy State Library of NSW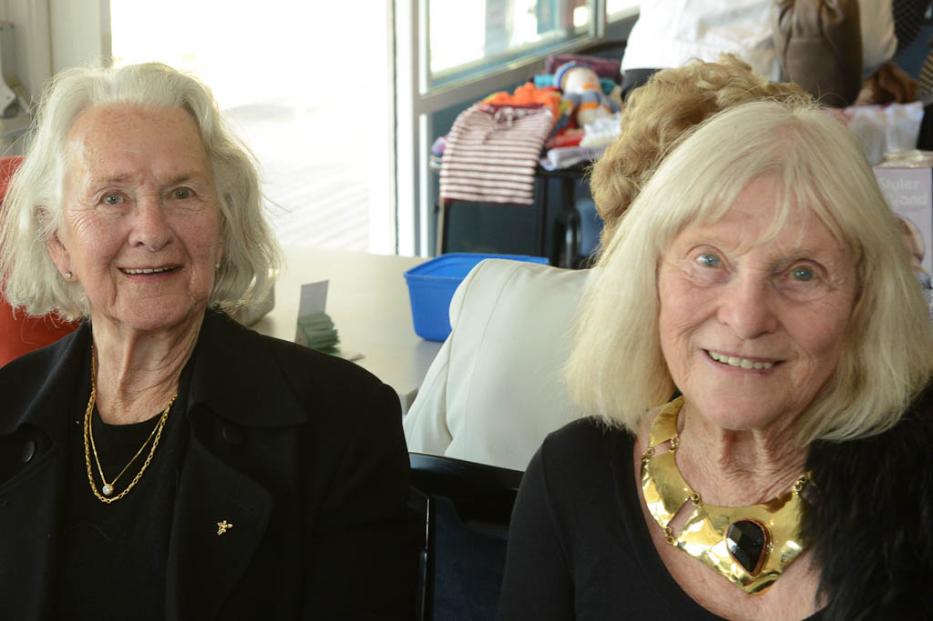 Joan Blaxland and Betty King. MVHA 2012 Fashion Parade. Photo by Michael Mannington.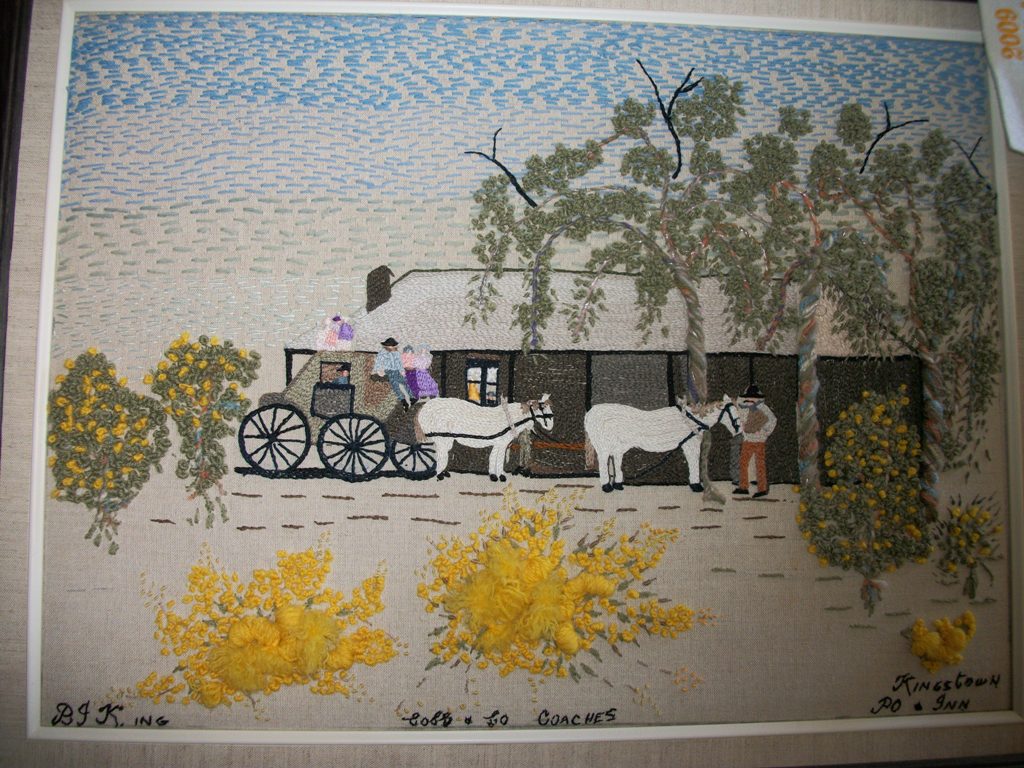 Tapestry works keep Betty's fingers nimble.
Copyright Betty King, 2012. All Rights Reserved.