June 7 - 13, 2015: Issue 217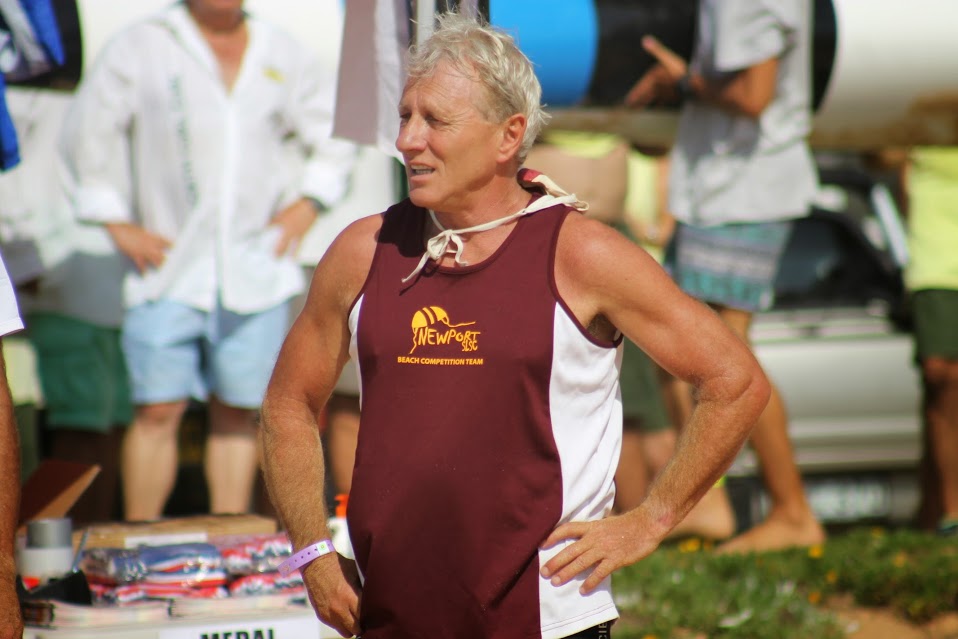 Martin Lynch
Martin (Marty) is the current Australian Life Saving Team Beach Coach. His role is to assist in all beach events, ensuring athletes are performing at their best. Marty has coached three individual world gold medallists and 16 Aussies individual medallists. He is a dental surgeon by trade and as a Masters athlete, the Newport SLSC member having won an incredible 36 Aussie and 14 World gold medals. (Beach Sprints, Beach Flags and Beach Relays). And that's before you begin counting the States and Branch Medals.
Martin is a level 5 Sprint Coach (ATFCA) and has a Masters degree in Applied Science in Sports Coaching from the University of Queensland. Martin has acted as a Sprint Coordinator and 4 x 100m relay coach for the NSW Institute of Sport. He has also been a team coach for Olympic Youth Festivals in 2001 and 2007.
During each week The Lynch Dental Sprint Squad, based at the Sydney Academy of Sport, Narrabeen NSW is coached by the World Masters Surf Life Saving Champion. The squad consists of some of the best beach sprinters and track athletes in NSW and Australia.
Martin has decades as a sprint champion, beginning from his early school years and is still going strong in Beach and Track and field events. He is a short sprint specialist and from 2004 to 2007 won the 60 metre Sprint in the Pan Pacific Masters Games. In 2007 he was Pan Pacific 60m champion and Australian Masters Games 100m champion. At that time he was also the World and Australian Beach Flags champion.
In the 2004 Pan Pacific Masters Games, held at Gold Coast International Athletics Centre Mr. Lynch ran the 60 metre in 7.94 seconds and backed that up with a 3rd in the 100 metres and 2nd in the 200 metres. Usian Bolt has recently run the 60 metres in 6.31 seconds but Mr. Lynch has a few decades on him - an indication of just how fast this gentleman still is.
The 100 metres is a sprint race in track and field competitions considered one of the most popular and prestigious events in the sport of athletics. It has been contested at the Summer Olympics since 1896 for men and since 1928 for women.
Ask Mr. Lynch about himself though and he will talk about son Jake, who is now a Speed and Strength Coach himself. In 2012 at the Worlds in Adelaide Jake won the Sprint and the Flags double – the first time anyone had. Jake was Australian Beach Athlete in France at Rescue 2014 while Martin was Australian Team Beach Coach another first as this too hasn't been done before.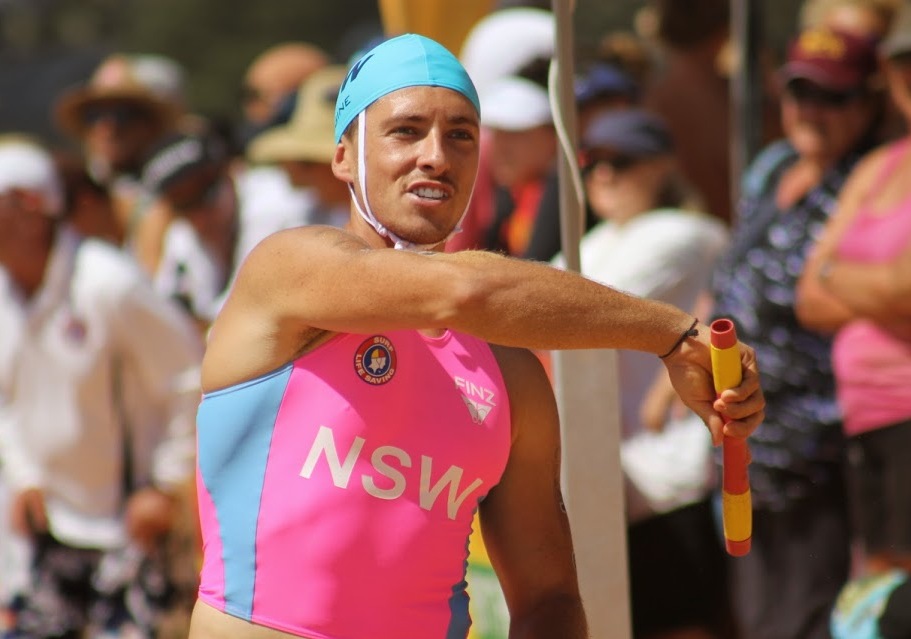 Jake Lynch at 2015 Interstate Championships
Where and when were you born?
In Sydney in February, 1952. I went to school at Strathfield but the family had a holiday house at Newport and this became my main house.
When as the first time you stepped onto Newport Beach?
When I was very young, we were in Newport every summer. My parents then came to use the Newport house as their primary residence.
Where did you study after Strathfield?
I went to Sydney University to study Dentistry. My father was a Dentist and I was tossing up between Law and Dentistry – three of my brothers are Lawyers, but I ended up doing Dentistry.
What's the best thing about being a Dentist?
The flexibility in being able to work your own hours. I work at Avalon which is close to Newport.
Newport Rugby Club – how did you become involved there?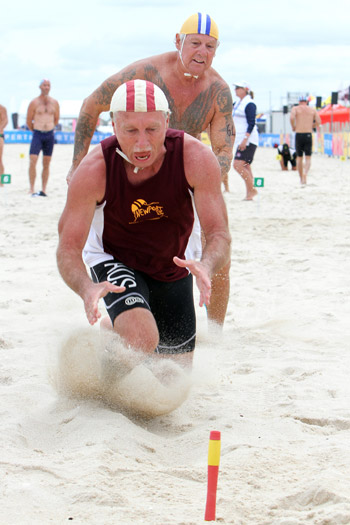 I played rugby all my life. When I came back from overseas in 1979 , and I had retired from rugby, but received a Newport Rugby Newsletter in the mail and went down and had a run with Newport and this ended up being a long association with them.
I played a lot of positions but primarily Wing in the First Grade matches.
There were a lot of good people there and it was enjoyable. They were serious but didn't take it as seriously as a lot of the other clubs I'd played with before then.
This was also how I met a lot of the Surf Club people as well though; at that time a lot of people who were involved with Newport Rugby were also part of Newport Surf Club.
I was a track and field runner, had done it all my life. I used to run for Sydney University and then I ran for Manly Athletic Club and then Reebok Athletic Club. I did a lot of Track and Field running the 100 metres; and used to do a lot of the Track and Field titles when younger –Competed in Japan, South Africa and America – but don't do this as much now as I'm a bit knocked around these days.
A lot of the Newport Ruby Team members who were at Newport Surf Club said 'you should come over and try the Beach Sprint.'
So I went and got my Bronze and did that.
Why running?
Because I was good at it (laughs). I was School Champion at 100 metres when I was younger and just kept going at it.
You're now a Champion in the Masters Division and have done well yet again at the Nationals –
I started doing the Masters Comp.s in the Over 35's . We went to the Australian National Titles in Perth and I ran in 1991, and got a Gold Medal in the Sprint there.
Over that time I won 50 individual Gold Medals in six different age brackets in Australian and World Championships.
That's pretty amazing..
That I'm still standing, yeah. I did get two Gold Medals at the last Australian National Titles this year. Over the whole time I've been in the Masters I think it's 50 Australian and World Titles.
What, to you, is the best part of maintaining that level of fitness and continuing by being part of the Masters Divisions?
It keeps you active, keeps you in there afterwards.
I have a Masters Degree in Applied Science and Sports Coaching from the University of Queensland and am a Level 5 Track and Field Coach, which is their highest level, also a Level 3 Beach Life Saving Coach, which is the highest level in Surf Life Saving.
For the last three years I've been the Surf Life Saving Beach Coach for the International Open Team and my son is on that team.
I've been doing it for a long time and while running is fun it's more, for me, that it keeps you active, keeps you fit. The winning, while you enjoy it, and is seeing a reward for the work, it's more about the camaraderie and staying active and fit.
The coaching is probably giving me more excitement nowadays as those I'm coaching and those I coach with are doing such great work
How do you approach the coaching to get the best results and keep everyone happy in mind and body?
Apart from getting qualified you do find the more you do the more you progress. You have to work with the athletes and adapt to different people; I work well with motivated people, people who want to do well.
What has been your best moment when coaching?
Probably when my son won the World Titles in Adelaide in Beach Spring and Beach Flags in 2012.
The World Championships in France – the Australian Youth and Open Teams excelled – not just in their results but in their attitude and the way they conducted themselves – how did it feel to be looking after these young athletes?
They are just a tremendous group of people. With the Open team they had six young women and six men who had to do all these events and there was one Beach Athlete and with the Junior or Youth Team it was the same. My role was to go between the two teams and look after the Beach Athletes.
I got to work with the Water Athletes as well though as we do the Beach Relay where we had to have our Beach Athlete, Jake, and three of the water guys – so I had Shannon Eckstein, the Australian Iron Man Champion, and Lockie Tame, who is Australian Champion canoeist, so I actually get to work with the best water guys as well. There's nothing like working with people at the top of their game. The Australian Team has a very good culture and it was very memorable.
What do you do during the off-season?
As a Coach my squad trains throughout the off-season, there's no time off. As a Masters Athlete I pace myself, I carry a number of injuries, which I try and hide (laughs). I just focus on pacing myself and keeping my fitness up. I do little spates of running, as a Masters Athlete it takes more and more energy to get to the starting line and keep going. But as a Coach of good athletes, younger athletes, it's a matter of preparing them all year round.
What's best about being part of the Masters Team at Newport SLSC?
They're a good bunch of people.
Do you get up to mischief as a group when away at Competitions?
A lot less than we used to. As you get older you're pretty well behaved. With the younger athletes you find they're all pretty dedicated and it's not until a competition finishes that they have a bit of a celebration. They're serious and train very hard and while they will celebrate after the Australian Championships or Worlds, the focus is on keeping themselves fit and being able to do the next thing.
What goals have you set for this year?
As a Masters Athlete, just maintaining fitness and keeping on enjoying it. I don't compete in Track and Field as much these days.
My focus will be on the younger athletes, trying to get a good team to Newport Surf Club and a few good ones onto the Track as well.
There's a bit of a revolution going on at Newport – they were 2nd in the Australian Titles this year, and 2nd in Branch and members were part of the New South Wales Team that won the Interstates last Season.
We have a really strong water team and that has been developed through the Kinghorn Academy. We also have a few strong athletes on the sand as well.
There has always been a strong Beach team at Newport - I began there 25 years ago and there have always been a few really good athletes on the sand. Now the water events team has come up also, in big numbers. As far as the club goes, in points scores, that's where the is strength is.
What is your favourite place or places in Pittwater and why?
Newport, because I live there. All of Pittwater really, it's a great place.
What is your 'motto for life' or a favourite phrase you try to live by?
Try to enjoy it, and do your best.
Notes
NSW Teams for Surf Life Saving and Track & Field
Dr Martin Lynch - ATFCA Level 5 Sprints & relays. Grad. Diploma in Sports Coaching (ACC).
Age groups: Developing athletes - 15+, Performance athletes, 18-30 yrs. In 100, 200, 400 and 4 x 100m relay.
Tuesday & Thursday evenings, 5pm @ Sydney Academy of Sport, Narrabeen. Other times by arrangement.
Ph: 0418 268 425. Email mlynch@pip.com.au
___________________________
Previously:
Aussies Out to Restore National Pride in Surf Rescue Challenge - Japan 2013
2015 Interstate Championships - hosted by Newport SLSC
2015 NSW Surf Life Saving Masters Championships - Ocean Beach-Umina
A Golden Rescue 2014 - World Lifesaving Championships - France
____________________________
Sydney University Athletics Club
History
Sydney University Athletics Club is the oldest continuing athletics club in New South Wales and arguably the oldest in Australia. Founded in 1878, it emerged nine years prior to the 1887 formation of the Athletic Association of New South Wales. In 1890, it was a foundation member of the newly formed Sydney University Sports Union, along with the university football, cricket, boat and tennis clubs.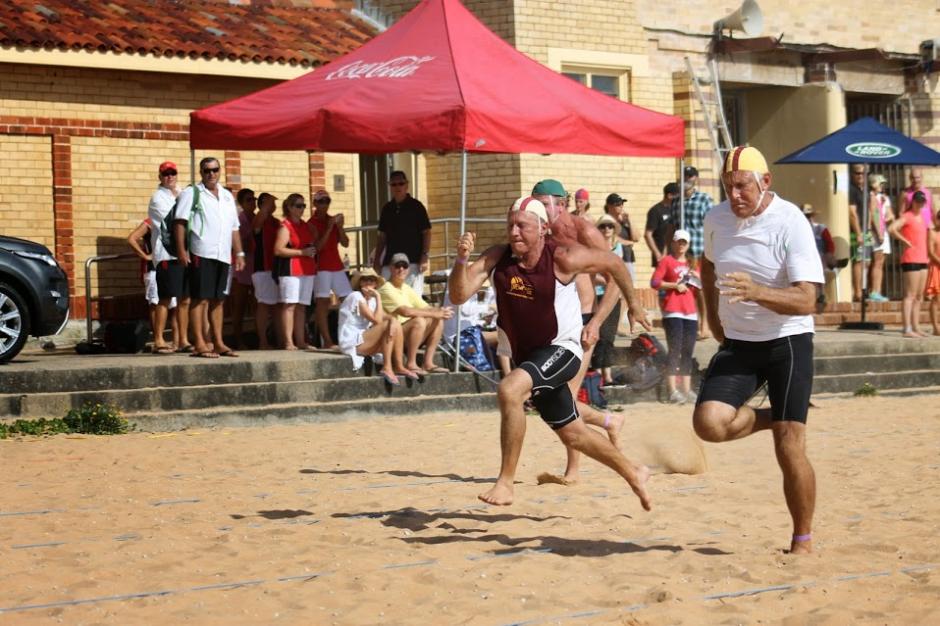 Martin in action at Branch Championships this year.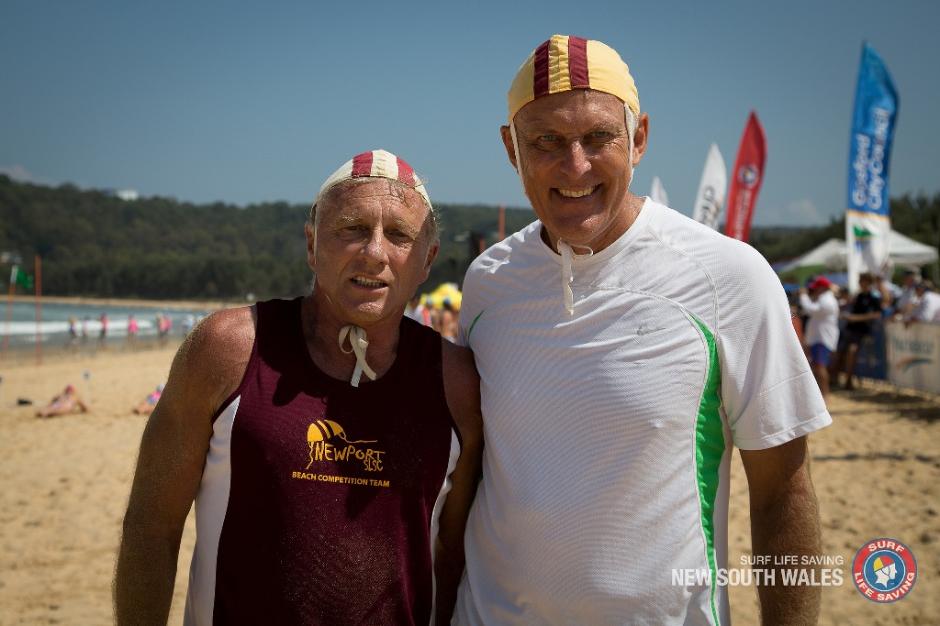 2015 State Championships 60-64 Male Beach Flags: 1st Martin Lynch, Newport SLSC and 2nd Ted Smithies, Newport SLSC -
photo by Jamie Nilsson
Copyright Martin Lynch, 2015.