August 4 - 10, 2013: Issue 122
Aussies Out to Restore National Pride in Surf Rescue Challenge
by Surf Life Saving Australia
Surf Life Saving big guns, Shannon Eckstein, Kristyl Smith and Olympian Naomi Flood will lead a new look 13-strong Australian Life Saving Team named today for the International Surf Rescue Challenge in Japan in September. Their main aim: "Restore National pride in the Australian costume."
The Australians suffered a rare international loss at last year's World Championships in Adelaide when the New Zealand Black Fins lowered the green and gold colours to win the prestigious Alan Whelpton Trophy as the number one team in the world.
The three-Test series to be conducted on Onjuku Beach in Chiba (September 19, 21 and 22) will feature open and Under 20 teams from Australia, New Zealand, South Africa, the USA and host nation Japan.
It will be the first step towards re-capturing the prestigious World Championship trophy in France in 2014 and already a productive week-long camp on the Gold Coast has seen some encouraging signs in developing a new culture in the Australian team.
"We pride ourselves on being the best and losing to New Zealand was a bitter pill to swallow, but we were beaten fair and square," said four-time World Ironman Champion and Australian captain Shannon Eckstein, who has committed himself to the National team for the next two years. The Kiwis came to Adelaide ready to belt us and as hard as we tried we couldn't stop their onslaught – we just weren't good enough. It has made us take a good at ourselves and there is a renewed enthusiasm in the Australian team. We have had to change a few things and it was a timely reminder that just because you are wearing the Australian cap you're going to win – you have to fight for it and not just take winning for granted."
Eckstein would love nothing better than to win back the World National Team trophy and a record fifth World Ironman Title in his surf lifesaving swansong in Montpellier and La Grande Motte next year. There are only four survivors from the Australian team from Rescue 2012 – Eckstein, Northcliffe team mates, women's captain Smith and World Surf race champion Miranda Bell and world and nine times Australian beach flags queen Melissa Howard (Kurrawa).
Eckstein and Smith have been mainstays on the National team since the International German Cup in 2002 – chalking up over a decade of service in the green and gold cap.
There are five debutants on the Australian Open team:
- This year's runner-up in the Kellogg's Nutri-Grain Ironman Series Kendrick Louis from Sydney Northern Beaches club Newport (Cap no. 380) who has returned to his first club Newport after a successful two season-stint under Michael King at Mooloolaba after forging his career at Collaroy.
- Northcliffe's World under 19 surf race champion and 2013 Open surf race silver medallist Eliza Smith(Cap no. 384);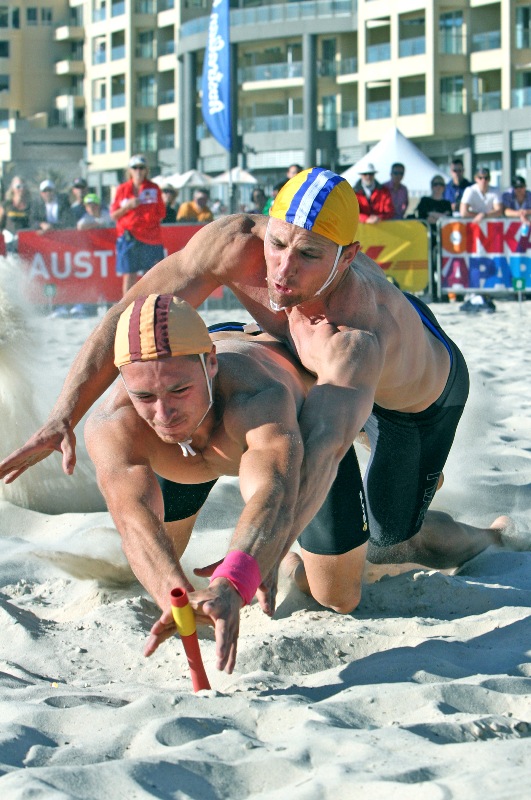 - Sydney Northern Beaches beach sprint pair, duel world sprint and flags champion, Newport's Jake Lynch (No. 381) and Collaroy's World Championship and Aussies sprint and flags medallist Dean Scarff(382) as well as;
- Three-time Australian and World single ski champion and Australian kayak team member Lachlan Tamefrom Avoca (Cap no. 383).
The men's team will also be bolstered by swim stars, world surf race champion Dev Lahey (Northcliffe) and brilliant surf and swim and Ironman star Tim Schofield (Terrigal).
Flood, a member of the victorious Australian world championship teams in 2008 and 2010 is back in the National team colours again after making the London 2012 Olympic kayak team. The final member of the women's team is Terrigal's NSW open surf belt champion Rachelle King, who was also second in this year's NSW Ironwoman championship.
The open team contains seven from NSW – Louis and Lynch (Newport), Flood (Manly), Schofield and King (Terrigal), Tame (Avoca Beach) and Scarff (Collaroy) and six Queenslanders – all from the Gold Coast – Eckstein, then two Smiths Kristyl and Eliza, Lahey and Bell from Northcliffe and Howard (Kurrawa).
Australia has named two male beach competitors with Lynch and Scarff to share the honours in the first two Tests before a decision is made about the final Test.
Head coach Danny Short said: "I am really excited about the calibre of this team. This is our first opportunity to compete against New Zealand since last year's World Championships and I know we are all looking forward to the challenge. The Australian team has been selected to win the International Surf Challenge but we also have an eye firmly fixed on next year's world championships. Central to our strategy for 2014 is a change in culture, a culture built on respect, responsibility and as a team being the best we can possibly be. The ISRC will test how far we have come.
"New Zealand are the world champions and have selected a very strong team. We will try and match them but as world champions they are clear favourites. However, I have no doubt our team led by captain Shannon Eckstein, Olympian Naomi Flood and world ski champion Lachlan Tame won't be taking a backward step. I can't wait. "
The Under 20 Development team, to be coached by Kurrawa's former World Ironman champion Phil Clayton contains seven from Queensland: World Under 19 ironman champion and reigning Australian Under 19 board and board rescue champion Luke Cuff (Kurrawa); Australian Under 19 Ironwoman champion Emma Dick (Mermaid Beach); Under 19 single ski champion Miranda Davies (Currumbin) and swim star Stefan Demopolous (Northcliffe).
There are also three from the Sunshine Coast in exciting paddling prospect, Aussies double ski winner and Australian junior kayaker Billy Bain who joins Mooloolaba team mates Maddy Dunn and Tiarn Raymond.
The other five members of the team are NSW trio Isaac Costello (Redhead), Ben Carberry (Warilla Barrack Point) and Elyssia Gasperotto (Terrigal) and
WA pair Gabrielle Murphy (City of Perth) and Jackson Symonds (Sorento).
Australian Life Saving Team, International Surf Rescue Challenge, Three Test Series, Onjuku Beach, Chiba, Japan (September 19, 21 and 22):
Open Men
Shannon Eckstein (Northcliffe)
Kendrick Louis (Newport)
Dean Scarff (Collaroy)
Jake Lynch (Newport)
Lachlan Tame (Avoca)
Tim Schofield – (Terrigal)
Dev Lahey – (Northcliffe)
Women
Kristyl Smith (Northcliffe)
Rachelle King (Terrigal)
Naomi Flood (Manly)
Miranda Bell (Northcliffe)
Melissa Howard (Kurrawa)
Eliza Smith (Northcliffe)
Head Coach: Danny Short
Beach Coach: Martin Lynch
Manager: Keith Caldwell
Physiotherapy: Troy Eady
Under 20 Development Team
Men
Luke Cuff (Kurrawa)
Stefaan Demopolous (Northcliffe)
Isaac Costello (Redhead)
Billy Bain (Mooloolaba)
Ben Carberry (Warilla Barrack Point)
Jackson Symonds (Sorento WA)
Women
Emma Dick (Mermaid Beach)
Maddy Dunn (Mooloolaba)
Tiarn Raymond (Mooloolaba)
Miranda Davies (Currumbin)
Elyssia Gasperotto (Terrigal)
Gabrielle Murphy (City of Perth)
Coach: Phil Clayton
Beach coach: Martin Lynch
Manager: Stephen Fry
Physiotherapy: Troy Eady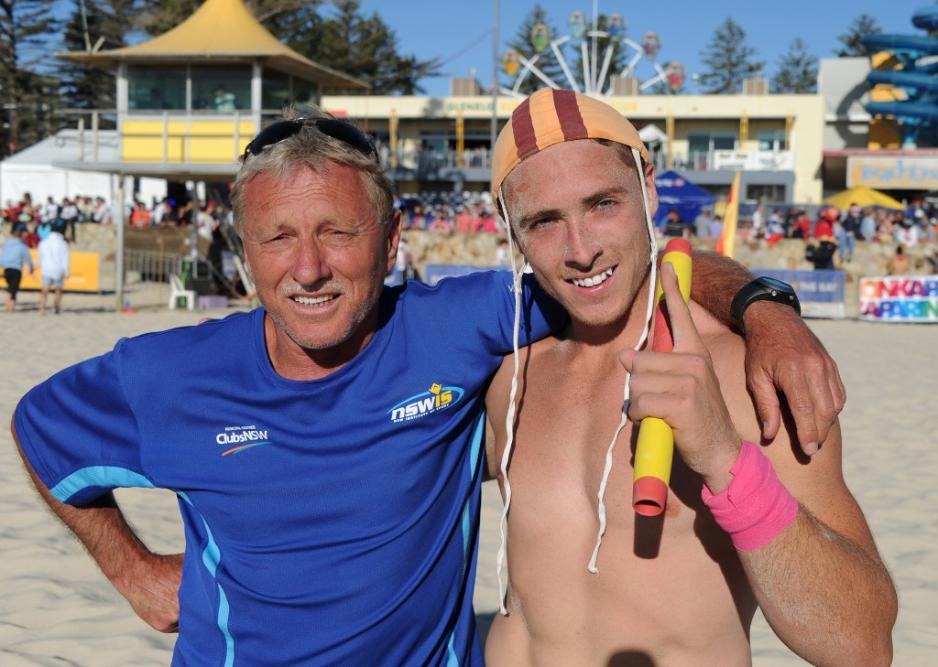 Jake and Martin Lynch. Photo courtesy Newport SLSC. Photo in text; Jake in action.