October 11 - 17, 2015: Issue 235
Lion Island Challenge 2015: 10th Birthday Celebration Brings Blue Skies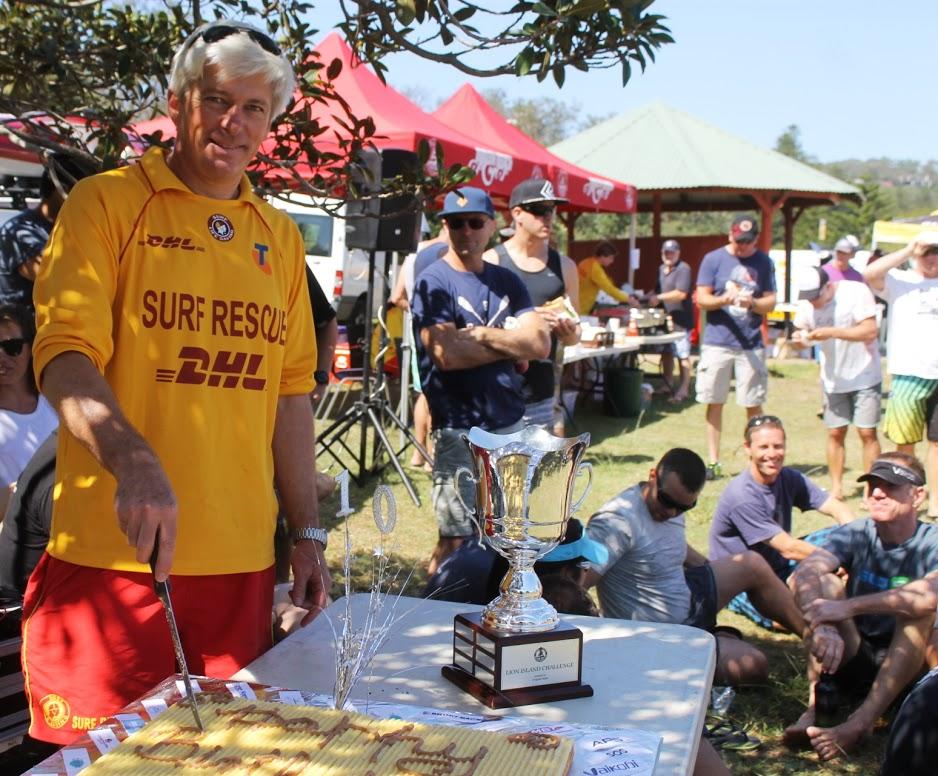 Richard Cole, President Avalon Beach SLSC cuts the 10th Birthday Cake!
Lion Island Challenge 2015 – 10th Anniversary
Saturday the 10th day of the 10th month for 2015 was the also the day the 10th year for the Lion Island Challenge. The Lion Island Challenge is part of the Paddle NSW Ocean Series this year and hosted by Avalon Beach SLSC. The Challenge is an ocean paddling race for ocean racing skis, SLSA skis, OC's, paddleboards and SUPs which starts and finishes on the Pittwater side of Palm Beach.
Former Olympic and Australian marathon champion Saša Vujanić took 1st place and the Lion Island Challenge Cup with Bondi to Watsons Bay 2015 winner Tommy Woodriff just seconds behind.
Saša Vujanić is a member of the Cronulla-Sutherland Kayak Club and represented Australia at the Marathon World Cup Masters in the World Marathon Championship men's senior K1 event held in Gyor, Hungary in September.
Woodriff is a Bronte Surf Life Saving Club member, and has won races on all kinds of ocean paddling craft over many years, including some events with Guy Leech. He too has many years of experience in all forms of paddling.
Third home was Wollongong paddler Cade Barnes, winner of the 2012 MAKAI Cup and another name that regularly appears among winners in paddling races.
The Lion Island Challenge attracts world's best ocean paddlers in women competitors too. This year Newport SLSC Member and Nutrigrain Ironwoman Hannah Minogue secured 1st in the Ocean Racing Ski.
Tilda Bellklemm, one of the best young athletes of Mona Vale SLSC, secured 1st in the Open Woman – Ski, demonstrating the future is bright for local aquatics. Slightly older Pittwater paddlers fared well too with host club Avalon Beach SLSC and Palm Beach SLSC members securing golds and bronze medals: Avalon Beach's Colin Campbell and Ross Bloore won 1st in Double Ski Open Male, while Palm Beach members Fi Rae scored 1st SLSA Ski in 40 + and Charles Lindop won 3rd place on SLSA Ski in 40 + Male Division – although Mr. Lindop seems to do duty at both clubs…
Former SLS SNB Branch President Gordon Lang also did well, finishing strongly with a 4th on SLSA Ski in 40 + Male, showing this gentleman is not slowing down anytime soon.
President of the Avalon Beach SLSC, Richard Cole singled out Jill and Brett Greenwood for ten years of ensuring the Lion Island Challenge is such a success yesterday, thanking them for all their efforts in the months leading up to each annual Lion Island Challenge. Anyone who has attended this event will attest to the huge contribution this husband and wife team make to this event each year and to the sport itself year round.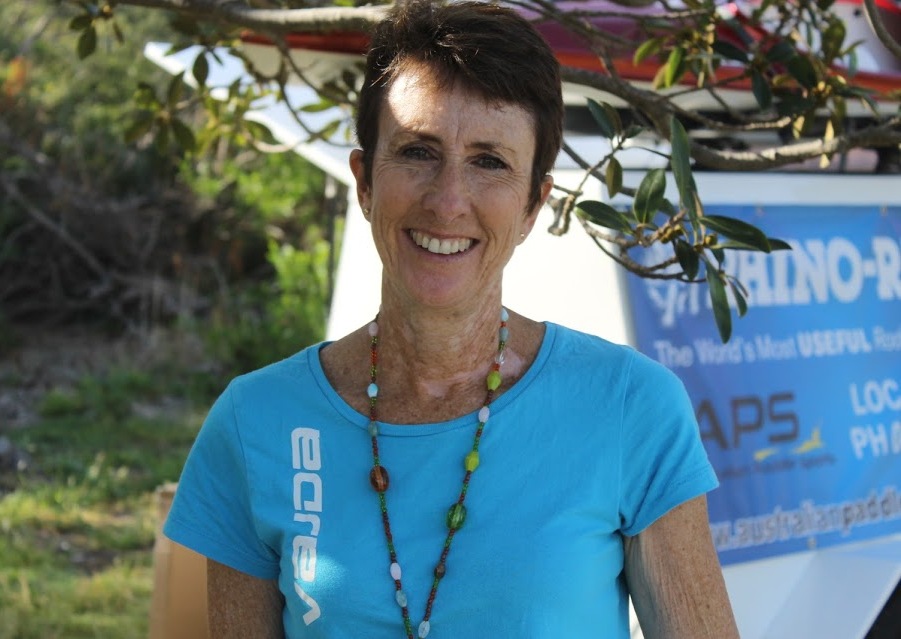 Jill Greenwood
Avalon Beach SLSC members were thanked by Mr. Greenwood. It was great to see so many younger members join the stalwarts of this club looking after the food stall and barbecue and then on the beach to clear away all the skis and SUP's as groups of paddlers came in.
The race itself, in both the Short Course (8 kilometres) and the Long Course (14 kilometres), was filled with many mini-battles between paddlers, as some of this year's Lion Island Challenge pictorial shows. Rose Bay paddlers did very well again this year, taking out many of the medals in both the men's and women's Divisions, as did all of the paddling groups and clubs who join in with the fun each Spring.
Brilliant blue skies, waters so calm on the estuary the bright colours worn by paddlers were reflected on glass, a soft cooling breeze and a few currents offshore for those who took both the short way and the long way back to Station Beach under Barrenjoey kept the 10th Challenge a great workout – with all rising to the challenge.
Post race a hot sun ensured participants quickly got in the water after racing on top of it and cauht up with mates they haven't seen since their last paddle together.
Another successful year for the third event in the 2015/16 Paddle NSW Oceanseries which celebrated its 10th birthday with a cake that quickly disappeared!
Pittwater Online News Album for the Lion Island Challenge 2015 for participants to help themselves to pictures for their own Family Albumsare here . We've left in the 'fuzzies' again this year for those who like to check their stroke.
All Results are at: www.ratracetiming.com.au/results
The 2015/16 Paddle NSW Oceanseries will consist of 6 events:
1. The Cronulla Bay Runner on 22nd August 2015 run by Cronulla SLSC
2. Bondi to Watsons Bay 19th September 2015 run by Bondi SLSC
3. Lion Island Challenge 10th October 2015 run by Avalon SLSC
4. Sea Cliff Ocean Challenge 31st October 2015 run by Bulli SLSC
5. 20 Beaches Ocean Classic 12th December 2015 run by Australian Paddlesports
6. Peninsula Ocean Classic 16th January 2016 run by PaddleNSW which includes the Series presentation
Coming back to Station Beach, Barrenjoey: The race between Saša Vujanić and Tommy Woodriff for first place in this year's Lion Island Challenge.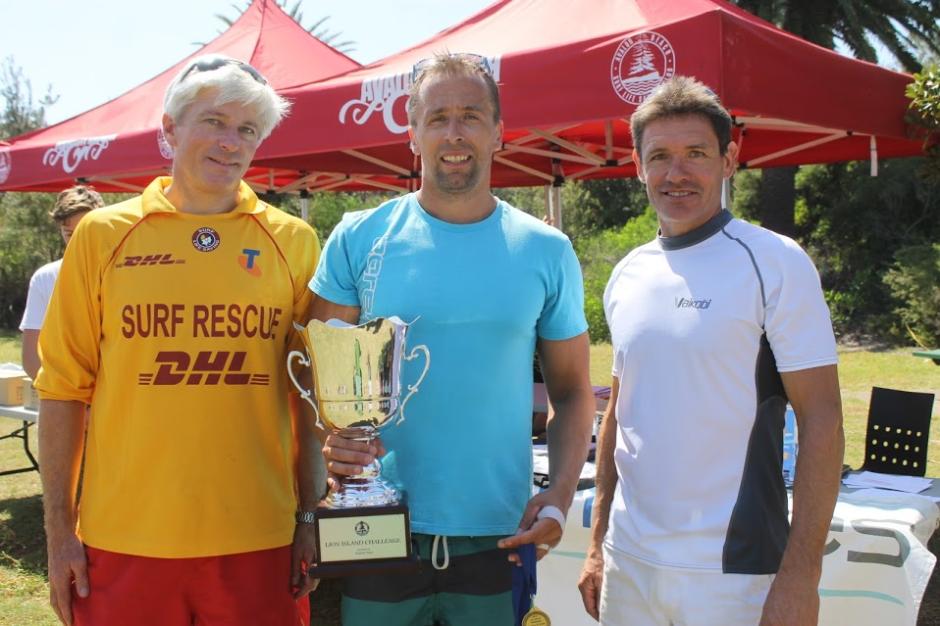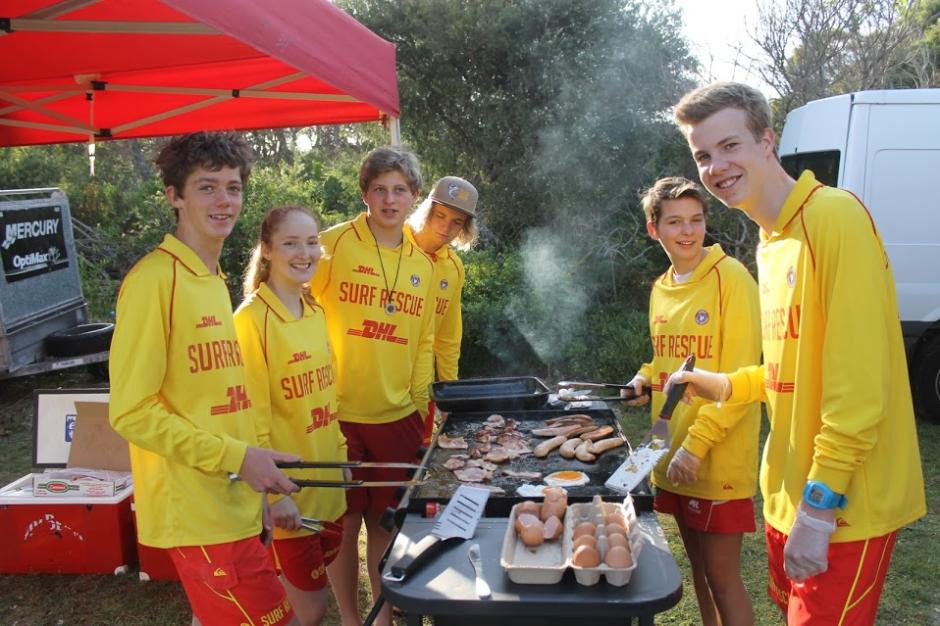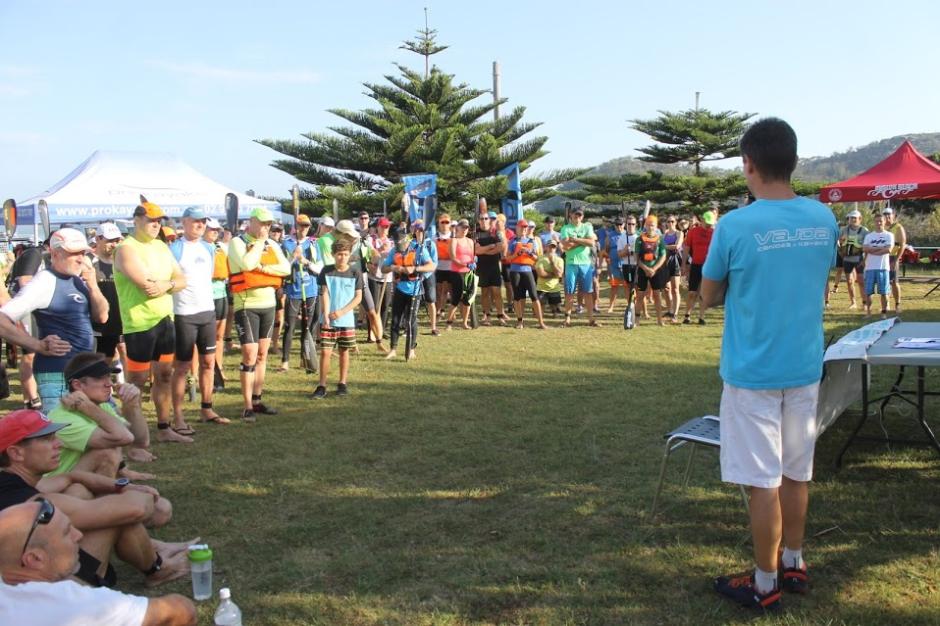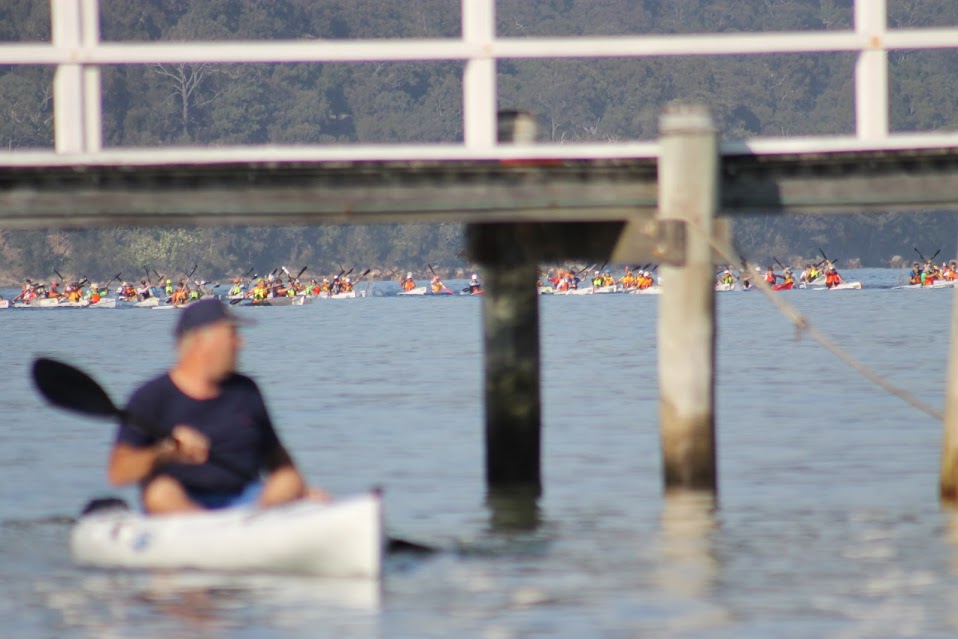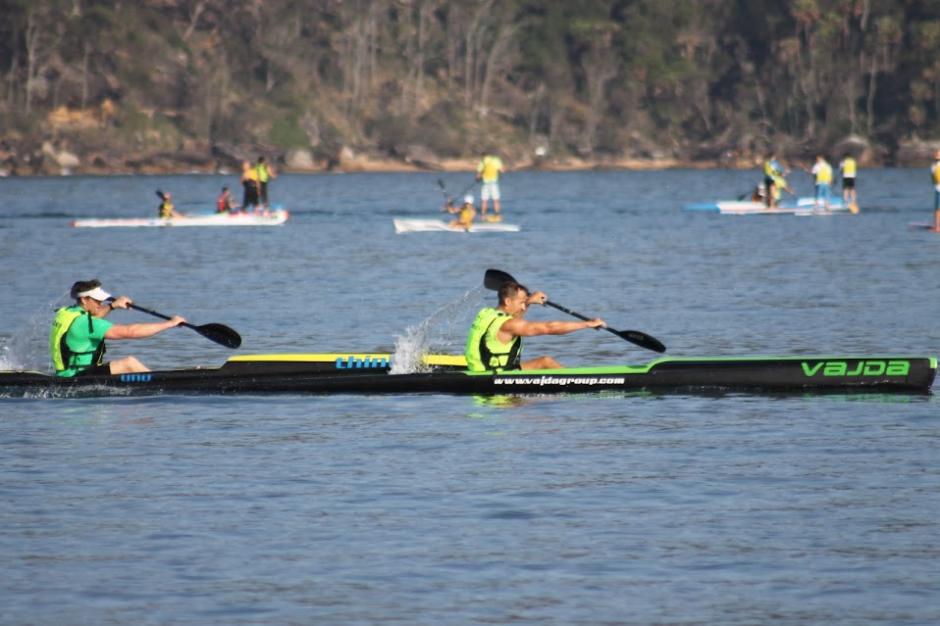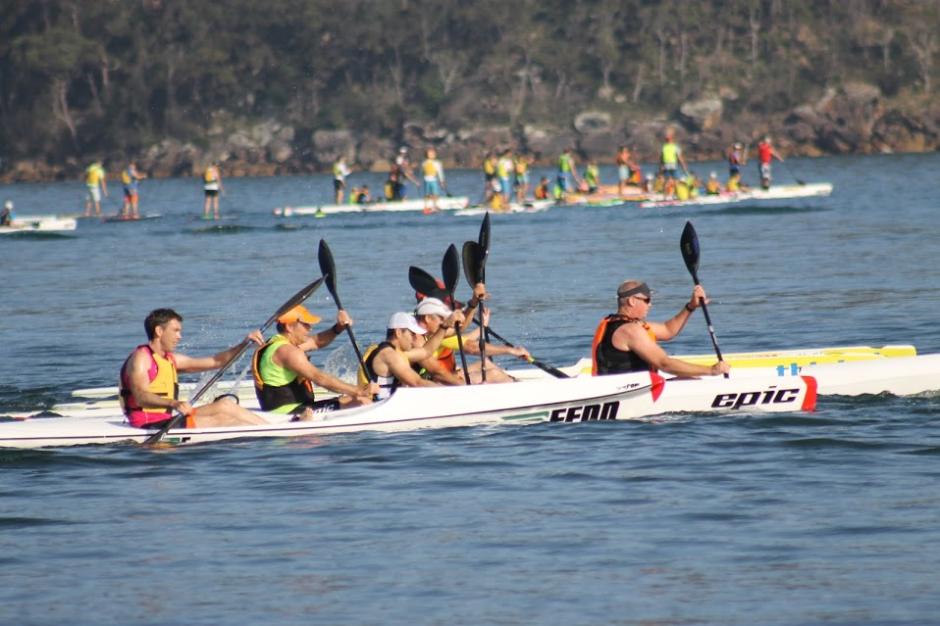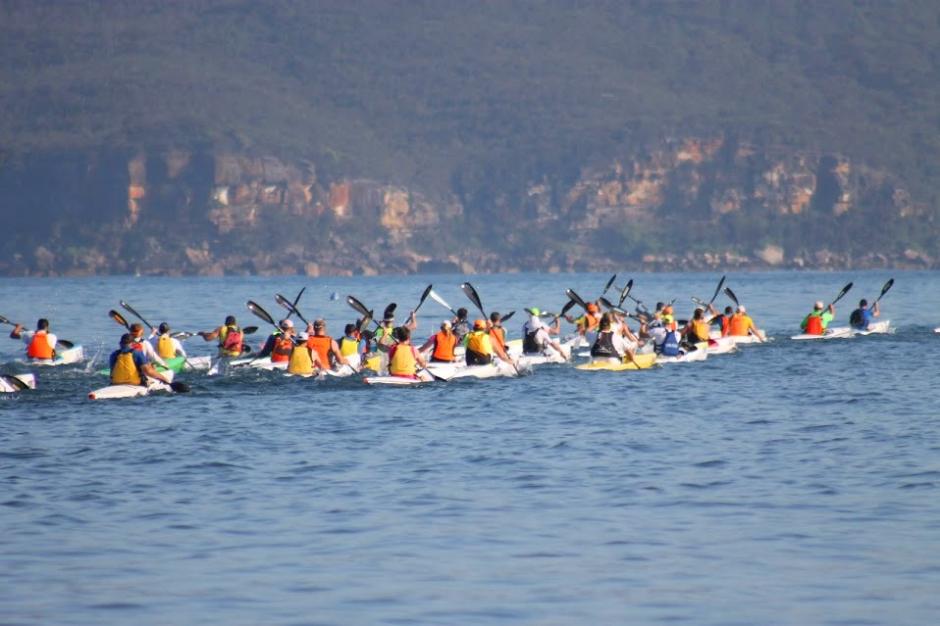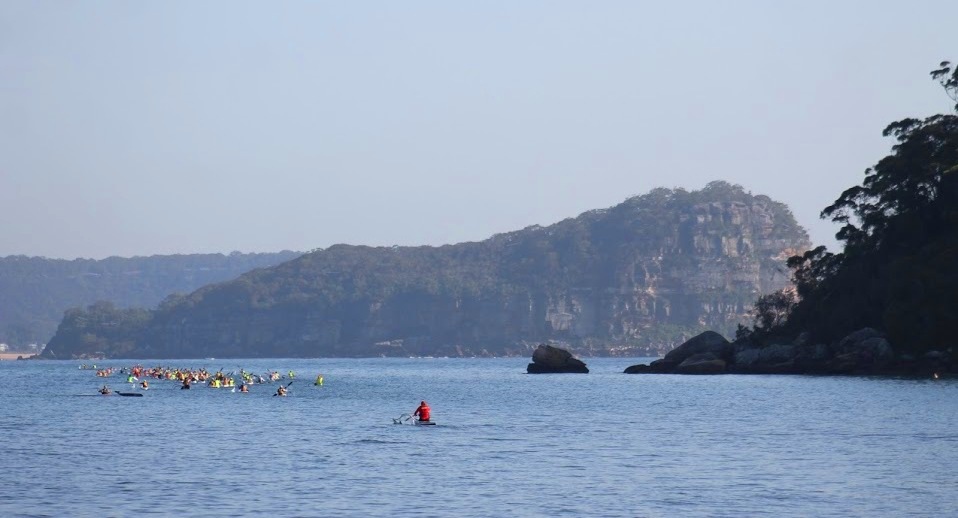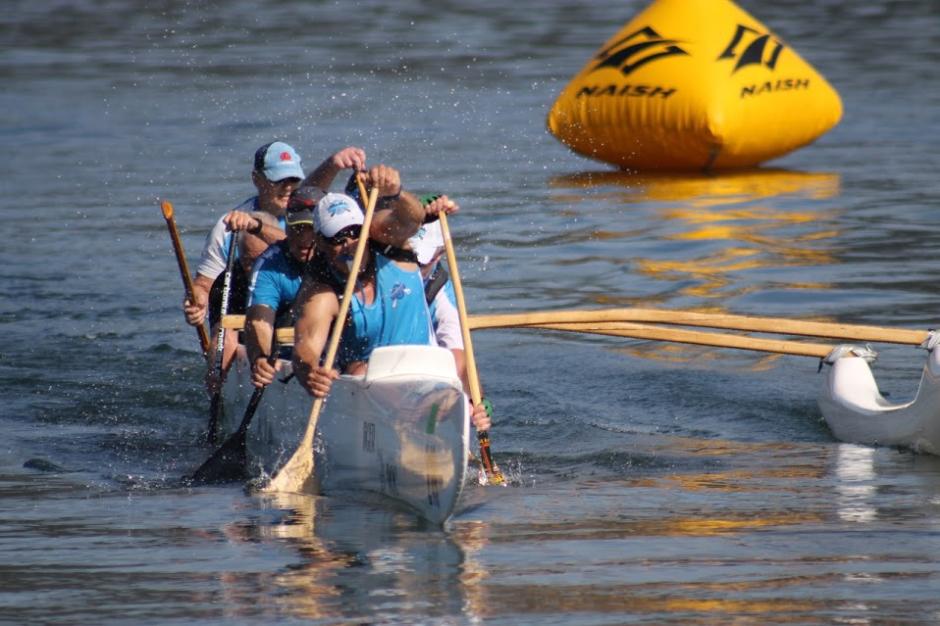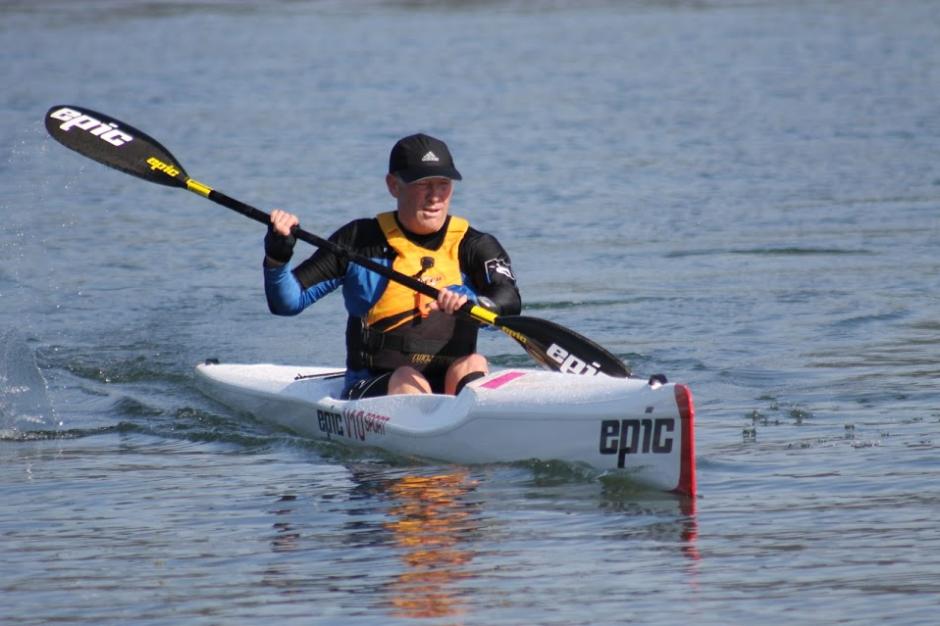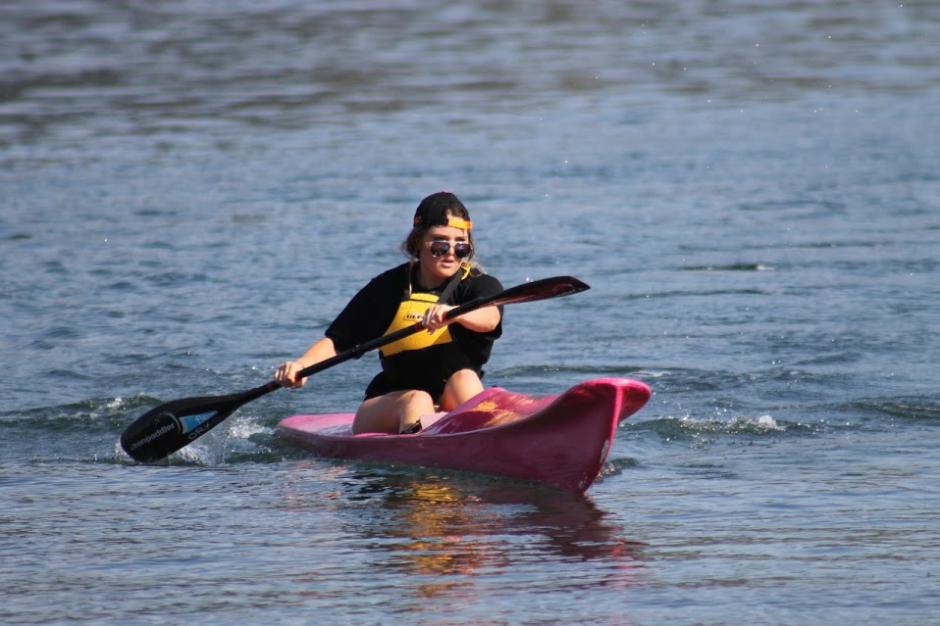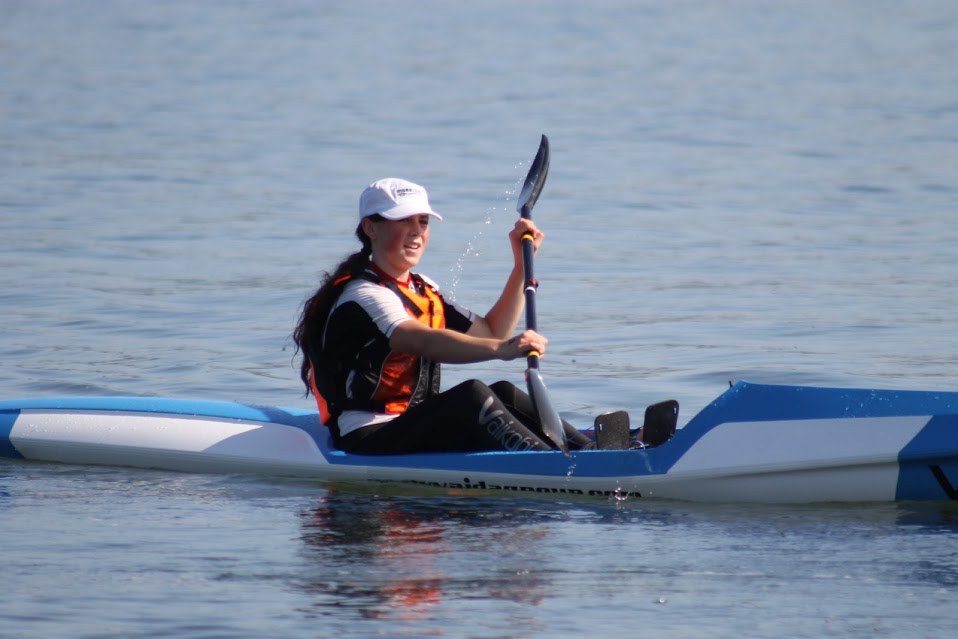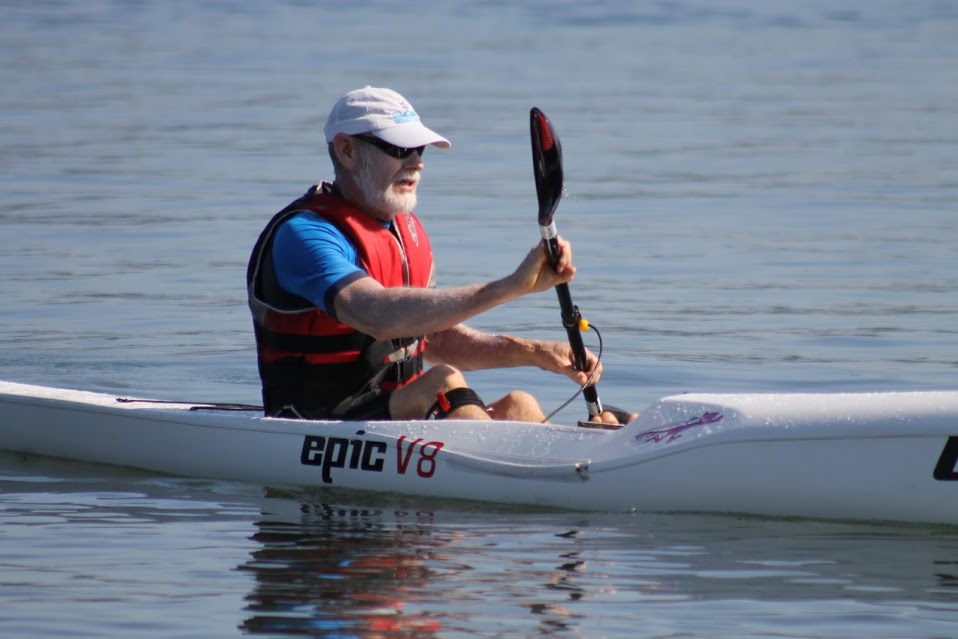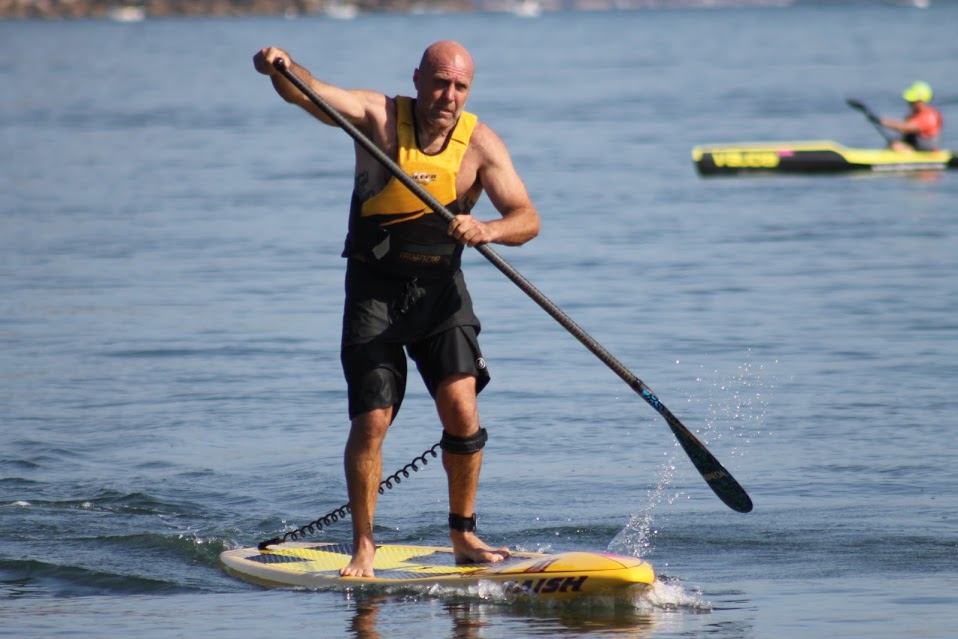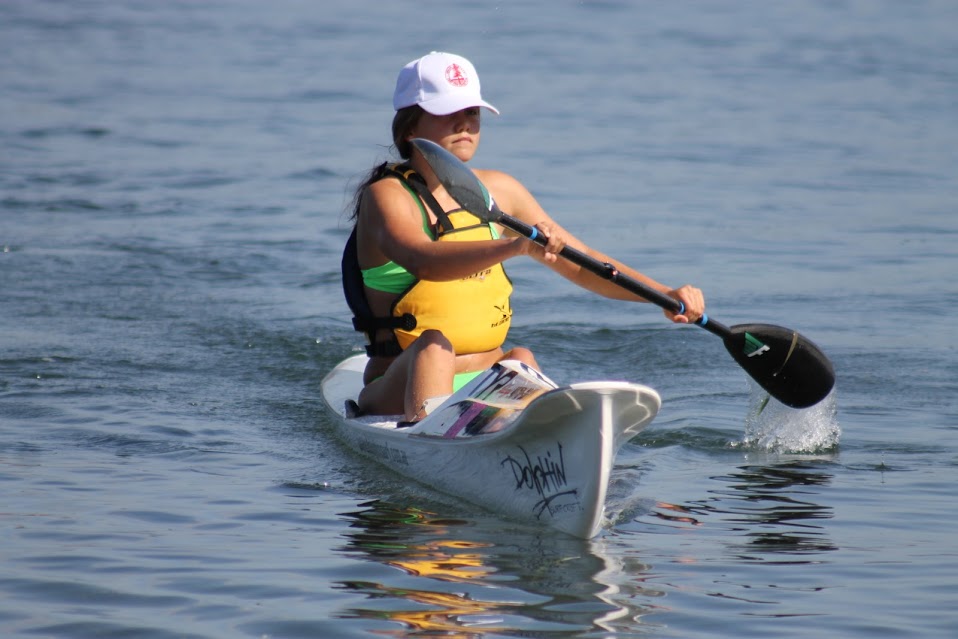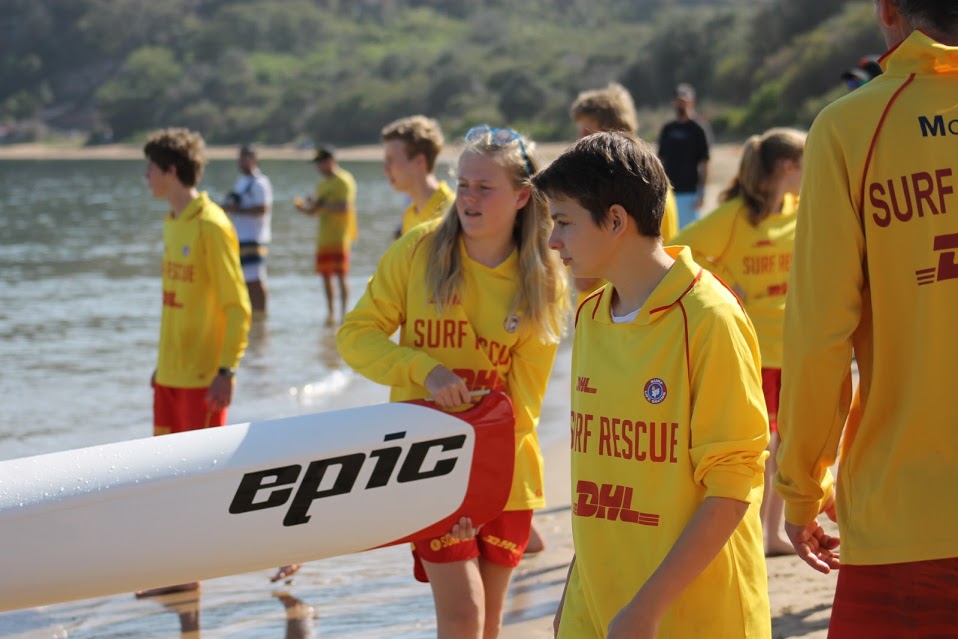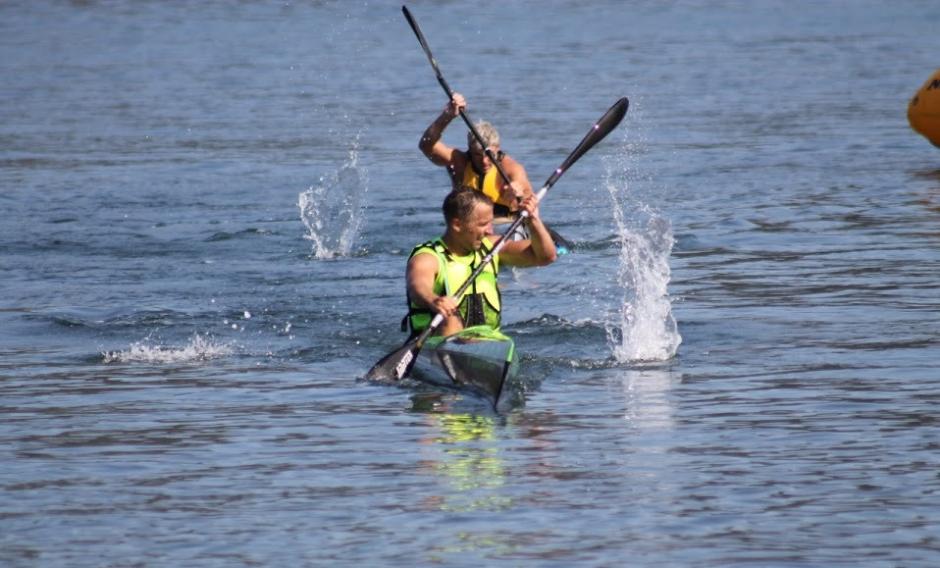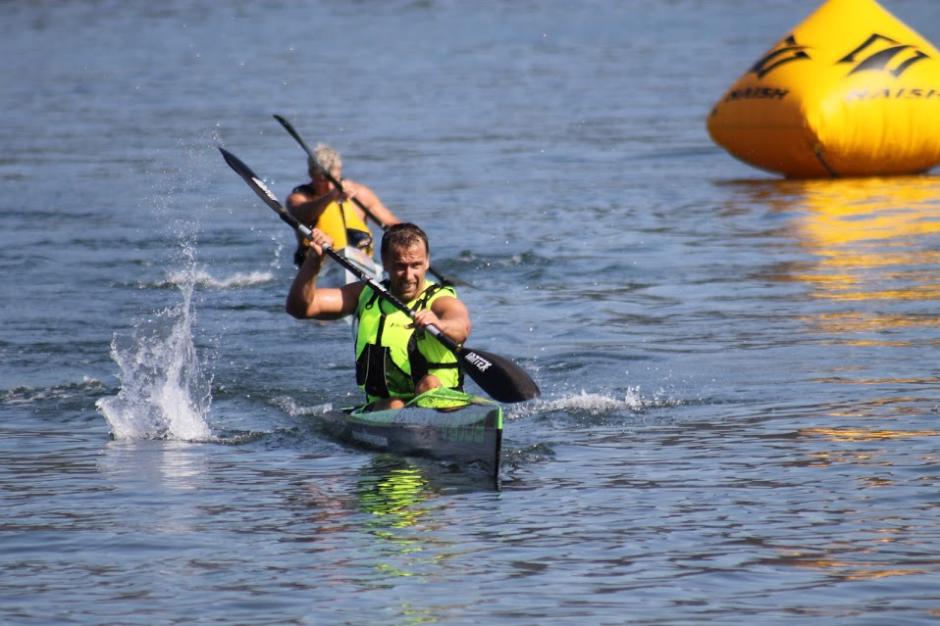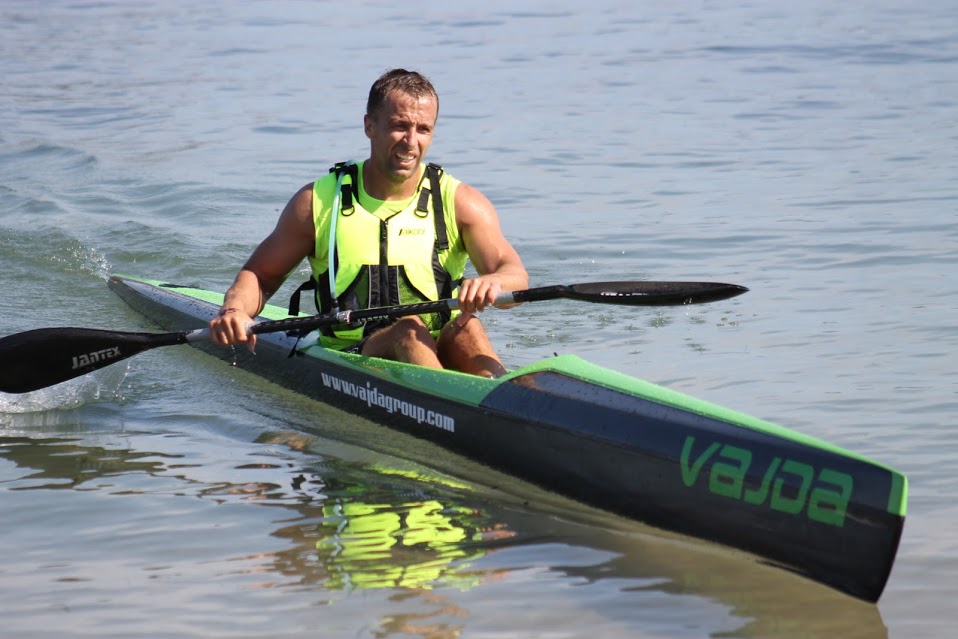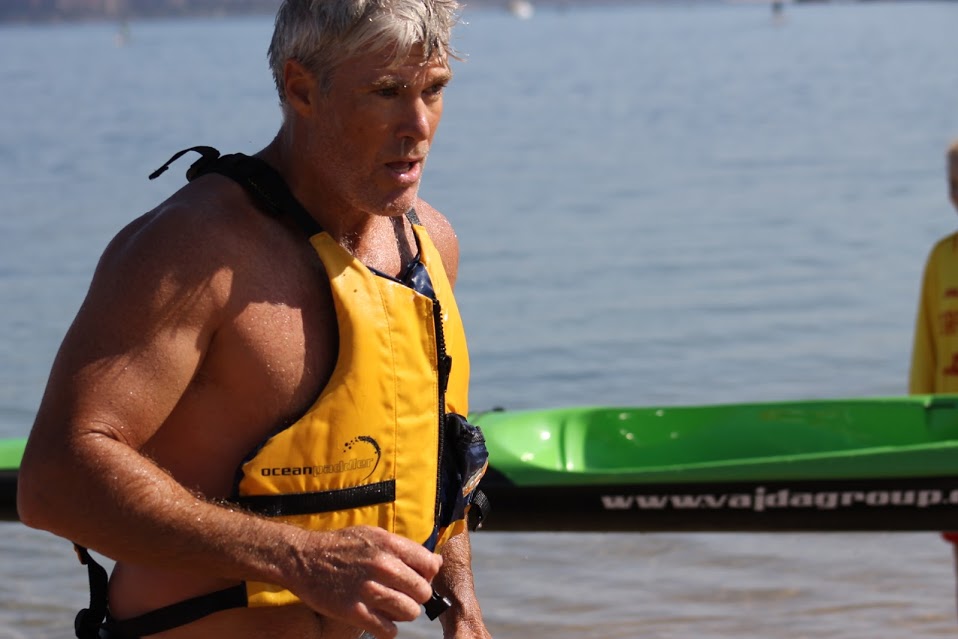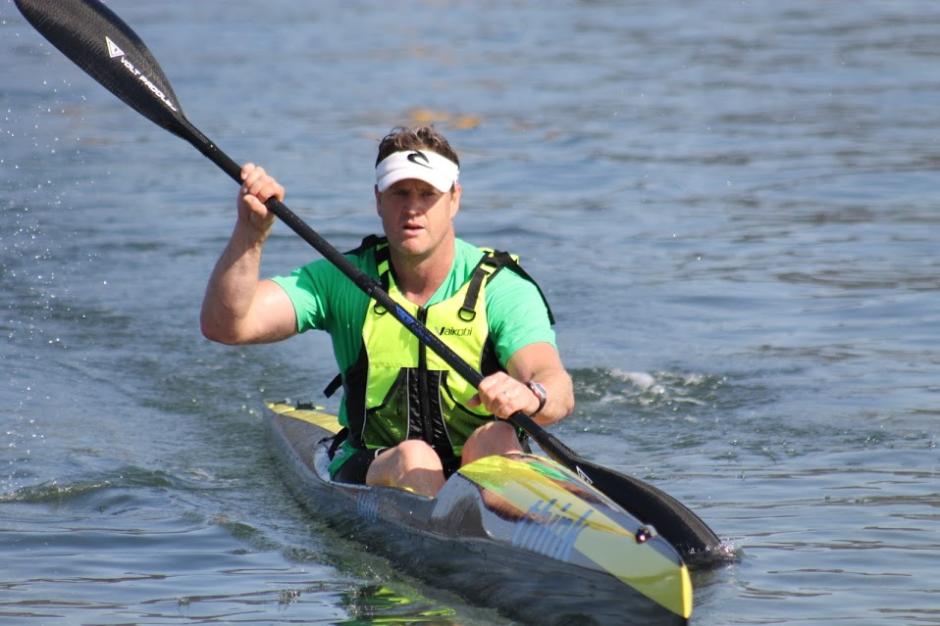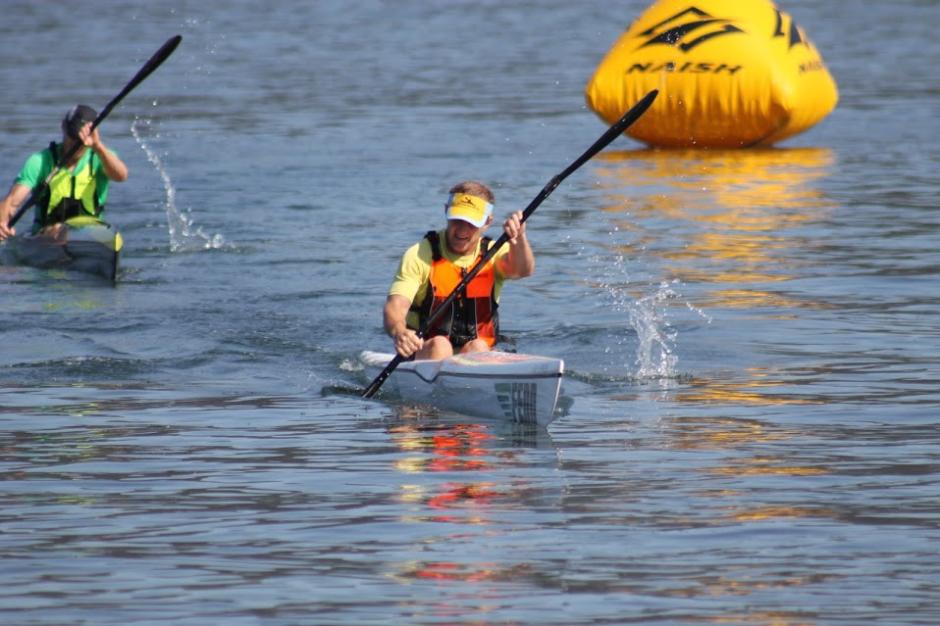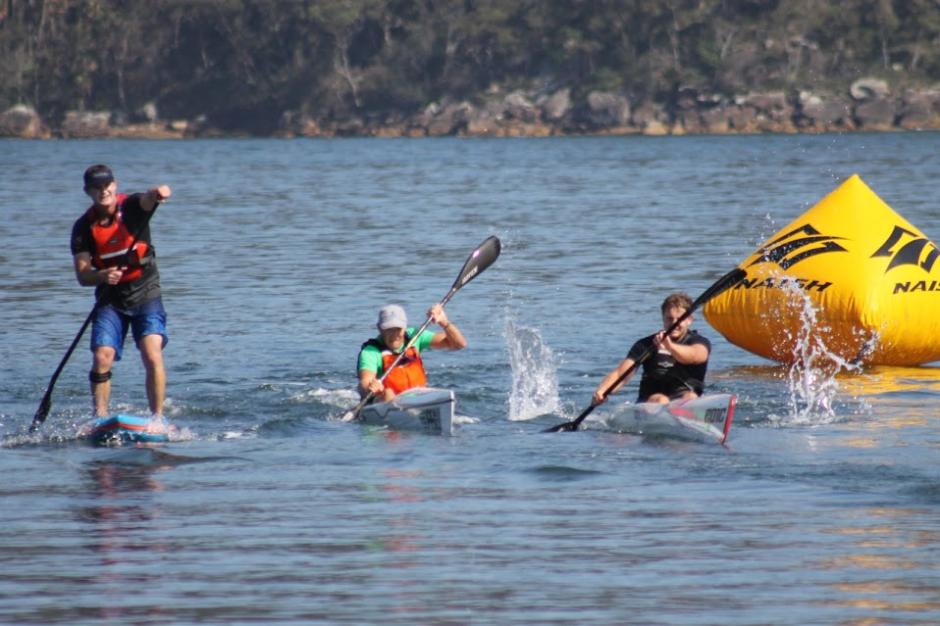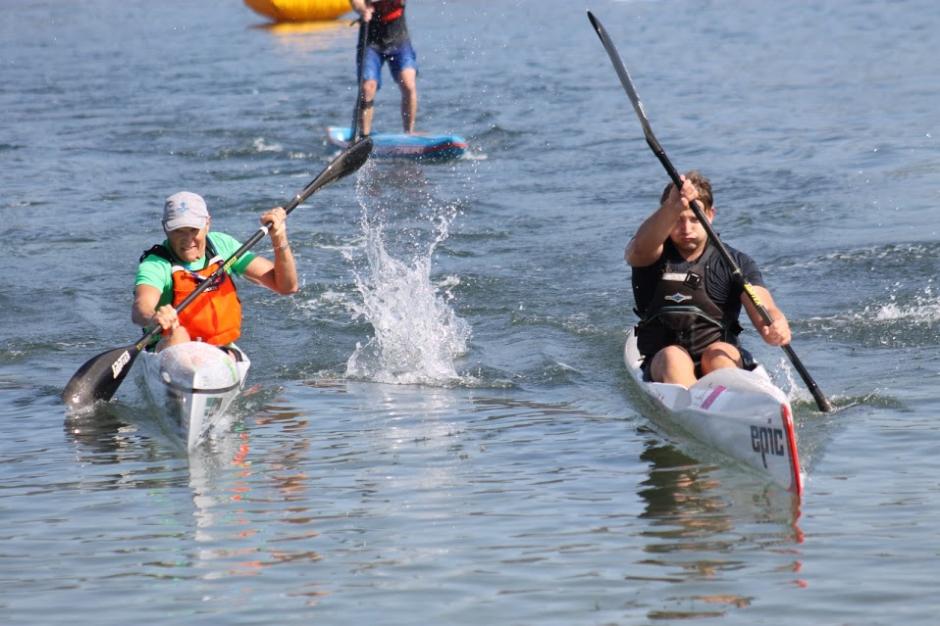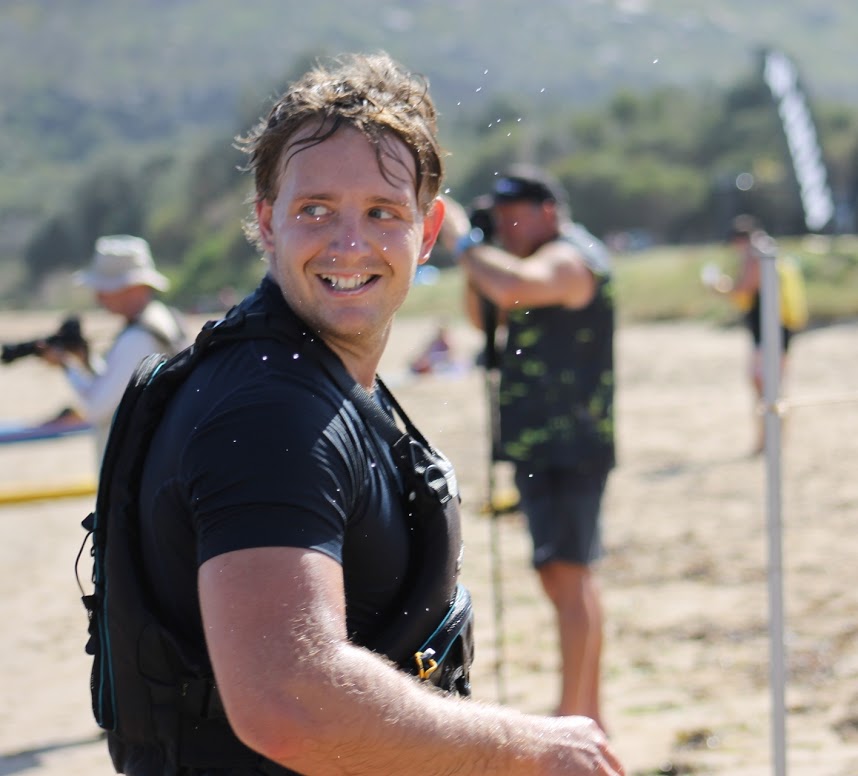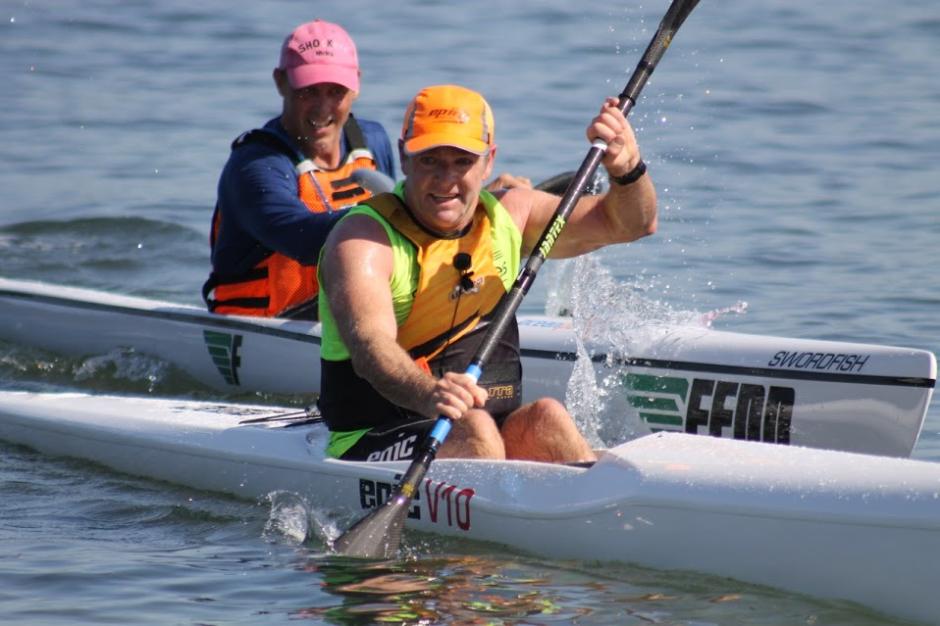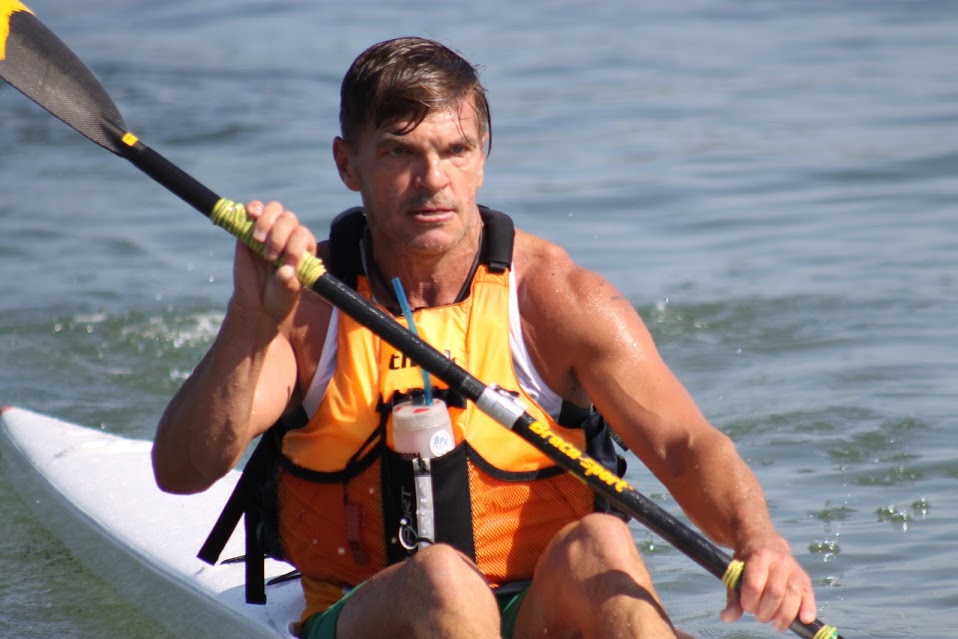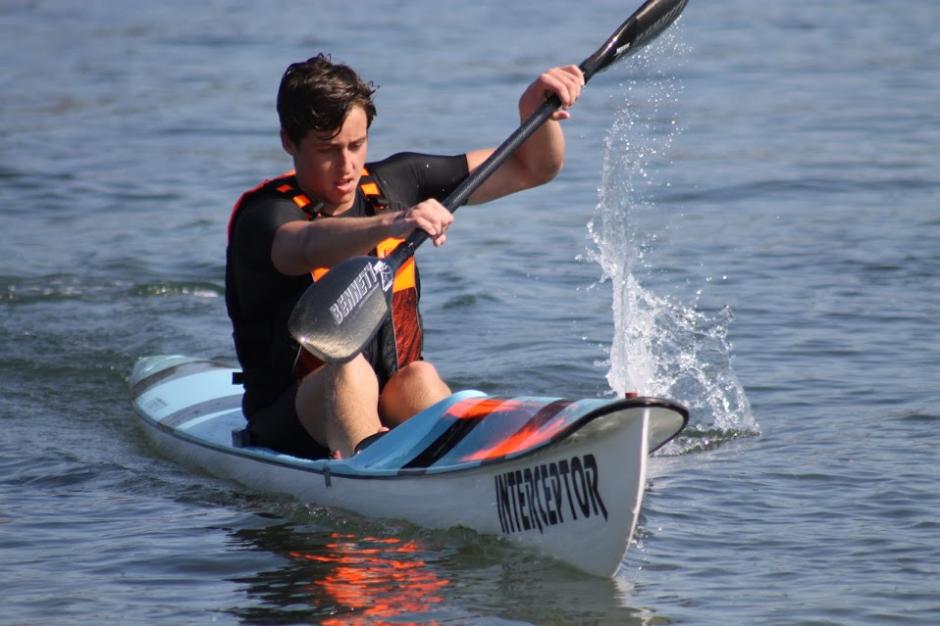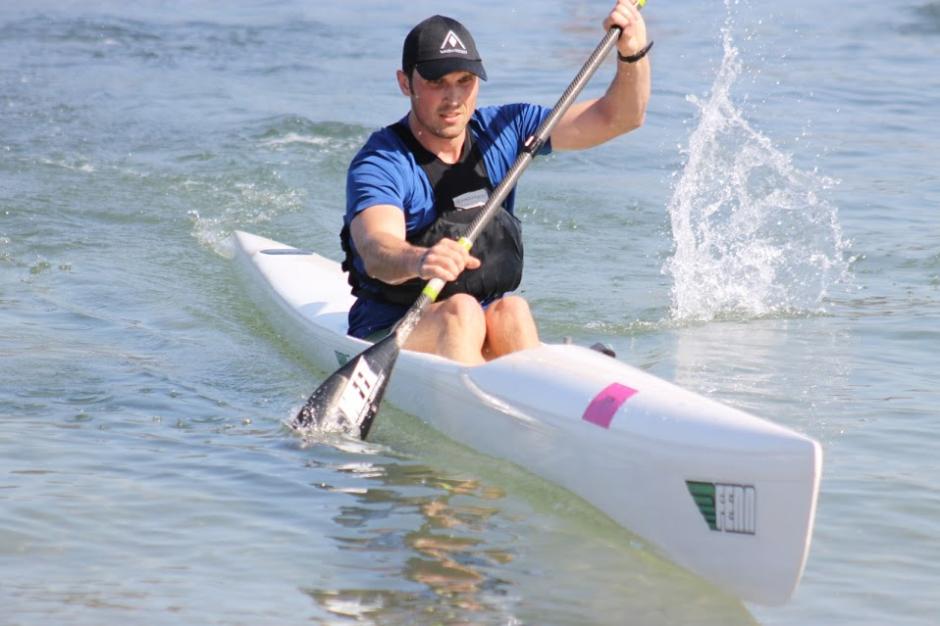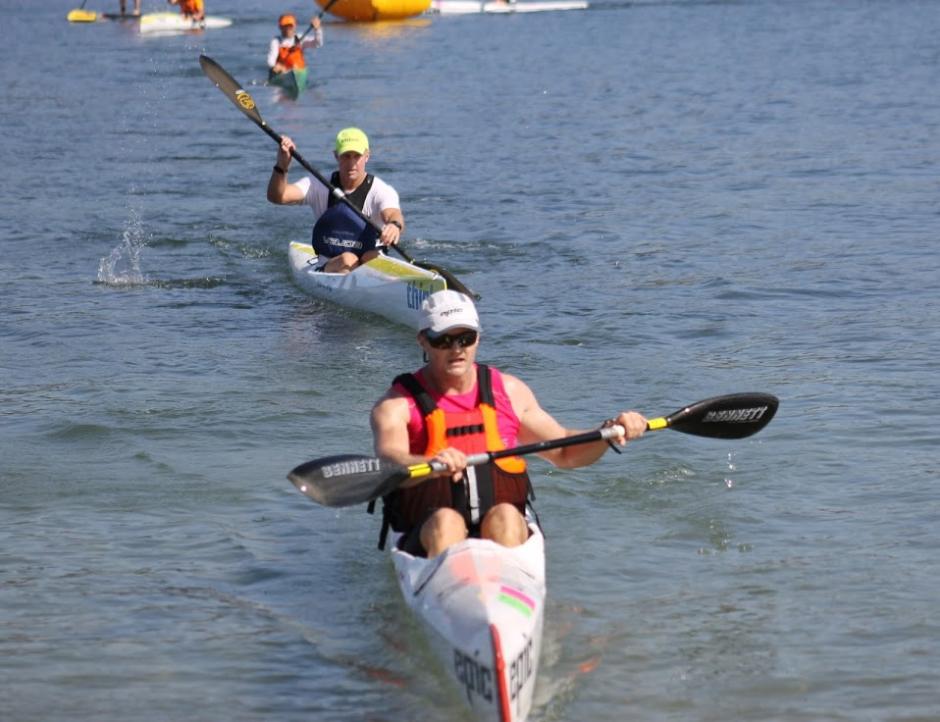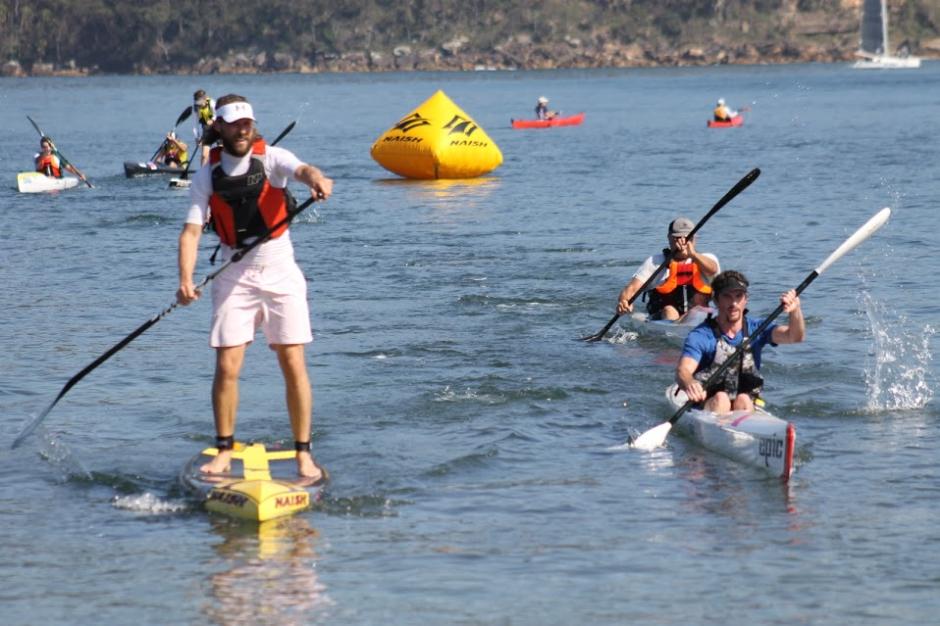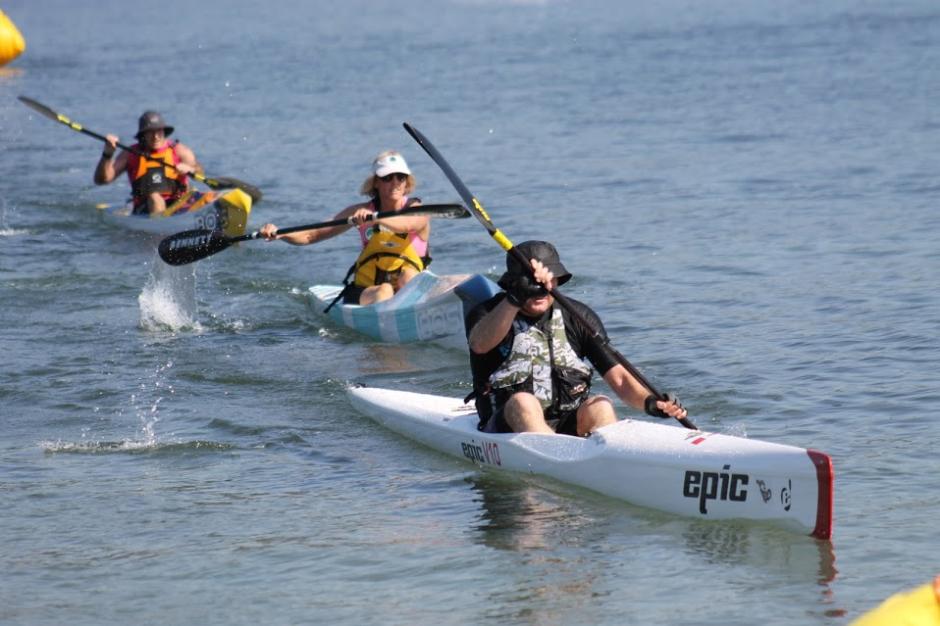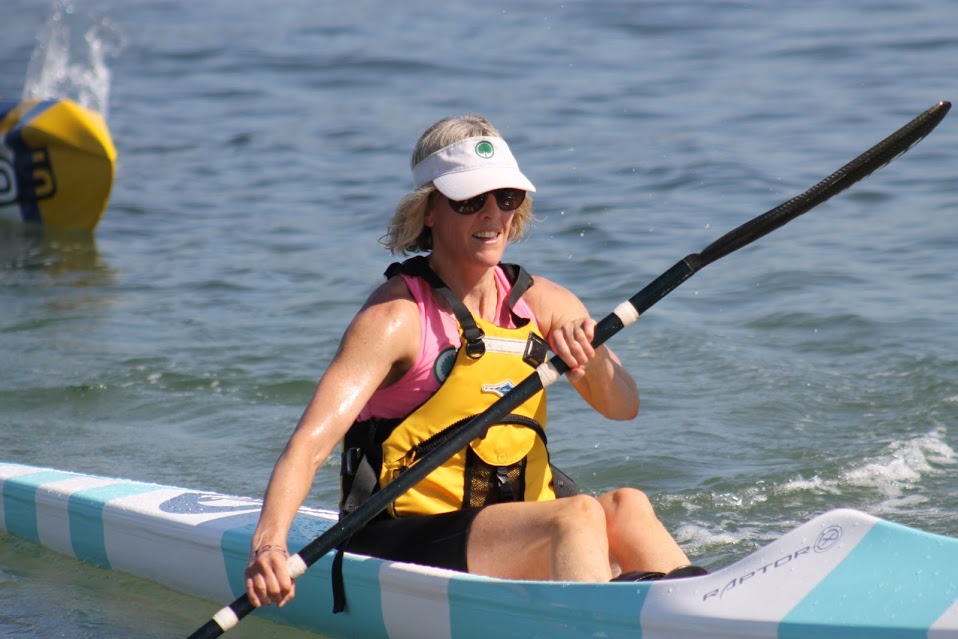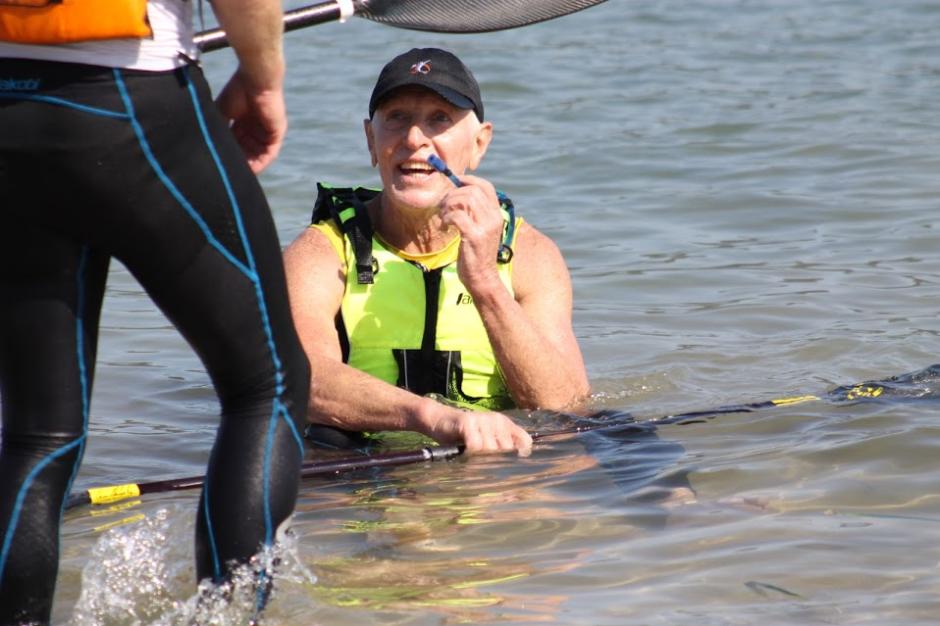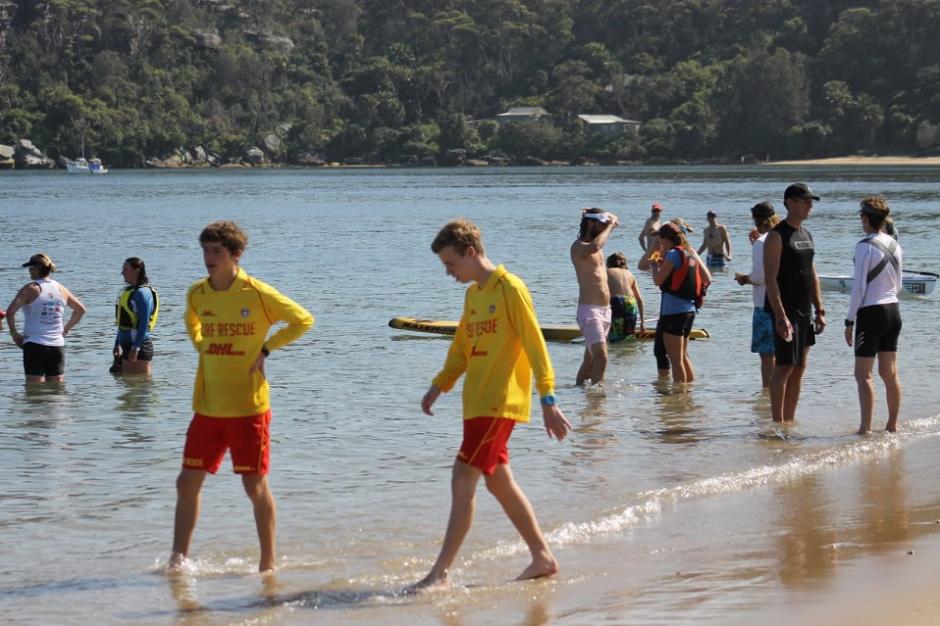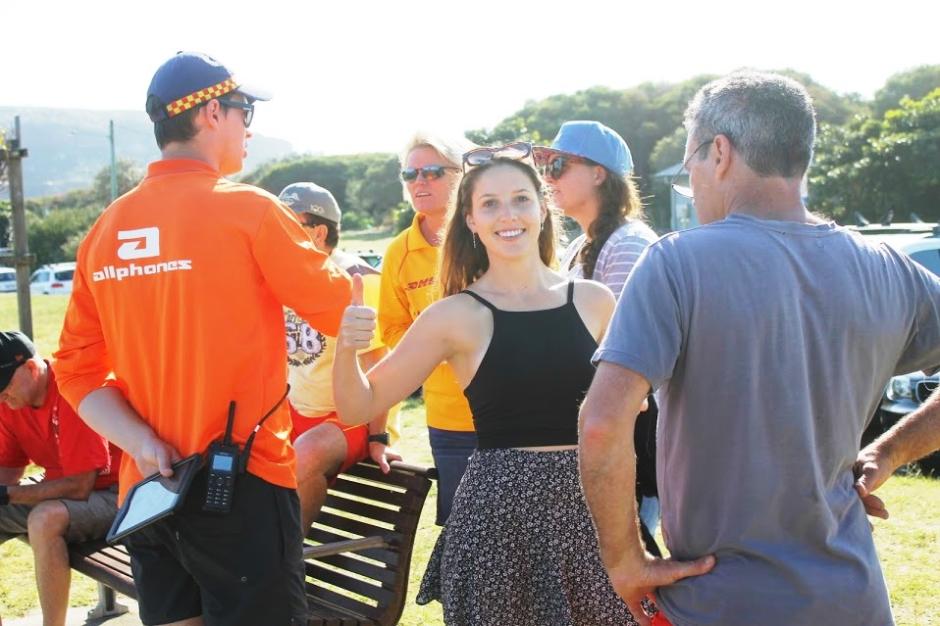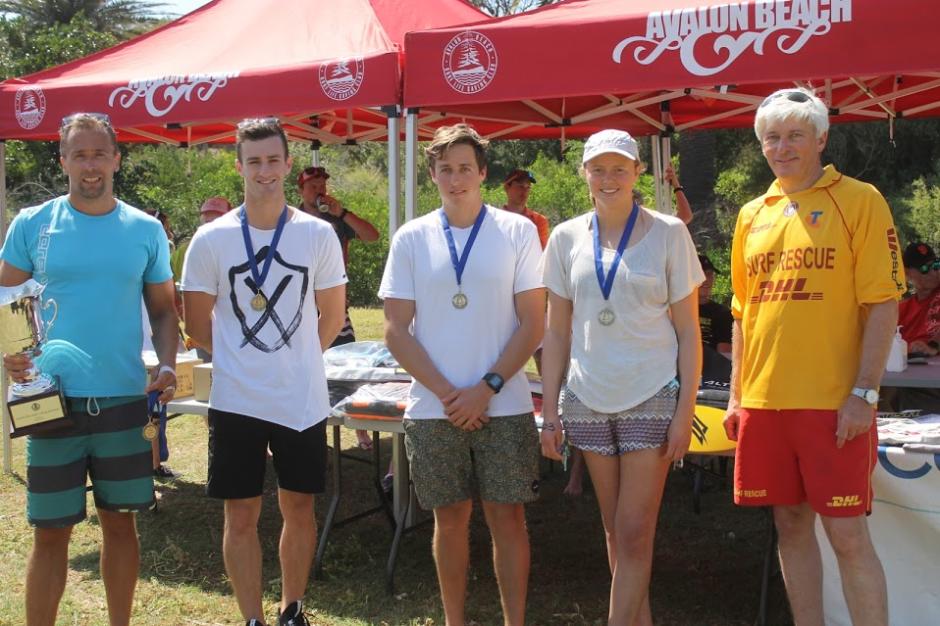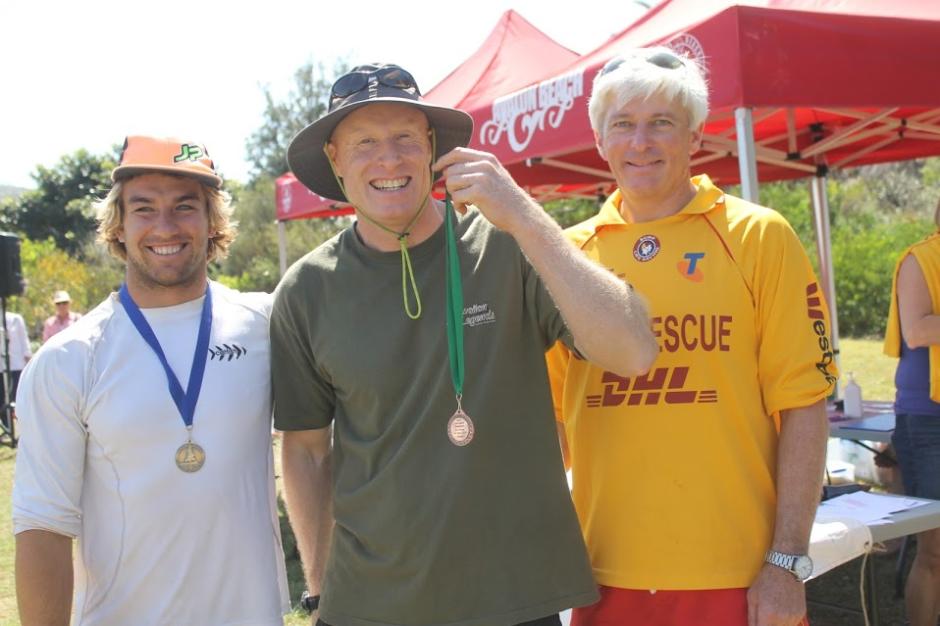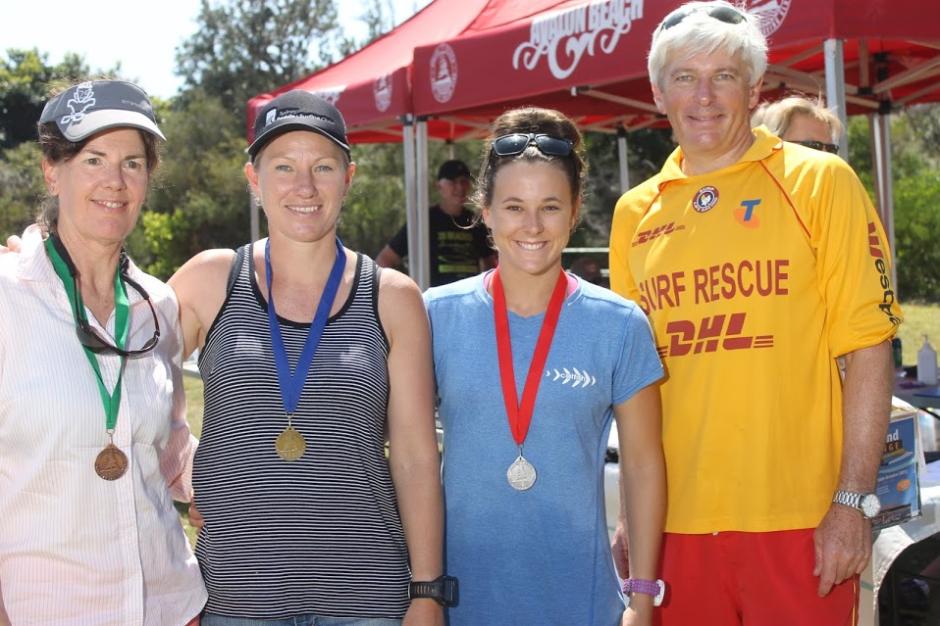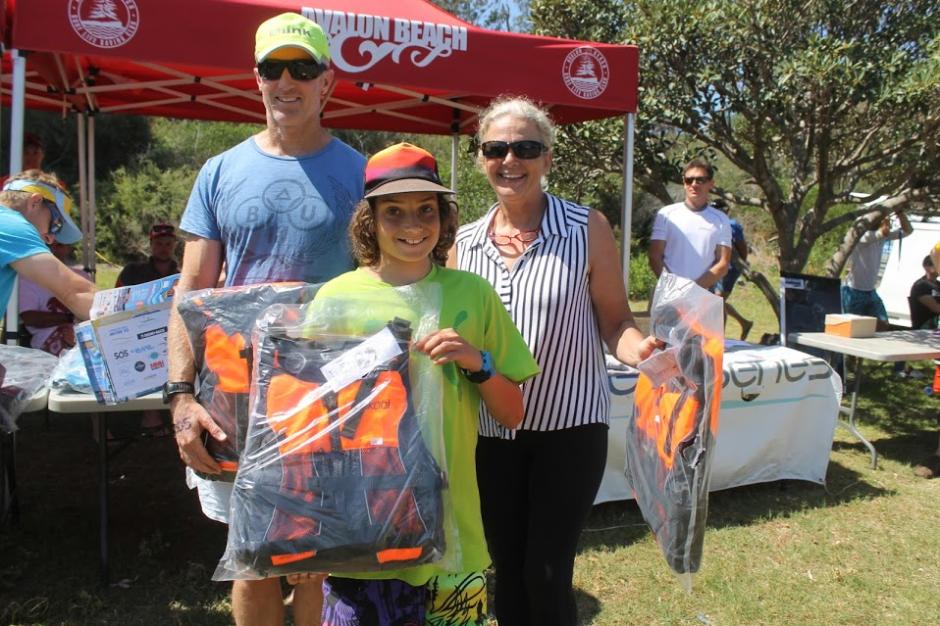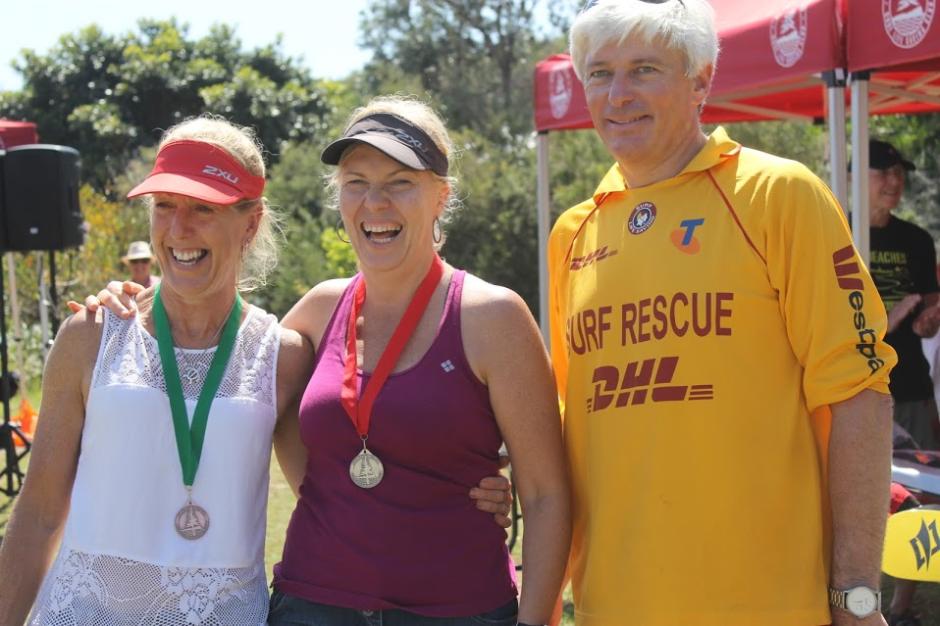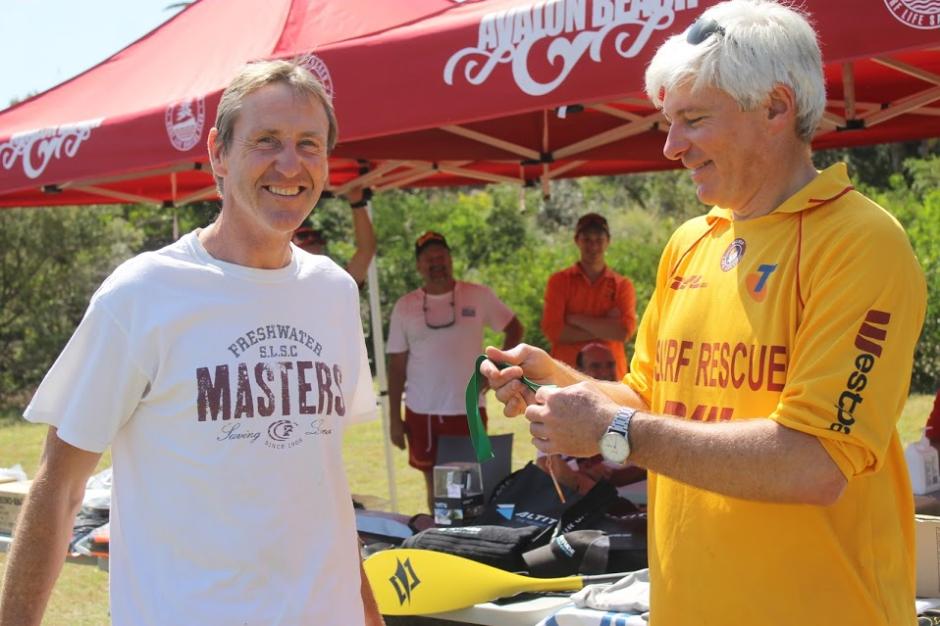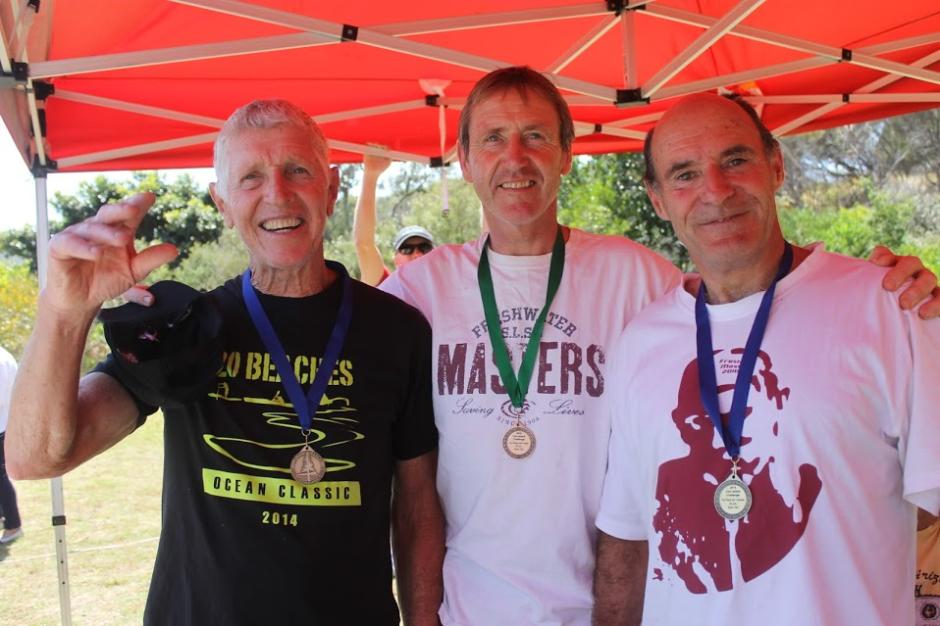 Colin Campbell, Charles Lindop and Gordon Lang (wearing Fi Rae's gold medal)
Pictures A J Guesdon, 2015.