January 29 - February 4, 2012: Issue 43
Manly to Broken Bay.
A PICTURESQUE AND HEALTHY TRIP.
BY "ST. MAGNUS."
Sydney and neighborhood abound in lovely scenery, a harmonious blending of land and water, embellished by art, a mingling of many colors and tints that is always pleasing to the eye and charming to the senses. So numerous indeed are the beauty -spots of the metropolitan districts, and-so various in their scenic beauty, that one is sometimes at a loss from, which to choose as the most agreeable to spend a holiday. To the lovers of nature, and to those who love to gaze on ever changing scenes, perhaps Manly, and the road along the beach past the Narrabeen Lakes and on to Newport, Bay View, and Broken Bay affords as agreeable and instructive, an. outing as any. At all events the route has the charm of comparative newness, because for some unexplained reason it has only been of recent years that the magnificent harbors of Pittwater and Broken Bay, with their lovely scenery and fertile lands have received even passing attention from the great body of tourists; holiday-makers, and settlers, who are ever on the outlook for something new. The district may be easily reached by land via Manly, or by water via Broken Bay. From Manly two lines of coaches are in active running, and make several trips per day to suit the running of the Manly ferry boats and the Post Office schedule time. The distance from Manly to Bay View Post Office is only about ll miles, and to Newport Post Office the distance is not much longer. The road is a most picturesque one throughout.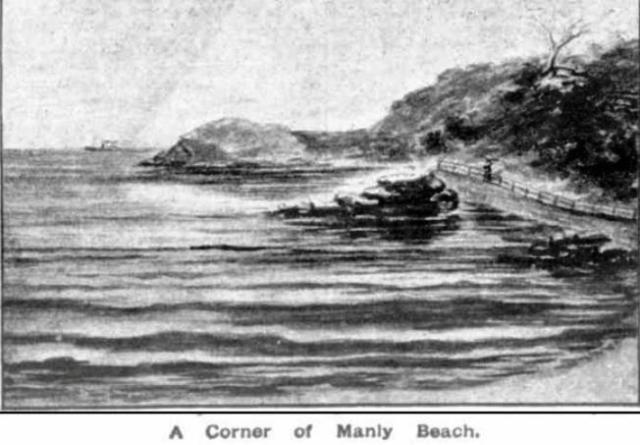 One of our illustrations shows a last glimpse of a corner of Manly Beach seen as the town is left behind on the road to Narrabeen. The road then runs through a bit of primeval bush, with its varied colors of Australian evergreens and flowering plants, and then past a settler's cottage with it's modest clearing and gay colors of exotic fruit and flower blossoms. Now past the Deewhy Inlet and headland, and Long Reef jutting out into the ocean, then through the village of Narrabeen, where there is ample hotel accommodation, and which has now become a very favorite pleasure resort for Sydney people. The drive is now across the substantial bridge which spans extensive Lake Narrabeen, which abounds in fish and wild fowl (see illustration right), and onward in graceful curves around breezy Bulgoa Head open to the surging waters of the vast Pacific Ocean.
For a great part of the distance the road follows the beach, and although at present the whole face of the country is mostly in a state of nature, yet it is easy to see how vastly it could be improved by planting rows of Norfolk Island pines (Araucaria excelsa) and sand-binding grasses as at Manly. Occasionally a lot of green pasture land is passed, and one of the sights of the road is the Salvation Army Home, as it stands on a bold, rocky hill, commanding a fine view of the cultivation patches and a wealth of gay colors. At length the Rock Lily Hotel is reached, and here is refreshment for man and beast. A few yards beyond here the road branches, one to the town of Newport and Barrenjoey Lighthouse, and the other to Bay View Post Office and Telephone Office and Church Point. At Bay View the expansive waters of Pittwater and Broken Bay in all their glory lie disclosed to view. Our illustration gives a very good idea of the scene. In the foreground is Bay View House, vine yard, orchard, Post and Telegraph Office, the property of Mr. J. J. Roche. In the near view is Pittwater, extending its broad and deep arms to the right and to the left, and in the distance is Broken Bay, with Lion Island barring the passage way, so named because of its resemblance to a lion couchant. Only half the scene described is represented in the picture, but the varied panorama of headland jutting out beyond headland, with the intervening bays and arms as they sweep inward between the wooded head lands, gives a good idea of what the other side is like. Broken Bay is, as is well known, one of the most magnificent harbors in Australia, with plenty of deep water and ample scope for the largest ships that sail the ocean. Its vicinity to Port Jackson has, up to the present, destroyed its chances of becoming a commercial centre, but no one can doubt that the day will come when it will be the seat of a prosperous population with cities and towns within its borders, and railroads and ships bringing goods to its marts. At present it is merely used as a haven of shelter by storm-tossed ships, yachting parties, and an occasional excursion steamer from Sydney. At present its population is mostly composed of private gentlemen, who have residences among its beauty spots, the summer residences of business men from the metropolis, a few professional fruit-growers, with a scattering of business men and fishermen.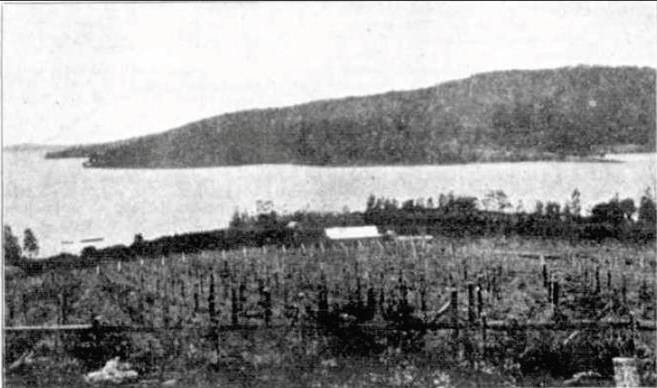 From Bay View the road, a very good one, winds around the beach, disclosing as every vantage point is gained new beauties of land and water. Around here are some very good orchards, with trees laden with fruit, and the homesteads peeping out from masses of evergreen foliage, with an extensive vista of land and water. In a charming spot on a sloping hillside, with such a fore ground and a craggy background Professor Anderson Stuart has a summer residence and orchard. Mr. W. G. Geddis has a neat residence on a pleasant point. Mr. W. Baker has an orchard with some magnificent trees, while on a commanding bluff is Mr. John Poster's residence and orchard. Mr. A. McIntosh's residence is also hard by.
This road ends at Church Point, a lovely spot commanding a view of Pittwater the town and hotel of Newport at the head of Navigation, Broken Bay, and Barrenjoey directly in front; Scotland Island and Towler's Bay right across the water, with the long and deep arm known as McCarr's Creek on the left. On the Towler's Bay side there are several residents who pull across the water to the wharf at Church Point and meet the steamer from Sydney or the coach from Manly, as the case may be. The dynamite powder hulk is moored in Towler's Bay, with residences on shore for the officers in charge. Mr. Robert Robinson has his residence of Raamah at the same place. Mr. Robinson informs me that he can grow to perfection such tropical fruits as bananas, guavas, ginger, mangoes, pineapples, Brazilian cherries, &c. This fact will demonstrate that there can be little or no frost in this locality. Other residents of this side of the bay are Mr. F. Chave, Woodlands, who has a very nice orchard, mostly summer fruit ; Mr. E. C. Johnstone, who has a nice residence and orchard; Mr. A. Steffani is another prominent resident, while the residence of the firm of Flood and Oately occupies a lovely peninsula in the quiet waters of the bay. Mr. Geo. Brown has a residence and an orchard in the neighborhood, and there is also a small church and cemetery at Church Point.
Careel Bay and Valley (see illustration) is situated to the left of the entrance to Broken Bay, and is considered one of the most beautiful of the many points of interest on the whole water system of Broken Bay. The bay is spacious and deep, and the valley, which comprises an area of about 1000 acres, is shut in by a bold and rugged mountain chain. The valley is the homestead of the late Mr. John Collins, and most of the land still belongs to the Collins family. New Brighton is situated here, a favorite resort for excursionists by steamer from Sydney. Large ocean steamers can run right up to the wharf at Newport, and there is ample water for even larger vessels. From the Basin, Broken Bay, the distance to Peat's Ferry is about four miles, and there are long and deep inlets which penetrate the land for a great distance on either hand. On the right from Broken Bay extends Brisbane Water up to Gosford. The above is but a glance at some of the more salient features of this extensive inland water system, with its deep and broad bays and inlet beyond inlet, lying within the many folds of the bold projecting headlands and wooded hills; in fact the whole is a perfect maze of waterways, headlands, bays, and islands, which must be seen to be properly appreciated, and the water abounds in fish of various descriptions.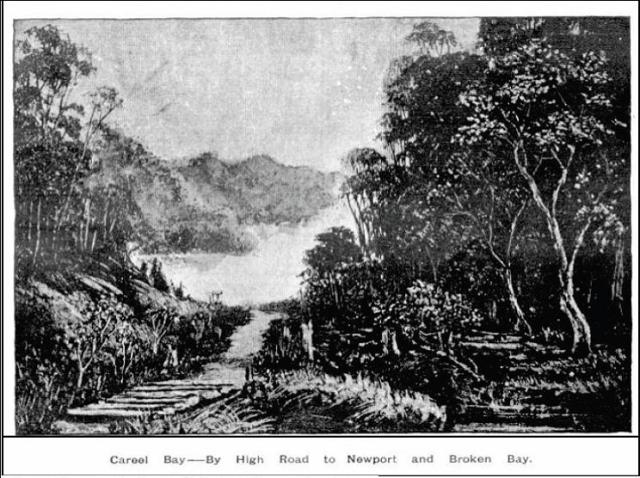 The land, as seen in its bold outlines from a distance gives one an idea of sterile beauty, but on closer approach and investigation it will be found that, while there are many rocky ridges and promontories, there are also deep alluvial valleys, composed of very good soil for fruit-growing and even dairying purposes. Most of the land is a light sandy loam, but there are spots of excellent soil. Stretching back from the bay there is Mr. J. J. Roche's orchard, composed of very good soil. Beyond for several miles the soil is generally good, and at Mr. Austin's Cabbage Tree Valley Orchard the soil is of an excellent quality.
Turimetta township is situated about a mile from Bay View, on the road to Manly, and fronting the ocean beach. It cannot boast of many inhabitants as yet, but Mr. E. Doublet, of Sydney, has a promising young orchard in the vicinity. The Rock Lily Hotel is also here, Mr Leon Houreux proprietor, and to which there is attached a neat flower garden and orchard. Mr. Henry Ball, Rosebank, and Mr. J. Shaw, are both fruitgrowers of this neighborhood. At Newport, a township which boasts a good hotel, Post and Telegraph Office, Town Hall, boarding-house, and several private residences, there are several small orchards. But neither in orcharding, dairy farming, or fishing has the resources of land and water been as yet developed to their fullest extent ; in fact, in these great industries a commencement is just about being made, which in time will no doubt develop into remunerative and extensive industries. In the hands of Mr. Roche and a few others, fruit-growing and poultry farming is a paying industry and will be sure to extend. Our illustration, " A Cluster of Lemons," grown by Mr. Roche, on his Bay View Orchard, will compare favorably with any fruit of the kind grown in this country or any other. The lemons, which are of the Lisbon variety, and are very juicy, are simply superb, and grow close to the salt water in the greatest profusion ; and oranges, which are of the Siletta variety, are among the sweetest and best ever grown.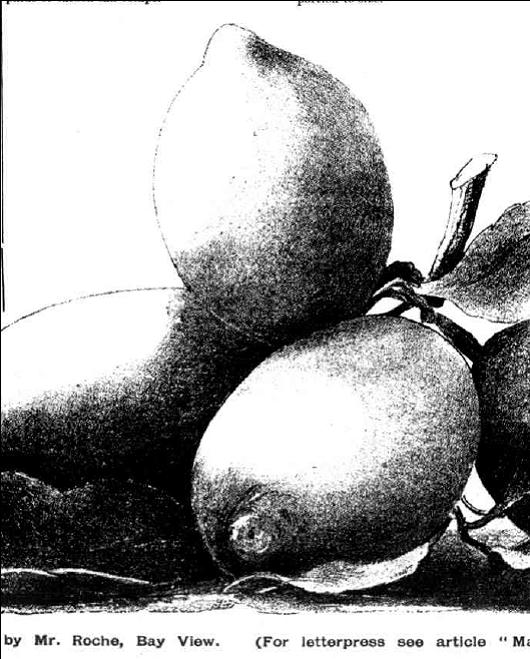 On Mr. Roche's property are several small caves, interesting as the unmistakable residence of generations of blackfellows, and the shells and debris collected show ages of habitation, and what is now used as manure.
The flora of the district is varied, as may be supposed from the climate and soil. Grey gum, spotted gum, ironbark, blood wood, and turpentines, and others of the eucalypti develop into lofty trees, which cover the whole face of the country and give it a densely wooded appearance. In the olden days large quantities of excellent timber was shipped from the district, and there is still large quantities obtainable, although not so handy as desirable. A dense undergrowth occurs in suitable situations, prominent among which are the numerous palms common to the coast. The baroneas, flannel flowers, waratahs, fuchsias, &c, all grow in the most bewildering confusion ; rock lilies, stag horns, and other epiphytal plants cover the rocks and trees, while a perfect maze of ferns cover the sward wherever they can find root for themselves, from the tender maidenhair to the more lofty fern tree. Ever-flowing streams of water pour down from the mountain sides, in some instances forming cascades of considerable volume, which still further enhance the beauty of the scene.
In short this favored region has every resource calculated to render it a fit habitation for man, a salubrious climate, fertile soil, plenty of wood and water, and within easy distance from market. Its fisheries alone, if energetically prosecuted ought to return a revenue sufficient to support a large population, while its close proximity to the metropolis and many beauties ought to attract a constant stream of tourists. The reason the district is so backward in respect of permanent settlement is no doubt because there are so many other localities where the land is more easily cleared and the soil of a better quality. One drawback has been that much of the best of the land has been locked up from settlement by large landholders. Tourists and summer visitors are now beginning to pour into the district. Many Sydney business men are buying properties and building cottages there on for summer residences. The district has rapid and efficient and cheap, communication with Manly, by coach, but what is required to bring it within easy reach of the metropolis is a tramway or light line of railway. Under existing circumstances one can leave Church Point at 6.15 a.m., and reach Circular Quay by the Manly boat at 9 a.m., but a railway to North Sydney would do the journey much quicker and with more comfort. As a place of resort for holiday-makers Pittwater and Broken Bay has many, attraction and as a place of residence for those who like marine views it stands unsurpassed.
Manly to Broken Bay. (1893, November 11). Australian Town and Country Journal (NSW : 1870 - 1907), p. 19. Retrieved from http://nla.gov.au/nla.news-article71191632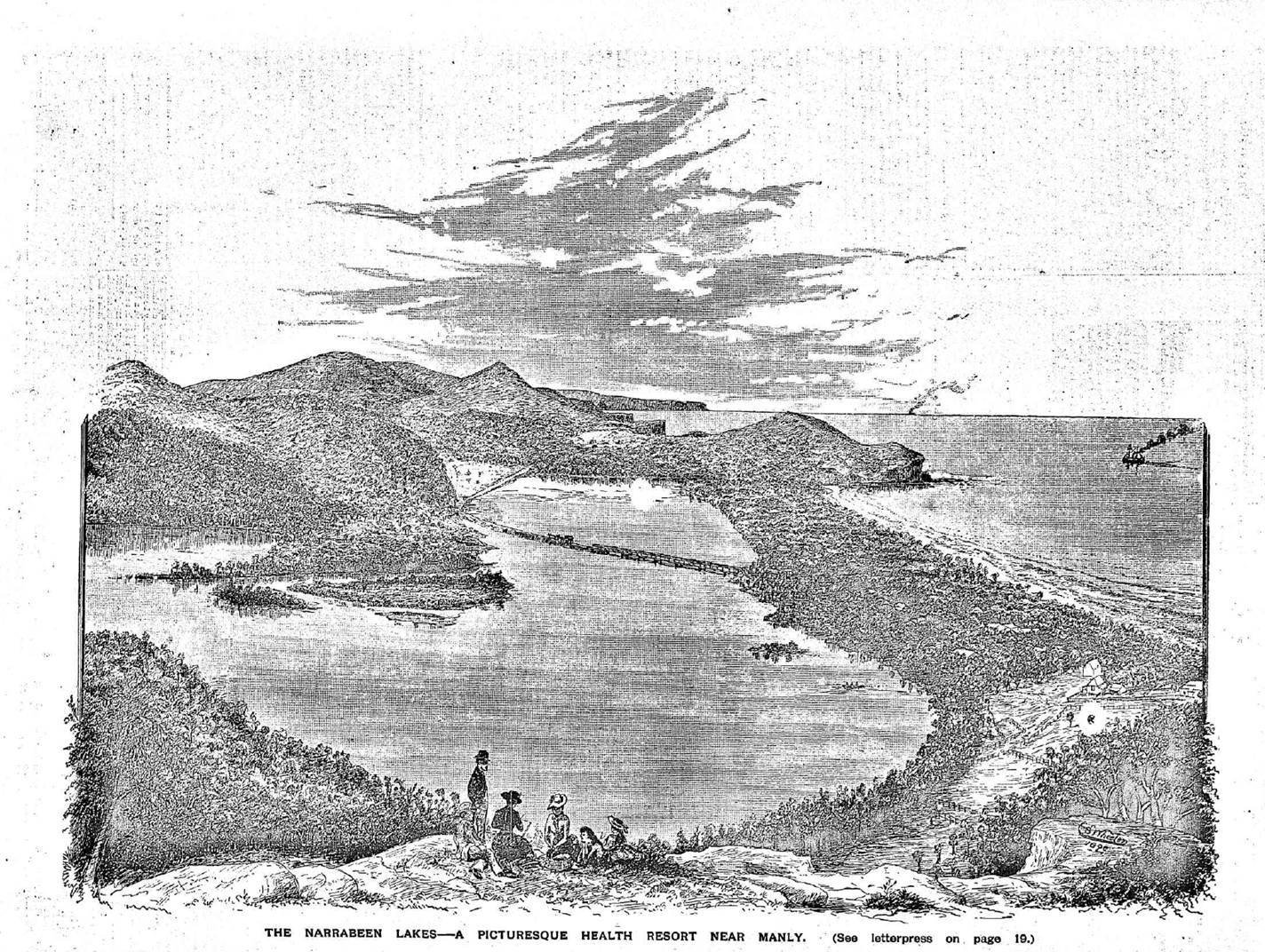 THE NARRABEEN LAKES-A PICTURESQUE HEALTH RESORT NEAR MANLY. Drawn by S Wheelon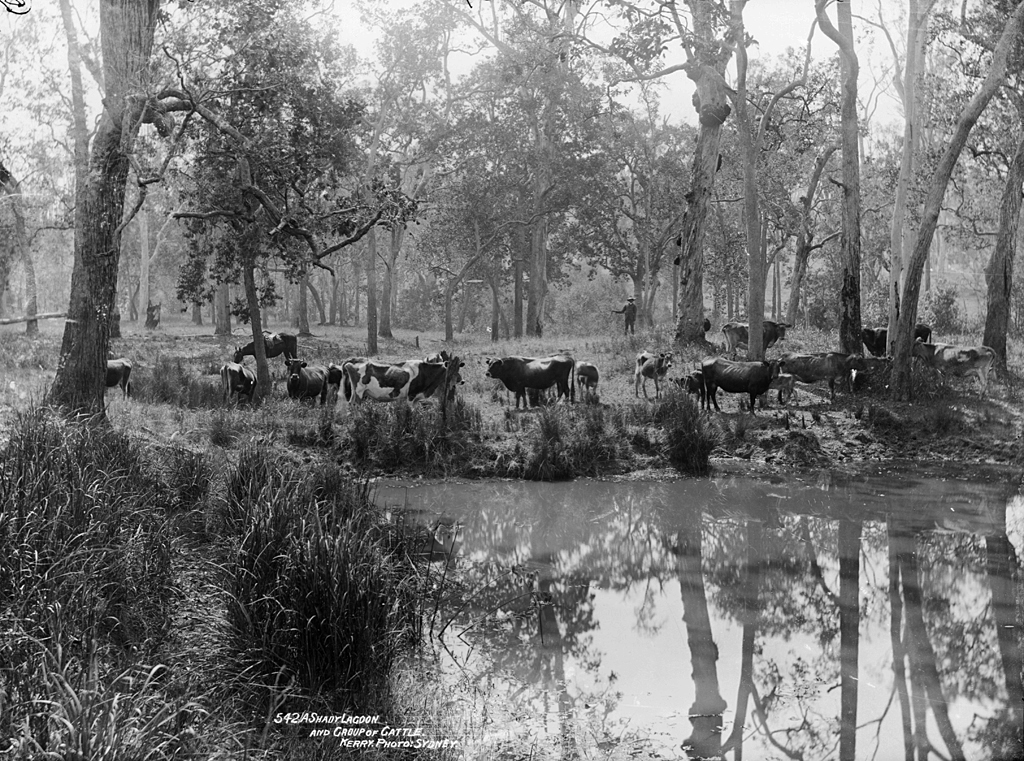 A Shady Lagoon From Kerry- King Tyrell Collection, courtesy Powerhouse Museum. Circa 1900 -1907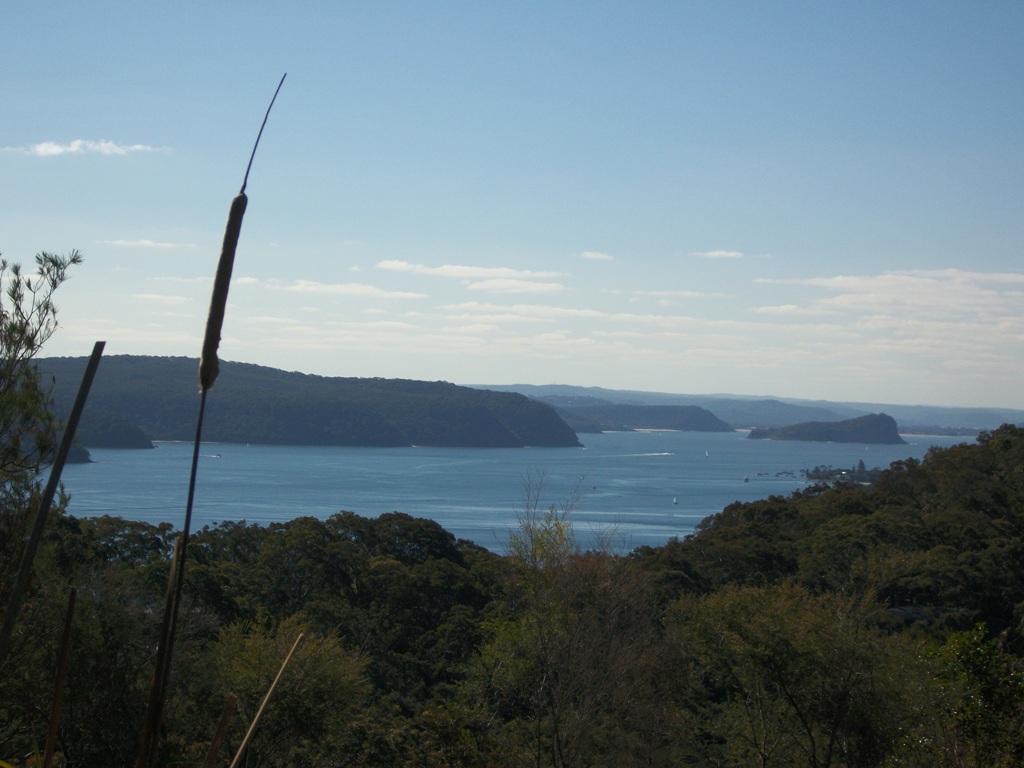 Pittwater 120 years on