February 28 - March 6, 2021: Issue 485

Summer In Pittwater 2020-2021
There's no doubt that the Summer of 2020-2021 was one of the quietest, coolest and dampest for a few years.
The impact of the Covid lockdown over the Christmas to New Years and into January, accounting for the cancellation of many events, including our local surf carnivals between clubs, as well as the cancellation of the ocean swims our Summer calendar is known for, and even those going ahead not attracting their usual thousands, has made for deserted streets at times, and overcrowding on our beaches when the sun did come out and the area was opened again.
Once residents could emerge from their homes, or the local Branch of Surf Life Saving could run some of its own carnivals, the beaches and bush trails started to see human visitors.
Avalon Beach, January 10th, 2021 - first day after Pittwater Lockdown of December 19, 2020 to January 9, 2021 ceases: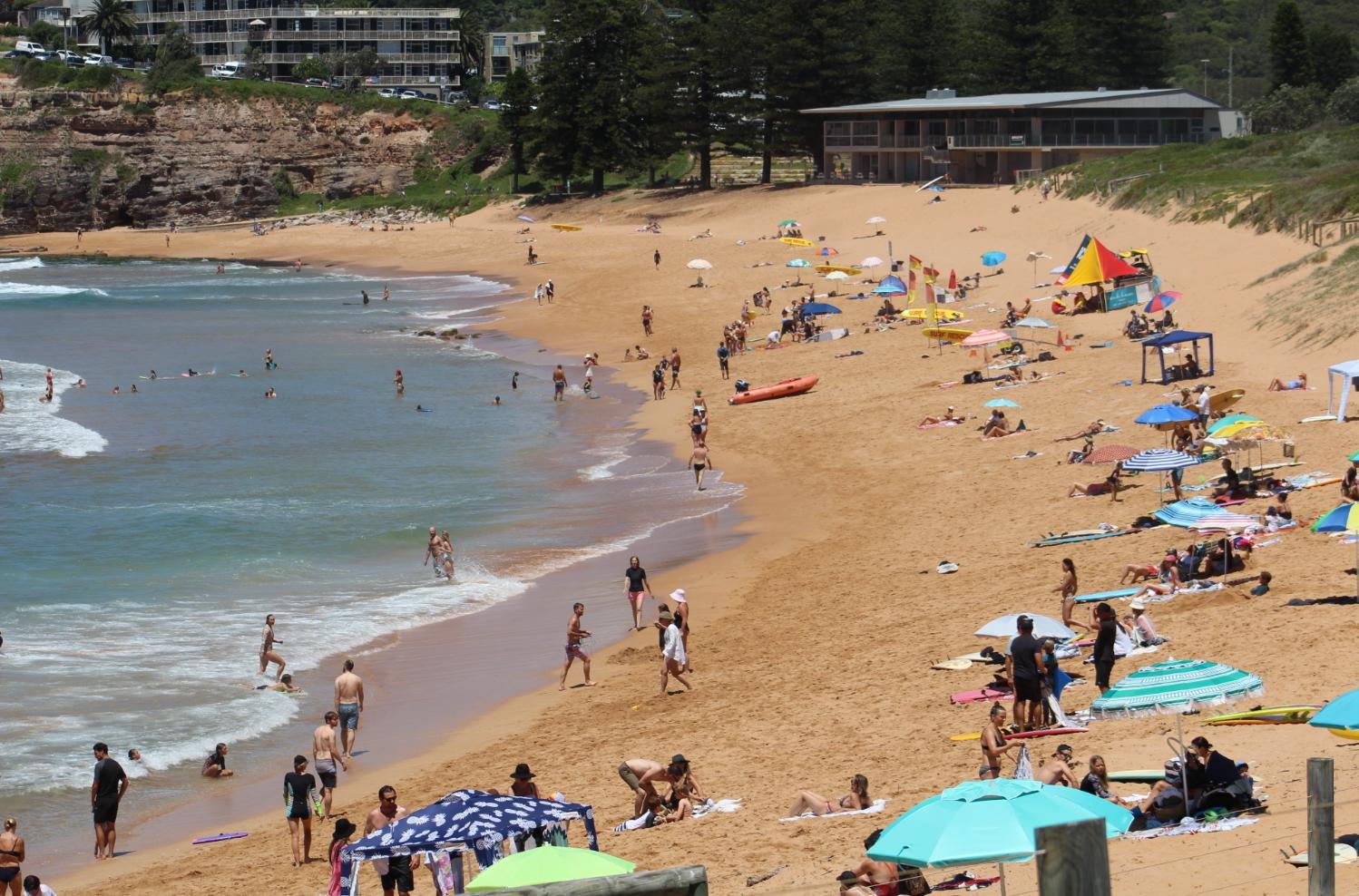 This week a few images from the 'Summer that wasn't' which also show there was still a Summer celebration by locals when and where they could and that we're a pretty easy going, calm and resilient people who have taken the opportunity to enjoy the natural wonders of the place we live in during the past season.
Pictures by those credited.
December 2021
Link Church Recognised For Extraordinary Efforts During Covid-19 - Awarded 2020 Pittwater Community Service Award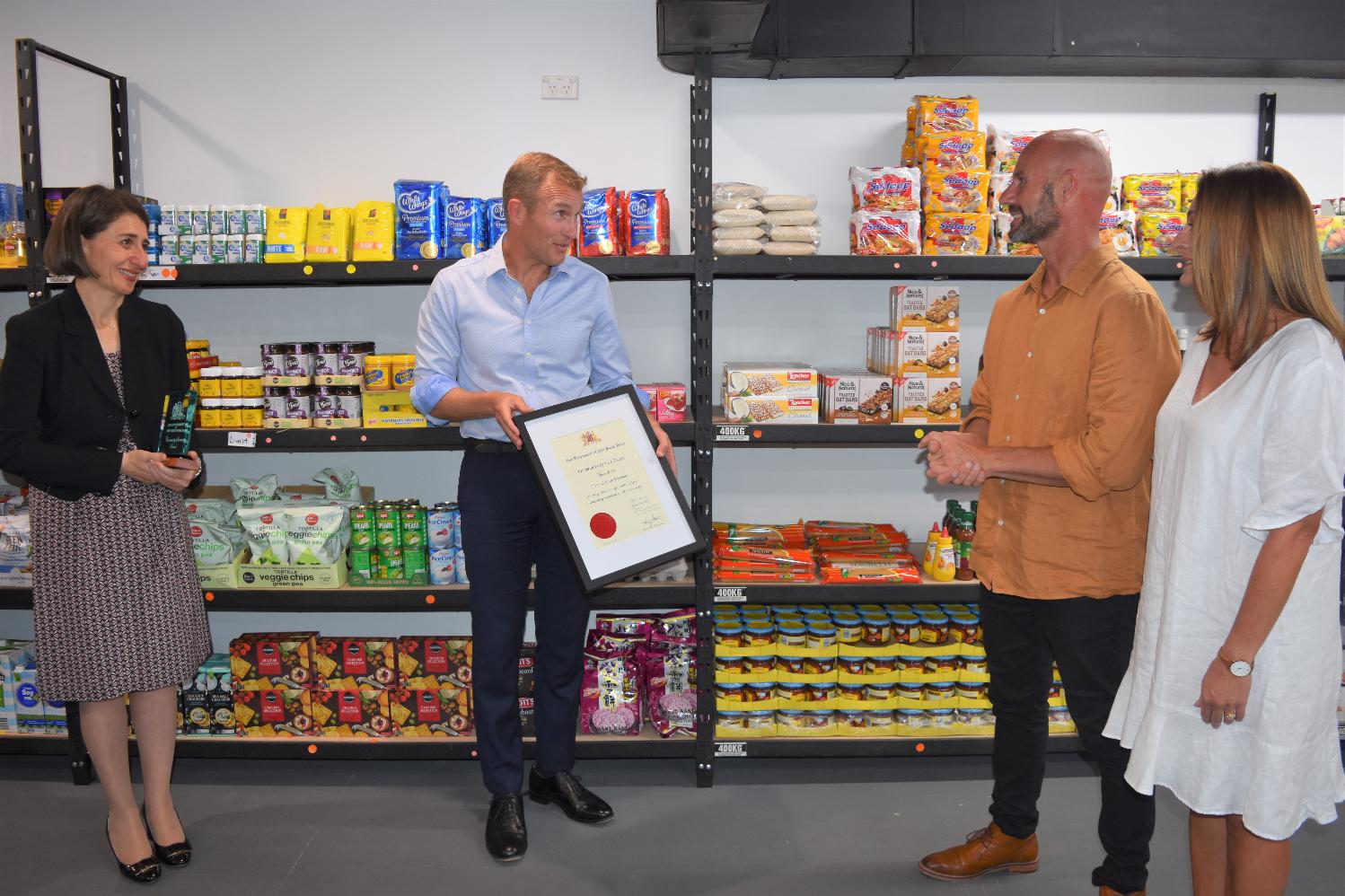 Photo: NSW Premier Gladys Berejiklian, Pittwater MP Rob Stokes and Glenn & Clare Wysman.
Link Church Pastors Glenn and Clare Wysman have been announced as the recipients of the NSW Government's 2020 Pittwater Community Service Award.
The award was presented by NSW Premier Gladys Berejiklian and Member for Pittwater Rob Stokes during a visit to the church's food distribution headquarters at Warriewood during the last week of November and was on the Front Page for the first Issue of December, 2020.
Also on that page and as the first Aquatics feature for Summer was our own Palm Beach Sailing Club hosting a premier event and lighting up the estuary with these beautiful sails and great sailing
Palm Beach Sailing Club Hosts The 2020-21 NSW Hobie States: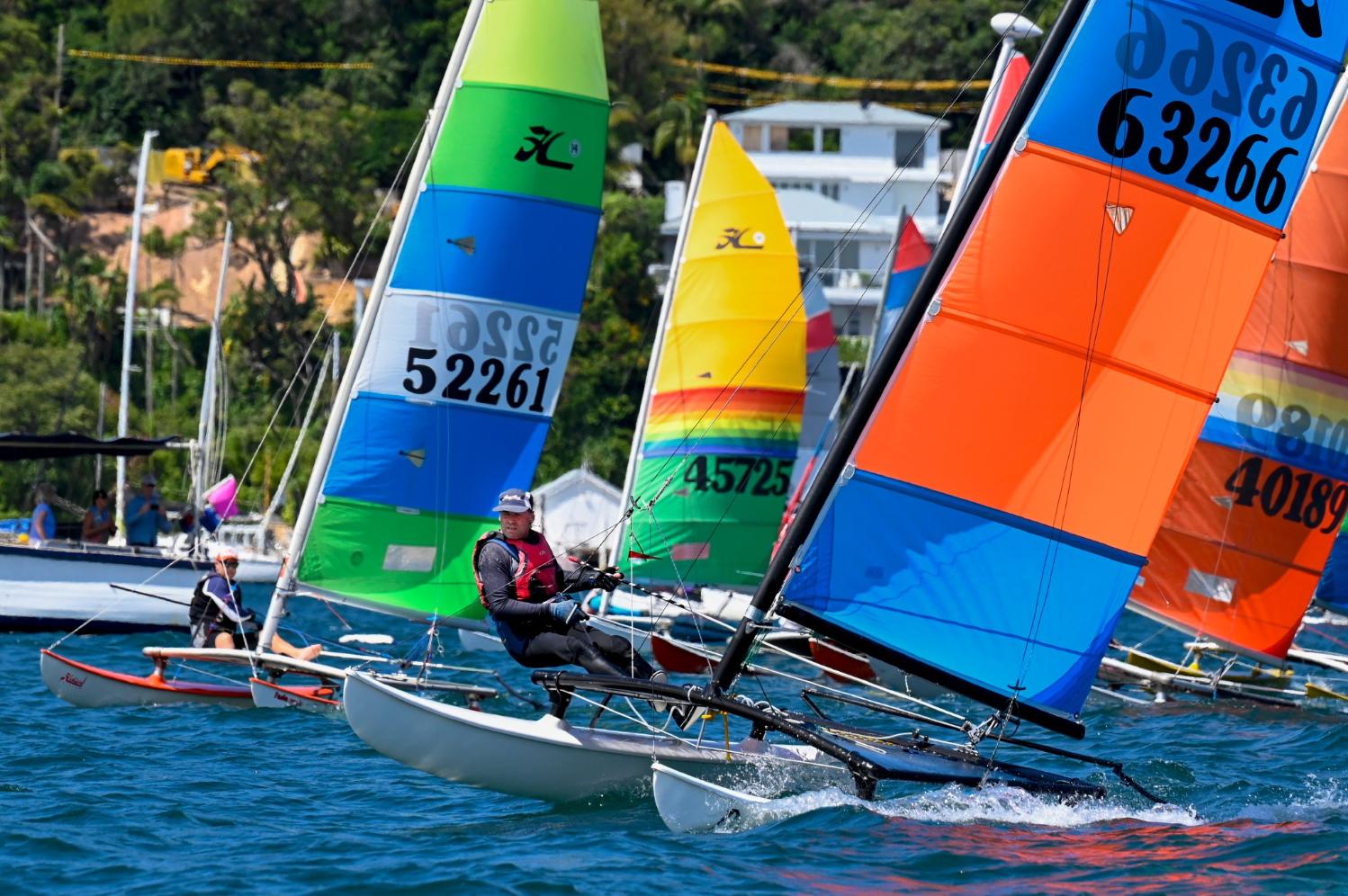 Not to be defeated by having to cancel their annual B to B Variety car run raising funds for Variety, the Children's Charity, or own Palm Beach Mermaid, Beryl Driver OAM, was joined by the next generation of those who care about Australian children and Australian rural towns - they commenced and completed another 'Resurrection Run', when this could be done, and finally wandered back to Sydney to send in the following report for that first Issue of Summer too:
The Outback Mermaids On Variety's Resurrection Run 2020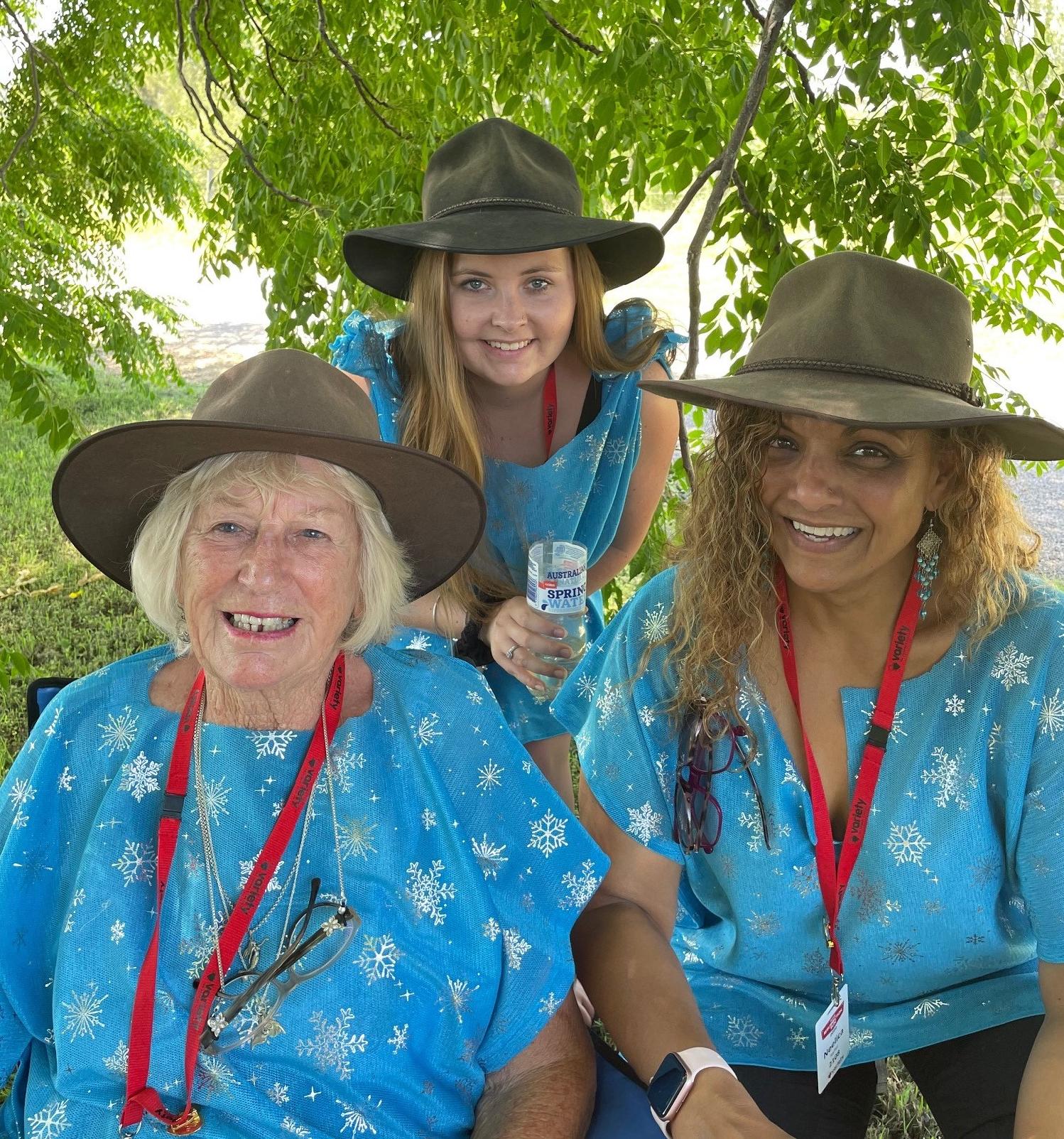 The Outback Mermaids - Beryl Driver OAM, Neelica Raffel and Indy Leigh Griffiths (at back).
Beryl Driver OAM commenced her 22nd Variety Children's Charity Bash on Sunday November 15th, and her 23rd Bash overall. Joining her were first-timers in Scotland Island's Neelica Raffel and Elanora's Indy Leigh Griffiths who, together, were the 'Outback Mermaids' as part of the Variety Resurrection Run, a six-day charity car event that raised $330,000.00.
This was a tour de force of rural New South Wales - with 40% of the journey on true car bash dirt roads. That event ran as that week's Pictorial as Spring became Summer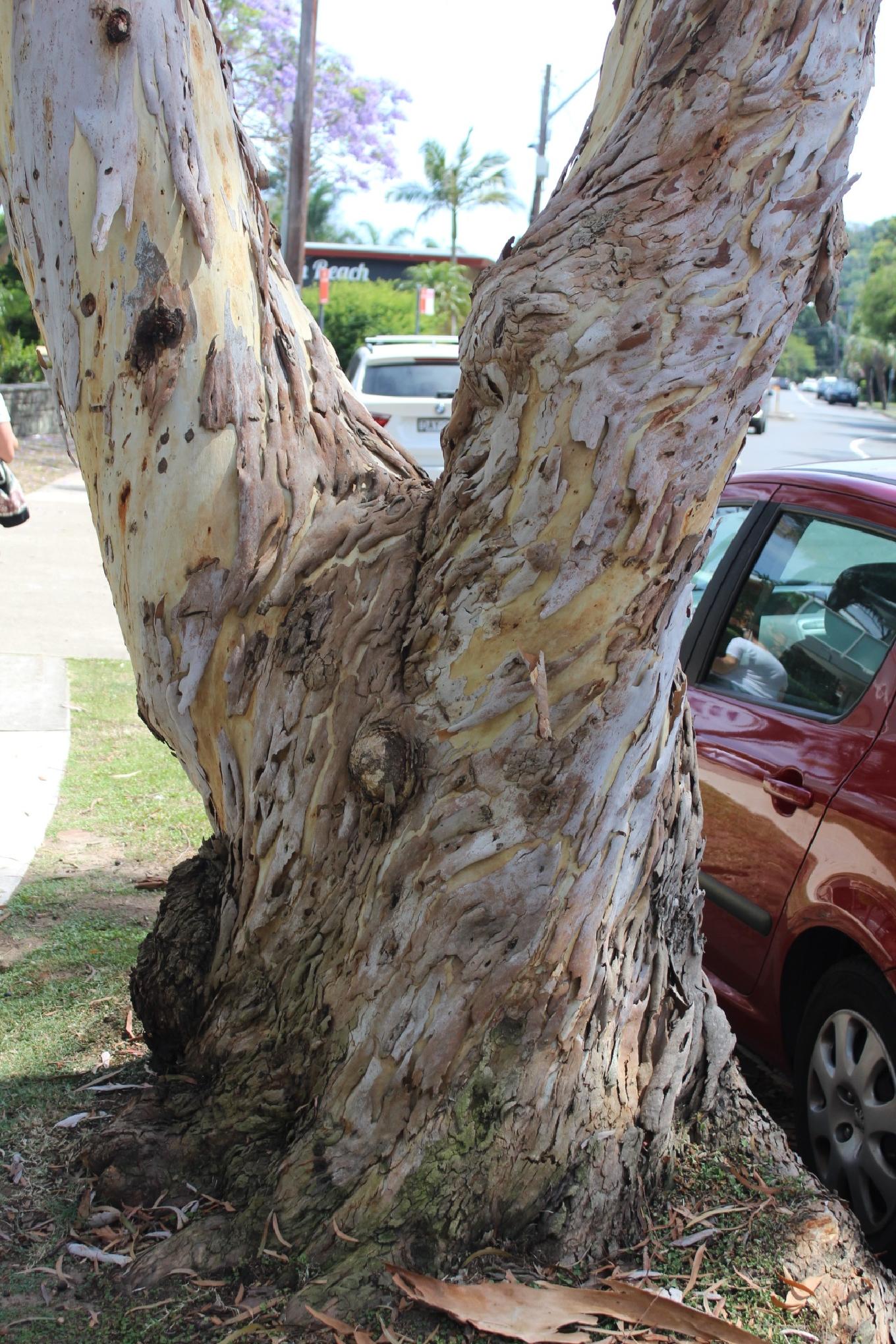 Bark spiral shedding beauty at Palm Beach - photo by A J Guesdon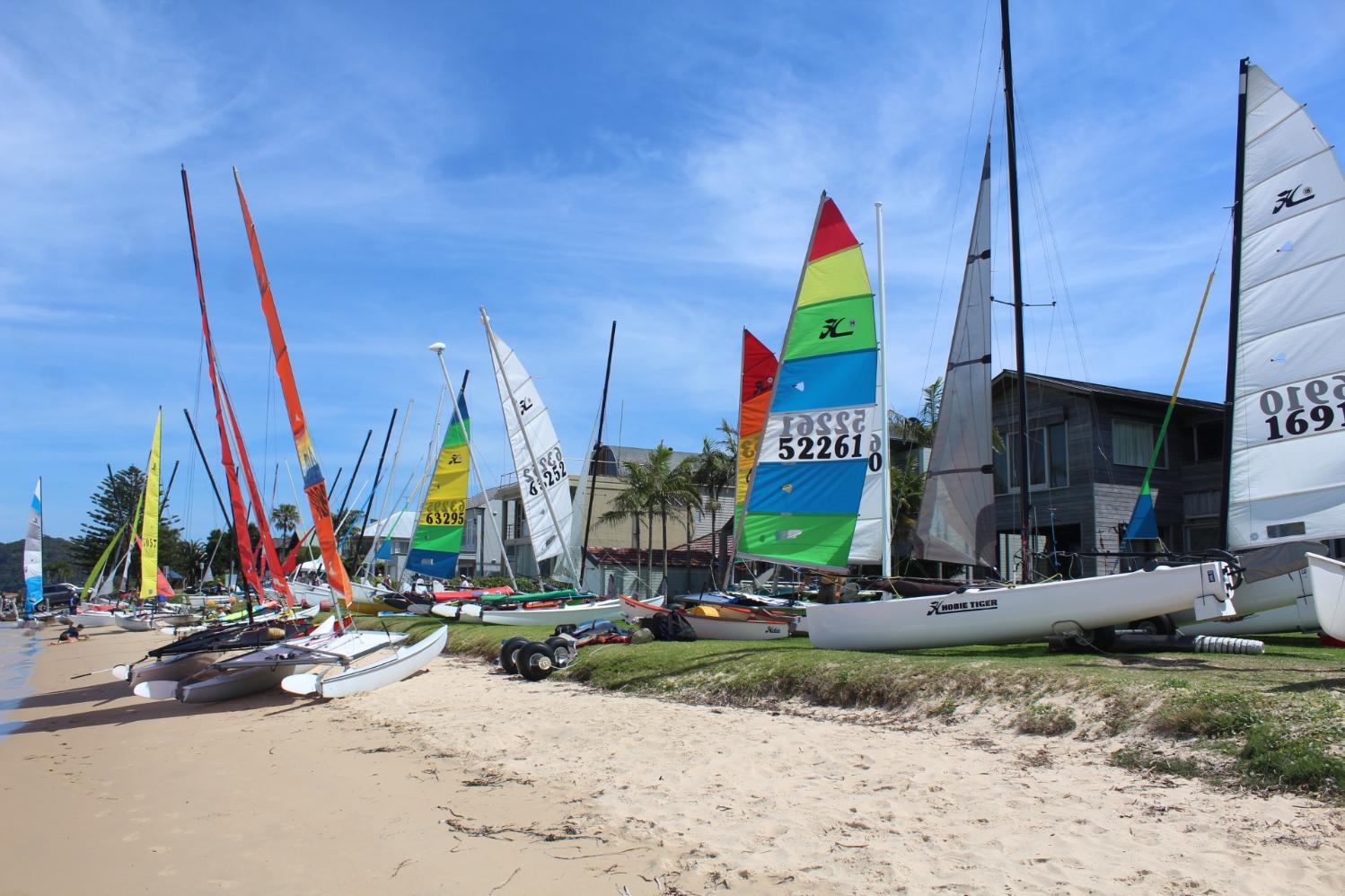 Hobie States 2020-2021 fleet at Sandy Point, Palm Beach - photo by A J Guesdon
We signed off for a well earned month's break on Sunday December 13th, 2020 - by December 16th we were 'back on duty' - the last Profile of the Week for 2020 was;
The Dog Project: Launched: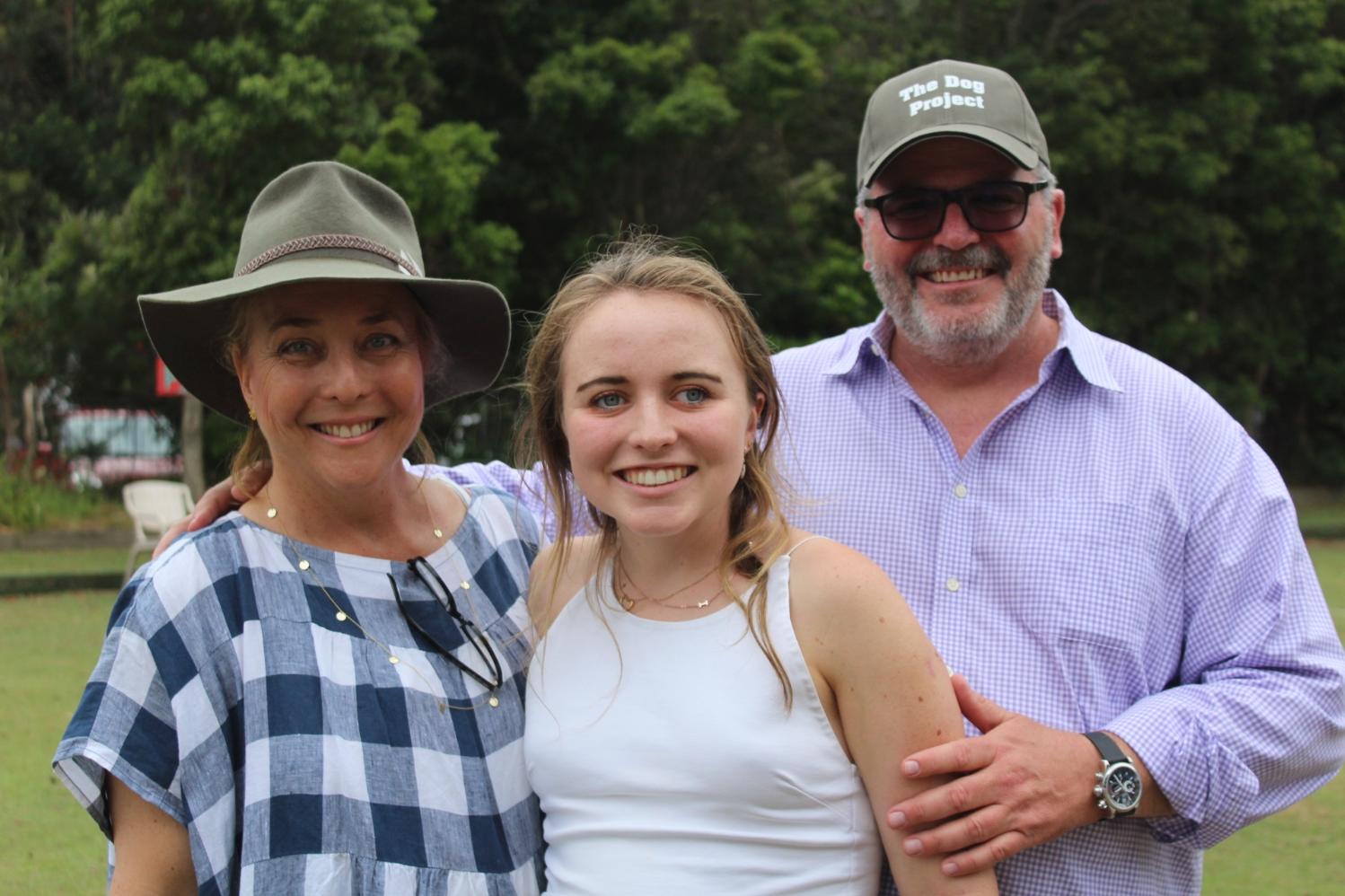 Tania, India and David Kerr at Avalon Bowling Club yesterday. photo by A J Guesdon
The launch of a great new book, The Dog Project - Community Enrichment Through the Love of Dogs' took place at Avalon Bowling Club, on the front green, on Saturday December 5th. There was music, stalls, lots of doggie fun and waggy tails.
The goal was to photograph and interview 100 people and their dogs. This is a project from the heart of the community for a good cause. The book is now for sale. Funds are being raised to support the Cerebral Palsy Alliance and Monika's Doggie Rescue.
Learn more through their website: www.thedogprojectcpa.com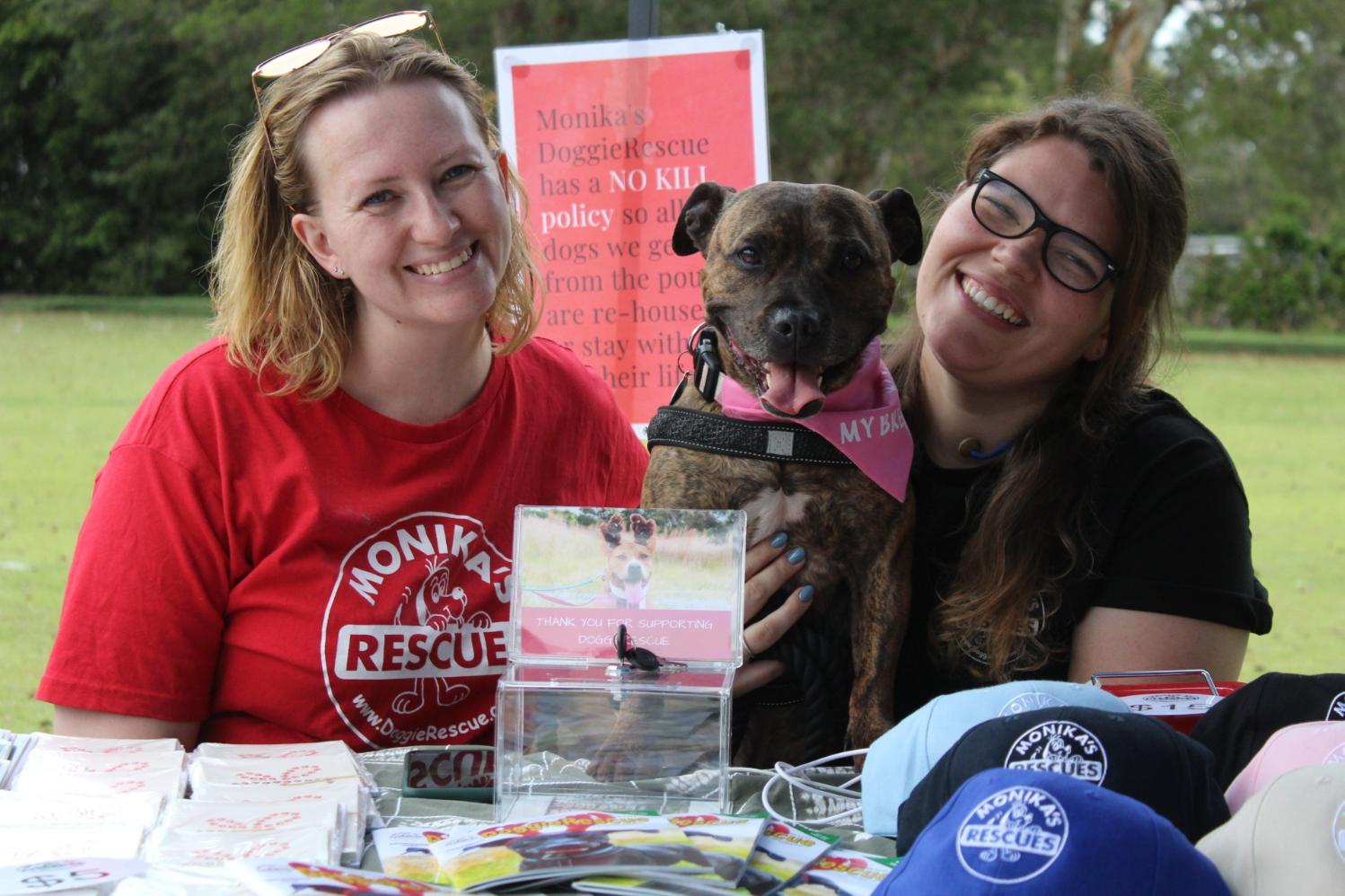 Monika's Doggie Rescue volunteers on site yesterday, with one cutie - already adopted by the lady in red. A J Guesdon photo
Avalon Public School's Old Roofing Materials Enjoy A New Life At Government House In The Form Of A Kimbriki Wicking Garden Bed: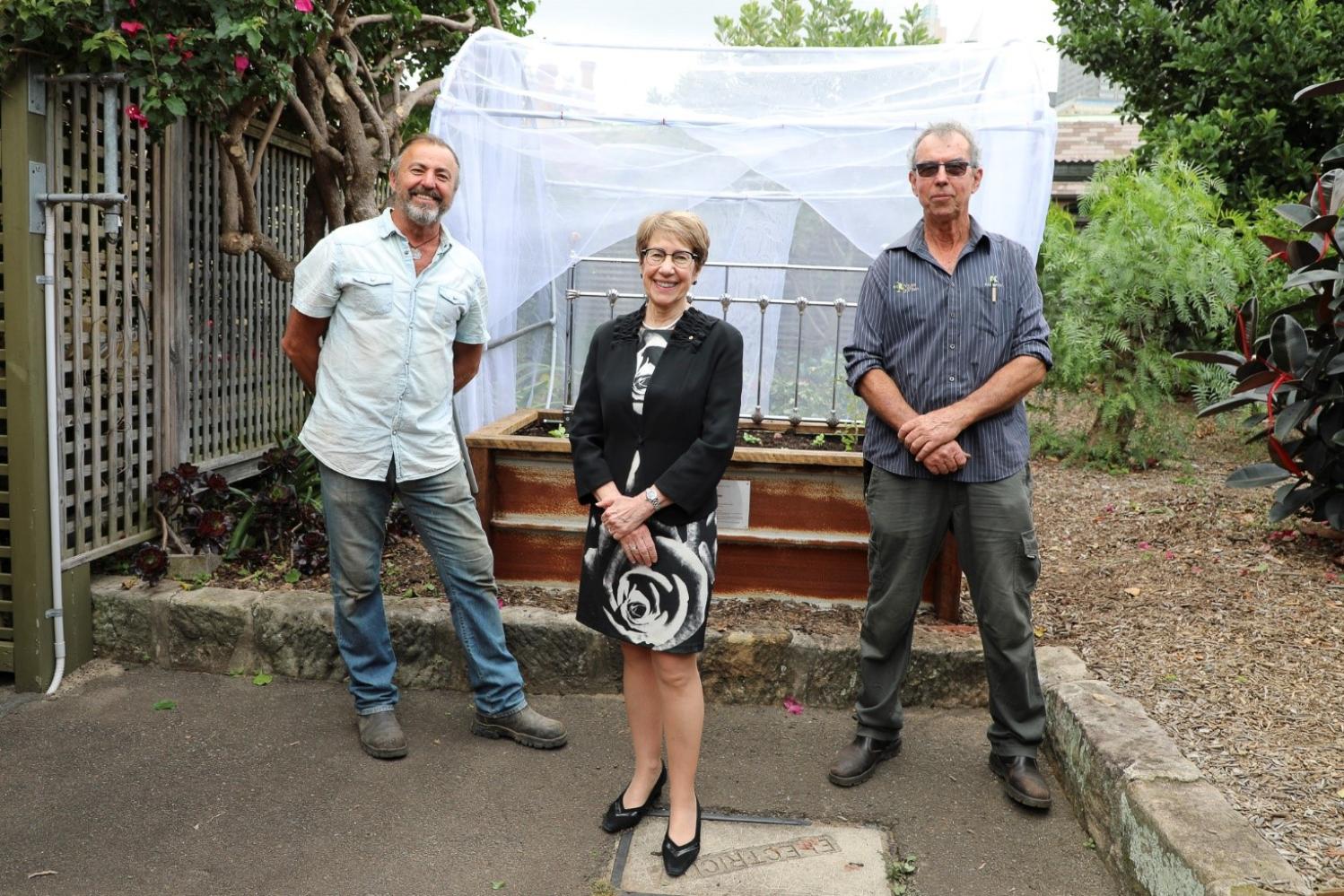 Pictured: Her Excellency the Honourable Margaret Beazley AC QC, Governor of New South Wales planting seedlings in Kimbriki Wicking Garden Bed at Government House
Drowning Schoolie Saved In Brave Rescue By NASA - Avalon Beach SLSC Bronze Holder: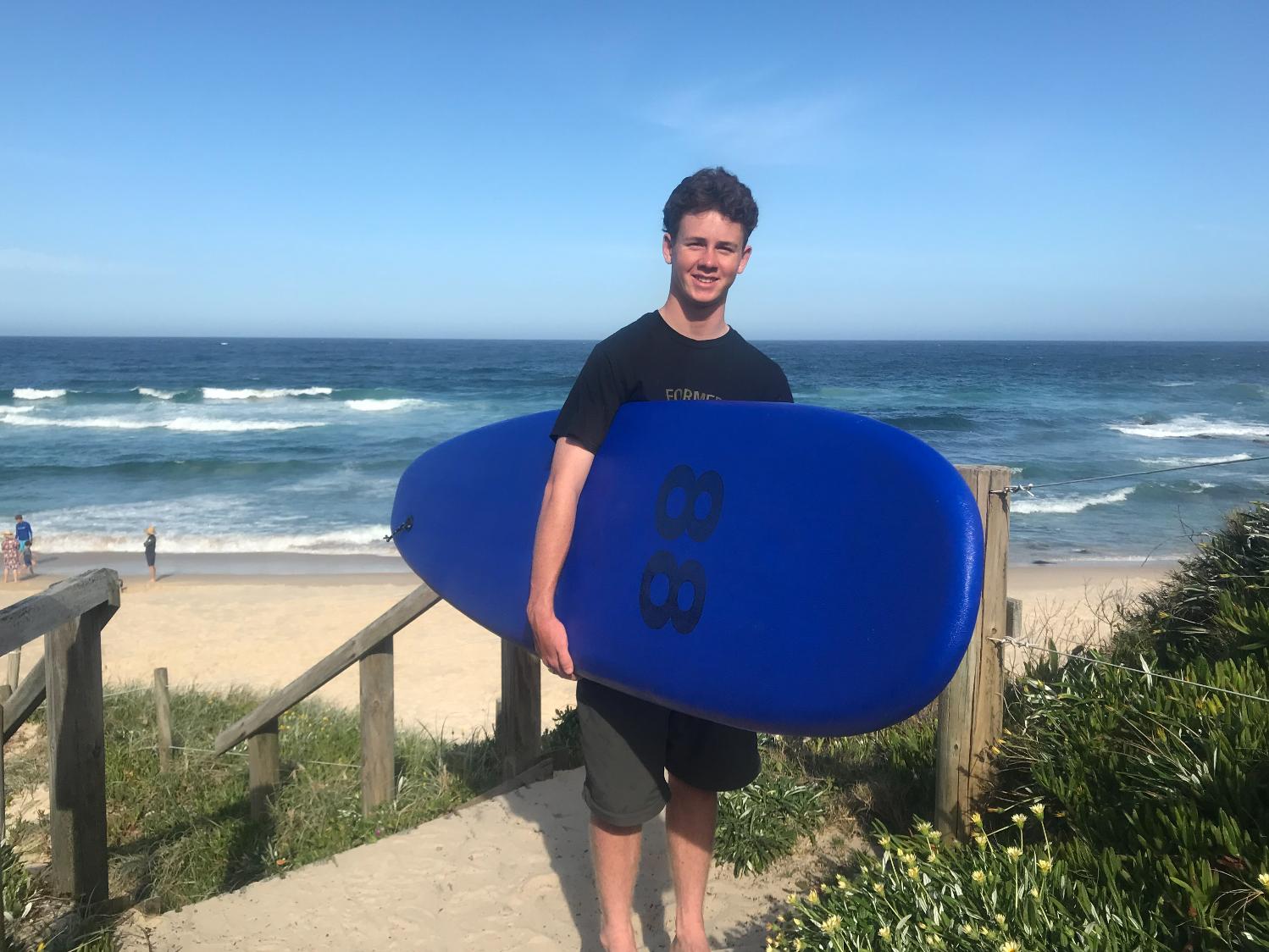 Max Arnold - photo by Lachlan Arnold
"I didn't think anyone was coming."
Lachlan Arnold says it chills him to the bone to recall those words, spoken by the teenage girl lying on the beach waiting for the Ambulance to arrive.
Luckily for the young schoolie from Taree, Lachlan and his son Max happened to be on the unpatrolled Boomerang Beach that day and had the courage and the skills to save her life, reaching the drowning girl with just seconds to spare.
Max Arnold is just 16 years-old but has been involved with his local surf club since he was a six-year old Nipper and is a member of North Avalon Surfriders Association. Completing his Bronze Medallion just a year ago, he has been actively patrolling at Avalon Beach, yet his deep understanding of the ocean and ability to act quickly under pressure is a tribute to himself, his club and his family.
On Thursday 26 November Max and his dad Lachie were surfing and enjoying the sunshine at the southern end of Boomerang Beach on the NSW lower-north coast. The beach is a popular tourist destination – even more so in 2020 with traditional schoolies destinations out of reach due to COVID-19 restrictions.
Lazy Dog Looms Over Act 6 And MC38 Season Pointscore: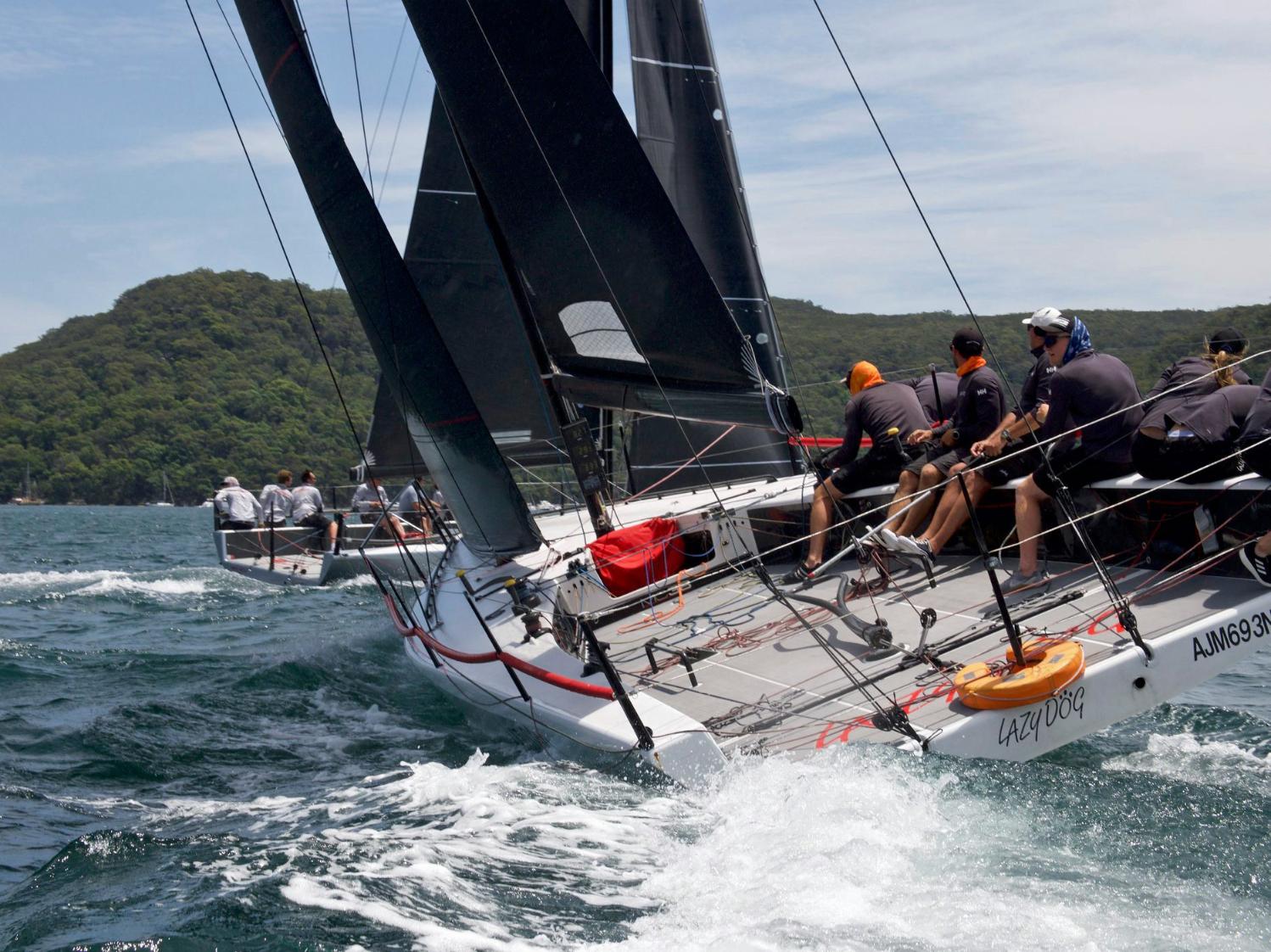 Lazy Dog Act 6 and 2020 season winner - photo by Tilly Lock Media
Event: MC38 2020 Season Act 6 (final), November 28-29 hosted by the Royal Prince Alfred Yacht Club with racing on Pittwater.
Middle Harbour Yacht Club's Lazy Dog team closed out the 2020 MC38 calendar with a third series triumph, giving Shaun Lane and Quentin Stewart's crew the overall season trophy from six acts.
"We were pretty consistent; not too many boat handling errors," Lane said. It was tricky finding a course area on day two, the RPAYC race committee headed up by Steve Merrington first trying the estuary, where the breeze was already 27 knots, then Mackerel Beach and finally 'the pond' at the southern end of Pittwater where they got two races away "before the wind went mental".
The youngest helm in class history, 13-year-old Indy Beck, steered his dad Christian's MC38 InfoTrack on day two with plenty of talent supporting him in the big role.
"It was definitely exhilarating when we had a top wind of 30 knots and we were doing 20 knots downwind," the teenager said. "We had one wipeout in the first race, a nice wipeout coming out of a gybe. We sat there on our side for a bit then got going again. The starts were pretty epic, I wasn't worried about running into someone."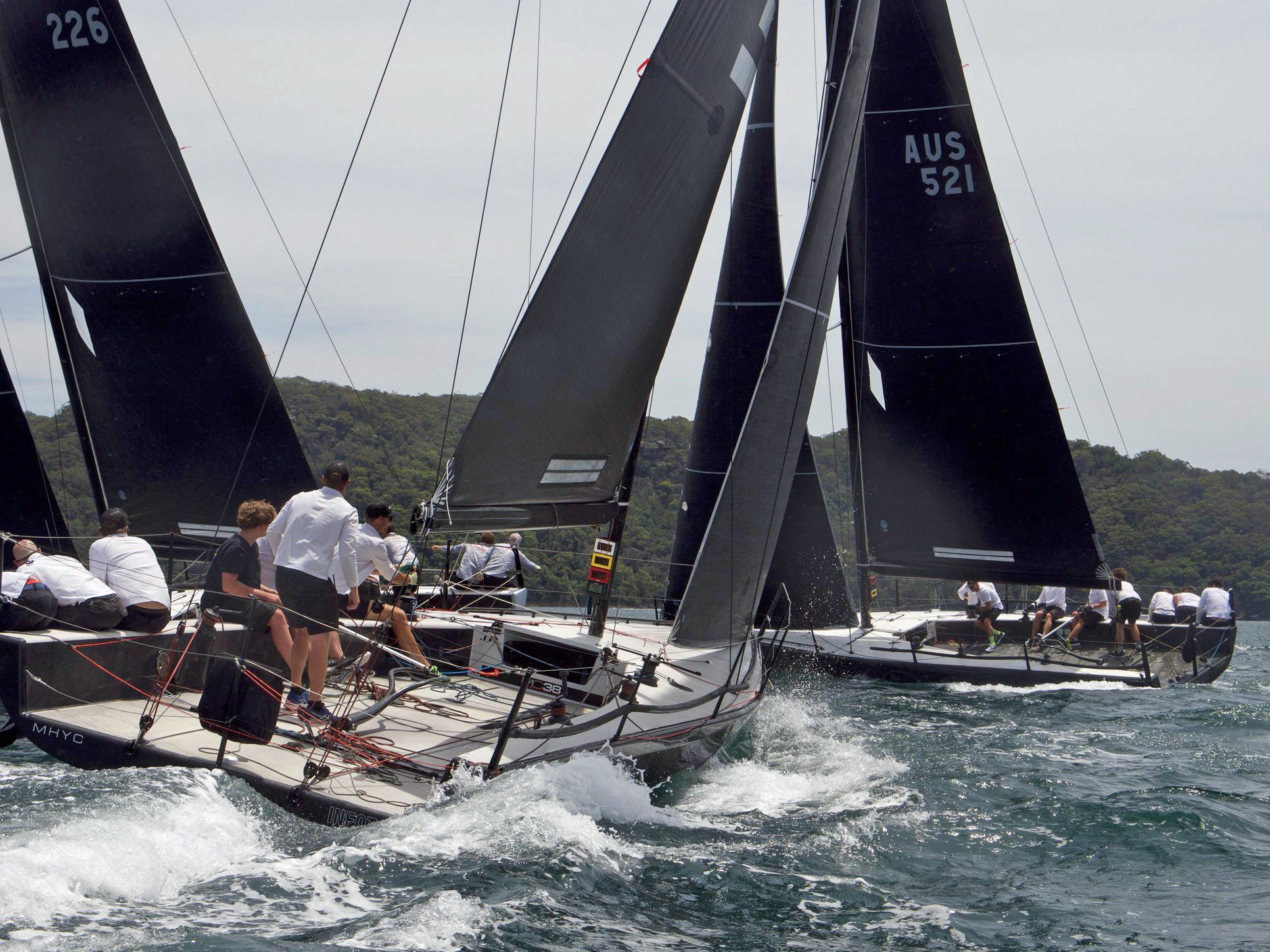 InfoTrack with Indy Beck on the helm - photo by Tilly Lock Media
Full report by Lisa Ratcliff HERE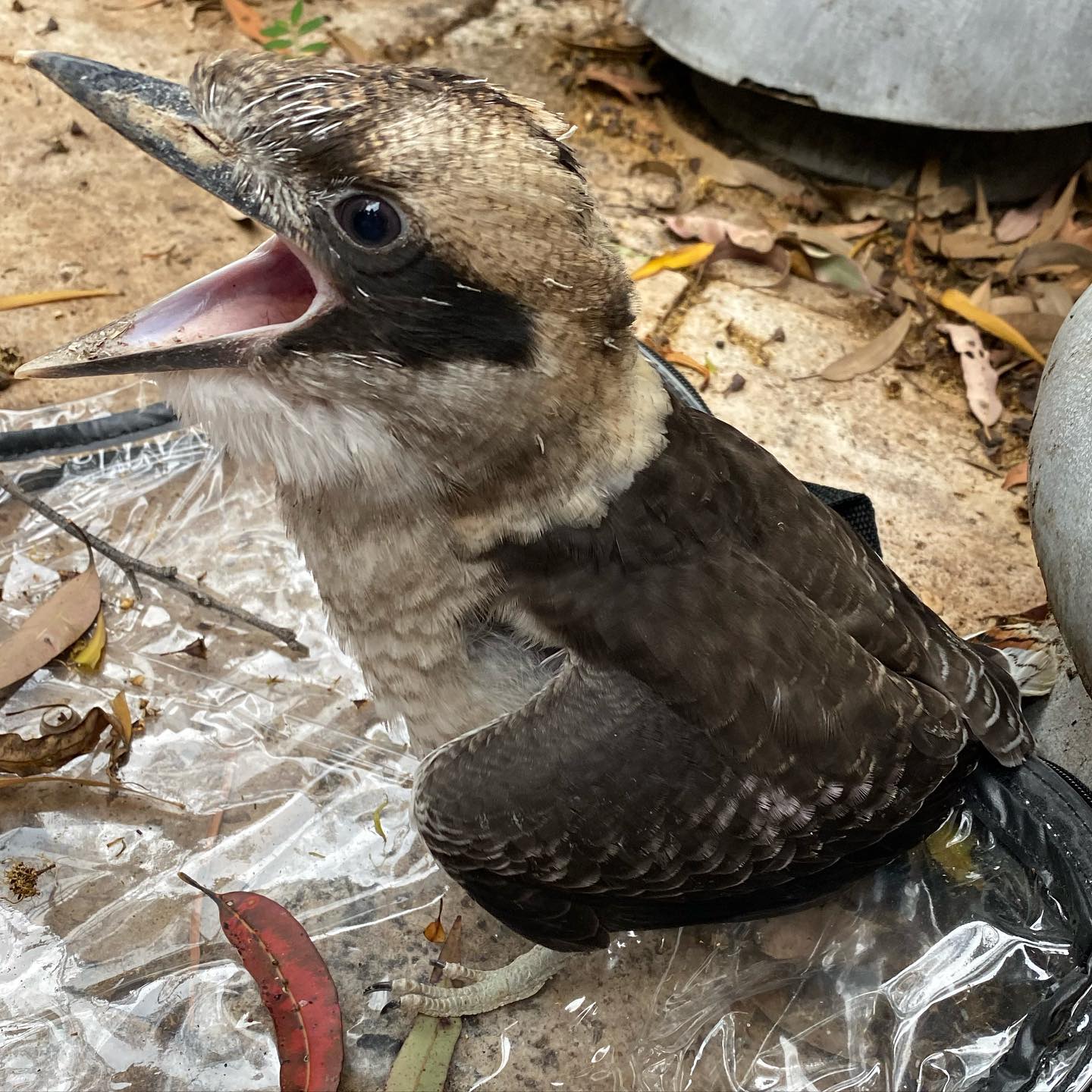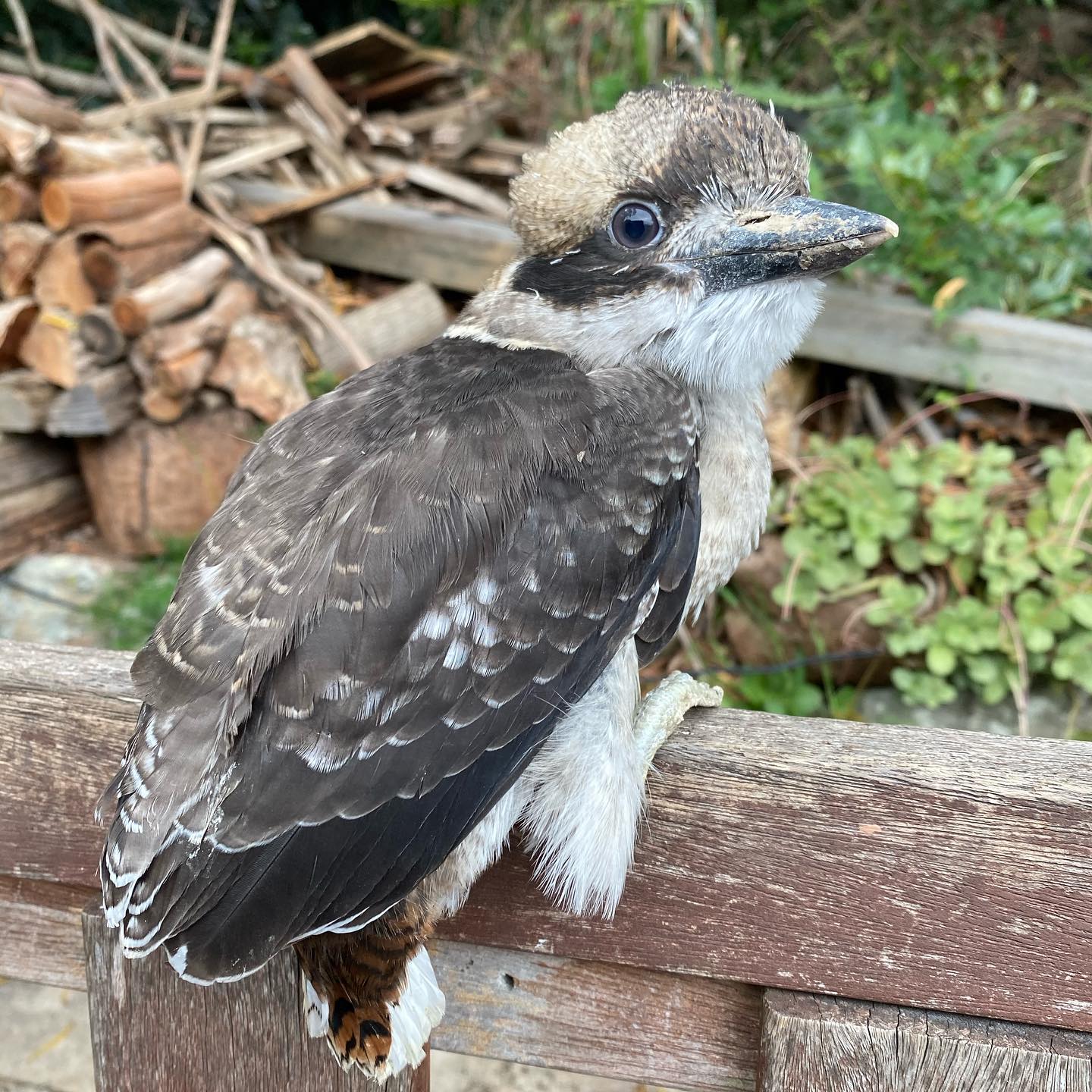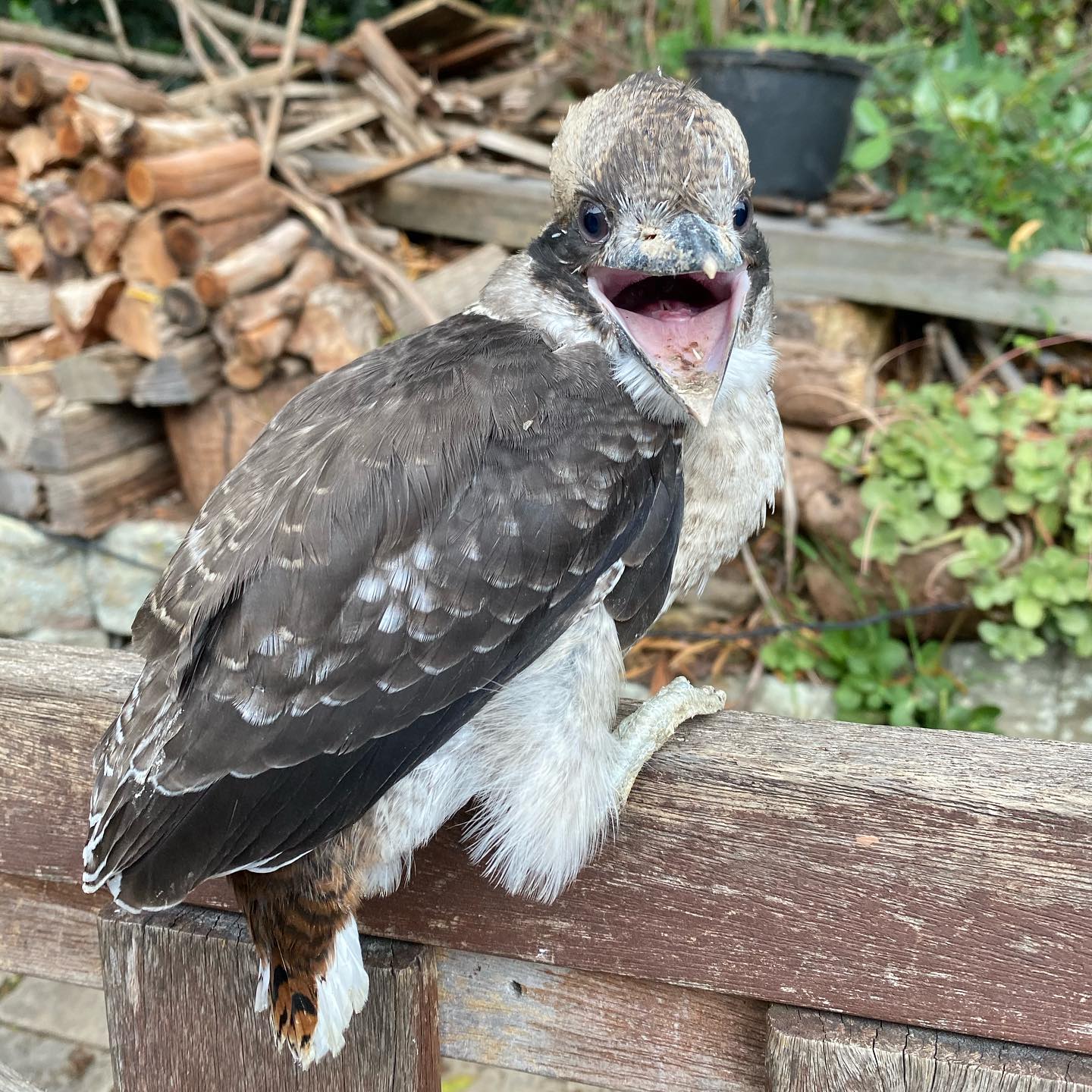 Fledgling kookaburra at Elanora Heights - photos by Selena Griffith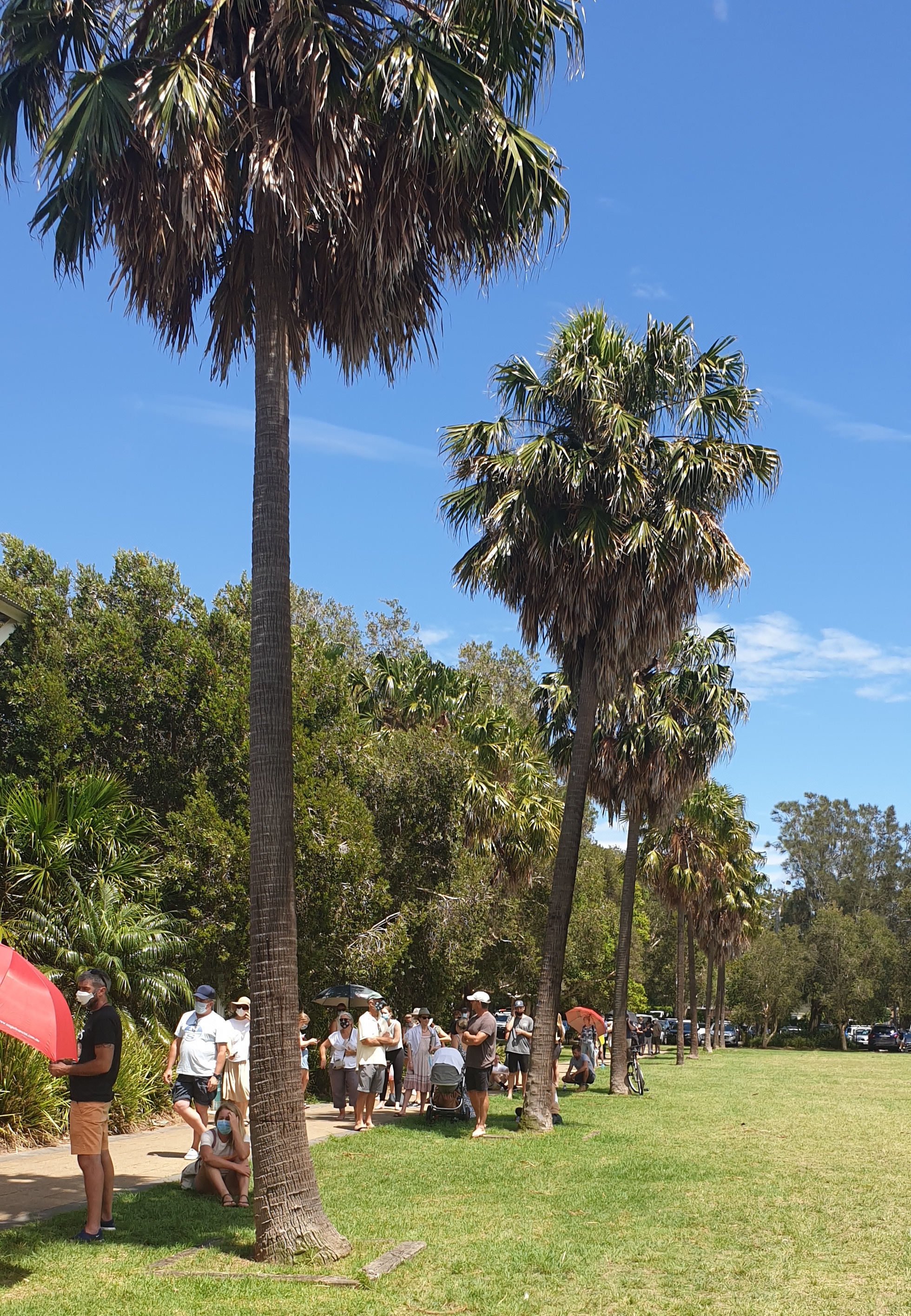 People queuing for Avalon Beach Recreation Centre pop-up clinic on Thursday December 17th - photo by Roger Sayers
In between those 11am NSW Health Briefings work on History pages and Interviews for 2021 were done. On our Facebook platform little 'cheer up's were posted between the daily reports - many of them featuring 'Avalon' - one of the most popular was that which said that word.... 'Pittwater' ... as this was re-established along its old boundaries. That post and accompanying image for those who don't go on FB's platform, on December 23rd, 2020:
Principality Of Pittwater
The wonderful Lorrie Morgan (Pittwater Community Arts President for 10 years) bequeathed the patch below to Pittwater Online News a few years ago. It stemmed from an Avalon Lions Club Fundraiser:
''Peter Bensley has been dubbed Prince Peter of Pittwater by the Avalon Lions Club which has organised a Pittwater Principality Secession Week from September 25 to October 5 to raise funds for disabled and disadvantaged people in the Manly-Warringah area. In return for his crown Peter will be handing out knighthoods and attending fund-raising functions beginning with a Royal Chinese Banquet. '' -

Appeared in The Sydney Morning Herald Page 80. September 13, 1981









Another popular one, shared multiple times, was this:
As a band, Nothing Too Serious would like to set the record straight.
We've asked the NSW Health Minister to do so (set the record straight) , since his initial statements not specifically blaming but promoting the perception and implication on national media – we were the cause of the outbreak, but to no effect.
The facts :
* The entire band went to Avalon RSL 100 % healthy NO Symptoms and totally unaware of any Covid outbreak
* We encouraged people not to dance together and to follow rules as did the club
* Two of our band members ended up infected with the COVID virus from the gig
* We did NOT bring Covid to the RSL. Refer to recent news reports as to earlier sources going back as far as back as November
* After the gig on the 11th Dec, Nothing Too Serious DID NOT PLAY ACROSS Sydney and as a band have NOT played since - suggestions NTS did are INCORRECT
* Upon feeling ill and as a precaution, one of our members got tested earlier in the week following the gig
* Upon testing he isolated and upon receiving a positive result he informed us and as a band we all went and got tested and isolated, without prompts from tracers
* ALL the band have Isolated in accordance with the NSW Health regulations
We've become and continue to be nationally notorious through the initial implication – one that we're advised was a gross breach of privacy and NOT BASED on Fact.
We ask that you respect the facts and please if you hear incorrect rumours circulating, take it upon yourself to correct those that believe or spread misinformation.
NTS would sincerely like to thank the many who have supported us, the local community that know of the truth and while we deal with those who choose not to consider the facts.
Thank you
Nothing Too Serious
January 2021
'Shag idyllic, the only bird in sight' - photo by Adriaan van der Wallen

View over North Narrabeen lagoon entrance, January 2021 - photo by Joe Mills.
Careel Bay Laverty Pathology Drive-through Clinic: commencing Monday Jan 11th
Barrenjoey Road, Careel Bay Playing Fields car park, Avalon Beach, NSW
Operating from Monday 11 January 8am-6pm 7 days.
For more information please visit the Laverty Pathology website.
Appointments are not required
Wheel chair accessible but patrons must remain in motor vehicle
Channel-Billed Cuckoos Fledglings 2021
Channel-billed Cuckoos (Scythrops novaehollandiae) have been particularly prolific this year and now their offspring can be seen in the trees - fortunately there seems to be around a gazillion Black Prince cicadas (Psaltoda plaga) to feed them. A pair was seen in Pittwater Spotted Gums at dusk on Monday January 18th 2021 being fed by a pair of Pied Currawongs (Strepera graculina).
Everywhere you look at present there are fledgling birds and most that live on insects seem to be in twin numbers this year - why? Perhaps because there is an abundance of food for insectivorous birds or ??? ...
Marita Macrae (PNHA) tells us; 'This large cuckoo spends our colder months in northern Australia, New Guinea and Indonesia, returning south to breed, arriving in Sydney about the middle of September. A lot of the racket they make is to distract their host birds from attending to their nest, so the female can quickly deposit an egg, or three. Wattlebirds and Currawongs can raise a brood of their own in early spring before these cuckoos arrive, ensuring there will be future hosts. Come the middle of March, adult and juvenile cuckoos head for warmer climes once more.'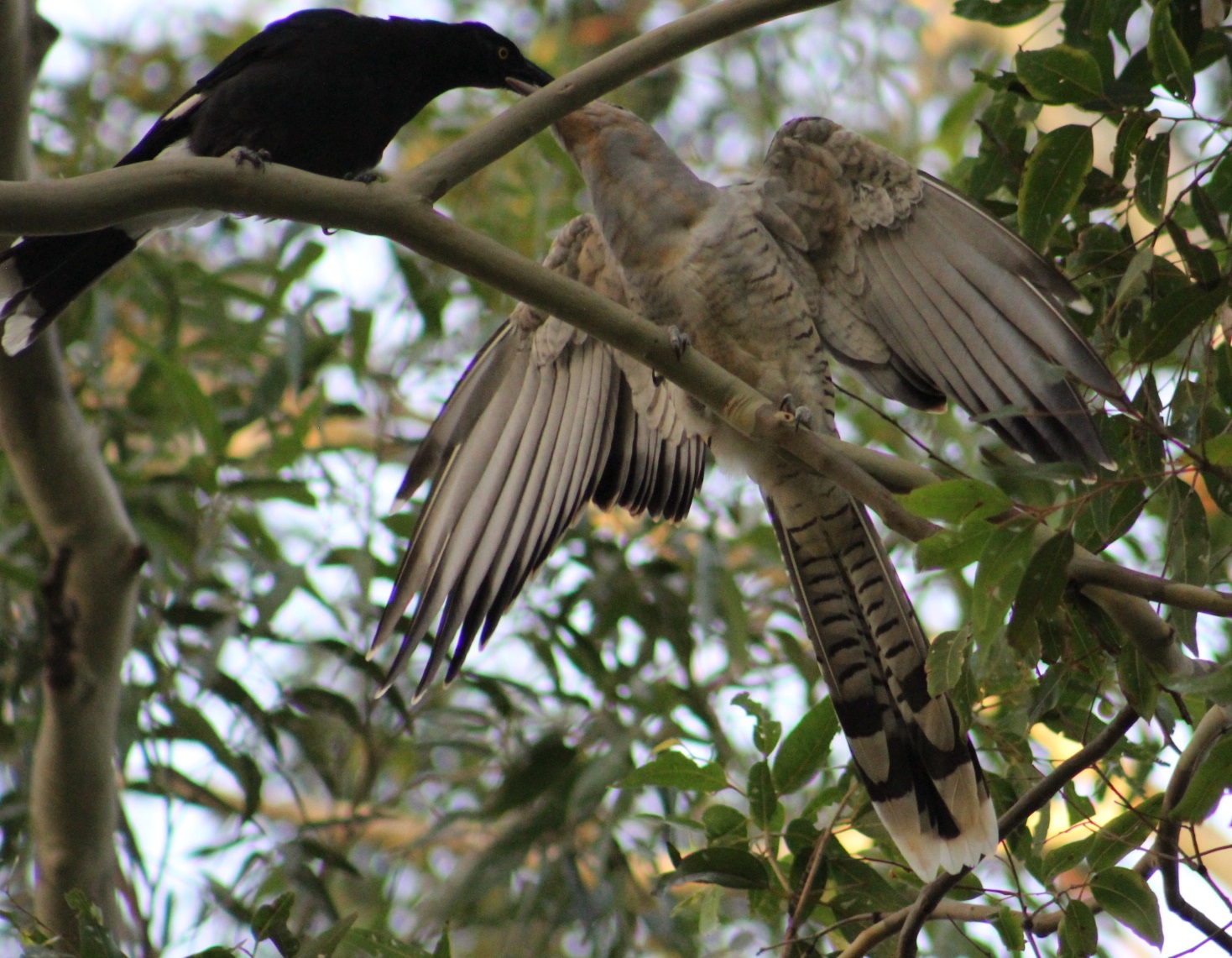 Photos by A J Guesdon, January 18, 2021.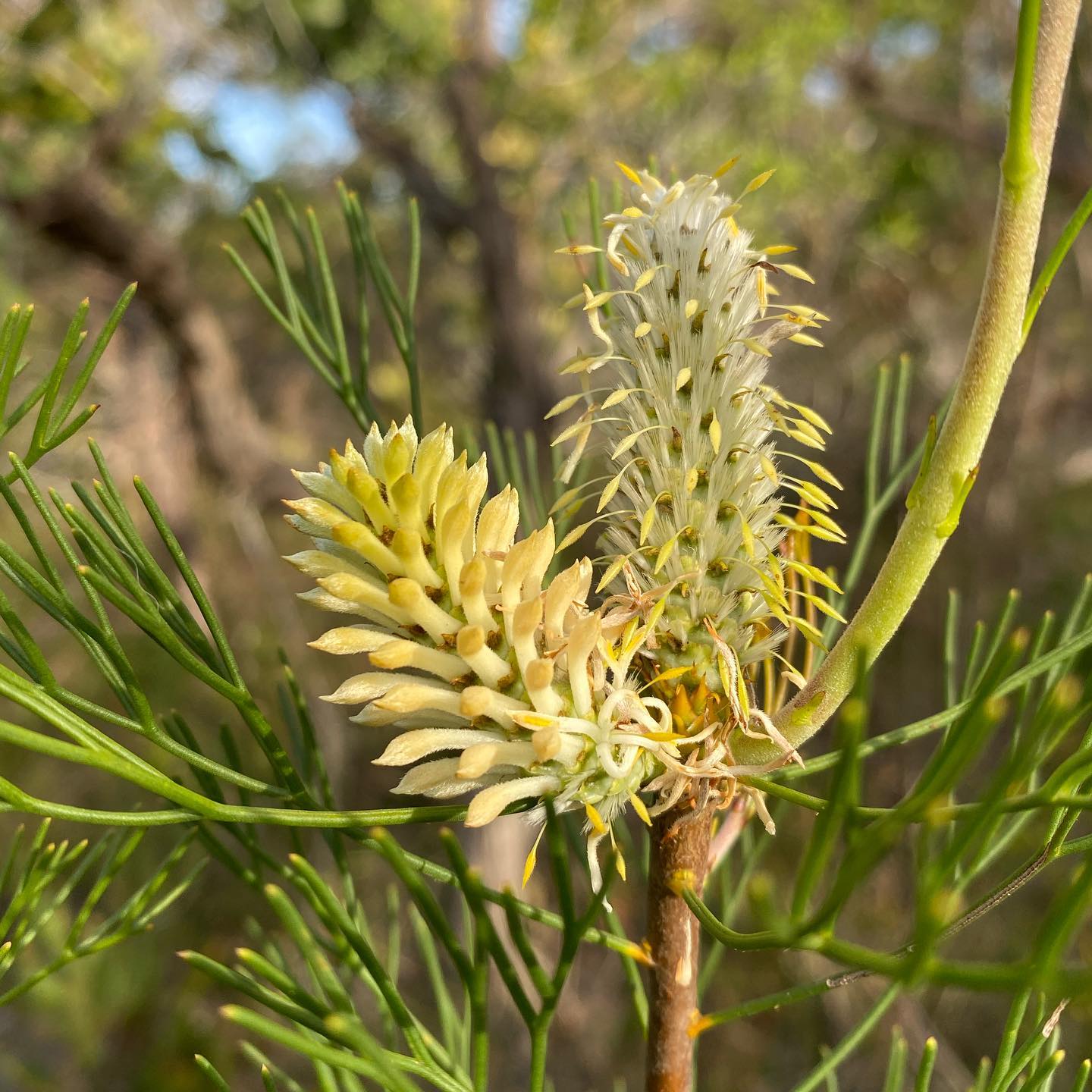 Petrophile pulchella, known as conesticks, is a common shrub of the family proteaceae found in eastern Australia. It is found growing on shallow sandstone soils, often in open forest or heathlands near the coast. It is also occasionally seen on the adjacent ranges.
Photo by Selena Griffith, January 18, 2021
L to R:- Rob Haines (President, Upper Northern Beaches Rotary), Jennifer McConnell (A/General Manager, Mona Vale Hospital), Maria Manna (NSW Dept of Health), Lindy Myers (President, Balgowlah Rotary) and Liz McDougall (President, Dee Why-Warringah Rotary). Handing over $50 vouchers, with frontline medical staff from Mona Vale hospital.
The Perfect Weekend Of Surf: Manly's Open Carnival & Freshwater Open Carnival - Australia Day Long Weekend 2021
No one around here needs to be told that a lot of local Surf Life Saving carnivals and ocean swims have been postponed or cancelled so far during the 2020/2021 Season. For months local clubs and officials have worked towards running what they can and planning for the future. With just over 19,500 Members in the SLS SNB Branch, there have been many looking towards the eastern horizon wondering when they will get to race
beside
each other again.
This weekend Branch is Back!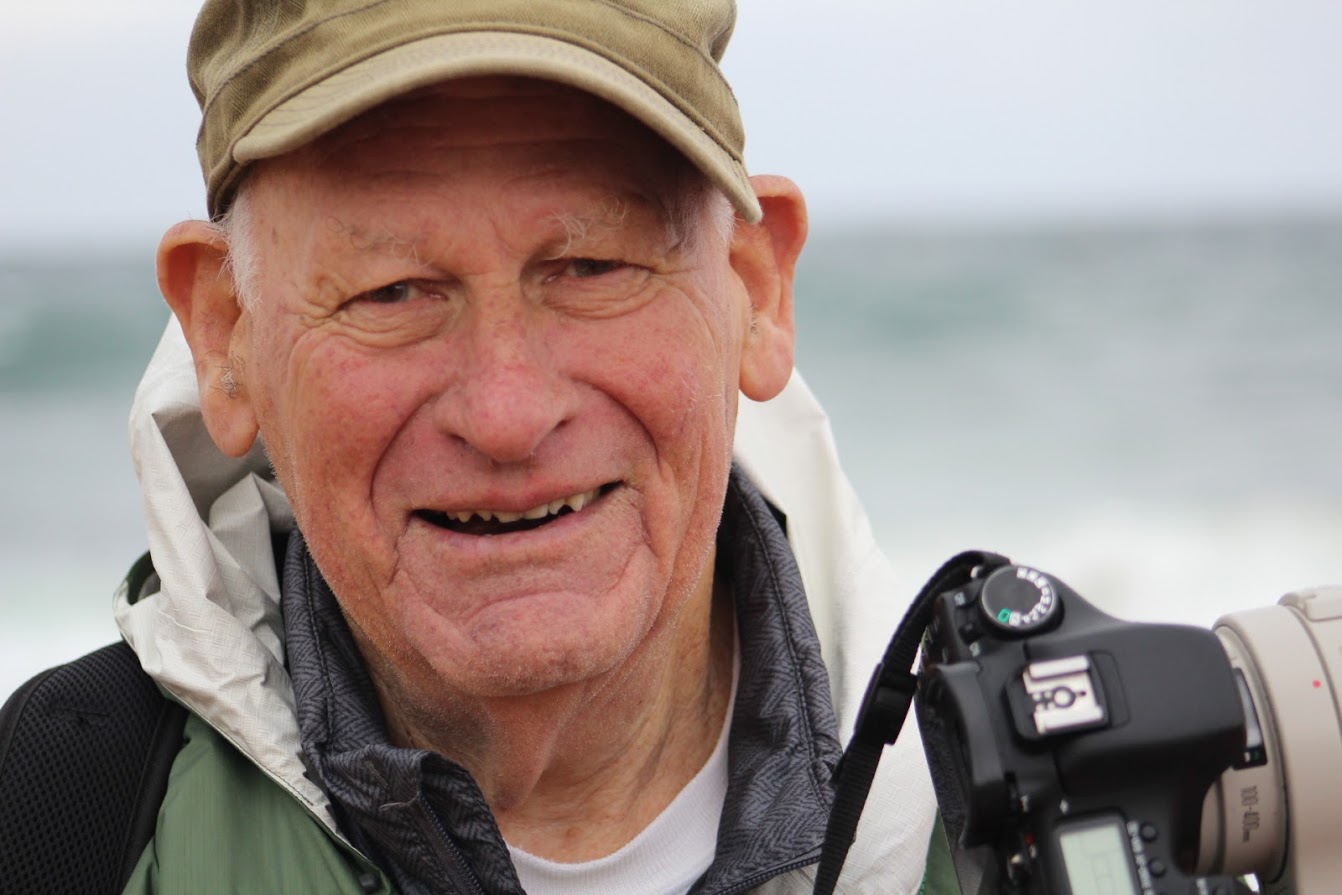 Australia Day 2021 Awards: Pittwater Recipients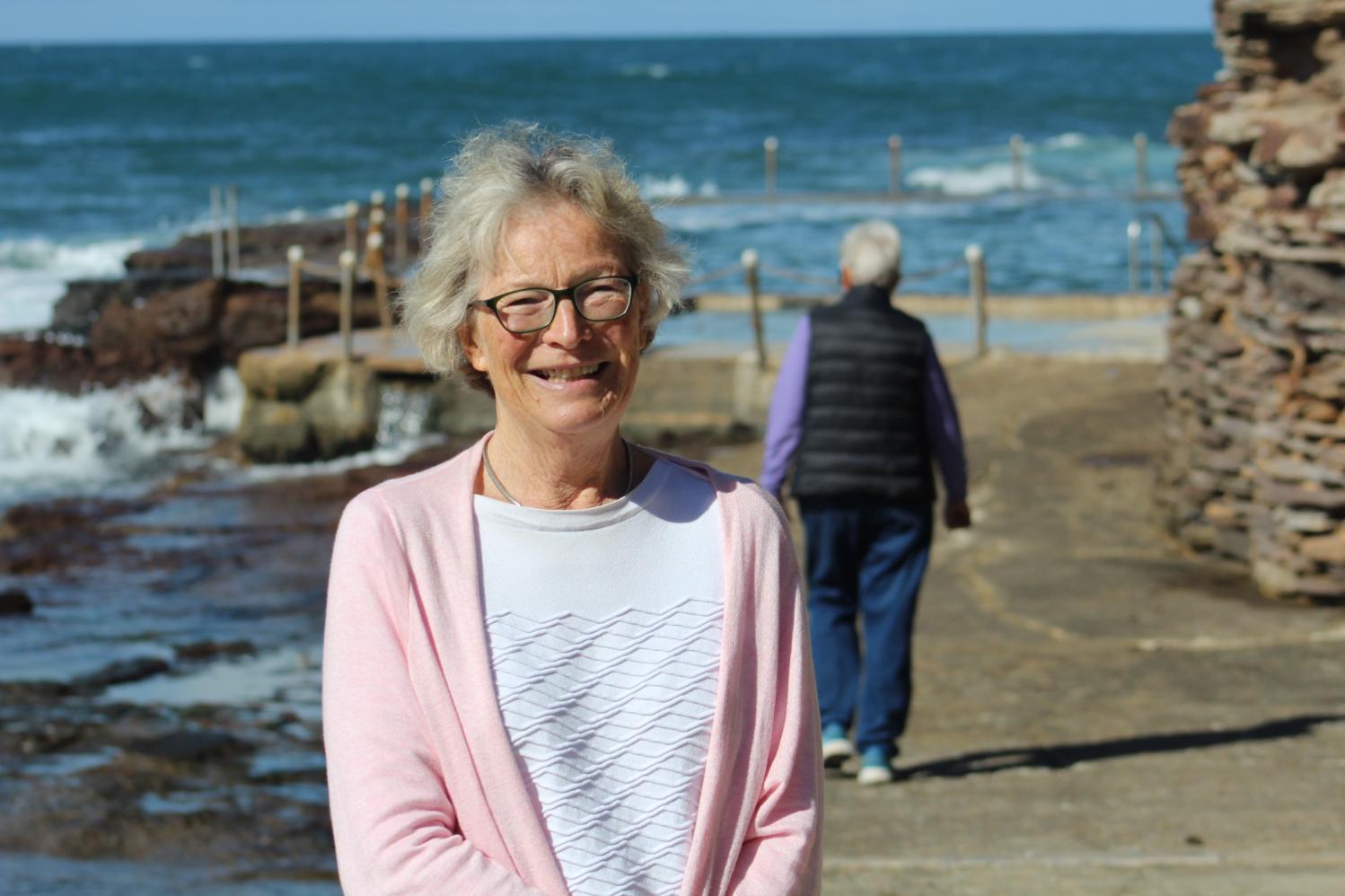 Susan (Sue) Martin OAM - photo by A J Guesdon
The Australia Day 2021 Honours List, recognises 844 Australians.
Included in the list are:
570 recipients of awards in the General Division of the Order of Australia (4 AC, 36 AO, 159 AM and 371 OAM)
28 recipients of awards in the Military Division of the Order of Australia (2 AO, 11 AM and 15 OAM)
176 meritorious awards
70 Distinguished and Conspicuous awards
Some of the first recipients recognised, at least in part, for their contribution in support of Australia's response to the 2019-20 Bushfires and COVID-19 pandemic (more nominations are likely to be considered for future lists).
Announcing the list, the Governor-General, His Excellency General the Honourable David Hurley AC DSC (Retd), said:
"On behalf of all Australians, I congratulate everyone recognised in the Australia Day Honours list.
"The individuals we celebrate today come from all parts of our great nation and have served the community in almost every way conceivable. They're diverse and unique but there are some common characteristics, including selflessness, commitment and dedication.
"Recipients have not put their hand up to be recognised. Most would consider the achievements that they are being recognised for to be 'ordinary' or just what they do. Therein is the great strength of our system – recipients in the Order of Australia have been nominated by their peers, considered by an independent process and, today, recognised by the nation.
"The sum of these contributions speaks to our nation's greatest strength – its people."
Among the Pittwater recipients are Mr Kenneth Craig ALLEN AM, Palm Beach (OFFICER (AO) IN THE GENERAL DIVISION OF THE ORDER OF AUSTRALIA) 'For distinguished service to international relations, particularly through global information sharing networks for expatriate Australian professionals'.
There are four recipients in the MEDAL (OAM) OF THE ORDER OF AUSTRALIA IN THE GENERAL DIVISION, Sue Martin OAM, of Clareville, 'For service to the community of Pittwater', David Palmer OAM, of Ingleside, 'For service to conservation and the environment' and Roger Sayers OAM, of Avalon Beach, 'For service to surf lifesaving' and William Stuart SHERMAN OAM, of Bayview, 'For service to public relations, to sport, and to the community'.
______________________________________________________________________________________________________________________________
February 2021
Back to school and back to work - photo by Joe Mills:
Rotary Club Of Upper Northern Beaches Donates Fire And Fog Nozzles To West Pittwater RFS: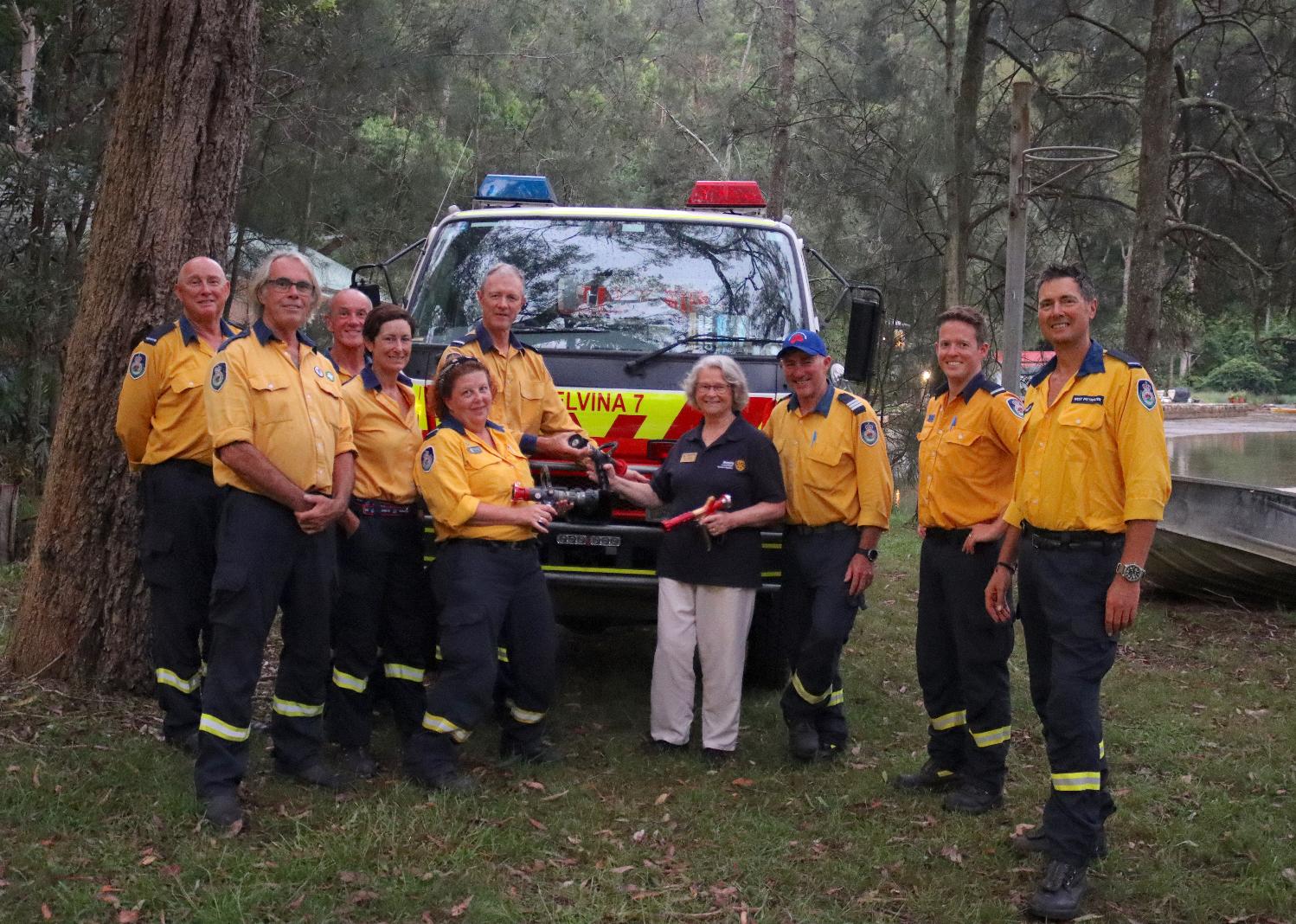 Photo: Members of West Pittwater RFS, receiving the Nozzles from Rotary - l. to r. : - Geoff Nimmo; Jon Matthews; Greg Hurst; Melinda Broughton; DC (Deputy Capt.) Kylie Stackhouse; DC Paddy Brougton; Rotary Deputy Community Director Raylene Jarvis; Captain Andrew Cutler; DC Pat Warnes; Andy Derijk.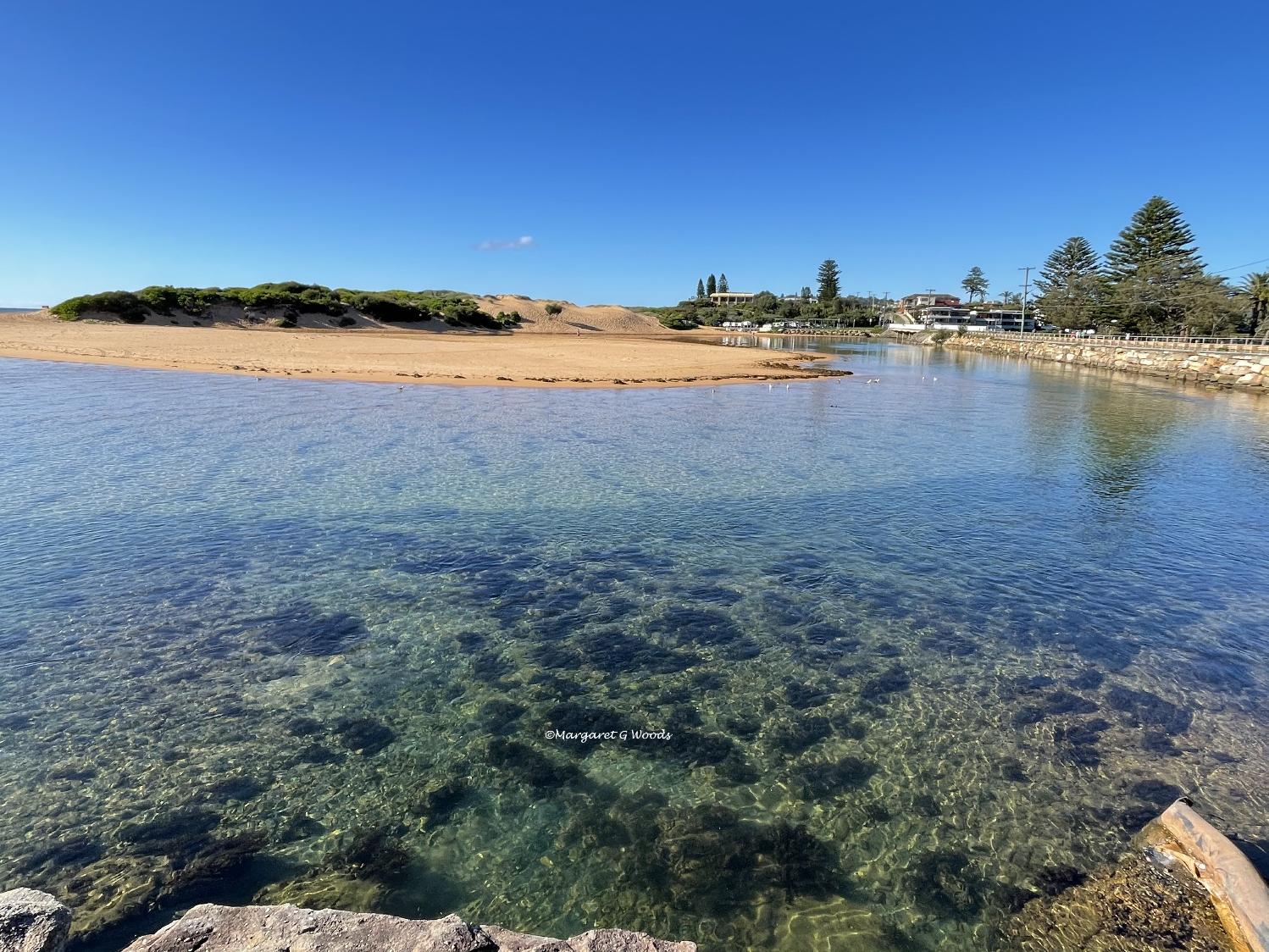 Entrance to Narrabeen Lagoon - photo by Margaret G Woods.
Narrabeen features this Issue - the Friends of Narrabeen Lagoon catchment is Profile of the Week, while a few insights into the catchment, past and present, as Issue 483's Pictorial.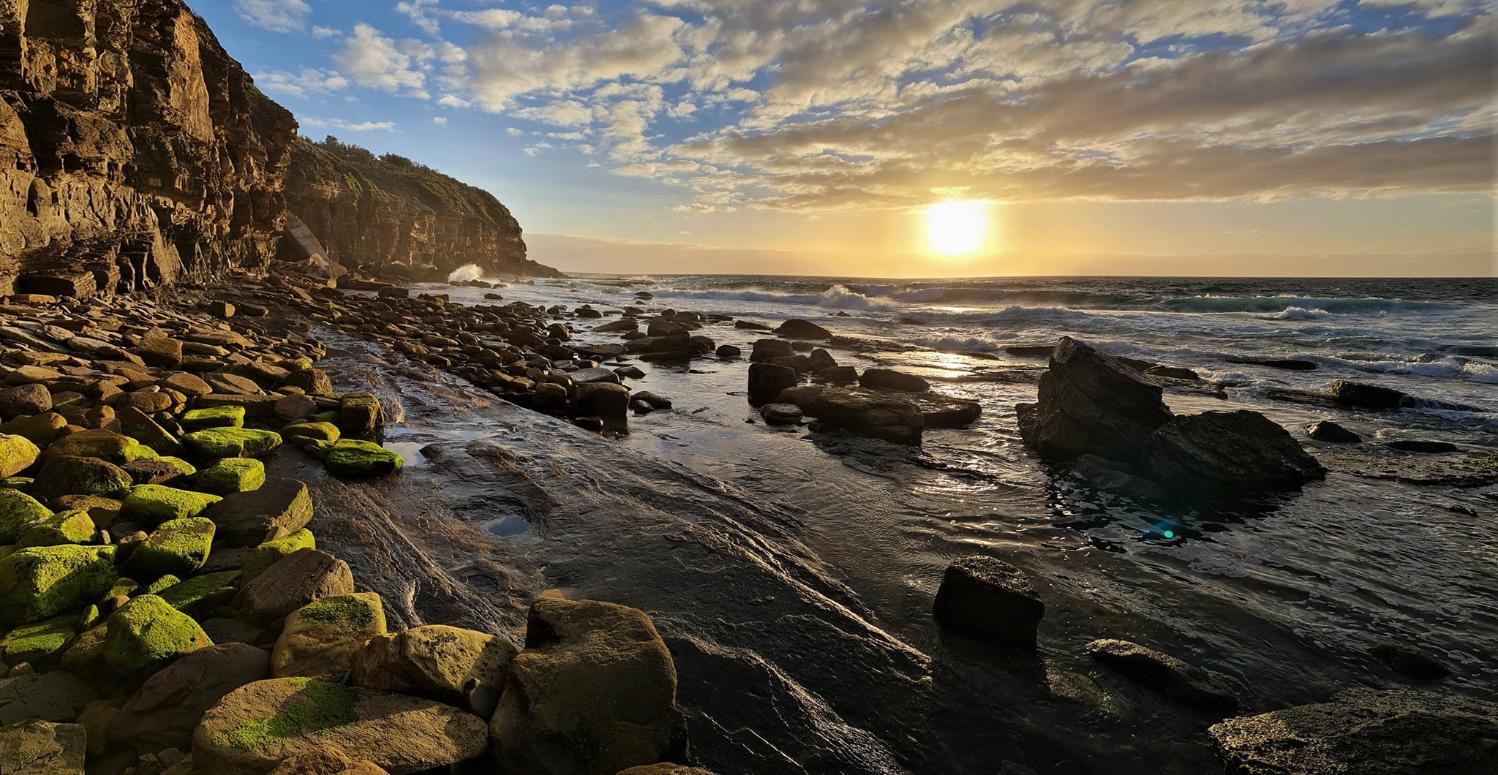 Sunrise at North Turimetta Beach, February 2021 - photo by Joe Mills.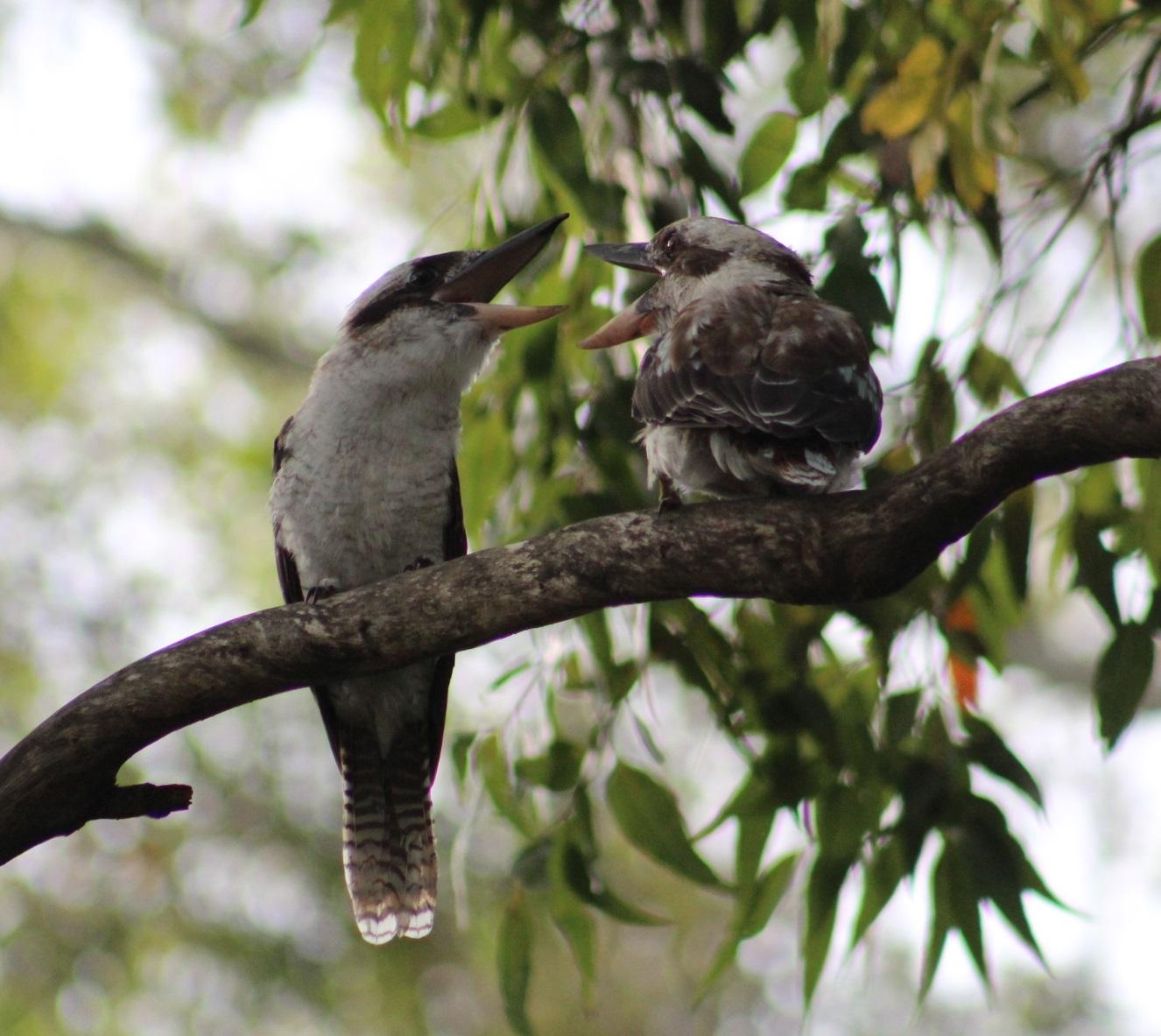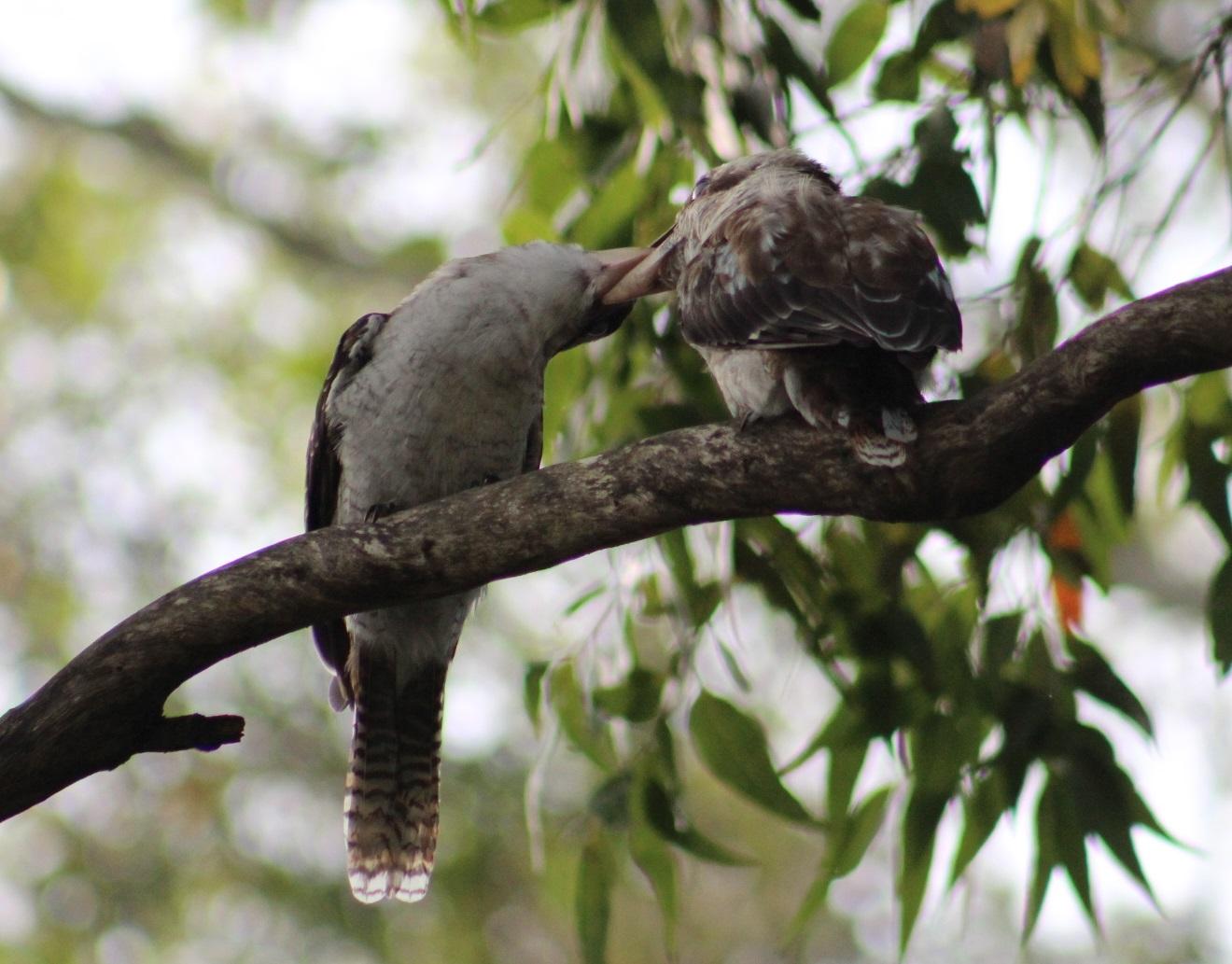 Summer is: fledgling kookaburra feeding time - at Careel Bay. photos by A J Guesdon, January 15, 2020