April 8 - 14, 2018: Issue 355

Saving Our Species Program Aims To Keep
Species In The Wild For 100 Years
The NSW Government's
Saving Our Species
program, which has local relevance in Saving Grevilliea Caleyi, has
announced this week that the
Greater
Bilby shall be the forerunner of four other endangered species to be reintroduced into the Pilliga
.
There are currently more than 980 threatened species and over 100 threatened ecological communities in NSW, so there's a bit of work to be done and everyone can contribute by getting involved in local projects, by sharing information on where they may have found an endangered plant or animal or by supporting the great work of organisations like our own Pittwater Natural Heritage Association or, on a broader scale, the work being done by the
Australian Wildlife Conservancy.
One recent example is how c
itizen scientists from across Australia and the world have
helped researchers count
Illawarra's elusive spotted-tailed quoll after the request for help was announced as part of the Quollidor project;
The Quollidor Saving our Species project
aims to improve the resilience and size of the Barren Grounds-Budderoo spotted-tailed quoll population.
The 'Quollidor' is the name given to the connected vegetation corridor that links the quoll's habitat from the South Coast escarpment forests, to the Metropolitan Special Area water catchments across to the southern Blue Mountains.
Infra-red camera surveys have revealed that quolls are still present in the Barren Grounds Nature Reserve and Budderoo National Park. Because quolls have huge home ranges, from 300 to 3000 hectares, we know they will be moving from these reserves onto the private land surrounding the Quollidor.
"Six months ago we asked citizen scientists to jump online and help us analyse more than 80,000 photos taken from across the Illawarra region,"
Environment Minister Gabrielle Upton said on March 3rd, 2018
.
"More than 300 volunteers answered the call and we can now confirm at least 20 individual quolls call this region home.'' The Hon. Gabrielle Upton said.
The
Quollidor project count also shows you don't have to be on the grounds to help;
the 29 motion sensor cameras in the region collect 20,000 to 30,000 images every 8 weeks that the enthusiastic citizen scientists have sorted through images at
DigiVol - Saving our Species
.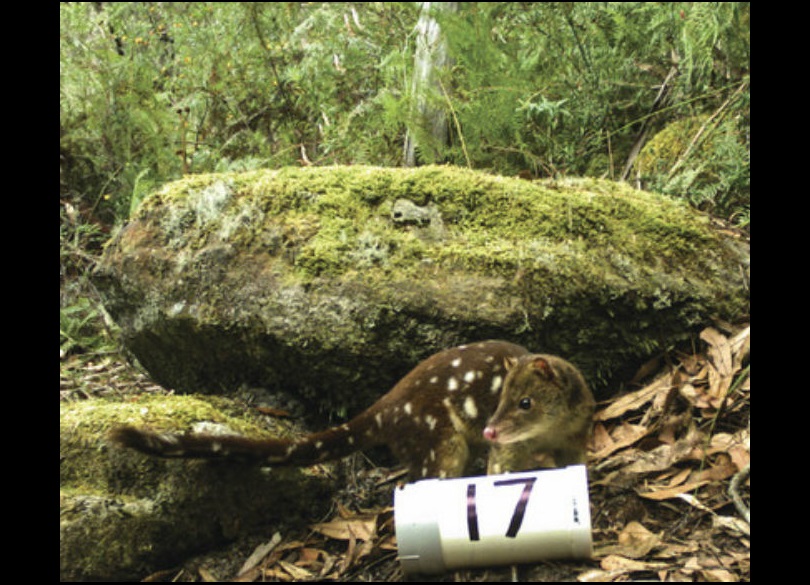 Spotted-tailed Quoll, Barren Grounds, Budderoo Quollidor remote monitoring stations Photo: OEH

A few weeks ago we shared an insight into how much our local
flora
and fauna may have changed in what was once here and has not been seen since and how humans changing the landscape by putting creeks into drains, by filling in lagoons or changing the way water runs;
Black-Necked Stork, Mycteria Australis, Now Endangered In NSW, Once Visited Pittwater:
DONATIONS TO THE AUSTRALIAN MUSEUM DURING
APRIL, 1855.
A fine specimen of the
male gigantic crane, Mycteria Australis, shot at a lagoon, near Pittwater.
Mr. George Lamont, Pittwater.
DONATIONS TO THE AUSTRALIAN MUSEUM DURING APRIL, 1855. (
1855, May 7
).
The Sydney Morning Herald
(NSW : 1842 - 1954), p. 5. Retrieved from
http://nla.gov.au/nla.news-article12968963
+
DONATIONS TO THE AUSTRALIAN MUSEUM. JULY, 1855.
A
mysteria Australis, or gigantic crane (female), shot at Pittwater-by Mr. George Mills
, Bathurst-street.
DONATIONS TO THE AUSTRALIAN MUSEUM. (
1855, August 6
).
The Sydney Morning Herald
(NSW : 1842 - 1954), p. 4. Retrieved from
http://nla.gov.au/nla.news-article12972574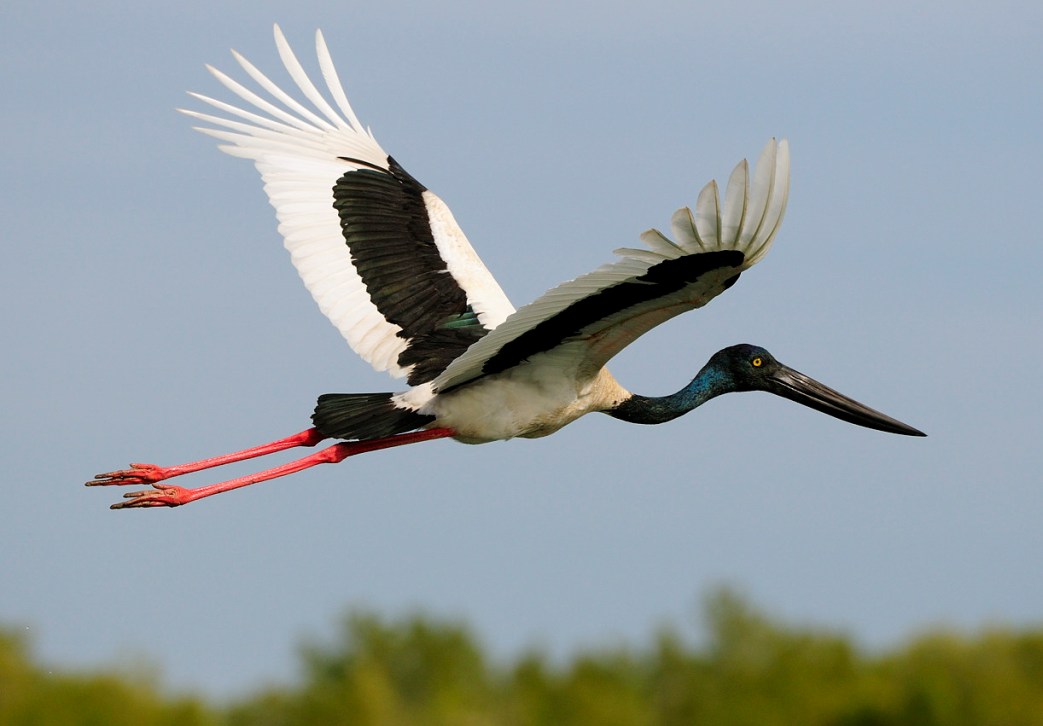 Adult female in flight at the McArthur River in the Northern Territory of Australia. Photo by and courtesy Djambalawa
Other History pages are focused on or threaded with indications of what has been lost and attempts, of over a hundred years ago, to change what was occurring or at least record that it was:
Of the three families of koalas — the New South Wales, the Victorian, and the Queensland — the N.S.W. family Is nearest extinction, according to the report of the Koala Club, which will be presented at to-night's annual meeting.
The promise of the N.S.W. Government to nationalise koala conservation came to nothing, and the war has made further approach to the Government out of the question for the time, state the president, Mr. O. D. Oberg. and the secretary, Mr. Frank Edwards, in their report. Some thousands of koalas are still at large In Queensland, but their numbers are dwindling, because of disease, bushfires, illegal shooting, docs, foxes, and dingoes. There are 600 of the Victorian race of koalas left.
The number of New South Wales koalas is believed to be fewer than Victoria's 600.
"Their plight In the open bush may be guessed by the fact that Pitt-water residents say that koalas there are almost extinct," adds the report. "Residents of Trunkey say the cries of koala victims of the 1939 bushfires are a never-to-be-forgotten horror," the report goes on.
"We are urging the Government to adopt a more comprehensive scheme than bushland protection by proclamation. An adequately protected koala breeding reserve is essential."
The club draws attention to the need for sanctuary care for other types of Australian fauna. Including the kangaroo rat, the banded marsupial ant-eater, the rabbit bandicoot, and the small marsupial mice, which are rapidly nearing extinction.
Even if you don't care if the next generation has access to the same beauty and wonderful
experience
of seeing our native fauna and flora in its natural home by preserving habitat or slowing down on the roads that cut through their home grounds, perhaps saving our species for their own sake could cut some mustard with all who would save themselves too if faced with extinction.
The news is that t
he Greater Bilby, one of Australia's most

iconic

threatened mammals, is set to return to a New South Wales national park after becoming extinct in the state more than 100 years ago.
Australian Wildlife Conservancy will reintroduce Bilbies to the Pilliga forests in northern NSW in November 2018 as part of the State Government's Saving our Species program, under which AWC has been engaged to manage a 35,750 hectare area of the Pilliga State Conservation Area and National Park (Pilliga project area).
But Wait !, there's more; the Media release states '
At least five other regionally-extinct mammals will be introduced to the Pilliga State Conservation Area and National Park in the next few years, including

the

bridled nail-tail wallaby

, the

brush-tailed bettong

, the

western barred bandicoot

, the

plains mouse

and the

western quoll

.'
It is an historic step for Bilby conservation: other than the Bilby population at AWC's Scotia Wildlife Sanctuary on the NSW/SA border, the last record of a Bilby in NSW was near Wagga in 1912.
Like many other native mammal species, Bilbies were wiped out by introduced predators, particularly feral cats and foxes. Across Australia, feral cats kill millions of native animals every night.
In preparation for their arrival in the Pilliga, AWC has commenced work on the construction of a specially designed, 32 kilometre, feral cat and fox-proof fence to create a secure 5,800 hectare, feral predator-free area into which wild Bilbies will be reintroduced.
In two to three months, the AWC team will:
install around 6,500 fence pickets;




roll-out 300 kms of plain wire;




put in place 96 kms of netting; and




attach 750,000 clips (to hold netting in place).



Once the fence is completed, all feral cats and foxes will be removed from the 5,800 hectares of forest, ready for the arrival of Bilbies in November. The Bilby population will, over time, grow to an estimated 850 animals, almost 10 per cent of the total Australian population.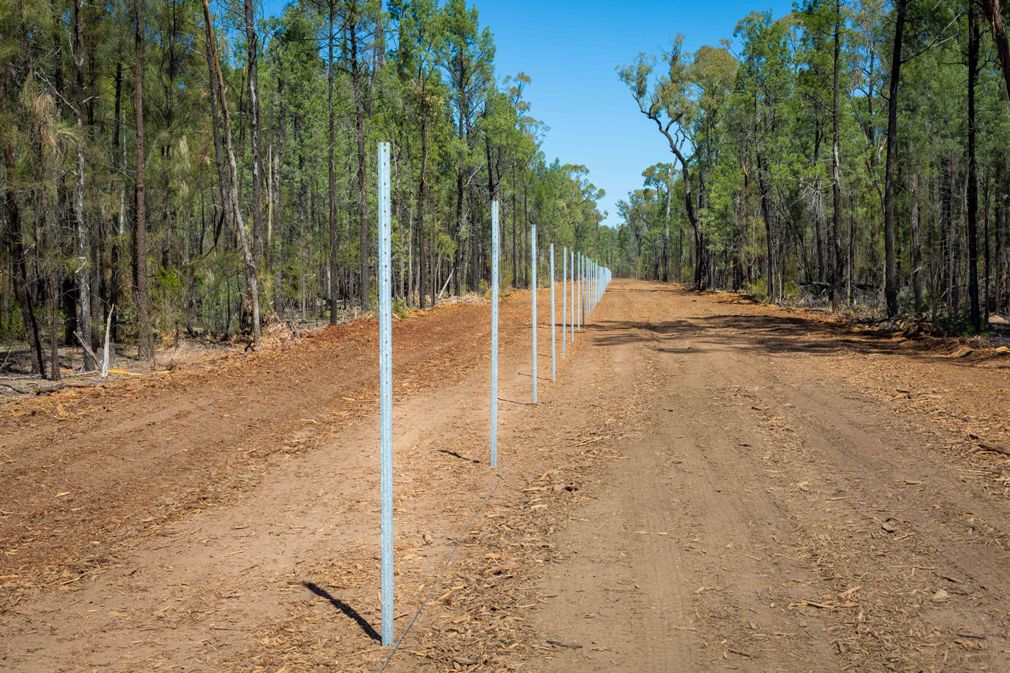 Pilliga bilby fence-construction- AWC photo

Five other mammals that are extinct in NSW, the Bridled Nailtail Wallaby, the Brush-tailed Bettong, the Western Barred Bandicoot, the Plains Mouse and the Western Quoll, will be reintroduced to the Pilliga within the next three years, making it one of the nation's most important endangered species projects.
The Pilliga project represents a unique partnership between the NSW Government (National Parks and Wildlife Service) and the non-profit AWC, harnessing the power of the public and private (philanthropic) sectors as part of a bold initiative to turn back the tide of extinctions in Australia.
The establishment of large feral-free areas is the only option for securing the return of the Bilby and other regionally-extinct mammals to areas such as the Pilliga.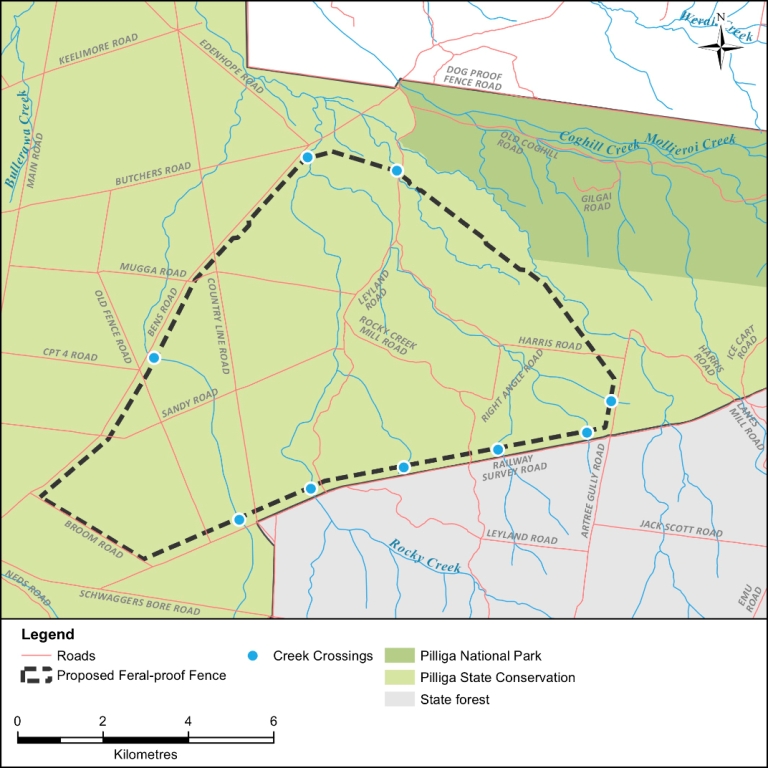 Pilliga feral free area - AWC map

The Pilliga project is also delivering great outcomes for the local community, with additional employment and investment in local business. The reintroduction of iconic animals such as the Bilby will also create a stunning new visitor attraction.
Once abundant across most of Australia, the Bilby has disappeared from over 90 per cent of its historic range, primarily as a result of feral cats and foxes. In NSW, the Bilby was originally found across the State, west of the Great Dividing Range.
AWC already protects more than 10 per cent of Australia's Bilby population in its wildlife sanctuaries at Scotia, Yookamurra (South Australia) and Mt Gibson (Western Australia), and is working with the Queensland Government to protect Bilbies at Astrebla and Diamantina National Parks.
In addition to the Pilliga project, AWC will be reintroducing Bilbies to feral predator-free areas at Mallee Cliffs (south-western NSW, near Mildura) and Newhaven (central Australia). Within 10 years, AWC could protect over 5,000 Bilbies – delivering a massive increase to the current surviving population.
As many of us haven't encountered these critters on our gambols in our local bush areas some information on each runs below - as well as an overview of how the Saving our Species has been
introduced
and evolved. But first, the Hon. Minister for Environment (NSW) announcement - disregard the date of release - this is no joke!:
Bilbies To Return To NSW National Parks
April 1, 2018 NSW Office of Environment and Heritage
Through the Saving our Species program, the NSW Government is working with the Australian Wildlife Conservancy (AWC) to reintroduce bilbies into the Pilliga forests in northern NSW by the end of 2018.
As part of the project, a specially designed 32-kilometre feral cat and fox-proof fence will be built.
The fence will create a secure, feral predator-free area where the bilbies will be reintroduced. It will include 6500 fence pickets, 300-kilometres of plain wire and 96-kilometres of netting.
Once the fence is complete, work will start to remove all the feral cats and foxes from across the 5800 hectares of forest.
Environment Minister Gabrielle Upton said this is a historic step for bilby conservation.
"The NSW Government is investing over $40 million through the Saving our Species program to reintroduce native species to NSW."
"Bilbies became extinct in NSW over 100 years ago and for the first time they will be back in the wild," Ms Upton said.
At least five other regionally-extinct mammals will be introduced to the Pilliga State Conservation Area and National Park in the next few years, including the bridled nail-tail wallaby, the brush-tailed bettong, the western barred bandicoot, the plains mouse and the western quoll.
Bridled Nailtail Wallaby
The bridled nail-tail wallaby (Onychogalea fraenata), also known as the bridled nail-tailed wallaby, bridled nailtail wallaby, bridled wallaby, merrin, and flashjack, is a vulnerable species of macropod. It is a small wallaby found in three isolated areas in Queensland, Australia, and whose population is declining. The total population of the species is currently estimated to be less than 1,100 mature individuals in the wild.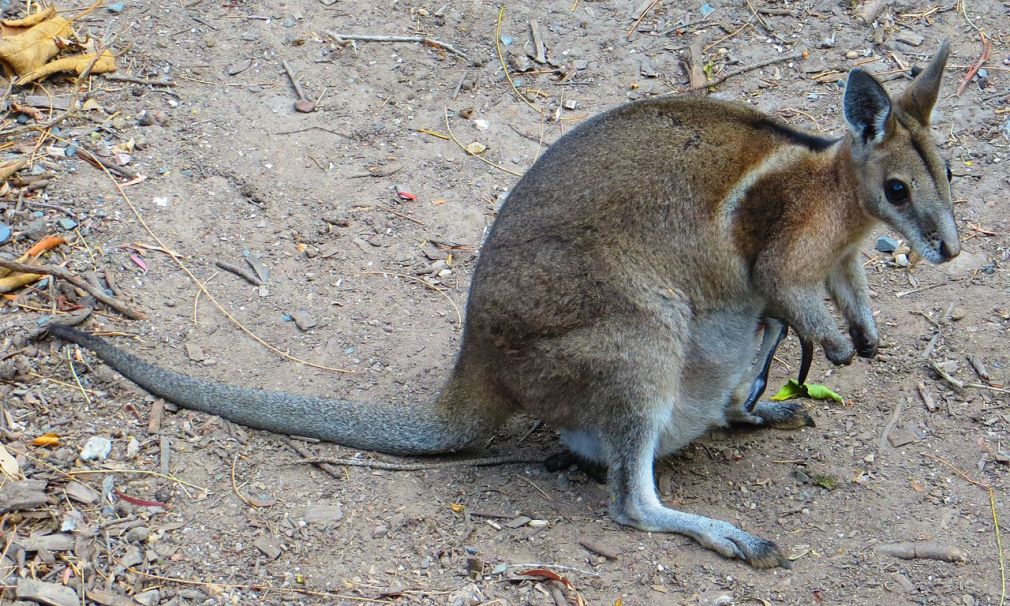 A female bridled nail-tail wallaby with a joey in its pouch at David Fleay Wildlife Park in Burleigh Heads, Queensland, Australia. Photo by and courtesy of Diver Dave.

This small wallaby is named for two distinguishing characteristics: a white "bridle" line that runs down from the back of the neck around the shoulders, and the horny spur on the end of its tail. Other key physical features include a black stripe running down the dorsum of the neck between the scapulae, large eyes, and white stripes on the cheeks, which are often seen in other species of wallabies as well.
The bridled nail-tail wallaby can grow to one metre in length, half of which is tail, and weighs 4–8 kg. Females are somewhat smaller than the males. The tail spur can be 3–6 mm long and partly covered in hair. Its purpose is unclear.
The "nail-tail" is a feature common to two other species of wallabies: the northern nail-tail wallaby and the crescent nail-tail wallaby (which was declared to be extinct in 1956).
At the time of European settlement of Australia, bridled nail-tail wallabies were common all along the East Australian coastline region to the west of the Great Dividing Range. Naturalists in the 19th century reported that the species ranged from the Murray River region of Victoria through central New South Wales to Charters Towers in Queensland.
The species declined in the late 19th and early 20th centuries with no confirmed sightings between 1937 and 1973, by which time it was believed to be extinct. After reading an article in a magazine about Australia's extinct species, a fencing contractor reported that there was an extant population on a property near Dingo, Queensland. This sighting was subsequently confirmed by researchers from the Queensland Parks and Wildlife Service, and the property eventually became Taunton National Park, a scientific nature reserve for the purpose of ensuring the ongoing survival and protection of this endangered species. The current range of this wallaby is less than 5% of its original range.
Since its rediscovery, the bridled nail-tail wallaby has been the target of private conservation efforts to re-establish viable populations. Captive breeding programs have allowed the establishment of three populations; two in State reserves located at Idalia and Taunton National Parks, and another on a private reserve, Project Kial, located near Marlborough in Central Queensland. The extant population is currently estimated to be less than 1,100 mature individuals in the wild.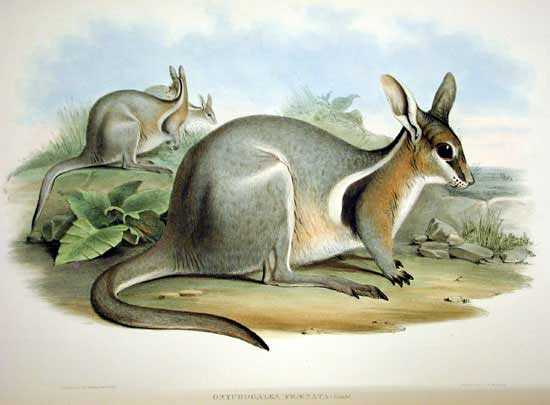 Lithograph of Onychogalea fraenata from Vol. II of The Mammals of Australia by John Gould, 1863

In the early 1900s this species suffered dramatically from shooting, for its fur and because it was considered a pest. Current threats to the species include predation by introduced species such as feral cats and red foxes.
Other threats include wildfires, prolonged drought, habitat destruction by the pastoral industry and competition for food from grazers, such as rabbits and domestic sheep.
Brush-Tailed Bettong
The woylie or brush-tailed bettong (Bettongia penicillata) is an extremely rare, small marsupial that belongs to the genus Bettongia. It is endemic to Australia. The two subspecies are B. p. ogilbyi and the now extinct B. p. penicillata. At the time of European colonisation, Brush-tailed Bettongs inhabited much of southern Australia, from Western Australia through to the western plains of the Great Dividing Range in New South Wales and southern Queensland. Two sub-species are recognised – the Brush-tailed Bettong (Bettongia penicillata penicillata) in eastern Australia and the Woylie (B. p. ogilbyi) in Western Australia. However, the historical geographical relationship of these sub-species is uncertain and their common names are used interchangeably.
Due to extensive range contraction and population decline, B. p. penicillata is now presumed extinct, whilst B. p. ogilbyi is restricted to three remnant populations in southwest Western Australia - Dryandra Woodland, Tutanning Nature Reserve and Perup Forest.
Conservation efforts have resulted in the establishment of a number of reintroduced populations including
Australian Wildlife Conservancy's
Karakamia, Scotia and Yookamurra sanctuaries.
The woylie is a small macropod, being only some 30 to 35 cm in body length, with a tail around 37 cm long, and weighing between 1.1 and 1.6 kg. The fur of this bettong is yellowish-brown in color with a patch of paler fur on its belly, while the end of its furry tail is dark-colored. It has little or no hair on the muzzle and tail. This species has a more slender build and larger ears than its relative, the burrowing bettong.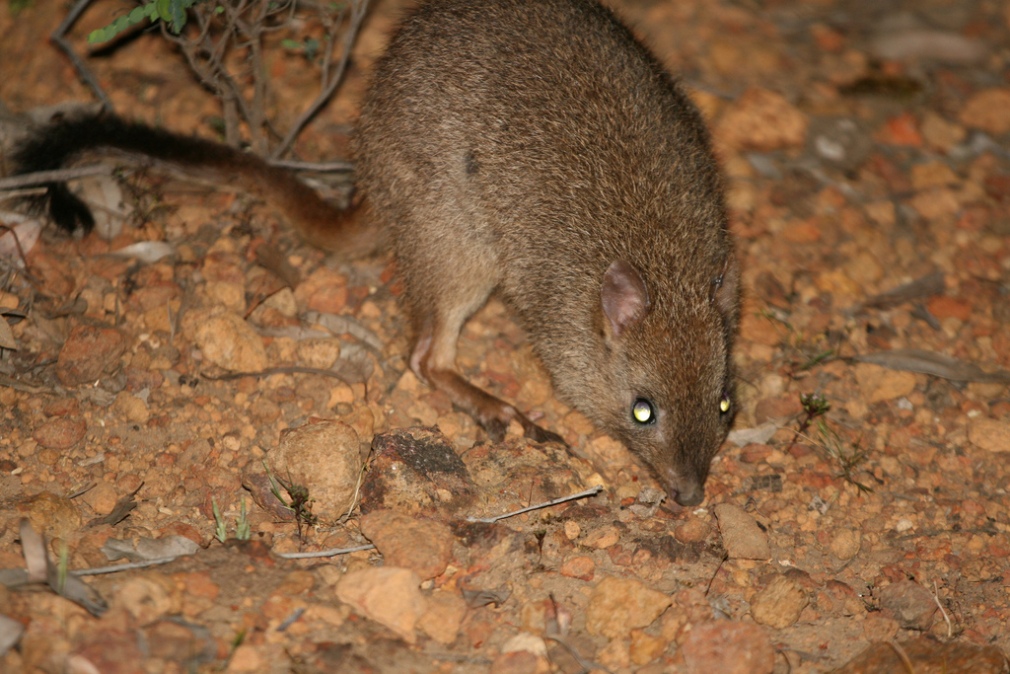 Bettongia ogilbyi (Woylie) - photo by and courtesy of Arthur Chapman.

The woylie once inhabited more than 60% of the Australian mainland, but now occurs on less than 1%. It formerly ranged over all of the southwest of Eastern Australia, most of South Australia, the northwest corner of Victoria, and across the central portion of New South Wales. It was abundant in the mid-19th century. By the 1920s, it was extinct over much of its range. As of 1992, it was reported only from four small areas in Western Australia. In South Australia, a several populations have been established through reintroduction of captive-bred animals. As of 1996, it occurred in six sites in Western Australia, including Karakamia Sanctuary run by the Australian Wildlife Conservancy, and on three islands and two mainland sites in South Australia, following the reintroduction program and the controlling of foxes. Today, this species lives mostly in open sclerophyll forest and Malee eucalyptus woodlands with a dense low understorey of tussock grasses. However, this versatile species is also known to have once inhabited a wide range of habitats, including low arid scrub or desert spinifex grasslands.
In 1863, Gould mentioned it was "abundant in all parts of the colony". As late as 1910, the species was said to be very abundant in the Australian southwest.
Decline seems to have been caused by a number of factors, including the impact of introduced grazing animals, land clearance for agriculture
, predation by introduced red foxes, and possibly, changed fire regimens. As a result, this species suffered localized extinctions throughout its range, and was very endangered by the 1970s.
Subsequent conservation efforts concentrated on controlling the introduced red fox and reintroducing woylies from expanding populations to fox-free sites in its former range. Stable populations have been established in places such as Venus Bay, St Peter Island, Wedge Island, Shark Bay, and Scotia Sanctuary. As a result of these efforts, the woylie population rose to sufficient numbers that it was taken off the threatened species list in 1996. The population expanded with new, wild-born joeys being recorded and survived several drought years in the early 2000s. The total population of this species rose to 40,000 in 2001.
However, a sudden population crash occurred in late 2001, and in just five years in most areas, the woylie population dropped to only 10-30% of its pre-2001 numbers. The IUCN Red List also revised the woylie as critically endangered.
The exact cause of this rapid population crash remains uncertain, although researcher Andrew Thompson has found two parasite infestations in woylie blood. Predation and habitat destruction were also suggested as contributing to the recent decline of the species.
As of 2011, the global population is estimated to be less than 5,600 individuals. It is said to be "on the brink of extinction."
"It is believed the woylie population peaked a decade ago at more than 250,000, but numbers have since declined by about 90 per cent." However, despite these losses woylies continue to thrive as small localized populations in fox- and cat-free sanctuaries, including a population at Wadderin Sanctuary in the central Western Australian wheatbelt established in 2010.
Western Barred Bandicoot
The western barred bandicoot (Perameles bougainville fasciata), also known as the marl, is a small species of bandicoot found in Australia. It was once widespread across southern Australia from Western Australia to central New South Wales. Western Barred Bandicoots became extinct on the mainland by the 1940s, and it is now found only on Bernier, Dorre and Faure islands in Shark Bay, Western Australia, and in captive populations on the mainland including at Barna Mia in Dryandra Woodland.
Western Barred Bandicoots are the smallest species of bandicoot, weighing approximately 220 g. Animals are lightly built, have a long, pointed snout, large erect ears and a short tail that is sometimes lost in fights with other members of their species. The fur is a light grey-brown, with two or three dark bars running across the hindquarters. The chin, underbelly and feet are white.
The Western Barred Bandicoot is much smaller than its relative the eastern barred bandicoot (Perameles gunnii).
Eastern Barred Bandicoot (Perameles gunnii), Poimena Reserve, Austin's Ferry, Tasmania. Phoot by and courtesy J J Harrison

It measures about 1.5 feet (46 cm) in length. It is a solitary and crepuscular hunter, eating insects, spiders, and worms and occasionally tubers and roots. When the bandicoot feels threatened, it typically leaps into the air and then burrows to safety.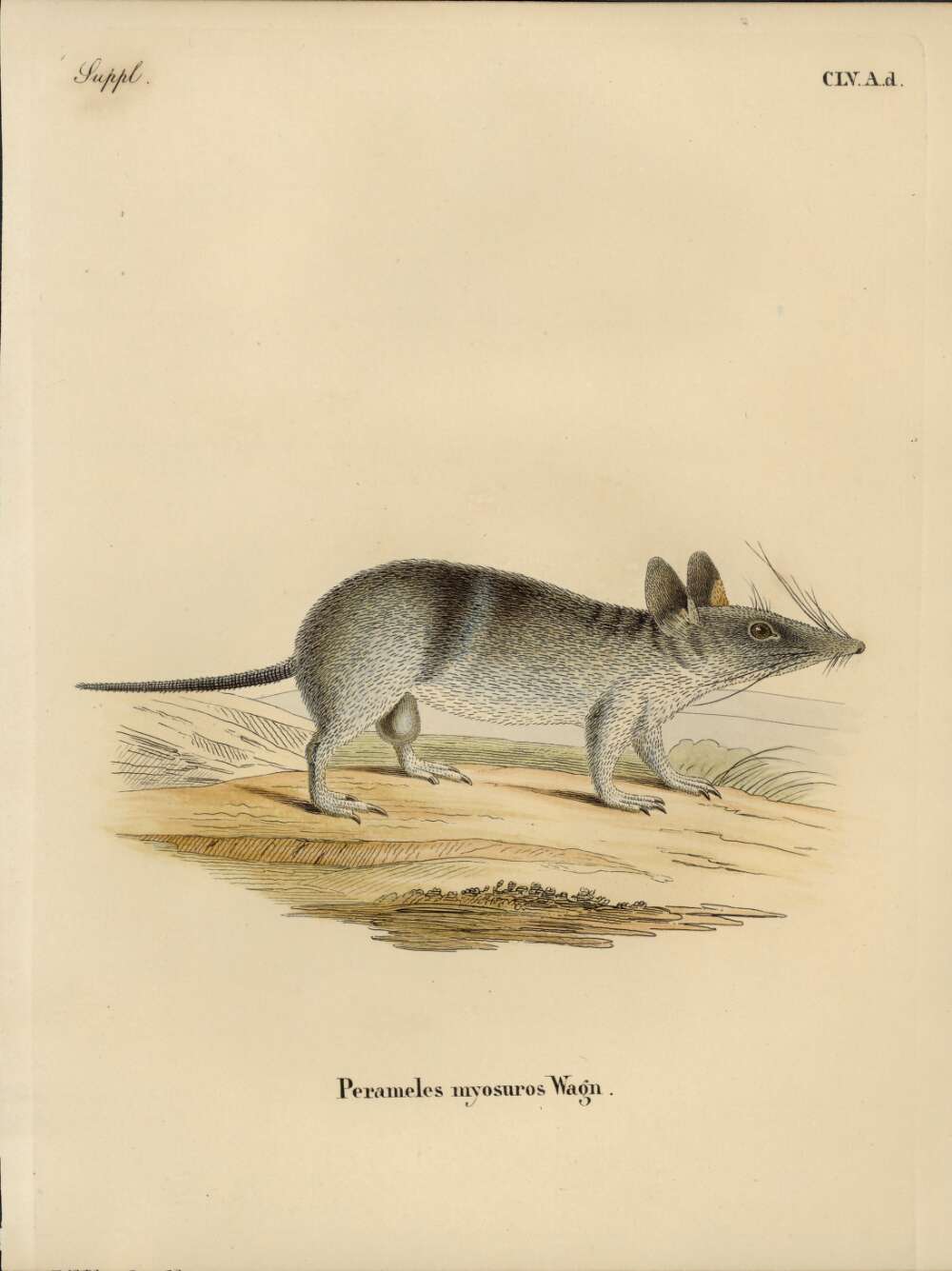 (
1830
).
Perameles myosuros Wagn. [now known as Perameles bougainville Quoy and Gaimard, 1824, common name western barred bandicoot]
Retrieved from
http://nla.gov.au/nla.obj-146236462
Plains Mouse
Known as the 'pallyoora' in the Western Desert language of Australia, the plains mouse (
Pseudomys australis
) is one of the largest remaining rodent species in Australia's arid zone. The stocky plains mouse has grey to grey-brown fur on the upperparts and cream or white underparts. The bi-coloured tail follows the same colouration pattern as the body, being grey-brown on top and cream or white on the underside, although some individuals can have an entirely white tail and feet. The plains mouse has long ears and a rounded snout, and its tail is generally shorter than, or equal in length to, the head and body together.
Weight 30 - 50 g.
Although thought to be extinct in New South Wales, in 2016:
Extinct mouse resurfaces in state's west
March 24, 2016: UNSW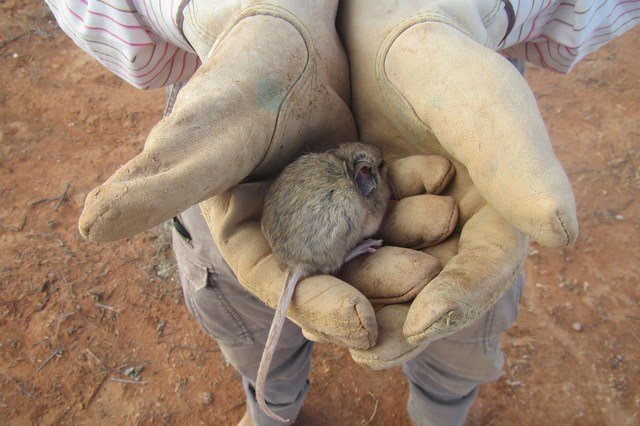 University of New South Wales scientists find a female Pseudomys Australis, commonly known as the plains mouse, at the UNSW Fowlers Gap research station near Broken Hill. (Supplied: UNSW Fowlers Gap Arid Zone Research Station)

A big-eared native mouse declared extinct in NSW after not being seen for more than 80 years has been found at the UNSW Fowlers Gap Arid Zone Research Station near Broken Hill.
A young female of the species Pseudomys australis – commonly known as the plains mouse – was caught by UNSW scientists surveying for small mammals on the property, which is the only research station in the arid zone of NSW.
"It was very exciting to come across an animal we thought had gone for good in this state," says UNSW biologist Dr Keith Leggett, who found the mouse with his UNSW Science honours student, Thanuri Welaratne.
"NSW has a dreadful record of extinctions of native mammals, and the reappearance of the plains mouse shows the benefit of carefully maintaining the conservation areas we have at Fowlers Gap," says Dr Leggett, who is director of the research station.
The identity of the native mammal was confirmed by scientists including UNSW biologist Associate Professor Mike Letnic, who has caught them in the South Australian desert where they still occur in small numbers.
"The plains mouse is quite distinctive looking. It is one of the largest rodents in the arid zone and has relatively big ears and big feet," says Associate Professor Letnic.
Native rodents play an important role in the Australian ecosystem, but since European settlement many species have declined dramatically in numbers and range, or become extinct.
"The decline is thought to be largely due to introduced predators such as red foxes and feral cats – particularly in areas where foxes flourished because they had lots of rabbits to feed on," says Associate Professor Letnic.
"Overgrazing by sheep, cattle, kangaroos and goats has also probably contributed to the reduction in native rodents by degrading their habitats.
"The plains mouse in particular has disappeared from huge areas of the continent, so the find at Fowlers Gap is very unusual and great news.
"It may suggest they are recovering due to a decrease in the number of rabbits following the introduction of the calicivirus in the late 1990s. Fowlers Gap also has very few foxes, due to intensive controls on their numbers there," says Associate Professor Letnic.
Dr Leggett and his colleagues have been surveying for small mammals at the research station for the past six years. Captures are recorded and then the animals are quickly released back into the wild.
Last year, a suspected male plains mouse was found in the same ungrazed conservation area of the property by UNSW Emeritus Professor Terry Dawson and Dr Steve McLeod of the NSW Department of Primary Industry, but it was not formally identified.
"This second capture and positive identification confirms their existence at Fowlers Gap, which is a pretty big deal," says Dr Leggett.
The last recorded sighting of the plains mouse in NSW listed in the Atlas of Living Australia was in 1932, from the Liverpool Plains.
Fowlers Gap is used by scientists from UNSW and other local and international institutions for a wide range of studies on birds, kangaroos, reptiles, other flora and fauna, soil conservation and groundwater management. Some areas of the 39,000-hectare property have been continuously monitored for 50 years, providing a unique ecological record that earned the station a place on the Register of the National Estate in 1996. Artists are also attracted to the dramatic landscape at the station, which has several artists' retreats.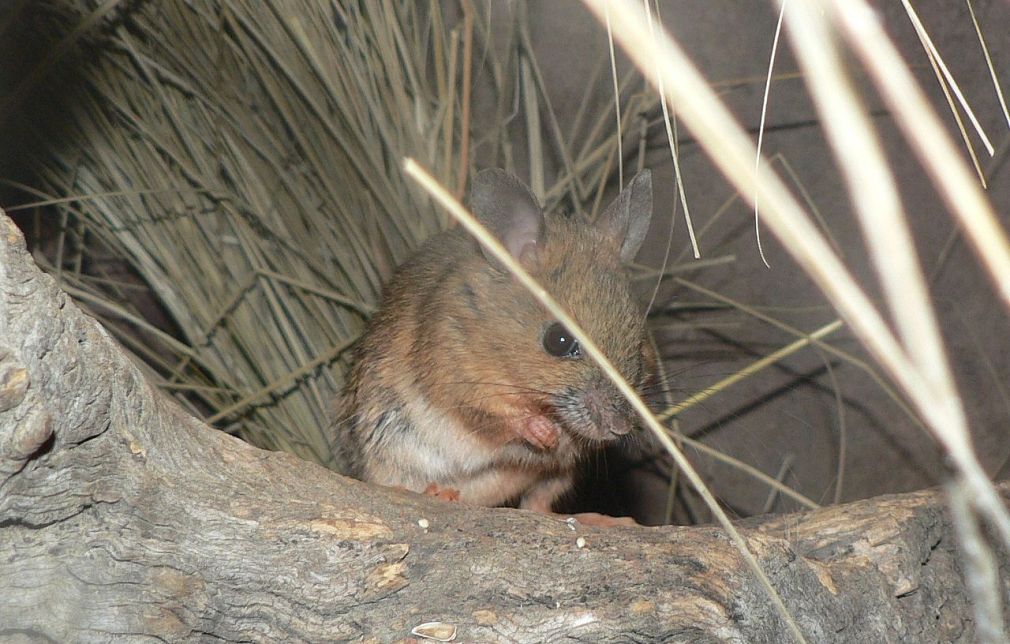 Pseudomys australis. Photo by and courtesy of Peter Halasz

Western Quoll
The western quoll (Dasyurus geoffroii) is Western Australia's largest endemic mammalian carnivore. One of the many marsupial mammals native to Australia, it is also known as the chuditch in Western Australia (from Noongar djooditj); chuditch serves as both the singular and plural form. Other common names include atyelpe or chilpa (from Arrernte), kuninka (from Western Desert language); idnya (Adnyamathanha people of the Flinders Ranges) and the archaic western native cat. The species is currently classed as near-threatened.
The western quoll is about the size of a domestic cat. It is coloured a rufous brown and has 40–70 white spots on its back with a creamy white underside. Its spots actually help diminish its outline from the moon at night when hunting. It has five toes on its hind feet and granular pads. The head and body are about 36 cm to 46 cm in length, and the tail is around 22 cm to 30 cm. With large eyes and pointed ears, it is well adapted for nocturnal life. The black brush on its tail extends from halfway down to the tip. Males typically weigh around 1.3 kg, and females 0.9 kg. The longest they are likely to live is four years.
Often confused with eastern quoll, it differs in possessing a first toe on the hind foot and a darker tail. It does share a white-spotted brown coat and a long tail with both the eastern quoll and northern quoll.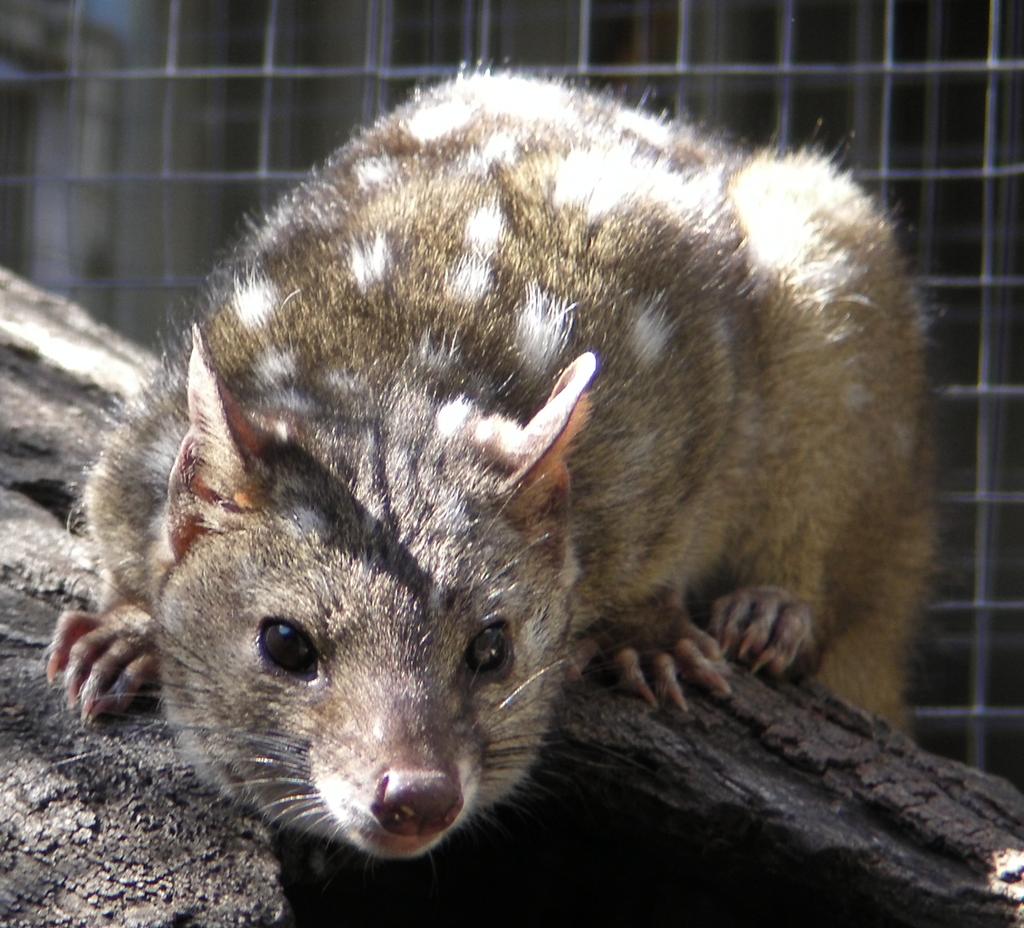 A western quoll (chuditch) in enclosure at Caversham Wildlife Park, Western Australia. Phoot by and courtesy of S J Bennett.

Once found across 70% of the Australian continent, the western quoll is now confined to south-western corner of Western Australia. This perhaps was due to European settlement in the late 1780s as their range dramatically declined after this event. It currently inhabits wet and dry sclerophyll forests, including contiguous Jarrah Forest and mallee. These areas consist of open forest, low open forest, woodland, and open shrub. On occasion they are recorded in the WA Wheatbelt and Goldfields regions, and by the 1930s disappeared completely from Swan Coastal Plain and surrounds.
As a result of its carnivorous feeding habits, the western quoll has a large home range. These territories often share rock ledges and other open spaces. This serves to mark territory and for other social functions. Males spread out over about 15 square kilometres and typically overlap with several female ranges, about three to four square kilometres each. Although males share their large territories with smaller female territories, females do not cross theirs with other females. Most female home ranges contains around 70 hollow log dens and 110 burrows.
A solitary, mostly terrestrial nocturnal predator, the western quoll is most active around dusk (crepuscular) when it hunts. It moves swiftly on the ground, climbs efficiently, and may dig or occupy existing burrows. During the day it seeks refuge in hollow logs or earth burrows as dens, and saves energy by lowering its body temperature in its sleep.
The western quoll is at the top of the food chain, and depends on resource abundance and a healthy ecosystem. Being a carnivore, the western quoll feeds on large invertebrates and any small animal it can. This includes lizards, birds, frogs, spiders, insects, and small mammals; the largest it will eat is the size of a bandicoot or parrot. They hunt mostly on the ground, but will climb a tree to grab a bird's egg. A bite to the back of the head kills their larger prey. It possesses an ability to obtain most of its water from its food, which is especially handy for survival during a drought.
As seasonal breeders, western quolls mate between late April to July, and have a peak in June. During this time, the western quoll tends to take up large areas of habitat, and females aggressively defend their territory of 55-120 ha. Interestingly, male and female quolls meet up only to mate. Although there are occasional cases when more young are produced than can be nursed, most litters range from two to six. There is a gestational period of 16 to 23 days which is followed by the young living in their mother's shallow pouch. After another seven to fifteen weeks, the young outgrow the pouch and are left in the den while the female forages for food. Weaned at 23 to 24 weeks, western quoll are independent at 18 weeks and are sexually mature at one year of age. The young disperse in November before taking up their own territories.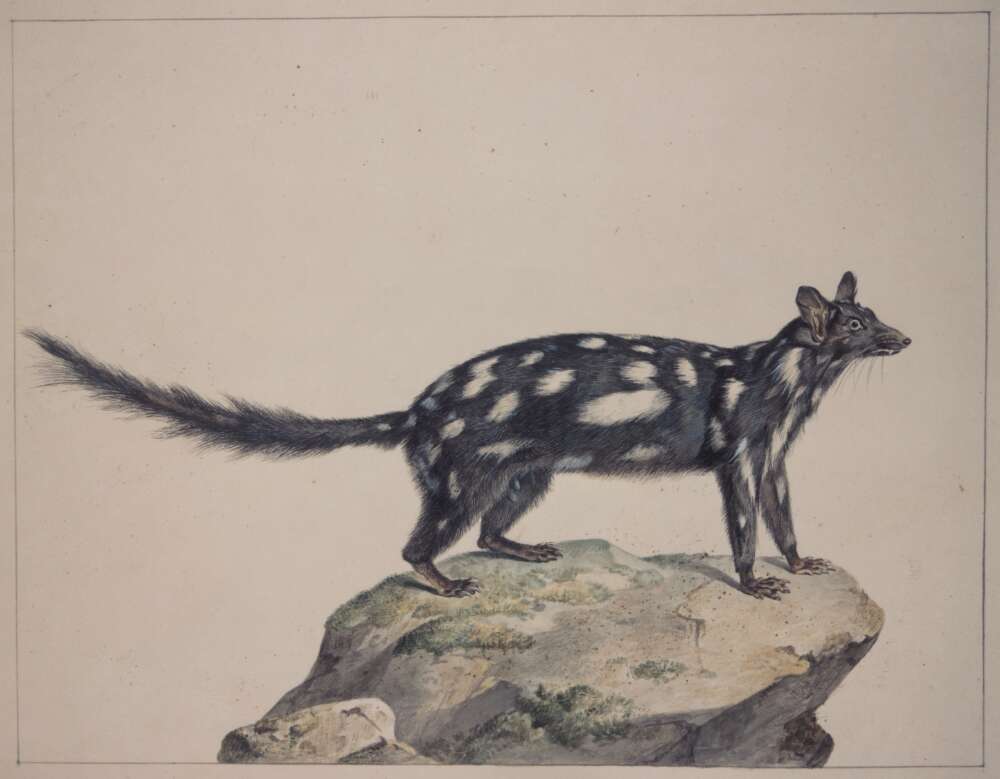 Catton, Charles & Stone, Sarah. (
1790
).
Spotted tapoa tafa
Retrieved from http://nla.gov.au/nla.obj-135939144
The western quoll has declined due to several factors.
Land clearing
, inappropriate fire regimes, use of pesticides by surrounding farmers, grazing by stock and feral herbivores, illegal shooting, accidental drowning in water tanks, being hit by motor vehicles, entanglement in barbed wire fencing, and poisoning are all responsible for their disappearances. Feral cats have a massive impact; both predation and competition narrow room for the western quoll. As more land became less suitable for living in, the western quoll is forced to move elsewhere.
AWC (Australia Wildlife Conservancy) protects this species at Paruna Sanctuary using a comprehensive feral predator control program, which sees feral cat and fox numbers controlled using trapping and baiting.
There have been ongoing attempts to re-establish the western quoll in parts of its former range. A five-year trial re-introduction of western quoll to the Flinders Ranges in South Australia began in April 2014. Despite the loss of about a third of the first release population (mostly due to predation by feral cats), most of the surviving females bred and sixty joeys were born. As of May 2016, a final release of 15 quolls from Western Australia was carried out in the Flinders Ranges, with a total population of 150. About half of this population was born locally. Monitoring of the population is planned for an additional two years. FAME (Foundation for Australia's Most Endangered Species Ltd.) is also looking into returning the western quoll to this region.
Breeding programs have and will definitely increase their numbers. This was conducted successfully in the Perth Zoo when the quolls were bred in captivity and released.
Saving Our Species Program Background
The Threatened Species Priorities Action Statement (PAS) was introduced by the NSW
Government in 2007 in response to a growing number of threatened entities listed on the
schedules of the Threatened Species Conservation Act 1995. The recovery planning
process was not keeping pace with the management requirements of these species and
communities, so a simple list of proposed management actions for all threatened entities
was developed to be more effective in meeting recovery goals.
A statutory review of the PAS was conducted after three years (Review of the NSW
Threatened Species Priorities Action Statement), which made several recommendations
for its redevelopment, including to:
establish six new management streams to better target the management of each

threatened species (Rec. 1)

target investment at the minimum set of actions that are crucial for securing a species

(Rec. 5)

develop a sound, repeatable and transparent process for prioritising effort between

species statewide (Rec. 6)

develop a process for monitoring and reporting on the outcomes of projects and actions

for threatened species (Rec. 7)

develop a simple, user-friendly database to support program delivery (Rec. 8).
Saving Our Species
(SOS) was developed based on the findings and
recommendations of the PAS review. The new program aims to provide an overarching
framework for threatened species management in NSW, define more targeted
management, clearly articulate objectives, and provide a transparent and objective
process for prioritising management that is accessible to all stakeholders in NSW. The
prioritisation described in this report will be used, along with other considerations such as
regional priorities, current capacity and community engagement, to inform OEH priorities
for investment in threatened species recovery across NSW.
Decisions regarding investment in threatened species management in NSW (and many
other jurisdictions) are generally made in relative isolation (i.e. without coordination across
regions or organisations), and are generally driven by factors acting at a fine scale with
respect to space (i.e. local priorities) and time (i.e. short-term urgency). Furthermore, the
scale and extent of implementation of management actions is determined primarily by
short-term and often ad-hoc funding allocation.
The new program represents a significant improvement, as it provides a structured
framework for all stakeholders to efficiently contribute to statewide objectives with a longterm
focus. To be effective, threatened species management should be driven by a single
objective that is target-based, specific and clearly defined, so that effectiveness of
management can be measured and reported in the future. Specifically, the program-wide
objective is 'to maximise the number of threatened species that are secure in the wild in
NSW for 100 years'. It also provides a centralised resource (the conservation projects
database) where information on species' ecology, status and management effectiveness
can be captured over time to facilitate adaptive management by all conservation
practitioners in NSW.
Introducing Saving Our Species : December 2013
Saving our Species is a new conservation program that aims to maximise the number of threatened species that
can be secured in the wild in NSW for 100 years. Unlike previous programs, Saving our Species:
aligns everyone's efforts under a single banner, so investment in threatened species conservation can be

accounted for

assigns threatened species to different management streams so the individual requirements of each species

are clearly understood

i

nvites the NSW community and businesses to participate, because projects to save threatened species are

collaborative efforts.
Through Saving our Species, threatened species have been allocated to one of six management streams
depending on their distribution, ecology, security, and what is known about them.
The six management streams are:
site-managed species

iconic species

data-deficient species

landscape-managed species

partnership species

keep watch species.
Priorities for action under Saving our Species are species in the site-managed species, iconic species, datadeficient
species and landscape-managed species management streams. Direct action will be considered for
nationally listed partnership species but is not expected for keep watch species unless threats substantially
increase.
For site-managed species, conservation projects will be prioritised to maximise the number of species that can
be secured with available resources.
Revised strategies for populations, ecological communities and key threatening processes will be developed
next.
Anyone who undertakes or is interested in threatened species conservation can get involved in Saving our
Species.
share information on the website about what they are already doing

subscribe to receive updates on the program and threatened species conservation projects

search for a conservation project in their area

learn more about threatened species.
About Saving Our Species
There are currently more than 980 threatened species and over 100 threatened ecological communities in NSW. SoS staff and partners are working to save species and ecological community through:
initiating projects that improve habitat and control threats, such as weeding programs and fox baiting




monitoring the effectiveness of these projects and the response of species and ecological communities to management activities




supporting conservation projects in national parks and on private land.



Success is measured by the number of sites where threatened species and ecological communities are stable or increasing in the wild in NSW.
Conservation activities delivered as part of the SoS program are complemented by effective regulation of human impacts on threatened species and ecological communities.
Saving our Species program
Saving our Species is our statewide program that aims to secure threatened plants and animals in the wild in NSW.
The Saving our Species program:
consults extensively with experts and applies independent peer reviewed science to species, populations of a species and ecological communities projects




takes a rigorous and transparent approach to prioritising investment in projects that ensure benefit to the maximum number of species




provides targeted conservation projects that set out the actions required to save specific plants and animals on mapped management sites




regularly monitors the effectiveness of projects so they can be improved over time




encourages community, corporate and government participation in threatened species conservation by providing a website and a database with information on project sites, volunteering and research opportunities.



In March 2015, the NSW Government pledged $100 million over five years to protect the state's threatened species, commencing 1 July 2016.
The new funds will allow the Saving our Species program to expand to cover more species as well as threatened ecological communities and key threatening process.
OEH has developed a program-wide framework for monitoring and reporting on the outcomes of projects and actions for threatened species.
Outcomes to be monitored and reported on include:
total annual investment and the return on the investment




tangible outputs that can be totalled across the program




threats under control or on track to be under control




management sites with populations that are secure or on track to be secure




species on track to be secure in the wild in NSW for 100 years.



The program's current legislative basis is the NSW Biodiversity Conservation Act 2016.
Saving Our Species 2016-2021
The NSW Government is investing $100 million over five years in saving more threatened animals and plants from extinction. The funds are allocated from 2016 to 2021 to Saving our Species, NSW's leading threatened species conservation program.
Further Reading: Local Relevance
The Saving Our Species Program has extended and made more practicable one local project since funding was allocated for saving flora and fauna in 2016:

Collaboration Key To Saving Critically Endangered Northern Sydney Native - December 2016
Pittwater: Where the Wild Flowers Are - (1916 & 1917 lament) - September 2017

Grevillea Caleyi Seed Collection At Ingleside: PNHA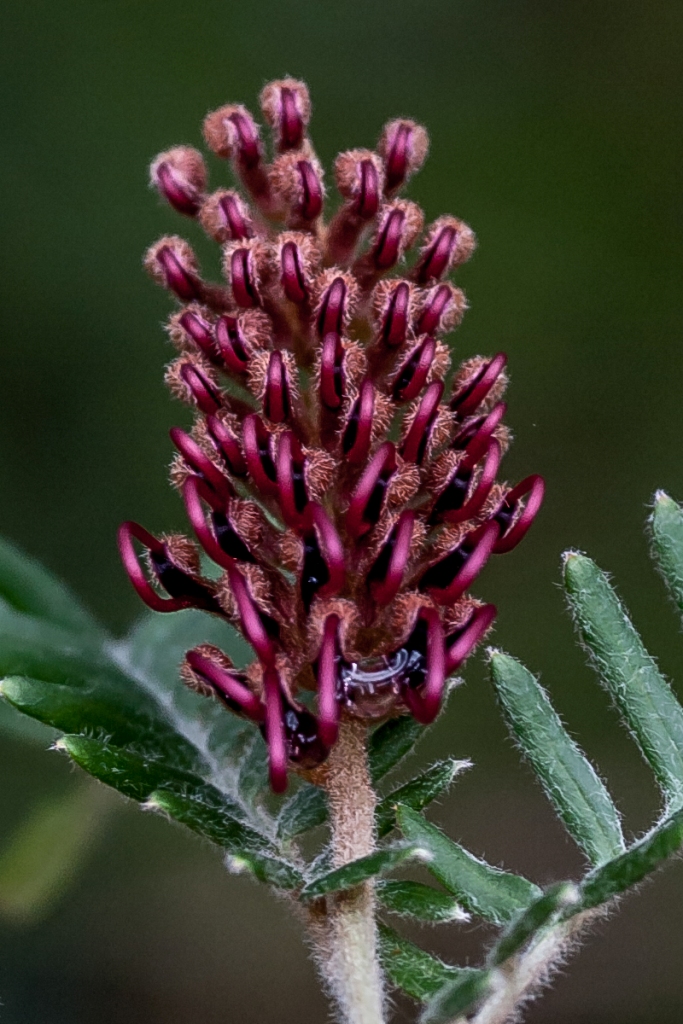 Volunteers at the Pittwater Natural Heritage Association (PNHA) bush regeneration project at the Baha'i Temple, Ingleside had a special demonstratio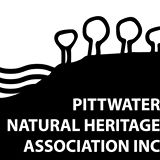 n at their December bushcare morning when staff of the Royal Botanic Gardens undertook collection of seeds from the critically endangered Grevillea caleyi.
Grevillea caleyi is restricted to small pockets within the Terrey Hills, Duffys Forest, Belrose and Ingleside areas. The Royal Botanic Gardens will be collecting seed from these sites for storage in the Australian PlantBank at the Mount Annan Australian Botanic Garden to provide long term back-up in case of any loss that may occur to the species in its natural habitat.
Meanwhile the PNHA bush regeneration project continues, with the dedicated team of volunteers including members of the Baha'i congregation working alongside professional bush regenerators to give this population of Grevillea caleyi a chance to increase.
They welcome new volunteers, so if you are interested in helping on the project in 2016 call David Palmer on 0404 171 940
Collaboration Key To Saving Critically Endangered Northern Sydney Native
9 December 2016
A three-year project to preserve and restore the critically endangered Grevillea caleyi shrub and endangered Duffys Forest ecological community culminated in a final Bushcare day at Ingleside this week
Driven by local volunteers through funding from Greater Sydney Local Land Services and the Office of Environment and Heritage (OEH), the project focusses on protecting vegetation on the grounds of the Baha'i Temple which is home to the endangered native plant.
Greater Sydney Senior Land Services officer Rebecca Mooy said Northern Sydney had the only population of Grevillea caleyi in the world.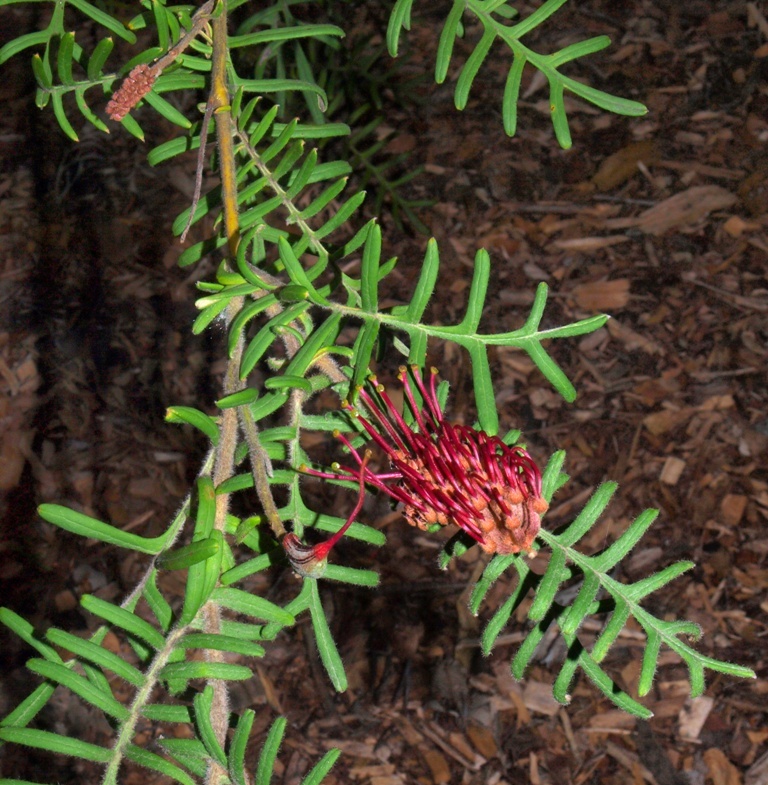 Photo by Greg Steenbeeke – Orkology.

"There are currently less than 20 mature plants and around 50 seedlings at the Temple grounds. Our volunteers have done an incredible job to protect this plant and raise awareness about its importance to our natural environment," she said. "Their work has involved, bush regeneration, mapping of plants, seed collection, protection of seedlings and management of other plant species at the site.
"What has been achieved over the past three years is a great example of meaningful collaboration between community and government."
OEH Senior Threatened Species Officer Erica Mahon said great team work has been pivotal to the success of the three year project to save the critically endangered plant, which can be found in the Northern Sydney suburbs of Ingleside, Terrey Hills and Belrose.
"It's been inspiring to work with such a devoted group of volunteers. Their commitment has ensured the survival of the critically endangered Grevillea caleyi. The funding is one thing, but without the dedication of the local landholders and volunteers, projects like this couldn't succeed.
"I look forward to continuing to work in partnership with the Pittwater Natural Heritage Association and the Spiritual Assembly of the Baha'i as we continue the successful Bushcare mornings with funding under the Saving our Species Program," Ms Mahon said.
David Palmer of Pittwater Natural Heritage Association said volunteers had contributed 11,000 volunteer hours over the three year project.
"While the project may be over it's not the end of efforts to save and protect the Grevilla caleyi, and we look forward to continuing our work in the future," Mr Palmer said.
This project has also been supported by the former Pittwater and Warringah Councils, the Spiritual Assembly of the Bahá'í, and the Pittwater Natural Heritage Association.
From Local Land Services – Greater Sydney, NSW Government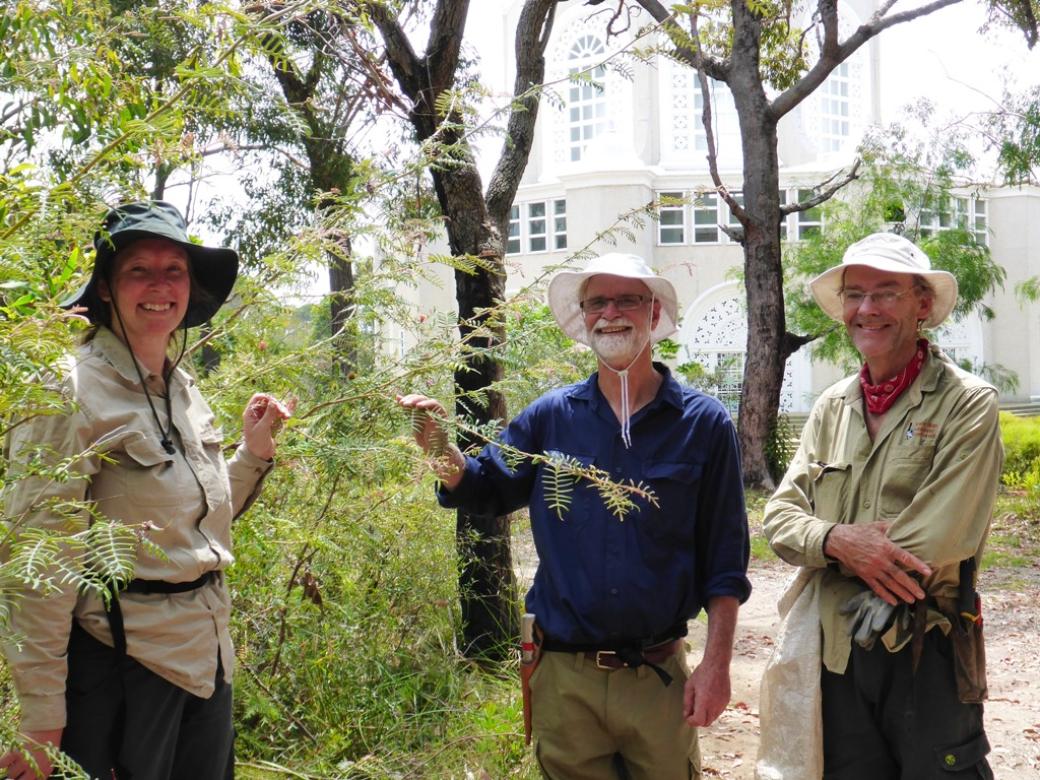 L to R - Erica Mahon Senior Threatened Species Officer NSW OEH, David Palmer, Volunteer with Pittwater Natural Heritage Association / Bahai Bushcare and Ned Macken Volunteer Supervisor from Australian Bushland Restoration.