February 19 - 25 2023: Issue 572
SailGP Skipper James Spithill Visits BYRA to help launch their Youth Development Foiling Program: Inspires next generation to get on the water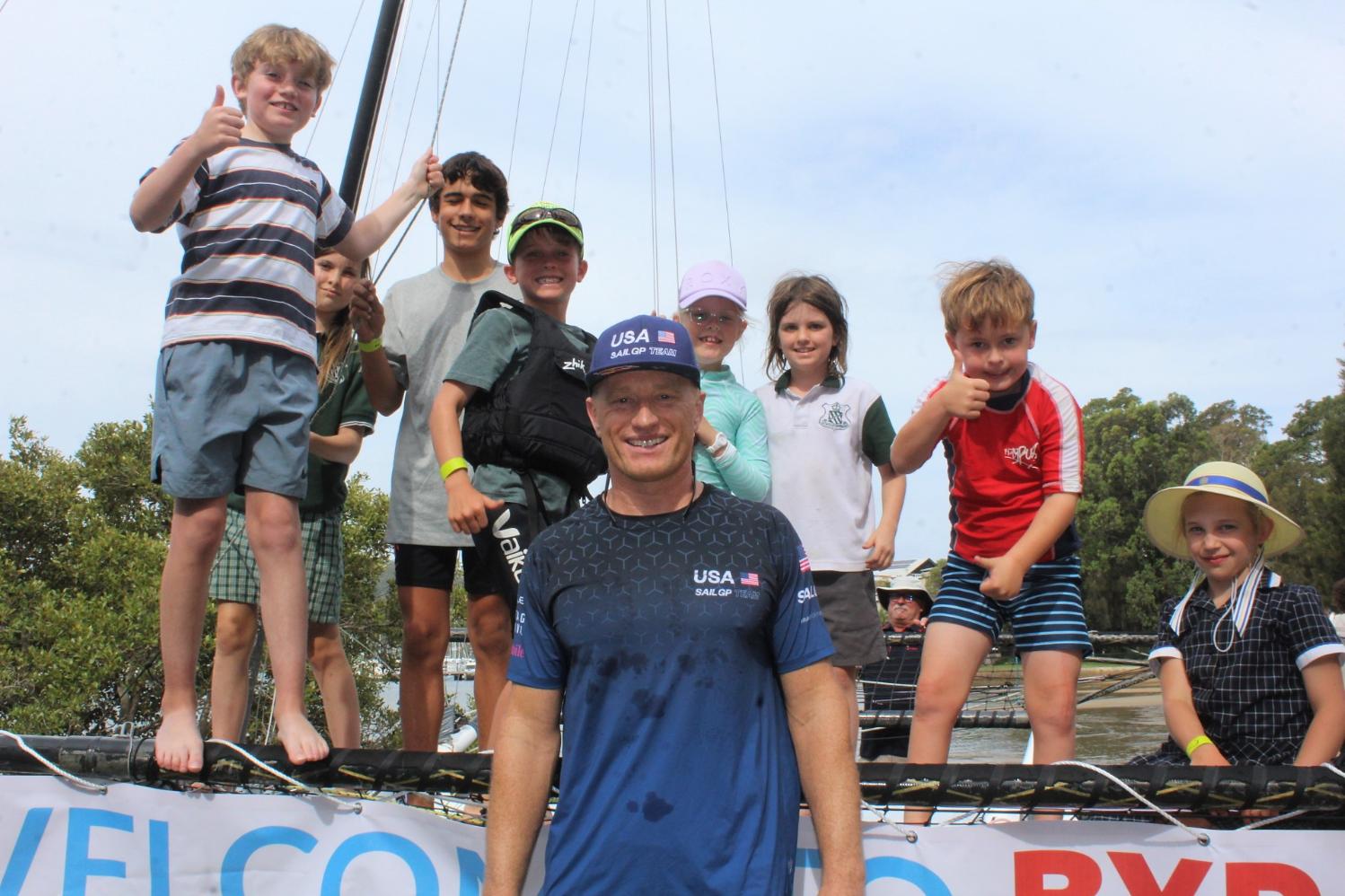 James Spithill shared some great insights and inspirational messages - the young sailors of BYRA were stoked
On Saturday evening, February 18th, Sail GP announced the cancellation of the Sunday racing for their Sydney event.
The organisers stated:
'After racing today at the KPMG Australia Sail Grand Prix in Sydney, a major weather event occurred that has resulted in significant damage to the wing sails and at least one boat at the SailGP technical site.
As far as we know, no one was seriously injured during the incident. As a result of the damage, SailGP has had to cancel racing for the second day of the Sydney event.
A full assessment of the damage is underway but it is likely some of the future SailGP events may also need to be delayed. Further information will be released as it becomes available.
For those due to attend tomorrow's event day, refunds will be issued automatically to the method of payment used to purchase within 5-7 working days.'
Severe thunderstorms impacted Sydney Metropolitan, Illawarra and Central Tablelands area yesterday. On Sunday morning SES NSW reported they had received 789 (648 Sydney Metro) incidents in the last 24 hours (to 5am). On Saturday the Bureau of Meteorology, New South Wales, sent in a Notice of a 'Severe Thunderstorm Warning update'. Advising a line of cells was approaching the southern Sydney suburbs with damaging winds being the primary hazard. Locations at risk were Wollongong, Kiama, Picton, Campbelltown, Camden, Liverpool and Sutherland.

The dramatic first day was plagued by technical issues, near capsizes, messy manoeuvres and an Emirates Great Britain SailGP Team crew member falling overboard during the first fleet race.

Quentin Delapierre's Team France picked up three consecutive race wins after the first day of racing on the iconic Sydney Harbour. The French rose to the challenge of 50 km/h wind conditions to dominate fleet racing, while Jimmy Spithill's United States kept their San Francisco hopes alive by picking up two 2nd place positions and a 5th in the third race of the day, finishing second overall.
Narrabeen Lakes Sailing Club may have given France the edge. The club was paired with France as part of the 2023 edition of the Adopt-A-Club initiative SailGP launched in Sydney in 2020 to foster, promote and inspire the next generation of sailors, and had been cheering them on for weeks prior to the commencement of Saturday's racing.
Likewise the Bayview Yacht Racing Association (BYRA) was over the moon about being paired with Team USA and local James Spithill who first started sailing on the waters off their clubhouse, on Pittwater, and would have been willing this local hero and his crew towards great results.
Another local club, the Royal Prince Alfred Yacht Club, was paired with Britain, who placed second in race 3, and took 6th place in both the other races. Another legendary Skipper helms Britain's P50 in Ben Ainslie who was part of the 2013 America's Cup with James Spithill.
The cancellation of Sunday's racing will leave fans of SailGP disappointed, however, the local youngsters have had a great week, all being able to visit the SailGP base and see up close what goes on behind the scenes to get these super machines prepared and ready for the water in some of the best catamaran racing on the planet.
The SailGP events are raced on the F50 catamaran, a one-design foiling catamaran used in the SailGP race series. The F50s are adapted from the AC50s used in the America's Cup, with modifications including new control systems and modular wingsails. The F50s are one of the fastest racing classes in history, with a predicted top speed of 52.2 knots (96.6 km/h, 60 mph); the current F50 speed record, achieved by the France SailGP Team at the Range Rover France Sail Grand Prix in 2022, stands at 53.96 knots (99.94 km/h, 62.10 mph).
Three AC50s from the 2017 America's Cup were converted to comply with the F50 one-design rule to create the new SailGP fleet racing circuit. Three more boats were built from scratch by Core Builders Composites to create an initial fleet of six boats crewed by teams from the United States, Australia, France, China, Japan, and the United Kingdom. For the 2020 SailGP championship, the Spain SailGP team used the F50 of the China SailGP team after their departure. A seventh F50 was commissioned for the Denmark SailGP team, which also joined for the 2020 SailGP championship.

Interestingly, the AC50 was a smaller version of the AC72 (America's Cup 72 class) which was developed for the 2013 or 34th America's Cup and where foils were used for the first time in an America's Cup. The AC72 was expected to sail faster than the wind upwind at 1.2 times the speed of the true wind, and downwind at 1.6 times the speed of the true wind. In fact it ended up being a lot faster than that.
That means James Spithill has around a decade of experience using foils and wingsail catamarans and added an extra 'bonus' for the youngsters he visited on Monday February 13th at Bayview at BYRA's clubhouse. The club was launching its own foiling class the same day and is commencing a foiling Youth Development Program at present for junior sailors. Visit: www.byra.com to find out more.
BYRA also teaches children and adults to sail and have the following progression paths for junior sailor:
BYRA Training Boats Optimist / Pittwater Juniors / Envy
Junior Single Handed Boats Open BICs / Spirals / Lasers
Junior Two Handed Boats Manly Juniors (Combined Crew 50-70kg) / Flying 11s (Combined Crew 70-100kg) / NS14s
The conditions were certainly kinder earlier last week, bright blue skies, a decent breeze and calmer waters made for great sailing conditions when James visited BYRA.
Mr. Spithill, or 'Jimmy' as many know him locally, first explained a little about the SailGP. SailGP is an international sailing competition using high performance F50 foiling catamarans, where teams compete across a season of grands prix staged in iconic harbours and waters around the world. Events take place across two days, with seven races scheduled for each Sail Grand Prix; six fleet races and The Final.
James then explained a little about the foiling the boats those racing in the SailGP series.
''We're starting quite late in the afternoon, around 4pm, and we're racing right around Shark Island.'' James explained. ''Shark Island is actually part of the course and there will be spectators there.
There are 9 boats that are pretty quick and can travel at up to 50 knots, which is just under 100 kilometres an hour, but the coolest thing about them is they are powered by a planning wing and they foil.''
''The great thing about foiling is as the craft increases its speed the hydrofoils lift the hull up and out of the water, greatly reducing wetted area, resulting in decreased drag and increased speed. A sailing hydrofoil can achieve speeds exceeding double and in some cases triple the wind speed.''
'' We can actually sail them in a big range of breeze, so we can foil in 6 knots, and then we slowly shorten it as it gets windy.
We make a decision for the day – if it's going to be windy we say 'we'll go with the number 3 wing, which is really small, its about 18 metres, and then we can go all the way up to the big one.
The boats can go in the mid to high 20s and the limit is actually the foils. What happens is you start cavitating the foils. Essentially what happens is the pressure becomes so much, once you get over 50 knots, the water starts to boil because of the friction around the foil. When that happens it's like being in turbulence on an aeroplane, and you start losing control of the foil.
The reason for that is the lift is changing and the cavitation changes around it – so it's a real exciting time but also a scary time as it's like being on a wild horse.
The only real change to foiling that I've noticed is, although the fundamentals are exactly the same - the big change is you have to anticipate a lot more as you are gong so much faster that you get where you're going real quickly.
So you can't wait until you have to make a decision, you've got another starboard tack or you have another boat coming; you have to be thinking ahead and a long way away. When you're doing 50 knots, and the other guy is doing 50 knots, you have a 100 knots closing speed. Everything is happening really really fast, and if you get behind on your decision making, or it becomes reactionary instead of planning ahead, then that's when stuff starts to go wrong. That can feel like a snowball and you just never catch up and get ahead on the plan and your moves ahead.
But it's an incredible feeling once you get up and going – the acceleration is exhilarating. It's weird the first time you foil because you're so used to the hull, and when you see a set of waves coming, you know how it feels when they hit the hull. With foiling it's like a hot knife through butter, you ride straight over.
It's actually quite difficult for the chase boats to keep up. Now, in the SailGP, you won't see the chase boats chasing the boats, they just go and park somewhere so it doesn't become a mess of a whole lot of boats.''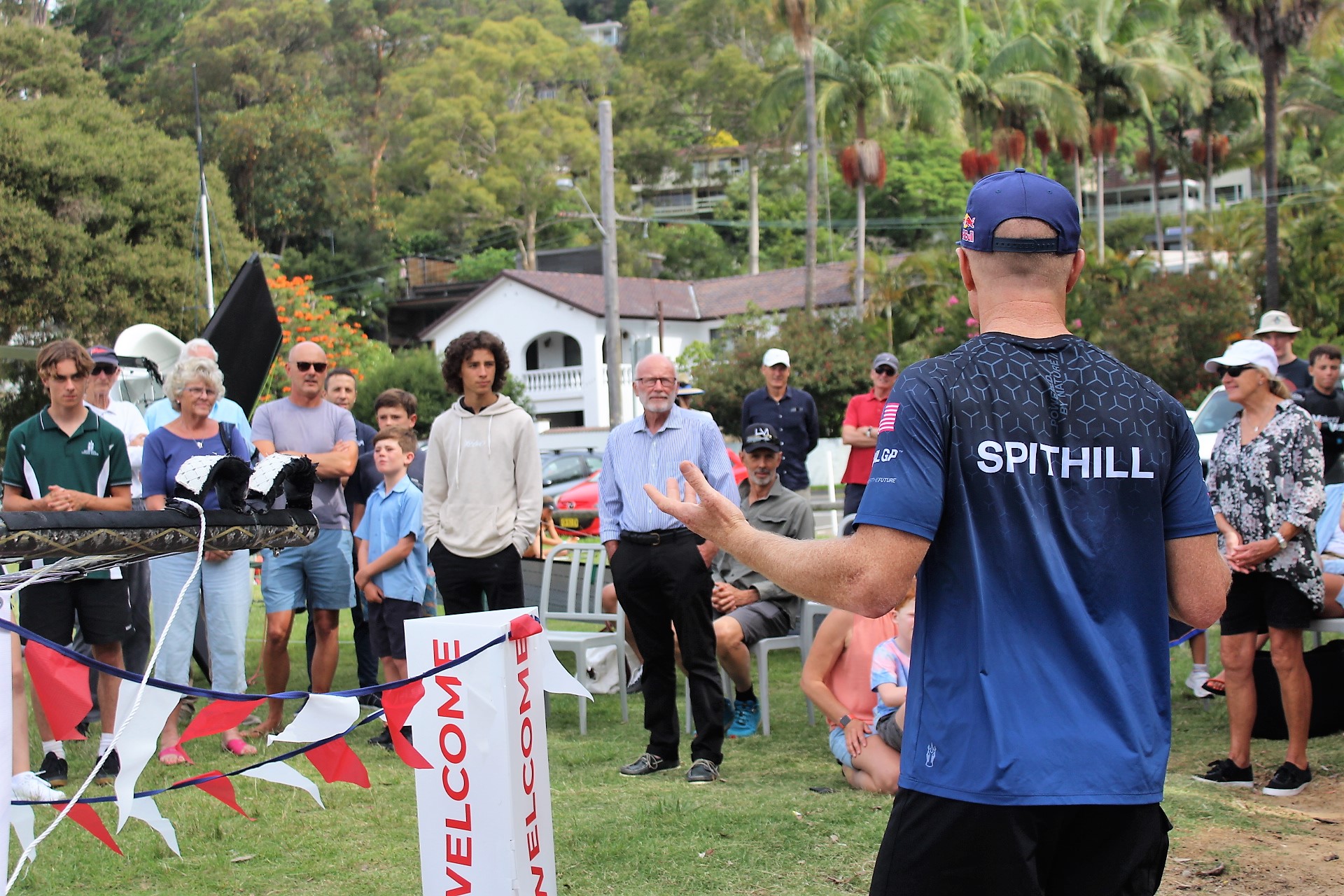 The youngsters had a few questions for this local hero - asking:
Archie (who won Green fleet in his first regatta and loves sailing in the Flying 11's now): When you were sailing in the past and you made a big comeback – what were you thinking, that you were going to lose or how did you make it through?
James (laughs): that was a good question Archie. Archie is referring to a race in the past where we had a big comeback. We ended up falling behind in one of the America's Cup finals in San Francisco and found ourselves at 8-1 down in the first of 9 wins in 2013. Archie has brought up a really important point because at that moment it's difficult not to think about the end result, you're only human, and at the end of each day's racing you go home and think 'I'm on match point here, this could be all over tomorrow'.
BUT you only have so much time and energy so you might as well focus that on thinking what's going to help you win the race as opposed to losing the race.
One of the key lessons, in sport and I think in everyday life, is the Number 1 rule; that you never give up. It doesn't matter how bad it looks, it doesn't matter if you're facing 8-1 or match point or even if you're in the lead, if you're 8-1 up. You don't want to think too far ahead about that, you have to think 'what can I do to win this race today?'
As a team what we said was, 'ok guys, we're just going to focus on one race at a time, and we'll focus on winning that race and then we'll focus on the next one.' And 'you don't have to win all 7 races today, we just have to go out there and win 1 race and maybe another race in the afternoon'.
Bianca and Tess(who are just starting their sailing journey) asked: Do you remember when you started sailing and do you have any advice?
I grew up over in Elvina Bay and I started windsurfing at first. Then I started crewing for someone in a Manly Junior. I think the first time I came home crying because I didn't really like it. Over time we actually got our own boat and my sister and I started sailing and I really started to enjoy it.
So for my first experience I was a little bit nervous and so didn't really enjoy it but then I got back into it, sailing with my sister, and started racing. The best part was all the friends I made. I really enjoyed the racing but like here, when you come ashore, you get to meet a whole bunch of different friends, who go to different schools, so I think it's a really cool sport in that way too.
Don't worry if you're nervous – I still get nervous when I go out and race at times, but, it's also exciting and when you come back ashore you feel really good that you went out and did it.
The last question?: What's it like when you crash an F50?
(crowd laughs)
James: It's expensive!
James paused for a moment then, you could see he was remembering that 2021 capsize of the American boat by his fellow Australians when practicing in Bermuda in April 2021, but also that 2013 event when Oracle's AC72 was damaged, and knew how to speak about this to children, what the focus was after that.
The power and speed of the catamarans used in the 2013 America's Cup attracted criticism when the AC72 rule was announced. Oracle's first AC72 pitch-poled in October 2012 after only eight days of sailing. Though there were no injuries to James' crew, the yacht was heavily damaged as the tide pulled it under the bridge and outside the San Francisco bay into the Pacific Ocean.
On May 9th, 2013, Swedish team Artemis' first AC72 flipped, resulting in the death of Olympic gold medallist Andrew James Simpson.
Andrew James "Bart" Simpson MBE, was a 36-year old English sailor who won a gold medal at the 2008 Summer Olympics in Beijing, as crew for skipper Iain Percy in the Star class representing Great Britain.
Residents may remember all our local sailing clubs being involved in the 2014 inaugural 'Barts' Bash' that raised thousands of dollars for the youth orientated Andrew Simpson Sailing Foundation, joining with thousands doing the same thing at the same time around the world and breaking a World Record in doing so, just to honour the man lost.
Stephen Barclay, CEO of the America's Cup Event Authority, promised a full inquiry into the events leading to Simpson's death and appointed a review committee to investigate both the Oracle and Artemis accidents, and to make recommendations for increasing the safety of the sailors on these class of boats and this was applied going forward to further iterations and developments in the class.
Mr Spithill, after a moments' pause, went on:
James: It's interesting as now we're talking to those in motor sports – a few events ago we took out Max Verstappen and we've also taken out a few of the F1 and MotoGP guys, and they're kind of shocked at what it's like on board. For them the g-forces that you get on the boats are strange, and also that there are no seatbelts – so none of this stuff has ever been done before in sports and we're all still learning as we go along but we also take it really seriously. Anyone who gets on the F50 has to go through a full safety training course; we have full impact helmets we wear, we have knives [to cut themselves out of rigging], spare air, so we can get about 12-15 breaths, and we also train.
For anyone that goes on the boat they have to train - we have a rescue diver and a full team there. We put all our sailing gear on, do a bunch of different cycles, practice using the spare air, but then we'll start to get a high heart rate because on board the boats you're heavily under demands on your body, especially all the guys that are doing all the grinding and providing all the power; they have a 90% heart rate. So we'll do a bunch of burpees, we'll do running back and forwards, and then they'll throw us in the water and pull us under and then you have to locate your spare air – but the key thing is to relax. Where it goes wrong the first few times you do it is guys try and rush things and their heart rate is still high. If you ever try and hold your breath it's hard enough as it is – but try doing that after running and doing 30 burpees.
It's all about just calming down and taking your time. It's a new sport. When I was sailing Manly Juniors and Flying-11's we weren't doing 50 knots and we weren't on really tight race courses. So that is something we have learnt.
All the boats have live telemetry. We all run on a communications system because it's so windy on the boat when you're doing 30 or 50 knots, and there's 20 knots of wind, you're basically in somewhat of a hurricane. The only way you can talk is via a comms system in the helmets. The way the software works is when the boats are approaching a warning will go off in your comms system. That way, if they're in a blind spot behind the wing, then an alert will be triggered on both boats that something could be happening.
Now in the start that's going off a lot because the boats get very close.
It's a whole new game – there is a lot of demanding points you have to pay attention to, but at the same time, it's the most enjoyable and rewarding sailing I've ever done. When you come in after doing those sorts of speeds side by side against the very best in the world, it is just incredible and one hell of a ride.
The principle doesn't change though. So whether you're sailing an MJ or Laser or whatever it is, the principles are the same but things are just happening way faster and you have to anticipate.''
BYRA were gifted one of the new foiling dinghies specifically designed for kids and lighter sailors. Capable of planing up and down-wind, these boats are bringing a whole new level of fun to youth sailing – a new thrill to captivate and entrench young sailors into the sport for life. The hull is stable, robust and simple. The steering is light and direct, allowing new sailors to develop their skills and feeling.
Still in the box, some of the youngsters helped to unpack it while the rest of the children and adults gathered took a chance to shake James' hand or get him to autograph the Team USA SailGP caps he had brought with him for the young sailors.
Amongst the crowd were fellow local sailing legends like Ken Beashel and one of the youngest Beashels' along with Linda Buchan, President of Sailability Crystal Bay, Olympic sailor medallist John Forbes, and Hames' brother Tom, 2017 Australian Salling NSW Coach of the year and Australian Coach of the year, and sister Katie Pellew, whose sailing achievements would fill a large volume.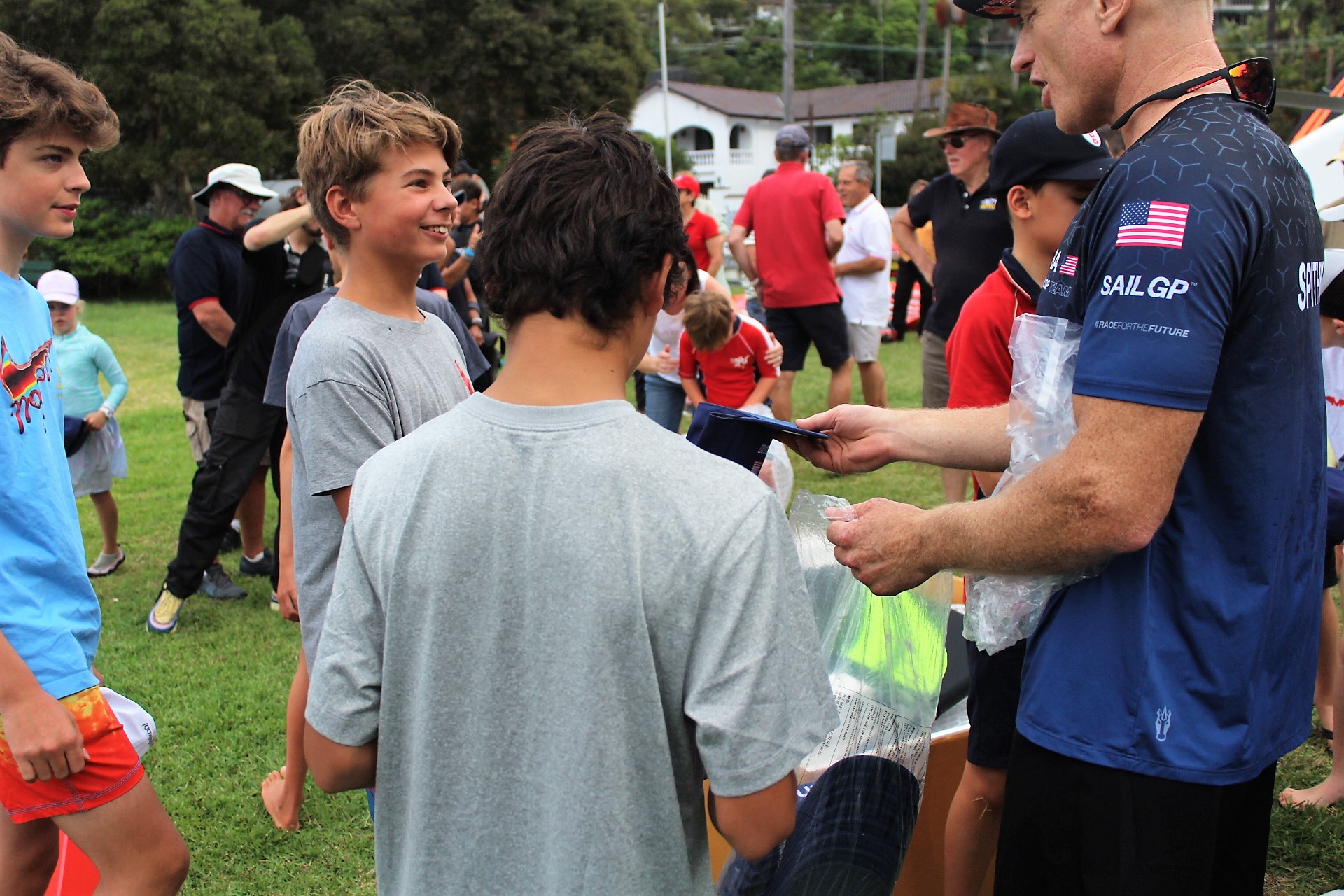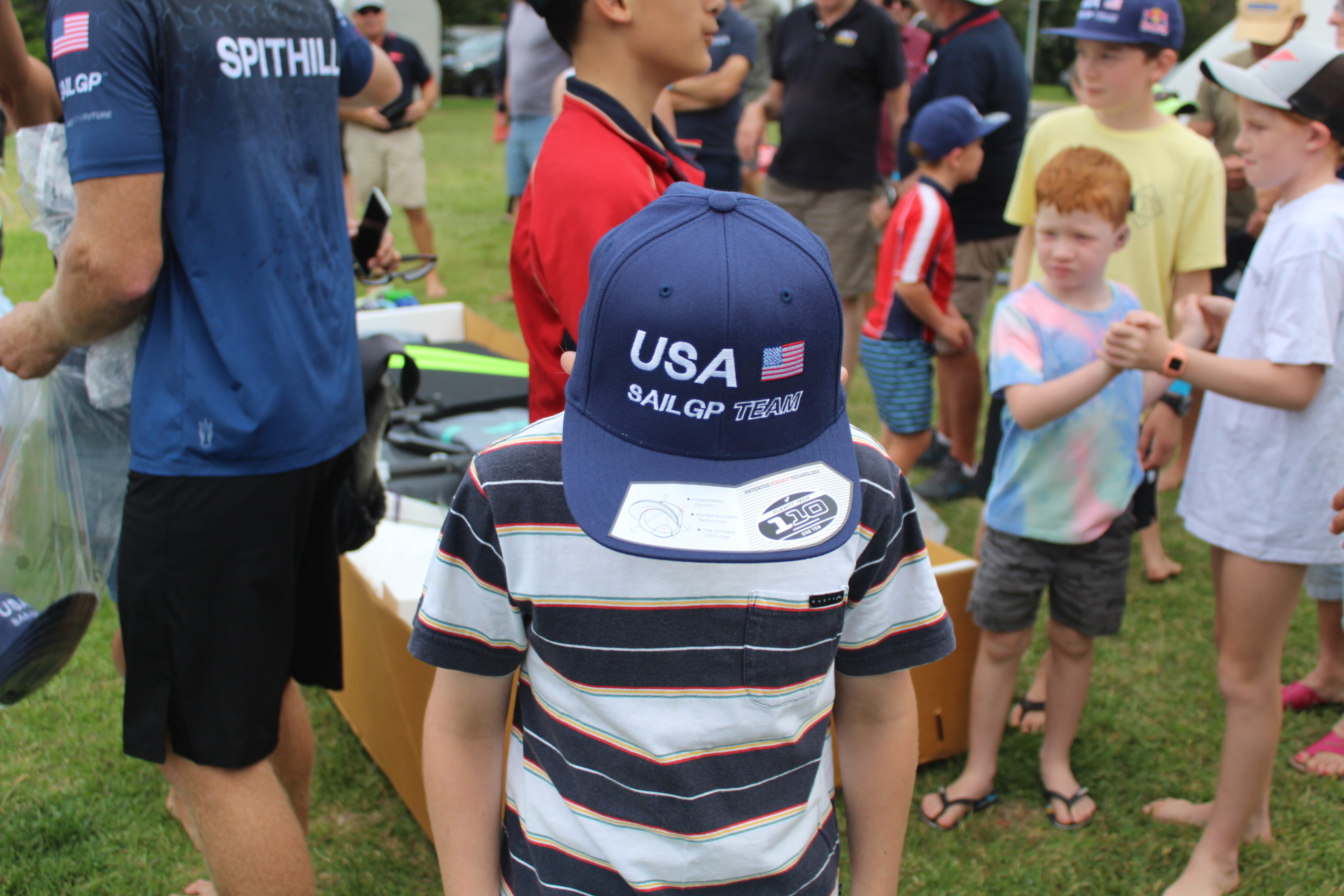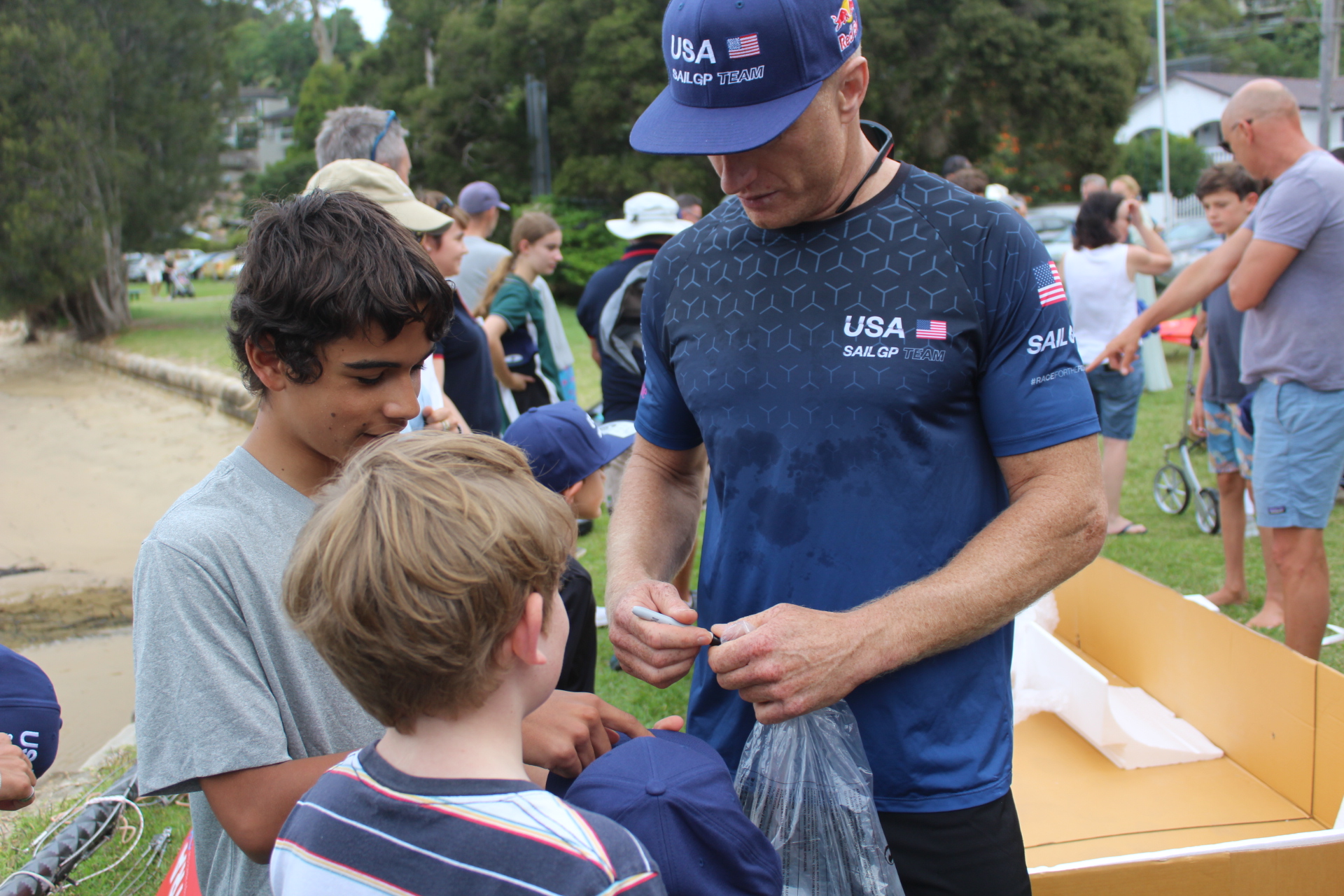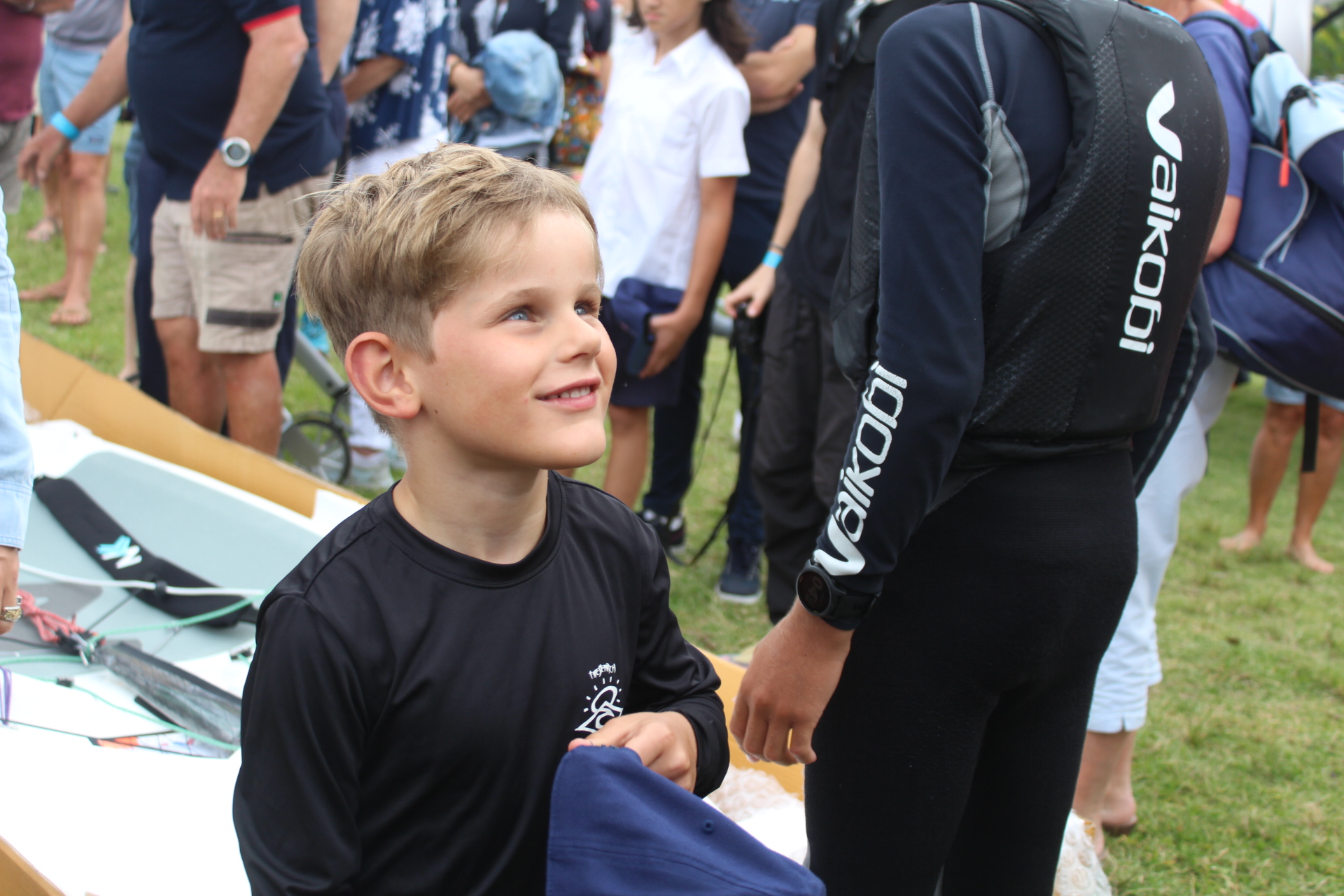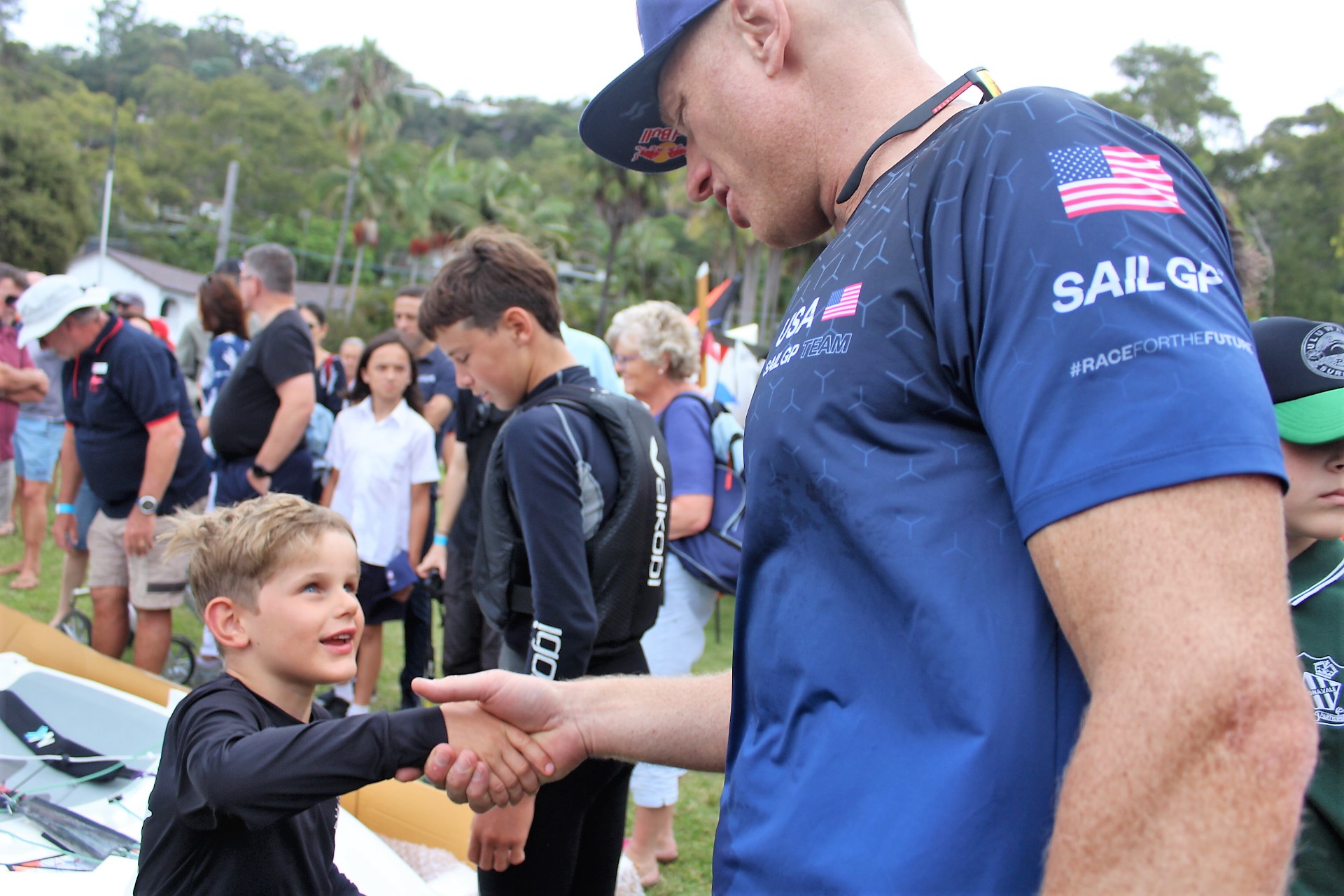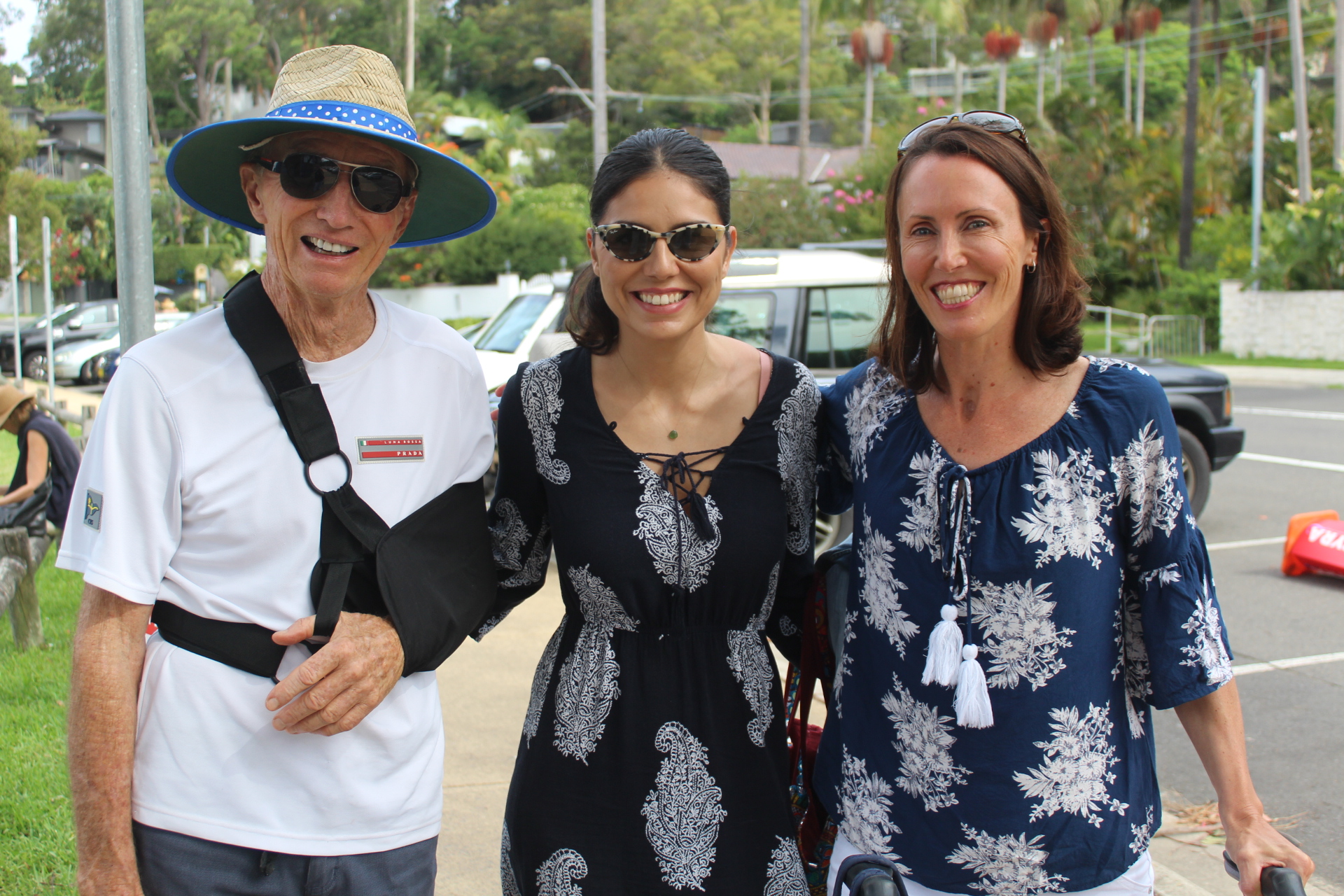 Mike Woolley, friend, Linda Buchan, Sailability Crystal Bay

Ken Beashel
Thomas Spithill and Kate Pellew (nee Spithill).
BYRA's Club Captain – Mal Keeler, Rear Commodore – Mindy Meehan, wjo organised the SailGP event, and Commodore – James Roberts

Commodore Roberts gave a tour of the BYRA clubhouse, once the boatshed of Cedric Morton Williams, and prior to that the site for the Riddles boatshed (the Riddles' Reserve named for the family and daughter May who donated the land to the then Warringah Shire Council). Mr Roberts explained the varying classes of boats the club has for sailors, especially junior sailors.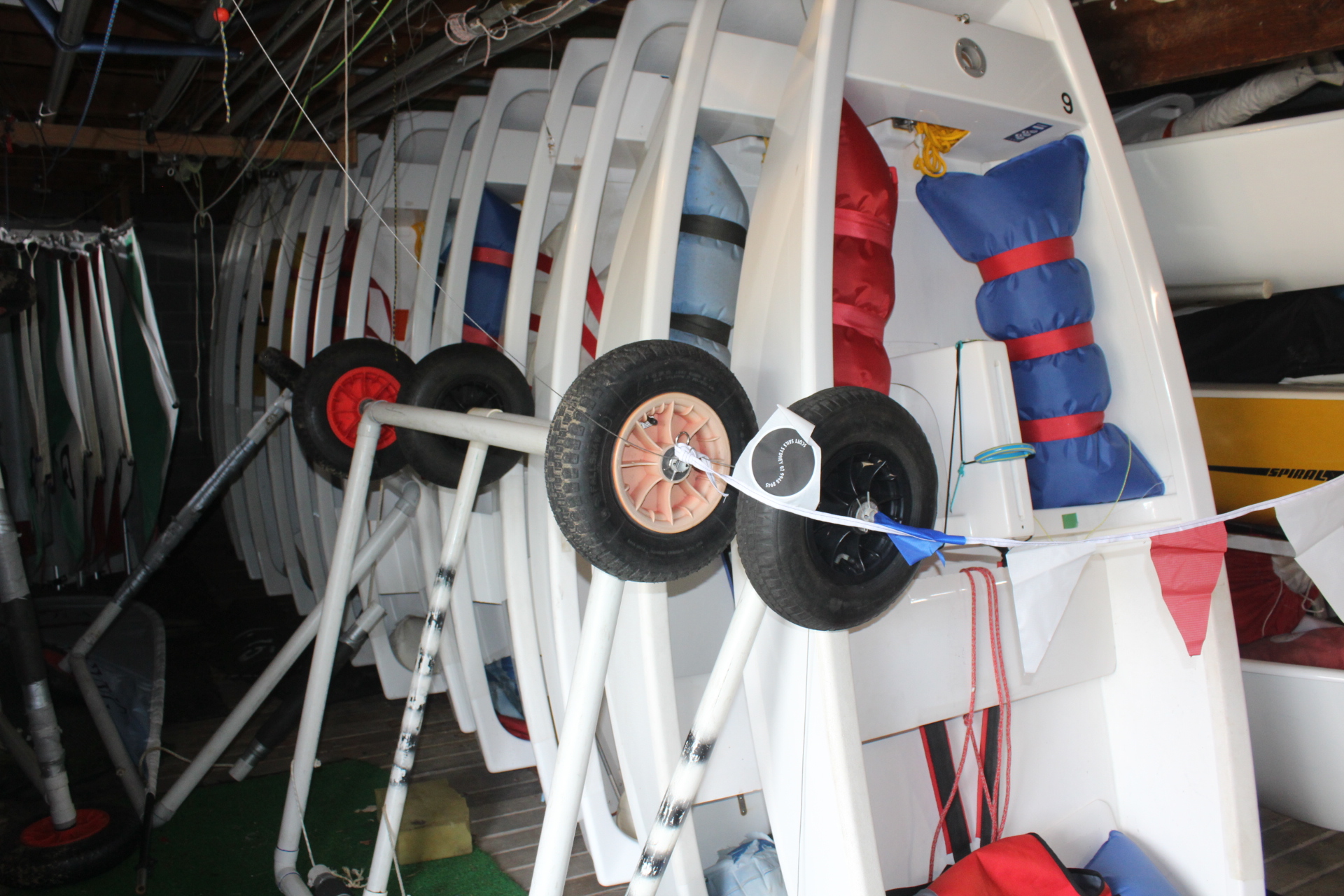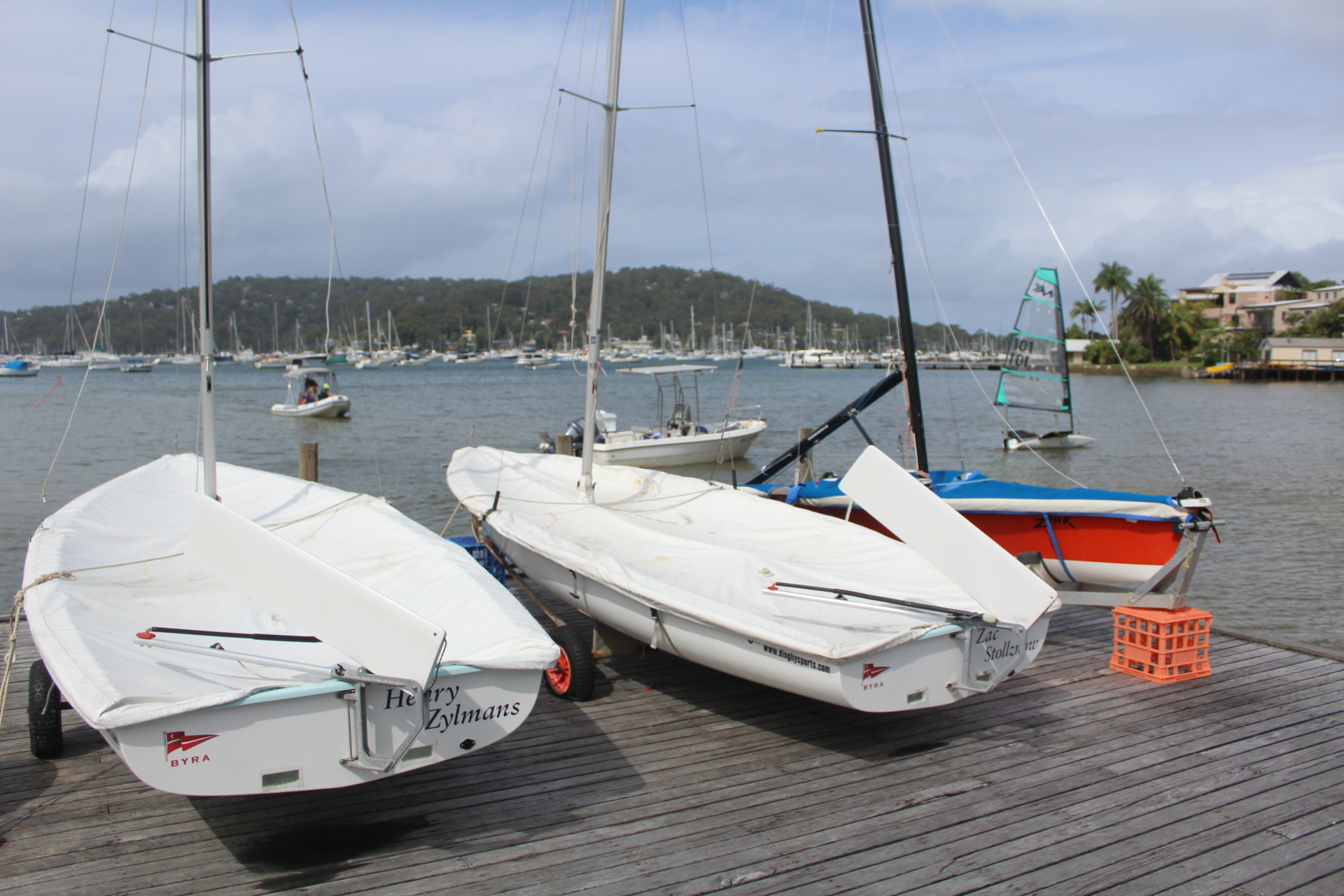 The F50s are one of the fastest racing classes in history, with a predicted top speed of 52.2 knots (96.6 km/h, 60 mph); the current F50 speed record, achieved by the France SailGP Team at the Range Rover France Sail Grand Prix in 2022, stands at 53.96 knots (99.94 km/h, 62.10 mph).
Foiling refers to the use of hydrofoils attached to the hull of fast boats, which provides additional lift at planing speeds – often enough to lift the hull completely clear of the water.
When travelling through the water at speeds around 60 knots, virtually all foils in the real world experience a phenomenon called 'cavitation'. Cavitation will happen in a fluid when you reduce the pressure so much that it effectively boils at room temperature. The liquid turns to vapour.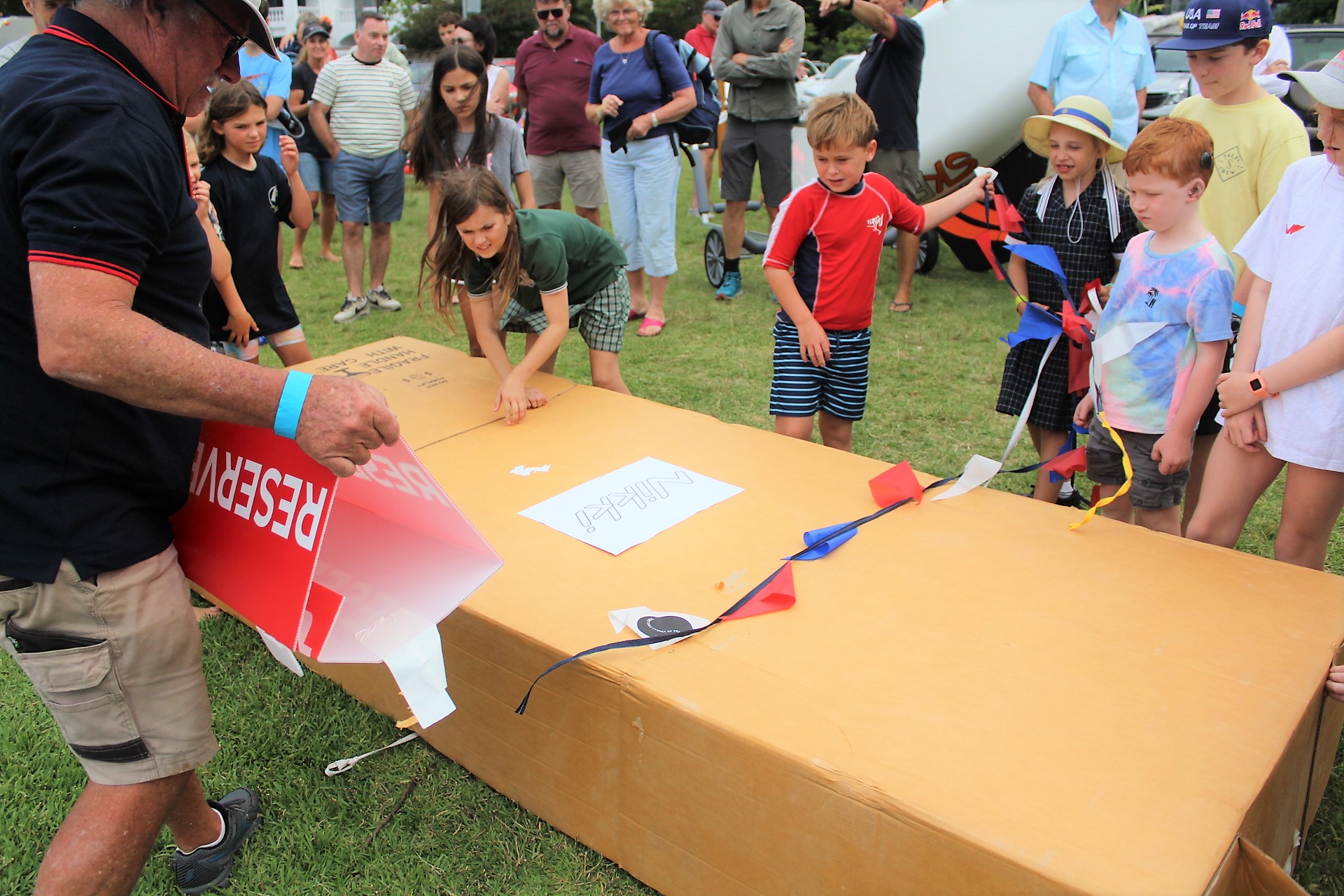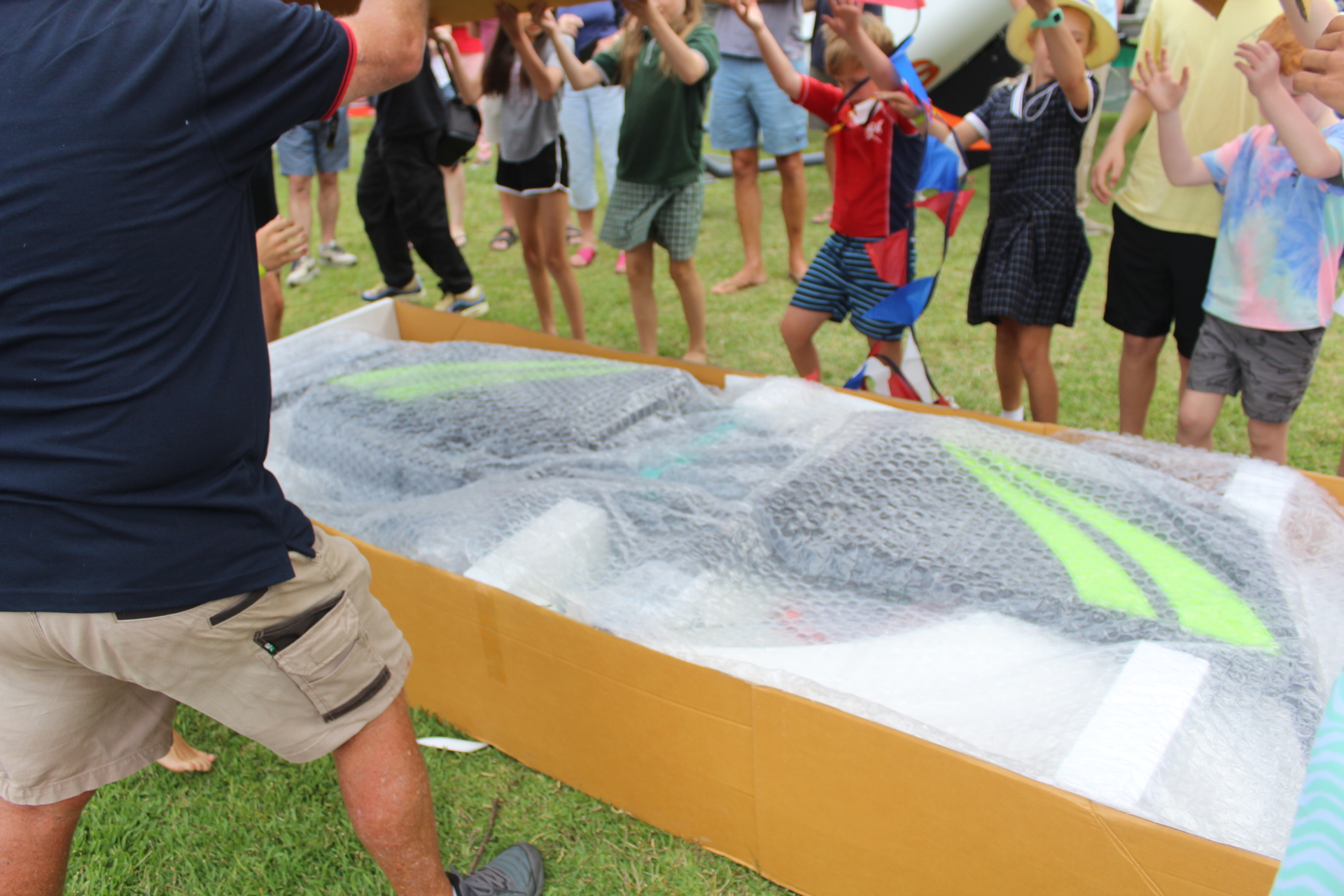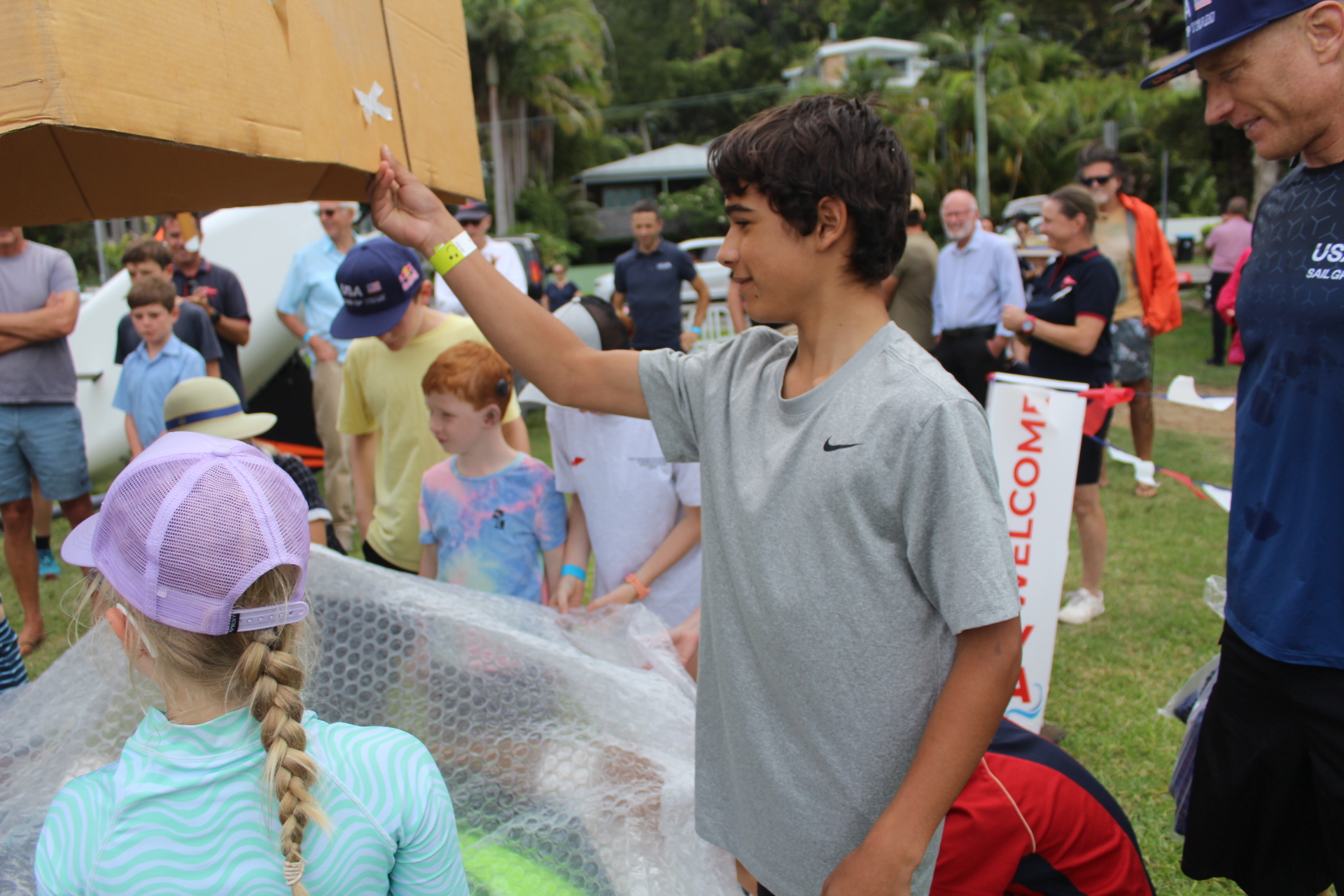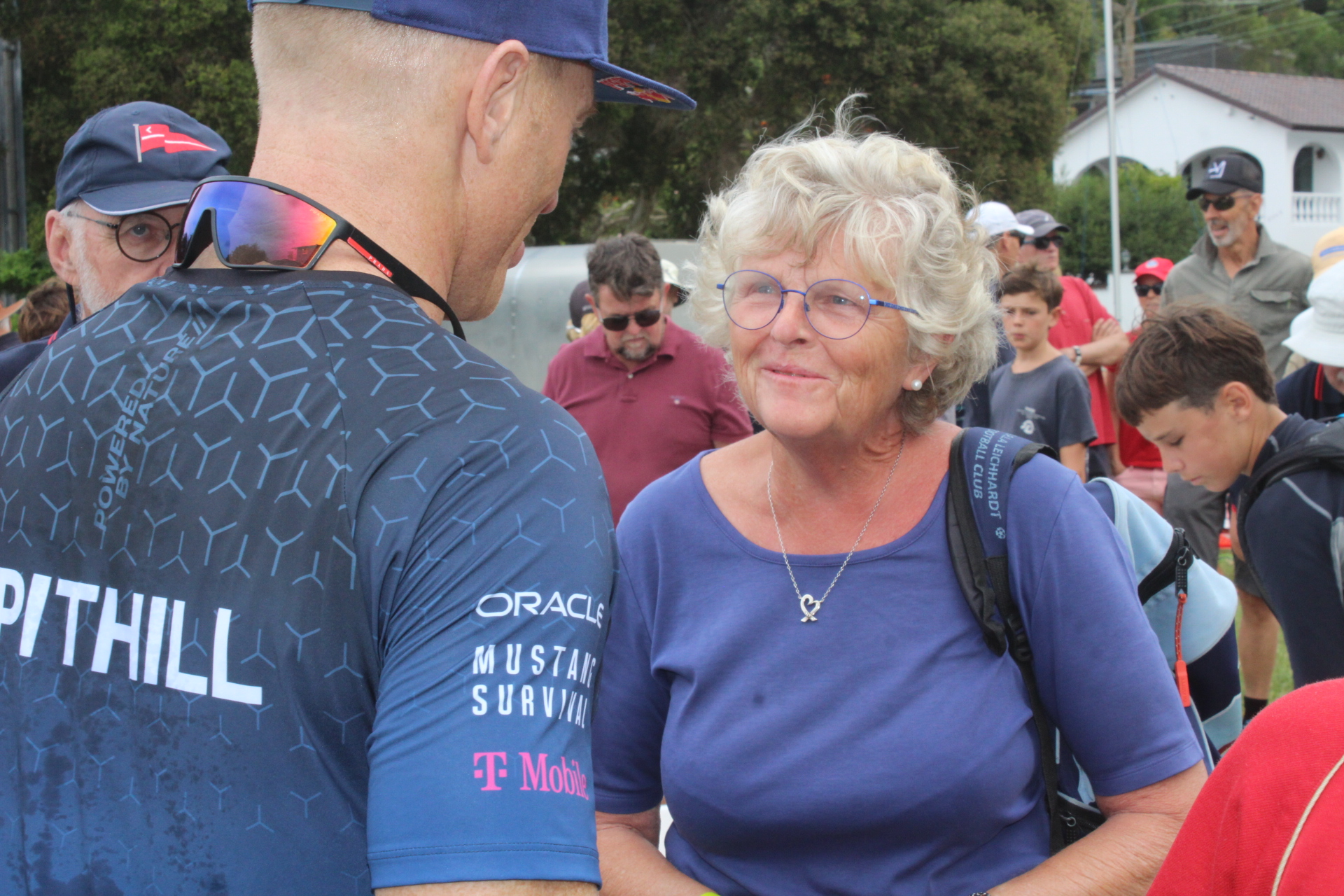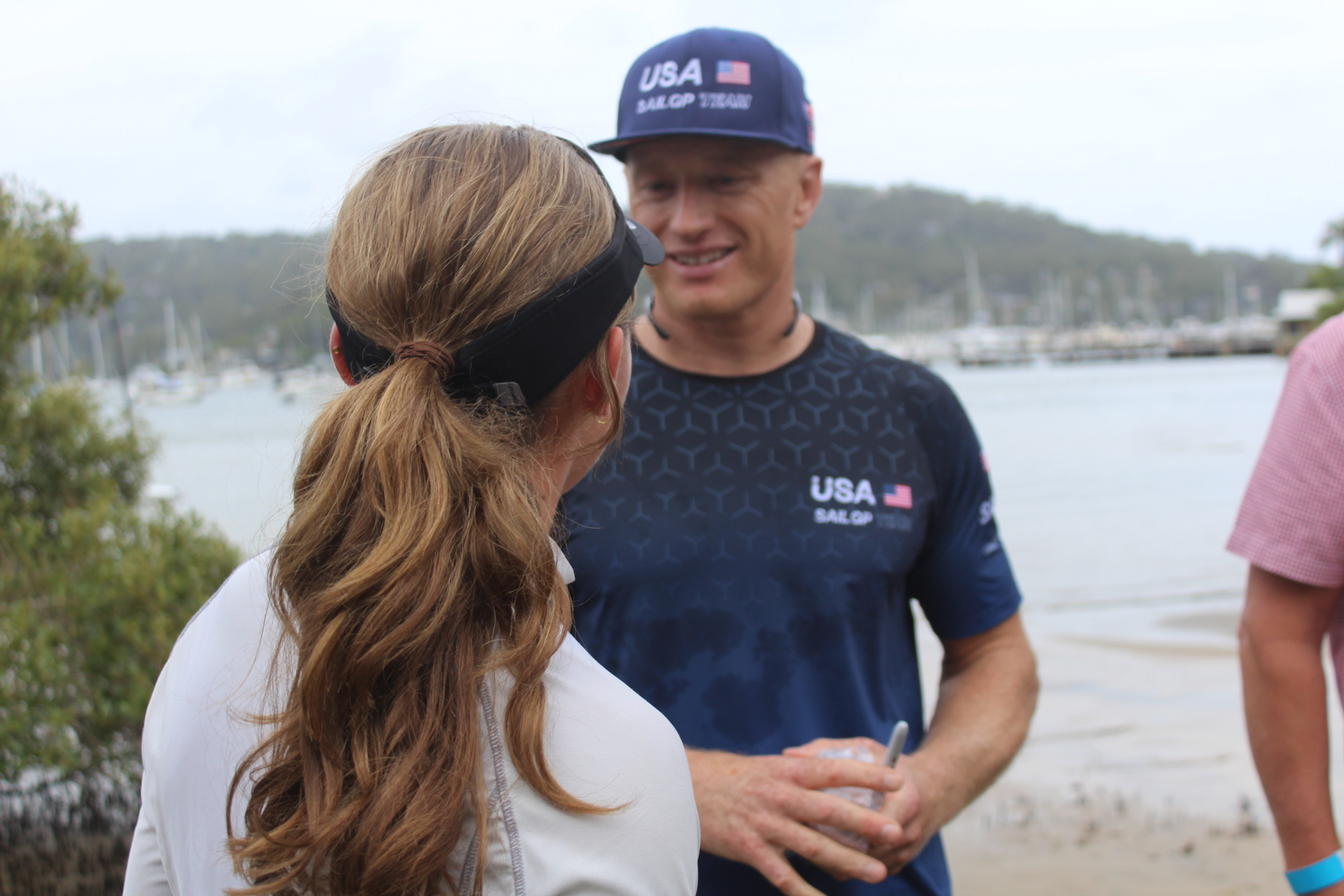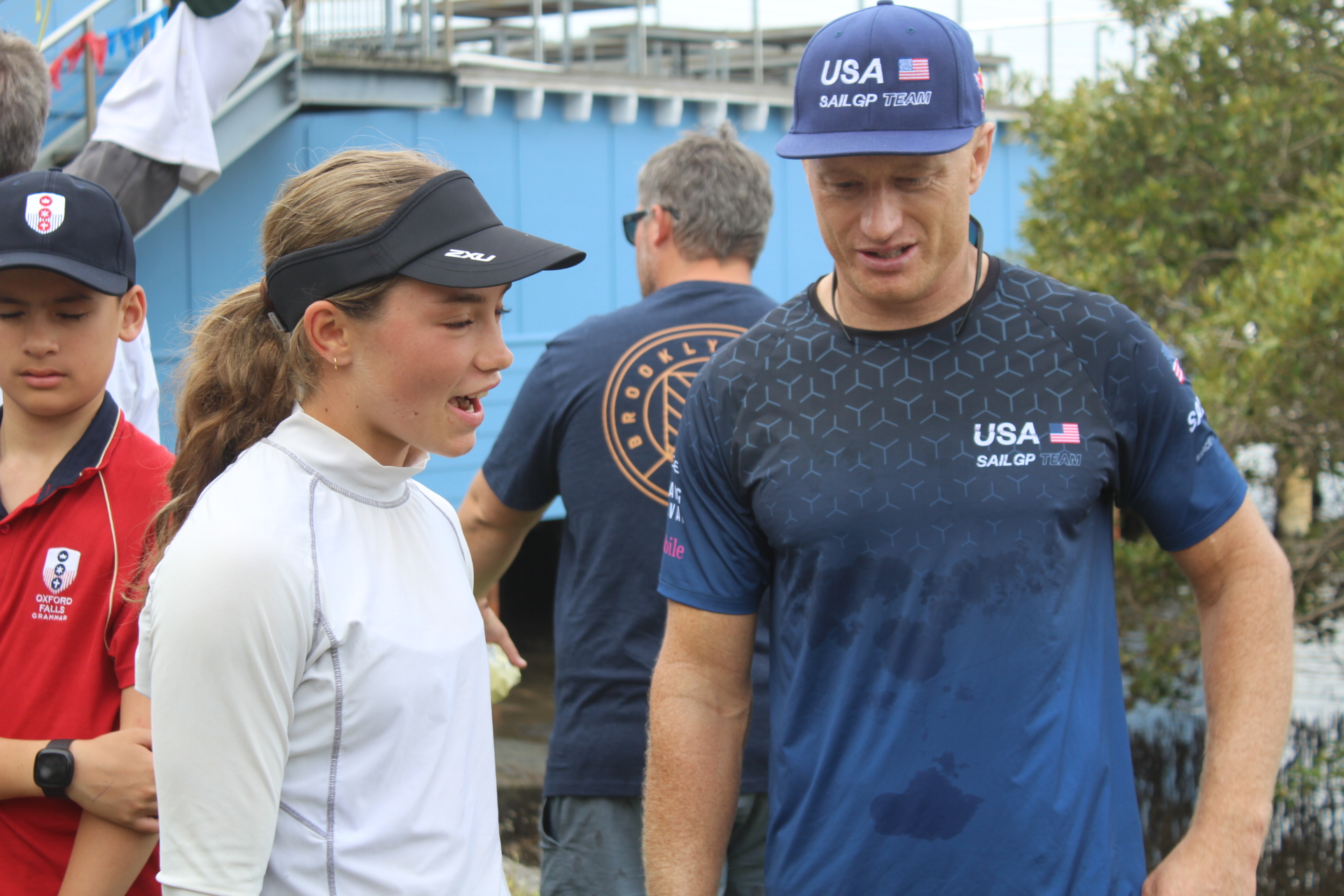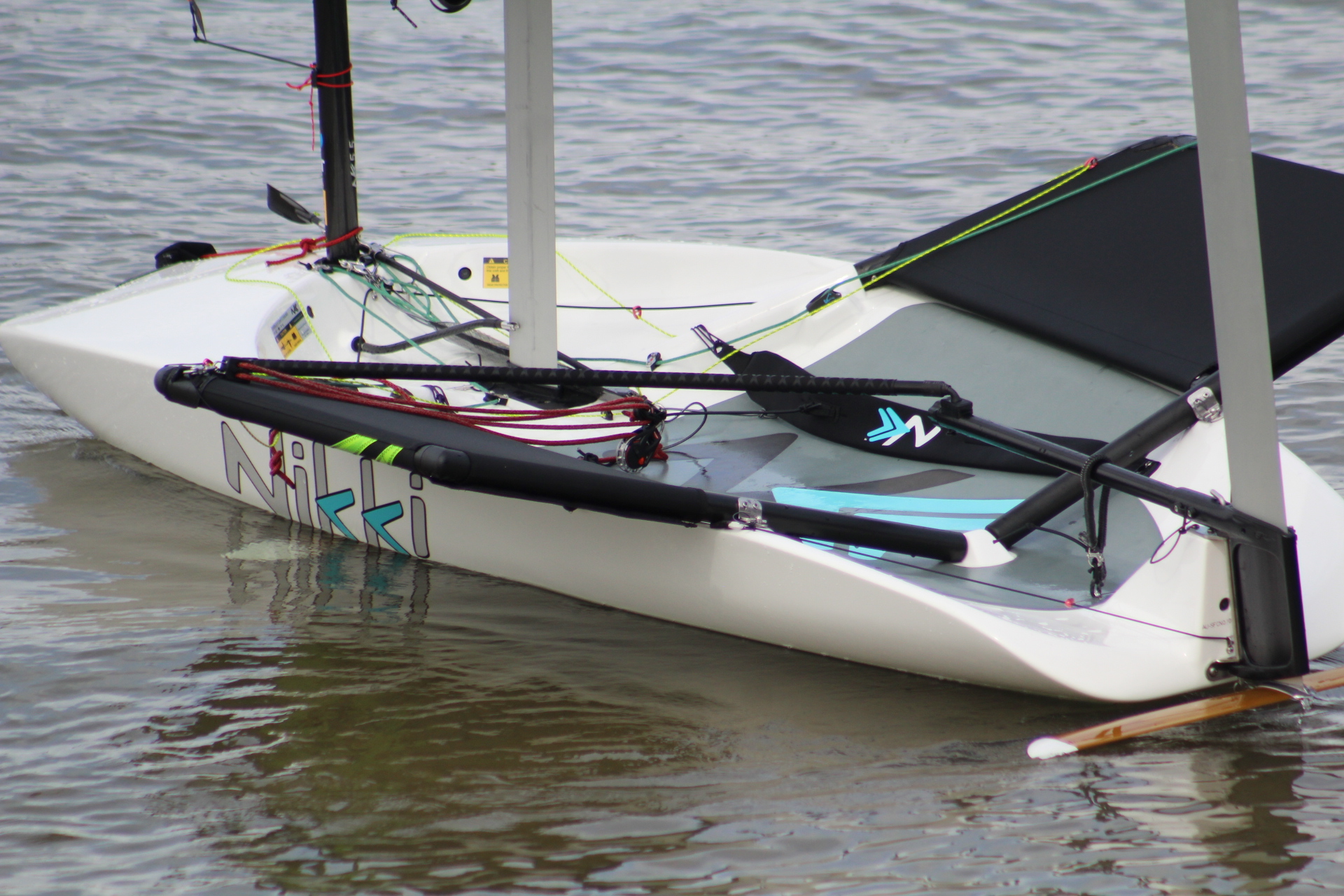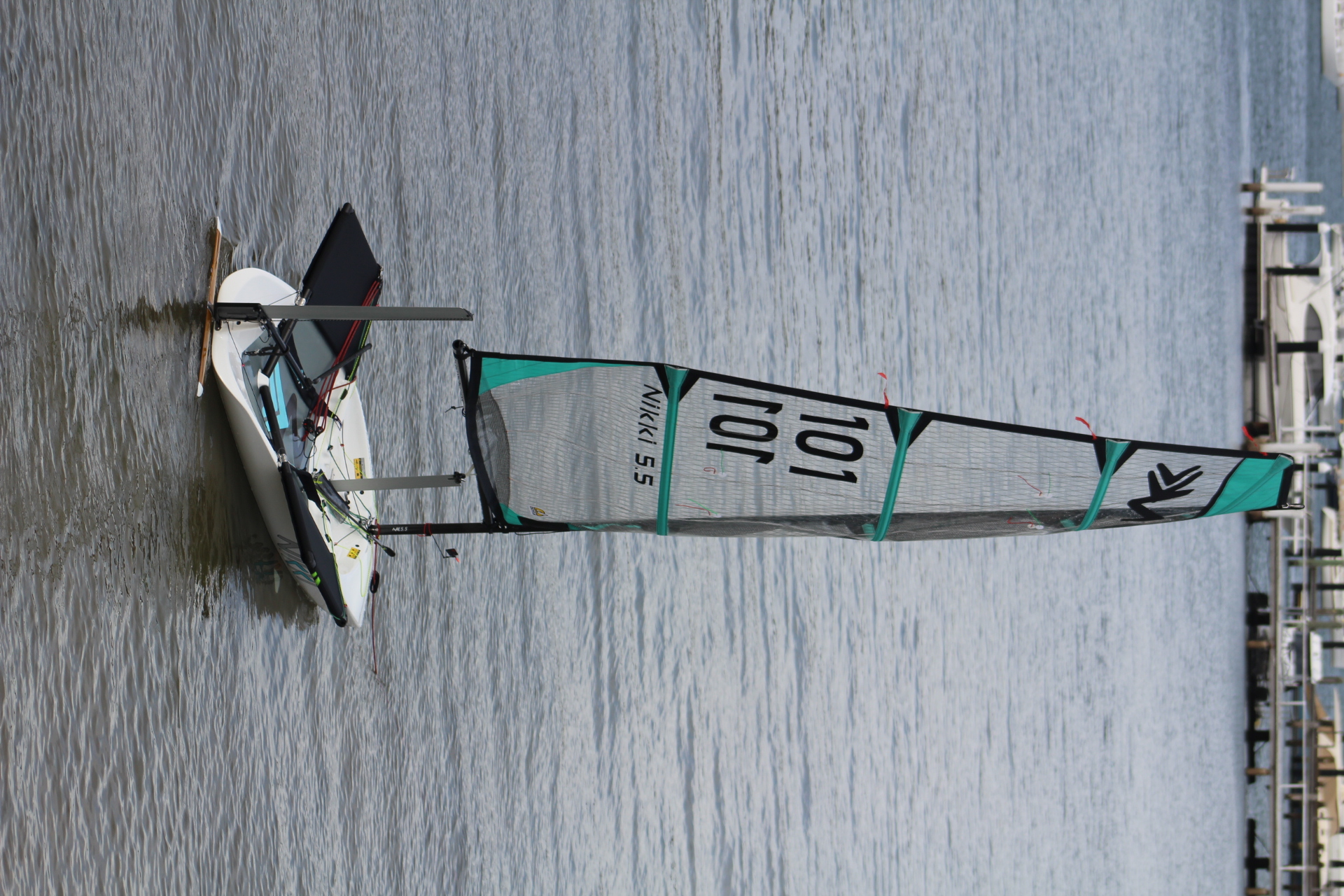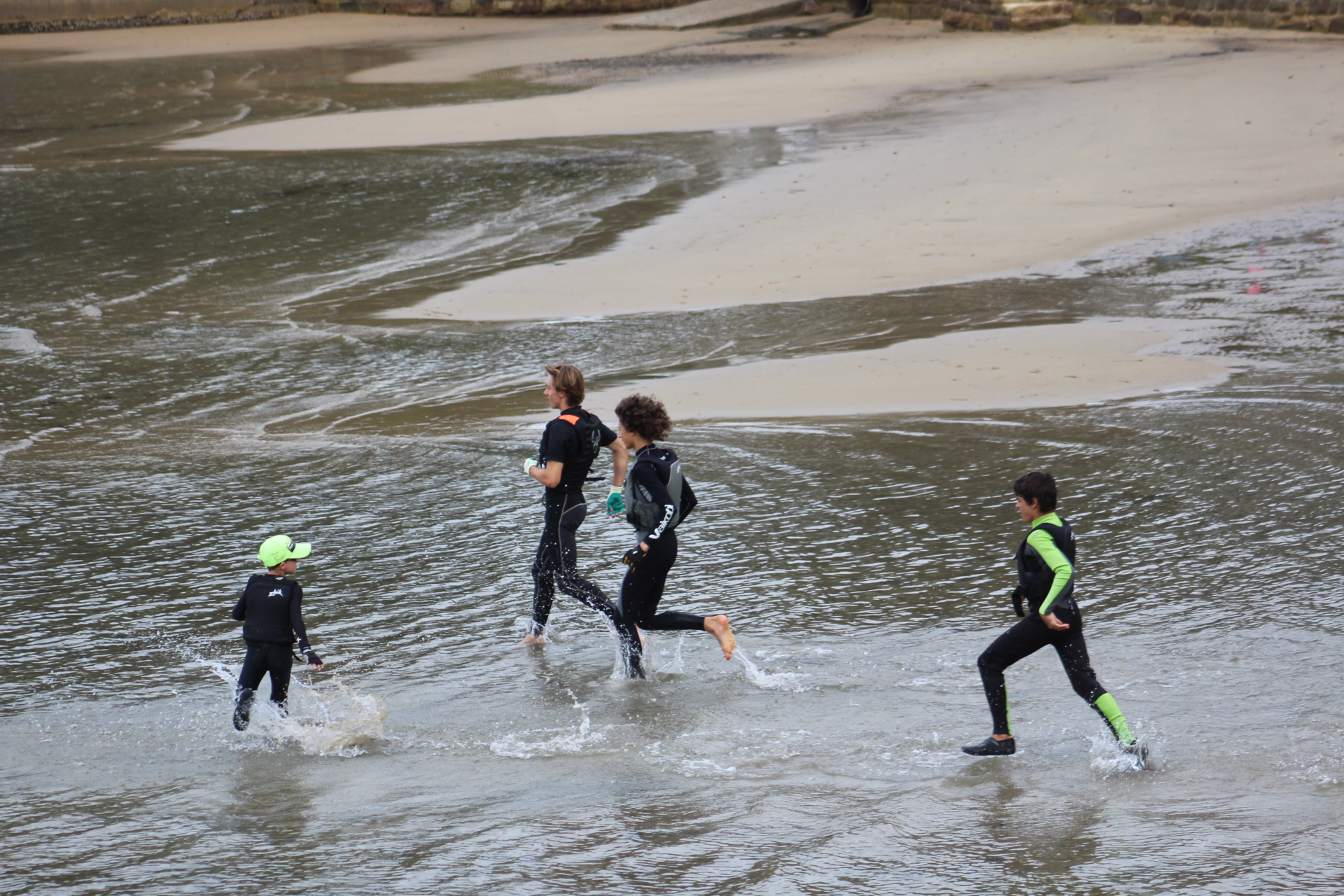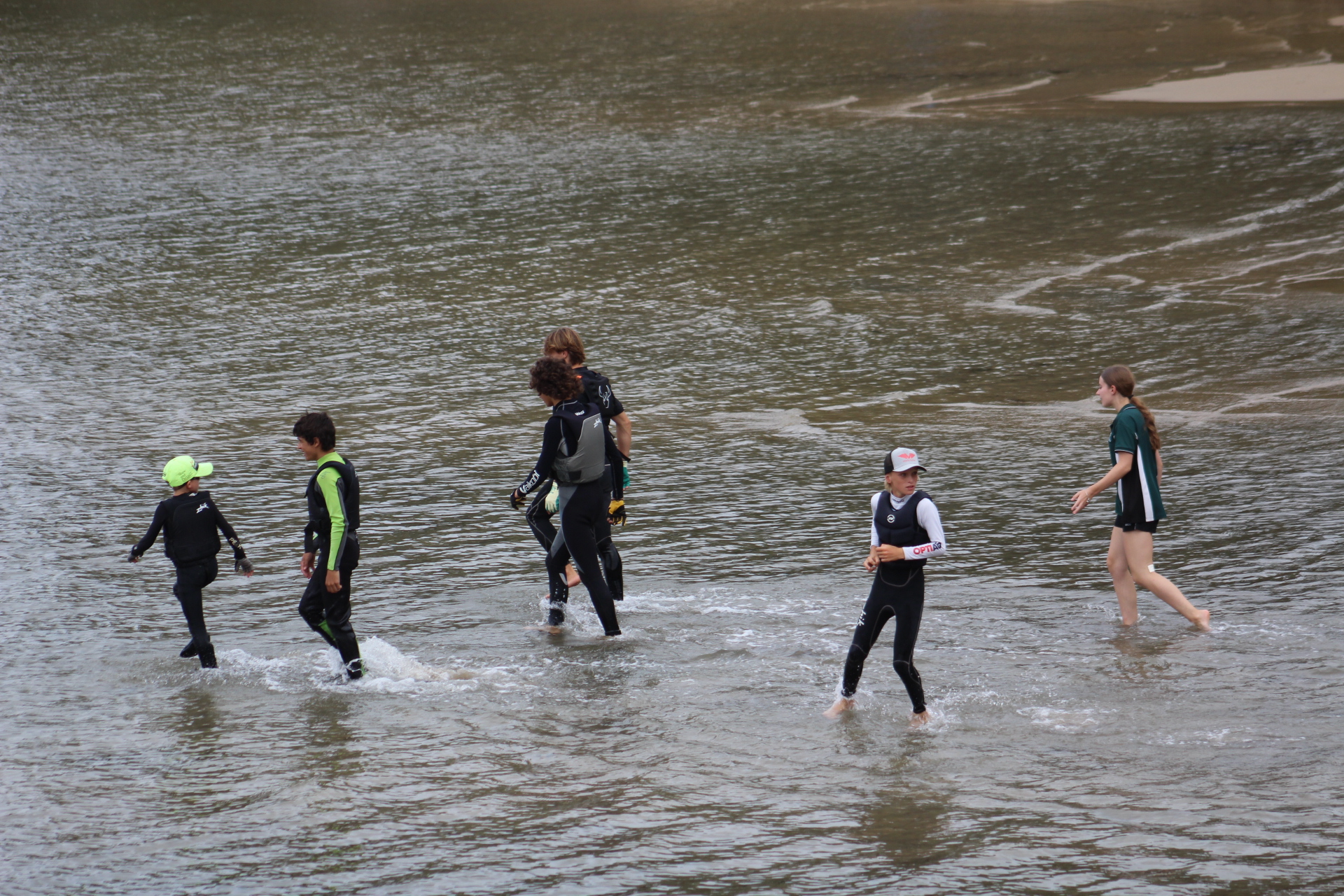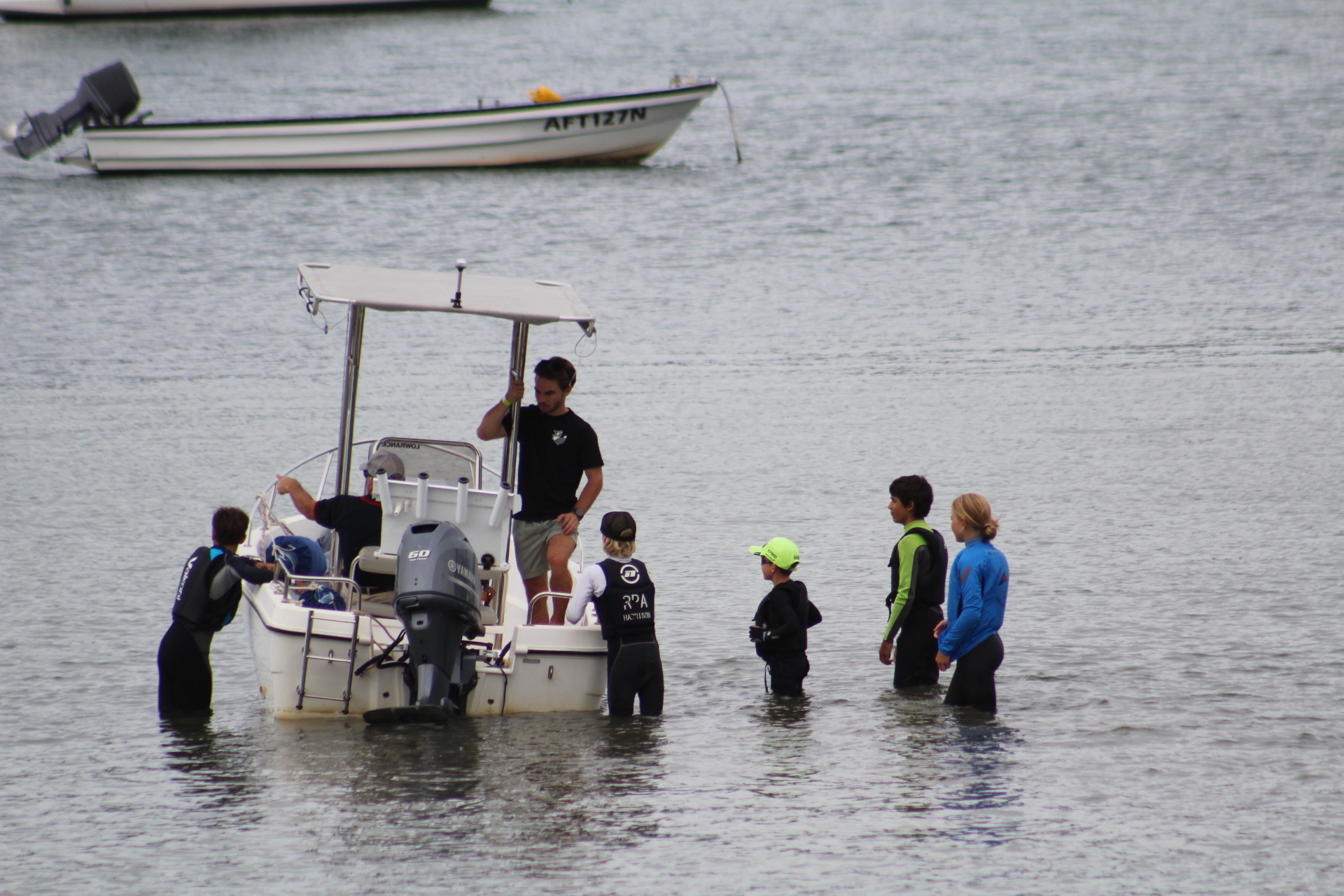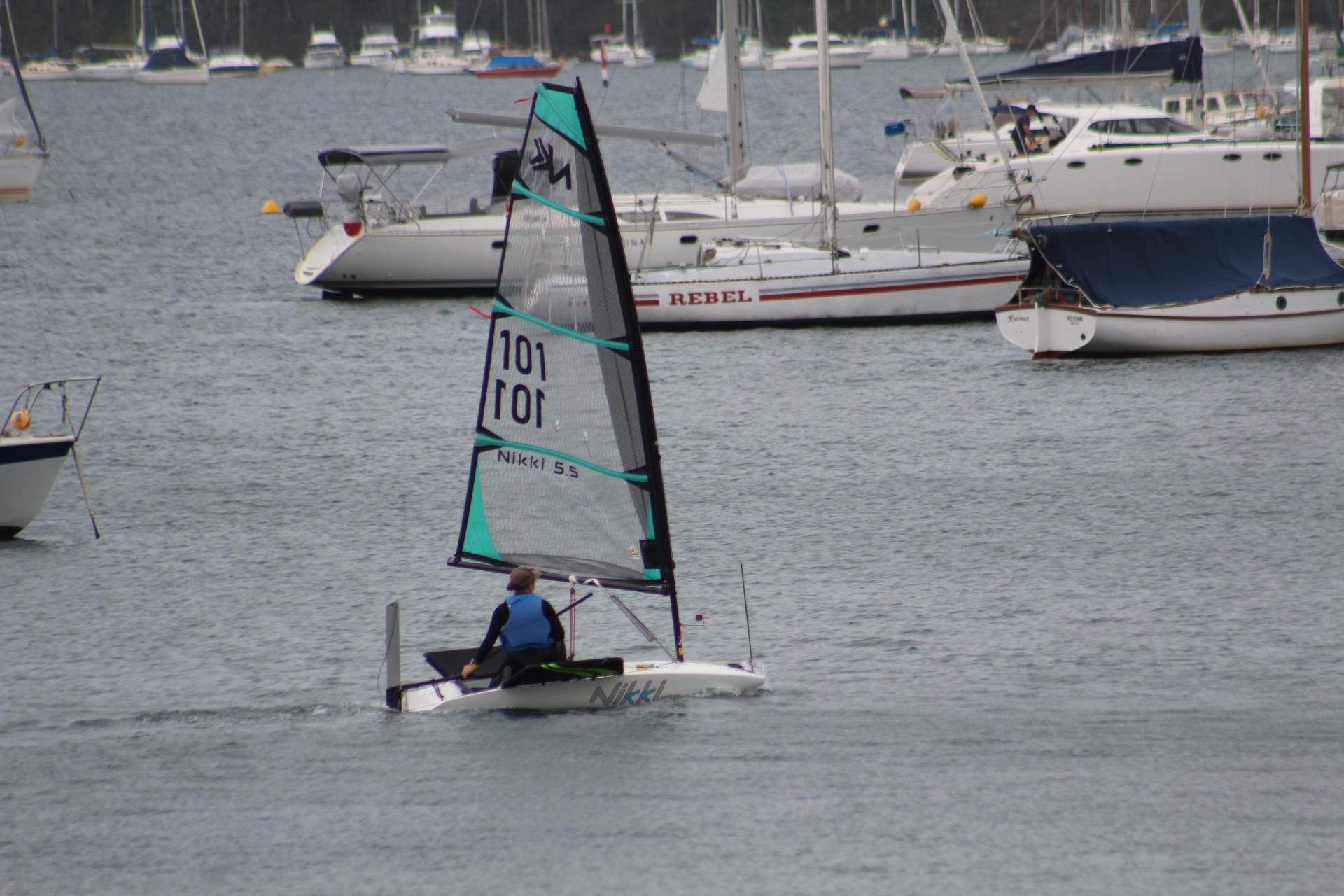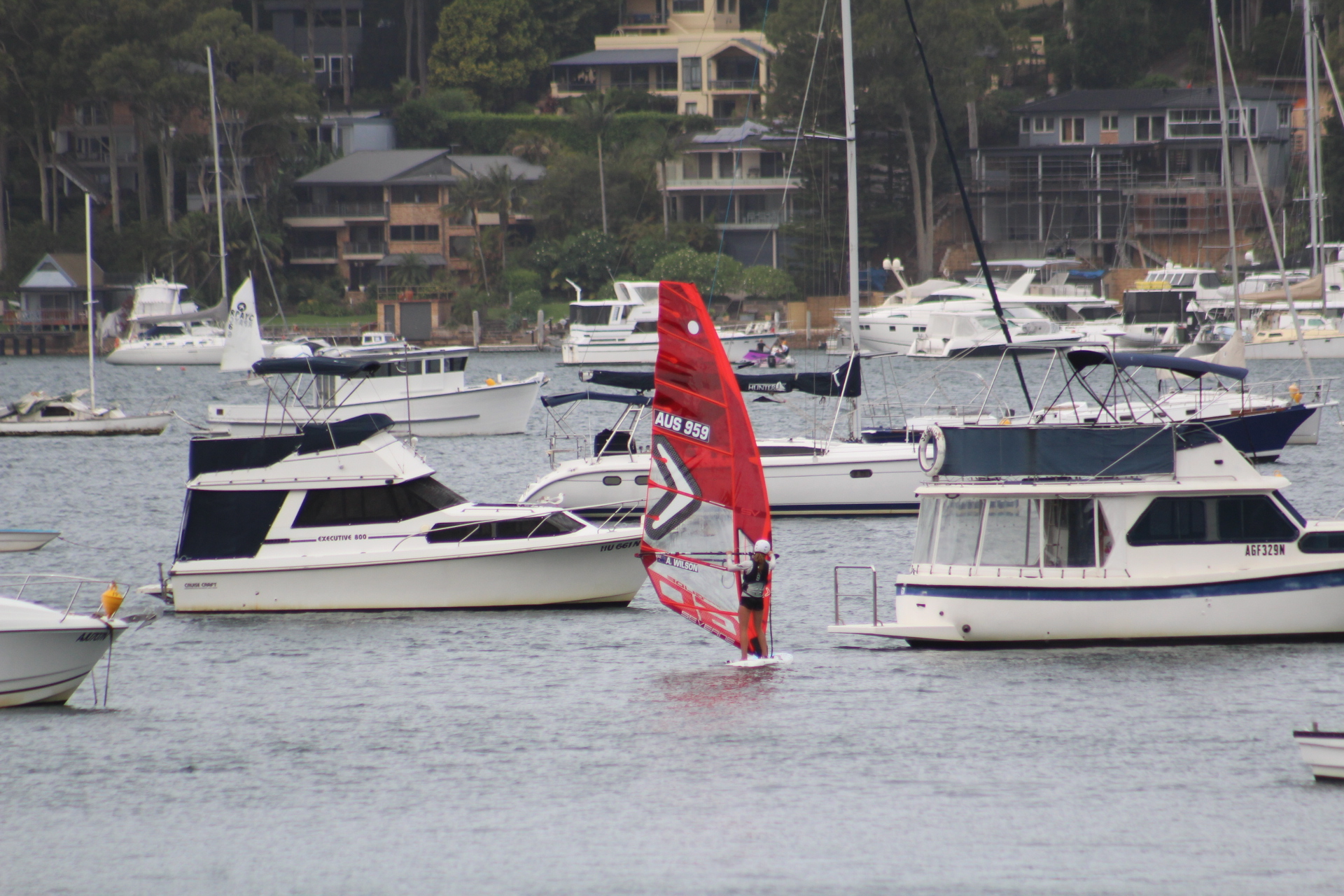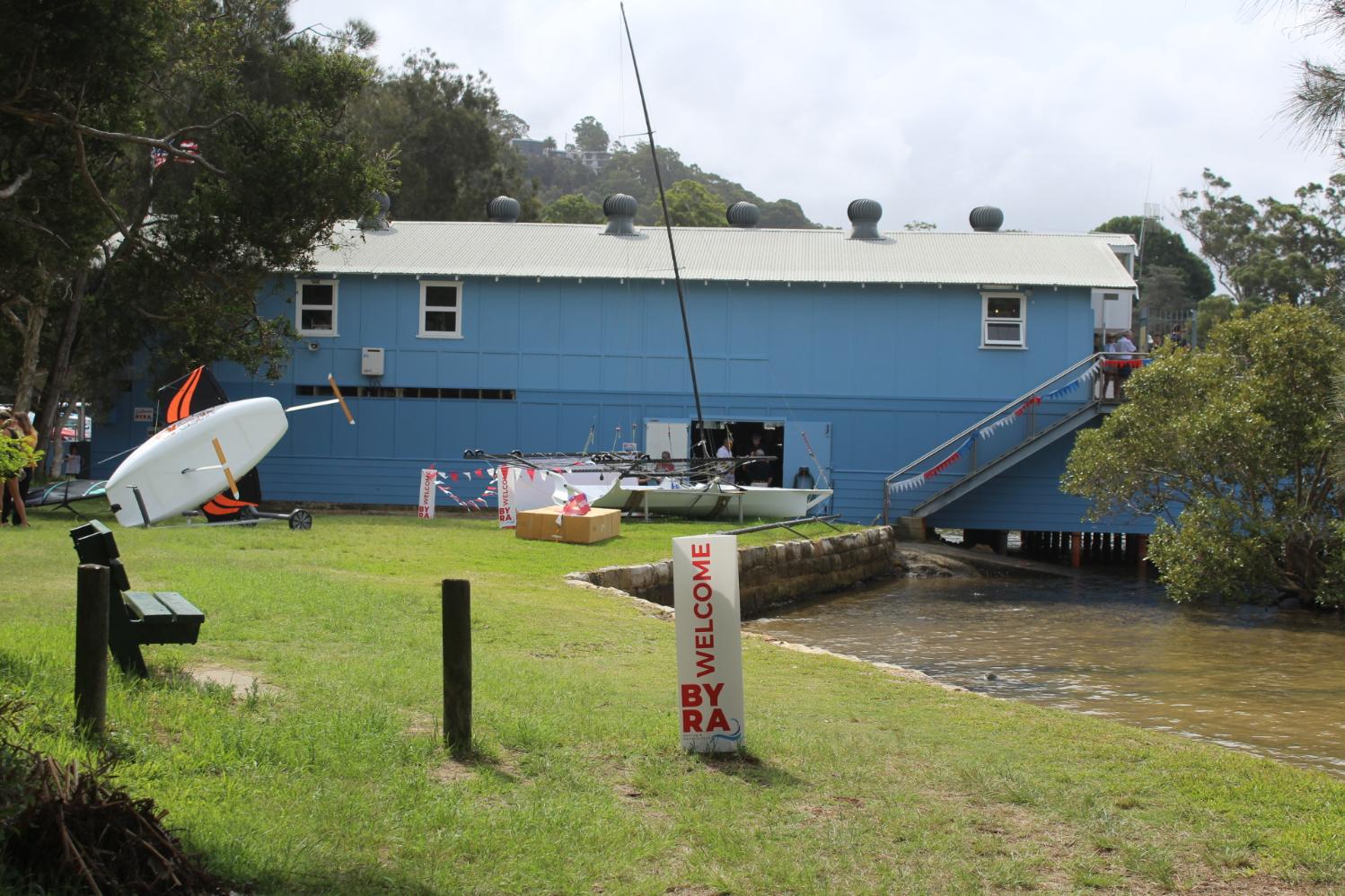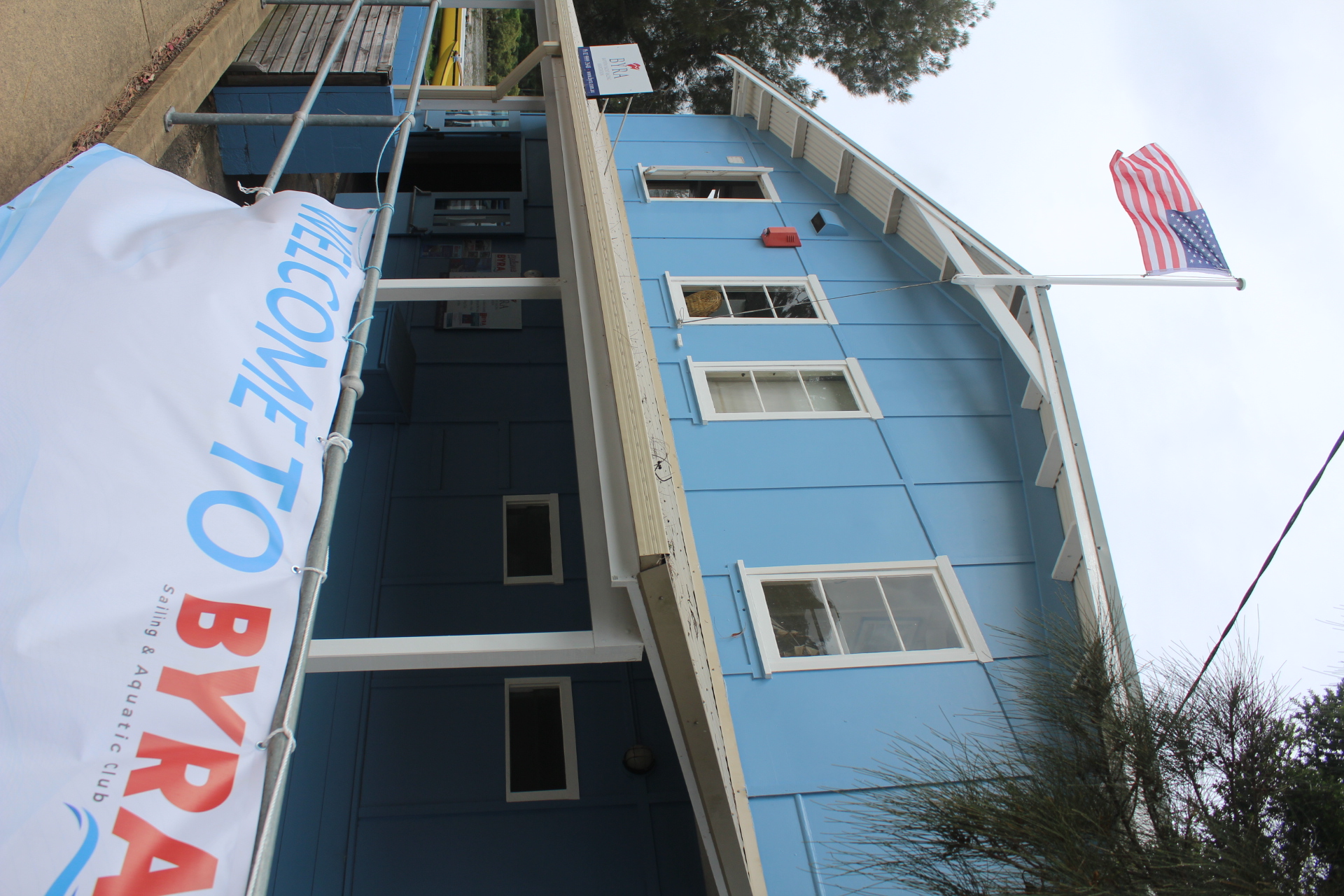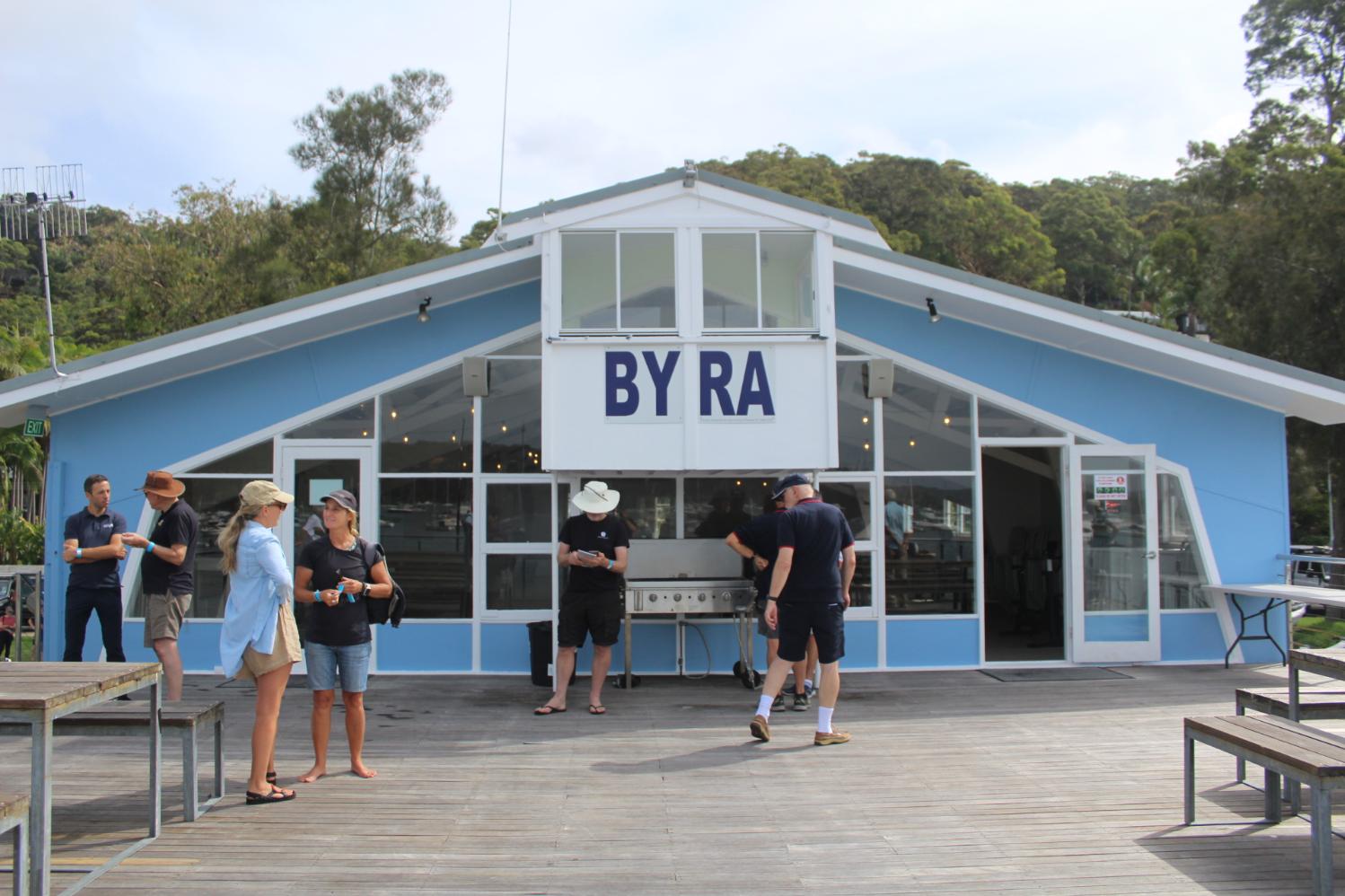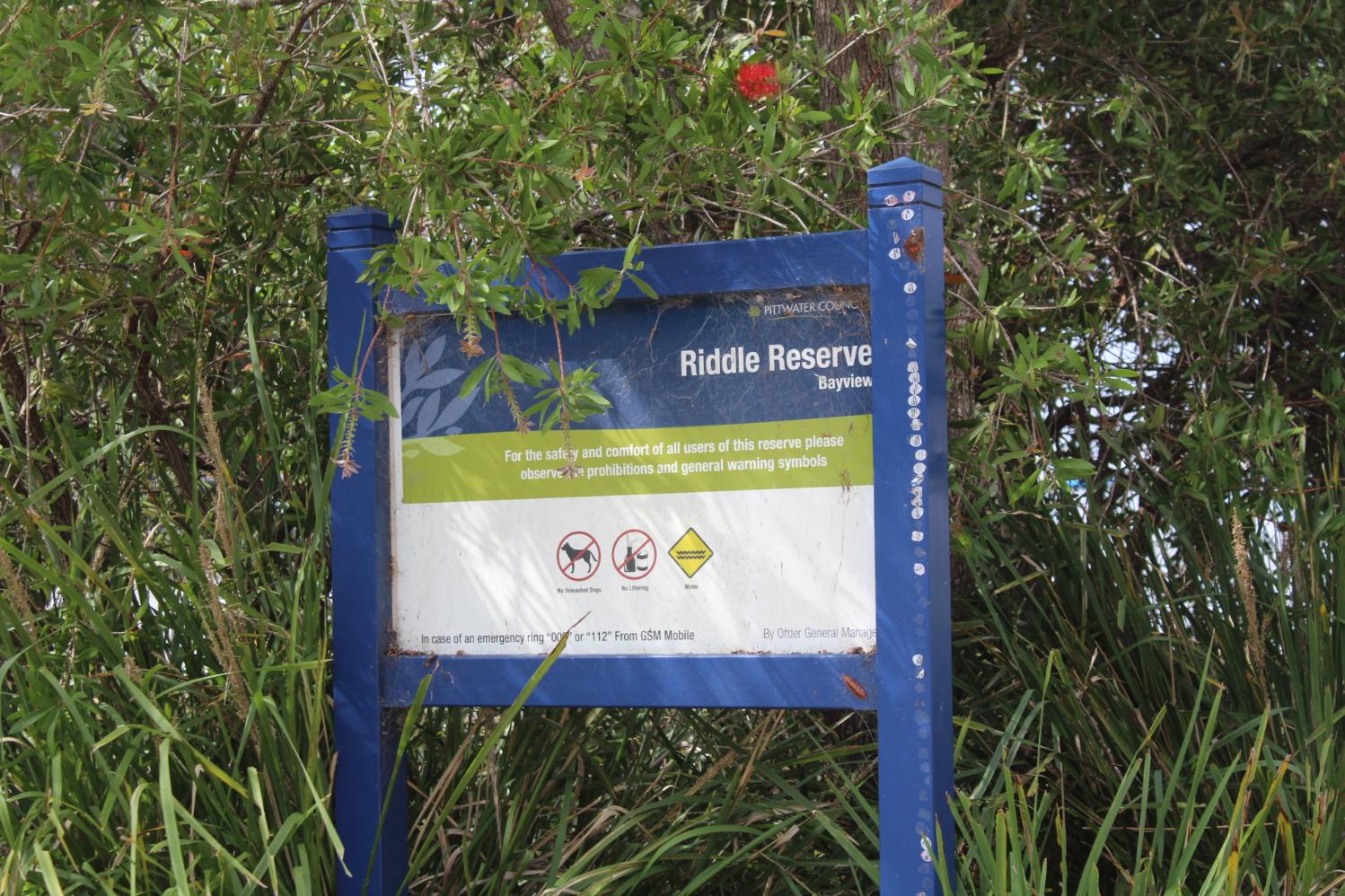 Report/Photos - A J Guesdon, 2023.