April 18 - 24, 2021: Issue 490
Australia SailGP Team for Season Two from (mostly) around here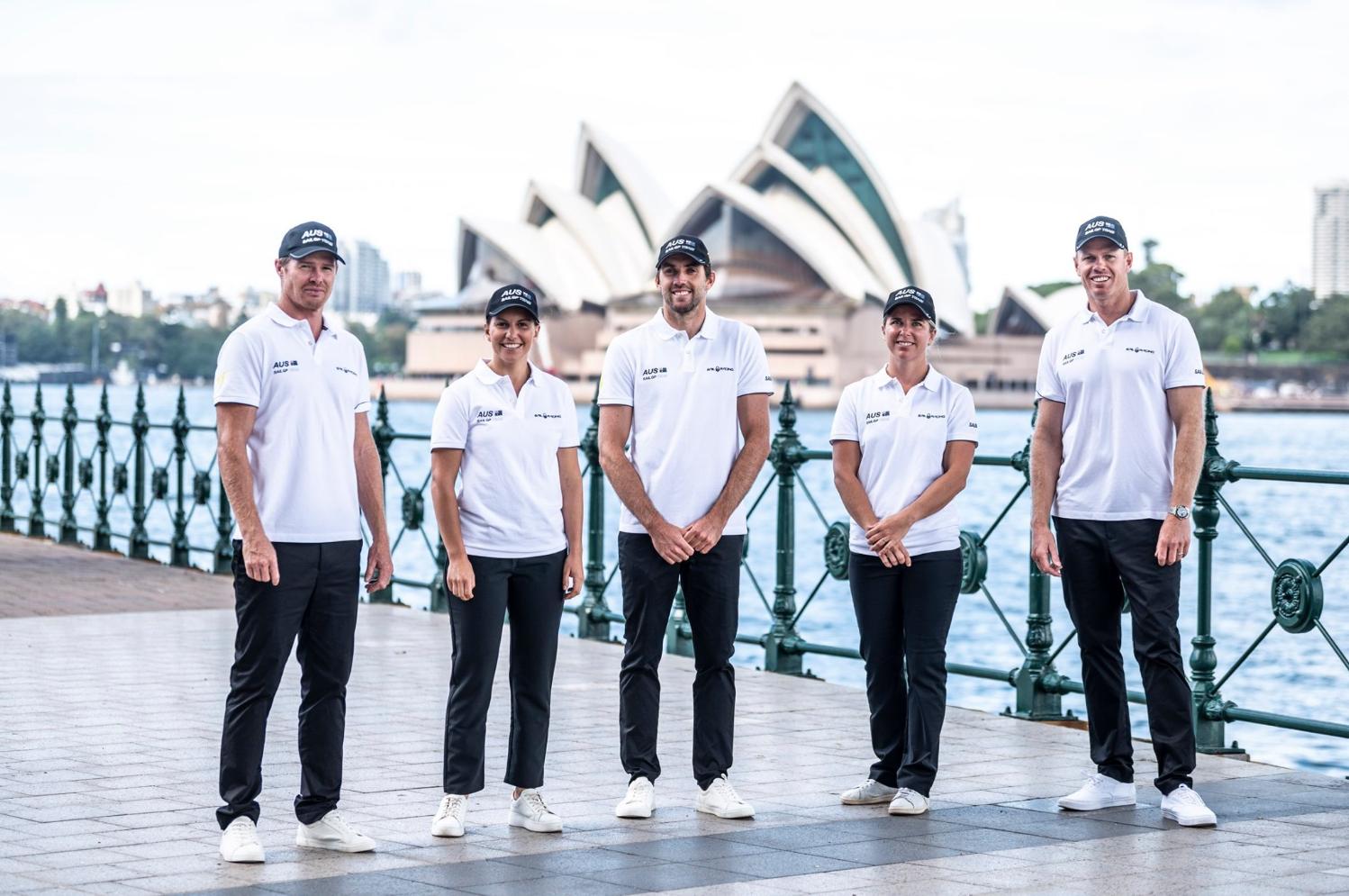 (L-R) Tom Slingsby, Lisa Darmanin, Jason Waterhouse, Nina Curtis and Sam Newton. © Australia SailGP Team
On April 8th, while you were on holidays, Olympic gold medallist and defending SailGP Champion Tom Slingsby revealed his team line up set to defend Australia's championship title in SailGP Season 2.
After securing a history making win as the inaugural SailGP Champion, Slingsby, the Australian team helm and CEO, and former Gosford Sailing Club (GSC) sailor has selected several members of his winning squad to join him in Season 2, which commences in Bermuda on April 24-25.
In addition to Slingsby the returning athletes from his winning squad include Kyle Langford, 31, of Lake Macquarie, New South Wales (wing trimmer); Jason Waterhouse, 29, of Newport and a member of both the Palm Beach Sailing Club and RPAYC (flight controller) Sam Newton, 35, of Sydney (grinder) and Kinley Fowler, 33, of Perth, Western Australia, (grinder/flight controller).
Nick Hutton will join the Australian team for Season 2 as a grinder, replacing Ky Hurst who has stepped aside from the team to spend more time with his family in Australia. Hutton, hailing from the United Kingdom, is the only international member of a majority Australian crew. He joins the team with a wealth of experience onboard the high-speed F50 catamaran, having previously sailed in the Great Britain SailGP Team. He will join the crew after recently competing with the British Challenger for the 36th America's Cup.
The squad also includes the two successful candidates from the Australia SailGP Team female development programme, Olympic silver medallists Lisa Darmanin, 29, also of the Palm Beach Sailing Club and RPAYC and Nina Curtis, 32, Palm Beach Sailing Club and RPAYC who started out sailing at the Avalon Sailing Club. The initiative, launched last year, aims to fast-track the inclusion of female athletes in the league.
The initial phase of the programme sees Darmanin and Curtis immersed in the team for the season's opening event in Bermuda in April. Following the pre-season training and development in Bermuda at least one of the athletes will be selected to join the team for the rest of SailGP Season 2.
Commenting on the team line up for Season 2 Slingsby said: "Our squad features some of our nation's most talented sailors, including Olympians, Sydney To Hobart alumni and America's Cup champions. We've proven what a strong team we have after our success in Season 1 and their ability and experience on the F50 is going to be crucial when we go up against tough new competition this season, like Peter Burling's New Zealand Team and Jimmy Spithill's USA Team.
"We have used this time off between seasons to review our performance as a team and assess improvements we can make. We are coming back more hungry than ever, with the goal to bring home the Championship trophy again for Australia."
On the addition of Darmanin and Curtis to the team Slingsby added, "Lisa and Nina will be the first female athletes to sail on the Australian F50, which is an important step in our mission as a league to increase opportunities for women in the sport. They are arguably two of the best female sailors in Australia, and I'm looking forward to seeing how they use their years of experience from competing in the Olympics and other competitions to develop their skill set on board the F50."
The dynamic league's expanded Season 2 calendar will consist of eight Sail Grand Prix events, beginning in Bermuda on April 24-25, and visiting Taranto, Italy (June 5-6), Plymouth, Great Britain (July 17-18), Aarhus, Denmark (August 20-21), Saint-Tropez, France (September 11-12), Cádiz, Spain (October 9-10), Christchurch, New Zealand (January 29-30, 2022) and San Francisco, USA (March 26-27, 2022).
SailGP's second season will feature Tom Slingsby's reigning champion Australian team, along with crews from Denmark, France, Great Britain, Japan, New Zealand, Spain and the United States. The season will culminate with the Grand Final in San Francisco on March 26-27, 2022, when the champion will be determined in a single $1 million winner-takes-all final.
Australian fans will be able to watch Slingsby and his crew defend their title on FOX SPORTS, SailGP's Official Broadcast Partner in Australia, who will air each of the global races on the network, starting with the Bermuda event, and via the award winning SailGP APP.
Keeping it all local, the Australian SailGP crew capsized the US SailGP F50 foiling catamaran during a practice session on Bermuda's Great Sound on Friday, much to Jimmy Spithill's alarm and then bemusement when it turned out no one was hurt and no damage was done to the vessel.
Due to COVID-19 restrictions in Bermuda, only four boats are allowed in the water at a time, and the Jimmy Spithill led US Sailing Team had already been on the water for their practice session, and loaned their F50 to the Australians for the session.
The SailGP organisers made an on-board video available after the incident.
"There was clear damage to the top of the wing, likely caused when it hit the surface of the water with some force and ended submerged - with the Aussies all taking cover on the raised starboard side of the upturned F50," SailGP reported.
"Today, the Australia SailGP Team capsized during training on the Great Sound. No injuries were sustained," SailGP said in a statement.
"The Australia team was training on the United States F50 at the time. The boat is being towed back to dock to assess the damage, but minimal damage is expected.
"The capsize today reiterates why it is so essential that the world-class athletes have time to train on board these boats and the importance of on-water safety trials taking place prior to racing," the SailGP statement added.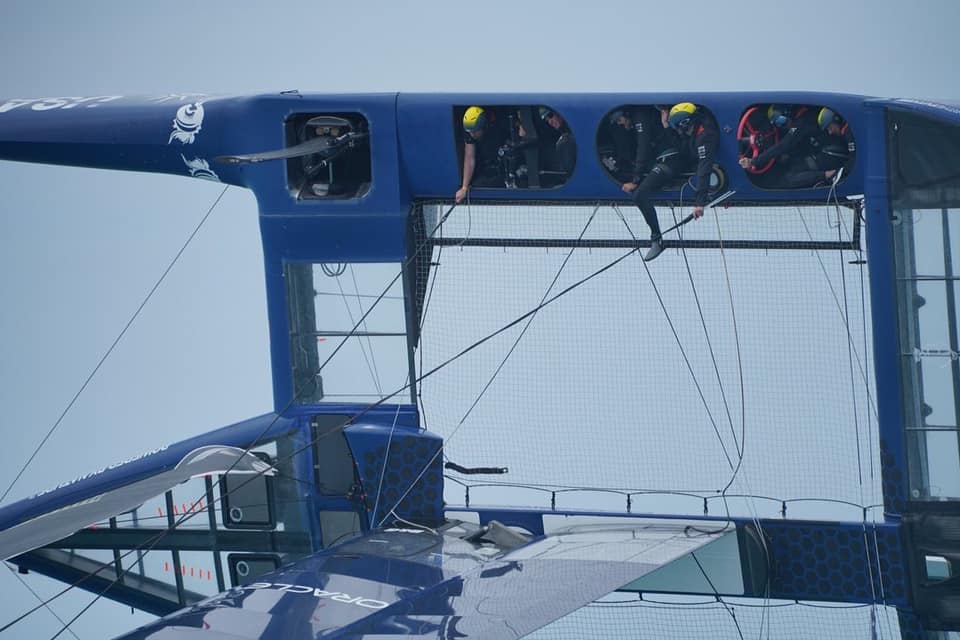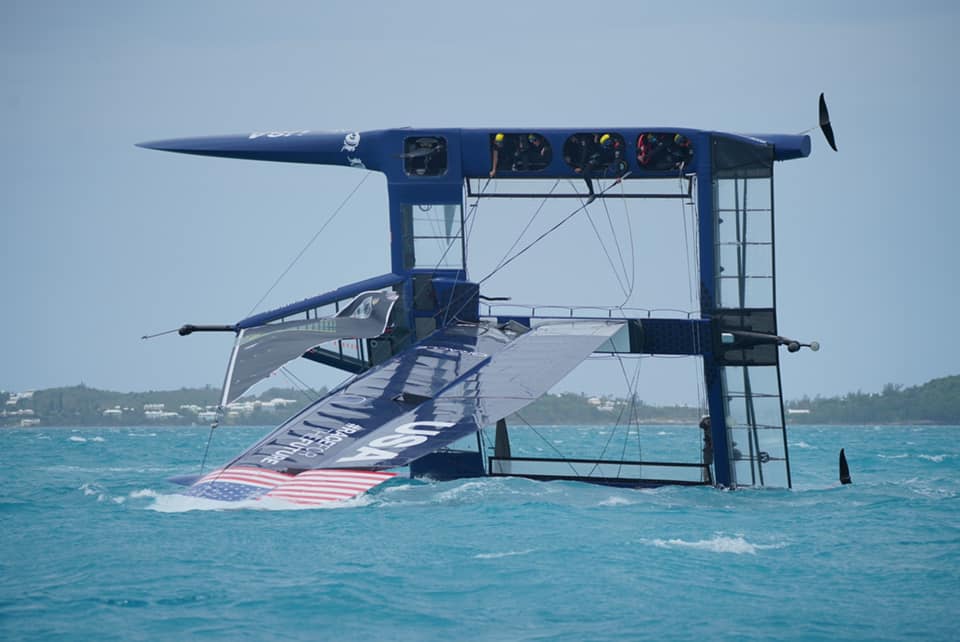 Whoops a 'daisy: Australia SailGP capsizes in the Great Sound, Bermuda - Friday,April 16, 2021 - photo © SailGP

United States SailGP Team took to social media to poke a bit of fun at their rivals after learning that their crew was safe and their boat had only suffering minimal damage.
"Our team is happy to hear that all crew are safe and accounted for and damage is minimal," the team said.
"Apparently Tom Slingsby [Team Australia helmsman and CEO] wasn't used to going that fast."
"Oi James Spithill sorry about your boat mate, I know we promised we'd return it on one piece
"We had our first capsize today on the Great Sound whilst training on United States SailGP Team F50. All crew are safe and sound
"Jimmy, we believe we owe you a beer....or 10"
Yep: Straya and Australians!
Good luck to both teams!
A reminder that you can follow via the SailGP APP. and keep updated at: https://sailgp.com/