August 18 - 24, 2019: Issue 417
Pittwater's Sailing Season About To Begin: North To South Clubs Information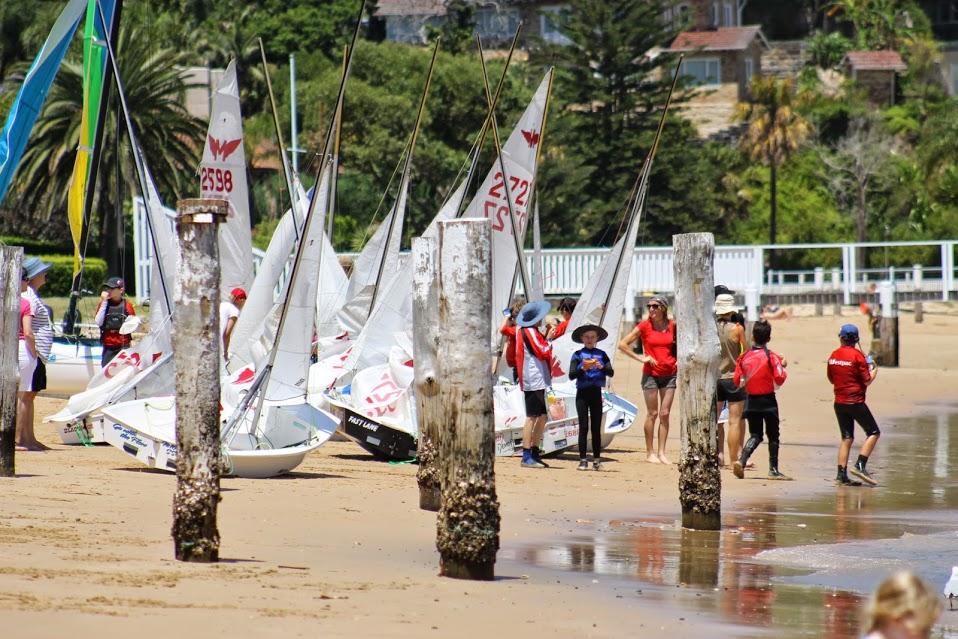 Manly Juniors from Avalon Sailing Club on Sand Point Beach, Pittwater - A J Guesdon photo
It's time to put on your sailing shoes Pittwater
Although many of the local sailing and motor boat clubs have events year round the official Sailing and Boating 2019-2010 Season is set to launch with membership for new members, Open Days, Try Sailing and Opening of Season events scheduled over the next few weeks.
This week an overview of where and how you can get amongst those salty airs and skip upon the the water fantastic!
For those who like getting on the Pittwater estuary to paddle you may like getting involved in the Pittwater Dragonboat Club, Pittwater Outrigger Racing Club, Pittwater Pinks Dragonboat Club or Bei Loon Dragonboat Club - all based at Rowland Reserve, Bayview.
Palm Beach Sailing Club
1 Iluka Road

Palm Beach
Off the Beach Sailing from Sand Point, Palm Beach
PBSC membership for season 2019/20 is now open !!!
Council will be providing us with a "limited" number of parking passes and these will be issued to members who have paid their fees, on a first in basis.
Council will also be printing trailer rego numbers on the passes therefore your details are required ASAP so that the passes can be printed and ready for the season start.
The membership form can be found on: http://pbsc.org.au/Membership.aspx
To secure your parking pass and to avoid disappointment act on this as soon as possible.

Any questions should be directed to the PBSC Secretary at pbsc.secretary@pbsc.org.au
The club is adding few Open Day sailing events to its sailing calendar. So keep a look out for the dates and schedules on our sailing calendar and website. The first Open Day fun event, will be held in the 3rd week of October, on the 19th and is programmed for the morning only, after which the sailors will have their official club racing in the afternoon.
The idea of Open Day fun sailing is to encourage all age groups and families to come and enjoy sailing and to go out with our best sailors on mixed class catamarans or windsurfers. The program for the Open Days will be advised on the day, but may also be publicised outside the club website, eg in Pittwater Online.
This it the only active catamaran club on the Northern Beaches and for many years has produced the best cat sailors at State and National level, plus World and Olympic champions. So get your friends and families to come and enjoy these days. It is free of charge and you are all welcome. BYO drinks and lunch for the day. Before each day please let us know how many of you will be coming to help with planning.
The club also has its annual regatta mid November, racing both Saturday and Sunday and everyone is welcome to come and enjoy the excitement at Sand Point and watch the races.
PBSC has also hosted State Hobie Regattas, runs their annual Patonga Fish and Chip fun leg among many other club functions. This is a family focused club, with generations sailing together on the beautiful waters of Pittwater.
The PBSC has no races scheduled over the Christmas break but runs a full complement of social and club races throughout its Season.
Due to using Pittwater's northern estuary end as their race course, as well as mastering the southern reaches to Stokes Point, the club's motto is 'If You Can Sail Here, You Can Sail Anywhere'.
To find out more visit: www.pbsc.org.au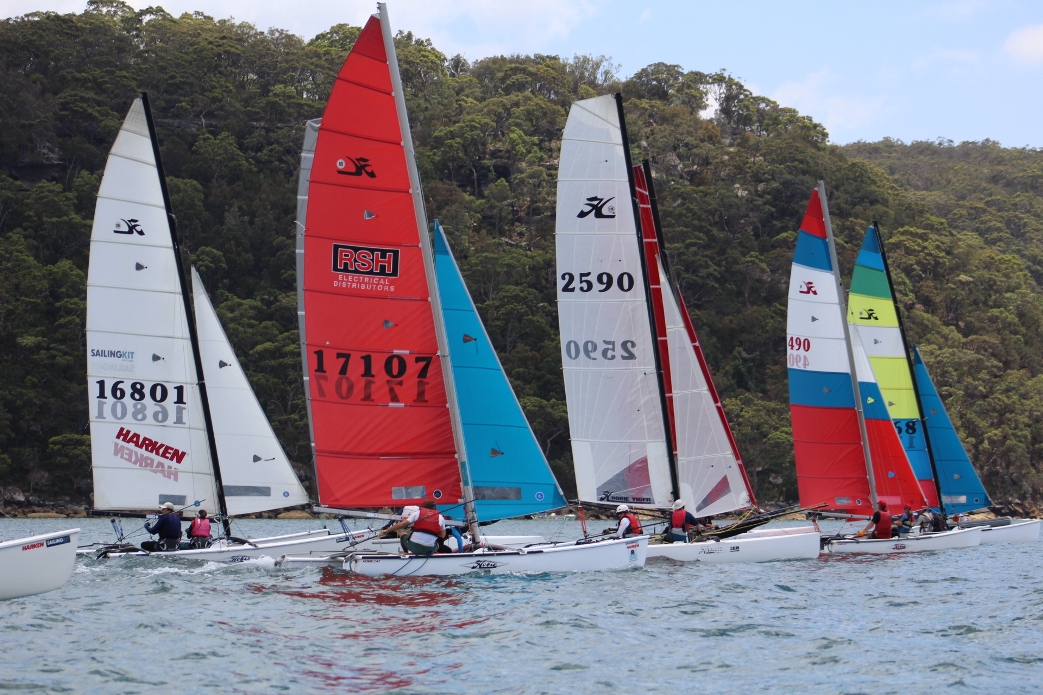 Palm Beach Yacht Club
On Pittwater!
"The objective of the Club shall be to foster, encourage and engage in the sport of sailing"
If you enjoy Sailing, Cruising, Racing or just boating on Pittwater, you should think about joining the Palm Beach Yacht Club.
At Palm Beach Yacht Club you can sail, cruise or race with friends on beautiful Pittwater & the surrounding waterways with year round on-water activities.
In addition, you have access to shared Club Casual Moorings in three different locations.
All this for only $300 pa for full family Boat Owner Membership or $70 pa for individual Crew (non-boat owning) Membership.
NEW RACING PROGRAM 2019-20 - Click Here
NEW CLUB CALENDAR 2019-20 - Click Here
PLEASE NOTE: ALL CLUB ON-WATER COMMUNICATION VIA VHF Ch 73
Rules of Racing 2017-2020 Chart – Click Here
UPCOMING EVENTS - Summary
DATE EVENT TIME
Sun 18th August 19 Ice Breakers Race 12:00
Sat 24th August 19 Safety Audit - contact Jim Gordon TBA
Sat 7th September 19 Safety Audit - contact Jim Gordon TBA
Sun 8th September 19 Codmac Spring Sprint Series 12:00
Sun 15th September 19 Estuary Race 1 - Olympic Race 13:00
Sat-Mon 5-7th Oct 19 Long Weekend Cruise TBA
Fri 11th October 19 Twilight Handicap Pursuit Race 1 18:00
Fri 18th October 19 Traditional Twilight Race 1 18:00
Sun 20th October 19 Estuary Race 2 - Summer Endurance Race 13:00
Fri 25th October 19 Twilight Handicap Pursuit Race 2 18:00
Find out more at: www.pbyc.com.au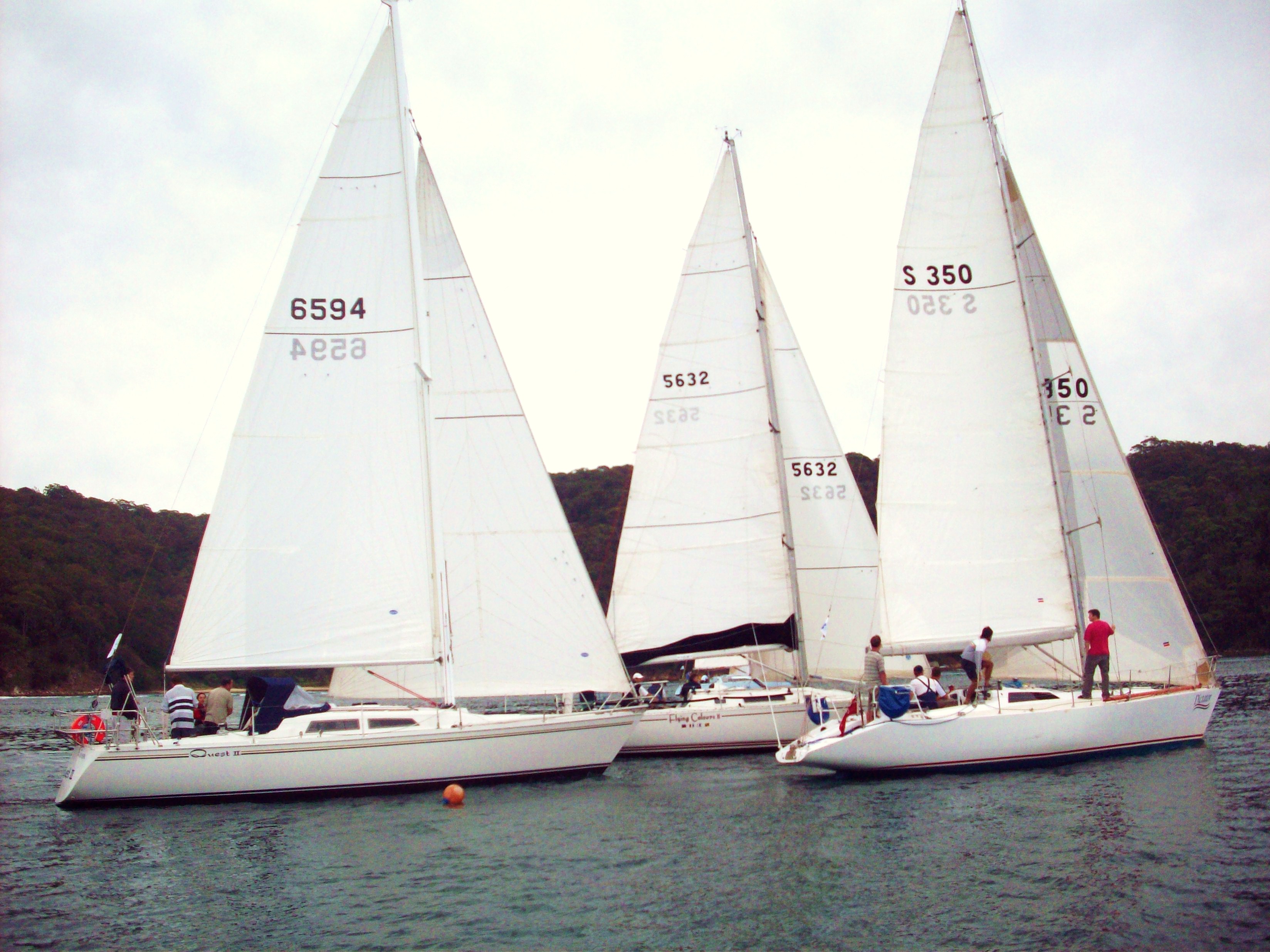 Discover The Enjoyment Of Sailing On Pittwater With Avalon Sailing Club
Looking to give sailing a go, or get your kids involved at a young age at a fun, relaxed club? Then consider Avalon Sailing Club which is holding an
information and registration day for kids learn to sail on Sunday August 25th from 12 a.m. – 2 p.m at 28B Hudson Parade, Clareville
With a modest timber clubhouse on the shore between Clareville & Paradise beaches, Avalon SC is a unique part of Pittwater's world class sailing heritage. The Club which is over 80 years old is a volunteer run Club with 400 active members, ranging in age from 8 to 88. It has a comprehensive and professional sailing program which caters to all ages and skills.
Avalon is one of those iconic "wooden shed" sailing clubs which has a wonderfully inclusive culture that welcomes newcomers. No flash restaurants, bars or pokies. Just the best place for families to enjoy a BBQ and a drink post sailing whilst taking in the best views on Pittwater. Friday evenings on the deck or on the water in Summer are a popular family friendly way to end the working week.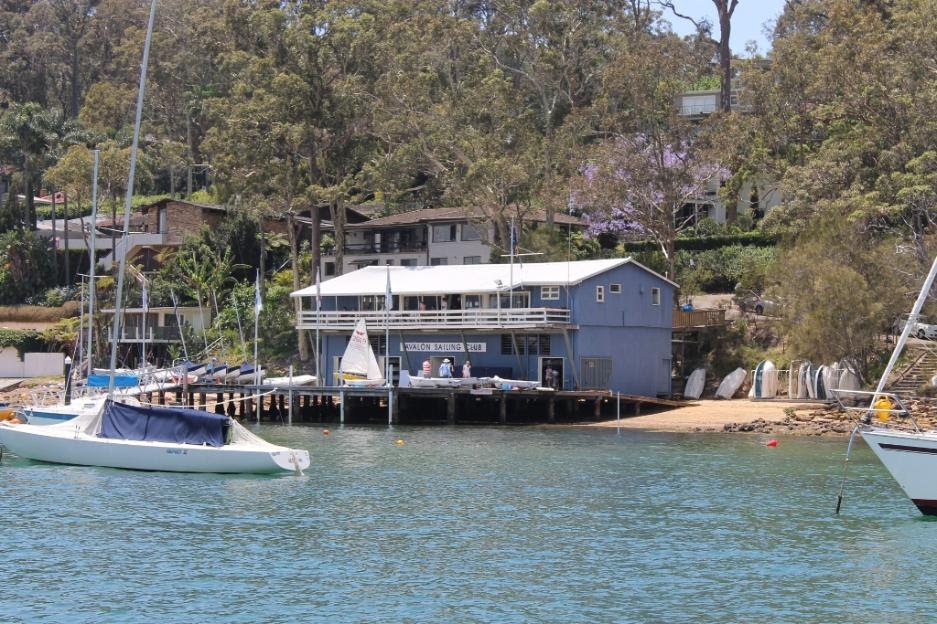 The Youth program which runs on Sunday mornings from September through to Easter,
starts with Blue Group which is aimed at beginners aged 7 – 12. The Club Nippas & Pacers are used for this program. Once the basics have been learnt, the children progress to the Red and Gold groups for further instruction and an introduction to racing. Race preparation for State & National Titles is also provided.
This season there will be club dinghies available for season hire so there's no pressure to commit to buying a boat straight away. For teenagers and adults, there is a very active group sailing Spirals and Waszps with dedicated coaching days. The Club also runs Spring/Summer school holiday camps, open to children of all ages.
Classes sailed at Avalon include, Nippas, Pacers, Bics, MJs, Flying 11s, Waszps & Spirals
.
Avalon Sailing Club also offers Adult learn to sail classes
with an emphasis on a fun activity which teaches many skills and provides opportunities for a lifetime. There are many sailors in their 80s who regularly enjoy cruising & racing! Not many other sports can claim that!!
The Club also has a healthy Yacht division
and a revamped racing program for the coming season will provide a diversity of events and casual entries are encouraged.
The addition of the Pittwater Couta boat fleet to Avalon Sailing Club last year was a great bonus.
The Couta fleet is always looking for crew on a Wednesday afternoon or Sunday!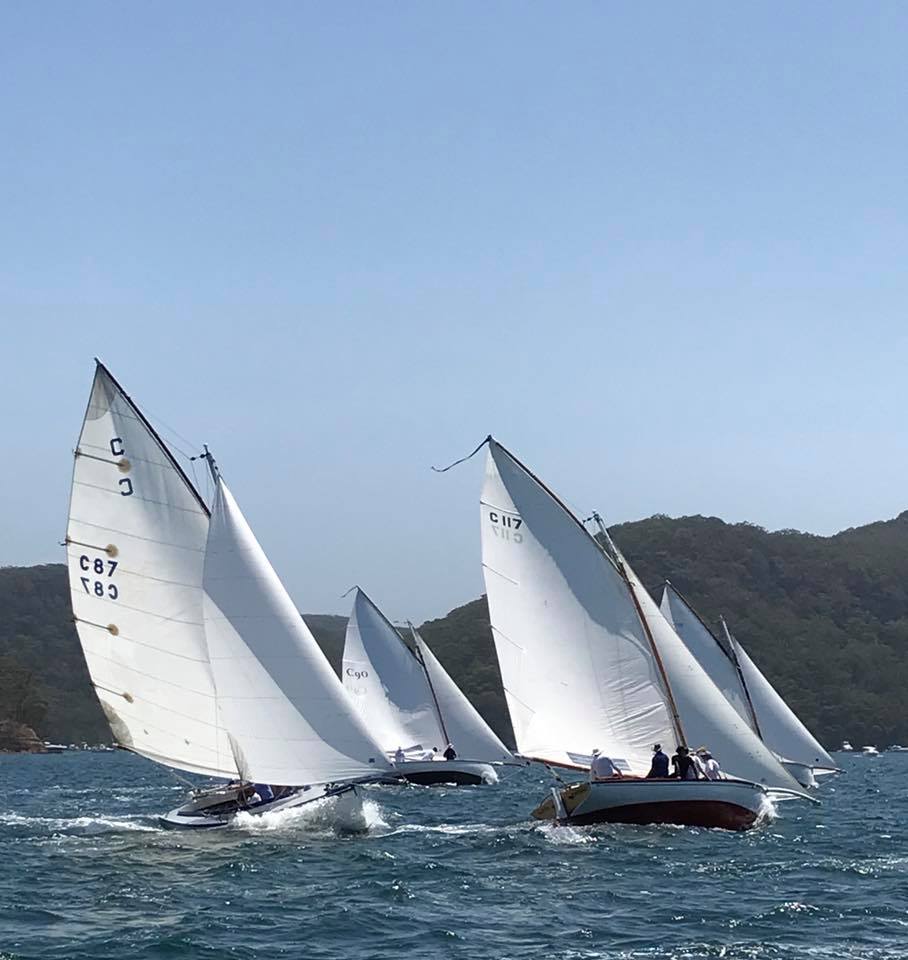 For those that like a more relaxed approach, the Cruising Division organises great weekends away. Members with yachts can take advantage of club moorings dotted around Pittwater.
Blue Group Learn to Sail is limited to 25 children
, and along with sailing camps, positions are provided on a first come, first in basis.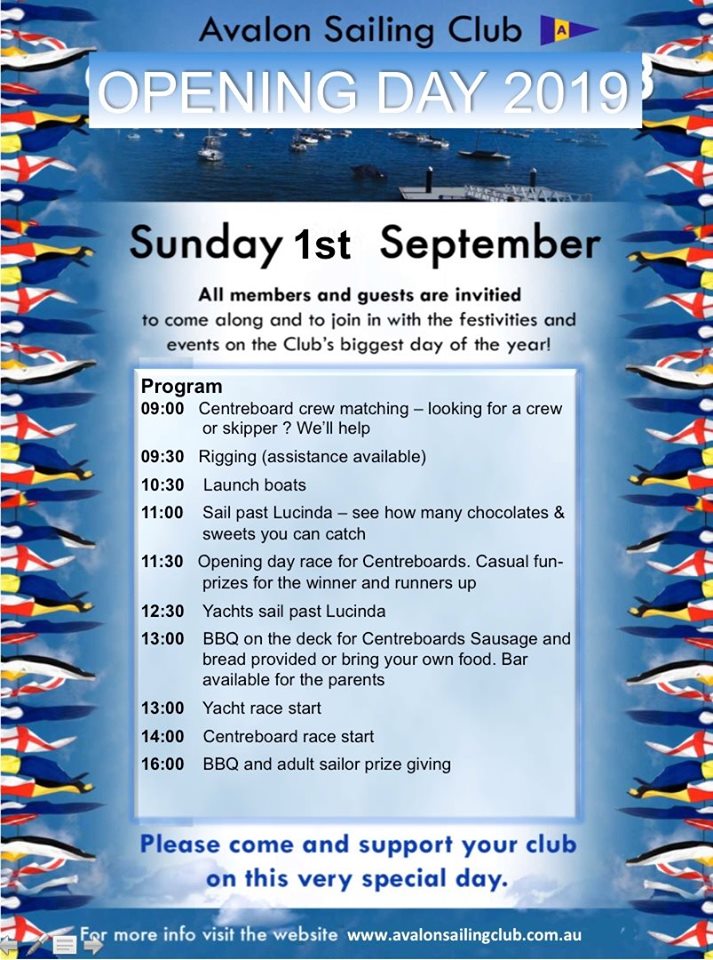 Woody Point Yacht Club
Woody Pointers sail all year round - the Summer Season finishes and the Winter commences and then a few weeks after the last Winter race, the Summer races begin.
This is a club bent on having fun but you will easily see some of the biggest fleets on Pittwater, of all classes of boats, world champion sailing winners among them, and some serious sailing, under their burgee. These are classic Pittwater sailors and many of them do their 'aquatic activities' on classic boats.
WPYC run the annual Gentleman's Launch and Putt Putt Regatta with a BBQ at Woody Point afterwards. Their AGM's are legendary and get the serious stuff out the way so all may have more fun!
There are also a range of 'onshore' social events such as the WPYC Cricket Match played annually.
Membership for their 2019-2020 Season is now Open.
The club also offers those who are boatless a chance to be matched to someone as crew;
'If you have a keen love of sailing but don't have the means or maybe you just like being yelled at … fill out this form and we'll endeavour to find a boat that will have you …'
Find out more at: www.wpyc.com.au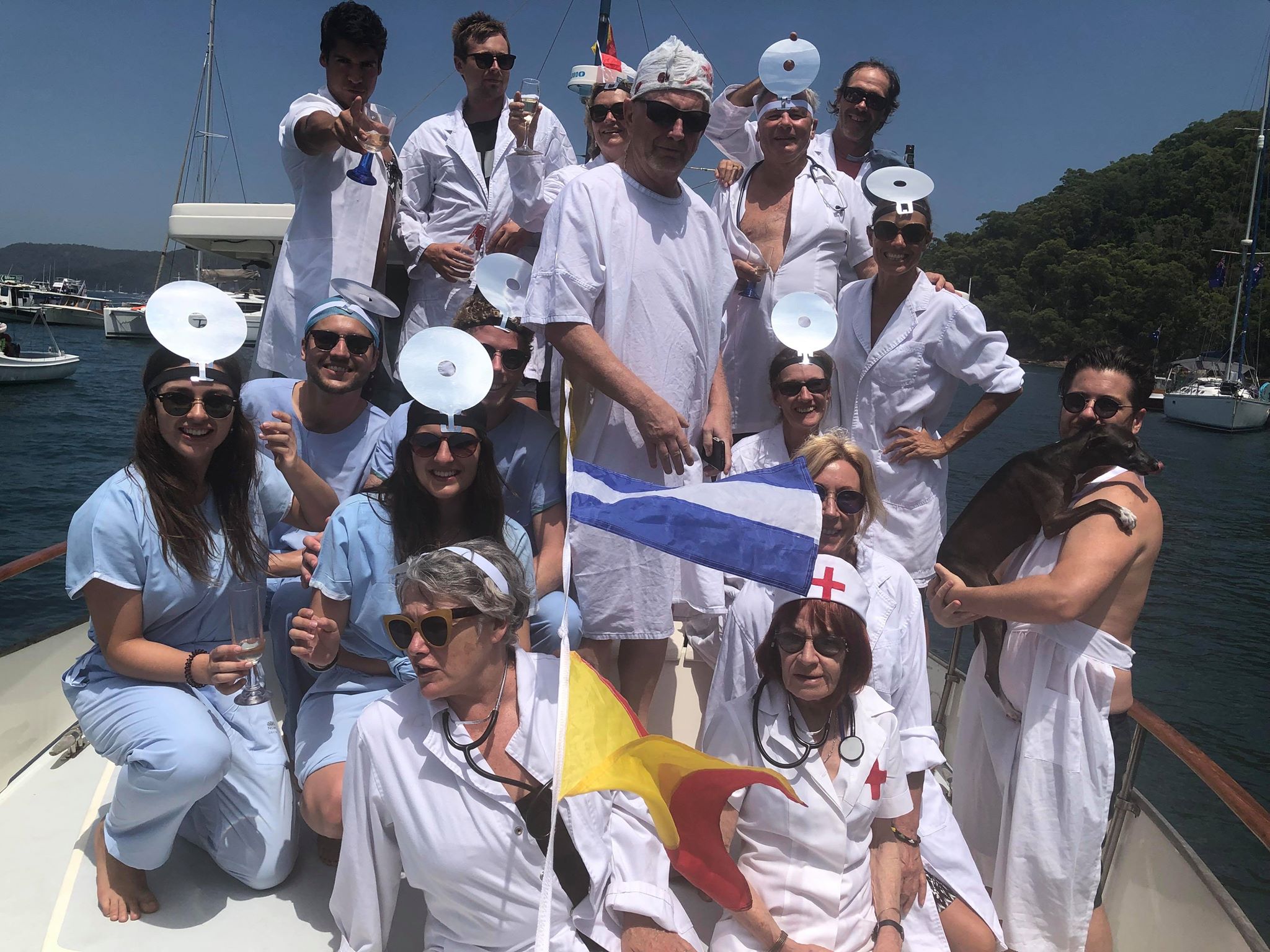 WPYC's 2019 Gentleman's Launch and Putt Putt Regatta - crews of boats dress in themes!
Bayview Yacht Racing Association (BYRA)
BYRA Clubhouse
1842 Pittwater Rd
Bayview
The Bayview Yacht Racing Association (BYRA) is both a dinghy racing and yacht club based on Pittwater. We offer some of the best water access and sailing conditions in Sydney. The club boasts a proud history of producing state, national and world champions and is a friendly family club with a strong sense of community.
We offer dinghy racing on Sunday afternoons from September to May. New members and visitors are always welcome to join our existing fleets or introduce a new class to the club.
BYRA has a strong focus on skills development, and offers learn to sail programs, Junior sailing on Sunday mornings, introduction to racing, race training and other support as requested. BYRA has an ongoing commitment to supporting junior sailors and fostering their sailing skills, from learn-to-sail programs through to elite competition. Our dinghy Instructors are experienced sailors qualified under the auspices of the national sailing body Australian Sailing.
Lion Island Challenge Cup
Each November, on the anniversary of the founding of BYRA way back in 1949, BYRA holds a yacht race around Lion Island. Officially known as the Lion Island Challenge Cup, the event is open to all members and guests.
All Year Round
PORTUGUESE BEACH PICNIC DAY
At the end of each sailing season BYRA combines with other Pittwater-based sailing clubs for a BBQ picnic lunch and games such as tug-of-war and an egg catching competition. Bring food for the BBQ and something to drink.
Catch a lift on one of the club boats or bring your own boat. Many of the members like to sail up. Boats will start leaving BYRA from about 11:00am. It's a great day out and all members and their friends are welcome.
TUESDAY TWILIGHT SAILING
The Tuesday night Twilight races was reintroduced last season. Whilst all sizes of keelboat are welcome we have found mostly 'Classic' craft and those that have seen a couple of decades or so under their hull are most popular. It is a handicap time start. The start is at 6pm at Hall's Wharf between the port mark and the RPA buoy.
If you are considering getting into sailing, why not visit on a Sunday morning to see the different boats they sail up close – their members are always keen to answer questions and show you the ropes.
You can even arrange to go out on a patrol boat or the committee boat to watch the sailing school or racing up close.
What BYRA membership offers
Competitive fleet racing for all levels of experience
A Twilight Yacht Racing series
Start Sailing courses
A progressive Junior Development Programme
A large fleet of club Optimists for children's use
A large rigging area
Easy access to the water
Launch facilities for trailer sailers and larger boats at the club, or at nearby Rowland Reserve
A well-stocked canteen – great coffee and a large selection of fresh food
Boat storage (for full members only)
Organised social functions and informal get-togethers
We are always looking for new members and we would love to hear from you. Contact us if you are interested in learning more about BYRA or want to discuss joining up. Or why not drop in for a chat (Sunday mornings are best) and deliver them in person? That will give you a chance to look around, meet us, and to get an idea of what we're all about.
The Learn to Sail is open for places on Start Sailing 1 & 2
,. You can make your bookings for all the learn to sail modules from now.
Sunday September 8th

BYRA Sailing Season Commences

- Race Briefing 12.15hrs
To find out more visit: byra.com.au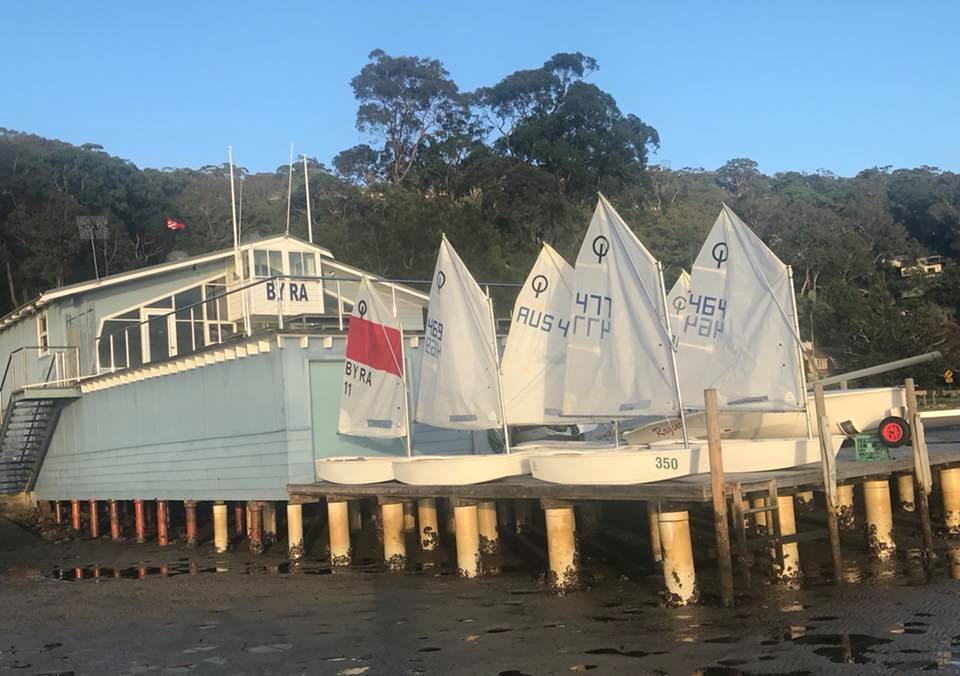 Kuring-Gai Motor Yacht Club
1 Cottage Point Road
Cottage Point
A Traditional Family Club at Beautiful Cottage Point
KMYC welcomes new members and guests who enjoy boating and relaxing with friends. The Club was founded in 1945 and our members vessels range from traditional wooden cruisers to the very latest motor cruisers and yachts.
Facilities available to members and guests include both a traditional and a modern clubhouse with extensive gardens, a pool, a large BBQ area with spectacular views over the waterways and a stunning viewing deck with a built in Pizza oven.
The Club House facilities and Coal & Candle Cottage are available for hire to members and guests.
Waterfront services include fuel, water, ice and a pump-out facility.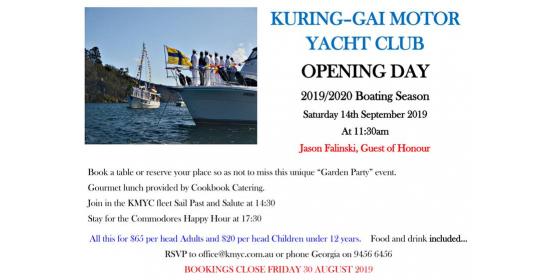 Always Something To Do
KMYC provides a wide range of boating and off water activities throughout the year officially starting in September with the traditional Opening Day lunch, sail past and salute. Other events include:
Weekend raft-ups including the traditional Easter Colo Cruise
Various on water and off water dinners
Family Christmas Day and Open Air Cinema
Navigation rallies
End of season dinner and entertainment
Find out more at: www.kmyc.com.au

Royal Motor Yacht Club Broken Bay (At Newport)
Royal Motor Yacht Club
46 Prince Alfred Parade
Newport
The RMYCBB has Divisions for Cruisers, Game Fishing, Multihulls, Sailing, Timber Boats, Mini Mariners and Top Hat Sailing.
The club hosts a range of onshore activities year round too, many of them aimed at raising funds for local charities - the Wooden Boat Festival and Classic Cars day are among the most popular locally and attract visitors from across Sydney. The annual Golf Day, played locally, is also another fund raising for others activities members enjoy.
The club also hosts annual on water events such as the Classic Yacht Regatta and the Lock Crowther Multihull Regatta, and has fun members activities - such as the Boat Parade that forms part of their annual Australia Day celebrations.
A great restaurant as well as light filled rooms overlooking the estuary are available for a range of events - yes, Weddings, Parties, almost Anything. Speaking of great old bands, the club hosts regular music evenings.
Find out more at: www.royalmotor.com.au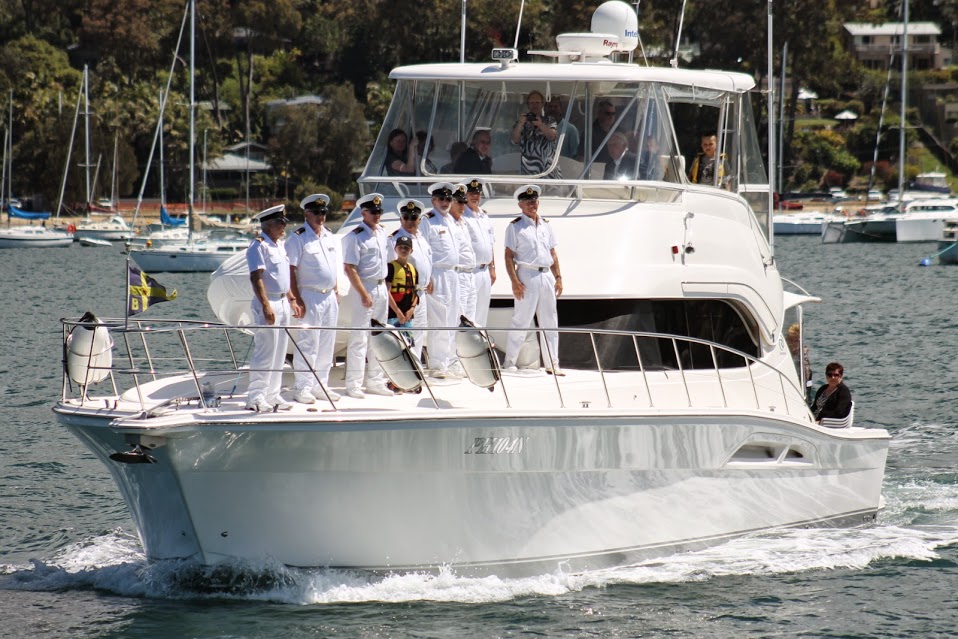 Royal Prince Alfred Yacht Club (RPAYC)
RPAYC
16 Mitala St,
Newport
Known for 'Excellence in Sailing' and for introducing and developing new classes that goes back 153 years, this club is still progressing.
The Royal Prince Alfred Yacht Club - RPAYC is a yacht racing and sailing club based on Pittwater. The yacht club offers year round inshore and offshore racing, cruising, centreboard dinghy racing, sail training and courses plus has a large marina accommodating up to 352 vessels. There is also a modern boatyard with comprehensive marine services to help maintain your vessel.
There are a range of training classes for youngsters through to adults includiong a Kids Learn To Sail Program, Takka Program and the Adult Keelboat.
The adults course offers a simple training pathway for adults wanting to get into sailing or for those seasoned sailors to develop their skills. Training is delivered by Australian Sailing (AS) accredited instructors following a national syllabus.
The RPAYC provides a pathway from the beginner stages right through to race coaching. If you want to discover sailing, we will provide a safe, fun, and affordable environment to build your skills.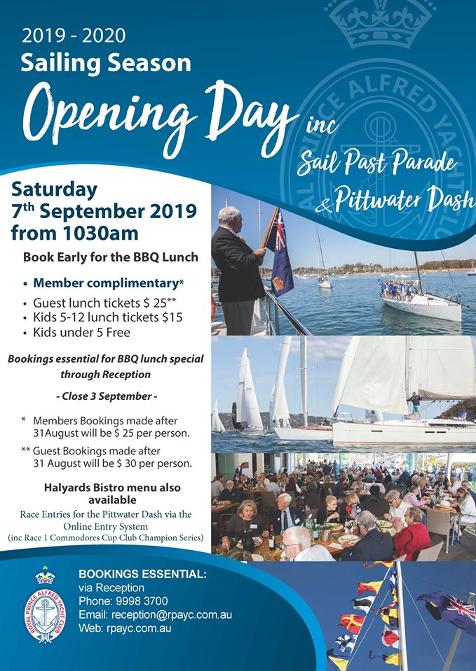 Coming up in the Adult Keel Program
THURSDAY DISCOVER SAILING SESSION
24 October - 19 December: Times: 17:00 - 2.5hrs
SUNDAY MORNINGS - COURSE
20 Oct, 27, 3 Nov, 10 Nov, 17 Nov, 1 Dec - Time: 08:30 - 11:00
SUNDAY AFTERNOONS - COURSE
20 Oct, 27, 3 Nov, 10 Nov, 17 Nov, 1 Dec - Times: 12:00 - 14:30
The Youth Development Program at RPAYC was pioneered in 1995 to help develop and enhance young athlete's sailing skills, as well as providing a pathway for youth sailors between 13-25 years old in Club, National and International events. The club's commitment to youth sail training has seen graduates go onto sail on the World Match Racing Tour, Olympic Games, Volvo Ocean Race, America's Cup, Rolex Sydney to Hobart as well as various professional sailing circuits.
In 2014 the RPAYC continued this commitment to youth sailing by commissioning and launching a new fleet of keelboats, the Elliott 7 one design boats.
The RPAYC is home to the IDS (Integrgated disAbled Sailing) program for sailors with a disability, is where Sailability Crystal Bay has its training grounds, and hosts the Soldier On Program.
The RPAYC offers the following benefits for Members:-
Member prices for:
Food & beverage in Halyards Bar & Bistro, Happy Hour in the Edinburgh Bar and at Alfred's Table on Friday evenings.
Club functions and other social events.
Function bookings with free room hire.
Slipping and antifoul packages.
Race entry fees waived for full members.
Sail training programs for adults and children run by the Club.
SailFit Fitness Centre membership.
Fuel purchases at RMYC Broken Bay.
Year round sailing programs:
Keelboat racing (including one design) – inshore and offshore on Wednesdays, Saturdays with twilight racing on Tuesdays, Thursdays and Fridays.
Off the beach centreboard racing.
Club, state and national regattas for keelboat and centreboard sailing.
Extensive cruising calendar – both on and off the water with local and longer events.
Youth development program.
Integrated sailing activities.
Training programs for adults, teenagers and children.
Crew register.
Comprehensive training for race management volunteers.
Club facilities:
Car accessible parking during club visits.
Marina, hardstand and club moorings.
Fully serviced boatyard with cranes and travel lift and service facilities including a chandlery, rigger, shipwright, electrician, engineer, brokerage and sail makers.
Equipment storage areas.
Tender service.
Pump out facility.
Recreational moorings in Pittwater and The Lower Hawkesbury River waterways.
Disabled access for boat launching.
Gym.
Showers, laundry and disabled amenities.
Library and Billiards Room.
Children's playground.
Environmental initiatives, such as a commercial worm farm and herb garden.
Use of the RMYC Broken Bay shuttle bus service.
Other:

Complimentary Australian Sailing membership.
Member accounts billed monthly.
Weekly E-Newsletter, monthly Alfred's News and Annual Yachtsman magazine.
Birthday voucher for use at Alfred's Table on Friday evenings.
Free Wi-Fi.
Reciprocal arrangements with selected yacht clubs worldwide.
Can sign in guests.
Membership, including family membership is now available.
Find out more at: www.rpayc.com.au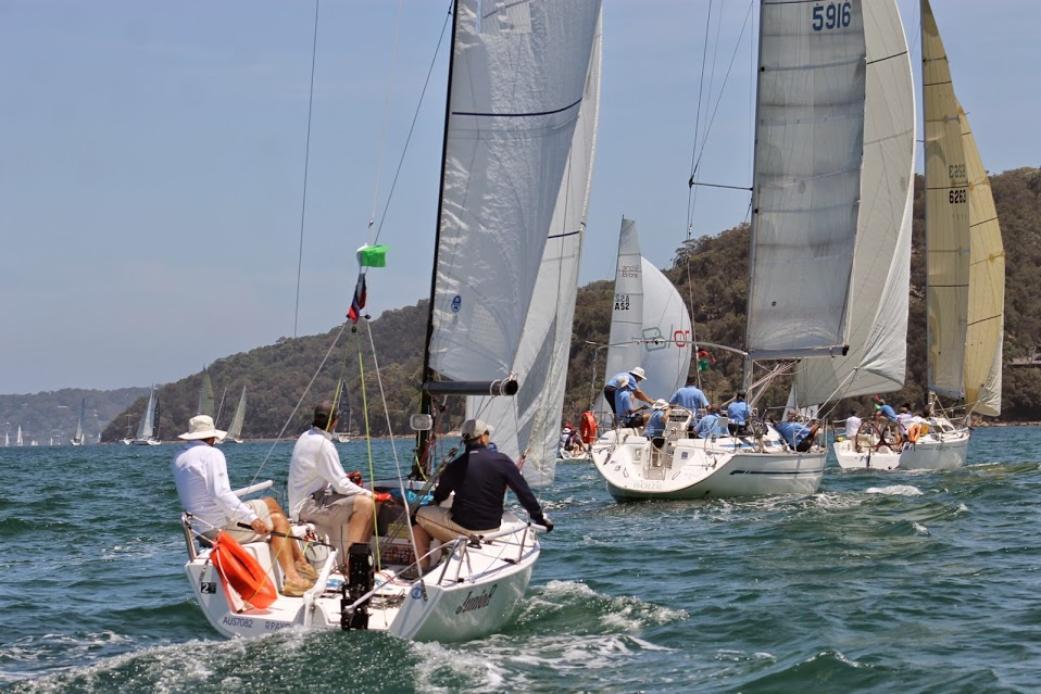 Narrabeen Lakes Sailing Club
Narrabeen Lakes Sailing Club is a not-for-profit community organisation based on Sydney's Northern Beaches at Jamieson Park, Narrabeen Lakes.

We are here to encourage sailors of every ability – the junior, the novice, the experienced – and to offer them a club environment in which they can learn to sail or improve on their existing skills, join in fun races and enjoy the company of like-minded community members.
We have a very strong community focus and love nothing more than enticing everyone – mums, dads, grandparents, kids – to jump into a boat or onto a sailboard and simply give it a go.
We place almost as much emphasis on socialising as we do on sailing, and our club is built on the values of camaraderie, role-modelling and team spirit.
What we do
Sailing is nicknamed the thinking man's sport. This is because while it is certainly a physical sport, it is also one that encourages tactical thinking, team work and good-natured competitiveness.
Junior & novice sailors:

Every Sunday morning throughout the season (except interclub race and regatta days) the juniors and novice adults get on the water in Herons, Sabots, Optimists and Lasers to learn the ropes (pun intended). Our team of very experienced volunteer coaches are out on the water with them, offering encouragement and advice as part of our learn to sail program.
Meanwhile, we ensure the experienced juniors are constantly challenged and motivated through fun, but competitive races run over a set course. The club is committed to growing the sport of sailing, and therefore we do everything we can to help the next generation to get out on the water and get involved in this fantastic sport.
Seniors & advanced sailors

: In the afternoons our experienced sailors take to the helm in Lasers and Herons, and the juniors get to crew for them (in the Herons). By running short and long course races, we offer variety so that our seniors can challenge themselves and master their sailing techniques and racing tactics in different weather conditions.
Sailboarders

: Most Saturdays you will find our fleet of Windsurfers battling it out on the lake. You can't miss them as their bright sails speed across the water.
Join in, we'd love to have you. Come just for the morning, just the afternoon or stay the whole day.
Beginners can learn everything there is to know about sailboarding and dingy sailing, from how to rig a boat and how to increase your boat speed while on the water to mastering the tactics needed to win races.
The clubhouse has canteen and shower facilities, as well as storage for club boats and start/rescue boats. There is a barbecue that gets a workout at lunchtime most sailing days, where social banter and tall stories about performances in the last race abound.
So if you want to learn how to sail or you already have an interest in sailing dinghies or windsurfers, download our sailing calendar and come along to the club on one of our sailing days. We would love to see you, and help you and your family get to know and love the sport of sailing.
Whether you are new to sailing or an experienced helmsperson, NLSC has something for you!
We pride ourselves on being a family-focused club that aims to get everyone on the water.... from the littlies to the grandparents and everyone in between.
We sail on Sundays and run Learn To Sail, Development Squad and club racing.
Registration days for 2019-2020 Season:
* Sunday August 25 - 10am-1pm
* Sunday September 1 - 9am-12pm
* Season runs from August 25 2019 to Easter 2020
Contact our friendly membership officer, Aymeric
Find out more here: www.narrabeenlakessailingclub.com