October 25 - 31, 2020: Issue 471
Will Gas Oil Rigs Be Over Your Horizon?: PEP 11 Proponents Announce New Board Members, Drilling Site - Debate On Mackellar MP's Marine Environment Motion Adjourned Until October 26th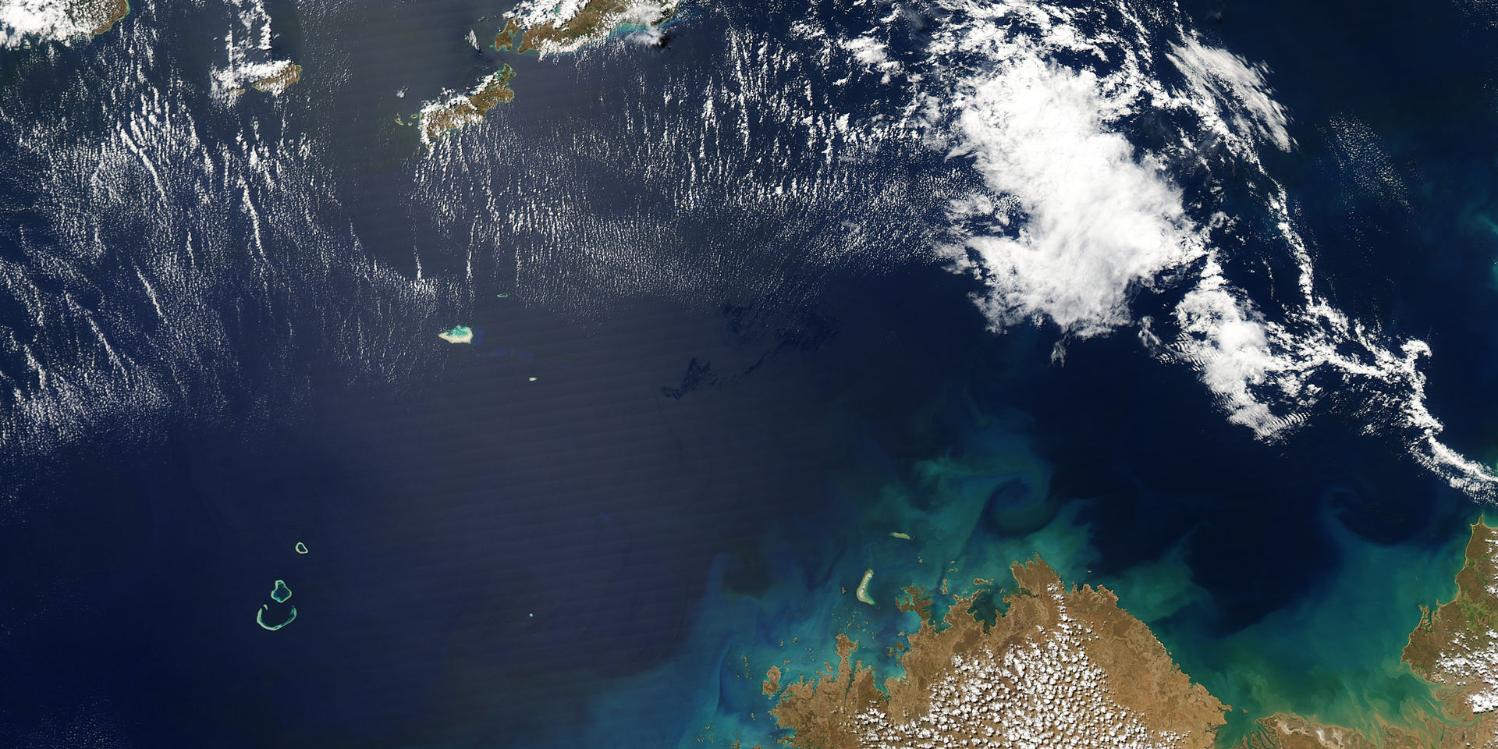 The 2009 Montara oil spill oil Slick in the Timor Sea, September 2009 - courtesy NASA Earth Observatory - On 29 August, the slick was estimated at 180 km (110 mi) at a minimum, measured east to west. The Montara Oil Spill Class action,
currently awaiting judgement
in Australia's Federal Court, seeks to address the loss of billions of dollars by those affected from an estimated 90,000 square kilometres oil slick that reached Indonesia.
Key Points
The project proponents are seeking a renewal of the permit
For the gas extraction to proceed, the National Offshore Petroleum Titles Administration (NOPTA) must allow the permit holders to switch from seismic testing to drilling. They will also need approval from the National Offshore Petroleum Safety and Environmental Management Authority (NOPSEMA) to do so
The Motion by Jason Falinski Motion seeking to not have a renewal of Petroleum Exploration Permit 11 licence was supported by members of all sides of politics
Debate and speaking on this matter was adjourned until the next sitting date
The Notice Paper for Monday October 26th 2020 lists Resumption of debate (from 19 October 2020) on the motion of Mr Falinski
This week Advent announced Board members changes and referred to their 2020 annual Report, released September 21 in positive terms, although more money than the 25 million invested in PEP 11 is needed to go forward
Advent released statements say a drill target site has been identified and that it is 'committed to continuing to explore for and ultimately exploit any petroleum accumulations which may be identified in this title area…'
Although the opposition used the debate for the Motion presented this week by Mackellar MP Jason Falinski to have a few digs at the incumbents what shone through this week's Marine Environment Motion debate was an across the political divide agreement that the notion of installing oil wells off the coast of Sydney to Newcastle is not popular, and even 'ridiculous', as one speaker stated.
Incredulousness has not swayed the day though – the debate is listed to continue on Monday October 26th while those holding the title have applied for a licence renewal prior to it expiring on February 12th 2021 and have announced just a few days after this week's Canberra happenings that they have new Board members and a new determination to sink a test drill.
In Victoria at present Beach Energy (Operations) Limited proposes to drill a single exploration well in Commonwealth waters of the Otway Basin just 32 km off Victoria's south‐west coast, directly out from Port Campbell and the Twelve Apostles Marine National Park and the close by Apollo and Zeehan Marine Parks.
The proposed Artisan‐1 well location is at a water depth of approximately 71 m. The operational area for the drilling program has been defined as a 2 km radius around the well location. The Artisan‐1 well may be suspended for future production if commercial quantities of hydrocarbons are discovered. In this eventuality, the well will be suspended in accordance with the Well Operations Management Plan and the wellhead will be left in place to facilitate future operations. Any potential future production drilling of Artisan‐1 well will be addressed under a separate Environment Plan.
Although NOPSEMA, as set up by the Australian Government, did not allow comment on plans to do seismic tests in the waters out from Newcastle unless you are a 'stakeholder' (and the general Australian public in these communities was not considered 'stakeholders' under those terms), years of expressing opposition to the plan, including the current 'campaign' of posting photos of yourself with an oil rig decal** up against the watery horizon and remembering the 2009 Montara spill off Western Australia* that took 74 days to 'cap', to influence the two who will decide, under the Joint Committee structure, Ministers Keith Pitt and John Barilaro, has continued.
However, if test drilling can be proposed just out from a Marine National Park or world-renowned landmarks, the call for the PEP 11 licence to not be renewed before any drilling commences may not influence a clearly stated intention for a 'gas-led recovery' from the Morrison ministry.
The Member for Warringah, Zali Steggall has written to Minister Pitt and posted his response on her website - reply dated 5 October 2020: "The titleholders of PEP-11 submitted an application to the National Offshore Petroleum Titles Administrator (NOPTA) to vary, suspend conditions and extend the permit term... The application is currently being considered by the Joint Authority which consists of myself and the Hon John Barilaro MP, New South Wales Deputy Premier and Minister for Regional New South Wales, Industry and Trade, as the decision makers."
On Thursday October 22nd this week MEC announced Board member changes and developments geared to facilitate a way forward with the aim being to create long term value for the company and its shareholders. The announcement makes reference to the Advent Energy 2020 Annual Report, released September 21st, wherein it is stated that a drill target site has been identified and that it is 'committed to continuing to explore for and ultimately exploit any petroleum accumulations which may be identified in this title area…'
An extract from the statement published by ABN Newswire:
MEC Resources Limited (ASX:MMR) Announces Company Development and Board Changes

Perth, Oct 22, 2020 AEST (ABN Newswire) - The Directors of MEC Resources Limited (ImageASX:MMR) are pleased to announce a number of significant developments which are now in progress to facilitate paving the way forward for the Company, the aim of which is to create long term value for MEC and its shareholders.

… MEC holds a non-controlling 49.3% interest in Advent. Advent, through wholly owned subsidiary Asset holds 85% of Petroleum Exploration Permit 11 (PEP11) an exploration permit prospective for natural gas located in the Offshore Sydney Basin. A full description of the PEP 11 Oil and Gas Permit can be found in the Advent Energy Ltd 2020 Annual Report released to market by BPH Energy Ltd (ImageASX:BPH) which in turn holds a 22.7% interest in Advent.
From that referred to Annual report release statement
Advent Energy Limited June 2020 Annual Financial Statements - Perth, Sep 22, 2020 AEST (ABN Newswire) - Advent Energy has conducted a focused seismic campaign around a key drilling prospect in PEP11 at Baleen, in the offshore Sydney Basin. The high resolution 2D seismic survey covering approximately 200-line km was performed to assist in the drilling of the Baleen target approximately 30 km south east of Newcastle, New South Wales. A drilling target on the Baleen prospect at a depth of 2150 metres subsea has been identified in a review of previous seismic data. Intersecting 2D lines suggest an extrapolated 6000 acre (24.3 km2) seismic amplitude anomaly area at that drilling target. The report on this drilling target noted previous 2D seismic data showed that the Permian aged section of the Bowen Basin has producing conventional gas fields at a similar time and depth to PEP11 at the Triassic/Permian age boundary.

Advent's prior presentation 'Strategic Summary: Tactics to Success ' confirmed the strategy of "Complete current 2D seismic commitment to deliver shallow hazard survey work to deliver 'drill ready' gas prospect ....for early drilling ,capturing near-term rig availability off Australia's coast."

To view the Advent Energy Annual Report, please visit: https://abnnewswire.net/lnk/YK0R4VOU
Asset Energy Pty Ltd has invested over $25 million in the PEP11 title and, along with its partner Bounty Oil and Gas NL, is committed to continuing to explore for and ultimately exploit any petroleum accumulations which may be identified in this title area. If Advent is unable to source further funding for each of PEP11 and RL1 each of these permits are at risk.
On Monday Mackellar MP Jason Fainski, Wentworth MP Mr. Sharma, along with Ms McBride (Dobell), Mr Zimmerman (North Sydney), Mr Conroy (Shortland), Ms Owens (Parramatta) and Ms Steggall all spoke to the Motion. The motion to end the licence of PEP11 was tabled in the House of Representatives and later debated in the Federation Chamber on October 19th.
The Founder of Save Our Coast, Dr Natasha Deen, has led a community campaign which Pittwater's Living Ocean has been a part of and which also incorporated a petition that has gained over 76,000 signatures in opposition to the licence.
Dr. Deen spoke with ABC radio on October 19 and called on all MPs to support the motion to cancel PEP11.
"As of today, it is a little disappointing that (Member for Robertson) Lucy Wicks has not supported her Liberal colleagues, but we are very hopeful that our MPs will listen to the community," Deen said.
A Transcription of Mr. Falinski's Address:
When I was a teenager, I would ride my bike from the family home in Belrose, through Oxford Falls and down Wakehurst Parkway to Narrabeen Beach. I have fond memories of sitting on the beach, sand between my toes, swimming in the ocean and the rock pools of Narrabeen, looking out at the surfers and thinking how lucky I was. When I looked out at the sea I would ponder, in awe, how it could be that in one generation the son of a migrant who'd fled totalitarian regimes behind the Iron Curtain could now get to call one of the most beautiful parts of the world his home. To this day I raise my family in Collaroy, and I continue to enjoy the very same coastline. From Palm Beach to Manly, from Bondi to Little Bay, and across Pittwater to Patonga, Sydney has one of the most beautiful coastlines in the world. Its rich biodiversity and all-round stunning views make it a wonder to behold. Not only is it something we locals derive great pleasure from; it is a pivotal part of Sydney's tourism economy. In a post-COVID world it will be more important than ever.

However, there is a shadow looming over the coast's longevity. Petroleum Exploration Permit No. 11, PEP 11 for short, like Damocles's sword, hangs over the head of our communities. A stretch of ocean covering 4½ square kilometres from Palm Beach to Newcastle, PEP 11 threatens to continue exploration activity off our coast when, after 16 long years, no useful data has been uncovered and no useful discovery has been made. There has been so much risk, so much worry, and never before has there been so little reward for all of this.

This licence has been held by several energy companies since it was granted by the then Carr Labor government in 2004. During this time, various exploration actions have been undertaken. The last one, about three years ago, was when permission was given to undertake seismic testing. The results of those tests were clearly disappointing. Even the most generous reading of the actions of the current holders of the PEP 11 licence would lead any reasonable person to conclude that it was, at best, inconclusive and most likely demonstrated there was little of value in terms of exploration. After all, the holders of the licence, Advent Energy, themselves admitted, on 29 December 2010, that the exploration well had failed to find gas.

Therefore, in moving this motion, I'm calling on the government to oppose oil and gas drilling off the coast of Sydney, and specifically in the PEP 11 zone. My community have spoken loudly and clearly. We do not want to see the renewal of the PEP 11 licence. Save Our Coast have been leading the charge in opposing this licence. They have collected over 76,000 signatures, many of which have already been presented to the parliament. Natasha Deen, Brendan Donohoe and many more locals have been very vocal in their opposition to the licence because it just doesn't make sense.

After all, this government is one which is taking strong and appropriate steps to protect our oceans. The Great Barrier Reef, we know, is a global tourism icon, a wonder of the natural world and critically important to the Australian economy. Before COVID-19, it contributed around $6.4 billion a year to Australia's economy, along with 64,000 jobs. These actions are those of a government which cares about our oceans. We are an island nation, so it is our responsibility to look after the water around us.

It is a hard argument to allow this issue to be swept under the rug. But it would be impossible to say it will just go away, because it won't. My community do not want gas rigs off our beautiful coast. We do not want to see the rich biodiversity that occupies our great coastlines put at risk for an area of ocean which clearly doesn't have anything to offer in terms of gas but has so much to offer our generation and future generations. Therefore, PEP 11 should not go forward.
Mr. Falinski's Marine Environment Motion:

The Motion:
NOTICE OF MOTION

MEMBER FOR MACKELLAR: I give notice that on the next day of sitting I shall move that this House:

(1) Recognises the Coalition Government's commitment to protecting Australia's marine environment including the Great Barrier Reef through:

(a) The Reef 2050 Long-Term Sustainability Plan;

(b) The $1.2 billion investment to ensure the health of the Reef; and

(c) The $100 million Environment Restoration Fund which supports cleaner oceans and waterways.

(2) Opposes oil or gas drilling off the coast of Sydney, including:

(a) Recognises that through Advent Energy's own admission on 29 December 2010, the exploratory well had failed to find gas; and

(b) Not renewing the Petroleum Exploration Permit 11 (PEP-11) licence;

(3) Notes the importance of Sydney's coastline and waterways to the ecosystem as well as tourism and investment.
You can watch and hear via this link: https://www.aph.gov.au/news_and_events/watch_parliament
______________________________________
*Although the Montara oil rig is among the worst oil spill incidences in Australia, the ABS, in 2010, stated that ''the number of reported oil spills in Australian waters has been decreasing over the past 10 years, falling from 353 in 1998-99 to 140 in 2008-09. Of the 140 reported oil spills in 2008-09, 78 required some type of action under the National Plan. The environmental impact of oil spills depends largely on the size of the spill, the type of oil, the location of the accident and the prevailing weather conditions at the time. The volumes of oil spilled in Australian waters is unknown and there are oil spills that go unrecorded.''
**Science shows that if you are six feet ( 1.88 metres) tall the curvature of the earth means that, on the sea shore at that height, you can see just 5km or 3 miles. That is, in standard atmospheric conditions, for an observer with eye level above sea level by 1.70 metres (5 ft 7 in), the horizon is at a distance of about 5 kilometres (3.1 miles). So the oil rig decal, while effective as a symbol, does not stretch to 32 km. But, the decal symbol is about oil rig explosions and the catastrophic permanent impact.
The first offshore drilling venture in Australia was the 1965 Esso/BHP joint venture where drilling discovered the Barracouta gas field in Bass Strait. In 1967 Kingfish, the first offshore oil field, was found. As of 2013, this is still the largest oil field discovered in Australia. Billions of dollars worth of infrastructure has been built to develop, produce and process the crude oil and gas from these and other large discoveries in Bass Strait, off Victoria's Gippsland coast.
Supporters state the energy produced has been used to power industry, fuel vehicles and manufacture products in Australia and overseas.
As of 2013 there are 23 offshore platforms and installations in Bass Strait, including the relatively new Marlin B platform and Kipper subsea wells. These feed a network of 600 kms of underwater pipelines. More than four billion barrels of crude oil and around eight trillion cubic feet of gas have been produced from these fields and they are predicted to supply energy for decades still.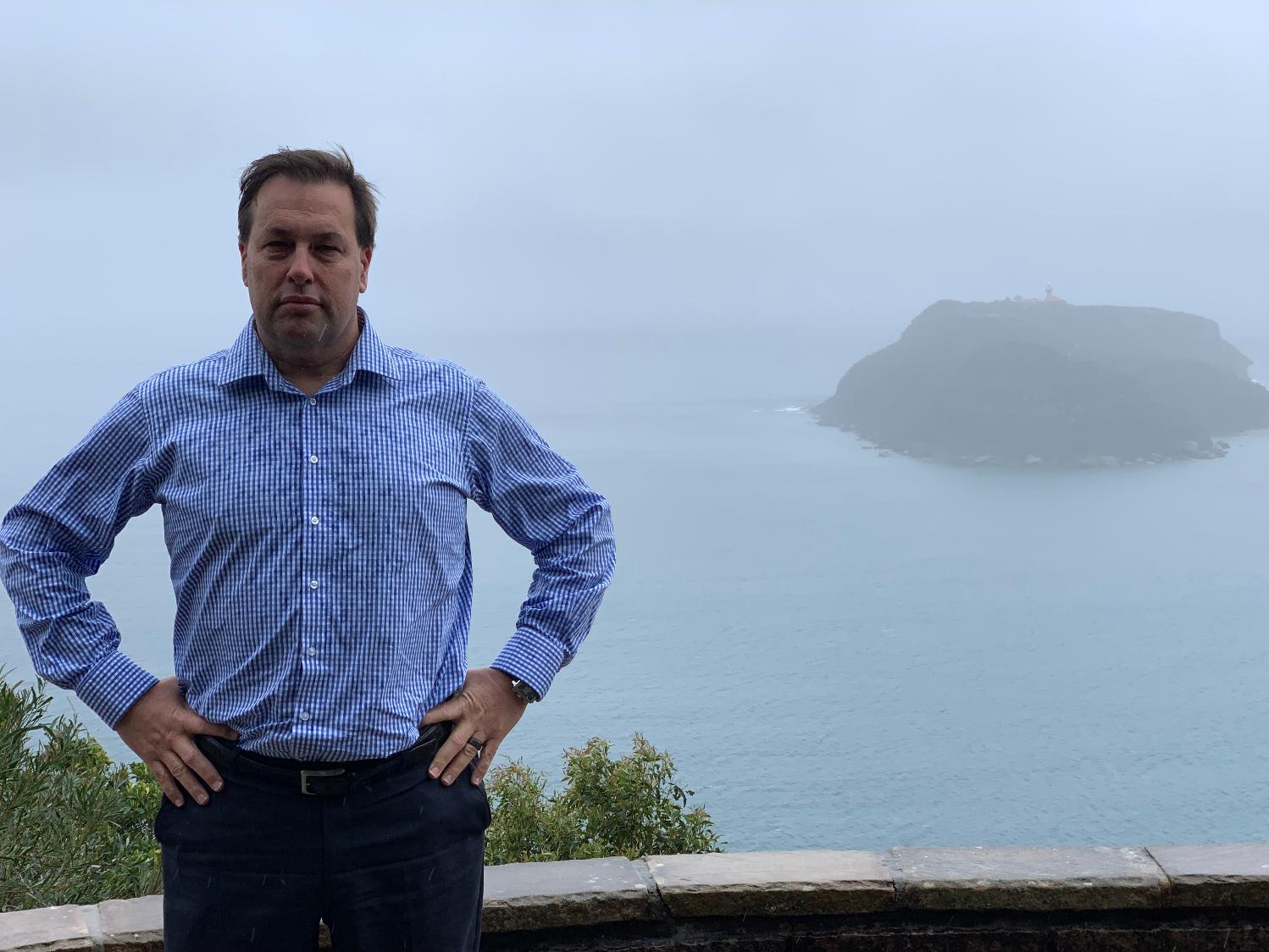 Jason Falinski, MP for Mackellar, at West Head on Friday, October 16th, 2020