Inbox and Environment News: Issue 392
February 3 - 9, 2019: Issue 392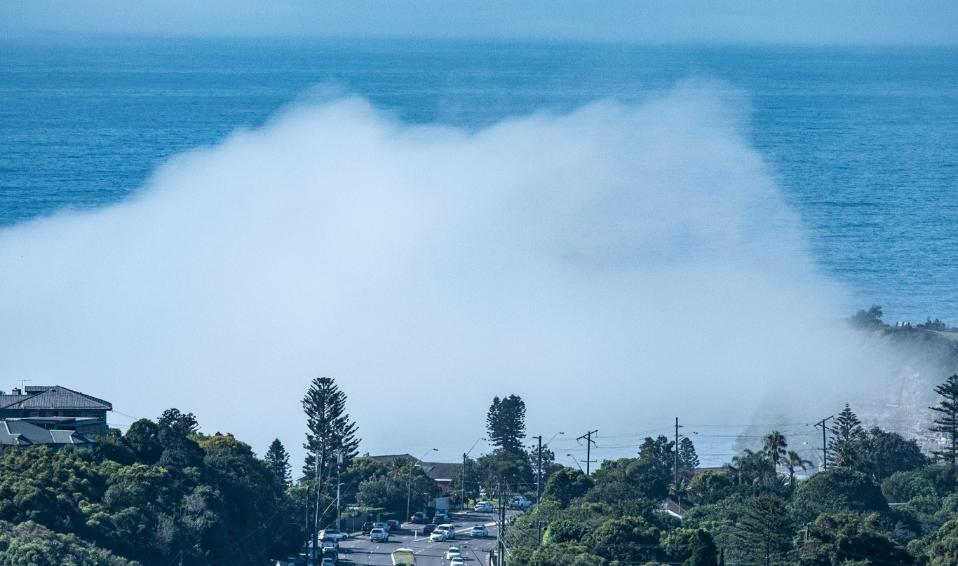 Sea Mist - Bungan Head - 9.10 a.m. Sunday February 3rd 2019 - photo by Michael Mannington, Community Photography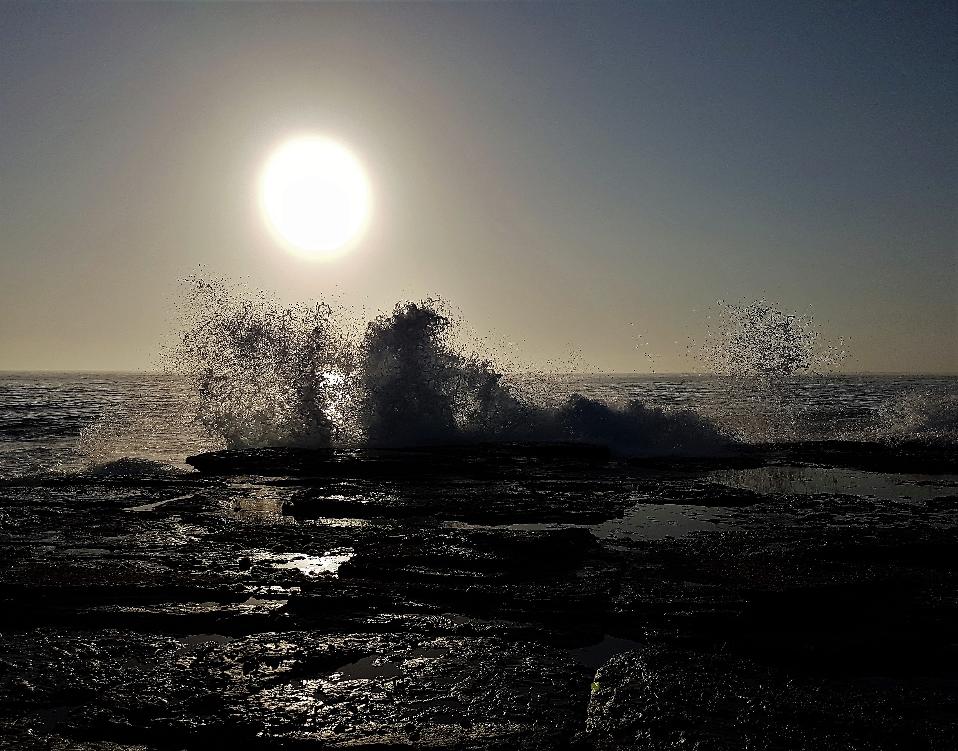 Narrabeen Rock Pool Rock Shelf, just after Dawn - photo by Joe Mills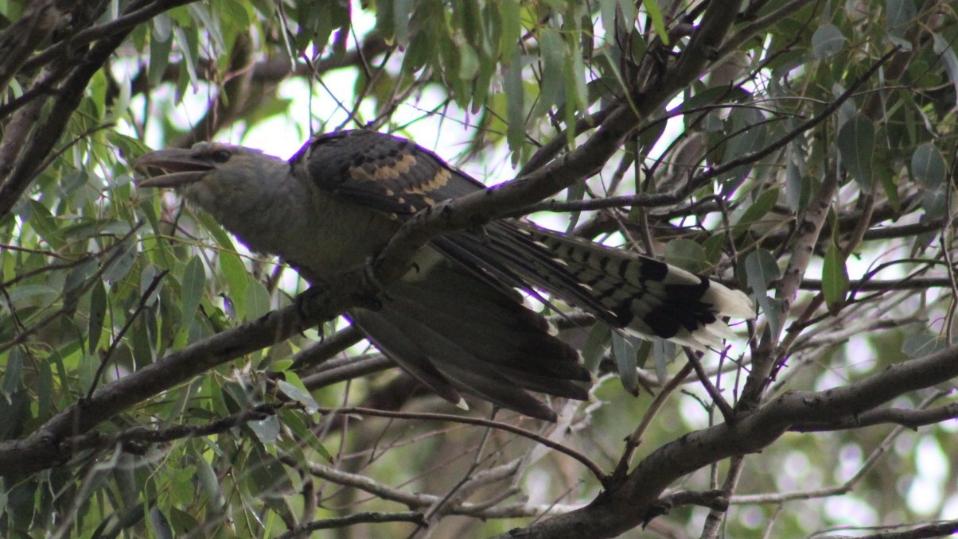 Spotted: Careel Bay - two Currawongs trying to feed two larger Channel Billed Cuckoo fledglings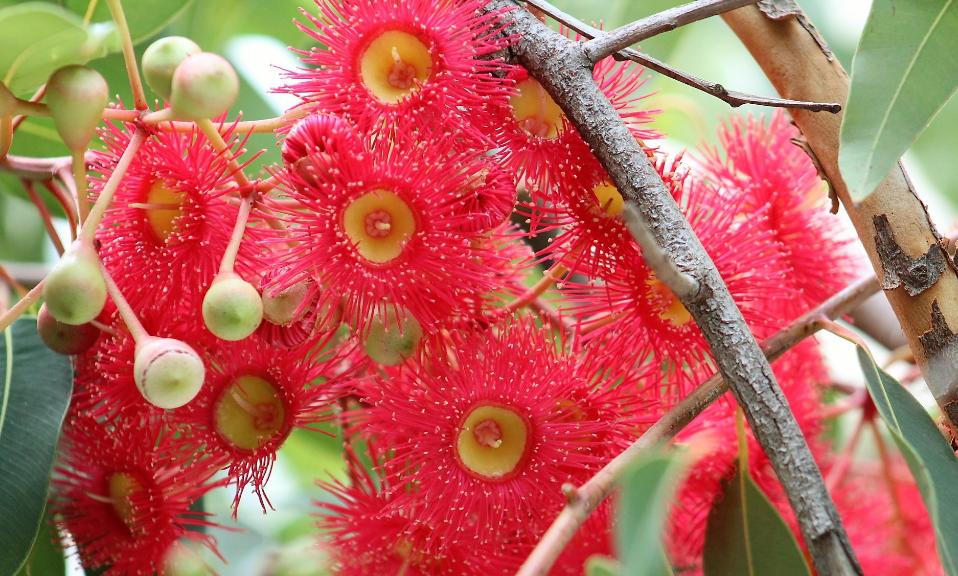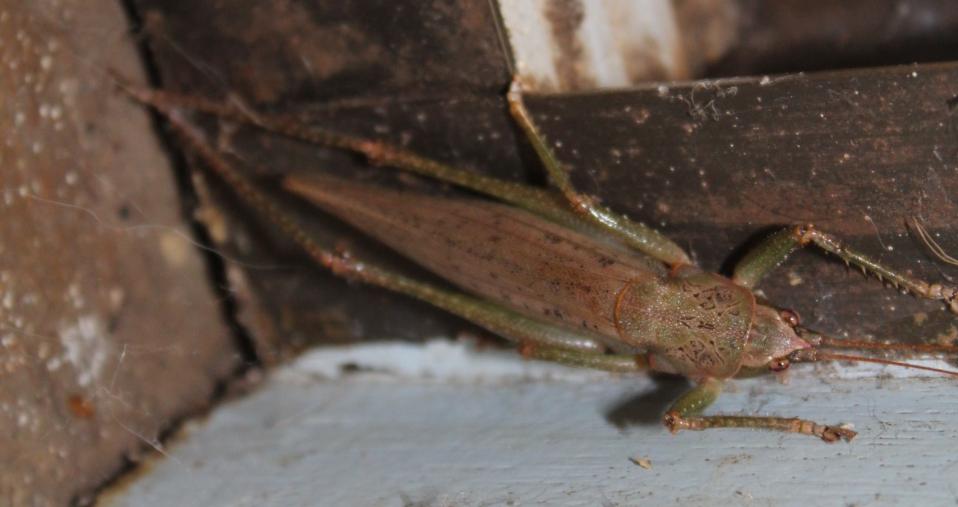 This lovely green and brown grasshopper - lots of these around at the moment
Funding For Northern Beaches Wetlands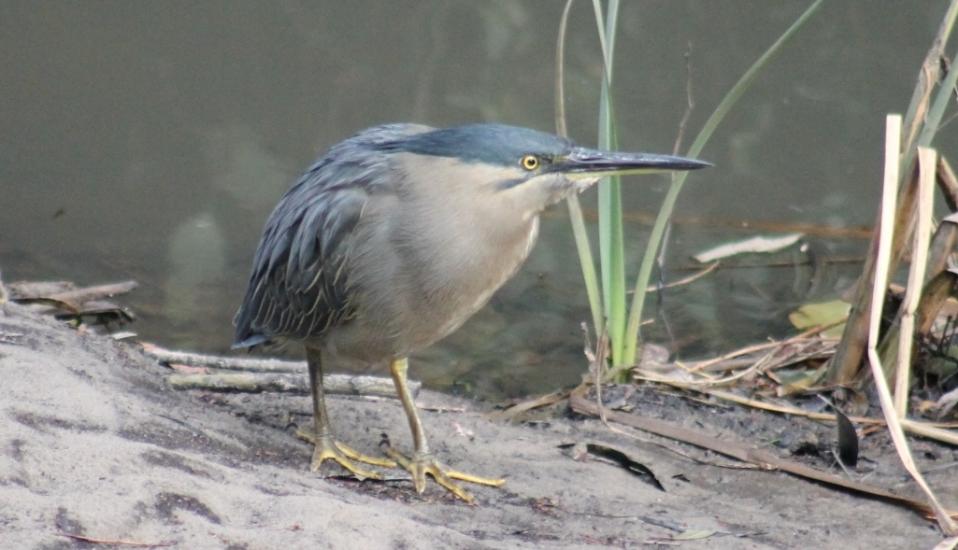 Mangrove or Striated Heron Butorides striata - Careel Creek - photo by A J Guesdon
January 30, 2019
From Office of Hon. Rob Stokes
Member for Pittwater Rob Stokes and Member for Wakehurst Brad Hazzard today announced $320,000 to support the restoration and sustainability of local wetlands.
The funds have been secured under the NSW Government's Saving our Species program and will support Northern Beaches Council in improving key wetland reserves and protecting threatened ecological communities.
"This is a major boost for environmental management on the northern beaches," Rob Stokes said today.
"Our wetlands are among the most underappreciated natural areas of our community – despite performing a crucial environmental role.
"There is so much life and activity in these areas and a sustained effort is needed to ensure their ongoing health and functionality," Rob Stokes said.
"These are spectacular areas of our community which have both environmental and recreational values," Brad Hazzard said.
"Improvements to our wetland reserves have direct benefits to water quality at our local lagoons and beaches.
"Northern Beaches Council has a strong focus on our natural environment and has a passionate and talented team of staff and volunteers who are committed to its long-term sustainability.
"I'm delighted the NSW government is partnering with Northern Beaches Council to ensure these key areas of our community are protected and improved," Brad Hazzard said.
The NSW Government's Saving Our Species program is investing $100 million over 5 years to secure the future of NSW threatened plants and animals.
Further details on the program is available at:
www.environment.nsw.gov.au/topics/animals-and-plants/threatened-species/saving-our-species-program
_________________________________________________________________________________________________________
Bush Regen. At Ingleside Commences For 2019
Please join our Bush regeneration morning at the Baha'i Temple 173 Mona Vale Road Ingleside. Based on our past success PNHA has been given a new round of funding to continue work on conserving the threatened Grevillea caleyi so we look forward to your support.

Meet at the picnic shelter at 8.30 am
New volunteers welcome
- training will be provided
Wear long trousers, a long sleeved shirt and boots or closed in shoes.
The session will be cancelled in the event of rain. For more information contact David Palmer on 0404 171940.
Pittwater Natural Heritage Association
A Survey On Ticks And Wildlife In The Northern Beaches
The University of Sydney is conducting a study to better understand how residents and their pets are encountering ticks and wildlife in their backyards. We invite all Northern Beaches residents to participate in our survey.
Coastal bushland remnants and other green spaces across the Northern Beaches are home to a variety of native plants and animals. They also provide a place for residents to enjoy their favourite outdoor pastimes. Paralysis ticks (Ixodes holocyclus) are common in the Northern Beaches and feed on a wide range of animal hosts during their life cycle. Understanding the complex relationship between ticks and their host species is an essential part of our research. The information we gain will contribute to our growing knowledge of ticks and will guide future research efforts.
We aim to identify:
Areas where people are encountering ticks more than others (tick 'hotspots'),

Backyard and landscape features that may influence tick presence, and

Wildlife using backyards and how this might or might not influence tick occurrence

To meet these aims, it is important for you to provide a street address. If you would prefer not to, we ask that you provide your street name and nearest cross street. It is important for us to create a map of tick encounters to understand what landscape features might influence tick presence and where to target future research.
All identifying information will be removed from any data presentations.
The survey should only take approximately 10 minutes to complete and is voluntary.
If you have any questions about the project, please contact PhD candidate Casey Taylor on 02 9351 3189 or
casey.taylor@sydney.edu.au
. This project is being undertaken by the University of Sydney in association with Northern Beaches Council.
Your participation is greatly appreciated.
This research has been approved by the University of Sydney Human Ethics committee. (Approval no: 2018/157)
Avalon Boomerang Bags 2019 Start Date +
WEEKLY WORKSHOPS CONTINUE IN 2019
TUESDAY 5TH February will be our first day back.
WORKSHOPS are held Tuesdays during the school term
at the Avalon Recreation Centre 11.30 - 3.30pm
Everyone is welcome; come for an hour or come for all 4, we'll even provide a cuppa and guaranteed laughs. Non-sewers also very useful.
Pop in with your excess fabric donations or spare enviro bag donations. We also sell our very handy Boomerang Bag coffee cups, stainless steel drink bottles and other enviro products and of course, our "Bought to Support" bags.
Our Christmas Celebration was truly that - a celebration of all that we have achieved together. We've made lots of bags, reduce much fabric from landfill, helped Avalon move towards using less plastics, made friendships and been a small cog in the wheel doing our bit for a better environment tomorrow.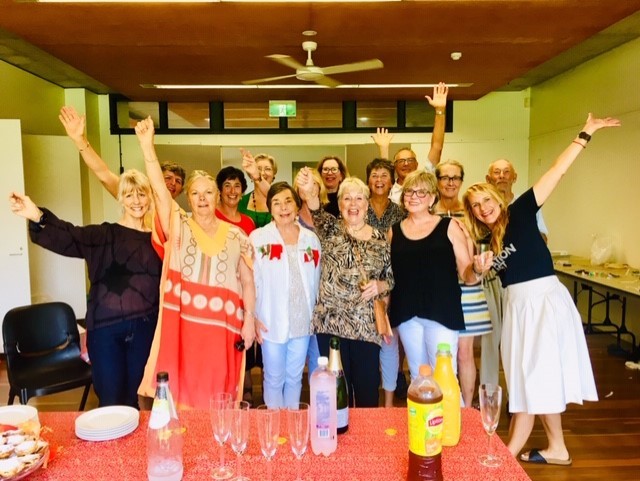 Thanks to all those who helped organise - the food, the drinks, the 'real' glasses and "real" plates, the fabric serviettes, the fruit mince pies and the Christmas "star" decoration activity....a lovely day.
Round of applause and congratulations to our local 2018 Eco Heroes - our very own Avalon Boomerang Bag volunteer Row Handley, and Manly Boomerang Bag coordinator Jude Furniss. Both of these incredible women are part of many environmental groups making a huge impact in the local community and for the conservation of the environment particularly our oceans and waters ways. Thank you both and our best wishes for your projects in 2019 and beyond.
Got time to sew over the holidays

- need fabric ????
___________________________________________________________________________________________________________
Important Community Event: 3D Seismic Testing Planned For Australia's East Coast
January 30, 2019: From Living Ocean
The Federal Government have given approval for intense 3D seismic testing along the East Coast approximately from Newcastle to Woy Woy. This 500 sq.km PEP11 site, a very short distance from Sydney's Northern Beaches, is in the direct migratory path of the Humpback whales Megaptera novaeanglia, and home to dolphins, turtles and a myriad of marine life.
Science-based evidence shows that ocean noise, such as sonar and seismic testing, has potentially wide ranging and devastating impacts on whales, dolphins and many, as yet not studied forms of marine life.
To raise awareness in our community of the proposed testing and its potential impact, Northern Beaches ocean-based conservation group, Living Ocean, have partnered with Newcastle group 'Save Our Coast'. Together they are hosting a screening of the award-winning documentary, 'Sonic Sea', followed by a discussion with a panel of subject matter experts to allow the public to learn more. Experts including economist, Matt Koch and marine biologist, Libby Eyre and more, will be on hand to answer questions. The moderator is Rowan Hanley - Northern Beaches Council Eco Awards winner 2018.
This will take place on Wednesday 13 February at 7pm at Avalon Beach Cinema, 2107. Tickets are free but are limited and must be pre booked here: https://bit.ly/2RUzeNq
Living Ocean is an ocean-based conservation group on Sydney's Northern Beaches promoting awareness of human impact on the ocean through research, education and community action. The group develops and nurtures close and important partnerships with schools, marine scientists, independent corporations and government agencies.
Its whale research program builds on research that has been conducted off Sydney's Northern Beaches by experts over many years and its Centre for Marine Studies enables students and others to become directly involved. Additionally, Living Ocean raises funds for other vital ocean conservation groups. Living Ocean successfully lobbied NOPSEMA to postpone initial 2D testing in 2017 set to occur in the middle of the southern Humpback migration period.
Save Our Coast is a Newcastle-based not-for-profit community, dedicated to protecting marine animals and the coastal ecosystem. They aim to educate, inspire and empower the community to revere and care for our coastal environment.
The event, which is supported by The Boathouse and Le Pont Wine Store, will include live music, art and will conclude with an after dark light show.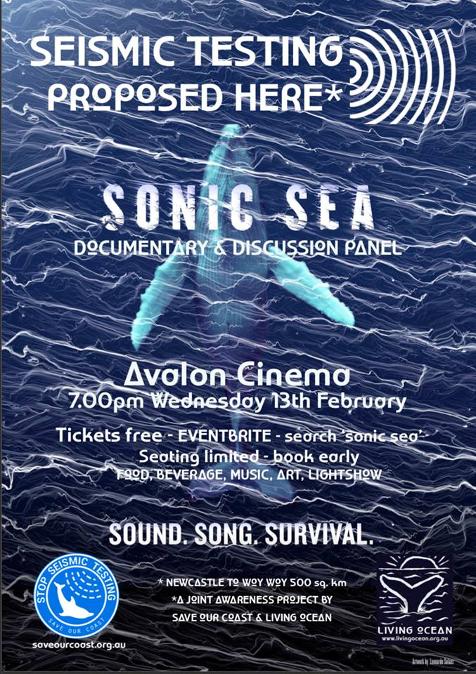 Abrahams Calls For Unified Political Opposition To Oil And Gas Rigs Off Our Coast
The Independent candidate for Robertson and local businessman, David Abrahams, today called for an end to all oil and gas exploration off the beaches of the Central Coast.
In an unusual development, Abrahams called on all parties for joint political action to stop further exploration for oil and gas and the revocation of the Federal Government's Petroleum Exploration Permit 11 [PEP 11].
Mr Abrahams said, "No-one wants ruined fishing grounds and oily beaches, no-one wants oil-soaked pelicans, no-one wants a ruined surfing environment, no-one wants dead whales and dolphins on our conscience".
Mr Abrahams asked, "If none of us want these horrors, why not join together and show the Central Coast community that politicians can work together for the community and need not always be at each others' throats competing, fighting, scoring cheap points."
Mr Abrahams argued, "I would like to see a joint deputation to the Prime Minister, comprising Lucy Wicks [Liberal], Ann Charlton [Labor], Cath Connor [Greens] and myself [Independent]."
"The reasons for trashing PEP 11 are obvious", said Mr Abrahams. " First, the history of oil exploration is littered with accidents that ruin environments for decades. Second, Big Oil is a big contributor to perilous Global Warming and Australia needs to stop being the international pariah and start being a future orientated smart nation that leads, not follows. Third, the Federal Committee overseeing the licence conditions NOPSEMA is deliberately preventing Central Coast residents' views being taken into account by not holding any community consultations on the Central Coast. Instead holding briefings in difficult to access locations both in Newcastle and Sydney."
Mr Abrahams said, "The Central Coast has much to lose with oil rigs dotted along our beaches and coast. PEP 11 is a bad plan. I suggest a good plan … a rare and unified political unity in defence of Central Coast interests would be a powerful act of community-based concern. Let's do it."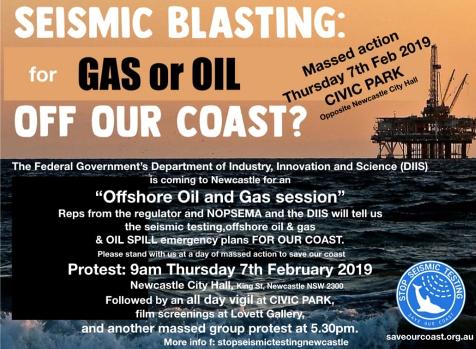 Upper Hunter Coal Mine Recommendation Shows The Urgent Need For Farmland Exclusions
January 31, 2019: Media Release - Lock the Gate
The recommendation, if approved by the Independent Planning Commission, would mean the Dartbrook coal mine would be reopened, extending mining into the Upper Hunter Shire and under land mapped as strategic agricultural land.
Lock the Gate Alliance spokesperson Georgina Woods said the recommendation was in direct contrast with what the local council and landholders wanted, and demonstrated the failure of planning law to achieve balance in the Hunter.
"The Hunter Valley has already lost considerable good quality farmland to coal mining. Upper Hunter Shire has so far remained relatively unscathed, but there are fears this proposal is the thin end of a fat wedge of coal mining pushing into the Shire.
"Our planning laws are frankly not up to the task and we need to make the strategic farmland of the region off-limits to coal mining once and for all."
Ms Woods said mining had ceased on the Dartbrook site in 2006, but the modification would allow the company, Australian Pacific Coal, to undertake new "bord and pillar mining."
"The community sees this as a stalking horse for an open cut mine, which the company has previously said it wants. There's nothing in the law that would prevent this site and the farmland that surrounds it from being open cut." she said.
"Lock the Gate Alliance stands with the residents of Aberdeen and the Hunter Valley who want farmland to be off-limits to open cut coal mining."
Extreme Weather And Geopolitics Major Drivers Of Increasing 'Food Shocks'
January 28, 2019: University of Tasmania
Global food production is suffering from an increasing number of 'food shocks,' with most caused by extreme weather and geopolitical crises. An international study looked at the incidence of land and marine food shocks -- sudden losses in food production -- between 1961 and 2013.
The research, published in the journal Nature Sustainability, identified 226 food production shocks across 134 nations over the 53-year period, noting an increasing frequency of shocks across all sectors on a global scale.
Lead author Richard Cottrell said extreme weather was a major cause of shocks to crops and livestock, highlighting the vulnerability of food production to climate and weather volatility.
"In recent decades we have become increasingly familiar with images in the media of disasters such as drought and famine around the world," Mr Cottrell said.
"Our study confirms that food production shocks have become more frequent, posing a growing danger to global food production.
"We looked at the full range of global food production systems, covering crops, livestock, fisheries and aquaculture
"We found that crops and livestock are slightly more shock-prone than fisheries and aquaculture, and some regions, such as South Asia, are more frequently affected than others.
"While the number of food shocks fluctuates from year to year, the long-term trend shows they are happening more often."
Mr Cottrell said the increasing frequency of food shocks gave people and communities less recovery time between events and eroded their resilience.
"Reduced recovery time hinders coping strategies such as accumulating food or assets for use during times of hardship.
"Combined with adverse climate conditions, conflict related shocks to food production across sub-Saharan Africa and the Middle East have led to a rise in global hunger since 2010.
"Land-based crop and livestock production are particularly vulnerable to extreme weather events such as drought, which are expected to become more frequent and intense with climate change.
"However, marine-based food production is not immune from shocks.
"Overfishing was responsible for 45 per cent of shocks detected in landing data, while disruptions to aquaculture production have risen faster and to a higher level than any other sector since the 1980s.
"Globalised trade and the dependence of many countries on food imports mean that food shocks are a global problem, and the international community faces a significant challenge to build resilience.
"This can be done through measures such as investing in climate-smart food systems, and building food reserves in import-dependent nations so they are better able to deal with the impact of disruption caused by problems such as climate change," Mr Cottrell said.
Richard S. Cottrell, Kirsty L. Nash, Benjamin S. Halpern, Tomas A. Remenyi, Stuart P. Corney, Aysha Fleming, Elizabeth A. Fulton, Sara Hornborg, Alexandra Johne, Reg A. Watson, Julia L. Blanchard.
Food production shocks across land and sea.
Nature Sustainability, 2019; DOI:
10.1038/s41893-018-0210-1
Friends Of Narrabeen Lagoon Catchment February 2019 Forum
Coastal Environment Centre, Pelican Path,
Lake Park Road, Narrabeen
Possums, Gliders and Fauna Surveys
Jayden Walsh and Brad Law will shine a light on the behaviour of our native animals — particularly possums (including the endangered pygmy possum) and gliders.
Brad Law, who is an expert on Eastern Pygmy Possums, will also give some insights about local fauna surveys.
Make sure you put February 25 in your diary and , so that you don't miss out, book your ticket early by emailing Judith Bennett at -
email@narrabeenlagoon.org.au
Belrose area
- Thursday mornings
Belrose area
- Weekend mornings
Contact: Conny Harris 0432 643 295
Wheeler Creek
- Wed mornings 9-11am
Contact: Judith Bennett 0402 974 105
Council Issues Warning To Beware Of Suspect Tree Operators
Northern Beaches Council is warning the community to be wary of unscrupulous tree lopping operators who flout the law, making residents liable for thousands of dollars of fines for their illegal works.
Ray Brownlee said
Council is aware of rogue tree tradesman currently door knocking in Avalon and offering to cheaply remove or trim large trees without Council permission.
This follows a spate of similar incidents at around the same time last year.
"Our community is passionate about trees and at Council we are committed to protecting as much of our tree canopy as possible," Mr Brownlee said.
"
Most trees over 5m high are protected and residents need Council approval to prune more than ten percent of the tree or remove it.
This ensures we maintain the green environment that is so valued by our community.
"Without consent to prune or remove the trees, residents can attract thousands of dollars in fines.
"If in doubt, residents should contact Council to ensure they, or those they contract, are working within the law."
Mr Brownlee said that
a good tree operator will be knowledgeable about what is permitted, be appropriately insured and qualified to undertake the work.
"If an operator can't demonstrate they meet these requirements, residents should think twice about employing them to do the job in case they ended up being liable for their illegal activities.
"If the work is illegal, then that leaves the property owner at risk of being fined because the contractors have usually left with no traceable contact information," Mr Brownlee said.
Property owners who are approached by contractors should contact Council first, to check that the work complies with Council's tree controls or visit our website. Residents can also contact NSW Fair Trading on 13 32 20.
Visit: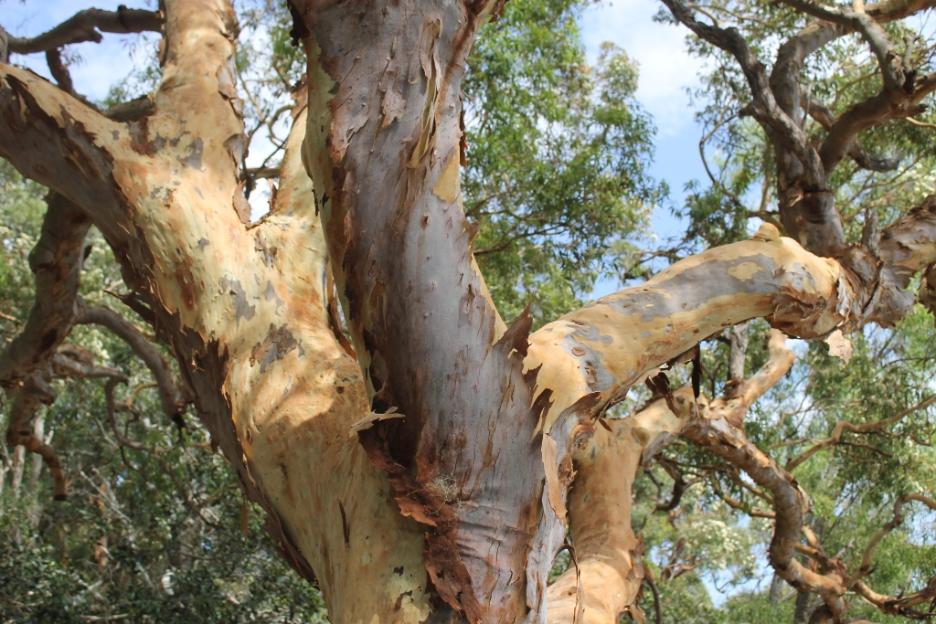 Long Reef Guided Reef Walks
Please find below the 2017 – 2018 timetable for guided walks of Long Reef Aquatic Reserve.
If you'd like to join us on a walk please contact me a couple of weeks before the walk date to make a booking. FREE GUIDED WALKS of Long Reef Aquatic Reserve with NSW Department of Industry & Investment Fishcare Volunteers will be held on the following date:
Dates for 2019
Sunday 6 January 2019 3:00pm – 5:00pm
Sunday 20 January 2019 2:00pm – 4:00pm
Sunday 17 February 2019 1:00pm – 3:00pm
Sunday 17 March 2019 11:30am – 1:30pm
Sunday 7 April 2019 2:30pm – 4:30pm
Walks are held subject to weather conditions
Bookings are preferred.
Please email Wendy to book:
Blair Refuses To Meet Conservation Groups On Darling River Health
January 31, 2019: NSW Conservation Council
NSW Fisheries Minister Niall Blair has refused to meet two of the state's peak environment groups to discuss the health of the Darling River after it suffered two of the biggest fish kills in the state's history.
"Mr Blair's refusal to meet is a slap in the face for the many thousands of people who care deeply about keeping the Darling River and its wetlands alive," Nature Conservation Council CEO Kate Smolski said.
"We want to talk to Mr Blair about the efficient and ecologically sustainable management of the Murray-Darling River system."
The Nature Conservation Council and the Inland Rivers Network represent almost 200 conservation organisations and thousands of members and have valuable perspectives on the management of inland rivers and their ecology.
The groups wrote to Mr Blair on January 17 requesting an urgent meeting in the wake of the first major fish kill in Menindee Lakes earlier this month.
"The NSW Government has done many things that have undermined efforts to restore the system to health and contributed to the devastating fish kills of the past few weeks," Inland Rivers Network spokesperson Bev Smiles said.
"Mr Blair is Minister for Regional Water and Fisheries. He has very important responsibilities in managing our inland river systems so they don't have the ecological catastrophes we are currently facing."
In particular, the groups wanted to speak to Mr Blair about:
Environmental water.

Inadequate protection of held environmental water especially in sub-catchments of the Upper Darling River. Current Water Sharing Plans on exhibition for public comment, as part of the Water Resource Plan consultation, have no rules to protect publicly owned environmental water from extraction.

Drought of record.

Water allocation decisions that are currently based on worst inflow records prior to 2004. This has resulted in over allocation of water resources in inland NSW causing water shortages in this current severe drought.

Flood plain harvesting.

The continued failure of government agencies to fully quantify and assess the environmental impact of floodplain water harvesting as part of the Healthy Floodplains Project.

NSW SDL adjustment projects.

The lack of substantial business cases for NSW Sustainable Diversion Limit adjustment mechanism projects (supply measure projects).
Big Miners Dig Deep For Political Parties Donations Registrar Shows
February 1, 2019: Media Release - Lock the Gate
Among the mining and gas companies who dug deep was Adani, which donated a total of $35,000 to the Liberal Party of the ACT, and $15,000 to Pauline Hanson's One Nation Party.
Other major resource donors included Origin and Santos, who donated $110,000 and $182,000 respectively to the Liberal, National, and Labor parties.
Meanwhile, Whitehaven donated $35,000 to the Federal Liberal Party, Glencore donated $20,000 to Katter's Australian Party, and the Minerals Council of Australia donated a total of $94,000 in total to the Liberal, National, and Labor parties.
Lock the Gate spokesperson Georgina Woods said mining companies were getting away with damaging communities while handing out tens of thousands of dollars to political parties that were meant to represent the people living in those communities.
She said it was even more insulting because many of those companies that made large donations did not pay a single dollar in tax.
"Santos and Origin paid no corporate tax despite making large income from harming land and water with their activities. They paid no tax, and yet make these political donations, short-changing the public both times," she said.
"Coal companies Adani and Whitehaven also paid nothing, while Glencore paid a minuscule amount of just $1,000 on an income of more than $1.5 billion.
"These companies have the cash to splash to keep politicians in their thrall.
"The system is clearly broken when big mining can make these massive donations while destroying communities, land and water across the country."
These Two Koalas Lost Their Mothers To Deforestation
I call on you to urgently end the deforestation and land-clearing crisis by making potential koala habitat, threatened species habitat, and other high-conservation-value areas off limits to clearing, and by repealing the land-clearing codes.
I also urge you to invest in a restoration and conservation fund and deliver the world-class mapping, monitoring, and reporting the community expects.
Smart Energy Conference & Exhibition 2019
Starts: 8:30am Tuesday, 2 April 2019
Ends: 5:30pm Wednesday, 3 April 2019
Location:
International Convention Centre Sydney
14 Darling Drive,
Darling Harbour, New South Wales 2000
Australia
The Smart Energy Conference and Exhibition is one of Australia's biggest solar, storage and smart energy conference and exhibition.
Powered by the
Smart Energy Council
– incorporating the Australian Solar Council and Energy Storage Council, this is our 57th annual FREE-TO-ATTEND conference and exhibition.
TOP REASONS TO ATTEND
Over 6,000 delegates, 120 exhibitors and partners

A showcase of the latest technology, demonstration of new business models and innovation

Outstanding knowledge sharing and networking

3 Conference and information sessions with over 100 presenters

CPD points for installers

Plastic In Britain's Seals, Dolphins And Whales
Microplastics have been found in the guts of every marine mammal examined in a new study of animals washed up on Britain's shores.
Researchers from the University of Exeter and Plymouth Marine Laboratory (PML) examined 50 animals from 10 species of dolphins, seals and whales -- and found microplastics (less than 5mm) in them all.
Most of the particles (84%) were synthetic fibres -- which can come from sources including clothes, fishing nets and toothbrushes -- while the rest were fragments, whose possible sources include food packaging and plastic bottles.
"It's shocking -- but not surprising -- that every animal had ingested microplastics," said lead author Sarah Nelms, of the University of Exeter and PML.
"The number of particles in each animal was relatively low (average of 5.5 particles per animal), suggesting they eventually pass through the digestive system, or are regurgitated.
"We don't yet know what effects the microplastics, or the chemicals on and in them, might have on marine mammals.
"More research is needed to better understand the potential impacts on animal health."
Though the animals in the study died of a variety of causes, those that died due to infectious diseases had a slightly higher number of particles than those that died of injuries or other causes.
"We can't draw any firm conclusions on the potential biological significance of this observation," said Professor Brendan Godley, of the Centre for Ecology and Conservation on the University of Exeter's Penryn Campus in Cornwall.
"We are at the very early stages of understanding this ubiquitous pollutant.
"We now have a benchmark that future studies can be compared with.
"Marine mammals are ideal sentinels of our impacts on the marine environment, as they are generally long lived and many feed high up in the food chain. Our findings are not good news."
Dr Penelope Lindeque, Head of the Marine Plastics research group at Plymouth Marine Laboratory, said: "It is disconcerting that we have found microplastic in the gut of every single animal we have investigated in this study.
"Indeed, from our work over the years we have found microplastic in nearly all the species of marine animals we have looked at; from tiny zooplankton at the base of the marine food web to fish larvae, turtles and now dolphins, seals and whales.
"We don't yet know the effects of these particles on marine mammals. Their small size means they may easily be expelled, but while microplastics are unlikely to be the main threat to these species, we are still concerned by the impact of the bacteria, viruses and contaminants carried on the plastic.
"This study provides more evidence that we all need to help reduce the amount of plastic waste released to our seas and maintain clean, healthy and productive oceans for future generations."
In total, 26 species of marine mammal are known to inhabit or pass through British waters.
The species in this study were: Atlantic white-sided dolphin, bottlenose dolphin, common dolphin, grey seal, harbour porpoise, harbour seal, pygmy sperm whale, Risso's dolphin, striped dolphin and white-beaked dolphin.
The study, supported by Greenpeace Research Laboratories, used samples provided by the Scottish Marine Animal Stranding Scheme (SMASS), Cornwall Wildlife Trust's Marine Stranding's Network and ZSL's (Zoological Society of London) Cetacean Strandings Investigation Programme (CSIP).
S. E. Nelms, J. Barnett, A. Brownlow, N. J. Davison, R. Deaville, T. S. Galloway, P. K. Lindeque, D. Santillo, B. J. Godley.
Microplastics in marine mammals stranded around the British coast: ubiquitous but transitory?
Scientific Reports, 2019; 9 (1) DOI:
10.1038/s41598-018-37428-3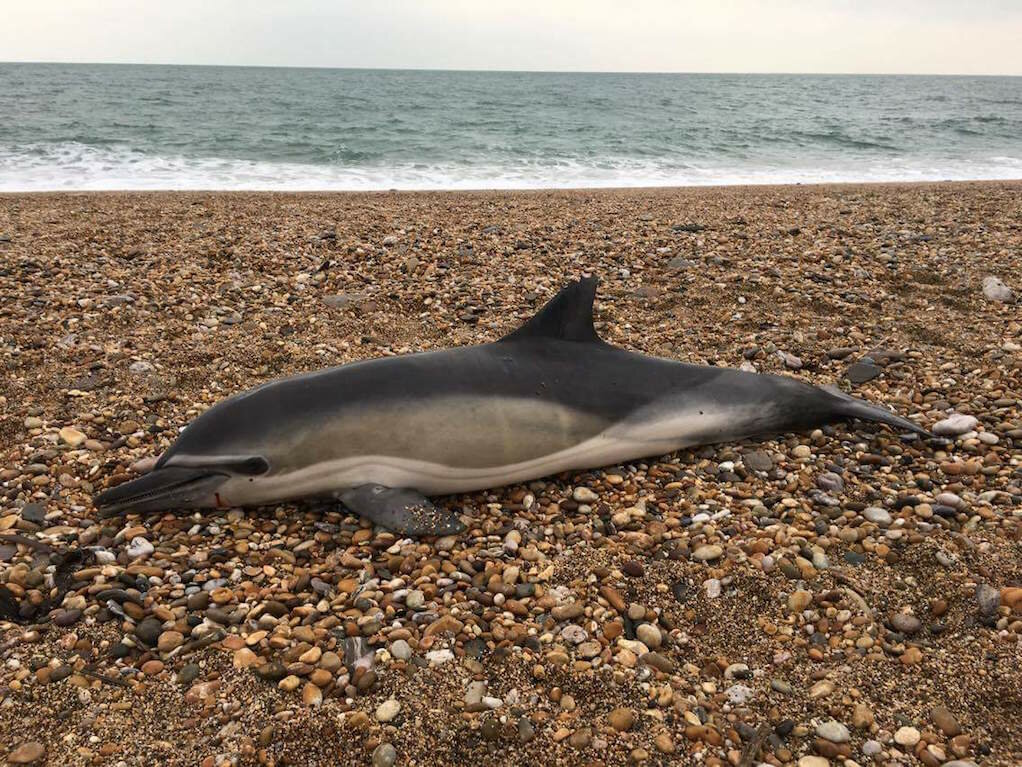 Common dolphin washed up on a beach. Credit: Frazer Hodgkins & CSIP
Earth's Largest Extinction Event Likely Took Plants First
Little life could endure the Earth-spanning cataclysm known as the Great Dying, but plants may have suffered its wrath long before many animal counterparts, says new research led by the University of Nebraska-Lincoln.
About 252 million years ago, with the planet's continental crust mashed into the supercontinent called Pangaea, volcanoes in modern-day Siberia began erupting. Spewing carbon and methane into the atmosphere for roughly 2 million years, the eruption helped extinguish about 96 percent of oceanic life and 70 percent of land-based vertebrates -- the largest extinction event in Earth's history.
Yet the new study suggests that a byproduct of the eruption -- nickel -- may have driven some Australian plant life to extinction nearly 400,000 years before most marine species perished.
"That's big news," said lead author Christopher Fielding, professor of Earth and atmospheric sciences. "People have hinted at that, but nobody's previously pinned it down. Now we have a timeline."
The researchers reached the conclusion by studying fossilized pollen, the chemical composition and age of rock, and the layering of sediment on the southeastern cliffsides of Australia. There they discovered surprisingly high concentrations of nickel in the Sydney Basin's mud-rock -- surprising because there are no local sources of the element.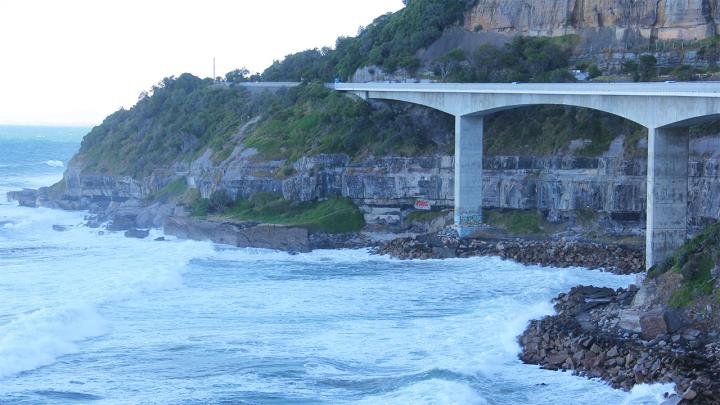 This is a view of Coalcliff in New South Wales, Australia, where researchers discovered evidence that Earth's largest extinction may have extinguished plant life nearly 400,000 years before marine animal species disappeared.
Credit: Christopher Fielding
Tracy Frank, professor and chair of Earth and atmospheric sciences, said the finding points to the eruption of lava through nickel deposits in Siberia. That volcanism could have converted the nickel into an aerosol that drifted thousands of miles southward before descending on, and poisoning, much of the plant life there. Similar spikes in nickel have been recorded in other parts of the world, she said.
"So it was a combination of circumstances," Fielding said. "And that's a recurring theme through all five of the major mass extinctions in Earth's history."
If true, the phenomenon may have triggered a series of others: herbivores dying from the lack of plants, carnivores dying from a lack of herbivores, and toxic sediment eventually flushing into seas already reeling from rising carbon dioxide, acidification and temperatures.
'It Lets Us See What's Possible'
One of three married couples on the research team, Fielding and Frank also found evidence for another surprise. Much of the previous research into the Great Dying -- often conducted at sites now near the equator -- has unearthed abrupt coloration changes in sediment deposited during that span.
Shifts from grey to red sediment generally indicate that the volcanism's ejection of ash and greenhouse gases altered the world's climate in major ways, the researchers said. Yet that grey-red gradient is much more gradual at the Sydney Basin, Fielding said, suggesting that its distance from the eruption initially helped buffer it against the intense rises in temperature and aridity found elsewhere.
Though the time scale and magnitude of the Great Dying exceeded the planet's current ecological crises, Frank said the emerging similarities -- especially the spikes in greenhouse gases and continuous disappearance of species -- make it a lesson worth studying.
"Looking back at these events in Earth's history is useful because it lets us see what's possible," she said. "How has the Earth's system been perturbed in the past? What happened where? How fast were the changes? It gives us a foundation to work from -- a context for what's happening now."
The researchers detailed their findings in the journal Nature Communications. Fielding and Frank authored the study with Allen Tevyaw, graduate student in geosciences at Nebraska; Stephen McLoughlin, Vivi Vajda and Chris Mays from the Swedish Museum of Natural History; Arne Winguth and Cornelia Winguth from the University of Texas at Arlington; Robert Nicoll of Geoscience Australia; Malcolm Bocking of Bocking Associates; and James Crowley of Boise State University.
The National Science Foundation and the Swedish Research Council funded the team's work.
Christopher R. Fielding, Tracy D. Frank, Stephen McLoughlin, Vivi Vajda, Chris Mays, Allen P. Tevyaw, Arne Winguth, Cornelia Winguth, Robert S. Nicoll, Malcolm Bocking, James L. Crowley.
Age and pattern of the southern high-latitude continental end-Permian extinction constrained by multiproxy analysis
. Nature Communications, 2019; 10 (1) DOI:
10.1038/s41467-018-07934-z
Australia Post To Operate Nation's Largest Electric Vehicle Fleet
February 1st, 2019: Australia Post
A new order for an additional 1,000 three-wheeled electric delivery vehicles (eDVs), by Australia Post, is set to make it the nation's largest electric vehicle fleet operator.
Australia Post Group Chief Operating Officer, Bob Black, said the 1,000 eDVs boost its existing fleet of electric postie vehicles – including electric pushbikes – and creates a range of benefits for posties, customers and the environment.
"We are proud to soon be operating Australia's largest fleet of electric vehicles, and hope this will set the standard across Australia," Mr Black said.
"With parcel volumes growing – on average, close to 10 per cent each year for the last three years – and letter volumes declining, we're always looking for ways to ensure our posties continue to play an important and sustainable role in the community.
"These vehicles offer additional carrying capacity, so our posties can deliver more parcels than ever before directly to the customer's door – and can perform additional functions, such as collecting mail from street posting boxes."
Along with delivery benefits, Mr Black said the electric vehicles also offer added safety and environmental protections.
"The eDVs are safer than the traditional motorcycle. They are easier to see on the road, more stable, have increased rider protection and lower on-road speeds, all of which reduce a postie's exposure to incidents and serious accidents.
"We started trialling eDVs in 2017 and we've since deployed them in all states. We have worked closely with our posties to make improvements along the way.
"Our posties love the eDVs because they demonstrate our commitment to providing safer and more sustainable employment into the future, given consumers are sending fewer letters and relying more and more on their postie to deliver their parcels.
"They will also help us achieve our commitment of reducing our carbon emissions by 25 per cent by 2020."
Deployment of the additional 1,000 vehicles is expected to start from June across all states.
Along with the additional 1,000 eDVs Australia Post will also roll out an additional 4,000 electric pushbikes, bringing its total to 5,980 over the next three years.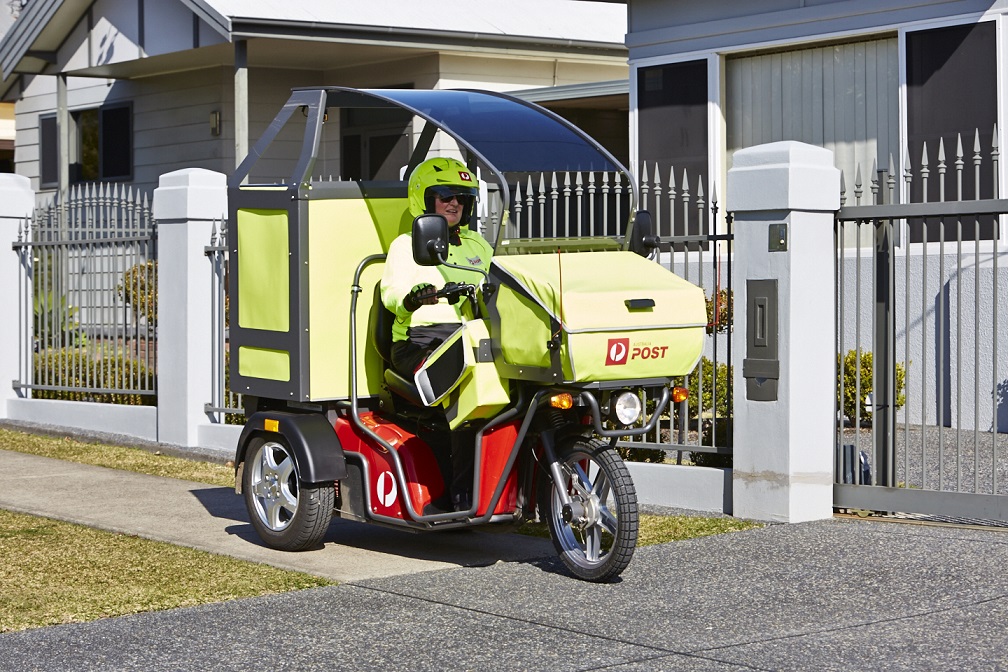 Climate Change And Infertility - A Ticking Time Bomb?
Rising temperatures could make some species sterile and see them succumb to the effects of climate change earlier than currently thought, scientists at the University of Liverpool warn.
"There is a risk that we are underestimating the impact of climate change on species survival because we have focused on the temperatures that are lethal to organisms, rather than the temperatures at which organisms can no longer breed," explains evolutionary biologist Dr Tom Price from the University's Institute of Integrative Biology.
Currently, biologists and conservationists are trying to predict where species will be lost due to climate change, so they can build suitable reserves in the locations they will eventually need to move to. However, most of the data on when temperature will prevent species surviving in an area is based on the 'critical thermal limit' or CTL -- the temperature at which they collapse, stop moving or die.
In a new opinion article published in Trends in Ecology and Evolution, the researchers highlight that extensive data from a wide variety of plants and animals suggests that organisms lose fertility at lower temperatures than their CTL.
Certain groups are thought to be most vulnerable to climate-induced fertility loss, including cold-blooded animals and aquatic species. "Currently the information we have suggests this will be a serious issue for many organisms. But which ones are most at risk? Are fertility losses going to be enough to wipe out populations, or can just a few fertile individuals keep populations going? At the moment, we just don't know. We need more data," says Dr Price.
To help address this, the researchers propose another measure of how organisms function at extreme temperatures that focuses on fertility, which they have called the Thermal Fertility Limit or 'TFL'.
"We think that if biologists study TFLs as well as CTLs then we will be able to work out whether fertility losses due to climate change are something to worry about, which organisms are particularly vulnerable to these thermal fertility losses, and how to design conservation programmes that will allow species to survive our changing climate.
"We need researchers across the world, working in very different systems, from fish, to coral, to flowers, to mammals and flies, to find a way to measure how temperature impacts fertility in that organism and compare it to estimates of the temperature at which they die or stop functioning," urges Dr Price.
The work was carried out in collaboration with scientists from the University of Leeds, University of Melbourne and Stockholm University and was funded by the UK Natural Environment Research Council (NERC).
Benjamin S. Walsh, Steven R. Parratt, Ary A. Hoffmann, David Atkinson, Rhonda R. Snook, Amanda Bretman, Tom A.R. Price.
The Impact of Climate Change on Fertility.
Trends in Ecology & Evolution, 2019; DOI:
10.1016/j.tree.2018.12.002