October 29 - November 4, 2023: Issue 603
Patyegarang (Lizard Rock) Planning Proposal Open For Submissions, Again: A Fait Accompli Process?
Feedback closes November 7
Wombat in Belrose, February 2022. Video supplied. Video maker lives on Morgan Road
Submissions are now open, again, for the Lizard Rock now called the 'Patyegarang Planning Proposal' to clear 126 acres of bushland and build 450 dwellings, a proposal that keeps getting progressed, despite a Biodiversity Development Assessment Report that doesn't list the known inhabitant wombat or the endangered Angus Onion Orchid, Microtis angusi found by residents on the site, but is aware koalas, listed as endangered, and the Heath Monitor, also known as Rosenberg's Goanna, Varanus rosenbergi, currently listed as vulnerable in New South Wales, have been seen here.
The Preliminary Biodiversity Development Assessment Report, July 2023 version, states 'There is no change to the structure plan or to the biodiversity assessment results.' from the initial document lodged, and still finds all vegetation across the subject land are classed as being in good or intact condition; intact Heath, intact Woodland and intact Forest.
The amount of 'offsets' required to raze this land and kill all the wildlife thereby that lives in and on it, such as the Eastern pygmy Possum, amounts to thousands of required 'credits to be retired'. The BAM Biodiversity Credit Report (Like for like) lists Pittwater, Cumberland, Sydney Cataract, Wyong and Yengo or any IBRA subregion that is within 100 kilometres of the outer edge of the impacted site[Interim Biogeographic Regionalisation for Australia].
However, in missing the endangered Angus's Onion Orchids that grow here, that occurs on soils in the restricted ridgetop lateritic soils in the Duffys Forest - Terrey Hills - Ingleside and Belrose areas - the 'like for like' may be difficult. These soils support a specific and distinct vegetation type, the Duffys Forest Vegetation Community, which is listed as an endangered ecological community under the TSC Act and ranges from open forest to low open forest and woodland; intact Heath, intact Woodland and intact Forest..
With the name change to 'Patyegarang' in early September 2023 speculation that the Metropolitan Local Aboriginal Land Council (MLALC) had partnered with a development company began to circulate in the community.
Pittwater Online enquired from MLALC CEO Nathan Moran whether that was the case, whether any money had been exchanged, and whether Expressions of Interest were being sought from companies with the capacity to build the 450 dwellings proposed for the 70 hectare/175 acres bushland site.
Mr. Moran had previously emailed the news service requesting that the MLALC be contacted and included for any future reports on the Belrose bushland proposal after the Unbroken Songlines update.
However, the Metropolitan Local Aboriginal Land Council CEO declined to comment and referred all enquiries to their development website.
The naming of projects often precedes the passing of development plans. In recent years residents have seen development websites for blocks of units in the back streets of Newport long before DA approval was granted, with plans and diagrams of what the proposal will look like freely available on those websites easily being updated when required.
Should that speculation be proved correct it would make any invitation to again provide submissions appear to be a sham process with an outcome already decided before that consultation even commenced on October 27.

However, 'The decision to rename the planning proposal was made to better reflect the cultural significance of the site to the local Aboriginal community.' the NSW Planning Department states on its Patyegarang planning proposal webpage, despite the around 1700 members of the local Aboriginal community who state they are opposed to destruction of this land.
Protected Species Destroyed In Woorarra Reserve Elanora Heights: Habitat Razed By Illegal Bike Track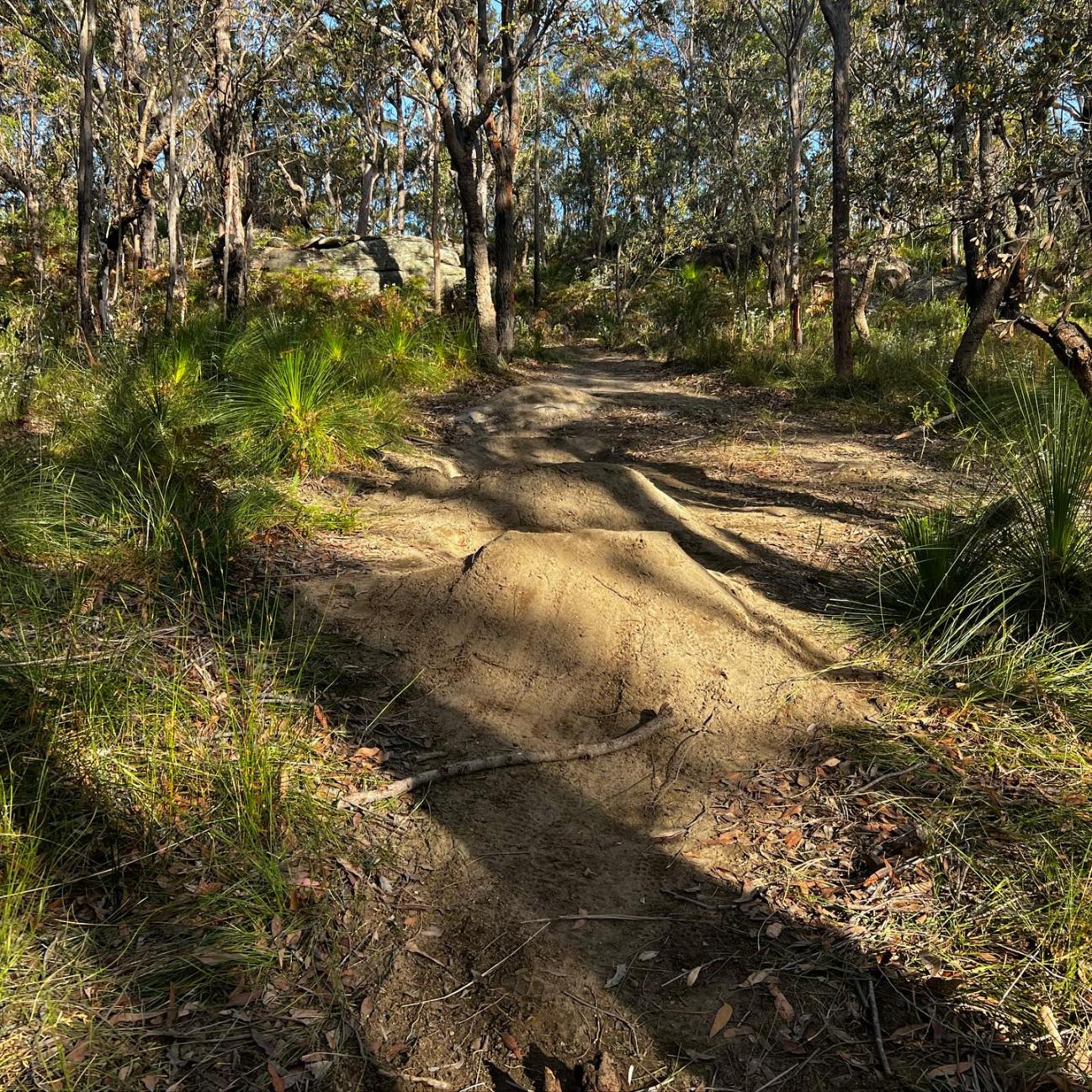 On late Saturday, October 28, 2023 a phone call preceded an email and photos sent in by a resident about a bush reserve, one which hosted rare and engendered plants, being destroyed by an illegal mountain bike track being recently built. This is one of a number of ongoing communications sent in about the destruction of public parks, bushland and reserves by illegal tracks for the benefit of a few and at the exclusion of all else.
Everywhere this occurs serious injury to children soon follows, including hospitalisations, even in places that would seem to be safer - in local parks where illegal tracks have been built and allowed to remain by the Council. The need for helicopter transports and rescues from bushland sets whole suburbs worrying whether if it is their child this time as the sirens and loud blades sound overhead. Even if its not your child this time, distress for the youngster and parents affected follows.
Anti social behaviour and threats to others who try to use the tracks, if installed in a previously public family park for all ages, also follows, with both children and adults being told to stay out of the park as it is now 'their park'. The same threats happen when tracks are built where they destroy bushland or areas that volunteers have spent decades regenerating through bushcare groups. Some parents have joined in the threatening of others - this has occurred at Warriewood, Mona Vale, Newport, Avalon, Narrabeen and Ingleside.
Residents have found both the Police and Council's approach to the addressing this problem, by actually attending a place where people are being threatened with physical harm when requested to show up, or providing obviously needed safer places for the sport that won't destroy or excise public parks or destroy rare and endangered plants and habitat in Council's case, out of step with community expectations and previously in place Council rules and current State laws.
As teenagers have repeatedly stated to Pittwater Online News; 'Bare Creek is too far away - how do we get there?'
In December 2022 all Councillors, except Cr Glanville and Cr Korzy who voted against the proposal, and Cr Regan and Cr Ryburn who were absent, voted for the formalisation of illegally cleared and unauthorised trails at Manly Dam War Memorial Park (Manly Dam), the Mona Vale Downhill mountain bike trail in Ingleside Chase Reserve, at Whitney Park at Mona Vale, Deep Creek at North Narrabeen (known as Mt Narra to mountain bike riders), and in Trafalgar Park at Newport.
Community opposition to this had been expressed, en masse, but was ignored by the Council.
The residents email:
''I would like to draw your urgent attention to illegal clearing and modification of the environment at Woorara Reserve Elanora Heights by mountain bikers clearing and building formal paths and jumps. This is creating permanent and irreparable ecological and environmental damage and impacting the natural environment and public amenity of this truly special ecosystem which is situated on council managed land and abuts Deep Creek reserve.
Their actions include clearing, cutting and removal and destruction of plants, ground work such as digging and moving large volumes of dirt to form banks, jumps and wider paths, drilling into sandstone rocks to modify the shape of them, moving rocks to make ramps, regular trimming of paths. A consequence of this is severe erosion in sections, habitat and species loss.
In March this year I decided to survey and identify the native terrestrial orchids in Woorarra Reserve. I had noticed 3 species at that point. I have discovered that there is a remarkable variety of orchids, and large populations, in close proximity, and a relatively and unusually small area that I have seen in no other location in the LGA, or NSW.
Orchids are at particular risk of climate and environmental change, illegal clearing, and illegal collection. Our local orchid community keeps this location a tight secret.
In the last 8 months I have seen the species below. I still have 4 more months to go!
Acianthus pusillus
Acianthus exsertus
Acianthus fornicatus
Arthrochilus prolixus (only 2 known locations in LGA, this is the larger population and had been disturbed by the actions of the bikers
Caladenia alata had been disturbed by the actions of the bikers
Caladenia carnea had been disturbed by the actions of the bikers
Caladenia Glossodia had been disturbed by the actions of the bikers
Caladenia Major had been disturbed by the actions of the bikers
Caleana Major largest population I have found in LGA outside KCNP
Calochilus paludosis
Calochilus robertsonii
Corunastylis fimbriata
Corybas actinoflorus – at risk from xanthohrea trimming
Cryptostylus erecta - had been disturbed by the actions of the bikers
Cryptostylus subulata - had been disturbed by the actions of the bikers
Possibly Cryptostylus leptochila – waiting to see it open - had been disturbed by the actions of the bikers
Dipodium variegatum - including extremely rare leucitic form had been disturbed by the actions of the bikers in 3 locations
Possibly Dipodium Roseum – waiting to see it open had been disturbed by the actions of the bikers
Possibly Dipodium Punctatum – waiting to see it open had been disturbed by the actions of the bikers
Microtus unifolia – at risk from erosion from bikers digging and widening trails
Pterostylis curta - had been disturbed by the actions of the bikers
Pterostylis pendunculata - had been disturbed by the actions of the bikers
Pterostylis baptistii - had been disturbed by the actions of the bikers
Pterostylis alveataI - had been disturbed by the actions of the bikers
I have not seen, but been told they are there, 4 different Thelymitra – ixiodies, carnea, penticulata, pauciflora.
There are beautiful stands of a number of kinds of xanthorrhoea, and many other plants, some category 3 sensitive.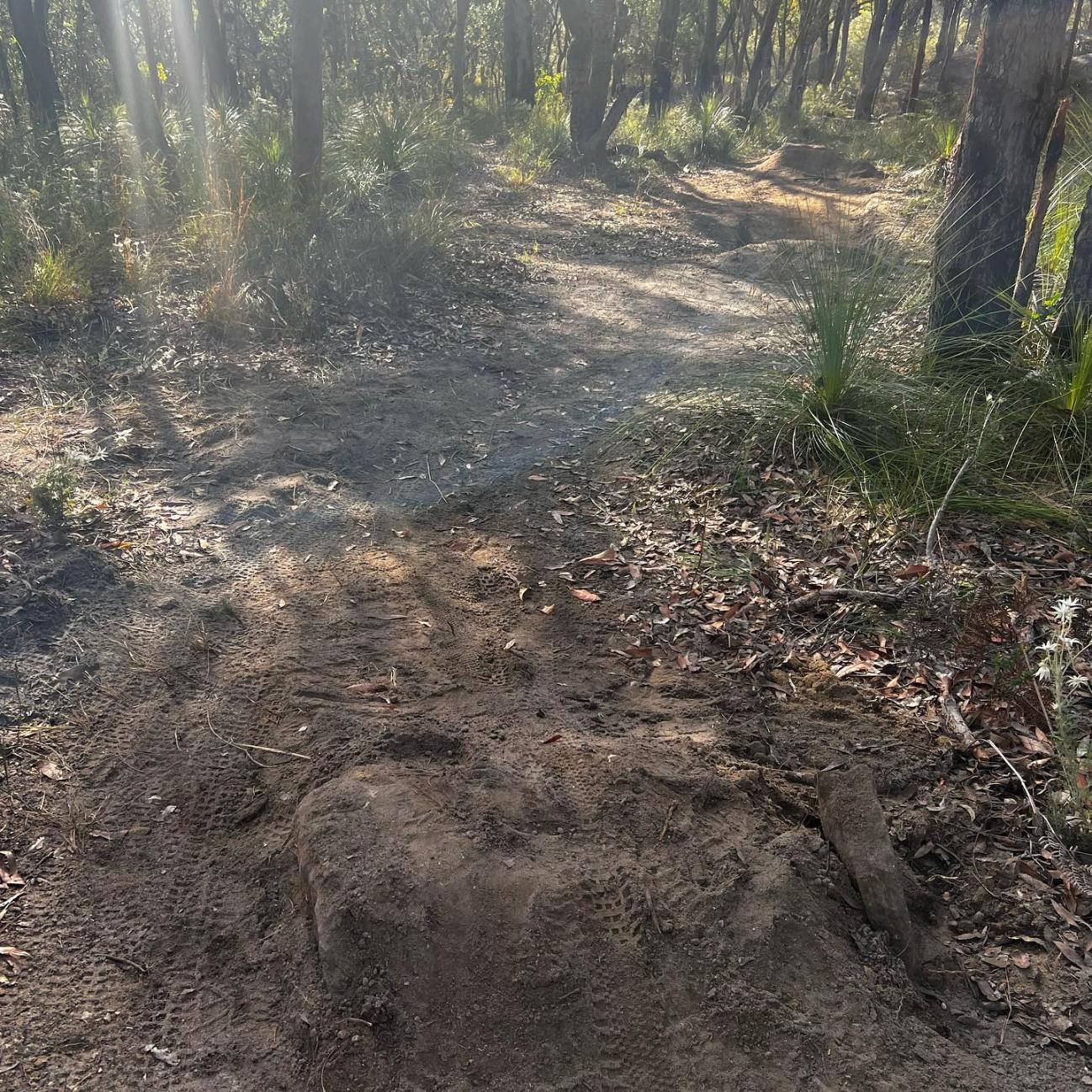 Regional Council's De-Amalgamation Back To Square One Under New Labor Government: Pittwater's Prior Experience Of Secession From Warringah Will Help With The Case To Restore Pittwater Council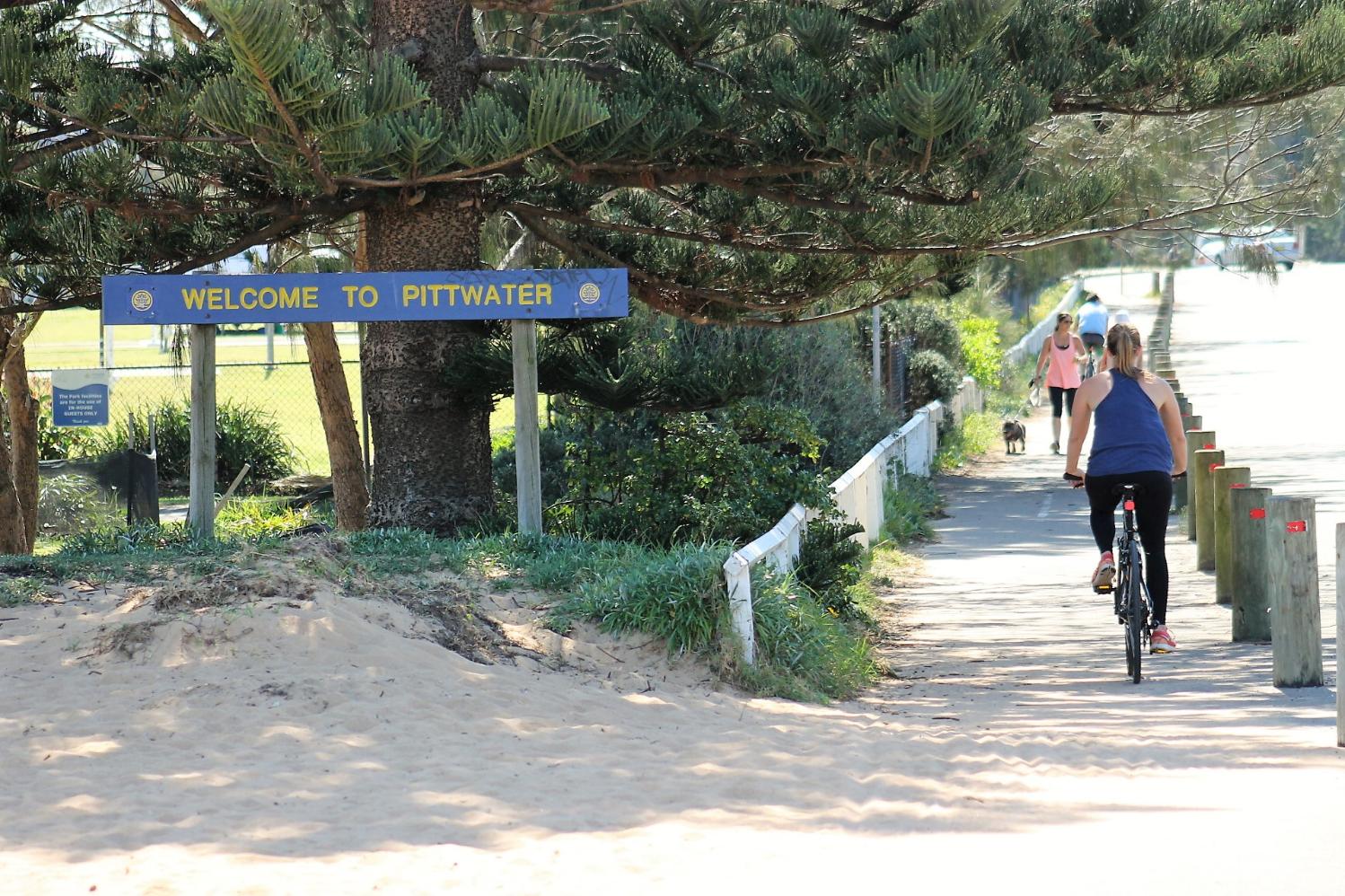 We consider the only future for this area and for the preservation of those ideals and policies for which we stand is to become an independent Shire … the need for this electoral reform has been clearly and sufficiently demonstrated to enable the Government to come to a decision and no longer forestall the issue. Put simply we call upon the Government to put the matter now to the people of A Riding to determine.
Warringah Shire Councillors Robert Dunn and Eric Green, representing A Riding - 1990
Photo: 'Welcome to Pittwater signage at North Narrabeen, where the Pittwater Council LGA commences, in 2013
Residents working to restore the 2016 forcibly amalgamated Pittwater Council have recently been given an insight into what to expect under the new NSW Labor Government.
On Tuesday October 3rd NSW Minister for Local Government Ron Hoenig met with Cootamundra-Gundagai Regional Council (CGRC) to outline a new pathway which, he states, empowers the Council to develop a detailed implementation plan to guide the establishment of two new sustainable local government areas.
The plan must include propositions for:
where the boundaries should be;
electoral matters such as wards, number of councillors and the method of electing Mayor;
division of assets and liabilities;
allocation of staff, as well as management and organisational structures;
rate levels and charges; and
service standards and shared service arrangements.
The plan will then be assessed by a public inquiry led by the Boundaries Commission. This inquiry will determine if independent Cootamundra and Gundagai councils are capable of operating in a financially sustainable way that will provide necessary infrastructure and services to their respective communities.
The announcement effectively reverses what had been announced prior to the last state election
Providing the NSW Government is satisfied that the plan and the public inquiry process provides enough certainty to the local community, CGRC will be dissolved and two new council areas proclaimed.
Minister for Local Government Ron Hoenig stated: "The NSW Government supports the communities in Cootamundra and Gundagai's desire to demerge and frame their own future for local governance.
"The Liberals and Nationals created this problem by forcibly merging two communities with nothing in common. The previous Government knew there were legal issues but it was left to us to find a way through the mess.
"Since coming to office, the Government has made it clear that the demerger framework must support and enhance local democracy while ensuring the practical and financial impacts are fully understood.
"The new approach announced today is a necessary step as I am unable to give legal effect to the former Minister for Local Government's intention under section 218CC of the Local Government Act to demerge the Council.
"This approach recognises Council and the community's desire to demerge and lets the community shape their own destiny in creating their two new councils.
"Any future councils must be sustainable and able to continue to deliver services and infrastructure to their community, now and into the future."
However, Member for Cootamundra, Ms Steph Cooke MP, who had not yet been elected when the previous coalition government forcibly merged councils with vastly different outlooks and practices across the state, attended the announcement, later stating;
''Today, with less than 12 months until Local Government elections, the NSW Local Government Minister came to Cootamundra and blind-sided us all with a significant roadblock on the path to de-amalgamation - he has announced yet another inquiry into the issue.
I am shocked and dismayed. I don't know if the minister has been paying close attention, but newsflash: we have been there and done that!''
"This will be the THIRD time the Boundaries Commission has examined this demerge proposal, which begs the question: how many times will it take for the NSW Labor Government to understand that this is what our local communities overwhelmingly want to see happen?
12 months ago we had a commitment from the previous Coalition Government to demerge the Cootamundra-Gundagai Regional Council, and importantly we had a plan to make it happen.
That decision put in place a road map to facilitate the demerge, and we were well on our way to our destination; it was full speed ahead.
In March this year, that journey came to a grinding halt, and now we have a minister who has taken a disastrously wrong turn, leading us back to where we started.
As it stands, the government is back-flipping on their promise to honour and fund the demerge decision, which were commitments they made to our communities whilst in opposition prior to the election.
NSW Labor has never had this community's back, and that's been well and truly demonstrated today.
We are now back at square one, and the communities of Cootamundra and Gundagai remain in complete limbo, unable to plan for their future.
It has been a tough fight to get to this point, and clearly it's not over, but the people of Cootamundra, Gundagai, and those in all the villages, can be assured they have my full support as we continue the fight to get the outcome our communities want, and more importantly, deserve. ''
Late last week Demerge NSW Alliance (DNA), still reeling from the 'back to square one' announcement, renewed its call for all NSW MPs, but particularly Labor, to support changes to the Local Government Act which make it mandatory for the Minister to act on communities' wishes to deamalgamate forcibly merged councils.
Cootamundra Gundagai Shire Council and the Inner West have already clearly demonstrated that the community is in favour of deamalgamation. Other communities can demonstrate that support for deamalgamation in plebiscites under the Bill.
Glen Moore from Gundagai Council in Exile said:
"The Minister's announcement on 3rd October that there is no statutory pathway for Cootamundra Gundagai to deamalgamate has devastated the community.
"Twelve months after our deamalgamation was approved by the former Coalition government, Labor wants to put the community through an inquiry process for a third time We do not believe that this is required and is unacceptable."
Grantley Ingram, DNA Coordinator, said:
"Labor's policy in opposition was to give communities a say with a plebiscite. It promised legislation to make that happen.
"Now is the time for Labor to do this by giving support to the private members Bill, which has cross bench support.
"It is critical to sort this out in time before the local government elections in September 2024.
"The costs of deamalgamation can be controlled. The Office of Local Government can be asked to produce a standard methodology to demerge. Both are included in the proposed Bill.
"Now is the time to resolve a matter that even the Coalition admits was a major policy failure."
President of Protect Pittwater, Simon Dunn, the community group which has gathered thousands of signatures from Pittwater residents calling for their own council to be restored, stated, ''Contrary to the Minister's statement, we do in Pittwater have experience in recent memory of a secession from Warringah and we have in fact written to Minister Ron Hoeing to seek a meeting to discuss that an appropriate way forward.''
Mr. Dunn, son of first elected Pittwater Mayor Robert Dunn, had already written to the Hon. Ron Hoenig in late September noting that previous amendments to the Local Government Act in relation to deamalgamation do not provide an effective pathway for the residents of the former Pittwater Council area to have their own Council reinstated.
With the next NSW Local Government elections due to be held in September 2024, there is an immediate need for legislation to be passed which will facilitate plebiscites on or before that date. There is also a need to have an appropriate mechanism in place to facilitate the orderly separation of assets and staff between the current amalgamated Council and the Council area to be reinstated.
Share The Spark's Fourth Annual Spark Tank Youth Business Pitch Event Ignites Entrepreneurial Passion And Innovation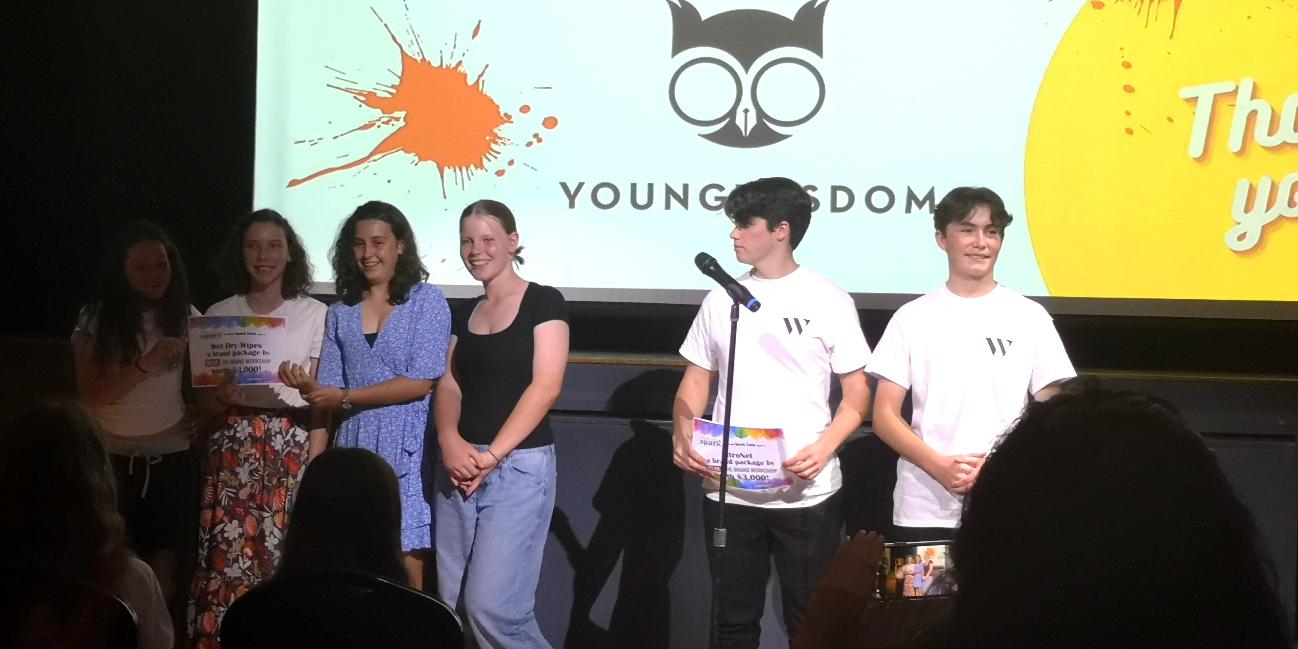 The big winners Wet Dry Wipes and NitroNet. Photo supplied
Share the Spark, a non-profit organisation that empowers young people to make life affirming choices, celebrated another successful year of its Spark Tank youth business pitch event at Pittwater RSL on Saturday October 21. The business pitch event is similar to the TV show Shark Tank® "Just with smaller prizes and much kinder judges", said Kimberly Clouthier, Share the Spark's Founding Director. To participate in the event, each team must include at least one person they know who is going through a hard time. The fourth annual competition drew a full house of supporters, mentors, and young visionaries, showcasing the incredible talent and innovative ideas of the next generation of business leaders.
This year, five exceptional finalist teams, selected from a pool of 37 promising young entrepreneurs, took centre stage to compete for a share of $15,200 in cash and prizes. Additionally, each winning team will receive six months of invaluable business coaching to further develop their innovative concepts and entrepreneurial skills.
The event, opened by MP Dr. Sophie Scamps and held at Pittwater RSL Auditorium, was filled with excitement and anticipation as the finalists presented their business ideas to a panel of successful local entrepreneurs and an enthusiastic capacity crowd. The high-stakes competition featured a diverse range of projects, including sustainability-focused cleaning products, a tech-driven solution that could one day power the world, and social enterprises aimed at making a positive impact on the community.
Young Wisdom partnered with Share the Spark to prep the finalist teams, providing $3,200 in coaching. Their commitment to fostering young entrepreneurship and self-worth shone through in the impressive talent and determination of the finalists. The event not only provided an invaluable platform for these young visionaries to showcase their concepts but also facilitated networking and learning opportunities, connecting them with mentors and potential investors.
The winners of the Share the Spark's Fourth Annual Spark Tank Youth Business Pitch Event are as follows:
1. Watergate Labs – Two brothers, Benjamin (16) and Oliver (18) invented a device that can create electricity from the humidity in the air and displayed their working prototype at the event. They even offered home beta testing to the audience.
Prize: $2,000 cash, a $3,000 branding package, and six months of business coaching
"Our prototype has been tested thoroughly and can already create 190 volts," wrote Benjamin the 16 year old inventor. His in-depth, 42 page scientific report has been submitted to the STANSW Young Scientist Competition.

2. Wet Dry Wipes – Four 12 year old friends, Georgia, Ivy, Giselle and Alice, cleaned up on the night by showing their Wet/Dry wipe prototype to the judges. Reusable with fresh scents and fun emojis!
Prize: $1,250 cash, a $3,000 branding package, and six months of business coaching
3. Disability Support Pillow – Sahara (15) presented for two as her partner Austin (15) was in hospital. She shared their idea for a customisable pillow that offers people who face physical challenges more comfort.
Prize: $1,250 cash and six months of business coaching
4. Soap On The Go – Four 10 year old girls, Willow, Libby, Sadie and Livia, joined up to help us keep clean anywhere with their idea for portable, dissolvable, no-water-needed soap in a convenient tiny dispenser.
Prize: $750 cash and six months of business coaching
5. We Love Dogs Rescue – Cade (12), Oisin (12), and Alexander (12) were inspired by Scarlet, their rescue dog, to develop a central website that matches dogs in pounds to their new potential owners.
Prize: $750 cash and six months of business coaching
Kimberly expressed her enthusiasm for the event's success, saying, "The Spark Tank event is a testament to the incredible potential and creativity of our local youth. Share the Spark is proud to provide the platform, resources, and support that can help them to turn their ideas into reality."
As part of their commitment to empowering youth, Share the Spark and their new mentors will continue to work closely with the winners over the next six months to help them transform their concepts into reality. The organisation looks forward to following the continued growth and success of these young innovators.
For more information about Share the Spark and to follow the progress of their Spark Tank winners, please visit sharethespark.org.au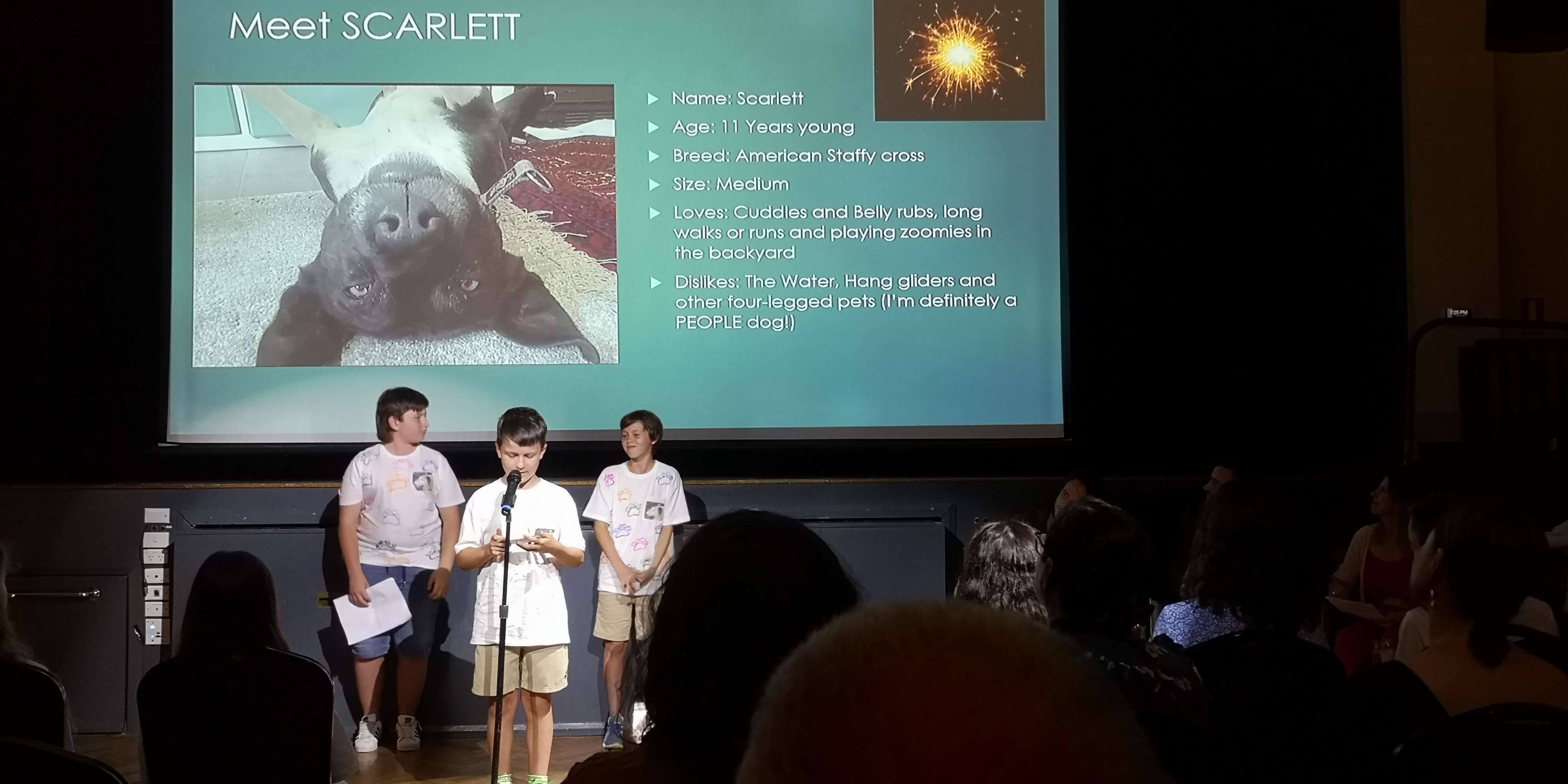 We Love Dogs Rescue presents with their dog Scarlet in background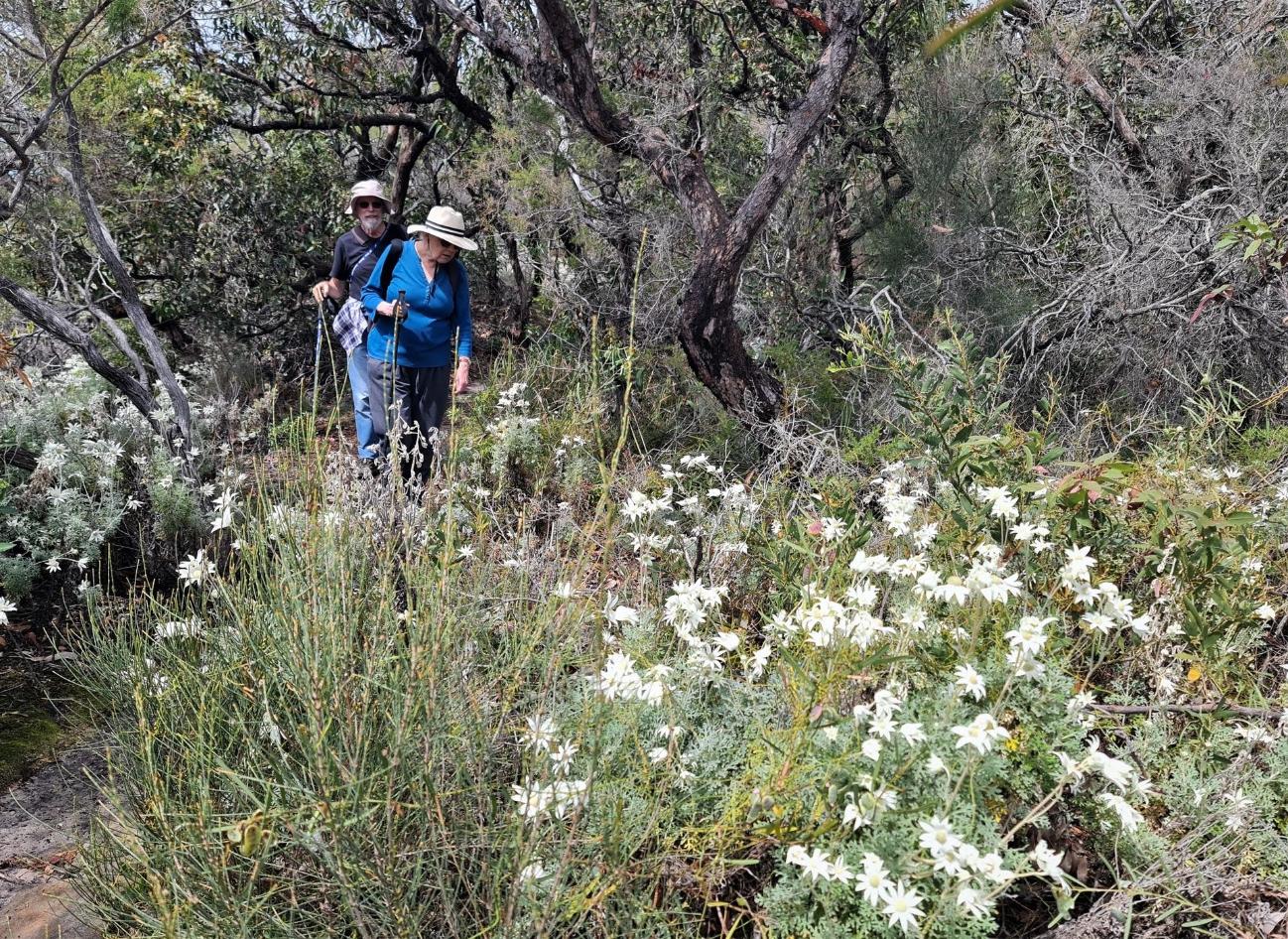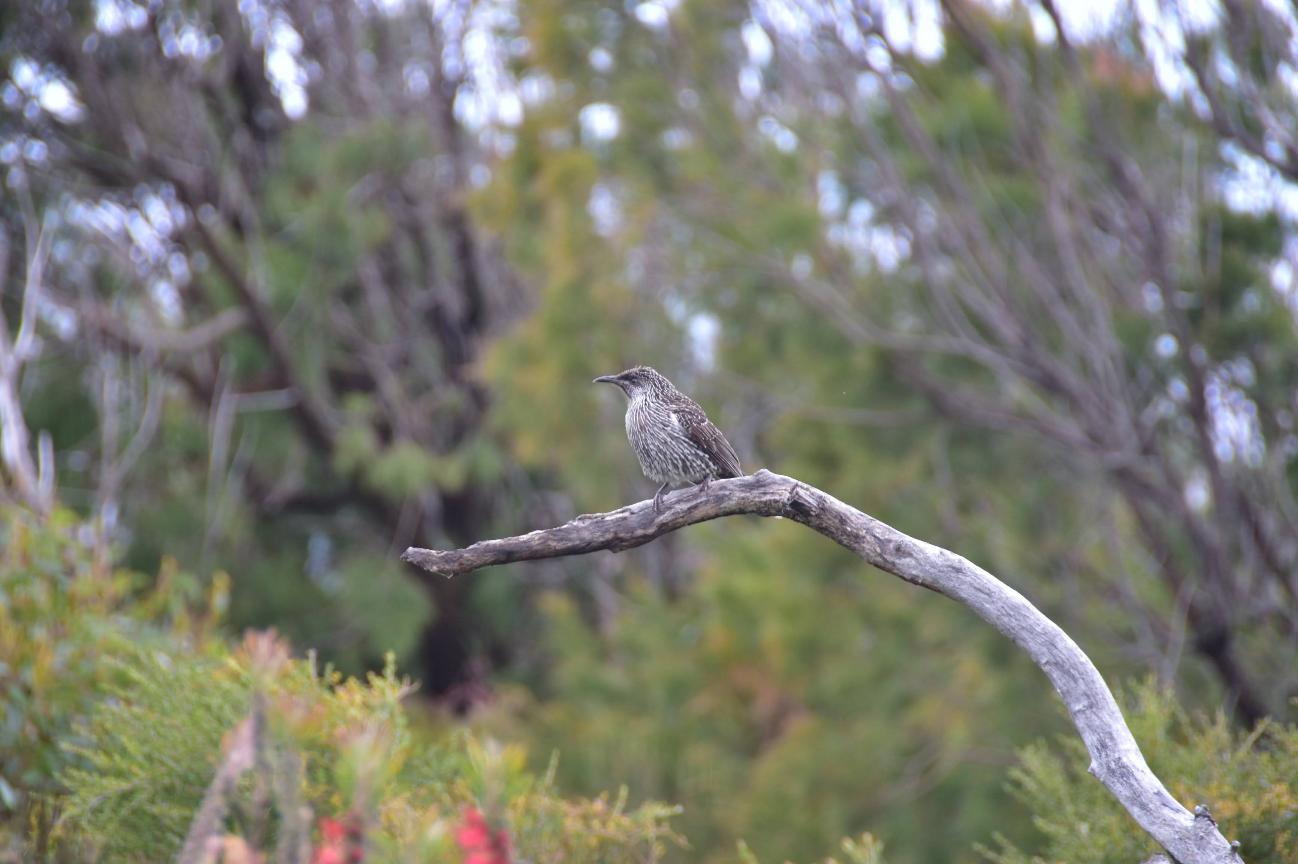 Little Wattlebird, Anthochaera chrysoptera, on Bangalley Headland. Photo by Kevin Murray. More in this week's Pictorial -
Bangalley Headland Walk: Spring 2023
photos by Kevin Murray and Joe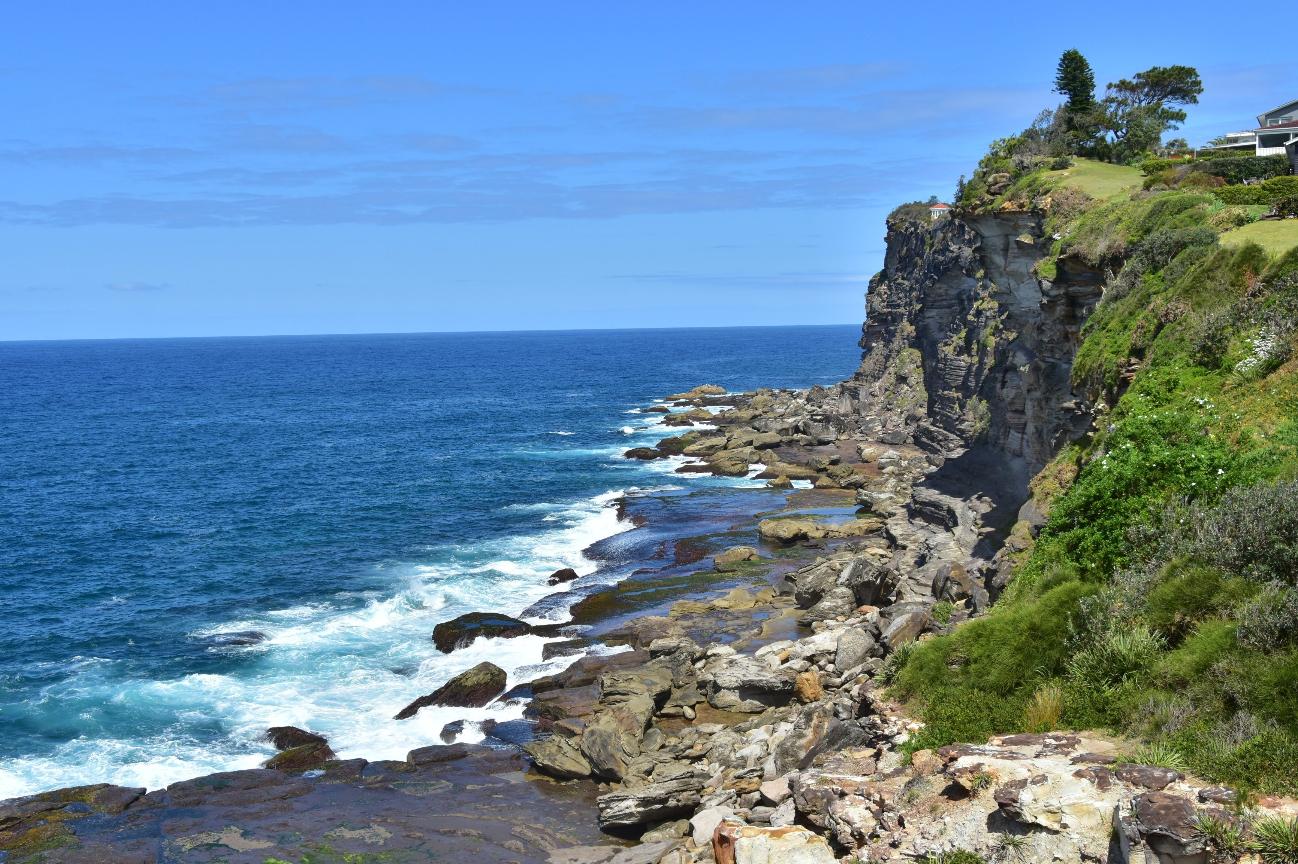 Past Features Archives (pre 2014)
Pittwater Online News was selected for preservation by the State Library of New South Wales and National Library of Australia. This title is scheduled to be re-archived regularly.
Archived Issues (2014 on) may be accessed here: pandora.nla.gov.au/tep/143700
Past Issues are also listed on site on the Community News page, by month.