October 29 - November 4, 2023: Issue 603
regional council's de-amalgamation back to square one under new labor government: pittwater's prior Experience of secession from warringah will help with the case to restore pittwater council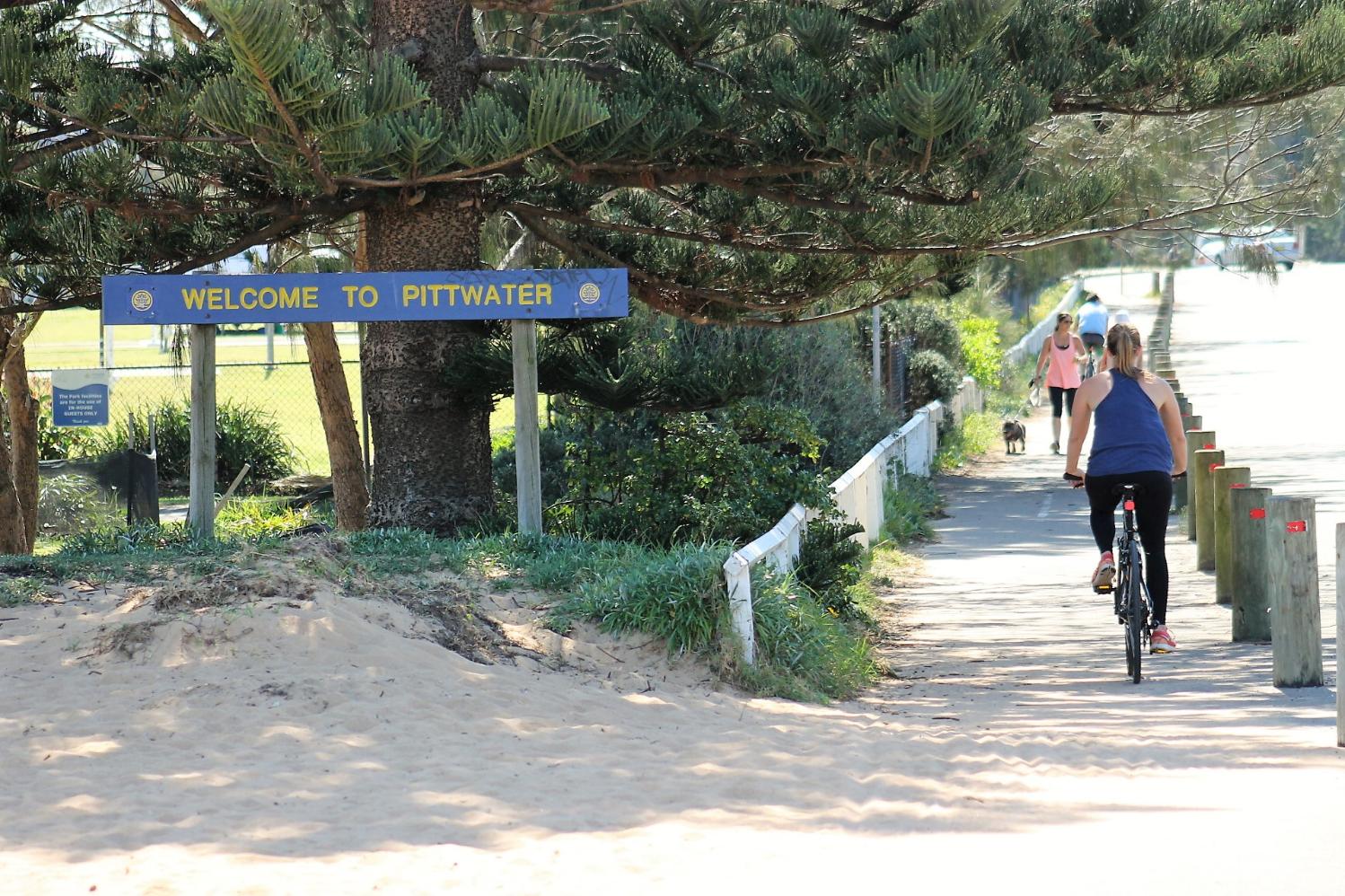 We consider the only future for this area and for the preservation of those ideals and policies for which we stand is to become an independent Shire … the need for this electoral reform has been clearly and sufficiently demonstrated to enable the Government to come to a decision and no longer forestall the issue. Put simply we call upon the Government to put the matter now to the people of A Riding to determine.
Warringah Shire Councillors Robert Dunn and Eric Green, representing A Riding - 1990
Photo: 'Welcome to Pittwater signage at North Narrabeen, where the Pittwater Council LGA commences, in 2013
Residents working to restore the 2016 forcibly amalgamated Pittwater Council have recently been given an insight into what to expect under the new NSW Labor Government.
On Tuesday October 3rd NSW Minister for Local Government Ron Hoenig met with Cootamundra-Gundagai Regional Council (CGRC) to outline a new pathway which, he states, empowers the Council to develop a detailed implementation plan to guide the establishment of two new sustainable local government areas.
The plan must include propositions for:
where the boundaries should be;
electoral matters such as wards, number of councillors and the method of electing Mayor;
division of assets and liabilities;
allocation of staff, as well as management and organisational structures;
rate levels and charges; and
service standards and shared service arrangements.
The plan will then be assessed by a public inquiry led by the Boundaries Commission. This inquiry will determine if independent Cootamundra and Gundagai councils are capable of operating in a financially sustainable way that will provide necessary infrastructure and services to their respective communities.
The announcement effectively reverses what had been announced prior to the last state election
Providing the NSW Government is satisfied that the plan and the public inquiry process provides enough certainty to the local community, CGRC will be dissolved and two new council areas proclaimed.
Minister for Local Government Ron Hoenig stated: "The NSW Government supports the communities in Cootamundra and Gundagai's desire to demerge and frame their own future for local governance.
"The Liberals and Nationals created this problem by forcibly merging two communities with nothing in common. The previous Government knew there were legal issues but it was left to us to find a way through the mess.
"Since coming to office, the Government has made it clear that the demerger framework must support and enhance local democracy while ensuring the practical and financial impacts are fully understood.
"The new approach announced today is a necessary step as I am unable to give legal effect to the former Minister for Local Government's intention under section 218CC of the Local Government Act to demerge the Council.
"This approach recognises Council and the community's desire to demerge and lets the community shape their own destiny in creating their two new councils.
"Any future councils must be sustainable and able to continue to deliver services and infrastructure to their community, now and into the future."
However, Member for Cootamundra, Ms Steph Cooke MP, who had not yet been elected when the previous coalition government forcibly merged councils with vastly different outlooks and practices across the state, attended the announcement, later stating;
''Today, with less than 12 months until Local Government elections, the NSW Local Government Minister came to Cootamundra and blind-sided us all with a significant roadblock on the path to de-amalgamation - he has announced yet another inquiry into the issue.
I am shocked and dismayed. I don't know if the minister has been paying close attention, but newsflash: we have been there and done that!''
"This will be the THIRD time the Boundaries Commission has examined this demerge proposal, which begs the question: how many times will it take for the NSW Labor Government to understand that this is what our local communities overwhelmingly want to see happen?
12 months ago we had a commitment from the previous Coalition Government to demerge the Cootamundra-Gundagai Regional Council, and importantly we had a plan to make it happen.
That decision put in place a road map to facilitate the demerge, and we were well on our way to our destination; it was full speed ahead.
In March this year, that journey came to a grinding halt, and now we have a minister who has taken a disastrously wrong turn, leading us back to where we started.
As it stands, the government is back-flipping on their promise to honour and fund the demerge decision, which were commitments they made to our communities whilst in opposition prior to the election.
NSW Labor has never had this community's back, and that's been well and truly demonstrated today.
We are now back at square one, and the communities of Cootamundra and Gundagai remain in complete limbo, unable to plan for their future.
It has been a tough fight to get to this point, and clearly it's not over, but the people of Cootamundra, Gundagai, and those in all the villages, can be assured they have my full support as we continue the fight to get the outcome our communities want, and more importantly, deserve. ''
Late last week Demerge NSW Alliance (DNA), still reeling from the 'back to square one' announcement, renewed its call for all NSW MPs, but particularly Labor, to support changes to the Local Government Act which make it mandatory for the Minister to act on communities' wishes to deamalgamate forcibly merged councils.
Cootamundra Gundagai Shire Council and the Inner West have already clearly demonstrated that the community is in favour of deamalgamation. Other communities can demonstrate that support for deamalgamation in plebiscites under the Bill.
Glen Moore from Gundagai Council in Exile said:
"The Minister's announcement on 3rd October that there is no statutory pathway for Cootamundra Gundagai to deamalgamate has devastated the community.
"Twelve months after our deamalgamation was approved by the former Coalition government, Labor wants to put the community through an inquiry process for a third time We do not believe that this is required and is unacceptable."
Grantley Ingram, DNA Coordinator, said:
"Labor's policy in opposition was to give communities a say with a plebiscite. It promised legislation to make that happen.
"Now is the time for Labor to do this by giving support to the private members Bill, which has cross bench support.
"It is critical to sort this out in time before the local government elections in September 2024.
"The costs of deamalgamation can be controlled. The Office of Local Government can be asked to produce a standard methodology to demerge. Both are included in the proposed Bill.
"Now is the time to resolve a matter that even the Coalition admits was a major policy failure."
President of Protect Pittwater, Simon Dunn, the community group which has gathered thousands of signatures from Pittwater residents calling for their own council to be restored, stated, ''Contrary to the Minister's statement, we do in Pittwater have experience in recent memory of a secession from Warringah and we have in fact written to Minister Ron Hoeing to seek a meeting to discuss that an appropriate way forward.''
Mr. Dunn, son of first elected Pittwater Mayor Robert Dunn, had already written to the Hon. Ron Hoenig in late September noting that previous amendments to the Local Government Act in relation to deamalgamation do not provide an effective pathway for the residents of the former Pittwater Council area to have their own Council reinstated.
With the next NSW Local Government elections due to be held in September 2024, there is an immediate need for legislation to be passed which will facilitate plebiscites on or before that date. There is also a need to have an appropriate mechanism in place to facilitate the orderly separation of assets and staff between the current amalgamated Council and the Council area to be reinstated.
The Protect Pittwater Association (PPA) joined with the broader Demerge NSW Alliance (DNA) at State Parliament on Wednesday August 23 2023 to share the concerns of citizens from a number of merged mega councils across the state.
The Protect Pittwater Association continues seeking support from the community and the NSW government to reverse the 2016 forced amalgamation of Pittwater Council with Warringah and Manly Councils.
The President of Protect Pittwater Association, Simon Dunn, said the joint approach direct to NSW parliamentarians is aimed at highlighting the widespread discontent among former Pittwater Council residents at being undemocratically forced into a mega-council alliance.
"We believe that a majority of Pittwater residents support a reversal of the council amalgamation, and we are calling on the NSW government and all parliamentarians to support a formal plebiscite that would pave the way for Pittwater to de-amalgamate," he said.
Mr Dunn said Protect Pittwater believes DNA's proposed 'Six Steps' pathway to de-merger is consistent with the government's commitments and is a logical and practical way to proceed.
At the heart of Protect Pittwater's case, is the failure of the merged Northern Beaches Council to deliver the financial benefits, service improvements and the environmental benefits that were promised, in fact the opposite is occurring.
From the outset, approximately 89% of Pittwater residents who were polled ahead of the merger did not want it to proceed. Pittwater residents rightly feared having their local voices lost – something that has been borne out as the unique character of Pittwater has been absorbed into a "one-size-fits-all", developer-friendly mega bureaucracy.
The amalgamation has seen the loss of focus on the area's unique geographical, environmental, and cultural characteristics.
"The mega-council has resulted in an increased number of previously non-compliant development applications being approved and plans to discard conservation zoning that would threaten habitat and fragile environments," Mr Dunn said.
"This is accelerating the destruction of protected trees, canopy, native flora and fauna, and habitat," he said.
Mr Dunn stressed that Protect Pittwater is not opposed to appropriate urban development, and, noted that Warriewood Valley has been one of the fastest growing suburbs in NSW.
"Medium density development has been occurring at pace for years in largely flatter areas of Pittwater that are well served by road, transport and other infrastructure, and that do not have fire, flood or slip risk hazards," he said.
In supporting the Demerge NSW Alliance, Protect Pittwater Association is acting on behalf of residents who call on the NSW government to adhere to its pre-election pledge to "Put the Local Back Into Local Government" by allowing a process by which demergers can take place and by supporting such demergers with transition funding.
Protect Pittwater Secretary Anna Maria Monticelli, who attended the announcement with fellow PPA members, stated
'' Amalgamation took our rights away without our consent. We were pushed into a super council that was structured to prop up their revenue while at the same time ignoring us. We went from our own council which had 9 councillors that represented the area to 3 councillors in a council of 15. So, our concerns are basically ignored because of the numbers game. In other words, when we were amalgamated over 63,000 Pittwater residents were immediately disenfranchised.
Local government is supposed to be the most democratic and the closest access for citizens to vent their concerns on issues that directly affect them. The Northern Beaches Council makes a mockery of this important principle, causing anger and frustration.
We are in an area that has unique challenges logistically and environmentally. We have a Peninsula which has one road in and one road out. There is limited access - this is a geographical fact. Pushing more development into a confined space is a recipe for disaster. Not only for the quality of life for residents, but the threat of a catastrophic bush fire season which would endanger lives and property, with traffic gridlock and panic because there is limited escape.
We have environmental assets which attract world-wide visitors, why would a government want to destroy the reason people come?
Our organisation Protect Pittwater wants to return a Pittwater Council that responds directly and efficiently to the pressing issues that are in our area."
To join Protect Pittwater, sign the Petition or get a Bring Back Pittwater Council sticker please contact the group via email on -: join@protectpittwater.org

Chapter 9 How are councils established? of the Local Government Act states:
Part 1 Areas
Division 2 What must be done before areas can be constituted?
215 Who may initiate a proposal?
(1) A proposal may be made by the Minister or it may be made to the Minister by a council affected by the proposal or by an appropriate minimum number of electors.
(2) An appropriate minimum number of electors is—
(a) if a proposal applies to the whole of an area or the proposal is that part of an area be constituted as a new area—250 of the enrolled electors for the existing area or 10 per cent of them, whichever is the greater, or
(b) if a proposal applies only to part of an area—250 of the enrolled electors for that part or 10 per cent of them, whichever is the lesser.
Going into the 2023 State Election Pittwater Online sought comment from the then opposition Minister for Local Government, Greg Warren MP, as to whether an elected Labor Ministry would honour their pledge to restore Pittwater Council. Mr. Warren confirmed in January 2023 through his policy advisor that:
''a NSW Labor Government will not support the forced merger of local councils, nor will it support any forced demerger. Rather, this must be done voluntarily with the clear support of local residents as confirmed through a local plebiscite.

To this effect, a NSW Labor Government will legislate to put into place independent mechanisms to enable this to occur.''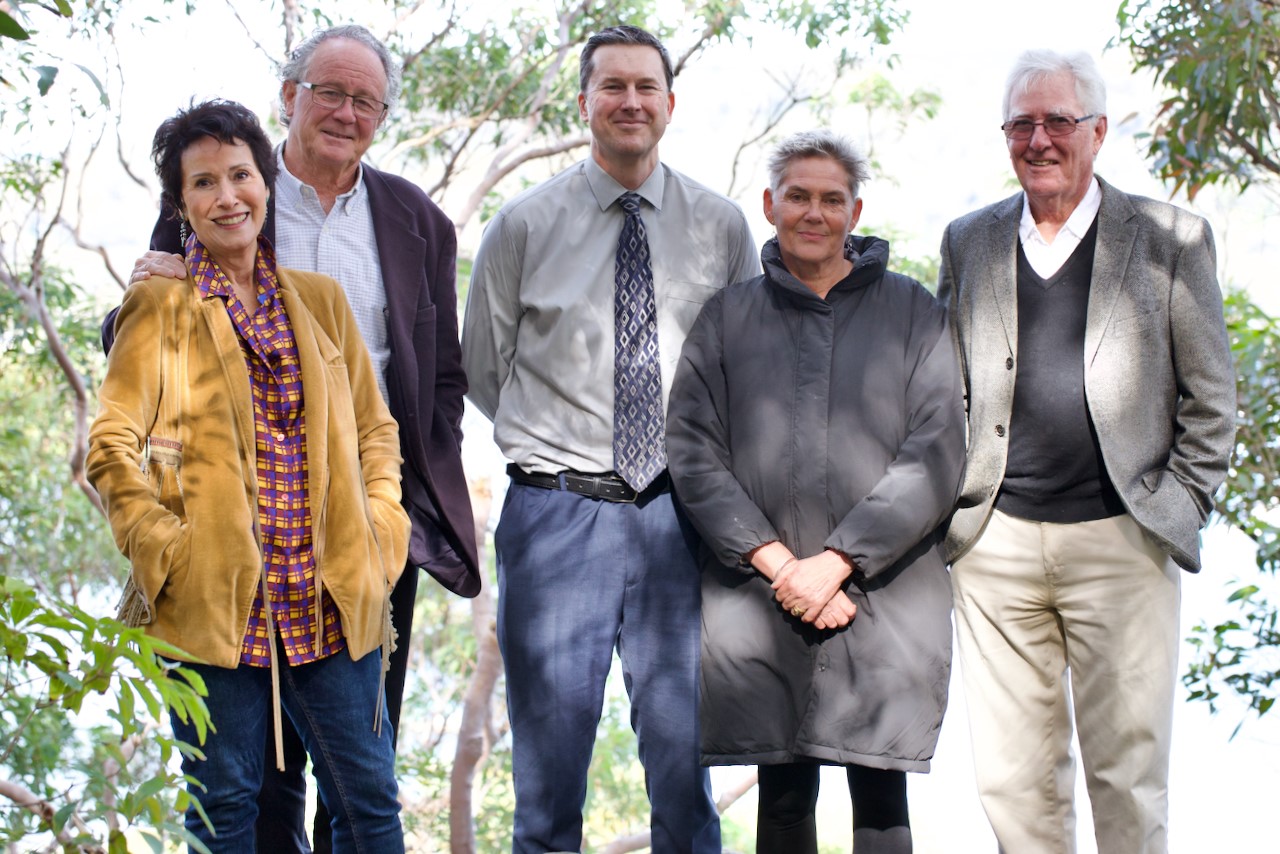 Protect Pittwater Association Committee members June 2023. Photo: Steve Jacobs