August 6 - 12, 2023: Issue 593
Congratulations Warringah Rats: 2023 Colts Club Champions!!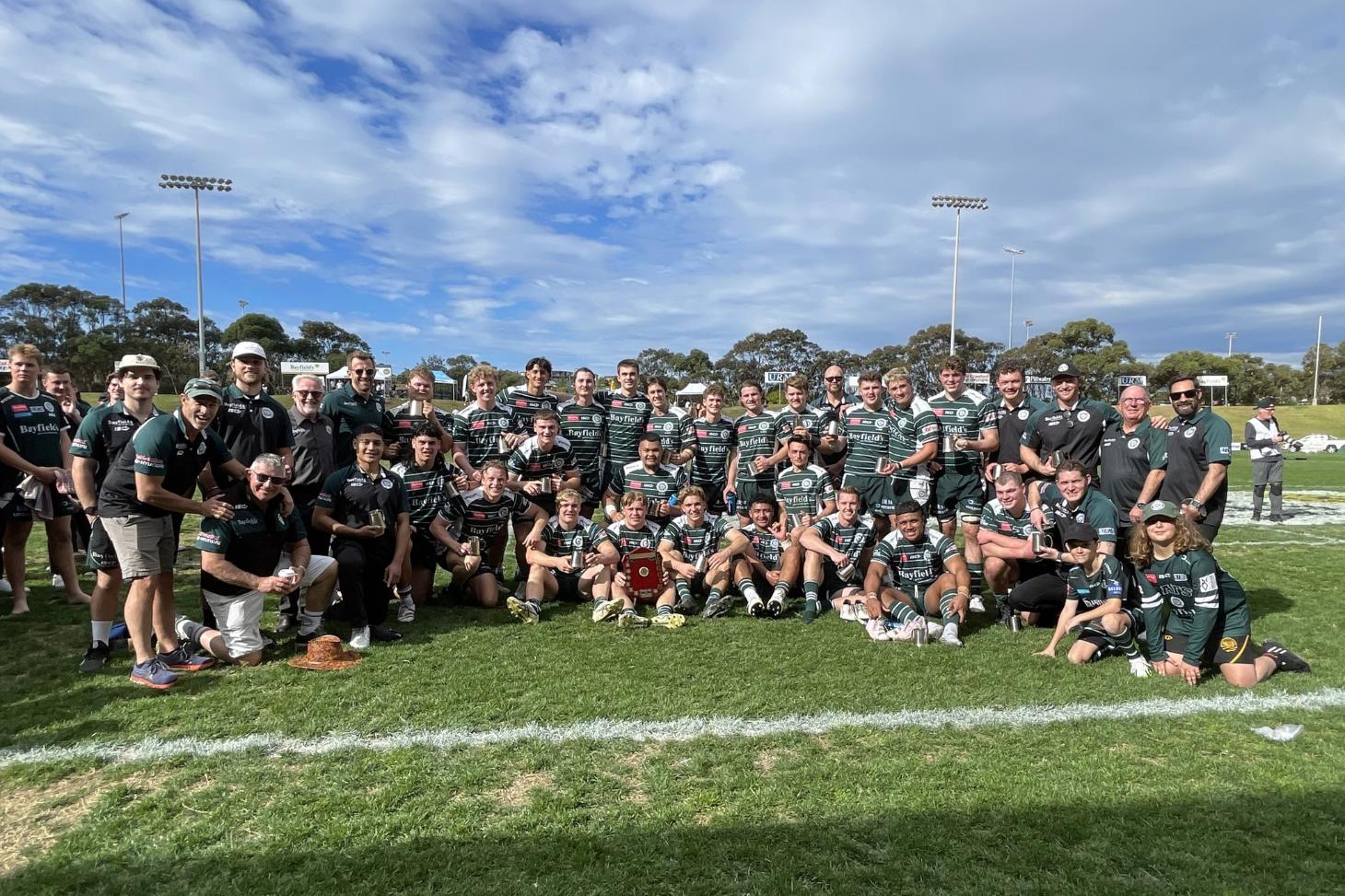 Photo: Warringah Rats Rugby Club
They did it – our Mighty Rats Colts are the 2023 COLTS CLUB CHAMPIONS!
The club tells us ''These guys have given their all - with their eye firmly on the prize, turning up each week and playing for each other and ending every training session with 53 push-ups!
''Thanks to the amazing support of coaches, managers, directors and support crew, they've taken out the top gong a week before the season ends.''
''Huge thanks to our headline sponsor Bayfields and the whole Bayfield Family for their unwavering support.''
''Also - Congratulations to our 1sts Colts for taking out the Bayfield Shield last weekend with a whopping 95-10 score against the Marlins. ''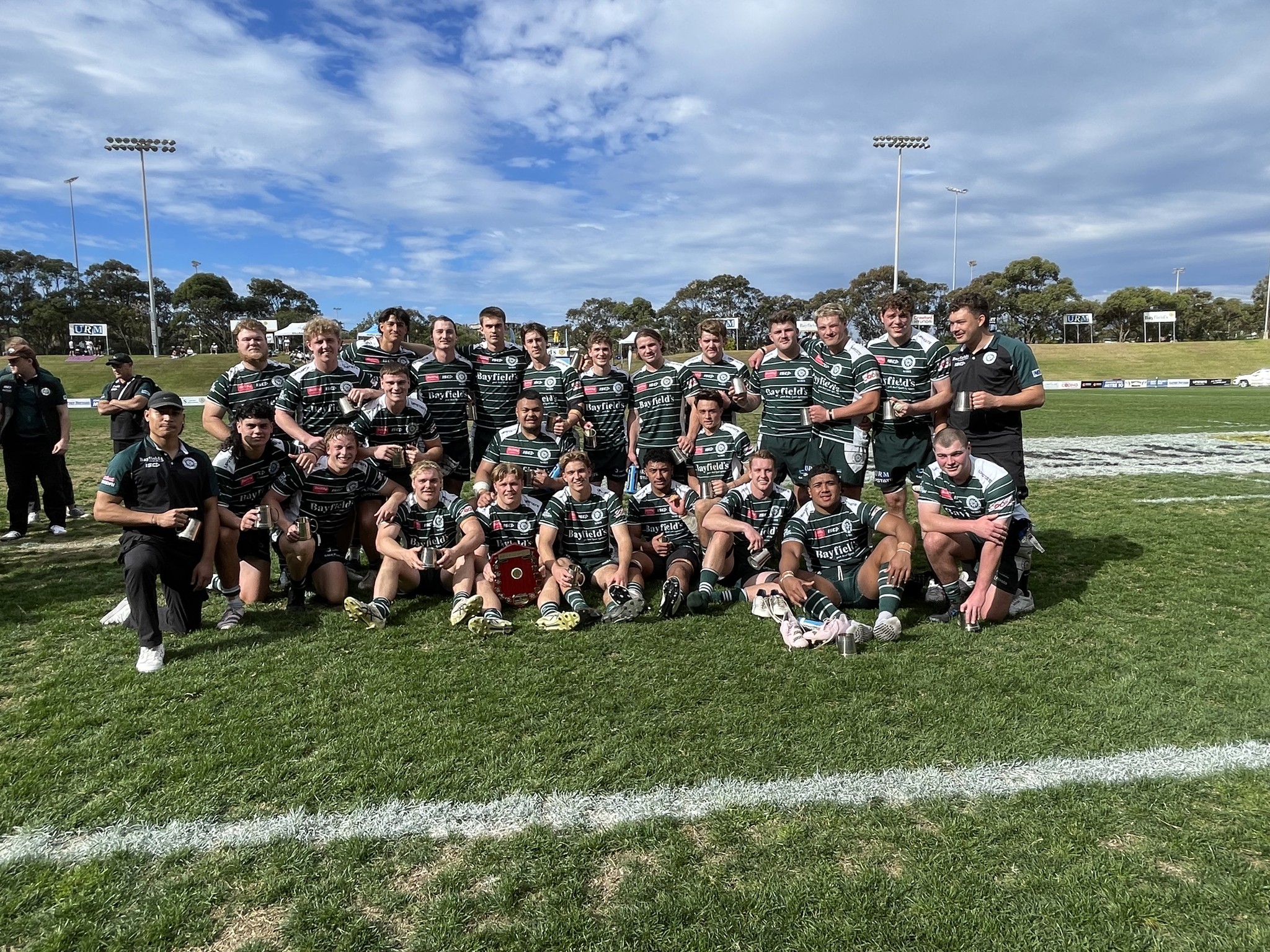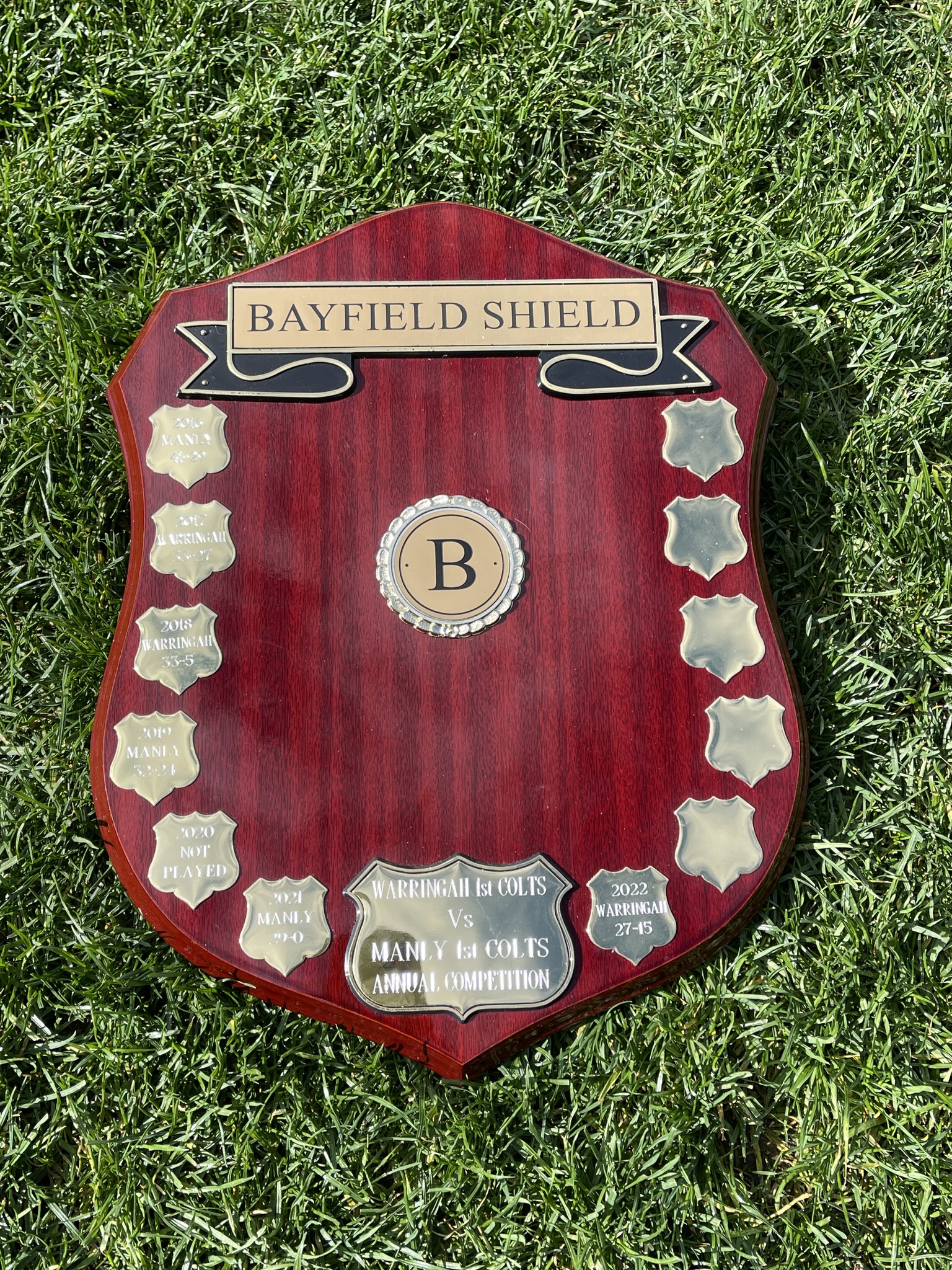 The Warringah Rats Rugby Club aspires to be the best U20 program in Australia.
Headed by ex-Super Rugby and Australian 7s players Josh Holmes and Boyd Killingsworth, and a host of profile specialist coaches, they have created a high-performance Colts program the envy of other clubs.
Warringah prides itself on a personalised approach to player development both on and off the field.
The first year of this program in 2022 saw all three Colts sides make the finals and a group of players achieve higher representative honours.
With ex-wallaby Mark Gerrard appointed head of Warringah's newly developed Rats Rising Waratahs Academy, confidence was running high for the 2023 season, and the Warringah Rats have proved themselves throughout each game contested.
The Colts teams at Warringah have excelled all Season - 3rd Grade colts have won every game this season and continued that on Saturday August 5th, Round 18. They continue into the playoffs next weekend. They will be joined by the 2nd and 1st Grade Colts; that's how well the boys have done.
Warringah Colts Points - after Round 18, August 5, 2023: HERE

Warringahs' Ratettes Women's Team have also been putting in a strong showing all Season and won their August 5th Round 15 game against Sydney Uni blue - the final score; 28-0.
Warringahs' 1st Grade (Shute Shield), 2nd Grade (Colin Caird), 3rd Grade (Henderson Shield), 4th Grade (Henderson Cup) Season ended their Season with the games played yesterday, but will be out in force to cheer their Colts on.
100 years of the Charter Hall Shute Shield will be celebrated with a three-week final playoffs series featuring the top 6 teams.
The finals series will culminate at Leichhardt Oval, 3pm Saturday 26 August when a champion will lift the shield. Grand Final day will feature all Grade competitions with Fourth Grade, Third Grade and Second Grade to be played on August 26 in the lead up to First Grade.
All Colts competitions will mirror the six-team finals series, with Grand Finals to be held on Sunday 27 August.
General Manager of Sydney Rugby Union, Peter Watkins, says it is a fitting way to mark 100 years of the Shute Shield.
"The Shute Shield is rich in history and stories across the 100 years and it is important they are celebrated," he said.
"Season 2023 has been one of the closest Shute Shield competitions in recent memory. Having all teams battle across the concluding weeks of the competition will mean the top six is unlikely to be known until the final whistle is blown in round 18.
"For our fans, it means they can get along and support their team in the traditional 3pm time slot. With the entire Charter Hall Shute Shield Finals series to be aired Ad-Free, Live and On-Demand on Stan Sport and one match each weekend on Nine GEM.
"Thanks to our broadcast partners Nine, Stan Sport and Rugby Australia - following this season's finals has never been easier for our fans."
"There are no easy fixtures in 2023 and that's a trend we want to see continue beyond this season.
"Leichhardt Oval also offers the perfect stage for the biggest match of the year. We saw in 2022 how fantastic the atmosphere was for Sydney University, Gordon and Shute Shield fans alike.
"I'm sure every fan is eager to see their club feature on that last Saturday in August."
With the bye round now behind us, teams vying for the top six spots will be rejuvenated ahead of the run for finals.
Go Rats!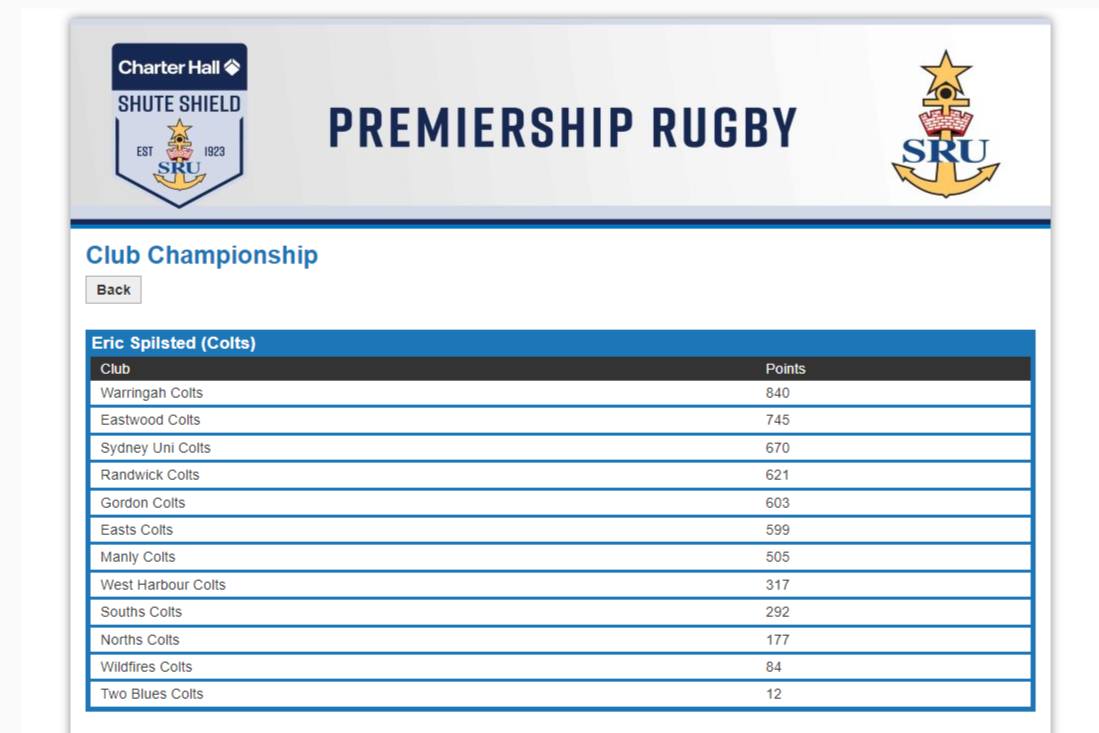 Life Electric Net Zero Expo + Forum - Dr. Sophie Scamps MP, In Conversation With Dr. Saul Griffith, John Grimes: Mackellar MP Calls For Albanese Government To Put Young
Australians Before Fossil

Fuel

Lobbyists

- Senator Pocock's

Duty Of Care And Intergenerational Equity Bill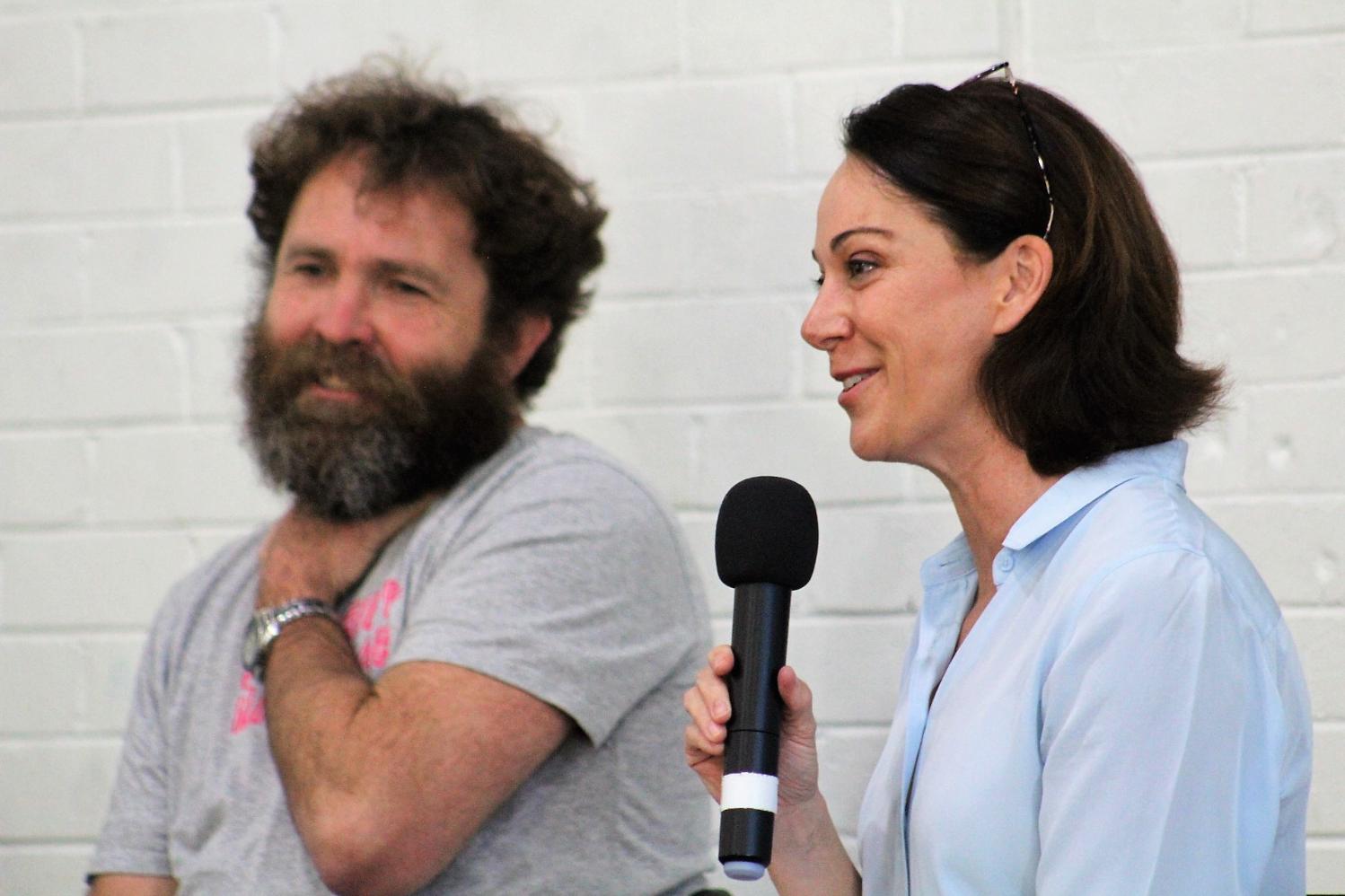 MP for Mackellar Dr. Sophie Scamps - background, Dr. Saul Griffith
On Sunday July 30th The Life Electric Community Net Zero Expo organised by the Avalon-Palm Beach Business Chamber hosted stall holders providing expert advice on solar, EVs and other renewables solutions.
Among the stalls showcase was Electrify Mackellar, officially launching at the event, with Founder and Academic Selena Griffith GAICD FEAD FSSE FIH, sister of 'Electrify Everything' Saul Griffith, and past Pittwater Councillor, on hand to introduce the organisation to visitors.
There were service providers such as Allume providing insights on their work in the solar, EV and renewable solutions fields, Sustainability Strategist Consultant Tanya Mottl sharing information about the Narara Ecovillage on the Central Coast and Global Ecovillage Network Australia (GEN Australia) – a network of ecovillages, indigenous communities, intentional communities, eco-projects, co-housing communities, transition initiatives, like-minded individuals and value aligned organisations in Australia, Exceptional Electric Bikes from Unchained Rides, and even an opportunity to channel your 1950/60's 'Summer in Italy' Mod stylishness and zipping around on a scooter in balmy breezes by taking on a FONZ electric transport alternative.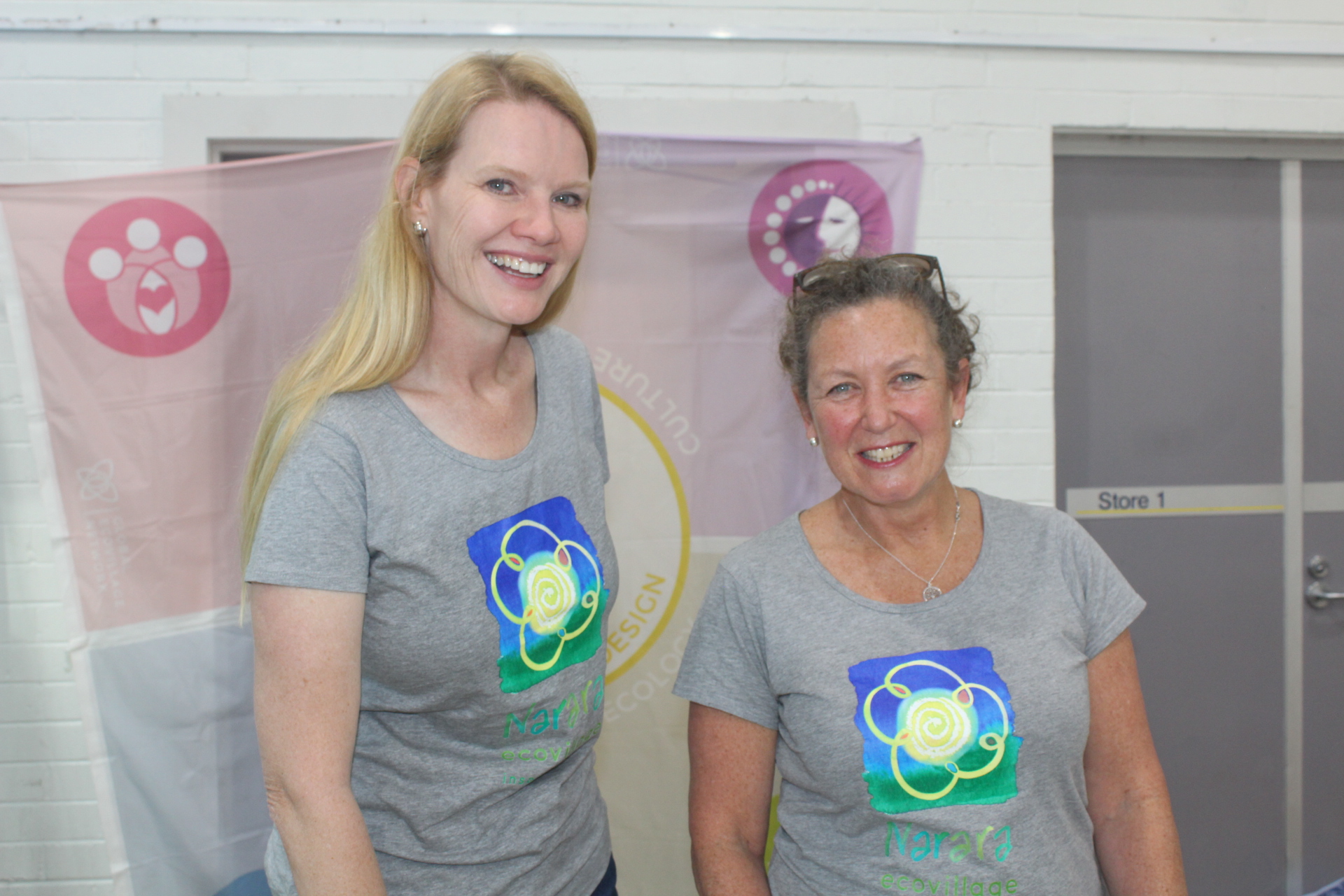 Tanya and fellow Narara Ecovillage friend; Sunday August 27th they're hosting an Ecovillage Open Day - Eco-living talks & tour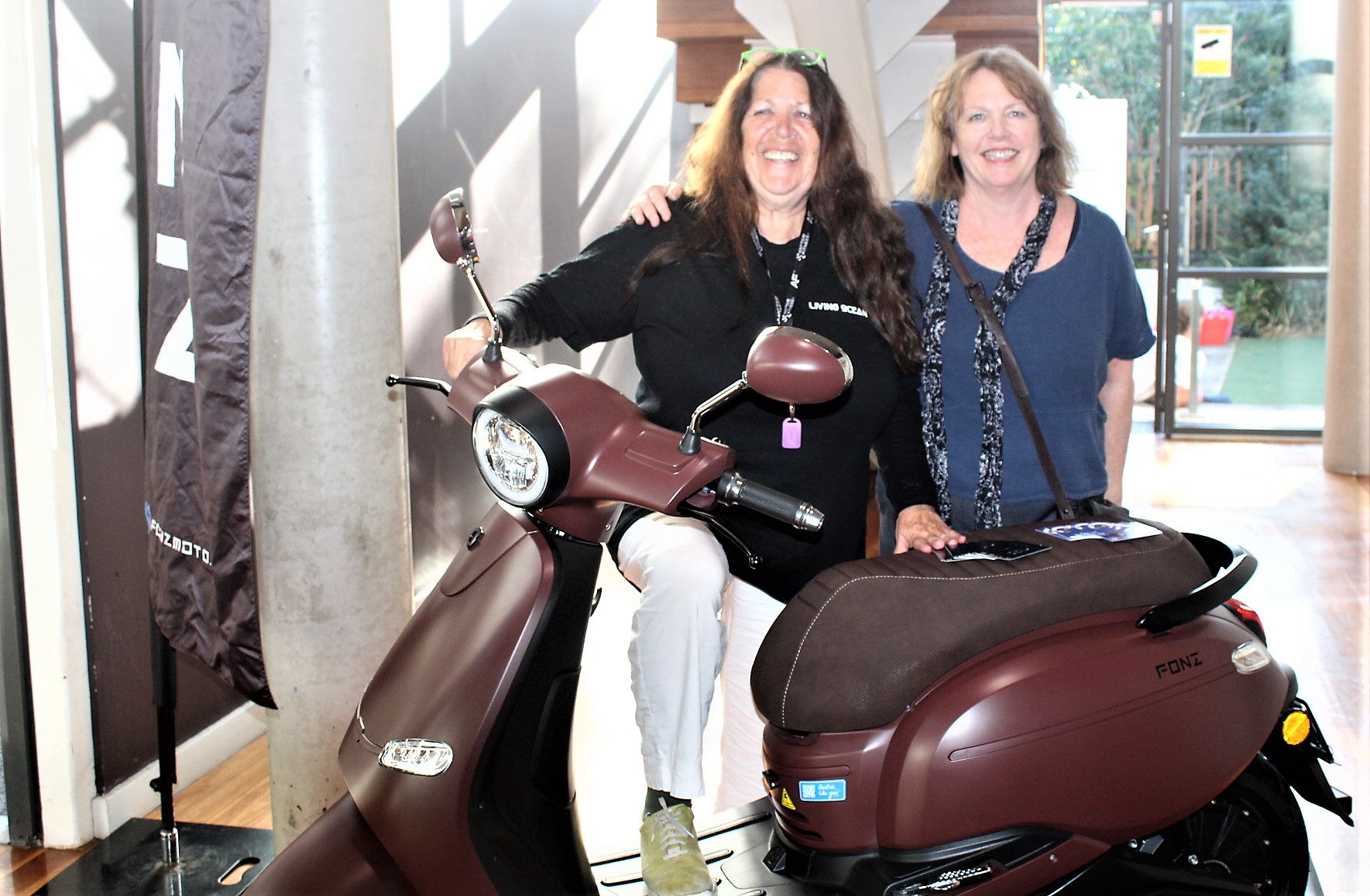 Ros Marsh and Kim Burton, tres chic!
There were great ideas from organisations such as the charity Society for Responsible Design (SRD); which has, since 1989, worked on advancing sustainable responsible design thinking, products and practices. SRD brings together and showcases ways to build a healthier and more sustainable world with concepts and directions to significantly reduce global environmental impacts and enhance social benefits through all design disciplines, health, well-being and even lists great events occurring locally and around the world - visit their linked to site to find out more.
NBCAN - Northern Beaches Climate Action Network members letting people know about their upcoming event at Berry Hall at the Narrabeen. There was scrumptious food provided by Rowie's By The Sea. Dining Catering Cakes, all made by Rowie Dillon, who is also president of the Newport Chamber of Commerce, and sweet sweet sounds from local band Ah Honey, and even a range of the books penned by Saul Griffith at a stall manged by APBBC dynamo and Bookoccino bibliophile Sally Tabner.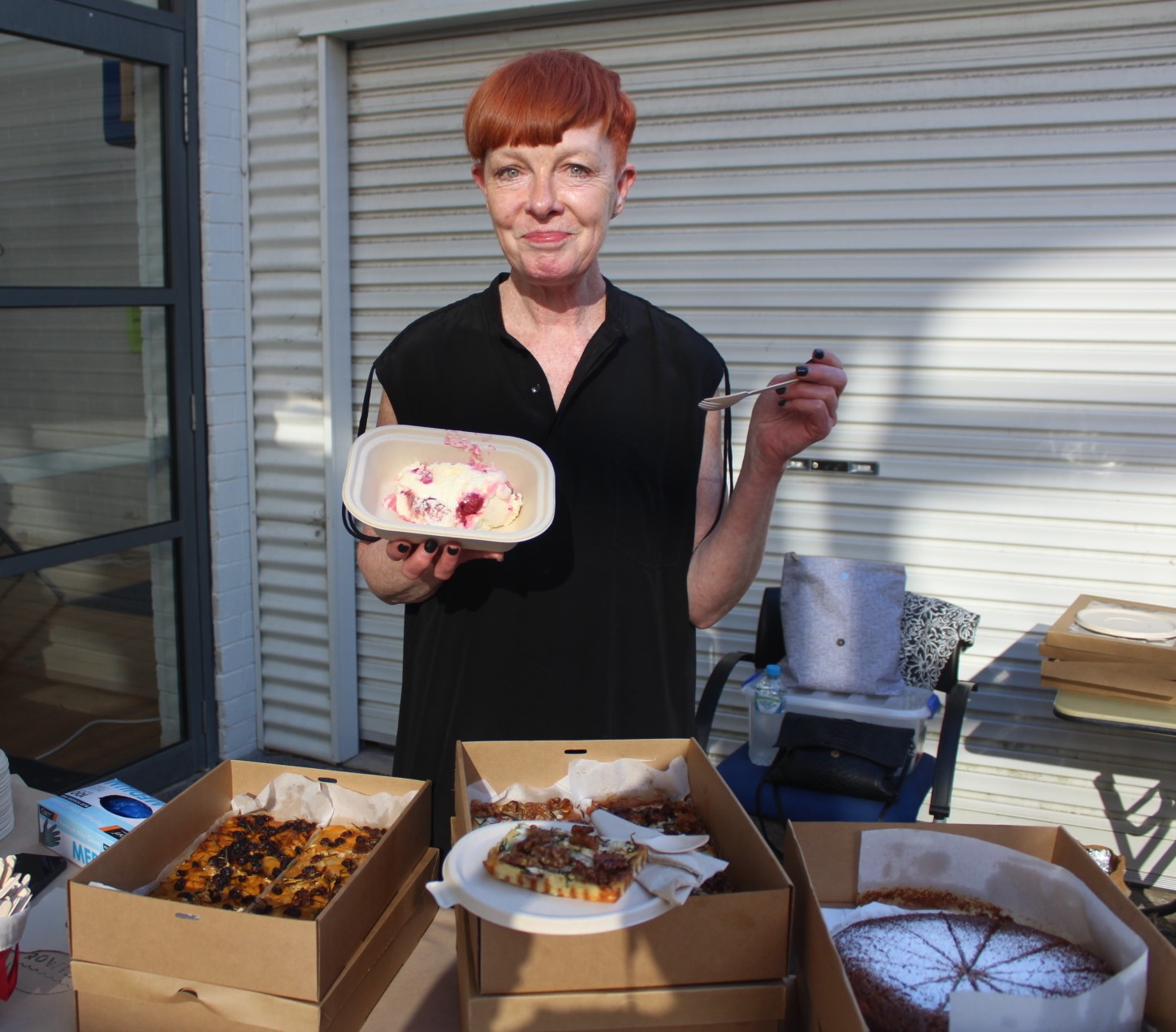 Rowie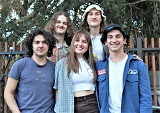 Ah Honey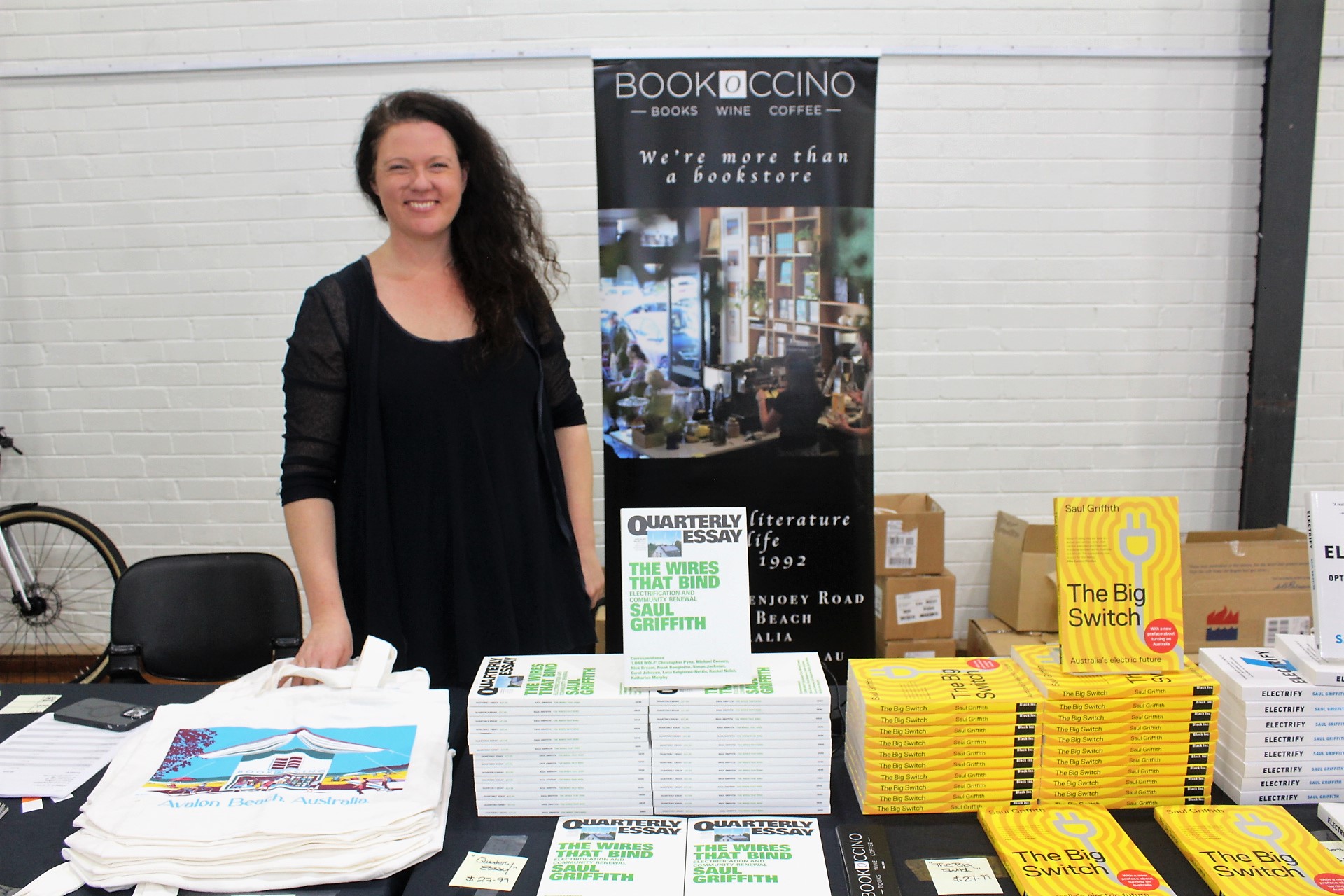 Sally
As part of the Expo Dr. Sophie Scamps, MP for Mackellar, hosted a Q and A with Dr. Saul Griffith, Inventor and Rewiring Australia Founder and Founding member of Electrify 2515, and John Grimes, Chief Executive of the Smart Energy Council, Australia's peak independent smart energy body.

A crowd of over 300 people listened to inspiring insights and easy to follow steps anyone can achieve in an individual and whole of community achievement of a Net Zero emissions for domestic and business energy.
Dr. Scamps quizzed Saul Griffith and John Grimes on what is needed over the next 15 years and what can be done immediately to shift from being those who pay for energy companies to run their lives to those who are free of this perpetually government subsidised agenda.
Introduced by Sally Tabner, who stated one of the aims of the Avalon-Palm Beach Business Chamber was to have the business heart of Avalon Beach completely switched to renewables over within the next 5 years, Dr Scamps MP in conversation with Dr. Saul Griffith and John Grimes may have incited a March on Canberra to demand change on policy and regulatory mechanisms.
The Transcription runs HERE
Pittwater's Warmest Welcome!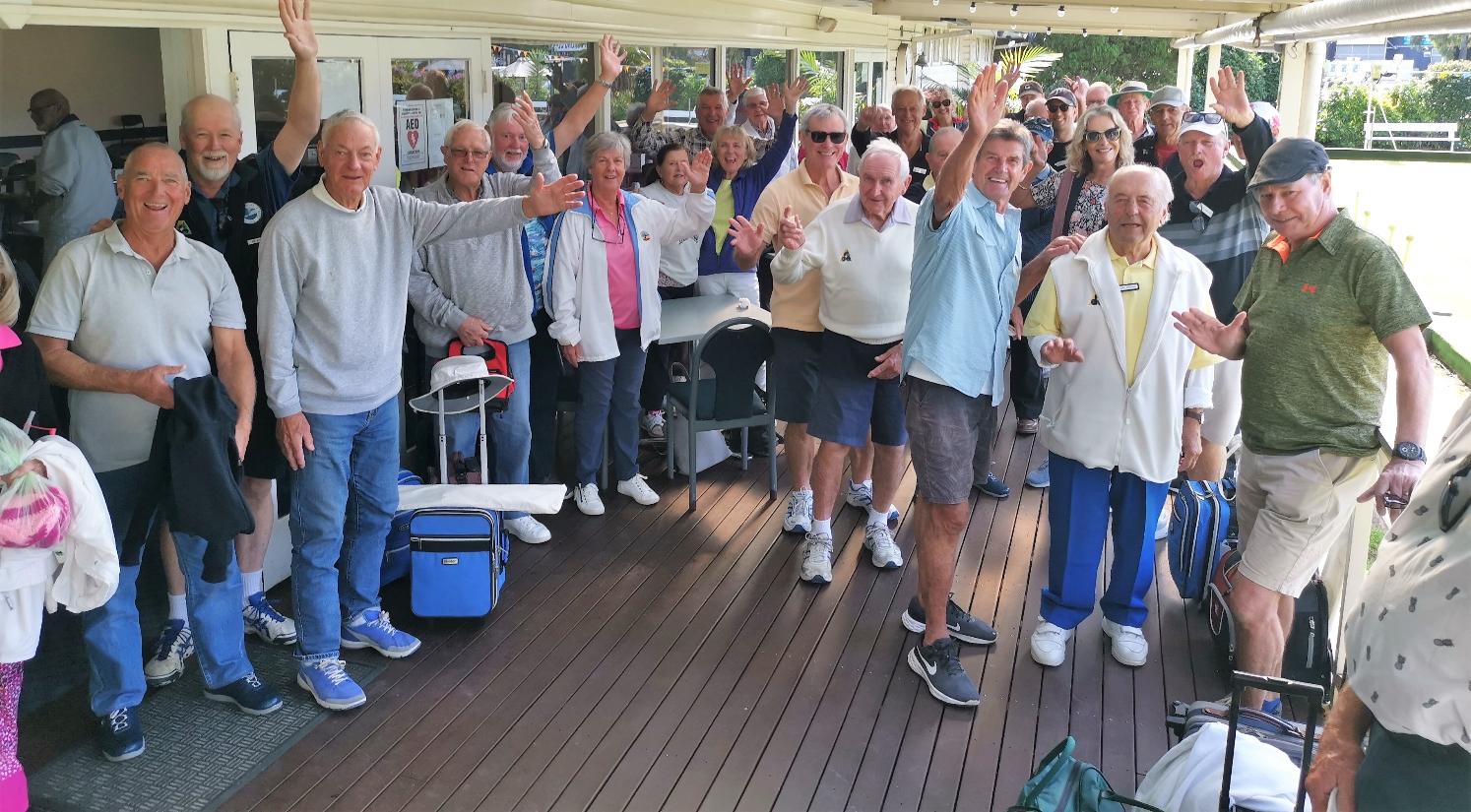 Over no less than 85 years Newport Bowling Club has thrived as the Peninsula's most friendly social venue and sporting club, renowned for extending a warm welcome to residents and community groups from across the Northern Beaches. Nothing pleases them more than seeing local community members socialising in the Clubhouse and having a great time on the greens!
"One really shouldn't judge bowls until you try it," says John Eustace who recently joined the club.
"Lawn Bowls is widely misconstrued as an older person's sport when in reality it is among the very few participation sports suitable for people of all ages, abilities, and fitness levels. It doesn't take long to understand the game's basics, and bowls can become quite addictive once you start developing your abilities", Eustace concludes.
Joining the Newport Bowling Club brings a host of social benefits, members can take part in a range of activities and playing formats. The community and sport's foremost highlight is its extremely social element. However, for those with a competitive streak, you can hone your tactics in club competitions and then even prove your skills at inter-club tournaments.
Many other sports rely on speed and athleticism, while Lawn Bowls removes reliance on athleticism, creating an even playing field for all abilities regardless of age and gender. Bowling is an enjoyable low-impact outdoor exercise renowned for maintaining balance, coordination, core strength, and bone health.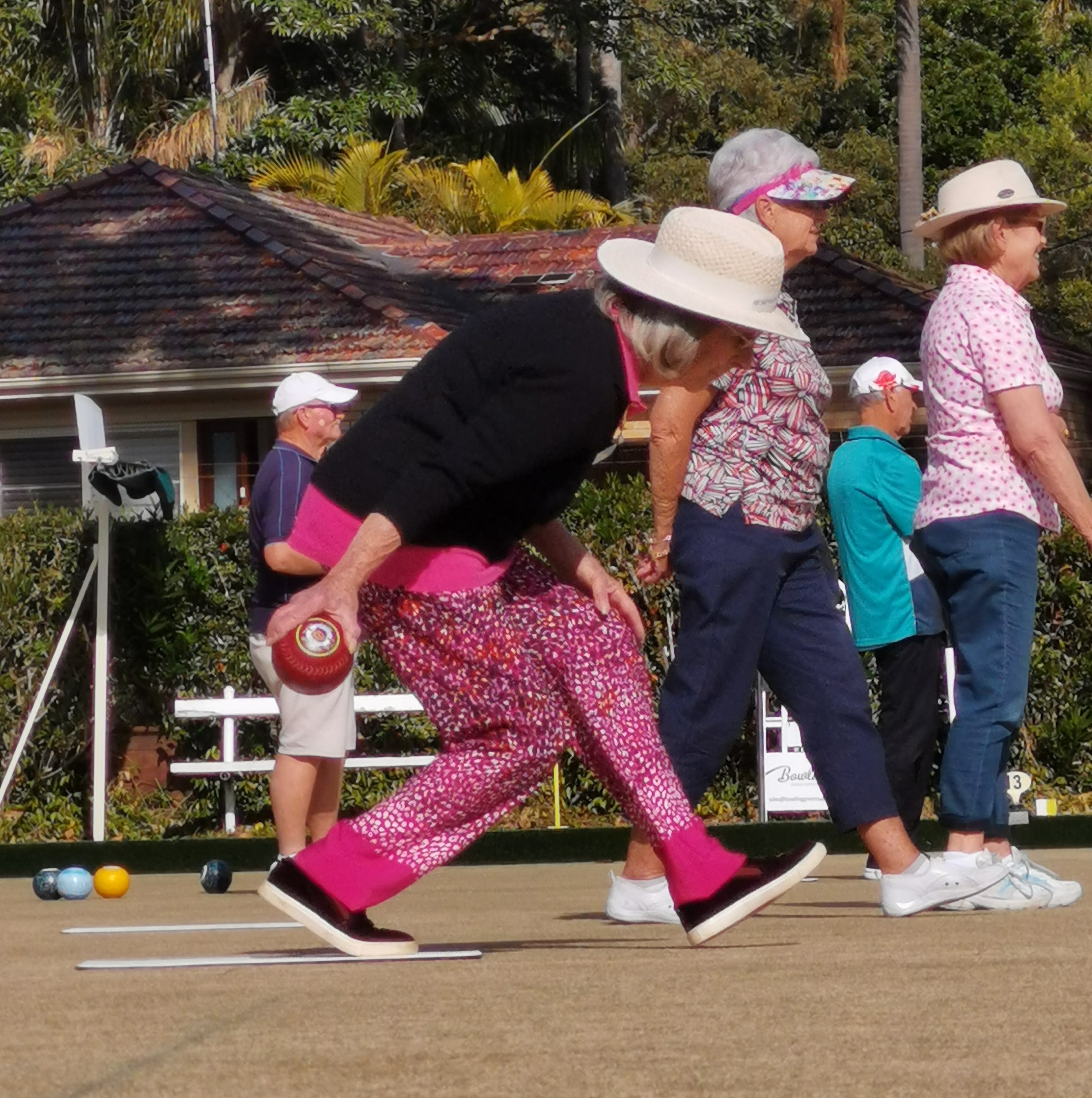 Shark Meshing (Bather Protection) Program 2022/23 Annual Performance Report - 143 Animals Found Dead In The Nets In 2022/23; Trigger Point For The Objective Of 'Minimising The Impact On Non-Target Species And Threatened Species' Was Tripped In 2022/23 For 'Seals' - Whales Getting Caught In Nets - Smooth Hammerheads Dying By The Hundreds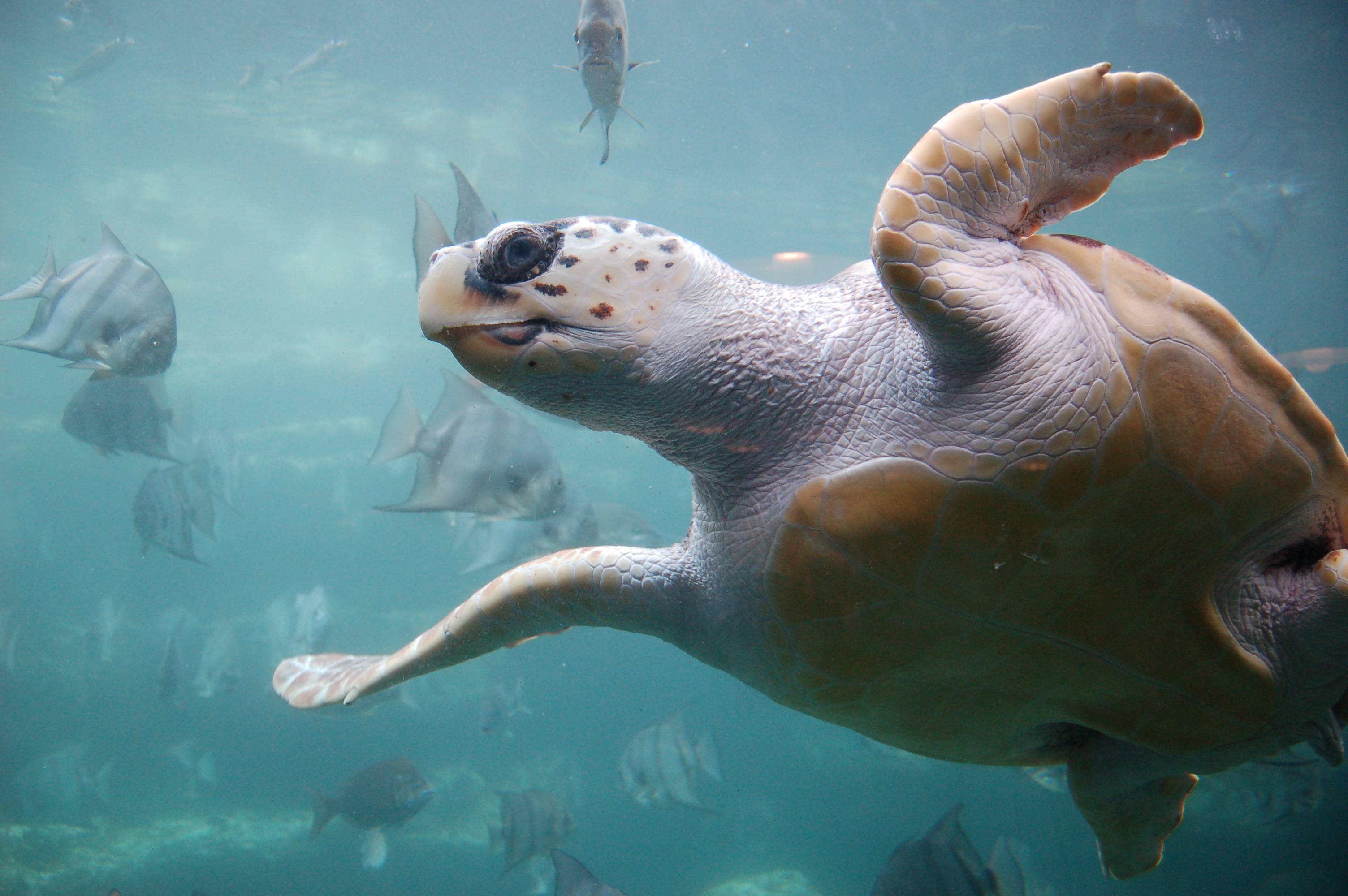 Underside of a loggerhead sea turtle as it swims overhead. Photo: Lance Miller
The Shark Meshing (Bather Protection) Program 2022/23 Annual Performance Report has just been released and records 34 non-target species were caught in shark nets in our area during the reporting period - of that number 21 died before they could be released. None of these caught locally were target shark species.

Two of these were deaths of Loggerhead turtles, one at Mona Vale and one at Narrabeen, a species listed as Endangered in NSW and at Australian Commonwealth Government level. Loggerhead turtles nest from late October, reaching a peak in late December and finish nesting in late February or early March.
Mona Vale's net also led to the drowning death of a Green Turtle, listed as Vulnerable in NSW and at Australian Commonwealth Government level. In recent years species of turtles nesting locally - Green Turtle eggs were found at North Steyne in January 2020 and more recently the Listed as Endangered Loggerhead Turtle eggs were found at Shelly Beach on the Central Coast in January 2023.
Compared to previous years reports the 2022/23 statistics show a significant drop in non-target species being caught in nets in this area - leading some to state that there is a decline in all marine species in our waters. Valerie Taylor, at a World Ocean Day celebration at Mona Vale surf club in June 2023 said that when she began diving in 1958, she would see enormous numbers of marine creatures in only 3 metres of water. These days you saw none, she said.

Similarly, those who have been fishing in our area for decades recall catching snapper that weighed upwards of 6 1/2 pounds during the 1950's and struggle to catch anything near that size today.
For 'Sydney North' the non-target species were; Australian Angel Shark (1), Bronze Whaler (1), Dusky Whaler (2), Smooth Hammerhead Shark (12), Greynurse Shark (1), Southern Eagle Ray (2), Australian Cownose Ray (2), Bottlenose Dolphin (1), Green Turtle (1), Loggerhead Turtle (1), Leatherback Turtle (1), Yellowfin Tune (1).

For 'Sydney Central' these were Smooth Hammerhead Shark (1), Greynurse Shark (1), Southern Eagle Ray (1), unidentified ray (1), Common Dolphin (2), Loggerhead Turtle (2).
Sydney North comprises the beaches from Palm Beach to Warriewood. Sydney Central runs from Narrabeen to Manly.

The previous 4 year of reports record:
2018/19; 395 marine animals with 372 non-target animals - 238 of those 395 died before they could be released,

50

species caught in our area (Sydney North + Sydney Central) - 2 were target animals,

27 died

2019/20; 480 marine animals with 50 target sharks and 430 non-target animals - 284 of that 480 died before they could be released,

63

species caught in our area - 4 were target animals,

41 died

2020/21; 375 marine animals were caught with 40 target sharks and 335 non-target species - 231 died before they could be released,

76

species caught in our area - 6 were target species,

49 died

2021/22; 376 animals caught with 51 target sharks and 325 non-target animals - 234 died,

54

species caught in our area - 5 were target animals,

35 died
A total of 173 marine animals have died in nets in this area in the last 5 shark mesh years.
The available reports from 2012-13 records 49, 27 died, 2013-14 report records 84, 35 died, 2014-15 report records 64, 30 died, 2015-16 report records 151 (lots of rays released - 748 interactions over the whole SMP areas), 43 died in local nets - including a Hawksbill turtle that drowned in the Bilgola net, and 364 overall perished, 2016/17 report records 74, 33 died.

This makes a total of 342 that died in shark nets during the past decade via these available reports.
The reports are missing some data as that, for example, recorded in 2021/22 show nothing recorded for Sydney Central in the Detailed Catch Reports for – 16 March 2022 to 12 April 2022, and nothing recorded under Sydney North during 19 January 2022 to 15 February 2022 and 13 April 2022 to 30 April 2022. Those where there has not been anything caught are recorded as 'nil catch' against that section.
Similarly the the 2018/19 report records no Detailed Catch Report for Sydney Central during 24 November 2018 to 21 December 2018, and no data for Sydney North during 27 October 2018 to 23 November 2018.
A new report, 'Investigation into NSW Shark Meshing Program June 2023' by Envoy Foundation identified "extremely concerning discrepancies in data", including a photo of a bird found in shark nets in 2019 not included in data for the 2018/19 or 2019/20 catch data.
"There is an image of little penguin, also known as a fairy penguin — which are protected in NSW," Mr Borrell said.
"It's an image of a thing that was been pulled out of shark nets, but the animal does not appear in the data. How often does that happen?"
The report states the Envoy Foundation 'attempted to identify the bird but were not able to from the image or by speaking with the Protected Species and Communities Branch of the Biodiversity Conservation Division of the Department of Agriculture, Water and the Environment.'
The answer they received was:
"Unfortunately without the last digit (I can't make it out either) it could be one of 10 birds. Each of the 10 birds were all banded in 2002 on one of three dates 22 OCT 2002, 29 Oct 2002 or 5 NOV 2002. The banding of these birds occurred at one of two locations:

Manly Point, Sydney Harbour; or Collins Beach, Spring Cove, Sydney Harbour. That is about as much as I can provide without the last digit to actually individually identify the specific bird.''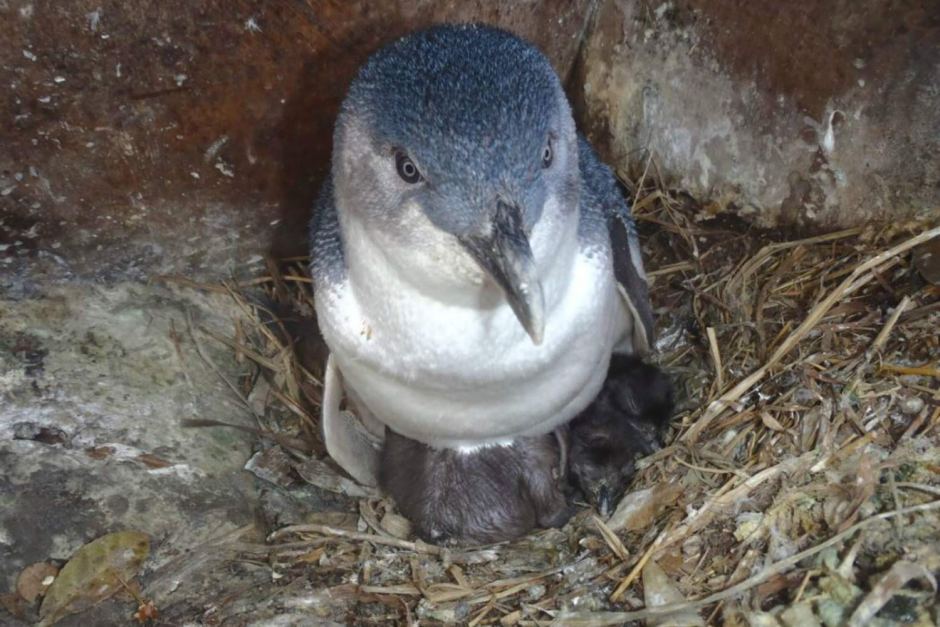 Little Penguin on nest - supplied
''Additionally, images obtained show pregnant female sharks caught and killed that have been cut open, exposing a uterus full of pups. These pups are not included in the reported count of sharks killed, and any assessment made is done based on understated data.'' the report states
Another Little Penguin turns up in the 2015/16 data - although this is added in via an Addenda; '''There were two interactions with sea birds: one Little Penguin and one Australasian Gannet.''
The Little Penguin died at Coogee, the Australasian Gannet died at Narrabeen.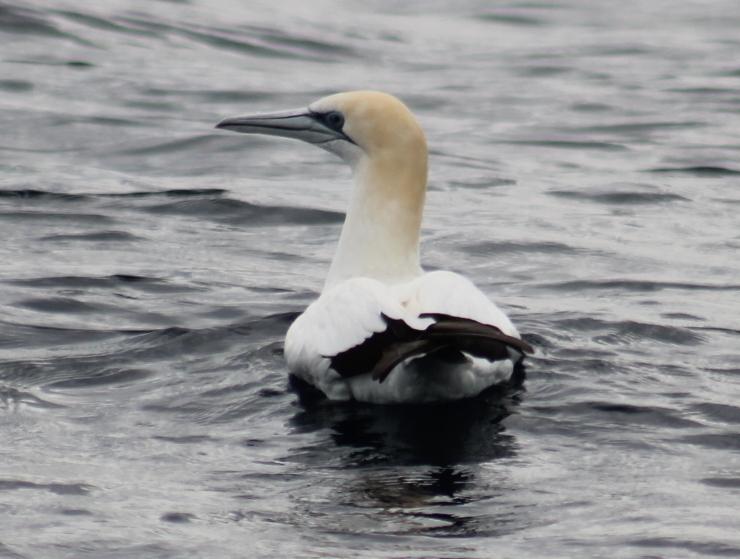 Gannet phtoographed off Palm Beach. Photo: A J Guesdon
The Envoy Foundation report covers the many shortcomings of the program in detail, including some that may not have been previously discussed. For example, the report states, trigger points should effectively alert the program's impact on threatened species, but instead, are reactive. Furthermore, when trigger points are tripped, there is no contingency plan for decisive and practical actions.

The shark mitigation strategy in New South Wales (NSW) has slowly been evolving over recent years. The introduction of Shark-Management-Alert-In-Real-Time (SMART) drumlines and shark surveillance drones has provided hope to those in the community who want to see the program cease its current lethal methods. But the State has been seemingly reluctant to make the final transition away from the lethal Shark Meshing Program (SMP) that still operates for eight months of the year.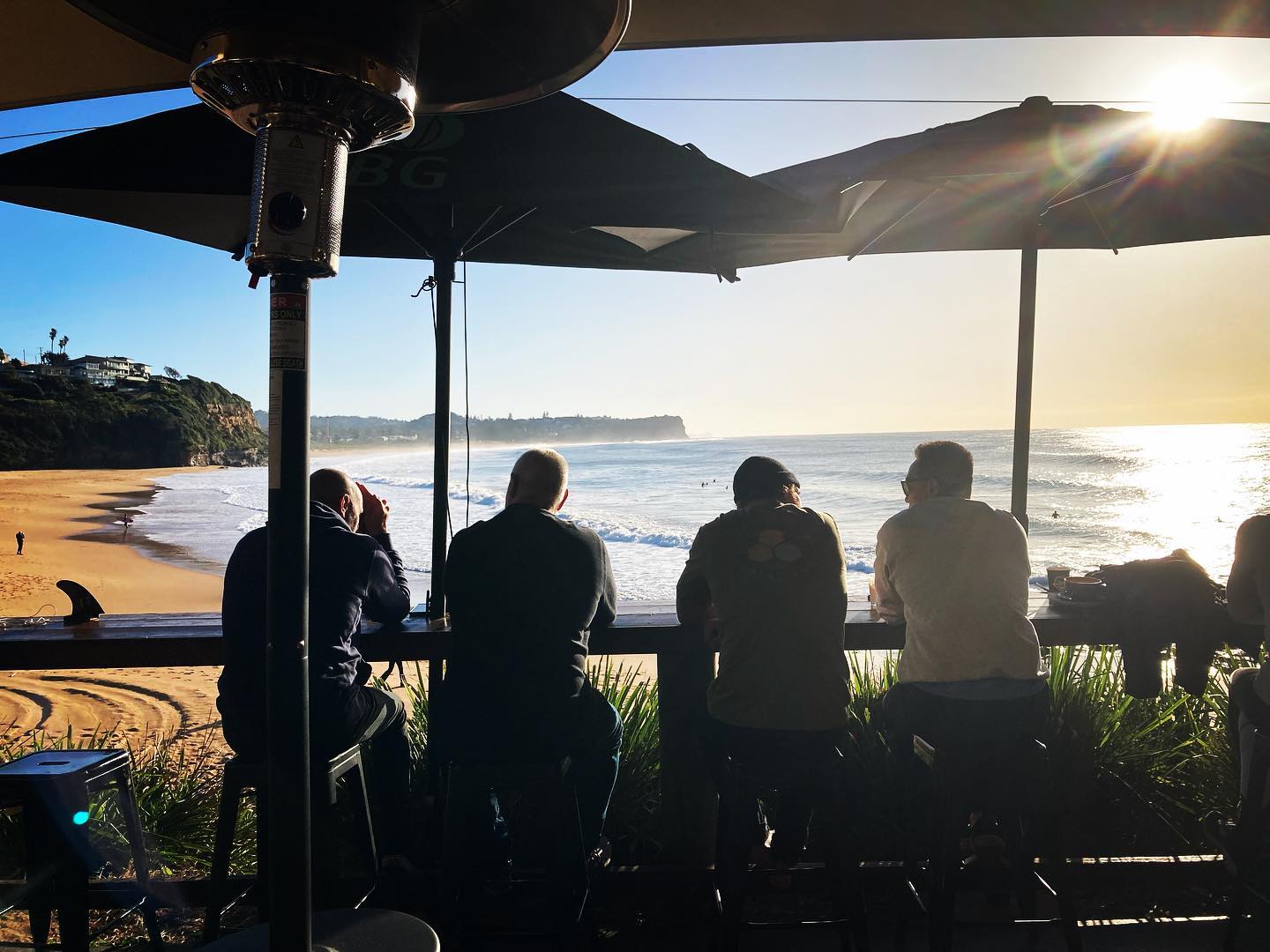 Breakfast at Warriewood Surf Club Cafe: Nice View!! Photo by Peter Salter; Pete tells us you can get an excellent egg and bacon sambo + a brilliant coffee for $12 - 'yum - and great value'.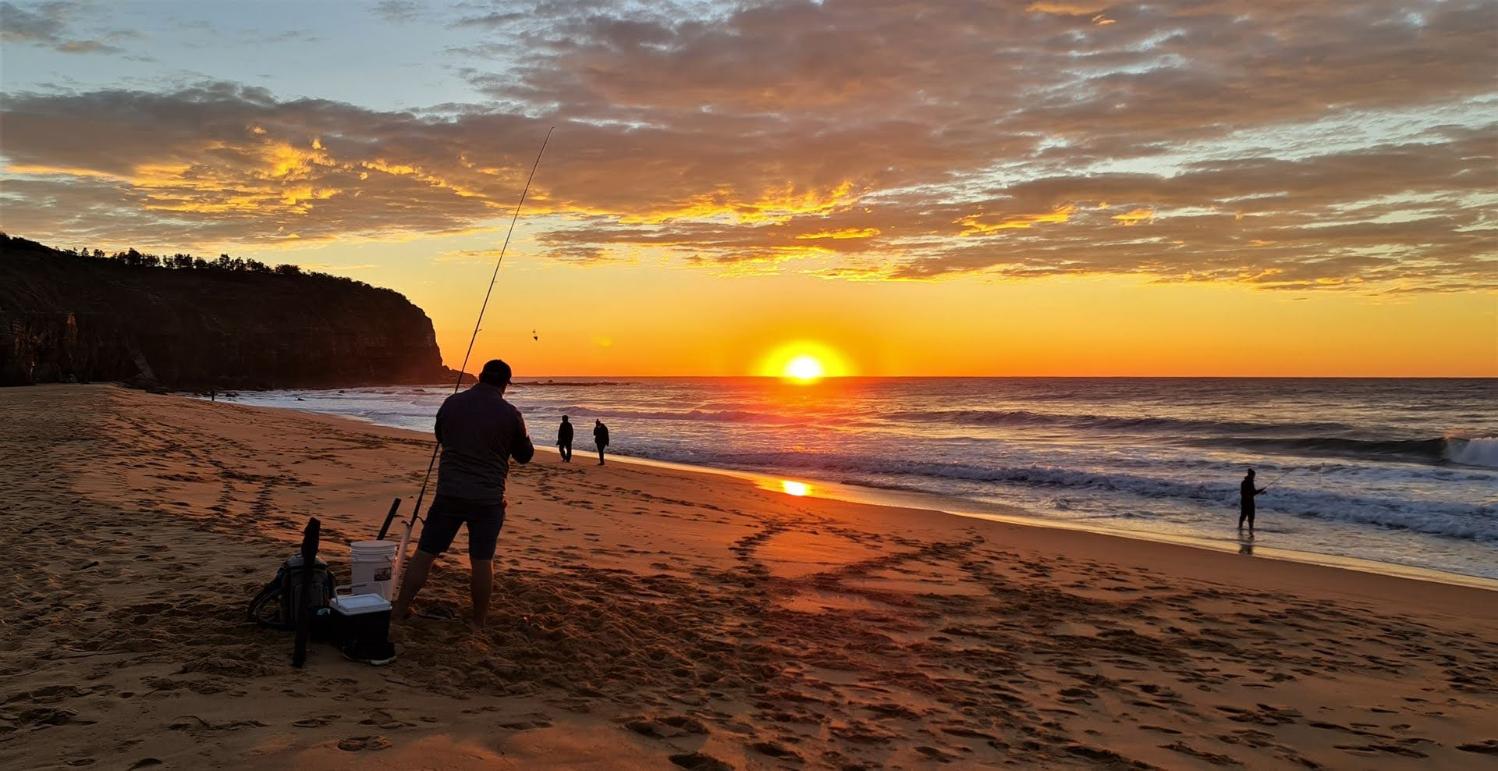 Turimetta Moods; 'Everyone on a beach during a sunrise will stop, sit or stand (or photograph) and be mesmerised by the unfolding beauty.' Photo/quote by Joe Mills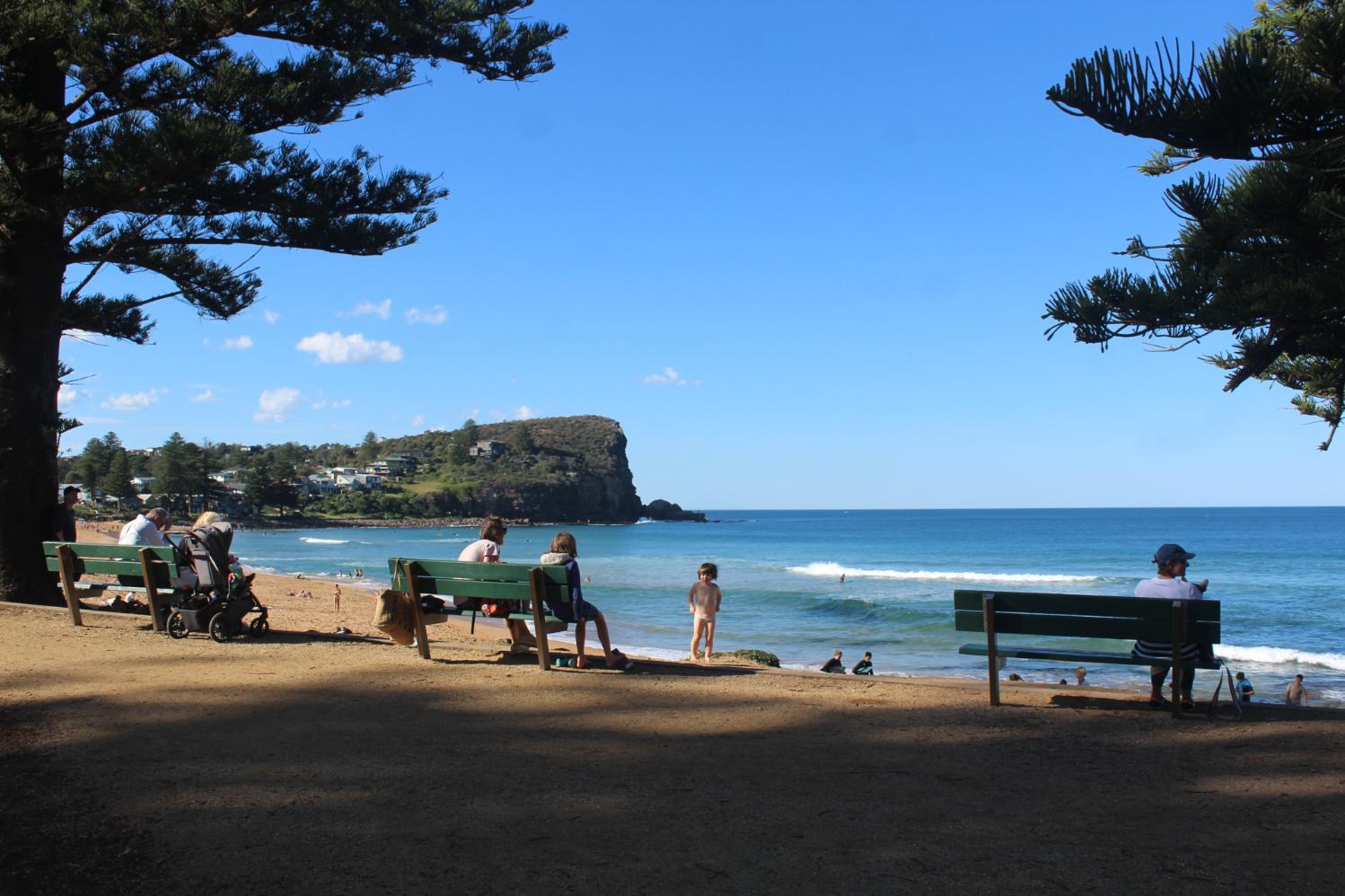 Past Features Archives (pre 2014)
Pittwater Online News was selected for preservation by the State Library of New South Wales and National Library of Australia. This title is scheduled to be re-archived regularly.
Archived Issues (2014 on) may be accessed here: pandora.nla.gov.au/tep/143700
Past Issues are also listed on site on the Community News page, by month.