August 6 - 12, 2023: Issue 593
Life Electric Net Zero Expo + Forum - Dr. sophie Scamps MP, in conversation with Dr. Saul Griffith, John Grimes: Mackellar MP calls for Albanese Government to put young
Australians before fossil

Fuel

Lobbyists

- senator Pocock's

Duty of Care and Intergenerational Equity Bill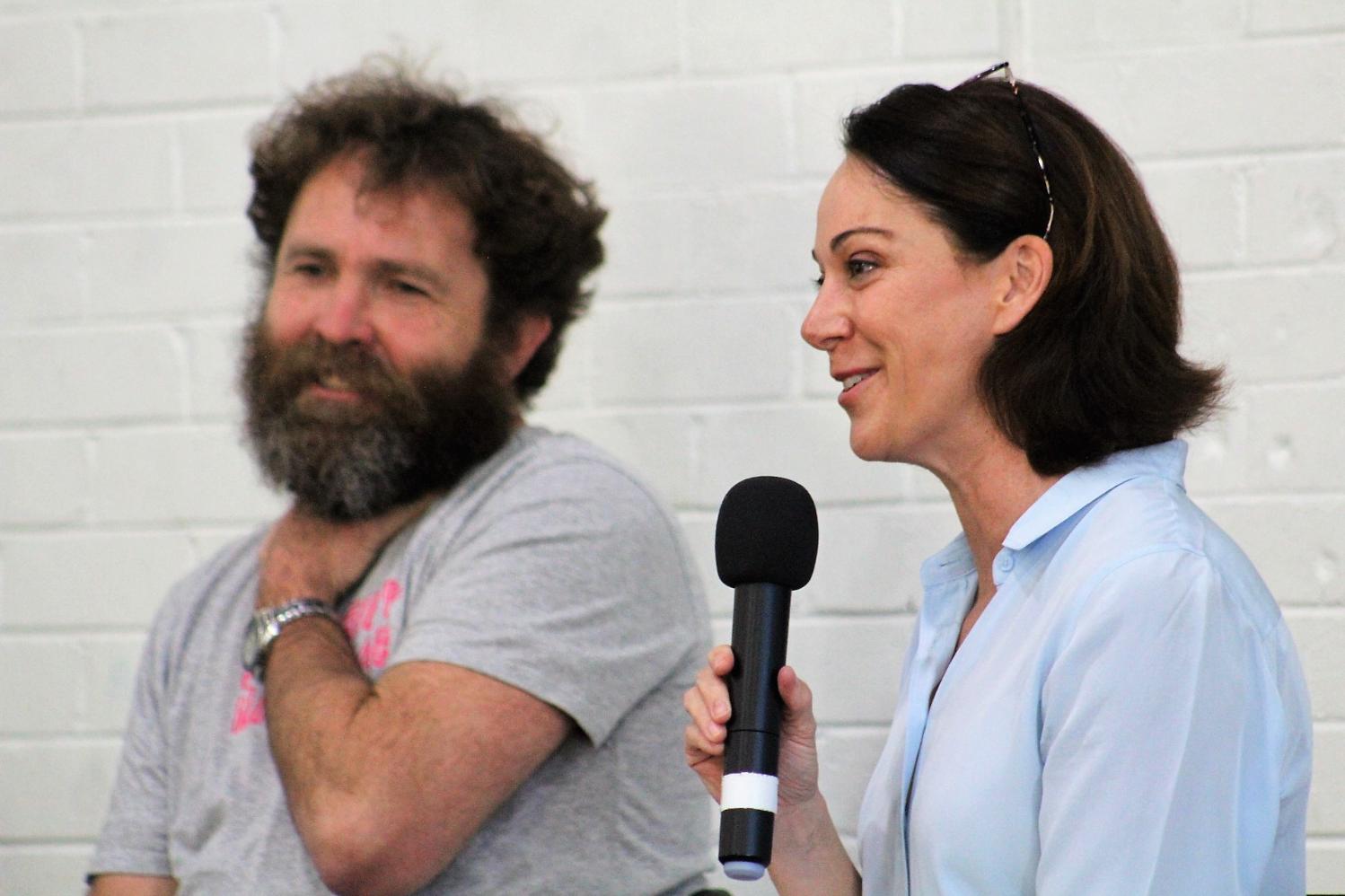 MP for Mackellar Dr. Sophie Scamps - background, Dr. Saul Griffith
On Sunday July 30th The Life Electric Community Net Zero Expo organised by the Avalon-Palm Beach Business Chamber hosted stall holders providing expert advice on solar, EVs and other renewables solutions.
Among the stalls showcase was Electrify Mackellar, officially launching at the event, with Founder and Academic Selena Griffith GAICD FEAD FSSE FIH, sister of 'Electrify Everything' Saul Griffith, and past Pittwater Councillor, on hand to introduce the organisation to visitors.
There were service providers such as Allume providing insights on their work in the solar, EV and renewable solutions fields, Sustainability Strategist Consultant Tanya Mottl sharing information about the Narara Ecovillage on the Central Coast and Global Ecovillage Network Australia (GEN Australia) – a network of ecovillages, indigenous communities, intentional communities, eco-projects, co-housing communities, transition initiatives, like-minded individuals and value aligned organisations in Australia, Exceptional Electric Bikes from Unchained Rides, and even an opportunity to channel your 1950/60's 'Summer in Italy' Mod stylishness and zipping around on a scooter in balmy breezes by taking on a FONZ electric transport alternative.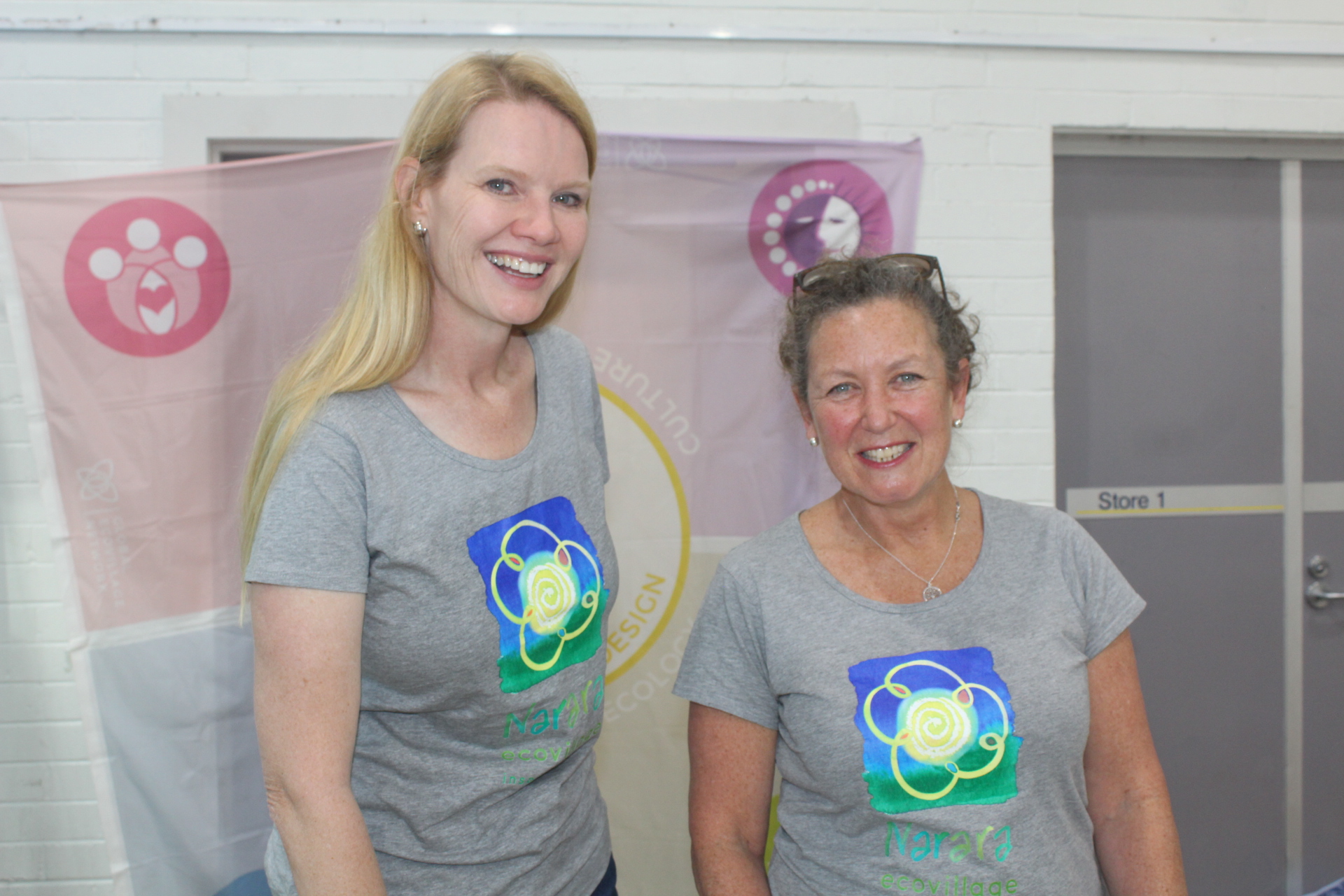 Tanya and fellow Narara Ecovillage friend; Sunday August 27th they're hosting an Ecovillage Open Day - Eco-living talks & tour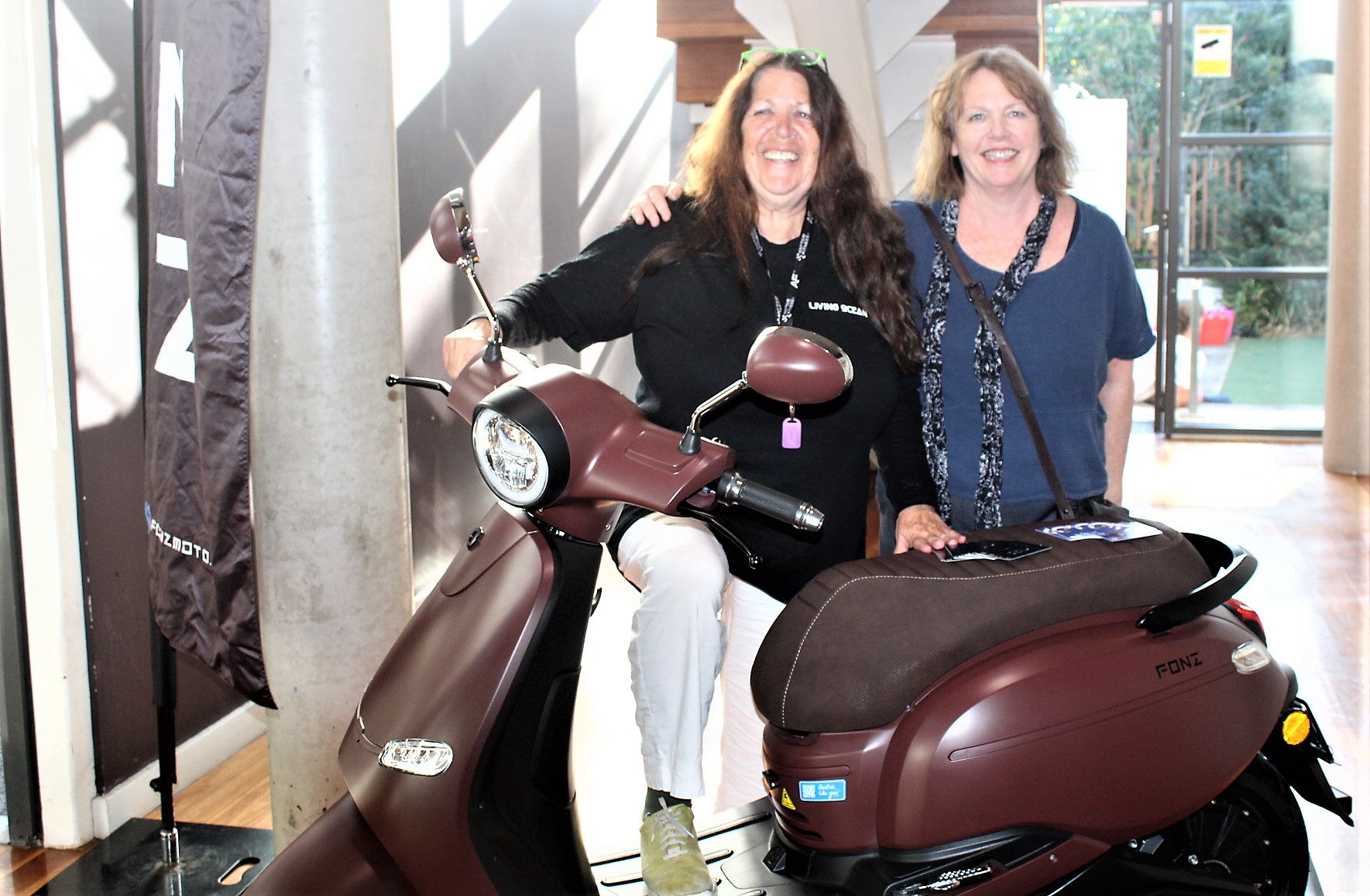 Ros Marsh and Kim Burton, tres chic!
There were great ideas from organisations such as the charity Society for Responsible Design (SRD); which has, since 1989, worked on advancing sustainable responsible design thinking, products and practices. SRD brings together and showcases ways to build a healthier and more sustainable world with concepts and directions to significantly reduce global environmental impacts and enhance social benefits through all design disciplines, health, well-being and even lists great events occurring locally and around the world - visit their linked to site to find out more.
NBCAN - Northern Beaches Climate Action Network members letting people know about their upcoming event at Berry Hall at the Narrabeen.

There was scrumptious food provided by Rowie's By The Sea. Dining Catering Cakes, all made by Rowie Dillon, who is also president of the Newport Chamber of Commerce, and sweet sweet sounds from local band Ah Honey, and even a range of the books penned by Saul Griffith at a stall manged by APBBC dynamo and Bookoccino bibliophile Sally Tabner.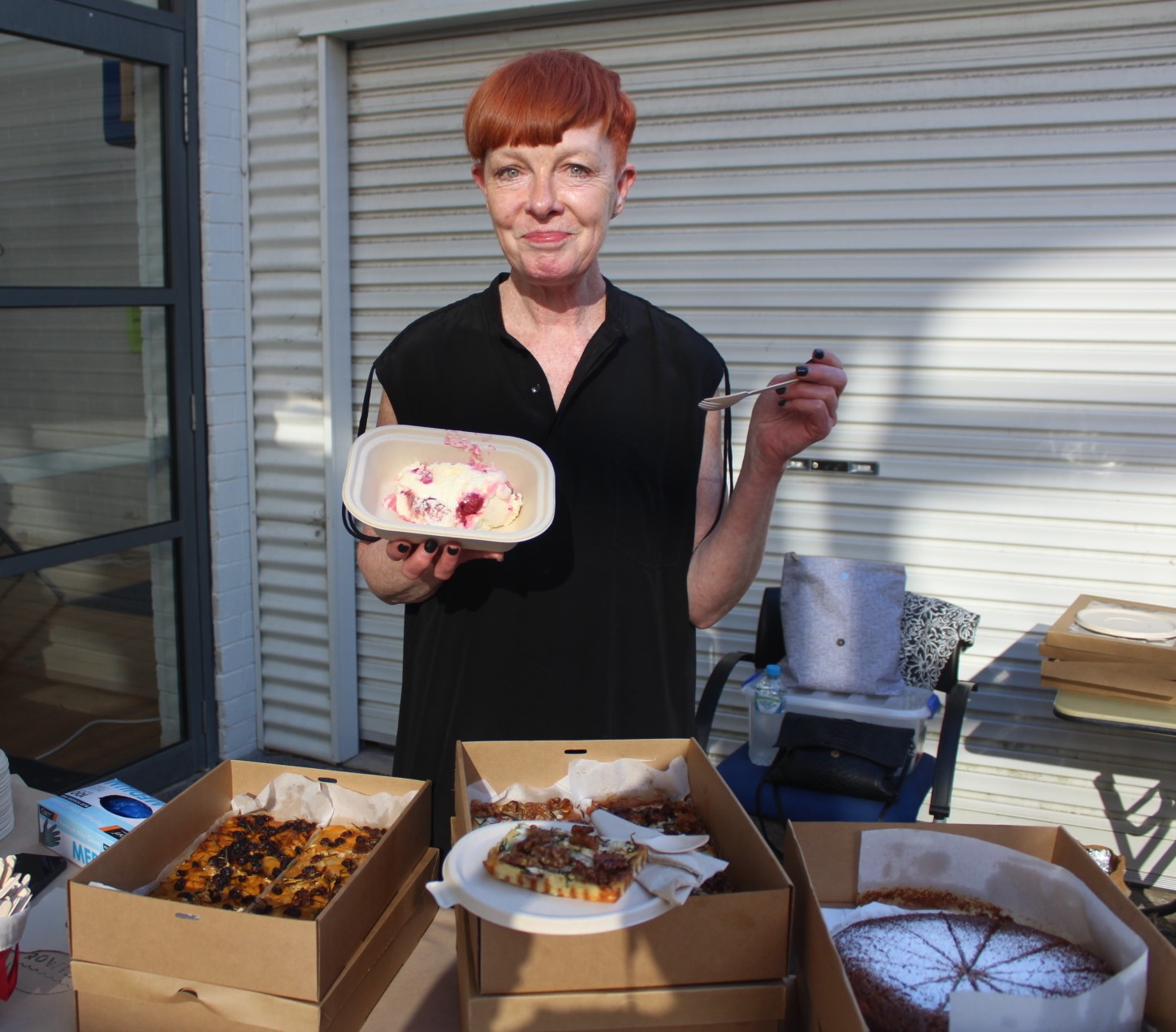 Rowie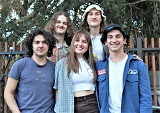 Ah Honey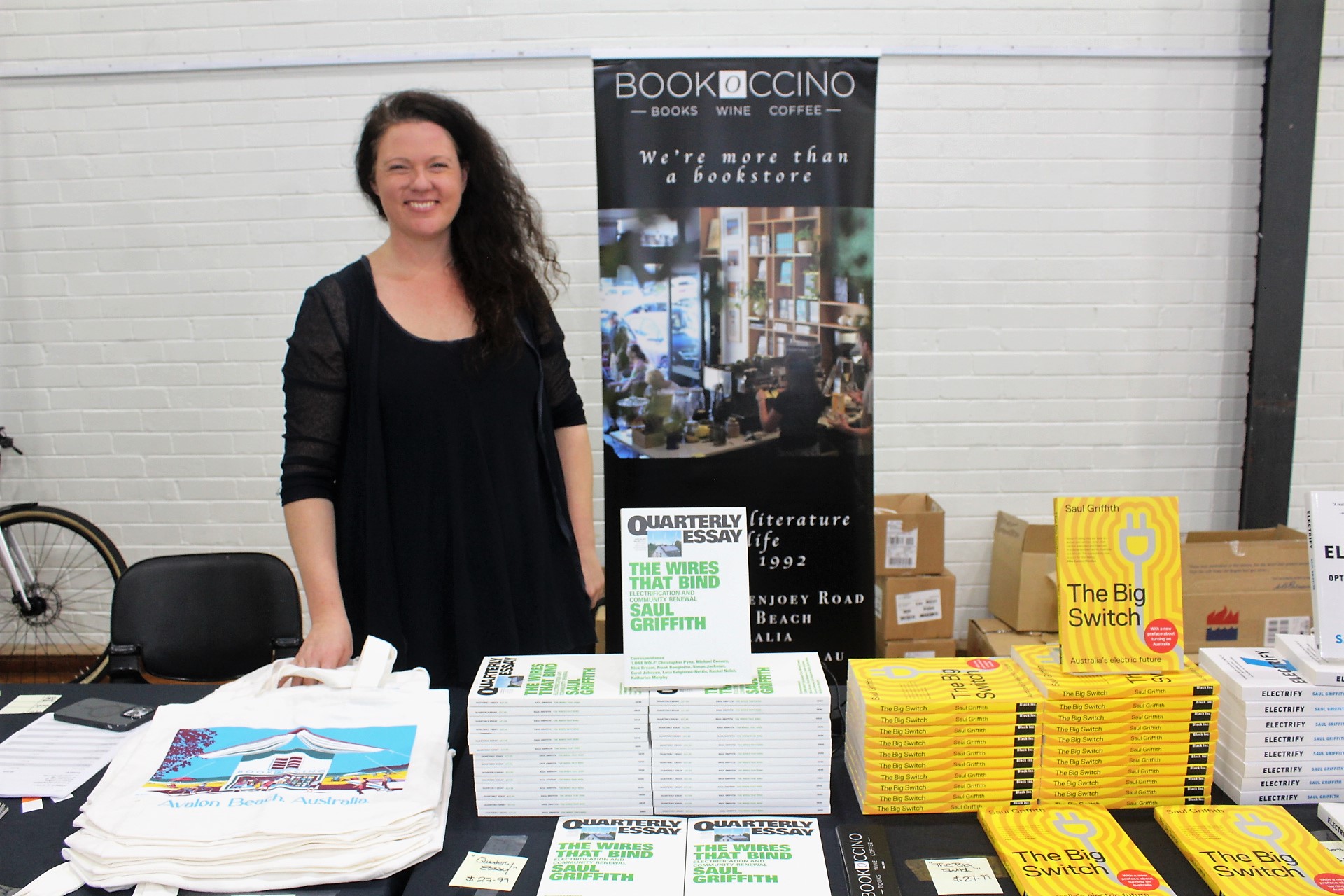 Sally
As part of the Expo Dr. Sophie Scamps, MP for Mackellar, hosted a Q and A with Dr. Saul Griffith, Inventor and Rewiring Australia Founder and Founding member of Electrify 2515, and John Grimes, Chief Executive of the Smart Energy Council, Australia's peak independent smart energy body.

A crowd of over 300 people listened to inspiring insights and easy to follow steps anyone can achieve in an individual and whole of community achievement of a Net Zero emissions for domestic and business energy.
Dr. Scamps quizzed Saul Griffith and John Grimes on what is needed over the next 15 years and what can be done immediately to shift from being those who pay for energy companies to run their lives to those who are free of this perpetually government subsidised agenda.
Introduced by Sally Tabner, who stated one of the aims of the Avalon-Palm Beach Business Chamber was to have the business heart of Avalon Beach completely switched to renewables over within the next 5 years, Dr Scamps MP in conversation with Dr. Saul Griffith and John Grimes may have incited a March on Canberra to demand change on policy and regulatory mechanisms.
The Transcription runs below.
Dr. Scamps:
Began by Acknowledging ands paying her respects to the Traditional Owners of the land on which the meeting was held, including;
'' We live in a beautiful part of the world so I'd like to thank the traditional custodians for caring for this part of the coastline and these waterways since time immemorial.
This week we've heard the Secretary-General of the UN state we have entered the era of 'climate boiling' and we are on track to have the hottest July on record ever – Europe is in flames and there are wildfires everywhere, similar to what we experienced a few years ago during the 2019/2020 Black Summer bushfires.
Today we have two experts to talk about what can be done, what is being done, and how we can address climate change in a practical and realistic way, and in a way that makes great economic sense at a household level and from a national perspective.
Australia is the world's 14th highest emitter of greenhouse gasses, and this doesn't include what we export. Australian households are responsible for 1/5th of Australia's emissions.
The biggest question we are going to address today is what we can do as individuals, as families, as a community, as businesses – what we can do to make a difference in our own lives that will make a difference on the bigger scale.
We are going to hear about the win-win situation; how this helps the impact on our pockets and cost-of-living and how we can get greenhouse gas emissions down.
Saul, I'd like to start with you: for people who don't know you, please tell us about your time in America where you were instrumental with helping politicians there write the largest piece of climate change legislation in human history and anywhere in the world. And tell us also about the wok you are doing with the Australian government.
Dr. Saul Griffith:
Thank you Sophie, thank you everyone for showing up. As a nerdy little boy years ago I would never have imagined having a sold-out basketball court for this.
Before I get going, thank you to my amazing sister Selena for printing this amazing t-shirt (Electrify Mackellar). Selena is a local up here – I'm from the southern beaches, and there's no competition at all [laughter].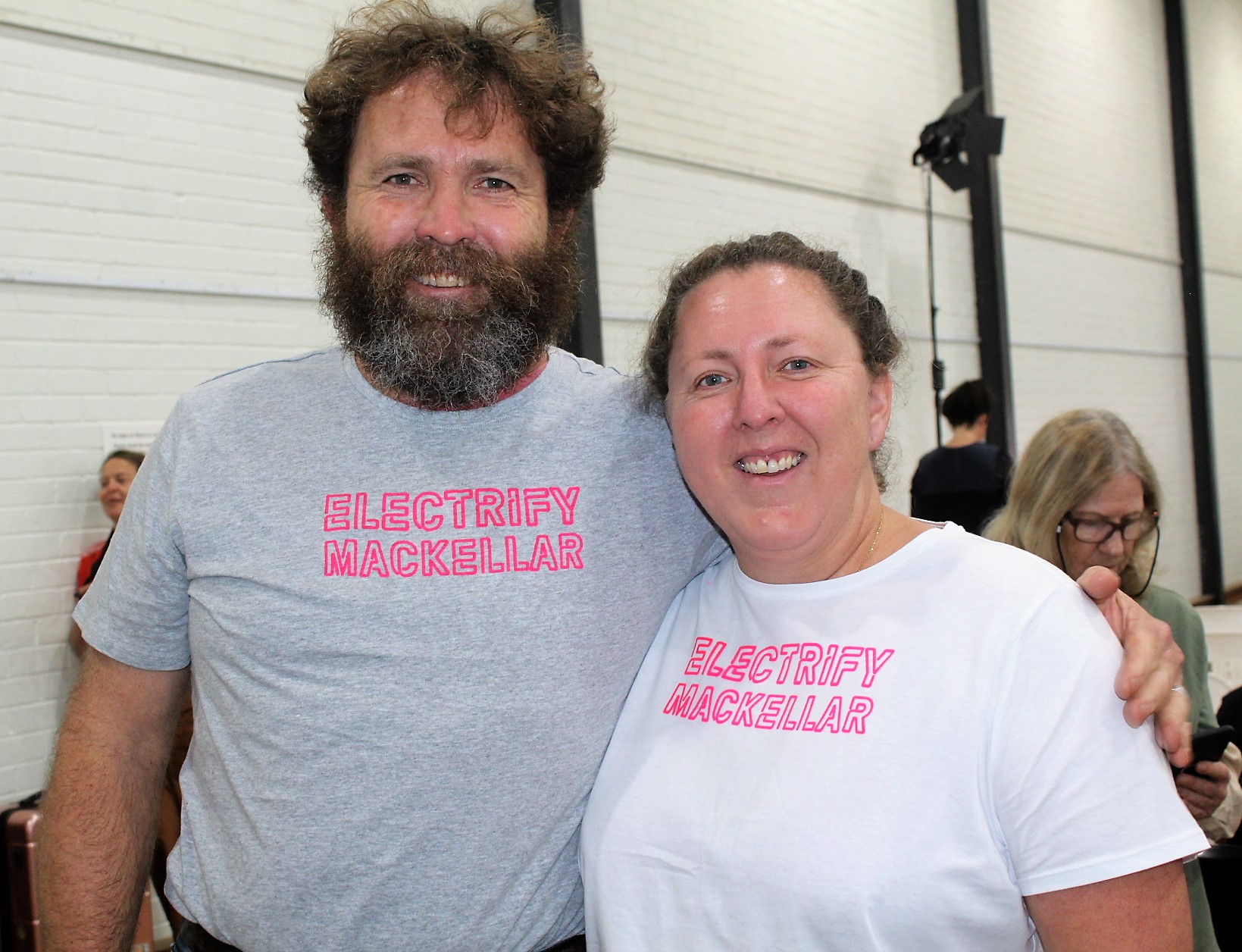 Saul and Selena Griffith
I relocated to Australia in early 2021, I had been living in the US since 1998. I first went to Grad. School and then to Silicon Valley to work on starting technology companies; most of the companies I started were in energy or robotics, so I've been working on solar and electric vehicles, batteries and hydrogen for a long long time. I married my wife in 2008 and I remember in 207 we had a conversation in which I said 'if the world hasn't moved fast enough on climate by 2019 I might become an eco-terrorist'. This explains a bit probably. She said 'sure' because we were young and in love and 2019 was a long way off.
When 2019 came around the world really hadn't been doing enough on climate change and I said 'can I become an eco-terrorist now? I'm well-trained, I built the infrastructure, I know how the whole system works.' And she said 'no, we have two children now, you are allowed, however, to go fight the fight you've always complained – that is the policy and regulatory environment'. In the end she said 'you have to look at what is against the solutions and how to fix that'.
I subsequently wrote a book called 'Electrify', written at the same time I started an organisation called 'Rewiring America' with my good friend Alex Laskey. We were lobbying the Presidential candidates in 2019 – these were all the Democrats who were going to fight Trump. We noticed that anytime any of them stood up and said the words 'climate change' they'd wince and we thought, 'we have to change the message and narrative'. Because Alex and I worked in technology we could see the market was changing.
When Biden won the selection and then the election that gave as an invitation to work with the White House when they were writing their climate policy – we were working with their climate team. Thus began an 18-month odyssey with a small group of people trying to figure out first, how to navigate the rules of the Senate, and what the Democrats could achieve in that sense. For the first six months they thought they would be able to do things like a carbon tax or a clean electrification standard tax – the kinds of traditional standard polices. That was shut down when they didn't want a filibuster – the politics wasn't going to support that kind of approach. This was lucky for us as we had been stating that the market was about to turn; that the economics of electrics vehicles, batteries, solar and wind should be the focus, and that it should be a Bill that promotes the solutions and incentivises everyone to go buy those solutions.
I'm a trained physicist and engineer who learned how to hack the tax code in the US. That led, through thousands of people working on it, to the Inflation Reduction Act of 2022 which is actually an incredible tax code hack. The Inflation Reduction Act of 2022 was a $370 billion investment in incentives for measures dedicated to improving energy security and accelerating clean energy transitions.
So far Americans are taking advantage of the deal 1 ½ times faster than anticipated, so that means it will spend probably 600 billion and if they spend all that is possible over the 10 years of that Bill it will amount to one trillion dollars in rebates for the average American household. Every American household qualifies for, on average 23 thousand dollars in incentives; buy an electric vehicle, buy an electric stove – that represents about half the Bill, the other half is tax incentives for industry to create those machines, make the wind power and solar power.
The Bill was designed to completely transform the economy so that, in future, making the right consumer choice would also be the right climate choice.
And really, that was a long way of saying that that is what we need to do in Australia.
Dr. Scamps:
It is incredible what you helped achieve in America and it helped the USA to make the healthy choice, the right choice, happen in America by and through those tax incentives and subsidies.
John Grimes, CEO of the Smart Energy Council, what is the vision of the Smart Energy Council and how do you see Australia transitioning to that renewable clean energy future?
John Grimes:
The Smart Energy Council has been around for a long time, we trace our history back to 1954 – our members were instrumental in inventing the technology that is used today; the solar panels on your roof, the evacuated heat tubes, the building materials that were actually invented here in Australia. But we didn't take commercial advantage of that multi-billion dollar opportunity incubated here at the University of NSW.
We have a thousand corporate members. The Smart Energy Council is the Independent Body for the Australian Smart Energy Industry. Our theory of change is that the best response in a time of crisis is lifting industry and business as when business is activated it can move really quickly. When you get the incentive and the package is right, business steps in and delivers. I cast my mind back to Covid and messaging around masks as there were no masks because everyone went out and wore masks which meant there were none available for the frontline health workers. Within 3 or 4 months there were a countless supply of masks that we were making here; when the incentives are right, industry can respond.
Conversely; we now we have almost 4 million solar rooftops in Australia. Governments are lagging when it comes to the response to climate, but business and community can act really fast.
So don't underestimate the power that we have, collectively, to really change the dial – and that is why we do what we do at the Smart Energy Council.
Dr. Scamps:
I look forward to exploring how you bring industry and community together to accelerate transition. Saul; I think your theory of life is 'Electrify Everything'? How do you see this happening? What is your vision for Australia? How do you see us electrifying the nation?
Saul:
The book I wrote 'Electrify: An Optimist's Playbook for Our Clean Energy Future' (published October 2021) was really a love letter to Joe Biden or whoever was going to be President of the US. It was called 'Electrify' because I had been studying all the energy flow in America for years and can tell you that 0.9% of energy flow in the US is using natural gas to pump natural gas through three million miles of pipeline – 3% is using oil to make diesel and petrol in chemical refineries - .6% of energy flow is used on buses to get kids to school – and the reason I was looking at all of those in that detail with a couple of other people is; how do you maintain the things that we want from those activities, like getting to school, or heating our homes, without emitting any carbon emissions. The answer for nearly every one of those energy flows is to convert the machine at the end of the line to an electrical machine and to provide that with renewable energy. So that's where 'Electrify Everything' comes from; distilling all those thousands of little lines on this very complicated graph into a simple set of solutions.
5 things you can do; As that translates to your household; 42% of the domestic emissions in Australia, meaning emissions that happen that aren't destined for export somehow, are decisions that you make around the kitchen table; what is the vehicle you drive, how do you heat your home, how do you keep your hot showers, how do you cook and whether you have solar on your roof. That tiny set of decisions.
We've spent 30 years on environmental messaging of 'reduce, reuse, recycle' that would have you standing in the supermarket aisle incapacitated trying to figure out which can of tuna did the least damage.
Some of those decisions are really worth wrestling with but if you're going to move the whole populace then you have to make it practicable. Think about infrastructure – you're going to make 5 decisions over the next 10 years; everyone of you will buy a car, a water heater or a room heater at some time over the next decade. If you just make those decisions to use electric, and if we continue to do a good job utilising rooftop solar, and employ some big scale solar and wind, that is actually the recipe to get to net zero emissions.
The exciting thing for Australia is that solar is the cheapest energy that retail consumers can and have ever had anywhere in the world. Solar is so much cheaper – so much so that we did a study in the US that showed that by 2030, if they go all-electric, American households will save a thousand dollars a year. If you do the same study in Australia it's 4 thousand dollars a year per household.
That is because if you drove an electric car here today using your rooftop solar it cost about 2 cents a kilometre instead of 26 cents a kilometre if using petrol or diesel – which we also have to import.
Electrifying everything is technically true and also a simplifying way about how we go about going through this difficult time of climate transition and make a good decisions.
Dr. Scamps:
John, do you have anything to add to that?
John Grimes:
These are astounding figures. If you buy a rooftop solar system you're really buying at capital costs because there is no fuel costs; the sun is free of charge. In doing the financial analysis you look at what it costs to buy and install and then look at how much that cost is over a relative short period, and we are finding solar panels working for 20 to 35+ years now, and even during a relatively short payback period, the cost of electricity from your solar system is coming in at about 4 cents a kilowatt hour. When you plug into the grid at home you're buying electricity at around 35 cents per kilowatt hour, and in July those prices went up by about 25%. So we're not talking about a small marginal difference; this is a massive cost saving. In an environment of out-of-control cost of living and high interest rates, what better thing could we do than slash our power bill and help save the planet at the same time?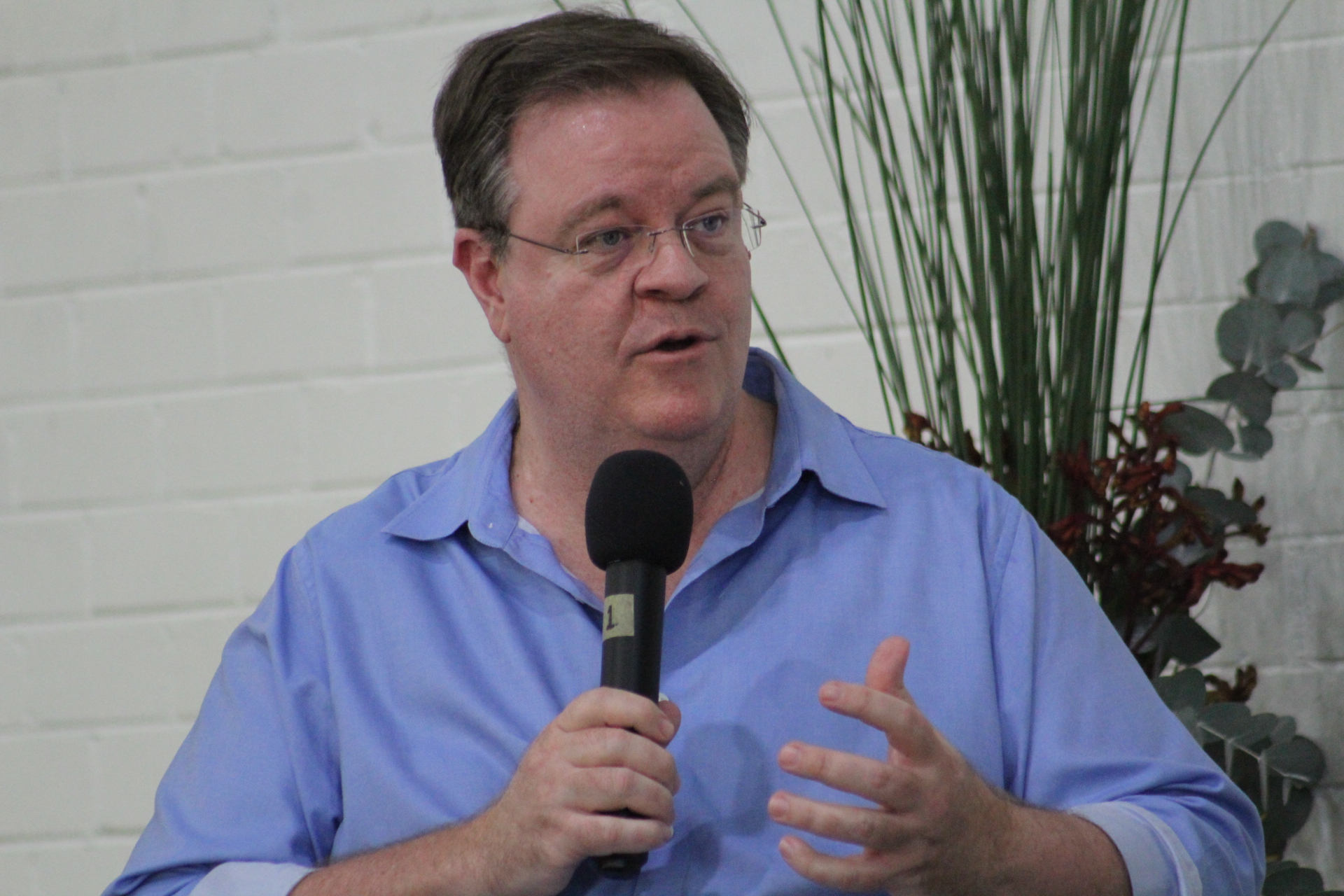 Dr. Scamps:
How did we become the place where there is the cheapest available solar power in the world and what are the barriers to electrifying everything at the moment?
John:
The reason that solar technology has come down in costs massively is economies of scale and it's volume based. It's China that has invested in this and the dividend is cheap solar for the world. The other factor is we have a really streamlined efficient way of installing rooftop solar. Australia wins the gold medal when it comes to rooftop solar; in fact solar per capita Australia wins the gold medal. We have almost 1.5 kilowatts for every Australian in the country, which is miles ahead of where others are.
One of the reasons this works so well in Australia is sunlight – when you put a solar panel in in Sydney it will produce around 4 times more energy than the best location in Germany, for example. So we have a natural advantage; our fantastic sunshine and wind means that collectively we have access to the world's cheapest and cleanest electricity.
When you think about that it's not just the home power bill, how could we harvest the world's cheapest energy to value add to our exports for example; answer - we don't export iron ore as dirt, we process it into iron pellets, which is very energy intensive. Guess what?; solar + wind, in the Pilbara in Western Australia, makes that entirely feasible. Suddenly the value of the export goes up massively, and this is a commodity the world wants – an automotive manufacturer in Europe or North America – they want a zero-carbon footprint. So this presents a great opportunity for Australia to invest and reindustrialise, create jobs, and grow our economy, all while being at the forefront of solutions to climate change.
Saul:
Yes – all those reasons are true. And another two reasons Australian rooftop solar was such a huge success was a policy which incentivised solar tax credits and households to do it – and we optimised the regulatory environment, including the way we trained the workforce to do those installations safely, and that is why Australian rooftop solar is 3 to 4 times cheaper than American rooftop solar in places where the sunlight isn't that strong.
I really want Australia to understand that we will not win this fight against climate change unless we are brave enough to tackle the regulatory environment and the policy environment and the tax code; because those three things, at the moment, favour the continuation of fossil fuels. We need the political will to address that otherwise we're not going to achieve with electric cars what we have with rooftop solar, or for all of these solutions. My new theory of change is we are mucking around at the edges unless we are changing the tax code.
Dr. Scamps:
So what is the regulatory environment we have in Australia at the moment?; we have fossil fuel subsidies which is worth 11.4 billion that is going towards propping up the fossil fuels industry. We need to move on from that. I should say that at present Helen Haines is trying to get subsidies for batteries through her Cheaper Home Batteries Bill 2023 – so we had the subsidies for solar and are looking to get subsidies for Home Batteries – what else?
John:
I think in Australia at the federal government level have a dual approach; on the one hand there has been a setting of an emissions reduction target of 42% by 2030, with 82% to come from renewable energy by 2030 is big. Today about 36% of energy in Australia is from renewable energy; a massive build signal. At the same time coal and gas are our largest export, worth about 150 billion dollars a year, and, the government continues to approve new coal mines. I think this one eye closed kicking the sand approach has to change before too long and there has to be a reckoning. I have just returned from India where I accompanied Minister Bowen to the G20 Energy Transitions Ministerial for ministers from around the world and I was so disappointed because the world is backsliding – they softened their language on coal, they softened their language on the build-out of renewables. They strengthened their language when it came to carbon capture and storage, which I'm concerned about.
If you look at the driver; what's the driver?; time is up.
I found a fantastic resource called the carbon clock and it measures how much time we've got left on the current emission profile until we breach 1.5 degrees.
Scientists state that with what's in the atmosphere already there's probably enough to take us past 1.5 – putting that aside, the IPPC report stated we have 5 years, 11 months and 21 days. That's taking into account all the carbon. For things like aviation it's going to take time to decarbonise – fertilisers in agriculture are also a big big problem. I think, internationally, we're not doing enough, I think nationally we are part-way there but we're not confronting the elephant in the room, and that's why I think these initiatives, to electrify communities, for communities to take their destiny into their own hands, are what can be done; it all comes down to us. There was only ever us. And us acting collectively can do extraordinary things.
Saul:
I'm in the unfortunate position of having to criticise the people I try to work with – love you Uncle Joe but the IRA is about half of what you need for what used to be the target 1.5 degrees, which was net-zero by 2030, and zero by 2050. Maybe we (US) didn't actually do anything between 2018 and now and so we went up and so the target for net-zero now is 2040.
Enshrining 42% by 2030 in a policy is good except when you inherit 26% of that as dubious carbon credits from the previous government – it's super-underwhelming – and our government is not on target and that 42% wasn't enough anyway. I can say that as a criticism but the reality is Australia can get there first and over the line first and we can do it in a way that's economically fiscal. If Australia makes this public policy and goes hard at it we will increase the ambition of the rest of the world.
My experience within the US was 'we've got no chance' and then as soon as we made the IRA happen Australia was 'what do we do to respond' and Europe was 'what do we do to respond' and China was 'what do we do to respond?'
So our only real chance now is to increase political ambition at every political opportunity, wherever it happens to be in the world - and it is also up to you – and I do hope you follow that five-step plan I mentioned earlier – but it's still not enough and we're not going to win unless we can change the politics and change the tax code and the policy and affix the rest. And, we have to continually call 'foul' when the government says 'we're doing it – 42%!' and say 'no, you inherited 26% of that in dubious credits from the previous government – let's do better!'.
Another example is the Fuel Tax Credit scheme, which is 7.7 billion dollars this year; so you have to pay $1.80 per litre for diesel, but if you're a mining company you're allowed to pay $1-$1.10, and that diesel is running – guess what – an electrical generator! - because the machines that are being used on all the mine sites run on that magical energy source of the future; electricity – and this is the dumbest thing you could possibly imagine.
This is the most polluting, most inefficient way of running a generator; through turning diesel into electricity, and there is no political ambition in sight to stop this form of stupidity. We are literally giving foreign owned companies billions of dollars in discounts instead of helping you lower your energy bills.
We should be marching on Canberra with burning effigies.
[loud applause]
Dr. Scamps:
The government does respond to mandates from the community; so if we keep speaking to them, keep being aware about and speaking about the Fuel Tax Credits and Fossil Fuel Subsdies, then that is how action happens.
There have been a couple of changes we're seeing in Europe to help this transition happen more quickly – we saw with the invasion of Ukraine by Russia that countries went back to using coal and gas.
In speaking to ambassadors from the EU, Germany and the US recently this was cited as an added incentive to get off fossil fuels as quickly as possible because it's an energy issue; if you have renewables and then build-in more you have energy security for your country, and you are seeing building relationships with friendly countries occurring as part of that.
We have the IRA, the Inflation Reduction Act happening in America. America needs resources to make this happen and Australia is home to 9 out of the 10 critical minerals required for this renewable energy transition.
Can you share how we could build more relationships with countries ourselves and value add beyond that dig it and ship it structure and have a prosperous future for Australia?
Saul:
That's an excellent question and I have two replies. When Russia invaded Ukraine Bill McKibben called me and said 'this is our chance' because there's a chapter in the Electrify book which says America is not serious unless it uses IRA to have government investing in really upscaling industry to address this – along the lines America used to upscale industry to fight Hitler. America managed to change its production methods to the point where it could build almost 300 thousand more aircraft during the 3 years after Midway. We need that level of effort.
Today America is under producing electric vehicles by about 6 to 1, so we need a six-fold increase, a five-fold increase in induction cooking – basically 5 to 6 times the manufacturing of everything.
The third piece of climate legislation you didn't see, but which might be consequential, is the Defense Production Act was intoned in the US including money for US industries to produce heat pumps, solar energy systems, battery systems, so that they could supply Ukraine and western Europe and they wouldn't need Russian gas. So now you have the precedent of using the Defense Production Act for producing what is needed for those countries as a result of this war.
As for what do you need for this transition – Australia has all of these – we don't have 9/10 we have 10 out of 10. We have the 3rd or 4th best supply of all of the elements you would need for this transition.
The big ones are those we're already good at; iron, aluminium, and lithium. Australia shipped 55% of the world's lithium last year.
We're already wining the battery game, except we aren't. In shipping these very valuable commodities across the world, which is still worth $40 a kilo when the battery is dead, you need to consider that if we sell it once we're going to make a few dollars a kilogram and then America is going to recycle that aluminium in perpetuity.
So this is another extraordinary thing; I can electrify your whole life, and it will mean that you need to have about 10 kilograms a year of batteries, solar and wind and that would supply you with a completely renewable lifestyle that looks quite similar to your lifestyle today. Compare that with 16 thousand kilograms of carbon, which is what we do today.
We could be nearly post-mining at the end of this century because we are going to be recycling these things – windmills are made out of steel, solar panels are made out of glass, silicone, steel and aluminium – these are things that we know how to recycle beautifully. My concern is that Australia is going to enter into this, and we should be really excited about the opportunity, without thinking not just about the immediate gold rush but also about whether we should be leasing our lithium to China and creating recurring revenue – should we have a sovereign wealth fund like Norway, which is already covering 80% of the electric vehicle sales in Norway and comes from having a fund which was cleverly using their depleting fossil fuel fund. These are the kinds of decision making we need, not just celebrating the gold rush.
John:
This is a massive business opportunity for Australia. In March this year the Smart Energy Council took 34 member companies to India for an 11-day and 4-city engagement tour with the Australian and Indian smart energy industry. India is really moving ahead in their renewable ambitions, they have a target of 500 gigawatts in renewables by 2030, a massive target. We were mobbed at every level from industry to education to government. I went back to those 34 companies and asked what are the real business opportunities coming out of that March visit; when I totalled it all up, in the advanced pipeline or in closed sales of these companies producing smart innovations like rapid rollout of solar panels or ways of connecting these to the grid, it is one billion Australian dollars.
So if you want support Australian industry, jobs, technology that is second to none in the world, there are massive opportunities just waiting to be picked up and all we need is a bit of government support and a bit of wind in our sails, and to be part of these Australian companies that are really transforming this sector.
Saul:
But be aware that the hydrogen industry wants that support. One of the reasons for justifying hydrogen is that we're going to sell hydrogen to Korea or Germany or Japan to make steel with. My first degree was in Metallurgical Engineering, my first job in a glass furnace in Newcastle which provided me with insight into this - the energy cost of coal or natural gas as it goes into making steel is about half to one cent per kilowatt of work, the government's stretch goal of $2 per hour from hydrogen is about a 12 cents per kilowatt equivalent. The cost of steel is determined by 20 to 40% or more of the cost of the input energy. If you send hydrogen without iron ore across the world to make that steel it will be 5 to 10 times more expensive than the steel we buy today. The market will not accept that.
What we really should be doing is using the half to one cent per kilowatt solar and wind electricity that we will enable us, later this decade, to produce that steel here.
There was a nice big number that the economists realised but said 'we can't get rid of our fossil fuel industry when it's worth $150 billion a year'. But you only make a small margin on fossil fuels because it's commodities and we probably make less on that $150 billion than the $50 billion we pay for oil, so it's already net negative.
If we just processed all our iron ore into steel in Australia it would be a more than one trillion-dollar export. We need to make steel, aluminium and copper, cobalt and lithium into metal and we win.
Dr. Scamps:
And end some long-term decision making and political thinking.
Saul:
Stop giving handouts to Twiggy – the last Federal Budget was like a Twiggy-fest – 2 billion dollars for hydrogen which was 2 billion dollars we weren't giving the Australian people to decarbonise their homes, which is a technology you can roll out today, whereas hydrogen is a maybe.
John:
Transporting hydrogen around the world; absolutely not. But there are some use cases that do make sense. Here is one; you take solar and wind and you create renewable hydrogen, zero carbon hydrogen. You add nitrogen from the atmosphere, about 80% of air around us is nitrogen, and you create renewable ammonia. Now renewable ammonia is the cornerstone of fertiliser. In agriculture all that fertiliser is made from fossil gas; it's very hard to abate emissions in agriculture. So use renewable ammonia to make renewable fertiliser – there's a business case that makes sense. It's not that all business cases don't; stack up, it's just those that are over-hyped that may not.
Saul:
About 1.2% of all the world's energy goes into making ammonia, so you could use green hydrogen to make that. There's a few other little things we could do with green hydrogen, it might be 5% of the future world's mix – not the 50% which is the gas industry's hobby horse in the International Energy Agency (IEA).
It's not all a bad idea, in fact Australia should be producing so much wind and solar energy that there are periods when the cost of electricity is negative and that's the perfect time to make renewable hydrogen to solve some of the problems for agriculture in decarbonising.
I'm simply fighting for hydrogen to not be Australia's response to the IRA because we have bad agents in the Australian political system, including the entire gas industry that is in Canberra lobbying every single day, while we are not marching on it, saying 'can we have a subsidy for hydrogen please?'
Dr. Scamps:
Let's talk about these subsidies to decarbonise our homes. What do people need to do to decarbonise their homes – what are the steps, what are the barriers, what are the incentives and what are the cost savings for people?
Saul:
If you have rooftop solar and have electricity at 3 or 4 cents an hour and are buying electricity from the grid at 35cents per kilowatt hour, and the average Australian household has 1.9 electric vehicles in its driveway, you'd be saving around $3 thousand a year on petrol and diesel. You would be saving around $500 a year on running your hot water and stove, and if you are heating your home at night, depending on whether it was well-built recently or, if it was built, like my house, in the 1970's and has no insulation, you can save money on the heating bills. That's where the 3 or 4 thousand dollars a year in savings can come from.
The problem that most Australians experience is financing this, which is where around 50% of Australians are – and you don't half solve climate change. This is why at the end of the day you have to be thinking about the political pressure required to really change the politics of this.
When you buy a fossil fuel machine you buy a cheap machine but you are committing to paying for fuels far into the future. This renewable energy transition is substituting finance for fuels. The reason that the American Inflation Reduction Act, has worked, the world's largest climate Bill ever, goes back to why it is called the 'American Inflation Reduction Act'.
For the last 40 years the price of fossil fuels increases have roughly matched the inflation increases, which shouldn't surprise you as the basket of goods in the consumer price index literally defines inflation. Whereas if you buy electric goods and finance them at an interest rate, you have a fixed repayment for the next 20 years – so you are inflation-proofing your home when you do these things. But it really is to emphasise we really have to have ideas about how you are going to finance the whole nation and entire population to be able to do this.
At the moment an electric car might cost you 10 thousand dollars more, an electric stove may cost you one thousand dollars more – and you will save money – but again, hot water heaters have a habit of failing, more than likely when your wife is pregnant, and are you willing to not have hot showers for a month while waiting for tradie to turn up to have a new carbon-free one installed – the car is probably going to break down just before you can really afford the electric one; what are you going to do, not drive the kids to school? So we need to think about how we are going to finance all Australian households to do this – macroeconomically we can do it, but what are the details of embedding that into our political and regulatory system so we can help everyone get there – social housing, middle and low income families - everyone.
John:
I just want to reinforce a really important point that Saul has made. When we make choices around hot water or heating or whatever it may be, we often look at the sticker price and the difference between an instant gas system and an old-fashioned electric system, which may be around 2 ½ thousand dollars, and the price to put in a heat pump hot water system, which might be 4 to 5 thousand dollars. When you are not planning for that, you've maxed out the credit card, what do you do?
But that sticker price does not take into account that long, dirty and expensive tale. And so it's really short-term thinking.
A heat pump for hot water is magic – hot water is about 20% of your energy bills. A heat pump – you can put in one kilowatt an hour of electricity and get 4, 5 or 6 kilowatt an hour equivalent for hot water out the other side.
Saul's point is critical; if we can give people easy access to finance, because the cost of the repayments are less than the savings you are going to make over that time, you can be net positive by 20 to 30% on day one.
If we are going to turbo-charge the transition, that is critical.
Saul:
John has this great saying; 'When you are buying solar energy cells you are buying 20 years of free energy up front'.
Dr. Scamps:
What would households need to be fully electrified – how can they reduce their emissions, what are the steps people need to take, how can they do that? As you said, the water heater might blow up – what are those steps and different appliances?
Saul:
I used to show people these wonky graphs and after one presentation a guy came up to me in 2021 and said 'I love it and I've just made a plan for my household for actual zero emissions by 2026. We already have solar, so we know we're saving money there, we know that over the next two years we'll have enough money to replace the heater and the stove.'
By 2024 he was looking at buying a battery as he had looked into it and thought the price of these would come down by then, and that would extend his solar capacity use, and then he was going to change the heating system as part of a renovation for the house. He said 'in 2026 I'm going to buy myself an electric car as a reward'. I said he'd save money by buying the electric vehicle first but he was waiting for a Volkswagen bus to come into production.
So here is a five-step plan he's achieved by 2026 for his household where they are at zero emissions.
Every single household will take a different journey – some may start with an electric bicycle, some will start with a water heater. You may find that while you have an electrician on site to install one of these things, he may be there to install the high current circuit for the vehicle charger, he may as well do the kitchen at the same time as that will save the tradie rolling up another time. The correct speed to hit a 1.5 target is to just make sure you don't buy another machine that burns fossil fuels.
So I want everyone in Australia to get upset and get ready to march on Canberra, and then, make 5 good decisions over the next 15 years.
John:
Let's talk about gas – the gas industry has done a great job on us all; they tell us that it is 'natural gas'. Sounds fantastic doesn't it? Highly polluting fossil gas – it's methane that is piped around. Methane is around 60 times more potent than carbon dioxide; so it leaks everywhere, there are bad health impacts from using gas in homes.
If you can shift your hot water, your space heating and your cooking off gas you get a free bonus, and that is you get to cut the gas connection, because with a gas connection, like an electricity connection, you are being charged a daily fee for having the connection in the first place. In places like Queensland it is about $535 a year. Gas is now one of the most expensive fuels, where solar is the cheapest.
I'd just like to speak about one local business here – Dave runs a local paint business and his electricity bill was 24 thousand dollars a year. He took the steps in his business to electrify and use renewable energy. He now has a net negative power bill. So you can do this in your home and business as well.
Saul:
You talked about gas connection – I was talking to a neighbour yesterday and she proudly told me she has done everything except the water heater, there's some architectural logistic that needs to be addressed, and she is now in the absurd position where she has to pay $1 a day for gas connection to use 15 cents worth of gas.
The Australian Energy Regulator, governed by the Australian energy market system bodies, which are, quite frankly, not fit-for-purpose, has granted the gas companies the right to charge you $1151 and something cents if you wish to abolish their connections and apparatus – 'take your pipes, they're killing my children and pets, get them off my property' - you would then have to pay them. It wasn't confirmed with the property title; this was given to them by the Australian government – that's an extra 7 billion dollars we could add to this project to decarbonise the nation, which we shouldn't have to pay - let's march on Canberra!
[loud whoops and applause]
Dr. Scamps:
In our area we recently had a team strategising session to determine what we would focus on during the next 12 months and the theme is 'getting off gas', and that doesn't just mean electrifying our homes but what can we do at the policy level to move our country off gas. It's time.
[applause]
Saul:
I'd like to talk about David and his paint store and the regulatory challenge in Australia. David, by having a negative electricity bill produces more electricity than he can use in his business. Not everyone in this area owns a lovely home; there's a lot of renters, a lot of multi-strata properties that may not have enough roof area to produce an alternative source of electricity through solar panels. Now David could say, as he is a kind man, 'community, I will sell you that excess at a few cents'. But he is not allowed to do that under the existing rules in the Australian Electricity Market for anything less than the market price.
We should be treating David's rooftop the way we treat all the other generators in the system and if we did so we could utilise community resources more fully – you could have solar maxed out on the roof of this building and every other commercial building and quite a lot of the heavy lifting for decarbonisation for those houses that don't have enough roof capacity for solar would be done within the local community itself and that energy that would be far cheaper.
But that can occur only when we have the political willingness to take on the gas and the fossil fuel industries in the fight over the regulatory environment.
John:
I'd like to call out a few of the great companies in the room for this forum that can provide insights into how we can do this. One of them is a member company of ours, Allume. They can put a solar system into your multi-apartment complex and have developed a world-first technology, SolShare, which enables the sharing of solar energy from a single rooftop solar system amongst multiple dwellings within the same building. They are also working on things like electric vehicle charging as well.
Another here today is SOLshare which allows you to invest in someone else's solar system; so you can't have one but can invest in some else's and get an average return of 7 ½ % by enabling hat transaction to happen. So there are lots of solutions for people who can't access these and still want to participate.
Dr. Scamps:
We've been speaking about many energy solutions here today but one we haven't mentioned is switching our energy providers. This can be done fairly easily.
John:
This is something the federal government has done really well – it's a website called Energy Made Easy: www.energymadeeasy.gov.au
All of the providers are compelled to participate. You put in your details and your bill and you may find savings of around $700 a year straight away. Then I would encourage you to look at providers that are zero-carbon. There are providers that tap into solar and wind farms o provide zero-carbon electricity as well. So there are big savings you may make.
Dr. Scamps:
Everyone's journey is different and it doesn't have to start with solar, it can be heating, a stove, electric car or motorbike.
Questions from audience included the first addressed to Dr. Scamps, which was 'when do we organise a march to Canberra?'
Dr. Scamps, MP for Mackellar replied whenever everyone is ready and explained there is an upcoming event by Doctors for the Environment about Beetaloo Basin and the Scarborough Gas field.
''I would also urge you all to keep speaking up – speak to Ministers – government changes come from people speaking up, from discussing what changes they want and government responding to that. So the mandate comes from the people.'' Dr. Scamps said
John Grimes stated, ''When we are served up with a choice that is unconscionable then we have the freedom to make another choice. That's what this local community has done, and that is hard, you are taking a leap of faith in doing that, but there is huge power in that as well. Keep going is what I say.''
There were also questions about using community batteries to store energy created within the community for use with that community itself.
On Monday July 31st, as David Pocock's Duty of Care and Intergenerational Equity Bill, his first private Bill as an Independent Senator was announced, Dr. Scamps stated:
''Despite children not being able to vote, every government must consider the impact of current policy on future generations. However it's clear that successive governments, including the Albanese Government, are more likely to listen to and act upon the interests of corporate fossil fuel lobbyists than young Australians, or future Australians.
The short-termism that has plagued our politics for decades is leading to policy that is potential harmful to younger Australians, and helping to create an unfair future.
That's why Senator David Pocock's Duty of Care and Intergenerational Equity Bill is so important. Legislating that ministers must take the welfare of future generations into account when considering future fossil fuel projects will promote long term decision making and policy development – something which will benefit all of us.
Young Australians are facing a future where climate-fuelled natural disasters will become the norm. What we are seeing in the Northern Hemisphere right now is clearly the tip of the iceberg and policy makers around the world have a duty to consider how the decisions we make today will impact the lives of future generations.
It's not just on climate policy where we see short-termism and corporate interests win out. It's becoming increasingly obvious that the Albanese Government has been captured by the fossil fuel lobby when it comes to tax reform. The government's weak and timid reforms of the Petroleum Resource Rent Tax (PRRT) are another example of short-term political expediency winning out over longer term, equitable reform.
While the Albanese Government has given fossil fuel companies the green light to continue making super profits from resources we all own, younger generations face the economic burden of paying down our national debt.''
''It's time for the Albanese Government to put the future of young Australians front and centre in their policy development. Considering the impact that fossil fuel projects will have on the future health and wellbeing of young Australians is a no-brainer and should be enshrined in law.'' Dr Scamps said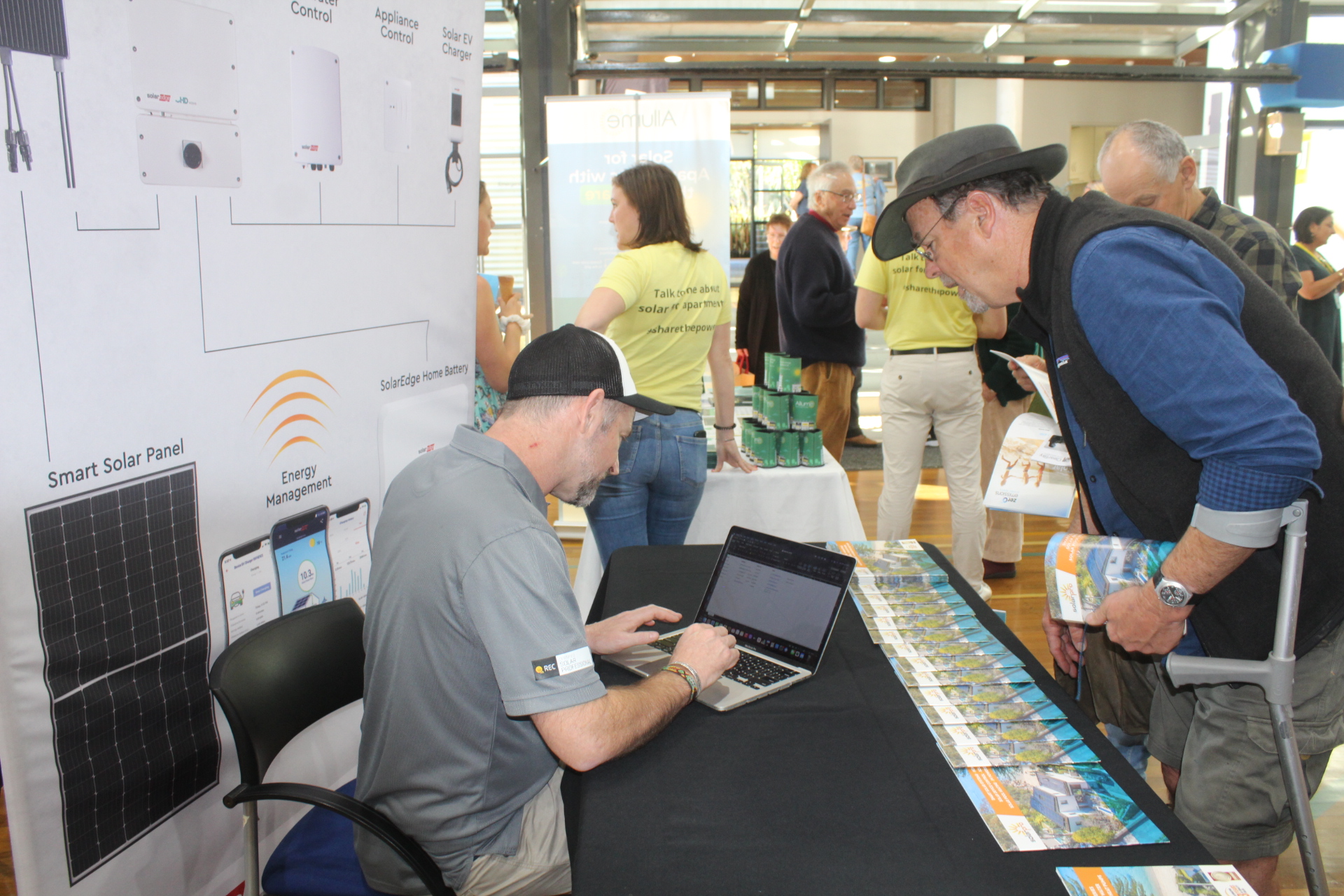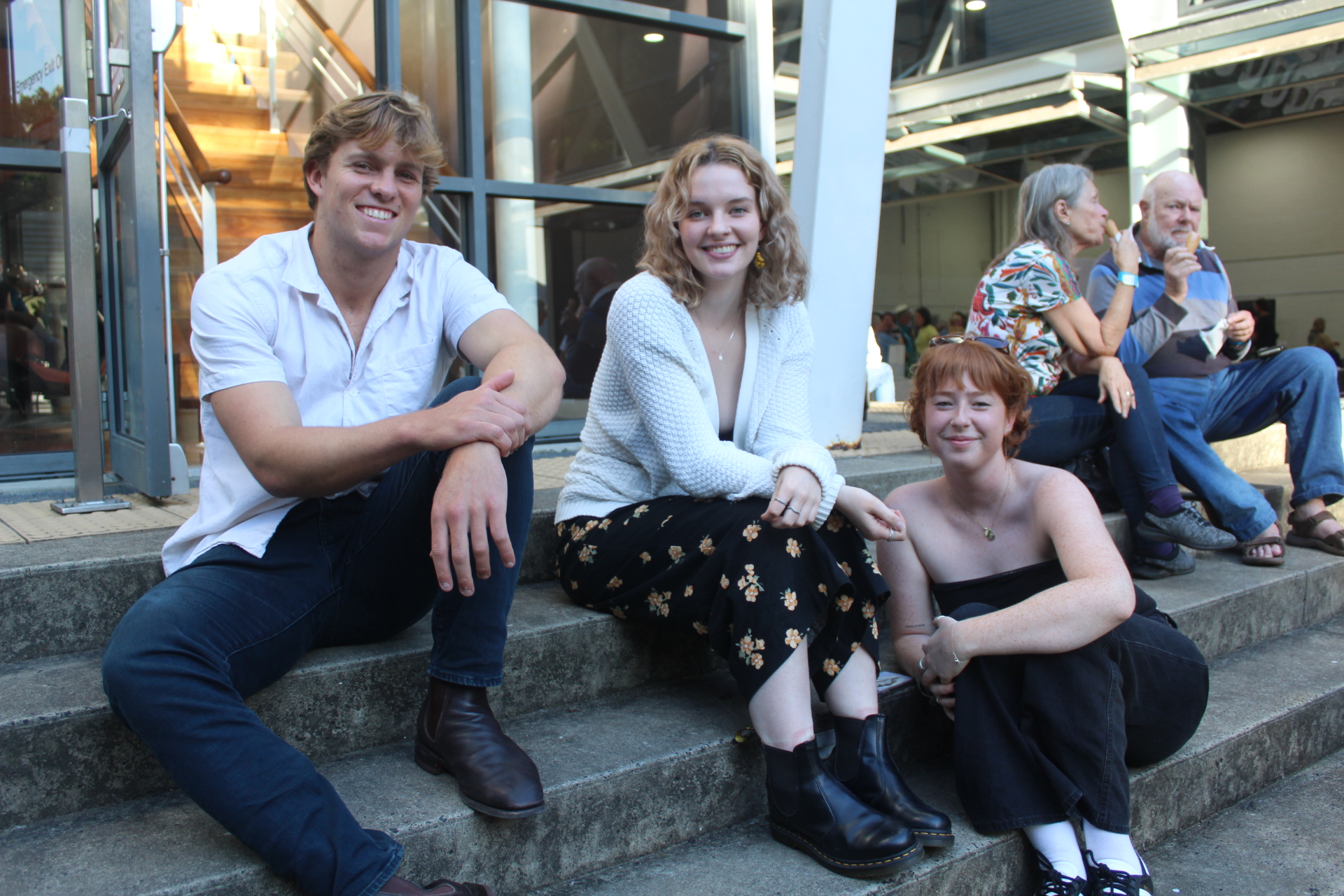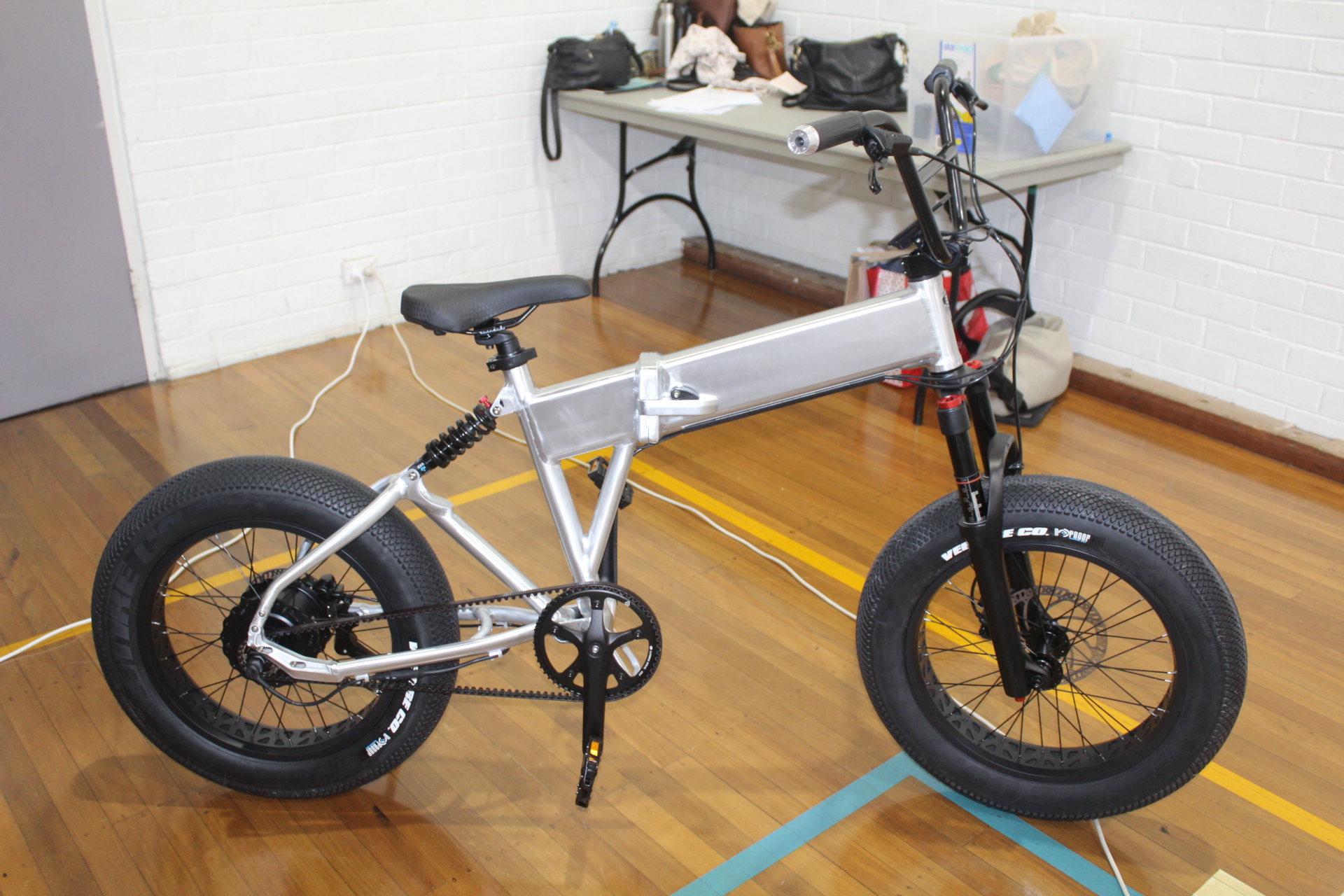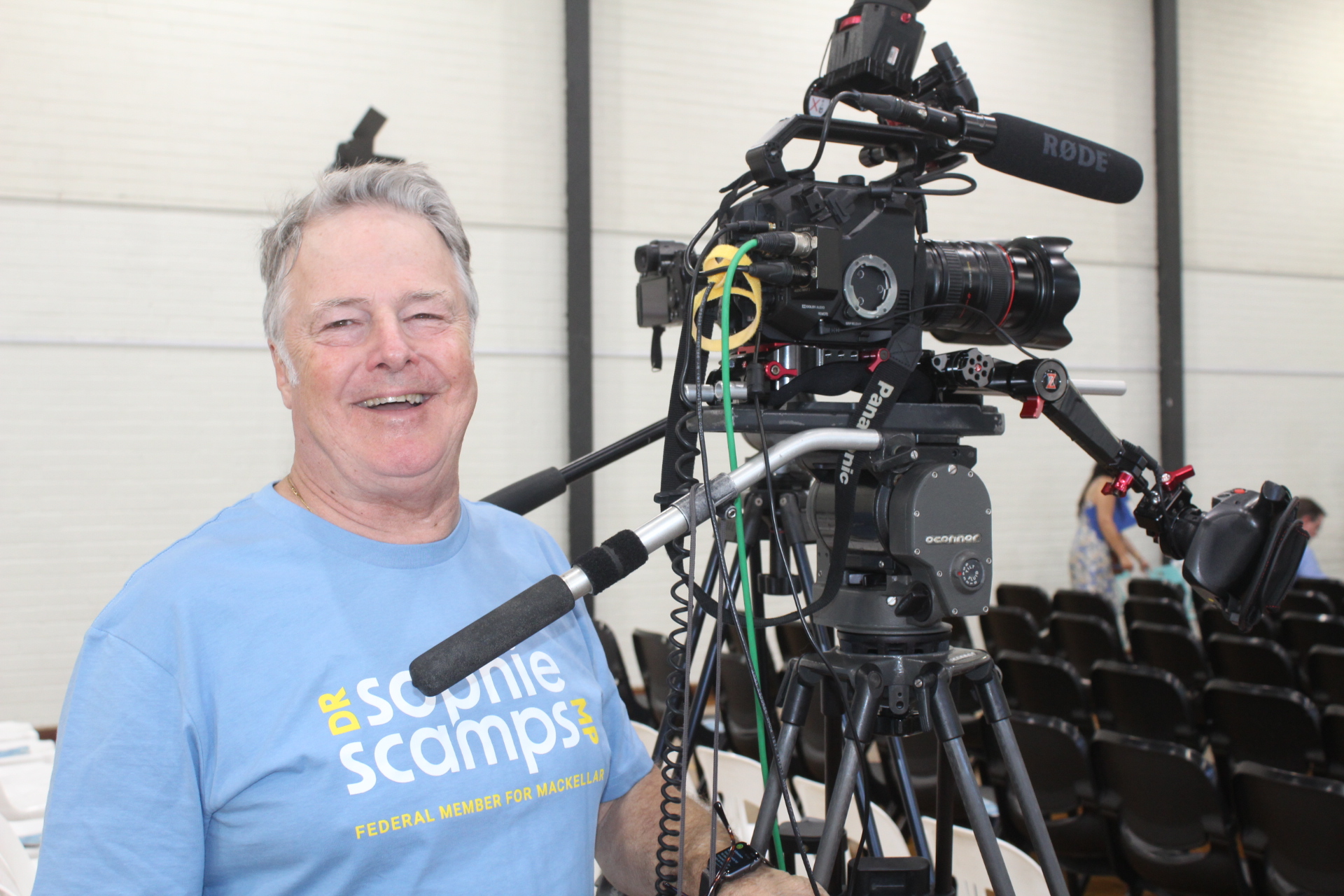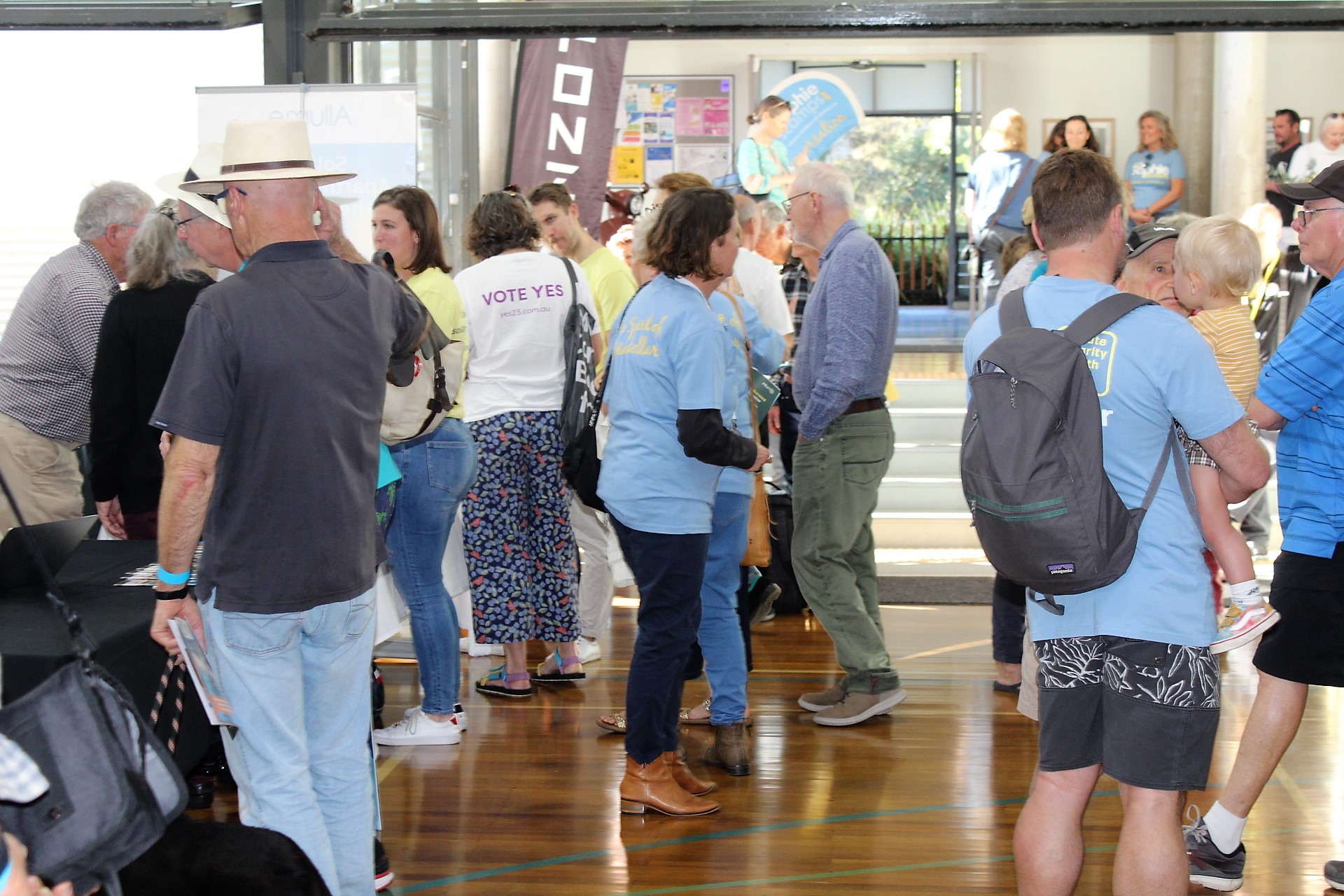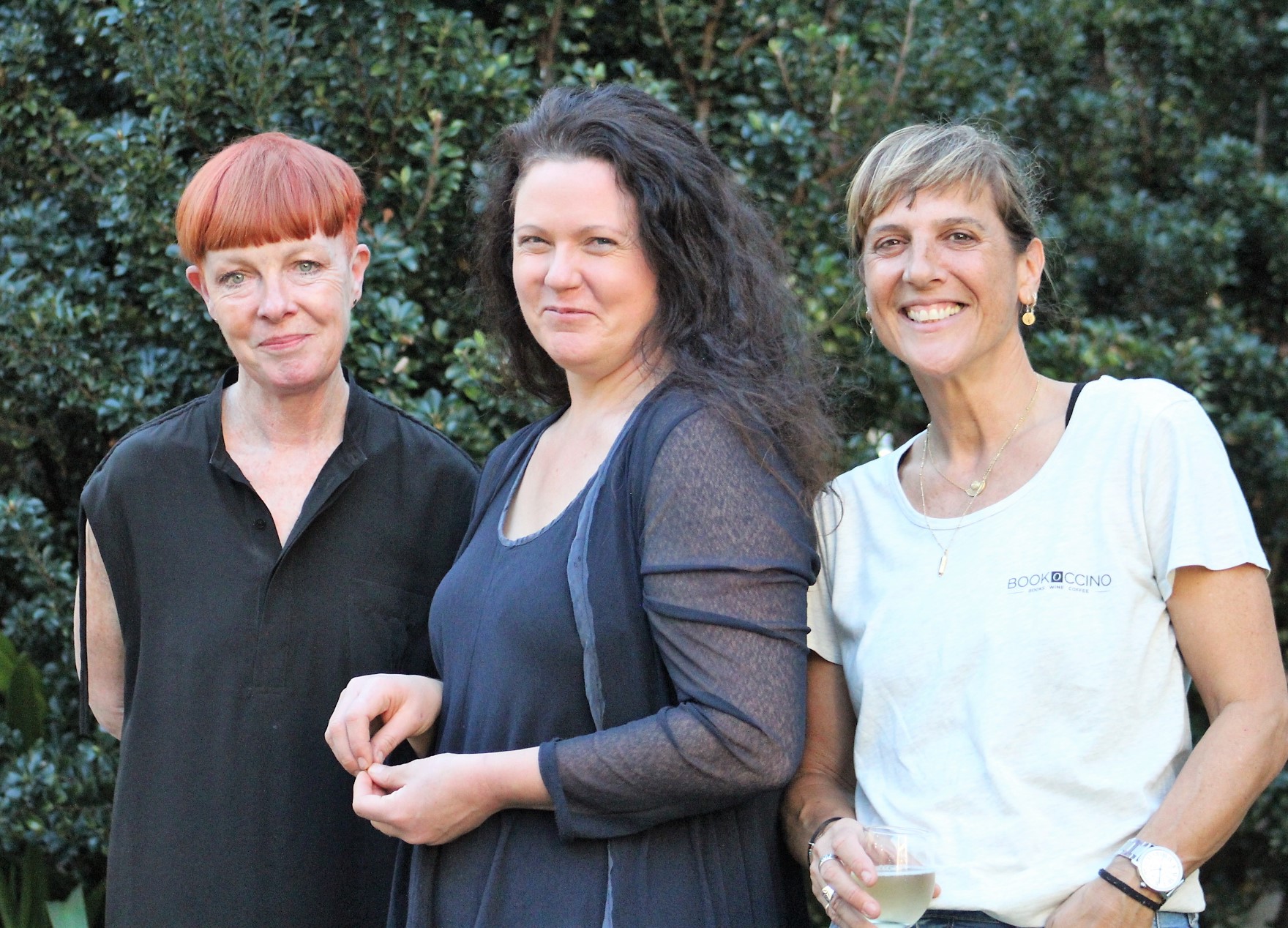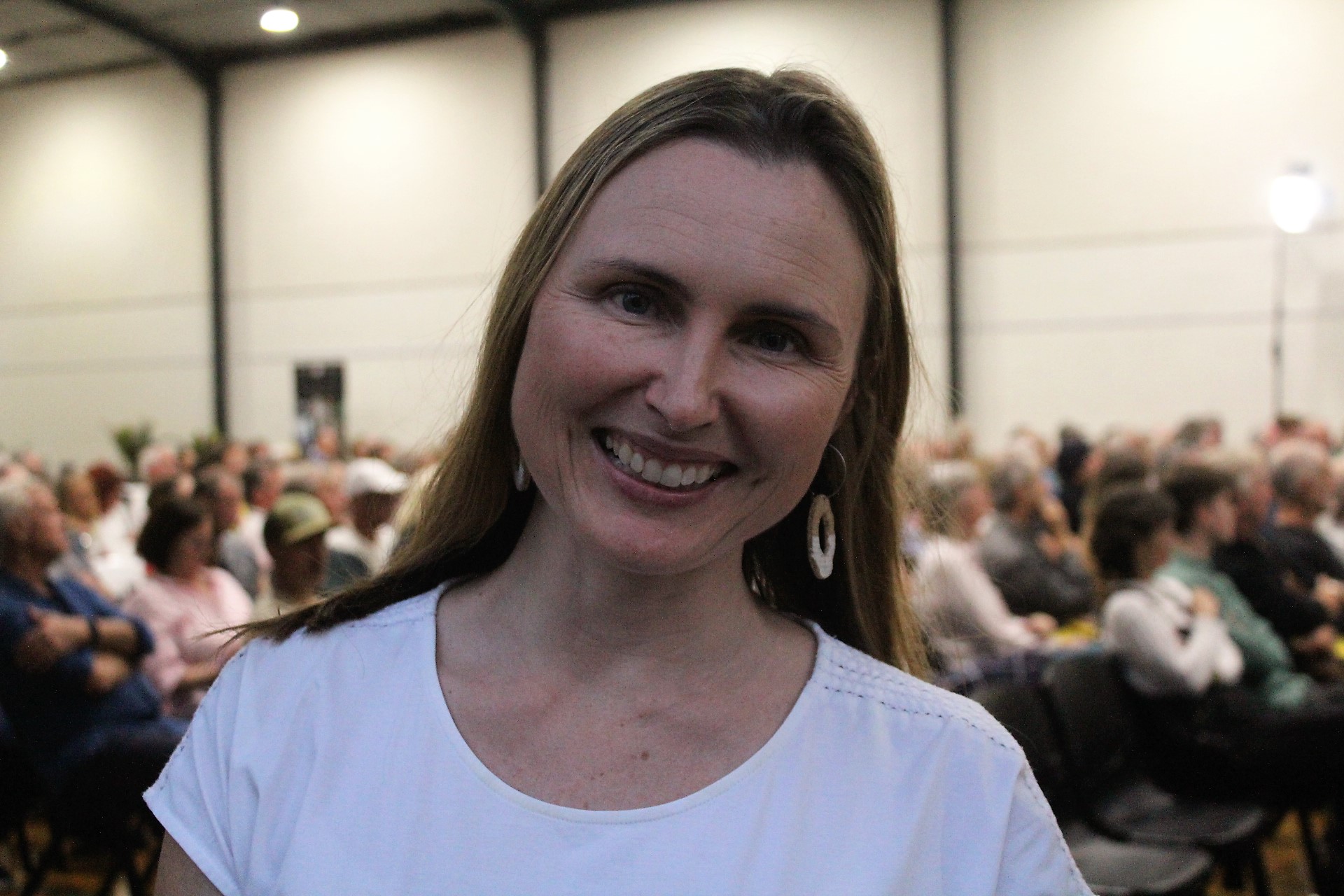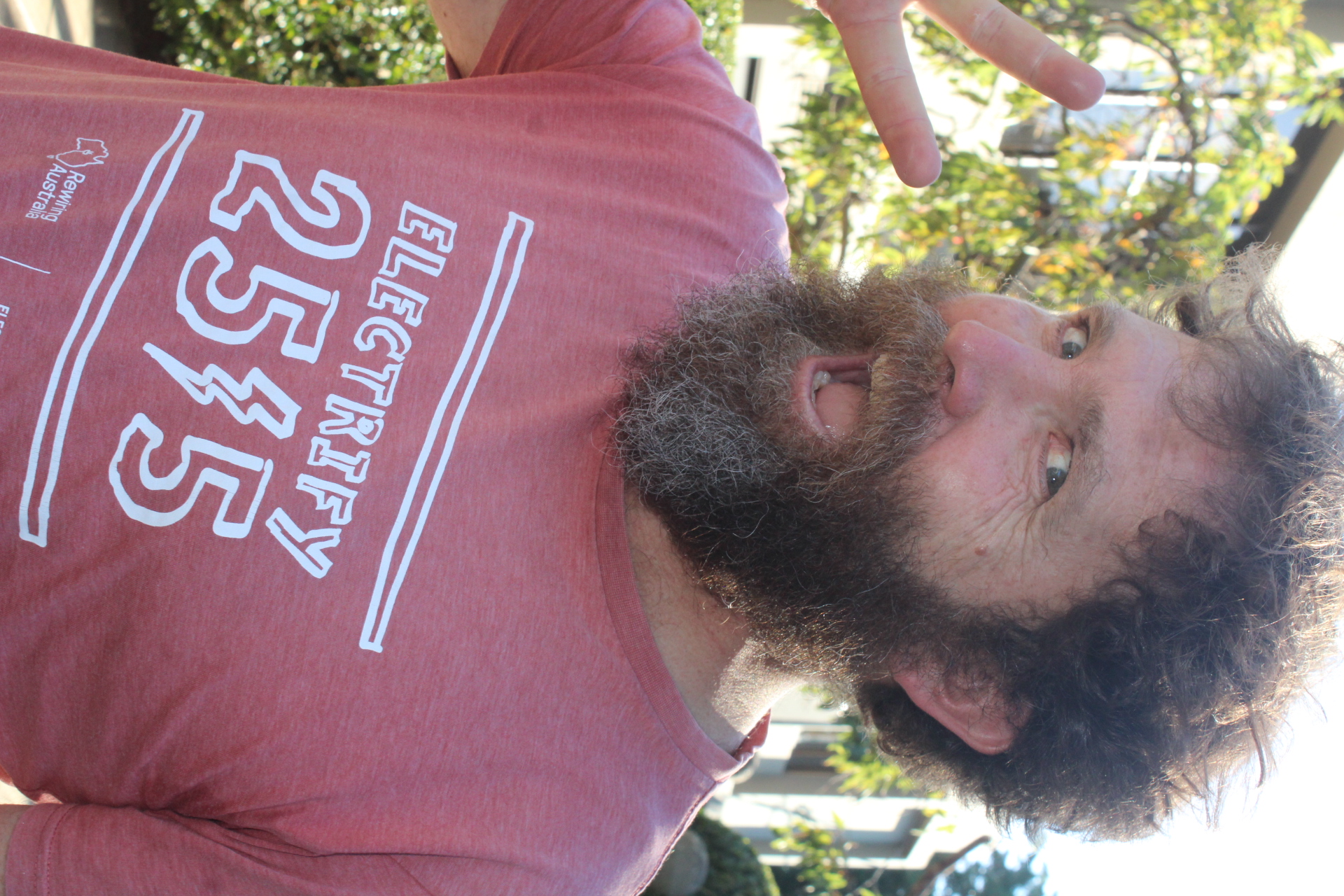 Notes/references/citations
Rewiring Australia: www.rewiringaustralia.org
Electrify Mackellar: www.electrifymackellar.org - + Profile of the Week this Issue
Cheaper Home Batteries Bill: www.helenhaines.org/cheaper-home-batteries-bill-2023
Would you pay $1000 to get off gas? Consumer dismay over disconnection cost – Miki Perkins, Sydney Morning Herald, Feb 23, 2023 - Extract;
' permanent disconnection – known universally as "gas abolishment" – which involves removing the meter, digging connection pipes out from the customer's property and sealing the mains pipe, a process that uses more labour and equipment'
' What these charges might look like in the future is a live issue. The Australian Energy Regulator (AER) is responsible for setting these charges and is considering how they will be recovered in the future, including if they will continue to be charged to individual customers or spread across the whole network.

"Energy affordability and equity is important to the AER and it is currently in the process of considering ... these charges and how they could be recovered in the future," said an AER spokesperson.

Rob McLeod, a policy manager at sustainability organisation Renew, says there is a lack of clarity for consumers.

"Because gas networks will be entering into a death spiral in future years, there will be fewer and fewer people paying the retail costs that fund maintenance in the system," McLeod said.'
AER: About 10 per cent of your electricity bill is for retail costs and about 20 per cent of your gas bill is for retail costs. Wholesale costs are to pay the wholesaler. Wholesalers generate electricity and extract and produce gas. About one third of your electricity bill is to pay the wholesale costs. About one third of your gas bill is to pay the wholesale costs. Electricity power stations and gas plants are often located a long way from houses and businesses and this means there is a large cost for getting electricity and gas to where it is used. About half of the cost of both your electricity and gas is for network costs.
Green costs are for government programs to save energy and support the development of renewable energy. For example, wind farms and roof top solar panels are green costs. Green costs make up about 5 per cent of your electricity bill.
Daily supply charge: This is the money you pay each day to get electricity and gas at your house or business. The daily supply charge is a fixed charge. This means it is the same on each bill. It is not based on how much energy you use.
Usage charges are the money you pay for the electricity or gas you use.
The unit charge for electricity is cents per kilowatt hour or c/kWh.
The unit charge for gas is cents per megajoule or c/MJ.
Changes to energy prices in Australia: In Australia the biggest reason energy prices have increased are networks charges. Network charges cover the cost of replacing and upgrading electricity poles, wires, gas pipelines, and other equipment. Other reasons for rising energy prices vary across Australia but include the introduction of green schemes. Wholesale energy costs are also a lot higher in some regions.
How are energy prices regulated?
In some states and territories in Australia, the government regulates retail energy prices. That means that the government sets the price and retailers must charge this price on their standard contracts.
The government regulates electricity in:
Queensland
Tasmania
the Australian Capital Territory.
The government regulates gas in New South Wales only.
The government does not regulate electricity or gas in:
When prices are not regulated, retailers can set their own prices.
Who is the Australian Energy Regulator and what do they do?
The Australian Energy Regulator (AER) does not set the retail price for energy. The AER:
regulates network costs and sets the price that distributors can charge for transporting electricity to homes and businesses
approves the price that distributors can charge for access to gas pipelines.
The Australian Energy Regulator (AER) has released its final determination for the 2022–23 Default Market Offer (DMO). The DMO is the safety-net price cap that ensures consumers are protected from unjustifiably high prices.
From 1 July 2022, the DMO prices in New South Wales, south-east Queensland and South Australia will increase for households (between 1.7% and 8.2% above inflation) and small businesses (0.2% and 13.5% above inflation), largely due to significant rises in wholesale electricity costs over the past year.
Since DMO 2021, wholesale costs for retailers have risen by 41.4% in New South Wales, by 49.5% in Queensland, and by 11.8% in South Australia, due to reductions in thermal generation resulting from unplanned outages and higher coal and gas prices, slowing of investment in new capacity, and increasingly 'peaky' demand (sharp highs and lows) driving up the cost of wholesale electricity contracts for retailers.
These wholesale market conditions have persisted since the AER's draft determination in February and have been compounded by the ongoing war in Ukraine, which has led to significant pressure on coal and gas prices globally; extreme weather in NSW and Queensland which has affected coal supplies and electricity demand; and further unplanned outages at multiple generators.
In New South Wales, increases in network costs for Essential Energy and Endeavour Energy have also pushed up retail prices in these distribution areas.
$2 billion for scaling up green hydrogen production in Australia
May 9 2023: media release by ARENA
The Australian Renewable Energy Agency (ARENA) has today welcomed new funding for the Hydrogen Headstart initiative announced in the 2023-24 Federal Budget.
The Australian Government announced the establishment of the $2 billion Hydrogen Headstart initiative to underwrite the biggest green hydrogen projects to be built in Australia.
Funding will provide revenue support for investment in renewable hydrogen production through competitive production contracts. Funding will cover the commercial gap between the cost of hydrogen production from renewables and its current market price.
Hydrogen Headstart aims to support two to three flagship projects which could provide up to 1 gigawatt of hydrogen electrolyser capacity.
ARENA has been allocated $4.2 million this year to support the development and operation of the program in consultation with the Department of Climate Change Energy Environment and Water (DCCEEW).
"Hydrogen Headstart will catalyse Australia's hydrogen industry and other clean energy industries, and help position Australia as a global hydrogen leader," ARENA CEO Darren Miller said.
The program will be designed over the coming months in consultation with DCCEEW, industry and communities.
Mr Miller said the Hydrogen Headstart initiative will ensure large scale hydrogen projects already in development can get off the ground in Australia.
"Australia has an unparalleled opportunity to become a global green hydrogen leader, but we can't afford to lose our momentum as other competing countries step up their ambitions and support," he said.
"With this funding, we are looking to incentivise green hydrogen production in Australia by backing early projects that will be among the largest in the world.
"This funding will reduce the cost of green hydrogen produced via renewable electricity and will scale up our hydrogen sector. These projects will create thousands of regional jobs and will help reduce emissions in industry in line with our climate targets," he said.
According to new analysis by McKinsey and modelling by DCCEEW, Australia's hydrogen industry could generate $50 billion in additional GDP, and create more than 13,000 regional jobs and a further 13,000 jobs from construction of new renewable energy infrastructure by 2050.
This program builds on ARENA's existing work in hydrogen and track record of delivering transformative projects in the energy transition in pursuit of net zero.
ARENA has provided $236 million to 43 renewable hydrogen projects from early stage research to deployment projects including hydrogen refuelling and hydrogen trucks, hydrogen for producing green ammonia, hydrogen for use in alumina refining, gas blending and remote power.
Last year, ARENA conditionally approved $47.5 million for the first 10 MW electrolyser plant in the Pilbara being built by ENGIE as part of a $103 million Renewable Hydrogen Deployment Round.
ARENA has also recently announced $25 million for hydrogen research and developing funding, and $50 million for four hydrogen projects supported as part of the joint Australian-German HyGATE initiative.
Having provided more than $2 billion for over 650 renewable energy projects over the last decade, ARENA is now focussed on how Australia can maximise its advantage in renewable energy to become a clean energy superpower in a net zero global economy.
"ARENA is delighted to be involved in the design of this game-changing hydrogen funding initiative."
Further information will be available on ARENA's website. Interested participants can register their interest via DCCEEW's website; https://arena.gov.au/funding/hydrogen-headstart/
July 7, 2023; Consultation has opened today on the Australian Government's $2 billion Hydrogen Headstart program.
On behalf of the Australian Government, the Australian Renewable Energy Agency (ARENA) and Department of Climate Change, Energy, the Environment and Water (DCCEEW) have commenced consultation for the design of the flagship hydrogen program.
Announced in the 2023 federal budget, Hydrogen Headstart will deliver a step change in Australia's renewable hydrogen production by underwriting some of the largest electrolyser deployments in the world.
The program is intended to bridge the commercial gap for early projects and put Australia on course for up to a gigawatt of electrolyser capacity by 2030.
ARENA and DCCEEW have published a consultation paper outlining indicative specifications for the program. The consultation paper covers proposed objectives, eligibility criteria and funding mechanism, as well as other features of the program.
The consultation paper proposes to support projects with a hydrogen production credit delivered over ten years, bridging the gap between the cost of hydrogen produced and the sales price of hydrogen or its derivative products.
ARENA and DCCEEW will be accepting written submissions, hosting an information webinar and running in person consultation forums in Sydney and Perth.
Following the consultation period, ARENA and DCCEEW will develop the final program design. Submissions are now open until Thursday 3 August, 2023.
Resources and energy quarterly: March 2023; https://www.industry.gov.au/sites/default/files/2023-04/resources-and-energy-quarterly-march-2023.pdf ;
'Iron ore was the leading resource and energy commodity exported from Australia. Sources revealed that the value of iron ore exported from Australia amounted to 133 billion Australian dollars in 2022. LNG followed with an export value of 70 billion Australian dollars in fiscal year 2022.28 Apr 2023

Approximately 5.3 million tonnes of steel are produced in Australia annually.' - Australian Bureau of Statistics 2017-18.
Download: Capabilities of the Australian steel industry to supply major projects in Australia, version 2.7, updated by Australian Steel Institute, June 2023. At: https://www.steel.org.au/Membership/media/Australian-Steel-Institute/PDFs/Steel-Industry-Capability-document-050623.pdf
Primary steel production occurs in New South Wales, Victoria and South Australia.: https://www.steel.org.au/about-us/our-industry/
Australia Exports of iron and steel was US$1.54 Billion during 2022, according to the United Nations COMTRADE database on international trade. Australia Exports of iron and steel - data, historical chart and statistics - was last updated on August of 2023.
the household machines that generally emit the most are the petrol-or-diesel car, the gas hot water system, and the gas space heater.
buying an EV when you get your next car, or an electric heat pump (ie reverse-cycle air conditioners) when the gas heater dies, will reverse that
In the three years following the Battle of Midway, the Japanese built six aircraft carriers. The U.S. built 17. American industry provided almost two-thirds of all the Allied military equipment produced during the war: 297,000 aircraft, 193,000 artillery pieces, 86,000 tanks and two million army trucks. In four years, American industrial production, already the world's largest, doubled in size.
In March 2019 Norway's sovereign wealth fund said it would dispose of its investments in 134 companies that explore for oil and gas, worth almost $8bn, while retaining stakes in oil firms such as Shell and BP that have renewable energy divisions.
Norway also announced in April of that year the fund would sell off its stakes in more coal companies, having set a new limit for them of 20m tonnes of reserves. The fund divested $6.5bn of coal-related investments in 2015.
By early 2019, across the world, almost 1,000 institutional investors, managing more than more than $6tn, had committed to fossil fuel divestment, driven by concerns about global warming and financial losses if climate action cuts the value of coal, oil and gas investments.
Fossil fuel subsidies cost Australians a staggering $11.6 billion in 2021-22, an increase of $1.3 billion in the last year and the equivalent to $22,139 per minute. This marks a $1.3 billion (12%) increase on the 2020-21 total of $10.3 billion. States and territories actually reduced subsidies by $214 million but this was outweighed by a $1.4 billion increase from the Federal Government.
The biggest beneficiary of this scheme is the mining industry.
Budget papers show the fuel tax credit scheme will cost $7.7 billion in 2022-23, expected to rise to $10.7 billion in 2025-26. Using ATO tax statistics from 2019-20, it is estimated that the mining industry will receive $3.5 billion in fuel tax credits for 2022-23. Of that, $1.1 billion will go to the coal mining industry. The Scheme refunds fuel tax to users of heavy vehicles, machinery and equipment, and vehicles used off public roads.
Diesel Use in Mining Operations
As of 2008–09, 40 reporting EEO companies in the mining sector consumed 308 PJ of energy of which 52.5 PJ was diesel (17%) for haulage and electricity generation. These EEO mining companies had identified 3 PJ (or 6%) worth of savings directly related to diesel use. These companies adopted 66% of these identified savings in diesel use.
From; https://www.energy.gov.au/sites/default/files/analyses_of_diesel_use_for_mine_haul_and_transport_operations.pdf
Environment - Emissions from diesel engines contribute to the production of ground-level ozone which damages crops, trees and other vegetation. Also produced is acid rain, which affects soil, lakes and streams and enters the human food chain via water, produce, meat and fish.19 May 2023 – from: www.epa.gov/dera/learn-about-impacts-diesel-exhaust-and-diesel-emissions-reduction-act-dera
Hydrogen production is the family of industrial methods for generating hydrogen gas. As of 2020, the majority of hydrogen (~95%) is produced from fossil fuels by steam reforming of natural gas and other light hydrocarbons, partial oxidation of heavier hydrocarbons, and coal gasification.
The production of hydrogen plays a key role in any industrialised society, since hydrogen is required for many essential chemical processes. In 2020, roughly 87 million tons of hydrogen was produced worldwide for various uses, such as oil refining, in the production of ammonia through the Haber process, and in the production of methanol through reduction of carbon monoxide. Most hydrogen is produced from fossil fuels, resulting in carbon dioxide emissions. This is often referred to as grey hydrogen when emissions are released to the atmosphere, and blue hydrogen when emissions are captured through carbon capture and storage (CCS). Blue hydrogen has been estimated to have a carbon footprint 20% greater than burning gas or coal for heat and 60% greater when compared to burning diesel for heat, assuming US up- and mid-stream methane leakage rates and production via steam methane reformers (SMR) retrofitted with carbon dioxide capture. 94 million tonnes of grey hydrogen are currently produced globally using fossil fuels as of 2022, primarily natural gas, and are therefore a significant source of greenhouse gas emissions.
Hydrogen fuel, when produced by renewable sources of energy like wind or solar power, is a renewable fuel.
Residential Electrification
On 14 June 2023, the Australian Senate referred an inquiry into residential electrification to the Senate Economics References Committee for inquiry and report by the last sitting day of 2024.
Submissions
The closing date for the committee receiving submissions is 29 September 2023.
Visit: https://www.aph.gov.au/Parliamentary_Business/Committees/Senate/Economics/ResElectrification
Terms of Reference
That the following matter be referred to the Economics References Committee or inquiry and report by the last sitting day in 2024:
Australia's residential electrification efforts, with particular reference to:
(a) the economic opportunities of household electrification, including but not limited to:
(i) long-term reduction of energy price inflation,
(ii) long-term employment opportunities, and
(iii) the scaling up of domestic capacity;
(b) the macro-barriers to increasing the uptake of home electrification;
(c) the total upfront cost and longer-term benefits of household electrification and alternative models for funding and implementation;
(d) the marginal cost of abatement for household electrification compared to alternative sectors and options to decarbonise the economy;
(e) the optimal timeline for household electrification accounting for the likely timing of decarbonising electricity;
(f) the impacts and opportunities of household electrification for domestic energy security, household energy independence and for balance of international trade;
(g) the impacts of household electrification on reducing household energy spending and energy inflation as a component of the consumer price index;
(h) solutions to the economic barriers to electrification for low-income households;
(i) the effectiveness of existing Australian Federal, state and local government initiatives to promote and provide market incentives for household electrification;
(j) Australia's current standing against international standards, particularly with respect to the uptake of rooftop solar, batteries and electric household appliances; and
(k) any other matters.
Andrew Bragg, NSW Liberal Senator:
The benefits of electrification are clear, but we need to be ready to harness its full potential, particularly if we are to combat energy price inflation.

Household electrification is becoming an increasingly popular option for Australians to power their homes. The advancement in technology and reduction in costs has made this more feasible.

One only needs to look at the uptake of household solar panels. Today, more than 30 per cent of households have rooftop solar, the highest uptake rate in the world. The future is bright.

To understand its full potential, the Senate has established an inquiry into the electrification of Australian households. This broad-ranging inquiry will examine the benefits of household electrification and the constraints of household electrification.

At the outset, I offer three thoughts on the Senate's new electrification inquiry.

Firstly, I have always been of the view that all Australians can win from a transition to a net zero economy. We know that there are huge potential economic and environmental benefits in a decarbonisation agenda. Household electrification can play a pivotal role.

Rising energy prices are hurting Australians. Labor's inflationary budget has made things so much harder for so many. The idea that Labor can legislate away energy cost increases is laughable and is reminiscent of Argentina-style economics.

The ability of households to generate and store their own energy can help end excessive power bills. Beyond the upfront costs, there are little to no ongoing costs.

Despite these costs declining, cost and complexity remains a barrier to household electrification. This is why the inquiry will examine how to make electrification an economically attractive and simple proposition for all households.

Doing this is not only good for households but good for our environment. But to achieve this, policies are needed that complement our decarbonisation agenda.

Policies of successive governments have been instrumental in laying the foundations for household electrification. The Howard government led the way on household electrification, through the implementation of the Mandatory Renewable Energy Target in 2001.

Not only did the MRET make household electrification accessible, it promoted the development of Australia's renewable sector.

During the course of the inquiry, we will examine what policies would have the same impact as the MRET had 22 years ago.

Second, particular consideration should be given to how the tax system can support the installation of household batteries or community-scale batteries and other electric options such as heat pumps.

We need to examine how tax concessions can be better utilised to drive household electrification. Current concessions and rebates available are a good starting point, but more comprehensive measures must be examined.

The bulk of the existing government programs cover limited options and technologies. For example, rebates exist for installing household solar, but there are no concessions or rebates for battery storage. These schemes have failed to adapt alongside technological advancements in electrification.

We must examine how we can provide concessions for a wider range of electrification products, and design a scheme that is adaptive to new technologies.

Doing this would not only increase uptake, but promote market investment and innovation.

Third, household electrification should not be turned into a culture war football.

Household electrification cannot become subject to the same culture war rhetoric occurring overseas. In the US, debate around household electrification has become a victim of culture wars. Efforts to accelerate household electrification have been hindered by a scare campaign to prevent the Biden administration banning gas stoves.

Instead of exploring the benefits of household electrification, debate in congress has descended into statements like: "If the maniacs in the White House come for my stove, they can pry it from my cold dead hands."

This dangerous politicking seemed to result in the US government having to affirm that they were not banning gas stoves. It is not in Australia's economic interests for household electrification to be dragged into a culture war or hyper partisan politics.

In establishing our inquiry, I hope that we can avoid electrification being subject to the same fate in Australia. We will focus on the economic and environmental advantages of household electrification. The science is clear and markets have embraced the decarbonisation agenda.

This doesn't mean there is no role for other forms of energy generation. In fact, the markets have made it clear there will be an ongoing role for gas for many years.

Equally, the investigation the Coalition has led into nuclear power is compatible with electrification. We want to have a diversity of cleaner options for households to reduce their carbon footprint.

This has nothing to do with culture and everything to do with science and engineering.

Ultimately, the test for the inquiry is whether we can improve the agency of households to decarbonise without robbing the market of options to maintain - energy security in Australia. I am confident we can develop the policy options our country needs.

Andrew Bragg is a Liberal senator for NSW.
Senate inquiry into electrification
A Senate Economics Committee inquiry into electrification provides an important opportunity to quantify the benefit to Australian households and industry from substituting expensive fossil fuel powered technology with clean, emission free, renewable powered appliances and vehicles.
Electrification rewires homes with cooktops, heating, hot water and cars powered by rooftop solar. Research by Rewiring Australia has found Australian households will save $3000-5000 per year by the end of the decade if they make the switch.
Senator Andrew Bragg's notice of motion calls on the Senate Economic References Committee to examine the economic opportunities offered by electrification, including inflation reduction and employment growth, as well as the benefits of domestic energy security and balance of international trade. The inquiry will also consider barriers to uptake, funding models and how Australia's approach to electrification compares internationally.
Rewiring Australia founder and chief scientist, Dr Saul Griffith, endorsed Senator Bragg's initiative.
"Senator Bragg's move to establish this inquiry is an important step. It will provide a platform to establish the compelling logic of powering our homes and vehicles with the cheap and prolific renewables.
"Australia is well ahead of the world with rooftop solar but we have an opportunity to consolidate that lead and make sure more Australians benefit by using more of that abundant, clean energy to power our cooking, heating, hot water and transport.
"Senator Bragg has clearly understood the logic of electrification. Once you make the switch you lock in permanently lower cost of living and remove exposure to inflation and fossil fuel bill shocks.
"We are excited and enthusiastic to participate in this important process."
Saul Griffith has a plan. In Electrify, Griffith lays out a detailed blueprint—optimistic but feasible—for fighting climate change while creating millions of new jobs and a healthier environment. Griffith's plan can be summed up simply: electrify everything. He explains exactly what it would take to transform our infrastructure, update our grid, and adapt our households to make this possible.
Griffith, an engineer and inventor, calls for grid neutrality, ensuring that households, businesses, and utilities operate as equals; we will have to rewrite regulations that were created for a fossil-fueled world, mobilize industry as we did in World War II, and offer low-interest "climate loans." Griffith's plan doesn't rely on big, not-yet-invented innovations, but on thousands of little inventions and cost reductions. We can still have our cars and our houses—but the cars will be electric and solar panels will cover our roofs. For a world trying to bounce back from a pandemic and economic crisis, there is no other project that would create as many jobs—up to 25 million, according to one economic analysis. Is this politically possible? We can change politics along with everything else.
You Go Joe! No Mo Sco-Mo! by Saul Griffith – April 2021, issue 491 at: www.pittwateronlinenews.com/You-Go-Joe---No-Mo-Sco-Mo-by-Saul-Griffith
Inflation Reduction Act of 2022
White House press release – August 15, 2022
The Inflation Reduction Act will lower costs for families, combat the climate crisis, reduce the deficit, and finally ask the largest corporations to pay their fair share. President Biden and Congressional Democrats have worked together to deliver a historic legislative achievement that defeats special interests, delivers for American families, and grows the economy from the bottom up and middle out.
Here's how the Inflation Reduction Act impacts Americans by the numbers:
HEALTH CARE
Cutting Prescription Drug Cost
Today, Americans pay two to three times what citizens of other countries pay for prescription drugs
5-7 million Medicare beneficiaries could see their prescription drug costs go down because of the provision allowing Medicare to negotiate prescription drug costs.
50 million Americans with Medicare Part D will have the peace of mind knowing their costs at the pharmacy are capped at $2,000 per year, directly benefiting about 1.4 million beneficiaries each year.
3.3 million Medicare beneficiaries with diabetes will benefit from a guarantee that their insulin costs are capped at $35 for a month's supply.
Lowering Health Care Costs
13 million Americans will continue to save an average of $800 per year on health insurance premiums
3 million more Americans will have health insurance than without the law.
The uninsured rate is at an all-time low of 8%, which the historic law will build on.
Defeating Special Interests
$187 million: The amount the Pharmaceutical industry has spent on lobbying in 2022.
1,600: number of lobbyists the pharmaceutical companies had in 2021 – three times the number of Members of Congress
33 years: the amount of time Congressional Democrats have been trying to lower prescription drug costs by allowing Medicare to negotiate drug prices.
19 years: number of years Medicare has been blocked from negotiating prescription drug costs
CLEAN ENERGY
Lowering Energy Costs
Families that take advantage of clean energy and electric vehicle tax credits will save more than $1,000 per year.
$14,000 in direct consumer rebates for families to buy heat pumps or other energy efficient home appliances, saving families at least $350 per year.
7.5 million more families will be able install solar on their roofs with a 30% tax credit, saving families $9,000 over the life of the system or at least $300 per year.
Up to $7,500 in tax credits for new electric vehicles and $4,000 for used electric vehicles, helping families save $950 per year.
Putting America on track to meet President Biden's climate goals, which will save every family an average of $500 per year on their energy costs.
Building a Clean Energy Economy
Power homes, businesses, and communities with much more clean energy by 2030, including:
950 million solar panels
120,000 wind turbines
2,300 grid-scale battery plants
Advance cost-saving clean energy projects at rural electric cooperatives serving 42 million people.
Strengthen climate resilience and protect nearly 2 million acres of national forests.
Creating millions of good-paying jobs making clean energy in America.
Reducing Harmful Pollution
Combined with the Bipartisan Infrastructure Law, it will reduce greenhouse gas emissions by about 1 gigaton in 2030, or a billion metric tons – 10 times more climate impact than any other single piece of legislation ever enacted.
Deploy clean energy and reduce particle pollution from fossil fuels to avoid up to 3,900 premature deaths and up to 100,000 asthma attacks annually by 2030.
TAXES
Making the Tax Code Fairer
$0: how much some of largest, profitable corporations pay in federal income tax.
55: the number of America's largest, wealthiest corporations that got away without paying a cent in federal income taxes in 2020.
$160 billon: how much the top 1 percent of earners is estimated to evade each year in taxes.
15%: the minimum tax on corporate profits the Inflation Reduction Act imposes on the largest, most profitable corporations.
$124 billion: savings over 10 years the Inflation Reduction Act will generate from collecting taxes already owed by wealthy people and large corporations, according to the

Congressional Budget Office.
And no family making less than $400,000 will see their taxes go up a penny.
Reducing the Deficit
The Inflation Act will achieve hundreds of billions in deficit reduction.
The deficit is projected to fall by more than $1.5 trillion this year after falling by more than $350 billion last year.
126 leading economists – including 7 Nobel Laureates, 2 former Treasury Secretaries, 2 former Fed Vice Chairs and 2 former CEA Chairs – have said reducing the deficit will help fight inflation and support strong, stable economic growth.
IRA: introduced August 4, 2022 – approved August 7 - passed August 12 – signed into law by President Biden on August 16
See; https://www.whitehouse.gov/wp-content/uploads/2022/12/Inflation-Reduction-Act-Guidebook.pdf
Rewiring America Statements;
On 7 August 2022, the U.S. Senate approved the Inflation Reduction Act (IRA) of 2022, combining the objectives of reducing domestic inflation-notably brought by the global energy crisis- whilst tackling climate change .
Amongst the objectives set out in the energy sector, the Bill will:
-lower energy costs by 500 to 1000 USD per annum
-increase investments in climate to reduce carbon emissions by 40% by 2030
-create employment by investing 60 billion USD for millions of people in the clean energy sector, notably in manufacturing (solar panels, wind turbines, EVs)
-60 billion USD will be allocated specifically to disadvantaged communities to reduce environmental injustice
Around 370 billion USD will be disbursed for measures dedicated to improving energy security and accelerating clean energy transitions.
The IRA also includes funding for carbon capture, utilisation, and storage (CCUS) projects.
The Act encompasses a Methane Emissions Reduction Program (Sec. 60113) that introduces a charge on methane emitted by oil and gas companies reporting emissions under the Clean Air Act and providing funding for the Environmental Protection Agency to finance and provide technical assistance for methane abatement in the oil and gas sector. The IRA also introduces Royalties for Produced Methane on Federal Lands and Waters (Sec. 50263), to be assessed on all gas produced, including gas that is consumed or lost by venting, flaring or negligent releases during upstream operations.
The Inflation Reduction Act of 2022 aims to reduce carbon emissions by roughly 40% by 2030 and provide much needed relief on energy costs for families. In response to the announcement, 62 climate, building decarbonization, energy, health and affordable housing organizations released the following joint statement:
"Our groups welcome the introduction of the Inflation Reduction Act for its historic climate investments. As our communities face extreme heat, drought, wildfires, storms and flooding - it's clear that the climate crisis and public health emergency is already upon us, and these investments set to decarbonize our buildings and homes are coming not a moment too soon.
"Provisions included in this bill will help address inflation, lower household energy costs, and improve our energy security with efficiency and electrification upgrades for homes and buildings - starting with disadvantaged communities first - so that they can run 100% renewable energy.
"The bill will also create good-paying clean energy jobs by strengthening the supply chain and accelerating the adoption of clean energy technologies like electric heat pumps through incentives that include tax credits and rebates. As a highly efficient technology, heat pumps - which provide both heating and cooling - can reduce household energy costs, and widespread adoption of the technology can reduce strain on the electric grid during extreme heat events.
"We also recognize that unfortunately - to secure the support required to pass the legislation - the bill includes some support for the continued production of fossil fuels on public lands and waters. Despite this, the bill gets many things right, and our groups celebrate much needed investments in a clean energy transition and to communities in need. The bill supports a just, equitable transition to healthier homes with incentives and rebates for efficient electric appliances like air- and ground-source heat pumps and heat pump water heaters as well as efficiency upgrades like insulation and air sealing for low- and moderate-income households.
"Today, our groups celebrate these critical investments and encourage the swift passage of this package to secure healthier homes, address inflation, lower energy costs for households and begin to build a more just, equitable world."
ACES 4 Youth American Sustainable Business Network Association for Energy Affordability Aztech Geothermal, LLC BeniSol, LLC BlocPower Bread From Heaven Ministries International Building Decarbonization Coalition Capital Good Fund CLASP Climate + Energy Project Climate Changemakers Climate Hawks Vote Climate Reality Project - Capital Region, NY Chapter Climate Reality Project - Finger Lakes Greater Region NY Chapter Climate Reality Project - NY State Chapters Coalition Climate Reality Project - NYC Chapter Climate Reality Project - Westchester County Chapter Climate Reality Project - Western New York Chapter ClimateVoice, a project of the Tides Center Conservation Law Foundation Consumer Federation of America Dandelion Energy Direct Action Against CenterPoint Energy Drawdown Labs Dream.Org Green For All Earthjustice EarthKind Energy Consulting East Bay Clean Energy Elevate Energy Solutions Environment America Fresh Energy Geothermal Exchange Organization Greater Boston Physicians for Social Responsibility Green & Healthy Homes Initiative Hispanic Federation HousingLOUISIANA Invest in America Local Initiatives Support Corporation Midwest Building Decarbonization Coalition National Housing Trust New Buildings Institute (NBI) New York Solar Energy Society NRDC NY-GEO - New York Geothermal Energy Organization Pace Energy and Climate Center Philadelphia Energy Authority Phius ProjectGreenHome.org Rewiring America RMI Sealed Shift Zero Sierra Club Silicon Valley Leadership Group Sustainable Silicon Valley The 99% PA U.S. Green Building Council U.S. PIRG VEIC Women of Renewable Industries and Sustainable Energy (WRISE) ZeroCarbonMA
August 12th, 2022—At times this legislative road has felt long and circuitous. But today's passage of the Inflation Reduction Act by the U.S. House of Representatives means the road has become smoother, and more amenable to the growing fleet of electric vehicles that will soon be driving on it. The IRA is the most important climate legislation America has ever seen, but it won't be the last. This bill establishes the market certainty households need to build the affordable, beautiful futures they deserve. It's the beginning of a better story.
Thanks to the clean energy provisions in the IRA, households will be able to swap out dirty machines for clean ones at a pace that works for them. The act gives families the ability to plan. It meets people where they are, and allows them to charge forward on their own timelines, as they create their own electrification journeys.
Beyond the home health and energy security implications, American families will save money electrifying (on average $1800 per household). But one of the most empowering aspects of this legislation is that it helps our transformation snowball over time, because increased adoption means decreased cost at scale. The more we electrify, the cheaper it is to electrify. And this will happen at a rapidly intensifying clip, in every zip code across the country. This legislation will also commence the largest transfer of wealth from energy producers to households, the rightful recipients of these savings.
The households that run to these incentives first not only reap the benefits of immediately lower bills and healthier homes, but perform a true service to all Americans. They drive uptake, and reduce friction for their friends and their communities. Their efforts make it easier for their neighbors to power up. It's a virtuous cycle that helps electrify the entire economy with ease. And it builds community strength and wealth, creating an abundant future for our children.
We applaud the U.S. House of Representatives for passing the IRA. And we look forward to seeing this bill on the President's desk in the very near future. Because the sooner it's signed, the sooner we begin to realize the immediate benefits of electrifying everything together, friends.