July 30 - August 5, 2023: Issue 592
Newport Breakers Womens Rugby Team Win The Inaugural Joy Johnson Cup 2023
Newport Womens Rugby won the Grand Final against Lindfield Blue on Saturday July 29th.
Formatted as a best of 3, two matches were played separated by an exhibition match between Lindfield Legacy White and UNSW. Should it be required, a third deciding match would be played.
With Newport's Womens team winning the first two games convincingly, the third game was not contested.

This means Newport Women's Rugby have won the Inaugural Joy Johnson Cup.
Newport's Sarah Reynolds also won the very first Joy Johnson medal.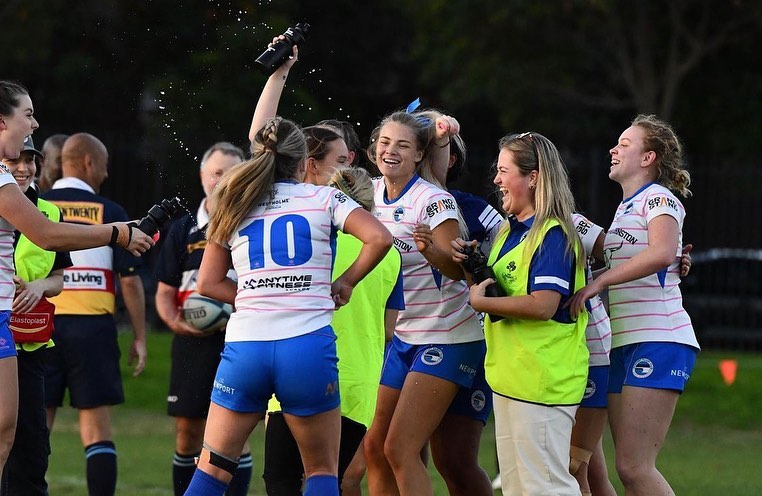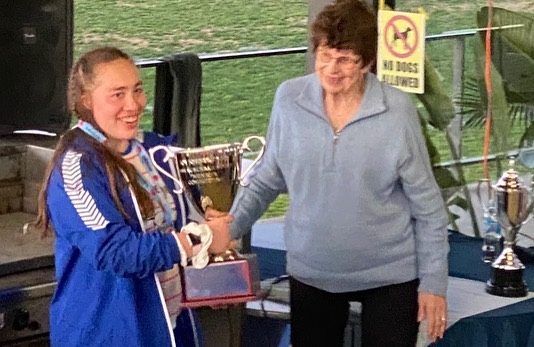 Results in the Grand Final matches were:
Lindfield Blue 7 v 31 Newport- GF2: David Phillips Field
Lindfield Blue 5 v 26 Newport - GF1: David Phillips Field
The Grand Final scores are a reflection of how the Newport Womens team have done all Season. In fact, they have lost only one game, in Round One, to the Lindfield Blue - the team they triumphed over in the Grand Final.
After that small stumble it was full steam ahead week in week out with score differences that could make your eyes water.
The connections and building of strength between the women that commenced in 2021, when Newport Rugby launched their Womens team, has clearly found its stride.
Not that it's been easy.
Going into the Grand Final Madison Hunt said:
''After struggling to get numbers at the beginning of the season it's awesome to be a part of the group of 10-15 girls who stepped up to the challenge and committed to playing every Saturday for the past 4 months.
Few of us had played rugby before. The first few training sessions were heavily focused on tackling and not being scared of heavy contact.''
''The Joy Johnson cup was formed earlier this year and for the first time in Subbies history there was a dedicated regular women's competition.
Game 1 was against both Linfield Legacy teams in the mud. We got close to beating Linfield Blue a few times before finally winning against them at home.
The few games we had at Porters in front of a home crowd were awesome and we got to experience why everyone loves playing at Porters.
Last week's semi final against St Pats changed it up to 10min halves. After some strong try line defence, the pace of our wingers and amazing teamwork we won 29-5, awesome effort. '' Madi said
''It's exciting to see women's rugby grow at the Newport and be a part of the first Newport Breakers team in the Joy Johnson Cup.
Thanks Steve, Cam, AJ and all the boys for welcoming to team into the club. Thanks to Scott and Shane for putting up with a group of high energy girls and for taking the time to help us grow the team. And girls, you are amazing.''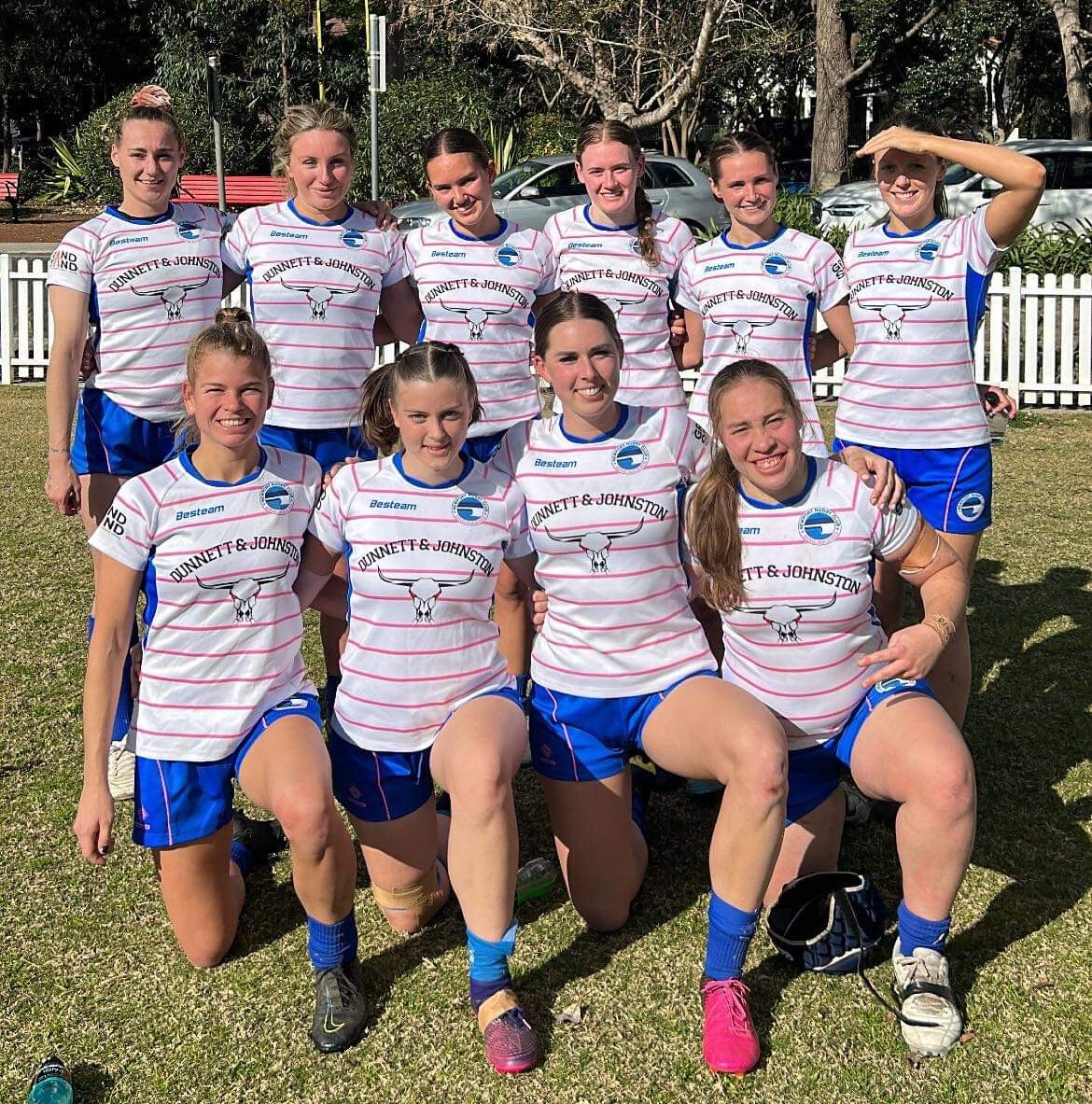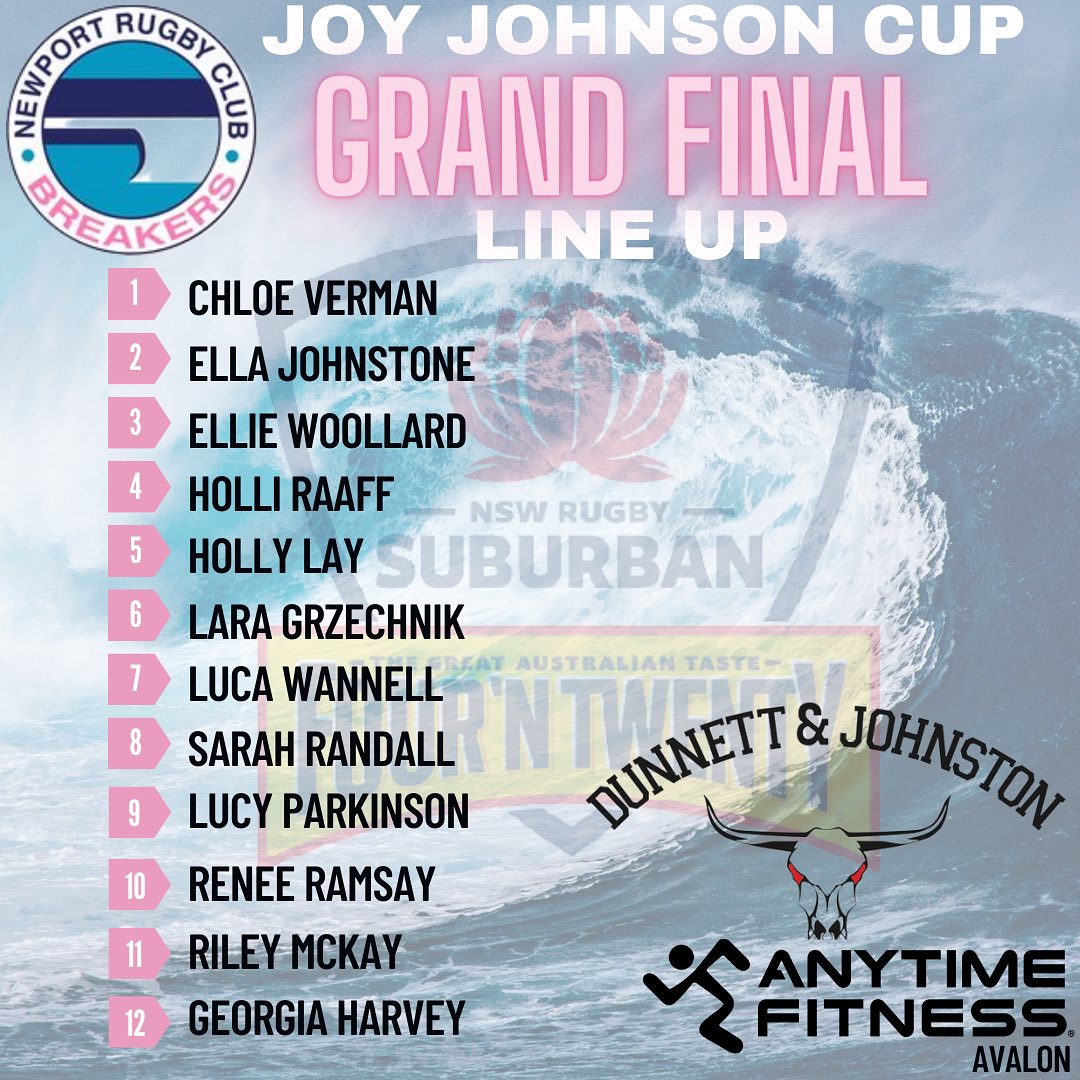 The new competition, created through the vision and drive of a special committee of Lindfield Rugby Club and named in honour of legendary Subbies administrator, Joy Johnson, is the first of its kind in Sydney Rugby.
The Joy Johnson Cup comp. commenced in April 2023 with participating 7s teams playing two matches each Saturday as part of their weekly Subbies club schedule.
St. Pats., UNSW and Linfield joined Newport in the inaugural rounds during the past months, with Lindfield fielding both a Lindfield Blue and Lindfield White team.
The games have been played on Boronia Park, Soldiers Memorial Park, Airey Park, David Phillips Field, Hudson Park, Newport Oval and the homeground of the Grand Final winners, Porters Reserve - or 'the Portress' as it is known locally.
As can be seen above, Newport Breakers Womens Rugby athletes are also mums in some cases, not only setting a great example for these youngsters, but also getting great support from team members and family to put the Newport Breakers community front and centre over the 2023 Season. Which, at the core of suburban rugby, is what it's all about - community as a family.
What's more, that is spreading across Sydney as the athletes meet up with each other to enjoy their sport.
It is hoped more clubs and women will join new teams up for the 2024 Joy Johnson Cup for Suburban Womens' Rugby.
Congratulations girls!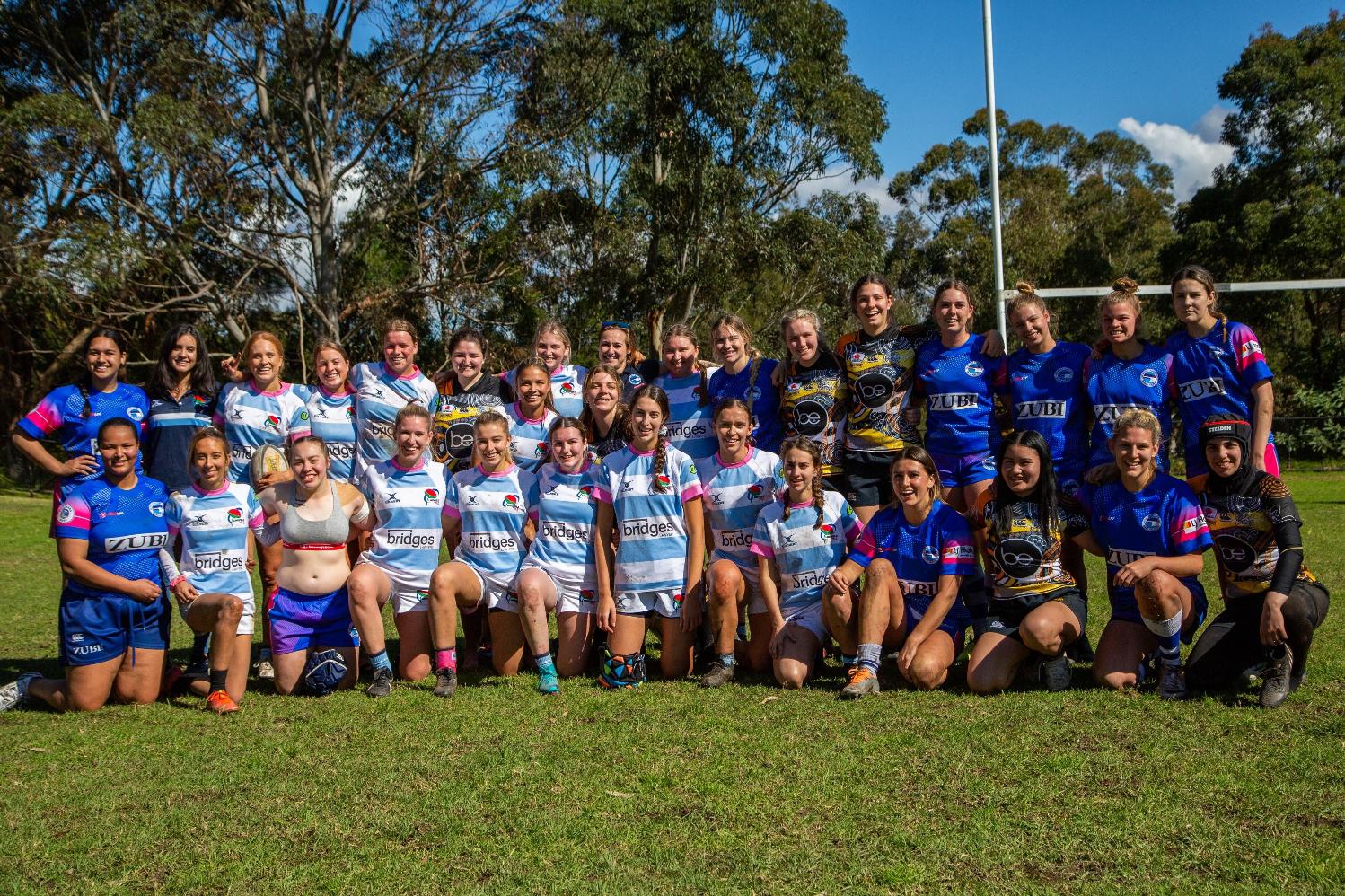 The Newport, UNSW and Lindfield Women's Rugby Teams earlier this year.
Wuthering Day 2023 At Mona Vale Shines A Light On The Women's Resilience Centre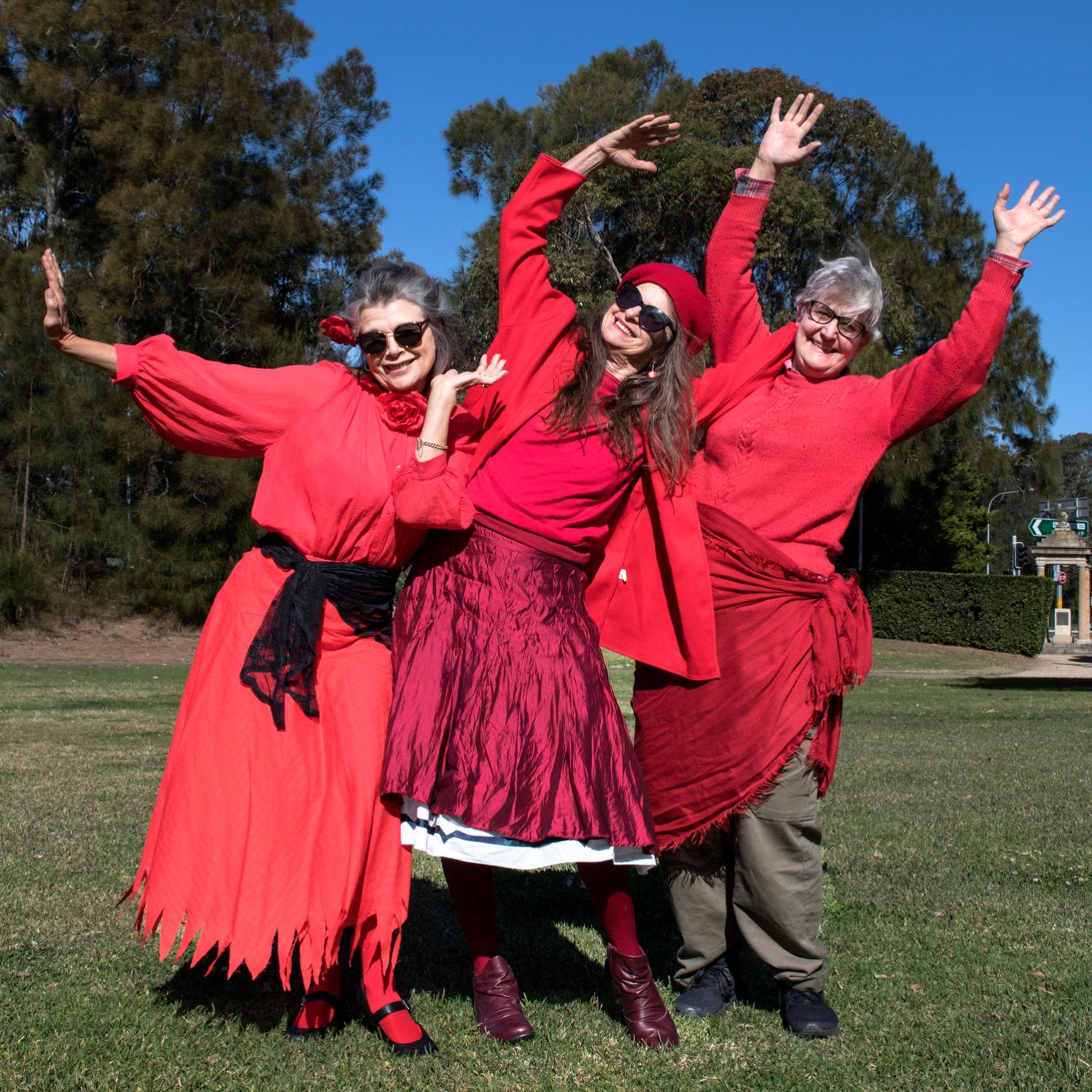 The second Most Wuthering Heights Day was held on Saturday July 22nd, 2023 in Mona Vale's Village Park to again to raise awareness for
The Women's Resilience Centre
.
The Most Wuthering Heights Day Ever is an event held at locations around the world where participants recreate the music video for musician Kate Bush's 1978 song "Wuthering Heights". The event's inspiration is Shambush's The Ultimate Kate Bush Experience, which took place in 2013 in Brighton, United Kingdom, as part of Brighton Fringe, created by performance collective Shambush! who attempted to set an unofficial world record for the most people dressed as Kate Bush in one place, with hundreds attending.
In 2016, The Most Wuthering Heights Day Ever event was proposed to be held in at least 16 places worldwide including Adelaide, Perth, Northern Rivers, Sydney, Tel Aviv, Montreal, Atlanta, Copenhagen, Berlin, Uppsala, Wellington, Hobart, Amsterdam and Somersworth. Shambush! who inspired the event hosted an event in London and helped organise the largest event in Melbourne.
Since then the annual July event has grown and is seen as a few hours of women's empowerment, creating connections and just having some fun.
The Women's Resilience Centre was founded in 2020 as a place of hope, healing and recovery for women who have experienced or witnessed domestic abuse and trauma. Based in Mona Vale, the WRC is positioned to fill the gap between short-term crisis care and longer-term recovery. We provide a Resilience Program supported by a lived-experience peer-to-peer Mentoring Program, delivered nationally online and face-to-face. Through partnerships with housing providers, the WRC is planning a national network of residential accommodation for up to 12 months, providing a safe space for women to reset their lives.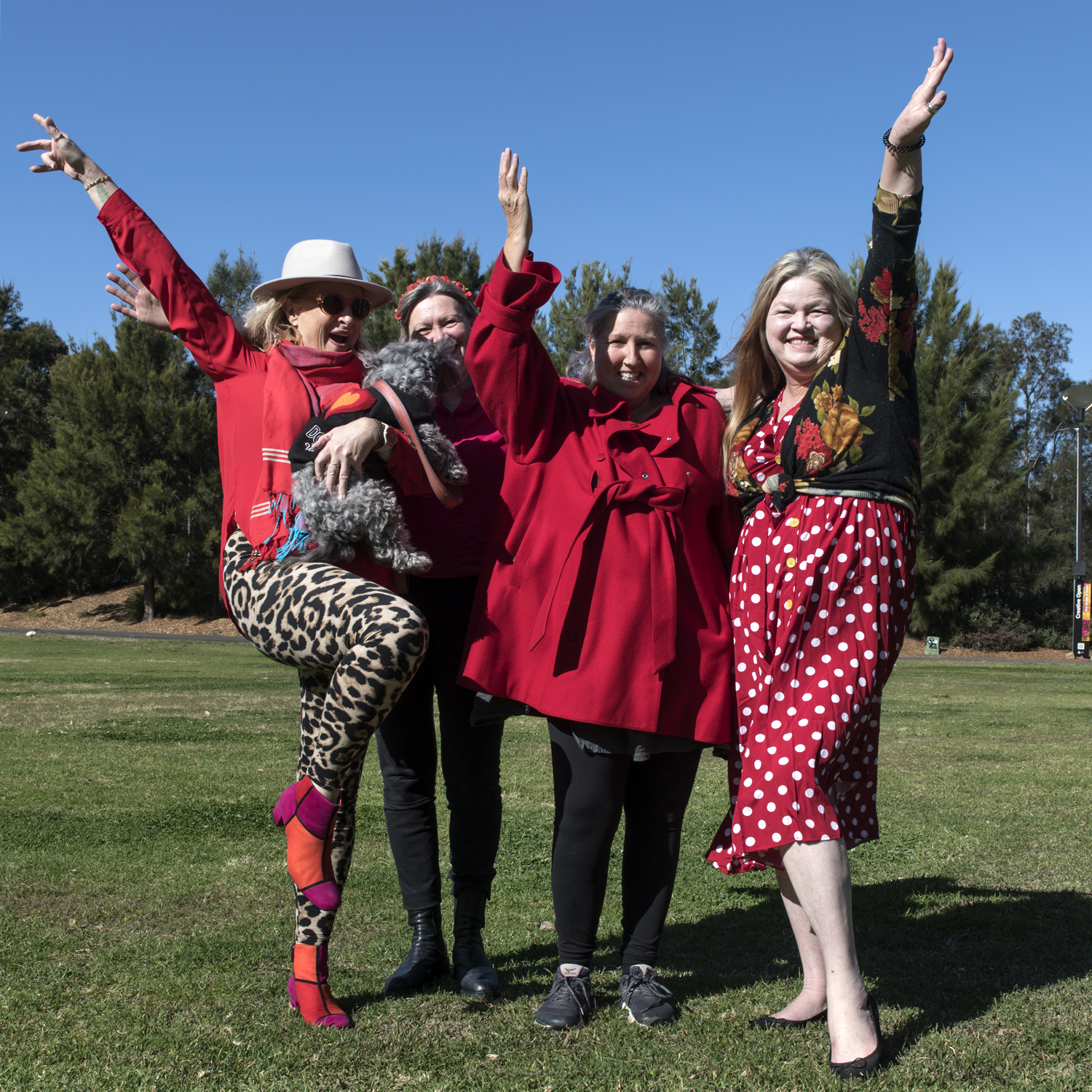 Simone Allan, Director and Founder Women's Resilience Centre explains:

''The Women's Resilience Centre is a northern beaches initiative. It is a service to provide hope, healing and long term recovery for women and their families who have experienced or witnessed domestic abuse and trauma.

The statistics state that one women dies every 8 days in Australia and on the Northern Beaches over 130 + DV incidents are reported each month. Trauma is Ike a cancer that pervades if not dealt with and it presents itself through dysfunctional behaviour.

It is estimated that 75% of Australian adults have experienced a traumatic event at some point in their life (Productivity Commission estimates using ABS 2009). International studies estimate that 62–68% of young people will have been exposed to at least one traumatic event by the age of 17.

The key to a road to recovery from trauma is a non judgemental empathic and supportive community.

If we do not repair we will repeat.
Concerns About Delayed Hazard Reductions In High Fuel Loads Areas - Pittwater MP Calls For New Fireboat For Offshore RFS's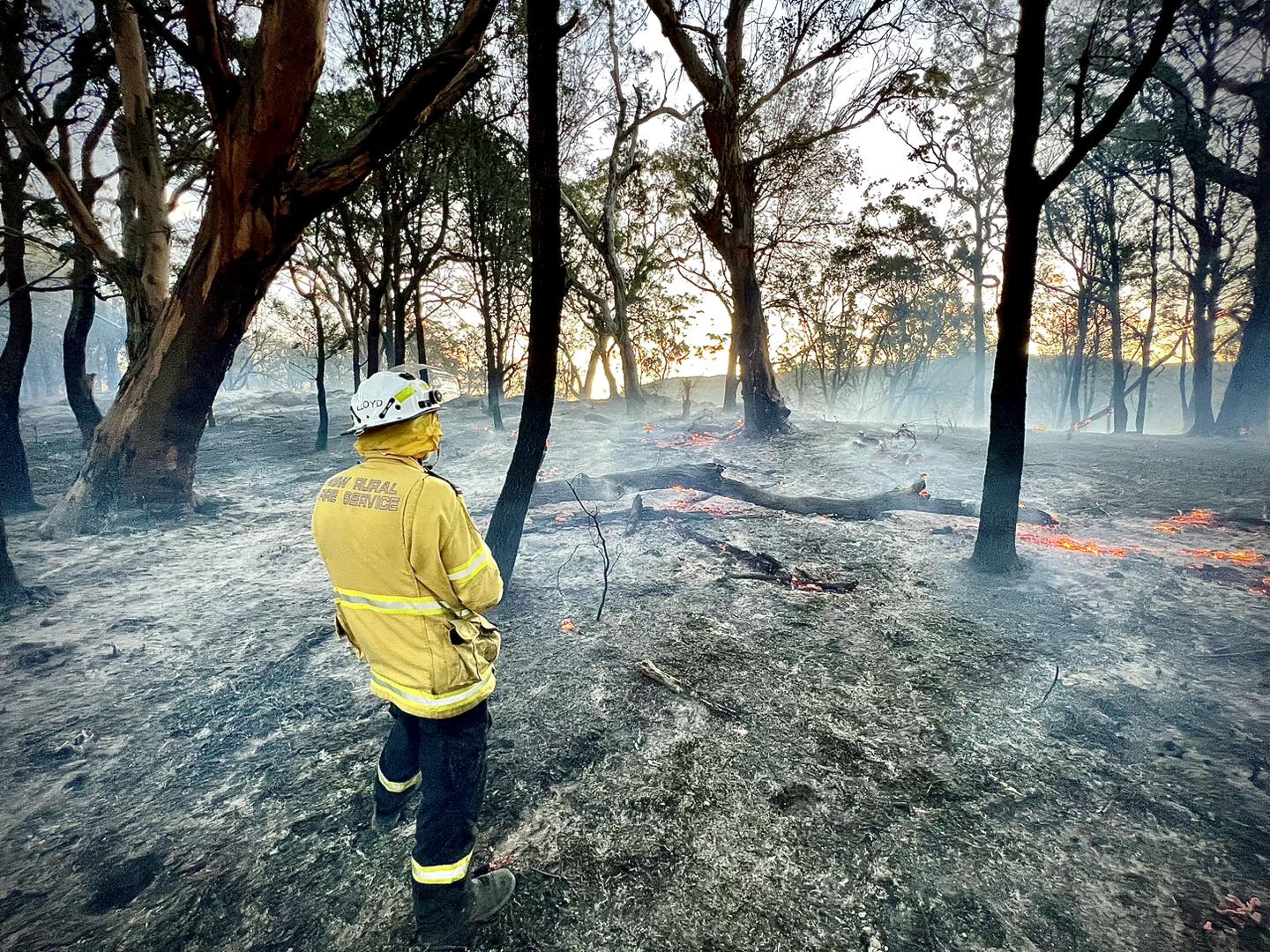 Coasters Retreat fireground, July 9, 2023 - his fire started Saturday July 8th. Photo: Northern Beaches Rural Fire District
The NSW Labor Government has announced $10 million boost to prepare for the forthcoming bushfire season on Monday July 24th, just days before unveiling a $9 million high-capacity waterbombing helicopter at Richmond on Saturday July 29th.
However, hazard reductions in our area have been postponed recently due to rains falling on the days they were scheduled until more favourable conditions return. What's more, none are listed on the NSW RFS HR webpage advising of these, despite a growing fuel load in bush areas that is drying out quickly under warm mid-winter conditions. On Saturday July 29th the temperature in Pittwater was a balmy 23 degrees.
July was the month the fires leading into the December 2019 and January 202 inferno, 'black summer', commenced its unstoppable burn across NSW, with local NSWRFS fires deployed north at the same time to help fight the fires that were destroying koala country.
What's more, Pittwater already has one instance of a fire already occurring at Coasters on July 8th and burning into the next day. Fortunately a rising wind was blowing the fire towards the coast rather than into the Ku-ring-gai Chase National Park where it could have destroyed the bush and raced towards communities on the perimeter.
The current RFS 'fires near me' map shows scores of fires are already burning across the state, fortunately all listed, at present, as under control.
The state government has said in a statement that hazard reduction burns are underway across the state as rural firefighters try to take advantage of favourable conditions to help keep local communities safe ahead of the 2023-24 bushfire season.
The statement reveals that only 20 per cent of planned hazard reduction burns were able to be completed during the past year due to the prolonged wet weather and severe flooding across large areas of NSW.
The NSW Government and its fire services are working to complete as much hazard reduction as possible with the $10 million program to develop a statewide mobile workforce to accelerate this critical work ahead of the coming fire season.
The funding, the government states, will enable the Rural Fire Service (RFS) to employ an additional 100 mitigation crew members to carry out vital hazard reduction and mitigation works in identified high risk areas of the state, with the extra mitigation crew members based mainly in regional areas of NSW, where it is already very dry in grassland areas.
Rural Fire Service Commissioner, Rob Rogers stated: "With the change in weather systems seeing an end to frequent rain and the return of dry, windy conditions, we need to get our teams out there doing hazard reduction burns at every opportunity.
"Over the last three months, almost 55,000 hectares of work has been completed, work critical to protect more than 50,000 properties and safeguard lives."
"There is plenty more to be done and this boost in mitigation personnel will enable even more vital work to be undertaken. While we are doing what we can, home and property owners also need to assess what they can do to prepare for the upcoming fire season as well."
On Saturday Rural Fire Service (RFS) aerial firefighting capabilities received a significant boost with the arrival of a $9 million high-capacity waterbombing helicopter at Richmond. The new helicopter will allow for aerial firefighting at night and expand on existing air capabilities.
Minister for Emergency Services Jihad Dib was joined by Commonwealth Member for Macquarie Susan Templeman and Commissioner of the RFS Rob Rogers, to welcome the CH-47 Chinook at RAAF Base Richmond.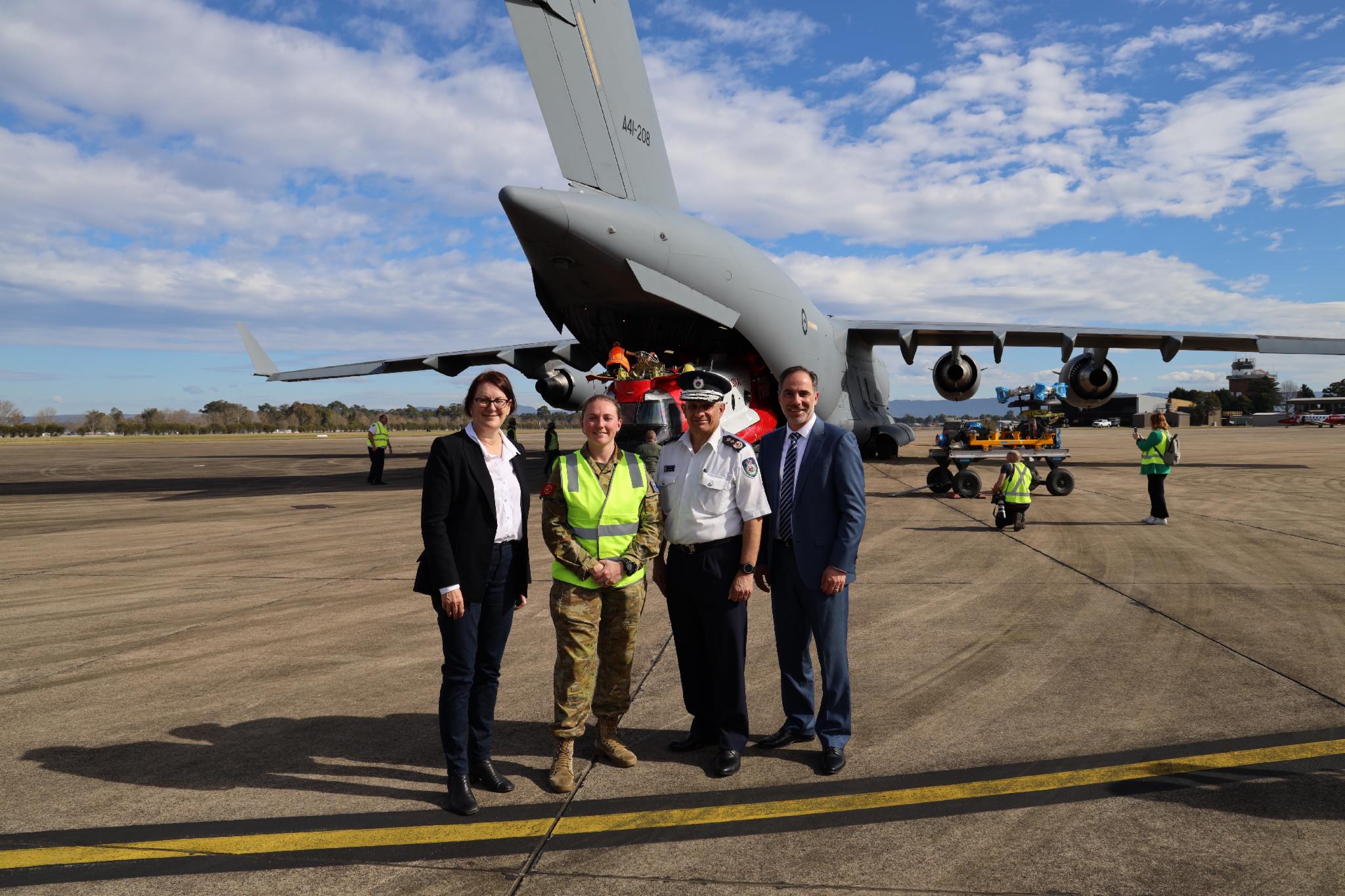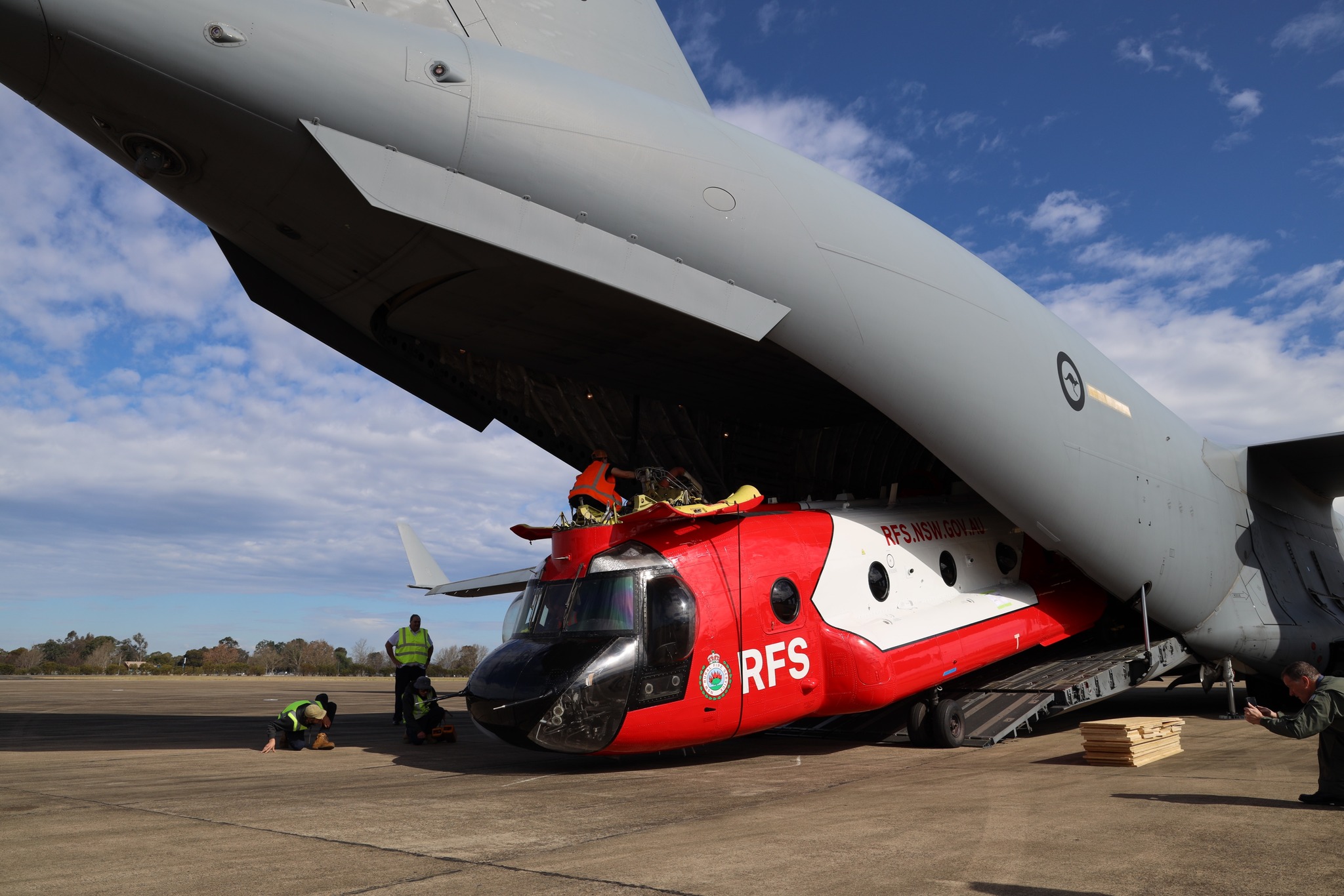 The impressive aircraft will carry up to 11,000L of water or retardant — a payload comparable to that of a Large Air Tanker — and will soon have the capability to support firefighting operations at night.
In its first year of operations, the Chinook will assist firefighters on the ground using a bucket of up to 10,000L. An 11,000L internal tank will be installed during the winter of 2024, which will allow it to commence night-time aerial firefighting.
The arrival of the aircraft comes ahead of the start of the Bush Fire Danger Period in six local government areas (Armidale Regional, Walcha, Uralla, Glen Innes Severn, Inverell and Tenterfield) on 1 August, and with fire conditions expected to return across NSW after three years of wet weather.
The great addition to the NSW RFS firefighting fleet is tempered by the lack of action on keeping local communities safe though.
After the Coasters fire Pittwater MP Rory Amon, an RFS volunteer himself, stated he had sought urgent Ministerial intervention to expedite the provision of adequate fire boat firefighting resources for Pittwater's offshore communities. The call was made in the aftermath of a significant fire at Coasters Retreat over 8 and 9 July 2023, and after years of bureaucratic wrangling.
The 18.4 square kilometre area of the Pittwater waterways is served by two fire boats – Elvina Fireboat and Scotland Island fire boat. The fire boats serve to protect those on the water, often attending boat fires. They also serve as first responders for fires in Pittwater's offshore communities with electoral data disclosing that community at over 700 full time residents, and hundreds more part timers and weekenders.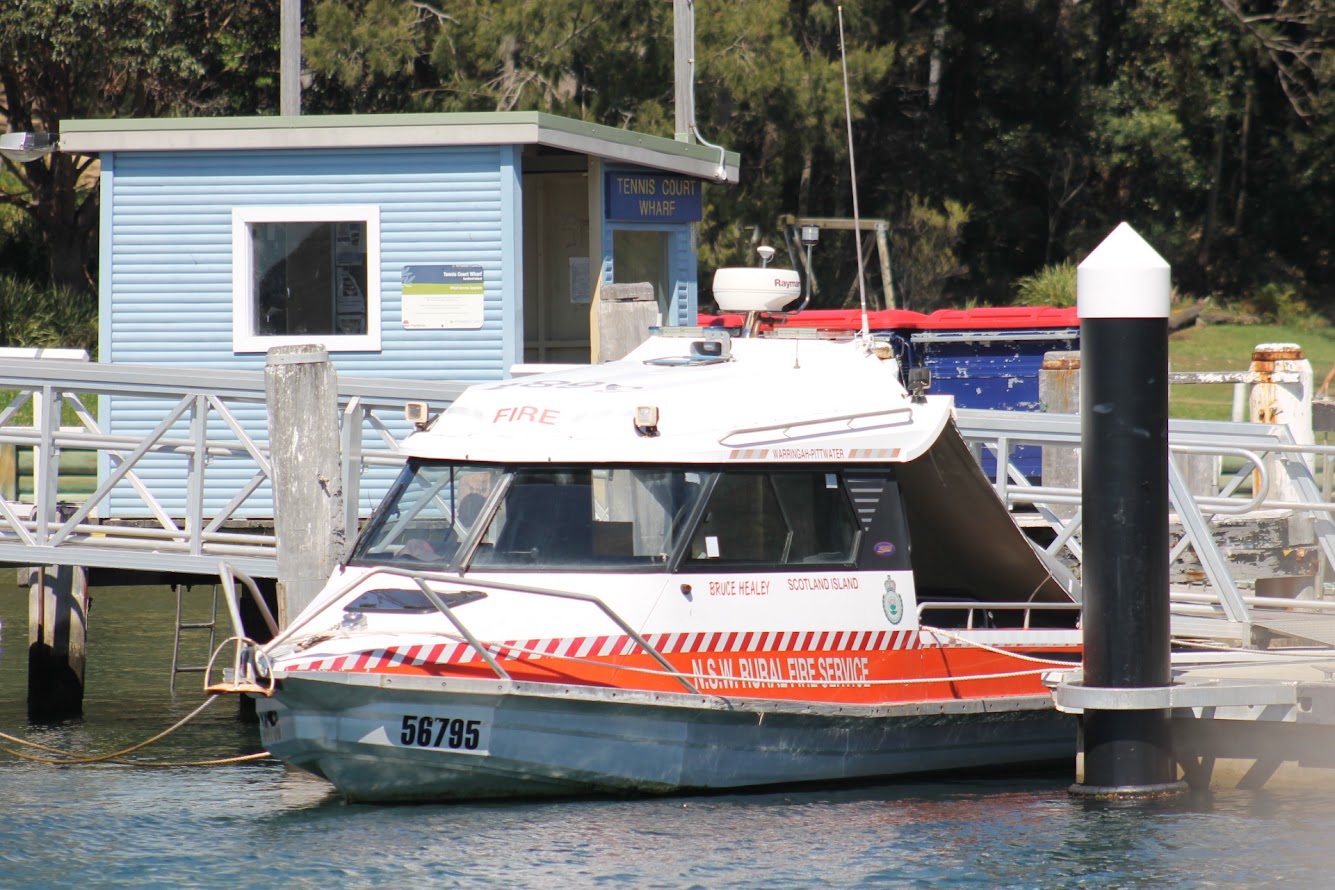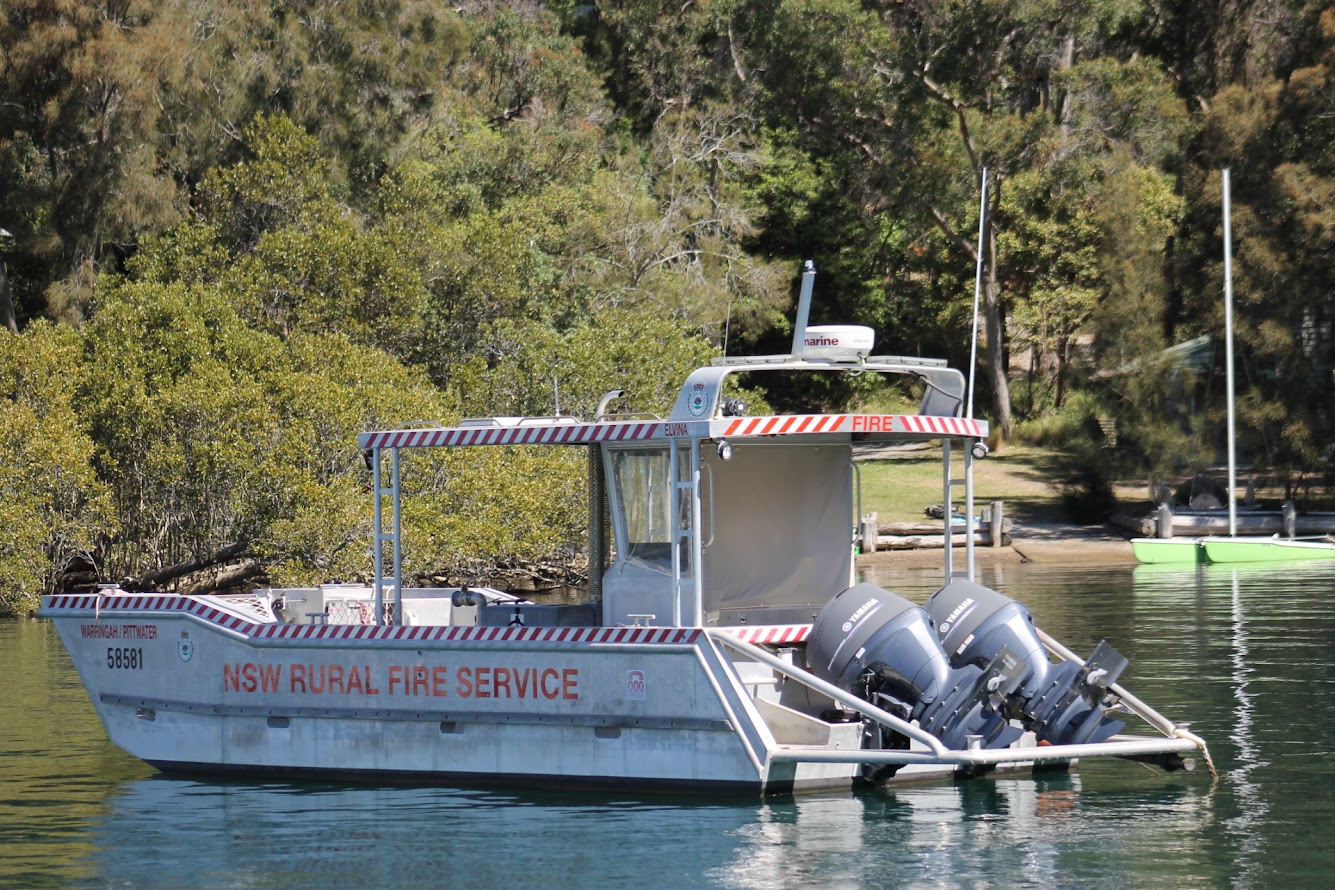 "The Scotland Island Volunteer Rural Fire Brigade currently has a fire boat which is not fit for purpose and has been in use for 17 years. This vulnerability was highlighted last weekend with a fire at Coasters Retreat over 8 and 9 July 2023. This vulnerability is putting lives and property at risk across Pittwater's offshore communities."
"For several years now, the Brigade has been working with the Rural Fire Service seeking a replacement fire boat. Minister, this matter is now urgent, especially as we enter a drier and hotter fire season. I fear the worst for Pittwater's offshore communities, and, in that setting, I now elevate this matter to your direct attention" wrote Mr Amon in a recent letter to Minister for Emergency Services, Jihad Dib.
Mr Amon has asked the Minister to provide urgent advice as to:
a. What approximate month and year it is anticipated that a new fire boat will be handed over to the Scotland Island Rural Fire Brigade, noting their current boat is nearly 20 years old and no longer fit for purpose;
b. What the type, design, make/model, approximate length and width the new fire boat will be for the Scotland Island Rural Fire Brigade;
c. What the specifications of the pump on the new fire boat will be?
"With dry weather ahead, the upcoming fire season could replicate the 2019/20 tragedy. I urgently seek the Minister's intervention so that our communities are kept as safe as possible," said Mr Amon.
In the meantime, residents can commence their own Bush fire survival plan and 'get ready activities, such as clearing away all those dead leaves from your roofing gutters. Information is available at: www.rfs.nsw.gov.au/resources/bush-fire-survival-plan
Hazard reductions planned for our area will be listed as they are scheduled at: https://www.rfs.nsw.gov.au/fire-information/hazard-reductions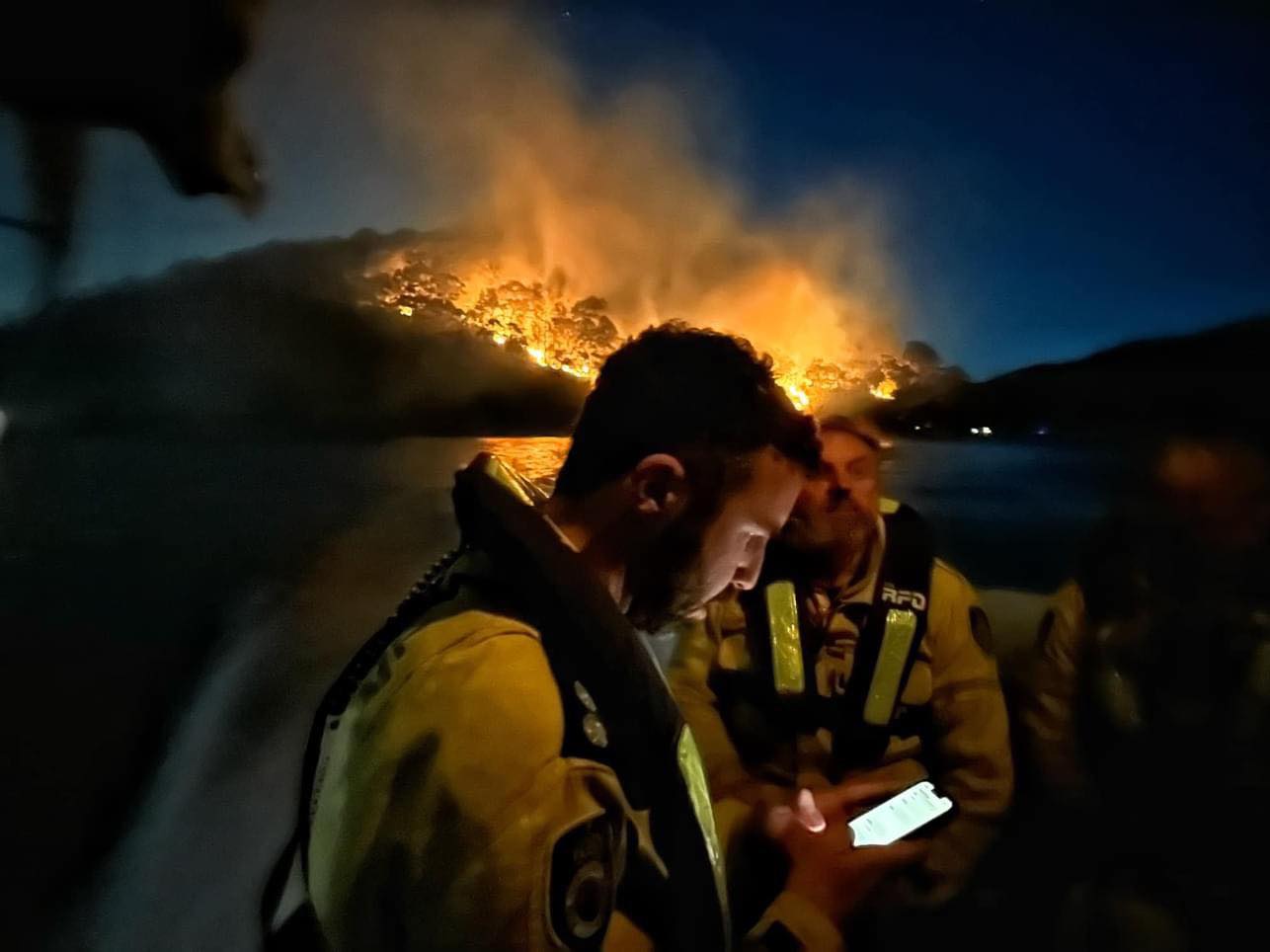 Heading into the Coasters Retreat fireground, Saturday July 8th. Photo: Northern Beaches Rural Fire District
Church Point Precinct Upgrade Scheduled To Be Completed This Financial Year: Boardwalk Completed In December 2022 Now A Popular Suntrap For Residents + Visitors Beside The Estuary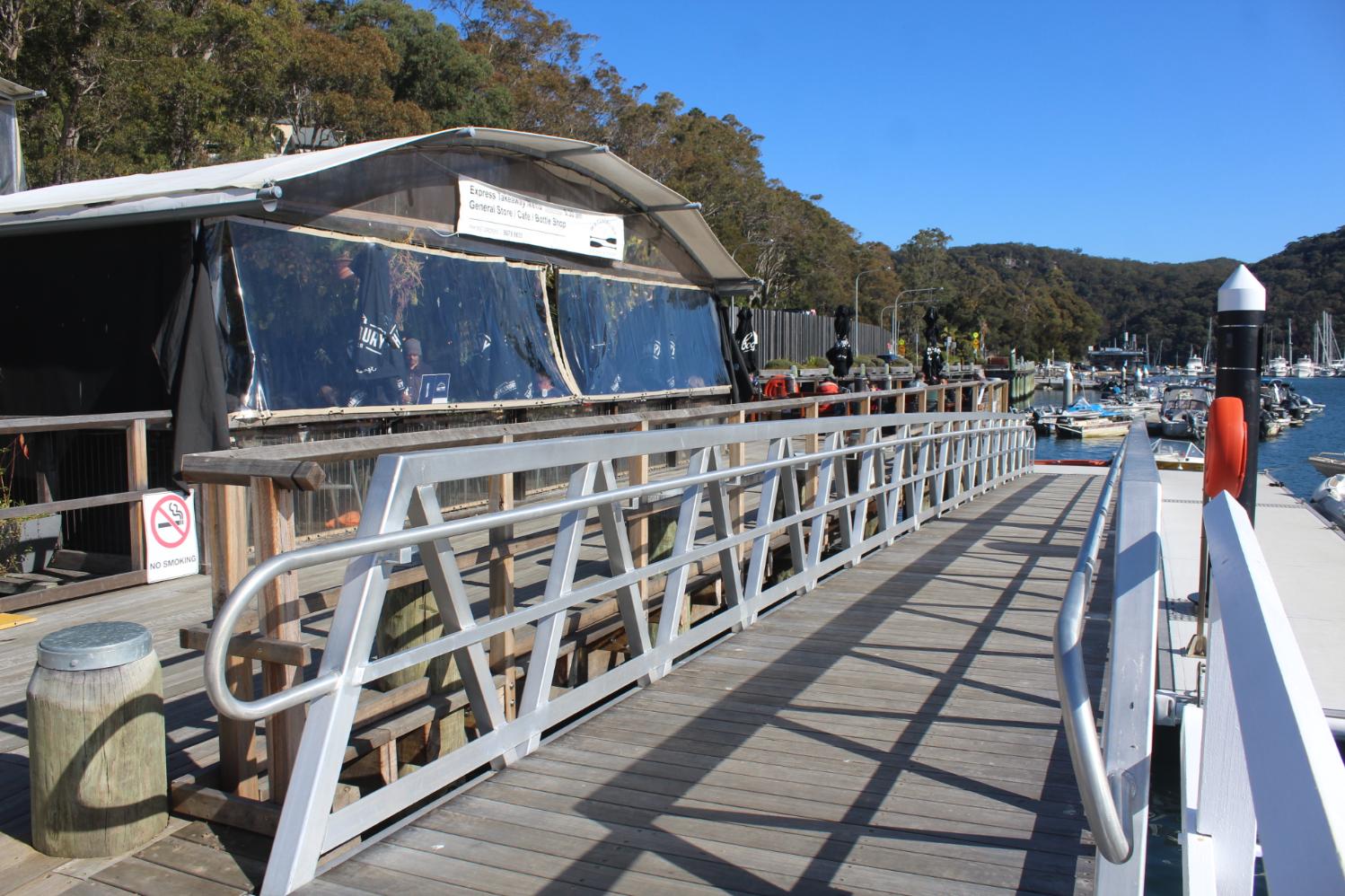 As part of the Church Point Precinct Upgrade, the construction of a boardwalk around the water's was completed in December of the same year. The boardwalk is an extension to the existing timber deck and installation of a new floating public pontoon and gangway with an additional short-term tie up area now available providing improved safety for boat owners.
The design creates a thoroughfare alongside the businesses to the Church Point Commuter Carpark and designated sections for outdoor dining to ensure pedestrian access is not impacted. The Council granted an outdoor dining licence for a portion of the boardwalk.
The construction of the walkway started in April using a barge to carry out the works with little impact to pedestrians and vehicles. Construction of the new walkway was completed in December 2022.
The new walkway includes a new foreshore recreation space with seating blocks. Other features include additional short term tie-ups that provide a much needed short term commuter and recreational boating berths. There is also separate space for outdoor dining.

The new tie-up facilities were funded in part under the NSW Government's 'Boating Now Program' with the remaining works funded by Council's Capital Works budget.
In October 2020 Northern Beaches Council provided intention to consider granting a licence to the business trading as Waterfront Café & General Store, to use the 38.4 sqm located on the proposed walkway adjacent to 1860 Pittwater Road in Church Point Reserve. The purpose of the licence agreement is to enable the applicant to operate its business to provide seating and other dining facilities to customers of the adjoining restaurant. The licence is subject to the payment of a licence fee. The licence does not propose any increase to patron numbers.
The licence was executed in November 2021 under delegated authority and has received final approval from the Minister. The licence commenced following the construction of the pedestrian walkway.
There is more to come though.
In April 2021 the Northern Beaches Council sought feedback on Church Point Commercial Centre upgrades, which closed on May 23rd 2021. Council's webpage for that project advises that ''we are currently reviewing comments and will report back to the community before works commence.'' and; ''We are progressing with the next stage of the Church Point Precinct upgrade with planned improvements to the landscaping in Thomas Stephens Reserve and some road upgrade works.''
The proposed landscape improvements include new:
timber boardwalk and pavement
wharf style seating
tables and benches
sandstone stairs to beach
repointing and backfilling of the existing seawall
bins, bike racks and water station
plantings and trees.
The road realignment and associated works include:
smoothing of the road curve
new speed hump
new raised pedestrian crossing
reconfiguration of car spaces and loading zones
safety improvements to bus stop
realignment of access road to numbers 1-19 McCarrs Creek Road
new retaining wall on access road, clad to match new carpark

stair and footpath upgrade on southside of road

some kerb and guttering.
All existing trees will be retained.
The 'stair and footpath upgrade on southside of road' is shown on the plans as that leading up into the Church Point Cemetery and which had been listed as one of the improvements to Church Point Cemetery via a Heritage Near Me Grant in 2017. Visit last week's report: Church Point Cemetery: Neglect Of God's Acre Disappoints Community
Improvements via that grant were to include; 'an upgrade to the street access and pathway, landscaping, and the installation of a viewing platform, seating and heritage information signage to improve amenity' and increase visitation. In October 2017 Member for Pittwater Rob Stokes announced $100,000 for these heritage improvements at the historic Church Point Cemetery.
Only the heritage information signage (one only) has been installed to July 22nd, 2023.
The Church Point Commercial Centre upgrades listed have been scheduled in the Council budgets a few times.
It's also good to remember that Budget rollovers to the 2022/23 financial year of $11.5 million included - ''Church Point Commuter Wharf Expansion (271,900); Project delayed with detailed design postponed due to COVID impact on the progress of feasibility study'' and that a LOT of work has been done the last few years.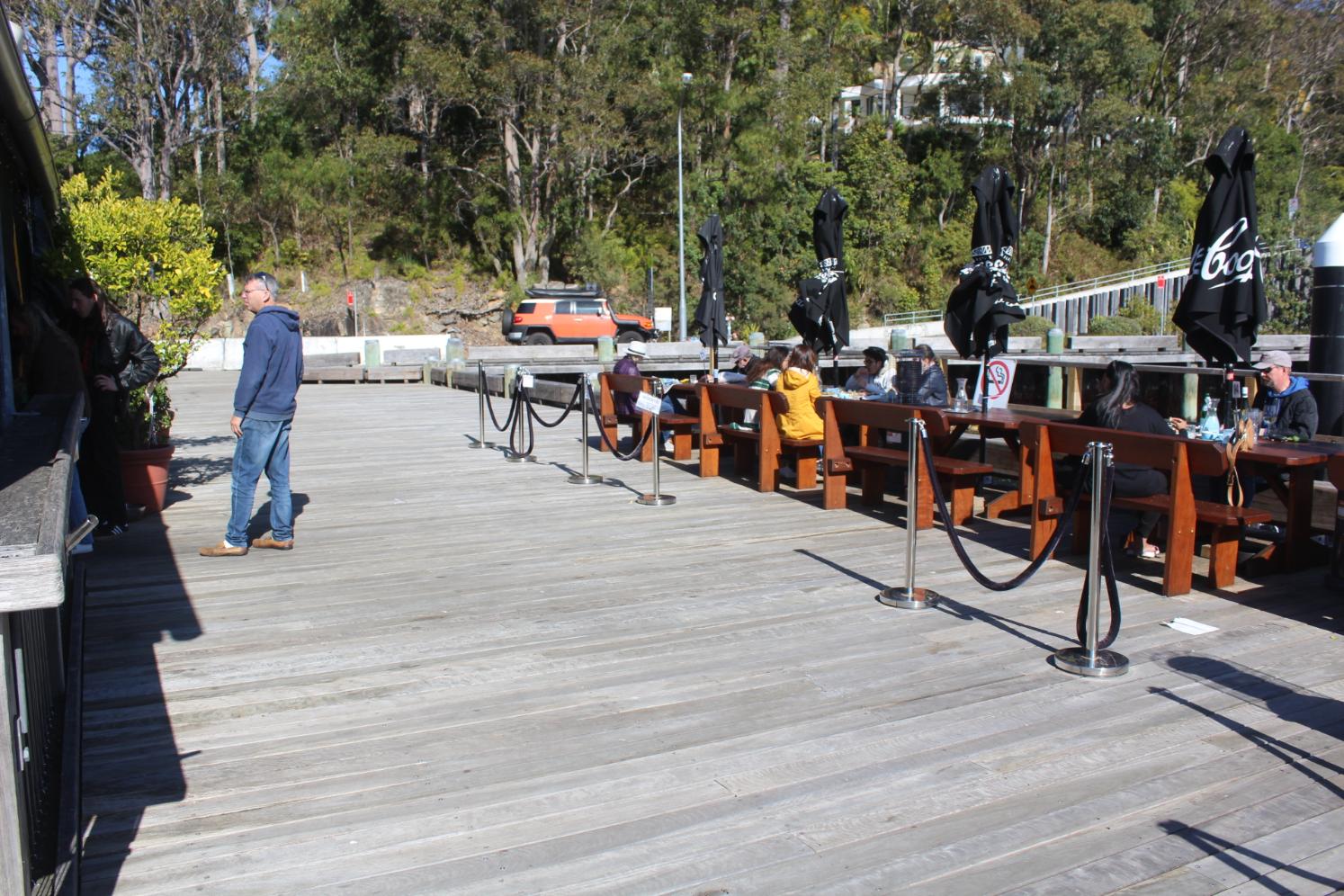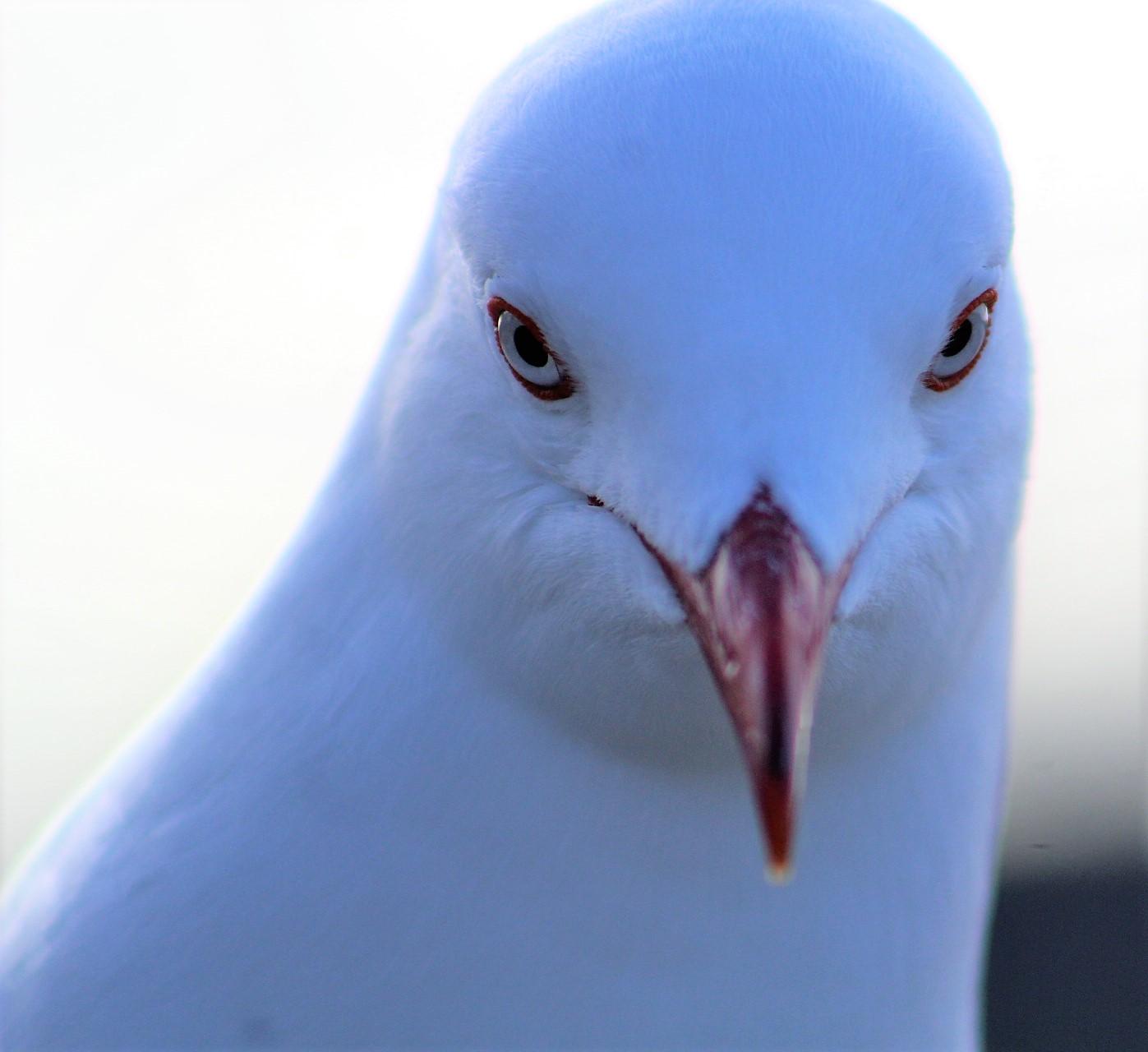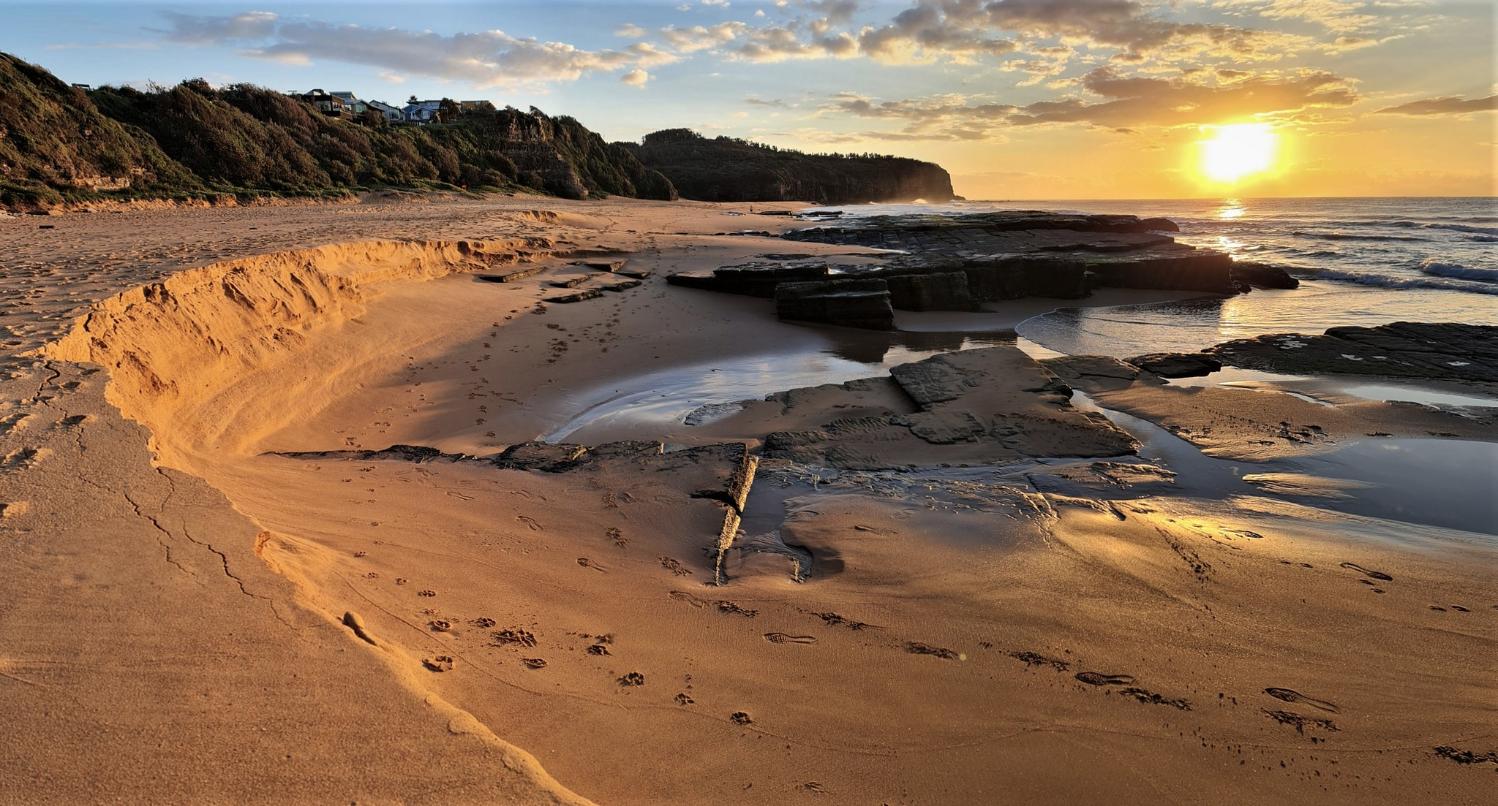 Turimetta Erosion
''After a washout on Monday, this morning's sunrise (Tue 25 July 2023) was a total contrast. The previous high tide had eroded the front sand and exposed the rock shelves, including a feature we call The Gutter. This area is very popular with swimmers at high tide. The erosion is about 2 metres in height. This erosion was also similar the full length of the beach. Amazing how these large volumes of sand are easily moved by nature, in such a short time. '' Photo and info.: Joe Mills (Turimetta Moods)
Past Features Archives (pre 2014)
Pittwater Online News was selected for preservation by the State Library of New South Wales and National Library of Australia. This title is scheduled to be re-archived regularly.
Archived Issues (2014 on) may be accessed here: pandora.nla.gov.au/tep/143700
Past Issues are also listed on site on the Community News page, by month.