June 4 - 10 2023: Issue 586
NSW Government Takes Urgent Action To Recruit More Bus Drivers: Bus Passenger Forum For Our Area To Be Held June 24 2023 At Dee Why - Or Email In Comments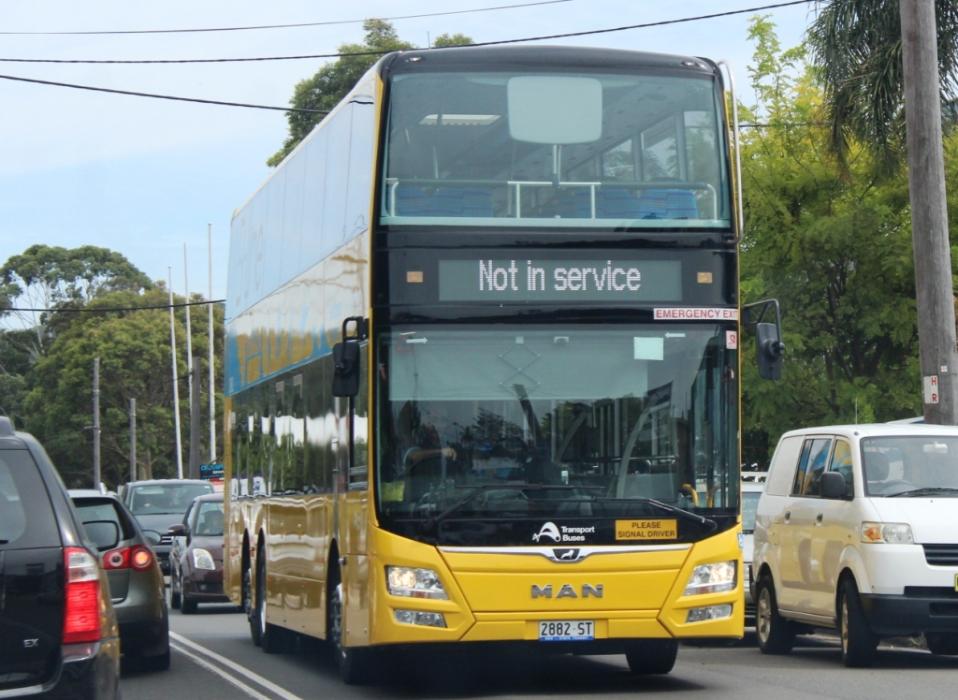 On Saturday June 3rd the NSW Government announced the Bus Industry Taskforce, established by the Government, has identified immediate actions to help address the bus driver shortage and get more services running.
These actions are aimed at supporting increased driver recruitment and ensuring private operators are running the most efficient timetable for passengers.
''With more than 500 driver vacancies across Greater Sydney and Outer Metropolitan areas, it's clear more needs to be done to get more drivers onto the road and carrying passengers.'' the government stated
A major change will be introduced to make it quicker, easier, and cheaper for drivers to get their bus driver authority by:
waiving the $70 application fee for the next 12 months
allowing drivers over the age of 25 to apply if they hold a current unrestricted Australian driver licence and have held any kind of Australian driver licence, or a nationally recognised overseas driver licence, for at least three years
enabling electronic issue of documents
scrapping duplicated paperwork requirements and streamlining the application process.
The Bus Industry Taskforce will also hold an urgent bus industry roundtable on 21 June 2023, where current operators, drivers and industry representatives can suggest practical solutions to workforce shortages.
Bus Passenger Forums, chaired by Parliamentary Secretary for Transport Marjorie O'Neil, will also capture community feedback on bus services from members of the public and representatives from community groups, local businesses and non-government organisations.
Forming a key part of the work carried out by the Bus Industry Taskforce, the forums will provide a much-needed opportunity for the commuting public to have their say.
One is scheduled for the northern beaches on Saturday June 24th, 2023 at Dee Why from 12 to 2pm. Register here: www.surveymonkey.com/r/buspassengerforums
Alternatively, residents can provide your feedback right away. Email bustaskforce@transport.nsw.gov.au and let the taskforce know what you think about bus services in your area.
Parliamentary Secretary for Transport, Dr Marjorie O'Neill, will chair the forums over the coming months, with the first forums taking place this month in the Northern Beaches and the Hunter Region.
The forums will be hosted across Greater Sydney, in outer metropolitan areas and in Regional NSW, including some online sessions to make it easier for people to attend.
Members of the public and representatives from community groups, local businesses and non-government organisations will be invited to have their say.
A recruitment drive will be boosted across the public transport network and in communities to attract people to the job.
However, those who have quit the industry since it was privatised under the previous coalition government have stated, already, that poor wages and conditions will continue to stymie any recruitment drives.
Others have stated that lowering the entry requirements will significantly affect the quality of service and safety of passengers and other road users.

Still more have asked if this means that previously cancelled services and routes will now be reinstated or if this means meeting timetables will be adjusted so buses don't roar past people at bus stops in order to not be penalised by those they are working for.
Soon after taking over the portfolio NSW Minister for Transport Jo Haylen found the contracts drawn up by the previous state government imposed financial penalties on the companies for failing to meet 'on time running' targets whereas bus services that are cancelled do not count as late.
There are penalties for cancellations also, but only up to a certain number. Once that threshold is reached the companies make more money if they cancel a bus that might run late.
Since privatisation, these provisions have left millions of passengers stranded at bus stops waiting for buses that never come, including young children trying to get to or from school.
World Oceans Day 2023: 'Planet Ocean: Tides Are Changing' - Weedy Seadragons Citizen Scientist Project + Living Ocean's Welcome To Whale Ocean Country + Plastics Research

Planet Ocean: tides are changing
This Thursday June 8th 2023 is World Oceans Day.
The ocean covers over 70% of the planet. It is our life source, supporting humanity's sustenance and that of every other organism on earth.
The ocean produces at least 50% of the planet's oxygen, it is home to most of earth's biodiversity, and is the main source of protein for more than a billion people around the world. Not to mention, the ocean is key to our economy with an estimated 40 million people being employed by ocean-based industries by 2030.
Even though all its benefits, the ocean is now in need of support.
With 90% of big fish populations depleted, and 50% of coral reefs destroyed, we are taking more from the ocean than can be replenished. We need to work together to create a new balance with the ocean that no longer depletes its bounty but instead restores its vibrancy and brings it new life.
"Planet Ocean: tides are changing", is the theme for World Oceans Day 2023 - the UN is joining forces with decision-makers, indigenous leaders, scientists, private sector executives, civil society, celebrities, and youth activists to put the ocean first.
World Oceans Day reminds every one of the major role the oceans have in everyday life. They are the lungs of our Planet and a major source of food and medicine and a critical part of the biosphere.
The purpose of the Day is to inform the public of the impact of human actions on the ocean, develop a worldwide movement of citizens for the ocean, and mobilize and unite the world's population on a project for the sustainable management of the world's oceans.
This year, the United Nations will host a hybrid celebration of the annual event on 8 June 2023, hosted in-person at the UN Headquarters in New York to be broadcasted live. It will highlight the 2023 theme of "Planet Ocean: tides are changing".
Hosted by the Division for Ocean Affairs and the Law of the Sea of the Office of Legal Affairs of the United Nations, in partnership with the non-profit organization Oceanic Global, and supported by Panerai, this year's annual event will shed light on how we can work together to ensure the ocean's health and well-being.
Whale Welcome to Ocean Country: Living Ocean + LO's Careel Multilayered Coastal Assessment

On Saturday June 3rd 2023 Living Ocean hosted a Welcome to Ocean Country. Tens of thousands of Humpback Whales are expected to migrate north along the East Coast of Australia from June to September. Traditionally the local indigenous people, whose totem is the whale, have always welcomed the migration to their Ocean Coast.
Living Ocean was proud to facilitate the Whale Welcome to Ocean Country at the Avalon Surf Club, Avalon Beach.
Local elder Uncle Neil delivered the Welcome to Country, followed by whale songs on the didgeridoo, and finally the local community called in the whales in the traditional way by squeaking their feet in the sands of Avalon Beach.
The annual Southern Hemisphere whale migration is one of nature's most spectacular events, with these magnificent animals travelling up to 10,000 kilometres. However, it's not just about their journey, as the importance of whales in terms of climate change is staggering when you consider each great whale captures 33 tons of CO2 on average, taking that carbon out of the atmosphere for centuries. At the same time, whales supply the ocean with the nutrients required to grow phytoplankton, which capture ~40% of all CO2 produced. Just a 1% increase in phytoplankton thanks to whales would capture hundreds of millions of tonnes of CO2, equivalent to 2 billion trees.
David Cousins, Living Ocean Vice President, says 'the preservation of the marine ecosystem to boost whale populations is paramount, as the lungs of our planet actually reside in the ocean.'
The role of the ocean is fundamental as it regulates rainfall and droughts, holds 97% of our planets water, and is the greatest carbon sink on earth, far surpassing all vegetation. Therefore, the impact of ocean health is profound.
The inaugural Whale Welcome to Ocean Country was held in June 2022.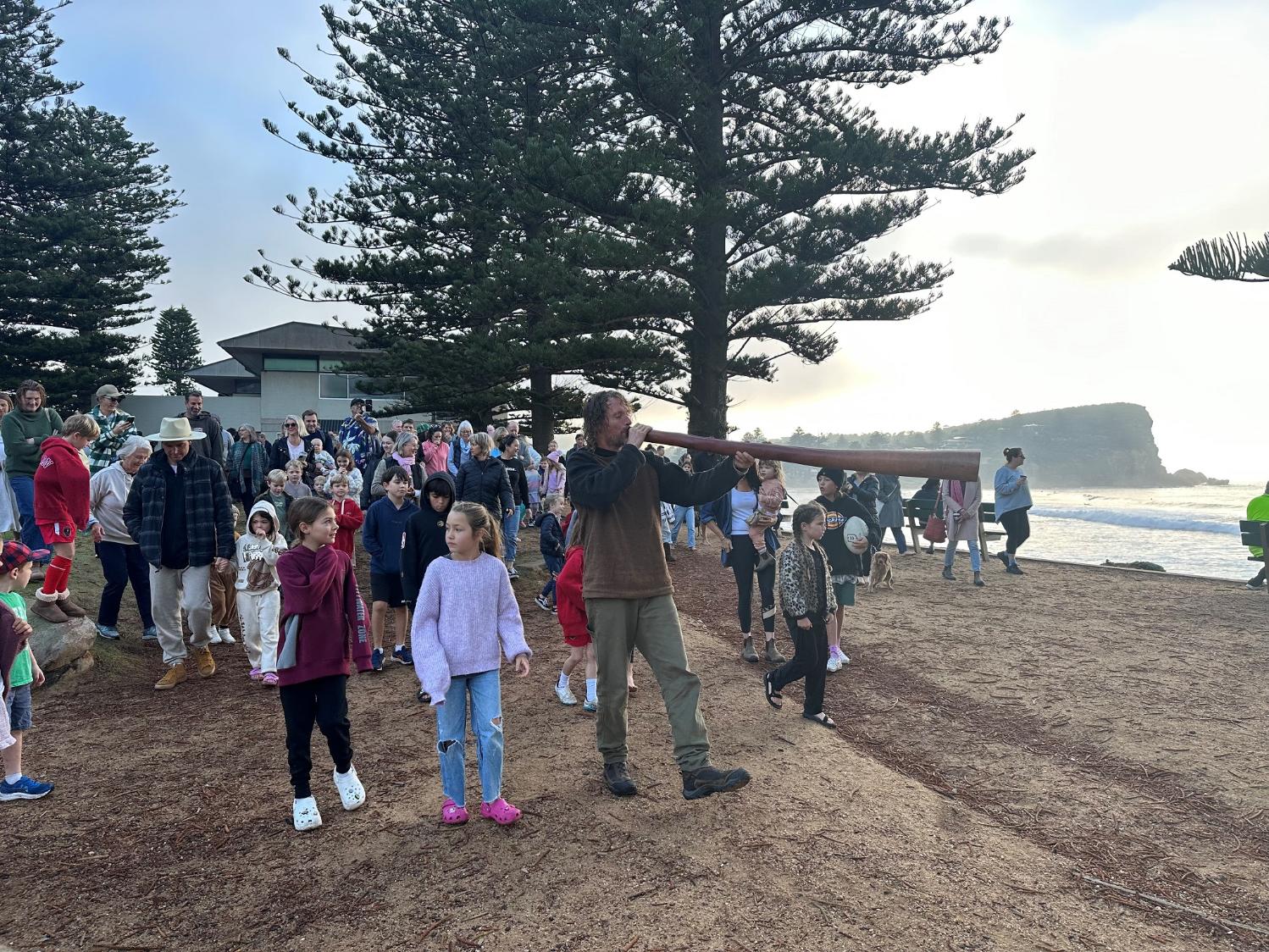 2023 Whale
Welcome to Ocean Country. Photo: Pittwater Cr. Miranda Korzy
Tibetan Library Collection Safeguards Language And Culture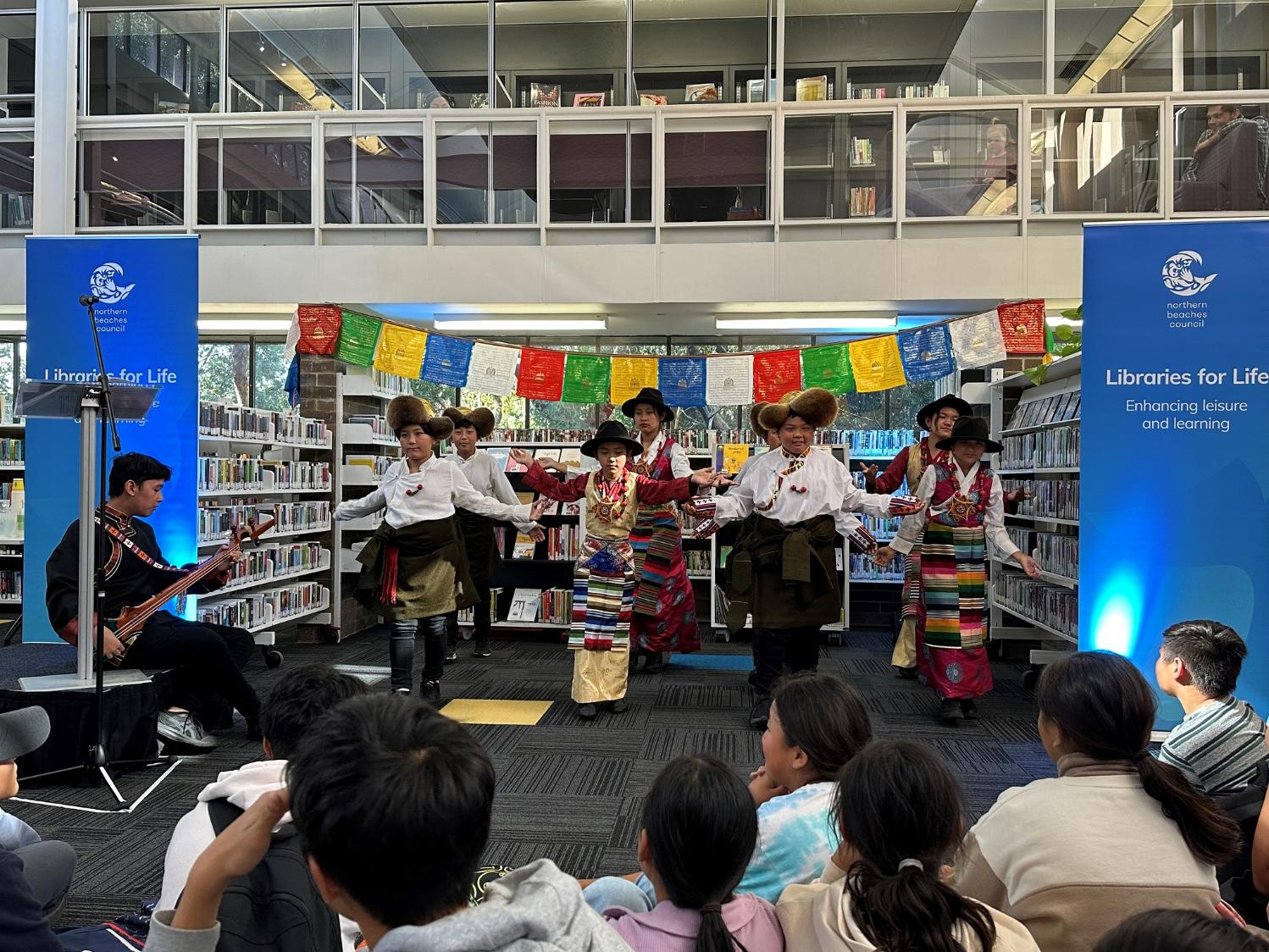 Tibetan Library launch - children dancing
Tibetans living locally will now be able to read books in their own language - something banned in their own country - following the launch of a collection at Dee Why Library on Saturday.
The Tibetan collection, a first for a public library in Australia, was developed in collaboration with the NSW State Library, Northern Beaches Council Libraries executive manager Maeva Masterson told the launch.
And in another first, the libraries had developed both a Tibetan language and English catalogue for the collection, Ms Masterson said.
A crowd of about 100 people, including members of the Tibetan community, library staff and councillors, joined the launch at Dee Why library, which was decorated with colourful Tibetan flags. Tibetan food and dancing also featured at the event.
Tibetan Community of Australia spokesman Migmar Tsering congratulated the Northern Beaches Council on the collection, noting its significance to the maintenance of Tibetan language, music, and dance in the face of Chinese restrictions in his home country.
"In Tibet we don't have the right to keep the Tibetan language," he said.
"In this free country we have the opportunity to learn and keep our language."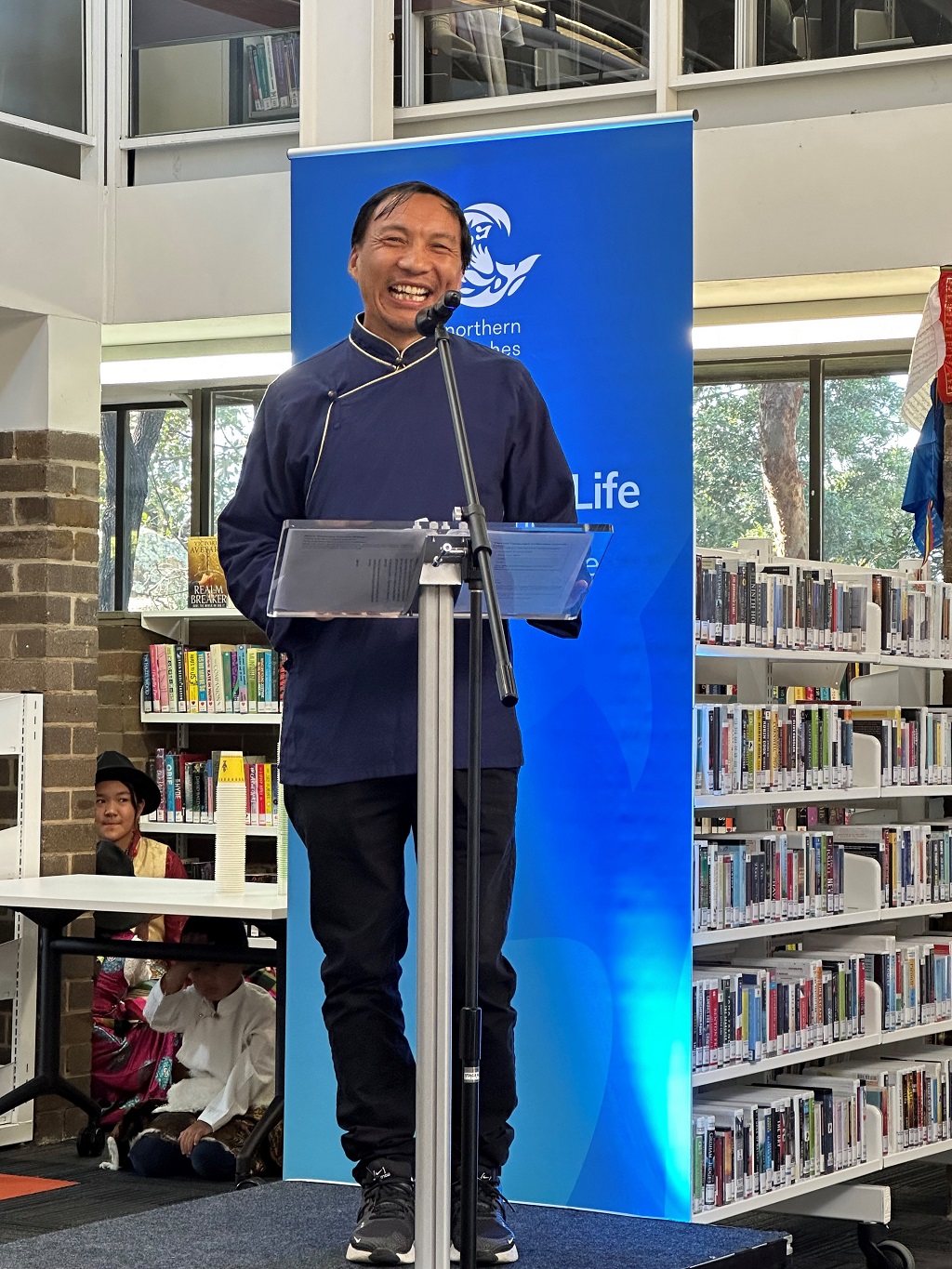 Migmar Tsering

State Library multicultural consultant Oriana Acevido said the collection originated with a conversation at Dee Why library before Covid hit.
"Our language is linked to our whole culture: the way that we feel, the way that we see things and the way that we love," Ms Acevido, who hails from South America, told the launch.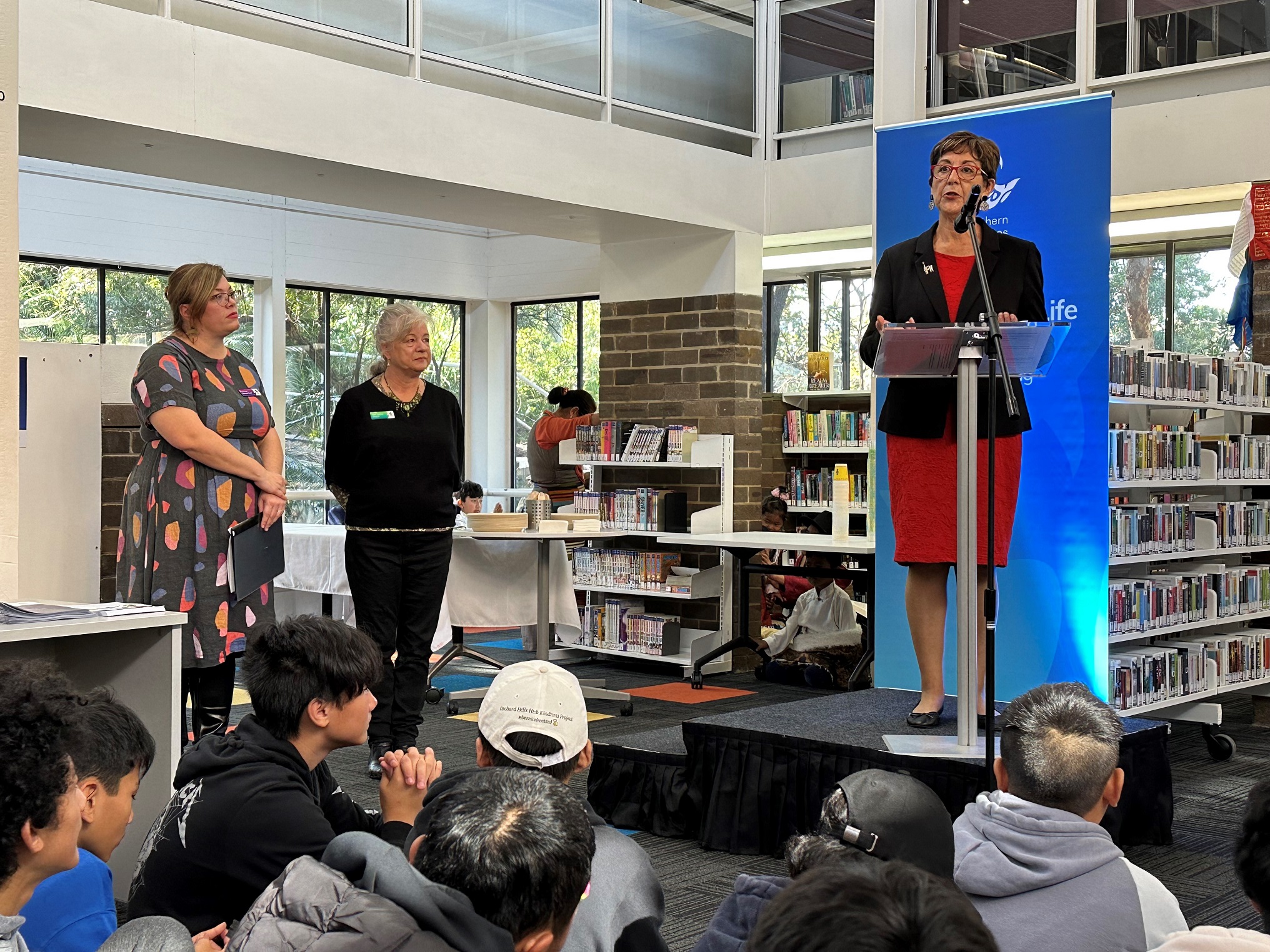 Left to right: Maeva Masterson - NBC Libraries executive manager, Mayor Sue Heins and State Library Multicultural Consultant Oriana Acevedo.
The libraries had set a target of 1,000 volumes for the Tibetan collection, covering children's books, fiction and non-fiction including religion, history and health. A small supplier had sourced about 800 books in India and Nepal for the libraries.
"The library will keep sustaining the collection for as long as the community is here, and keep it fresh," she said.
Northern Beaches Mayor Sue Heins said the area had a long-standing connection with Tibet.
Tibetan was one of the top five languages spoken in Dee Why and in the past the area had hosted a bilingual Tibetan playgroup and the library had translated children's books from English into Tibetan.
"I'd like to thank the state library for providing this incredible resource," Ms Heins said.
Young Tibetan Australian Tenzin Chokrup said he, along with many other Tibetans, was ecstatic that they could now read Tibetan books and teach their children their language and culture.
"I'd like to thank the Northern Beaches Council because we now have an opportunity that Tibetans in Tibet don't have," he told the gathering.
Mr Tsering later said he had come to Australia in 1996 as a refugee, after four years' imprisonment in Tibet for peaceful protesting. He had escaped across the mountains to India and then Nepal, spending 10 years in those two countries.
About 600 Tibetans lived on the Northern Beaches and 1,400 Sydney wide, Mr Tsering said.
Miranda Korzy, Greens Councillor for Pittwater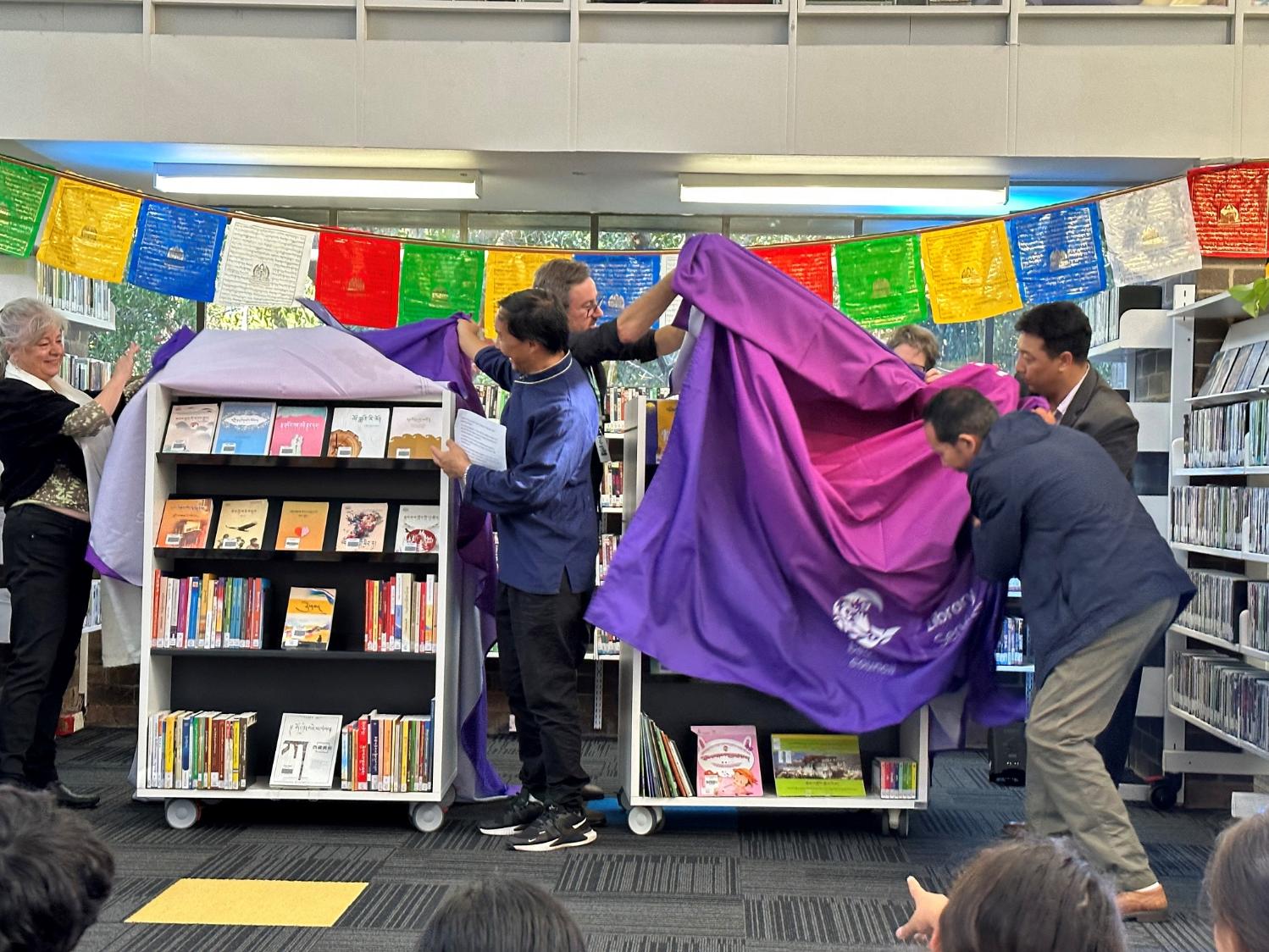 Tibet Library launch - uncovering the books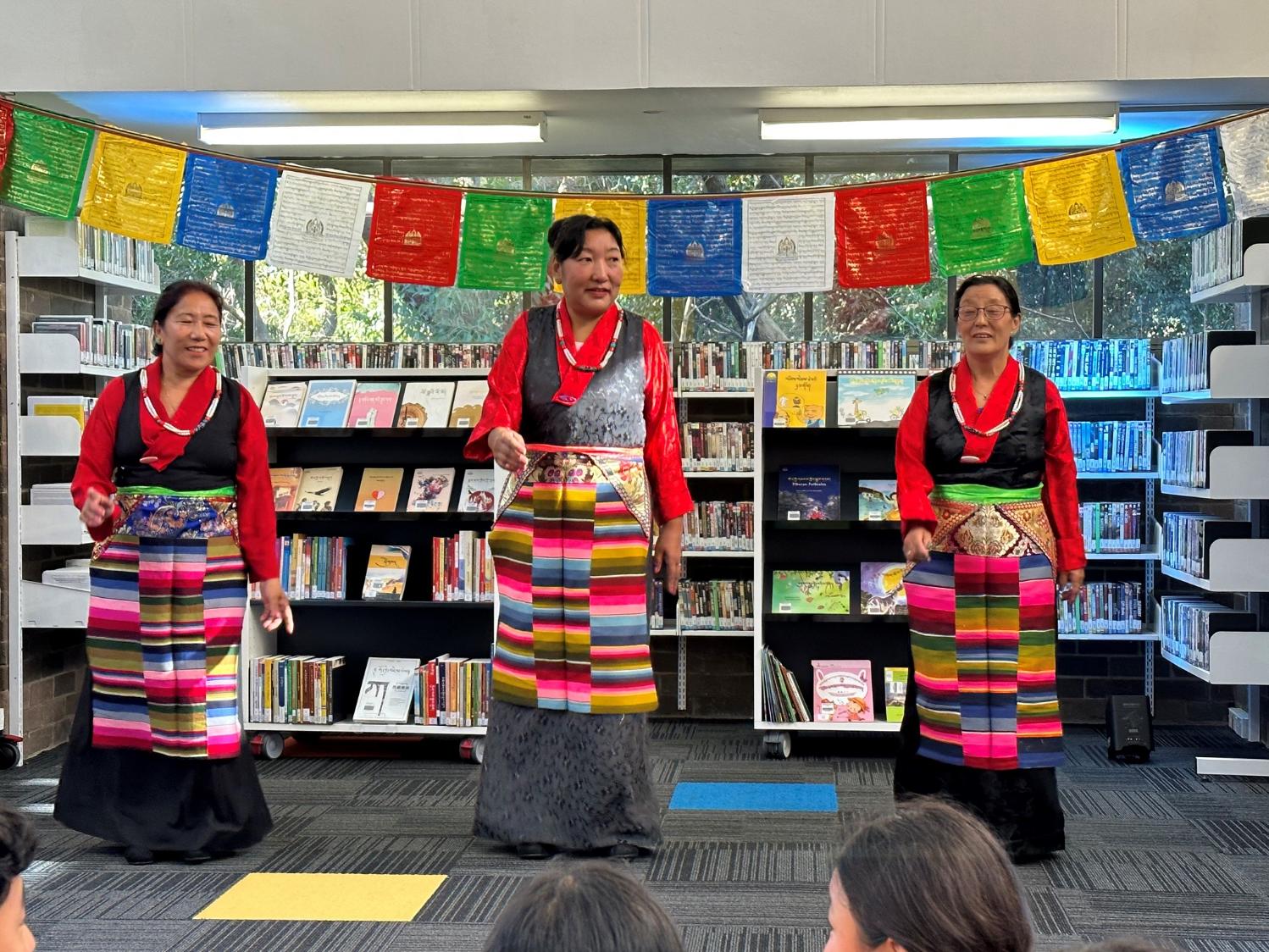 Tibetan Library launch - women dancing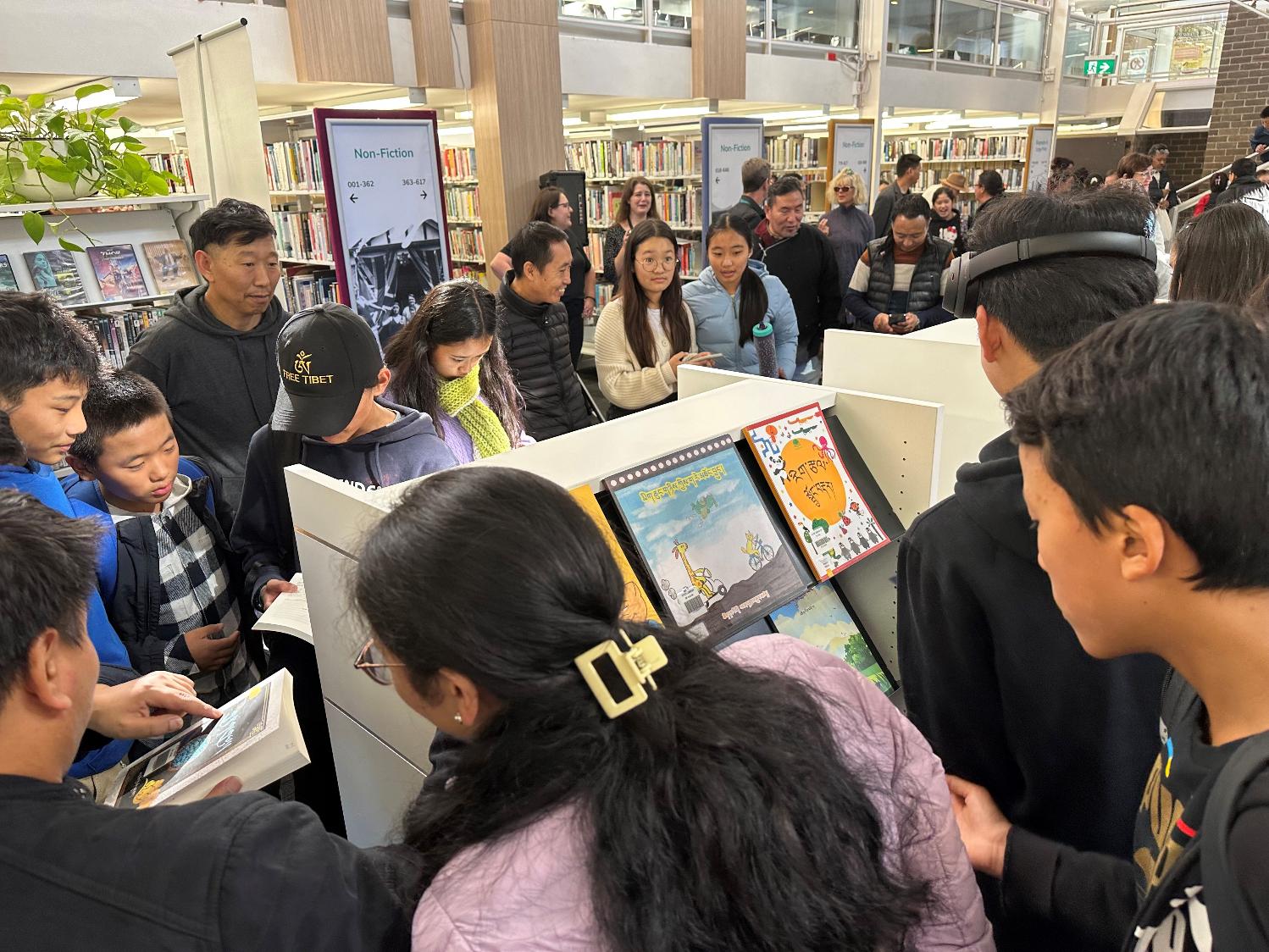 Tibet Library launch - books popular
North Avalon - Careel Bay Footpath Construction Finally Begins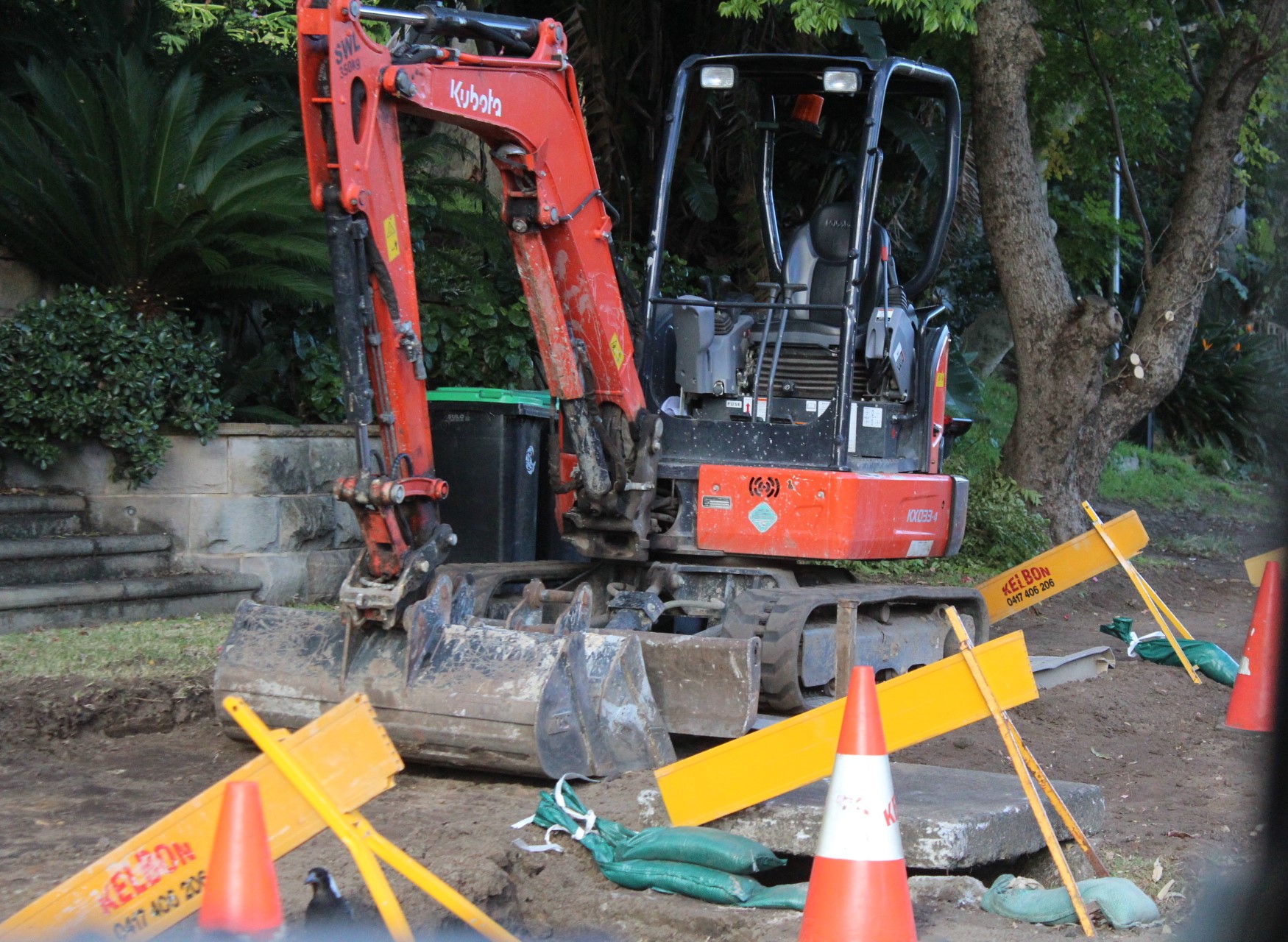 The construction for the footpath between Careel Head Road and Currawong Avenue commenced on Monday May 29th 2023, at the Currawong end.
The footpath was the result of a petition from residents and went through a 'planning' stage that formed part of the 2022-23 Budget announcements and 2023-2024 Budget announcements.
In December 2022 former Pittwater MP Rob Stokes announced funding for the footpath under the Get NSW Active program.
Get NSW Active provides funding for local projects that encourage vibrant centres and liveable neighbourhoods through the creation of street environments that prioritise walking and cycling.
Then Minister for Active Transport and Member for Pittwater Rob Stokes said the funding would go towards strengthening active transport in the community, making it easier for people to get from A to B in a way that doesn't always involve getting in the car.
"We live in the most beautiful part of the most beautiful country in the world, but if there's one thing we could use a bit more of, it's better footpaths and active transport connections," Mr Stokes said.
"For children, older people, parents pushing prams or people with disabilities – a street without a footpath isn't an inconvenience - it's a barrier to moving freely in public space.
"That's why the NSW Government is supporting Northern Beaches Council to deliver two key footpaths that will help residents and visitors move around safely."
The projects that were funded included:
$971,000 for a new footpath, kerbs, gutters and drainage along the eastern side of Barrenjoey Road, North Avalon between Careel Head Road and Currawong Avenue.
$369,000 for a new footpath on the northern side of Turimetta Street, Mona Vale to complete the missing connection between Mona Vale Police Station and George Mockler House, a strategic walking connection to Mona Vale, schools and the B-Line.
The North Avalon-Careel Bay connection section is quite dangerous as people will pull their cars off the road without seeing pedestrians walking alongside.
There have been a few near misses.
It is also a section utilised by families accessing Careel Bay Playing Fields and becomes very crowded during the peak of the Football Season, and by students walking to and from Barrenjoey High school.
Altogether a grant allocating $971,000 for a new footpath, kerbs, gutters and drainage, in length 725m, was provided under the work of ex-Pittwater MP Rob Stokes.
This build was slated for a commencement build date of January 2023, however Transport for NSW required Council to undertake extra drainage works to reduce flooding along the section and as a result the Council drew new plans and has advised those living alongside this road that there will be a footpath but no kerb and guttering and only minor drainage works. Bollards will be put in place along sections where cars may continue to pull off the road at random and into and on to pedestrians, including the many schoolchildren who walk this section on their way to school.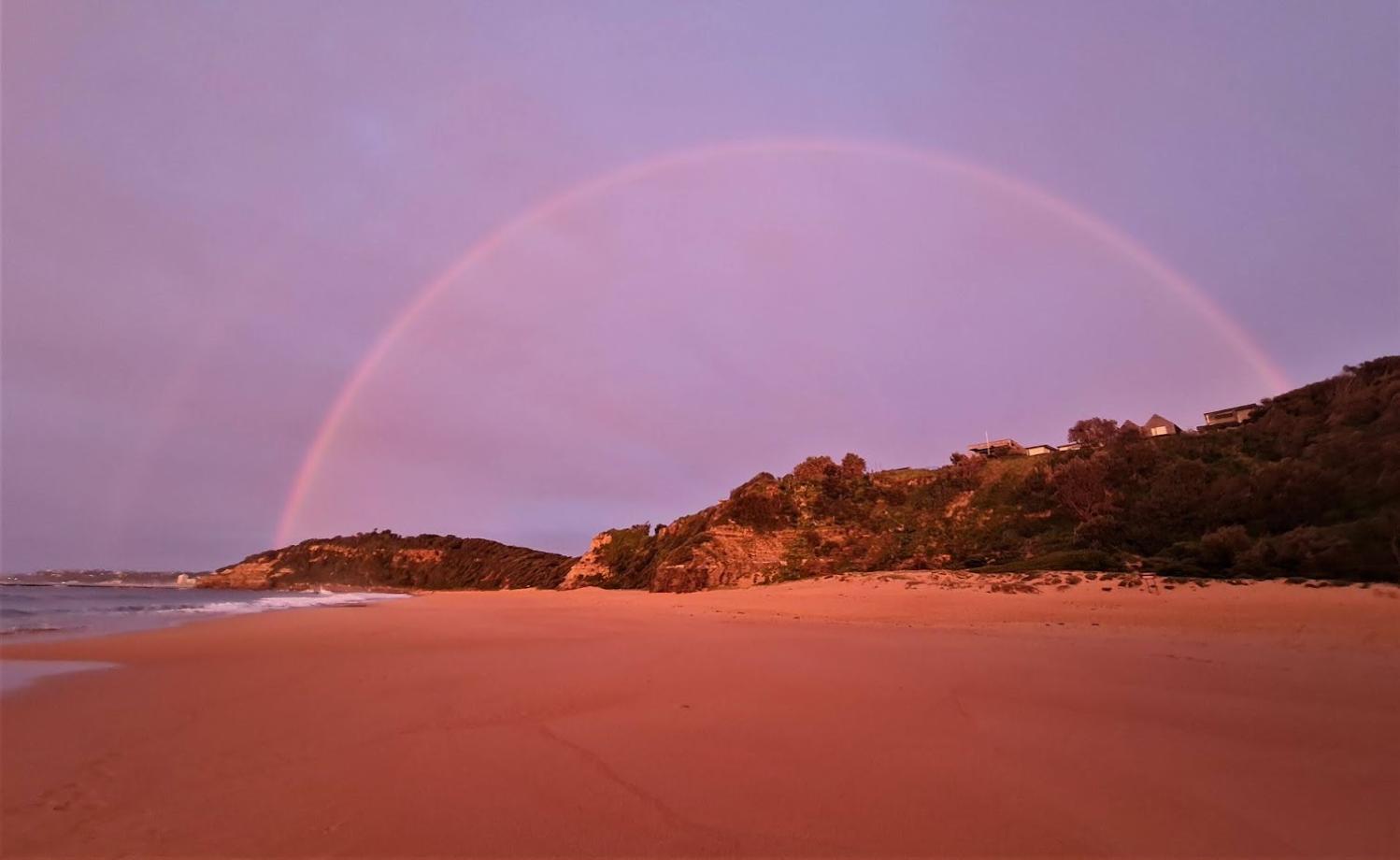 June 1st, 2023 Rainbow over Turimetta Beach. Photo: Joe Mills
Past Features Archives (pre 2014)
Pittwater Online News was selected for preservation by the State Library of New South Wales and National Library of Australia. This title is scheduled to be re-archived regularly.
Archived Issues (2014 on) may be accessed here: pandora.nla.gov.au/tep/143700
Past Issues are also listed on site on the Community News page, by month.