June 4 - 10 2023: Issue 586
World Oceans Day 2023: 'Planet Ocean: Tides Are Changing' - Weedy Seadragons Citizen Scientist Project + Living Ocean's Welcome To Whale Ocean Country + Plastics Research

Planet Ocean: tides are changing
This Thursday June 8th 2023 is World Oceans Day.
The ocean covers over 70% of the planet. It is our life source, supporting humanity's sustenance and that of every other organism on earth.
The ocean produces at least 50% of the planet's oxygen, it is home to most of earth's biodiversity, and is the main source of protein for more than a billion people around the world. Not to mention, the ocean is key to our economy with an estimated 40 million people being employed by ocean-based industries by 2030.
Even though all its benefits, the ocean is now in need of support.
With 90% of big fish populations depleted, and 50% of coral reefs destroyed, we are taking more from the ocean than can be replenished. We need to work together to create a new balance with the ocean that no longer depletes its bounty but instead restores its vibrancy and brings it new life.
"Planet Ocean: tides are changing", is the theme for World Oceans Day 2023 - the UN is joining forces with decision-makers, indigenous leaders, scientists, private sector executives, civil society, celebrities, and youth activists to put the ocean first.
World Oceans Day reminds every one of the major role the oceans have in everyday life. They are the lungs of our Planet and a major source of food and medicine and a critical part of the biosphere.
The purpose of the Day is to inform the public of the impact of human actions on the ocean, develop a worldwide movement of citizens for the ocean, and mobilize and unite the world's population on a project for the sustainable management of the world's oceans.
This year, the United Nations will host a hybrid celebration of the annual event on 8 June 2023, hosted in-person at the UN Headquarters in New York to be broadcasted live. It will highlight the 2023 theme of "Planet Ocean: tides are changing".
Hosted by the Division for Ocean Affairs and the Law of the Sea of the Office of Legal Affairs of the United Nations, in partnership with the non-profit organization Oceanic Global, and supported by Panerai, this year's annual event will shed light on how we can work together to ensure the ocean's health and well-being.
António Guterres, UN Secretary-General's message for 2023
The ocean is the foundation of life.

It supplies the air we breathe and food we eat.

It regulates our climate and weather.

The ocean is our planet's greatest reservoir of biodiversity.

Its resources sustain communities, prosperity and human health around the world.

Humanity counts on the ocean.

But can the ocean count on us?

We should be the ocean's best friend.

But right now, humanity is its worst enemy.

Human-induced climate change is heating our planet, disrupting weather patterns and ocean currents, and altering marine ecosystems and the species living there.

Marine biodiversity is under attack from overfishing, over-exploitation and ocean acidification.

Over one-third of fish stocks are being harvested at unsustainable levels.

And we are polluting our coastal waters with chemicals, plastics and human waste.

But this year's World Oceans Day reminds us that the tides are changing.

Last year, we adopted an ambitious global target to conserve and manage 30 per cent of land and marine and coastal areas by 2030, as well as a landmark agreement on fisheries subsidies.

At the UN Ocean Conference in Lisbon, the world agreed to push for more positive ocean action.

A global, legally binding agreement to end plastic pollution is under negotiation.

And in March, countries agreed to the historic High Seas Treaty on the conservation and sustainable use of marine biodiversity in areas beyond national jurisdiction.

Realizing the great promise of these initiatives requires collective commitment.

Sustainable Development Goal 14 — to conserve and sustainably use the ocean's resources — hangs in the balance.

This World Oceans Day, let's keep pushing for action.

Today and every day, let's put the ocean first.
Oceans Day was first declared as 8 June, 1992 in Rio de Janeiro at the Global Forum, a parallel event at the United Nations Conference on Environment and Development (UNCED) which provided an opportunity for non-government organizations (NGOs) and civil society to express their views on environmental issues.
The Declaration was inspired by an event organised on that day by the Oceans Institute of Canada and supported by the Canadian Government: "OCEANS DAY AT GLOBAL FORUM – THE BLUE PLANET". The programme featured international experts, opinion leaders and those in a position to speak for the oceans' contributions to sustaining the Blue Planet.
In Pittwater there are a few ways you can contribute towards keeping our seas healthy - firstly in picking up any plastic you see when you see it so it does not end up in the ocean or estuary, killing fish and resident birds, along with some locally focussed Citizen Scientist projects.
Details of these run below.
Weedy Seadragons Citizen Scientist Project Needs More Eyes On The Seas, Sands + Shores: The SeadragonSearch Project

Residents reading Council's 'have your say' feedback webpage for Paradise pool on Pittwater may have been surprised to read that Council has prepared a seahorse relocation plan in consultation with the Fisheries Department in order to do the renewal of the pool's perimeter structures. Both a heritage impact study and aquatic ecology study of the works area have been undertaken.
These studies and plans will inform a Review of Environmental Factors (REF) that will be considered by Council staff prior to the works being approved. Appropriate mitigation measures outlined in the REF and a Fisheries Permit will be applied during the construction phase to minimise environmental impacts.
Living here in the Pittwater estuary is the White's seahorse, which is listed as Endangered in NSW. The primary cause for the decline in abundance of White's Seahorse is the loss of natural habitats across their range in eastern Australia. The seahorses occur within coastal estuaries and embayments which are areas subject to population pressure.
This is why you will see signage around the estuary edge cautioning you to be careful not to damage their habitat, whether on the estuary or on the beach.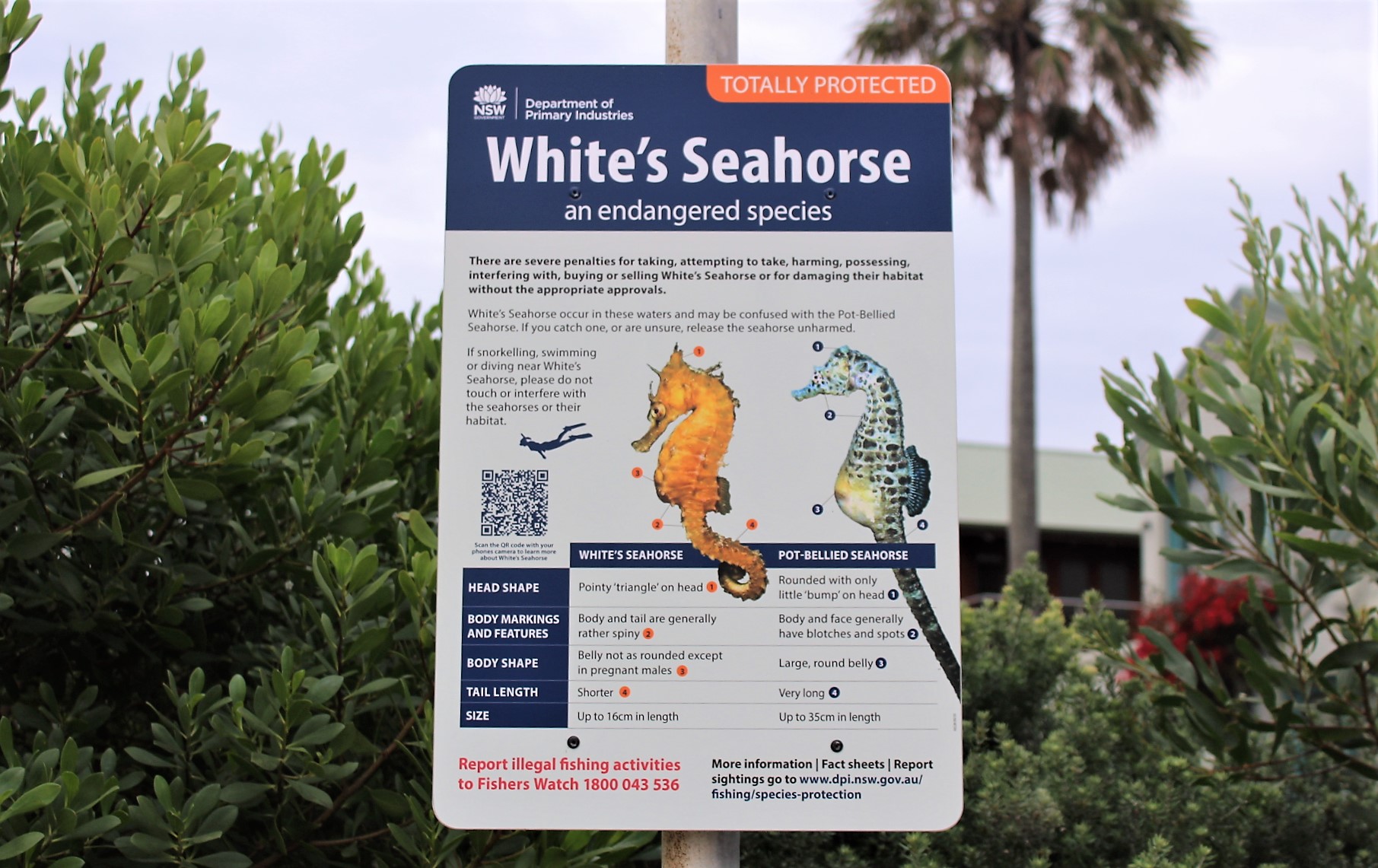 Another local species, the Weedy Seadragon, Phyllopteryx taeniolatus, live along much of the Pittwater estuary foreshores and right along our beaches from Palm Beach to Manly. These seadragons are often seen around piers, pylons and jetties in association with seagrass meadows and seaweed beds.

Scientists consider Weedy Seadragons to be near threatened with extinction. Without continued careful management of the human activities that affect seadragon populations, the species could become more seriously at risk of being lost.
They are yet another local species with a second name of being a 'common seadragon' even though they are not so common anymore, and another reason to tread carefully when you are in or near their homes, or 'habitat' as it otherwise called.
Weedy Seadragons are found only in Australian coastal waters where they are mostly found in a thin strip of shallow water along the coastline. Although they appear to be seaweed when drifting in the water column almost motionless, Weedy Seadragons are actually bony fish.
Taking or possessing Weedy Seadragons (or any other species of protected fish) is an offence and heavy penalties apply. For corporations, these penalties can include fines of up to $55,000 while individuals can face fines of up to $11,000 and up to 3 months in prison.
Adverse weather conditions can cause high levels of natural mortality in Weedy Seadragons.
They are poor swimmers and may be washed ashore during storms or heavy seas. During the April 2022 storms residents were finding them washing ashore, with 20, in one case, washing up on Narrabeen beach and others found at Palm Beach, Bungan, Mona Vale, Warriewood and Turimetta beaches. This recurred in July of that year.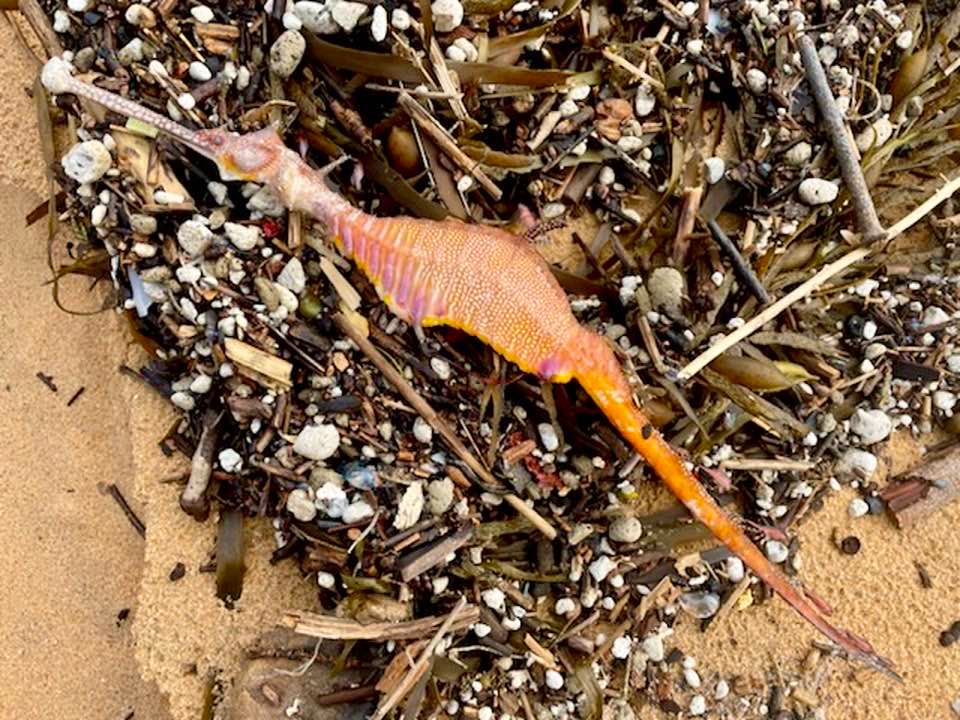 Weedy Seadragon at South Palmy July 8th 2022. Photo: Adriaan van der Wallen - there is a colony of these off Barrenjoey at a dive site called 'Weedy Seadragon'
However, there is something you can do about it apart from doing what you should do when in these places by not damaging their habitat.
Seadragon expert Dr David Booth, a professor of marine ecology at the University of Technology Sydney, and Dr Selma Klanten, Associate Researcher at University of Technology Sydney, are part of a 10 year research project, SeadragonSearch. This is a community-driven research initiative using artificial intelligence in a decade-long quest to identify, understand and protect seadragons and their habitats.
But, they need your help - they need more citizen scientists sending in sightings.
Once community members submit their photographs of seadragons – underwater, washed up on the beach or in aquariums – computer vision is used to analyse the unique patterns on each seadragon's face or body. A machine-learning algorithm suggests possible matches to other photos in the system, and researchers review those matches and assign each dragon to an individual identity. As sightings of individuals are repeated, the fish can be tracked by a variety of parameters, including year, season and location.
SeadragonSearch is collaborating with the not-for-profit organisation Wild Me, a US software developer that specialises in the use of artificial intelligence tools to collect and analyse data from threatened wildlife populations. The Lowe Family Foundation supports the research.
As well as UTS, the network of Australian partners includes the Victorian National Parks Association, The Hutchins School in Tasmania and independent marine ecologists and educators. So you will be amonmg good company by contributing to this project.
For more information, and to see a gallery of seadragons, visit SeadragonSearch.org. - and watch the video below to see how to submit your report. Also below is a short brief note (PDF) how you can help with their surveys.
Pittwater Online will also list this report under the Community Environment Organisations/Profiles listed in the Community News page past this Issue so you can easily find it when you find a Weedy Seadragon and need a refresher on how to be a part of and help with the SeadragonSearch project.
Let's dive on in Pittwater, and our lovely readers further up and down the coast - let's save our local Weedy Seadragons, and White's Seahorses, by saving their habitat!
Find out more in: SeadragonSearch: Weedy Seadragons Citizen Scientist Project
Whale Welcome to Ocean Country: Living Ocean + LO's Careel Multilayered Coastal Assessment

On Saturday June 3rd 2023 Living Ocean hosted a Welcome to Ocean Country. Tens of thousands of Humpback Whales are expected to migrate north along the East Coast of Australia from June to September. Traditionally the local indigenous people, whose totem is the whale, have always welcomed the migration to their Ocean Coast.
Living Ocean was proud to facilitate the Whale Welcome to Ocean Country at the Avalon Surf Club, Avalon Beach.
Local elder Uncle Neil delivered the Welcome to Country, followed by whale songs on the didgeridoo, and finally the local community called in the whales in the traditional way by squeaking their feet in the sands of Avalon Beach.
The annual Southern Hemisphere whale migration is one of nature's most spectacular events, with these magnificent animals travelling up to 10,000 kilometres. However, it's not just about their journey, as the importance of whales in terms of climate change is staggering when you consider each great whale captures 33 tons of CO2 on average, taking that carbon out of the atmosphere for centuries. At the same time, whales supply the ocean with the nutrients required to grow phytoplankton, which capture ~40% of all CO2 produced. Just a 1% increase in phytoplankton thanks to whales would capture hundreds of millions of tonnes of CO2, equivalent to 2 billion trees.
David Cousins, Living Ocean Vice President, says 'the preservation of the marine ecosystem to boost whale populations is paramount, as the lungs of our planet actually reside in the ocean.'
The role of the ocean is fundamental as it regulates rainfall and droughts, holds 97% of our planets water, and is the greatest carbon sink on earth, far surpassing all vegetation. Therefore, the impact of ocean health is profound.
The inaugural Whale Welcome to Ocean Country was held in June 2022.
In Welcoming all to Country Uncle Neil said:
Good morning everybody, it's great to see so many people here. My name is Neil Evers and I'm a descendant of the Garigal clan. The Garigal people are part of the oldest continuing culture in the world.

I respect my Elders Past, Present and those to come. I also acknowledged their wisdom and their courage.

I'd also like to acknowledge Living Ocean for inviting me here today and having this celebration of the whales.

Everyone here comes from this area and it's a beautiful area to live in. did you all see the sunrise this morning? It was absolutely magnificent, as it is every day.

I've lived in this area all my life, I was born at Collaroy, and to come around those (Bilgola) Bends is a beautiful experience.

To see the whales here is just fantastic.

Have you ever done any research into the statistics on whales? I did lasty night.

When we all got up this morning – what's the first thing we did? That's right – well, the whales do this too. Do you know how much they urinate every day? A thousand litres.

They're a magnificent animal – they have ears – have you ever seen a whale with ears? So how do they hear? No; we think we're smart as we have things on our cars which go 'beep, beep' when we come too close. The whales have had this system going for thousands of years, so we're so far behind them it's unbelievable. And they swim and don't need to run.

A little later on we're going to go down the beach and do what the old ladies did and twist our feet to make a squeaking sound. When hearing that squeak the whales and the dolphins used to come in, and they'd bring fish in.

These days it can be a bit difficult for the whales because of the incredible noise out there in the ocean. 250 years ago there were no boats out there with their huge diesel motors and the whales could hear p to 800 kilometres, so from here to Coffs Harbour.

So later on we will do as the old ones did, and help the whales.

I thank so many of you for coming today and on behalf of my elders Welcome you to this magnificent Country.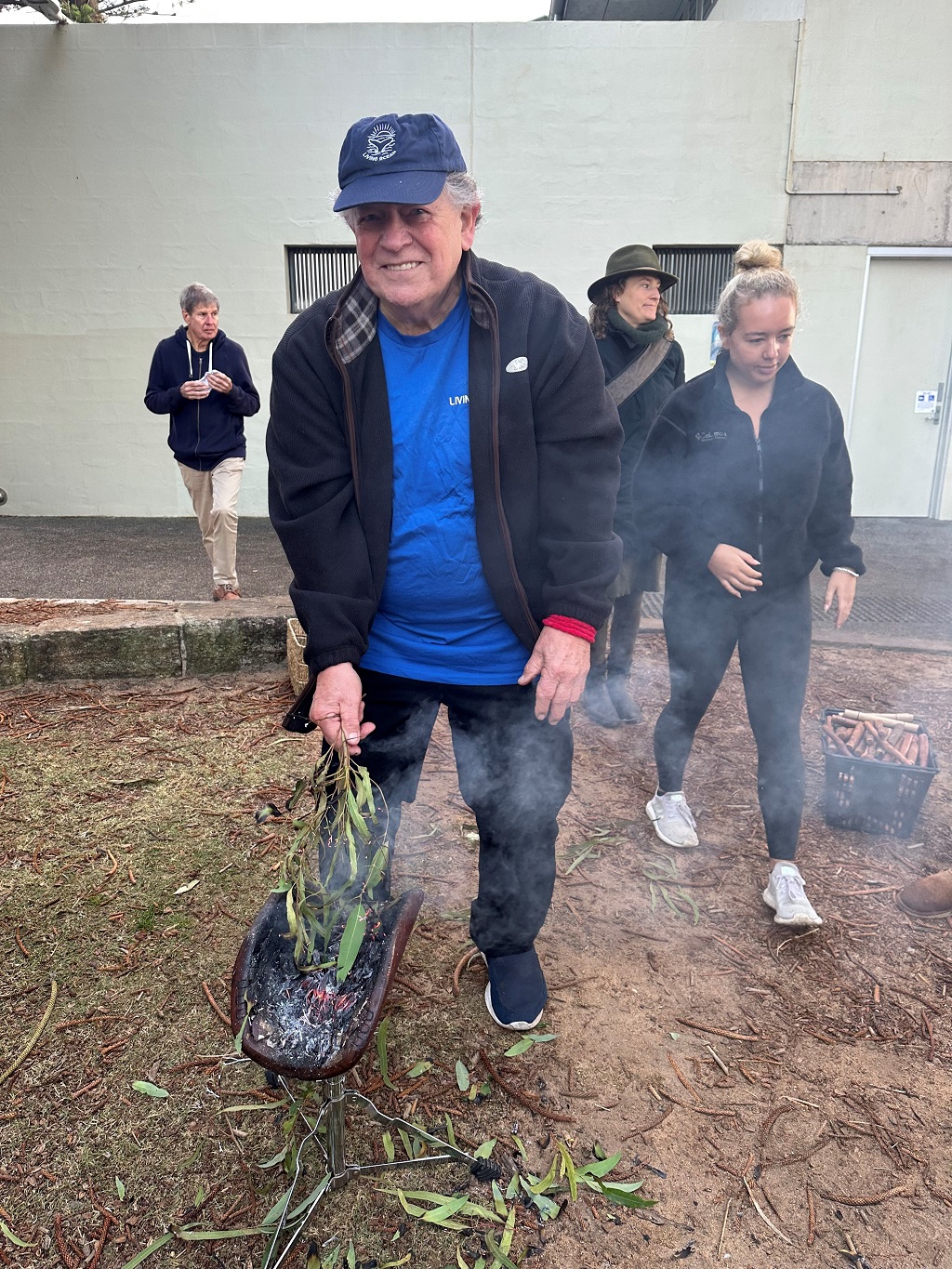 Uncle Neil
Robbi Luscombe-Newman, President of Living Ocean said:
Welcome to the triple interface of land, ocean and sky. That's why we live here – this is the triple interface of the sky, the ocean and the land – and such a dynamic place and a constant source of change and wonder.

Neil's folks were originally here and they trod lightly on the earth. We have not been so light about our impact on the earth. Neil's people were called the Saltwater People and I would say that all of us are also Saltwater People because that's our tribe, that's why we're here; we love jumping in the water, the ocean is our lynchpin.

Originally I came from the Newport tribe but eventually I realised we were all one big tribe on the planet. In those days you had more chance of spotting a UFO than you did of spotting a whale.

The great news is that the whales are back – we nearly wiped them all out but fortunately they're back, and that's fantastic news.

Whales bring joy, happiness, fascination and delight with them during their epic mass migrations twice a year. This is one of the great wonders of the natural world.

Their mere existence is a true marvel and to be near them is a never-failing uplifting experience.

What we have found through our research into the whale migrations is that the whales take different paths each year, and that can depend at the speed at which they swim too. They swim at about 4-6 knots. They take advantage of currents; they're not silly, they've been here for a long time.

At the moment they seem to be going very wide on their trip up north. This trip up north is what I basically call a 'Tinder path' because that's when they all meet and try and partner with other whales.

I mix science and spirituality together, and although they're not meant to mix, they do in me. So I'd like to finish with a nod towards all my experience with whales:

''They are the ancient messengers of our time on this planet. We have seen they are the Elders of the ocean domain. They sing to each other to celebrate each passing year. We have found they travel ancient paths. They know the passage of the old coastlines located off our coasts before the rising of the seas at the end of the last ice age.''

Now that's one thing that we found that's interesting – their paths out there, when we laid it on top of the underwater profiles of the old coastline that's out there, it's exactly where the old coastline was. So they have some sort of kinetic memory – they know where they're going.

So if I could speak cetacean or humpback dialect I would say;

''Hey Brothers and Sisters, we acknowledge you and rejoice that you have come back to bless us with your innocence and joy. We sing and send out our vibrations in that long wavelength that you speak, into the oceans of time. Yes brothers and sisters, we acknowledge you.

And do you know why? Because they're mammals – they're part of our family. At one stage we climbed out of the ocean to be on the land whereas they were actually on the land and went back into the water. But as mammals they're part of our family – we're brothers and sisters.

Forgive us for not understanding our responsibilities to your life and all the life in the oceans that you share…

Accept our song as we say to you, bring us the magic we need to celebrate our journey, along with you, on this river of time.''

Let's hear if for the whales!

(Cheers and whoops).

Thank you.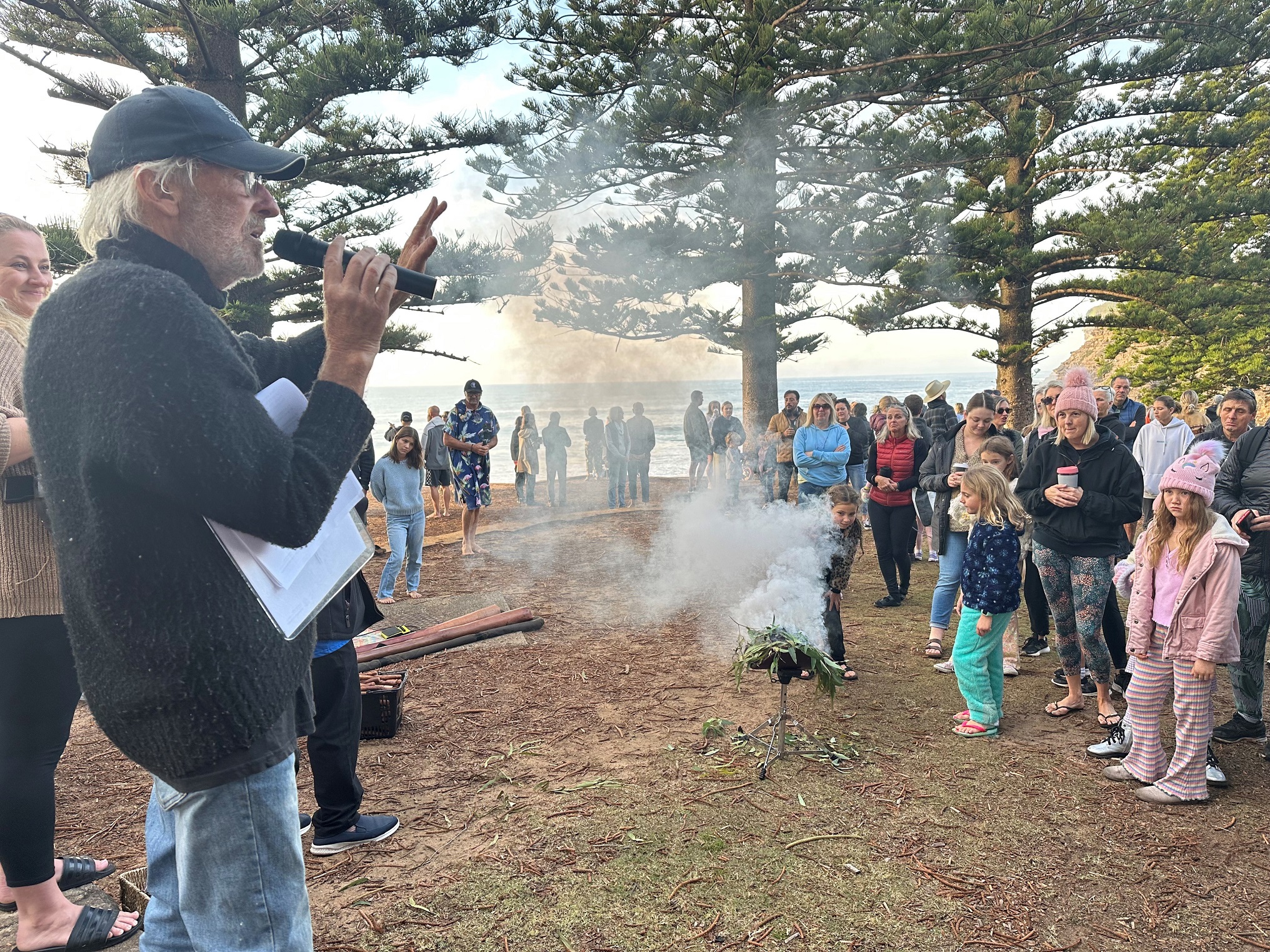 Robbi
Living Ocean also gave details of the great whale census, to be held by collaborative partner ORRCA on Sunday 25th of June 2023. If you see people out on headlands then with binoculars trained on the water, they're possibly counting whales.
The annual Southern Hemisphere whale migration is one of nature's most spectacular events, with these magnificent animals travelling up to 10,000 kilometres. However, it's not just about their journey, as
The role of the ocean is fundamental as it regulates rainfall and droughts, holds 97% of our planets water, and is the greatest carbon sink on earth, far surpassing all vegetation. Therefore, the impact of ocean health is profound.
Living Ocean is a not-for-profit organisation which operates as a centre for marine studies with a focus on marine animal behaviour, macro and micro plastics, and marine environment processes. They promote awareness of human impact on the ocean through research, education, creative activation and support of others who sustain ocean health and integrity.
Living Ocean strives to promote and educate on the importance of ocean health as necessary to the survival of all life (human, animal and botanical) on earth.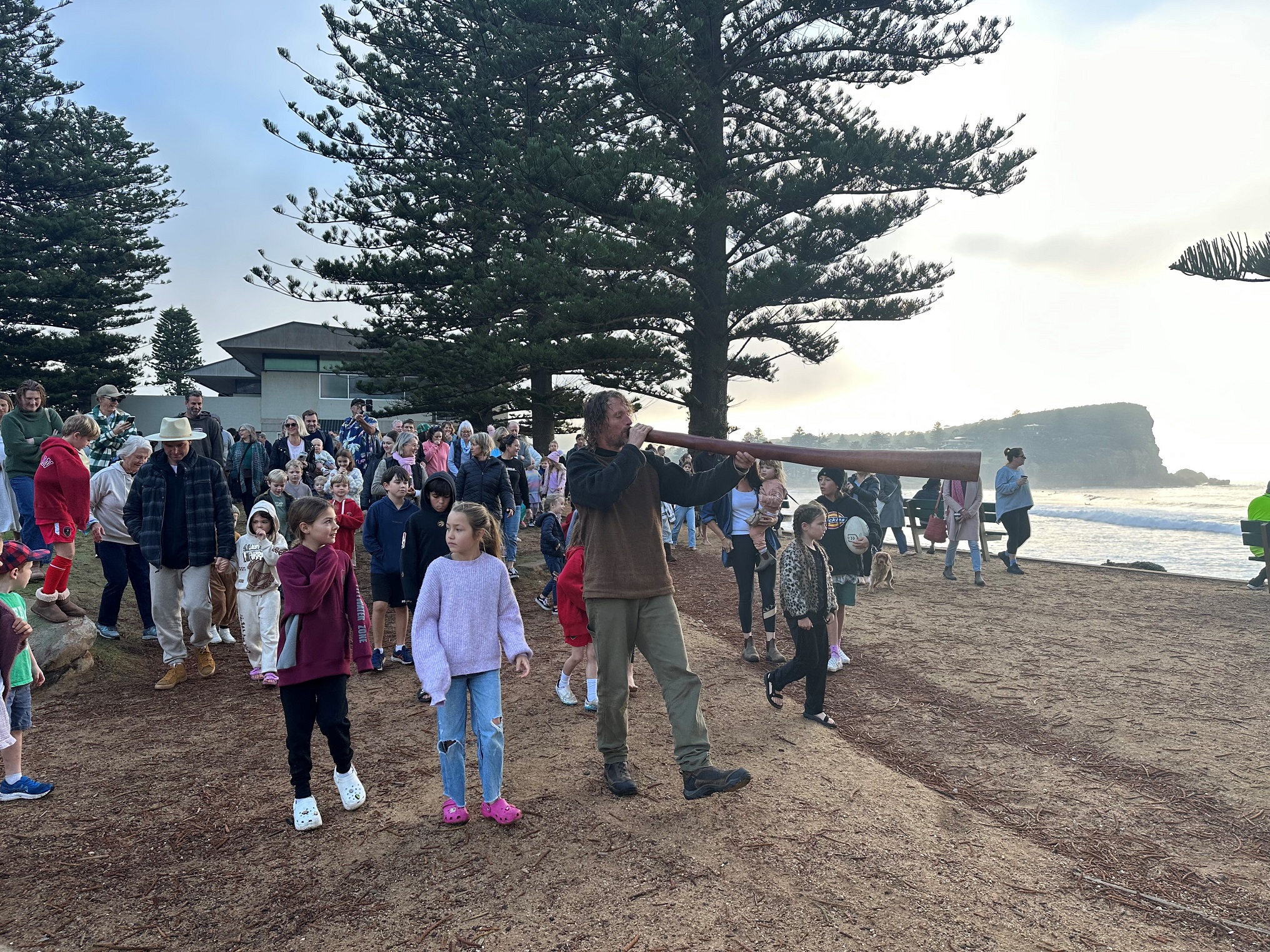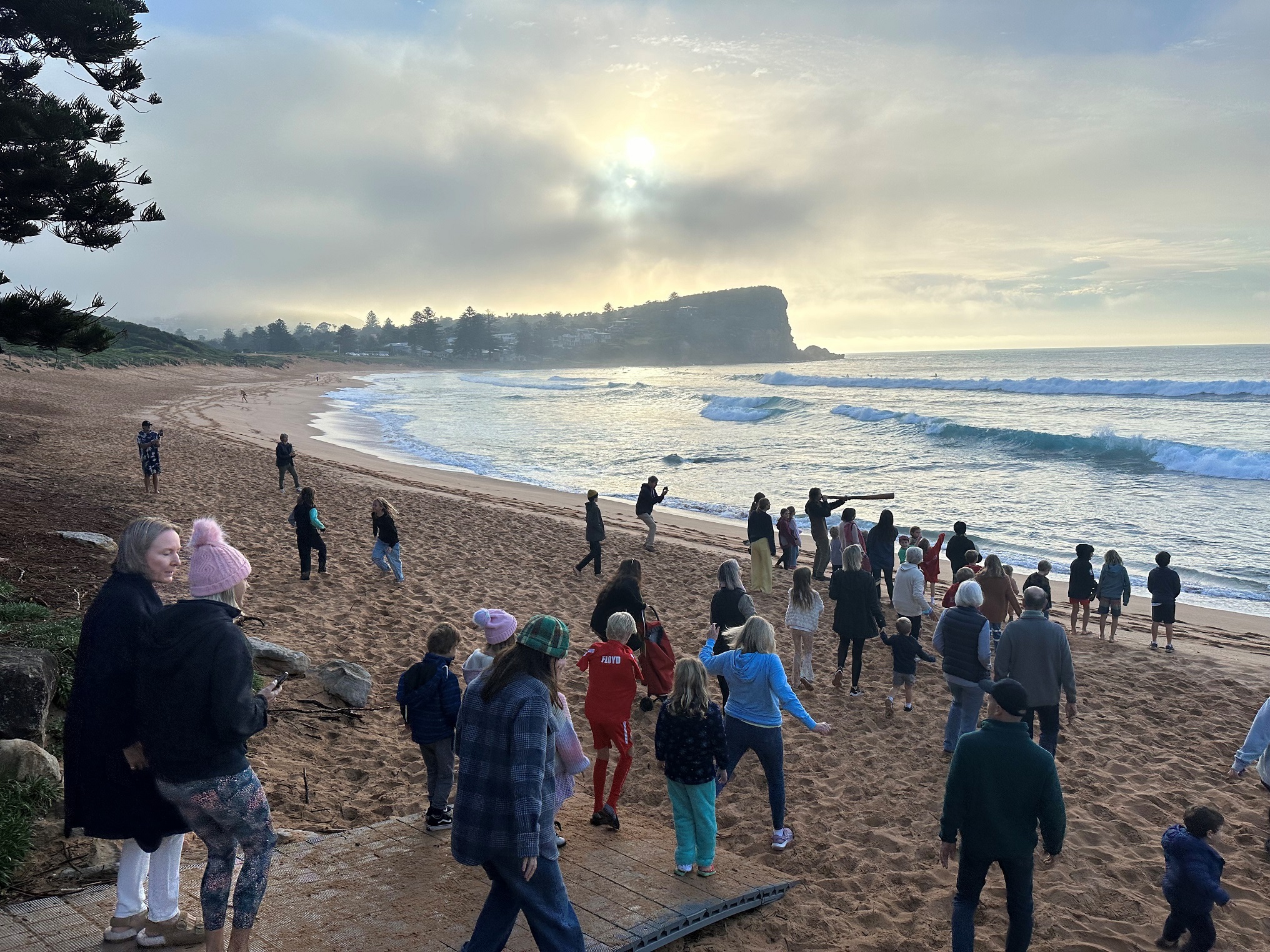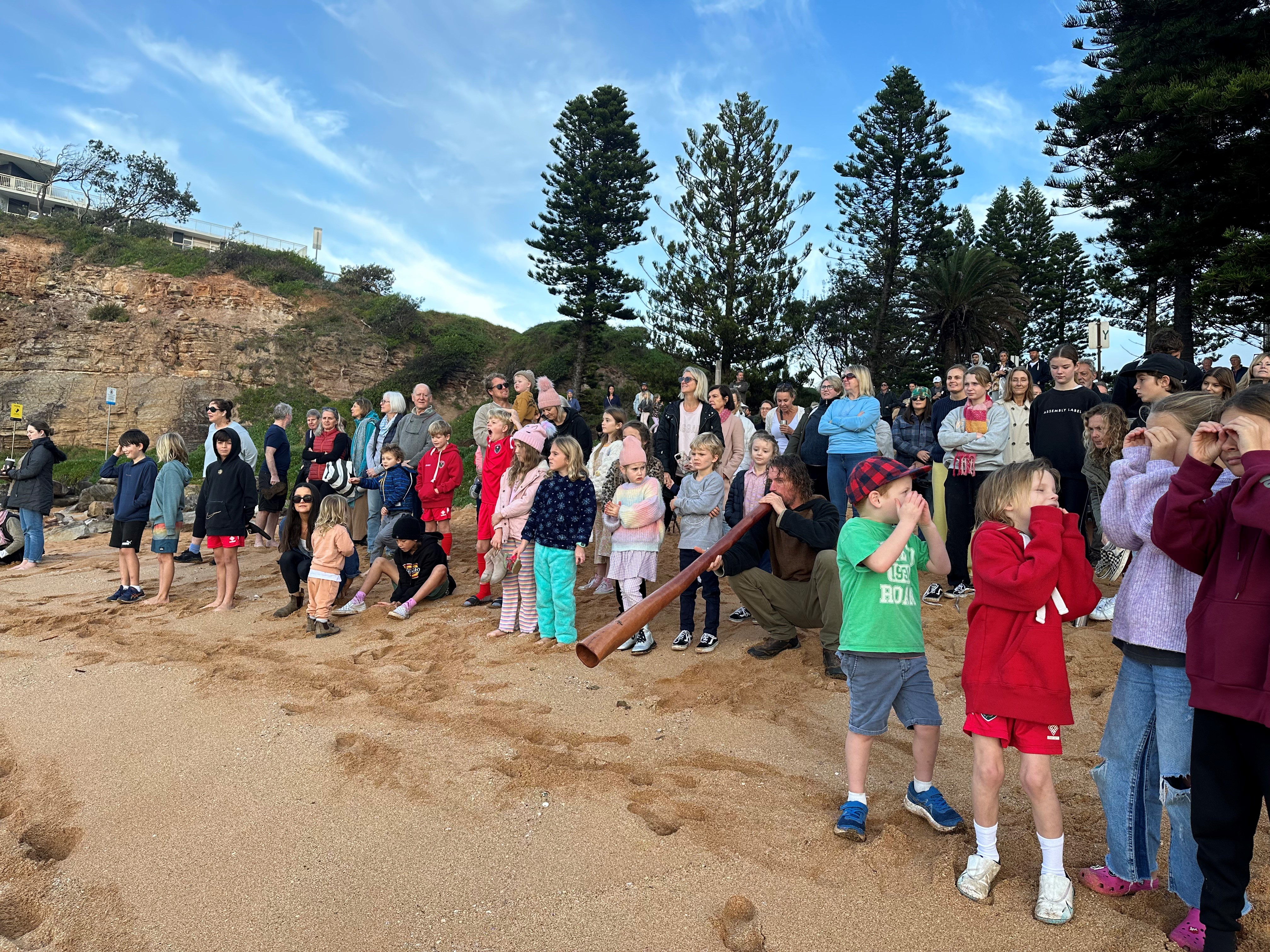 2023 Whale Welcome to Ocean Country photos by Greens Councillor Miranda Korzy.
Careel Multilayered Coastal Assessment (CMCA)
On June 21st 2022 Living Ocean commenced the Careel Multi-Layered Coastal Assessment (CMCA) project.
Conducted over 12 months by the Careel Collaborative, the Careel Multi-Layered Coastal Assessment (CMCA) project will assess Careel Bay on multiple layers: from the state of Pittwater's largest stand of mangroves and endangered seagrass beds to the levels of macro and micro plastics in the environment and the impact of Careel Creek and stormwater outflows.
Volunteers were invited to get involved in assessing plastics pollution along with:
Mangroves assessment
Ocean-bound litter along Careel Creek
Posidonia – endangered seagrass
Flora and fauna
Photography – media
Data analysis
Living Ocean is an environmental association that promotes awareness of human impact on the ocean through research, education, creative activation and support of others who sustain ocean health and integrity. As a centre for marine studies, their projects expand the scientific and community understanding of coastal marine ecosystems in Australia.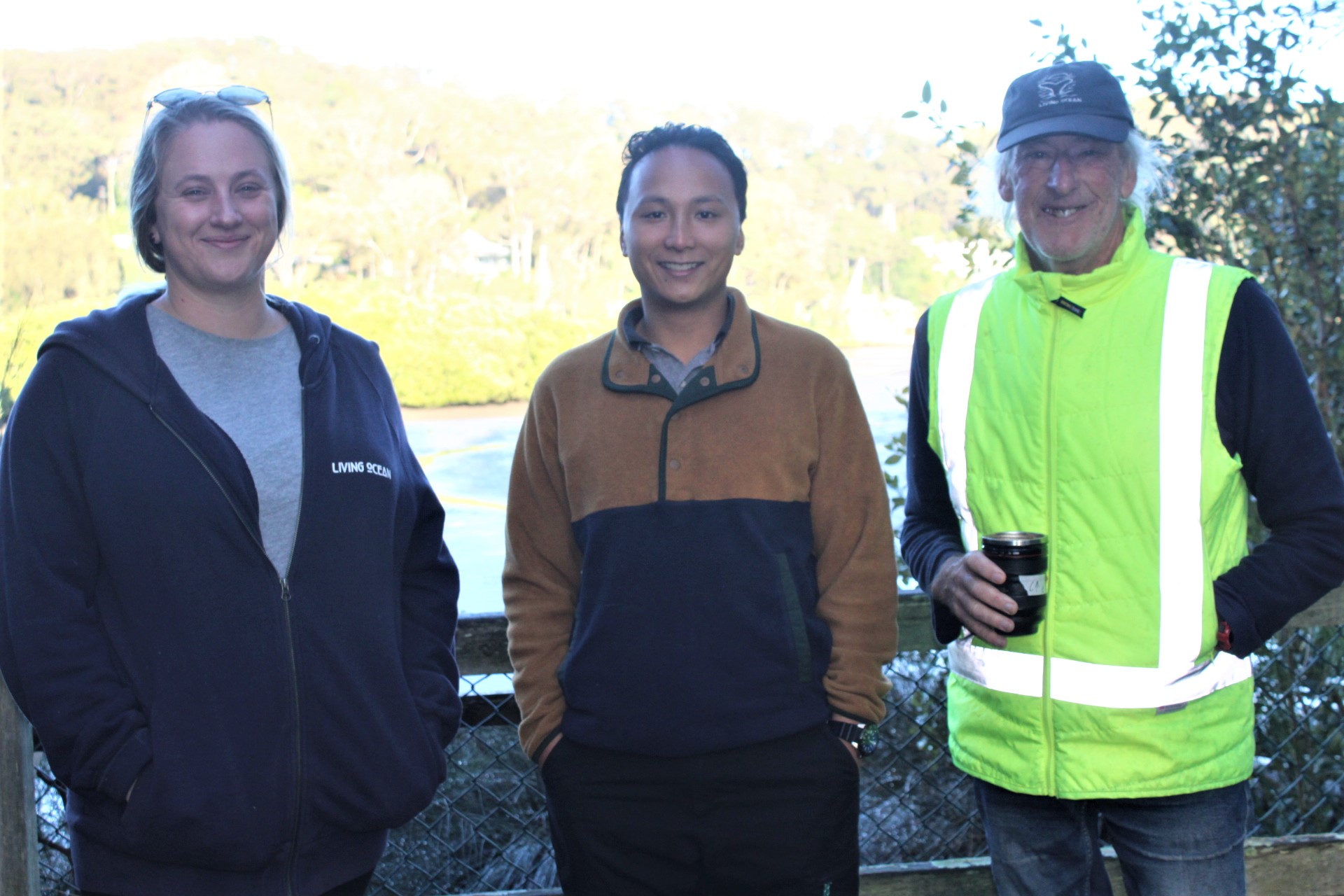 Claudia Newman, Jordan Gacutan and Robbi Newman, President of Living Ocean, arrived first to greet volunteers
CONTRIBUTING SCIENTISTS FOR THE CMCA PROJECT
​Professor Adriana Vergés is a marine ecologist based at UNSW Sydney. She is passionate about communicating science and has published over 85 peer-reviewed articles and book chapters. Her research focuses on the impacts of climate change in our oceans and on developing restoration solutions to rewild our coastlines. Adriana is a lead investigator of Operation Crayweed and Operation Posidonia, award winning projects restoring missing seaweed forests and seagrass meadows. She was awarded a Green Globe Award for Environmental Impact in 2017 and the UNSW Emerging Thought Leader Prize in 2019.
Jordan Gacutan is a marine debris and ocean governance researcher at UNSW, Sydney. Working at the interface of science and policy, Jordan assists governments (from local to national levels) in 'making nature count' to understand the value of our ecosystems and how we impact them. His PhD explores the role of Citizen Science in marine debris monitoring, and the transformation the data towards policy and management interventions. He has experience working with government and sectoral stakeholders on spatial planning, spatial data infrastructure, and environmental management projects within the Baltic Sea, Spain, Maldives, India, Fiji, and Australia.
Grace Nye-Butler is a PhD student in her second year at UNSW studying in the Centre for Marine Science and Innovation (CMSI). With a grounding in marine ecology, Graces research focusses on social ecological systems to help manage marine debris. Much of this work involves engaging with community science to foster environmental stewardship though education and outreach. With emphasis on science communication and engaging with interdisciplinary stakeholders her research examines effective behavioural change outcomes and citizen science applications for studying marine debris. By partnering with environmental organisations that provide marine debris education Grace is able to assess the outcomes of the educational programs to optimise their teachings and create maximum impact for sustainable behaviour change.
Scott Wilson Earth Watch and Macquarie University. Chief Scientist at Earthwatch. Scott has over 25 years' experience in environmental management, where he has researched a range of anthropogenic impacts to temperate and tropical ecosystems and how this may in turn affect human health. Over these years, Scott has worked in academia and government and collaborated on projects across the Asia Pacific and Europe and has provided advice for government, industry, education providers, NGOs and community groups. He is also Research Director of the Australian Microplastic Assessment Project (AUSMAP), a Eureka prize winning nation-wide citizen science program that identifies hotspots of microplastic pollution, their sources and works with stakeholders on practical solutions. Scott sees the value in communicating and raising awareness on these environmental issue with the broader public. By working together on these issues, he feels we can all make a difference.
Jock MacKenzie Earth Watch, Wetlands Program Manager. Jock Mackenzie is a tidal wetland ecologist and science communicator with over 15 years experience in field ecology. About 15 years ago Jock discovered how truly amazing and useful mangroves are and since then he has developed a passion for their conservation and protection. He's continually surprised by the fascinating complex interactions that occur in this environment and the functional benefits they provide to people in coastal areas. His main interests are in developing an increased awareness of how people influence mangroves, the processes that detract from their capacity to provide the ecosystem services upon which we rely and what we can do to reduce those threats. In 2008 he co-founded MangroveWatch with Dr. Norm Duke to help address these issues and he is currently co-director and program coordinator. Through the MangroveWatch science-community partnership, he aims to raise awareness of the importance of mangroves, increase overall understanding of mangrove ecosystems, define local threats and processes and assess how people value mangroves in their local area.
Derrick Cruz, grew up snorkelling and exploring the estuaries and seagrass meadows of NSW. He is now a passionate fish ecologist and holds particular interests in range-shifting species, habitat restoration and the enhancement of wild fisheries. He has worked with DPI and UNSW on various field-intensive projects and enjoys promoting sustainable practices to younger generations. Derrick is a part of the Operation Posidonia team. Operation Posidonia is about: Healing old wounds by restoring an endangered seagrass in boat mooring scars. This project uses recent innovations in seagrass restoration to revegetate an endangered seagrass, Posidonia australis, in boat mooring scars where environmentally friendly moorings have recently been installed. Donor seagrass shoots are collected by 'citizen scientists' following large storms, which result in naturally detached seagrass being washed up along beaches. This method of collection of donor shoots avoids damage to existing P. australis meadows while also engaging local communities in restoration. In parallel, a science communication campaign aims to raise awareness about the importance of seagrass meadows and the benefits of environmentally friendly moorings. Project knowledge will be transferred to volunteer groups to facilitate P. australis restoration in other NSW estuaries. Derrick has previously published a report in Pittwater Online in 2020: 'Operation Crayweed' Manly: Engaging The Manly Community In Restoring Manly's Lost Underwater Forests
Clayton Mead CMSI UNSW, is a research assistant at UNSW and has a background in marine science and underwater restoration. He assisted with Operation Posidonia as a volunteer during his undergraduate studies, and is passionate about the conservation of marine habitats. Clay finished his Honours at UNSW Sydney in 2019. His research focused on quantifying the costs of benefits of restoring underwater forests by removing sea urchins. His work focused on the reefs of Kurnell, one of the Operation Crayweed restoration sites where the team were having trouble to secure crayweed survival, as it gets munched by the urchins before populations can properly take off. Operation Crayweed has been the most successful kelp restoration program in Australia to date. It has evolved from pilot restoration attempts in 2011 (2 sites) through to restoration at the scale of loss in 2018 (11 sites across ∼70 km) with further expansion ongoing. Clay has also worked in marine education and outreach programs and is a keen diver and snorkeler, having grown up exploring the NSW coastline.
Bill Fulton Living Ocean Science Director, Centre for Marine Studies, and Behayve app. creator. Living Ocean's Centre for Marine Studies builds upon the expertise of the Whale and Seal Foundation (WSF), which merged into Living Ocean. WSF brought into Living Ocean experienced whale researchers and educators, including several of the most experienced whale rescue specialists in Australia. For many years WSF volunteers trained the NSW National Parks Service, Australian National Parks, Water Police and other organisations in the rescue of stranded and entangled whales. Bill Fulton - IT Cetacean behaviour and tracking programmer, was one of those WSF members and has spent over 35 years in the study of marine mammals, focusing on humpback whales, especially those that migrate north and south each year.
Since 2019 Living Ocean's research arm as also focused on collecting data on microplastics in conjunction with a group called AUSMAP. This is headed up by the Total Environment Centre by Academics, Michelle Blewitt and Scott Wilson, at Macquarie University. This is a world first citizen science project in microplastics. The objective of AUSMAP is to create a heatmap of microplastics in Australia. we want to do is find out how much microplastic is on the beach and what kind is it. We then roll that up onto the database where scientists can study what's happening.
There are others consulting as well.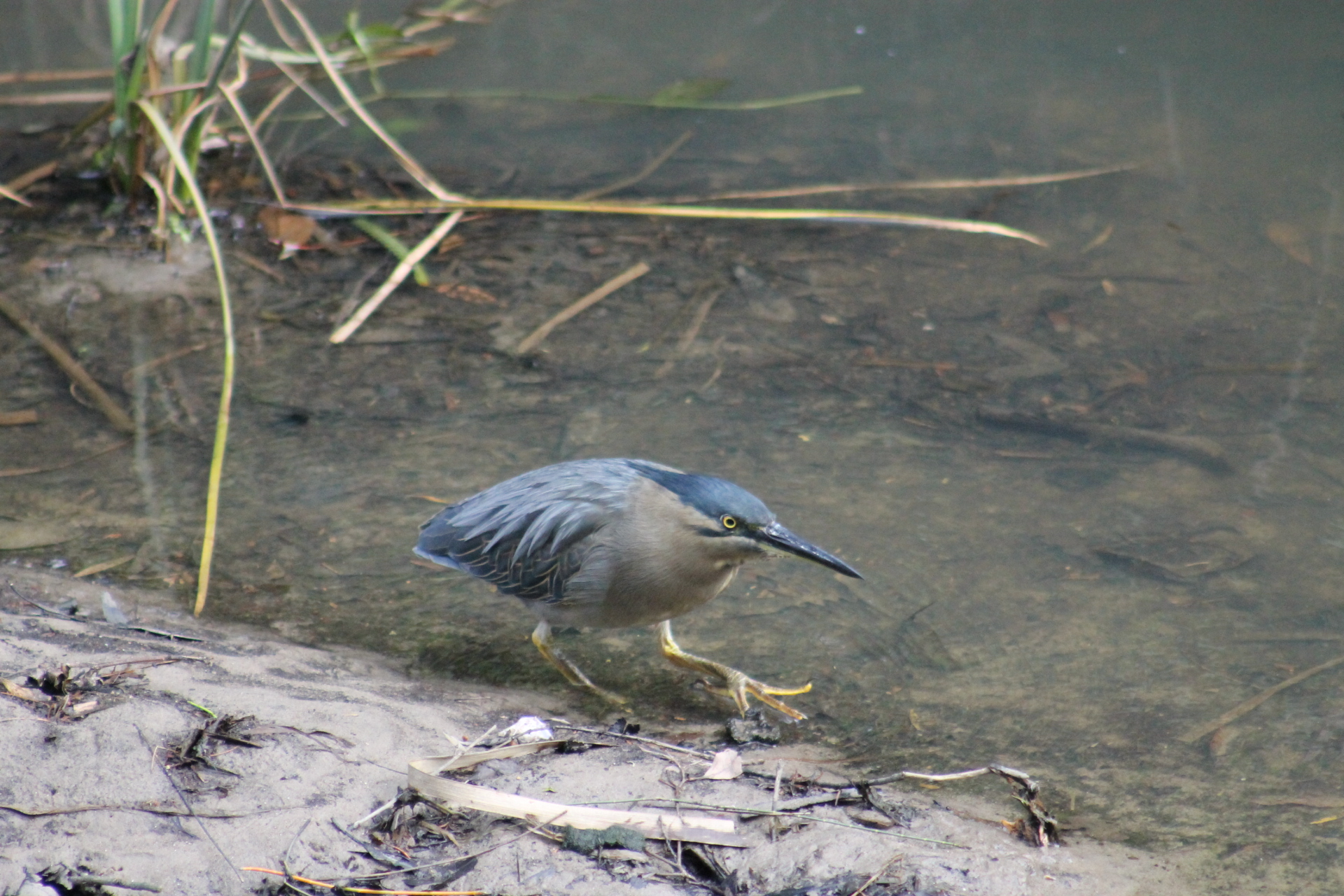 Mangrove or Striated Heron Butorides striata - in Careel Creek and Careel Bay Mangroves, July 31st, 2013. Photo: A J Guesdon

Careel Bay forms an estuarine complex of wetland vegetation communities, namely swamp oak woodland, saltmarsh, mangroves and seagrass beds. There are other habitats with less visible vegetation, such as sandy beaches and mudflats with their microfloral communities. There are also transitional zones with sedges and grasses at vegetational boundaries and exotics bordering the residential houses. Many of the plant species present in the estuary are at their northern or southern limit. This makes the bay and its creek of regional as well as local significance.
Careel Bay is a great example of a multi-tiered intertidal wetland system, broken down into the salt marshes, (above the high tide level); mangroves and mudflats, (above the low tide level); and submerged sea grass beds.

Some of the significant features of the vegetation habitats include:
the complex comprises seagrass beds, intertidal mudflats, Mangrove, saltmarsh, swamp oak Woodland and Swamp Mahogany Forest remnants.
the mangrove community contains Grey Mangrove and River Mangrove
the Swamp She-Oak (Casuarina glauca) is also important in that although this species is poorly conserved in the Sydney Region and a food source to the sedentary threatened species Glossy Black-Cockatoo
extensive intertidal mudflats are present, crucial to migratory waders as a food resource
seagrass bed includes Posidonia australis at its northern limit, a plant highly susceptible to disturbance and habitat essential for fisheries productivity
this Sarcocornia dominated saltmarsh is the only one left in NSW

remnants of an extensive saltmarsh community which is habitat for the threatened Bush Stone Curlew and plant species Bacopa monnieri approaching its southern limit
the estuarine communities form an important green link with the adjoining Narrabeen Slope Forests of Whale Beach and Avalon
Careel Bay is a site on the East-Asian/Australasian Flyway for migratory wading birds. These arrive in spring from their breeding grounds in Mongolia and Siberia to rest and eat. The Australian people Federal Government is committed to a number of international agreements for the protection of these birds and their habitats, including the JAMBA (Japan-Australia Migratory Bird Agreement) and CAMBA (China-Australia Migratory Bird Agreement).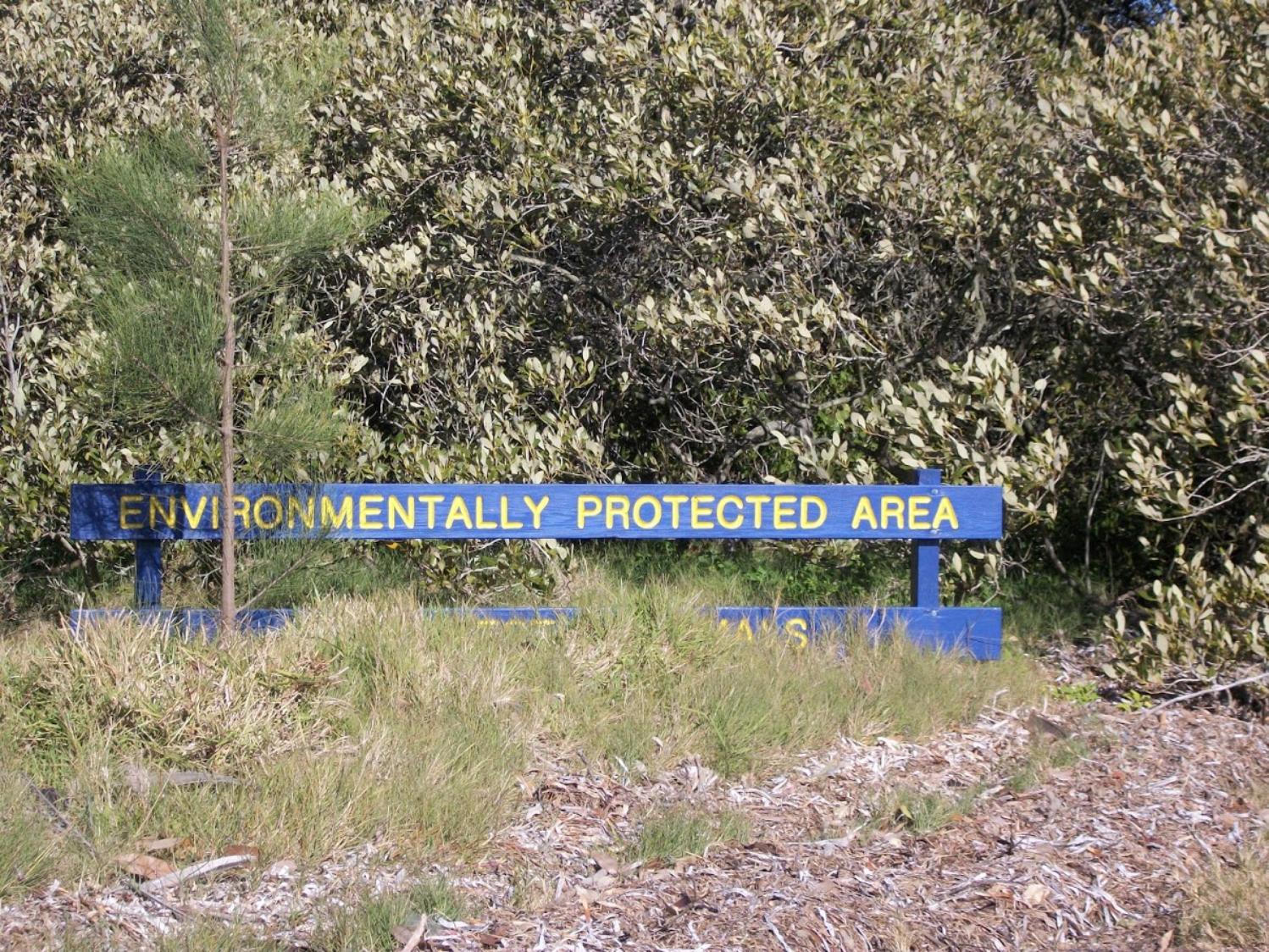 Posidonia australis, is a species of seagrass that occurs in the southern half of Australia. It occurs in 17 estuaries along the east coast of New South Wales from Wallis Lake to Twofold Bay near the New South Wales/Victorian border. Six locations within New South Wales (Port Hacking, Botany Bay, Sydney Harbour, Pittwater, Brisbane Waters and Lake Macquarie) have suffered significant population decline and have been listed as endangered populations (NSW DPI).
Why is Posidonia australis important?
It supports a diverse range of fauna, providing habitat, shelter and food. This includes other protected and threatened species such as the White's Seahorse, Little Penguins, Green Turtles, pipefish and seadragons.
It also provides nursery habitat and feeding grounds for commercially and recreationally important fish species such as bream, sea mullet, leatherjacket, mullet and garfish.
Protects water quality by filtering the water and removing and recycling nutrients.
Stabilises sediment on the seabed.
Improves air quality by taking carbon dioxide gas out of the water and releasing oxygen. The leaves use the carbon to grow and are eventually buried in the sand when they die. This is an example of "blue carbon" - a captive of the seabed and no longer a greenhouse gas in the atmosphere.
Did you know that s

eagrasses can bury carbon at a rate 35 times faster than tropical rainforests? True.
To volunteer, contact Living Ocean: please send us your details via email: info@livingocean.org.au or phone: 0410 374 333
There is also a Facebook group you can join to view updates and news: CMCA
Australia Backs Plastic Production Limits At Global Talks
June 3, 2023
Negotiations on a global plastics treaty in Paris this week ended with a critical decision to develop a draft treaty text despite the efforts of some oil-producing nations that are resisting measures to cap plastics production and tried to delay negotiations.
Australia played a leading role at the second International Negotiating Committee (INC-2) meeting in supporting the inclusion of binding measures to limit plastic production in the 'zero draft' treaty, which will be considered at the next meeting to be held in Kenya in November.
Plastic pollution is a growing global crisis, with a devastating impact on marine ecosystems, the broader environment, human health, our climate and the rights of indigenous peoples. Without concerted global action, the volume of plastic entering the oceans is projected to triple due to rapidly increasing plastics production. The UN Environment Programme estimates that emissions from plastic production, use and disposal could account for 15% of the global total by 2050.
Ocean conservationists are glad that negotiations are finally moving forward and hope the draft treaty text will include ambitious elements to limit plastic production and offer financial assistance critical for Small Island Developing States in the Pacific region.
Australian Marine Conservation Society Plastics Campaign Manager Shane Cucow said: "Today we are one step closer to a historic agreement to end ocean plastic pollution. This treaty is our one chance to secure the global action needed to stop the flow of plastic into our oceans and ensure future generations can once again enjoy healthy oceans that are full of life.
"We are pleased to see Australia showing leadership in these negotiations, supporting strong, binding measures to control the production and trade of plastic and its waste. Australia was one of many nations to support the inclusion of binding measures to limit plastic production in the draft treaty, which includes options such as global targets to bring plastic use down to sustainable levels.
"Despite mammoth investments in waste management, just 9% of plastic is recycled globally. It is clear that we have already exceeded planetary boundaries for the volume of plastic that can safely be managed. We cannot recycle our way out of this crisis.
"We are also pleased to see broad levels of support for developing a register of problematic single-use plastics, hazardous chemicals and hard to recycle polymers that should be eliminated on a global scale.
"Critically, this week in Paris we also saw high levels of support for financial and technical assistance, in particular for Small Island Developing States (SIDS) who are drowning in plastic from richer nations."
Despite this progress, civil society organisations expressed concern over the actions of a number of oil producing nations which continued to resist global measures to cap plastics production, as well as preventing negotiations from starting until late in the week by pursuing lengthy debates over rules of procedure.
"Unfortunately, a number of key states remain opposed to measures that would limit plastics production, despite clear evidence that skyrocketing plastics use is the cause of the planetary crisis we face today," Mr Cucow said.
"We also saw many nations opposing measures to restrict or ban hazardous waste management practices, such as incineration, waste to energy and chemical recycling.
"These practices are a serious risk to human and environmental health, releasing toxic chemicals into the atmosphere and accelerating global heating."
In 2022 the United Nations Environment Assembly (UNEA) adopted resolution 5/14 titled "End Plastic Pollution: Towards an International Legally Binding Instrument" that began the process to negotiate a new global plastics treaty by the end of 2024.
World Environment Day 2023: Monday June 5 - Beat Plastic Pollution + 50th Anniversary Of World Environment Day
The theme for World Environment Day on 5 June 2023 will focus on solutions to plastic pollution under the campaign #BeatPlasticPollution.
The world is being inundated by plastic. More than 400 million tonnes of plastic is produced every year, half of which is designed to be used only once. Of that, less than 10 per cent is recycled. An estimated 19-23 million tonnes end up in lakes, rivers and seas. Today, plastic clogs our landfills, leaches into the ocean and is combusted into toxic smoke, making it one of the gravest threats to the planet.
Not only that, what is less known is that microplastics find their way into the food we eat, the water we drink and even the air we breathe. Many plastic products contain hazardous additives, which may pose a threat to our health.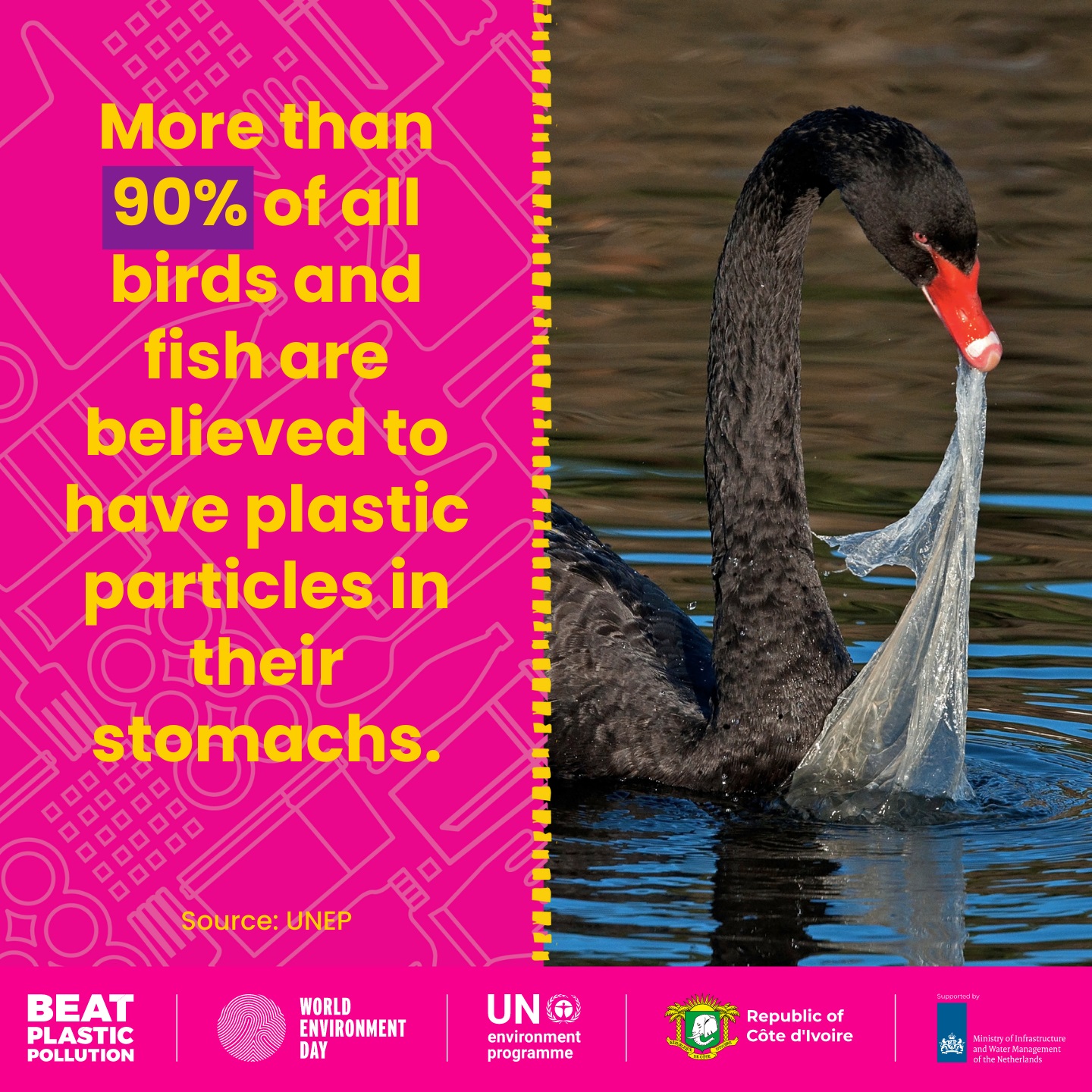 The good news is that we have science and solutions to tackle the problem – and a lot is already happening. What is needed most now is a surge of public and political pressure to scale up and speed actions from governments, companies and other stakeholders to solve this crisis. This underscores the importance of this World Environment Day mobilising action from every corner of the world.
World Environment Day 2023 will showcase how countries, businesses and individuals are learning to use the material more sustainably, offering hope that one day, plastic pollution will be history.
World Environment Day 2023 is hosted by Côte d'Ivoire in partnership with the Netherlands.
This year marks the 50th anniversary of World Environment Day, after it was established by the United Nations General Assembly in 1972. Over the past five decades, the day has grown to be one of the largest global platforms for environmental outreach. Tens of millions of people participate online and through in-person activities, events and actions around the world.
"The scourge of plastic pollution is a visible threat that impacts every community around the world," said Jean-Luc Assi, Côte d'Ivoire's Minister for the Environment and Sustainable Development. "As host of World Environment Day 2023, we welcome all sectors, from governments and businesses to civil society, to come together to find and champion solutions."
Côte d'Ivoire has banned the use of plastic bags since 2014, supporting a shift to reusable packaging. The country's largest city, Abidjan, has also become a hub for start-ups looking to beat plastic pollution.
More than 400 million tonnes of plastic is produced every year worldwide, half of which is designed to be used only once. Of that, less than 10 per cent is recycled. An estimated 19-23 million tonnes end up in lakes, rivers and seas annually.
Microplastics – tiny plastic particles up to 5mm in diameter – find their way into food, water and air. Discarded or burnt single-use plastic harms human health and biodiversity and pollutes every ecosystem from mountain tops to the ocean floor.
With available science and solutions to tackle the problem, governments, companies and other stakeholders must scale up and speed actions to solve this crisis. This underscores the importance of this World Environment Day in mobilising transformative action from every corner of the world.
This year's World Environment Day will be supported by the Government of the Netherlands, which is one of the countries taking ambitious action along the plastic lifecycle. It is a signatory of the New Plastics Economy Global Commitment and a member of the Global Partnership on Plastic Pollution and Marine Litter. It is also a member of the High Ambition Coalition calling for a strong and ambitious international legally binding instrument to combat plastic pollution.
"Plastic pollution and its detrimental impacts on health, the economy and the environment cannot be ignored. Urgent action is required. At the same time, we need true, effective and robust solutions," said Vivianne Heijnen, Netherlands' Minister for the Environment. "As part of several policies aimed at plastics, The Netherlands and the European community at large are fully committed to reduce the production and consumption of single-use plastic, which can and must be replaced with durable and sustainable alternatives."
The announcement follows a resolution adopted in 2022 at the United Nations Environment Assembly to develop a legally binding instrument on plastic pollution, including in the marine environment, with the ambition to complete the negotiations by end of 2024. The first meeting of the Intergovernmental Negotiating Committee (INC-1) was held in Uruguay in December and the second meeting is expected to be held in Paris in 2023. The instrument is to be based on a comprehensive approach that addresses the full life cycle of plastic.
"We must seize every opportunity and engage with every stakeholder to deal with the plastics problem in its entirety," said Inger Andersen, UNEP's Executive Director. "Côte d'Ivoire and the Netherlands are among a number of countries rising to this challenge and embracing the benefits of a circular plastics economy. The commemoration of the 50th World Environment Day is a moment for all governments, businesses, community groups, and individuals to join this drive."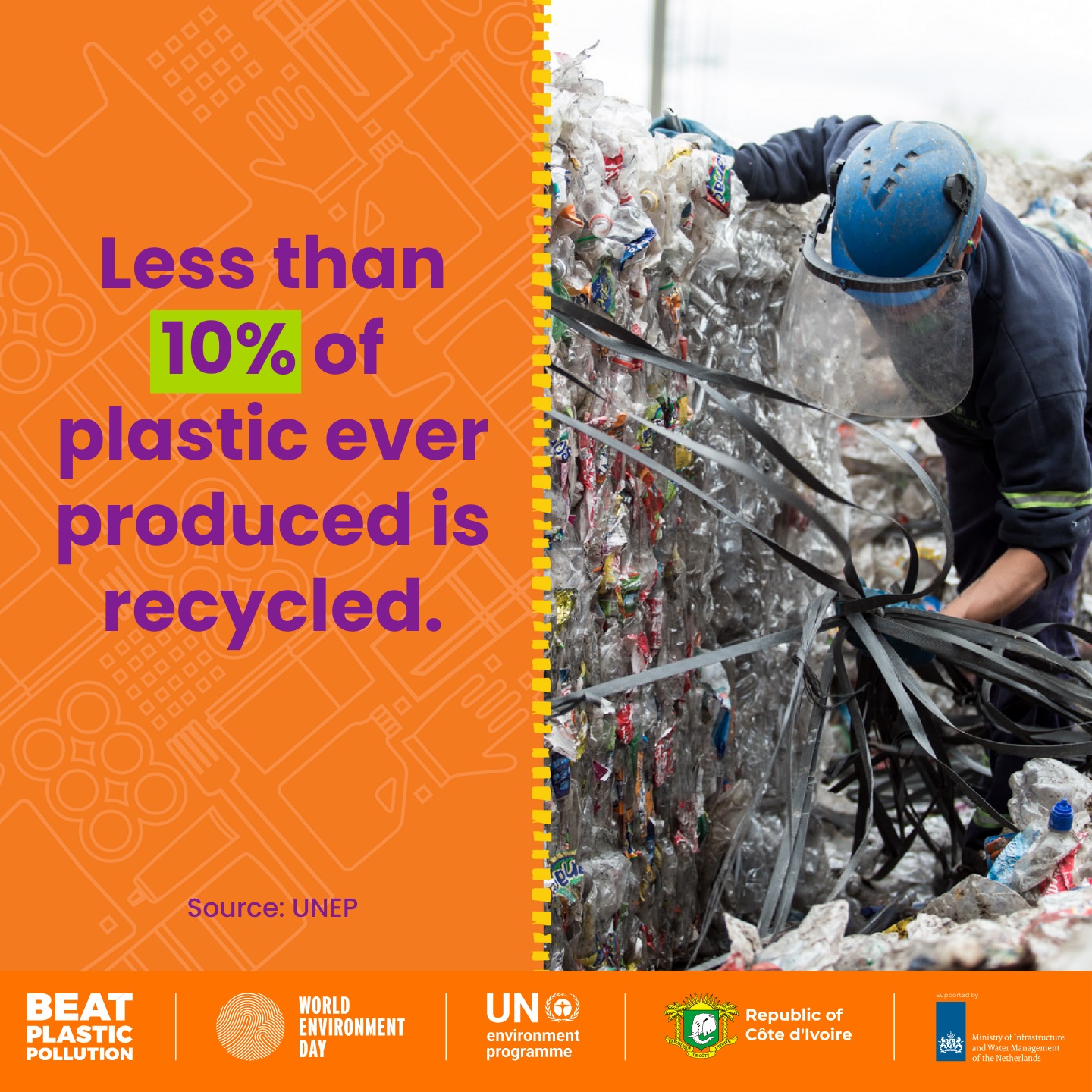 UN Roadmap Outlines Solutions To Cut Global Plastic Pollution
Plastic pollution could reduce by 80 per cent by 2040 if countries and companies make deep policy and market shifts using existing technologies, according to a new report by UN Environment Programme (UNEP). The report was released ahead of a second round of negotiations in Paris on a global agreement to beat plastic pollution, and outlines the magnitude and nature of the changes required to end plastic pollution and create a circular economy.
Turning off the Tap: How the world can end plastic pollution and create a circular economy is a solutions-focused analysis of concrete practices, market shifts, and policies that can inform government thinking and business action.
"The way we produce, use and dispose of plastics is polluting ecosystems, creating risks for human health and destabilizing the climate," said Inger Andersen, UNEP Executive Director. "This UNEP report lays out a roadmap to dramatically reduce these risks through adopting a circular approach that keeps plastics out of ecosystems, out of our bodies and in the economy. If we follow this roadmap, including in negotiations on the plastic pollution deal, we can deliver major economic, social and environmental wins."
Market shifts needed for the market transformation toward circularity
To slash plastic pollution by 80 per cent globally by 2040, the report suggests first eliminating problematic and unnecessary plastics to reduce the size of the problem. Subsequently, the report calls for three market shifts – reuse, recycle and reorient and diversify products:
Reuse:

Promoting reuse options, including refillable bottles, bulk dispensers, deposit-return-schemes, packaging take-back schemes etc., can reduce 30 per cent of plastic pollution by 2040. To realize its potential, governments must help build a stronger business case for reusables.

Recycle:

Reducing plastic pollution by an additional 20 per cent by 2040 can be achieved if recycling becomes a more stable and profitable venture. Removing fossil fuels subsidies, enforcing design guidelines to enhance recyclability, and other measures would increase the share of economically recyclable plastics from 21 to 50 per cent.

Reorient and diversify:

Careful replacement of products such as plastic wrappers, sachets and takeaway items with products made from alternative materials (such as paper or compostable materials) can deliver an additional 17 per cent decrease in plastic pollution.
Even with the measures above, 100 million metric tons of plastics from single-use and short-lived products will still need to be safely dealt with annually by 2040 – together with a significant legacy of existing plastic pollution. This can be addressed by setting and implementing design and safety standards for disposing of non-recyclable plastic waste, and by making manufacturers responsible for products shedding microplastics, among others.
Overall, the shift to a circular economy would result in USD 1.27 trillion in savings, considering costs and recycling revenues. A further USD 3.25 trillion would be saved from avoided externalities such as health, climate, air pollution, marine ecosystem degradation, and litigation-related costs. This shift could also result in a net increase of 700,000 jobs by 2040, mostly in low-income countries, significantly improving the livelihoods of millions of workers in informal settings.
Investment costs for the recommended systemic change are significant, but below the spending without this systemic change: USD 65 billion per year as opposed to USD 113 billion per year. Much of this can be mobilized by shifting planned investments for new production facilities ­– no longer needed through reduction in material needs – or a levy on virgin plastic production into the necessary circular infrastructure. Yet time is of the essence: a five-year delay may lead to an increase of 80 million metric tons of plastic pollution by 2040.
The highest costs in both a throwaway and circular economy are operational. With regulation to ensure plastics are designed to be circular, Extended Producer Responsibility (EPR) schemes can cover these operational costs of ensuring the system's circularity through requiring producers to finance the collection, recycling and responsible end-of-life disposal of plastic products.
Internationally agreed policies can help overcome the limits of national planning and business action, sustain a flourishing circular global plastics economy, unlock business opportunities and create jobs. These may include agreed criteria for plastic products that could be banned, a cross-border knowledge baseline, rules on necessary minimum operating standards of EPR schemes and other standards.
The report recommends that a global fiscal framework could be part of international policies to enable recycled materials to compete on a level playing field with virgin materials, create an economy of scale for solutions, and establish monitoring systems and financing mechanisms.
Crucially, policymakers are encouraged to embrace an approach that integrates regulatory instruments and policies tackling actions across the life cycle, as these are mutually reinforcing towards the goal of transforming the economy. For example, design rules to make products economically recyclable can be combined with targets to incorporate recycled content and fiscal incentives for recycling plants.
The report also addresses specific policies, including standards for design, safety, and compostable and biodegradable plastics; targets for minimum recycling; EPR schemes; taxes; bans; communication strategies; public procurement, and labelling.
About the UN Environment Programme (UNEP)
UNEP is the leading global voice on the environment. It provides leadership and encourages partnership in caring for the environment by inspiring, informing and enabling nations and peoples to improve their quality of life without compromising that of future generations.