April 2 - 15 2023: Issue 578
Marine Rescue Broken Bay Volunteers Will Be On Duty This Easter: Please Log On – Log Off
+ a look inside the new MRBB Base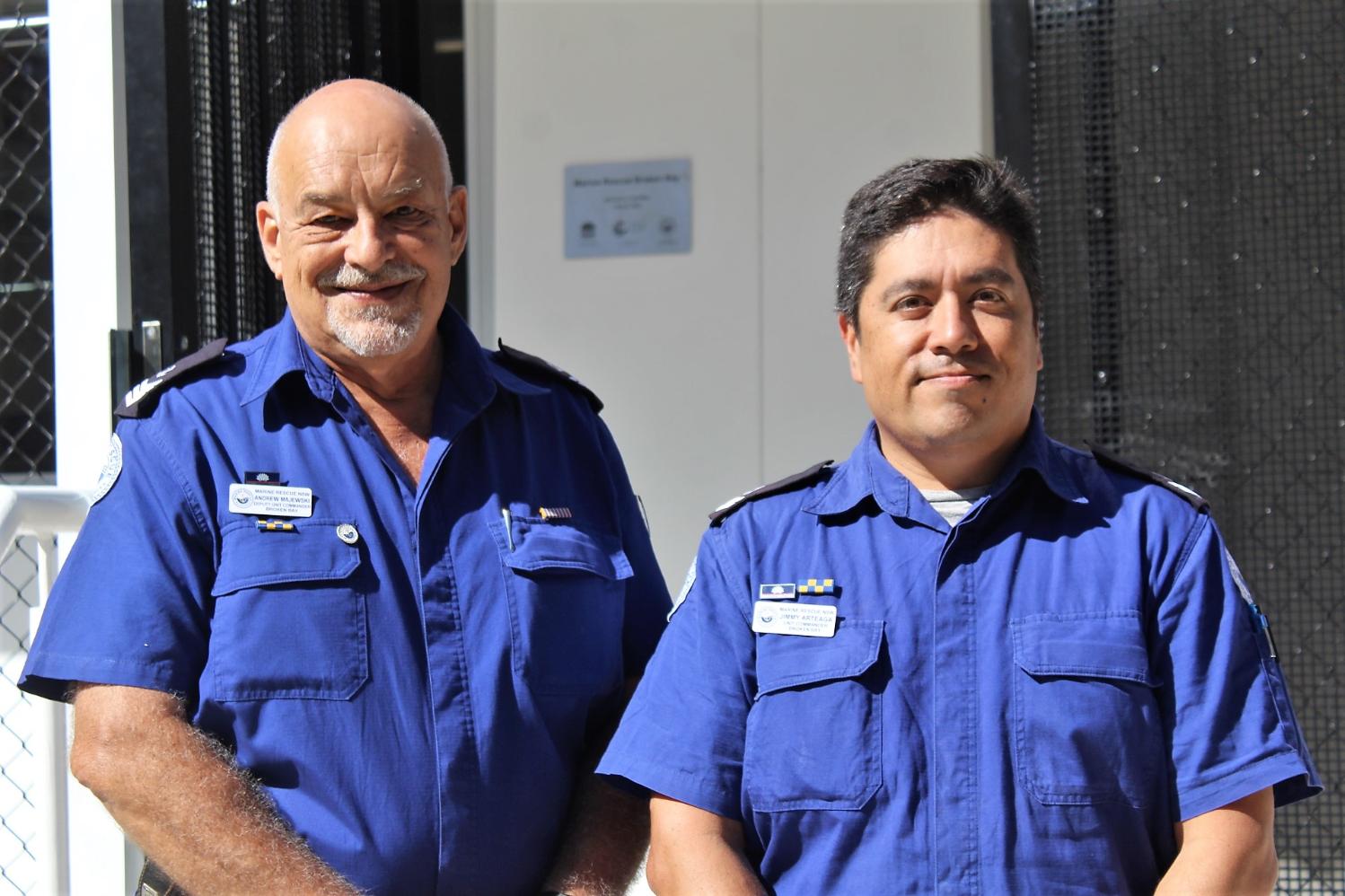 Deputy Unit Commander Marine Rescue Broken Bay Andrew Majewski and Unit Commander Jimmy Arteaga
The volunteers of the Broken Bay Unit of Marine Rescue, which number close to 100 now, will be on duty on the waters of the Pittwater estuary and Broken Bay this Easter.
Unit Commander Jimmy Arteaga and Deputy Unit Commander Marine Rescue Broken Bay Andrew Majewski have asked that all those going boating over the Easter long weekend and the school holidays log on and log off 'so we can track you'.
''Log On & Off with Marine Rescue. It's quick, simple and free. Log On whenever you're heading out on the water and Log Off when you return. We'll stand watch. If you don't Log Off as planned, our volunteers will start searching for you. Download from the Apple store Download from the Google play store
To Log On, call your Marine Rescue NSW base on VHF Channel 16 or use the free Marine Rescue App. You can download the App at the App Store for Apple devices or Google Play for Androids.
You can always Log On, whether you're out for a morning's fishing, a day trip around your local area or cruising along the coastline. And it doesn't matter if you're on a tinnie, a cruiser, a yacht, a kayak, a canoe or a jet ski.
When you Log On via, our radio operator will ask you for some basic information about your vessel, your destination and contacts.
You'll enter the same details on your smartphone or other device if you're using the Marine Rescue app. If you don't Log Off, this information will help us find you, whether you've simply forgotten to Log Off when you returned to shore or you're caught in an emergency and need help fast.''
Other tips for keeping it all about enjoying our glorious waterways are to do a maintenance check prior to going out to prevent problems occurring. Simple things like checking your battery and that you have fresh fuel, that has been contaminated, and enough to meet your needs will keep the focus on the fun.
Life jackets are required, so please make sure yours are fit-for-use and that you have one for each person on board.
'' If you have a question, please ask us, '' we're here to help.'' Jimmy said. ''And if you see us out on the water, wave 'hi'.''
The Marine Rescue Broken Bay Unit was undertaking a training session at the last visit. New members have studied theory, plus attended courses in First Aid, Advanced Resuscitation, Radio, and finished off the program learning essential skills in dealing with emergencies on the water, including fires, flares and abandoning ship. They are now ready to join their watches and build on these foundations as they embark on the next phase of their training.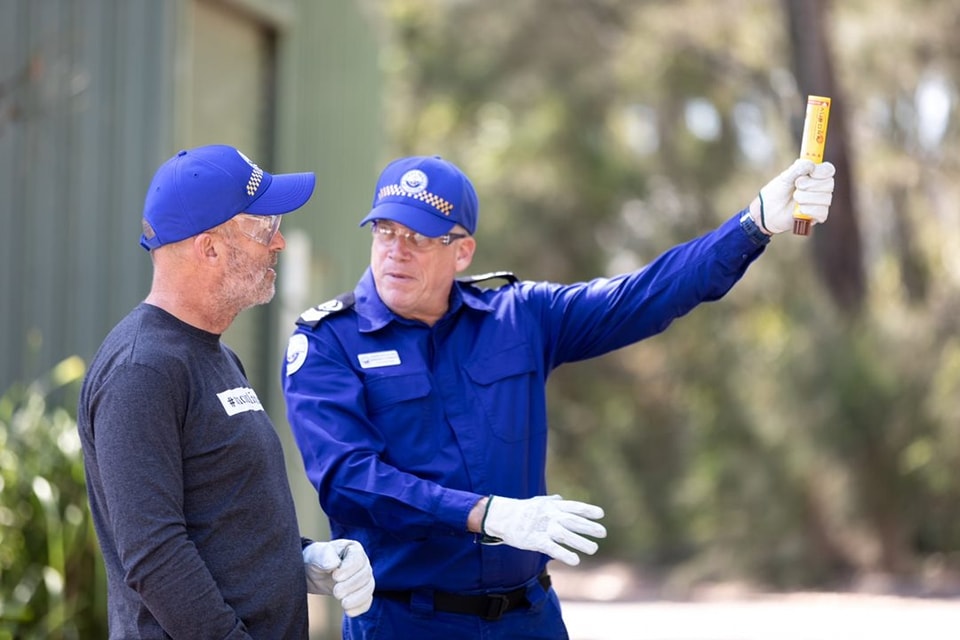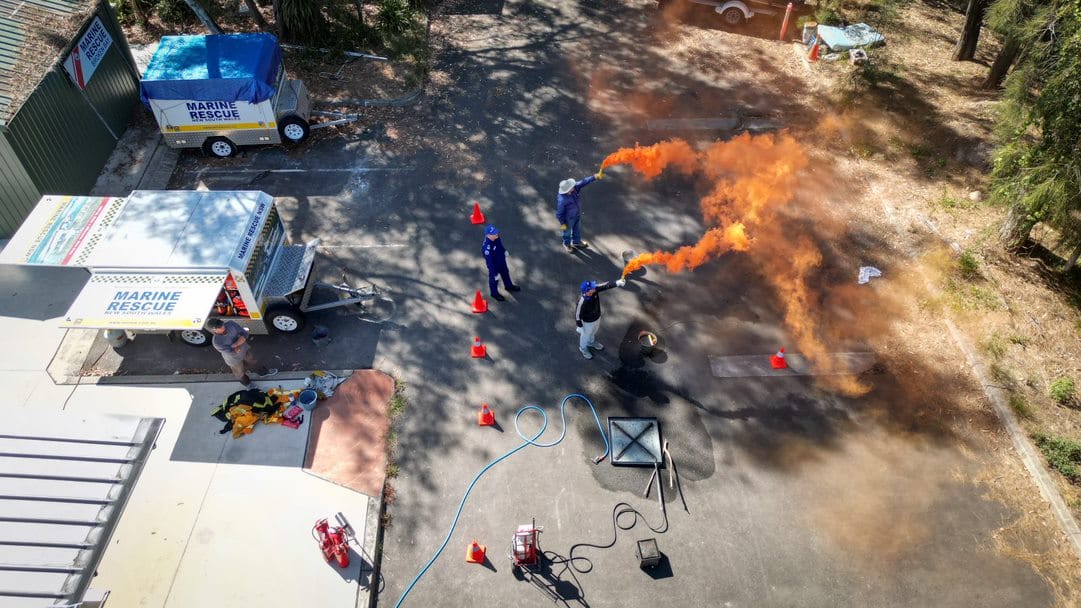 Marine Rescue Broken Bay undertakes 5 watches every weekend, more over long weekends. MRBB have also been tasked during recent emergency flood events to help communities outside our area.
Marine Rescue is an approved provider of the Boat Licence Theory Training, helping to skill up and provide refresher courses to our members and to members of the public, helping to keep everyone safe on the water. Thanks to the great new facilities at their brand new Base, this can be undertaken in great fit-for-purpose rooms.
On Saturday March 4, 2023 the official commissioning of the new Base for MRBB took place at Bayview. Those attending heard about all the great features incorporated into the build from the ideas of members coalesced through the work of Architect Michael Biddulph.
Mayor Michael Regan explained the building is a bespoke designed and highly valued for the lifesaving support that Marine Rescue provides. The building has been designed for water, energy and thermal efficiency, which is not often done for these types of buildings. It has additional high ceilings, additional insulation, lots of natural light, LED lighting, solar hot water, thermal windows, rainwater tanks and many other sustainable features.
''Projects like this do take many people and great relationships and my staff are very proud to have worked with all of you. I'd like to acknowledge our local in-house at Council Architect Michael Biddulph – Mike, thank you so much for your fantastic design. I know you worked with other consultants to ensure the facilities met the standards and skilfully designed the building so that if you stand and look at the eastern façade the building is shaped like a boat with a bow, a captain's bridge and even incorporated the red stripes to match with Marine Rescue's insignia – so well done – very impressive. '' Mayor Regan said.
What an amazing feature: !!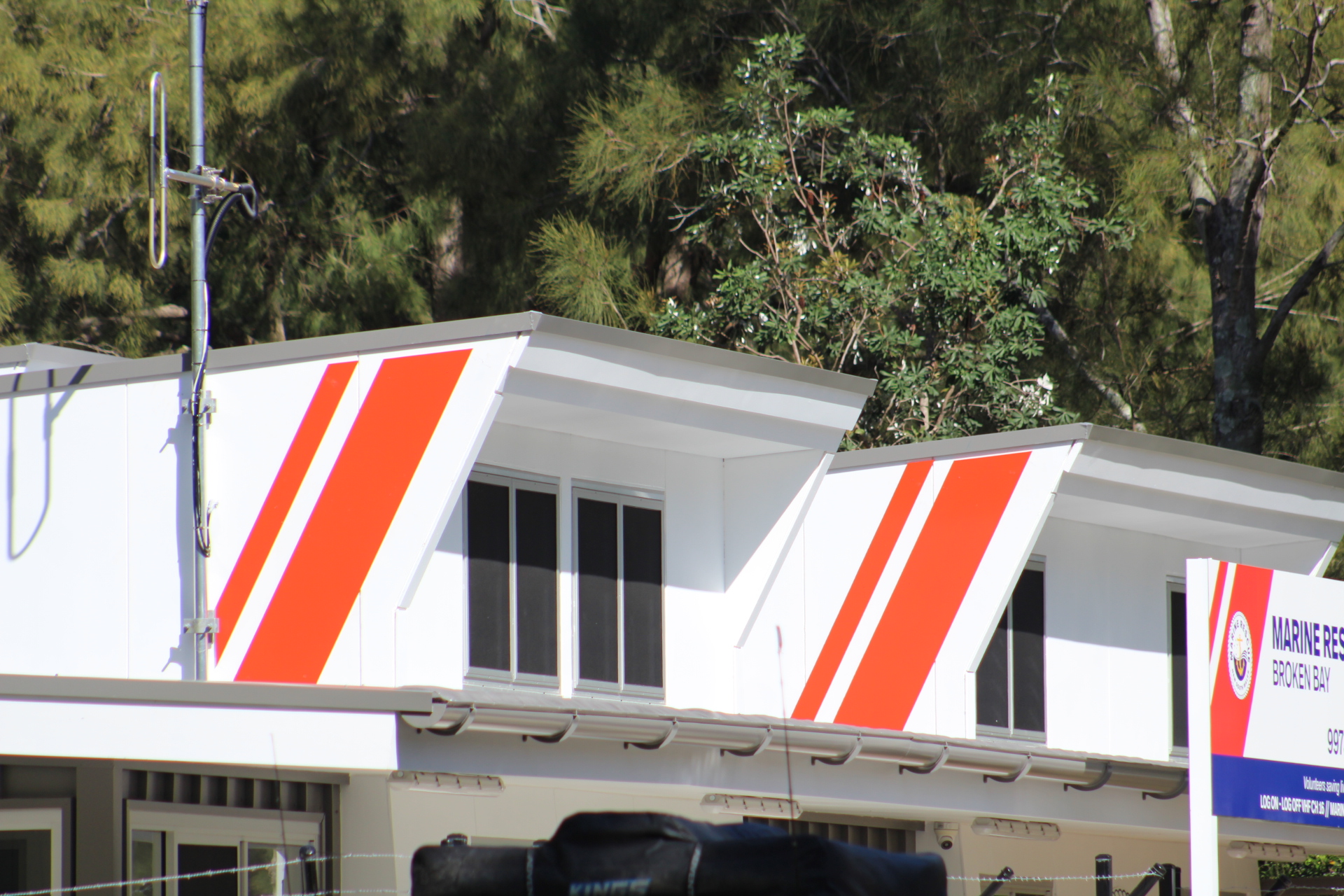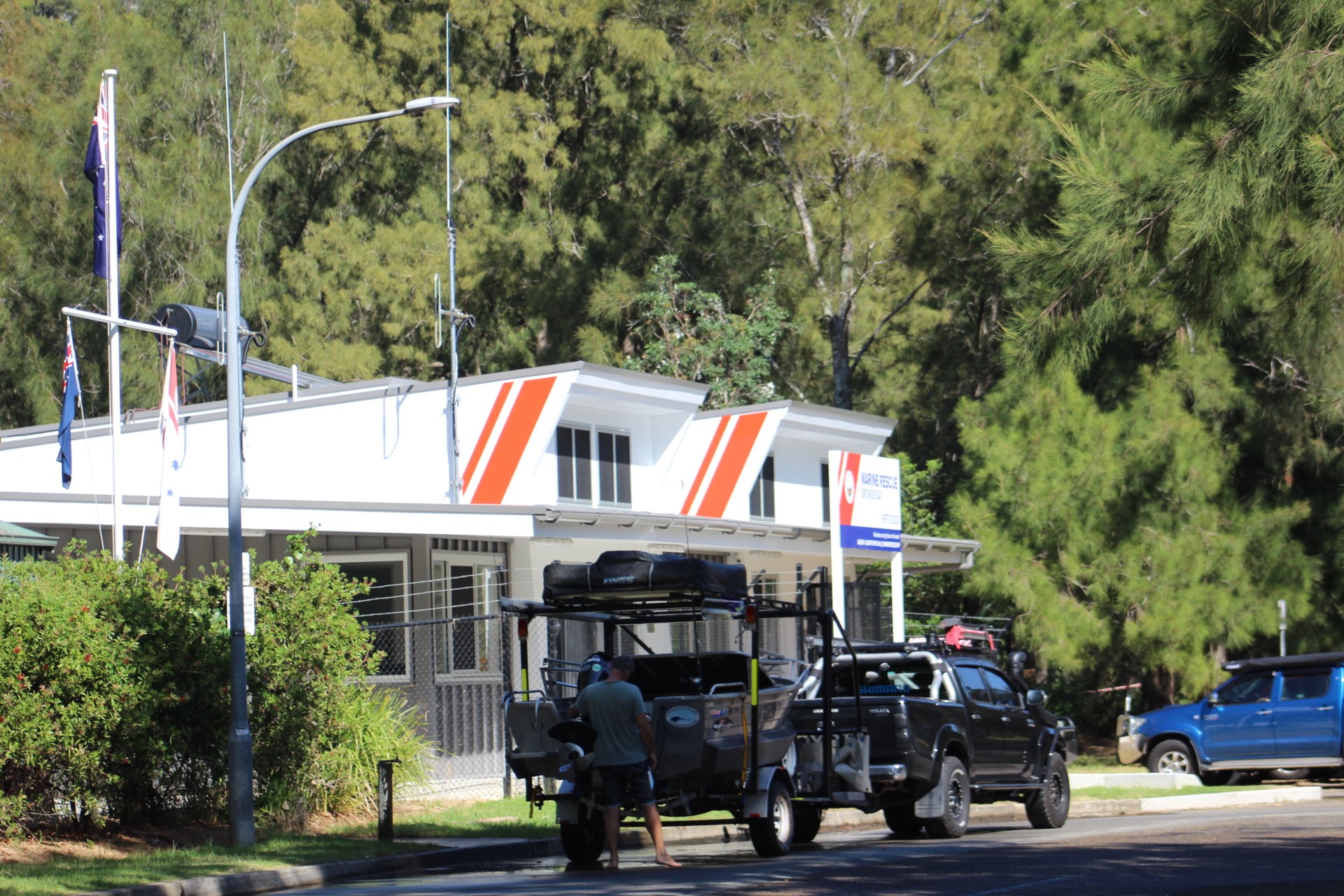 Avalon Soccer Club Kicks Off Its 2023 Season Home Games: A Catch-Up With The Green & Red Pre-Season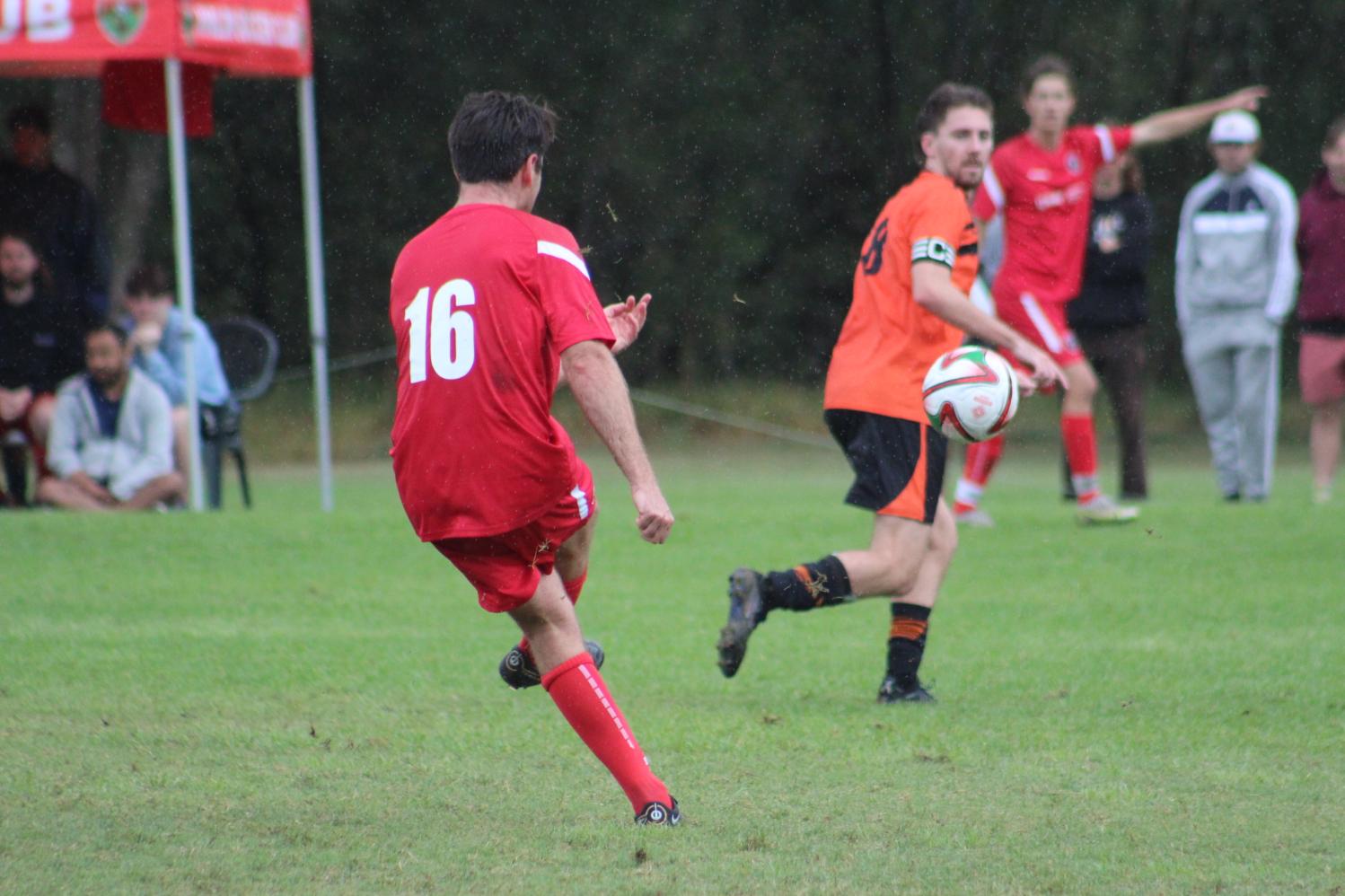 Despite rain setting in at lunchtime the smiles were warm and friendly during the opening home games for Avalon Soccer Club at Careel Bay playing fields, their home grounds. On Saturday April 1st 2023 a big day of games, with 38 teams in action across the weekend, including many of the new U6 teams and the Senior Men's team the AL1s, who faced Wakehurst, had a great hit-out for the Season. Some captures from that Senior Men's game and a few from the Avalon vs. Forest Killarney game run this Issue as a celebration of this great club and sport.
The Avalon Women's 2023 Season kicks off today, April 2nd.
The club has had a wonderful pre-season, with well attended Managers Meetings and Coaches Night, sandwiching a wonderful Gala Day the previous Sunday, March 26th. It was a wonderful event with most of Avalon's teams able to get onto the park and have a run for the first time this Season. Over 100 matches were played across Boondah, Warriewood Sports Valley, Kitchener and Careel Bay fields. Avalon hosted 43 at Careel Bay alone, from their new U6s through to our O45/4s.
A huge thanks to soccer friends at Pittwater and Narrabeen for their support and assistance in putting the day on, and collaborating so well.
Bear Cottage Cup 2023

This was preceded on March 2nd, 2023 by last year's O35s (newly formed O45s) playing its 10th annual charity game against Manly Vale in a fiercely contested four-quarter friendly. The good news? … Avalon won 2 of the four quarters, one was drawn and Manly Vale won one. However, the third quarter was a bit of a shambles as Manly Vale scored 3 in quick succession. This meant Manly Vale, again, took away the Bear Cottage Cup for a fifth year on the trot.
The football was well played on a hot morning at Lionel Watts. Avalon scored first with a simple tap in from striker Dan Morley. Later in the game, Dale Beaumont added a great goal in the 3rd quarter.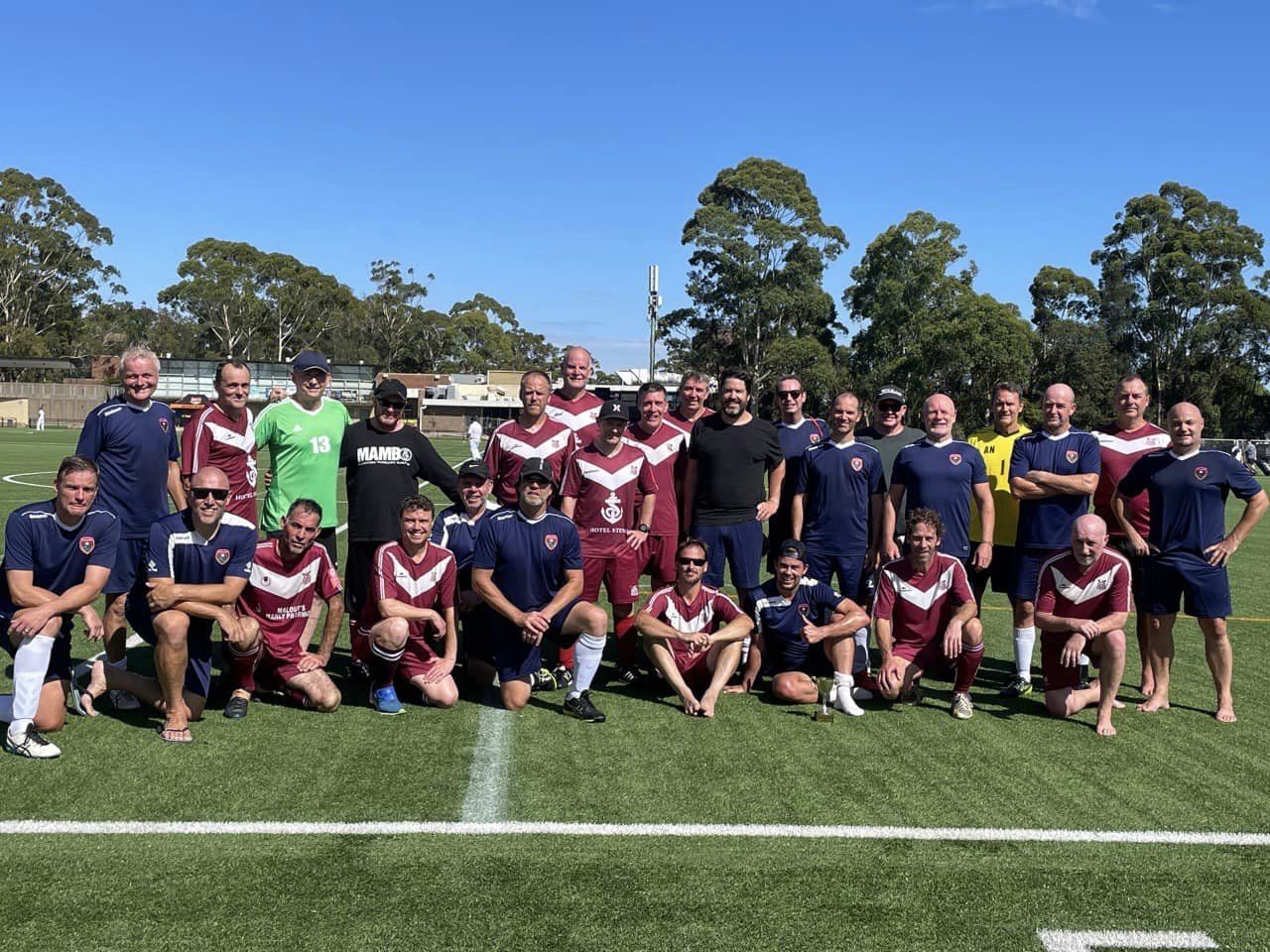 Bear Cottage Cup crew for 2023
Avalon and Manly Vale got together at the end of the game and Dave Hancock rallied the players to see if we could make this a big collection. The lads didn't disappoint as $1,000 was raised and submitted to Bear Cottage. No matter the result on the pitch, what a result for a totally worthwhile cause.
Bear Cottage is the only children's hospice in NSW - a very special place that's dedicated to caring for children with life-limiting conditions. Families who care for a child with a life-limiting condition often do so around the clock for many years. Their vision is to be as far removed from a hospital environment as possible. They are set up to provide excellence in paediatric palliative care 24 hours a day, and their affiliation to The Sydney Children's Hospitals Network means they have access to some of the best medical resources in the world.
A great Team of Volunteers working for the community again in 2023
President John Kowtan (JK) was re-elected unopposed to continue a near 25 year association with the club as a player, coach, committee member and President. Stuart Randall will serve as Vice President of the club and Competition Secretary for 2023, replacing Mark Thain who stepped down at the end of the last Season.
On the women's side of the club, Jud Harrison will serve as Senior VP while Anthony Ritchie has moved to women's Youth VP. All remaining Executive Committee members have returned to their roles for the new year. The club thanks all departing committee members for their service and wish them well for the future.
Avalon Soccer Club is a 100% volunteer run club, whose volunteers work to provide the best possible experience for over 1200 members. A MEGA effort which sees some volunteers attending to club matters seven days a week in the lead-up and as the Season commences. Whether its coaching, womaning the BBQ, setting up the fields in the first light every weekend, working as linesmen and lineswomen during the games, those who are there from before the first whistle sounds until pack-up time, and work as well during the week, are what makes this game so great. Legends!

Vanuatu 2023
After a three year COVID enforced hiatus, the traditional W16 tour to Vanuatu is back for 2023. Started in 2012, the tour is used to promote women's sport in the region, to offer the team the chance to play against local opposition and allow the Avalon community to make charitable donations to projects on the islands.
This year Avalon are looking at around 20 girls from their 2 W16 teams travelling at the end of June for a 9 day trip that will encompass 4 matches, community visits and a meeting at the Australian High Commission in Port Vila.
The trip is entirely self-funded with the team commencing fundraising in August 2022 with numerous cake bakes and BBQs at local events. Stayed tuned for more details on the tour and the fundraising efforts. If you'd like to assist with the tour or sponsor the girls, please contact stuartjrandall@gmail.com.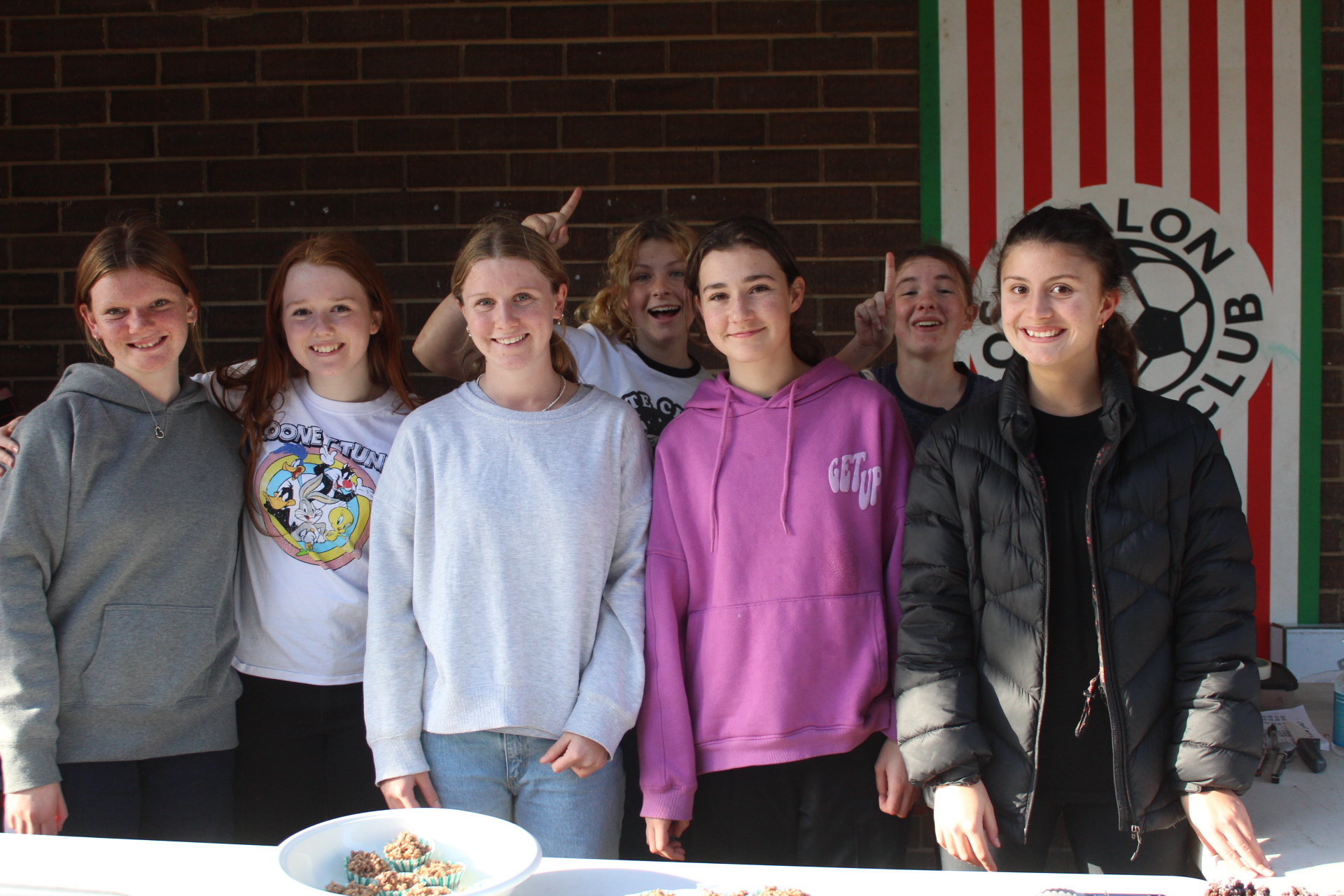 the Vanuatu 2023 cake bake stall at Avalon Soccer's 40th anniversary celebrations in August 2022
Pittwater To Coffs Yacht Race 2023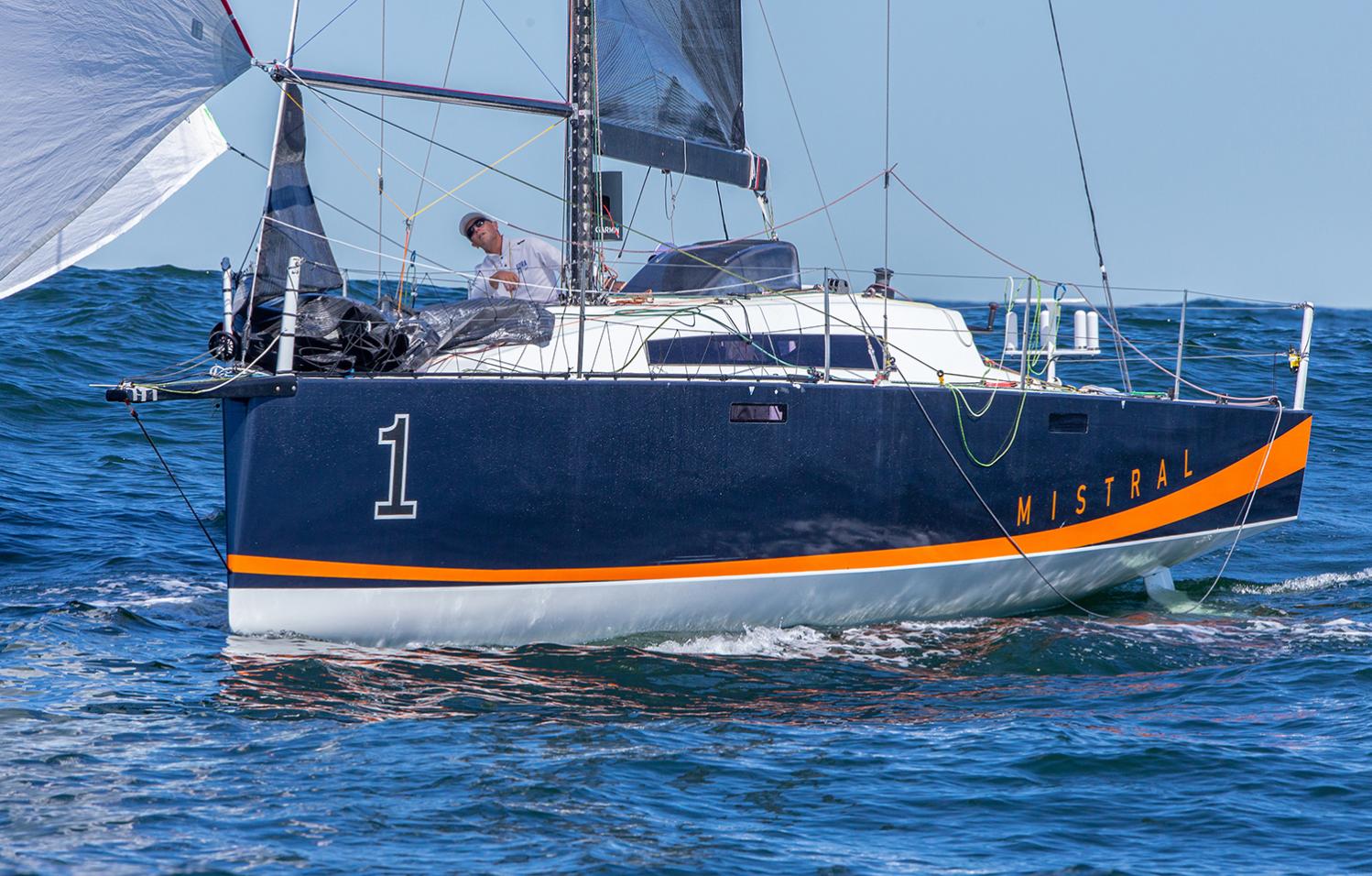 Mistral was declared overall winner of the race. Photo:- Bow Caddy Media
Two-Handed Mistral Wins Pittwater To Coffs Harbour Yacht Race
Sunday April 2, 2023
Rupert Henry's Mistral, co-skippered by Greg O'Shea, has been announced winner of the 2023 Pittwater to Coffs Harbour Yacht Race from another double-handed crew, Jules Hall and Jan 'Clogs' Scholten on Disko Trooper Contender Sailcloth.
The two boats from the Cruising Yacht Club of Australia repeated their feat of top two overall in last year's Cabbage Tree Island Race and each led the Pittwater to Coffs race at various points. In fact the 226 nautical mile coastal classic nearly ended in a double-handed shoo-in, but Craig Douglas and his fully crewed Popeye broke the stranglehold to claim third overall.
Henry said of the Royal Prince Alfred Yacht Club's challenging light weather race, "It was a good double-handed fleet and weatherwise it suited the smaller boats (his is a Lombard 34). It was a good fleet all around. We were lucky the bigger faster boats didn't get too far away from us.
"We watched the other double-handers closely. We also picked fully crewed boats to keep up with, like Popeye, XS Moment (Ray Hudson) and Tempo (Michael Smith) – she sailed well," Henry said of the Kernan 44.
"We didn't have a lot of rest, but we had fun. All in all it was a soft race that suited the slippery designs like the J99 (Disko Trooper) that was constantly snapping at our heals."
Henry continued, We'd get a break, then park up. The wind went around the clock twice during the race – unusual for a shorter race. So there were a few sail changes and lots of spinnaker packing."
Around Port Macquarie the bigger boats got away from Mistral and Disko Trooper, but the pair reeled them in.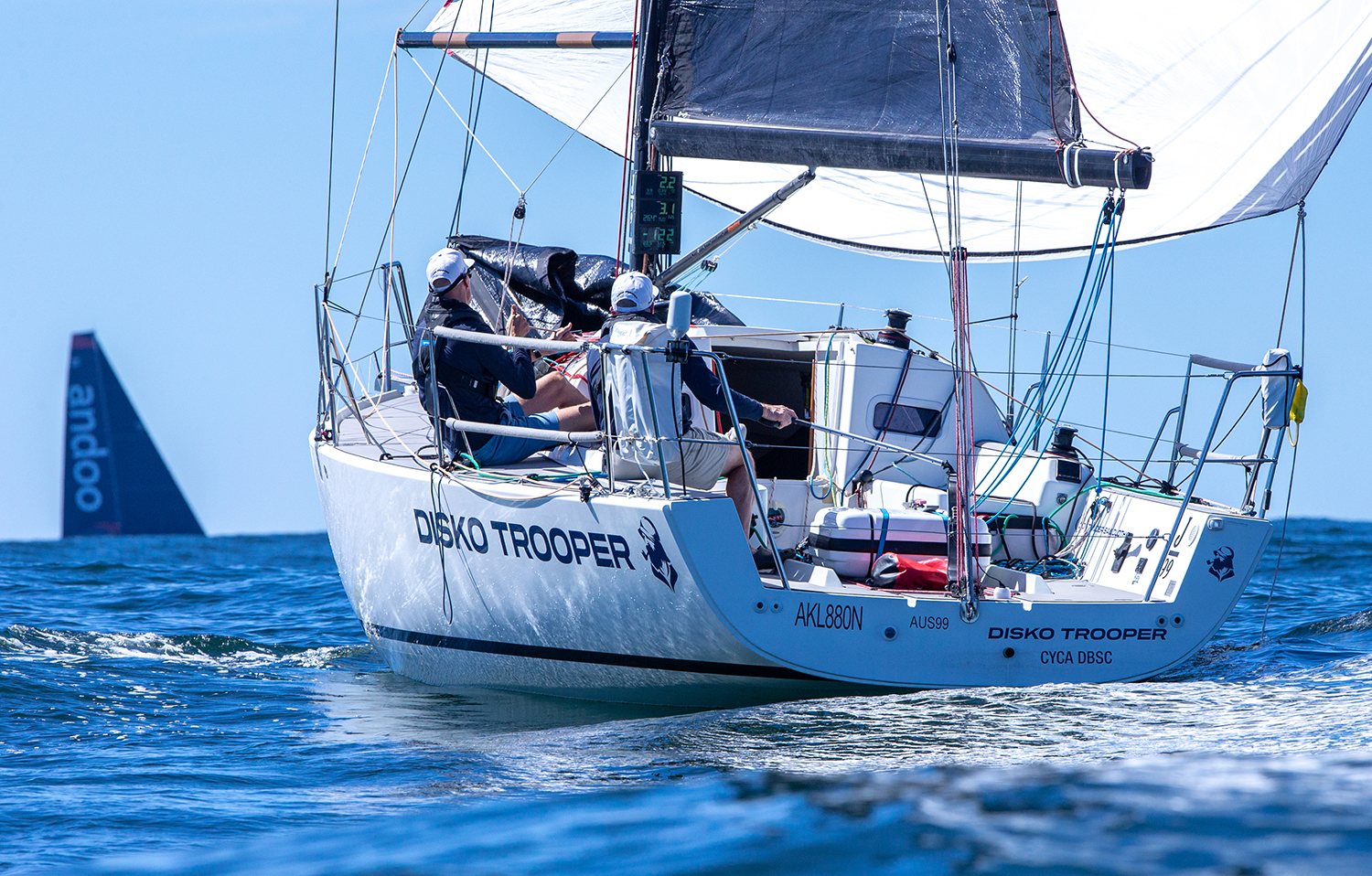 Disko Trooper Contender Sailcloth had a great race with Mistral. Photo: Bow Caddy Media

"There's a lot of good sailors here," Henry mused. "They take this race quite seriously. Calendar wise, it's a good one for finding good crew. Lot of heavies in the bar, so you know it's high standard of racing," said the yachtsman who had not done the race previously.
With long time co-skipper, O'Shea, Henry also won the IRC Two-Handed division of the 2022 Rolex Sydney Hobart. With his former yacht, Chinese Whisper, the two clean-swept the 2018 Melbourne Osaka double-handed yacht race, taking line and overall wins in all categories and smashing the race record. They are a hard act to beat.
In a real family affair, Henry's father, David Henry ,also contested the race two-handed with his modified Sydney 36 Cruiser Racer, Philosopher and finished 15th overall.
"While we were bobbing around still racing, my son (Otto), was doing the delivery back to Sydney on Andoo Comanche," he said of the three generations of sailors in his family.
Disko-Trooper Contender Sailcloth gave Mistral a good run for their money and also topped the ORC leaderboard from other two-handers, Chris O'Neill/Ian Smith's Blue Planet (which won PHS overall) and Rum Rebellion (Shane Connolly/Tony Sutton).
Hall commented, "It was a fabulous race, a thinking race. We were keeping a close eye on Mistral and they obviously sailed a fantastic race. Our start was good, but around Cape Three Points we were in a lull. Mistral got a jump on us at Newcastle as they were better placed when land breeze kicked in."
The 2021 Sydney Hobart Two-handed winner acknowledged the hardest part of the race was from Smoky Cape to the finish.
"Then the sou'easter came in as forecast and we took off," Hall said. "We were doing 7 knots and Mistral 3 knots and we thought 'this is it', but then it reversed. It was pouring with rain. We couldn't see a thing. The sou'easter came back but was too late for us!
He agreed balancing current and wind was hard and that keeping a close eye on that and the water temperature was imperative. "You couldn't make a single mistake. Little mistakes made a big difference on that course.
"We had a great boat-on-boat race with She's The Culprit (owned by the Culprit Syndicate from Newcastle). We'd be in front of them, then they'd get in front of us. It was good fun."
Popeye beat double-handed Rum Rebellion to third place by just eight minutes. A thrilled Craig Douglas said his Beneteau First 47.7 "is probably the heaviest boat in the fleet. She's old with furniture, microwaves, the lot on board, but I worked out how to make her go.
"We had the boat prepared, the right sails and the right people. The greatest thing that made a difference was tactics. We kept the boat going in light air and that's what got us to stay with the lead boats in the first three or four hours."
Popeye sailed the least miles of the fleet (227nms as witnessed by the tracker). "And we were aware of doing that," Douglass said. We didn't rhumbline it, but we calculated tide and current to sailing as few miles as possible.
"Having Julie Hodder navigating and Shane Guanaria on tactics worked well. We genuinely worked hard," the Middle Harbour Yacht Club yachtsman said.
Dale Mitchell's Rex, which took the multihull record and line honours yesterday, was also declared overall winner under the Offshore Multihull Rating Rule (OMR). Drew Carruthers' self-designed and built Rushour, placed second and Darren Drew's Wind Cheetah third.
The 37th Pittwater to Coffs Harbour Yacht Race started at 1pm on Friday and concludes with the prize giving at 2pm at Coffs Harbour Yacht Club today.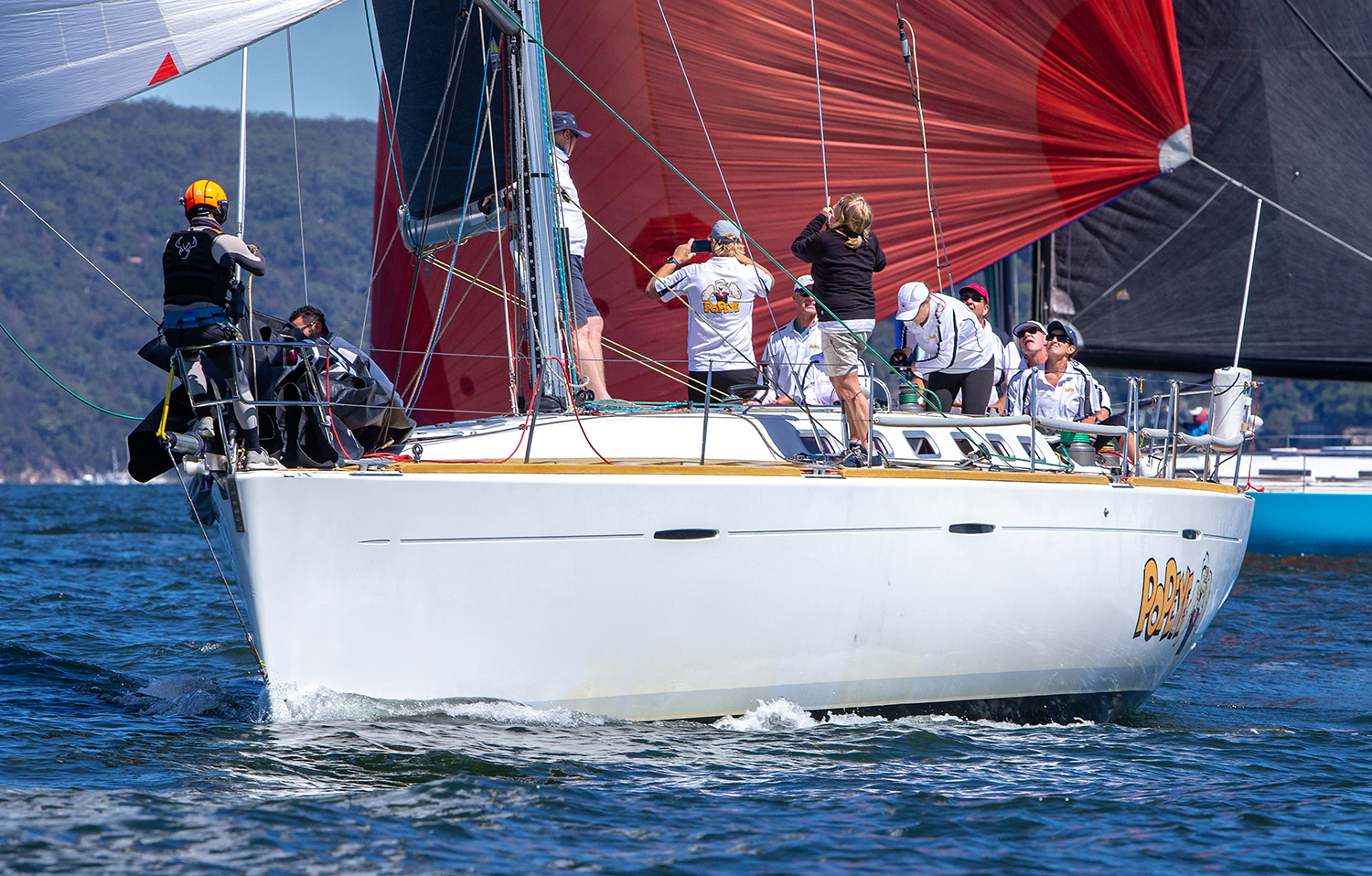 Popeye broke the double-handed stranglehold on the race. Photo: Bow Caddy Media

Further reports, Videos, including pre-race interviews HERE
Coast Trek 2023
Coastrek is Australia's most iconic hiking challenge and the Sydney location was the birthplace of Coastrek back in 2009, when 40 women undertook a hike from La Perouse to Palm Beach to raise funds for the Fred Hollows Foundation. Founded by Di Westaway OAM, who also founded Wild Women On Top, a social purpose enterprise which inspires women to challenge themselves in nature, Di and her team have connected over 65,000 women for fun, fitness, friendship and fundraising while raising nearly $50 million dollars for charity.

Coastrek is a team trekking and fundraising walks along spectacular coastal trails around Australia. In 2023, trekkers could explore the local Trek; Palm Beach (60km), Newport (45km), North Narrabeen (30km), Long Reef (20km) to Balgowlah Heights, which took place on March 24, or take part in the Mornington Peninsula, the Sunshine Coast, the Fleurieu Peninsula and Margaret River Coastreks.
Multiple routes – from the Twilight 20km to the Super 60km - are offered so both the ardent trekker and cautious beginner can challenge themselves in nature. Teams are fully supported with an expert-designed training program and an active community cheering them on from the point of registration until they cross the Finish Line and beyond.
Since the first event in 2009, Coastrek has transformed millions of lives globally. Coast Trekkers have trained and completed Coastrek with friends, improving their own health and wellbeing and raising over $45 million for their charity partners; The Fred Hollows Foundation (2009-2018), Beyond Blue (2018-2022) and from 2023, the Heart Foundation.
Find out more here: www.coastrek.com.au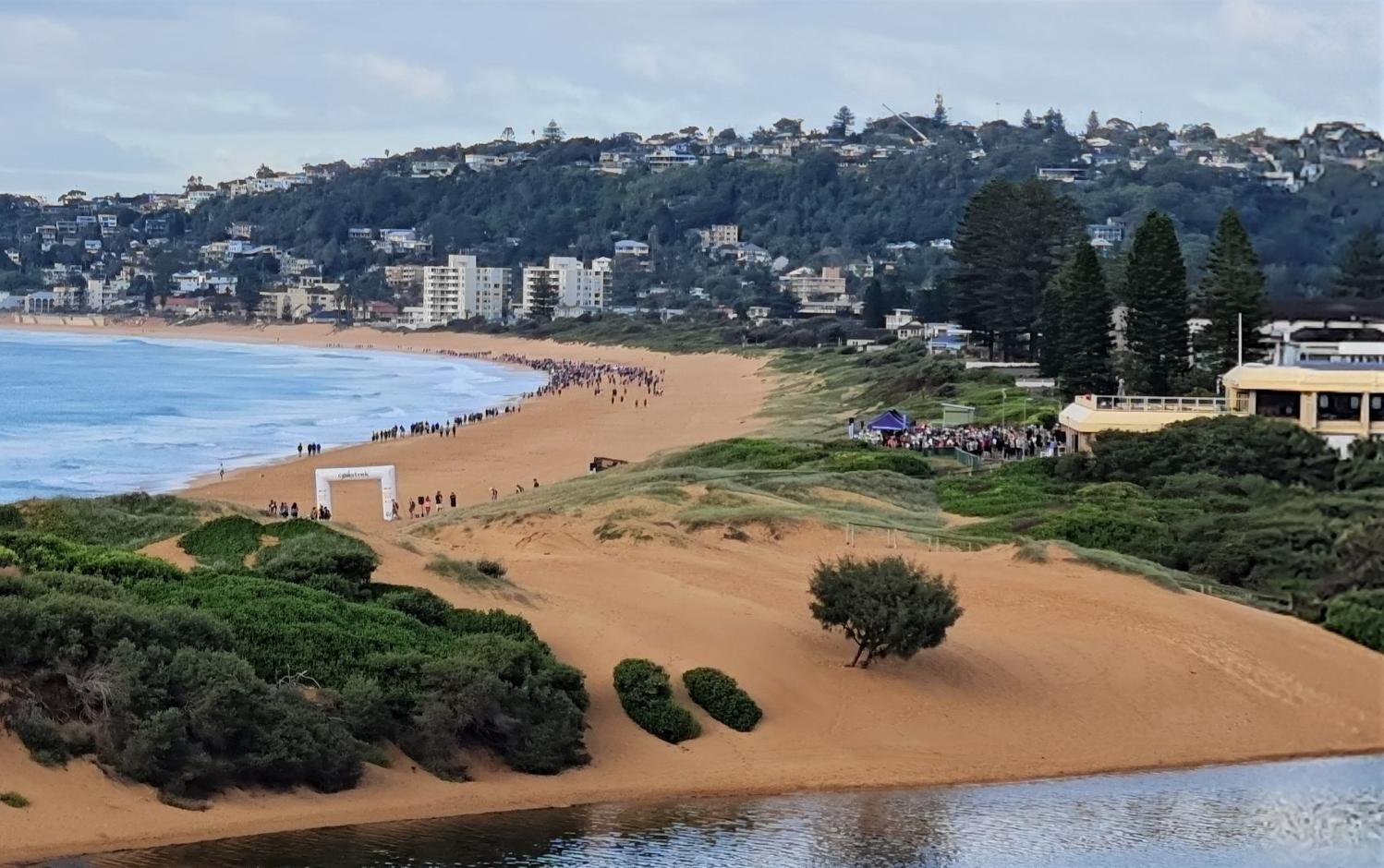 The 2023 Palm Beach to Balgowlah Coastrek at the Narrabeen leg. Photo: Joe Mills

View over Narrabeen Lagoon entrance, March 31, 2023. Photo: Joe Mills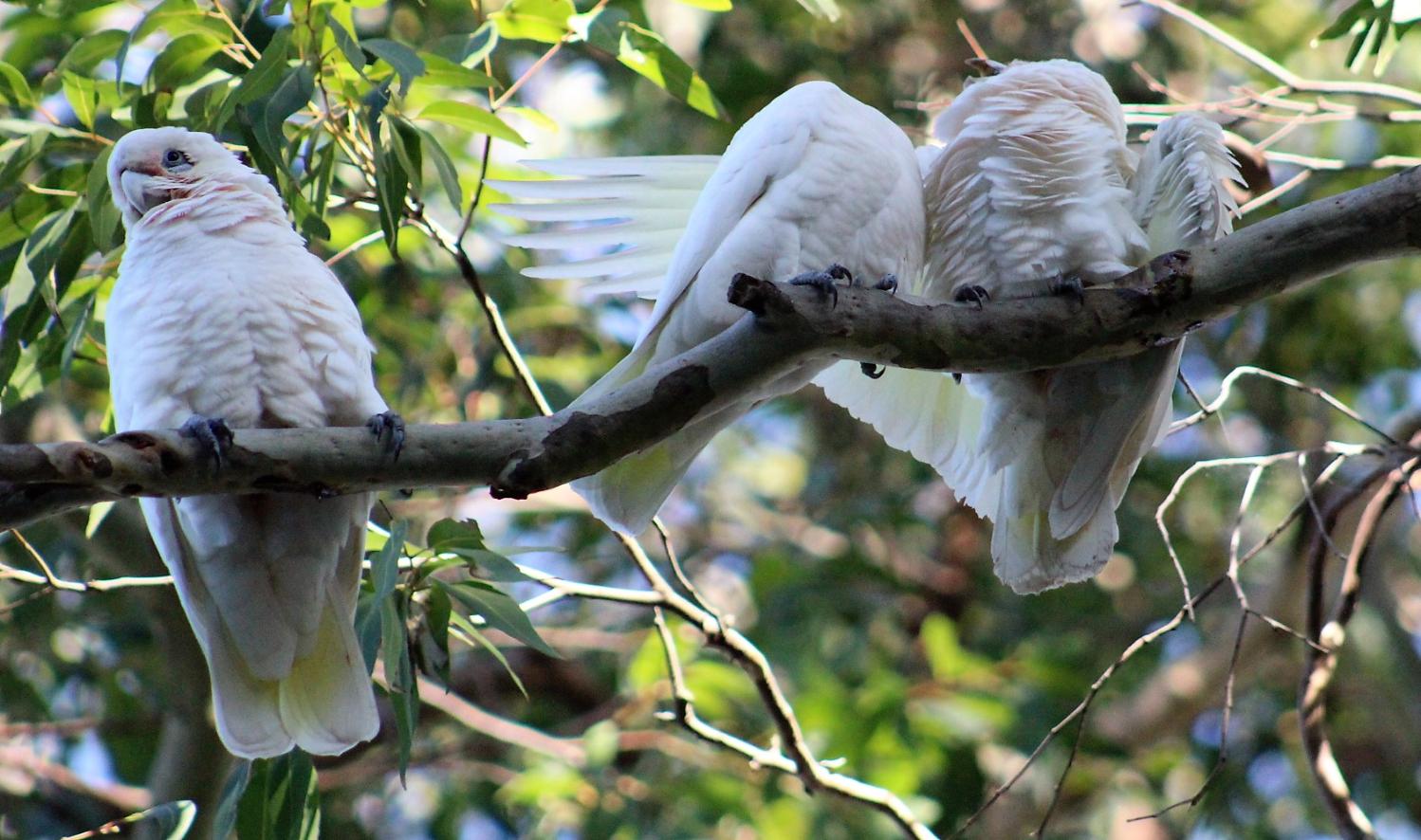 Little Corella fledglings - one being groomed by a parent bird, April 1, 2023, Careel Bay. Photo: A J Guesdon.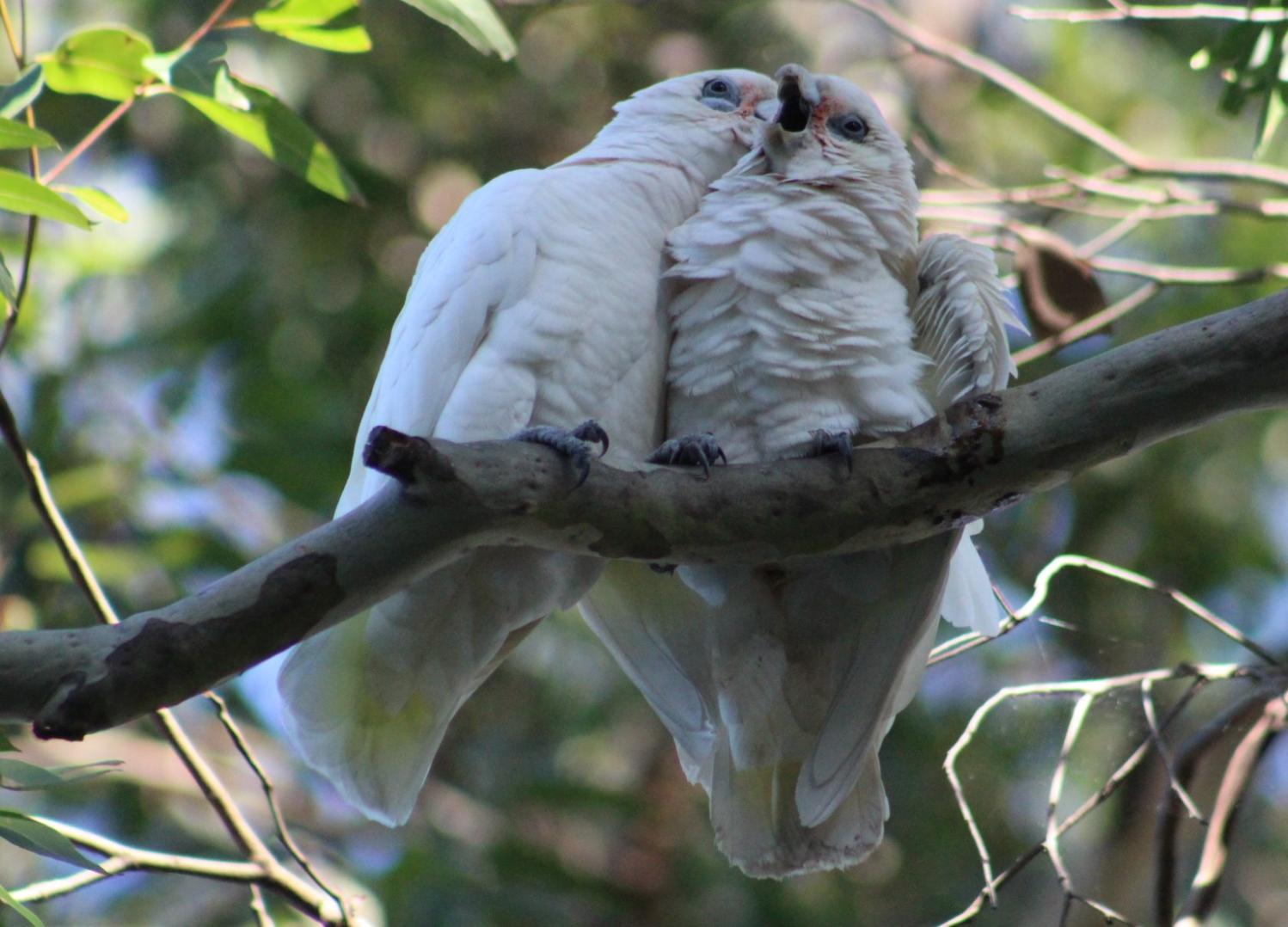 Past Features Archives (pre 2014)
Pittwater Online News was selected for preservation by the State Library of New South Wales and National Library of Australia. This title is scheduled to be re-archived regularly.
Archived Issues (2014 on) may be accessed here: pandora.nla.gov.au/tep/143700
Past Issues are also listed on site on the Community News page, by month.