April 2 - 15 2023: Issue 578
Avalon Soccer Club Kicks Off Its 2023 Season Home Games: A Catch-Up With The Green & Red Pre-Season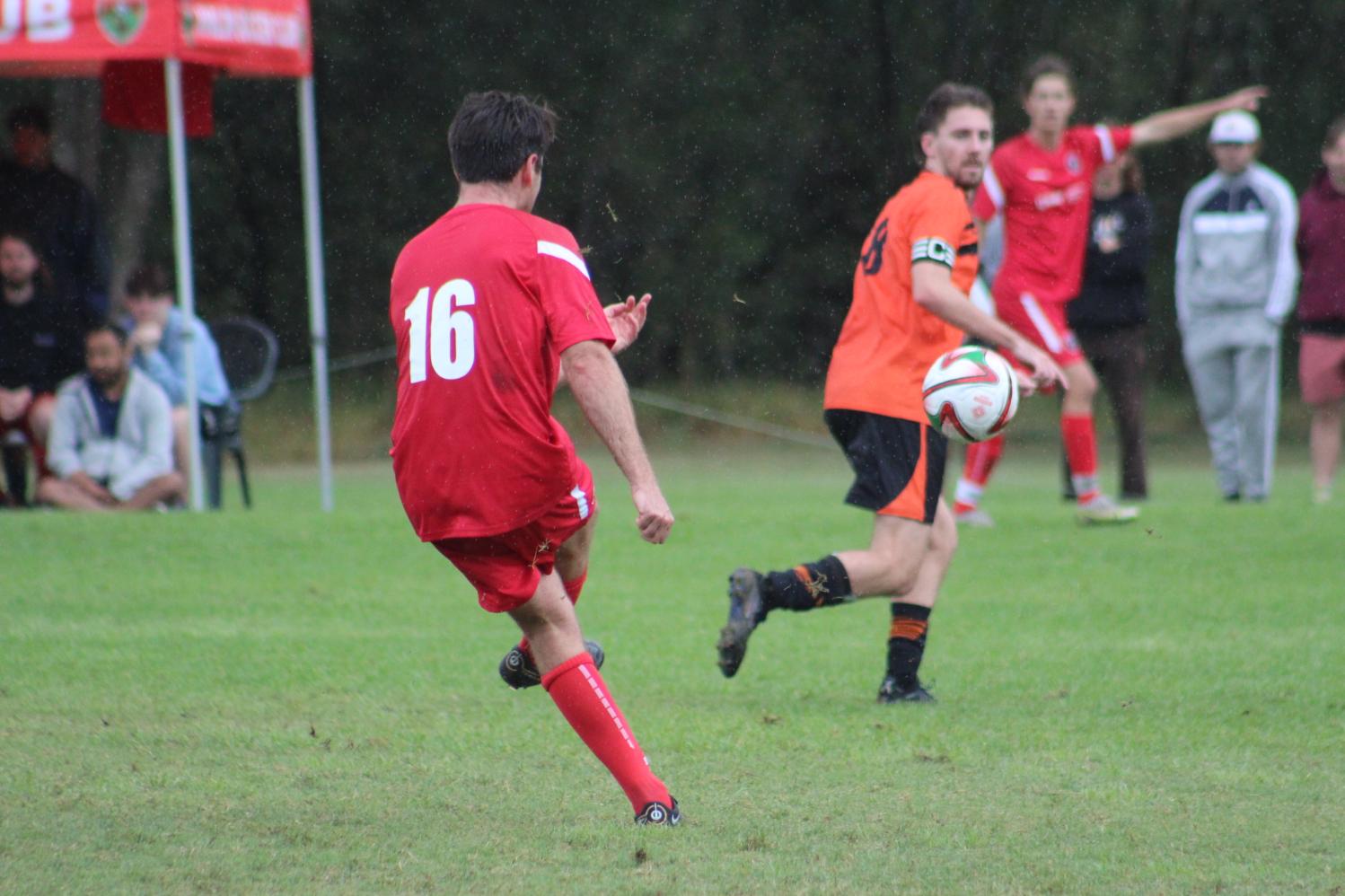 Despite rain setting in at lunchtime the smiles were warm and friendly during the opening home games for Avalon Soccer Club at Careel Bay playing fields, their home grounds. On Saturday April 1st 2023 a big day of games, with 38 teams in action across the weekend, including many of the new U6 teams and the Senior Men's team the AL1s, who faced Wakehurst, had a great hit-out for the Season. Some captures from that Senior Men's game and a few from the Avalon vs. Forest Killarney game run this Issue as a celebration of this great club and sport.
The Avalon Women's 2023 Season kicks off today, April 2nd.
The club has had a wonderful pre-season, with well attended Managers Meetings and Coaches Night, sandwiching a wonderful Gala Day the previous Sunday, March 26th. It was a wonderful event with most of Avalon's teams able to get onto the park and have a run for the first time this Season. Over 100 matches were played across Boondah, Warriewood Sports Valley, Kitchener and Careel Bay fields. Avalon hosted 43 at Careel Bay alone, from their new U6s through to our O45/4s.
A huge thanks to soccer friends at Pittwater and Narrabeen for their support and assistance in putting the day on, and collaborating so well.
Bear Cottage Cup 2023

This was preceded on March 2nd, 2023 by last year's O35s (newly formed O45s) playing its 10th annual charity game against Manly Vale in a fiercely contested four-quarter friendly. The good news? … Avalon won 2 of the four quarters, one was drawn and Manly Vale won one. However, the third quarter was a bit of a shambles as Manly Vale scored 3 in quick succession. This meant Manly Vale, again, took away the Bear Cottage Cup for a fifth year on the trot.
The football was well played on a hot morning at Lionel Watts. Avalon scored first with a simple tap in from striker Dan Morley. Later in the game, Dale Beaumont added a great goal in the 3rd quarter.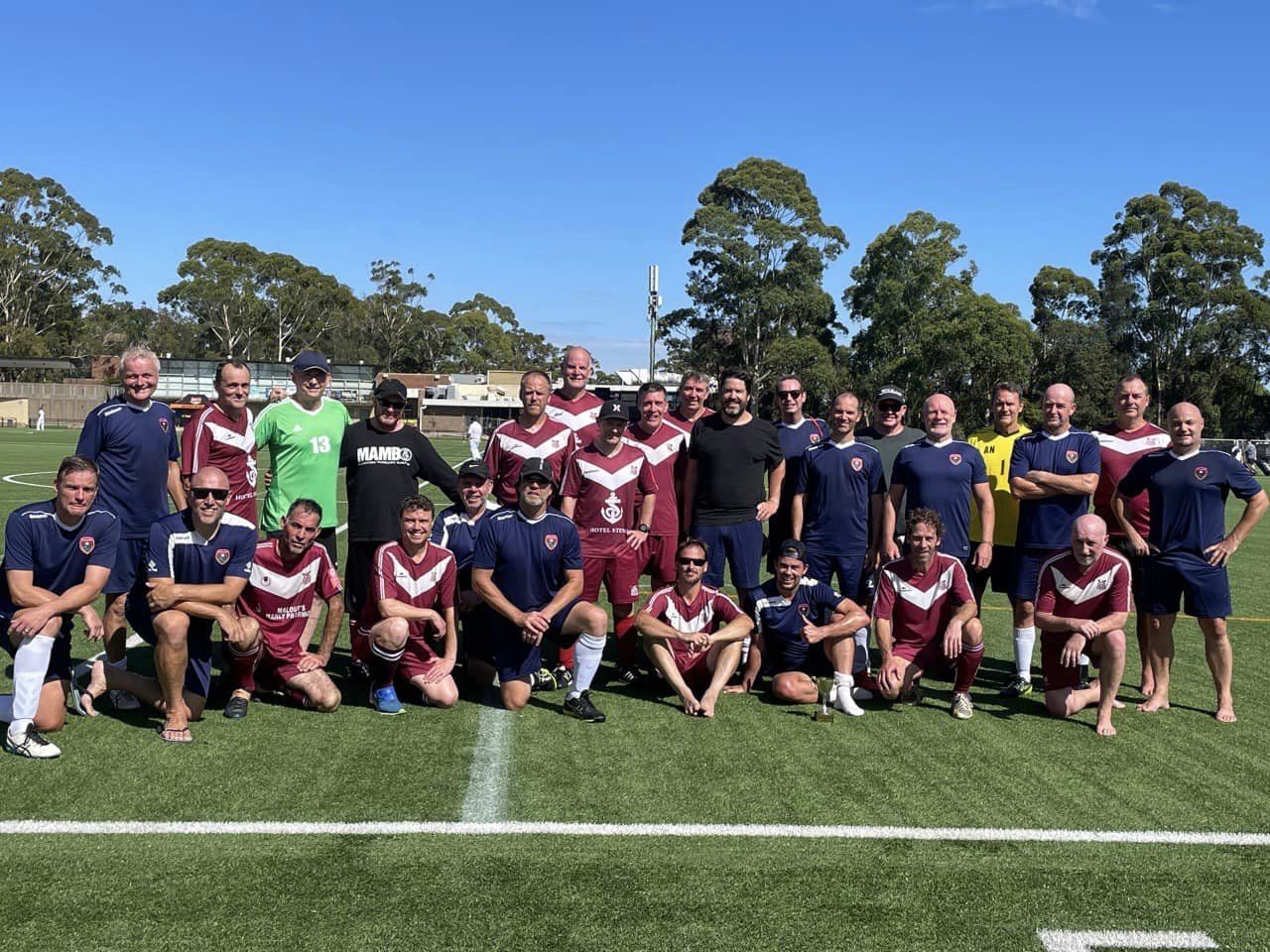 Bear Cottage Cup crew for 2023
Avalon and Manly Vale got together at the end of the game and Dave Hancock rallied the players to see if we could make this a big collection. The lads didn't disappoint as $1,000 was raised and submitted to Bear Cottage. No matter the result on the pitch, what a result for a totally worthwhile cause.
Bear Cottage is the only children's hospice in NSW - a very special place that's dedicated to caring for children with life-limiting conditions. Families who care for a child with a life-limiting condition often do so around the clock for many years. Their vision is to be as far removed from a hospital environment as possible. They are set up to provide excellence in paediatric palliative care 24 hours a day, and their affiliation to The Sydney Children's Hospitals Network means they have access to some of the best medical resources in the world.
A great Team of Volunteers working for the community again in 2023
President John Kowtan (JK) was re-elected unopposed to continue a near 25 year association with the club as a player, coach, committee member and President. Stuart Randall will serve as Vice President of the club and Competition Secretary for 2023, replacing Mark Thain who stepped down at the end of the last Season.
On the women's side of the club, Jud Harrison will serve as Senior VP while Anthony Ritchie has moved to women's Youth VP. All remaining Executive Committee members have returned to their roles for the new year. The club thanks all departing committee members for their service and wish them well for the future.
Avalon Soccer Club is a 100% volunteer run club, whose volunteers work to provide the best possible experience for over 1200 members. A MEGA effort which sees some volunteers attending to club matters seven days a week in the lead-up and as the Season commences. Whether its coaching, womaning the BBQ, setting up the fields in the first light every weekend, working as linesmen and lineswomen during the games, those who are there from before the first whistle sounds until pack-up time, and work as well during the week, are what makes this game so great. Legends!

Vanuatu 2023
After a three year COVID enforced hiatus, the traditional W16 tour to Vanuatu is back for 2023. Started in 2012, the tour is used to promote women's sport in the region, to offer the team the chance to play against local opposition and allow the Avalon community to make charitable donations to projects on the islands.
This year Avalon are looking at around 20 girls from their 2 W16 teams travelling at the end of June for a 9 day trip that will encompass 4 matches, community visits and a meeting at the Australian High Commission in Port Vila.
The trip is entirely self-funded with the team commencing fundraising in August 2022 with numerous cake bakes and BBQs at local events. Stayed tuned for more details on the tour and the fundraising efforts. If you'd like to assist with the tour or sponsor the girls, please contact stuartjrandall@gmail.com.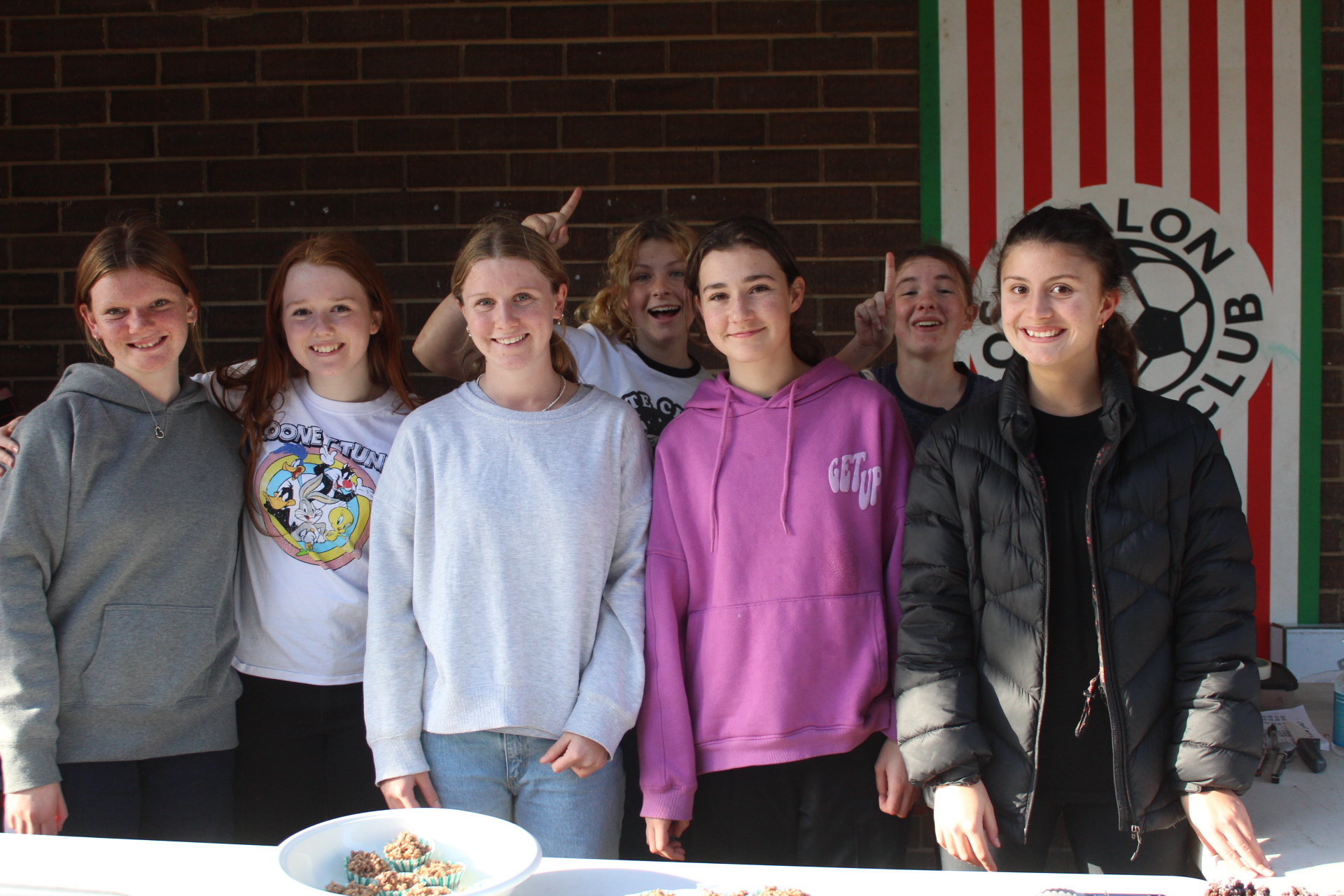 the Vanuatu 2023 cake bake stall at Avalon Soccer's 40th anniversary celebrations in August 2022
Avalon Development
Avalon Development, supported by LJ Hooker, is in full swing on Monday afternoons and there's still time to secure a spot for your child.
Every Monday Avalon Soccer Club are offering an additional professional training session right here at Careel Bay. Term 1 ends June 26th. The term will break for school holidays. The times/ages are as follows:
4:10-5pm – Ages 6/7/8
5:10-6pm – Ages 9/10/11
6:10-7pm – Ages 12+
The full term cost is $308 and includes an Avalon Development training shirt. To book or for more information contact developmentavalonsoccerclub@gmail.com
A Family focused community club
Avalon Soccer Club is a friendly, community focused and family club environment. Despite the challenges of 3 years of COVID, and weather related disruption, in 2022 the club had over 1200 registered players aged from 5 to 70, across over 90 teams, all playing the beautiful game at a variety of levels, ably supported by a group of highly dedicated volunteers. In 2022 the club celebrated the 40th anniversary of the amalgamation of the Avalon Junior and Senior Clubs.

The home ground is situated at Careel Bay in North Avalon. Careel Bay provides members with two full size fields and a large dedicated mini-field area to cater for the variety of small sided versions of the game played by our younger players. Avalon are also lucky to have their own clubhouse with a great BBQ and canteen that serves the "best coffee to be found at a football ground anywhere"!!!
Avalon is one of 17 clubs playing in games and competitions organised by the Manly Warringah Football Association.
Their dedication to player development has led to some great success in recent seasons and they look to build on this for the future. The club's aim is to ensure all local players can experience quality programs run by the club, and develop their football, right here at Careel Bay.
In 2022 the club achieved some tremendous on-field results with 18 Semi Finalists, 10 Grand Finalists and 5 Grand Final Winners. Well done to everyone. Avalon also had 3 teams who were crowned 2022 League Champions, the W12/1, U16/2s and O45/3s.
The 2023 Season will once again bring together over 1000 players and their families as one community working together to enjoy their sport and support their players. No wonder the sun seems to shine even when it's raining over Careel Bay playing fields, there's so much positive energy coming out of the place.
Go Avalon!