October 16 - 22, 2022: Issue 558
Newport SLSC Athletes Excel In The 21st Coolangatta Gold Festival: Conner Maggs Wins Open – Jemma Smith Wins Inaugural Downwind Paddle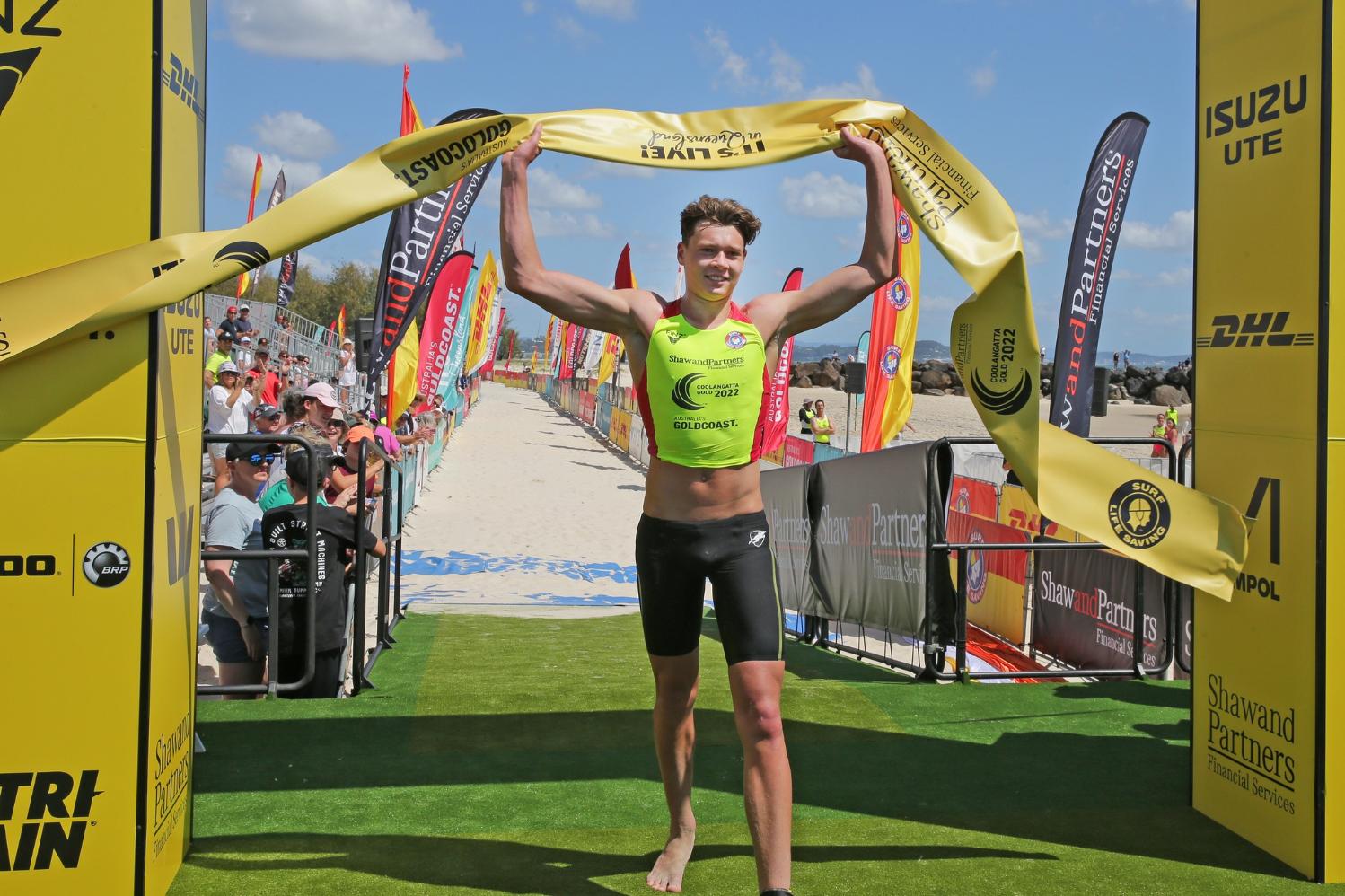 Newport SLSC's Conner Maggs Wins!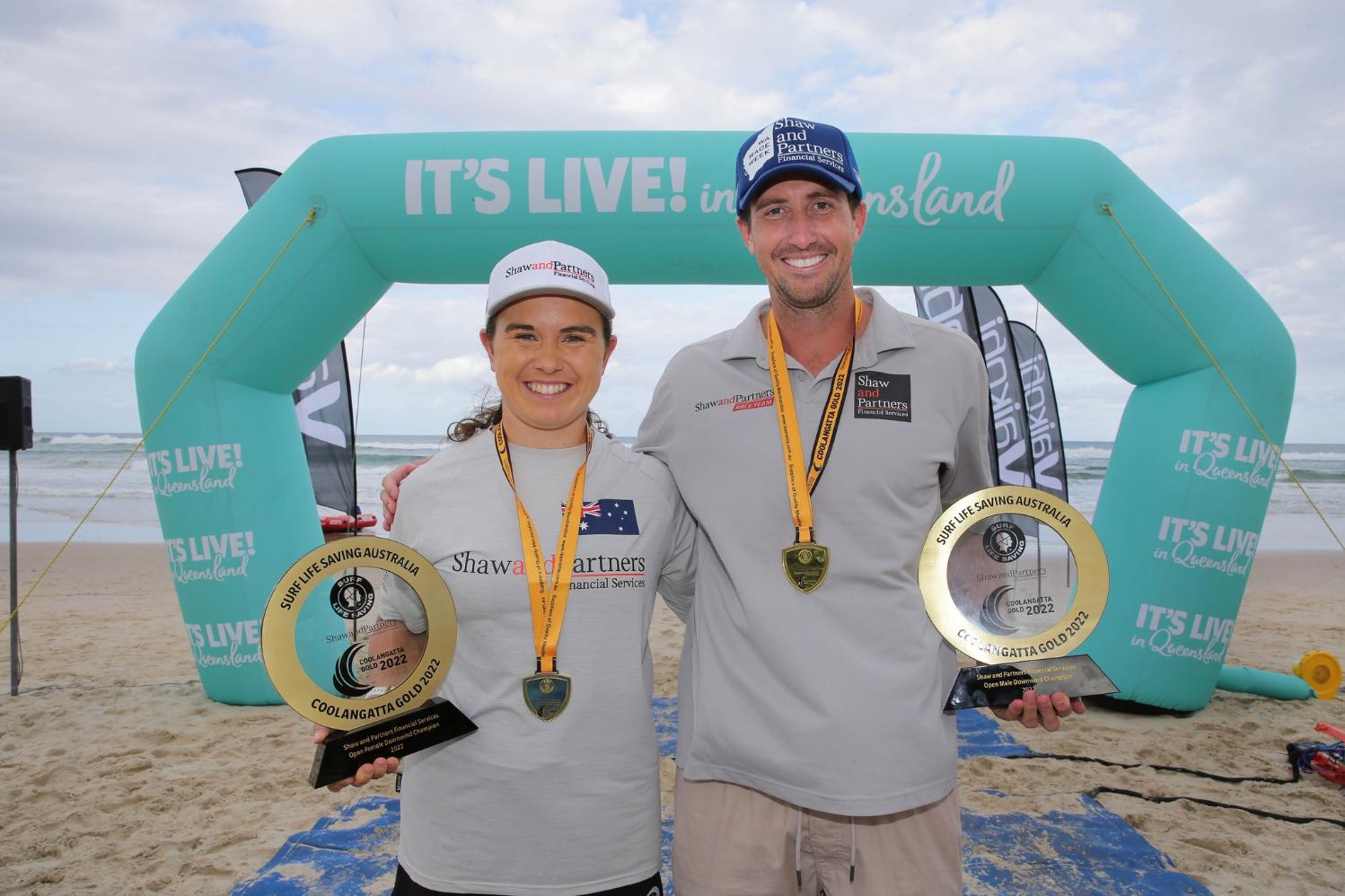 Newport SLSC's Jemma Smith Wins! -
Photos:
Harvpix
/ SLSA
Yesterday, October 15th, was day one of the iconic 2022 Coolangatta Gold festival and saw over 800 competitors take part in the Short Course Ironman and Ironwoman (U19s, Opens, Masters and Team categories), along with the Youth Challenge and this year, the inaugural Downwind Paddle on the Gold Coast, Queensland.
Organised through Surf Life Saving Australia, the Coolangatta Gold for many is the starter gun sounded for what will come over the surf life saving and surf sports and surf fun season. However, this is essentially a family and team-focused event, with ages and mates all coming together to take part. Although this began as the central theme for the1984 film, the event now commands a central place on Australia's annual calendar of prestigious sporting events - everyone wants to take part, at least once.
The Coolangatta Gold consists of a 21 kilometre Short Course and a 41.8 kilometre Long Course race and a Youth Challenge for competitors aged 10-16. The multi-disciplinary course combines swimming, running, board paddling and surf skiing.
In 2022 the Coolangatta Gold celebrates its 21st running, and thanks to the hard work of SLSA, has cemented its place on the world and local stage. Although renowned for being one of the most challenging endurance races in surf sports, what the Coolangatta Gold produces in the individuals who take part is persistence, and through that, a sense of their own 'coming of age', even if they first take part when 50.

What's more, SLSA has worked to immortalise entrants CoolieGold2022 challenge with their official event merchandise - including shirts and towels featuring the names of every competitor.
Shaw and Partners Financial Services has partnered with Surf Life Saving Australia as the naming rights partner of the Coolangatta Gold, adding to their investment in people and community through supporting yet another great sporting event.

Newport SLSC athletes have had resounding success in this 21st edition of the Coolangatta Gold, showing that Newport's March 2014 launched Kinghorn Surf Racing Academy's members are not only striving to be their best but they're also still enjoying the most.

SLSA reports that day one Opens competitors Lucy Derbyshire (Surfers Paradise) and Conner Maggs (Newport) dominated the 21km Short Course which encompassed a 10.5km ski leg, 2km swim, 3km board paddle and finished with a 5.5km swim.
In the Ironman Short Course, it was 17-year-old Conner Maggs from Sydney's Newport Surf Life Saving Club who took out the Open Male.
Arriving on the Gold Coast two weeks ahead of the Shaw and Partners Financial Services Coolangatta Gold, Maggs has spent that time training with Ironman legend Ky Hurst.
"Feels great, I've trained really hard for this with all my teammates back in Newport… coming up here two weeks early to acclimatise and train with Ky Hurst, one of the best in the business, is just a great opportunity. To race and win here is just amazing," Conner said.
Hurst was a handler for Maggs, who benefited from having him paddling alongside during the two-kilometre swim.
"Ky is the greatest surf sports swimmer our sport has ever seen and a two-time Olympian [open water] so… having him there for me was just amazing.
"I had a game plan going in and I thought if it went to plan, I would be able to get the win. But I made a few mistakes in the ski, which just comes with experience. But I knew I had a good swim leg behind me so I just played to my strengths," he added.
Conner crossed first with a time of 02:19:03 followed by Surfers Paradise teammates Tex Dixon (2:22:58) and Ben Highfield (2:24:21).
Lucy Derbyshire, who hails from Glenelg in South Australia, only decided on Friday night to compete in the Short Course, with the 19-year-old hoping her off-season training would be enough to get her across the line.
"Yesterday I did a swim session and then went to the beach and did an iron session and after that I felt like I was missing out [not doing the Gold] so I called up my coach, said I wanted to do it and he thought it was a good idea. So I entered at the last minute," said Derbyshire.
"It was really good to get a win, my main focus during the off season was to train for the Nutri-Grain IronWoman Series trial, but this is just so good to get in a race, have some fun.
Lucy finished with an impressive time of 2:31:55 ahead of Newport 's Emily Doyle (2:32:58) and Piper Harrison (2:35:42).
Newport's Rebecca Capell was also first in her age group (40-49) in the Short Course.

The teams' events were dominated by Cudgen Headland SLSC with the "Backstreet Boyz" taking out the Open Male Teams race, ahead of the "Mackerel and The Goose" (Manly LSC) and "North Curl Curl X" (North Curl Curl) in third.
In the women's event it was first and second to Cugden Headland SLSC with the "Cudgen Chicks" and the "Cudgen Headland Girls" with Mooloolaba's "The Bold and the Beautiful" finishing third.
In the Under17's Team event the Manly Up &Comers placed first, while their fellow members Manly Masters Team, the Muppets (mens) finished 2nd and placed a strong 37th overall, while the Manly Fairy Penguins took 1st in the 140+ female Masters Teams. Go girls!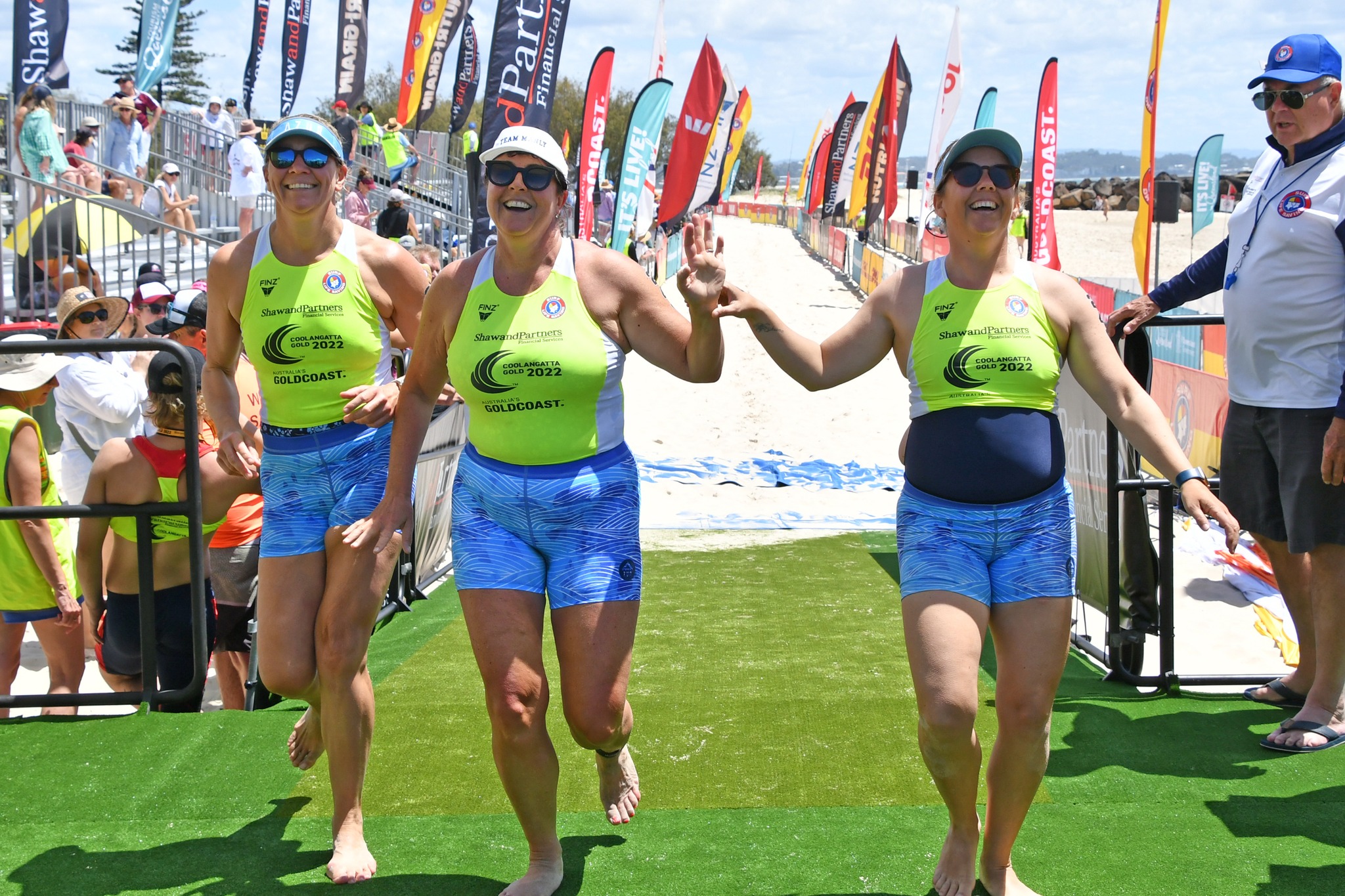 Photo: Harvpix / SLSA

More than 300 competitors and nippers aged between U11 and U17's took part in the 1.75km Youth Challenge.
The final event on the opening day of competition was the inaugural 15km Downwind Ski Paddle event, which featured world class paddlers and Olympians in the line-up and competitors racing on ocean skis, paddle boards and SUPs.
Recently crowned World Ocean Ski Paddle Champion, Jemma Smith (Newport) took out the first ever Open Women's title convincingly with former World Champion Cory Hill taking out the historic Open Men's title.
The action kicks off again from 7.30am this morning, Sunday October 16th.
Lost At Sea: War Veterans Tribute On Mona Vale Headland Formally Dedicated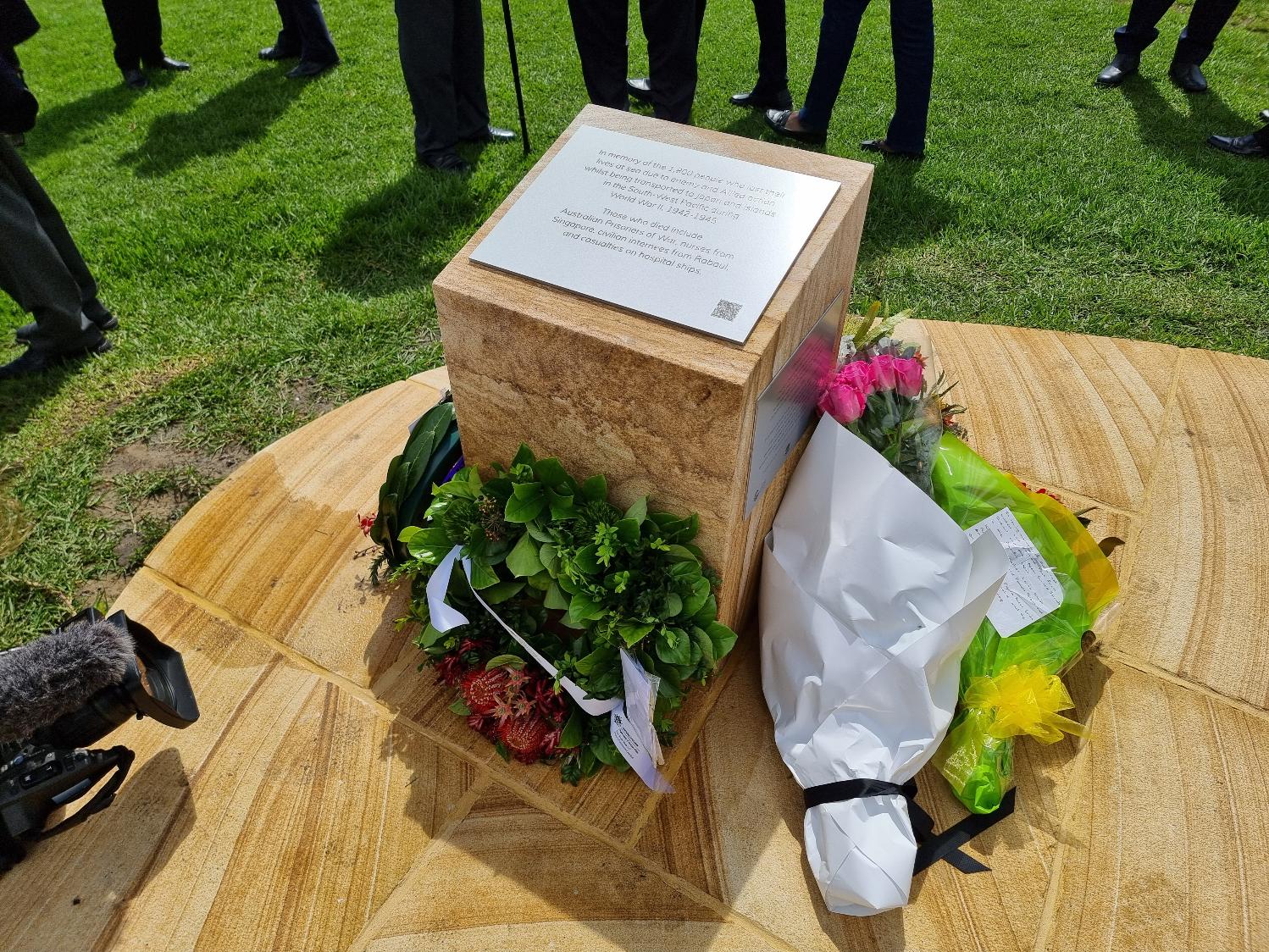 Memorial unveiled at south Mona Vale Headland.
A memorial to commemorate the 1800 service men and women who lost their lives at sea while being transported to Japan and islands in the South West Pacific during World War II has been formally dedicated at Mona Vale's headland (Robert Dunn Reserve). The plinth has a seat alongside it so visitors may sit and reflect on all those lost and all those who serve still.
The memorial is the direct result of Pittwater legend, and one of the last remaining Australian WWII prisoners of war, Walter 'Wal' Williams.
Mr Williams had lobbied for years for a memorial to those who lost their lives at sea and had had numerous conversations with the local Pittwater MP Rob Stokes and been working with the Council, the NSW Government and Pittwater RSL on the location and design of the memorial.
Once he heard earlier this year that the memorial would be unveiled this within months he seemed to relax, and soon after 'Wal' Williams passed away, on June 4th this year at the RSL ANZAC Village at Narrabeen.
Wal was awarded an OAM on 14th June 2021 for his services to the Veteran Community.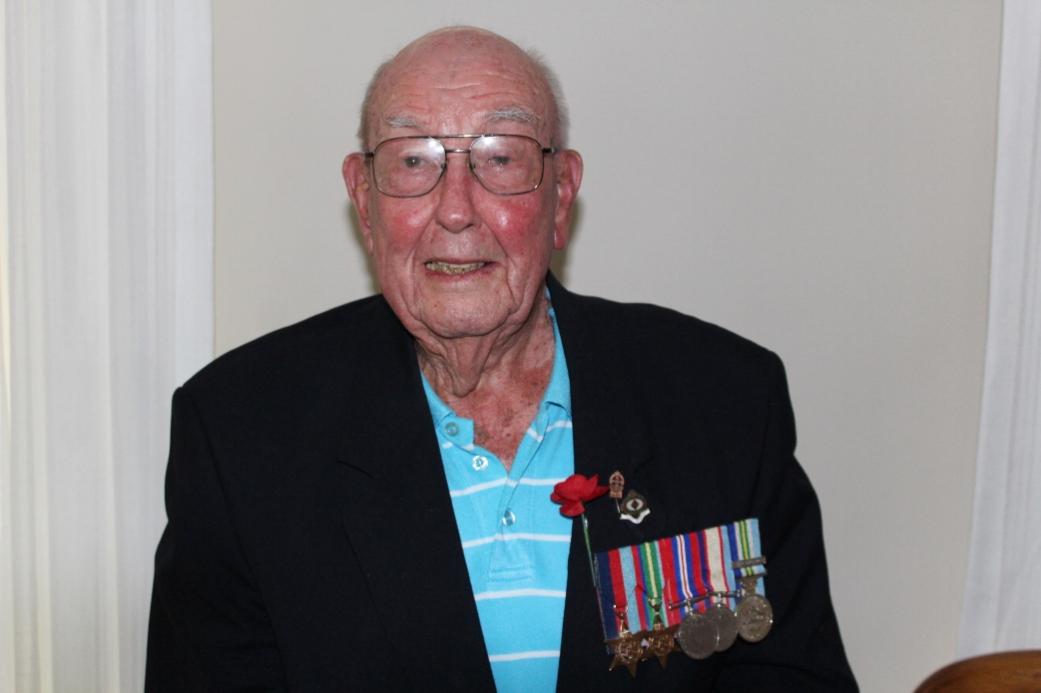 'Wal'. Photo: A J Guesdon.
Following the fall of Singapore in 1942, Mr Williams was among the tens of thousands of Allied soldiers, nurses and civilians taken prisoner by the Japanese. Mr Williams was interned at the notorious Changi prison camp before working along the infamous Burma-Thailand Railway.
While Mr Williams was being transported to Japan in 1944, onboard the Rakuyō Maru, an American submarine fired a torpedo at the Japanese prison ship, unaware of the Allied prisoners onboard.
After treading water for 24 hours and surviving overhead aerial attack, Mr Williams was among a small number of survivors pulled from the water and transported to labour camps in Japan. Mr Williams later survived the Allied firebombings of Tokyo and Yokohama, before finally returning home to Australia in October 1945 – on his 23rd birthday.
Mayor Michael Regan said it's incredibly important to honour these men and women and the sacrifices they made for our country.
"Wal was nothing short of a hero and sadly he will not see the completed memorial, but his legacy will live on.
"I was honoured to have the opportunity to meet Wal and his 99 incredible years on this earth have been inspirational.
"The memorial will be a contemplative space and acknowledges the 1,800 Australian Prisoners of War, Nurses and Civilian Internees who lost their lives at sea in the Pacific between 1942 and 1945, during World War II" Mayor Regan said.
Local Member for Pittwater Rob Stokes said Wal was an inspirational veteran who never sought any special admiration or attention for himself. Rather he was passionate about ensuring those who have served our country, and particularly those who did not survive, are never forgotten.
"Wal was a thoroughly decent, brave and courteous man who represents an amazing generation of Australians.
"Wal has an incredible personal story of sacrifice, courage and resilience – however he never sought any focus or attention on himself. It was always about others and making sure our veterans are never forgotten.
"With this year commemorating the 80th anniversary of the tragic sinking of another Japanese prison ship, the Montevideo Maru, this memorial is a really important way to honour Wal, his wishes, and all those he served with." Mr Stokes said.
The north facing memorial incorporates a park bench and sandstone plinth and acknowledgement plaque set on a sandstone surround.
The plaque includes a QR code providing more information on the story and history behind the memorial.
The memorial was unveiled by Minister for Infrastructure, Rob Stokes and Minister for Veterans, David Elliott on Friday October 14th.
As part of the dedication ceremony Mona Vale SLSC provided a surf boat crew which scattered multiple bunches of white Dahlias into the ocean around them. They all then raised their oars for a minute in tribute. Back on the headland this was followed by the Ode of Remembrance, the Last Post and the Reveille.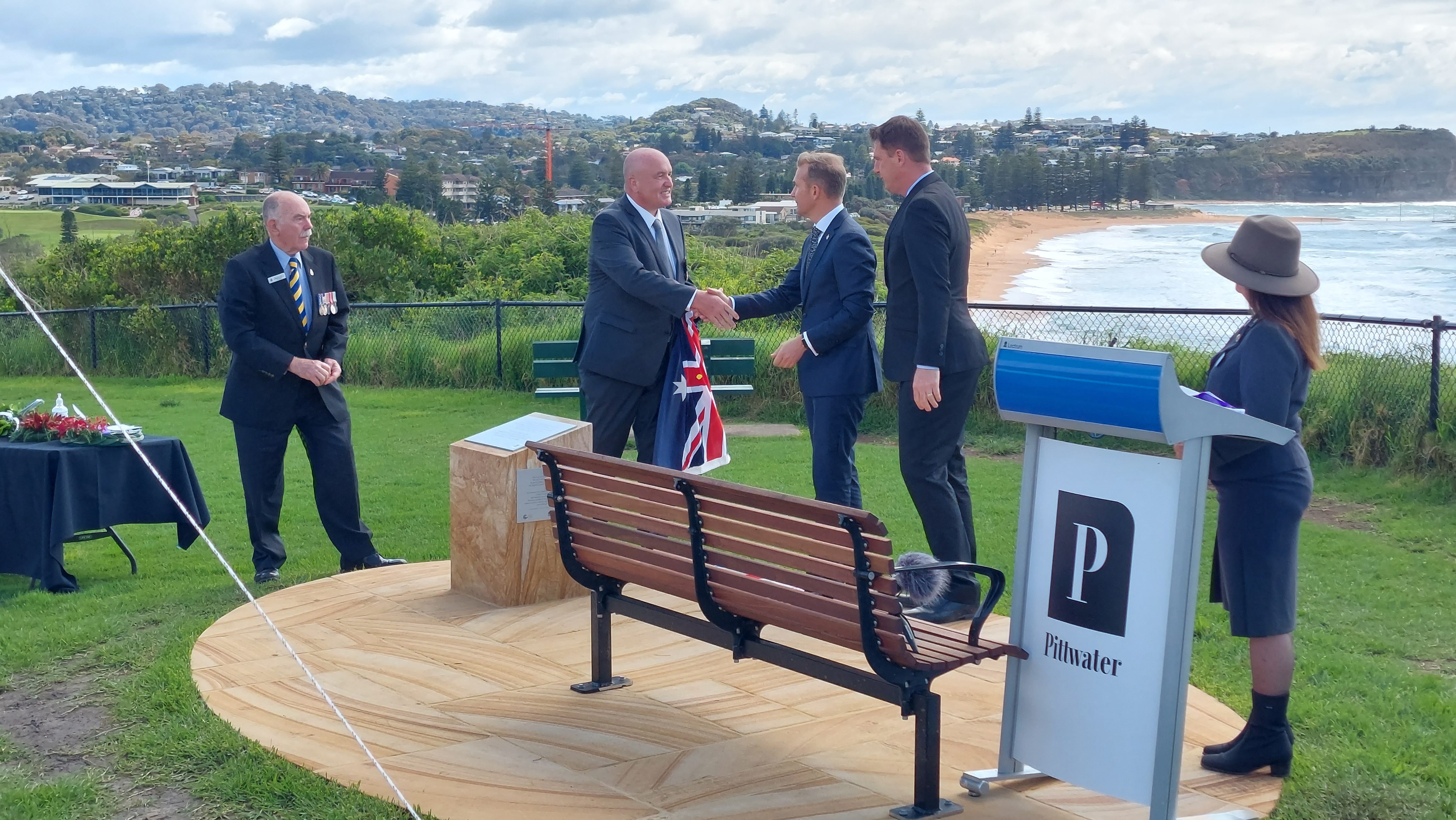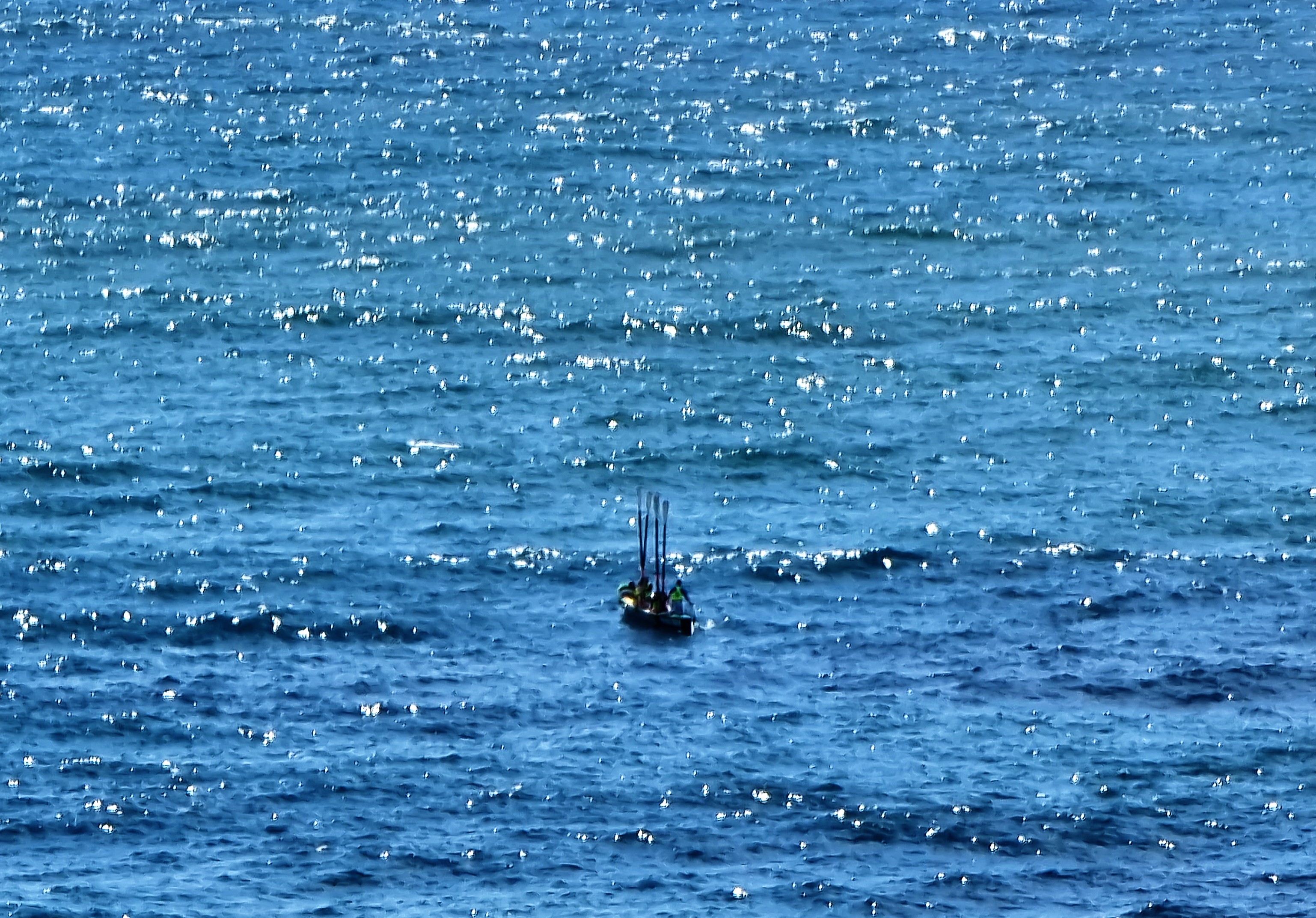 The dedication ceremony, held on Friday October 14th, was led by Deborah Carter, President of the Pittwater RSL Sub-Branch and attended by Ray James OAM (NSW RSL State President) and Pauline James OAM (State Coordinator of RSL Auxiliaries), The Hon. Bronwyn Bishop AO (Affiliate Member of Avalon RSL Sub-Branch), Bob Lunnon, President Northern Beaches RSL District Council, Sandy Howard representing 2/19 Btn., Jason Manning, CEO Pittwater RSL Club Ltd., Leigh Arnold, President Pittwater RSL Club Ltd., Neil Williams, son of the late Wal Williams OAM, Neil's wife, Doris, Wal's two grandsons, Robert and Nicholas, and Nicholas' wife Thea, Michelle Fraser, Author of Wal's Memoirs, Chaplain Wes Brown (RFS Chaplain), Eliza Barrell (RN at RSL War Vets Village who looked after Wal) and Alex Barrell (NSW Marine Rescue Deputy Commissioner), Cr. Rory Amon, Northern Beaches Council (Affiliate Member of Pittwater RSL Sub-Branch). Apologies from Andrea Williams, Montevideo Association, who was represented by Rod Miller and Kylie Adams-Collier (whose Grandfather was on the Montevideo Maru). Adelaide Channon was Bugler.
The project was made possible thanks to funding assistance from the NSW Government and Northern Beaches Council.
Wal's Profile from a few years ago runs this Issue so you may hear his story in his own words, along with the Tribute given by the Hon. Rob Stokes, MP for Pittwater, earlier in 2022.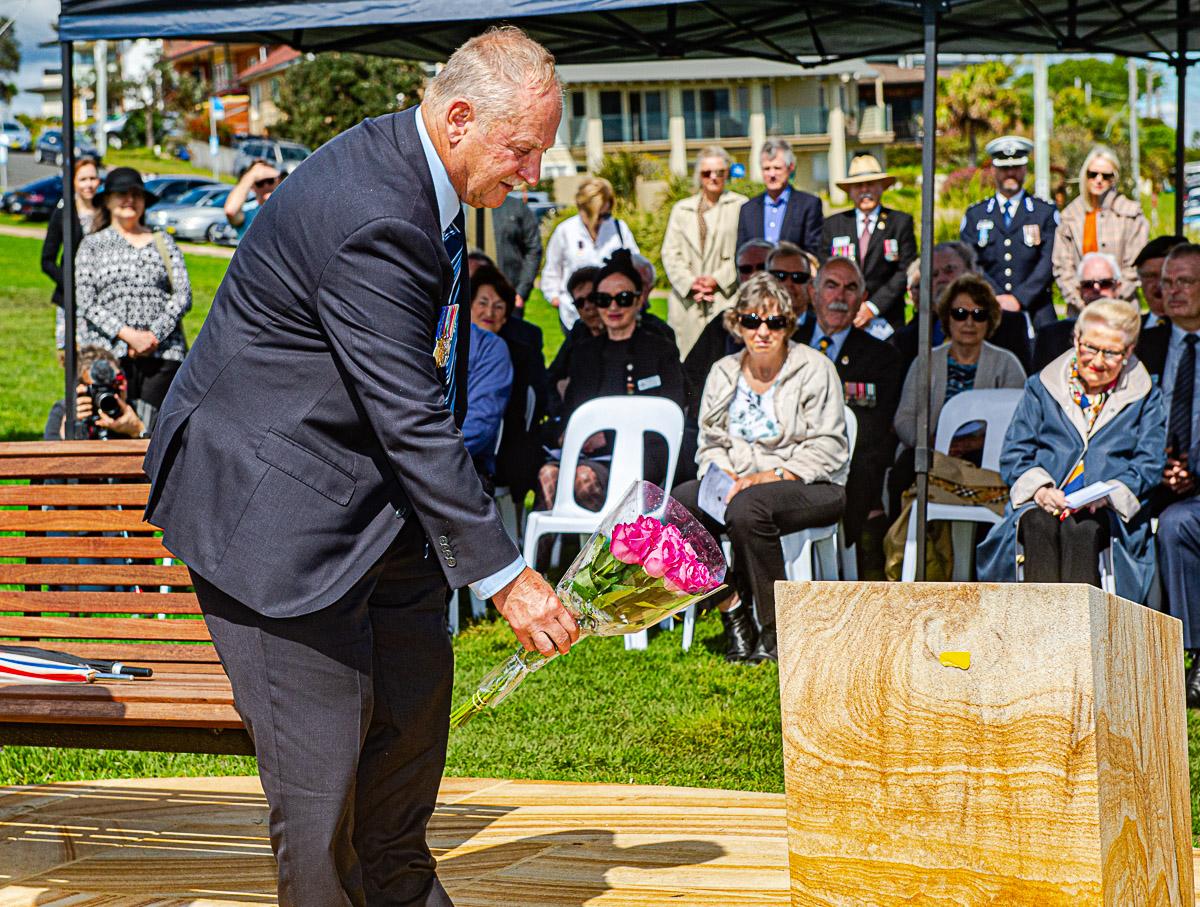 Photo: Michael Mannington OAM
Pittwater Demerger Campaigners Join Town Hall Rally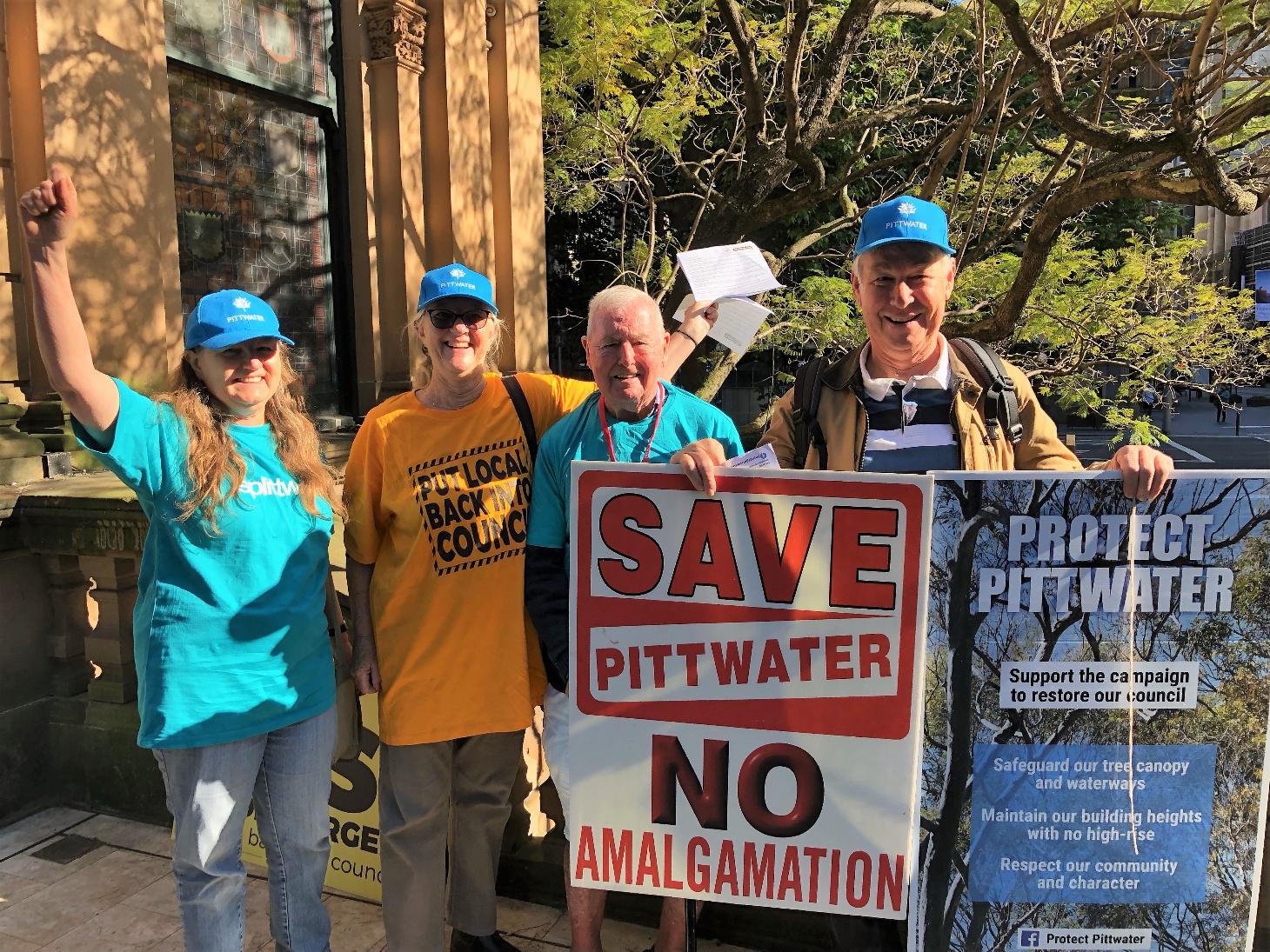 Pittwater council demerger campaigners joined a rally outside the NSW Labor conference at the Sydney Town Hall yesterday, to encourage delegates to stick with their current policy supporting binding plebiscites in amalgamated council areas.
The rally attracted about 50 residents from around the state, including members of the statewide Demerge NSW Alliance (DNA) from as far afield as Bombala and the Central Coast as well as Pittwater. A big contingent from Sydney's Inner West, whose population voted for a demerger in a poll at the December council elections, also joined the gathering.
DNA is a collective of groups and individuals seeking to give their community a voice on the forced council mergers of 2016.
While Labor delegates, many wearing red T-shirts, shirts or even suits, climbed the Town Hall steps, those at the rally displayed banners from multiple demerger campaigns, handed the delegates flyers and chatting to them about the issues.
These include the loss of democracy in the council amalgamations, (eg with councillors from outside the former Pittwater Council area being able to outvote its councillors on any issue), and other ongoing problems such as significant rate rises - in some councils these have increased by more than 100 per cent.
Labor members could not have missed the message - we hope they take it to heart!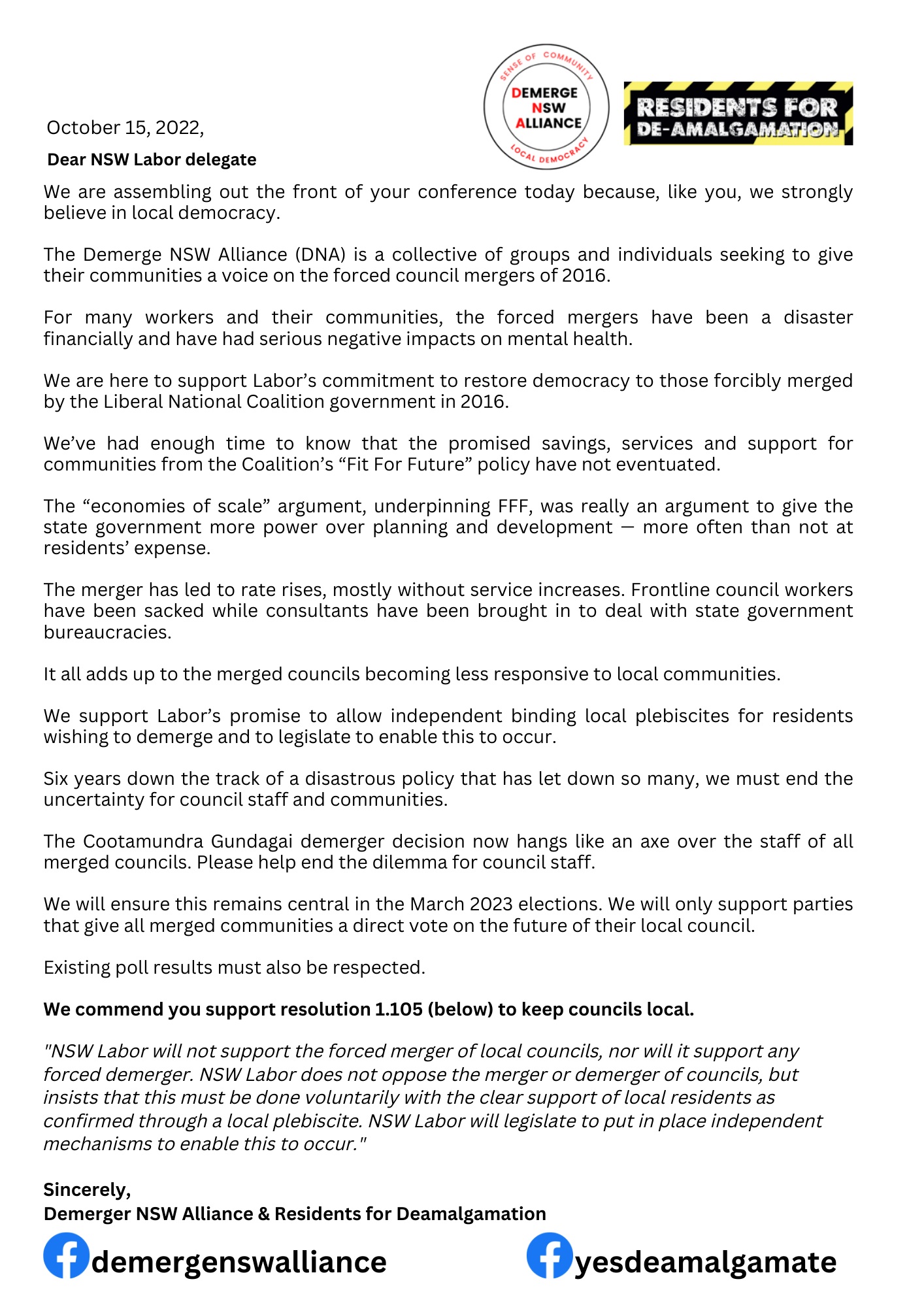 Copy of the letter handed to delegates to the 2022 Labor Conference being held in Sydney's' Town Hall
The Council demerger campaigners from across the state urged delegates to retain and strengthen the party's policy on council amalgamations.
The Demerge NSW Alliance (DNA) coordinator Grantley Ingram said the group supports Labor's current policy to allow independent binding local plebiscites for local residents wishing to demerge and to legislate to enable this to occur.
The gathering is a show of support for that policy, Mr Ingram said.
"Labor opposed the forcible amalgamation of councils. With massive rate hikes and downgraded services impacting residents, we expect Labor to now stand by its commitment and restore democracy to those councils forcibly merged by the Liberal National Coalition government in 2016."
The recent Cootamundra-Gundagai demerger approval has reignited the debate across NSW about the future of every merged council.
"The Gundagai demerger approval now hangs like an axe over the head of every council worker," Mr Ingram said, adding: "We must act quickly to end the uncertainty around their futures."
DNA representatives will be meeting with a number of MPs this week to present a log of claims in the lead-up to the March 2023 election.
Meetings have been arranged with the NSW Greens, One Nation, Shooters Fishers and Farmers and key independents.
DNA is dedicated to bring about change to the law so that local government ministers are required to demerge a council where the majority of residents want it.
"If there is a single issue the NSW crossbench is united on, it is to allow residents to make the call on council demergers," Save Our Councils Coalition Deputy President Ms Sue Young said.
'We're not going away!' the campaigners chanted in between handing out the letter.
Swift Parrots Sighted At Newport Spring Festival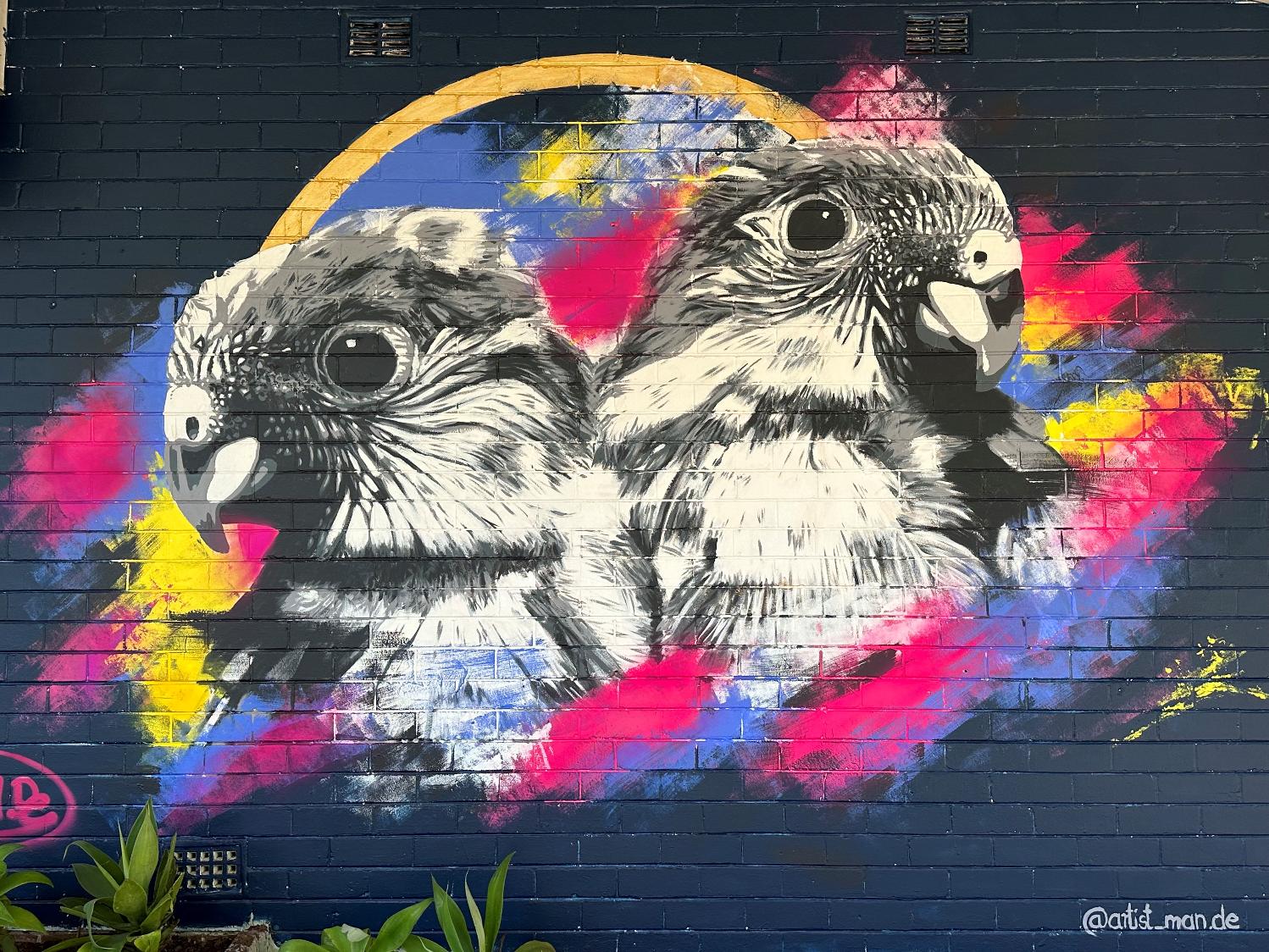 A new mural featuring endangered Swift Parrots formed a beautiful centrepiece at the bustling Newport Spring Celebrations on Robertson Road yesterday.
The mural, painted over two days this week by Katoomba based street artist Mandy Schoene-Salter, who works under the name Man.de, graces the wall of the building on the corner of Barrenjoey Road and Robertson Road.
As she put the final touches to the artwork yesterday afternoon, Man.de said her murals were inspired by native flora and fauna.
"I paint and draw the ones that are on the endangered species list to draw attention to them," she told Pittwater Online News.
Once she had been selected by Northern Beaches Council to create the work, she had gone onto the council website to research wildlife in the area and settled on the Swift Parrot.
The website reveals the colourful bird lives predominantly in Tasmania but visits the Northern Beaches during winter, where it feeds on flowering eucalypts and lerps.
Man.de said she works from photographs but in her own distinctive style, painting the central image in black and white surrounded by splashes of colour as contrast - although she paints wildflowers in colour only.
With walls as her canvas, she uses house paints with some spray paints for "pops of colour".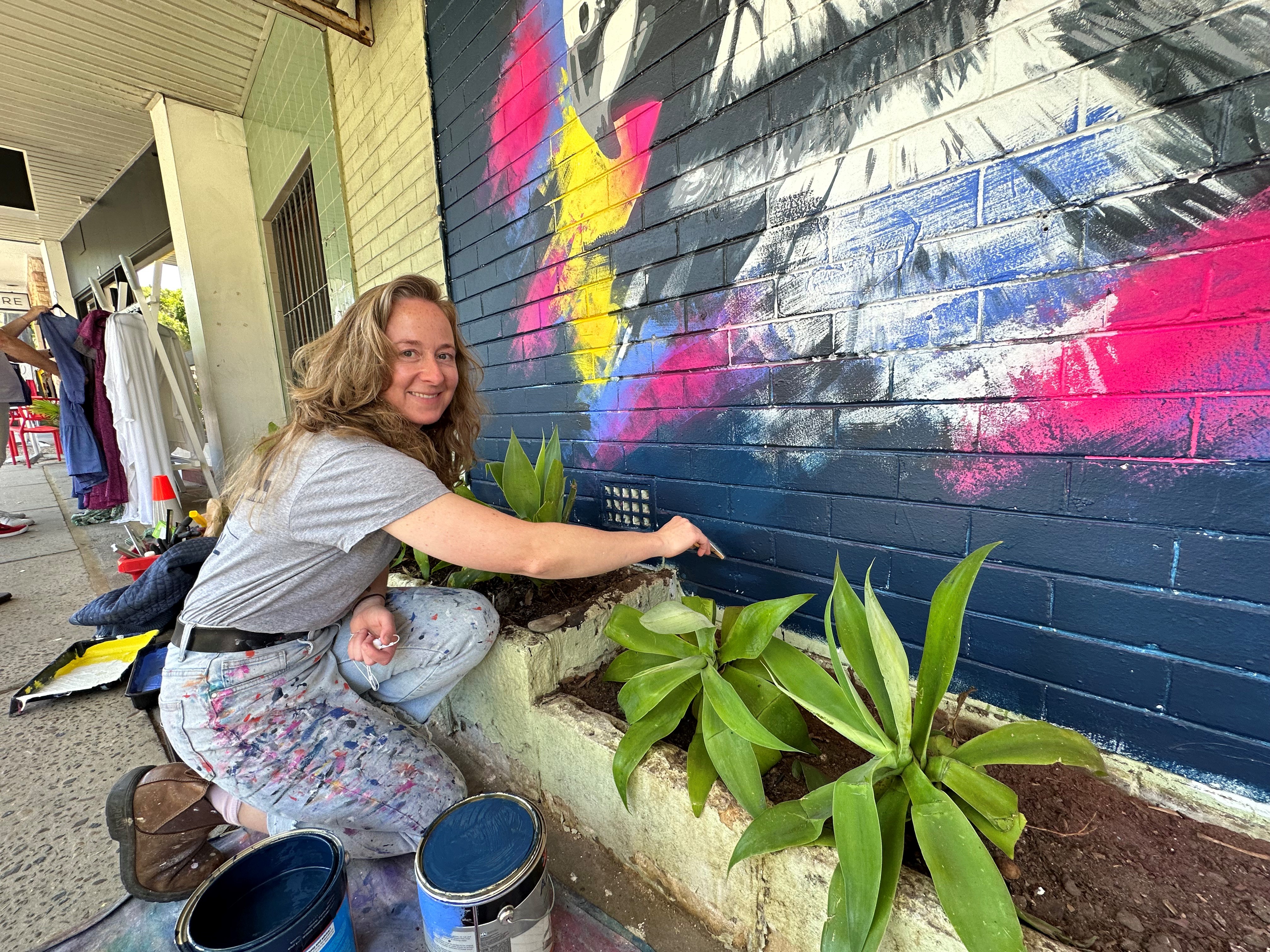 She's philosophical about the temporary nature of the work, which is likely to disappear when an approved development with shop-top housing goes ahead.
"I don't mind because street art has an ephemeral feel to it," she said.
"Once it's painted it's up to the community what happens to it."
The Northern Beaches have played a significant part in Man.de's career. Although she began with introductory painting courses at TAFE, she's largely self-taught and her first public works were "paste ups" outside Manly Art Gallery and Museum.
Then in 2015, at the Avalon Art Carnival, she contributed more paste ups.
"They had an an artist from New York who did a workshop and we had to activate Avalon," she said.
"That sparked it all for me," she said.
Man.de commented on the friendliness of Newport residents over the two days that she was painting. That congenial atmosphere was apparent throughout Newport on the day of the festival.
Robertson Road was closed from 7am to 7pm, with residents and visitors crowding into shops, many with produce flowing onto the street, some offering food and wine tastings.
Many people sat outside cafes and on seating in the street, listening to live music and enjoying the sun, while kids watched a man with a giant wand spreading iridescent bubbles above the crowds.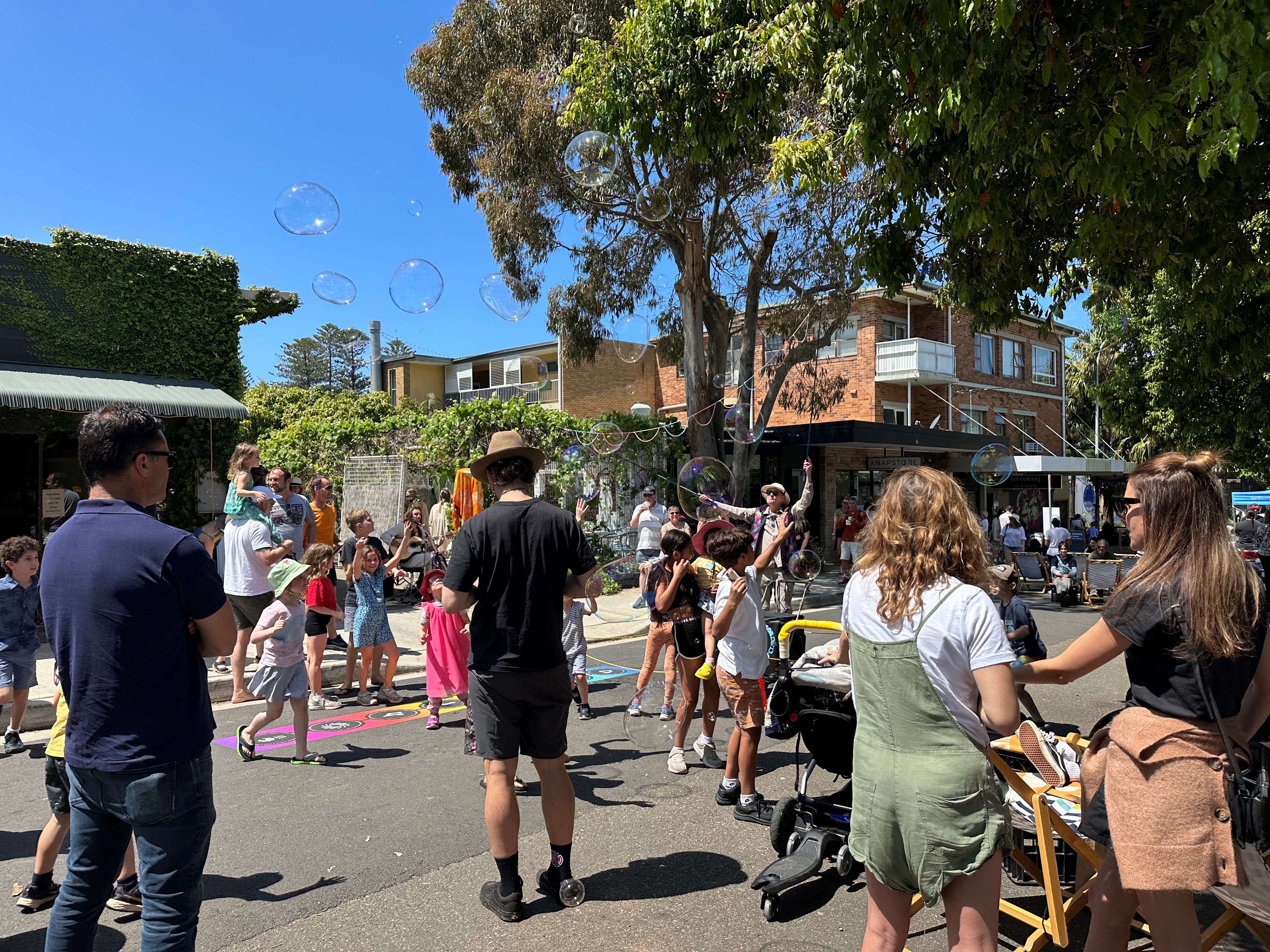 Council officers handed out free native plants, while Terrey Hills Aboriginal run nursery Bush to Beach was in the laneway selling endemic plants.
Shop owners told me they had been busy all day and the event had gone beyond their expectations.
Miranda Korzy, Pittwater Greens Councillor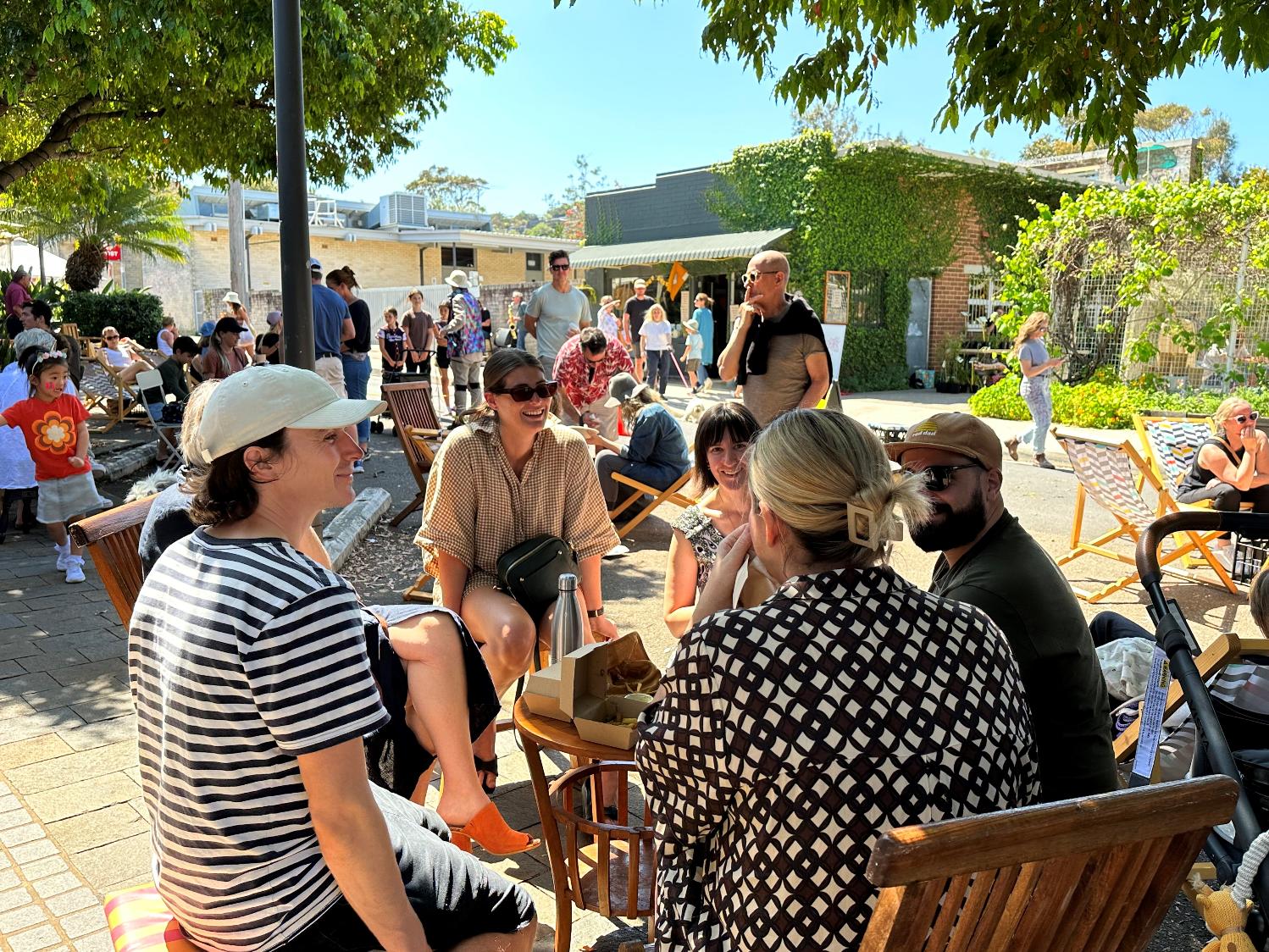 Photos this report: Miranda Korzy.
Local Students To Shine As Featured Artists In 2022 Schools Spectacular: 'Creating The Magic'!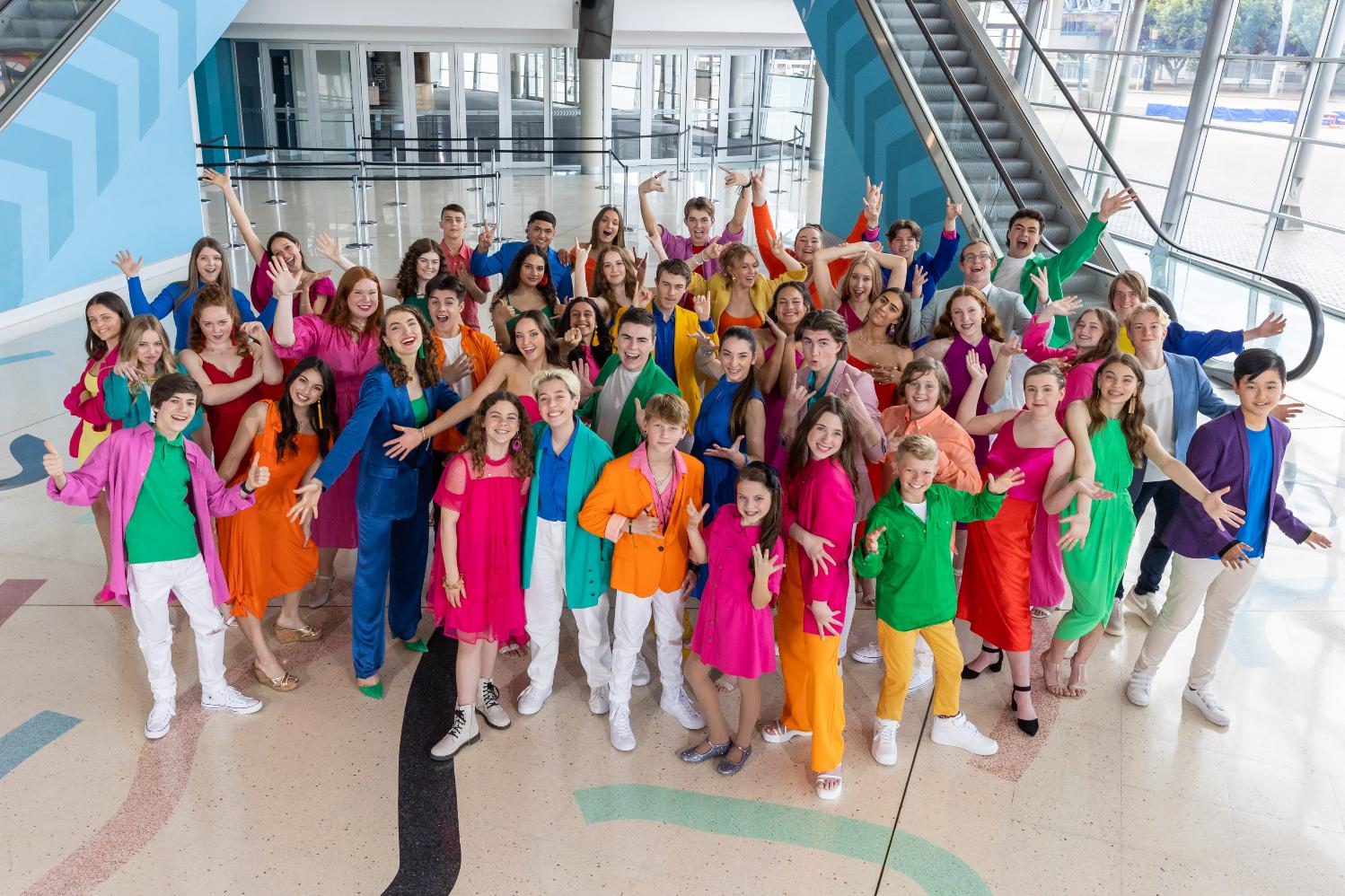 2022 Schools Spectacular Featured Artists
The 46 Featured Artists for this year's Schools Spectacular, 'Creating the Magic', have been announced and have started rehearsals for the Spec shows at Qudos Bank Arena in November. This includes local students Maddie Stead from Narrabeen and Billy Lowe from Beacon Hill. Billy is also the youngest of the Featured Artists in this year's Schools Spectacular.
Schools Spectacular Creative Director Sonja Sjolander said the young stars from NSW public schools created a buzz when they recently came together as a group for the first time.
"The excitement and anticipation among our young artists was absolutely palpable. They were bursting with energy and pride, and there is already much camaraderie between them," Ms Sjolander said.
Schools Spectacular is the largest variety event in the world and showcases the creative talents of NSW public school students. It is produced by the Arts Unit at the NSW Department of Education.
The Featured Artists range in age from 10 to 18 and will perform as singers, dancers and musicians alongside a 2,100-voice choir, 2,200 dancers, a 100-piece symphony orchestra, stage bands, a signing choir, specialist ensembles and vocational education and training crews. More than 600 teachers and school staff are involved in the coordination and rehearsals of the School Spec extravaganza.
The young stars come from all parts of NSW, including Abbotsford, Annandale, Beacon Hill, Beecroft, Bourkelands, Braefield, Bungendore, Burraneer Bay, Candelo, Carlingford, Earlwood, East Corrimal, East Maitland, Edensor Park, Grafton, Hamilton South, Harrington Park, Heathcote, Hornsby, Kurraba Point, Lane Cove, Lindfield, Long Jetty, Maraylya, Narrabeen, Penrith, Sapphire Beach, Shell Cove, Springwood, Strathfield South, Tallawong, Turramurra, Winmalee and Yass.
"These incredibly talented young people can't wait to perform in front of a large arena audience," Ms Sjolander said.
"For many of them, it's their first time stepping into the spotlight after the challenges of the past few years. A lot of work will be done to support them with their wellbeing and their confidence as well as their artistry. It will be a big moment for them".
All up 19 local schools are participating in the 2022 Schools Spectacular. Now in its 39th year, the Schools Spectacular is Australia's longest-running annual arena variety show. It's exciting this showcase will be back at the Qudos Bank Arena after two years of cancellations due to Covid can return to being live on stage.
With a 2022 theme of 'Creating the Magic', this remarkable annual event celebrates youth, education, culture, diversity and young Australian talent and will feature over 5,000 students from across New South Wales public schools.
This week a few insights from, about and by Maddie and Billy, Featured Artists!
MADDIE STEAD
School: Northern Beaches Secondary College Freshwater Senior Campus
Year: 12
For the last four years I have had the incredible opportunity to share my music with the community while getting paid by busking and performing gigs at various locations around the Northern Beaches and wider Sydney. Busking has had a profound impact on my development of personal musical style and performance, whilst building up a massive amount of resilience within my musical journey. Busking has shown me that people love music and has allowed me to connect with so many different and wonderful people.
I've been singing and playing piano at church since I was 7, which has immensely shaped my love for music. It's where I first saw the joy and connection music can bring. My mum is one of the main reasons for this. Whenever I watched her sing, I could see how deeply she felt about the words she was saying, and how she could share that feeling with others through her voice.
My parents have always been an incredible support system for me, driving me (sometimes for hours) to gigs, auditions, camps, performances and any opportunities that would allow me to develop and share my voice. When I was younger I used to do dance lessons, but I was always a singer. I still remember being sent to the back of the room in the middle of my jazz dance to 'Firework' by Katy Perry, because I was singing when I was supposed to be dancing. So naturally my parents decided to put me into musical theatre classes so that I could sing and dance without getting into trouble. I still love dance and the art of performance in any form, being part of ballet, jazz, hip-hop, character, and musical theatre dance classes has taught me the importance of putting on a show when performing, it showed me that you don't have to sing in order to connect to an audience.
Being part of school bands from year 3-10 playing the alto saxophone has also been an incredible experience. I would hear songs naturally progress, improving week by week, eventually into a masterpiece that would give me goosebumps as I played. This showed me the power and importance of dedication, passion and practice in crafting an emotionally moving performance.
Previous involvement in Schools Spectacular?
Yes In 2017, 2018 and 2019 I was part of the mass choir.
How do you feel about being involved in Schools Spectacular 2022?
I am so excited and honoured to have the opportunity to be a Featured Artist in School Spectacular 2022, Not only to perform in front of so many people, but also for the incredible learning experiences and friendships that this opportunity will bring.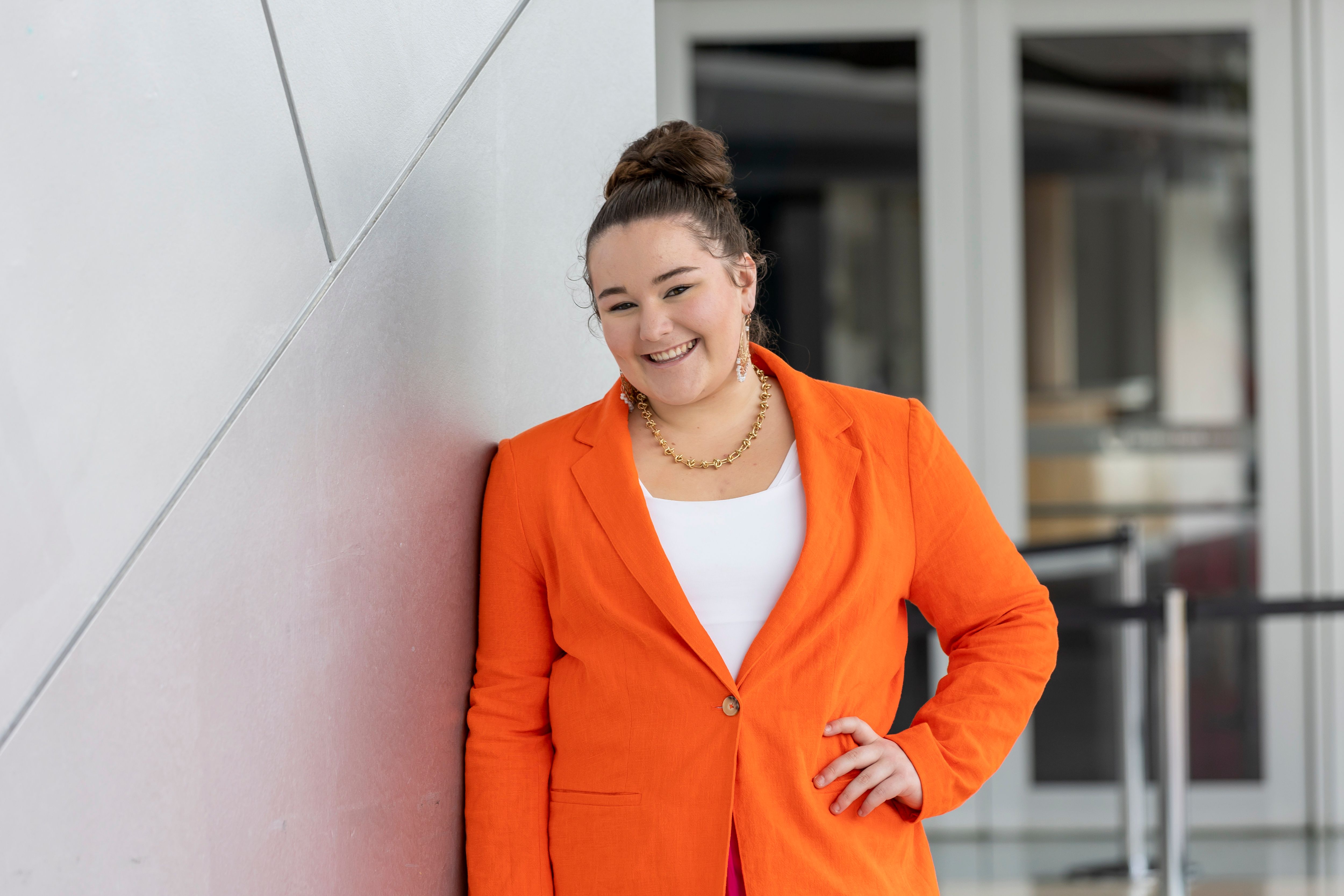 Maddie Stead
BILLY LOWE
School: Beacon Hill Public School
Year: 6
Performer biography:
Billy Lowe is a Year 6 student and Captain at Beacon Hill Public School on the Northern Beaches of Sydney. He has a big love of singing and music in general, playing piano since the age of 6, along with trombone in his school band. Billy has had considerable success with sport like touch, rugby, soccer and athletics but has recently had an opportunity to develop his passion for singing, which has led him to the stage of School Spectacular. He can't wait to join with the hundreds of performers in November to share some magic and celebrate the return of performing arts and audiences into schools.
Any shows you have performed in recently?
Arts Alive Choral Festival - Sydney Town Hall - Burrendong Concert - Tues 9th - solo - Giants in the Sky, Sydney North Dance Festival - Glen St Theatre - Beacon Hill Public, Beacon Hill Public School Arts Showcase - 6 band performances + Snr Dance.
School involvement including extra-curricular activities, sports, debating, leadership, academic etc.:
School Captain, Sydney North PSSA Touch team (captain), Syd Nth cross-country championships, Syd Nth rugby championships, Syd Nth athletics championships, Premiers Debating Challenge team, school bball team, school Eagle Tag in weekly PSSA comp (summer), school Rugby League team in weekly PSSA comp (winter).
Any hobbies, activities of interest or special skills?
Billy keeps himself pretty occupied with music/singing and sport (outside of school; Touch, Soccer, Rugby Union).
What does our theme 'Creating The Magic' mean to you?
We did talk about this and determined that the songs were selected to remind the performers and the audience that there are many kinds of magic and wonder and hope that we can seek, in our minds, in our interactions with others, in looking at the natural world around us, that can help lift us into hoping for more and becoming more. Covid hampered our ability to share our creativity with each other in the usual ways, so we are celebrating being reunited, but Covid also sparked new ways of sharing and forced us to find magic and wonder in the more mundane, so we are celebrating the resilience that a strong imagination provides too.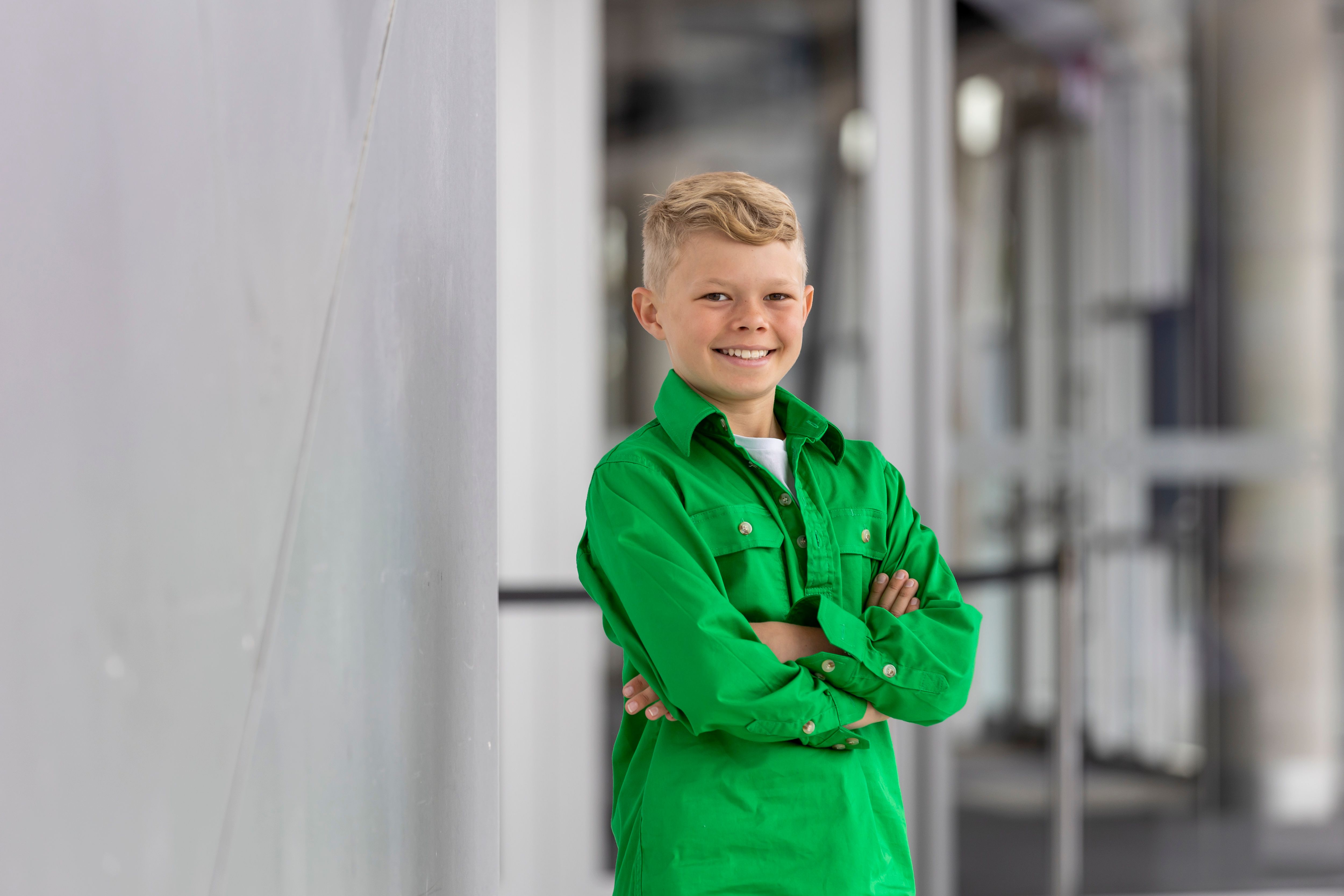 Billy Lowe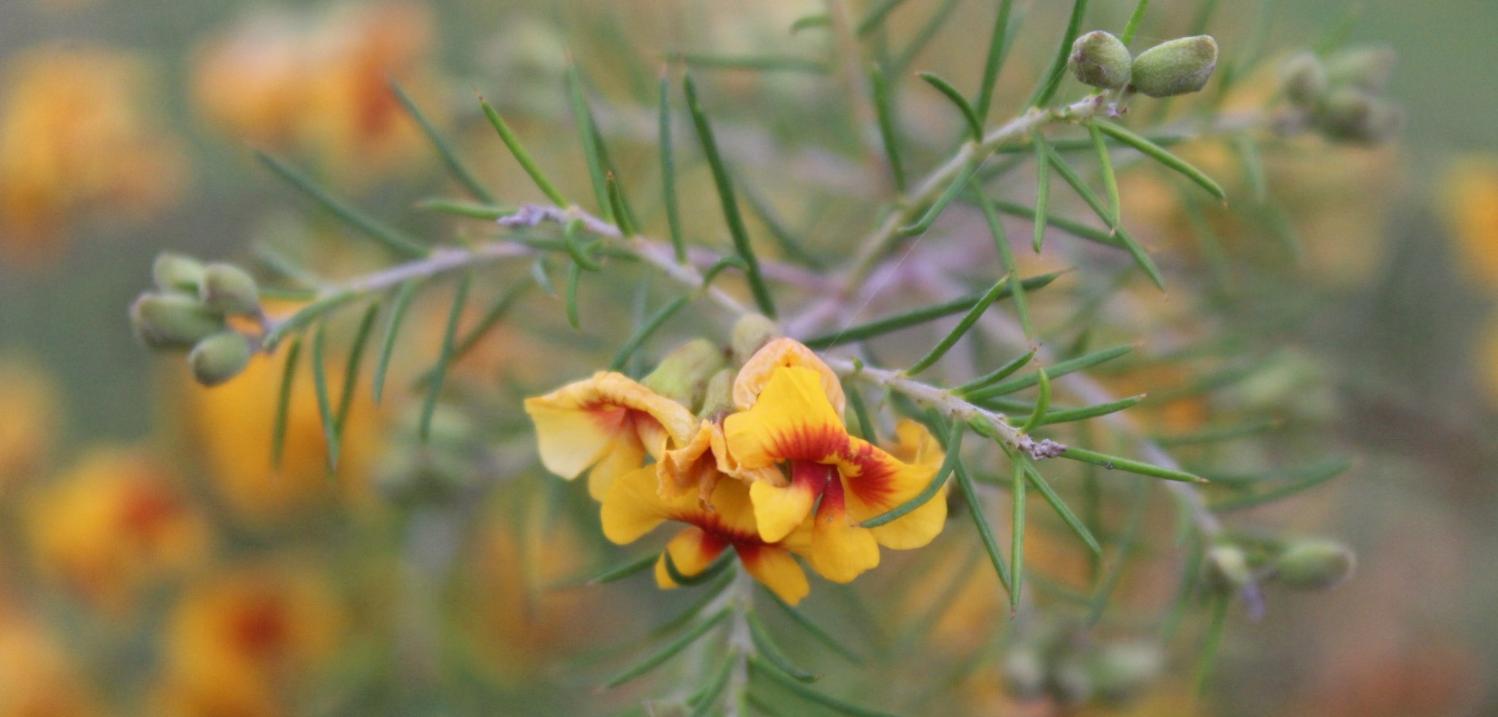 Past Features Archives (pre 2014)
Pittwater Online News was selected for preservation by the State Library of New South Wales and National Library of Australia. This title is scheduled to be re-archived regularly.
Archived Issues (2014 on) may be accessed here: pandora.nla.gov.au/tep/143700