October 16 - 22, 2022: Issue 558
Newport SLSC Athletes excel in the 21st Coolangatta Gold Festival: Conner Maggs Wins Open – Jemma Smith Wins Inaugural Downwind Paddle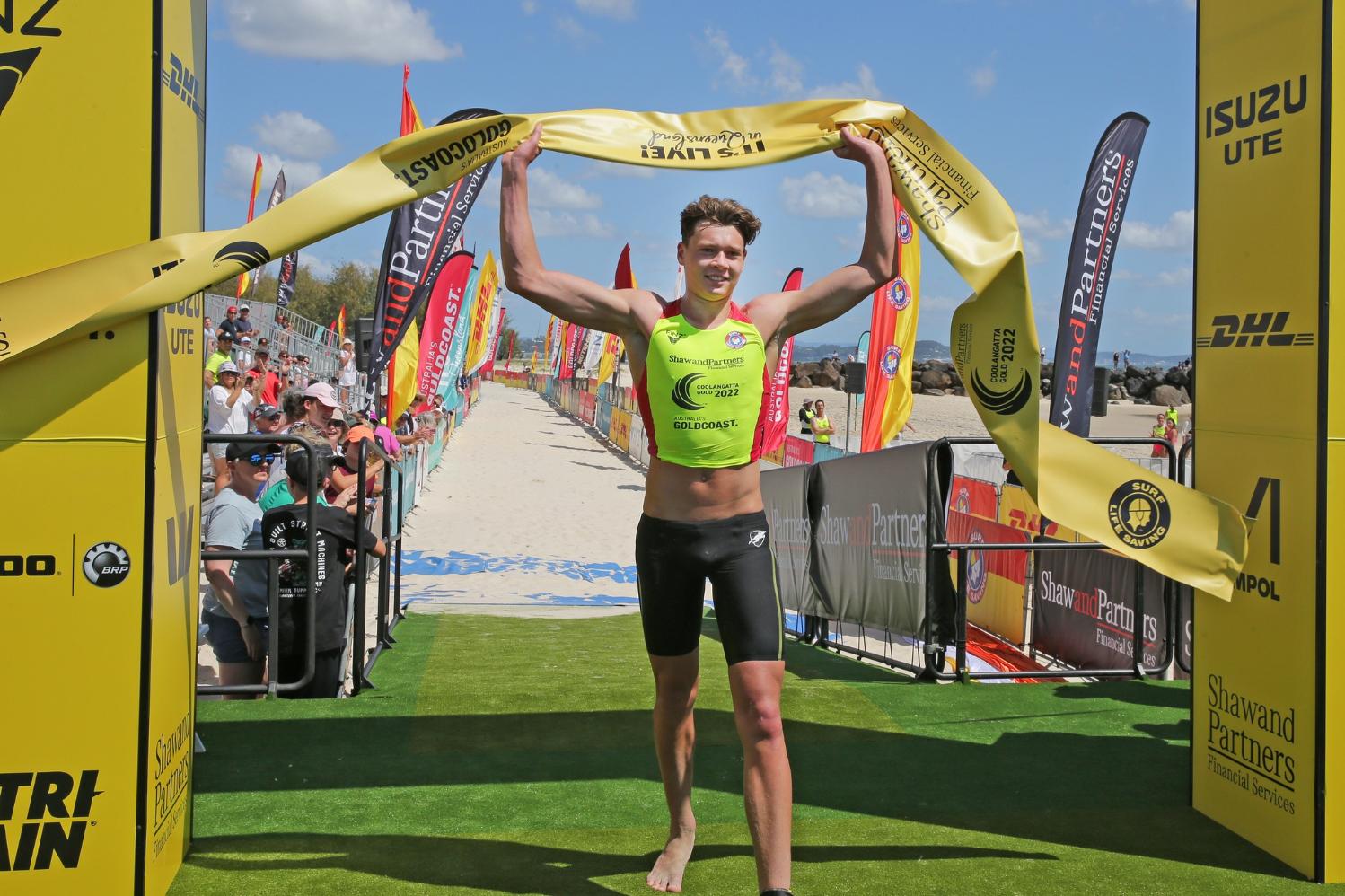 Newport SLSC's Conner Maggs Wins!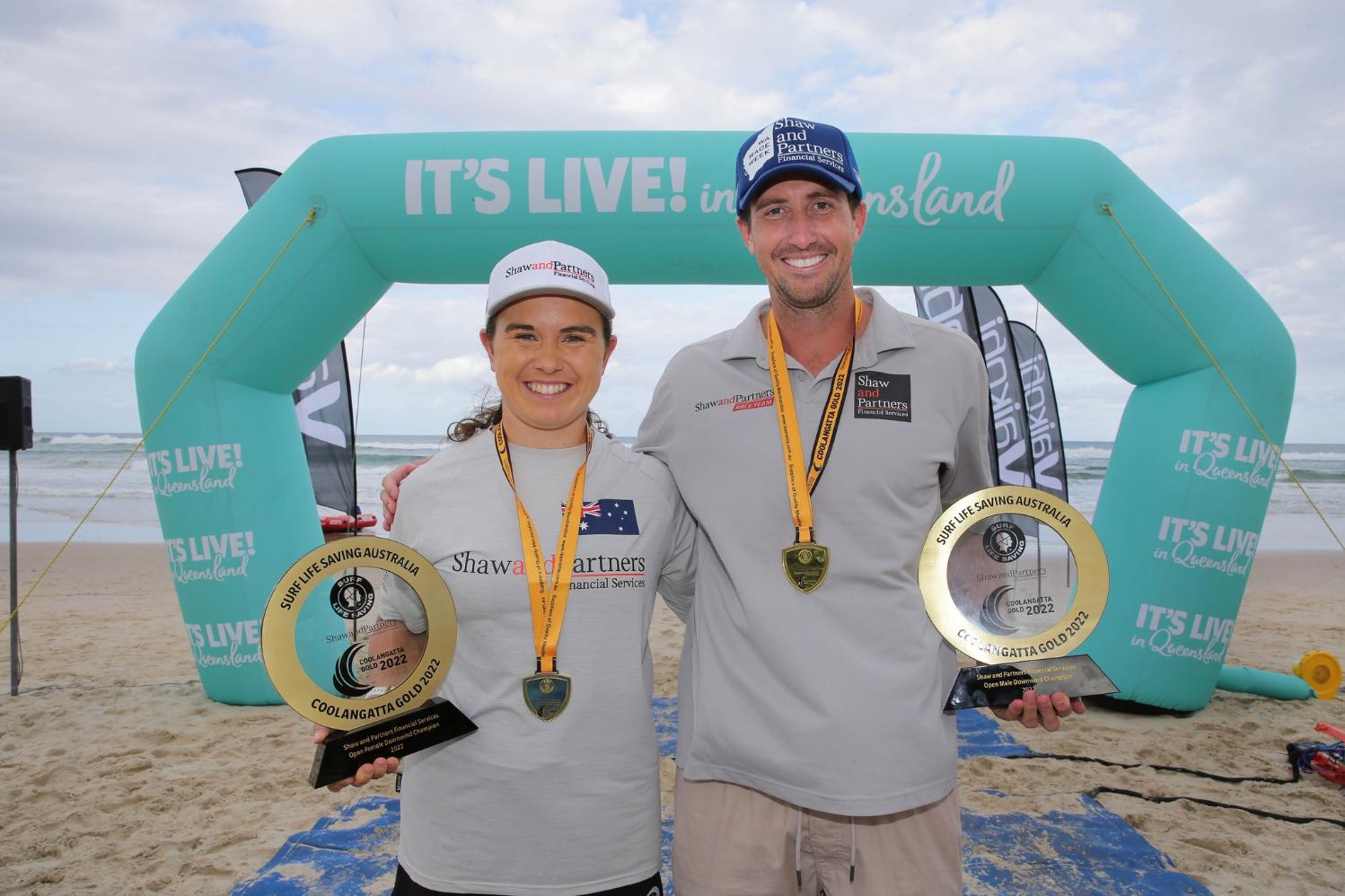 Newport SLSC's Jemma Smith Wins! -
Photos:
Harvpix
/ SLSA
Yesterday, October 15th, was day one of the iconic 2022 Coolangatta Gold festival and saw over 800 competitors take part in the Short Course Ironman and Ironwoman (U19s, Opens, Masters and Team categories), along with the Youth Challenge and this year, the inaugural Downwind Paddle on the Gold Coast, Queensland.
Organised through Surf Life Saving Australia, the Coolangatta Gold for many is the starter gun sounded for what will come over the surf life saving and surf sports and surf fun season. However, this is essentially a family and team-focused event, with ages and mates all coming together to take part. Although this began as the central theme for the1984 film, the event now commands a central place on Australia's annual calendar of prestigious sporting events - everyone wants to take part, at least once.
The Coolangatta Gold consists of a 21 kilometre Short Course and a 41.8 kilometre Long Course race and a Youth Challenge for competitors aged 10-16. The multi-disciplinary course combines swimming, running, board paddling and surf skiing.
In 2022 the Coolangatta Gold celebrates its 21st running, and thanks to the hard work of SLSA, has cemented its place on the world and local stage. Although renowned for being one of the most challenging endurance races in surf sports, what the Coolangatta Gold produces in the individuals who take part is persistence, and through that, a sense of their own 'coming of age', even if they first take part when 50.

What's more, SLSA has worked to immortalise entrants CoolieGold2022 challenge with their official event merchandise - including shirts and towels featuring the names of every competitor.
Shaw and Partners Financial Services has partnered with Surf Life Saving Australia as the naming rights partner of the Coolangatta Gold, adding to their investment in people and community through supporting yet another great sporting event.

Newport SLSC athletes have had resounding success in this 21st edition of the Coolangatta Gold, showing that Newport's March 2014 launched Kinghorn Surf Racing Academy's members are not only striving to be their best but they're also still enjoying the most.

SLSA reports that day one Opens competitors Lucy Derbyshire (Surfers Paradise) and Conner Maggs (Newport) dominated the 21km Short Course which encompassed a 10.5km ski leg, 2km swim, 3km board paddle and finished with a 5.5km swim.
In the Ironman Short Course, it was 17-year-old Conner Maggs from Sydney's Newport Surf Life Saving Club who took out the Open Male.
Arriving on the Gold Coast two weeks ahead of the Shaw and Partners Financial Services Coolangatta Gold, Maggs has spent that time training with Ironman legend Ky Hurst.
"Feels great, I've trained really hard for this with all my teammates back in Newport… coming up here two weeks early to acclimatise and train with Ky Hurst, one of the best in the business, is just a great opportunity. To race and win here is just amazing," Conner said.
Hurst was a handler for Maggs, who benefited from having him paddling alongside during the two-kilometre swim.
"Ky is the greatest surf sports swimmer our sport has ever seen and a two-time Olympian [open water] so… having him there for me was just amazing.
"I had a game plan going in and I thought if it went to plan, I would be able to get the win. But I made a few mistakes in the ski, which just comes with experience. But I knew I had a good swim leg behind me so I just played to my strengths," he added.
Conner crossed first with a time of 02:19:03 followed by Surfers Paradise teammates Tex Dixon (2:22:58) and Ben Highfield (2:24:21).
Lucy Derbyshire, who hails from Glenelg in South Australia, only decided on Friday night to compete in the Short Course, with the 19-year-old hoping her off-season training would be enough to get her across the line.
"Yesterday I did a swim session and then went to the beach and did an iron session and after that I felt like I was missing out [not doing the Gold] so I called up my coach, said I wanted to do it and he thought it was a good idea. So I entered at the last minute," said Derbyshire.
"It was really good to get a win, my main focus during the off season was to train for the Nutri-Grain IronWoman Series trial, but this is just so good to get in a race, have some fun.
Lucy finished with an impressive time of 2:31:55 ahead of Newport 's Emily Doyle (2:32:58) and Piper Harrison (2:35:42).
Newport's Rebecca Capell was also first in her age group (40-49) in the Short Course.

The teams' events were dominated by Cudgen Headland SLSC with the "Backstreet Boyz" taking out the Open Male Teams race, ahead of the "Mackerel and The Goose" (Manly LSC) and "North Curl Curl X" (North Curl Curl) in third.
In the women's event it was first and second to Cugden Headland SLSC with the "Cudgen Chicks" and the "Cudgen Headland Girls" with Mooloolaba's "The Bold and the Beautiful" finishing third.
In the Under17's Team event the Manly Up &Comers placed first, while their fellow members Manly Masters Team, the Muppets (mens) finished 2nd and placed a strong 37th overall, while the Manly Fairy Penguins took 1st in the 140+ female Masters Teams. Go girls!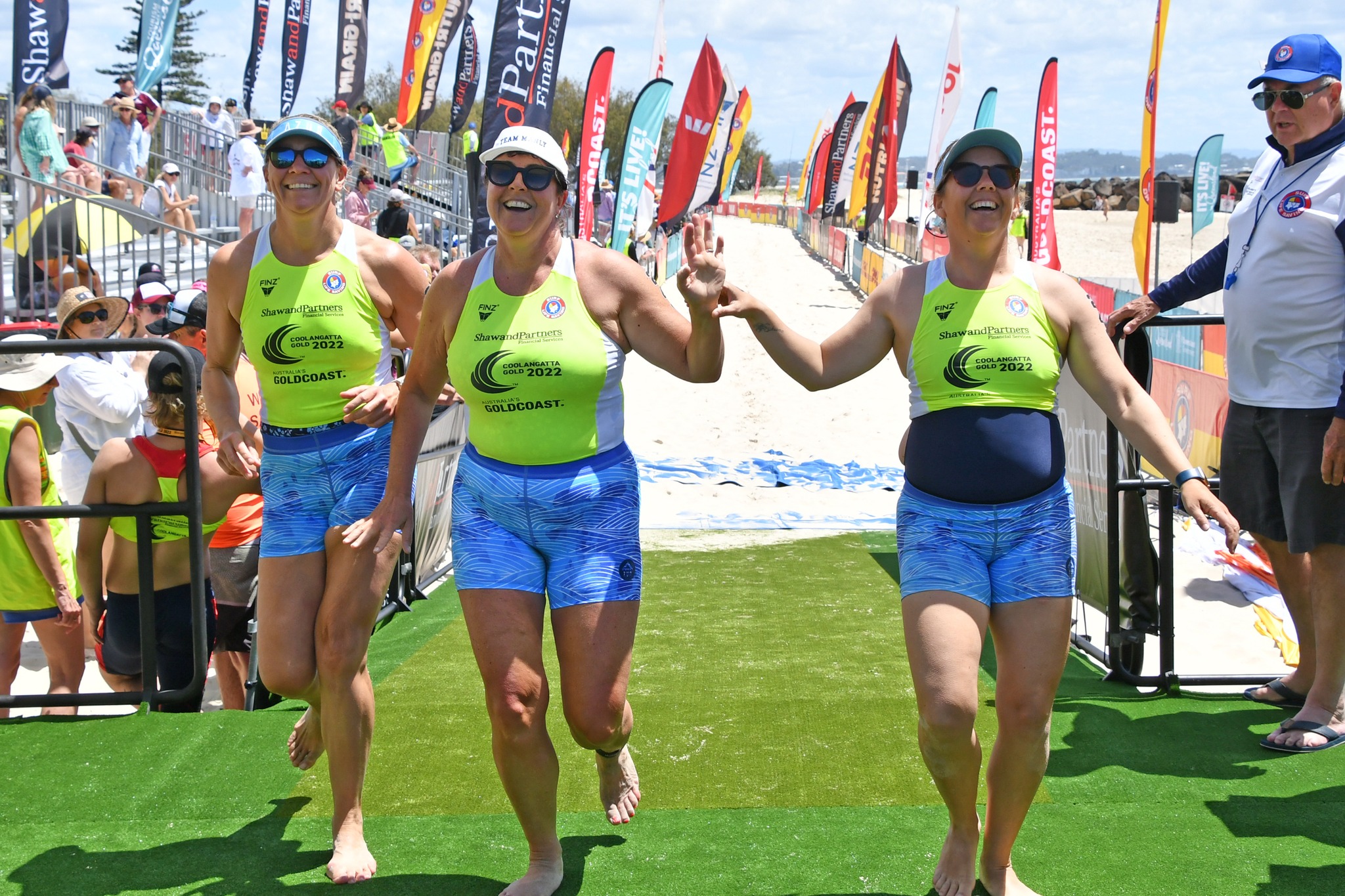 Photo: Harvpix / SLSA

More than 300 competitors and nippers aged between U11 and U17's took part in the 1.75km Youth Challenge.
The final event on the opening day of competition was the inaugural 15km Downwind Ski Paddle event, which featured world class paddlers and Olympians in the line-up and competitors racing on ocean skis, paddle boards and SUPs.
Recently crowned World Ocean Ski Paddle Champion, Jemma Smith (Newport) took out the first ever Open Women's title convincingly with former World Champion Cory Hill taking out the historic Open Men's title.
With testing conditions greeting competitors on the opening day of the Shaw and Partners Financial Services Coolangatta Gold, the course was reversed to start at Coolangatta and finish at Burleigh Heads.
It's a busy Shaw and Partners Financial Services Coolangatta Gold program for Jemma Smith who will also line up in the Long Course Teams Event today, Sunday October16th.
"It was so much fun out there, I wasn't really sure how the wind was going to be, it was looking really good from Coolangatta beach, we headed straight out to sea then we turned that first can and the wind was behind us the whole way.'' Jemma said
"It's awesome to be part of this first ever downwind ski paddle as part of the Shaw and Partners Coolangatta Gold weekend, it's such an iconic weekend here on the Gold Coast.
"I'm excited for tomorrow as well, it's the first time I've ever raced in a team event as part of the Coolangatta Gold," she said.
For former World Ocean Ski Champion Cory Hill, he was eager to get a win today after what was a disappointing World Championships campaign for him last weekend.
"It was a difficult race for me in Portugal [World Championships] last weekend so to come back and get a win against some of the world's best here on the Gold Coast… it's good for me to get the win under my belt and put last weekend behind me.
"What a fantastic addition to the Coolangatta Gold program. Shaw and Partners have been passionate about surf ski racing for a long time and to have them help us showcase what we do best, with beautiful conditions… it doesn't get much better," he said.
Earl Evans, Co-Chief Executive Officer of Shaw and Partners Financial Services, has a true passion for surf sports and ocean paddling, as a long-time supporter of the sport and athletes.
Proving his dedication, he lined up as part of the new Downwind Ski Paddle event and said he couldn't be happier to be part of this iconic event.
"To add this event [downwind ski paddle] to the iconic Shaw and Partners Coolangatta Gold is just sensational. To get 100 competitors is fantastic, next year it will be 300 or 400 in the downwind paddle.
"I think Saturday events [of the Coolangatta Gold] are just huge and have nothing but upside. People can come and do the teams event, do the whole race, do the paddling… it's awesome.
"It's one of the few sports where you have world champions going around with hacks like me that are just plugging along, it's just fantastic.
"Tomorrow I think the Ironman and Ironwoman races will be great… I think what's really exciting are the teams events. I know Shaw and Partners has a gun team in the men's and women's, but Kurrawa, North Bondi, Burleigh all have fantastic teams and I think it's going to be just as exciting as the Ironmen and Ironwomen," he said.
Shaw and Partners Financial Services are in it for the long term, partnering with the Coolangatta Gold for the next three years, which Evans said is an honour.
"I think SLSA do an unbelievable job and it's an underrated organisation [in] what they do all around Australia with lifesaving and saving people in the ocean.
"I think the sporting side of it for our company, is a dream come true. I can remember watching it when Guy Leech won his Coolangatta Gold… so it's just amazing for us to be part of this iconic event. And I genuinely think it can be absolutely huge," he said.
Atlanta 1996 Olympic kayaker Jimmy Walker was also part of the new event, finishing an impressive fifth place.
"It was so good, it was one of the best downwind ski paddles of all time.
"That's the good thing about the Coolangatta Gold, it's all inclusive of all abilities. When you do other clubby events like the Aussies it's more about 'who's the best'… but here it's a mix of Olympians, World Champions and clubbies, and people are really supporting each other just to get to the finish line.
"We had a full trailer load of young kids come up from North Bondi to do their first downwind ski paddle… I've seen a few of them and they are just over the moon and saying 'how do we do more of this'," he said.
Today (Sunday October 16) will see competitors take on the iconic 41km Shaw and Partners Financial Service Coolangatta Gold Long Course. It all kicks off at 7.30 am
For full results from day one of the Shaw and Partners Financial Services Coolangatta Gold, including the downwind ski paddle – click here.
Make sure to follow the SLSA Facebook, Twitter and Instagram for updates from Coolangatta, and check the Day 1 and Day 2 Live Blog for results and live updates during the race.
Visit: https://sls.com.au/coolangattagold/2022-day-1-live-blog/