April 25 - May 1, 2021: Issue 491

Anzac Day 2021 In Pittwater: We Remember And Honour Them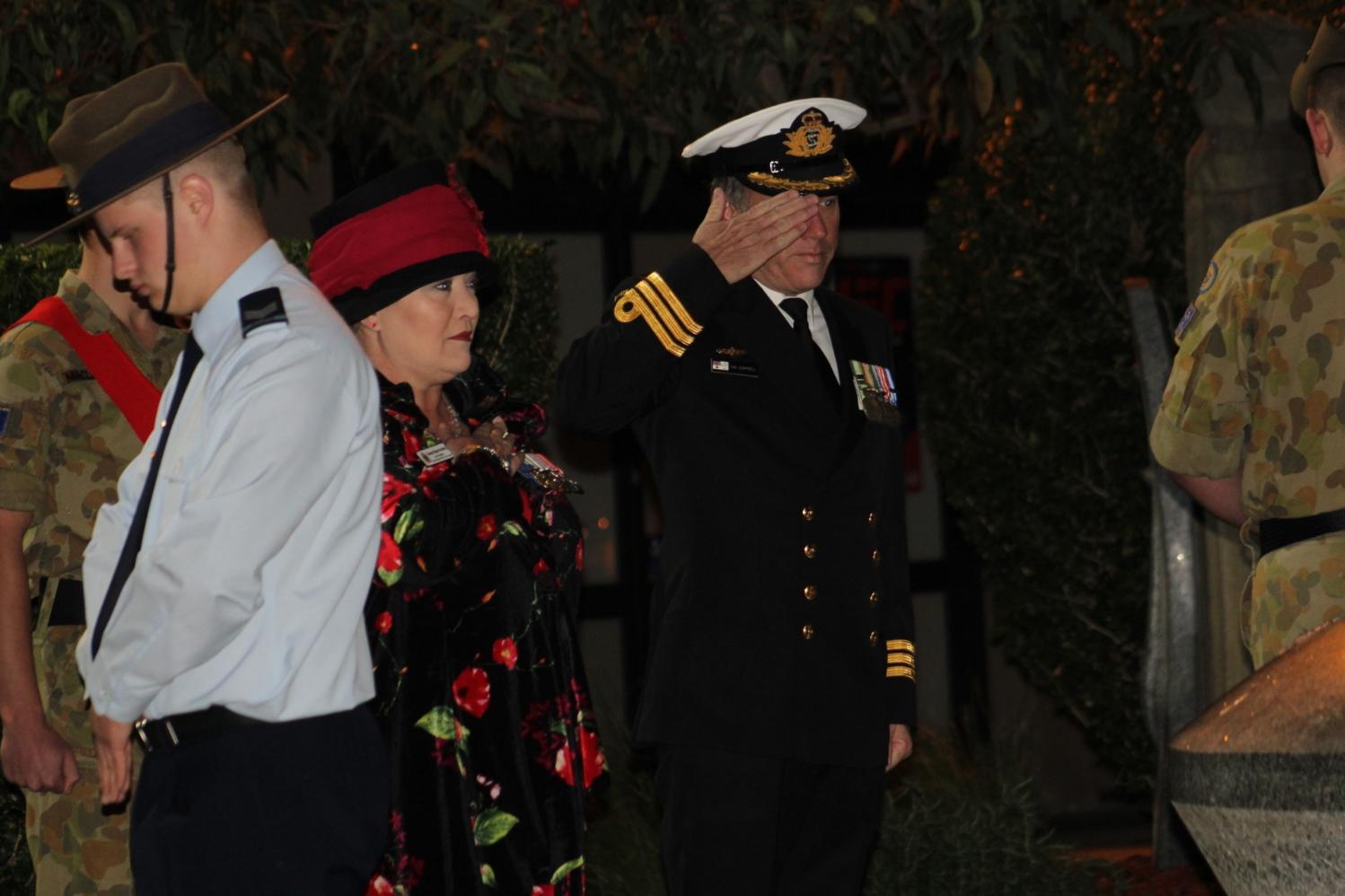 Vice-Presidents of Avalon Beach RSL Sub Branch Tamara Sloper-Harding OAM, LCDR RAN and Cmdr. Ian Campbell RAN, Laying of the Wreaths, Dawn Service 2021. Photo: A J Guesdon.
The opportunity and return of Dawn Services and 11am Commemorative Services to remember and honour those who have served have been met by thousands across our area this Anzac Day.
At Avalon Beach RSL the Service conducted by Sub Branch President, Captain Michael Maley CSC DSM announced this years Anzac Day Commemorative Dawn Service was devoted to Private James Charles Martin who died at Gallipoli aged 14 years, 9 months and 22 days.
Captain Maley, in opening his address, spoke of those who had similarly gathered in darkness and silence prior to moving into boats that would take them to the beaches of Gallipoli. In closing the Service he asked all present to return the Service given those who have Served and defended Australia in 3 ways; 1. Nurture the Living - 2; Care for the Injured, including those whose wounds remain unseen, and 3; Remember and Honour the Fallen.
''In the half light of early dawn, April 25th 1915 thousands of Australia's and New Zealand's finest stormed the beaches of Suvla Bay. Before the first gun shots echoed the world had not really heard the word ANZAC. By nightfall of that day, the world could never forget the name ANZAC and the Symbolism that is contained within it. A symbol of immense loss of life, a symbol of courage in the face of adversity, a symbol of Australian tenacity and most importantly a symbol by which to remember continued sacrifice. A symbol that ensures we that are left to grow old will never forget.

We will never forget the sacrifices of those that fell on the shores of Gallipoli, those that fell on the battlefields of the Western Front – Ypres, the Somme, Villiers-Bretonneux. The seeds of Australian sacrifice were sown across the many battlefields of France, Belgium and Germany. And at the end of World War 1 over 60, 000 of our finest had paid the ultimate sacrifice. To put that in perspective, the population of Avalon is around 9000 people, the Australian population at that time was approximately four million. Within two years of wars' end the same number had died of their war wounds upon return to Australia.

We will never forget those that heeded the call when the world once again went to war in Europe and the Pacific. We will not forget those that perished in aircraft over the Solomon Islands, nor those that went to watery graves entombed in ships or those that slogged it out in Kokoda, never to return home. When the guns fell silent in 1945 another 29, 000 had paid the ultimate sacrifice. And for the first time in our history brave men and women were killed on Australian soil, with more bombs falling on Darwin than Pearl Harbour.

As the years progressed Australian Sacrifice continued to be made with the occupation of japan, the Korean War, and the Indonesian confrontation. In my lifetime alone we have sent brave men and women to Vietnam, the Solomons, Iraq, Afghanistan and Syria. They went, they fought with distinction, and sadly many were returned home in a flagged draped casket.

For those that lay in foreign battlefields -we will never forget you. Those that lay beneath the sea – we will never forget you – and those that have been returned home in a flag draped coffins and buried on home soil – we will never forget you. You are all ANZACs to the core.'' - Captain Michael Maley CSC DSM, President of Avalon Beach RSL Sub Branch, Dawn Service Address, 2021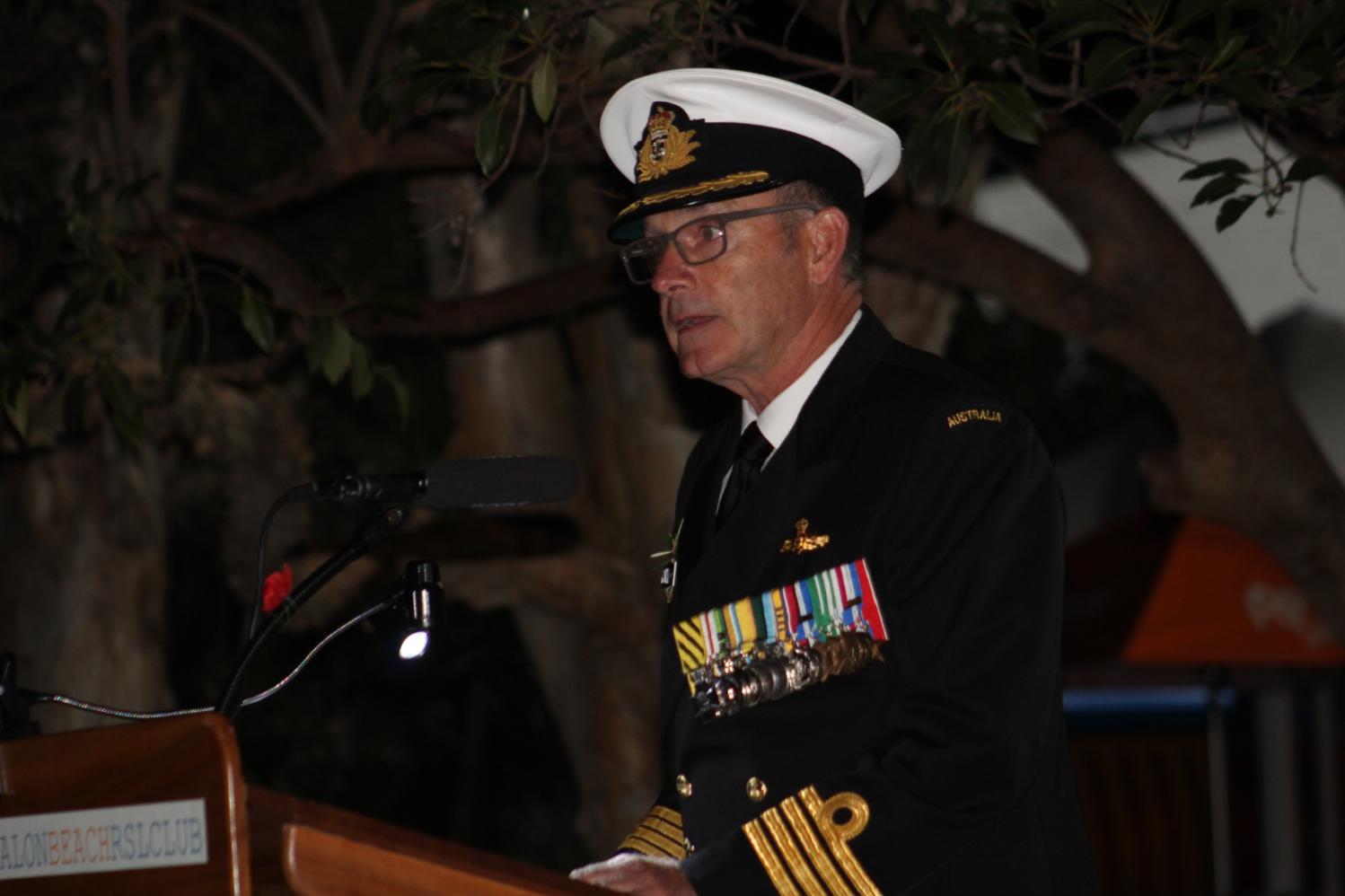 Captain Michael Maley CSC DSM, President of Avalon Beach RSL Sub Branch. Photo: A J Guesdon.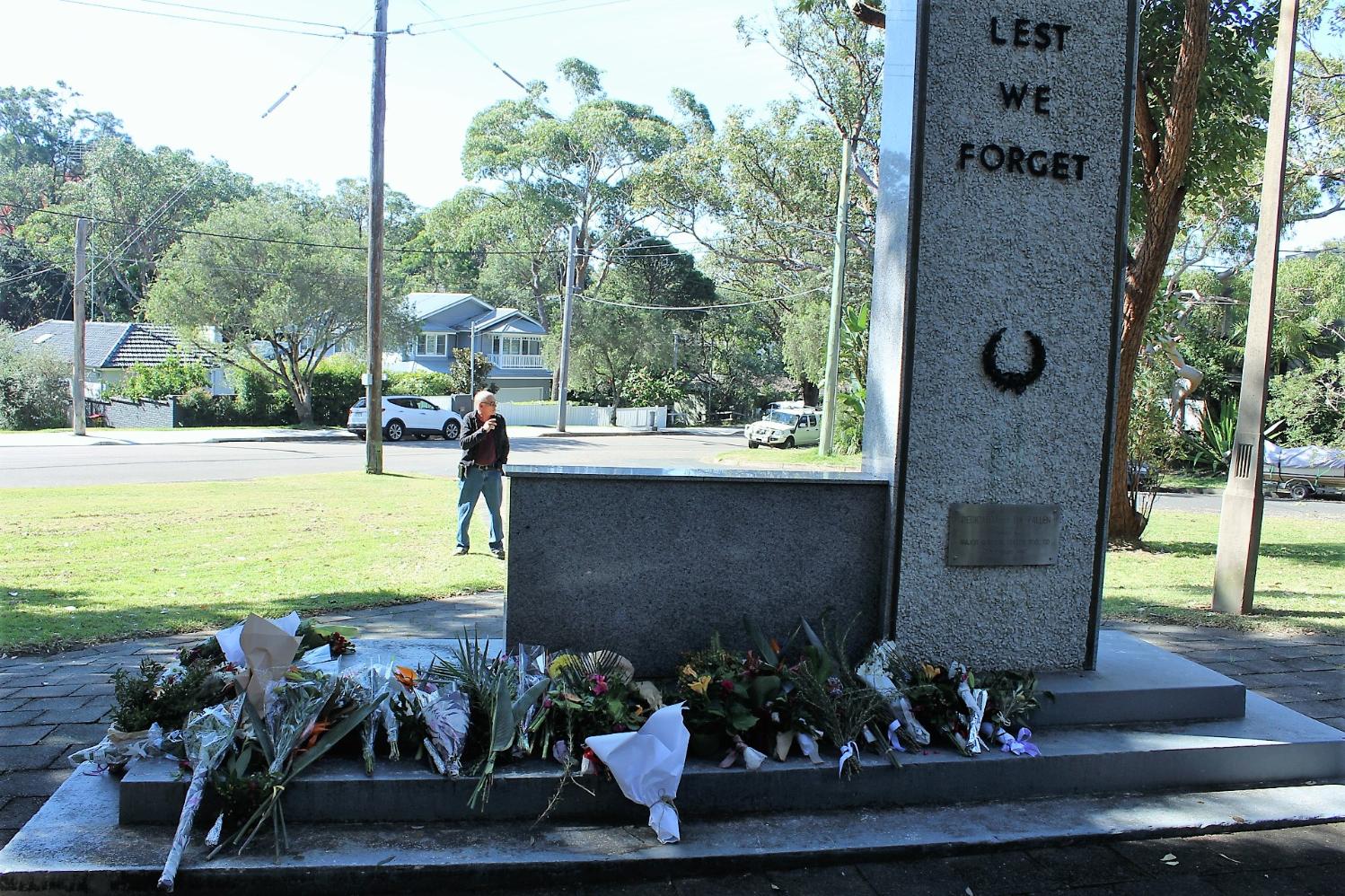 Newport Beach Cenotaph, Trafalgar Park, Newport. Photo: A J Guesdon
Lowering Of The Flags: Surf Patrol Season 2020/2021 Closes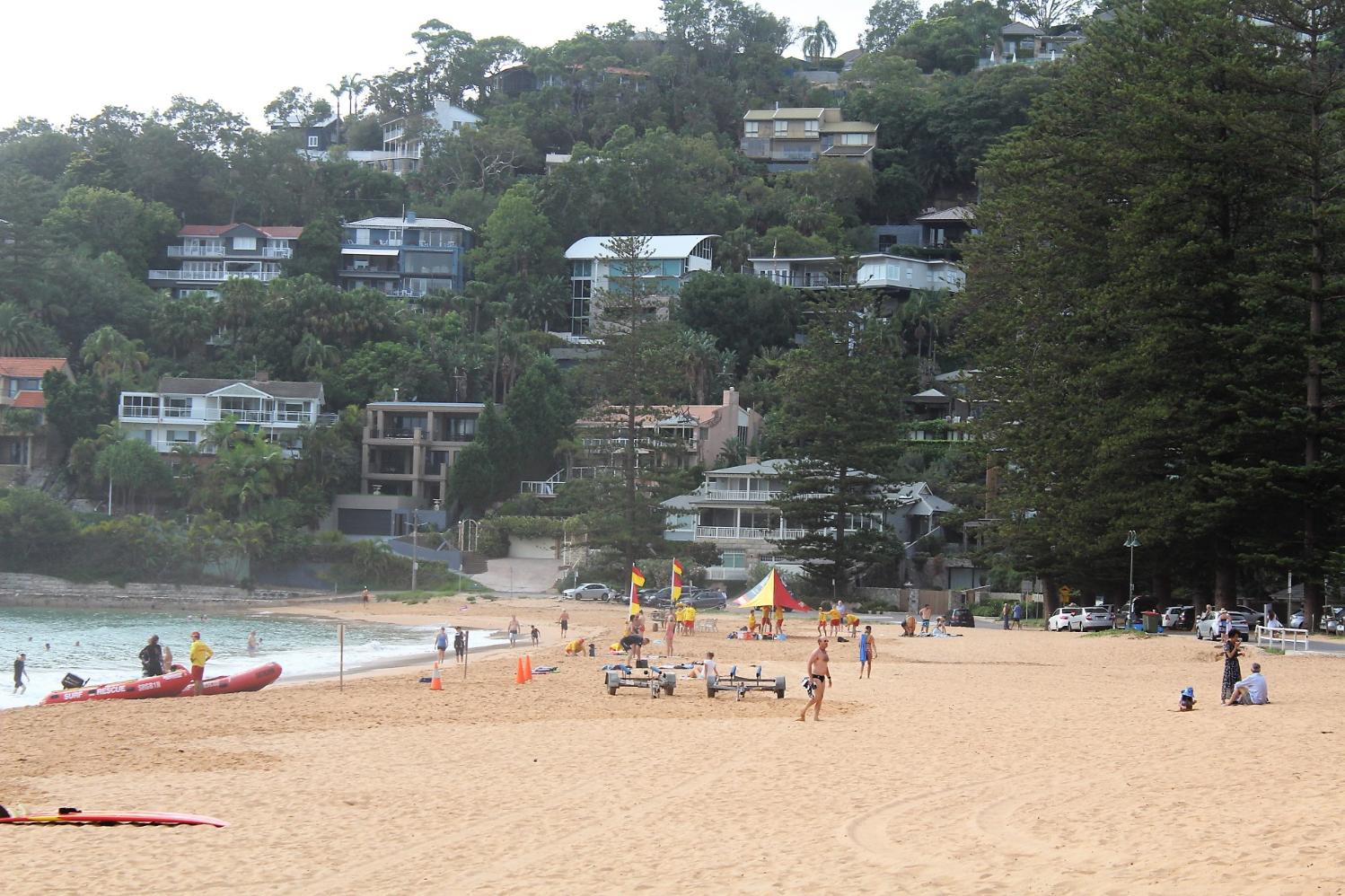 Sunday 25 April is the final day of volunteer patrols for 2020/21 season for NSW surf lifesavers.
Early data has revealed that lifesavers performed 3,192 rescues* since the first day of the patrol season (26 September 2020). That is 406 more rescues than the previous season despite COVID-19 lockdowns.
Emergency callouts for critical incidents state-wide were also up by 199 on the previous season to 696.
This year has also seen an increase in the qualification of new lifesavers. Since 1 July 2020 2,453 members gained their Bronze Medallion and began patrols, an increase of 180 already on the previous season.
The absence of our iconic red and yellow flags and lifesavers on the beaches doesn't mean our volunteers clock off. Between April and September last year, our teams responded to 183 incidents.
Not only do lifesavers keep the beach-going public safe on the weekends, but each of the 129 clubs also has in place an out-of-hours callout team that responds to incidents and plays an integral role in assisting other emergency services.
Beyond the beaches the Surf Life Saving NSW Support Operations teams are activated for critical incidents and include highly skilled duty officers, offshore rescue boats, RWC (jetskis) and drones who work with club callout teams, the SLSNSW Support Operations Centre and other emergency services.
SLSNSW Director of Lifesaving Joel Wiseman said he couldn't be more proud of the membership this season after another testing year and stepping up to assist when their communities needed them no matter what. To the members, he shared this message.
"Thank you. Thank you to each one of our members for being part of our great movement in its 114th season. 406 people's lives were directly saved through selfless, professional and skilled actions of our volunteers and many thousands more people were assisted through preventative actions, forward-thinking, and initiative.
"This year our members have exemplified what it means to be an emergency service as they were called to move outside of our traditional red and yellow flags. Their response, teamwork and support were incredible. Despite another somewhat disrupted season they stood up and continued to uphold our tradition of keeping people safe and assisting when required. Their value as individuals and clubs within our communities is indisputable," said Wiseman.
Residents Object To Newport's Historic Trafalgar Park Being Cut In Two By 2.5m Wide Concrete Path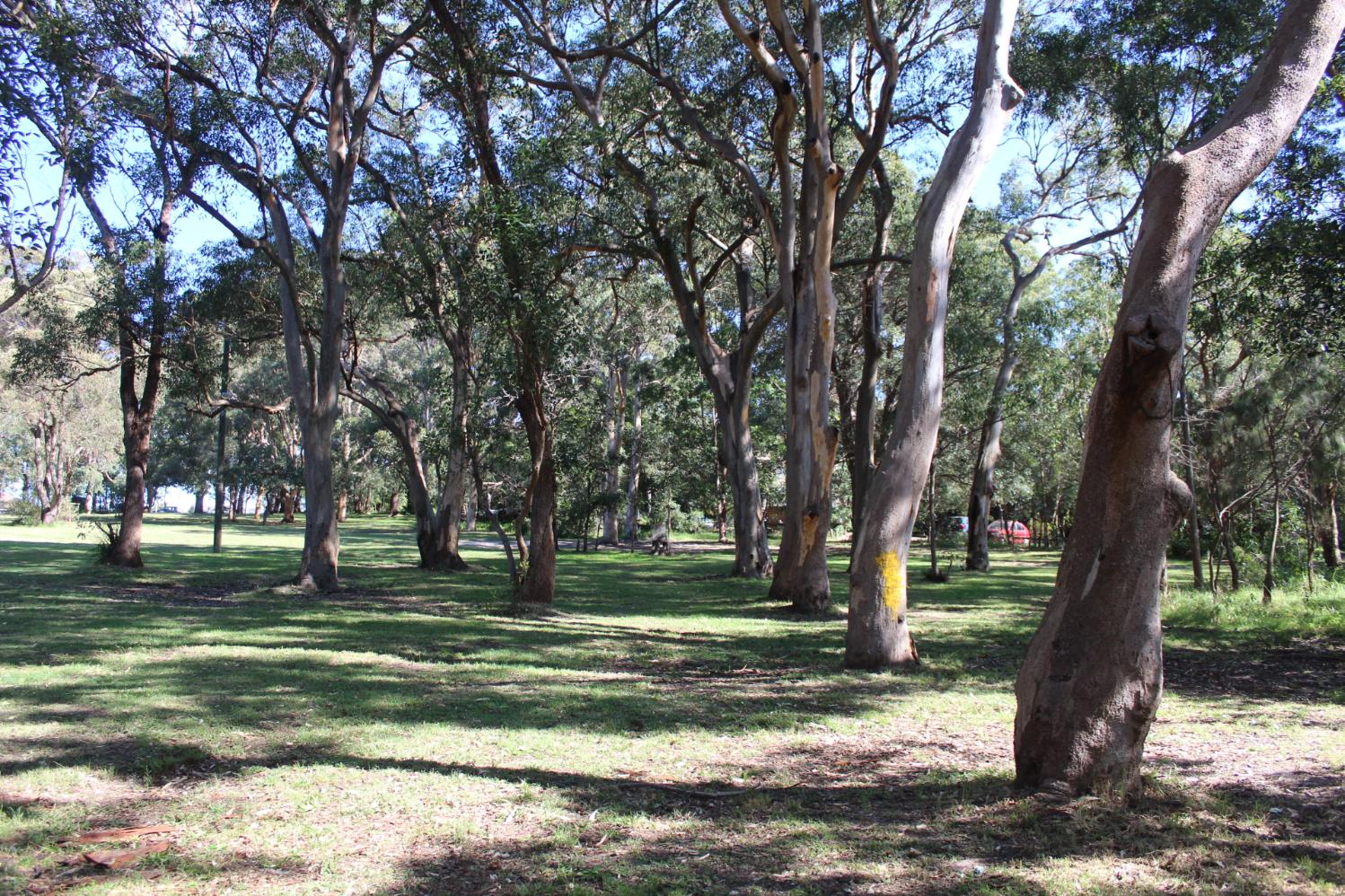 On any given day you can step into Trafalgar Park Newport and the sound of many birds is instantly all around you, above that the breeze sloughing softly through the trees. It's, literally, stepping into a place where a soft chorus of birdsong is covered by a soft chorus of leaves and above that a wide clean sky while at your feet is cooling green grass and stands of majestic Australian trees.
You are instantly away from the hot tarred roads that run around it and the noise of traffic falls away.
This cool green open space that has been this way since time immemorial - even when the original subdivisions commenced in 1880 this place was set aside as a common ground for the community. Adjoining the also historic Newport Public School the park is a place where the schoolchildren of the past played and the present students play, still.
In February 2021 Council announced a plan to install a shared concrete path through the park, effectively cutting it in two. The proposal seeks to provide wider and safer walking and cycling routes for the community including greater accessibility for prams, wheelchairs and mobility scooters along with improving safety and connectivity to Newport Public School and the existing shared path along Gladstone Street. (See Community News page archives for concept design impression).
Funding for the proposed project was made available through the Transport for NSW Active Transport 2020/21 grant funding program.

Council commenced a community consultation through a webpage listing the proposal in their 'Have Your Say' section of their website and had 72 respondents, mostly supportive of the idea in the proposal of a shared path, but also, mostly, wanting amendments.
Since the consultation period expired, on March 28th, those who were unaware of the proposal have also expressed objections and even forwarded suggestions to alternatives that will keep the space green and keep out the environmental impact of concrete increasing temperatures in urban areas and its impact on wildlife. Although many may not notice the incremental loss of green space, in Pittwater residents fight for every tree and every patch of green to be retained.
Council has placed a Community Engagement report on its proposal feedback webpage now and this too echoes the ideas that have been expressed by others since.
The main point from these is that residents don't want the green space cut in half by concrete - alternatives that would still have this shared path but have it installed on its perimeter along Stuart street or King street have been expressed as more attractive preferences. Residents are concerned that bikes speeding along the path may knock a child over and backed that up by stating that this is a park, not a thoroughfare for any form of transport.
The park is used by the school for sport, dogs play here too and family picnics and cricket matches have long been part of the Trafalgar park scene, so concrete is not wanted - permeable materials are preferred wherever a path is installed.
In fact, the number of residents expressing dismay with the concreting of Pittwater, with paths appearing where they weren't before, the sudden appearance of sandstone blocks on parks, or proposals to install plastic playing fields are growing. No one wants to see tar meeting concrete meeting plastic, especially in an era when we need to cool things down, not heat things up, and retain these jewel green places and the areas where they still predominate.
Penny Auburn, one of the residents who have contacted Pittwater Online on this subject stated this week;
''The centre of the park is where dozens of Newport Public School children play and run freely twice a day every day, and where they jog daily on winter mornings. It's also a spot where families gather for outdoor activities on weekends, where community members go to practice their tai chi, walk the dog or just to enjoy the trees and experience a bit of wild green space. Having bikes speeding down a slope on a very wide path, and travelling through the centre of the only level piece of useable ground in the park is bad design.''
''Council's online consultation document said the path would be suitable for wheelchairs and mobility scooters. They got it wrong. The slope doesn't meet NSW safety regulations for wheelchairs and mobility scooters.'' Penny said.
Aussies, Aussies, Aussies - Newport!, Newport!, Newport!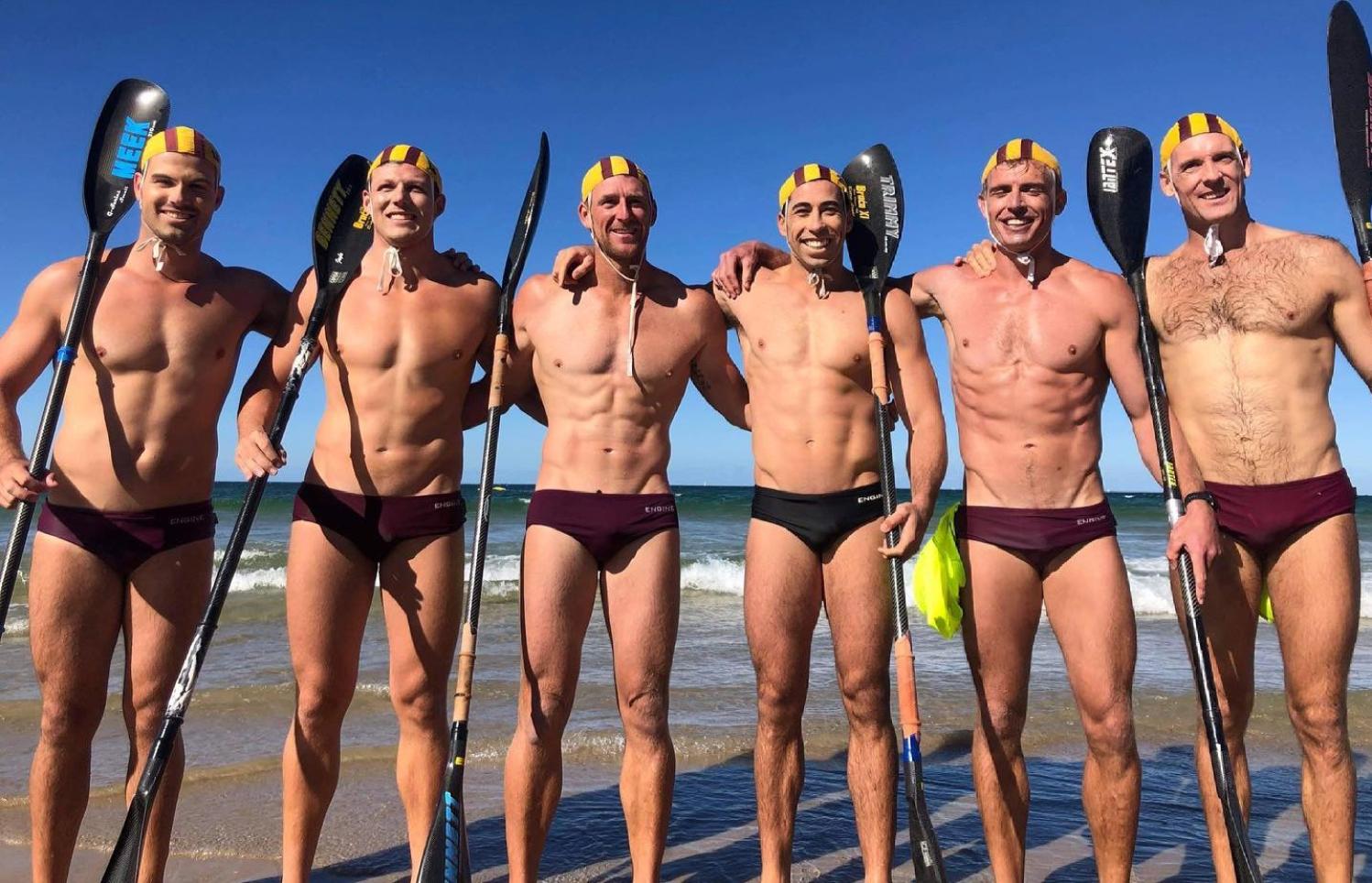 Newport Club rejoice as their Open Men's Double teams took out all podium finishes. After eight years the combination of Luke Jones and Mitchell Trim were finally able to bring home the gold medal they had been after, taking the win over fellow Newport teammates Jayke Rees and Max Brooks (silver) and Greg Tobin and Luke Morrison (bronze). Photo: Newport Kinghorn Surf Racing Academy
When Graeme James Knox, AKA '
The Zom
', was calling the Surf Life Saving Sydney Northern Beaches Branch competition on Palm Beach a few years back he had some on the beach in stiches as instead of his signature call sign; 'Listen up, Listen up, Listen up' he went through a series of calls of 'That's Newport, Newport, Newport, Newport...' in announcing the Opens and Youth competitions and those coming back to the beach in their order. An occasional 'Manly' or 'that's Long Reef' and 'Avalon' would intersperse this sequence but then you would hear another run of 'Newport, Newport, Newport, Newport, Newport, Newport, Newport...'
In fact, when taking photographs on the beach after heats and finals it was pretty easy to have up to 10 or 12 Newport athletes in a row lined up beside each other - all smiling, all supporting each other, all part of the one team - like surf life saving itself and making it obvious that if you get into trouble in the ocean then it's one of these lifesavers, keeping themselves in great physical condition and aware of what the water is doing, you want coming to your rescue.
Newport SLSC's Newport Kinghorn Surf Racing Academy has an ethos of 'be the best and enjoy it the most' and this was proved across all divisions and all surf sports at this week's Aussies events in Queensland with members quite literally scooping the pool to collect the gold, the silver and the bronze in some events so that even from here, in Pittwater, you could hear the cheering and the echoes of Zom's runs of 'Newport, Newport, Newport, Newport...' from that day to this.
Surf Life Saving Australia in reporting on the 2021 Australian Surf Life Saving Championships (Aussies) this week has shared the following:
Aussies Wrap – Day 8 – Friday 23 April:
TRIFECTA FOR NEWPORT IN OPEN MEN'S DOUBLE SKI
Day eight of the Australian Surf Life Saving Championships saw the Newport Club rejoice as their Open Men's Double teams took out all podium finishes.
After eight years the combination of Luke Jones and Mitchell Trim were finally able to bring home the gold medal they had been after, taking the win over fellow Newport teammates Jayke Rees and Max Brooks (silver) and Greg Tobin and Luke Morrison (bronze).
Emotions ran high as they crossed the line, choking back the tears as both men were quick to thank the unwavering support of their families.
Trim said: "My parents haven't missed one race of mine at the Aussie titles in the last 10 years.
"My mum and dad, sisters and fiancée are in the boats, we've got Luke's dad here and his wife and five year old daughter are at home cheering us on," he said.
The first, second and third is only one in a cache of medals the club will be bringing back home. Newport's U23 Womens Surf Boat crew, Newport Thunder, have backed up the gold they won at the 2019 Aussies with another gold this year. Newport SLSC's Newport Thunder, Michael King Sweep, Abby Ballesty, Tara Doyle, Claudia Harris and Ella Smith have excelled for years in this sport.
South Curl Curl have also swept the pool in the Surf Boat finals. Their Under 19s, South Curl Curl Humps and Bumps; Mark Spiteri, Braede Cox, Malawi Warneford, Vivienne Saunders and Nicola Berry, their Open Male crew, South Curl Curl Death Riders; Rob Lowery, Trent Rogers, Jordan Thurlow, Michael Egan, Craig McCarthy, Brady Holland, Kristofer Martyn, Owen Sheather, Samuel Lowery, Jacob Witty AND their Under 23's Male crew South Curl Curl Lamp; Rob Lowery, Harry Andrew, Jethro Mulder, Tremayne Chivers, Zac Lowery, Brady Holland, Kristofer Martyn, Owen Sheather, Samuel Lowery, all took gold on the final day, April 24th.
Palm Beach SLSC's Palm Beach Plumbers; Peter Spence, Samuel Holmes, Hunter Graham, Daniel Johnston and Joshua McGuiness, secured the silver - more great things from another great boat division in another great club.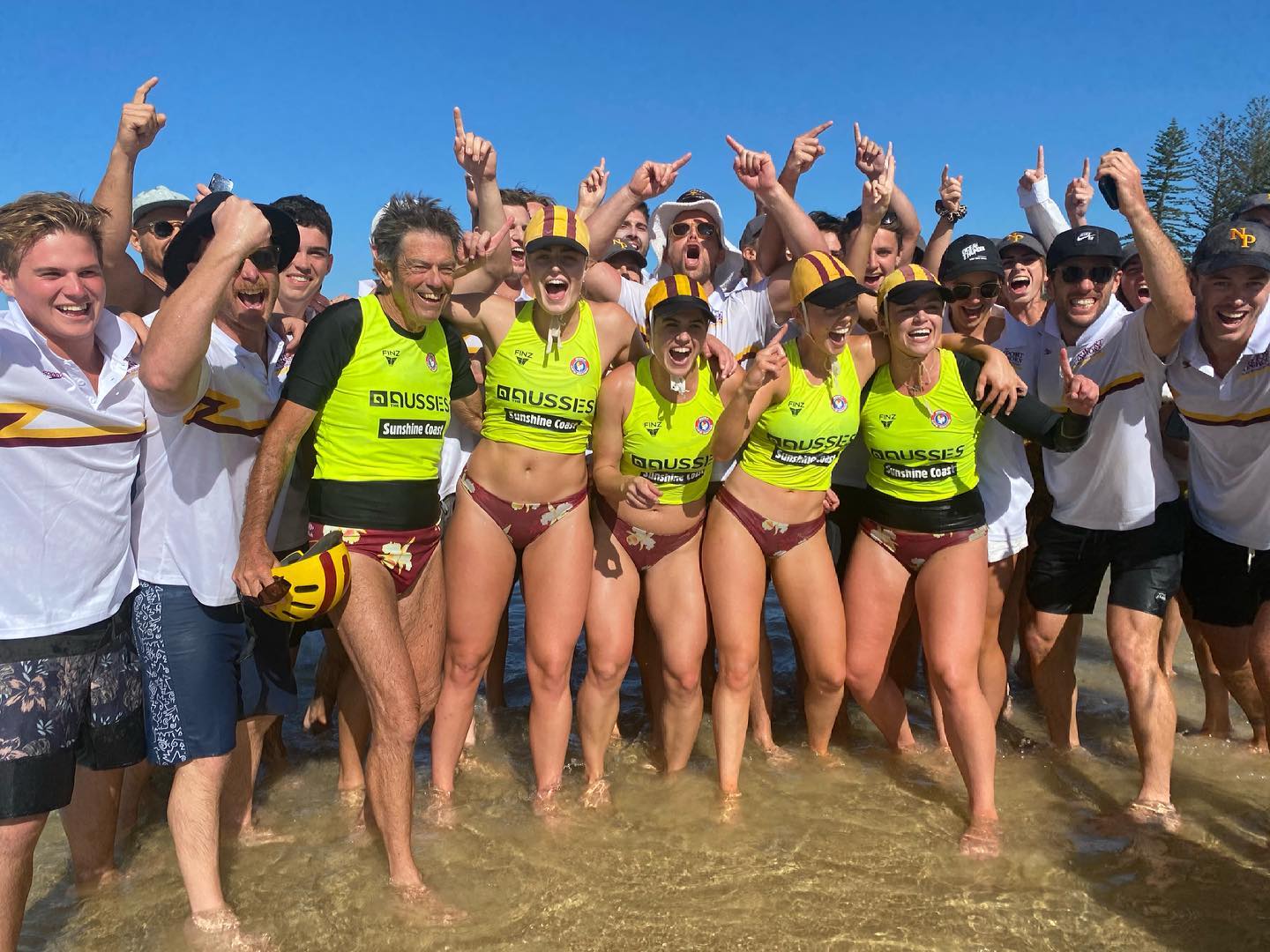 Surf Boats Under 23 Female Results, April 24, 2021: 1 - Newport Thunder, 2 - Dicky Beach Tooshies, 3 - Palm Beach Panthers. Newport SLSC's Newport Thunder, Michael King Sweep, Abby Ballesty, Tara Doyle, Claudia Harris, Ella Smith - Australian Champions 2021. Photo: Malcolm Trees/Team Navy ASRL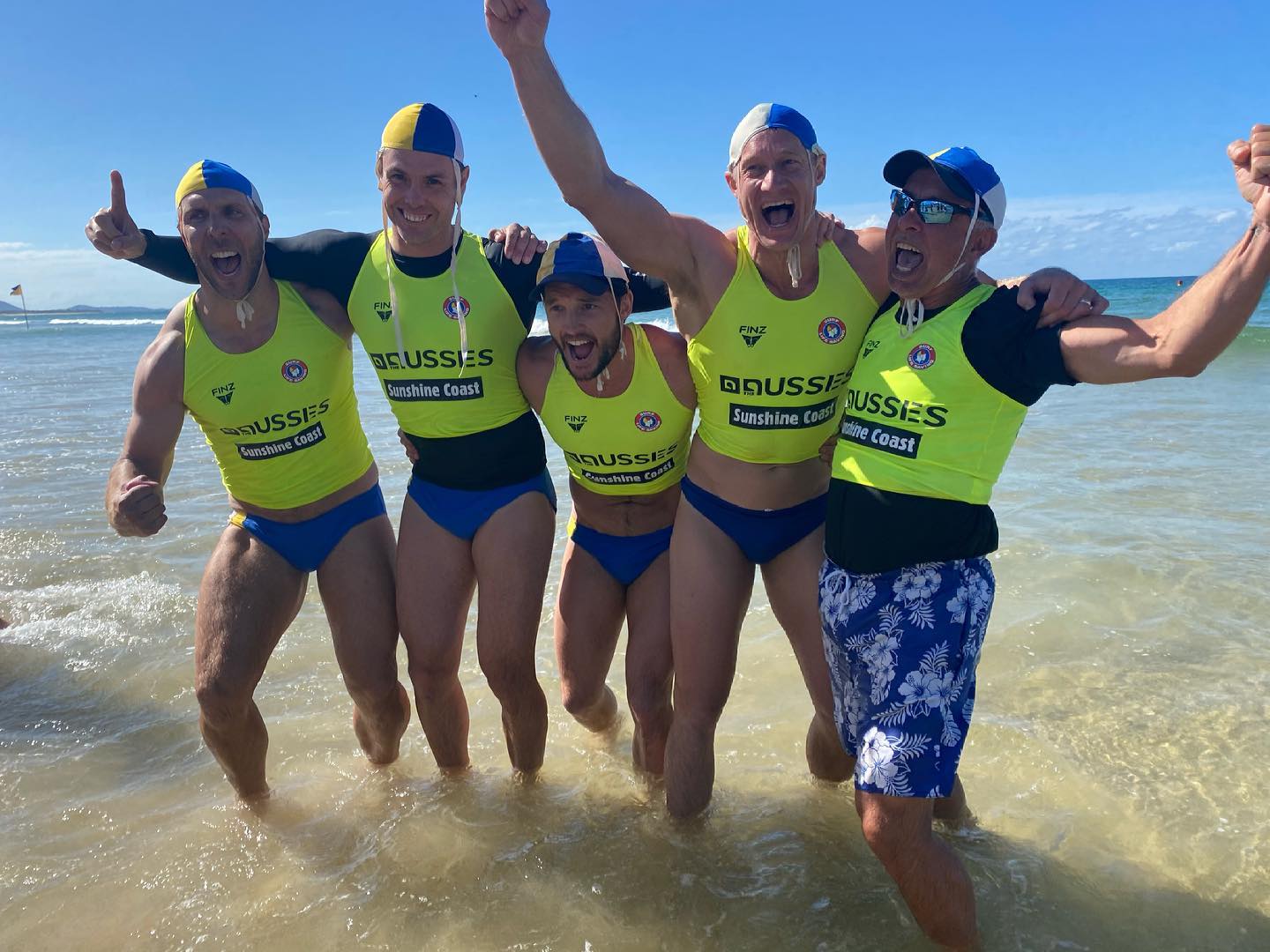 South Curly's Open Mens Finals Crew - pretty happy about that!
Photo: Malcolm Trees/Team Navy ASRL
Migrating Shearwaters Coming Ashore On Our Beaches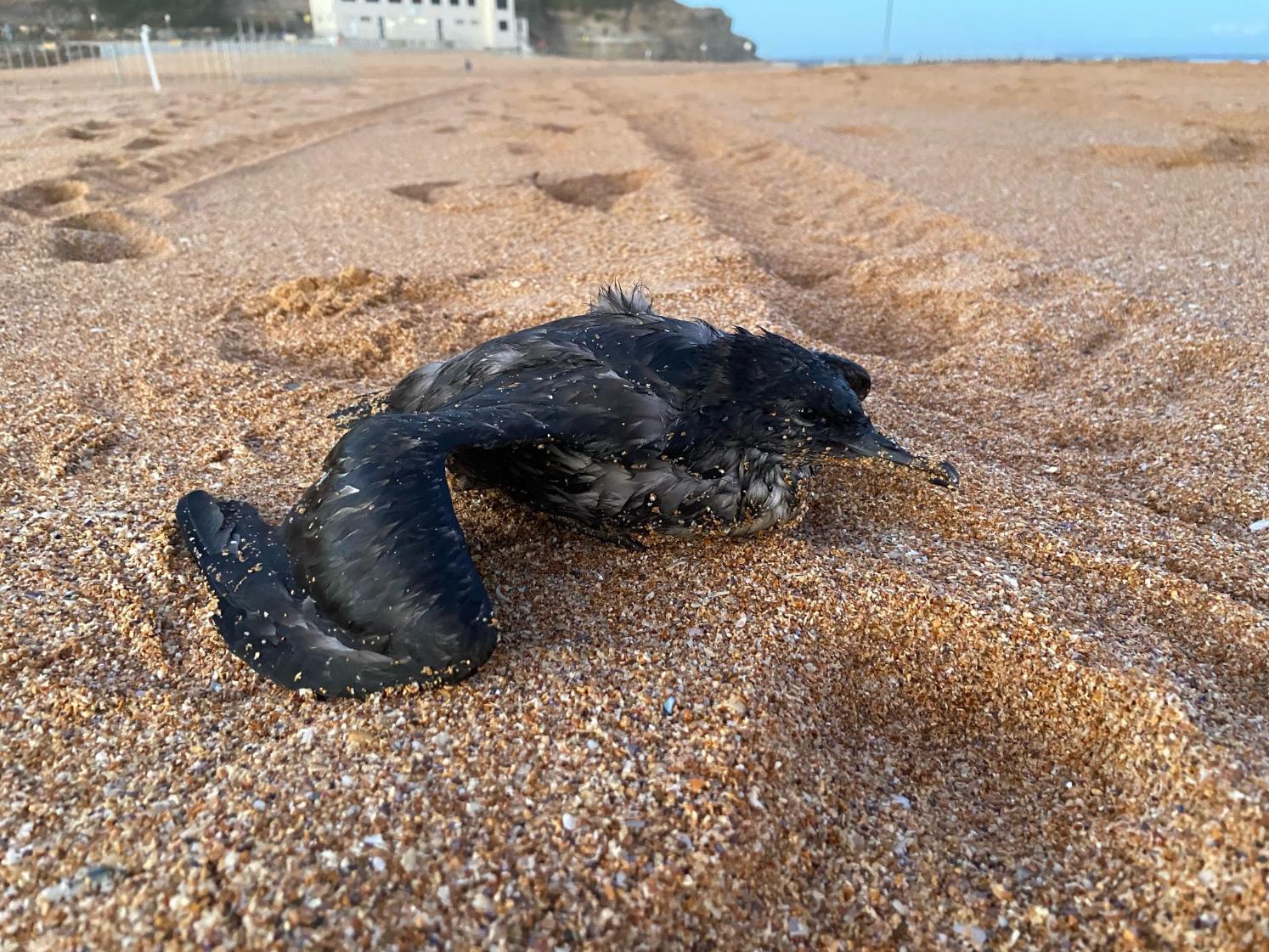 Shearwater at North Narrabeen beach 23.4.2021. Photo supplied
Local wildlife carers are having calls to rescue shearwaters currently coming ashore on our beaches. Several have been collected over the past 2 days. These birds need specialist care and to get to a vet or Taronga Zoo.
If you find one please call Sydney Wildlife on 9413 4300 or Wires on 1300 094 737.
And Please - keep your dogs off the beaches. These birds are vulnerable in NSW and have no defence against dog attacks. Thank you.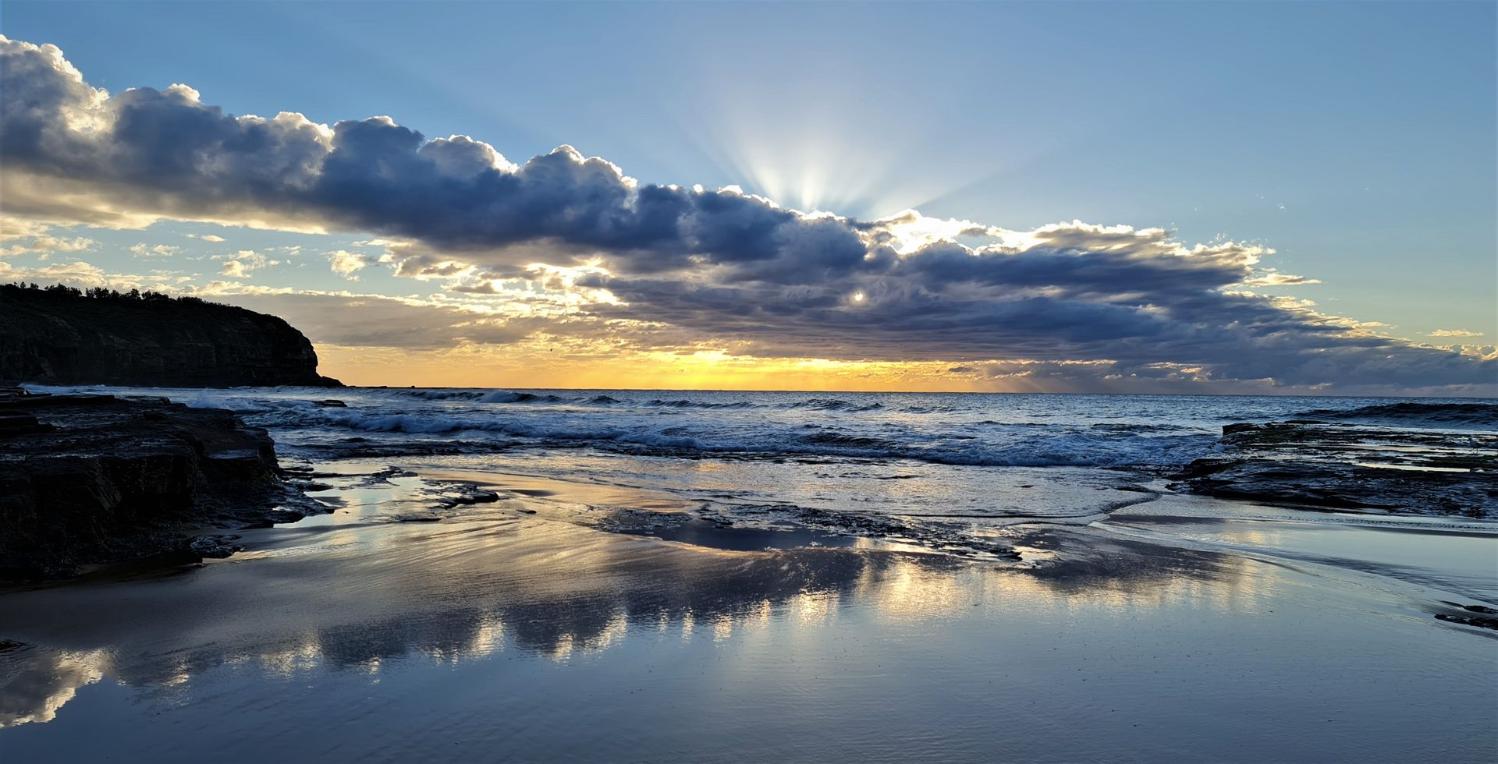 Turimetta Sunrise. Photo by Joe Mills, April 21st, 2021
Past Features Archives (pre 2014)
Pittwater Online News was selected for preservation by the State Library of New South Wales and National Library of Australia. This title is scheduled to be re-archived regularly.
Archived Issues (2014 on) may be accessed here: pandora.nla.gov.au/tep/143700