December 6 - 12, 2020: Issue 477

The Dog Project: Launched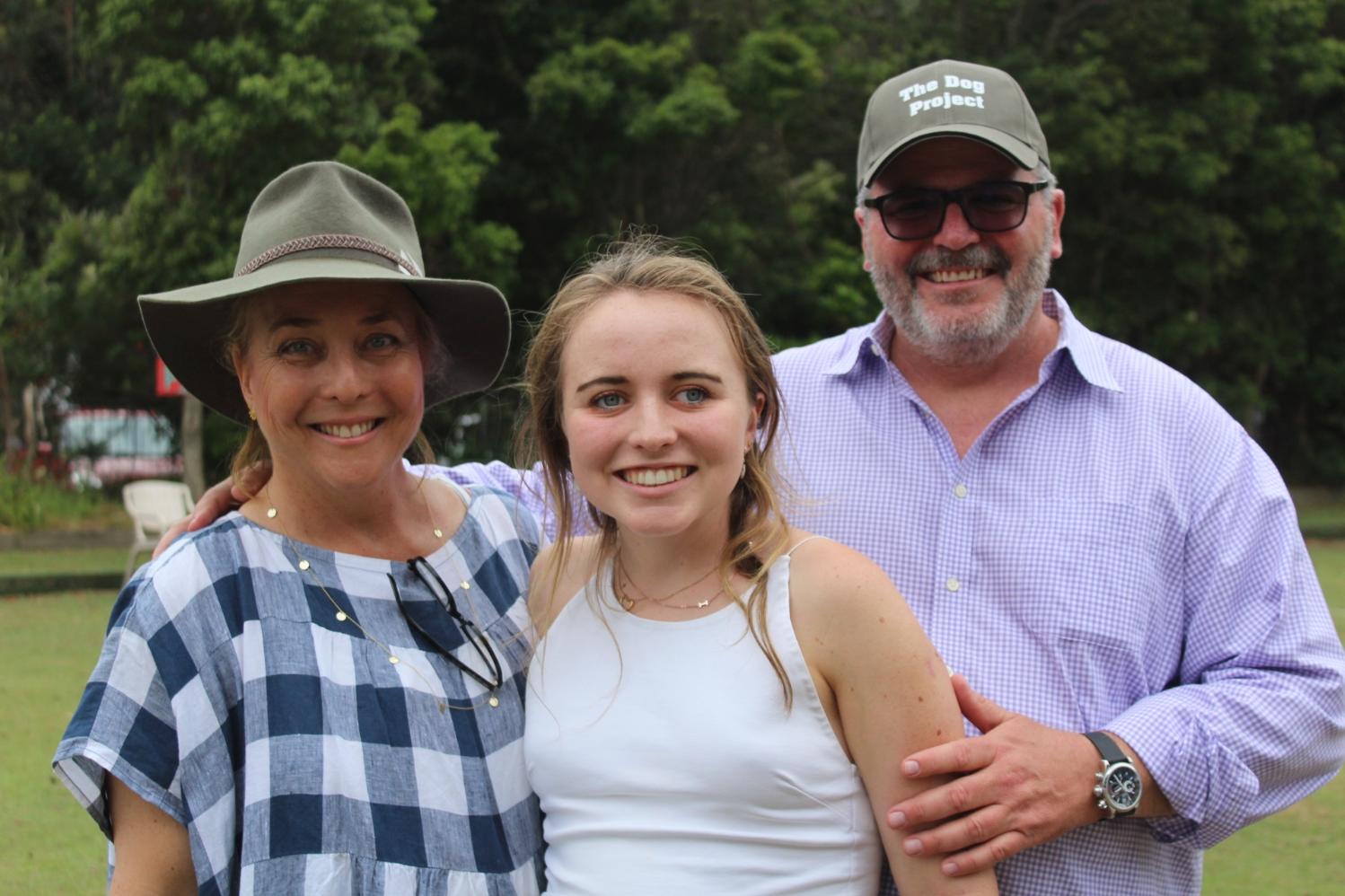 Tania, India and David Kerr at Avalon Bowling Club yesterday. photo by A J Guesdon
The launch of a great new book, The Dog Project - Community Enrichment Through the Love of Dogs' took place at Avalon Bowling Club, on the front green, on Saturday December 5th. There was music, stalls, lots of doggie fun and waggy tails.
The goal was to photograph and interview 100 people and their dogs. This is a project from the heart of the community for a good cause. The book is now for sale. Funds are being raised to support the Cerebral Palsy Alliance and Monika's Doggie Rescue.
Learn more through their website: www.thedogprojectcpa.com

More next Issue!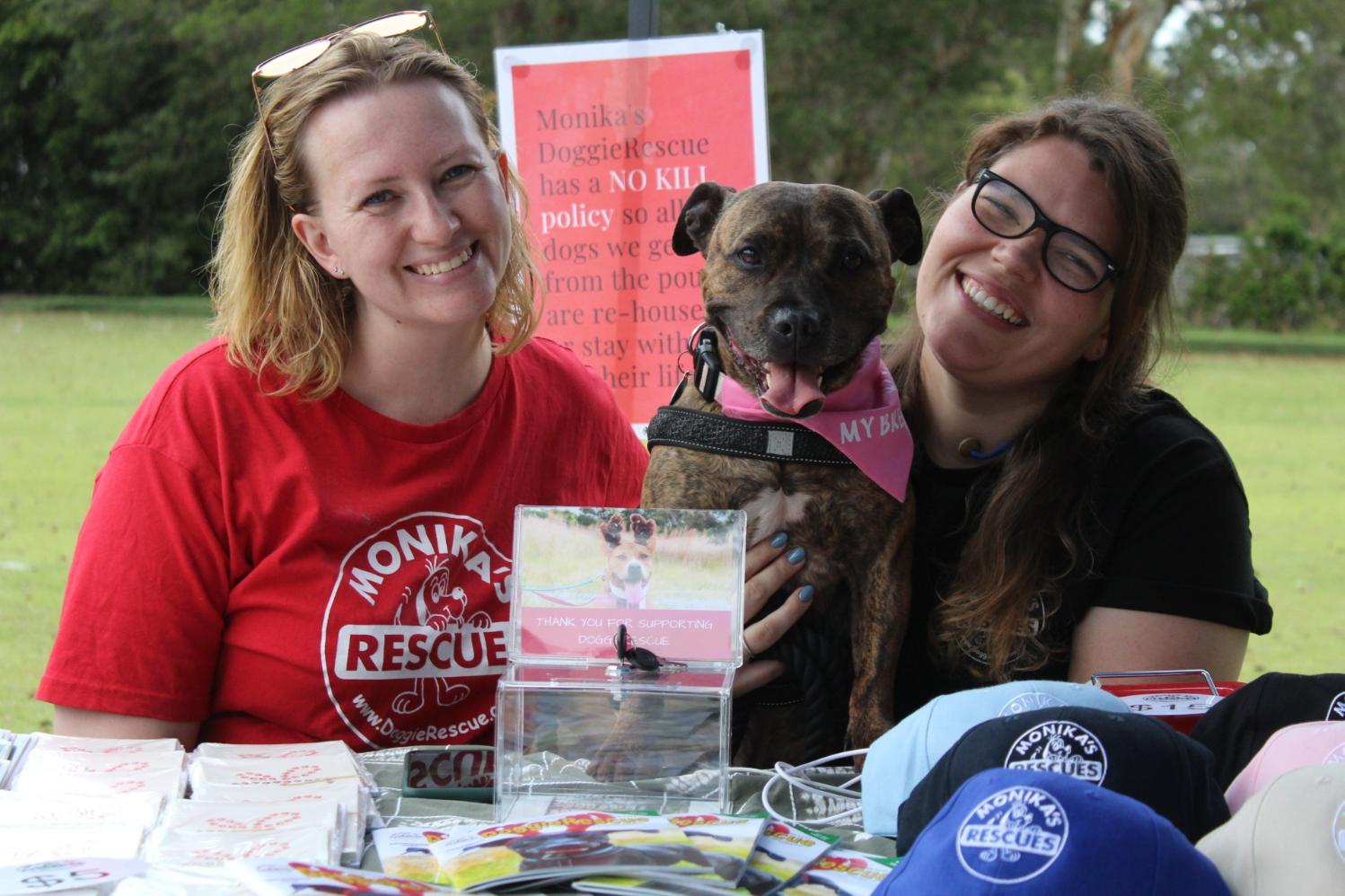 Monika's Doggie Rescue volunteers on site yesterday, with one cutie - already adopted by the lady in red. A J Guesdon photo
It's Starting To Look A Bit Like Christmas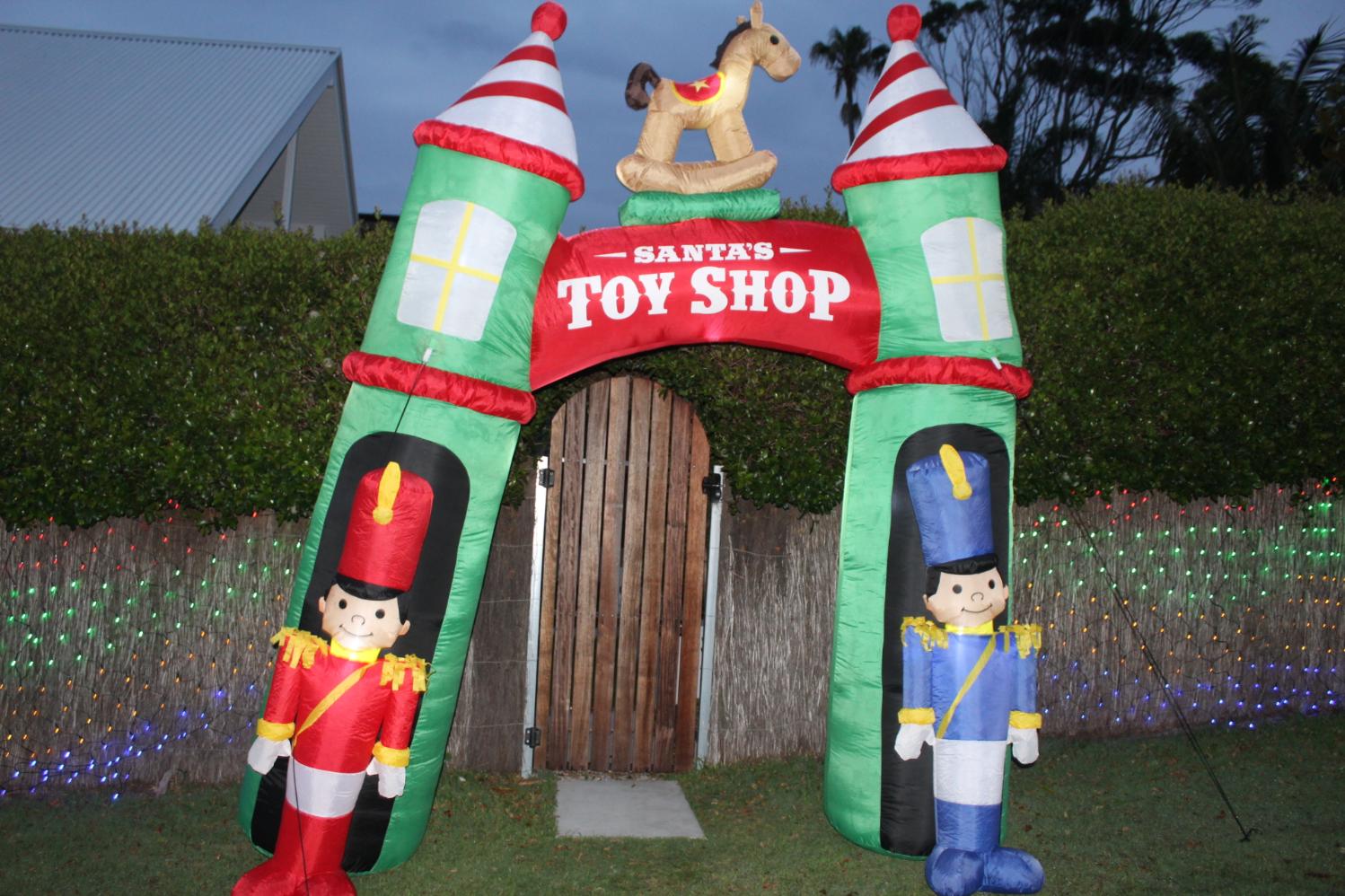 Elaine Avenue, Avalon Beach, 2020. photo by A J Guesdon
Pittwater Online News staff have been eagerly monitoring
Santa's Sky Tracker on Air Services Australia
and it seems the Elves and Santa are quite busy at present as there's only 18 days to go as we go to press. A stroll around the villages of Pittwater shows shops are dressing their windows up with all things Christmas and all look wonderful.
At Elaine Avenue, Avalon Beach, residents have finished or begun decorating their homes and gardens with all sorts of lights and Santa decorations. One gentleman we spoke to said they haven't finished yet and will be doing more today, Sunday, as it's just what we all need after the challenges every one of us has faced this year.
The first week of December is when many of us devote some time to cheering everyone up with great displays of lights, reindeer, or even outposts of Santa's toy Shop - as seen above. With Christmas Markets at Mona Vale today, December 6th, at Warriewood Boy Scouts selling Christmas Trees, Santa coming to The Newport on 7th, 14th & 21st December (11am to 1pm) and to Avalon shops during their late night shopping event (with music and tons of fun) on the 17th, everyone is getting into their red and green gear to cheer things up around here!
Some of what has been seen this week runs to gladden your eye and get you in the mood as this Issue's Pictorial.
Avalon Public School's Old Roofing Materials Enjoy A New Life At Government House In The Form Of A Kimbriki Wicking Garden Bed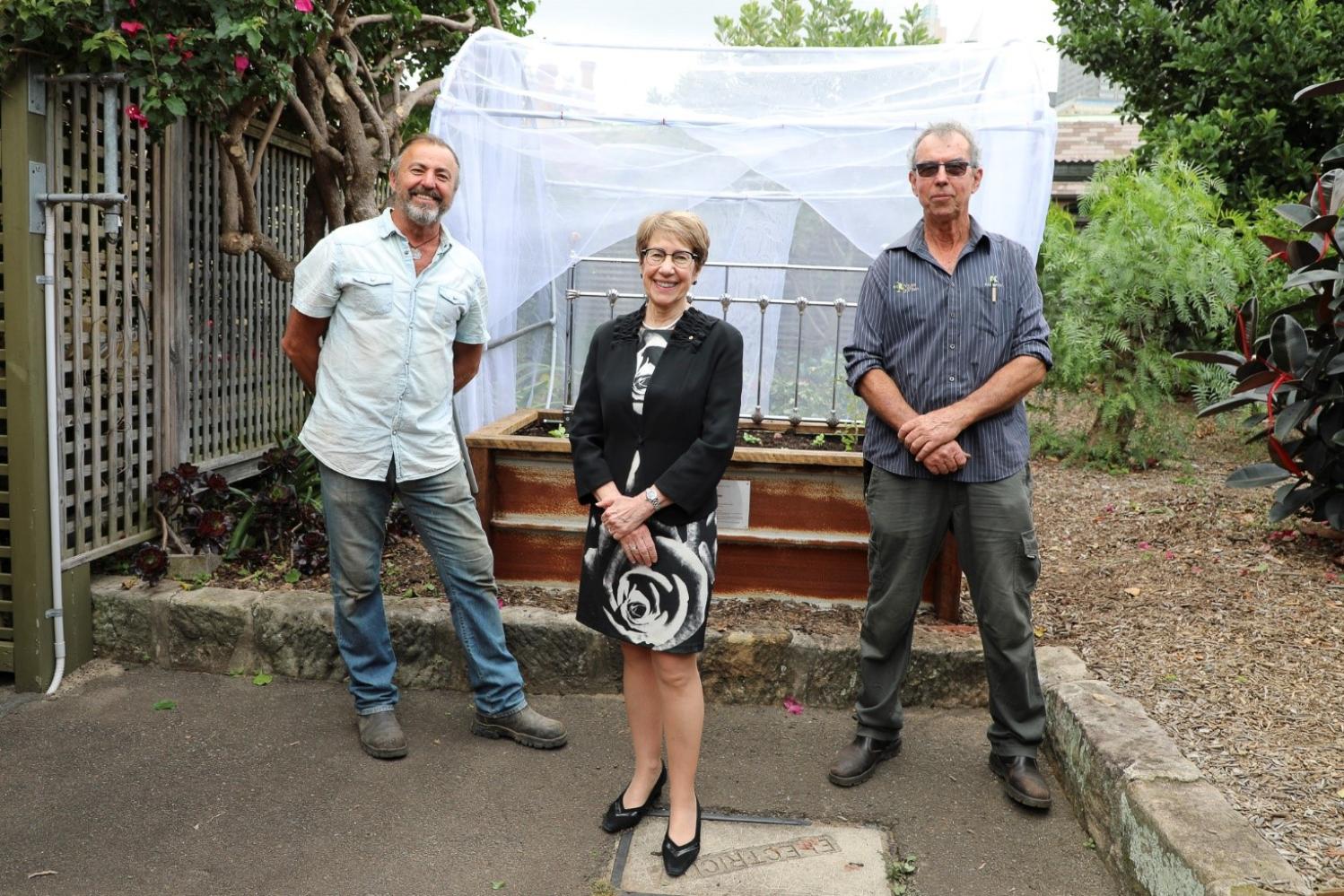 Pictured: Her Excellency the Honourable Margaret Beazley AC QC, Governor of New South Wales planting seedlings in Kimbriki Wicking Garden Bed at Government House
Kimbriki's Eco House and Garden team have just completed an inspiring reuse initiative, which saw Avalon Public School's old roofing materials end up with a new look, a new life, and a new home at Government House.
The reuse initiative began earlier this year when Avalon Public School was scheduled to have their aging roof replaced in an infrastructure upgrade.
When removed, the old metal roofing materials were transported to Kimbriki for recycling through Kimbriki's metal recycling program. Kimbriki's site attendants spotted the materials coming in and consulted with Kimbriki's Senior Ecologist Peter Rutherford and the idea of Kimbriki's wicking garden beds was born.
The Kimbriki wicking garden beds were handcrafted onsite by Andy O'Sullivan using the metal roofing sheets and recycled timber and are designed so the water 'wicks upwards' into the soil, like a candle wick, using 60-80% less water than conventional garden beds. Kimbriki's Senior Ecologist Peter Rutherford noted, "We are seeing increasing community interest in learning about wicking beds and more and more people and schools are installing them."
In August 2020, Kimbriki were fortunate to be invited to host Her Excellency the Honourable Margaret Beazley AC QC, Governor of New South Wales on a virtual site tour of Kimbriki as part of Her Excellency's COVID community outreach program. During the virtual site tour CEO Peter Davis updated The Governor on Kimbriki's promotion of reuse initiatives and post tour offered to install a Kimbriki wicking garden bed on the grounds of Government House.
Peter Rutherford and the Eco House and Garden team attended Government House in September to install the Kimbriki wicking garden beds in the grounds at Government House, and again in November to plant out a selection of lettuce and greens, and establish possum protection netting. On both occasions the team were incredibly lucky to be graced by the presence of Her Excellency the Honourable Margaret Beazley AC QC, Governor of New South Wales who even joined in planting a selection of plant seedlings in the garden bed.
The Governor stated, "It is important these days to adopt ecological and environmentally sustainable practices whenever possible, and I appreciate the focus on reusing materials for the wicking garden beds – it is a wonderful initiative . "
"I am looking forward to seeing how the wicking garden bed goes here at Government House and enjoying some fresh greens straight from the garden".
Kimbriki CEO Peter Davis, said that "Kimbriki are very proud to have created a product that reuses old materials like the Avalon School roofing, is environmentally friendly, and now graces the gardens at Government House."
Peter Davis also highlighted "Leading into the festive season, it is a really good time to think about waste, reuse and recycling."
"Christmas is our busiest time of year at Kimbriki, with many families visiting pre and post Christmas.
"This Christmas, when purchasing new items, or throwing out old we challenge you to think about the 4 R's, Rethink, Reduce, Reuse and Recycle and make sure that we make a conscious effort to limit the amount of items ending up in landfill."
For more information on how to set up your own wicking bed at home go to www.kimbriki.com.au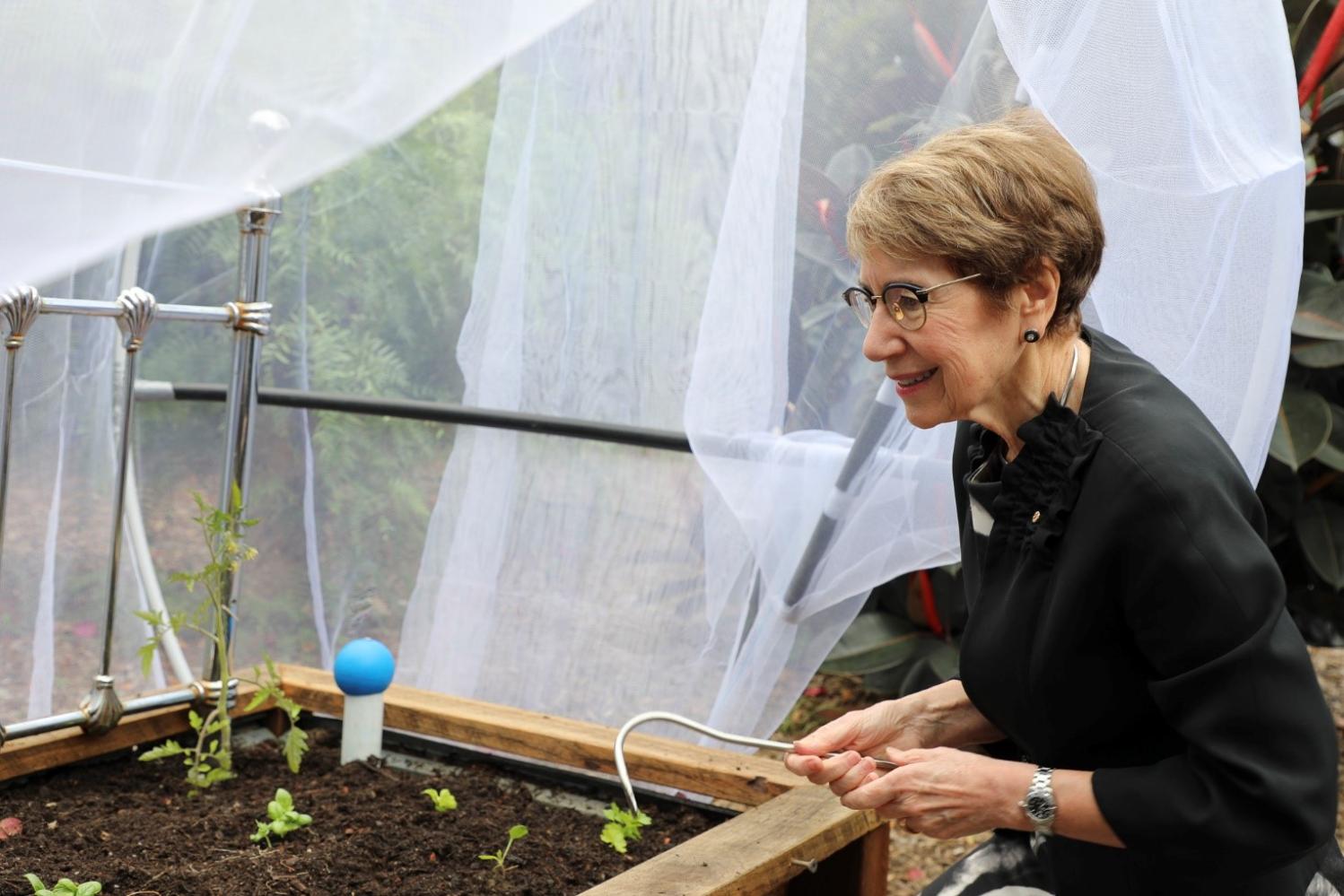 Pictured: Her Excellency the Honourable Margaret Beazley AC QC, Governor of New South Wales planting seedlings in Kimbriki Wicking Garden Bed at Government House.
Drowning Schoolie Saved In Brave Rescue By NASA - Avalon Beach SLSC Bronze Holder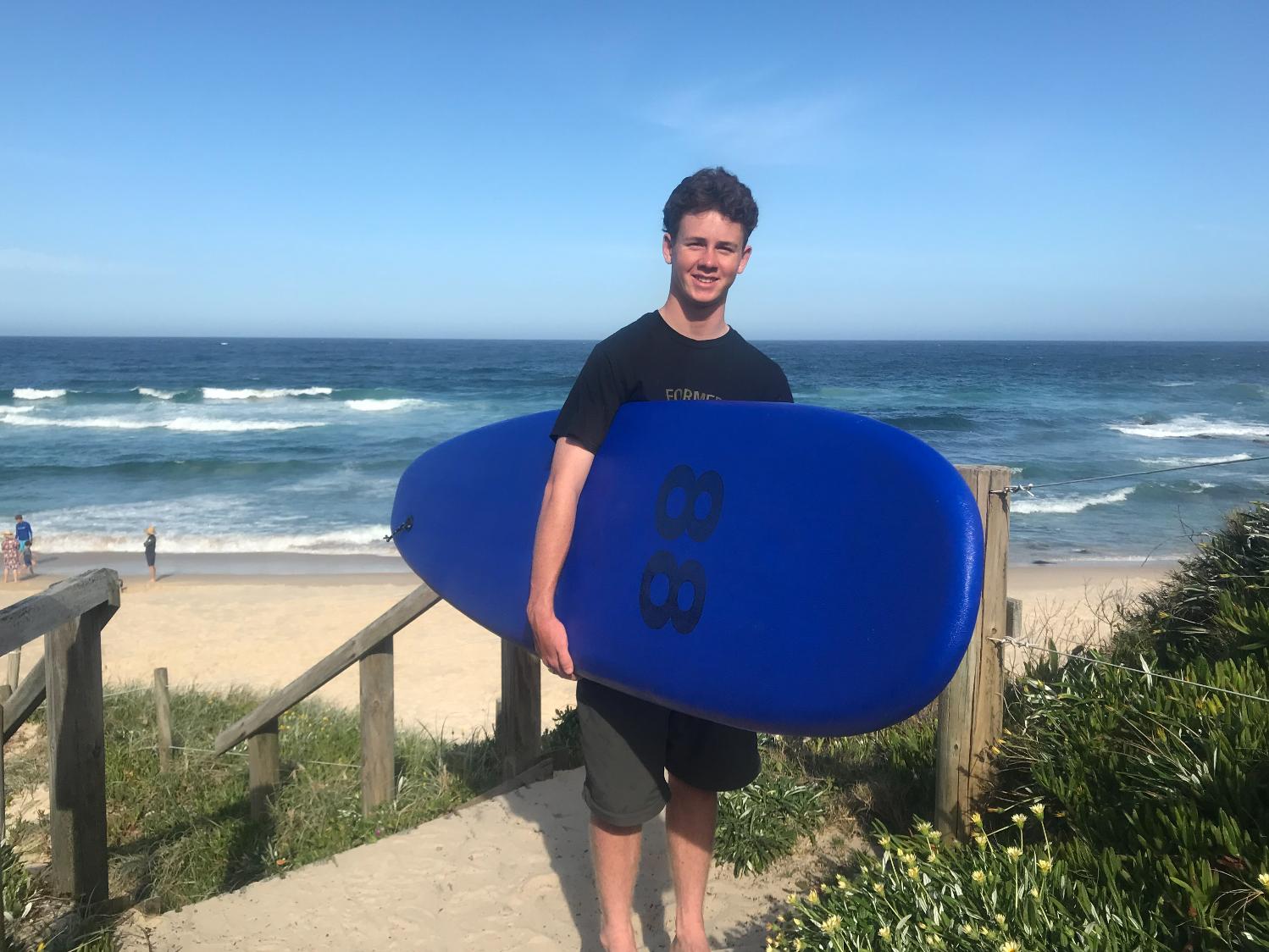 Max Arnold - photo by Lachlan Arnold
"I didn't think anyone was coming."
Lachlan Arnold says it chills him to the bone to recall those words, spoken by the teenage girl lying on the beach waiting for the Ambulance to arrive.
Luckily for the young schoolie from Taree, Lachlan and his son Max happened to be on the unpatrolled Boomerang Beach that day and had the courage and the skills to save her life, reaching the drowning girl with just seconds to spare.
Max Arnold is just 16 years-old but has been involved with his local surf club since he was a six-year old Nipper and is a member of North Avalon Surfriders Association. Completing his Bronze Medallion just a year ago, he has been actively patrolling at Avalon Beach, yet his deep understanding of the ocean and ability to act quickly under pressure is a tribute to himself, his club and his family.
On Thursday 26 November Max and his dad Lachie were surfing and enjoying the sunshine at the southern end of Boomerang Beach on the NSW lower-north coast. The beach is a popular tourist destination – even more so in 2020 with traditional schoolies destinations out of reach due to COVID-19 restrictions.
Lachlan recalls the beach being busy that day with people on the sand and in the water right along the unpatrolled 1500m stretch.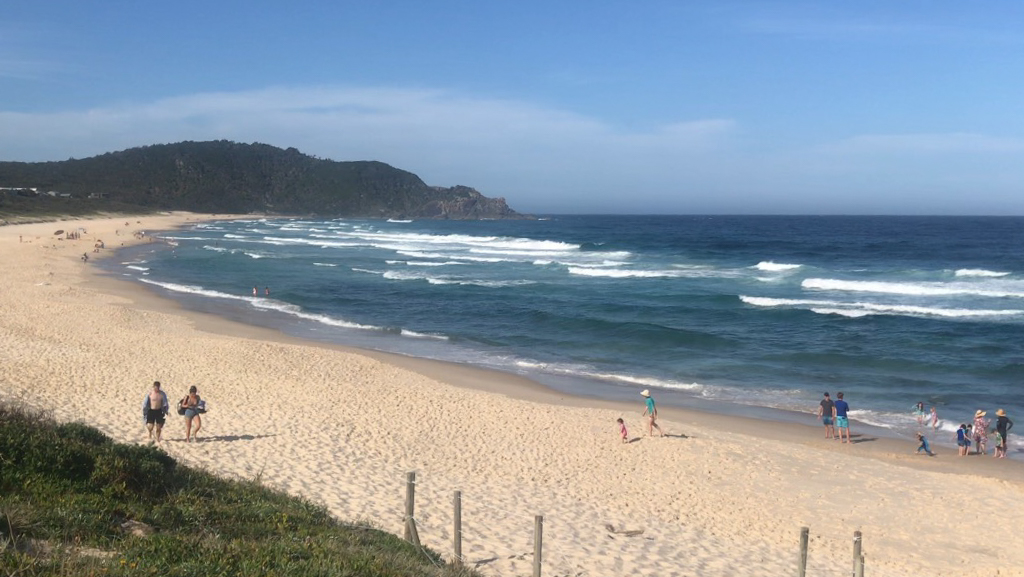 South Boomerang Beach looking North, photo by Lachlan Arnold

"We were sitting on the beach and this young guy came running up yelling, 'my girlfriend has been pulled out in a rip, can you help?'".
When the boy pointed out his girlfriend, Lachlan was shocked to see she was over 150 metres from shore. In the rough conditions, the boyfriend recognised he was unable to help by attempting to rescue her himself.
"We watched as he ran towards us, asking people if they could help as he made his way down the beach," said Lachlan "but no one he asked could help."
Lachlan and Max were staying at a house just a couple of hundred metres from where they were sitting on the beach. Immediately Max ran up to the house to grab a foam surfboard. A strong swimmer and surf lifesaver himself, Lachlan began to swim out towards the girl.
"Max and I got to the girl at about the same time. I was holding her up in the water and she was gone. She was probably 30 seconds from going under," said Lachlan. "She was in the worst condition I'd ever seen anyone out in the water."
Max had done an incredible job to sprint to get the board and complete the long paddle out so quickly to meet his dad. The pair were able to get the girl onto the board and Lachlan began paddling the girl back to shore while Max swam alongside.
"Miraculously we caught this wave that took us all the way to the beach – it really was the magic wave and the most welcome one I've ever caught," recalls Lachlan.
Back on shore, the girl was completely exhausted so Max and Lachlan carried her up the beach where they called an Ambulance and performed checks of her condition.
"She could barely talk," said Lachlan "and she said to me when she got her breath back, that she felt like she was breathing water."
The proud dad said he had complete confidence in his young son throughout the rescue effort. "He knew exactly what to do and when to do it. He's only 16 and he was just so calm and just having done his Bronze Medallion, it's amazing."
Lachlan said the surf life saving training and the family's love of the ocean meant he wasn't once worried for his son's safety. "Max paddled out on the board and the surf was rough, but I didn't once think he couldn't do it," he said.
Lazy Dog Looms Over Act 6 And MC38 Season Pointscore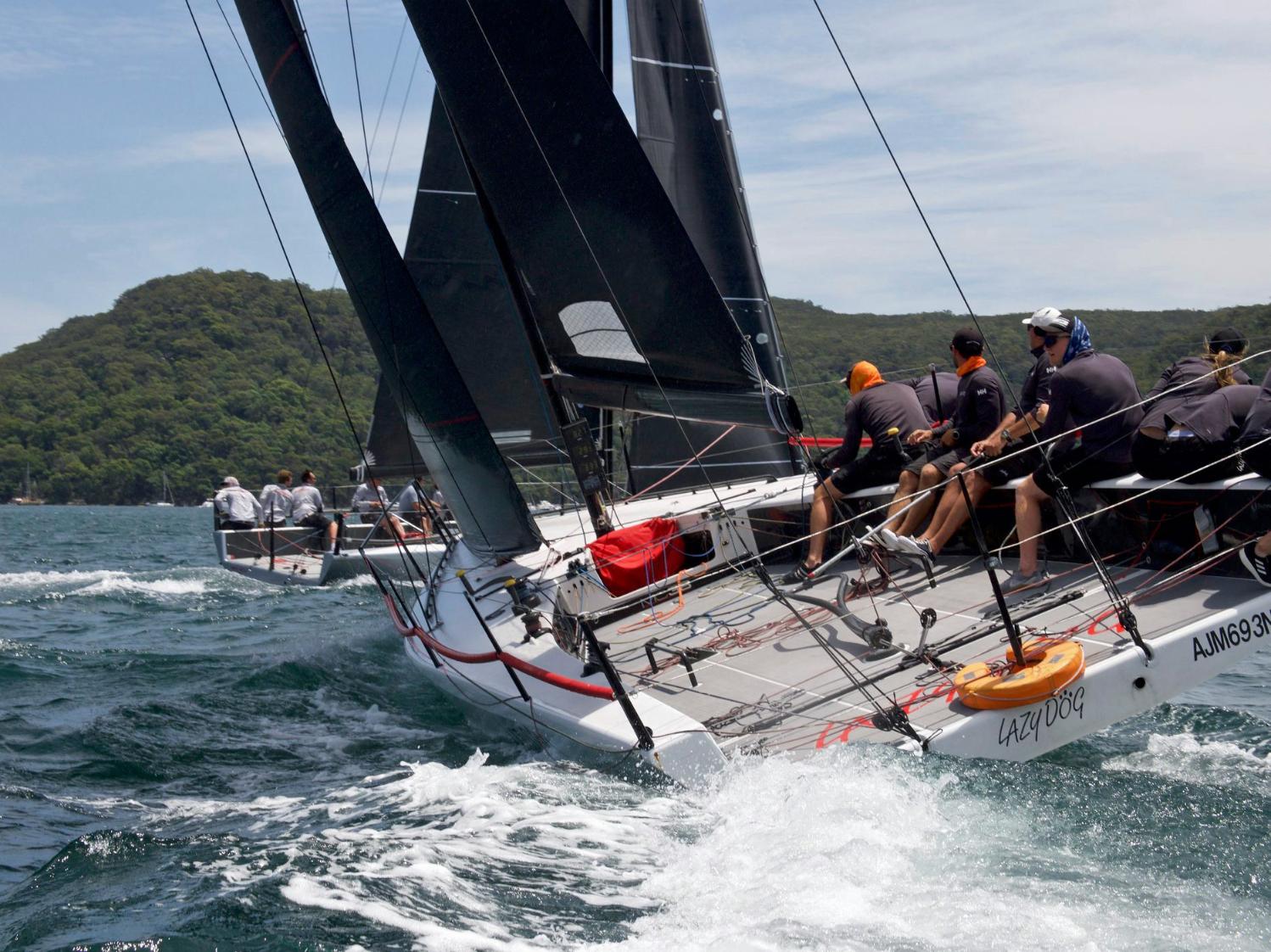 Lazy Dog Act 6 and 2020 season winner - photo by Tilly Lock Media
Event: MC38 2020 Season Act 6 (final), November 28-29 hosted by the Royal Prince Alfred Yacht Club with racing on Pittwater.
Middle Harbour Yacht Club's Lazy Dog team closed out the 2020 MC38 calendar with a third series triumph, giving Shaun Lane and Quentin Stewart's crew the overall season trophy from six acts.
"We were pretty consistent; not too many boat handling errors," Lane said. It was tricky finding a course area on day two, the RPAYC race committee headed up by Steve Merrington first trying the estuary, where the breeze was already 27 knots, then Mackerel Beach and finally 'the pond' at the southern end of Pittwater where they got two races away "before the wind went mental".
The youngest helm in class history, 13-year-old Indy Beck, steered his dad Christian's MC38 InfoTrack on day two with plenty of talent supporting him in the big role.
"It was definitely exhilarating when we had a top wind of 30 knots and we were doing 20 knots downwind," the teenager said. "We had one wipeout in the first race, a nice wipeout coming out of a gybe. We sat there on our side for a bit then got going again. The starts were pretty epic, I wasn't worried about running into someone."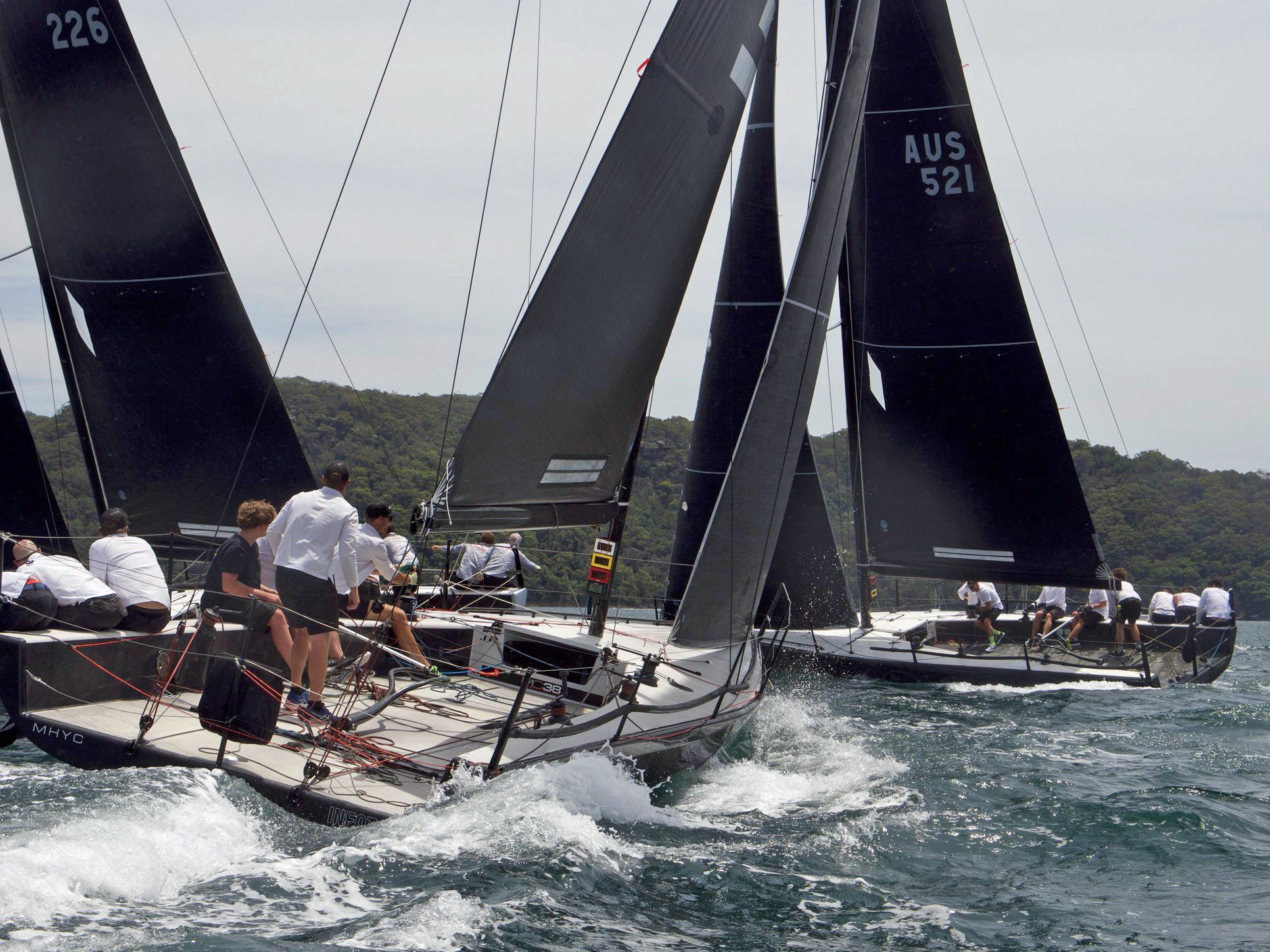 InfoTrack with Indy Beck on the helm - photo by Tilly Lock Media
Full report by Lisa Ratcliff HERE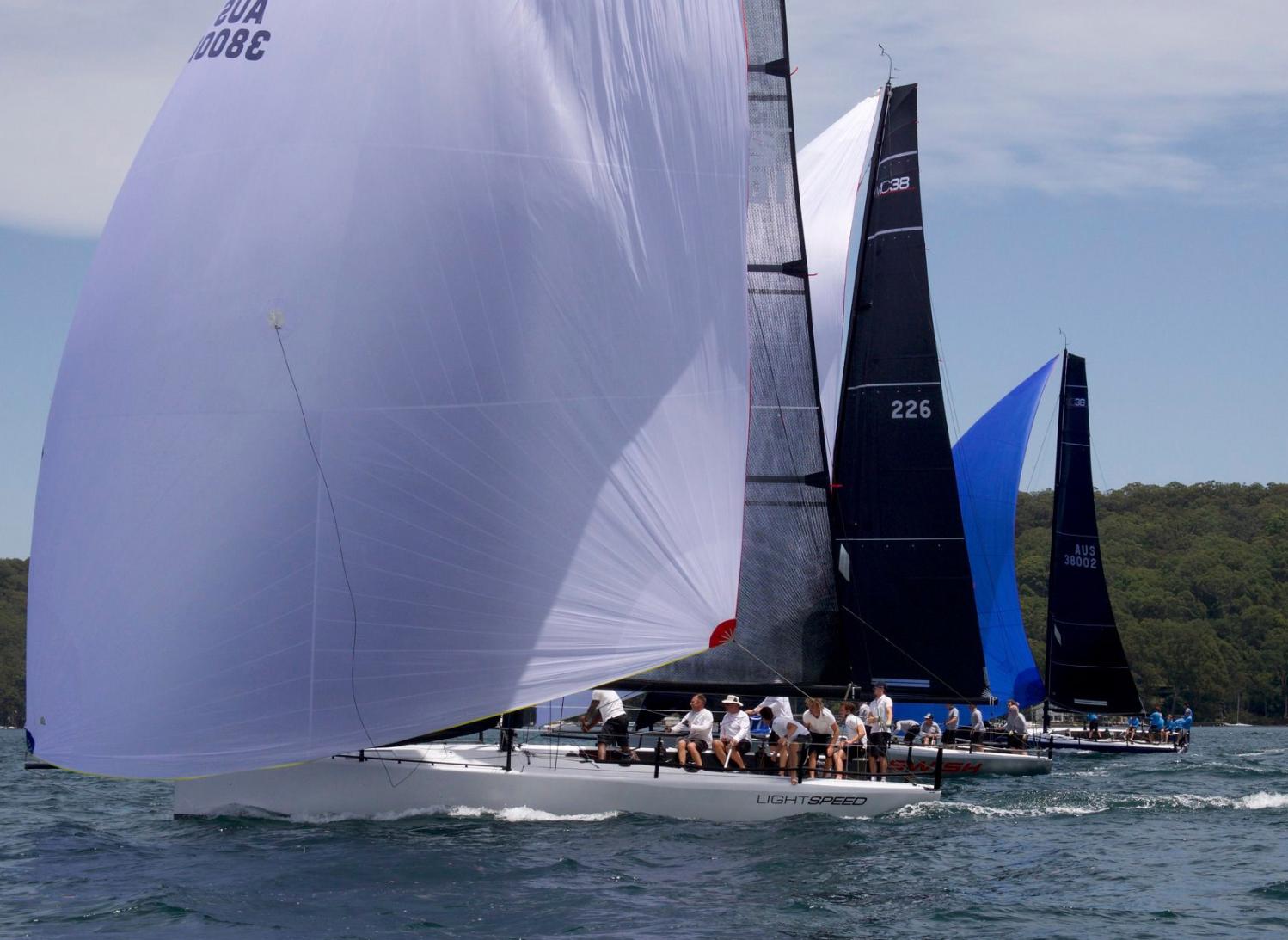 Lightspeed, Swish & Dark Star Act 6 - photo by Tilly Lock Media
Extreme Sydney Short Ocean Racing Championship Tests Crews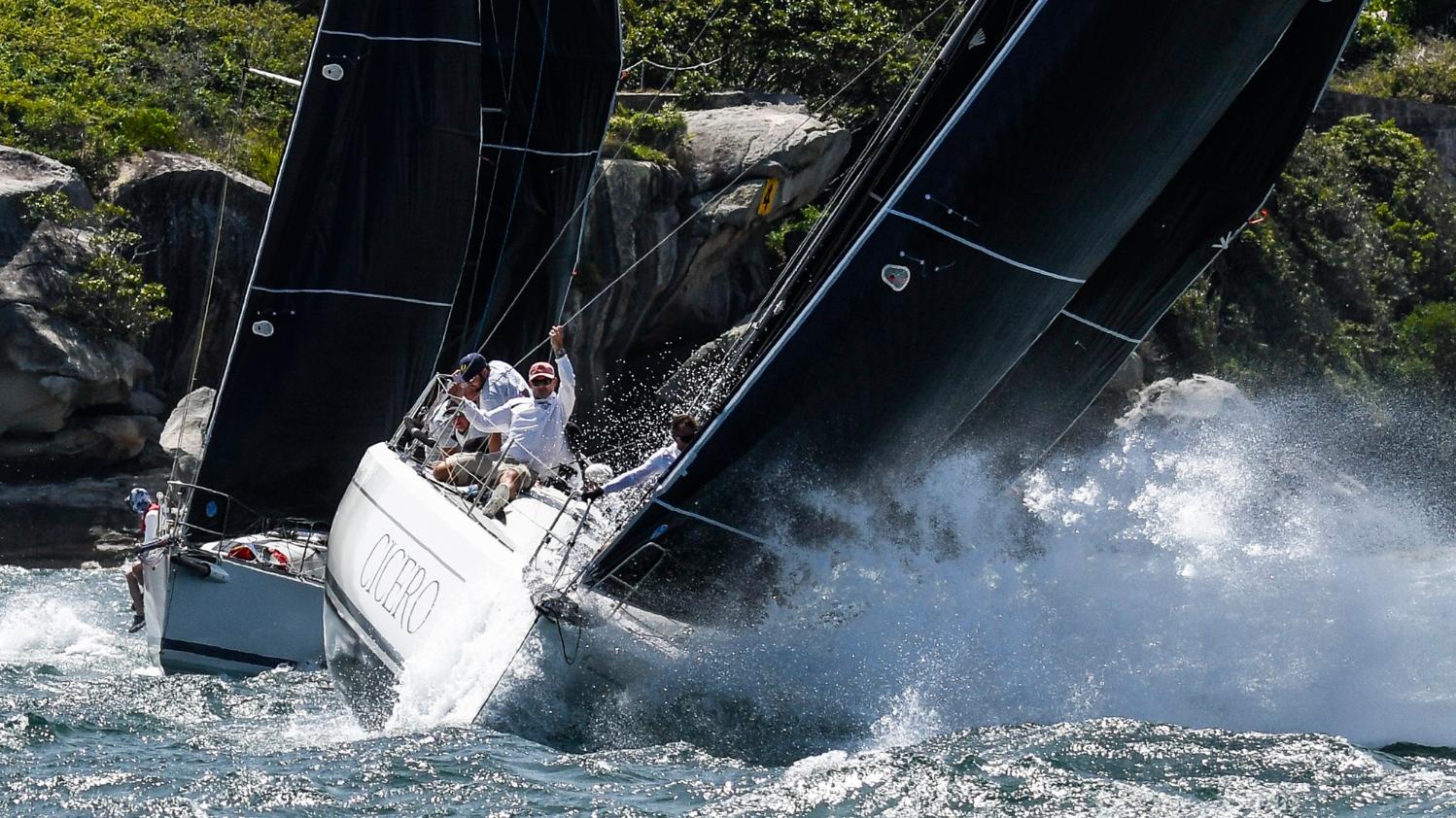 SSORC Div 2 ORCi & PHS winner Cicero- photo by Marg Fraser-Martin
Middle Harbour Yacht Club's Sydney Short Ocean Racing Championship (SSORC) coincided with Sydney's record-breaking hot weather weekend, 28 crews enduring 40 knot gusts for race two and brutal temperatures in the low 40s both days of the longstanding annual series.
A gale warning moved racing inshore on the Sunday, Race Officer Denis Thompson designing special courses to suit a second day of fresh north-westerlies. Hot winds really kicked up in the closing stages of the Sydney Harbour passage race, testing reaction times and causing sail damage and a few knockdowns.
The icing on top of Keiran Mulcahy's resounding IRC, ORCi and PHS division 1 victories with his King 40 called Soozal was beating nemesis and Royal Prince Alfred clubmate Bushranger, Gerry Hatton's Mat 1245 also from Pittwater.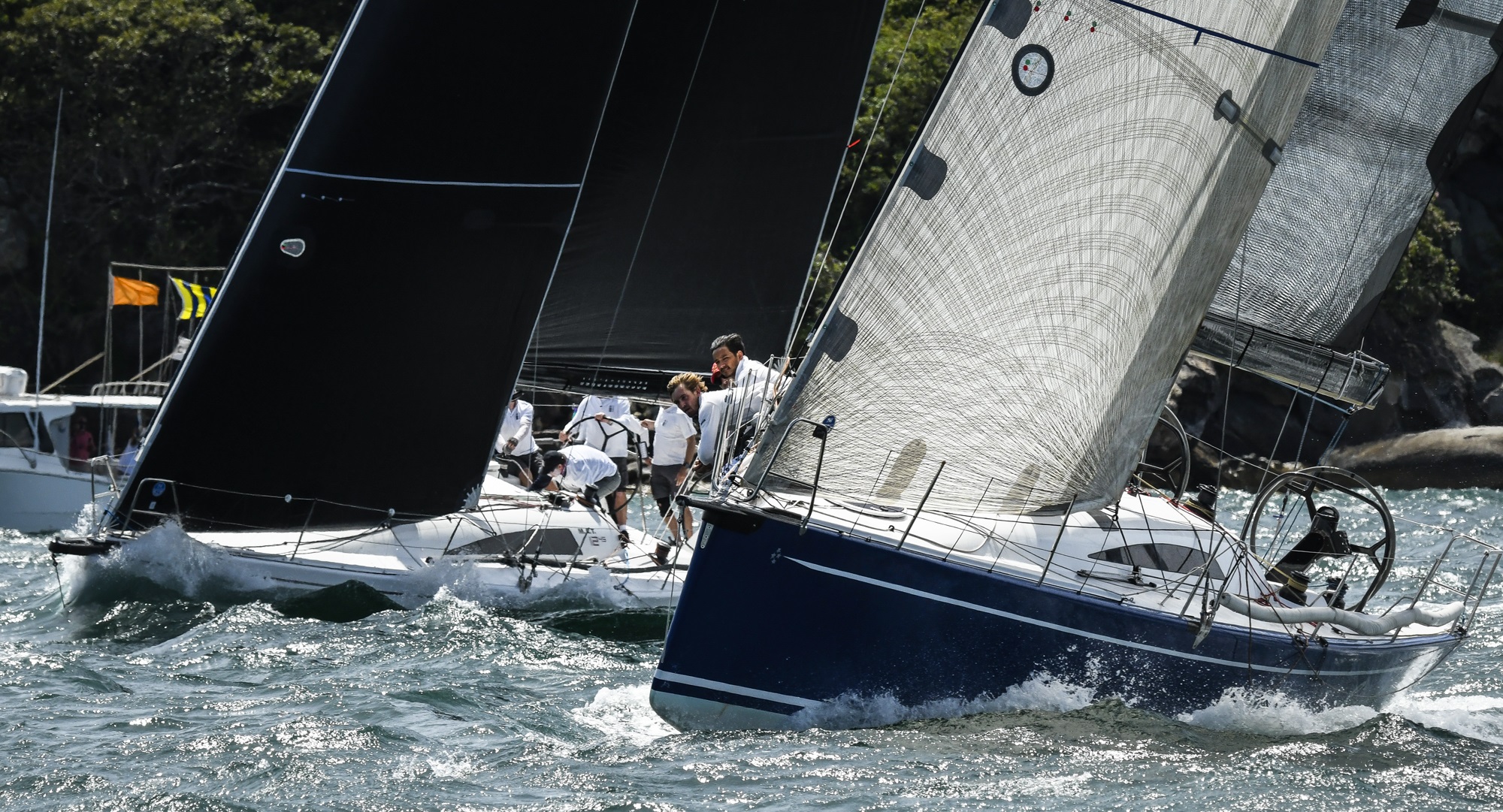 SSORC Soozal (blue hull) R2 Start - photo by Marg Fraser-Martin

"We come to SSORC to beat Bushranger and we've done it two years in a row. I'm walking around at Middle Harbour Yacht Club now with a bucket for their tears and handing out tissues. I've been through three boxes already," Mulcahy joked before heading to the podium to collect the team's six trophy haul.
The winning Sydney 38 was David Hudson's Conspiracy (RPAYC).
Hosted by Middle Harbour Yacht Club, the Sydney Short Ocean Racing Championships is celebrating it's 43rd Anniversary in 2020. The Regatta ran over the weekend of November 28 and 29.
For many yacht owners and their crews, the two day regatta sailed on tight courses off Sydney's Heads, Beaches and, at times, within the Harbour, is vital to their preparations for the Rolex Sydney Hobart Yacht Race (CYCA) and Pittwater to Paradise Regatta (RPAYC).
Full report by Lisa Ratcliff HERE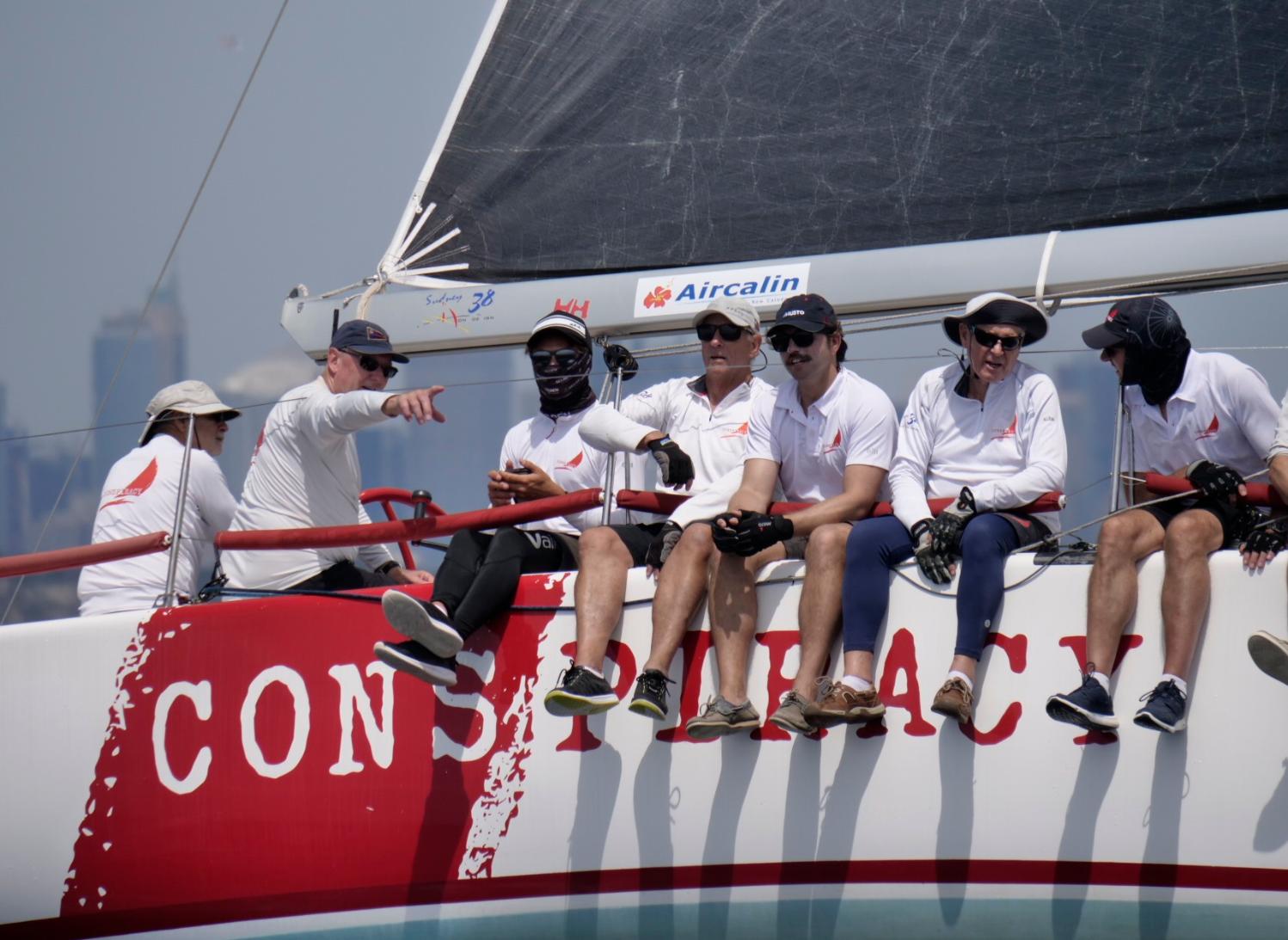 SSORC winning Sydney 38 Conspiracy - photo by Tilly Lock Media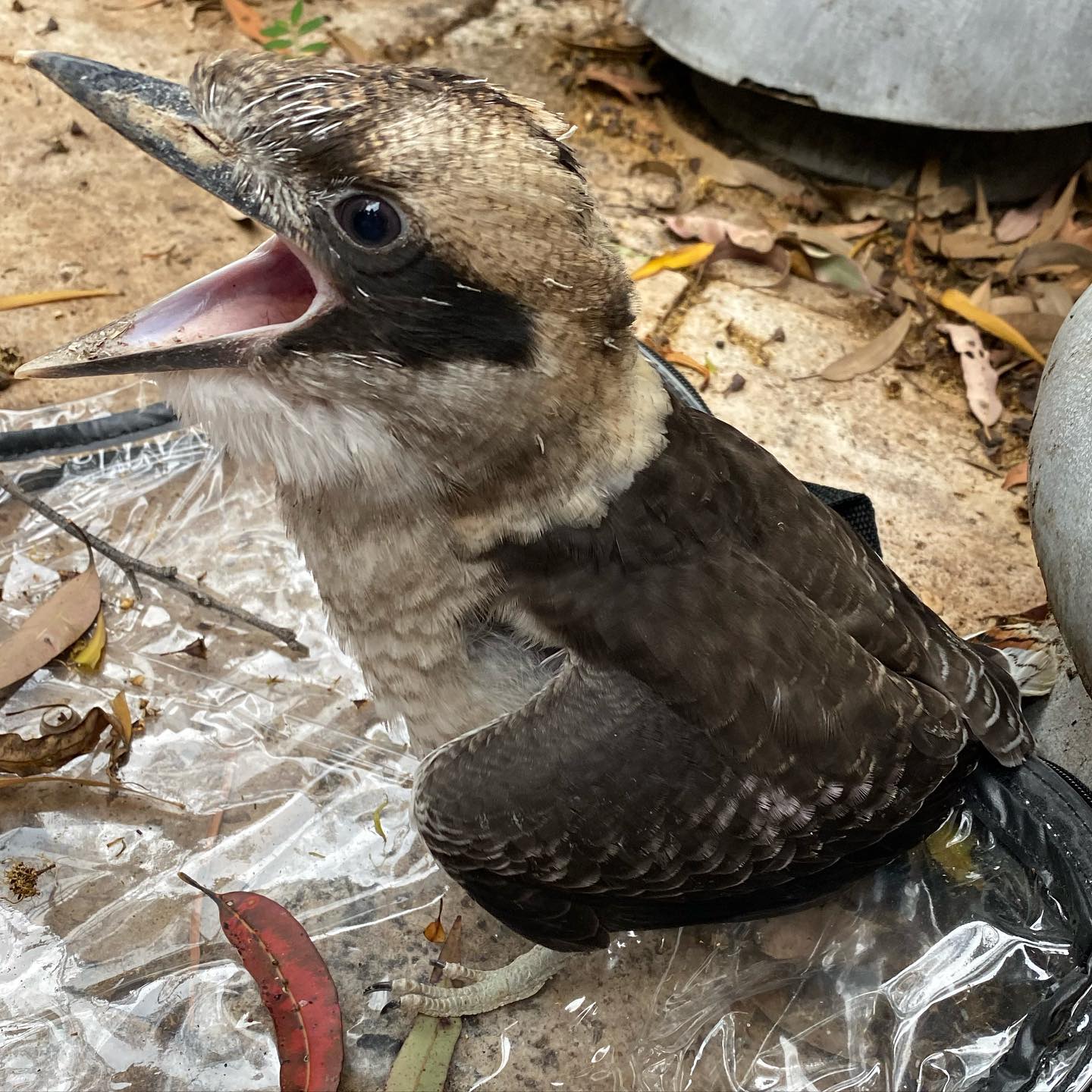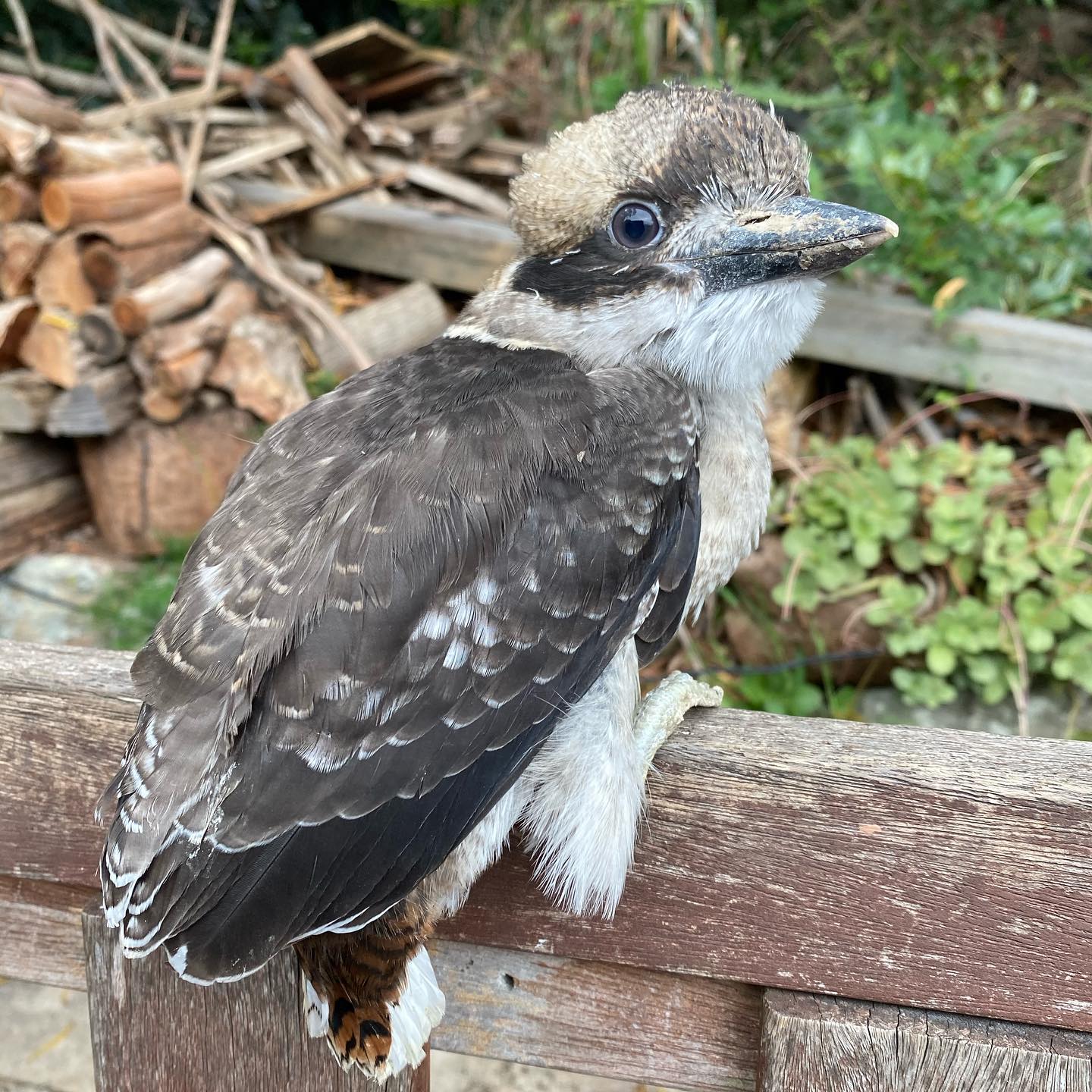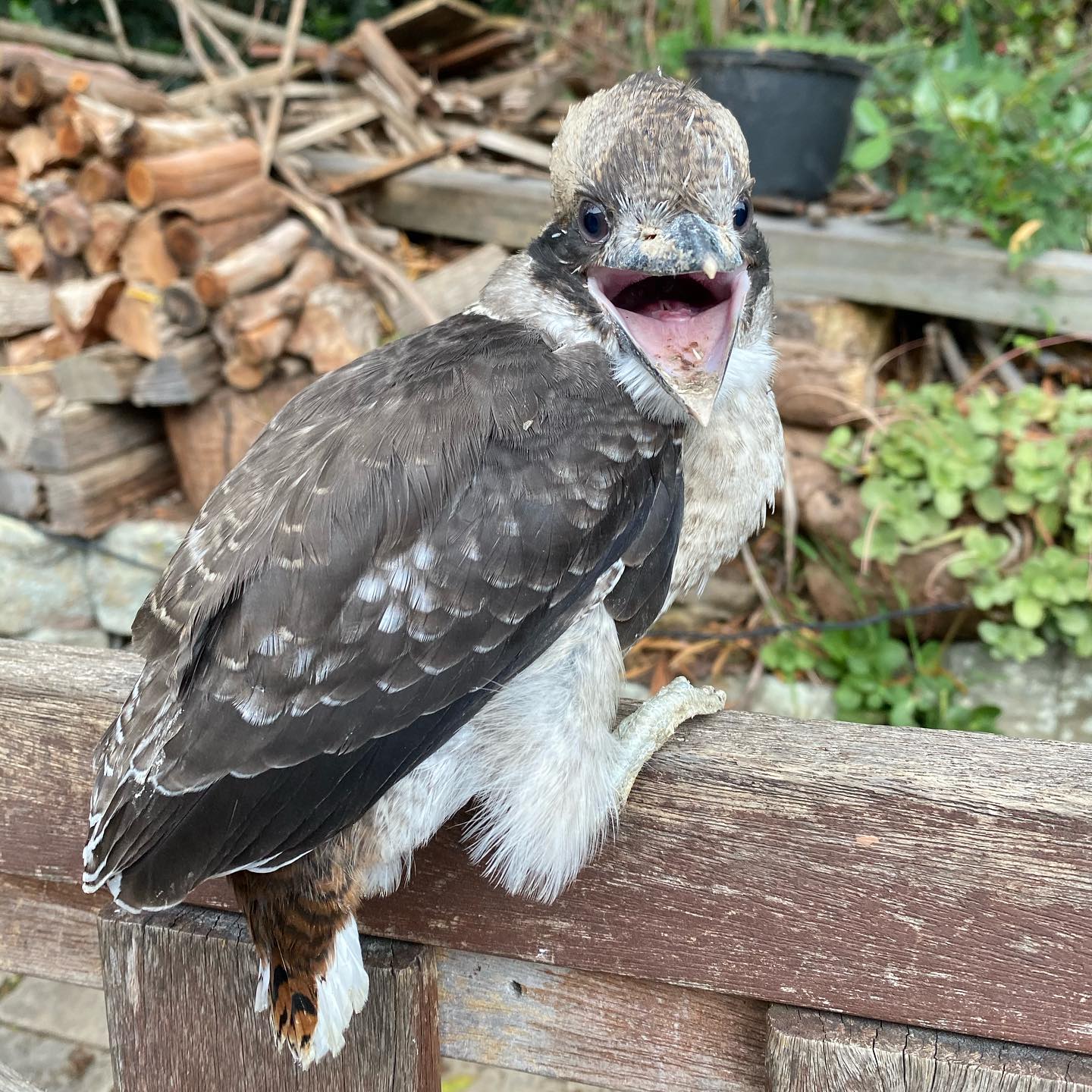 Fledgling kookaburra at Elanora Heights - photos by Selena Griffith
Past Features Archives (pre 2014)
Pittwater Online News was selected for preservation by the State Library of New South Wales and National Library of Australia. This title is scheduled to be re-archived regularly.
Archived Issues (2014 on) may be accessed here: pandora.nla.gov.au/tep/143700