September 20 - 26, 2020: Issue 467

Newport Breakers Rugby Club's Historic 2020 Season: Four Out Of Five Trophies Won
The Newport Breakers are 2020:
Club Champions: now holders of the Keith "Doc" Harris Shield
Clark Cup Major and Minor Premiers (Undefeated)
Farrant Cup Premiers
Nicholson Cup Major and Minor Premiers

Newport were in the running for the Campbell Cup too, just being pipped in the Semi-Finals.
Grand Finals Statistics:
Clark Cup: Newport 35 - Beecroft 19
Farrant Cup: Newport 40 - Old Iggies 15
Nicholson Cup: Newport 22 - Beecroft 13
In February of this year Newport Breakers Rugby Club players, coaches, supporters and family members were spending their off-season at Braidwood helping others through BlazeAid. During December 2019, a few days before Christmas, their 'Bro Walk' initiative was launched with members and community men of all ages encouraged to enjoy a beautiful place and some space to talk. The main message is it's okay to feel emotions, and that it is okay to talk about what's really going on.
''For too long men have been told to "harden up" or "get over it" but we're trying to change that. Let's change the way men are told to think.''
By July, when after all the push backs on community sport to keep everyone safe eased, the club finally got to play its first home game at Porters Reserve and came in undefeated and remained undefeated by days end.
President Jake Osborne said then;
''There's a real focus this Season on fostering community with all the teams we host or play away games against. Suburban rugby has an strategic objective of 'Sharing the Spirit of the Game' with a continuing passion and commitment directed at strengthening Rugby at the grassroots community level. By also promoting good fellowship amongst players of, and persons interested in, the game, we hope to extend the inclusivity Newport has always worked under and towards.
This is also a good way to be present for those teams based in areas that may be under stress due to what's happening in their own communities across the Sydney Basin. ''
''On a local level, we have a range of ways we're going to be working with local businesses, we'll aim to keep providing community activities when and where possible and look towards scheduling, if possible, some of the ideas we had prior to all games being suspended – the 10's competition for instance.'
'At home games will not only follow the protocols set up by the state government and Suburban rugby so we can create a safe environment for everyone to enjoy their rugby, we'll also have the food of some of the restaurants and other sponsors that support us on site and aim to add something a little special in when we can.
Our next home game we'll have the Red Bull truck visiting and providing music – some fun and entertainment is a good way to give an opportunity for everyone to gain some perspective and a bit of connection after what has been, so far, an interesting and challenging Season.''
''To best achieve these objectives in a sustainable way, we'll have our eyes firmly set on the big focus this Season – to promote community with our community and, as I said earlier, with other teams.
''We haven't lost a game this year, so there's a positive energy in the club among all grades of players and our supporters. We have a lot of great young players coming through and we'll be doing our level best to help them go as far as they can.''
Well, Jake, all Newport players, coaches, supporters and family members - JOB DONE - what an amazing and historic Season and what an incredible club!
Not only have you forged new community connections, maintained and strengthened those already in place, looked after each other - looked out and for others by giving your time and energy in hard work to help those devastated by last Summers' fires - looked for and found a way to ensure the conversations that need to be had can be - improved the facilities at Porters so the place looks great - inspired the next generation of youngsters through your conduct and ethos of inspiring inclusion of all - BROUGHT HOME FOUR 2020 TROPHIES - you have done it all with grace, quietness and respectfulness.
Congratulations to all of the Newport Breakers Rugby Community - you're a huge crowd of absolute stars to every man, boy, woman, and girl - no exceptions - and you have given the whole community a smile and laugh that is much needed.
Thank you for all you have done for so many all year long.
Some History of these Cups and Shield sourced from "The Game for the Game Itself - The History of Sub-District Rugby in Sydney" via the Subbies webpage, and a Tribute for Dr Harris written by his son David when his father passed away in 2005, seems in keeping with this momentous occasion:
Clark Cup (1st Grade):
In 1972 the Clark Cup was presented to the union by Bob Clark, a foundation member of the Briars Club and also a past secretary and life member of the Metropolitan Sub-District Rugby Union (MSDRU). The Clark Cup was originally contested by teams in the "B" group of Division Three, then in 1975 to the "B" group of fourth division. After restructuring the various Divisions in 1995 the Clark Cup has been the premier award in Division Three.
Farrant Cup (2nd Grade):
Hunters Hill club stalwart Don Farrant was a long time supporter of sub-district rugby. Don presented the Farrant Cup to the MSDRU in 1974. Initially included in an expanded Fourth Division, the Farrant Cup became the award for the Division Three Second Grade premiership in 1995.
Nicholson Cup (Colts):
The Nicholson Cup is named after former Ku-ring-gai President John Nicholson. Originally the Nicholson Cup was awarded to the Division Three Fourth Grade premiers, and now is given to the winners of the Colts (U21) competition.
Keith "Doc" Harris Shield (Club Champions):
The Keith 'Doc' Harris Shield is named after Dr Keith Harris, King's School, Parramatta student, University of Sydney medical student who joined the 2/14 Field Regiment - the "Broken Eighth" - as a gunner in WWII. After he came home and returned to his studies. He remained with the Citizen Military Forces (army reserve) throughout his active life, and rose to the rank of colonel and commanded the 7th Field Ambulance and the CMF's One General Hospital in the 1950s and 1960s. In 1968 he briefly took up active duty again, as leader of a volunteer surgical team in the Vietnam War hotspot, Long Xuyen. Keith was also an active member of Legacy for more than 50 years, and after his retirement became chairman of the Manly-Warringah branch.
As a doctor he soon developed a passion for public health, particularly the treatment of tuberculosis, initially in Perth and then in Sydney where he quickly rose to become the director of the TB division of the NSW Department of Health. He was offered the Commonwealth position, but declined for family reasons. Under his 20-year directorship, a statewide surveillance network for TB was greatly expanded. So successful was it that a state of relative complacency developed, against which he argued strenuously - a concern vindicated by the recent resurgence of TB.
He was able to continue his commitment to TB control long after his so-called retirement both within Australia, as director and life governor of the Community Health and Anti-TB Association of NSW, and internationally, as secretary-general of the International (Eastern Division) Union Against TB and Lung Disease.
Keith was a member of St John Ambulance for almost 50 years, and held a number of executive positions. He was director of the NSW branch in the 1990s, and made a Commander of St John in 1992. His combined medical and military interests made him a natural choice as doctor at two international Scout jamborees. He was later asked to become NSW commissioner for handicapped Scouts. Keith held this position for 25 years and found it very satisfying, especially as he achieved the integration of handicapped Scouts into regular jamborees.
During the 1960s and '70s he spent many rowing seasons at his beloved King's filming the crews for training purposes. To honour his commitment an eight was named "the Keith Harris"; it went on to win three GPS Heads of the River. He was president of King's Old Boys Rugby Club for almost 20 years, and the subdistrict third division trophy became the Doc Harris Cup. In 2000 he received a Commonwealth Award for sporting achievement.
A penchant for good food, wine and cigarettes took its toll on his health, but he never let that diminish his enthusiasm for community involvement. In fact, when he developed diabetes a decade ago, he took this as a sign that he should become involved, and he was chairman of the Manly-Warringah branch of Diabetes Australia for several years in the late 1990s. In 1999 he was made a member of the Order of Australia for his services to medicine and public health, particularly the prevention of tuberculosis. This was one of half-a-dozen community awards he received.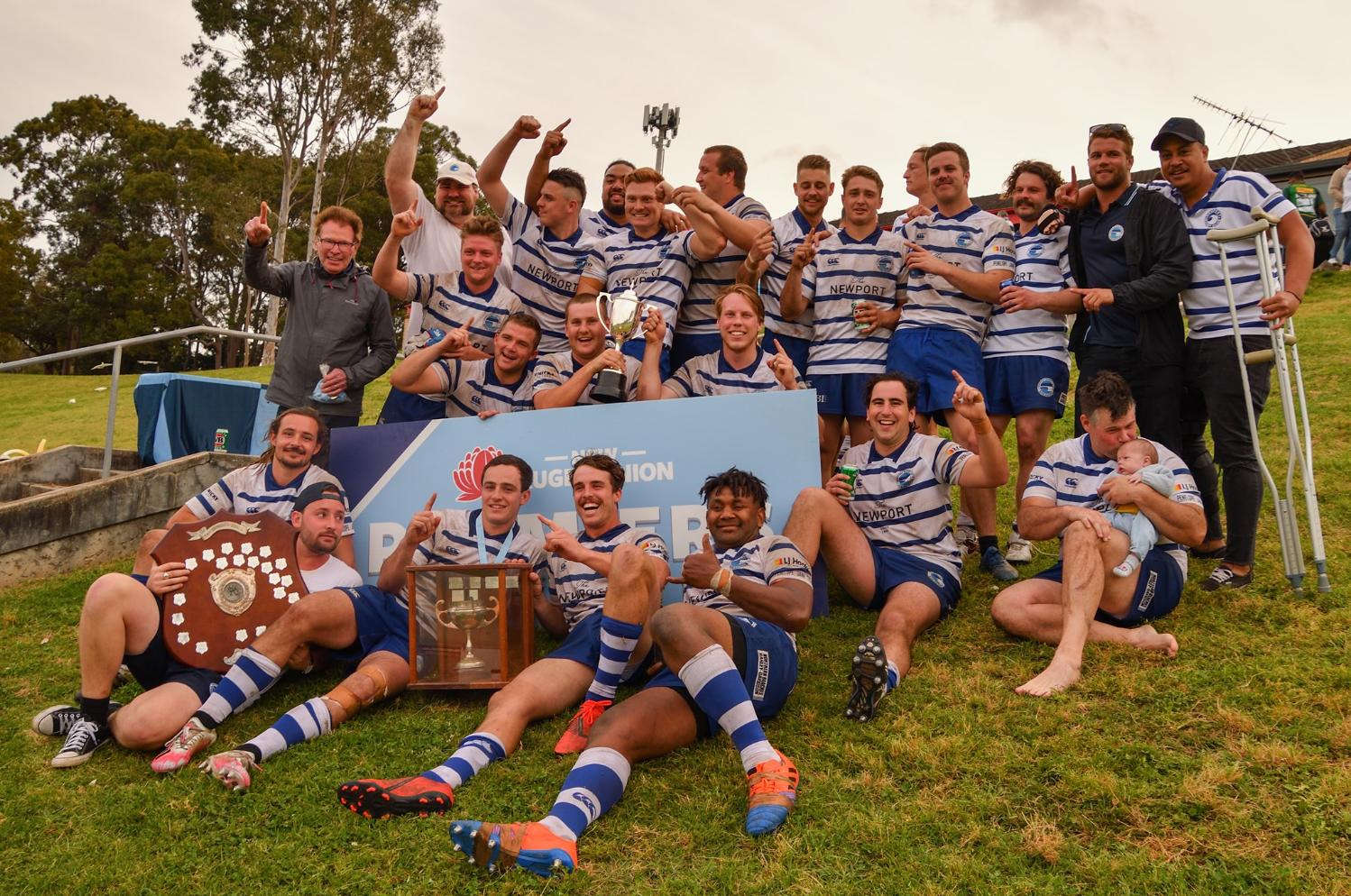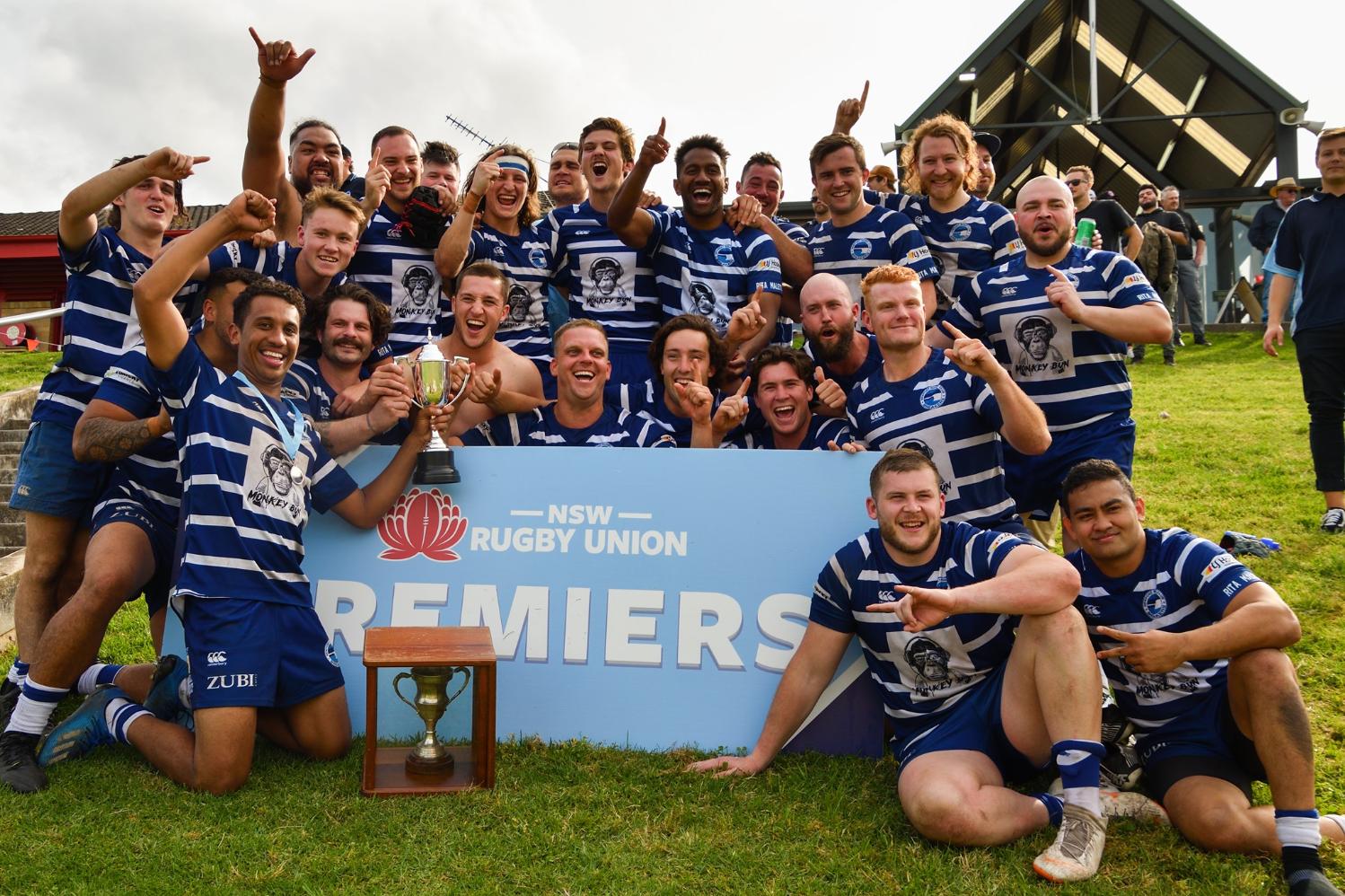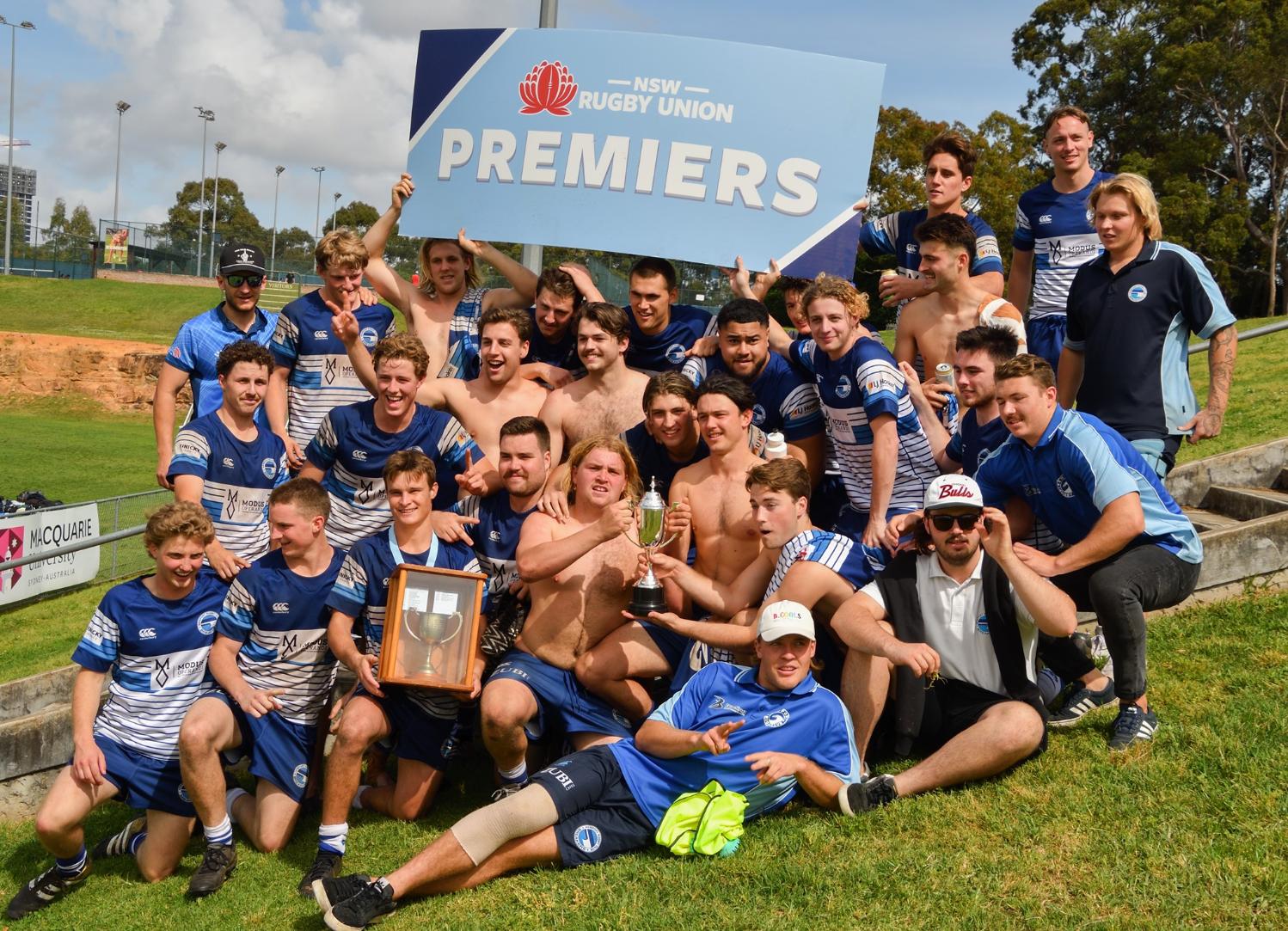 Avalon Beach Hardcourts Already A Winner With Good Sports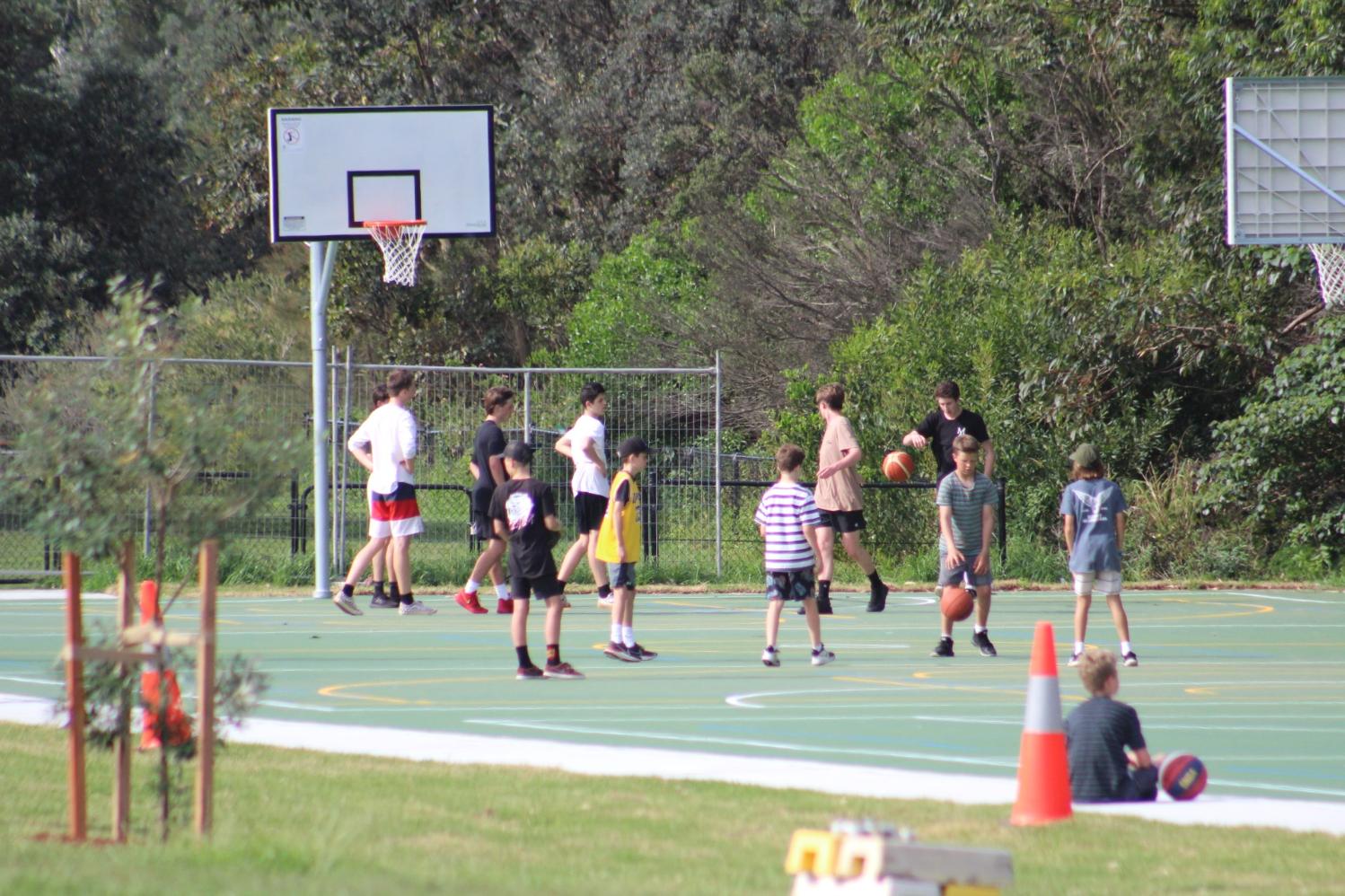 The new hardcourts just completed at Avalon Beach Reserve this week were getting a good workout on Saturday afternoon.
The two specially coated courts are marked for netball, basketball and pickleball and are sure to be busy year-round with club games and training, school groups and recreational users.
Avalon Beach Reserve is now a hub for sports with the hard courts complementing the new grass netball court, half basketball court and the existing skate park that are right next door.
Due to the COVID-19 pandemic, work on the netball courts was delayed. However in late May 2020 the work finally commenced with the contractors working even on Saturdays on the build.

Night matches and training will be possible within weeks once lighting is installed and more seating, a sheltered picnic table. Better connection via a bridge closer to the skate park and Avalon Beach SLSC are part and parcel of the plans.
This facility was made possible with $562,000 in grants from the NSW Government secured by MP for Pittwater, the Hon. Rob Stokes through the state government's Stronger Communities Fund and Community Building Partnership Program .
"This project will benefit the entire northern beaches community," Rob Stokes said on announcing the grants.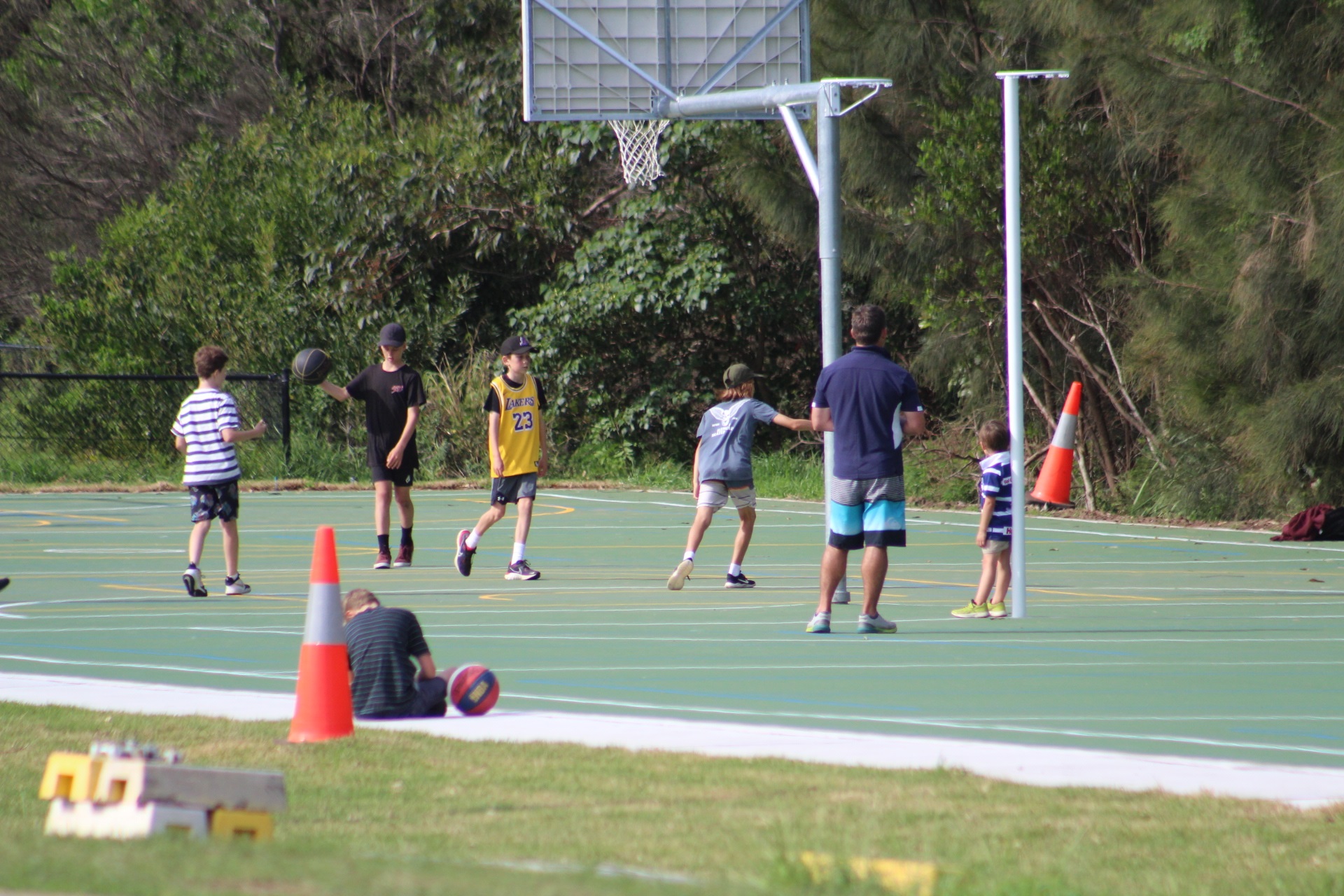 The two hardcourts are the latest full-sized netball courts, and welcomed by 5,500 local active players.
Secretary of the Pittwater Peninsula Netball Club, Belinda Wearne welcomed the new courts this week.
"We are very excited to see these long-awaited courts open in beautiful Avalon. As one of the largest netball clubs in the Manly Warringah Netball Association, the 436 members of Pittwater Peninsula Netball Club will benefit immensely from the new courts," Belinda said.
"Teams can now have equal access to local courts for training and practice matches, and it helps with space for NetSetGO! our introductory program for under 7, 8 and 9 players."
The Avalon courts complement the six recently built at Forestville War Memorial Playing Fields and another six at Lionel Watts Reserve in Belrose, in 2018.
In the coming months, four new outdoor multipurpose courts will be completed on Boondah Rd in Warriewood. These will also feature lighting to allow for night-time training sessions through the busy winter season.
Before the next netball season, the new superhub of Northern Beaches netball at Abbott Road North Curl Curl will also get a huge upgrade, with 25 courts to be resurfaced.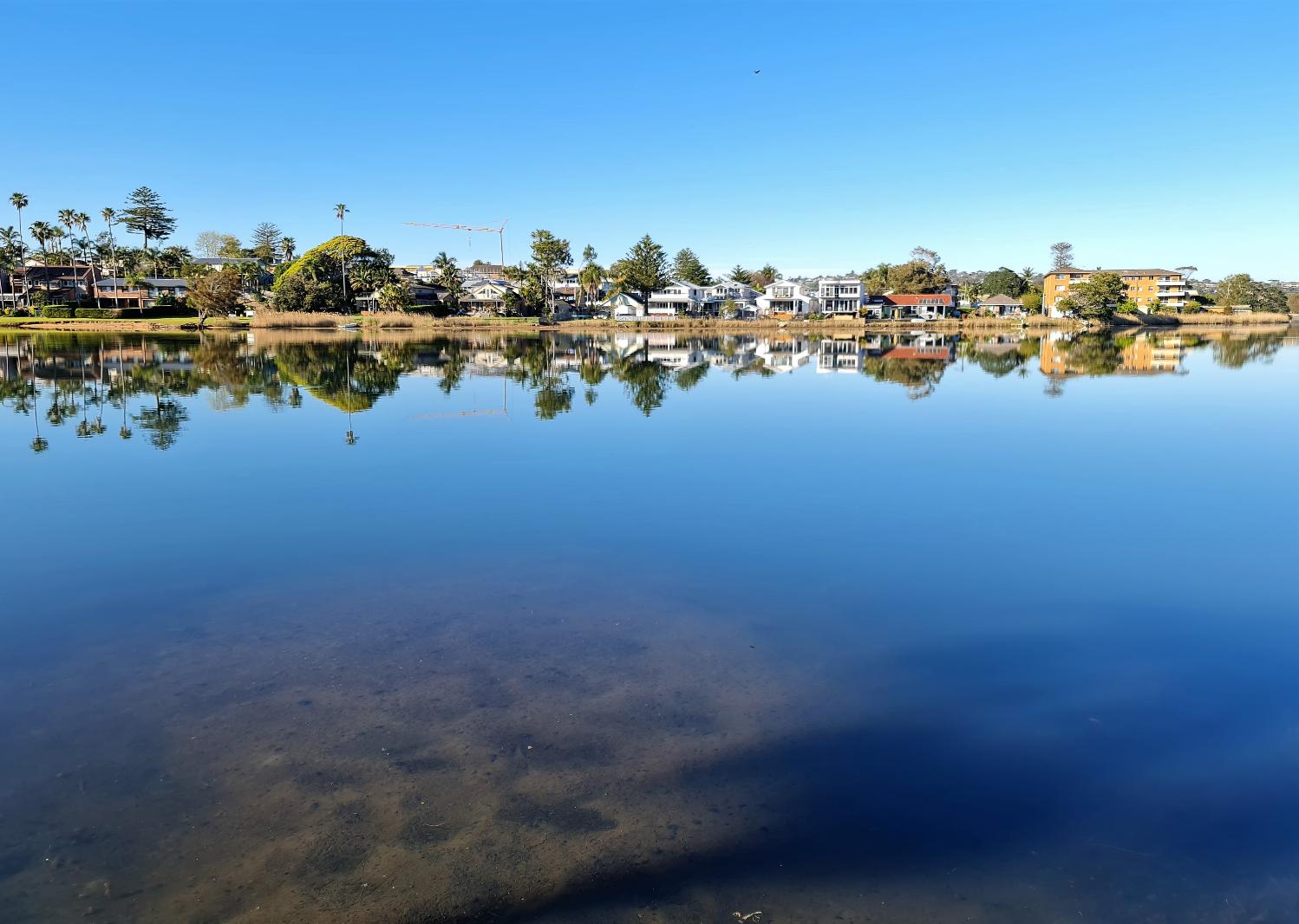 Narrabeen Reflections - September 2020 - photo by Joe Mills.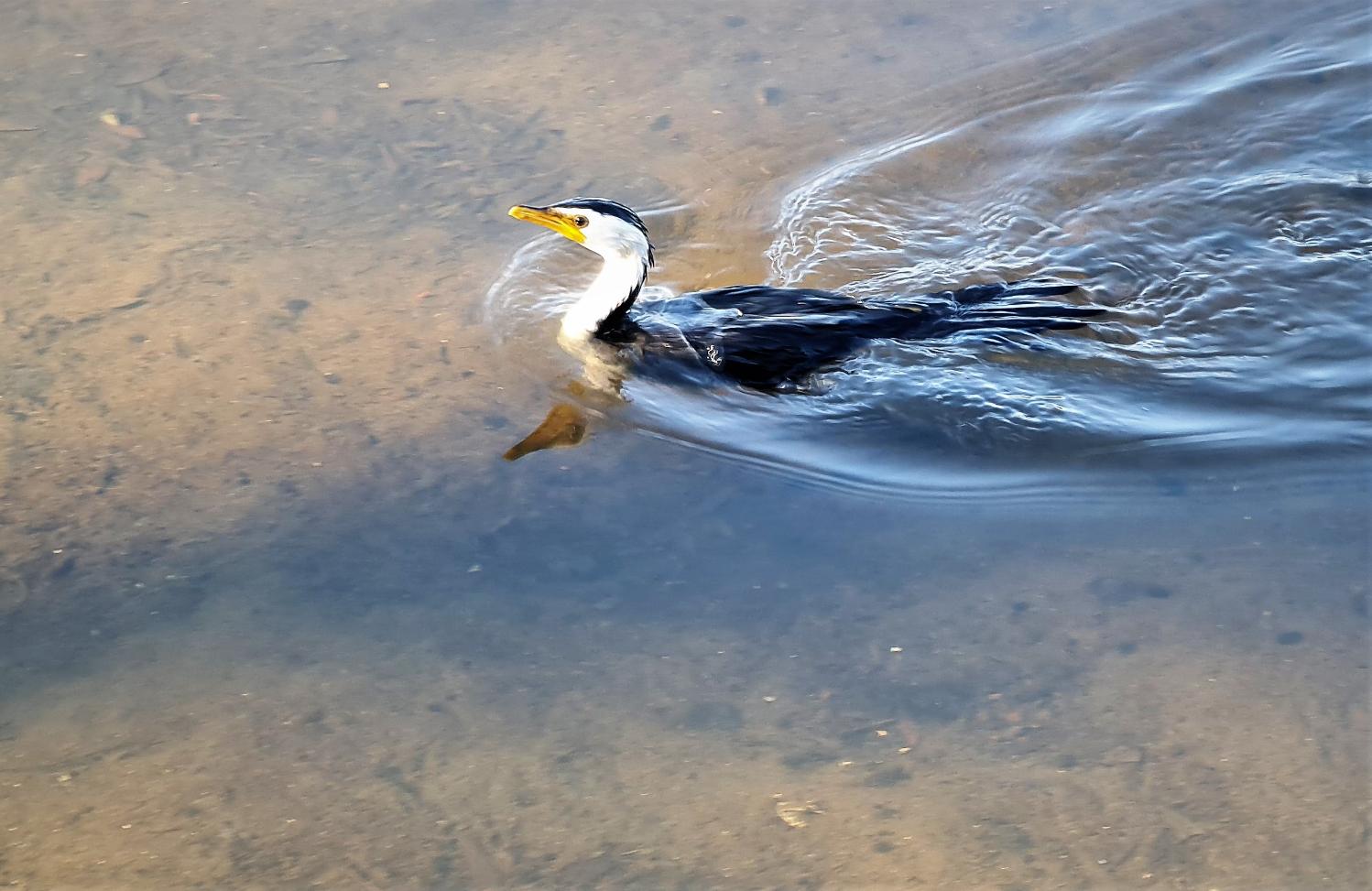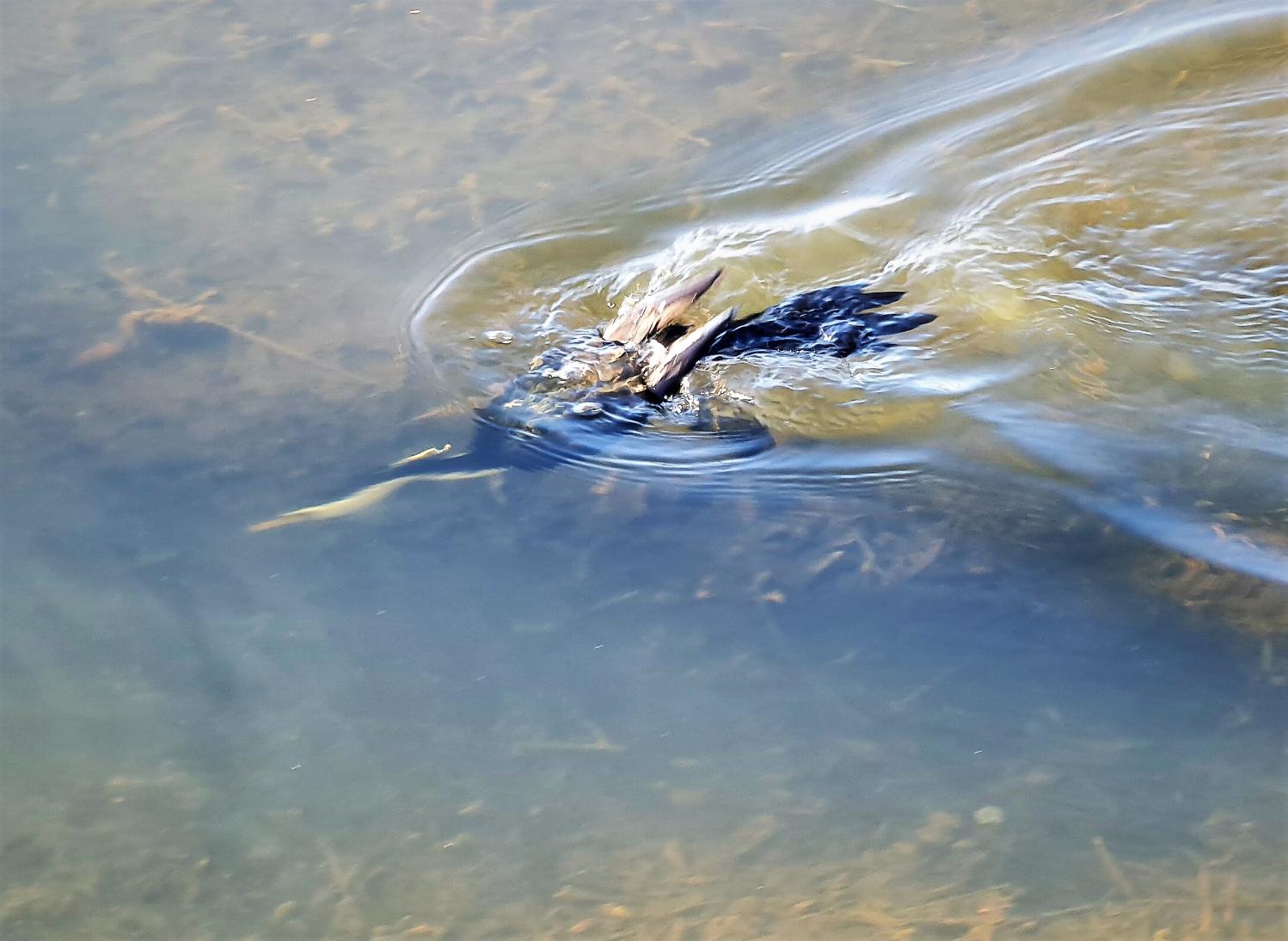 Little Pied Cormorant, Microcarbo melanoleucos, fishing in Narrabeen Lagoon - photos by Joe Mills
Past Features Archives (pre 2014)
Pittwater Online News was selected for preservation by the State Library of New South Wales and National Library of Australia. This title is scheduled to be re-archived regularly.
Archived Issues (2014 on) may be accessed here: pandora.nla.gov.au/tep/143700