March 31 - April 6, 2019: Issue 399

Aussies 2019: Youth Weekend - Thousands Head North To Queensland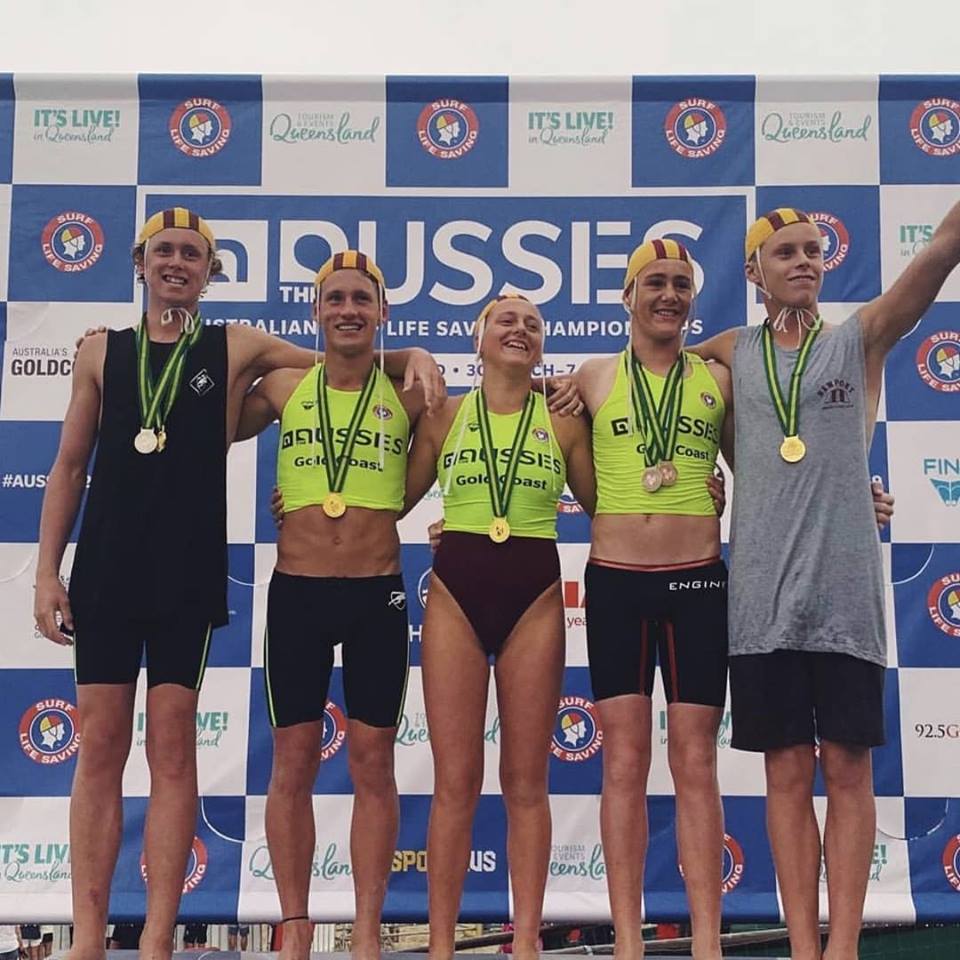 Newport GOLD! - photo courtesy Newport SLSC
The 2019 Australian Surf Life Saving Championships, better known as 'The Aussies' to its 6,500 competitors, began this weekend with the cream of NSW youth athletes set to take centre stage first up.

The stretch of sand from Burleigh to Broadbeach on the Gold Coast, will host 450 events over the next 9 days, with surf lifesavers travelling from every state and three international clubs participating.
NSW won both the 2019 Interstate Challenge and the Youth Pathways Cup representative events in January, with the NSW juniors taking the title with a dominating 34 point lead over our northern rivals Queensland. This strength on the sand and in the water will give them the motivation to continue their success this weekend at the Australian Youth Championships.
Altogether, almost 2,500 NSW athletes will compete across the Youth, Masters and Opens divisions.
NSW clubs will be represented across a broad spectrum of events ranging from the most traditional including Rescue & Resuscitation, March Past, Champion Lifesaver, to the modern and prestigious Ironperson events, Beach Flags, Sprints and Surf Race. There will also be over 100 teams events including relays First Aid Competition and Patrol Competition, all of which NSW have good chances of winning gold.
SLSNSW Director of Surf Sports Don Van Keimpema said on the eve of the 104th year since the event was first staged at Bondi, "It's so good we're going to Broadbeach for some great surf racing. We'll be showing the best of the best what we can do in some great conditions.
"The surf looks like being around 1-1.5metre waves with an outer bank. It will be testing but exciting racing for the board and ski competitors in particular. It will be anyone's race. The beach is a bit narrower after the cyclone last month but it will add to the exhilaration of the event."
Newport SLSC took out the 2019 NSW Surf Life Saving Championships and with a super squad lining up for the youth weekend they're confident they'll give the Queenslanders a run for their money. Newport's Mitchell Trim says the Mitchell brothers and the Doyle family have been outstanding all season and are among the very best youth competitors in the country.
"We've got a really good crew at Newport. The young kids coming up are very, very impressive. We train hard but have a good old time and the club is in a really good place at the moment.
"Coming off a strong win at State Champs, I think you can expect to see the momentum following through to Aussies in both our individual and teams events. I can't wait for the young guys to get out there and show Australia what they've got.
"Mitch Morris took out the Under 15 Shannon Eckstein Classic last weekend and he'll be looking to keep that fire burning this weekend," said Trim.
March 30th, 2019: That's 123 for Newport SLSC - Australian U/14 Board Champion Jake Morris First, brother Mitch Morris in Second and teammate Bailey Clues in Third - what a brilliant result ! Bailey has also secured a Bronze in the U14 Male Surf Race

Also (as we go to press):
1st: U15 Male Board Race Joel Piper
1st: U14 Male Board Race Jake Morris
1st: U14 Female Surf Race Kimberley Doyle
More, including the lists of all local participants in the Youth Aussies HERE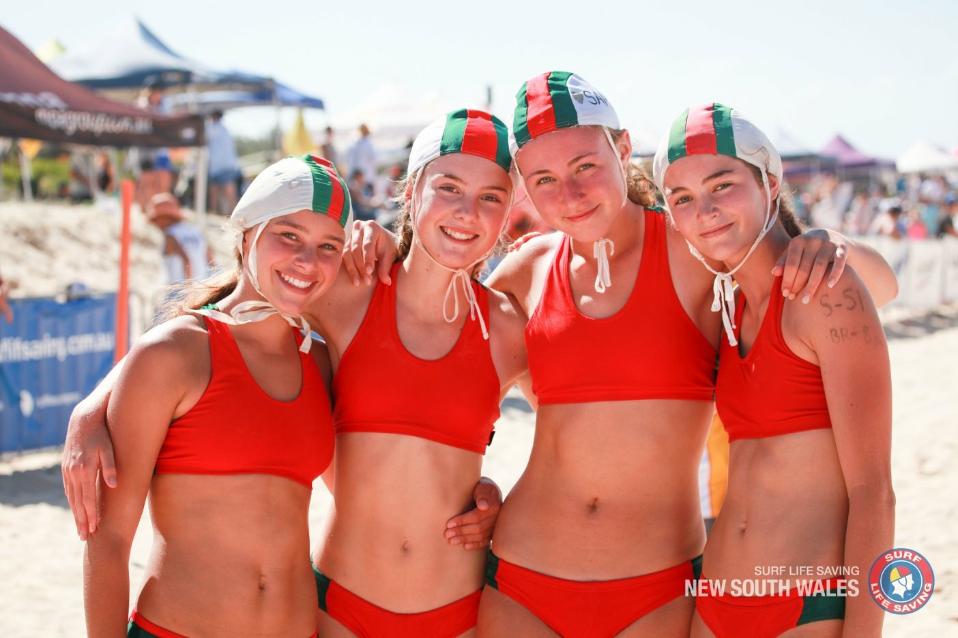 AVSLSC 'Angels' Nina McGuffog, Tyella Toll, Sammy Casey and Tegan Scott during 2017/2018 Season. - they're up north and doing their best to secure an Australian Title!
Marine Rescue Terrey Hills Open Day 2019: Marine Rescue Sydney Radio Base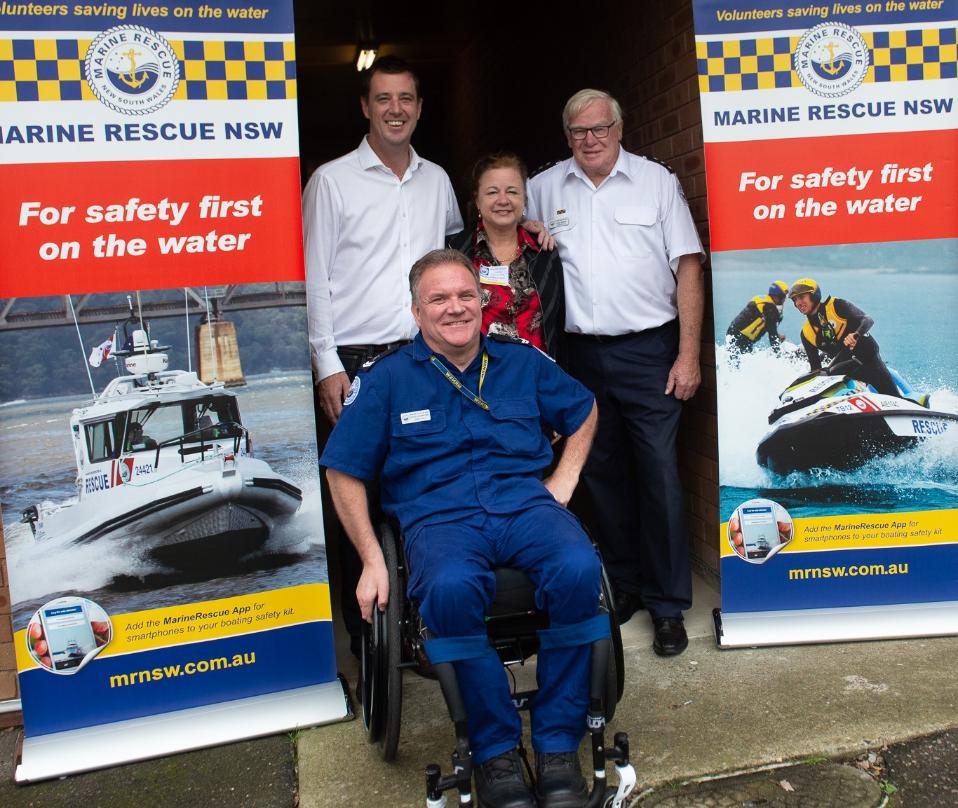 NBC Mayor Michael Regan, NBC Deputy Mayor Sue Heins, John Harris, Unit Commander Marine Rescue Terrey Hills and David Crawford. Photo by Michael Mannington.
On Saturday March 30th Marine Rescue Terrey Hills held one of their informative open days for boaters in the local areas to learn about what's available to keep them safe on the water.
With more and more people taking to the water to enjoy their leisure time or taking longer cruises into unfamiliar waters, or simply to just refresh your skills and learn about how to use equipment or what Marine Rescue is capable of doing, these Open Days are a great insight into the work being done by these trained volunteers.
Attendees were treated to various sessions of Marine Rescue operations and activities. The first, entitled 'Help Marine Rescue Keep You Safe' involved information about the MarineRESCUE APP, Voyage Planning and SY Membership and was conducted by Glenn Evans, Florian Glajcar and Frank Haviland.
The MarineRescue App makes it easier than ever for boaters to stay safe on NSW waters. It's the only app that connects you directly to Marine Rescue NSW. In just a few minutes, you can Log On with Marine Rescue NSW and be on your way, knowing someone's watching out for you. When you Log On with us, we know where you're heading and when you're due to return so we can quickly start a search if you're not safely back as expected.
You can choose for Marine Rescue to track your journey so they know where to start looking in an emergency. The app is a great addition to your marine radio and EPIRB in your safety toolkit. Find out more here.
Marine Rescue NSW urges boaters to log on every time they go out on their boats, just so someone responsible knows when you're due back, and can take appropriate action if needed.
If you're sailing up/down the coast, you should establish a 'Voyage Plan' with Marine Rescue and an Offshore Tracking Schedule to check in with other radio bases along the way so they can keep track of your progress until you return or reach your destination in NSW (or hand over to the marine rescue volunteers in the next State).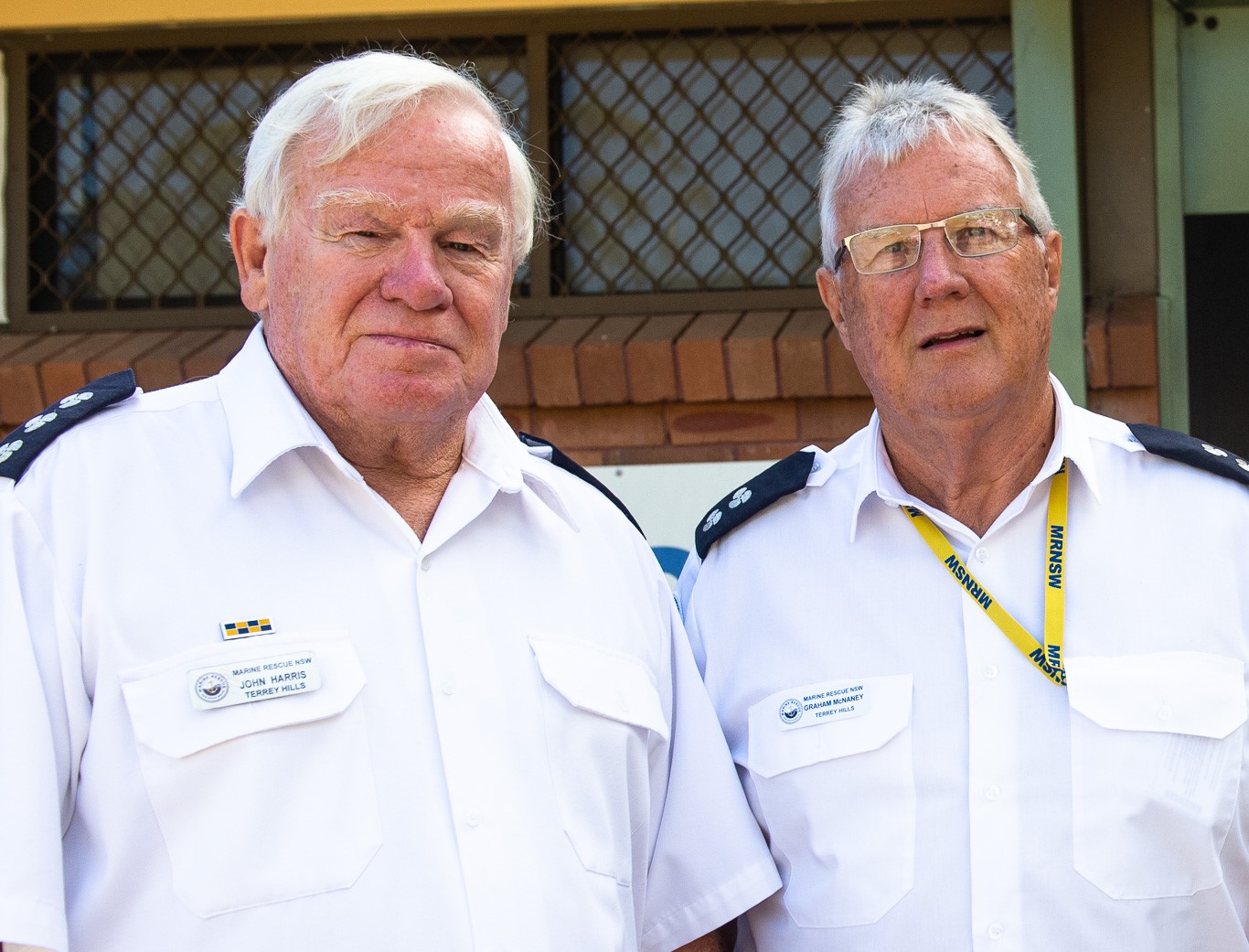 John Harris, Unit Commander Marine Rescue Terrey Hills, Graham McNaney, Deputy Unit Commander Marine Rescue Terrey Hills - photo by Michael Mannington, Community Photography.
Northern Beaches Students Challenge School Principal For The Greater Good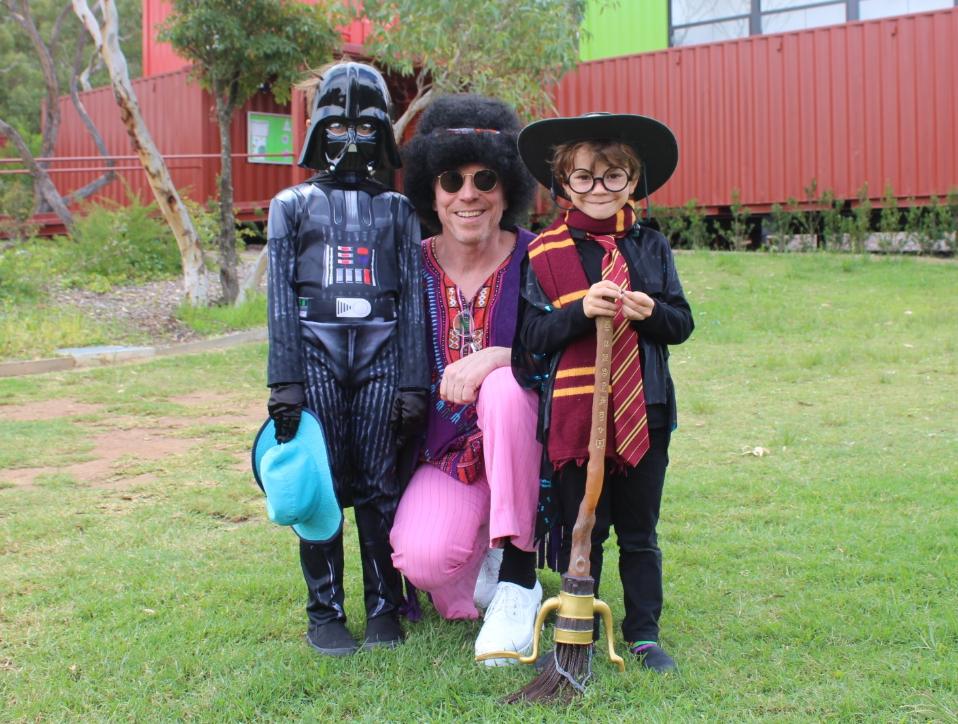 GISS Dare the Boss Fundraising 2019 - GISS Principal Dr. Lorenz Metzger with Sashko and Simeon Boubbov
Students of the German International School Sydney (GISS) at Terrey Hills have taken their generous hearts and philanthropic natures to the next level in their yearly fundraiser, 'Dare the Boss' by raising a whopping $800 for the School's sister charity, 'a Girl & her world'.
A handful of daring Year 11 & 12 (IB) students dared their Principal, Dr Lorenz Metzger along with teachers and fellow students to 'dress as their biggest idol'.
"Our intention was to bring teachers, students and staff together in a less serious environment, to enjoy each other's company and have a laugh – all while raising money for the greater good. And, we absolutely smashed it this year!" says an excited Lily Wenzel, GISS IB Student and co-organiser (AKA Hannah Montana).
The two hour fundraiser on March 27th welcomed big names to the GISS Campus including Jimmy Hendrix (AKA Principal, Dr Lorenz Metzger) who strutted across the school grounds complete with white platform shoes.
The American rock guitarist was joined by Princess Leia, George Michael, Coco Chanel, William Shakespeare, Frida Kahlo and Jane Goodall, among others!
"While the fundraiser also involved a variety of stalls, face painting, games, novelties and three legged races. The perennial favourite, our tasty German cake stand sold out before the fundraiser was finished," continued fellow-organiser, Yoshi Iijima.
ABOUT…'a Girl & her world' is a GISS partnership charity, and works to support girls in third world, underprivileged communities through education opportunities, as well as providing resources and funds to help alleviate poverty and health issues.
The charity is extremely important in helping close the education gap between first and third world nations, especially amongst women. GISS is aligned with the same hopes for the young girls of the third world that need proper education opportunities to fulfil their potential as grown women and hopes to instil a humanitarian appreciation in students through association with such charities.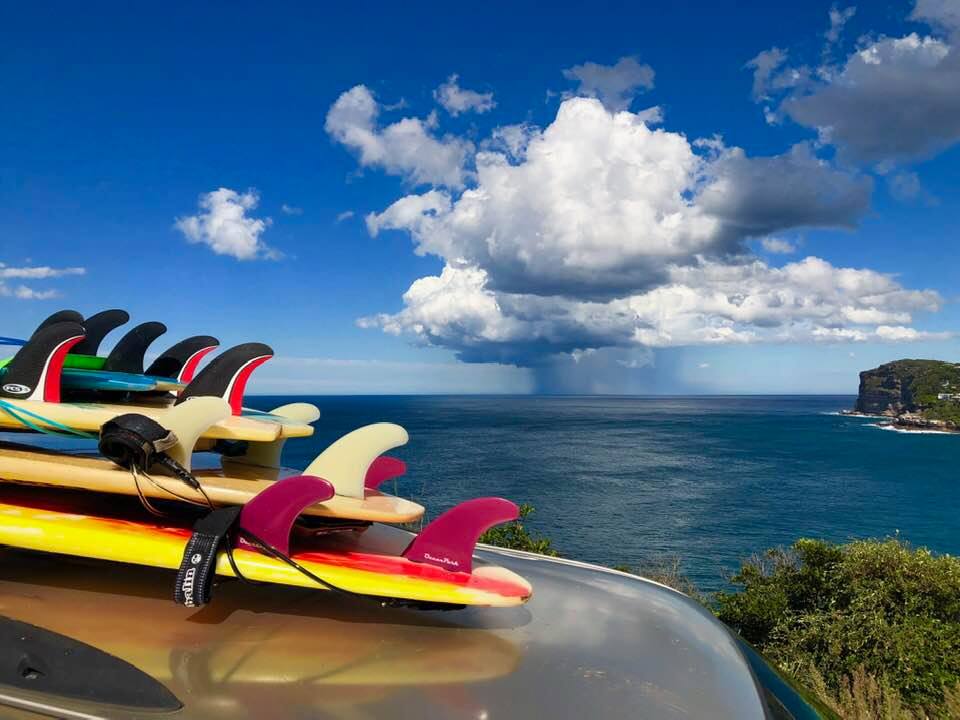 Somewhere in Pittwater - photo by Adriaan van der Wallen

Autumn Gold - photo by Adriaan van der Wallen
Past Features Archives (pre 2014)
Pittwater Online News was selected for preservation by the State Library of New South Wales and National Library of Australia. This title is scheduled to be re-archived regularly.
Archived Issues (2014 on) may be accessed here: pandora.nla.gov.au/tep/143700