August 26 - September 1, 2018: Issue 373

Avalon Beach SLSC WINS Club Of The Year In The 2018 Surf Life Saving NSW Awards Of Excellence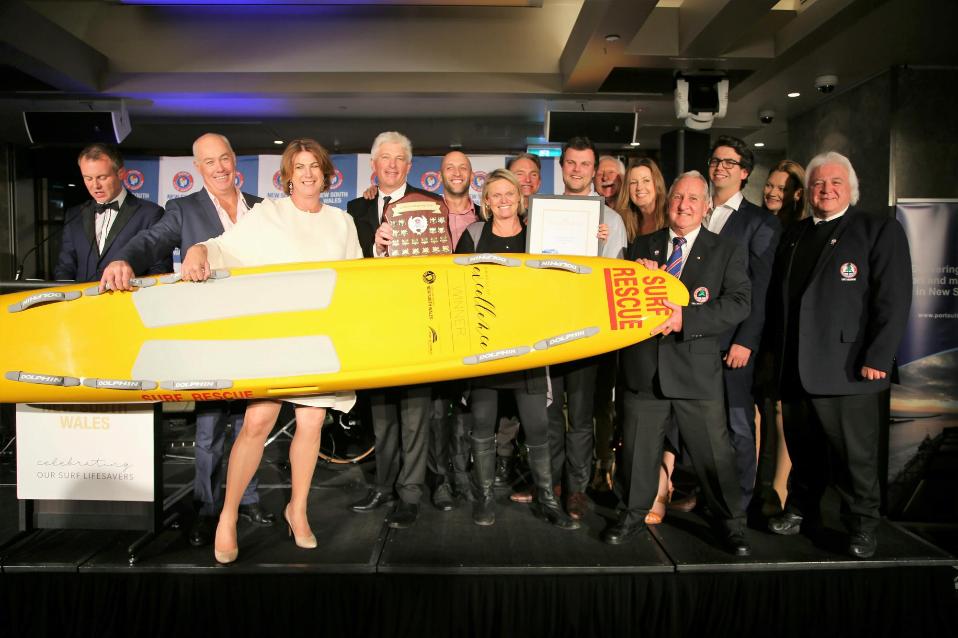 Sydney's Dockside at Cockle Bay Wharf was the venue for the 2018 SLSNSW Awards of Excellence on Saturday August 25th where 26 surf lifesavers were the recipients of their service in the community. Volunteers are recognised for their efforts in the sport, member services, education, and lifesaving categories. The award categories recognised at surf life saving NSW reflect the core activities undertaken by members.
With almost 400 guests the evening is a chance for the lifesaving community from all eleven branches to come together and build on the friendships that are such an integral part of the movement.
"It's a fantastic night for the membership, and an opportunity to formally celebrate what was a wonderful 2017/18 season for our surf lifesavers both on and off the beach, " enthused SLSNSW CEO Steven Pearce.
"As an organisation we are extremely fortunate to have such talented members and people who are whole heartedly committed to giving back to their community.
"This is reflected in not only the outstanding list of finalists who we will acknowledge tomorrow night but in the efforts of every single one of our 70,000 members who sign on each summer who do such a wonderful job," said Mr Pearce.
The BIG news for Pittwater is that Avalon Beach SLSC has been named Club of the Year.
Club of the Year* - This award recognises and rewards outstanding achievements in club development that results in Surf Life Saving clubs in Australia providing safer beach and aquatic environments for the community.
"Avalon Beach SLSC are very proud to have won the 2018 SLSNSW Club of the Year. This award is recognition is for all members, in particular the Board of Management and Club Officers, who have come together over the past year and worked incredibly hard to implement our strategic plan and One Club policy. The award recognises the Club's important role in the community which goes above and beyond lifesaving, taking a leadership role in important local issues such as youth mental health." Richard Cole said Sunday morning, August 26th.
Nigel Penn (Bilgola) was awarded the President's Medal for 20 years of dedicated service. The current club vice president is also an experienced and passionate IRB official and recently served as Deputy Referee at the Australian IRB Titles.
"I see this award as for all my colleagues and for those who patrol the beaches. I absolutely love what I do, it's why I do it. It's about the passion, it's about the community, and it's about looking after the public," said Penn.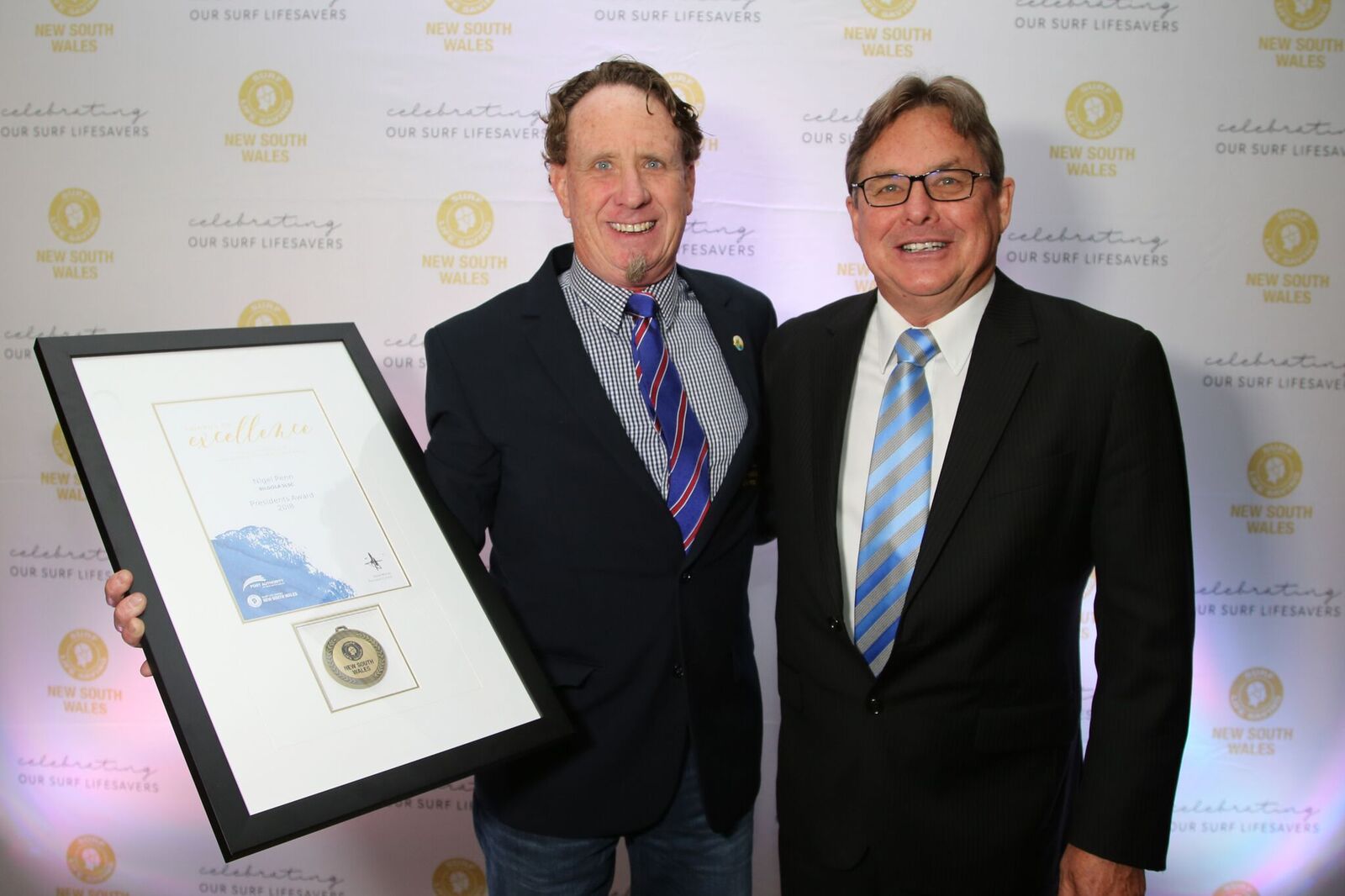 Nigel with David Murray, President
Hamilton Island Race Week 2018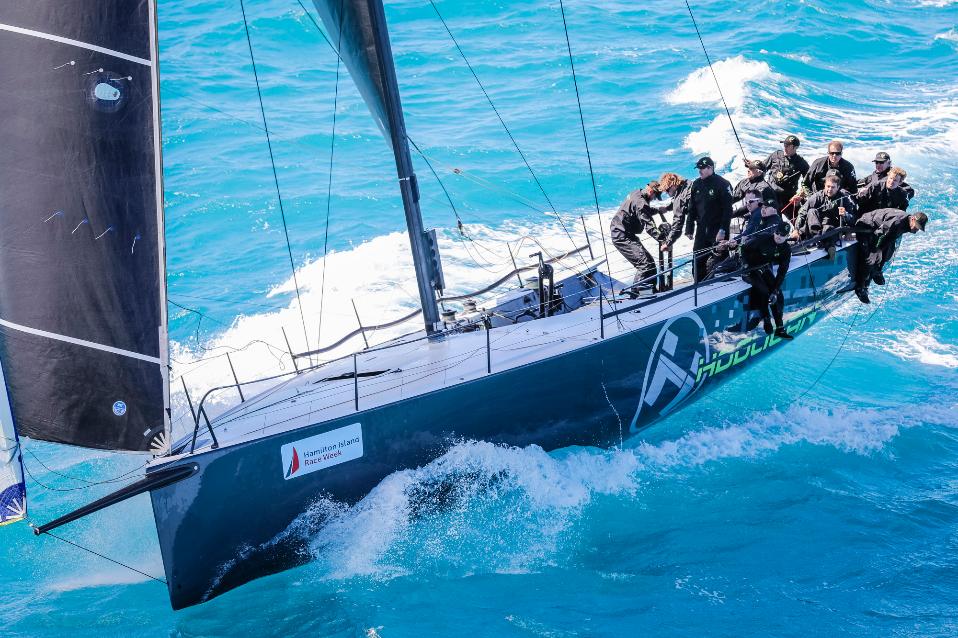 IRC div 1 winner Hooligan - Marcus Blackmore. Photo by Salty Dingo, 2018.
Freshwater Finish To Saltwater Series At Hamilton Island Race Week 2018
August 25th, 2018
Fifteen divisions, 233 boats and close to 2,000 sailors from Australia, New Zealand and around the world spent Hamilton Island Race Week in the Whitsundays dashing around tropical islands with only saltwater hitting the decks, until the final afternoon rainstorm offshore broke the sunny and dry winter spell.
Broadkast's day 6 of racing highlights
Sou'east tradewinds built to their peak of 25 knots on Monday August 20 and close to that number the following day. Layday on Wednesday was ideal pool and Whitehaven Beach weather with little breeze and cloudless skies, and the second half of the week brought lighter ESE winds between 6-12 knots on average, and just the one shower in the closing hours of Saturday August 25, 2018.
The supermaxi battle required an on-water umpire to be brought in on day four of racing, to monitor the pair. The Oatley family's Wild Oats XI (HIYC) convincingly beat Peter Harburg's same-length Black Jack (RQYS) in terms of first over the line results; now both crews return home to mull over where a few more seconds-per-mile can be teased out before the December ocean classic, the Rolex Sydney Hobart Yacht Race.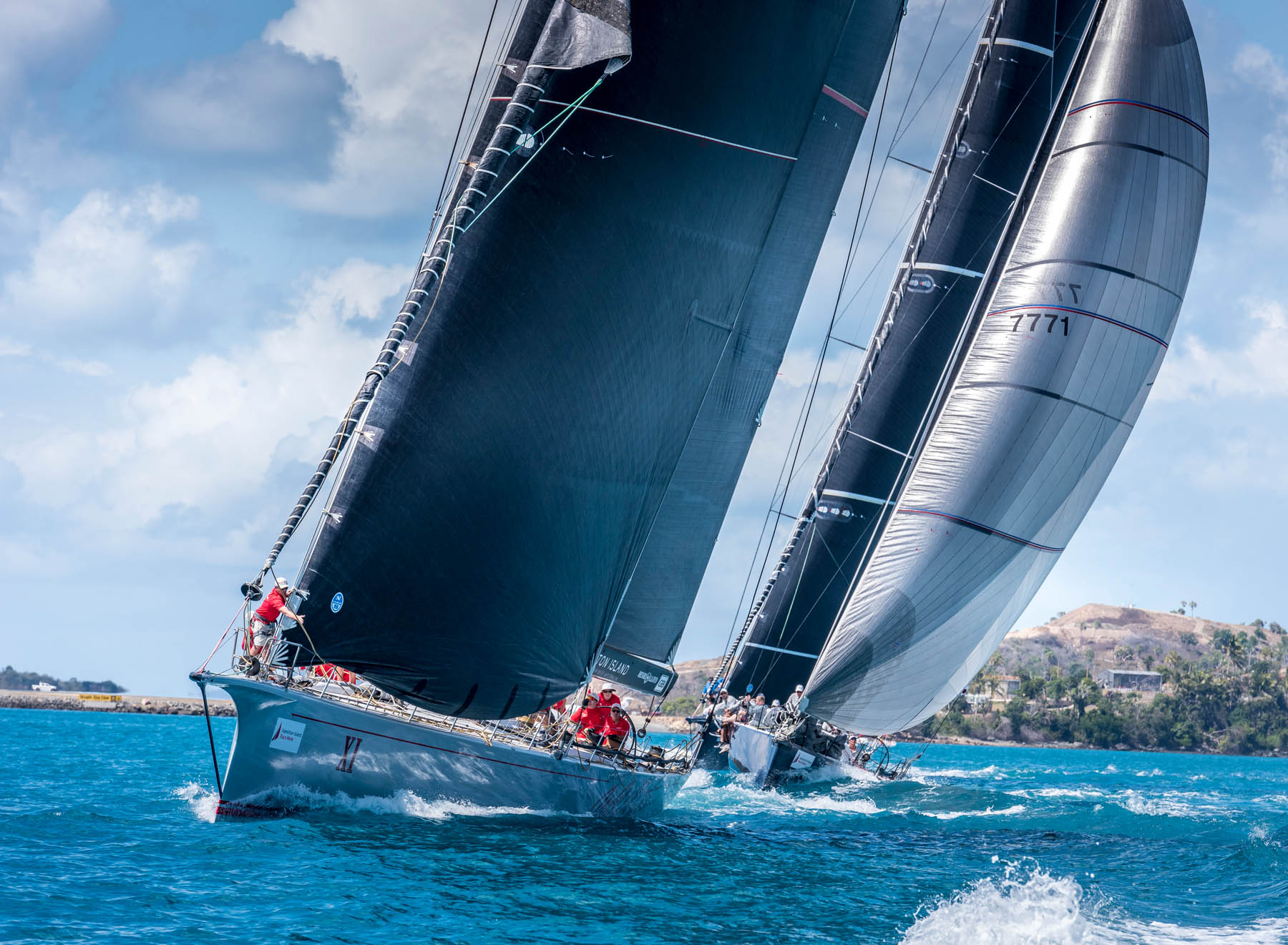 Wild Oats XI leads off the start on day 6 - photo by Kurt Arrigo

A six-day arm-wrestle between the TP52s resulted in Marcus Blackmore's Hooligan (RPAYC) scooping the IRC Division 1 prize from Matt Allen's Ichi Ban (CYCA), with a day to spare.
"We set a plan last year to win Hamilton Island Race Week," Blackmore said prior to the final islands race, a new course out around Baynham Island to the south-east of Hamilton Island.
"We bought a boat from the Roemmers family in Argentina that had won the TP52 Super Series and set a goal. It was an emotional day yesterday; there's been a bit of argy bargy between us and Ichi Ban," Blackmore admitted. "We've been match racing all week; I don't know how many tacks we've done this regatta and to ultimately win is pretty exciting."
Video of Blackmore and tactician Tom Slingsby.
Team Hooligan added yet another victory to the owner/skipper's tally, which includes the arbitrary division win at the first Hamilton Island Race Week way back in 1984.
In between the 100-footers and TP52s, Phil Turner's RP66 Alive (DSS) finished third overall and banked some crucial time on the water as part of their Sydney Hobart warm-up.
The Mermaids of Palm Beach Pictures From the Road in Car 2108:
the 2018 Variety the Children's Charity Bonnyrigg to Braitling B to B Bash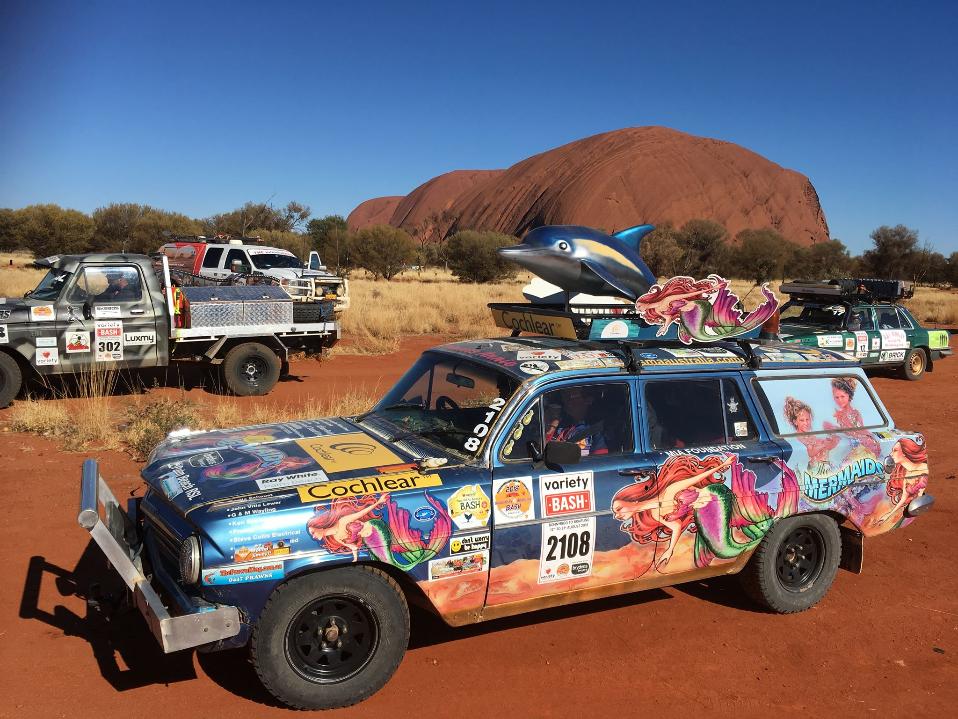 The 2018 Variety the Children's Charity B to B Bash finished this week with many a smile and laughter shared along the way. The Mermaids of Palm Beach, in Car 2108, have done us all proud yet again.
Beryl Driver OAM was awarded her 20 Year Certificate this year, and counts that among highlights, along with getting to visit Uluru. Her only sad note is that this is the last Bash Elyse Cole will do 'on the road', although Elyse will continue to help fund-raise - as next year, it's the 21st Bash for young Beryl!
Reports and wonderful pictures from the road by Viktorija run as this Issue's Pictorial - HERE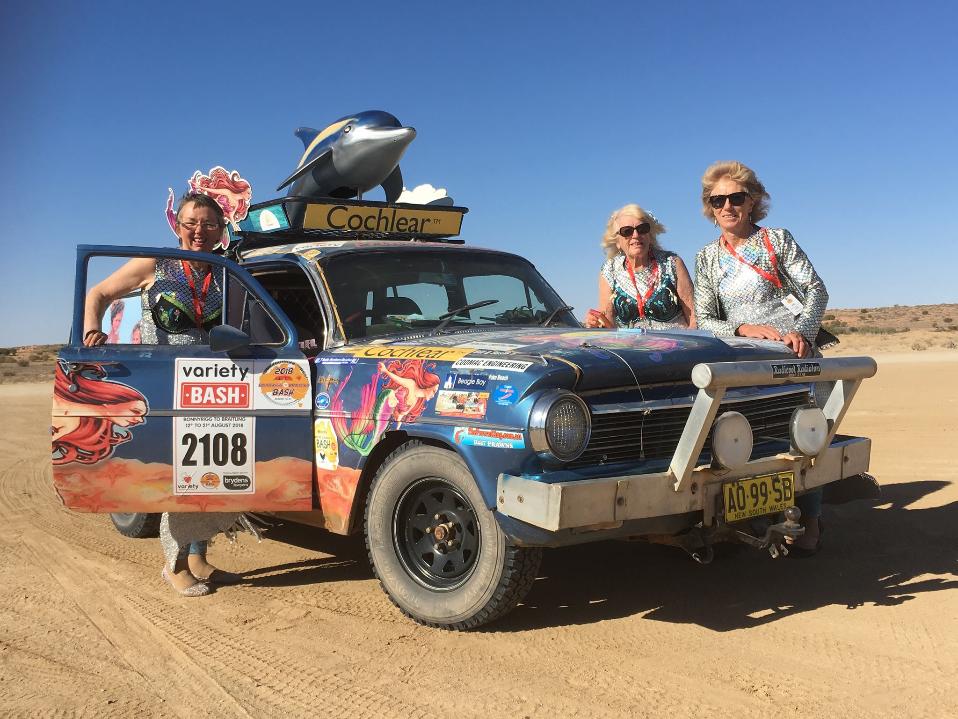 Wildlife Champion Setting A Cracking Pre-Spring Pace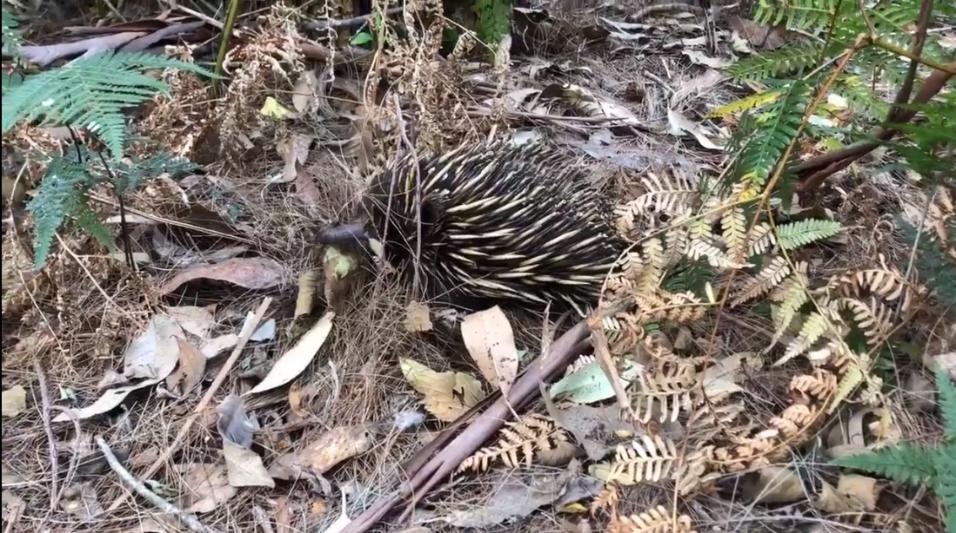 An Echidna released back into the wild this week after being in care
Lynleigh Grieg had done 8 wildlife call outs this week by Wednesday, and Thursday was shaping up to be just as demanding.

Sydney Wildlife carers are seeing an unprecedented spike in animals needing assistance as wallabies shift into areas where there may be food at the end of a dry Winter, such as Collaroy Plateau, into places where they have had trouble which has created problems – such as a sulphur crested cockatoo with a damaged beak, or been hurt beside, on or around roads by people who don't think speed limits apply to them.
Add to this a lack of sleep through caring for these poor animals, running a home and a family, and you know why wildlife carers may look at those who whinge about coffee that's too cold at their local café, or having to get up earlier to finish school homework in askance.
Not that they do.
Sydney Wildlife carers are among the kindest and most patient people you will encounter – it goes with the territory.
In October Sydney Wildlife is running yet another fundraiser to hopefully and finally get Wanda the Mobile Wildlife Clinic up and running. If we have the bushfire season predicted this will fulfil a dire need and allow Lynleigh, who has been leading the charge on this along with Joan up at the Terrey Hills Sydney Wildlife Rehabilitation Clinic, to get on with it.
We're heading into Spring this week and with that will come many new animal babies that will increase the demand on our local wildlife carers.
If you can't become a carer or volunteer in some capacity – there's another course coming up in November (details here), you can attend this event and put something back in to supporting these animals and those who try to save them.
Details here: It's Time To GO WILD Again!: The 2018 Sydney Wildlife Garden Party and Garden Gallery - October 28th - tickets, bookings essential - At: events.humanitix.net/sydney-wildlife-s-go-wild-garden-party
Let's get this one over the line Pittwater – please!
In the meantime – some of the furred, feathered, spiny, slithery and all doe eyed other beings we share this space with that Lynleigh has come to the rescue of this week:
Sea snake - From Palm Beach. Testing his mobility in the bath after a few days in care.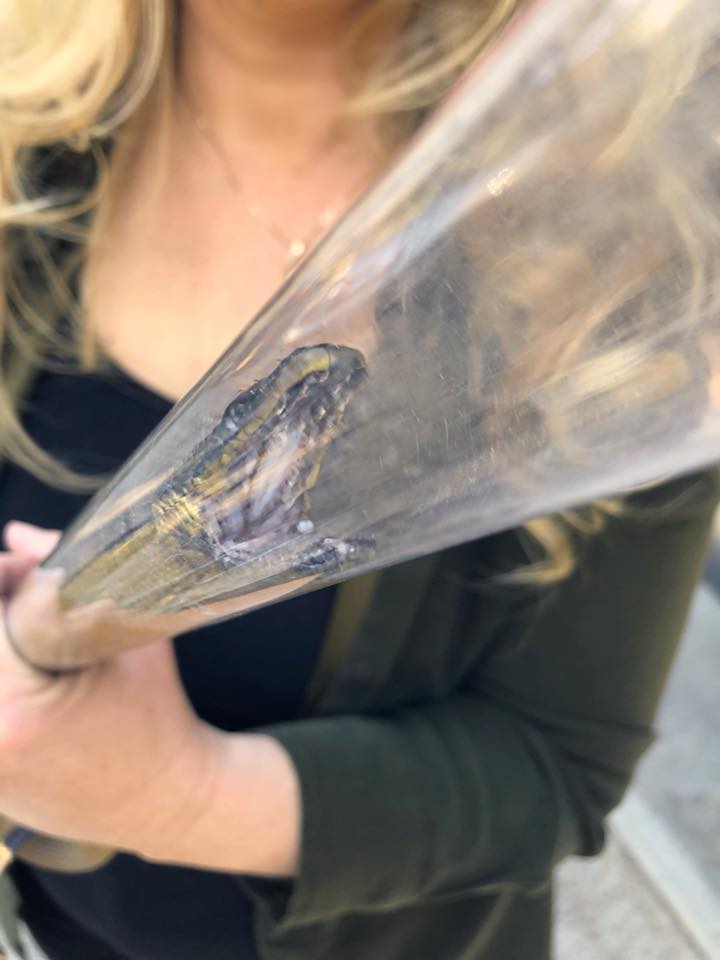 Feathertail glider - From Church Point. He was lying on the road, unresponsive, and wasn't quite an adult. Has been placed in nesting box after a few days care.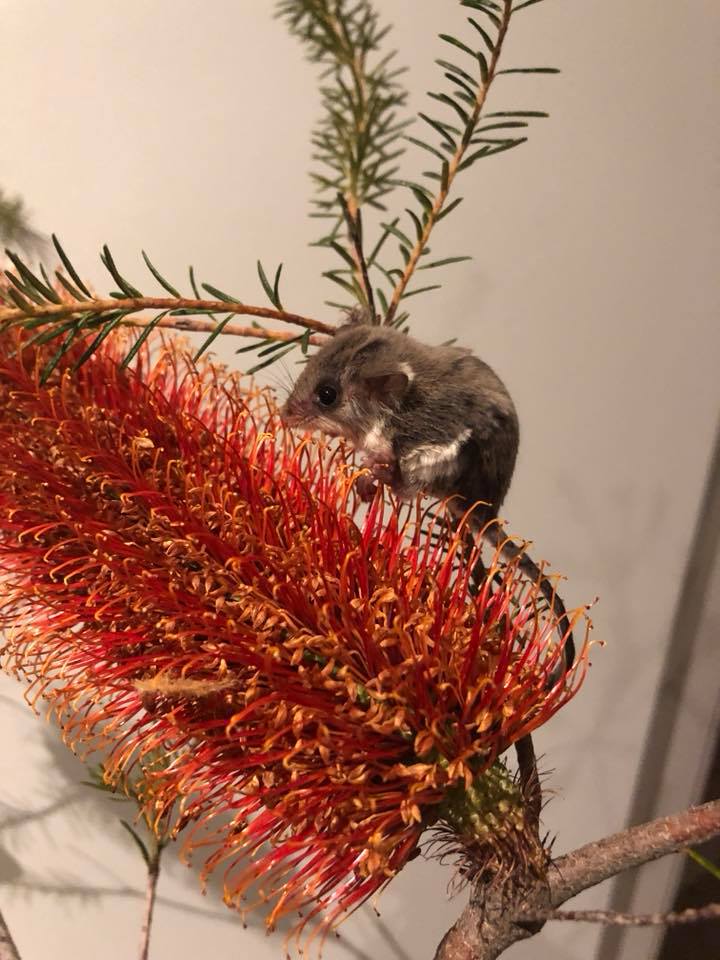 Next Phase Of Infrastructure Improvements To Commence At Mona Vale Hospital Next Week
Next Phase Of Infrastructure Improvements To Commence At Mona Vale Hospital
Friday August 24, 2018
Work will commence next week on the construction of a new Support Services Building at Mona Vale Hospital.
The modern building will accommodate necessary hospital support services including kitchens, laundry, cleaning, waste, staff facilities and engineering.
The building will join other new hospital buildings constructed at Mona Vale Hospital in recent years, including the Community Health Service Building in 2016, the Beachside Rehabilitation Unit in 2014 and the expansion of the Palliative Care Outpatient Unit in 2013.
Work will also commence on the relocation of the hospital's helipad to enable the construction of a new in-patient building to accommodate specialist inpatient palliative care and inpatient geriatric evaluation and management. The hospital's emergency building will also be refurbished to provide a new 24/7 Urgent Care Centre.
"This is another important phase in the introduction of modern infrastructure at Mona Vale Hospital," Rob Stokes said.
"We're seeing millions of dollars continuing to be allocated to Mona Vale Hospital to ensure services in the future are provided in modern, purposely designed buildings.
"Over the past 7 years there have been huge changes at Mona Vale Hospital as new buildings have been constructed and older buildings have started to be removed.
"The Mona Vale Hospital campus looks vastly different today than it did only a few years ago.
"Construction crews are again back at Mona Vale Hospital and further infrastructure works will soon be underway," Rob Stokes said.
Over 250 public hospital staff will continue to work at Mona Vale Hospital in the future and all inpatient, urgent care and community health services will be provided by NSW Health. The entire Mona Vale Hospital campus remains in public ownership.
Mona Vale Hospital will continue to provide a range of existing and new health services including: 24/7 Urgent Care, radiology, pathology, pharmacy, inpatient rehabilitation and assessment, inpatient palliative care, inpatient geriatric evaluation and management, outpatient palliative care, adult and child dental surgery, hydrotherapy, paediatric occupational therapy, paediatric speech pathology, paediatric physiotherapy, adult, youth and child mental health, adult musculoskeletal physiotherapy, acute post-acute care, podiatry clinic, diabetes clinic, community drug and alcohol services, early childhood services, community nursing service, chronic disease community rehabilitation services, carer support services, community aged care/rehabilitation service, continence service, dietetics, outreach maternity antenatal clinic and cardiac rehabilitation.
NSW Volunteer Of The Year Awards 2018: Northern Beaches Award Ceremony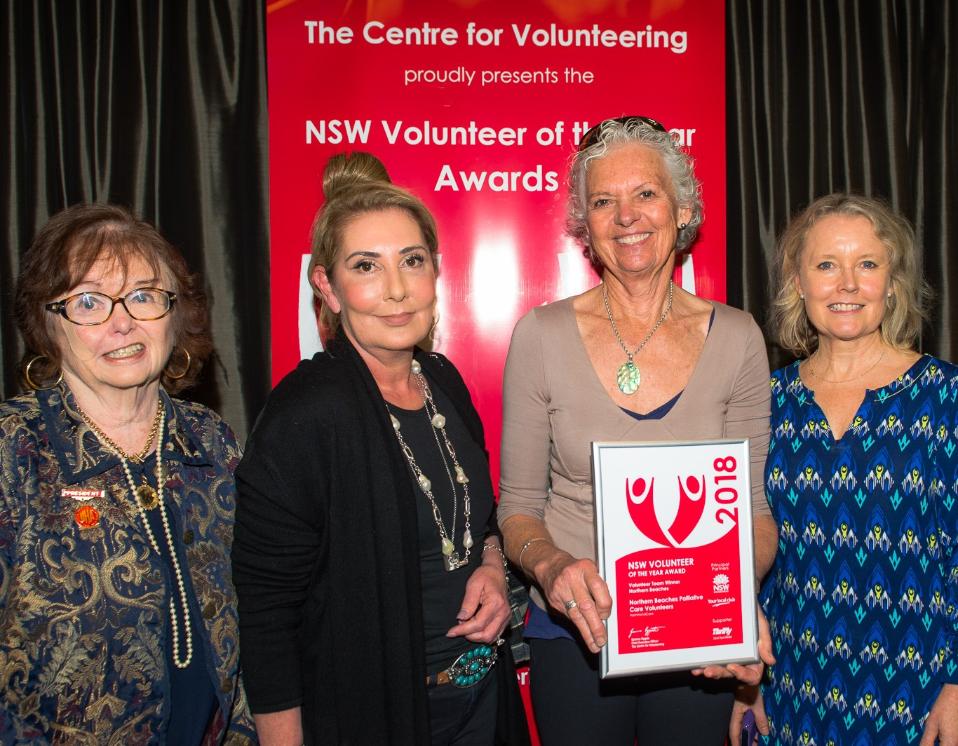 Northern Beaches
Volunteer Team of the Year Northern Beaches Palliative Care Volunteers from Mona Vale
- photo by Michael Mannington, Volunteer Photography
Attendees report that it was stated there were over 500 people nominated for the Awards on the Northern Beaches, by far the most nominated from any district and a reflection on the community as a whole and its parts in individuals who will serve others in many capacities from health to sport to native animals and surf life saving across the beaches.

Vincent De Luca OAM attended the ceremony and took some happy snaps of some faces you may recognise - among these are Lynleigh Grieg, Margaret Murden, Bob Langbein, Michael Mannington, Julie Couston, Louis Tassone, Rowena Clarke and Tammy Cook - thanks Vince!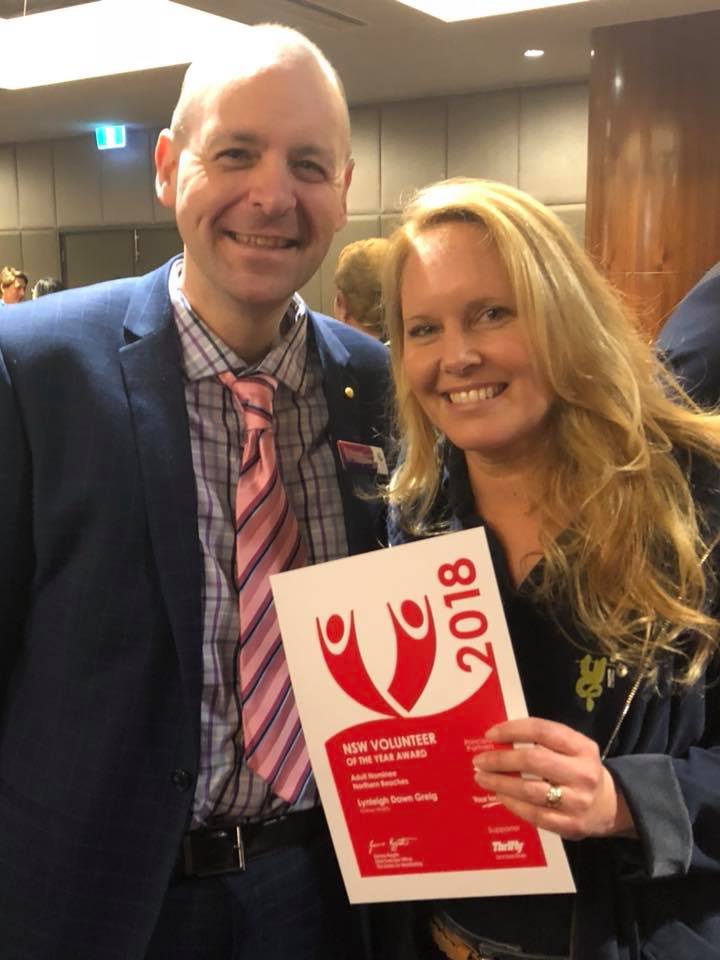 Vincent De Luca OAM and Lynleigh Grieg, Sydney Wildlife Volunteer

"Congratulations to the wonderful volunteers from the Northern Beaches that made it to the Finals of the NSW Volunteer of the Year Awards" - Vincent De Luca OAM
Winter Becomes Spring In Pittwater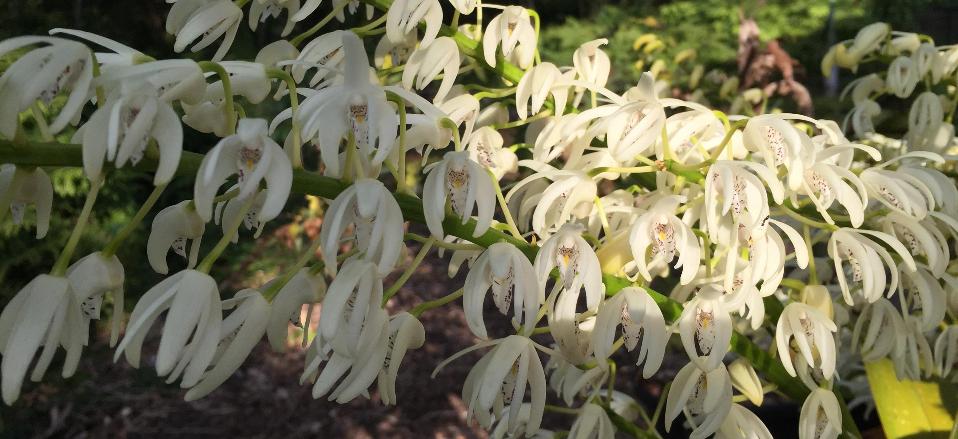 Rock Orchid now in bloom, as spring is near. It grows on rocks or sides of trees, so it tolerates this dry weather . It has had a name change from Dendrobium speciosum.
For more details and meaning of its names see: www.anbg.gov.au/gnp/interns-2003/thelychiton-speciosum.html
Information and Photo courtesy Pittwater Natural Heritage Association
Past Features Archives (pre 2014)
Pittwater Online News was selected for preservation by the State Library of New South Wales and National Library of Australia. This title is scheduled to be re-archived regularly.
Archived Issues (2014 on) may be accessed here: pandora.nla.gov.au/tep/143700