August 19 - 25, 2018: Issue 372

Avalon Beach SLSC Boat Rowers Complete Their 24 Hour Marathon Row For One Eighty And Gotcha4Life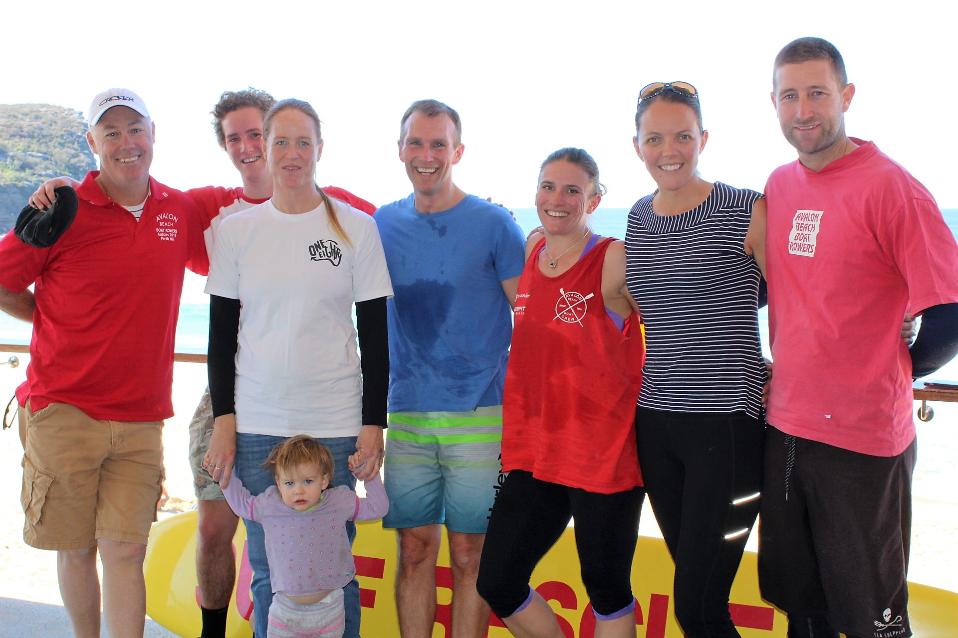 AVSLSC President Ashley Cardiff, Ben Wilson*, Leanne Westlake, Rob Stokes*, Beck Lock*, Mel and Nathan Wellings.
*First rowers
On Saturday August 18th, Avalon Beach SLSC boat rowers commenced their 24 hour row (10am Sat to 10am Sun at Avalon Beach Surf Club) to raise awareness and funds for the One Eighty and Gotcha4Life organisations.
One Eighty and Gotcha4Life focus on developing local projects to create awareness and equip teenagers and young adults with skills in emotional, physical and mental healthcare - diet, exercise and writing for example, hosting workshops by professionals, and more.
One Eighty started
Open Up
a while ago; an opportunity for young people to share with other young people: to learn, be heard, be understood and support each other, runs
every second Tuesday
at Avalon and Manly.
One Eighty also have what they call 'Shake it Up'; regular talks, workshops and classes held throughout the year... and all for the grand price of $0.
'Shake It Up is about returning to the "community spirit" us northern beaches residents are so g-damn proud of. It's about connecting (or reconnecting) to the people, places, skills, interests, and ideas that make us who we are. ' the One Eighty
Shake it Up webpage
says.
The 24 Hour Row recognises by its own
doing
that these struggles are a 24 hour experience but emphasises on the flipside that help is available 24 hours a day too.
The row involved over 40 of the club's rowers with a 'guest' machine which has had a few visitors - we've been watching them online since the start yesterday.
They were joined at the start by Rob Stokes, MP for Pittwater, who didn't let up during the whole of his hour stint. Rob also gave a Private
Members
Statement in the
Legislative
Assembly this week about the row.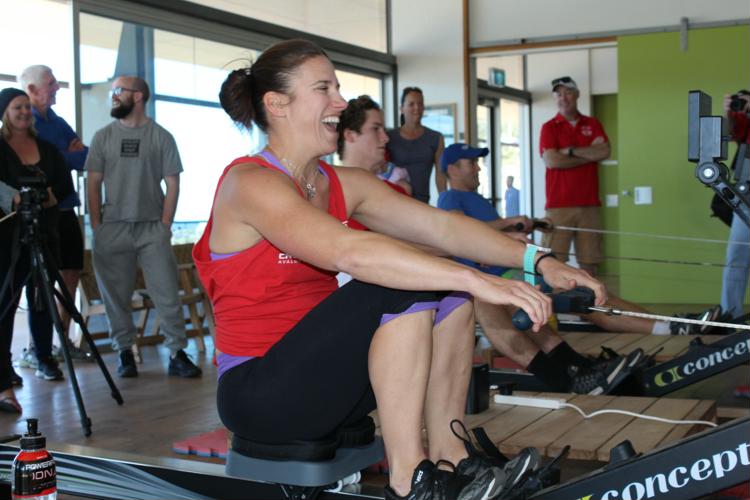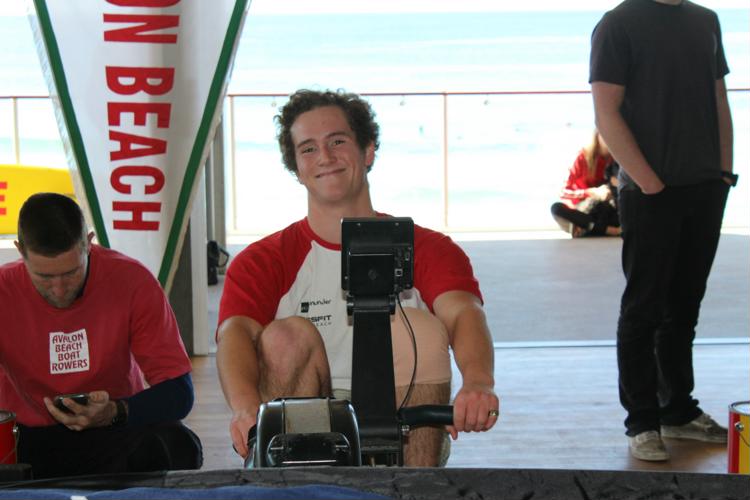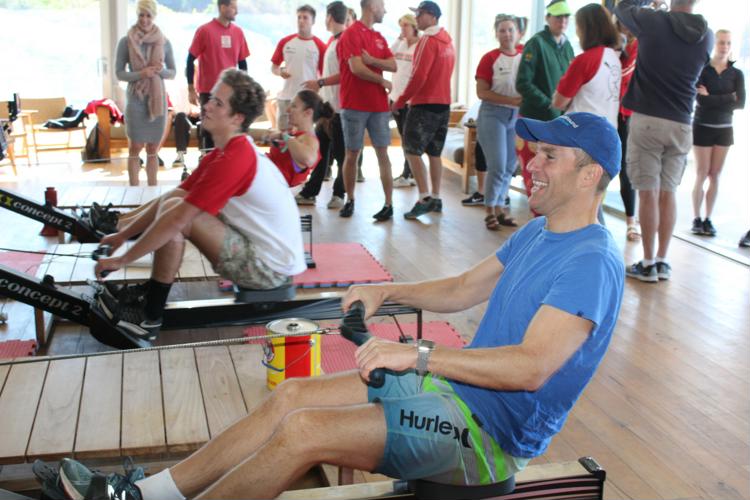 Gus Worland (Gotcha4Life) is scheduled to be there on Sunday for the finish to draw the raffle prizes pledged by local businesses for those who have donated to the row.

Please donate at: avalonrowers24hr.raisely.com – the fundraiser page will stay up all of this week. They're aiming to raise 10k each for these great organisations, 20k in total, and are just over 12k as this Issue comes out.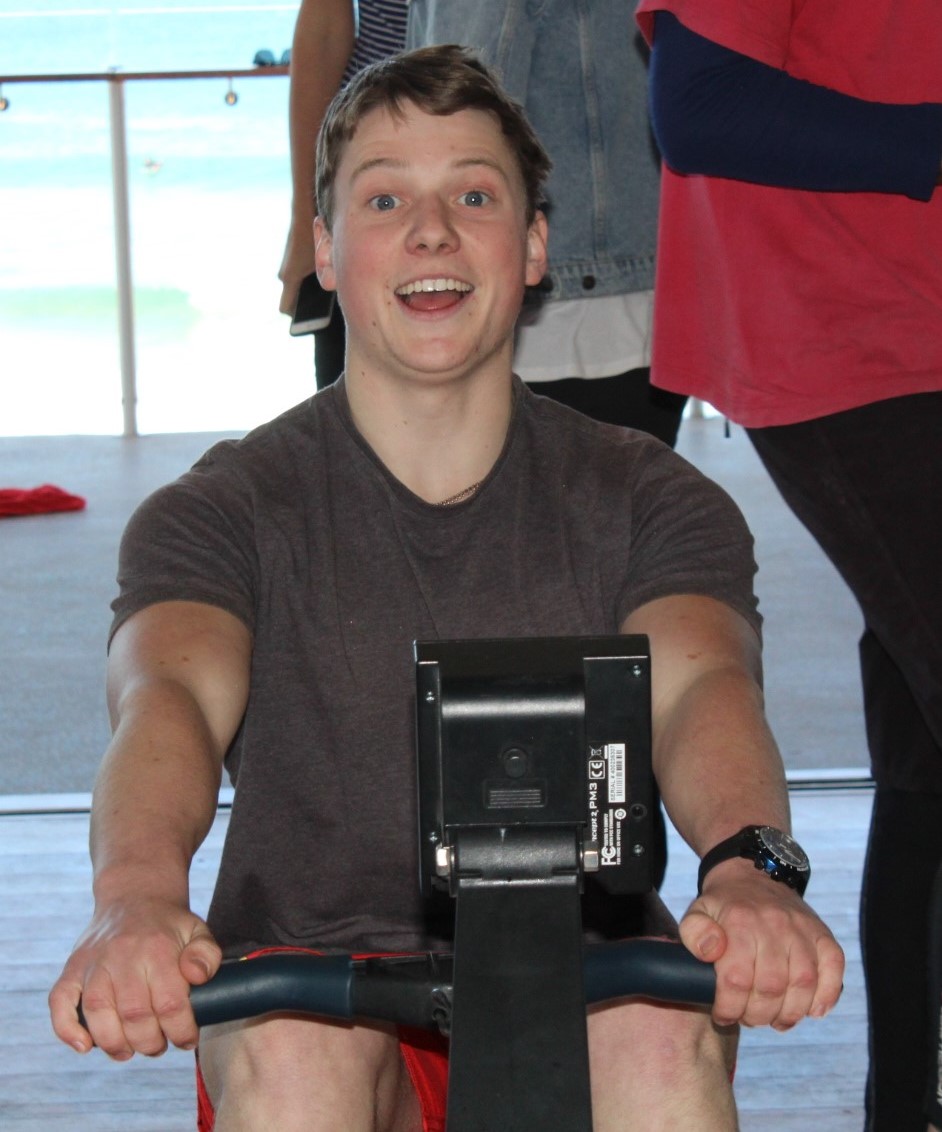 Northern Beaches RFS Strike Team At Salt Ash Fire: Bush Fire Season Is Here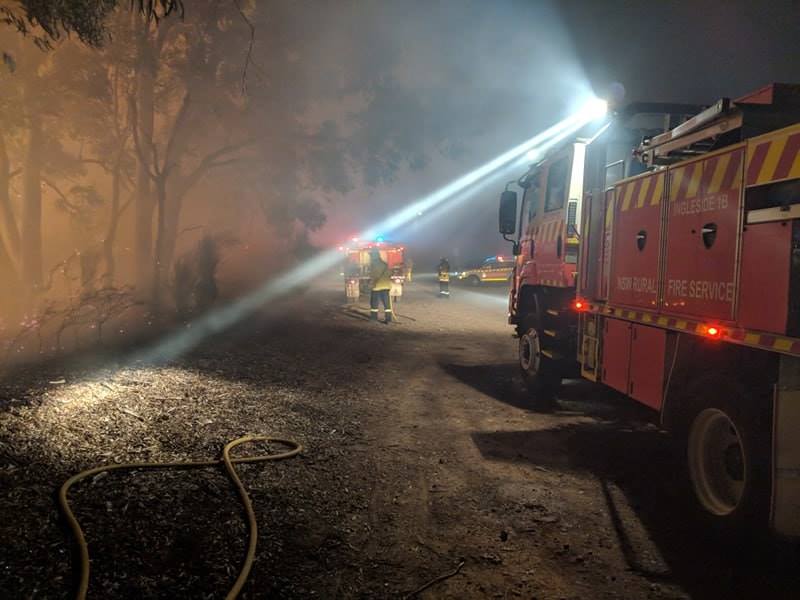 Seventy-one firefighters were working to control a fire at Salt Ash near Port Stephens on Friday evening, a fire they had first responded to that morning. Strong winds across the state on Saturday stirred up the fire, quickly moving it from 'Advice' to 'Watch and Act' to 'Emergency Warning' by 1.30 pm. By 2.30 pm Saturday the fire was burning out of control and had consumed more than 700 hectares of bush land.
As of 3.30 pm yesterday there were 73 bush and grass fires burning across NSW, 44 of which were uncontained. Two fires, Plains Station Road, Tabulam (Tenterfield LGA) and Salt Ash Fire (Port Stephens LGA) remained at Emergency Warning.
The Salt Ash fire was throwing spot fires in forward of its front. Residents were advised of where evacuation centres were.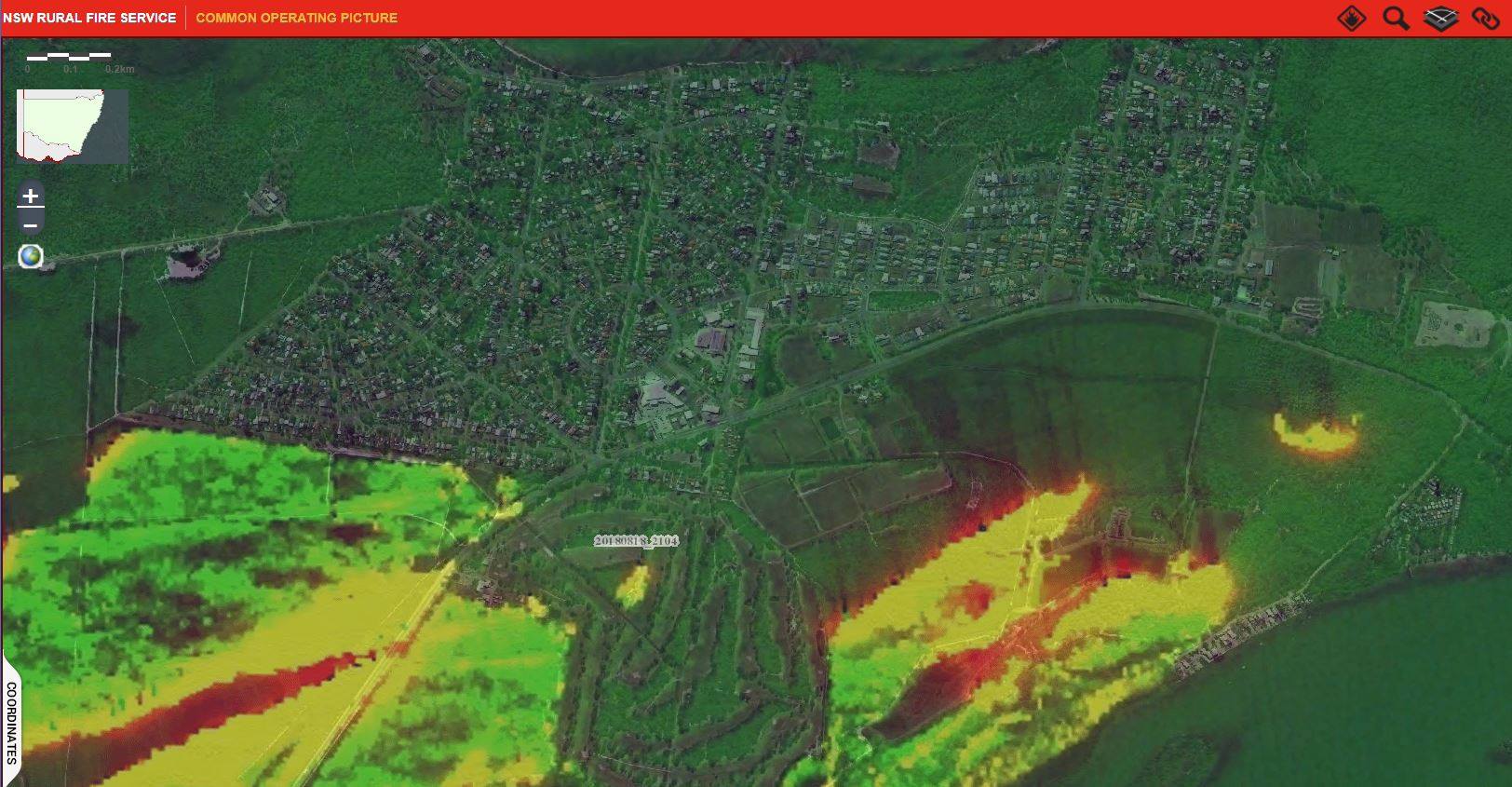 An Ingleside NSWRFS tanker responded around 9pm Saturday evening as part of a Strike Team to the Salt Ash bushfire just north of Newcastle. The local crews were involved in backburning operations through the night until the early morning.
Location: Tanilba Bay NSW 2319 -https://goo.gl/maps/SKXWhRJ1vbr

Northern Beaches RFS Strike Team:
Strike Team Leader: Deputy Group 3 (2 x Ingleside volunteers)
Warringah / Pittwater Headquarters Rural Fire Brigade
Belrose Rural Fire Brigade
Davidson Rural Fire Brigade
Terrey Hills Rural Fire Brigade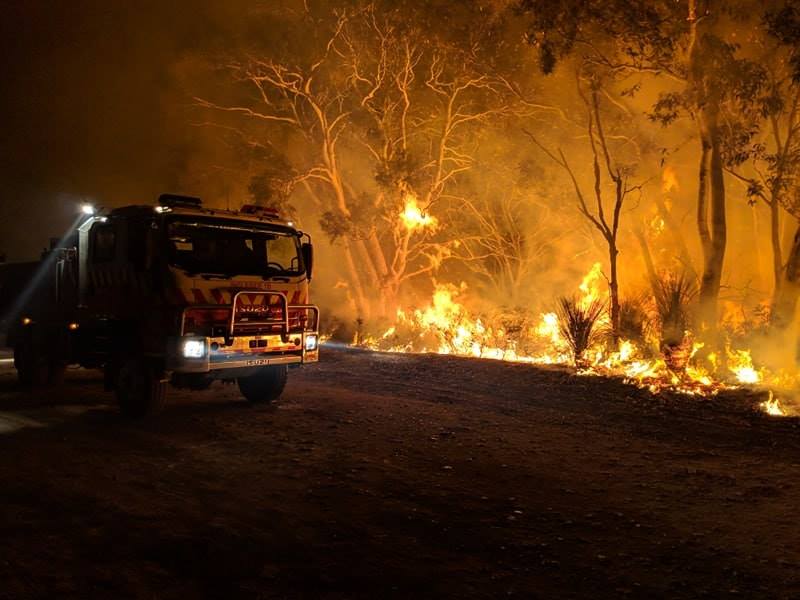 At 3 a.m. this morning (Sunday August 19th) the NSW RFS 'tweeted' - "Advice: Hinxman Road, Castlereagh (Penrith LGA) - Firefighters from the NSWRFS and FRNSW are on scene at a bush fire burning in the vicinity of Hinxman Road and Fire Trail Road. There are no threats to properties."
By 3:22 the Fires Near Me webpage lists its status as 'out of control'.
At 4:31 am, August 19th, 2018 - ADVICE: Salt Ash Fire (Port Stephens LGA) - Conditions continue to become more favourable for firefighters and as a result the Salt Ash Fire has been downgraded to Advice. Back burning operations are continuing, with fire activity increasing as a result.
As of 4.20am, there currently 75 bush/grass fires burning across NSW (32 remain uncontained). Hundreds of firefighters from the NSWRFS, FRNSW and NPWS have worked tirelessly throughout the night, strengthening and consolidating containment lines ahead of further strong winds forecast today.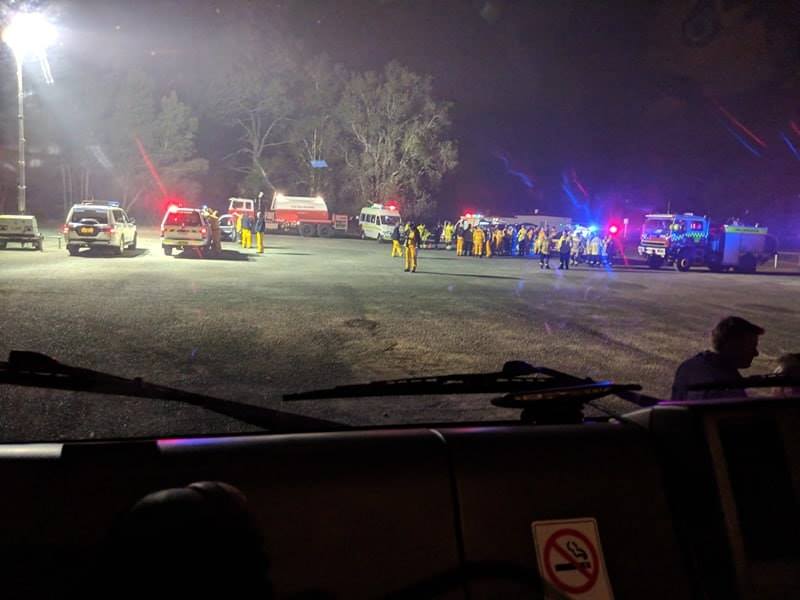 On Thursday August 16th the BoM issued an updated the Seasonal Outlooks for the next 3 months - Spring. Whilst there is some change, hotter and drier than normal conditions are expected to continue. No good news for those struggling with the drought or for fire season.

The abnormally dry conditions for this time of the year have experts warning all householders to be on the alert for an earlier than usual bushfire season. For many across the state it has already arrived. The NSW RFS have said that these current conditions are a timely reminder for residents to check that they have a completed and practiced Bush Fire Survival Plan, in order to protect their family and property should they be threatened by fire.
"If you are not prepared for the bush fire season then you must act now," RFS operational officer Guy Baddock said.
"Everyone should be using this time to prepare their property, which includes clearing gutters and removing fuel from around homes.
"All households should have a well-practiced Bush Fire Survival Plan so residents know what to do, particularly on days of increased fire danger, because there is no room for complacency when it comes to bush fire safety."
A Bush Fire Survival Plan involves four simple steps: More HERE
Visit: www.rfs.nsw.gov.au/plan-and-prepare/bush-fire-survival-plan
Keep up to dates with Information on fires at rfs.nsw.gov.au
Salt Ash Fire photos by Ingleside RFS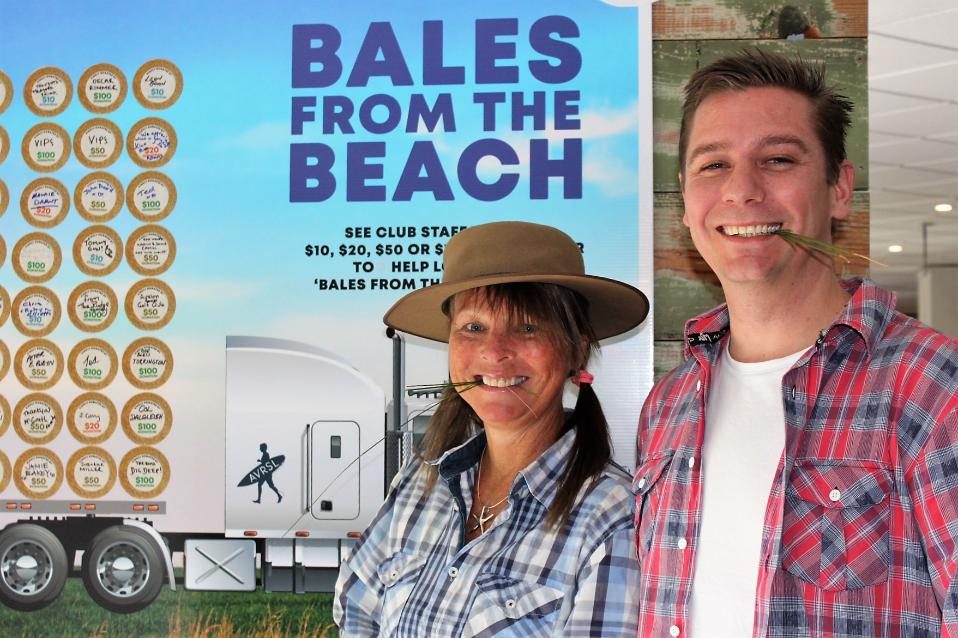 Avalon Beach RSL's Kylie Darcy-Smith and Cristo Tracy getting into the spirit of things for FARM AID 2018
In 2011 Pittwater Online News ran an article about
Aussie Helpers
doing their utmost to assist our rural cousins through one of those bad floods 'a land of droughts and flooding rains' is known for.
Seven years on the opposite has occurred and Aussie Helpers are coming to the aid of our farmers once more, this time to help them stay on the land while the paddocks turn to dust around them, their livestock thin from lack of fodder, and the bottom of the purse was reached a few seasons back. Aussie Helpers doesn't just bring in food for livestock though, they also have a range of support services for farmers, including a Virtual Psychologist where people from rural and remote area may text and speak to a qualified clinician day or night, or sending a mechanic out to fix a truck and everything in between.
A few letters of thanks to the Aussie Helpers team may lend an insight to the work of Aussie Helpers which goes everywhere they see a need:
Dear Aussie Helpers,
Please accept this email as our letter of humble thanks for the hay that Brian sent out to us, it was put to good use. We also would like to thank the organisation for the generator that was purchased, to help pump water. Something that is a crisis here at present.
Dams going dry, cattle drinking mud, by having this genset it will allow us to pump from a bore that we haven't been able to use due to funds. Cattle will also thank you for having a nice clean drink.
Thank you again in helping us it is so greatly appreciated.
One can only hope that it rains this year so not only we can have a spell from drought but yourselves as well.
THANK YOU
Dear Brian & Nerida and all of the Aussie Helpers,

Today I had an unexpected visit. It was hours ago, and I'm still on the verge of tears. I'm not doing it as tough as some and like everyone I know, asking for help is hard. But I thank you form the bottom of my heart for the visit and for someone not forgetting us.
More than anything, the feeling of not being alone is so appreciated. The offer of hay is gold and being left with a delicious box of food goodies was so appreciated- including little luxuries that have really become luxuries such as Arnott biscuits and sweets as well as the staples and loo paper! Some times you don't realise how tight you've had to pull the belt in until you realise you're down to your last roll of loo paper!!
My husband, sons and I will all enjoy your generosity and thoughtfulness. And then there was the bag of fancies. Even a hair dryer! And lip balm and earrings. And all the rest. It was too sweet and every time I use my lovely new face washer I will rejoice in the spirit of Aussie Helpers and the generosity of all involved.
I truly thank you all
Dear Brian and all your wonderful wonderful happy helpers
From the bottom of my heart I would like to say a very very big thank you for your overwhelming generosity, thoughts, organisational ability, big smiles and fun that you bought to the Longreach district.
I have never experienced our fellow man in a better light where so many people have been involved to help those in very great need. It is a shock to be on the receiving end when you are used to being on the other side but I can assure you it has made a huge difference to my spirit and to the lucky animals feasting on hay like they have never seen!
I admire you all and appreciate your terrific efforts. It is simply fantastic to think that the bush is being held in respect and people care as so often we feel forgotten especially by governments who seem to ignore agriculture as a sustainable industry that could and should support great job prospects for so many people.
Our last mob of cattle go this week and the first time ever we will be totally destocked, quite a horrific position to be in and quite eerie ….. we still have 20,000 roos!
Thank you all for your fabulous contribution,
Best wishes to you and your great organisation
P.S. My son is enjoying his lovely new boots as the other had a hole right through them from a stick he 'picked up" while mustering on the motorbike, a great prickle trap!
People in Pittwater have not forgotten that our area was a rural place just two generations ago. We also have a large resident population who have come directly from or have strong links with rural Australia. That's why that country ethos of looking out for and after each other is still so strong here, no matter the distance, no matter the need. Here, just as there, we don't ask for help - if we see a need we offer to help.
We are firmly embedded in 'you can take the girl/boy out of the country but you can't take the country out of the girl!'.
This has inspired locals to launch 'Bales from the Beach', an Avalon Beach RSL club donation initiative, to raise much needed funds for Australian Drought Relief programs.
So far students from Maria Regina had a school day fundraiser dressing up in the theme of "Bales from the Beach" and collectively donated $2160.00. This week the Year 7 Student Representative Council at Barrenjoey High School gathered $420 to add in.

Funds are being deposited weekly and you can keep up to date with the rising support on this page - it's over 8 thousand so far.
The 'Bales from the Beach' wasn't enough though - so next Saturday, August 25th, FARM AID will be happening at the Avalon Beach RSL Club.
"The Bales from The Beach FARM AID has been put together by Avalon Beach RSL Club after getting such an overwhelming and heart warming response from our local community to the Bales to The Beach fundraising campaign." Cristo Tracy explained this week
"We hope to raise, with the community's help, over $10,000 from the continuing Bales from the Beach campaign and the FARM AID event on the 25th August 2018. In fact, we'd like to raise a lot more and keep it going."
"Every cent raised will be donated to the Aussie Helpers Charity supporting our Australian Farmers."

So what's going to be happening next Saturday? - the list so far:
MECHANICAL BULL RIDE IN THE COURTYARD 3-8PM
LIVE MUSIC WITH CHANTAL & CEASAR + SUNDOWN FROM 8:30PM IN THE SURF LOUNGE - DONATION ENTRY.
SAUSAGE SIZZLE IN THE COURTYARD FROM MIDDAY
KIDS FACE PAINTING IN THE COURTYARD FROM 2-4PM
FUNDRAISER RAFFLE - ON SALE 4PM, DRAWN 6PM.
PRIZES FOR BEST DRESSED! FLANNIES RECOMMENDED!
PLUS A HEAP MORE ON THE DAY!
Donations can now also be made online so those who cannot make it to the FARM AID event can be doing their bit to keep the farmers of this nation where they want to be - on the land!
Visit: www.avalonrsl.com.au/balesfromthebeach
If you or your business are able to donate any raffle prizes for the day please call Cristo on 9918 2201 or email promo@avalonrsl.com.au.
The club is also accepting donated non perishable items to be distributed to farmers and families in drought stricken areas.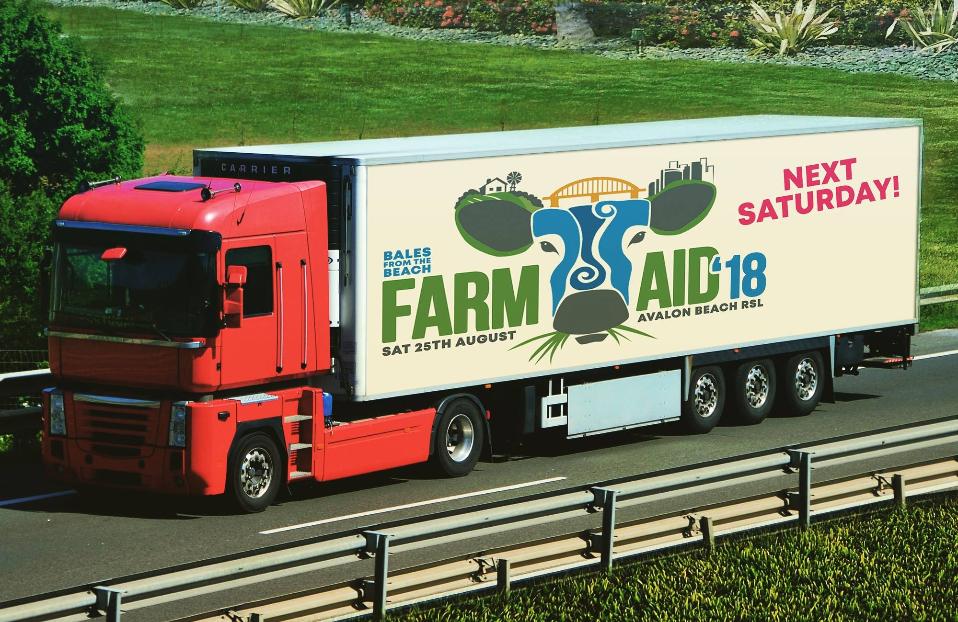 Planning Panel Refuses Seniors Development On Bayview Golf Course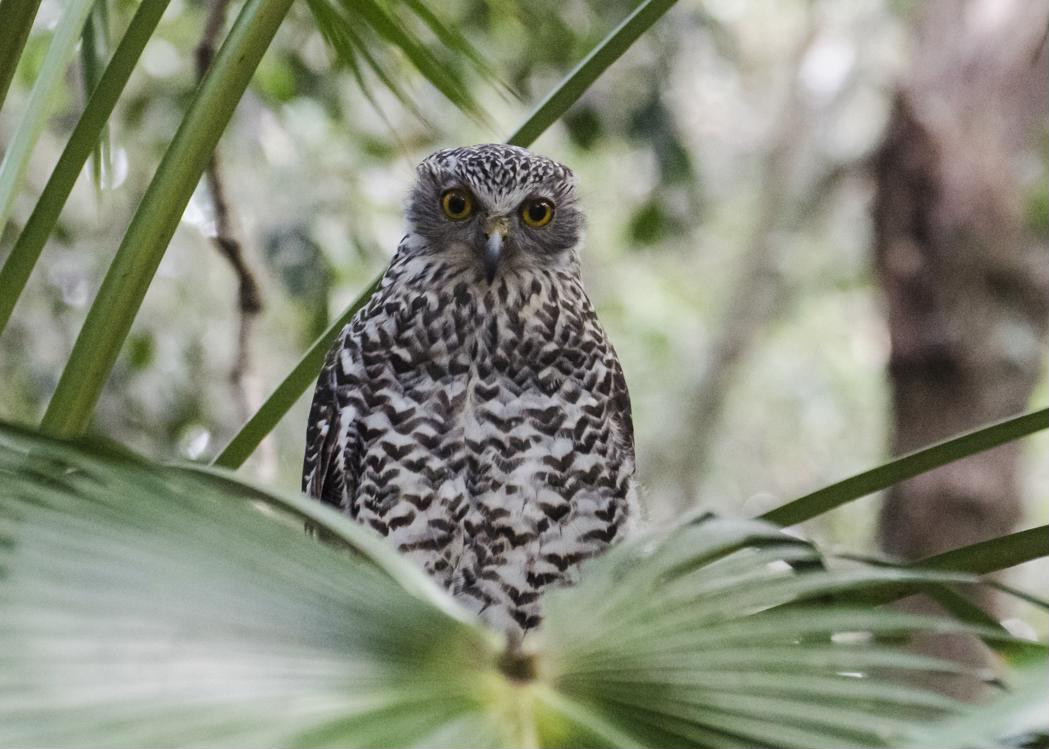 Bayview residents who have fought against this development for over 4 years feel vindicated after the Sydney North Planning Panel refused the application this week on a number of significant grounds. The panel acknowledged unanimously that this was an over development of the site and the proposed built form was incompatible with both the existing and desired future character of the area. They also determined that there would be visual impact of the 7 buildings, 4 storey's in height when viewed from neighbouring properties and from the golf course. This substantial built form was incongruous to the existing low scale and recreational character of the area.
The Biodiversity classification of the whole golf course being mapped in 2014(PLEP) as a high priority wildlife corridor and ecological impacts were also raised as reasons for refusal. The purpose of this mapping is to 'protect' and 'conserve' native flora, fauna and ecological processes. The panel determined that the density of the development would have a substantial adverse impact on the both the actual site and the general area, including vulnerable species known to live there.
VP Day 2018 - Commemorative Service At Avalon Beach RSL By Sub Branch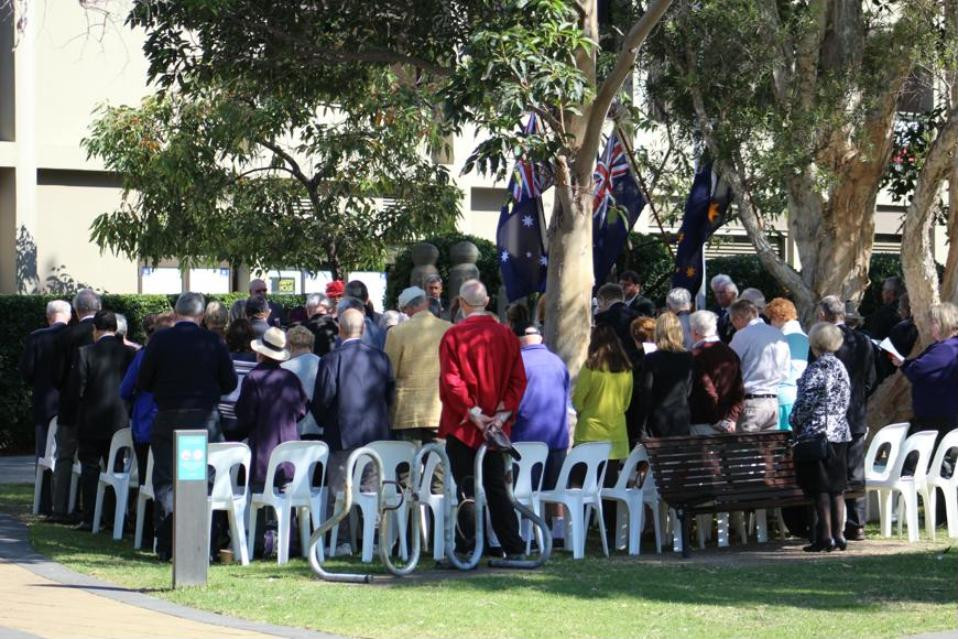 While Victory in Europe was declared in May 1945, fighting in the Pacific region continued until August 1945.
This week members of Avalon Beach Sub Branch held a Commemorative Service to mark the 73rd year since the end of the Second World War II, known as Victory in the Pacific Day, and observed each year on August 15th.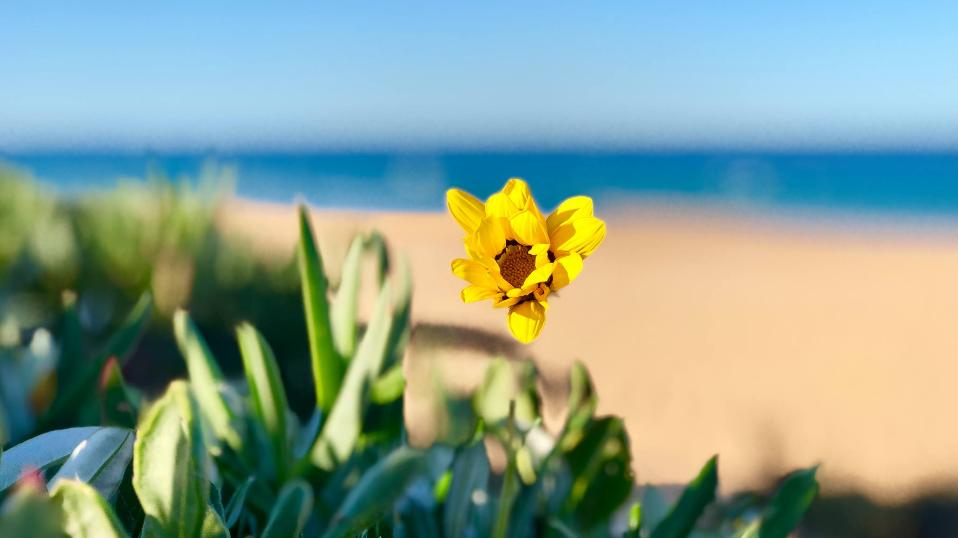 Flower floating. Not trick photography, just a lucky snap. Picture by Adriaan van der Wallen
Past Features Archives (pre 2014)
Pittwater Online News was selected for preservation by the State Library of New South Wales and National Library of Australia. This title is scheduled to be re-archived regularly.
Archived Issues (2014 on) may be accessed here: pandora.nla.gov.au/tep/143700