August 19 - 25, 2018: Issue 372
Northern Beaches RFS Strike Team at Salt Ash Fire: Bush Fire Season is here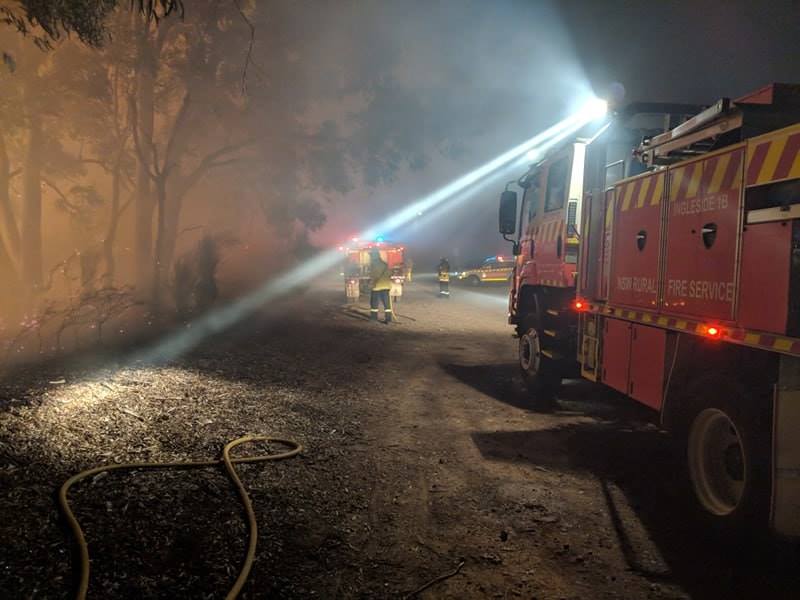 Seventy-one firefighters were working to control a fire at Salt Ash near Port Stephens on Friday evening, a fire they had first responded to that morning. Strong winds across the state on Saturday stirred up the fire, quickly moving it from 'Advice' to 'Watch and Act' to 'Emergency Warning' by 1.30 pm. By 2.30 pm Saturday the fire was burning out of control and had consumed more than 700 hectares of bush land.
As of 3.30 pm yesterday there were 73 bush and grass fires burning across NSW, 44 of which were uncontained. Two fires, Plains Station Road, Tabulam (Tenterfield LGA) and Salt Ash Fire (Port Stephens LGA) remained at Emergency Warning.
The Salt Ash fire was throwing spot fires in forward of its front. Residents were advised of where evacuation centres were.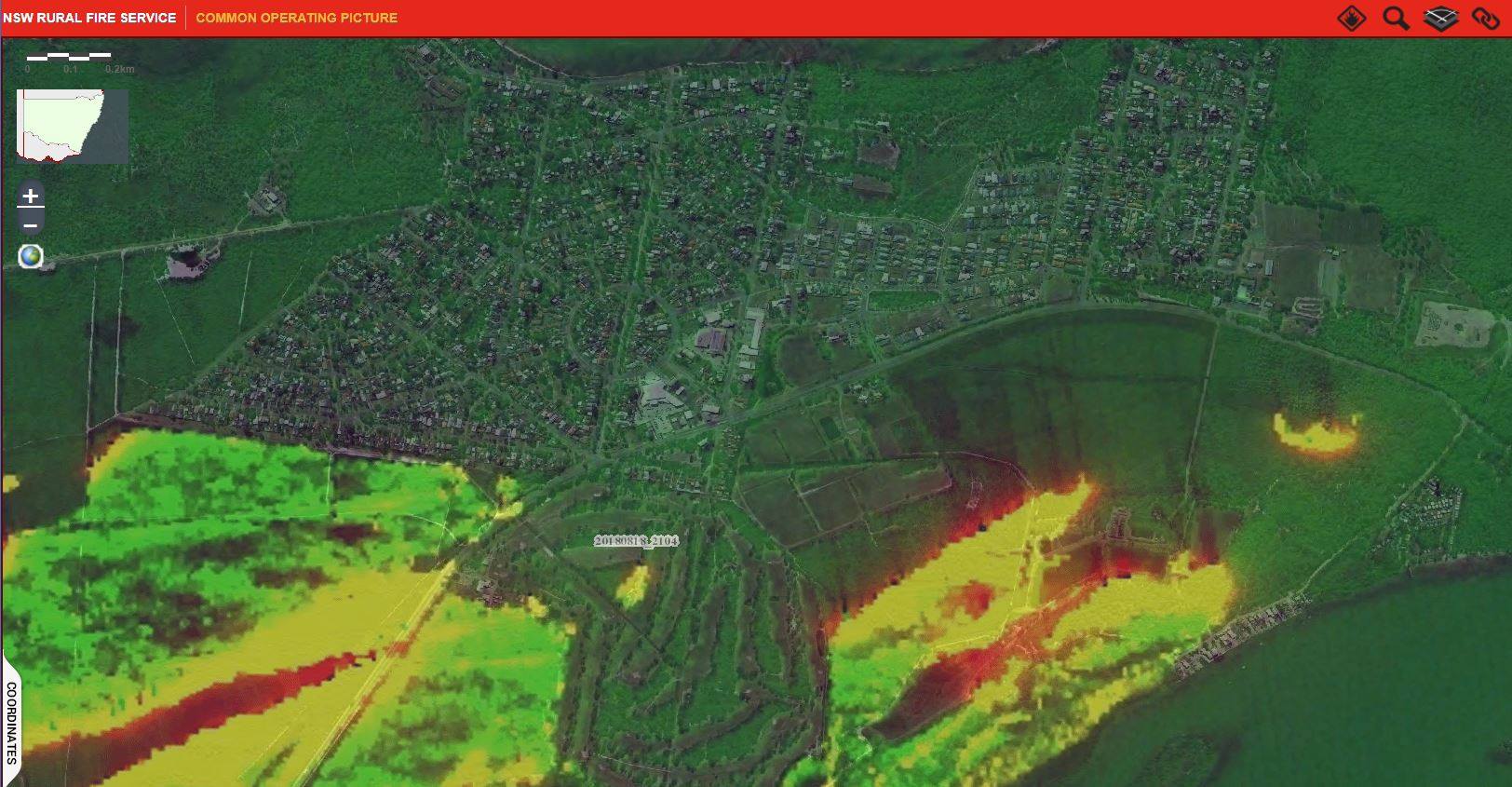 An Ingleside NSWRFS tanker responded around 9pm Saturday evening as part of a Strike Team to the Salt Ash bushfire just north of Newcastle. The local crews were involved in backburning operations through the night until the early morning.
Location: Tanilba Bay NSW 2319 -https://goo.gl/maps/SKXWhRJ1vbr

Northern Beaches RFS Strike Team:
Strike Team Leader: Deputy Group 3 (2 x Ingleside volunteers)
Warringah / Pittwater Headquarters Rural Fire Brigade
Belrose Rural Fire Brigade
Davidson Rural Fire Brigade
Terrey Hills Rural Fire Brigade
At 11:11 pm Saturday evening the NSW posted the Notice below:
Major Fire Updates - NSW RFS
Watch and Act - Salt Ash Fire (Port Stephens LGA)
Posted: 2018-08-18 23:11
A bush fire is burning in the Lemon Tree Passage Rd, Salt Ash area. The fire has burnt more than 1486 hectares.
Current Situation
As a result of easing weather conditions, the Salt Ash Fire has been downgraded to Watch and Act.
Firefighters will continuing backburning operations throughout the night and as conditions allow. People in the area will notice an increase in fire activity as this occurs.
Lemon Tree Passage Road is currently being assessed prior to being reopened. However, NSW Police are escorting people out of the area while this assessment is completed.
Power and telecommunications in the area have been disrupted due to the fire.
Currently there are no confirmed reports of property loss or damage.
Advice
People in the areas of Tanilba Bay, Mallabula and Lemon Tree Passage should continue to monitor the situation closely and remain vigilant. Ensure you know what you will do should the situation change.
Follow the advice of firefighters on the ground.
Other Information
If your life is at risk, call Triple Zero (000) immediately.
Continue to stay up to date with the bush fire situation by checking http://www.rfs.nsw.gov.au, listening to your local radio station or by calling the NSW RFS Bush Fire Information Line on 1800 679 737.
For information on road closures, check livetraffic.rta.nsw.gov.au. Roads may be closed without warning.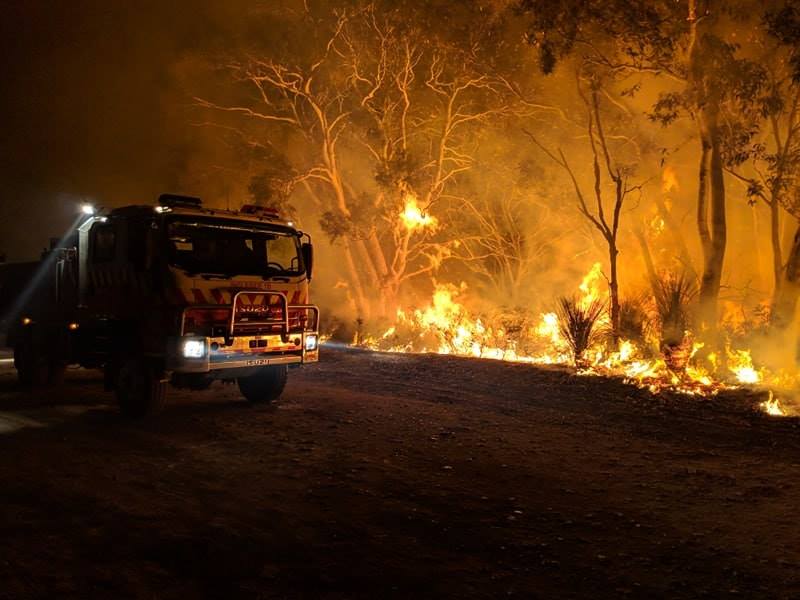 At 3 a.m. this morning (Sunday August 19th) the NSW RFS 'tweeted' - "Advice: Hinxman Road, Castlereagh (Penrith LGA) - Firefighters from the NSWRFS and FRNSW are on scene at a bush fire burning in the vicinity of Hinxman Road and Fire Trail Road. There are no threats to properties."
By 3:22 the Fires Near Me webpage lists its status as 'out of control'.
NSW Rural Fire Service: 4:31 am, August 19th, 2018
ADVICE: Salt Ash Fire (Port Stephens LGA) - Conditions continue to become more favourable for firefighters and as a result the Salt Ash Fire has been downgraded to Advice. Back burning operations are continuing, with fire activity increasing as a result.
As of 4.20am, there currently 75 bush/grass fires burning across NSW (32 remain uncontained). Hundreds of firefighters from the NSWRFS, FRNSW and NPWS have worked tirelessly throughout the night, strengthening and consolidating containment lines ahead of further strong winds forecast today.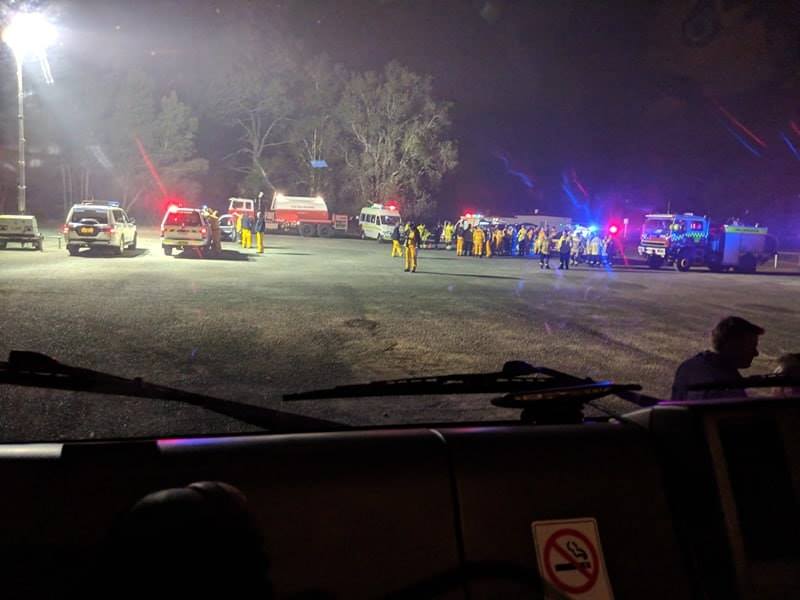 On Wednesday a Total Fire Ban was declared for Sydney, the Illawarra and Hunter due to gale force warm winds.
Cooler conditions this week may help our firies but with them are forecast more strong winds and just a mere sprinkling of rain towards the end of the week – not enough to help those in areas already fighting fires.
On Thursday August 16th the BoM issued an updated the Seasonal Outlooks for the next 3 months - Spring. Whilst there is some change, hotter and drier than normal conditions are expected to continue. No good news for those struggling with the drought or for fire season.
The abnormally dry conditions for this time of the year have experts warning all householders to be on the alert for an earlier than usual bushfire season. For many across the state it has already arrived.
The NSW RFS have said that these current conditions are a timely reminder for residents to check that they have a completed and practiced Bush Fire Survival Plan, in order to protect their family and property should they be threatened by fire.
"If you are not prepared for the bush fire season then you must act now," RFS operational officer Guy Baddock said.
"Everyone should be using this time to prepare their property, which includes clearing gutters and removing fuel from around homes.
"All households should have a well-practiced Bush Fire Survival Plan so residents know what to do, particularly on days of increased fire danger, because there is no room for complacency when it comes to bush fire safety."
A Bush Fire Survival Plan involves four simple steps:
STEP 1
DISCUSS WHAT TO DO IF A BUSH FIRE THREATENS YOUR HOME
Many households find that having a discussion over dinner works best as everybody is together and focussed
Download the Step 1 discussion guide (PDF, 985.3 KB).
STEP 2
PREPARE YOUR HOME AND GET IT READY FOR BUSH FIRE SEASON
There are simple things you can do around your home to prepare it for a bush fire, like keeping the grass low and having a cleared area around your home.
Download the Step 2 checklist (PDF, 595.5 KB).

STEP 3
KNOW THE BUSH FIRE ALERT LEVELS
If there is a fire in your area you will find its alert level on the NSW RFS website and in the 'Fires Near Me' app. You need to keep track of the alert level so you know what you should do.
Download Step 3 (PDF, 146.4 KB).
STEP 4
KEEP ALL THE BUSH FIRE INFORMATION NUMBERS, WEBSITES AND THE SMARTPHONE APP
In a bush fire, it's important that you stay up to date on conditions in your area.
Download Step 4 (PDF, 219.1 KB).
Visit: www.rfs.nsw.gov.au/plan-and-prepare/bush-fire-survival-plan
Keep up to dates with Information on fires at rfs.nsw.gov.au
Salt Ash Fire photos by Ingleside RFS
Ingleside RFS Currently Recruiting

Want to volunteer as a Fire Fighter?
Visit: www.inglesiderfs.org.au/join-us
Currently recruiting from the following suburbs only:
INGLESIDE BAYVIEW MONA VALE ELANORA HEIGHTS WARRIEWOOD NORTH NARRABEEN
Join us
Joining Ingleside Rural Fire Brigade as a member requires a number of steps and we are here to help guide you along the way. To become a volunteer member of our brigade, you firstly need to be 16 years or older.
What are Ingleside Brigade requirements?
Volunteers will generally attend to the following duties within a 12 month period; 9 Duty Crew Shifts (9am-5pm Sat or Sun), 3 (of 11) Brigade 2 hour Training Nights, 4 (of 12) Brigade 1 hour Meeting Nights, assist with Fundraising & Community Engagement Activities, Overnight 'Flyer' Response Shifts, Incident callouts to Bushfires and other Emergencies within our community and social activities.
To read more about the RFS and becoming a volunteer of our organisation, please click here.
The steps are:
First fill in the form at above link to register your details with us.
You will be sent an automated reply email which will outline further information about the joining process.
We will supply you a form for joining the RFS and then contact you to get the form completed and submitted.