June 17 - 23, 2018: Issue 364

The Barrenjoey High School Winter Night Market: A 50th Anniversary Celebration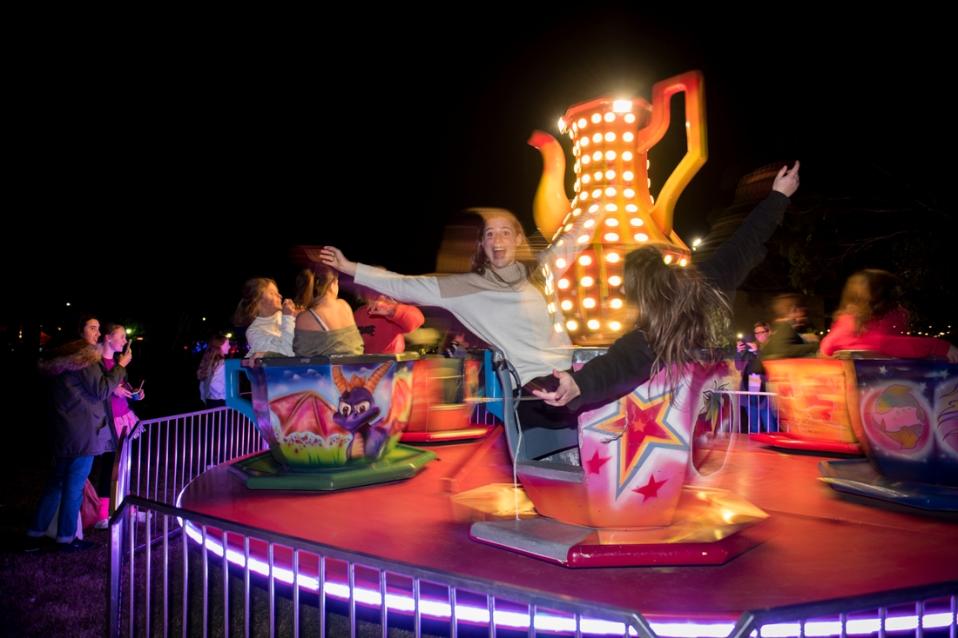 $1 a spin! - photo by Sally Mayman
In celebration of Barrenjoey High School turning 50 this year the school is holding a number of events.
On the
9th of March the Colour Run / Obstacle Course
took place – aimed solely at the students of Barrenjoey and surrounding public schools. Over 650 kids came and ran , danced, skipped jumped and generally whooped it up. Highlights of the day included senior students taking smaller kids around the obstacle course and joining forces. Brilliant fun – brilliant colour!
On
Friday June 15th the Winter Night Market
took place.
This was a family event with food stalls, market stalls, little rides, fireworks and games.
Centre stage some of Barrenjoey's finest musicians from past and present made some great sounds.
Professor Fred Watson took those present on a guided tour of the night sky.
Fred has been an astronomer at the Australian Astronomical Observatory since 1995, and his main scientific interest is in the use of novel technology to gather information on very large numbers of stars and galaxies. Until 2009, Fred was based at the AAO's telescopes in Coonabarabran, where he was Astronomer in Charge. He is now the Sydney-based Head of Lighting and Environment, working closely with state and local government and the Coonabarabran community to preserve the Dark Skies of the observatory.
Pittwater Online ran the announcement of Australia's first Dark Sky Park back in July 2016 – an announcement that was made by Pittwater's MP Rob Stokes when he was Planning Minister. – more
here
and here:
www.warrumbungledarkskypark.org
.
Fred's reputation of being an informative and entertaining public speaker has grown rapidly since August of 2006, when he was announced as the winner of the Australian Government Eureka Prize for Promoting Understanding of Science. Since then, he's been the recipient for the UNSW Bragg Prize for Science Writing, Queensland Literary Awards for Science Writing, an APRA Award for his contribution on the Choral work by Ross Edwards, and most notably an Order of Australia for his service to the popularisation of science.
Also on hand was Marnie Ogg, who caught up with her old classmates. Marnie joined forces with her partner, astronomer Fred Watson, to design exclusive, science-themed tours and events in 2006. Marine was the Principal Investigator for the Committee for Dark Sky Park to promote the first UNESCO designated park in Australia (Warrumbungle National Park) to promote the educational, cultural and natural resource from which people of all ages can observe the night sky. Pretty cool stuff!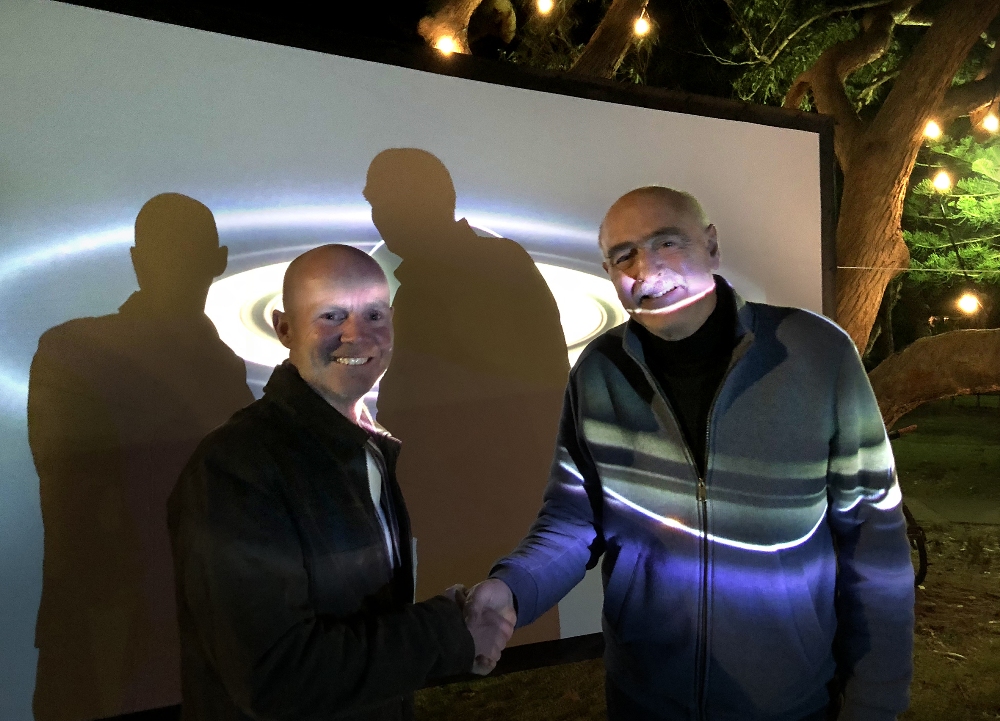 Ian Bowsher BHS Principal and Professor Fred Watson - photo by Sally Mayman
It was BYO chair or picnic rug to enjoy the music and events.
Another wonderful and inclusive family event which closed with fireworks that the rest of Avalon enjoyed too!
The final event for these
Golden 50th celebrations for BHS will be The Golden Ball.
All ex students and staff, current parents and community are invited to attend this event on
Saturday September 29th
.
There will be a three-course meal, fully licensed, live bands, and memorabilia exhibition.
Banquet style seating (not allocated) is the format so you can sit with anyone.
As this is to be a Licensed event - no BYO - Attendees must be 18 and over
Vegetarian and Gluten Free options are available on the night.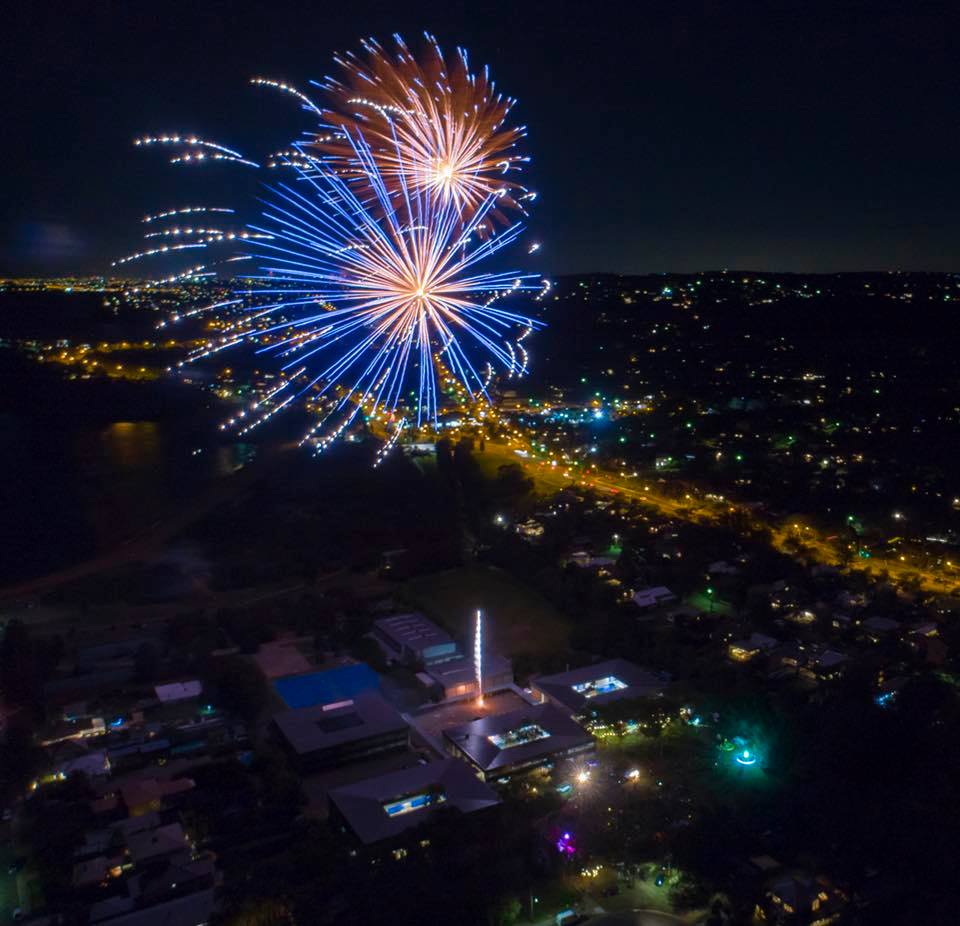 Drone shot of fireworks by Sean Mulcahy
Sydney North Planning Panel's First Determination: For Pittwater LEP To Be Amended To Facilitate Crystal Bay Seniors Housing Development To Proceed To Gateway + Change E4 Zone To R2 For All Adjacent Blocks Of Land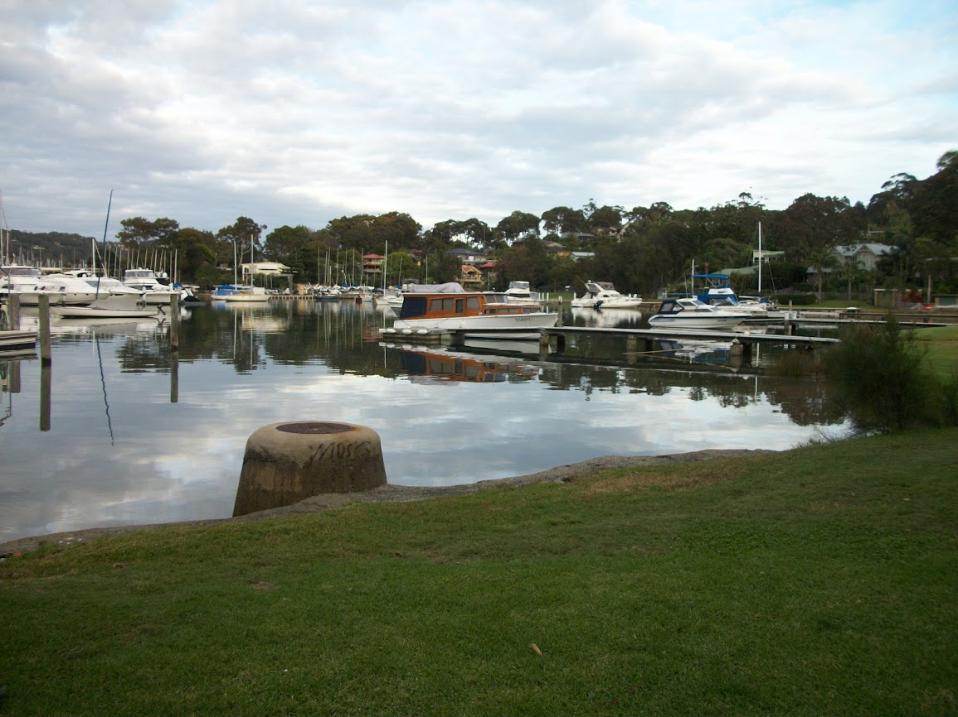 Crystal Bay, Newport - A J Guesdon photo
The Sydney North Planning Panel chaired by appointed ex-Liberal Party Leader Peter Debnam made its first Determination regarding a proposal that seeks to amend the Pittwater Local Environmental Plan 2014 to allow Seniors Housing as an additional permitted development. The Panel Determined the proposal should Proceed to Gateway 'because the proposal has demonstrated strategic and site specific merit'.
Additionally the SNPP has stated in the Record of Decision that;

…the Panel does consider that the zoning of the land E4 is unjustified and that R2 zoning would be more appropriate. Accordingly, the Panel recommends to the Delegate that the land from Bardo Road northward along Nooal Street up to Irrubel road currently zoned E4 be investigated and re-zoned R2 which would allow the proposed use as well as other suitable uses such as dual occupancy. The planning proposal should therefore be revised to reflect the above before it is exhibited.'
Under the January 2018 announcement of the new planning panels; 'The panels also act as the relevant planning authority in some decisions when directed by the Minister for Planning or the Greater Sydney Commission, undertake rezoning reviews and provide advice on planning and development matters when requested'
The Proposal is for 8 x 2 bedroom units over three properties, 66 Bardo Road, which last sold around 15 years ago, 4 Nooal Street, which sold on May 24th, 2011 and 2 Nooal Street, which was purchased by the proponent on the 14th of August 2014.

In the Cover Letter and Rezoning Review Request provided to the Panel it is stated 'We confirm that No's 2 and 4 Nooal Street, Newport were purchased by their current owner prior to the gazettal of Pittwater Local Environmental Plan 2014 (PLEP 2014) with the intention of developing the land for the purpose of seniors housing.'
Under the heading 'Greater Sydney Region Plan' it is stated that 'The Plan was not considered in the proposal, which predated the plan'. This is also not correct.
The Proposal was submitted in 2017 after the Regional Plan was first exhibited in 2016. The Regional Plan was revised after the Proposal was submitted however it did not substantially differ. The Proposal did not consider this relevant plan at all, instead relying on the withdrawn Metropolitan Plan for Sydney 2036 (2010).
Council has also noted similar incorrect statements under the 'North District Plan' sections wherein it states "…the planning proposal only references the Revised Draft North District Plan as it predated the plan…"
The Planning Proposal submitted by the Proponent never referenced either the Draft North District Plan (2016) which was exhibited before the Proposal was lodged with Council, or the Revised North District Plan (2017) which was exhibited after lodgement.
The applicant appears to be providing justification (for the proposal) against the Revised North District Plan with an amended Planning Proposal lodged with the Rezoning Review request via a 'Cover Letter'.
The Pittwater Local Environmental Plan (LEP) 2014 came into effect on 27 June 2014. The LEP was intended as a translation of the provisions of the Pittwater LEP 1993 into the NSW Government's Standard Instrument—Principal Local Environmental Plan (Standard Instrument).

The 2014 LEP changes went through an extensive research, investigation and public exhibition process commencing in early 2013.

The first objective of the E4 Environmental Living zone is:
To provide for low-impact residential development in areas with special ecological, scientific or aesthetic value.

Every residential property that fronts the Pittwater Waterway is zoned E4 Environmental Living on the basis of aesthetic value.

The Panel appear to have taken it upon themselves to arbitrarily dismiss this and make a decision which sets a precedent that will undermine the consistency and integrity of this zone and all it sets out to achieve.
The Panel are also ignoring the newly published North District Plan which states that "Councils are in the best position to investigate and confirm which parts of their local government areas are suited to additional medium density opportunities".
More HERE
Golf Avenue Mona Vale Now A Car Park Due To B-Line Commuter Growing Pains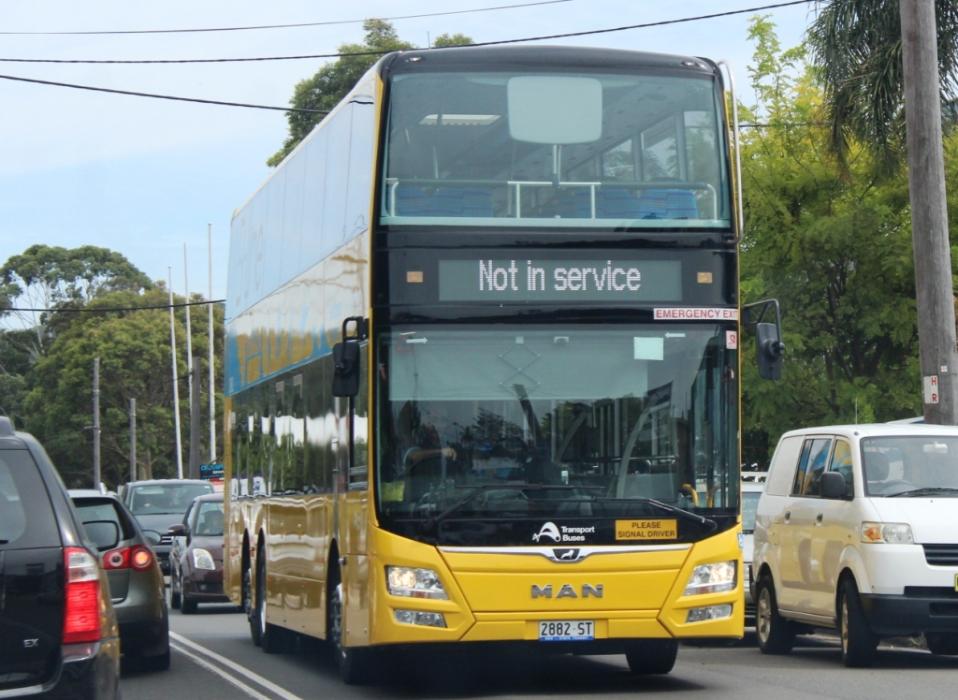 Residents in Golf Avenue Mona Vale and those who access events at Mona Vale Golf Club have been contacting Pittwater Online News since early April regarding the lack of commuter parking for the B-Line in that suburb causing problems.

Since the B-Line bus service commenced practically the entire length of Golf Avenue is now filled with vehicles of B-Line commuters by 7.30 a.m. The Park and Ride car park has been full by 7 a.m.. Some commuters are even parking in the Golf Club car park, which is reserved for club members and function visitors.
Mona Vale Golf Club has 94 car spots on its premises and relies on space being available in Golf Avenue for overflow parking for its members.
The Manager of the Club has advised the impact of commuter parking in Golf Avenue has severely impacted the Club operations. The Club is now starting to lose golfing members because they cannot park in the Club parking area or in Golf Avenue. The Club also relies on holding many promotional and social functions in the Clubhouse to support its operating costs and some of these have been cancelled as well.
While the B-Line commencing at Mona Vale has proved hugely successful for users the impact on residents and businesses has not been so positive. Being able to access shops or services has decreased leading some to openly support the push for the service to be extended to Newport due to the view that there is a 'large car park already in place there'.

Warriewood carpark for the B-Line service, which is not complete as yet, may alleviate the problem when the extra second level is finished although many believe with extra construction works occurring in Warriewood valley, and more slated, supply will never meet demand. Mona Vale will also continue to be attractive to commuters as it allows them to 'grab milk and bread on the way home'.
The ground level of the new Warriewood commuter car park is now open with approximately 180 spaces available to the community. In June, work continues on the car park, including constructing the lift and stairwell for car park access to the second floor when works are complete. Installation of the 'fins' on the façade of the car park continue with works scheduled for completion in July.
The Newport B-Line webpage has been changed this week, advising that; 'The proposed solution to extend B-Line services to Newport will be presented in the Review of Environmental Factors, planned for public display mid-2018.'
Visit; https://yoursay.b-line.transport.nsw.gov.au/newport
Given the recent first decision on a Pittwater matter by the Sydney North Planning Panel regarding a Seniors Housing Development on Crystal Bay (to amend the Pittwater Local Environmental Plan 2014) is that it proceed to a Gateway determination, and recommending atop that that area in Newport be changed in zoning from E4* to R2*, the car parking 'jam' on residential streets may also be extended to Newport.
"The panels also act as the relevant planning authority in some decisions when directed by the Minister for Planning or the Greater Sydney Commission, undertake rezoning reviews, and provide advice on planning and development matters when requested." - (New Sydney Planning Panel Chairs Announced 15.01.2018: Departmental Media Release - Department of Planning and Environment)
More HERE
Pittwater Winter Regatta Incorporating The NSW 2.4mR Class Championships Hosted By Sailability Crystal Bay
Invictus Games Training Sessions To Be Held On Pittwater This Week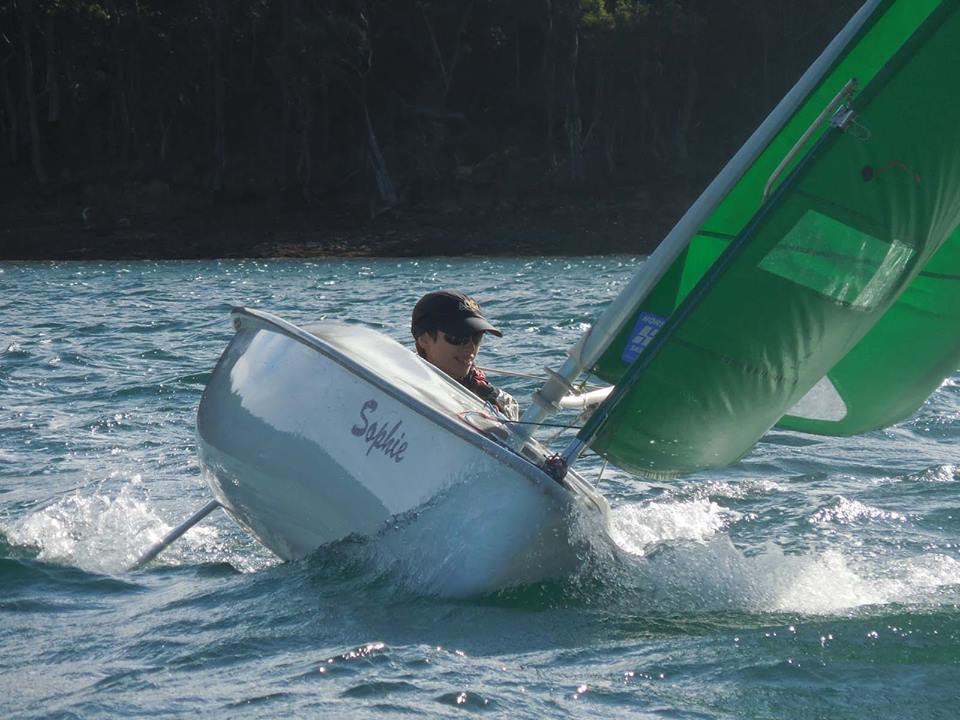 Well done to Allan Jones and the team from Sailability Crystal Bay for running the Pittwater Winter Regatta incorporating the NSW 2.4mR Class Championships on June 9th and 10th.
Eight 2.4mRs and five Hansa class boats competed, with sailors coming from New South Wales, ACT and Victoria. The first ever Australian National Championship for the 2.4m R class was held by RPAYC in 1998, so it was great to see this legacy, and the RPAYC's support of Sailability Crystal Bay continuing through this great regatta.
Race Officer David West and his on-water race management crew managed to complete 3 races each day, with very light and variable winds on Saturday and a moderate to fresh south westerly on Sunday accompanied by some rain.
This coming week the Royal Prince Alfred Yacht Club through Sailability Crystal Bay will host Invictus Games training and preparation on Pittwater. Bob Hamilton has managed to secure the loan of four Hansa 303's from Pittwater Sailability and the RPAYC will be providing its fleet of Elliots for the athletes. Visit:
RPAYC Showcase Sailing To Prince Harry For The 2018 Invictus Games
There will be seven athletes visiting our estuary this coming week, two of them being amputees from Townsville.
In March 2014 the Crystal Bay chapter of Sailability was launched.
Sailability Pittwater is for anybody with a disability to try sailing. If they show an aptitude or ability for sailing then Sailability Crystal Bay is the place to come because this is the competitive side of it. Volunteers are training people for State competitions, National competitions, Special Olympics, Paralympics and events alike these.
The funds were provided under the NSW Government's Local Sport Grant Program and came as Sailability NSW was celebrating its 20th anniversary in Pittwater.
Sailability Crystal Bay - RPAYC athletes have represented
Australia
nationally and Internationally at all major Special Olympics and
Paralympics
for many years now. In October Sailabilty Crystal Bay sailor Alyse Saxby will be part of the
Hansa Worlds Regatta at Miyajima Island, Hiroshima.
More
HERE
- including some great photos of the 2018 SCB Winter Regatta by
David Staley
LITTLE REEF At NEWPORT BEACH
By John Illingsworth - Pittwater Pathways
NB: Billie and John are John's parents.
'Dad came to Newport in 1931, 10 years old and recovering from diptheria. He was captain of Newport SLSC 1946 and 1947 I think, thereabouts anyway. Met a pretty girl who had trodden on a sea urchin while walking out to the reef. Helped her and so it went.'
- J.I. - June 2018
Past Features Archives (pre 2014)
Pittwater Online News was selected for preservation by the State Library of New South Wales and National Library of Australia. This title is scheduled to be re-archived regularly.
Archived Issues (2014 on) may be accessed here: pandora.nla.gov.au/tep/143700