October 15 - 21, 2017: Issue 333

Newport B-Line Update October 2017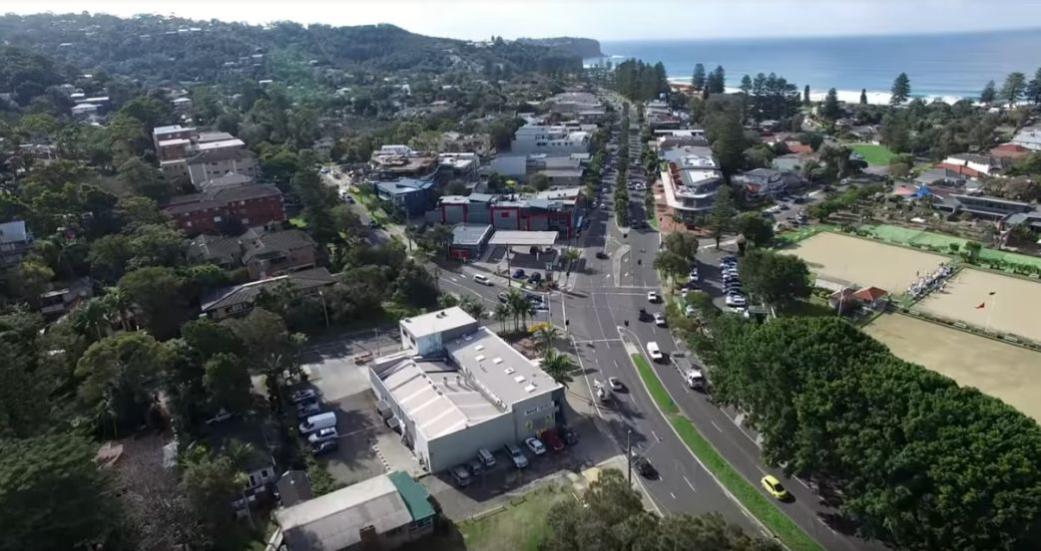 Newport Village View, Drone capture - courtesy John Illingsworth, 2017
The NSW Government's Transport for NSW released an update on their plans for extending the B-Line to Newport this week, the crux of which was to install a roundabout at the corner of Neptune road and Barrenjoey. The proposal has attracted strong criticism from those who live in Newport and those who experience the bottleneck of the roundabout at Kamikazee corner at the Avalon-Bilgola intersections each morning during weekday peak hours.
The initial reaction is this will only compound a growing traffic problem and extend the amount of time commuters will spend waiting to get anywhere.
"It will be like the traffic jam which occurs during Summer on Sundays that extends from Palm Beach through Avalon to the Kamikazee roundabout, only now this will be an extended stop and sit through Newport as well, meaning people will be going nowhere six days a week." one resident remarked.
Others are asking why the B-Line isn't being extended to Palm Beach, especially since so many see buses turning there easily, without a roundabout, and why the newly touted Route 199, originally stated to be running every 30 minutes on weekdays and every 15 minutes on weekends (
May 2017
) is now just listed as Route 199 with no timing details - see below. Route 199 is designed to fill the gap the L90, which will no longer run in peak-hour, will make. This commences in November too.
Further south people who used the buses once connecting them to Dee Why or Warringah Mall are also distressed about the cancellation of some routes and confused over which or how many buses they will need to get to where they once used to go - some stating they can see themselves walking into Dee Why. Let's hope they are not grey of hair or frail of legs - they too will need to add expensive stopgaps to their going anywhere on time.
The changing of many buses, and the length of time this will add to commutes continues to be a point of dissatisfaction, as is the added cost those who may need to access the perceived stopgap
On Demand services
to connect those who will be off the main routes will need to use to get to a bus stop
from Sunday 26 November 2017. This means you, Newport Loop people - unless you're content to catch the 199 to Mona Vale and then change to a B-Line service.
The other fear is the loss of trees at Newport similar to that which occurred at Mona Vale when the Artists Impression drawings didn't quite fit with what has actually happened. It seems unlikely that Mona Vale's Village Park will ever resemble the Green Common Ground it once was and the planting of the
118 trees planted 'on or near the impacted site'
in such a reduced space probably means 'near' now more than 'on'.
Despite Transport for NSW's latest announcement that '
No multi-deck car park will be built in the Newport Beach car park', the car park itself will be used by commuters just as every other car park from where the L88 at Careel Bay leaves, to the Avalon Beach RSL car park at south Avalon Beach is by morning commuters already. Will this encroach on netball practice in the car park; with no crossing installed near the Neptune street and Barrenjoey road junction, will there be a safe way to cross the road on your way back home?
This week Residents asked newly elected
Councillor
for the Narrabeen ward Vincent de Luca OAM to enquire whether the B-Line corridor will be utilised as a means for
facilitating
6 storey developments along the route alike those recently proposed or sent to the NSW Government's Planning
Panels
, such as the very recent;
(
Planning Proposal 9, 11, 12 & 13 Fern Creek Road, Warriewood
: Amend the Height of Building Map to 10.5m and Amend '901A - Not more than 192 dwellings or less than 156 dwellings' as it relates to 13 Fern Creek Road and replace with '901A - Not more than 190 dwellings or less than 154 dwellings' - September 2017) or (
Planning Proposal For 2 Orchard St Warriewood
- PP0002/17: Increase the residential dwelling density assigned to the affected properties under Clause 6.1 Warriewood Valley Release Area to permit an additional 102 dwellings. Increase the permitted maximum height of buildings on the western portion of the site from 10.5 metres to 14.5 metres and 17.5 metres.-
Gateway determination - October 2017
) or this week's (2 Macpherson Street Warriewood: Planning Proposal seeks to amend the Pittwater Local Environmental Plan 2014 to increase the number of dwellings from 0 to 22 for buffer area 1m in clause 61 Warriewood Valley Release Area. - that's a creekline readers, already rejected once the proponents seek adjustment due to the new Warriewood bridge being constructed).
Mr de Luca asked Council to enquire of the Greater Sydney Commission whether their template (North District) 'facillitates 6 storey development anywhere there is a B-Line' and whether Council 'has any exemption been applied for in view of our already struggling infrastructure?'.
Council
received
a reply from 'Officers of the Great Sydney Commission (GSC) that verbally advised that the Commission does not have any 'Planning Template' which
facilitates
6 storey development anywhere there is a B-Line. Additionally they are not aware of any GSC document which advocates this.
The only GSC documents applying to the Northern Beaches LGA are the Draft District Plan North and the recently released Directions for a Great Sydney 2017-2056 (which applies to the whole Sydney metro area). Neither of this documents include any planning policy around facilitating 8 storey development along B-Line routes.'
Written confirmation of this position from the GSC has been requested.'
A Plan for Growing Sydney identified
three planning principles that remain current and underpin many of the priorities of this draft District Plan.
Principle 1:
Increasing housing choice
around all centres through urban renewal in established areas
Principle 2: Stronger economic development in strategic centres and transport gateways
Principle 3: Connecting centres with a networked transport system
No B-Line mentioned, nothing about 6 storey plus developments in those words either....
leverage the Mona Vale B-Line stop
to facilitate intensification of uses in the centre, with an emphasis on the provision of housing
a
ffordability to retain 18 to 35 year olds
The
Newport Residents Association
met with Transport for NSW on Monday this week to discuss their Newport proposal updates and came away with a new list of unanswered questions. They are
holding a Community Rally on Sunday October 22nd at 12.30 p.m. in Newport Surf Club
. Their NRA members next meeting is scheduled for Tuesday, October 17th.
Transport for NSW have released this Newport Update which outlines the proposals and invites feedback. They are also hosting drop in sessions commencing October 21st for residents to discuss the proposals and provide feedback.
Couta Boat Australian Championship And Wattle Cup 2017: On
Pittwater
Hosted by

Avalon

Sailing Club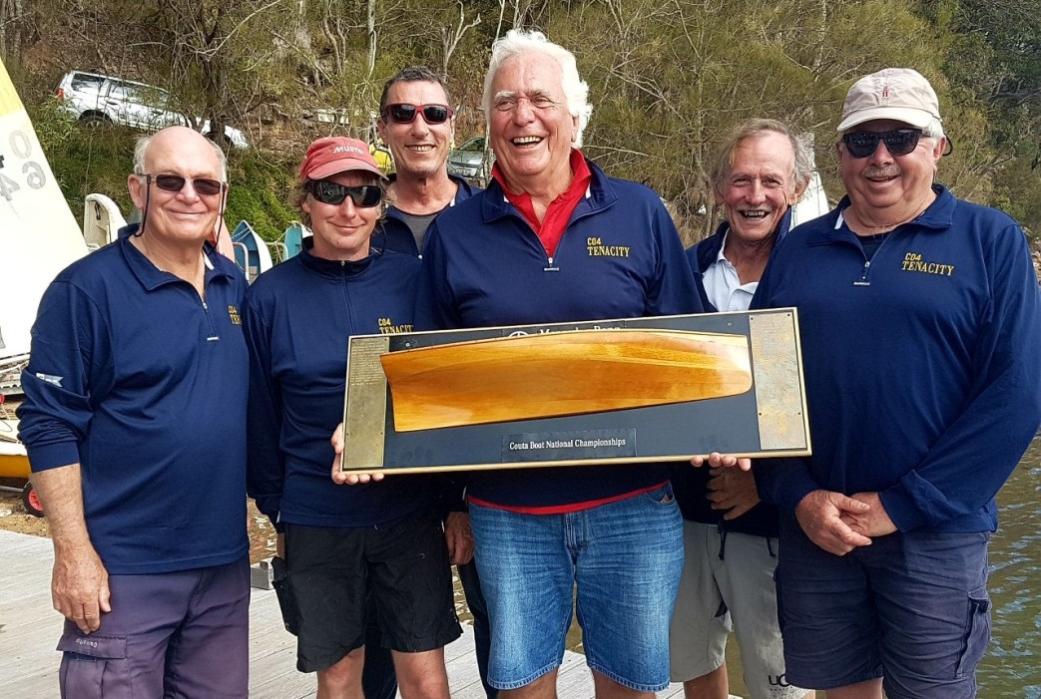 Tenacity with Don Telford holding the Australian championship trophy - photo by Lisa Ratcliff - Couta media
The third ever Couta Week, the precursor to the 2017 Couta Boat class Nationals, began on Sydney Harbour last Friday and this weekend's Wattle Cup is the culmination of a timetable of racing and social occasions organised by the national association's NSW chapter.
State president Larry Eastwood says Couta Week is a way of connecting the Pittwater and Sydney Harbour fleets and represents the collaboration of three Sydney clubs banding together to support the key series.
Last year some of the Sorrento crews trucked their boats from the class' spiritual home on the Mornington Peninsula to Sydney and this year they have returned, swelling the numbers to record levels as the Avalon Sailing Club hosts the first Couta Boat Australian Championship to be staged outside of Victoria.
The two-day Nationals and Wattle Cup this weekend, hosted by the ASC are the final class events and Eastwood says, "It's all to play for. The interesting thing is despite the boats being quite different they are closer this year than they've ever been.
"Despite being big and cumbersome and with so much diversity in boat ages and crew expertise, there's no one way out left or way out right. Everyone has a chance to win, and every second counts."
Larry also highlights the eclectic class attracts men and women sailors from all walks of life - from Sutherland Shire based firies who travel to Pittwater on weekends to sail, to the Prime Minister Malcolm Turnbull and his Couta boat, Rob Roy.
The fleet sailed back from Sydney harbour to Pittwater during the week in time to take part in the first of Woody Point Yacht Club's Summer series races on Pittwater on Wednesday. The Twilight race showed off the Coutas and the estuary with brilliant blue skies and yards of white canvas.
On Friday a practice race was one Windward / leeward course and a second short race around Scotland Island to give all our visitors a chance to familiarise themselves with the 'dead' side of the Island.
On Saturday the Nationals were held. Participants stating it was a bit chilly and wet but excellent sailing conditions for the Nationals off Avalon sailing club. Today, Sunday October 15th, the Passage race will be run.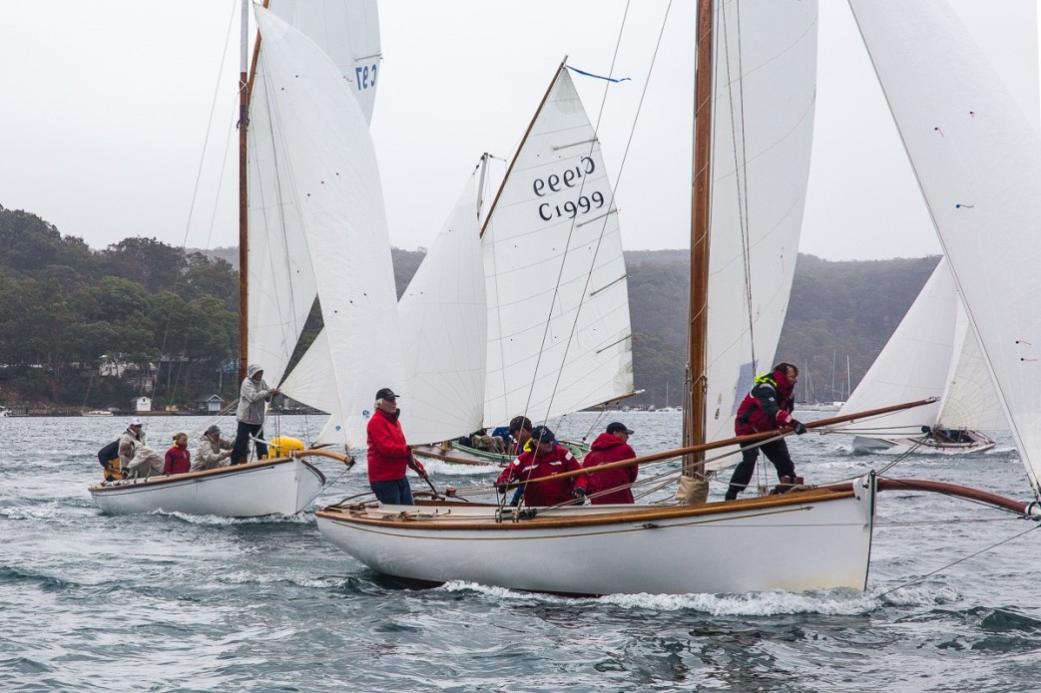 Don Telford's Tenancity 2017 Couta Boat national champion- photo by JaneLizzyEvans photography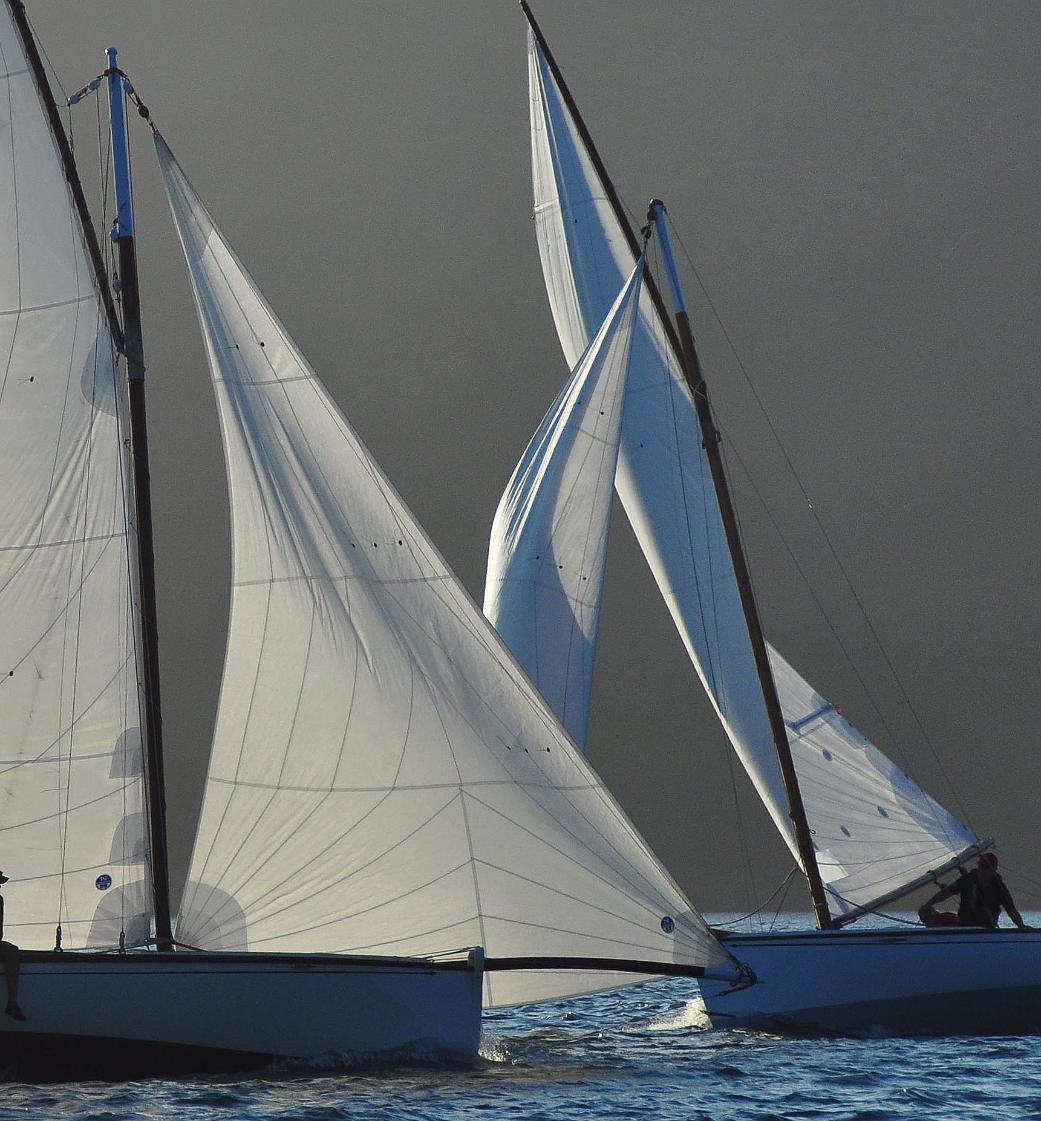 Couta Boat poetry on Pittwater in 2017 - photo by Bob Fowler
Local Surfers Shine in Round Two of Woolworths Grom Comp at Cronulla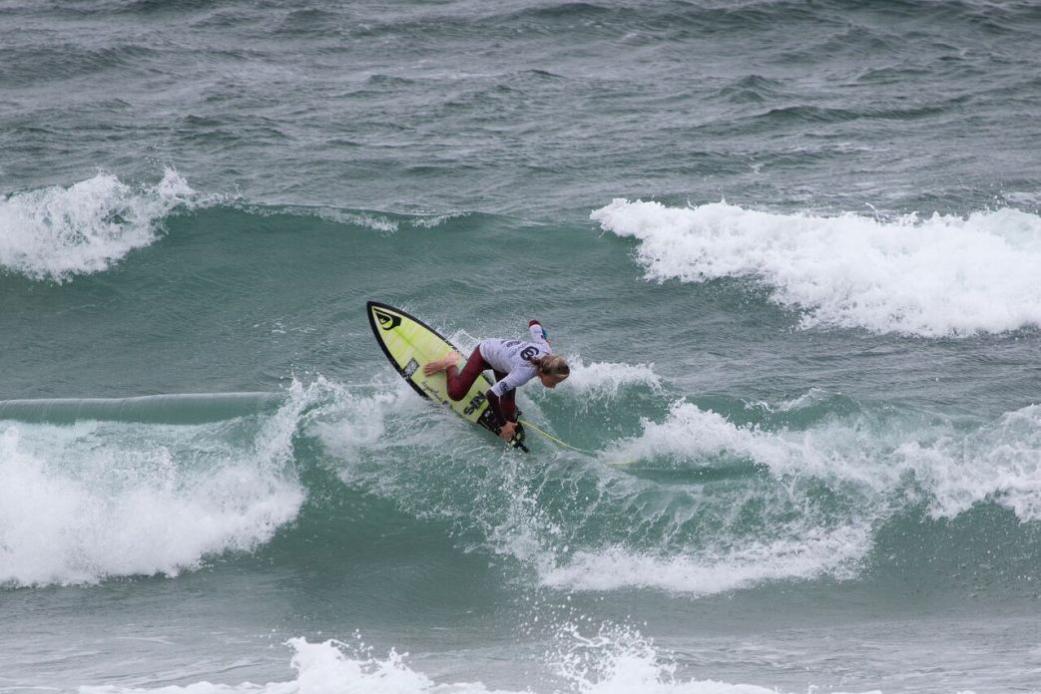 Dane Dujic (Avalon, NSW) - photo by Ethan Smith/Surfing NSW
GROMMETS SHINE IN DIFFICULT CONDITIONS AT THE WOOLWORTHS SURFER GROMS COMP PRES. BY WAHU AT CRONULLA
NORTH CRONULLA BEACH, CRONULLA
Saturday, October 14, 2017
Competitors endured a dreary day of onshore winds and small swell as the Woolworths Surfer Groms Comps presented by Wahu got underway at North Cronulla.
Koda Killorn (Maroubra, NSW) picked up where he left off since taking out the last Woolworths Surfer Groms Comps presented by Wahu event on the Northern Beaches, posting the two highest heat totals of the Under-14 Boys, 15.5 and 14.77 (out of a possible 20 points) in his opening exchanges. Based on the leaderboard format, Killorn will now enter the quarterfinal as top-seed, where he'll face Nate Hopkins (Noraville, NSW), Luke Dujic (Avalon, NSW) and Kai McGovern (Curl Curl, NSW).
Oceanna Rogers (Shellcove, NSW), Gabi Spake (Collaroy, NSW) and Keira Buckpitt (Culburra, NSW) all dominated the opening rounds of the Under-14 Girls, posting two wins each across the first two rounds. Rogers managed to claim the first spot on the leaderboard thanks to posting an 8.00 wave score for a handful of giant forehand hits.
Jack McDonald (Freshwater, NSW) and Dane Dujic (Avalon, NSW) were the standouts in the opening round of the Under-12 Boys division with both surfers posting heat totals in excess of 13.66.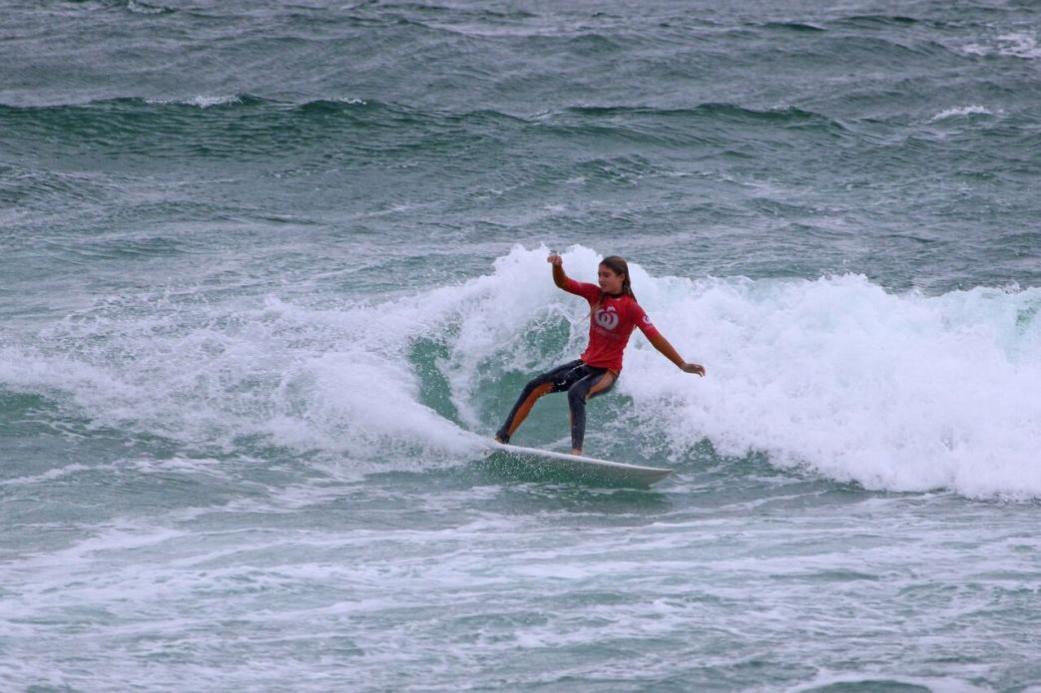 Gabi Spake (Collaroy, NSW) -
photo by Ethan Smith/Surfing NSW
MC38s Draw Record Fleet: Summer Series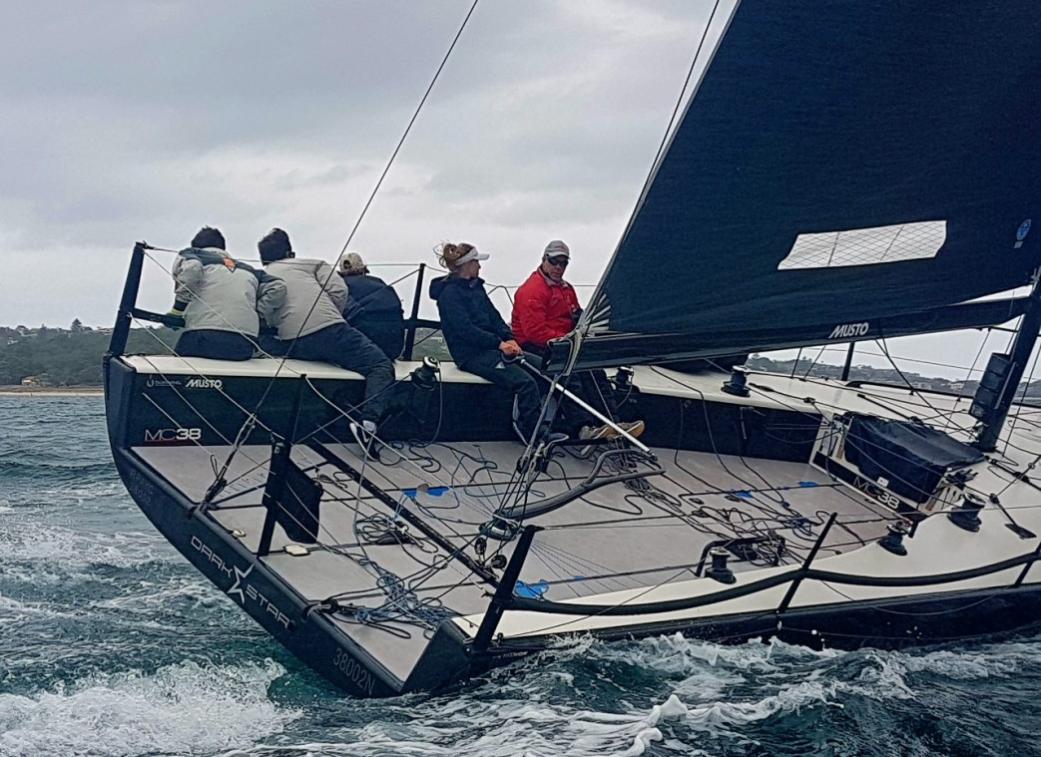 Dark Star RPAYC youth crew - photo by MC38 media
October 14, 2017 - Event: MC38 2017-18 Summer Series act 1, October 14-15, 2017 on Sydney Harbour hosted by the Royal Sydney Yacht Squadron
The MC38 class enjoyed a major boost for the opening act of the class' 2017-18 Summer Series drawing a record nine boats on Sydney Harbour for act one, and a bevy of superstars among the teams.
America's Cup sailors and Olympic gold medallists in the Laser and 49er respectively, Tom Slingsby and Iain Jensen, plus guest helmsman Michael Dunstan took Marcus Blackmore's Hooligan into a new sphere and four races into the seven race series they are second on the pointscore.
But it was the usual unflappable A-team on Lesley Green's Ginger with their impeccable boat handling in the 16 gusting to 25 knot SSEers and decisions by tactician David Chapman that outclassed the fleet. They finished the North Sails boat of the day holding a four point advantage going into the second and final day of racing on Sunday October 15, 2017.
"It was really good to have nine boats; it made for a real dog fight," said Chapman. "Each time we led at the top mark we weren't leading at the bottom. There were lots of lead changes which was terrific for the spectators."
On his first MC38 helming experience on a cool and showery spring day Dunstan said: "It was great fun, a blast. I don't get the chance to steer boats like that very often."
Slingsby added, "We had a few close moments, it's really good out there with nine competitive boats. The racing was tight; you could overtake three or four on a downwind or lose three or four. We had one port/starboard and had to crash gybe but that's all part of it and we are all friends at the end of the day."
Video of Slingsby and Dunstan
.
On the likelihood of reigning in Ginger on Sunday he said: "We did well today with a couple of top threes. We'll do the best we can and hopefully it's close going into the last race so we can have a shot at them."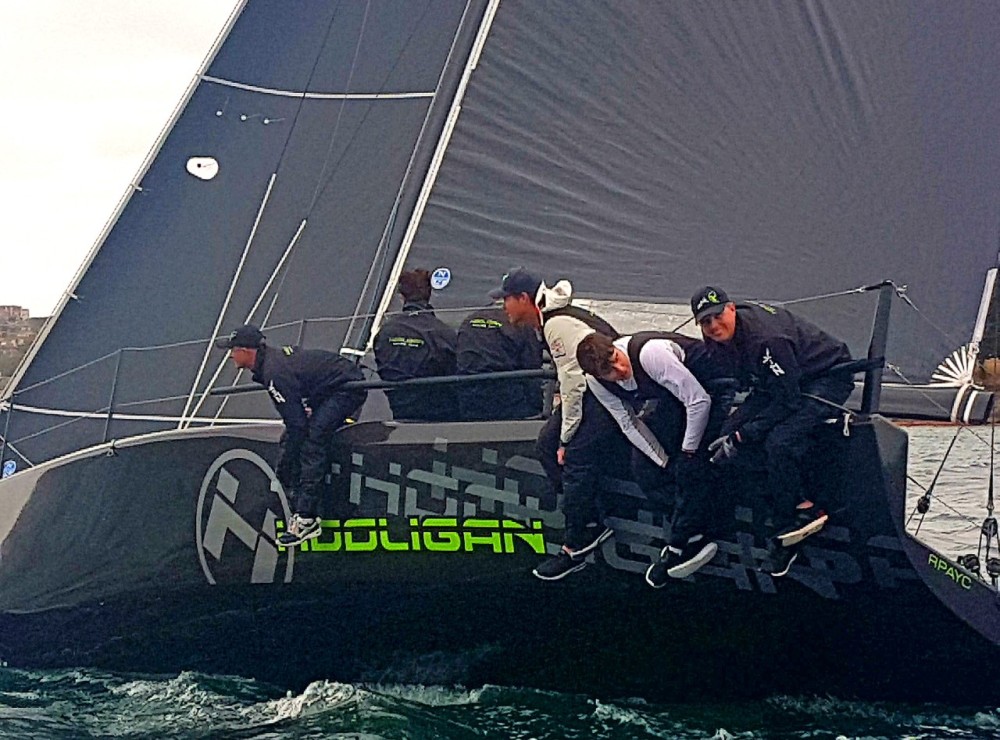 Hooligan to windward- photo by MC38 media
Driving John Bacon's Dark Star hard was Royal Prince Alfred Yacht Club Youth Development sailor Sarah Parker with brother Malcolm calling tactics and the highly experienced Chris Links on main.
Report by Lisa Ratcliff
HERE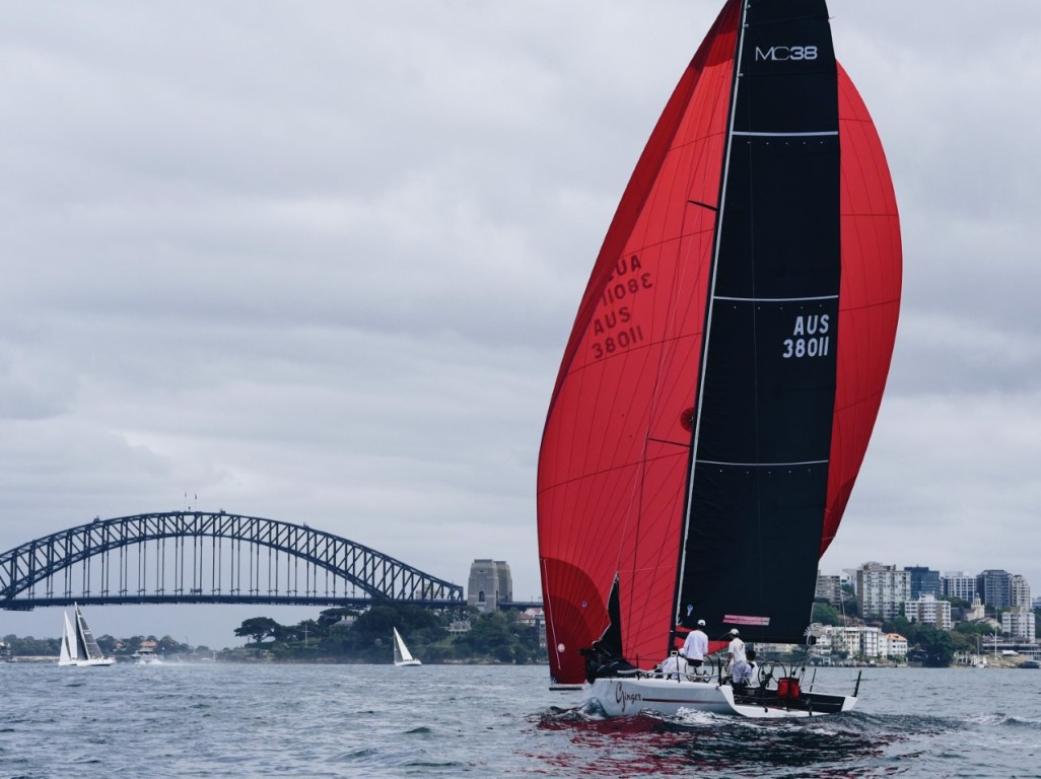 Summer Series act one winner Ginger & Harbour Bridge - photo Tilly Lock Media
The Newport Sculpture Trail-Blazers 2017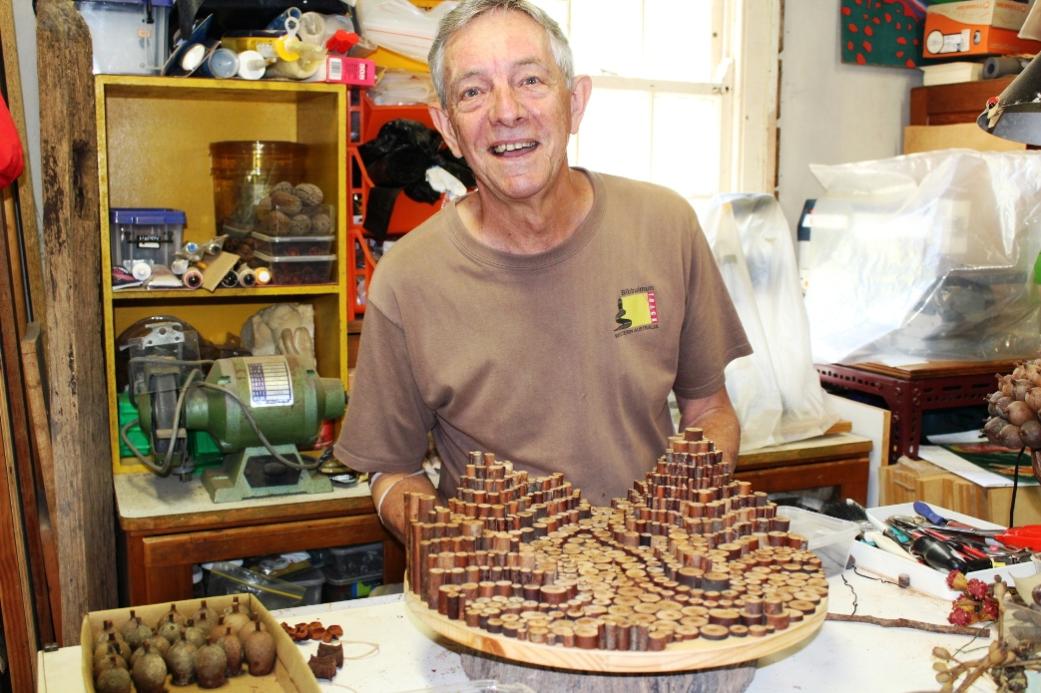 Geoff Searl putting the final touches to his
Avalon Beach 1: 30,000
- the piece shows the contours of the land and hills around Avalon Beach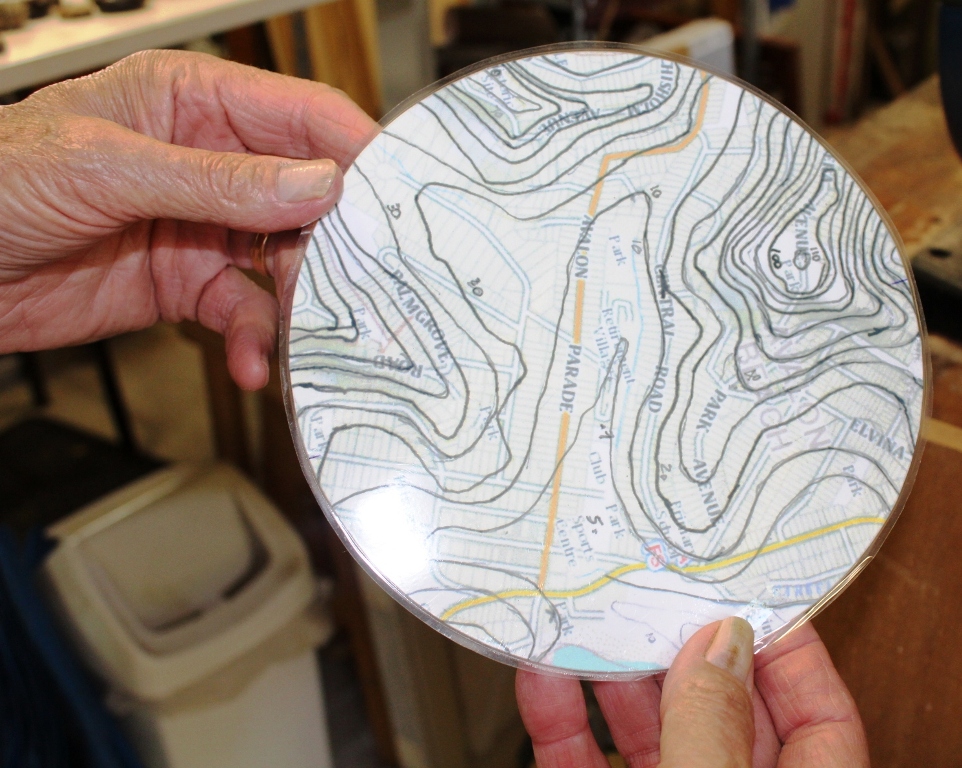 Newport is set to become a dynamic Art, Music and Event hub from October 27th with the launch of the Newport Sculpture Trail-Blazers 2017. An annual art event, running over 2 weeks, that promotes sculpture, northern beaches artists, local businesses and the community of Newport village, this year's trail will run to the 13th of November 2017 and for the first time will include performance, sound and installation artworks as well as sculpture.
This will be the 5th year of this art event, previously known as the Newport Sculpture Trail, co-founded by Patsy Clayton-Fry and Chris Riou. This year's event will be managed by the team at Sydney Art Space and co-founder Patsy Clayton-Fry will remain on board as the event's public liaisons officer. Christine Simpson is curator this year.
Opening night celebrations will be at the Kave Bar, 370 Barrenjoey Rd, Newport from 5.30-8pm. Live music, a tango performance, half priced first cocktail guest speakers and a further band to follow at 9pm, who wouldn't want to be there? All are welcome - so come along.
The Trail events include a special treat on Saturday 28th October 1-4pm, when spectators can watch artists turn BWS's bland panels into wonderful works of art which includes Live painting of Nick and Tom Carroll onsite!
More, including this year's Sculpture Locations, Events and Music Programme
HERE
Pilot Project Puts Micro Plastics in the Spotlight - What's in our Lagoons? launched at the Narrabeen Lagoon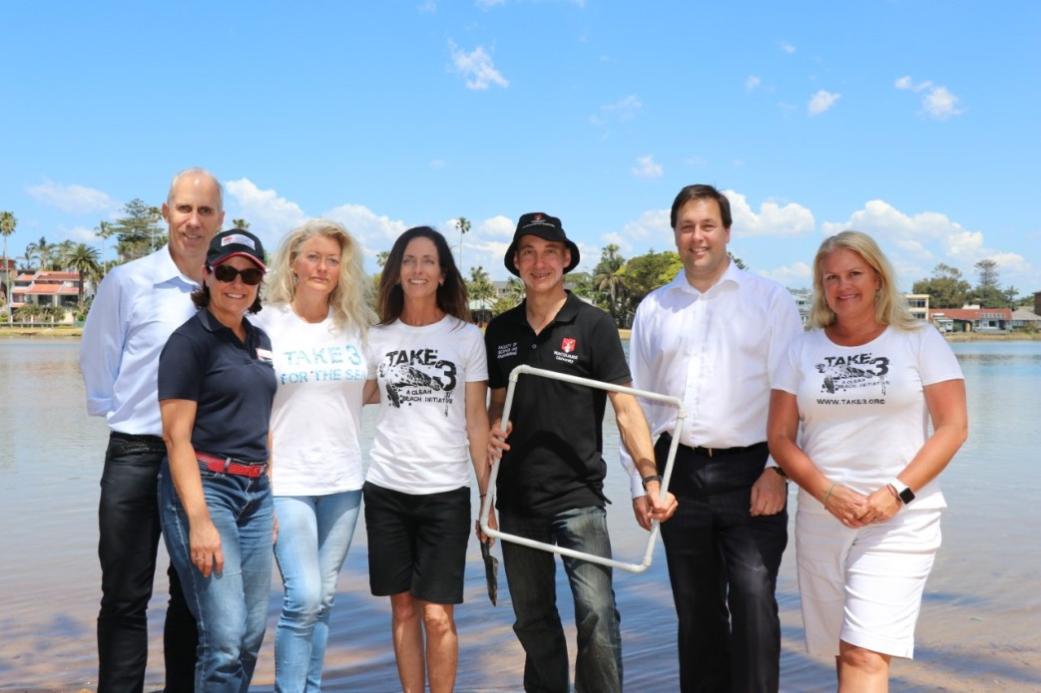 David Green, Mareen Whelan, Roberta Dixon-Valk, Amanda Marechal, Scott Wilson, Jason Falinski, MP for Mackellar and Michelle Blewitt - photo courtesy Greater Sydney Local Land Services

A NEW pilot project on the Northern Beaches will use a citizen science approach to monitor micro plastic levels in local waterways.
Micro plastics are tiny pieces of plastic, less than 5mm, which can end up in our waterways from the breakdown of various plastic items, including plastic fibres shed from clothing.
On Tuesday morning, October 10th, Federal Member for Mackellar, Jason Falinski, officially launched the What's in our Lagoons? at the Narrabeen Lagoon.
Funded by Greater Sydney Local Land Services through the National Landcare Programme, the $30,000 project will be delivered by Take 3 in partnership with Macquarie University's Litter Lab.
Mr Falinski said the project would be trialled in two regions including the Northern Beaches locations of Manly, Curl Curl, Dee Why and Narrabeen Lagoons.
"Survey kits will be developed to sample and analyse surface sediments for micro plastics in partnership with local high schools and the Department of Education and Communities Environmental Education Centre," he said.
"It is fantastic to see funding going to such an important and innovative project in our local area."
"Involving the community in tackling vital environmental issues is proving to be very successful, so I am very happy to say the Federal Government has extended the National Landcare Program over the next five years with a further $1 billion commitment."
Greater Sydney Land Services manager Bill Dixon said local Northern Beaches volunteers and school kids will be trained in the collection of micro-plastics using steel sieves as well as how to identify findings through microscopes.
"They will then be taught how to record the data using a special program known as the Australian Marine Debris Database," explained Mr Dixon.
"This monitoring program will help us better understand the role of micro plastics in our local waterways and the impact they can have on local wildlife," he said.
Since February 2015, Greater Sydney Local Land Services has provided over $1.2 million of National Landcare Program funding to community projects.
Next Generation Of Sydney And Northern Beaches Surf Athletes Put Through Paces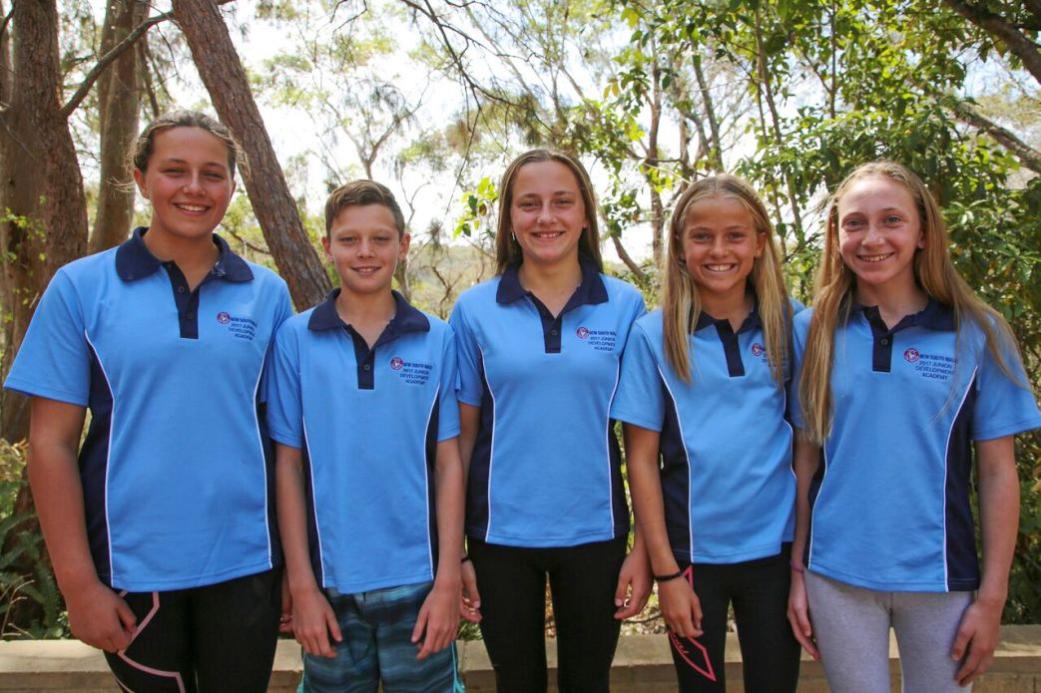 Sydney Northern Beaches Branch Katelynn Doyle (Manly LSC), Conner Maggs (Manly LSC), Kimberley Doyle (Manly LSC), Tia Emmott Bennett (Manly LSC), and Georgina Prow (North Curl Curl SLSC) - photo courtesy SLS NSW
While their peers relaxed during the final weekend of the October school holidays, a group of the state's most promising ocean competitors traded books for swimsuits at an intensive camp designed to improve their skills while giving them an early insight into the reality of life for an elite surf sport athlete.

Forty-three teenage athletes aged between 12 and 14 from across NSW gathered at Sydney's Academy of Sport on the Northern Beaches last week for a this year's development program for young talents who have demonstrated an aptitude for any of the water disciplines contested at a surf sport event.

It is the first time that many of these youngsters have been exposed to a high performance environment though many of them have already enjoyed success at the NSW Country and State Championships in their fledging careers.

Ten athletes from across the Sydney Northern Beaches and Sydney Branches were selected with Manly and Wanda providing the bulk of representatives boasting six spots between them.

At just 12 years of age, Manly's Conner Maggs has already two state titles to his name when he won the board event in the U9 and 10s, and he is hopeful that this program can help him continue to achieve when NSW's biggest surf sport carnival rolls around next March.

"I really enjoyed this experience especially the lake session and high ropes course because both were really challenging. I learned some new skills like how to get through the surf at the start of the race which is helpful.

"My goal is definitely to win all my events at state next year I'll be competing in the board, iron and swim."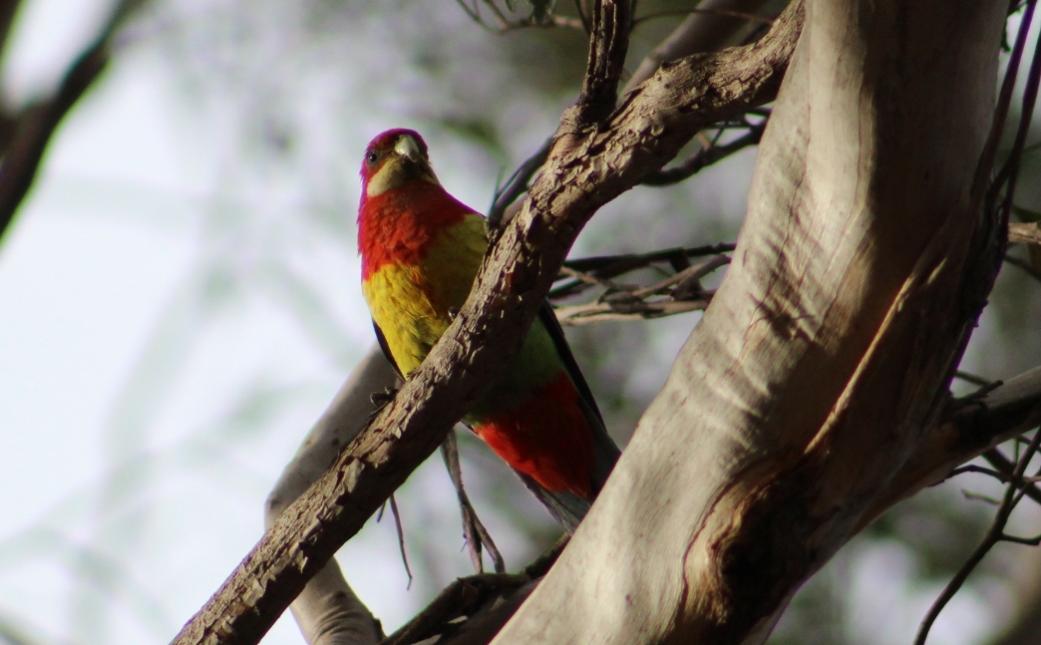 It's almost time to get involved and get excited about the original Twittering!
Past Features Archives (pre 2014)
Pittwater Online News was selected for preservation by the State Library of New South Wales and National Library of Australia. This title is scheduled to be re-archived regularly.
Archived Issues (2014 on) may be accessed here: pandora.nla.gov.au/tep/143700