October 15 - 21, 2017: Issue 333
Newport Sculpture Trailblazers 2017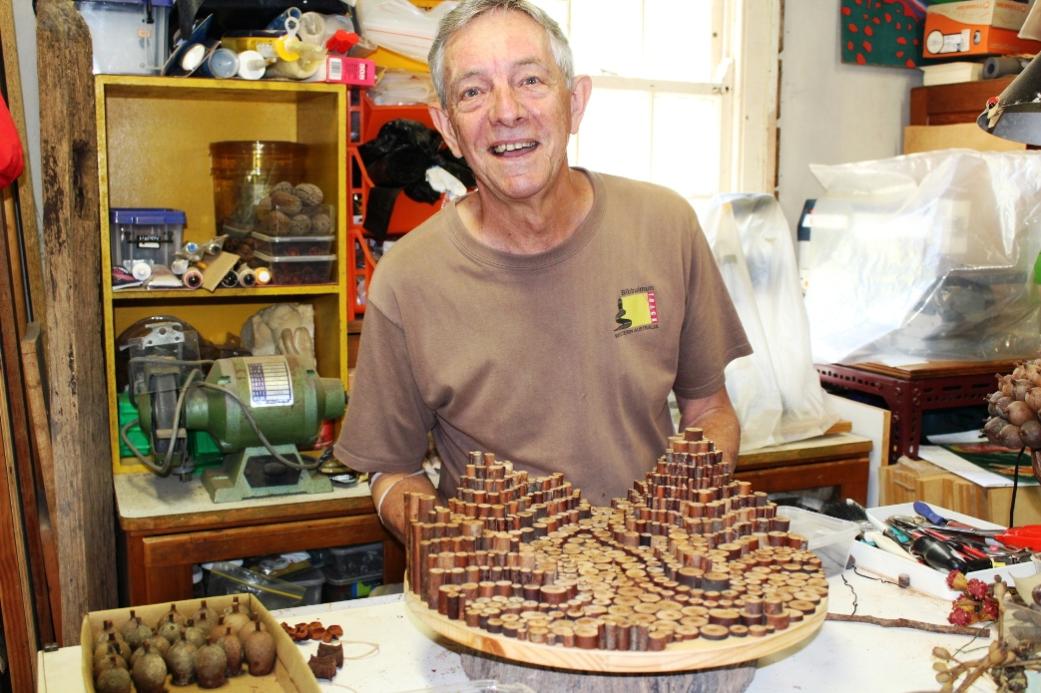 Geoff Searl putting the final touches to his
Avalon Beach 1: 30,000
- the piece shows the contours of the land and hills around Avalon Beach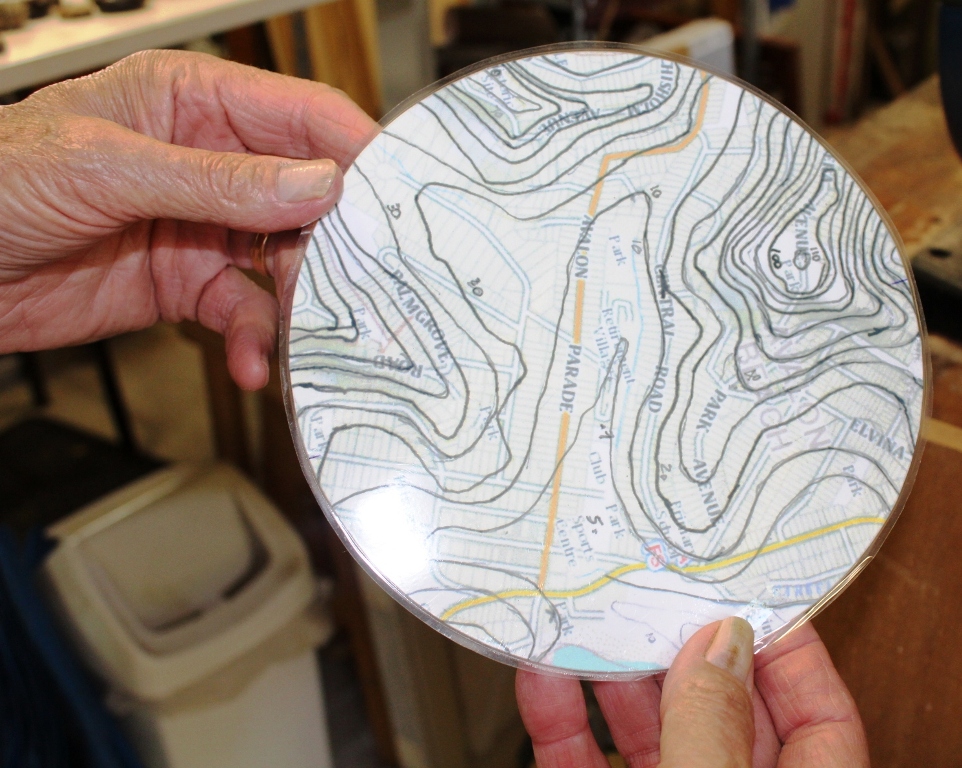 Newport is set to become a dynamic Art, Music and Event hub from October 27th with the launch of the Newport Sculpture Trail-Blazers 2017. An annual art event, running over 2 weeks, that promotes sculpture, northern beaches artists, local businesses and the community of Newport village, this year's trail will run to the 13th of November 2017 and for the first time will include performance, sound and installation artworks as well as sculpture.
This will be the 5th year of this art event, previously known as the Newport Sculpture Trail, co-founded by Patsy Clayton-Fry and Chris Riou. This year's event will be managed by the team at Sydney Art Space and co-founder Patsy Clayton-Fry will remain on board as the event's public liaisons officer. Christine Simpson is curator this year.
Opening night celebrations will be at the Kave Bar, 370 Barrenjoey Rd, Newport from 5.30-8pm.
Live music, a tango performance, half priced first cocktail guest speakers and a further band to follow at 9pm, who wouldn't want to be there? All are welcome - so come along.
The Trail events include
a special treat on Saturday 28th October 1-4pm, when spectators can watch artists turn BWS's bland panels into wonderful works of art which includes Live painting of Nick and Tom Carroll onsite!
Also on
Saturday October 28th
, join Artist Christine Simpson at Newport Anglican Church as she creates
Altar Ego
, a lawn mosaic using shells from 10am -1pm. Christine will set aside a lawn section for children/families to create their own design too. If you have lots of shells at home please bring them along.
On Sunday October 29th join multi form artist Tamsin Salehian on Porters Reserve Oval Newport as she creates a huge sand mandala Digital Paths on the centre of the oval from 10am-1pm. There will be smaller stencils to make mini mandalas around the big one for any children/families who are feeling inspired to help.
The
Newport Community Gardens
will be home to 50 ceramic sugar gliders made by students from Newport Primary school for the duration of the exhibition!
Soak up the vibe...live music, dancing, drama, choir, all performing over three weekends, 28th-29th October, 4-5th November and, 11-12th November.
Follow the trail and vote for your favourite sculpture, you too could win a fabulous prize along with the winning sculptor who will receive $500 cash prize.

The Newport Sculpture Trailblazers event is 'not for profit' and is organised by two women who are passionate about the arts and the cultural aesthetics of the village environs.
We thank all our supporters, the shops, artists, sponsors and many others individuals for seeing our vision and believing in us.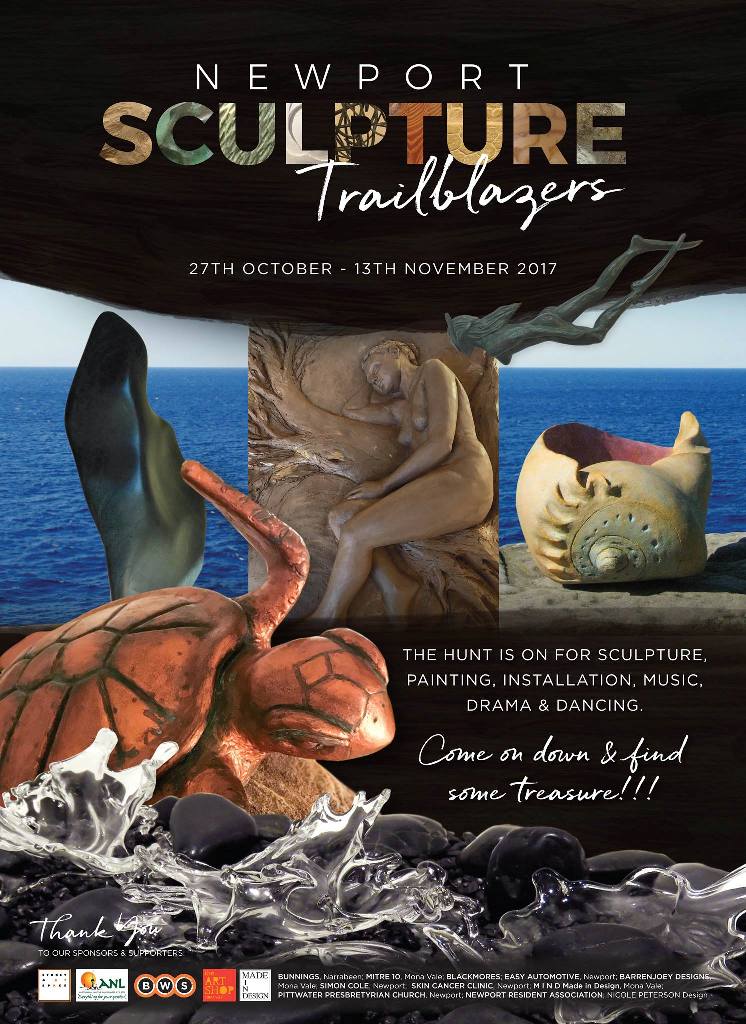 The Newport Sculpture Trail-Blazers 2017 Programme
Please keep up to date by following our page on Facebook or visiting our website:
Sculpture Locations
Ocean Masters 385 Barrenjoey Rd, Newport NSW 2106
Artist Jenny Murphy: Reimagining Barbara Hepworth
Shotlab 1/326-330 Barrenjoey Rd, Newport NSW 2106
Artist Fiona Brien: The Snorkler
L J Hooker 336B Barrenjoey Rd, Newport NSW 2106
Artist Matt Brennan: Place
Harvest 352 Barrenjoey Rd, Newport NSW 2106
Artist Beth Jessup: Marcus and Milly
Artist Raina Rabin: Babyhead Crying
Artist Katarina Wells: Barnacle Globe
Kave Bar 370 Barrenjoey Rd, Newport NSW 2106
Artist Susan Edwards: At One with the Sea
Artist Susan Edwards: Hang Out
Zubi Bar 323C Barrenjoey Rd, Newport NSW 2106
Artist Katarina Wells: Teardrops From Heaven
Artist Anne Palmer: Running on Time
Artist Kauri Palmer: Great A'Tuin
Kauri Palmer:
Great A'Tuin
Prestige Properties 349 Barrenjoey Rd, Newport NSW 2106
Artist Teresa Eastwood : The Hound
Artist Ron Tuck: New Bear
Artist Polly de Laune : Reclining Woman with Cat
Domain Real Estate 2/364 Barrenjoey Rd, Newport NSW 2106
Artist Lesley McLean: Tumble Wheel
Anasa Shop 5/326-330 Barrenjoey Rd, Newport NSW 2106
Artist Sallie Portnoy : Ganesha
Bellairs 6 Coles Parade, Newport NSW 2106
Artist Maree Prior: The Ballerina
Sotto Sopra The Palm Newport Beach, GO4/316-324 Barrenjoey Rd, Newport NSW 2106
Artist: Cherry Corr : Poly Morphs [install ceramic wall]
Artist Tina Henry: Looking Out to Sea [ inside front doorway]
Savio Parsons Architects 2 Coles Parade, Newport NSW 2106
Artist Carmel Mollison: Skipping Stones
Karavan 372 Barrenjoey Rd Newport 2106
Artist Garry Johnson: The Lost
Artist Geoff Searl: Avalon Beach 1: 30,000
Tivili Beauty Spa Shop 2/361 Barrenjoey Rd, Newport NSW 2106
Artist Graeme Gould: Hello
Essem Hair Shop 2/361 Barrenjoey Rd, Newport NSW 2106
Artist Patsy Clayton-Fry: Another Brick in the Wall
L'Eto Bridal Shop 6/355 Barrenjoey Rd, Newport NSW 2106
Artist Cathy Cull: Daydreamer [bas relief]
Artist Cathy Cull: Birds of a Feather
Larx Boutique 354 Barrenjoey Rd, Newport NSW 2106
Artist Christina Frank: Watercourse
Little Box, 6/335 Barrenjoey Rd, Newport NSW 2106
Artist Allissa Booker: SASS
Rusti Fig 3/363 Barrenjoey Rd, Newport NSW 2106
Artist Sue Edwards: Teardrop
Community Groups
Newport Bowling Club Palm Rd, Newport NSW 2106
"Talking Heads"
Artist Wendy Black: Margaret Olley
Artist Maryanne Barnes: Sun Worshipping Avatar
Artist Tina Henry: Maddie
Newport Royal Motor Yacht Club 46 Prince Alfred Parade, Newport NSW 2106
Artist Anthony Brunskill: Black Magic; and Touch
Newport Surf Club 394 Barrenjoey Rd, Newport NSW 2106
Artist Katarina Wells: Sail Away
Porters Reserve Burke St, Newport NSW 2106
Artist Tamsin Salehian: Digital Paths
Pittwater Presbyterian Church Robertson Rd, Newport NSW 2106
Artist Coster Mkoki: Freedom
Newport Anglican Church 35-39 Foamcrest Ave, Newport NSW 2106
Artist Christine Simpson: Altar Ego
Newport Community Gardens Woolcott Street, Newport 2106
Artists Newport Primary School Year 2's Mrs Green and Mrs Parker's classes: 50 Sugar Gliders
Popup Shopfronts:
Shop 3/343 Barrenjoey Rd, Newport, 2106
Artist Matt Dillon: Bob's Big Uncle
1/343 Barrenjoey Rd, nextdoor to BWS, Newport, 2106
Artist Nina Burridge: Twitterarti
Shop 4/343 Barrenjoey Rd Newport 2106
Artist Cheryl Cogle: The Dancers
Exterior Installations:
Outside Anasa's, Shop 5/326-330 Barrenjoey Rd, Newport NSW 2106
Artist James Layton Light Sculpture 1
Outside Hotlox 367 Barrenjoey Rd, Newport NSW 2106
Artist James Layton Light Sculpture 2
The Newport Cobbler 330 Barrenjoey Rd, Newport NSW 2106
Artist James Layton Light Sculpture 3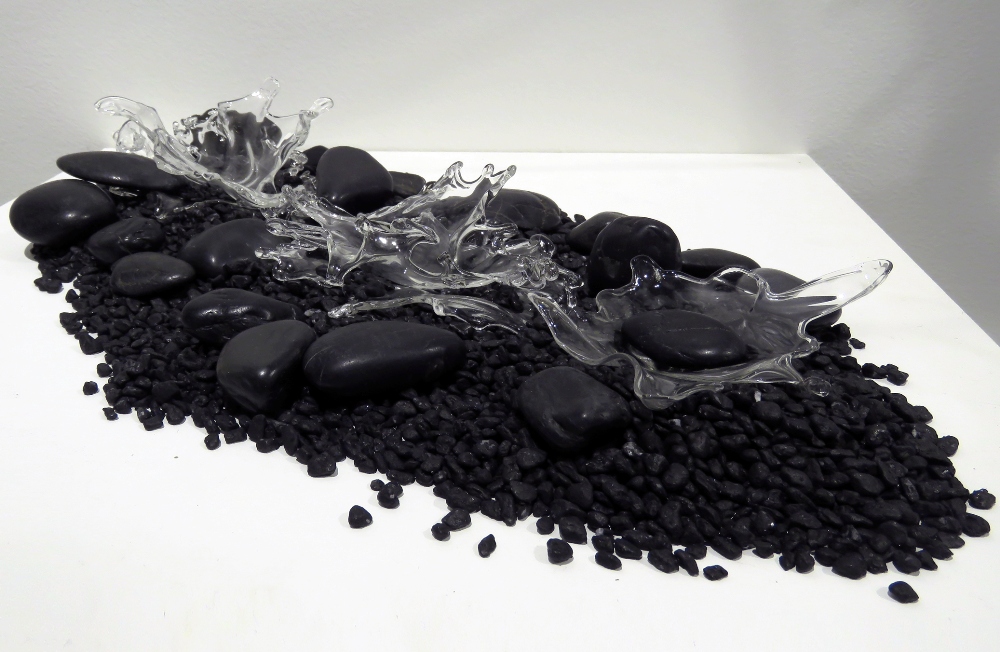 Carmel Mollison:
Skipping Stones
Events and Music
FRIDAY 27TH OCTOBER
5.30-8pm Opening celebrations, entertainment and raffle prize draw
Kave Bar, 370 Barrenjoey Road
9pm-12pm Live Music Kave Bar
SATURDAY 28TH OCTOBER
10-11am Acapella in front of Little Box Café
10-11am Live Piano and African Drumming in front of Zubis,
11-12pm Live Music in front of Harvest
11-12pm Live Children's Drama Coles Parade
11.30-12.30pm Live Tango Dancing in front of St George Bank
1-2pm Live Dancing in front of Ocean Masters
1-4pm Live Painting Performance BWS Arcade
1.30-2.30 Live Music outside of St George Bank
9pm-12pm Live Music Kave Bar
SUNDAY 29TH OCTOBER
10-1pm Art installation Digital Paths Mandala on Porters Reserve, Newport
10-11AM Live Music with Ronaldo in front of Anasas
10-12pm Newport Community Gardeners
11-12pm live piano and African drumming outside of Shotlab
11.30-12.30pm Live Tango dancing outside of St George Bank
12-1pm Ukele Playing Live in front of Little Box
1.30-2.30 Live music outside of St George Bank
THURSDAY 2ND NOVEMBER
9pm-12pm Live Music Kave Bar
FRIDAY 3RD NOVEMBER
5.30-7.30 Live Music Newport Surf Club
9pm-12pm Live Music Kave Bar
SATURDAY 4TH NOVEMBER
11-12pm Live Music outside of Shotlab
11.30-12.30pm Live Tango dancing outside of St George Bank
12-1pm Live Ukele Playing BWS Arcade
12-1pm Live children's Drama outside of Harvest
1.30-2.30 Live Music outside of St George Bank
9pm-12pm Live Music Kave Bar
SUNDAY 5TH NOVEMBER
10-11am Acapella in front of Karavan
10-11am Live Children's Drama outside of Zubis
10.30-11.30am Live Music Surfside Arcade
10.30-11.30am Live Piano and African Drumming outside of Shotlab
10-12pm Newport Community Gardeners
1-2pm Live Dancing outside of St George Bank
THURSDAY 9TH NOVEMBER
9pm-12pm Live Music Kave Bar
FRIDAY 10TH NOVEMBER
5.30-7.30 Live Music Newport Surf Club
9pm-12pm Live Music Kave Bar
SATURDAY 11TH NOVEMBER
10-11AM Live Music by Ronaldo Surfside Arcade
12-1pm Live Dancing outside of St George Bank
9pm-12pm Live Music Kave Bar
SUNDAY 12TH NOVEMBER
10-11AM Acapella in front of Anasas
10-12pm Newport Community Gardeners
12-1pm Live Ukele Playing Surfside Arcade