February 19 - 25, 2017: Issue 301

Narrabeen Sports High School Surfers Excel In Their Surfest 2017 Quest: Donation Of Boards To Vanutau Students A Highlight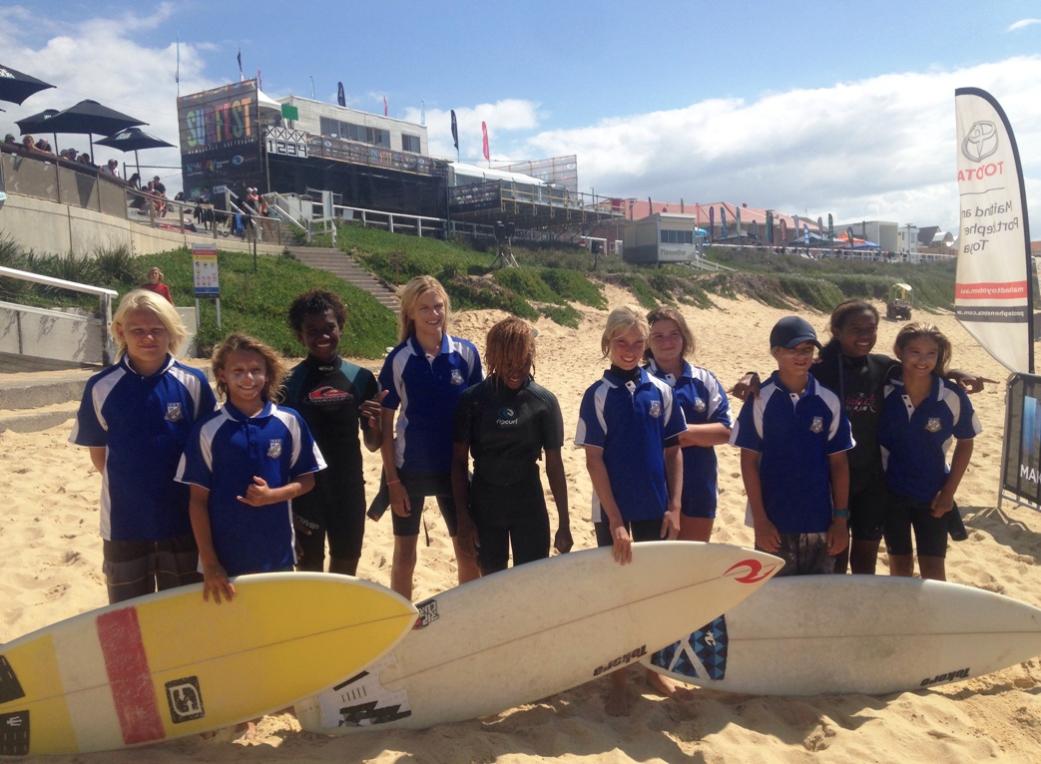 Narrabeen Sports High School students and their delighted Vanuatu fellow students - picture supplied.
The 2017 Maitland and Port Stephens Toyota High School Teams Challenge was held on South Bar Beach, Newcastle on Tuesday and Wednesday this week (February 14th and 15th, 2017). The contest features both boys and girls divisions and is open to all NSW high schools and is part of 2017 Surfest Newcastle.
Celebrating its 32nd year in 2017 Surfest Newcastle features the Maitland and Port Stephens Toyota Pro (Men's WSL QS 6000) and the crowdfunded Anditi Women's Pro (Women's WSL QS 6000), along with eight supporting events: the nib Pro Junior, the ORICA Surfboard Club Team Challenge, the Sanbah Cadet Cup boys and Dalton Lawyers girls presented by Arcbuild, the Wandiyali ATSI Indigenous Classic, the Maitland and Port Stephens Toyota High School Teams Challenge, the Surfaid Cup and the Lake Mac Festival of Surfing.
Students from Narrabeen Sports High School headed north this year where they
excelled again this year, both in the water and on the sand. The team placed 2nd overall in the boys behind winners Illawarra Sports High by the slimmest of margins, 51.8 to 51.7, while the girls were outstanding too, finishing 6 out of 12 strong girls teams.
By far the highlight of the week was how NSHS shone out of the water as well, with a number of contest organisers commenting on how professional the team looked and how tremendous a group of school representatives they were. They can see a positive culture growing.
No better an example of this was when some of the NSHS surfers donated surfboards and fins to the Vanuatu Surfing Association (VSA), an organisation focused on providing opportunities for Vanuatu school students who work hard and in particular female students.
Pursuit Of Forced Council Amalgamations Confirms To Some A Developer's Dream May Become A Community's Nightmare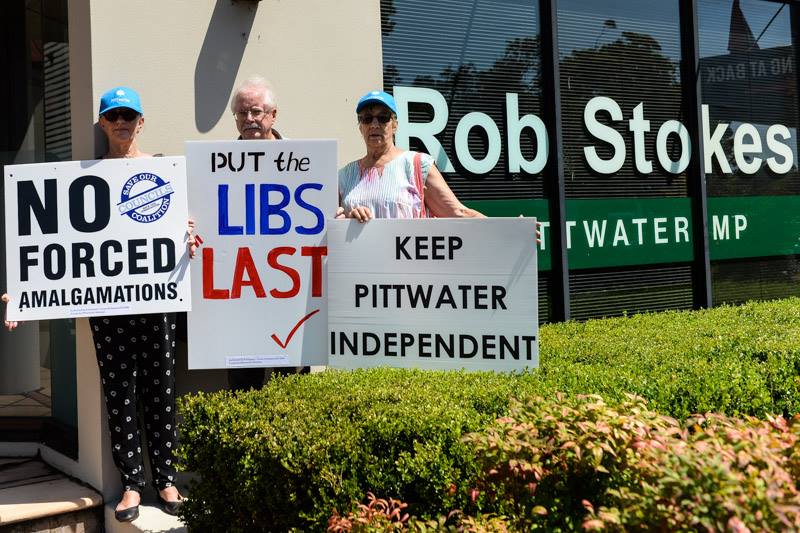 Outside Rob Stokes Electorate Office at Mona Vale - 18 Feb., 2017. - SOCC / Pittwater Community - message to Rob Stokes and Gladys Berejiklian
Photo : Sue Young former Pittwater councillor, Phil Jenkyn Save Our Councils Coalition, Lynne Czinner former Pittwater Mayor. Photo supplied
The Vision of the NSW State Government to meet the needs of Sydney during the coming two decades has been lost in the furore created by the
way
councils and elected representatives have been eliminated, by the large-scale plans announced to develop areas while no elected representatives are in place, the broad-scale excising of former council areas into 'wards', the pursuit of which is coupled with reducing the number councillors, and thereby reducing the representation of
consequently larger populations
within these newly formulated wards.
The anger is real, and it is not abating. This week's announcement to not amalgamate some pending rural council proposals but pursue those based in metropolitan Sydney and to maintain those already forcibly amalgamated .
'
Opponents of amalgamation rely heavily on the argument that
local identity will be lost in bigger local government units

; that
larger councils will pay less attention to specific needs of
different suburbs or neighbourhoods and will fail to take steps
to maintain their character. However, the Panel can find no
evidence that loss of local identity is an inevitable
consequence of creating larger local government areas.

What
does seem clear is that very rarely communities are so
different, or so fiercely independent, that forcing them to
share a local council is probably unwise

.'
As the new NSW Premier Gladys Berejiklian stated this week the government has established a cross-government working group to explore all options to make housing more affordable for NSW residents, while the Urban Task Force is states in its
Media Release of February 15th
that,
"The continuation of the merger process needs to be accompanied by a fast track approach to large housing projects during the transition process. The Minister for Housing, Anthony Roberts, should establish an action team under a Commissioner for Housing Supply for a two year period to lift housing approvals."
Those who have long stated the forced amalgamations, the targeting and disempowerment of communities and sacking of councils that may scrutinise unwanted developments so they may be rushed through, begins to gather credence through such statements. That this state government is working hand in glove with developer groups like the Property Council and Urban Development Institute of Australia has also been restated this week.
Premier Berejiklian's Media Release making the announcement that the merged councils are staying put reiterated;
"In addition to maintaining all existing mergers, we will push ahead with those councils in Sydney that are before the courts.
"Local government reform is particularly important in Sydney if we are to deliver on our commitments to increase housing supply, improve planning and deliver local infrastructure and amenity to communities. These are strong justifications for proceeding with mergers.
"Before the mergers last year, Sydney had 41 councils compared to 1 in Brisbane.
"We have also listened to concerns about local character in Sydney and will continue to ensure individual wards of merged councils will have a say in strategic planning processes so that local residents get an even stronger say in the planning of their neighbourhoods."
And;
"Whilst there have been a number of significant improvements in merged regional councils, we accept that a one size fits all model does not always apply outside Sydney,"

The spin doctors have already begun on selling their next best option post Mr. Baird's stepping down to look after his family first, while a North Shore by-election is also slated to rise over the horizon
should former Health Minister Jillian Skinner formally resign
, and Duncan Gray also indicated he would prefer to retire 'sooner, rather than later', although an MLC incumbent until 2019.
Gosford MP Kathleen "Kathy" Smith announced her retirement this week (February 13) meaning a third or fourth by-election may take place this year, although no dates have been set for any as yet.
On November 12th, 2016 Philip Donato (Shooters, Fishers and Farmers Party) narrowly won the Orange by-election, a seat formerly held by the Nationals for almost seven decades. Locals angry about plans for the councils of Cabonne and Blayney to amalgamate with Orange as well as critics of the plan to kill off greyhounds being raced were attributed with the shift away from the Nationals. The November 2016 by-elections of Canterbury and Wollongong, held on the same day, bring the tally of by-elections for the Fifty-sixth Legislative Assembly 2015–2019 to five, with eight possible by the end of the year, and certainly redefining the political landscape so soon after the 2015 state election and likely to exceed the Fifty-fifth in a much shorter time span.
Opponents of forced council amalgamations remain adamant they should be reversed and have stated they will be 'on the hustings' at all by-elections to be contested.
As polls continue to deliver statistics of people still against amalgamations ranging from 72% (in 2015) to 80% (in 2016), while Pittwater's was 89% when originally asked, all the great ideas that could have been implemented through following community feedback rather than having a 'one size fits all' foisted upon local communities, are not what everyone is looking at or seeing.
Making it clear that '
no change is not an option
' has not, as yet, produced changes that will be accepted by most nor the support by minds and hearts. Will dialogue that encompasses listening bring nearer to fruition a Vision for New South Wales, that will keep this a garden city where everyone may
have a home, where culture, heritage and local voices are heard, prior to the next state election?
Time is running out.

And for some, perhaps many, 'no' still means no.
Media Releases on this matter published this week are
HERE
- for the record.
MC38 Australian Championship: Hosted By The Royal Prince Alfred Yacht Club With Racing On Pittwater This Weekend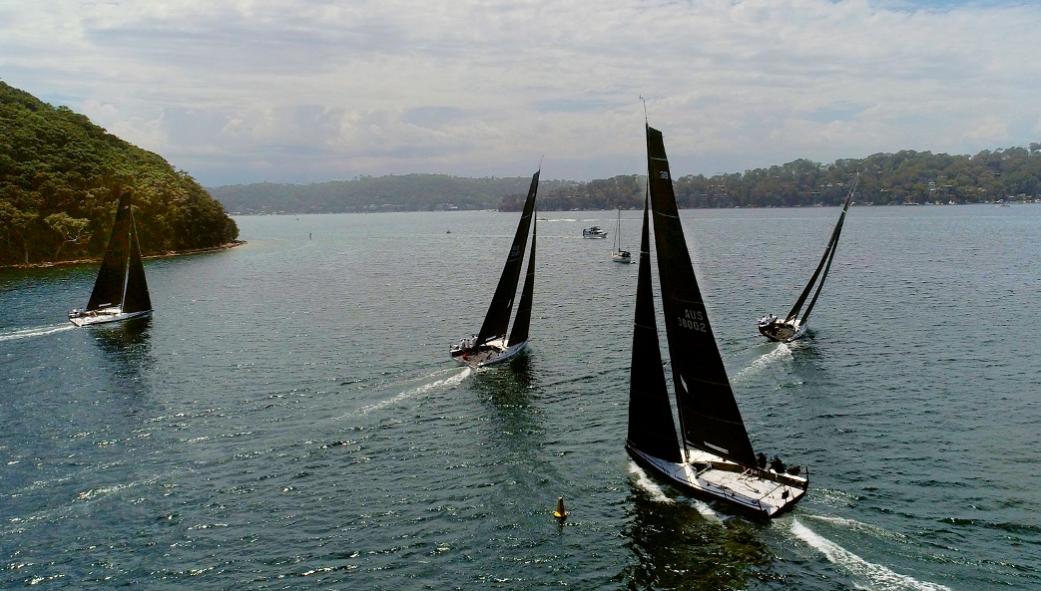 Drone capture of the MC38 Australian Championships 2017 - being held on Pittwater - photo by by Bob Fowler
Leslie Green's Ginger consolidated its top dog status, John Bacon's Dark Star lit up and Steve Barlow's Light Speed continued to make inroads on day two of the 2017 MC38 Australian Championship being held on Pittwater.
In 12-16 knot sou'easters, Royal Prince Alfred Yacht Club PRO Steve Merrington and his team peeled off four races between Mackerel Beach and Stokes Point on the eastern side of Pittwater, a wider scenic course that offered crews variety from the usual track north of Scotland Island.
There's a clear top three opening up at this national title. At nine points in the black, Green and his team are likely to realise their quest for a fourth consecutive national title and attention now switches to the battle for second between John Bacon's Dark Star and Neville Crichton's Maserati, currently one point apart.
Reports by Lisa Ratcliff
HERE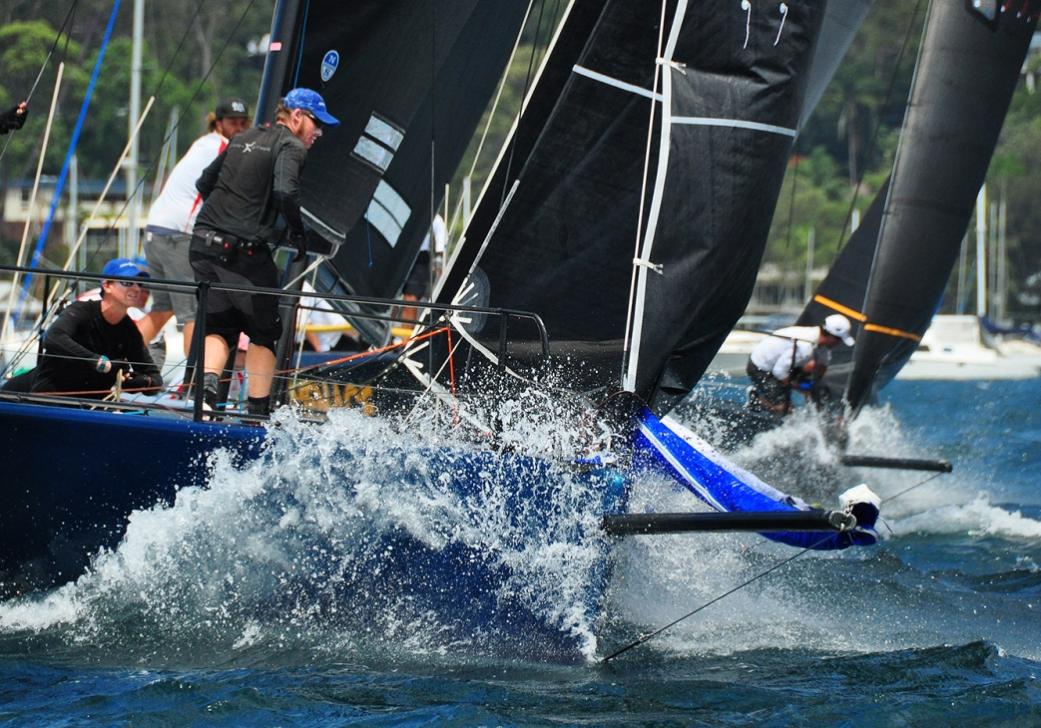 Dark Star bow - at MC38 Australian Championships 2017 photo by Bob Fowler
Around The Bends Newport To Avalon Ocean Swim Challenge - March 19, 2017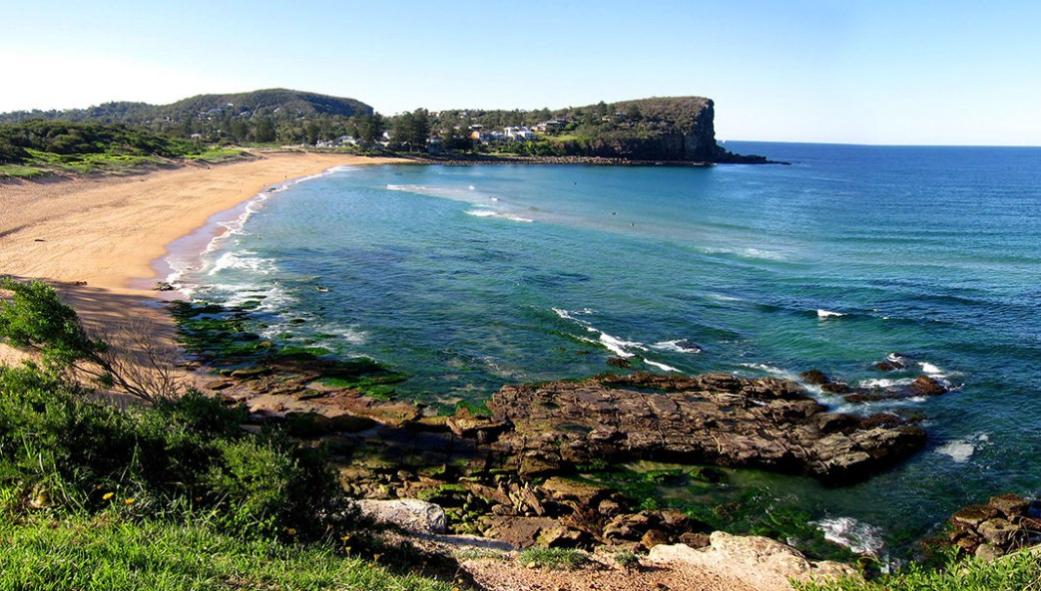 It is not often that you get to combine and enjoy two great passions: the beauty of the ocean and exercise. The Avalon Beach Surf Life Saving Club would like to share these combined passions in a magical swimming experience with as many people as possible.
So far it has only been a regular Club swim, accessible only to a few, but on Sunday 19th March 2017 the Avalon Beach SLSC will coordinate one of Sydney's most beautiful ocean swims for the very first time. Starting from the northern end of Newport Beach, the current will take you around the headland. Surrounded by your fellow swimmers and plenty of water safety you will continue across the sandy bottom of Bilgola Beach until you reach Bilgola Headland. Usually a great vantage point for whale watching, you will see these amazing headlands from a unique perspective. Above the water the views are great but below you the rock shelves extend to large boulders and caves. This pristine world is home to giant schools of fish and it's not unusual to spot a turtle or a very friendly cuttlefish. 2.5 kilometres of wonder and excitement; conquer 3 beaches before breakfast in the safety of a group of ocean swimmers.
Make sure you're part of this Inaugural Around the Bends Newport to Avalon Ocean Swim Challenge - opportunities to be in the first ever Challenge only come once.
Surf Life Saving Sydney Northern Beach Branch Championships 2017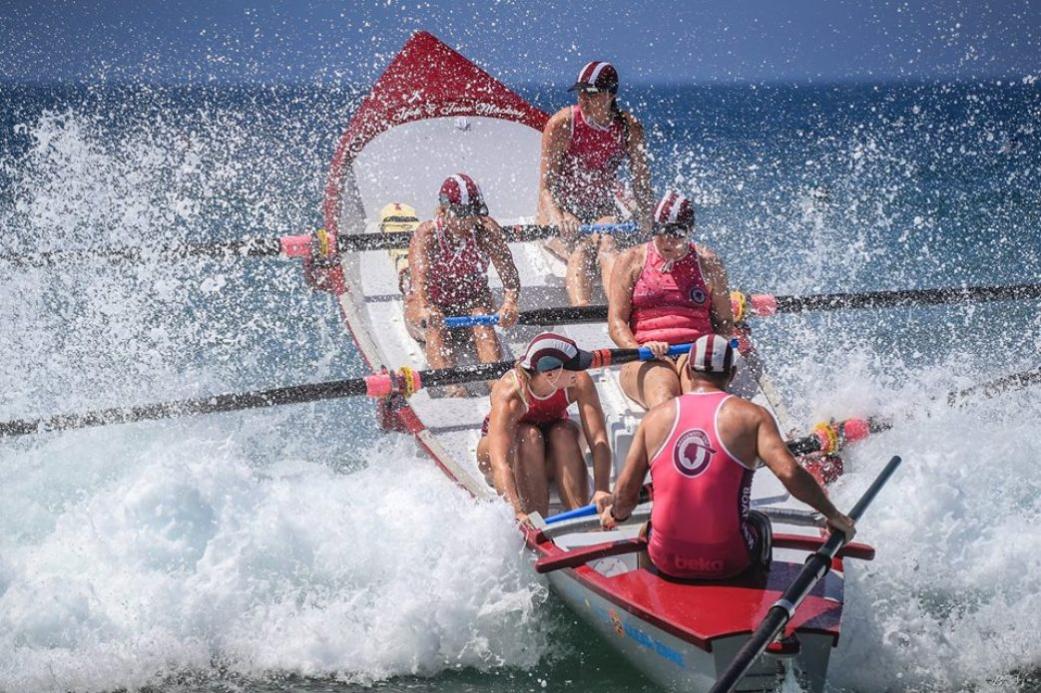 Warriewood SLSC Wahine's at
Long Reef SLS SNB Surf Boat Branch Championships 2017 - photo by
Bernadette Johnson McAlinden
Over the last few weekends the Surf Life Saving Sydney Northern Beaches Branch Championships have been held at Newport (Opens Water and Juniors Water Events) Narrabeen (Juniors, Masters and Opens Beach Events) Dee Why (First Aid Competition) and Long Reef (Surf Boat Championships). The Masters Waters Events and Life Saving Events run at Dee Why on Saturday 18th finalise this year's Branch Championships and three weekends of spectacular carnivals.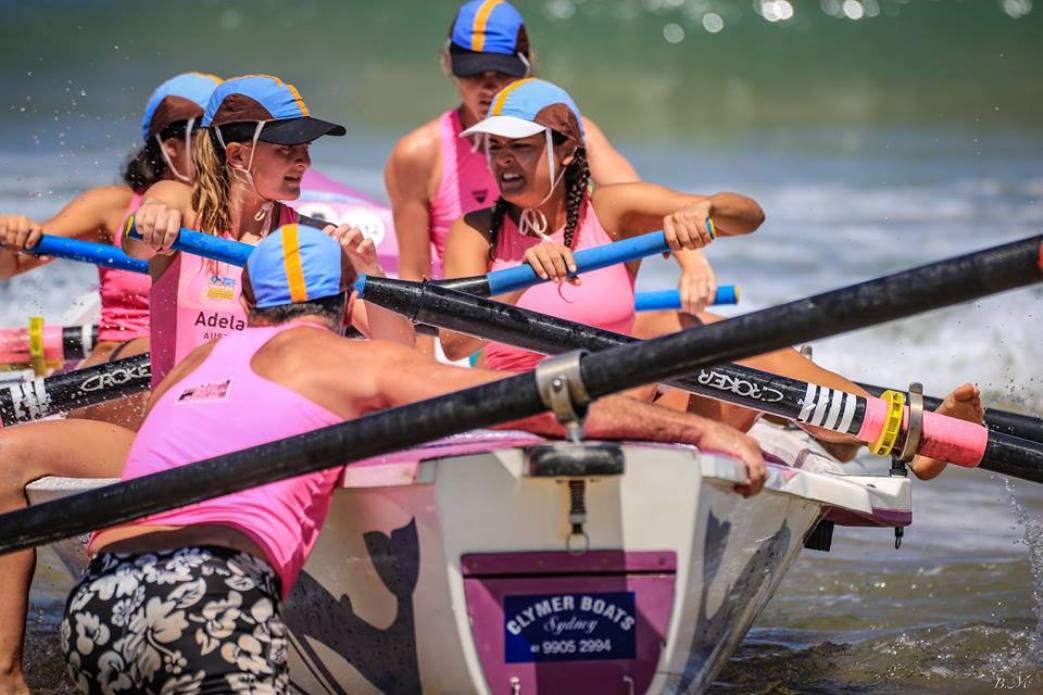 Whale Beach SLSC's Flying Fish at Long Reef SLS SNB Surf Boat Branch Championships 2017 - photo by
Bernadette Johnson McAlinden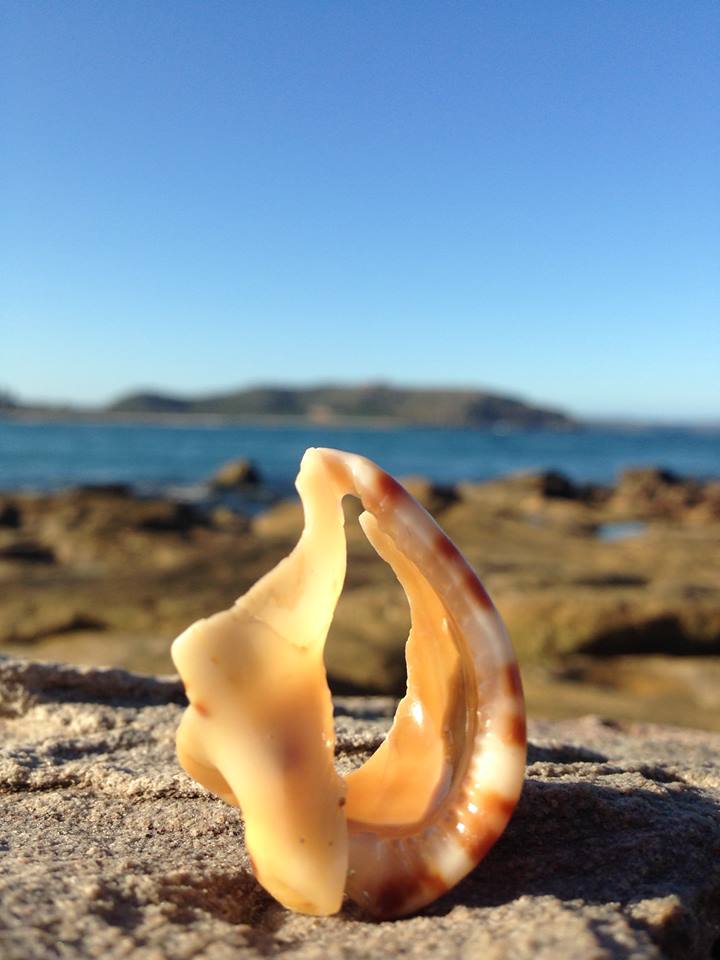 Photo by Adriaan van der Wallen - Palm Beach this week.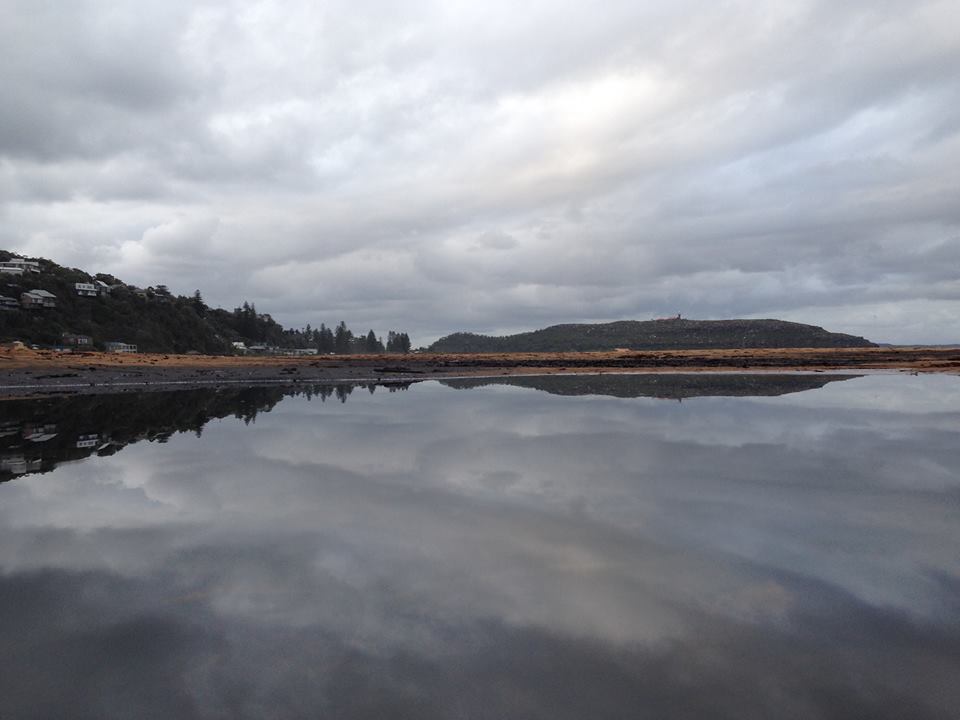 Palm Beach reflecting - February 14, 2017 - photo by Adriaan van der Wallen.
Past Features Archives (pre 2014)
Pittwater Online News was selected for preservation by the State Library of New South Wales and National Library of Australia. This title is scheduled to be re-archived regularly.
Archived Issues (2014 on) may be accessed here: pandora.nla.gov.au/tep/143700