February 19 - 25, 2017: Issue 301
Narrabeen Sports High School Surfers Excel In Their Surfest 2017 Quest: Donation Of Boards To Vanutau Students A Highlight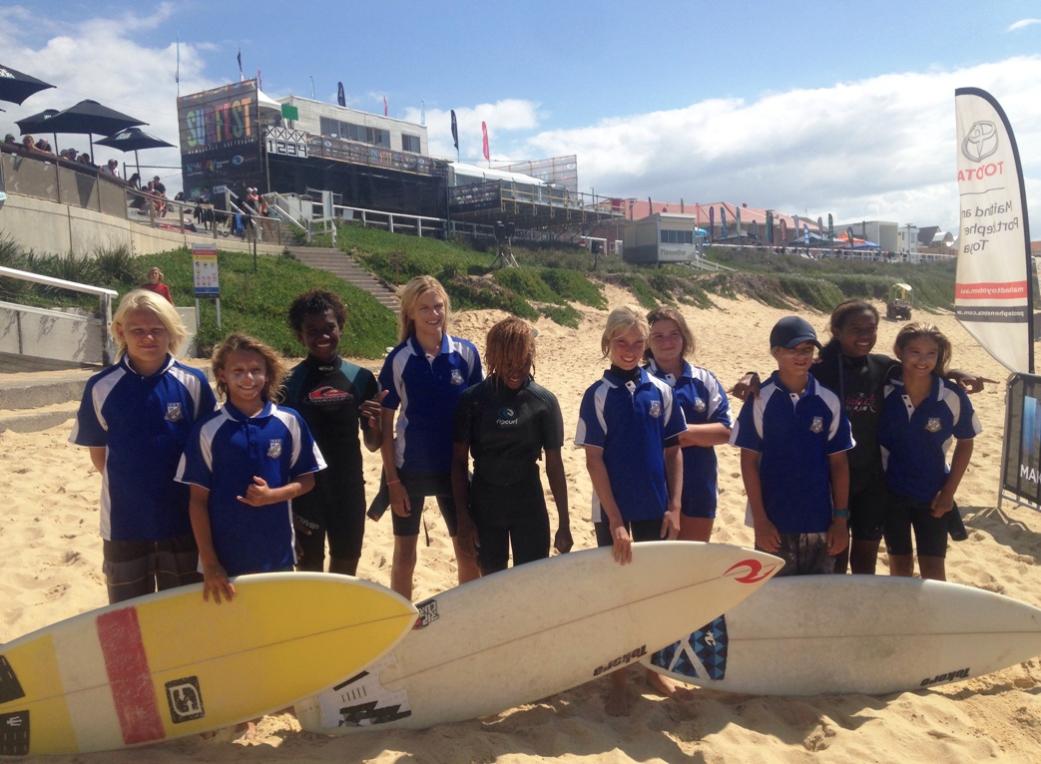 The 2017 Maitland and Port Stephens Toyota High School Teams Challenge was held on South Bar Beach, Newcastle on Tuesday and Wednesday this week (February 14th and 15th, 2017). The contest features both boys and girls divisions and is open to all NSW high schools and is part of 2017 Surfest Newcastle.
Celebrating its 32nd year in 2017 Surfest Newcastle features the Maitland and Port Stephens Toyota Pro (Men's WSL QS 6000) and the crowdfunded Anditi Women's Pro (Women's WSL QS 6000), along with eight supporting events: the nib Pro Junior, the ORICA Surfboard Club Team Challenge, the Sanbah Cadet Cup boys and Dalton Lawyers girls presented by Arcbuild, the Wandiyali ATSI Indigenous Classic, the Maitland and Port Stephens Toyota High School Teams Challenge, the Surfaid Cup and the Lake Mac Festival of Surfing.
Students from Narrabeen Sports High School headed north this year where they
excelled again this year, both in the water and on the sand. The team placed 2nd overall in the boys behind winners Illawarra Sports High by the slimmest of margins, 51.8 to 51.7, while the girls were outstanding too, finishing 6 out of 12 strong girls teams.
By far the highlight of the week was how NSHS shone out of the water as well, with a number of contest organisers commenting on how professional the team looked and how tremendous a group of school representatives they were. They can see a positive culture growing.
No better an example of this was when some of the NSHS surfers donated surfboards and fins to the Vanuatu Surfing Association (VSA), an organisation focused on providing opportunities for Vanuatu school students who work hard and in particular female students.
As one of the teachers accompanying the Narrabeen surfers explained, "the students noticed one of the Vanuatu supporters fixing a board and wanted to do something for them."
"The Narrabeen Sports High School students are hoping to collect more gear for them in the future."
Comprising of a large number of local Ni-Vanuatu as well as expatriate Australian, New Zealand and French citizens, the Vanuatu Surfing Association works towards promoting an international level of surfing in Vanuatu. Registered as a charity in 2010, the VSA relies on donations and the generosity of others in order to undertake its work. Often this takes the form of sourcing and shipping second-hand boards which we distribute to keen surfers throughout the islands.
The Vanuatu students are supported in their pursuit of a wave if they maintain
attendance
at school, work hard at doing their school lessons.
Sixteen high schools providing 40 teams found great waves over two days of competition at Nobbys and Merewether beaches in a battle for the trophies on offer at the Maitland and Port Stephens Toyota High School Teams Challenge.
This is a great event for surfers who get to enjoy the experience of a contest in a team format. A unique feature of this event is that teams finishing within the allocated heat time score bonus points. This advantage is a major component to a team's success. Each team will surf twice over the two (2) to ensure consistent effort is rewarded.
In 2017 a battle in the boy's final provided at Merewether beach produced the closest ever result in this unique teams event.
When the siren sounded, Illawarra had squeezed past Narrabeen Sports High A by one-tenth of a point, with less than two points separating first from fourth.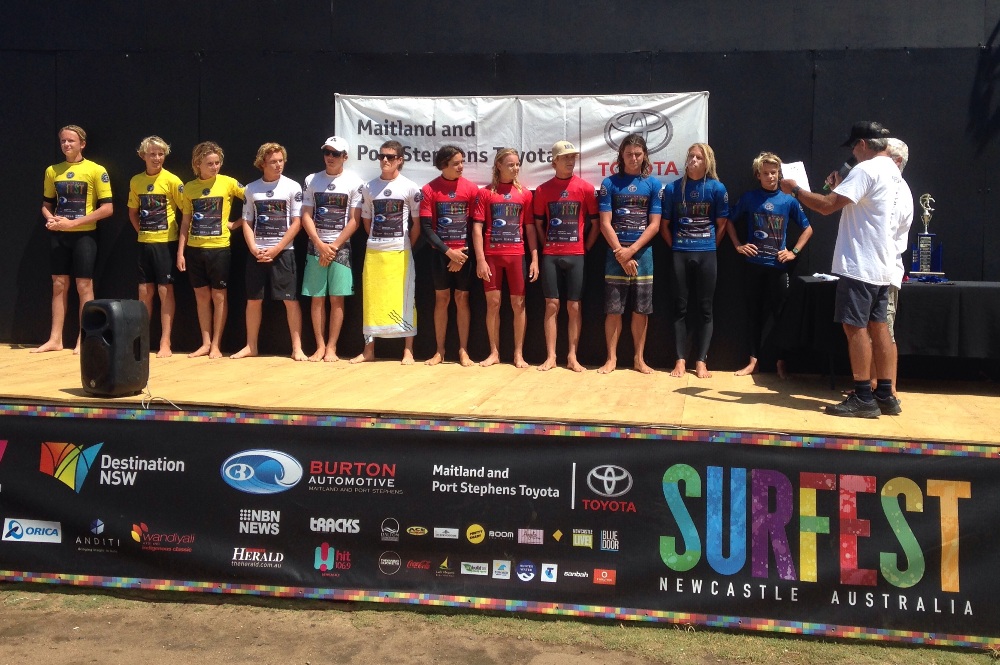 In the girl's competition, the surfers from Tuggerah Lakes Secondary College (Tumbi Umbi Campus) did not lose a heat during the entire competition.

There were a few other Northern Beaches up and coming surfers who did well at Surfest 2017 - two 1sts in the Sanbah Cadet Cup by Axel Rose-Curotta (North Steyne) and Jamie Thomson (North Narrabeen) run on February 13th and a 4th in the Wandiyali ATSI Indigenous Classic held on Friday the 17th.
Ensuring educational development can be joined to surfing development works well for those who have a passion for the ocean, and in the case of NSHS, is also developing a generation who want to expand that passion and share it with others.
Maitland and Port Stephens Toyota General Manager, Kim Burton said, "I am particularly pleased Maitland and Port Stephens Toyota can back the High Schools event in 2017. The surfers who do well in this contest have shown time and time again they become tomorrow's champs on the state, national and international stages. But more importantly than helping with a framework for tomorrow's champions. The High Schools Challenge will provide an opportunity for the youngsters, their teachers and their parents to get together and share a love of one of the healthiest pursuits on the planet."
Surfest organiser Warren Smith said, "In 2016 more schools than ever before entered this contest. We warmly welcome Maitland and Port Stephens Toyota as sponsor of this unique contest which continues to grow as a much anticipated contest among surfers attending high school. This contest is a vital part of the Surfest festival as this contest opens up the surfing career pathway for young, motivated surfers."
You can find out more about Surfest 2017 on their website:
www.surfest.com
- or go have a look if you're in Newcastle - the events run until February 26th and there's still some great surfers and surfing to see.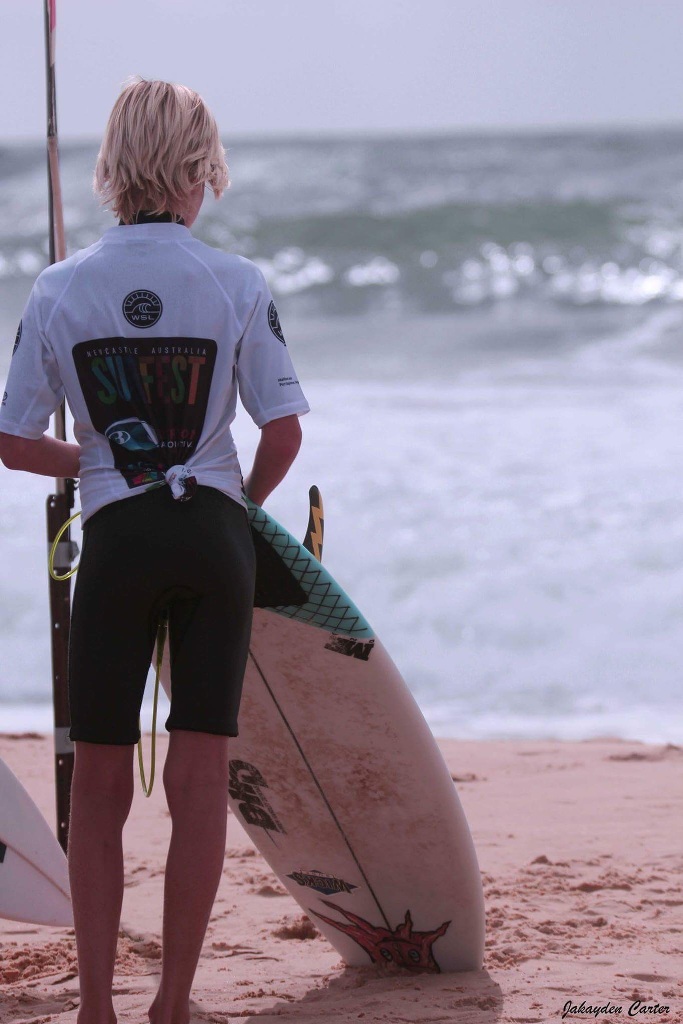 Maitland and Port Stephens Toyota High School Team Challenge
RESULTS: Finals
Boys
1. Illawarra Sports High (51.8)
2. Narrabeen Sports High A (51.7)
3. Narrabeen Sports High B (51)
4. The Entrance (50.2)
Girls
1. Tuggerah Lakes Secondary College (Tumbi Umbi Campus) (37.4)
2. St Pius X Adamstown (35.7)
3. St Francis Xavier High School (21.3)
4. Tomaree High School (13.4)
Photos by Gary Luke and the great NSHS Team! Report details and results from Surfest organisers and NSHS!