September 18 - 25, 2016: Issue 281
Congratulations Dan And Liesl !!
That's GOLD!!! Again.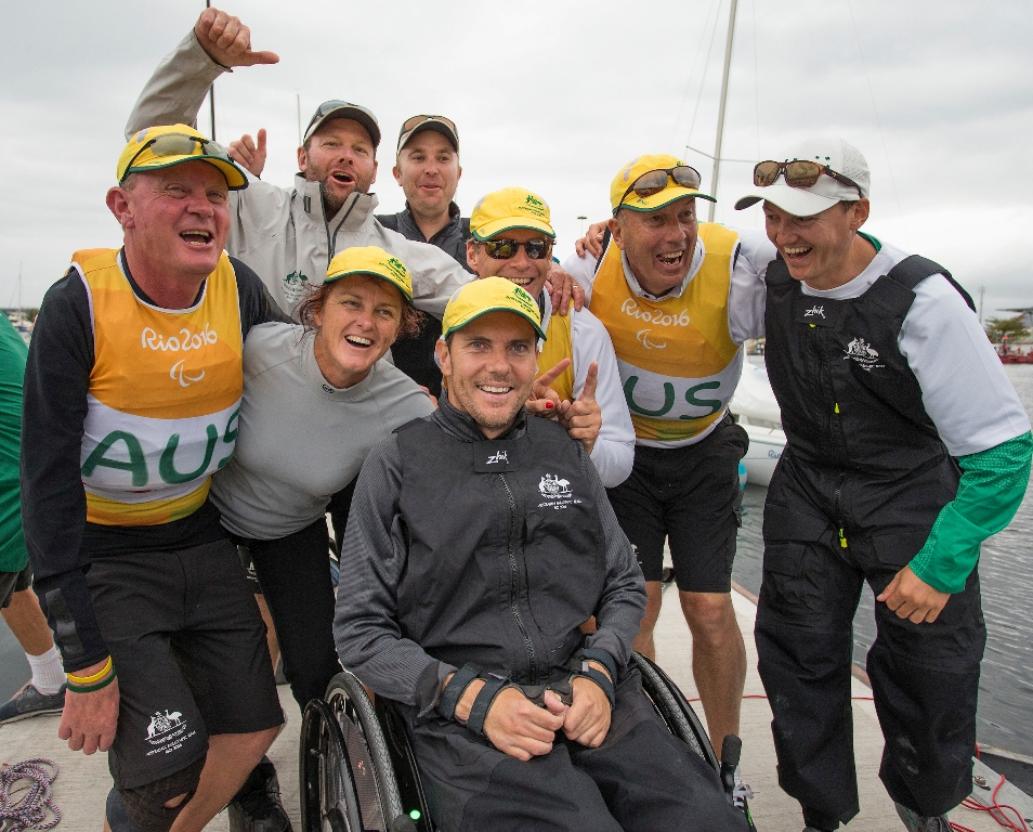 Sonar and SKUD18 crews and Trainers/SupportPhoto by Richard Langdon - World Sailing
Aussie Gold Rush On The Shores Of Rio De Janeiro
There was Aussie elation at the Marina da Gloria on day five as the Rio 2016 Paralympic gold medals were wrapped up in the Two Person (SKUD18) and Three Person Keelboat (Sonar) with a day to spare.

Daniel Fitzgibbon and Liesl Tesch in the SKUD18 were yet again on fire as they took two bullets from two races to seal the first ever Paralympic sailing title defence in commanding fashion.
In the Sonar, Colin Harrison, Russell Boaden and Jonathan Harris go in to the final race with a healthy 24-point lead and a guaranteed gold medal that ensures Advance Australia Fair will ring out on Flamengo Beach twice come the Medal Ceremony.
It was looking like the Australian anthem could be played three times as Matt Bugg came ashore with a four point lead in the One Person Keelboat (2.4 Norlin OD) only to be disqualified from the final race, demoting him to third and promoting Great Britain's Helena Lucas to the top spot.
"We did it! We defended our gold medal and won here in Rio. The scorecard may make it look easy but I can assure you that every place was hard fought. We are not celebrating yet, we will race tomorrow and show respect to our competitors and supporters. Thank you everyone!" Daniel and Liesl messaged on Saturday morning, September 17th.

The pair then went on to sail their final race, finishing 2nd in that one too to not take it easy even though, like in London, they had secured their Gold.
Tasmanian Matt Bugg finished his race by placing 1st and secured Silver despite the Day 5 disqualification.
In the Sonar, World Sailing's Live Blog messaged, 'The AUS boat just looked so relaxed out there. gold already secured they were out there to enjoy it'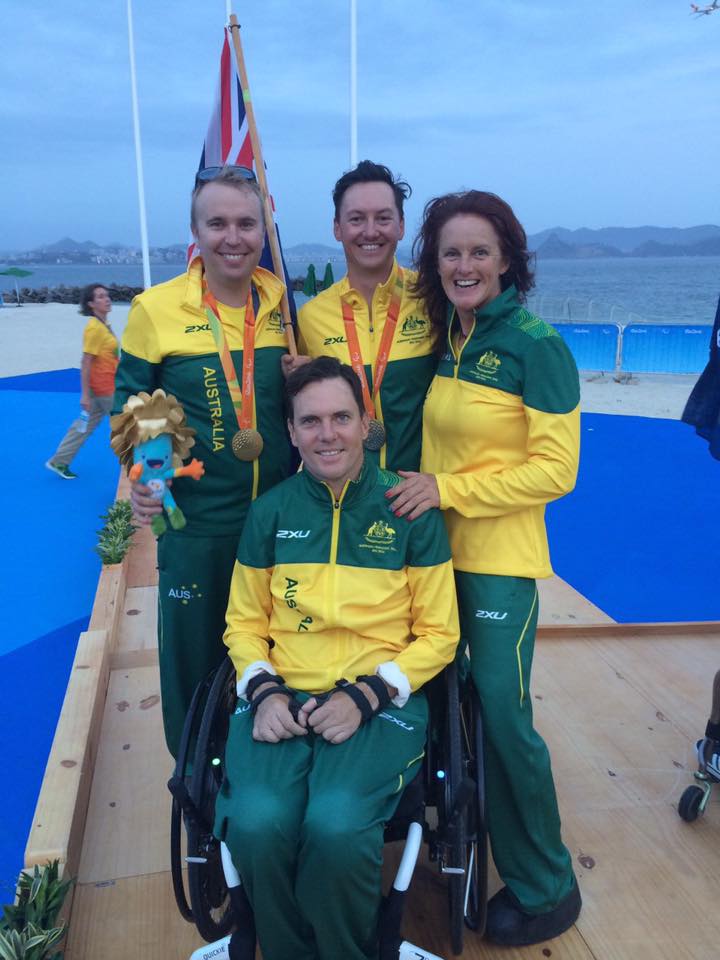 Dan and Liesl with Teammate, Shipwright and the guys that holds the SKUD team together Tim Lowe, our beaming-with-happiness super-coach from over-the-ditch Geoff Woolley - sharing the Gold!! - image courtesy Clareus Bearus

Liesl stated, via Facebook yesterday, to all of us who were following their campaign,
"Daniel Fitzgibbon is an absolute legendary sailor! ...thanks to lending him to the SKUD program Kumi Fitzgibbon and Hana!
It's so beautifully incredible to feel all the joy within the Aussie sailing team! Teammate, Shipwright and the guys that holds the SKUD team together Tim Lowe, our beaming-with-happiness super-coach from over-the-ditch Geoff Woolley, and the Sonar boys: Colin Harrison, Russell Boaden and Jonathon Harris (& their ecstatic coach Grant Alderson) are over the moon with joy and we are all energising and lovingly, calmly sending all we can to our team-mate Matt Bugg to get him onto the podium with us this afternoon.
Thanks to my physio Sarah Ross, and our team managers Mark Robinson and Shellee Ferguson, and tech guru Andrew Lechte.
Most importantly, the love and support from home has been overwhelmingly fantastically brilliant and SO appreciated!!! Much love and gratitude to everyone who has believed in Dan and I and have supported and cheered for us during the journey since London.
Our hearts are filled with gratitude to everyone, and for the opportunity we have had to represent Australia in this incredibly beautiful country at a phenomenal Paralympic Games!!
And it was wonderful to eat a porterhouse steak last night and propose a quiet toast to our beautiful mother Pam Tesch, who has been with Trudii and I here in Rio in spirit having the time of her life!! Go Pammie and all our Mums!!!
The biggest GOLDIE needs to go to Cariocas (people of Rio), and to all the volunteers and Rio2016 workers who embraced the Paralympic Games and ensured the legacy will live forever!!
I'm totally feeling honoured to be a part of the Australian Paralympic Team & the global Paralympic movement!"
All the reports from whole week by Richard Aspland/ World Sailing plus wonderful photographs by Richard Langdon - HERE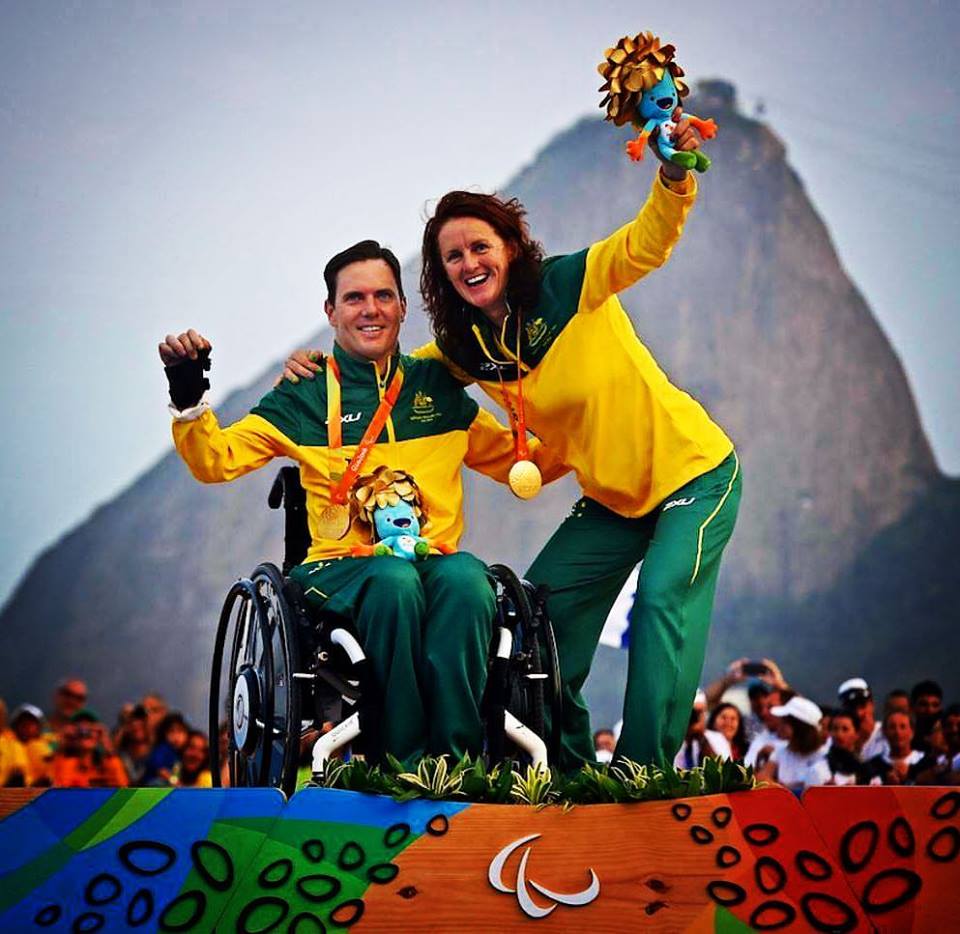 Narrabeen RSL Fishing Club Wins 2016 Three Way Competition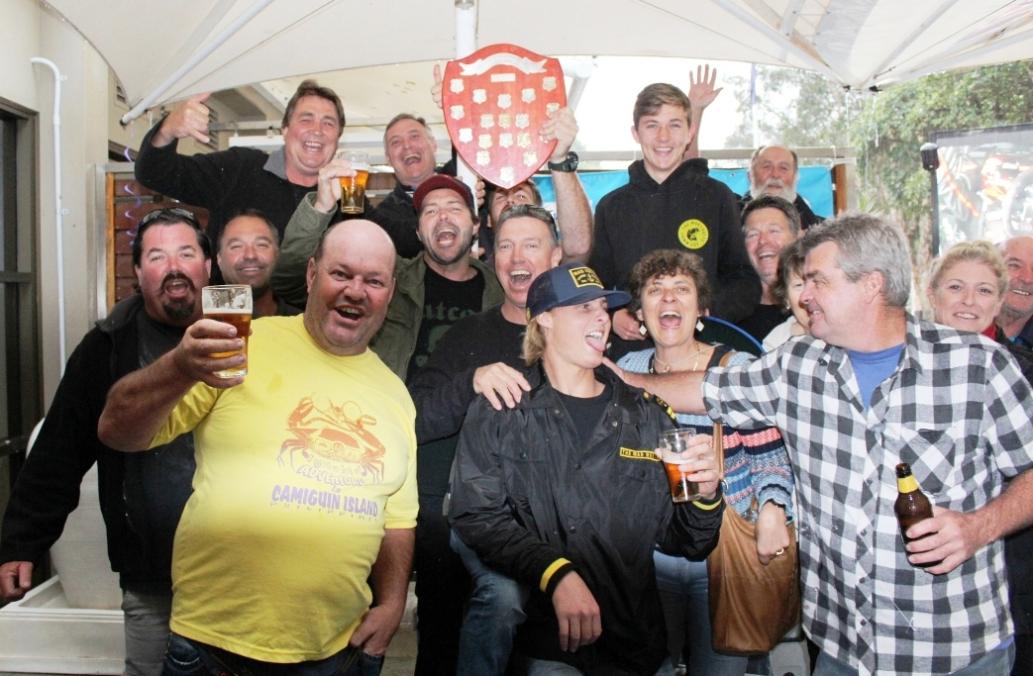 Narrabeen RSL
Fishing
Club members being congratulated by a Newport Arms Fisghing Club member.
Congratulations to Narrabeen RSL Fishing on wining the 2016 Three Way Compeition between themseles and
Avalon Beach RSL Fishing Club
and
Newport Arms Fishing Club
.
A great family focused event for everyone from 3 years of age to 83 years of age.
Article next Issue, No. 282 published Sunday September 25th. Pittwater Online Album loading now for your own Family Albums
HERE
- available by lunchtime Monday September 18th.
Surf Life Saving Voluntary Patrol Season 2016-2017 And Surf Club Open Day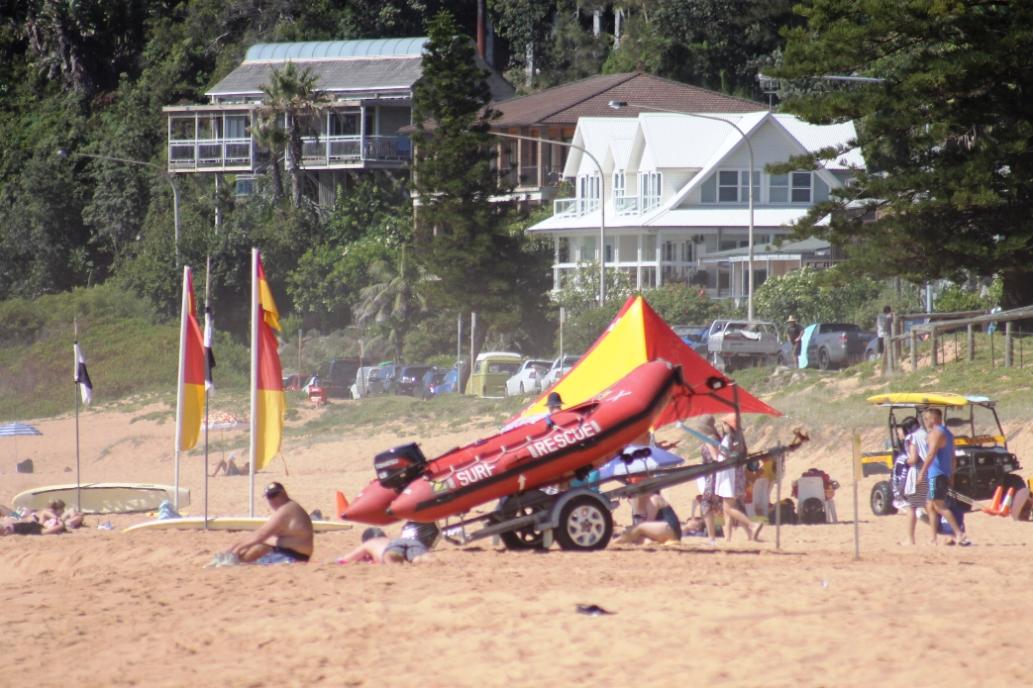 The Volunteer Weekend Patrol Season commences next Saturday,
September 24th
.
The primary role of the surf clubs within Sydney Northern Beaches Branch is to provide a safe aquatic environment for the community on our beaches and coastline from Manly to Palm Beach. While doing so, our Clubs offer our members many opportunities to promote a healthy lifestyle, responsibility and purpose, positive social interaction skills, and of course having fun.
Surf lifesavers patrol our beaches from September through to April on every weekend and public holidays during the season. These dedicated Patrol teams are made up of members ranging from age 13 years upwards who have been trained in the skills, techniques and procedures for either the Surf Rescue Certificate or Bronze Medallion award.
Our Patrolling members are easily identified by the distinctive DHL sponsored 'Surf Rescue uniform' of red/yellow quartered cap, yellow long sleeve t shirt and red shorts.
If you want to find out more: visit your local surf club on
Surf Club Open Day 2016
Want to be a part of Surf Life Saving? Our members don't just patrol the beach, your local surf club has a role for everyone and plays a much bigger part in the local community than you might think.
There are dozens of roles that you can take on in your local Surf Life Saving Club which will see you making a difference to the safety of our beaches and make you feel part of the Surf Life Saving family. See examples of roles below:
• putting on the red and yellow and patrolling the beach;
• helping train up our Nippers into Lifesavers;
• officiating at sport events;
• training up your fellow members;
• supporting the governance of the Club;
• fundraising or running the barbeque;
• jumping onto the radio to aid in communications;
• running social events for members;
• undertaking skilled project work within the club; or
• filling one of the other dozens of roles available within Surf Life Saving.
Participating clubs will host a range of activities, including lifesaving demonstrations, clubhouse tours, barbecues and displays.
Some will also offer people the chance to try out a range of beach activities and rescue scenarios first hand to give them a genuine feel for the challenges and excitement of surf lifesaving.
Information on how to join your local Surf Life Saving Club will also be available on the day.
Get down to your local surf club on
Sunday 16 October
to be part of our annual Surf Club Open Day!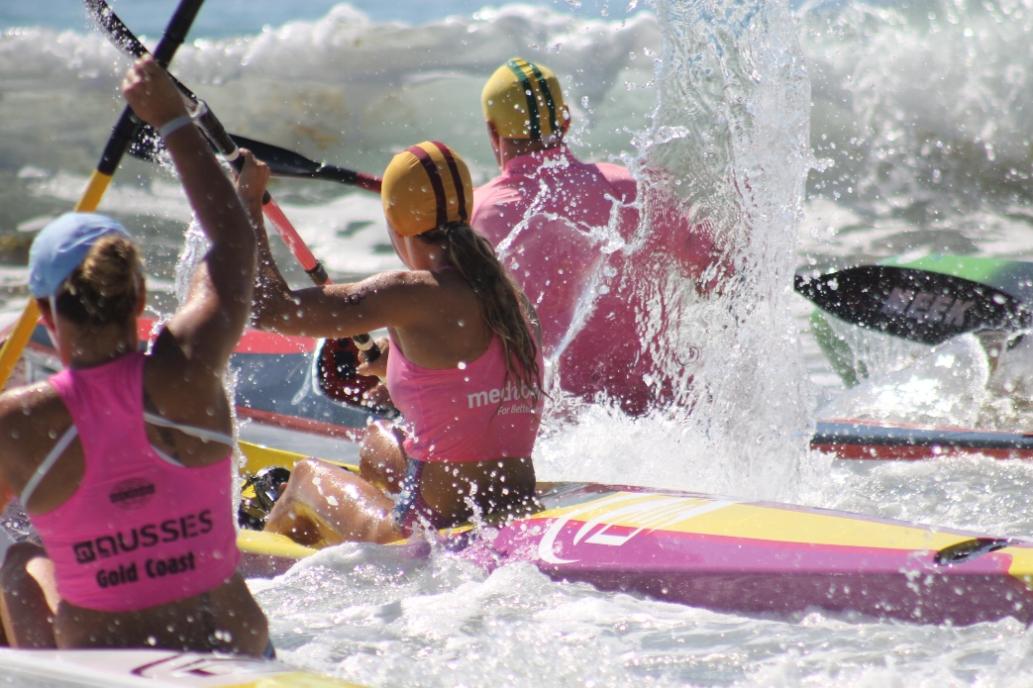 Jim Somerville Bridge Opened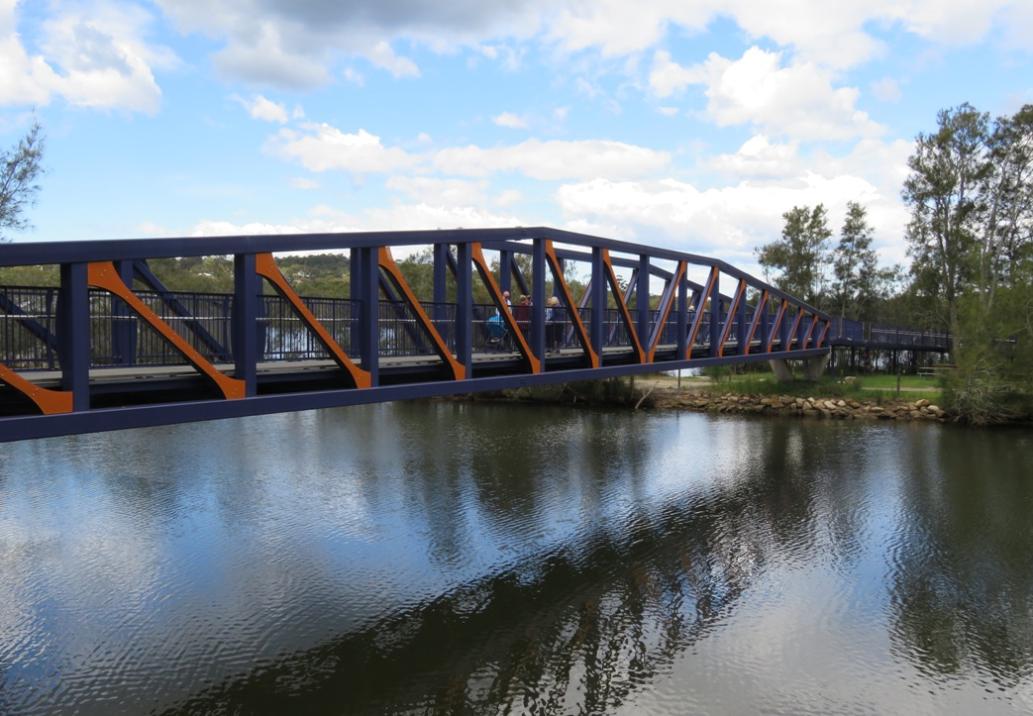 Jim Somerville Bridge, Middle Creek, Narrabeen Lagoon
Over 40 people gathered on Friday at Middle Creek to see two plaques unveiled to officially open the Graham Jones Track as part of the Narrabeen Lagoon Trail and the Jim Somerville Bridge over Middle Creek.
Late in 2014 the former Warringah Council announced these gentlemen had been nominated:
'The Middle Creek Bridge will be dedicated to Mr Jim Somerville for his tireless contributions to a trail being completed around the Lagoon.
The section of trail immediately west of the Deep Creek Bridge will be dedicated to Mr Graham Jones for his early vision of a trail that would circumnavigate this waterway.'
'Avid cyclist and Council draughtsman, Graham Jones, had the idea for the Narrabeen Lagoon Trail after visiting Lake Burley Griffin in Canberra in 1987. A great believer in physical fitness through cycling, Mr Jones started work on planning a track around the foreshore of Narrabeen Lagoon.
One of the main challenges was solving access problems through land occupied by the Sydney Academy of Sport and Recreation. Local resident Jim Somerville was instrumental in lobbying local and State politicians for a solution to the impasse and in 2008 an agreement was reached which allowed the project to gain momentum.' - from Warringah Council's Bluett Submission, 2015
Jim's son Lindsay and daughter Jan Phillips and grandchildren, Emily, Kate, Ian and Andrew and Jim's great grandson Robert were all at the ceremony.
Rob Stokes spoke of the untiring work Jim had done in approaching all involved to get the trail finished and how Jim had said to Rob that 'roads divide a community and paths and trails bring communities together'.
Dick Persson, Administrator for the Northern Beaches Council, also knew Jim for over 20 years in battles for the Border Ranges National Park in northern NSW.
David James [ex Pittwater Mayor and councillor] read a section from 'The Narrabeen Lagoon Trail' book written by Jim Somerville highlighting the battles with Cromer Golf Course and the Department of Sport and Recreation. It was Jim's gentle persistence that brought about the granting of funds for and eventually the building of the Trail.
After the bridge ceremony David James presented each family member with an Australian native flower to toss into the lagoon from the Jim Somerville Bridge.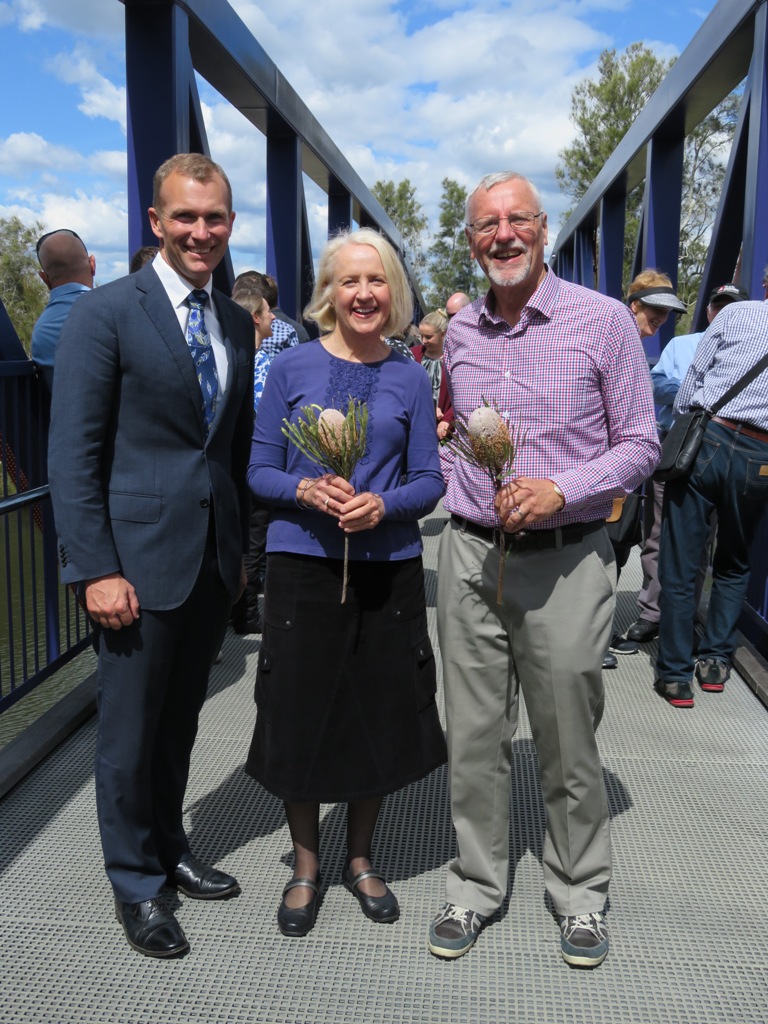 Hon. Rob Stokes, MP for Pittwater, with Jan Phillips and Lindsay Somerville – Jim Somerville's children
More HERE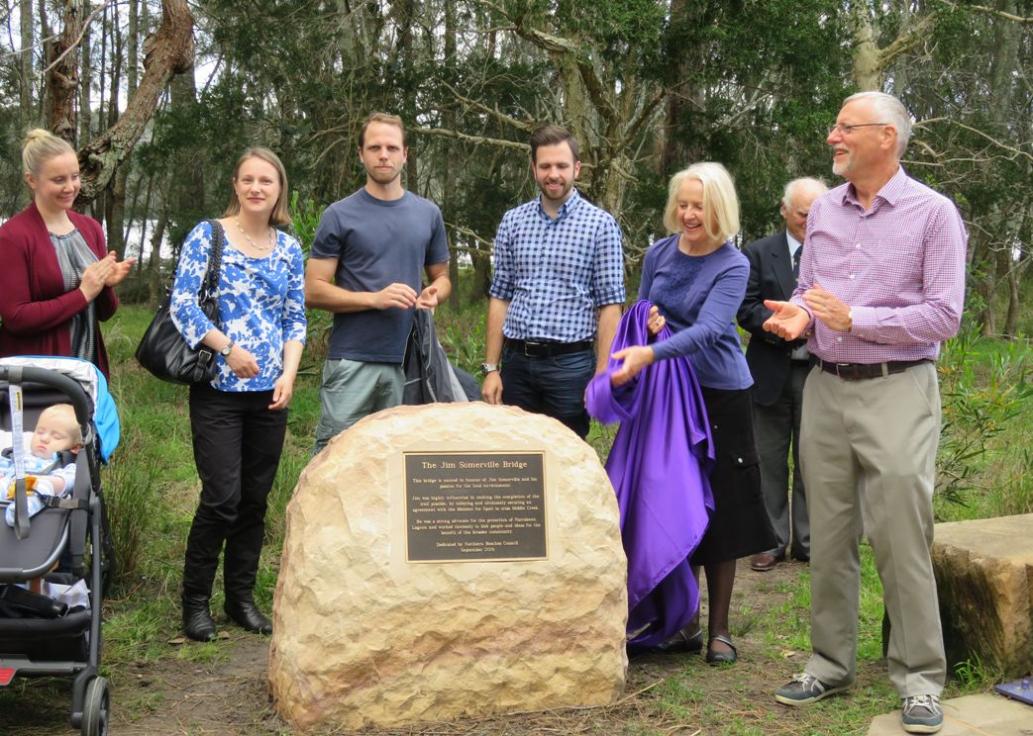 Somerville family unveiling plaque -
L to r: Great grandson Robert, Kate, Emily, Ian, Andrew, Jan Phillips, Lindsay Somerville
Bernard Midget Farrelly Paddle Out Tribute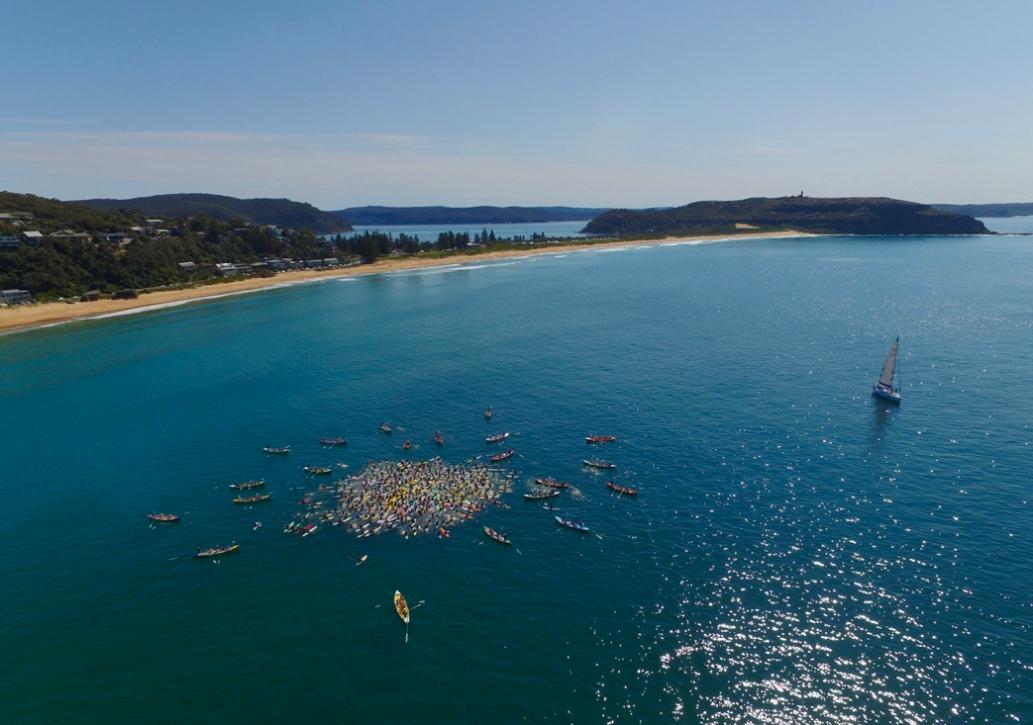 Palm Beach and Whale Beach Surf Life Saving Clubs hosted a Paddle Out Tribute for Bernard Farrelly last Sunday, September 11th.
A thousand people gathered with and around the Farrelly family at Palm Beach to salute one of their own.
Australian Life Saving Team At World Life Saving Championships 2016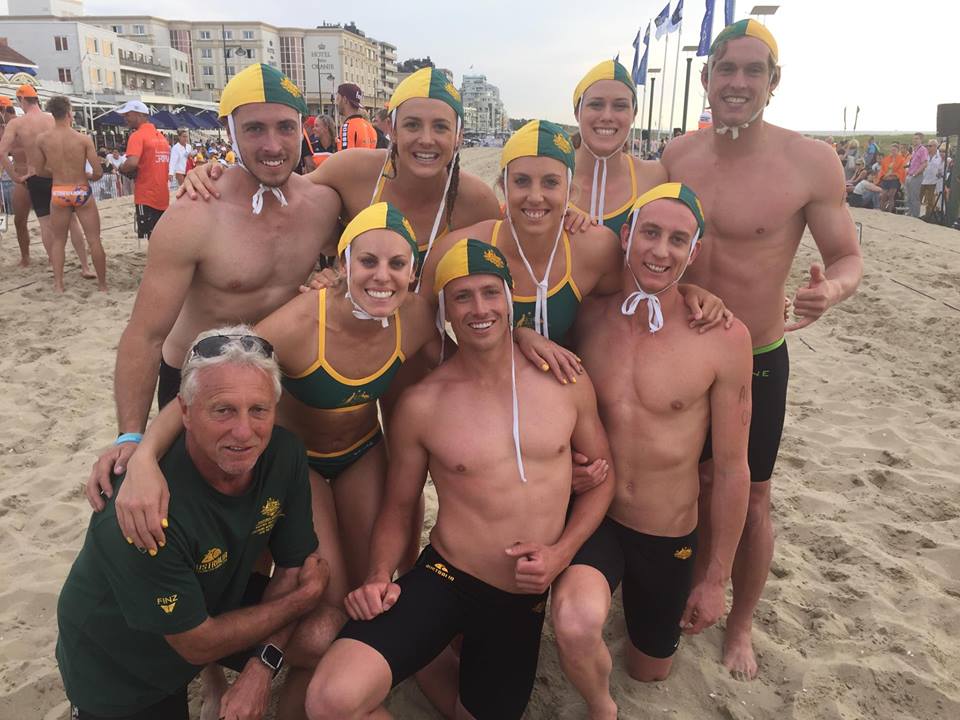 Picture courtesy Martin Lynch.
The Open Australian Lifesaving Team left nothing in the tank to finish second in the Life Saving World Championships 2016.
The Australian Youth Team dominated the Life Saving World Youth Championship to take home the crown again.
Newport SLSC Members, young, middling and mature have featured among the medal tally - reports courtesy Surf Life saving Australia and Rob Emerson, President at Newport surf club
HERE
Spring In Pittwater: 2016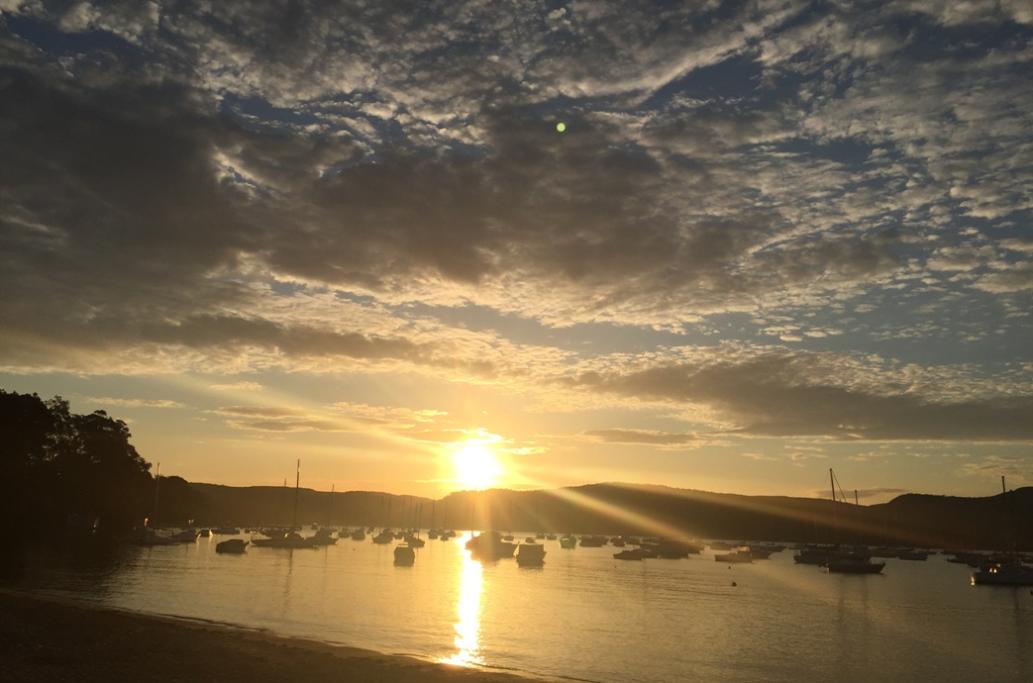 Clareville Beach Sunset - Monday September `12th, 2016 - Photo by Joanne Seve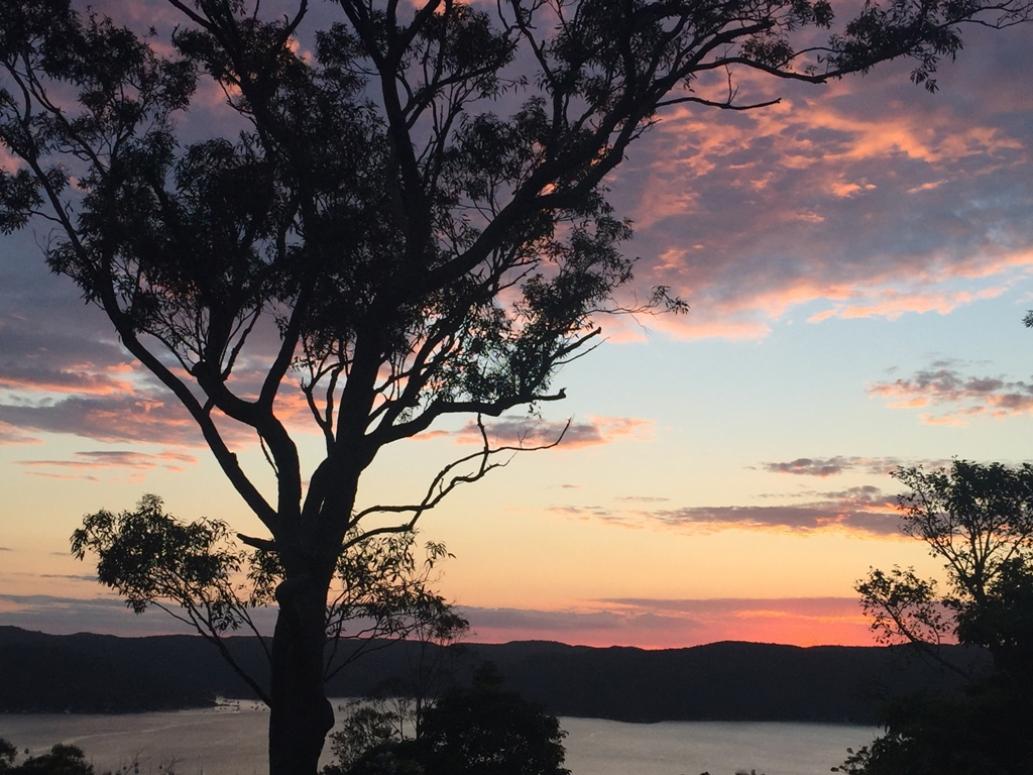 Clareville Sunset - Monday September `12th, 2016 - Photo by Joanne Seve
Past Features Archives (pre 2014)
Pittwater Online News was selected for preservation by the State Library of New South Wales and National Library of Australia. This title is scheduled to be re-archived regularly.
Archived Issues (2014 on) may be accessed here: pandora.nla.gov.au/tep/143700