October 23 - 29, 2022: Issue 559
The Great Bondi Resurrection: Pro Surfers Make Environmental Impact through getting involved in operation crayweed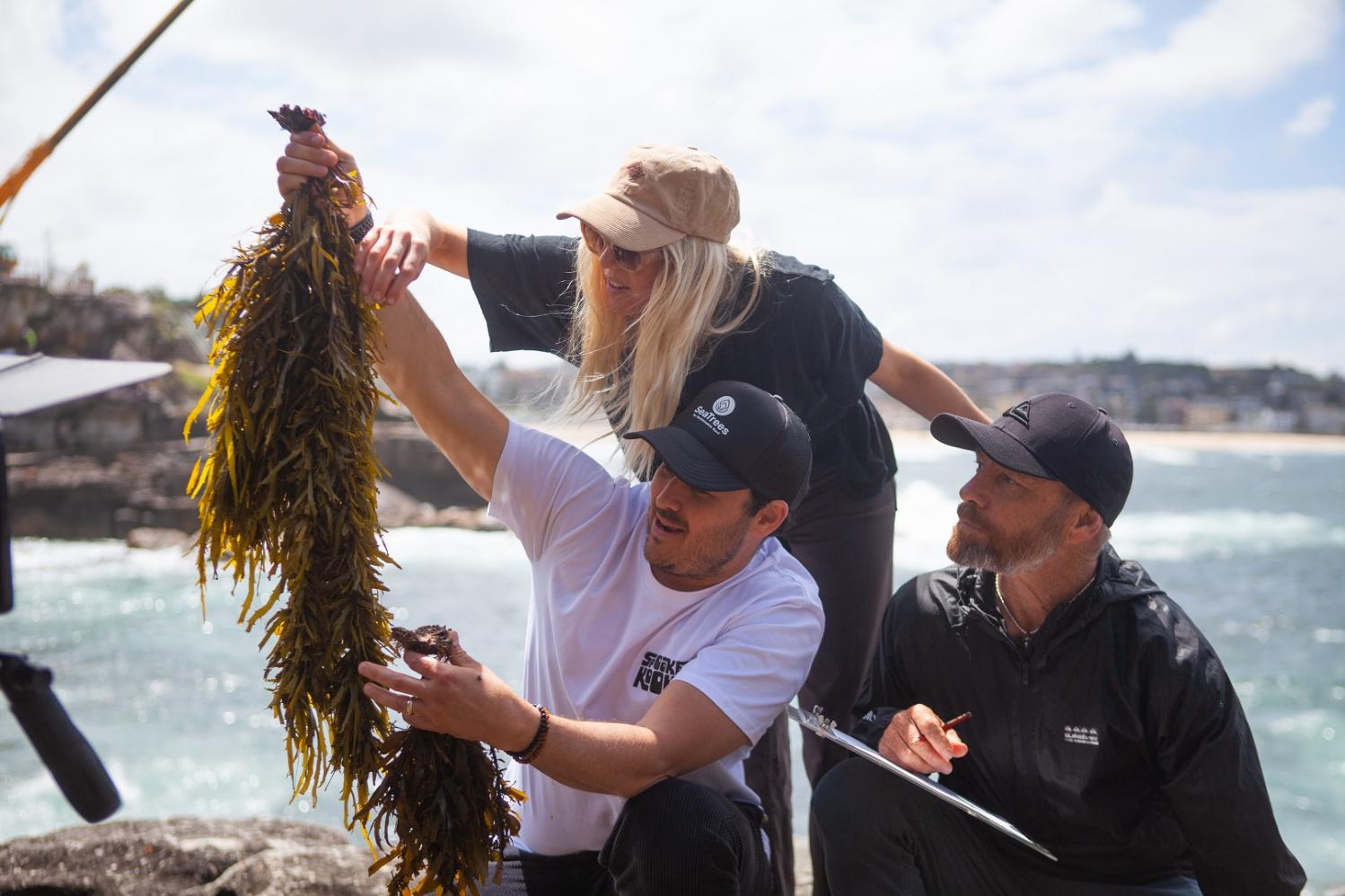 Laura Enever, Tom Hobbs and Tom Carroll at the Bondi planting event. Photo by Frame.co
More than 50 percent of coastal ecosystems around the world have been lost, but a new partnership between Operation Crayweed, SeaTrees and Boardriders Foundation, kicked off at iconic Bondi Beach on Monday October 17, will bring Sydney's lost kelp forests back to life.
World Champion surfer Tom Carroll and big wave surfer Laura Enever joined Operation Crayweed, scientists, Boardriders Foundation and the SeaTrees program to begin the regeneration planting.
Sadly, many ocean ecosystems have been lost globally due to human impacts including pollution, development and now climate change.
"If we start to act now we can turn the tide on this problem and bring these lost ecosystems, including the crayweed forests of Sydney, back to life," said Sustainable Surf co-founder, Michael Stewart.
"We collaborate with local groups around the world to regenerate the health of damaged coastal ecosystems including kelp forests, coral reefs, mangrove forests, seagrass meadows and more.
"These critical marine areas have "super powers" that help everyone on the planet by improving fisheries, cleaning the waters, boosting biodiversity, protecting our coastlines and capturing huge amounts of carbon emissions and even improving waves for surfing."
The initiative is working with Operation Crayweed, a science and community engagement project that aims to restore underwater forests of crayweed that went locally extinct along 70km of Sydney's coastline.
Surfing World Champion Tom Carroll has lived on Sydney's Northern Beaches his whole life and has been an active advocate for the protection of the coastline since his earliest competitive days.
"Back in the '80s, surfing in professional events in Sydney was a real hazard," said Carroll.
"The ocean was toxic. As soon as the southerly would blow in we were literally surfing in raw sewage and people got sick. Even then I was drawn to do something, to take action and was part of the Surfers Against Sewage protests.
"It's amazing to know that SeaTrees and Operation Crayweed can restore these highly valuable and important ecosystems, through such simple actions like providing food and habitat, all while capturing atmospheric carbon and producing oxygen.
"To be part of this initiative and help with the restoration along my home stretch of coastline is something very rewarding. And to have the biggest surf brands backing this program through the Boardriders Foundation is something I am very proud to be a part of."
Fellow professional surfer Laura Enever is also passionate about taking action.
"I'm looking forward to giving back to the ocean by being part of these amazing programs and learning how I can play a part in the restoration process," she said.
"The ocean has given us all so much and we must do what we can to protect it for our future generations to love and enjoy just as we do."
Representing the Boardriders Foundation, Carroll and Enever joined the scientists and project leads behind SeaTrees and Operation Crayweed at Bondi on Monday to begin the restoration ahead of the 70km goal.
"We are very excited about this new partnership with SeaTrees and Boardriders because we share their passion for the ocean," said Dr Ziggy Marzinelli (USYD/SIMS).
"The support will allow us to restore crayweed forests at one of Australia's most iconic coastal spots and get a step closer to our goal of reforesting the entire coastline of Sydney," added Prof. Adriana Vergés (UNSW/SIMS).
The group of 20 were led by Dr Ziggy Marzinelli and Professor Adriana Vergés in the Operation Crayweed regeneration process that will begin to restore the health of damaged coastal ecosystems along 70km of Sydney's coastline.
Avalon Beach surfer, Tom Carroll spoke passionately about the human impact on the beaches and oceans and why it was important for him to take part in the initiative.
"There are things that need to be done. I had no idea crayweed had disappeared off our beaches. The scientists have shown us in detail what's been going on and it's been an eye-opener for me because I've always felt that I'm, in a way, a first-responder for the ocean trying to do what I can and help advocate for it," he said.
"The scientists involved have come up with a solution and they can see that we can actually do something. We can bring a species back! It's a little window into what we can do and what more we can do to help. You can see the enthusiasm they have because they know there is a solution."
Laura Enever from North Narrabeen has travelled the world and said she recognised the urgent need to take action.
"Growing up in Sydney I'd never known crayweed had disappeared from our coastline between Palm Beach and Cronulla all because of population growth and human impact. It's been amazing today learning how critically important seaweed and crayweed is for the whole world," she said.
"When you hear about these issues and programs, you think you might not be able to do anything to help but what we've seen here is that the regeneration has been so successful and the goal can be reached. It will be amazing to come back here in six months time and see the crayweed we're planting reproducing, thriving and growing into a mature sea forest.
Marine Biologist, Dr Ziggy Marzinelli spoke about how excited he and the team were to get the program started, saying it was already proven to work and an achievable goal that will enhance the ecosystems.
"With the help of volunteers we're trying to restore underwater forests that went missing from Sydney in the early '80's because of poor water quality in the day. The water quality is great but the native species have not been restored so we are trying to help bring it back to this coastline," said Marzinelli.
"It's a key project because we have a unique opportunity to address the problem at the right scale. There are about eight existing locations around the world where the crayweed has started to reproduce and expand from the sites. With this project there are 23 rocky reefs along the 70km of coastline that will have the crayweed planted," he said.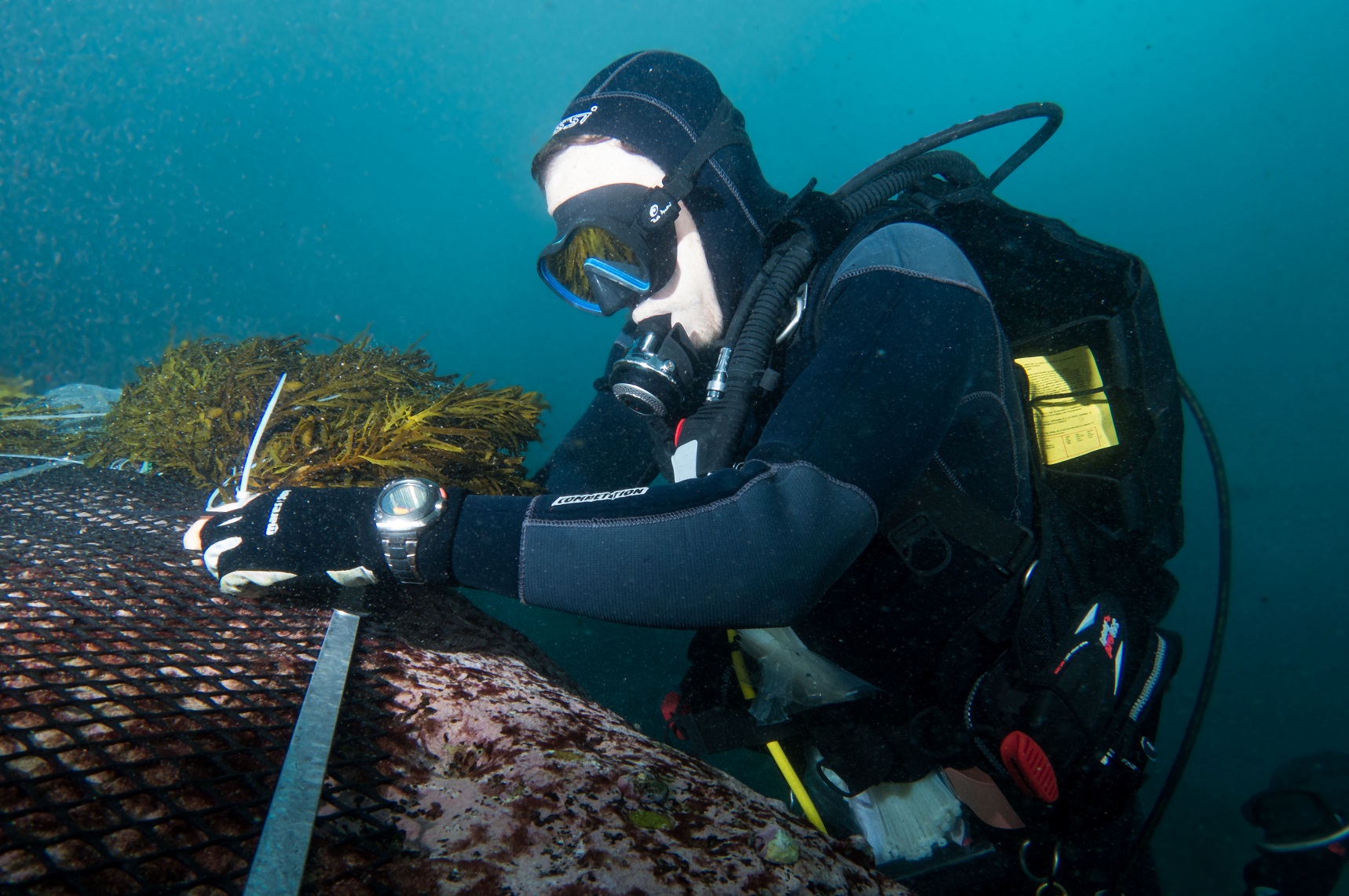 Operation Crayweed; Bondi Planting
Boardriders Foundation Chairman Bob McKnight is proud the foundation has the opportunity to work collaboratively with leading initiatives in a way that gives locals and athletes the chance to get immersed.
"Boardriders is stoked to support SeaTrees as they restore coastal blue carbon ecosystems around the world," he said.
"Boardriders Foundation has been busy with Sustainable Surf/SeaTrees in the past year with various projects around the world, and now they will be in Sydney. They are helping the surfing industry demonstrate leadership in reversing climate change and protecting the ocean.
"We are excited that Boardriders team athletes Tom Carroll and Laura Enever are involved in the planting at Bondi."
Boardriders Head of Sales and Sustainability, APAC Damian Campbell said Boardriders and the foundation were humbled to be partnering with SeaTrees and Operation Crayweed.
"Both SeaTrees and Operation Crayweed do incredible work and share the same long term vision: the steps we take today will make a great difference into the future," he said.
"Our community and customers are drawn to the industry for many reasons, none more so than the shared love of the environment and what it provides for us through the acts of surfing and snowboarding.
"The majority of our customers and staff spend each day dreaming of perfect waves, or deep powder snow mountains and everything in between.
"This coastline means so much to all of us. The partnership with Sea Trees and Operation Crayweed, through our Boardriders Foundation has been a long time in the planning and a step closer towards regenerating one of our countries most valuable assets."
Surfing NSW CEO Luke Madden said the state sport organisation was enthusiastically behind the initiative.
"The surfing community in NSW is passionate about conservation and restoration of the natural environment that gives us so much. This collaborative project is a great step in helping restore our beautiful ocean's ecosystems and we're stoked to be part of it," said Madden.
To find out more and get involved in Operation Crayweed in the Sydney area visit www.operationcrayweed.com.