May 24 - 30, 2020: Issue 451
'Operation Crayweed' Manly: Engaging The Manly Community In Restoring Manly's Lost Underwater Forests

Newport and Freshwater to come!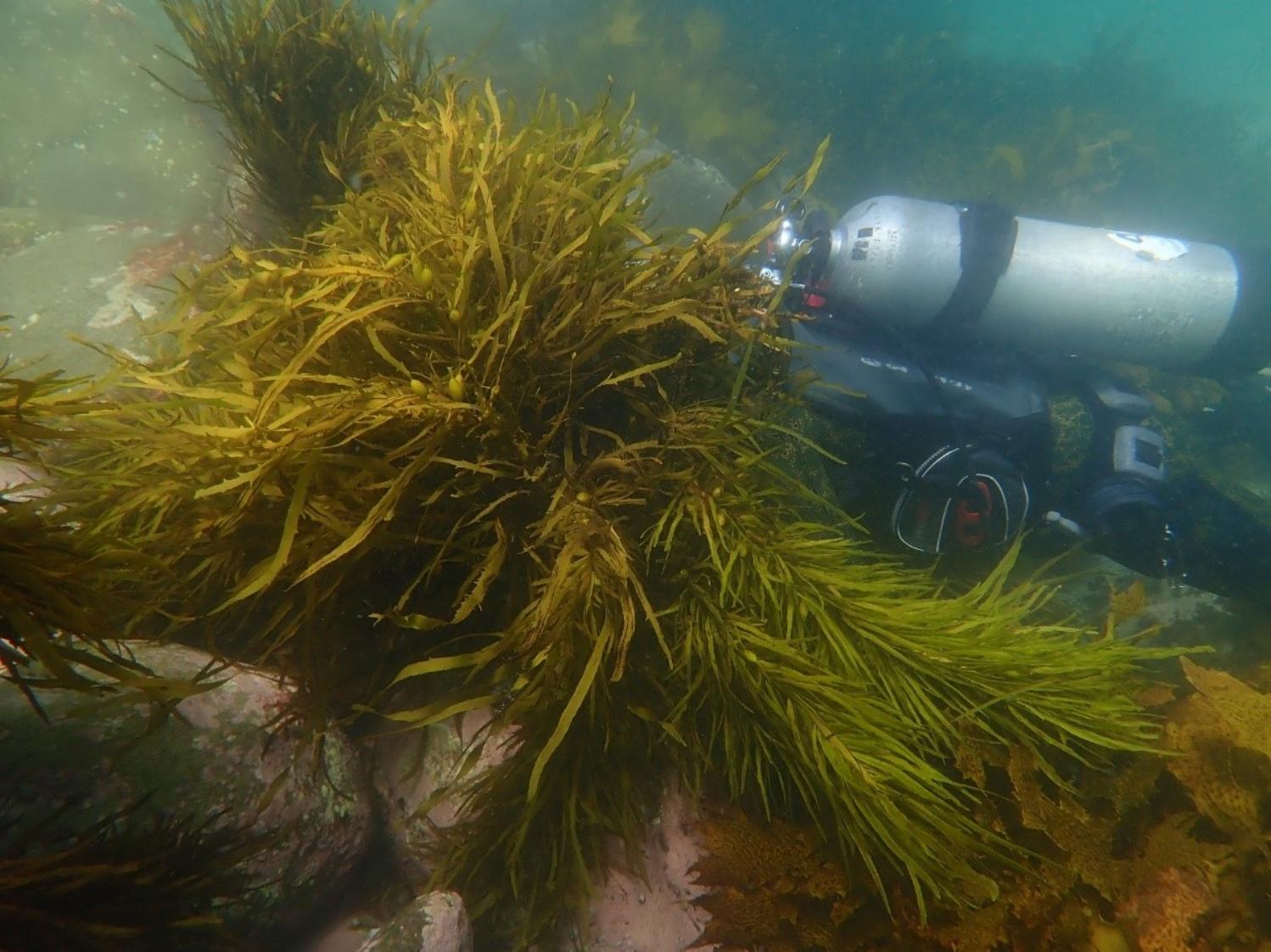 Image: A SIMS scientist planting crayweed at Cabbage Tree Bay, Manly. Photo SIMS
by Derrick Cruz

Operation Crayweed is a flagship project of the Sydney Institute of Marine Science (SIMS), based in Chowder Bay, Mosman. In 2011 they launched a project with the goal of re-introducing the missing underwater forests of crayweed (Phyllospora comosa) to the Sydney metropolitan region. Crayweed is a large seaweed that supports unique biodiversity including two of the most valuable fisheries in Australia: rock lobster (or crayfish) and abalone. Crayweed went extinct from the Sydney coastline during the 1970-80s, likely due to poor water quality at this time. Despite the vast improvement in water quality since deep ocean outfalls were installed in the 1990s, the species has not returned on its own.
Initial studies trialled transplanting crayweed back to Sydney, from areas where it is still found naturally. Scientists found that by doing this they could facilitate the re-establishment of crayweed forests in areas where they once thrived. This proven method involves attaching reproductive adult crayweed to temporary underwater mats. The adults then reproduce and their 'cray-bies' attach to the reef and form the basis of a new, self-sustaining population. The temporary mats are then removed
In late March/early April 2019, crayweed was planted in Cabbage Tree Bay for the first time since it disappeared since the 1970-80's. Volunteers were invited to work with the Operation Crayweed team to restore these forests and over forty enthusiastic individuals attended over the two 'planting' days at two locations on the western side of the bay.
Volunteers assisted a land-based team with counting and measuring of plants prior to planting. A group of volunteers also took the plunge and acted as underwater assistants to the SCUBA planting team. In May 2019, Operation Crayweed planted on the eastern side of the bay, also with the help of local volunteers.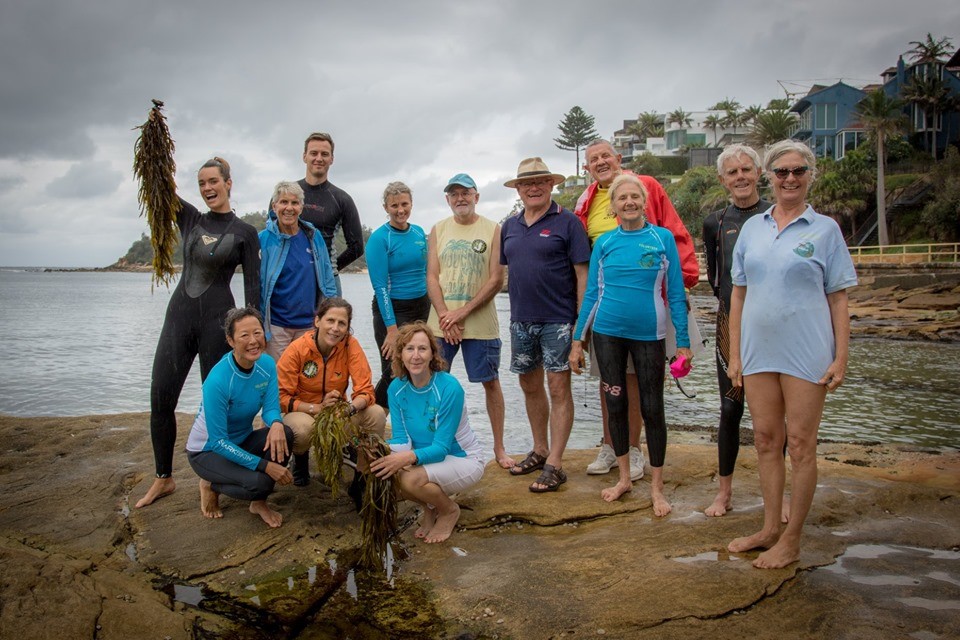 Images: Community volunteers assisting with the restoration work at Cabbage Tree Bay, Manly. Photo SIMS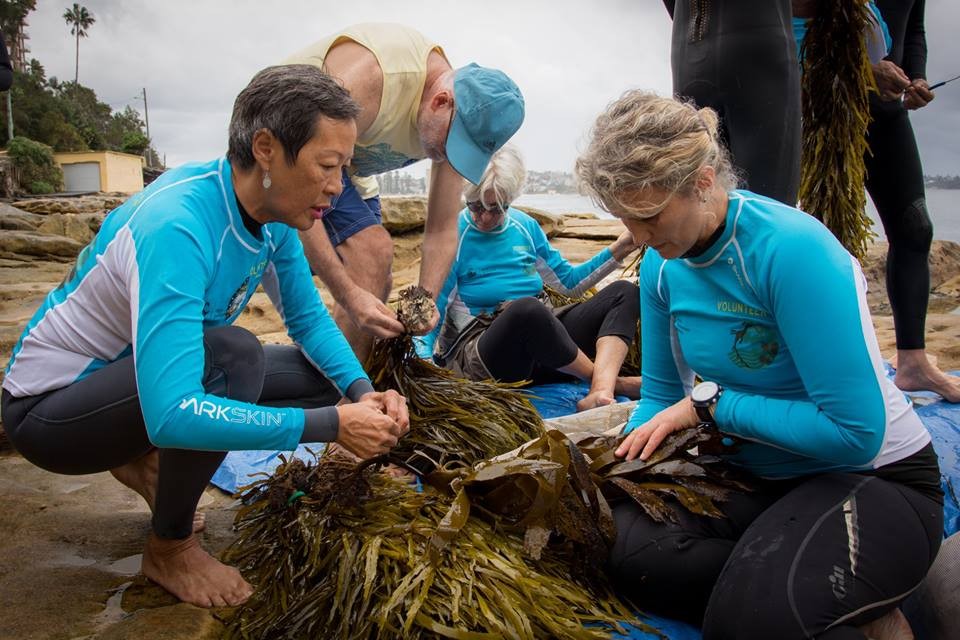 Images: Community volunteers assisting with the restoration work at Cabbage Tree Bay, Manly. Photo SIMS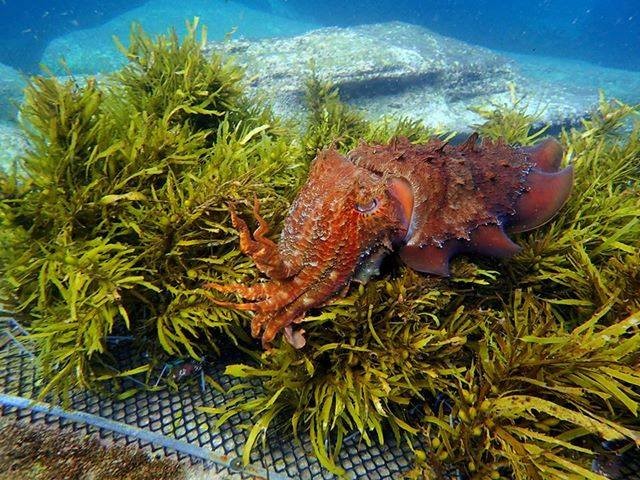 Image: A giant cuttlefish interacting with Crayweed restoration mats at Cabbage Tree Bay. Photo Ian Donato
Early monitoring of the restoration sites showed various marine species immediately taking up residence in the planted crayweed forest – some even using it as a food resource.
In October 2019, the Operation Crayweed team noticed the appearance of the first visible baby crayweed plants at Cabbage Tree Bay since planting. A few months later, in January 2020, the team recorded over 100 individual baby crayweed plants! This was very encouraging as these plants will eventually grow to form the beginning of a self-sustaining crayweed forest in Manly. Custodianship of these plants has been developed by community volunteers and the Operation Crayweed team will continue to monitor their progress and eagerly await for the appearance of more baby plants.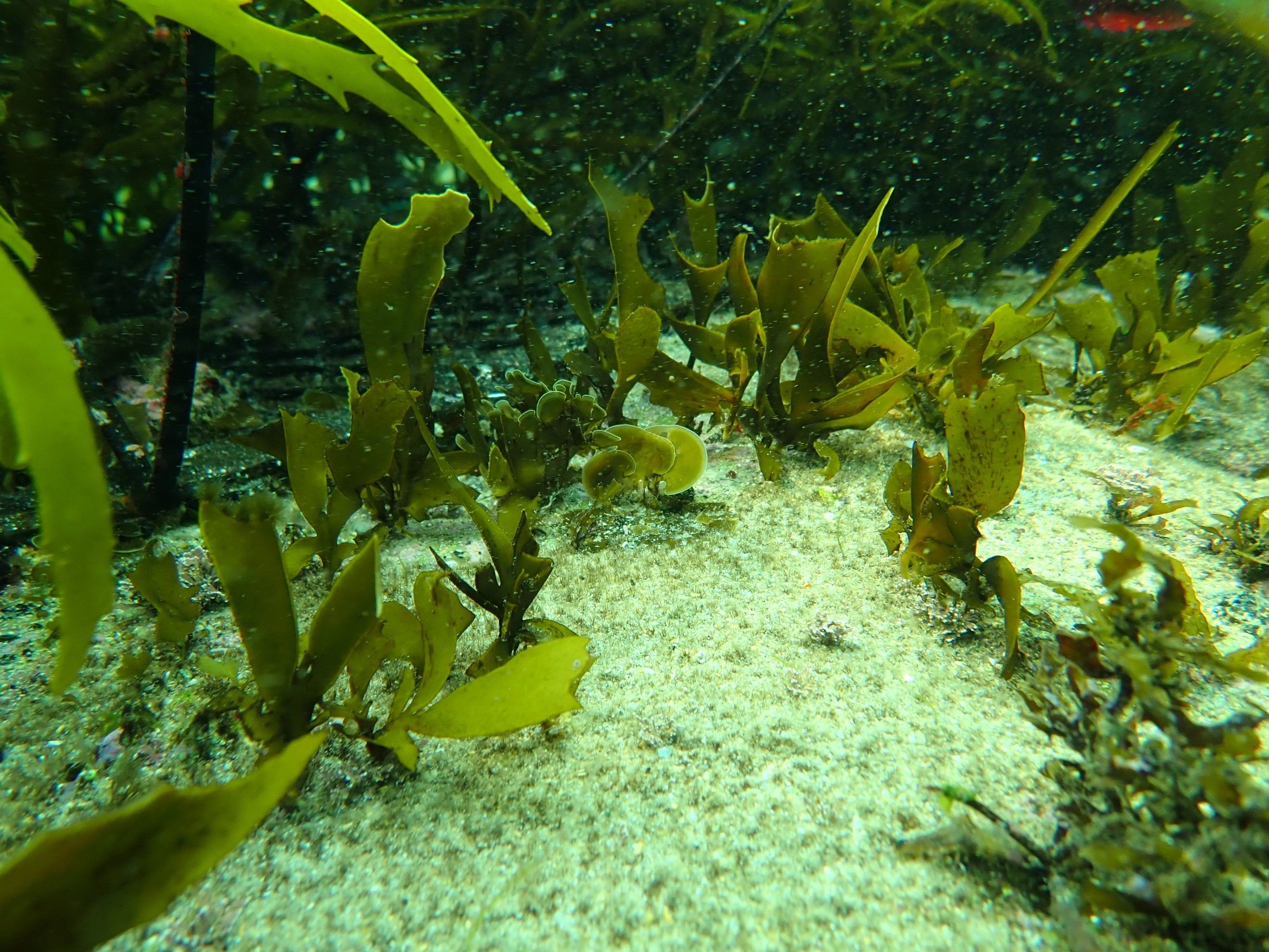 Images: SIMS scientists measuring crayweed recruits at Cabbage Tree Bay, Manly. Photos - SIMS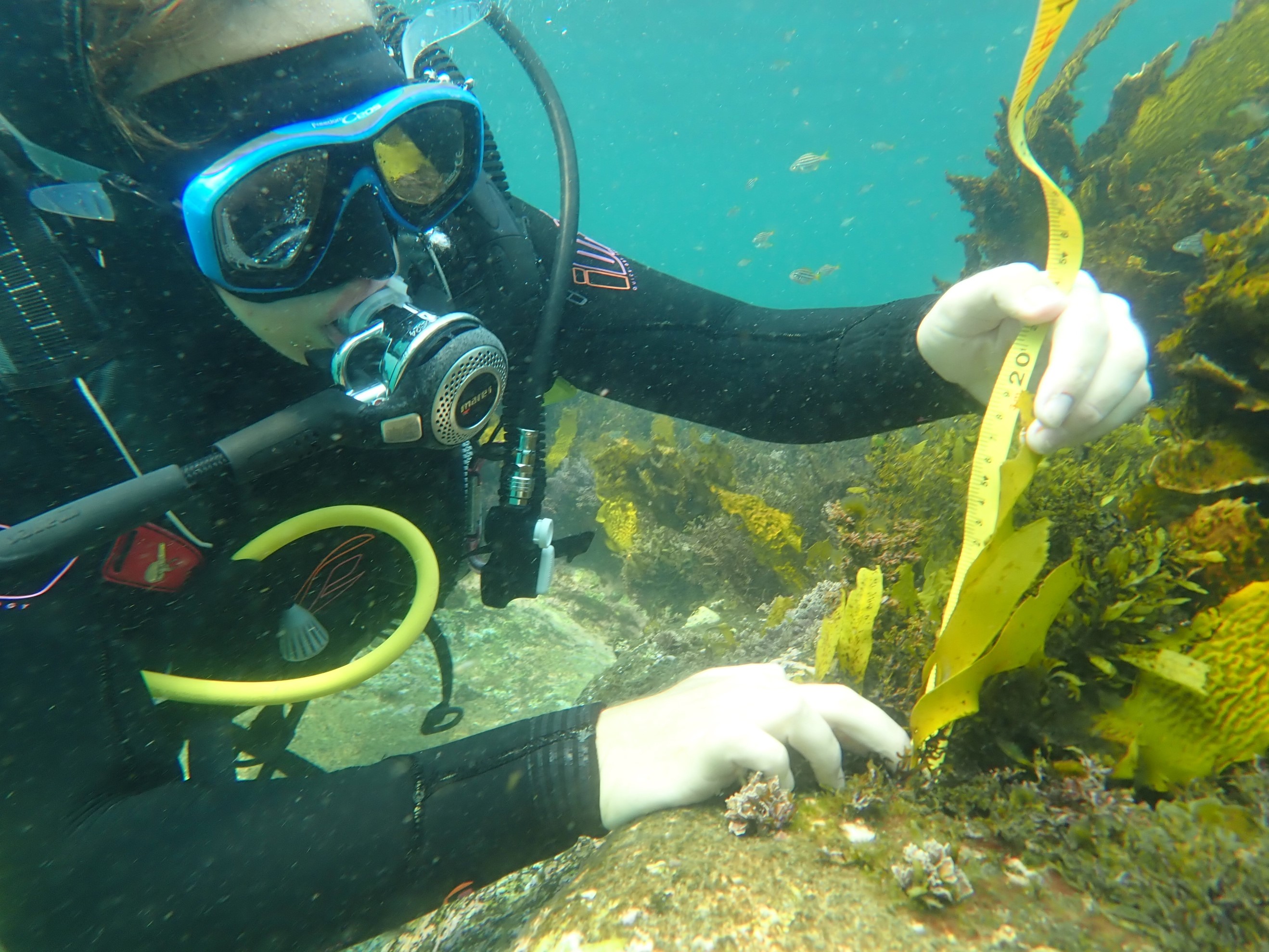 Images: SIMS scientists measuring crayweed recruits at Cabbage Tree Bay, Manly. Photos - SIMS

Operation Crayweed engaged Grumpy Turtle Design, a social media and film making team, to create a short film for Operation Crayweed Manly. The film, 'Crayweed and Cabbage', documents the restoration at Cabbage Tree Bay and community engagement. The film features interviews with local stakeholders, community members, and Operation Crayweed team members. 'Crayweed and Cabbage' premiered to an audience of over 100 people at the Manly Art Gallery & Museum during the Northern Beaches Council 'Ocean Care Festival' in November 2019. This short film is now available to view for free online –
https://www.youtube.com/watch?v=sXDgp7qfUls
A flourishing relationship between SIMS and people across all ages within the Manly community has promoted custodianship of the local marine environment that will resonate into the future. As result of this increased awareness, Operation Crayweed has recently been announced as a NSW Government My Community Project to host a Manly Festival of Seaweed in 2020. This festival will invite the community to engage in a celebration of these remarkable coastal ecosystems through food, art and science. It will include a major art installation, hands-on marine restoration of lost crayweed forests, films, art workshops and cooking demonstrations – stay tuned!
Operation Crayweed are also planning to restore this important seaweed at Newport and Freshwater later this year!
To register your interest for any volunteer opportunities please visit their webpage at - http://www.operationcrayweed.com/support
Crayweed And Cabbage
By Adriana Verges - Published November 25th, 2019
Operation Crayweed With Balgowlah North Public School
By TC Studio, published November 27th, 2019
Artists Jennifer Turpin and Michaelie Crawford and Curator Christiane Statham from Turpin + Crawford Studio, film-makers from Lightwell Studio, and musician Ben Fink have worked with Year 4 students from Balgowlah North Public School to make this animated film about 'Operation Crayweed'.
'Operation Crayweed' is an environmental rehabilitation project that is restoring crayweed, an important species of seaweed, along Sydney's coastline from Cronulla to Palm Beach and is led by marine scientists from the Sydney Institute of Marine Science (SIMS), The University of NSW, Sydney, and The University of Sydney.
The latest planting site is in Cabbage Tree Bay Aquatic Reserve in Manly.
The Balgowlah North students first learnt about Operation Crayweed on excursions to the Long Reef rock platform and the SIMS Marine Lab in Chowder Bay.
The students then explored that scientific knowledge through the creative process of drawing, song-writing, singing, and dancing in the making of the animated film.
This short film is the latest in a series of art/science collaborations between Turpin + Crawford Studio and SIMS/UNSW/USyd. The film engages young people to become ambassadors for marine health in general, and the importance of crayweed restoration for Sydney.
This project was supported by the John T Reid Foundation.