October 30 - November 5, 2016: Issue 287

Artists, Scientists And Children Celebrate Restoration Of Underwater Forests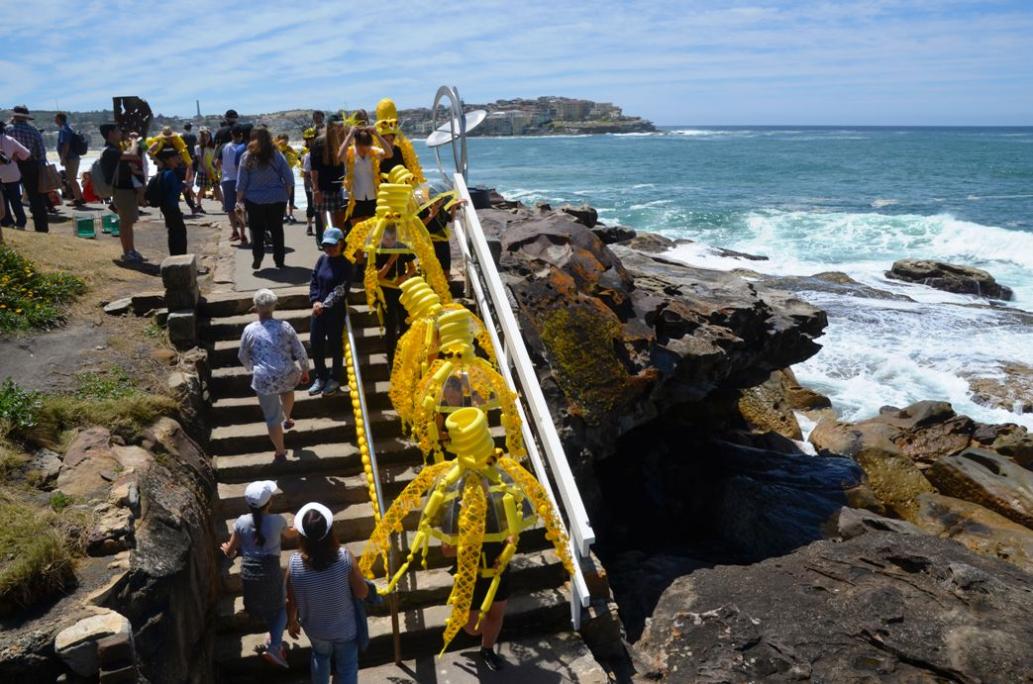 Children in wearable sculptures of marine creatures, including octopuses, parade along the Bondi coastal walk. Photo courtesy UNSW
Artists, Scientists And Children Celebrate Restoration Of Underwater Forests
October 25, 2016 by SIMS/UNSW SCIENCE MEDIA
An art installation celebrating a scientific project to replant forests of seaweed that disappeared from the Sydney coastline in the 1980s is a feature of this year's Sculpture by the Sea, Bondi.
Operation Crayweed Art-Work-Site
is a collaboration between artists Jennifer Turpin and Michaelie Crawford, of Turpin + Crawford Studio, and marine scientists from the
Sydney Institute of Marine Science
(SIMS) and
UNSW
who are carrying out the crayweed reforestation project.
The multi-faceted environmental and community installation includes a yellow 'art work-site' fence stretching 500 metres along the famous coastal walk between South Bondi and Marks Park, and a yellow navigational buoy anchored just offshore at the site where the scientists have replanted some of the crayweed – a large form of seaweed.
Waverley Mayor, Cr Sally Betts, officially launched Operation Crayweed Art-Work-Site today, saying it would inspire the many people who saw it to think about the environment and the underwater research.
As part of the project, students from nearby schools participated in a series of science and art workshops to learn about crayweed and to make wearable sculptures based on the rich diversity of marine animals that will inhabit the transplanted seaweed forests.
About 50 of the children donned their spectacular yellow sculptures and performed a 'Crayweeders' parade along the walkway as part of the launch. Singers and band players from local schools performed music including a special crayweed version of Yellow Submarine.
Seaweeds form vast underwater forests that underpin coastal food webs, capture atmospheric carbon and produce precious oxygen. Crayweed, orPhyllospora comosa, supports diverse marine communities and economically important species such as crayfish (rock lobster) and abalone in south-eastern Australia.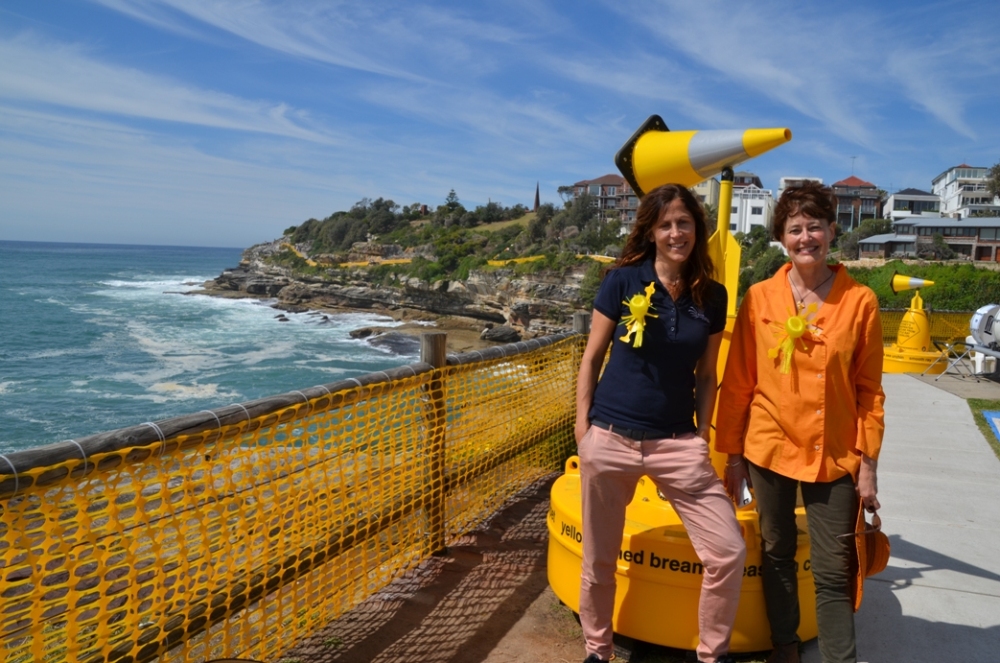 L-R: Marine ecologist Dr Adriana Verges and artist Jennifer Turpin at Sculpture by the Sea, Bondi. Photo - UNSW

"Alarmingly, temperate seaweed forests are in decline due to multiple human impacts," says Dr Adriana Verges, a marine ecologist at SIMS and UNSW.
"Crayweed disappeared from Sydney's coastline in the 1980s. Its decline occurred during a time when Sydney's sewage was released into the ocean immediately along the coast. Despite significant improvements in water quality since the 1990s, this species has not returned," she says.
After eight years of research, the scientists from SIMS and UNSW have developed a successful method of transplanting crayweed onto Sydney's 'deforested' reefs that creates new crayweed forests.
Under the moniker
Operation Crayweed
, they aim to bring crayweed back to the whole Sydney Metropolitan area, to re-establish this essential habitat and food source for Sydney's marine life.
Following successful test planting at Long Bay, the South Bondi plantation site is the first in a series of reforestation sites stretching all the way from Cronulla to Palm Beach.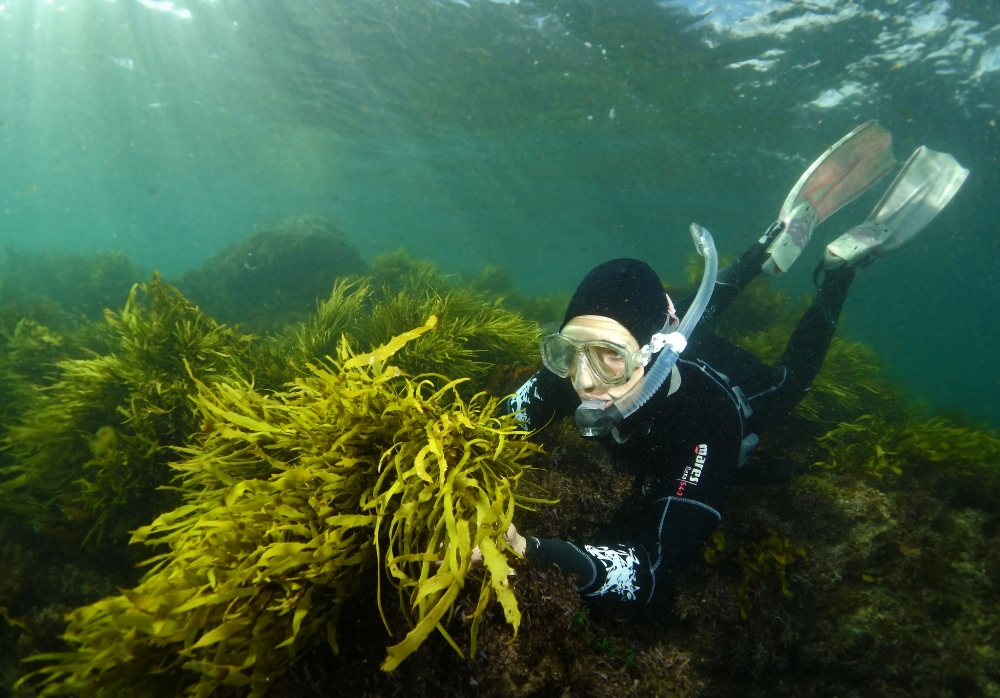 Director and CEO of SIMS, Professor Peter Steinberg, thanked the NSW Government, NSW Environmental Trust and NSW Government Recreational Fishing Trust for providing funding for the restoration project.
"We are extremely grateful for the financial support we have received from the State government. We are very excited about restoring this critical habitat forming species to Sydney's coastline. It is an environmental good news story", he said.
He also thanked the children for their participation in the project and launch, describing them as "the marine scientists and artists of the future".
"Our participatory art and science project celebrates a significant and far-reaching good news story for Sydney's coastal marine biodiversity," the artists said.
"It physically and conceptually highlights the otherwise invisible underwater crayweed reforestation project being carried out along the Sydney coast, including in this bay between South Bondi and Marks Park".
The buoy was ripped out by yesterday's high seas, but will be reinstalled when the swell dies down. Then, on weekends, a team of ocean swimmers wearing yellow bathing caps and flippers will swim around it and dive beneath the waves, to draw attention to the underwater reforestation site.
Operation Crayweed scientists will also be on site at Hunter Park and Marks Park to inform interested members of the community about the rehabilitation project and to carry out surveys to ascertain the value of the art and science collaboration.
As part of the installation, three 'viewscopes' at Hunter Park focus people's attention on the underwater worksite below.
The artists said the vibrant yellow elements were chosen because they are visually striking in the environment and the colour denotes 'special project' in maritime safety language. More poetically, the artwork interacts with the bay's ever-changing wind and light to cast diurnally transforming shadows along the coastal path and activate the fence line with a flutter of massed linear bunting, they said.
The art installation utilises everyday ready-made land and sea site safety materials including barrier mesh, work-site bunting, crab floats and marine buoys.
The materials are plastic and selected for their weatherproof durability in the exposed coastal conditions. Other materials were investigated but were either not durable or proved environmentally problematic for the marine environment.
The selected materials will be carefully installed and removed to protect against loss into the environment, re-used in future 'art-work-site' installations along the coast and then eventually recycled.
The Sydney-based Operation Crayweed science team are Dr Adriana Vergés, Dr Ezequiel Marzinelli, Dr Alexandra Campbell, Professor Peter Steinberg and PhD students Lana Kajilich and Georgina Wood and videographer/photographer John Turnbull.
Turpin + Crawford Studio is a multi-award winning environmental public art practice. They are based in Sydney and have 20 years experience working with commitment at the interface of art, science and the public domain.
Sculpture by the Sea, Bondi runs from 20 October – 6 November 2016.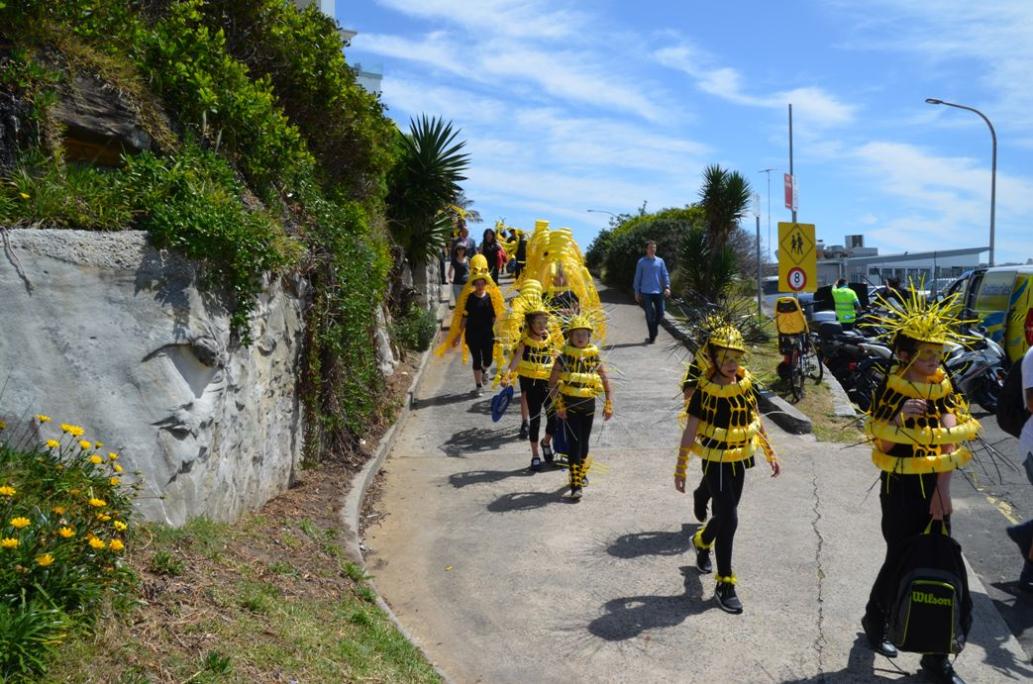 Children in wearable sculptures of sea urchins as part of Operation Crayweed Art-Work-Site. Photo courtesy UNSW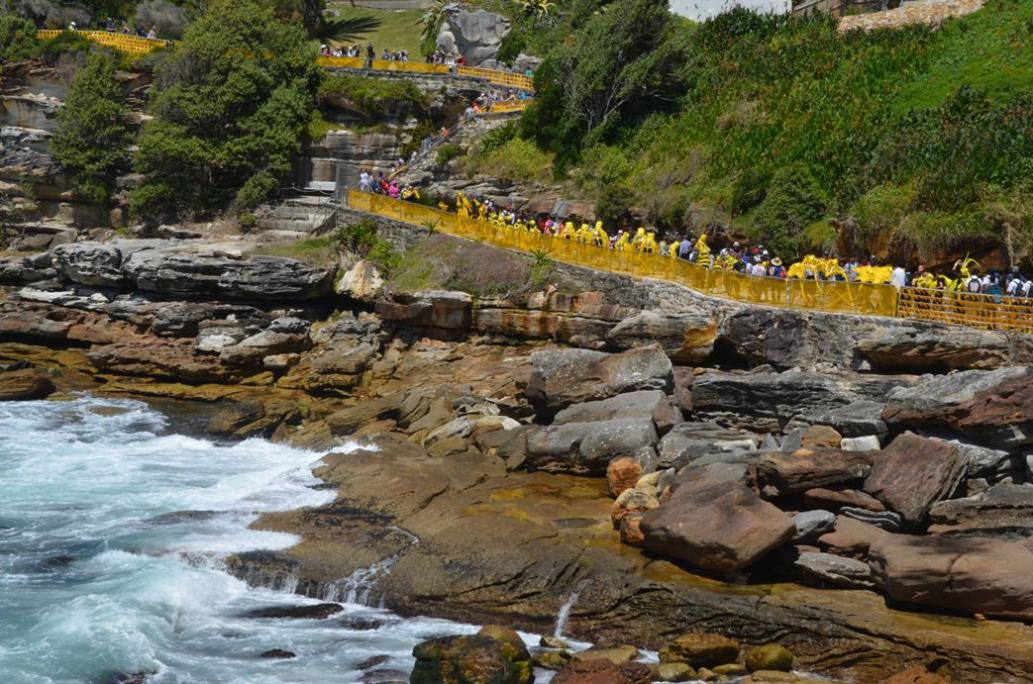 Children in wearable marine sculptures parade along Bondi coastal walk as part of Operation Crayweed Art-Work-Site. Photo courtesy UNSW
Report and Photos courtesy University of New South Wales, 2016