August 22 - 28, 2021: Issue 507

Seaweed Forests Festival Podcast Launch: Dive Deep Online Into How YOU Can Help Our Oceans!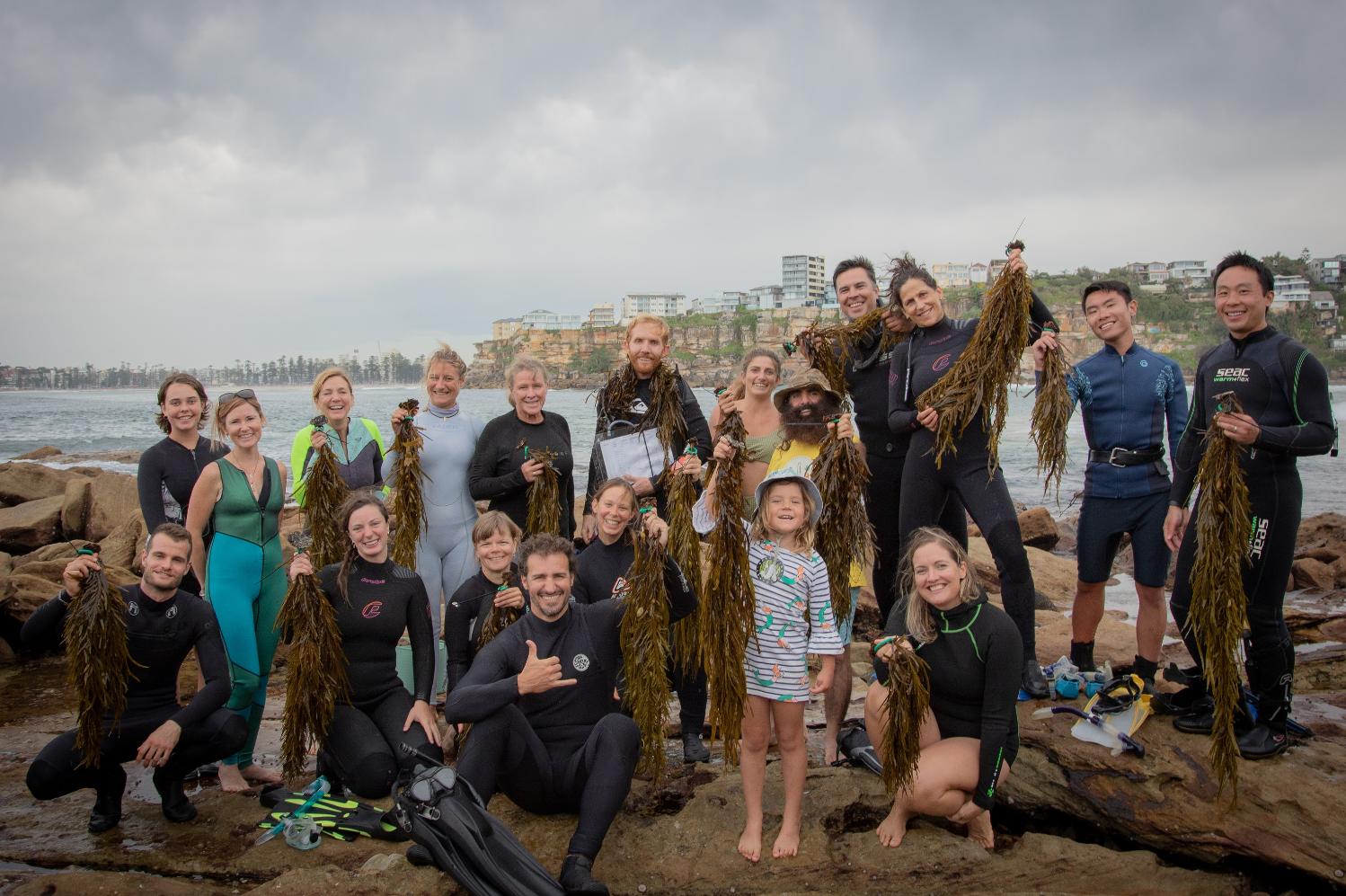 Crayweed Restoration, Dr. Adriana Vergés and the SIMS team with Manly Seaweed Forests Festival participants, including Costa! - SIMS photo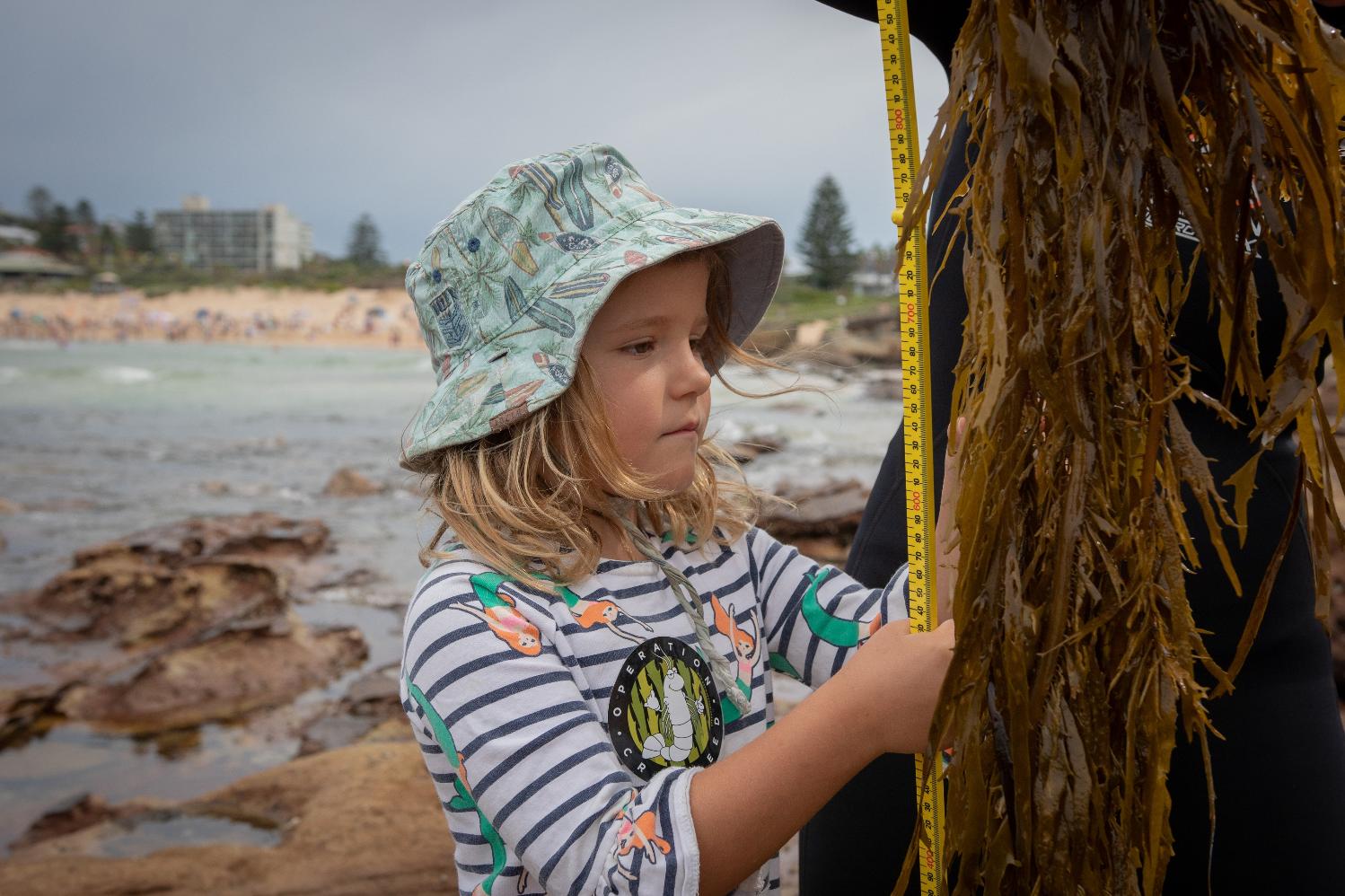 The next generation of Crayweed restorers - getting a measure of things
- SIMS photo
Earlier this year, the Manly Seaweed Forests Festival brought together Indigenous leaders, scientists, thinkers, chefs and artists for a fascinating series of panel discussions and hands-on events, all housed within the stunning bull kelp installation 'Seaweed Arboretum' by acclaimed artists Jennifer Turpin and Michaelie Crawford at the Manly Art Gallery and Museum.

Now, over the course of National Science Week and beyond, we're launching the Seaweed Forests Festival Podcast series, featuring high profile speakers and examining all-things-imaginable to do with seaweed, from climate change mitigation to Indigenous uses and therapeutic effects of swimming in underwater forests. Speakers include Olympian swimmer Shane Gould AM MBE, Professor Tim Flannery, proud Boandik Elder Uncle Ken Jones and the passionate Costa Georgiadis, to name just a few.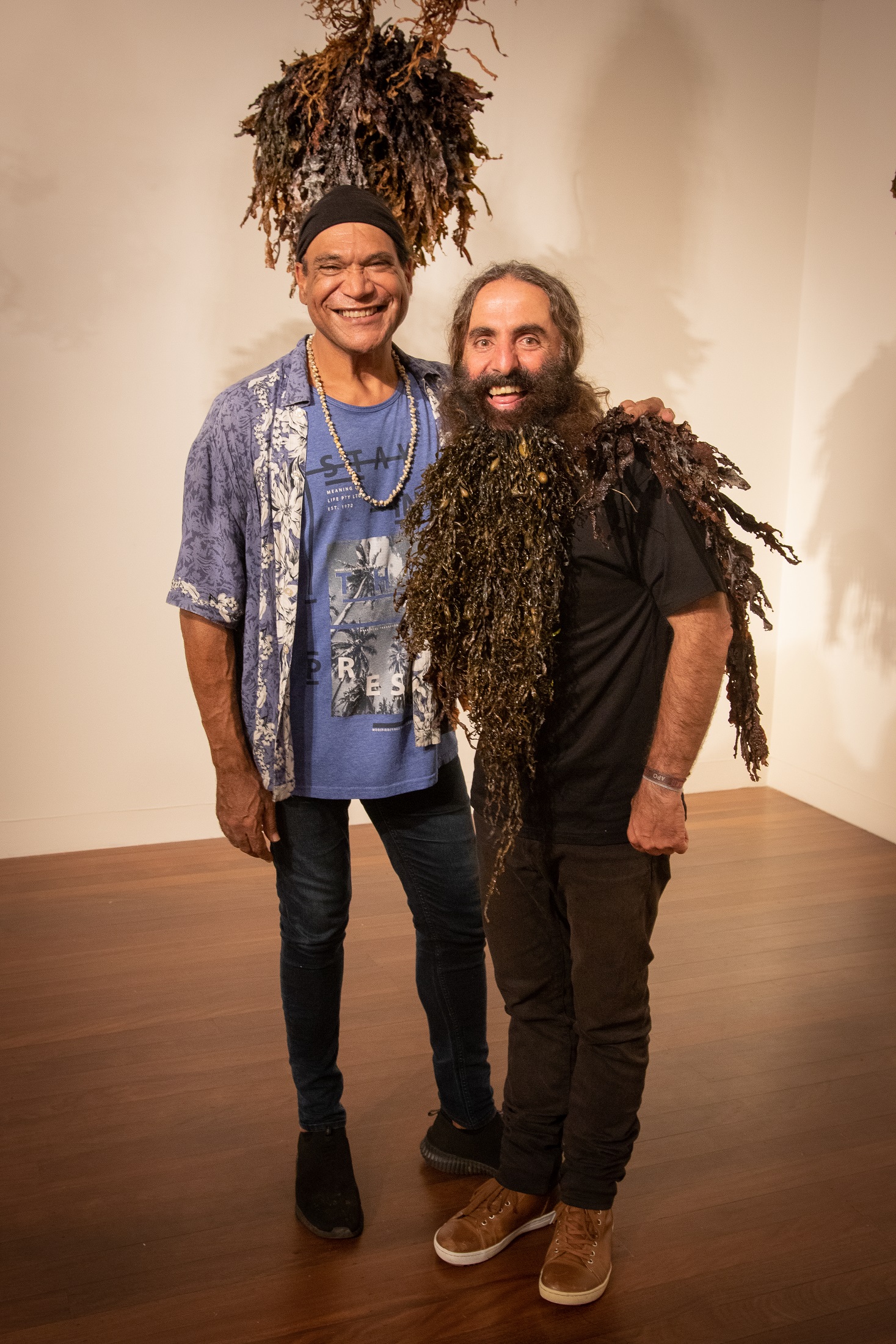 Brilliant cook Mark Olive and Costa at the launch
We're excited that the podcast will allow listeners to discover the wonders of the lush underwater forests that underpin Australia's Great Southern Reef as well as coastlines all over the world.
"Seaweeds make up incredibly beautiful and highly productive underwater forests, and yet people know remarkably little about them. The Seaweed Forest Festival Podcast brings together a diversity of artists, thinkers, chefs and entrepreneurs to honour the beauty and importance of our underwater forests," explains Adriana Vergés, from UNSW Sydney and the Sydney Institute of Marine Science, founder of Operation Crayweed, and the driving force behind the Seaweed Forests Festival.
Adriana and the leadership team of Operation Crayweed started restoring Sydney's underwater forests back in 2011. Since then they have been incredibly successful in their underwater gardening initiatives, restoring habitat in more than eight locations along the Sydney Coastline.
Operation Crayweed is a flagship project of the Sydney Institute of Marine Science – it's a great story where the science of restoring Sydney's underwater forests is actively shared with communities in a way that encourages an enduring passion for the marine environment. The podcast series is all about doing just that! - Encouraging us all to rethink our relationship with seaweed.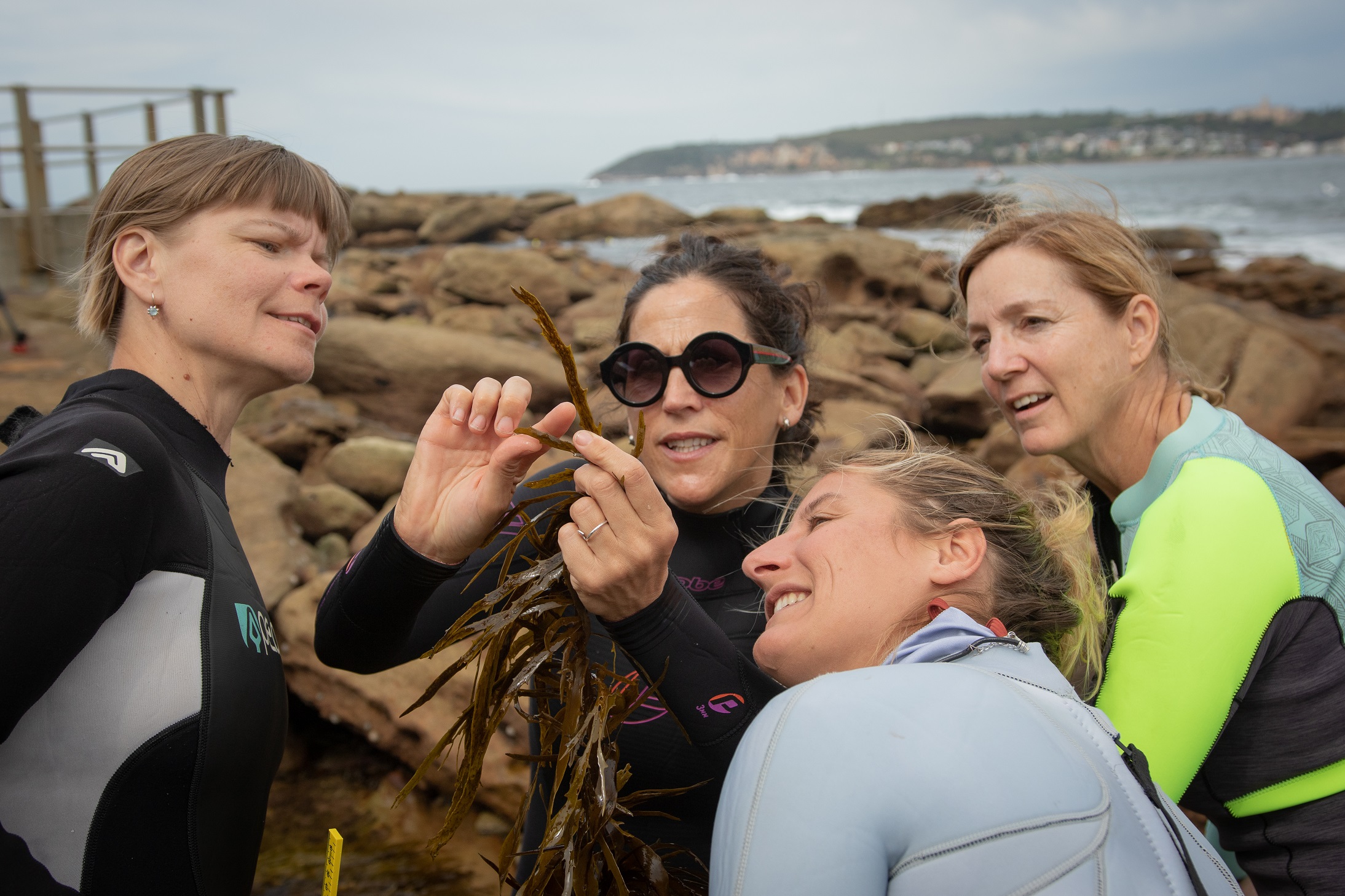 Manly Seaweed Forests Festival 2021 - Crayweed Restoration, Dr. Adriana Vergés explains some details to participants - SIMS photo

The podcast is a legacy piece for the community. It will propagate the alchemy of art, science and food that our festival started. Thanks so much for helping keep the conversations going.
Listen here, or on your preferred podcast app.
Episode 1 Festival Introduction - Great Southern Reef - Seaweed Inspiration
Be prepared to immerse yourself in journey of discovery as we explore the multi dimensional wonder of these fascinating macro algaes we call seaweed.

Upcoming episodes features scientists from the Sydney Institute of Marine Science in discussions with a host of leading thinkers including Professor Tim Flannery and Shane Gould AM, all housed within a stunning art installation, 'Seaweed Arboretum' by acclaimed artists Jennifer Turpin and Michaelie Crawford at the Manly Art Gallery and Museum.

Stay tuned too for a curious excursion through the festival's hands-on art events, snorkelling tours, tastings of seaweed delicacies, and much more.
Episode 2 Seaweed Victim and Unlikely Hero in the fight against climate change
The impact of ocean warming on the bleaching of Australia's Great Barrier Reef is well known, but did you know what increasing temperatures and heat waves are also causing the loss of critical seaweed habitat? Interestingly, these seaweed forests might hold the key to the slowing, or even reversing of climate change.

Australia is uniquely positioned for this challenge, having the highest levels of seaweed biodiversity in the world and with over 8000 km of coastline being dominated by seaweeds in the southern half of the continent. Join ABC Head of Documentaries Stephen Oliver on a panel discussion with Professor Tim Flannery (Climate Council, Australian Museum), marine ecologist and conservationist Sahira Bell (University of Western Australia), founder and director of Young Henrys Oscar McMahon and Asparagopsis seaweed farmer and environmentalist Sam Elsom (Sea Forest). Festival goers snacked on tasty seaweed portions from marine ecologist Dr Pia Winberg of Phycohealth.

Guest Bios

Professor Tim Flannery, 2007 Australian of the Year, is the author of the internationally acclaimed The Weather Makers and was Australia's Climate Commissioner from 2011-2013. Previously head of mammalian biology at the Australian Museum (1984-1999) and recently he re-joined the Australian Museum to further his research into climate change and communicate the most relevant issues facing Australia and the Pacific. In 2017 he published Sunlight and Seaweed: An Argument for How to Feed, Power and Clean Up the World.

Sahira Bell is a marine ecologist and kelp forest enthusiast who is dedicated to understanding the impact of ocean warming and marine heatwaves on Australia's Great Southern Reef. Sahira's mantra, people protect what they love, and love what they understand, is the driving force behind her projects, where she takes a novel approach to marine science by combining traditional research with outreach to ensure her work contributes to positive change.

Oscar McMahon was born and raised in Sydney. After a misspent youth of skateboarding, touring in a rock n roll band and bar tending, a chance meeting over said bar lead to him and some cohorts founding Young Henrys Brewing in Sydney's Newtown, November 2011. Oscar is passionate about music, beer, hospitality, sustainability, people and the world around him. He is a proud husband and father to a little girl, a Founder and Director of Young Henrys, a part owner and director of the Unicorn Hotel in Sydney's Paddington and sits on the board of the Newtown Neighbourhood Centre. A proud Newtowner, he loves Sydney for what it is, what it could be and believes we are all responsible for preserving, nurturing and promoting it's incredible culture.

Sam Elsom is a passionate environmentalist with over 15 years experience in sustainability. Having founded one of Australia's first sustainable apparel businesses to measuring social and environmental impact across supply chains as well as implementing a satellite factory in India to support poor communities with income, training, clean water and education. Sam was drawn to explore seaweed cultivation for its impressive capacity to sequester CO2 as a potential solution to reverse Climate Change.

Moderator: Stephen Oliver, previously an award-winning filmmaker, is now Manager of Documentaries at the ABC and oversees many of the national broadcaster's biggest hits, including Fight for Planet A, Big Weather, Australia's Ocean Odyssey, Revelation, War on Waste and Love on the Spectrum. Stephen is passionate about telling stories with real world impact. In 2020, he headed up several ground-breaking shows and game-changing impact campaigns around climate and the environment. As from mid-2020 Stephen also manages much of the Arts slate and the popular science series Catalyst.

Podcast theme music is called "Cave" composed and performed by podcast host Sophie Raymond from her Album HiATUS.
Episode 3 The Awe and Wonder of our Underwater Forests
For those that can get past the initial fear of the murky depths, seaweed forests can become a world of wonder, discovery, and solace. The addicting and therapeutic effect of swimming through this underwater world drives many Sydneysiders to make the cold plunge every morning. Speakers include Olympian swimmer Dr. Shane Gould, artist Jennifer Turpin, Operation Crayweed co-founder Dr. Alex Campbell (USC) and Robert Cooley, senior Gamay Ranger from La Perouse Aboriginal Land Council Moderated by Costa Georgiadis. Festival goers enjoyed fabulous seaweed delicacies by celebrated indigenous chef, Mark Olive from Black Olive Catering.

Speaker Bios

Dr. Alexandra Campbell is a marine ecologist working to solve global problems with seaweed. As a key member of USC's Seaweed Research Group, Alex's research helps restore lost underwater forests, supports the development of sustainable seaweed aquaculture in Australia and links human health to the health of the coast. An early connection to the sea inspires Alex. Now, as an educator, a 2021 STA #SuperstarsofSTEM and enthusiastic science communicator, she is inspiring the next generation of ocean stewards.

Jennifer Turpin is a Sydney artist whose collaborative practise explores our interconnected relationship with the natural world. Over the last 2 and a half decades, her artworks have embraced the energy of nature, the inherent qualities of place, the knowledge of other disciplines, and the engagement of local communities.

Dr Shane Gould is best known as an Australian sporting legend for swimming. She is lesser known as a cultural scholar and a lifelong ocean swimming and surfing enthusiast. Shane lends her expertise to the Manly Seaweed Forests Festival as an ocean user, with drowning prevention teaching experience. She is also an academic, writing a doctoral thesis about the culture of swimming in Australia, at Victoria University 2019. Shane lives in Bicheno on the east coast of Tasmania where she is a member of the Bicheno surf lifesaving club and swims most days amongst the varied seasonal marine life and Tasmanian seaweeds, joining other invigorated cold-water swimmers.

Shane is particularly interested in the interactions of people and environment at the transition zone between land and water, a place of wonder for some, pleasure for many and tragedy for too many others. Dr Shane Gould believes there needs to be more marine protected areas along the coasts of Australia, so highlighting the beauty, and ecology of the seaweed forests in Manly is one step toward understanding and appreciating the function of biodiversity required for healthy ecosystems upon which human resilience relies.

Robert Cooley (Senior Ranger, Gamay Rangers, La Perouse Local Aboriginal Land Council) has over 30 years of experience in conservation, marine and land management. He is Senior Ranger in the Gamay Rangers team, established in 2019 as an initiative that empowers Aboriginal people to care for ancestral lands while also providing skills and employment. He is a prominent member of the La Perouse Aboriginal Community with traditional family links to Gamay and the NSW South Coast areas. He is the President of the La Perouse Aboriginal United Mens Group.

Moderator: Costa Georgiadis is a landscape architect who gardens with his hands and his heart and in 2019 won the Australian Logie award for the Most Popular Presenter. Costa has an all-consuming passion for plants and people he knows how to bring out the best in both of them, and takes great pleasure in bringing them together.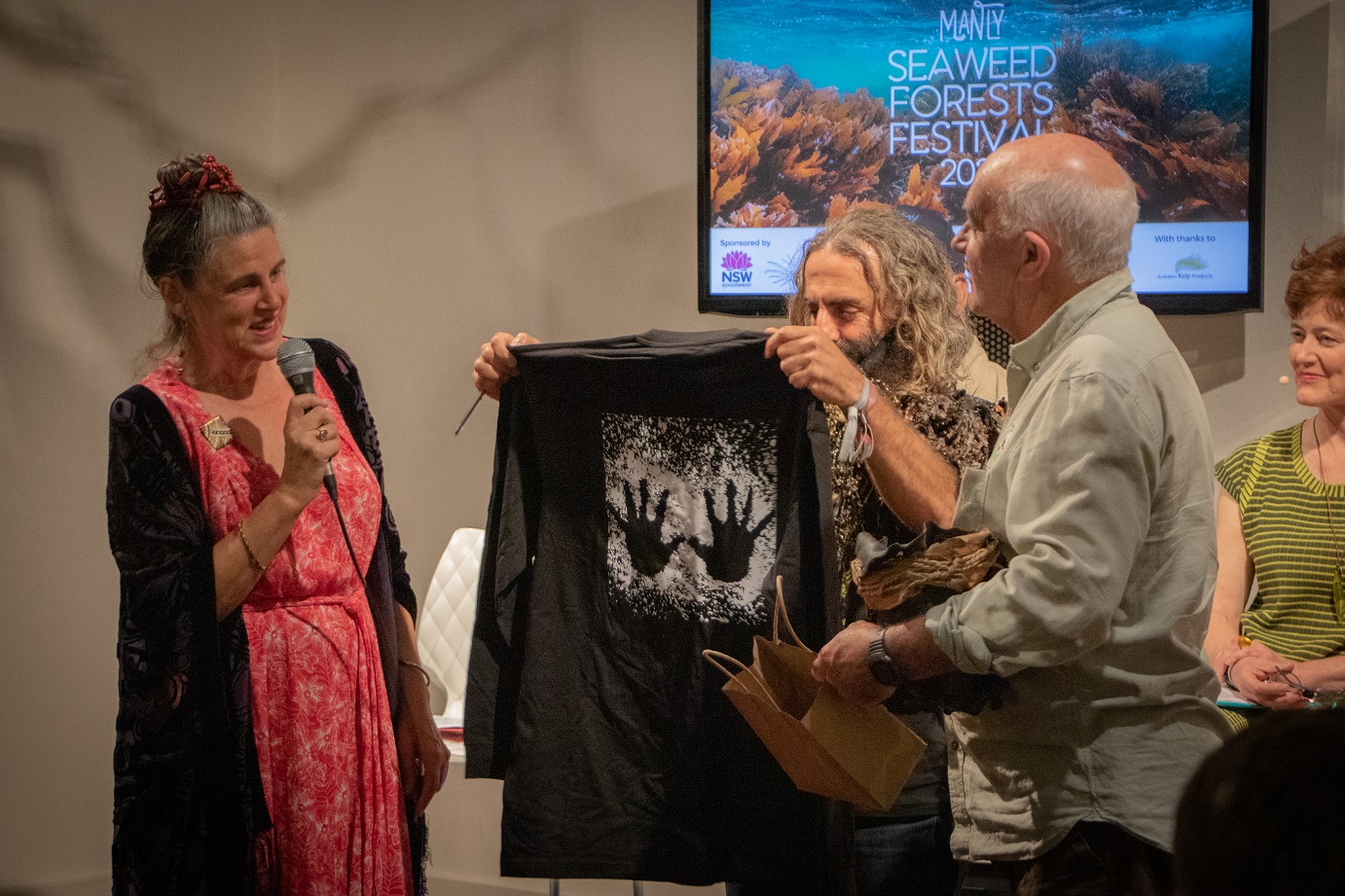 Episode 4 Seaweeds as Food
The diverse culinary delights and nutritional benefits of seaweed are explored by a diverse panel moderated by renowned food journalist Joanna Savill and featuring seaweed health proponent and entrepreneur Dr Pia Winberg (PhycoHealth), chef Gary Fishwick (Terrara House), proud Boandik Elder from South Australia and cultural educator Uncle Ken Jones, seaweed scientist Zoe Brittain (Deakin University) and nutritionist Dr Libby Swanepoel (University of Sunshine Coast). Festival goers enjoyed fabulous seaweed creations by celebrated chef Gary Fishwick.

Speaker Bios

Marine Ecologist, Dr Pia Winberg, is an Entrepreneur who founded two companies to progress seaweed production and market development in Australia. Venus Shell Systems for seaweed production technology and Phycohealth for seaweed product development.

Zoe Brittain is an environmental anthropologist and PhD student at Deakin University, Warrnambool. Her research areas of interest include Indigenous knowledge of seaweeds in Australia and New Zealand, and issues of equity and Indigenous rights in the developing Australasian seaweed industries.

Dr Libby Swanepoel, Senior Lecturer in Nutrition and Dietetics, focuses her research across food systems for global development. As a dietitian and public health nutritionist, she is interested in nutrition sensitive agriculture for food and nutrition security, community capacity building and improved livelihoods in Australia and across the Indo-Pacific region. Libby is an applied researcher, working to understanding the diversity of protein, fibre and micronutrients in farmed and wild-harvest seaweed for human application. With experience in food technology, Libby is interested in investigating bioavailability and functionality of seaweeds and integrating this with recipe development and consumer preferences. Libby's background in social science sees her promoting social and consumer benefits through a vision for sustainable product development and business growth.

Gary Fishwick is a Chef at Terrara House on the South Coast of NSW and has over 30 years of food experience. Gary is passionate about fresh produce and great tasting flavours. He is now working with Pia Winberg at Phyco Health, assisting in food production and coming up with new seaweed creations.

Uncle Ken Jones is a proud Boandik Elder from South Australia. Ken has always had a keen interest in the importance of sustainability and the environment and his current work as an educator reinforces and extends this passion. His knowledge of Australian flora and fauna is extensive and his achievements are many and varied, including his award for 2019 NAIDOC Male Elder of the Year, Boandik Community.
2016 Lifelong Unsung Hero, 50 plus years, Conservation Council of South Australia
2014 Mount Gambier Chamber of Commerce "Environment and Sustainability Award
2014 & 2015 NAIDOC Caring for Culture Award
2014 SA WATER Green Lagoon Cultural Education Award
2000 Environmental Citizen of the Year, Grant District Council
Moderator: Joanna Savill has been exploring the world of food professionally since the early 1990s – as a journalist, TV presenter and producer, restaurant critic and author. She has directed, hosted and created food events and festivals around the world and loves nothing better than to talk – and eat – fascinating food in all its forms.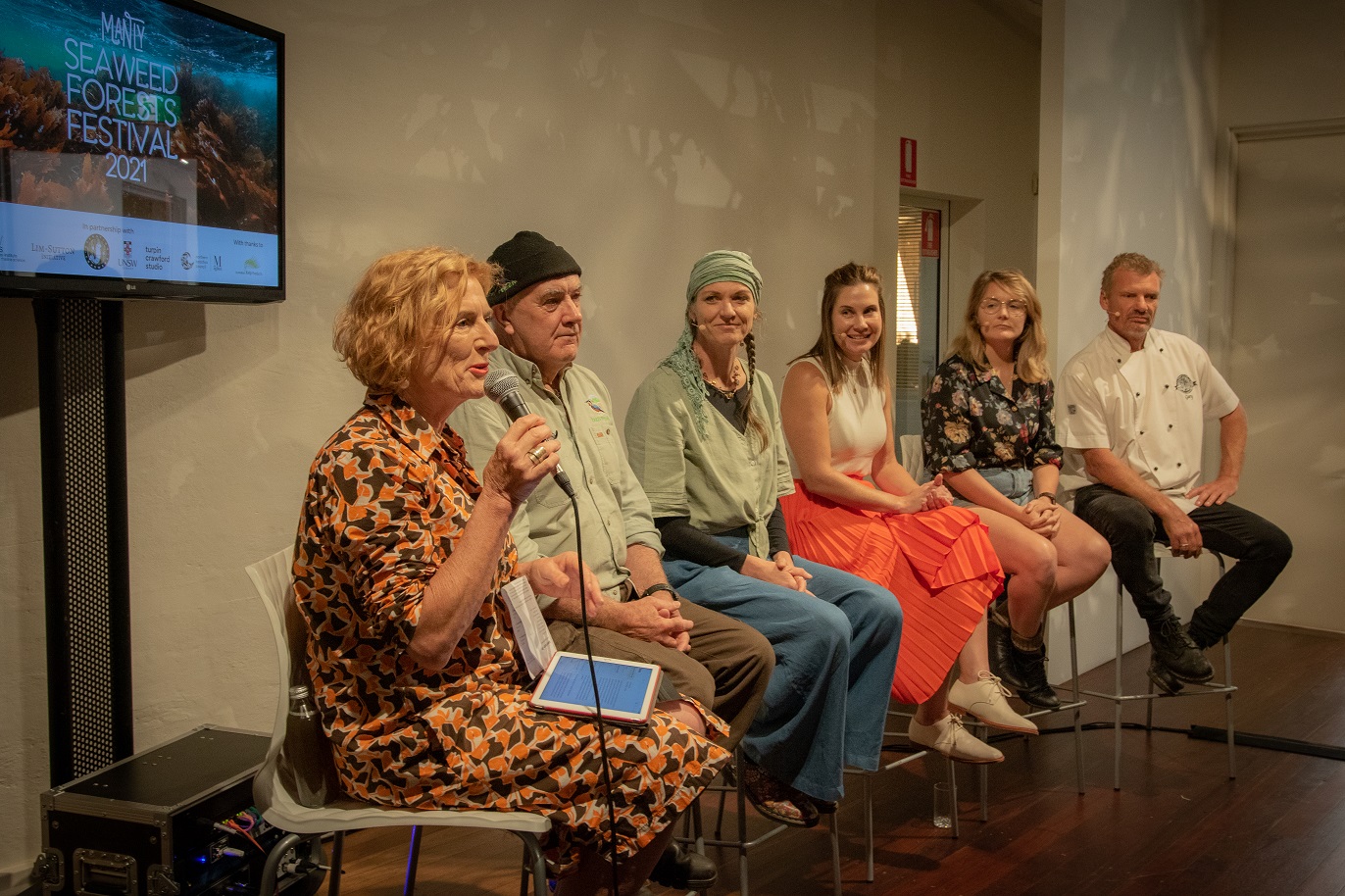 Episode 5 Innovative uses of seaweed through history and into the future
Saltwater People have been using seaweed for millennia, for a wide variety of purposes from food and fishing to cultural and ceremonial use. Many innovators are continuing this long history of seaweed use by creating seaweed fertilisers, cosmetics, and even using it to brew beer.

Experts in this talk include seaweed research leader Professor Nick Paul (University of the Sunshine Coast), business owner and champion of Indigenous seaweed production and collection methods Sarah Thomas (South Coast Seaweed), founder of the Deep Green Biotech hub Professor Peter Ralph (University of Technology Sydney), and seaweed entrepreneur Jo Lane (SeaHealth Products), and moderator Wendy Harmer (ABC). Enjoy fabulous seaweed creations by celebrated chef Gary Fishwick.

Speaker Bios

Jo Lane is the owner of Sea Health products and has a background in Marine Science and sustainable Coastal environments. She has worked in a variety of roles including seal trainer, diver and working with volunteers on coastal weed programs and now Kelp farmer. Jo also received a Churchill Scholarship in 2019 to travel and study the farming systems behind the global aquaculture.

Professor Nick Paul is a marine scientist at the University of the Sunshine Coast. He leads applied R&D on seaweed for new product development, based upon a platform of sustainable production. He is also project leader on international research for development projects, focussed on domesticating new strains, creating new culture techniques and developing bioproducts for farmed seaweed across the Indo-Pacific. His interests in Australia revolve around high-value products, including functional food and nutraceuticals for human health as well as bioactives for livestock and agriculture. Nick's role combines research expertise with a strong focus on industry partnerships, innovation, intellectual property development and commercialisation.

Peter Ralph, expert in photosynthesis and pigments biosynthesis in algae. Peter has over 20 years of experience in aquatic photosynthesis research, making significant advances in the understanding of photosynthesis and biomass production in algae. In 2013, he created a new research program that applies his knowledge in photobiology, biophysics and cellular biochemistry to develop sustainable raw algae materials to grow the emerging algal biotechnology sector in Australia. He works with a wide range of start-ups, SMEs, not-for-profits, NGOs and multi-nations to deliver a sustainable circular bioeconomy.

Sarah Thomas is a Kamilaroi woman, and the co-founder of South Coast Seaweed, a small family owned indigenous business located on the NSW South Coast that focuses on traditional research and learning to create sustainable seaweed products for our future. Sarah is originally from the Hunter Valley but has strong ties to the South Coast as it is where her grandparents are from and she has also lived there for over 12 years.

Moderator: Wendy Harmer co-hosts ABC Radio Sydney's Breakfast program with Robbie Buck, which covers all of the latest news, current affairs, and sport, plus local stories from across Sydney. As a political journalist, stand-up comedian, author, playwright and producer, Wendy has many titles under her belt. She has performed her one-woman shows across the world including in Melbourne, Edinburgh, London, Montreal and Glasgow, and led her hugely popular Breakfast show at Sydney's 2Day FM to top ratings for eleven years. The author of several best-selling books for adults, children and teens, Wendy has had great success writing fiction and non-fiction titles including Farewell My Ovaries, Love and Punishment, Roadside Sisters, I lost My Mobile at the Mall and her series of children's books Pearlie in the Park. To add to that, Wendy produced, wrote and presented the ABC television documentary Stuff, and recorded the national ABC podcast series Is It Just Me? with Angela Catterns. She is a prolific contributor as a columnist for newspapers and magazines. Wendy and her husband Brendan have two children and live on Sydney's Northern Beaches.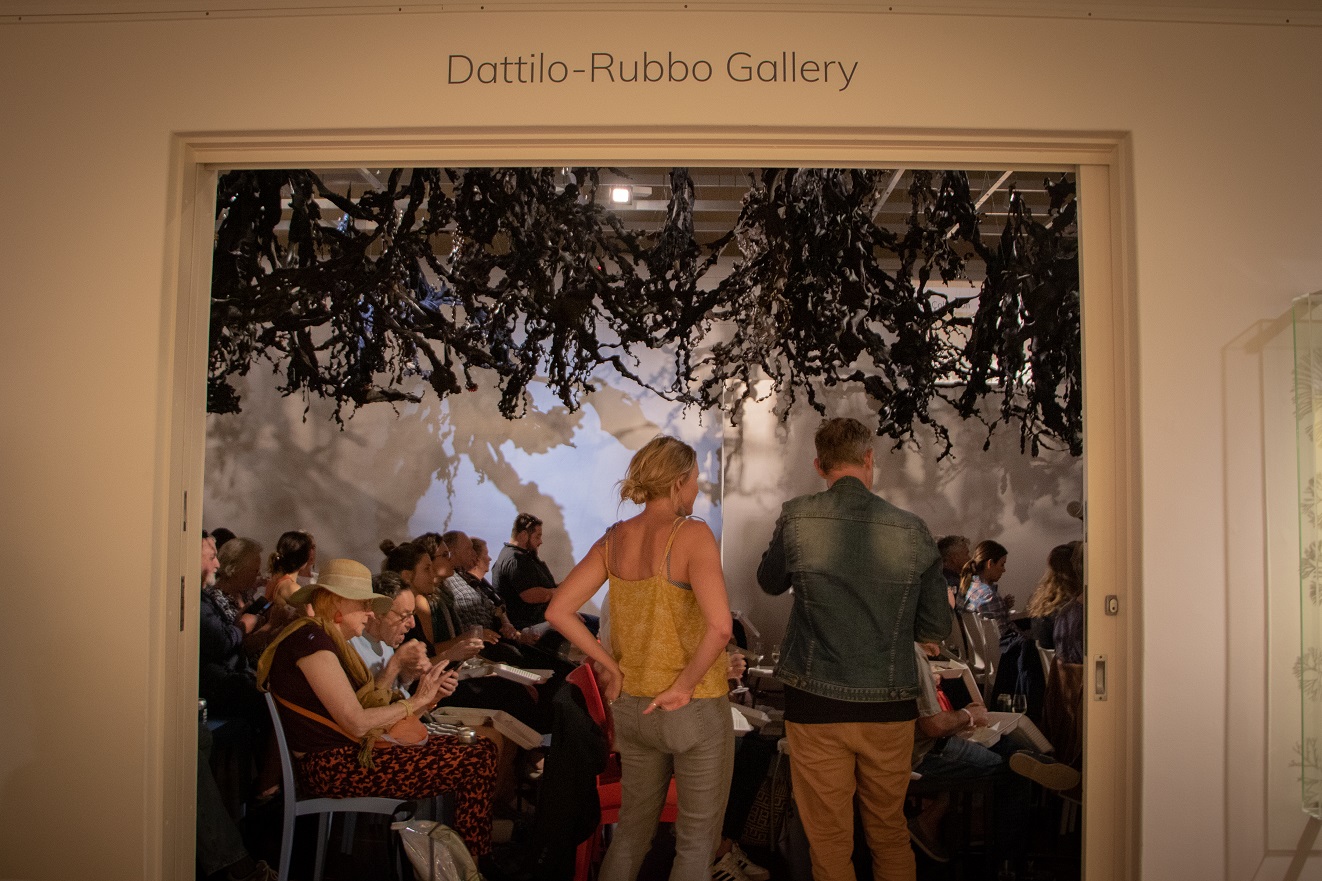 Episode 6 Making the science visible and encouraging stewardship of our oceans
Sydneysiders live in a city built around a beautiful natural harbour and bordered to the east by the expansive and biodiverse Pacific Ocean, so it's no wonder that a strong sense of ocean stewardship is shared by many in the community. Surfers, fishers, swimmers and walkers are increasingly advocating for ocean health and joining ocean care and conservation groups, like the Friends of Cabbage Tree Bay. Join local ocean swimmer and philanthropist Dorset Sutton to learn how conversation, community, stewardship, and philanthropy have come together to create restoration and conservation opportunities along the Sydney coastline through four flagship projects led through the Sydney Institute of Marine Science: Operation Crayweed, Operation Posidonia, SeaBnB – Saving Sydney Seahorses, and Living Seawalls. Speakers will include the leading scientists behind these projects: Dr Ziggy Marzinelli (University of Sydney), Associate Professor Adriana Vergés (UNSW Sydney), Associate Professor Melanie Bishop (Macquarie University), Mitchell Brennan (SeaLife Sydney Aquarium) and Dorset Sutton (Lim-Sutton Initiative) – Moderated by Costa Georgiadis. Snack on seaweed portions from marine ecologist Dr Pia Winberg of Phycohealth.
Speaker bios
Dr Ezequiel "Ziggy" Marzinelli is a Senior Lecturer at The University of Sydney. Ziggy's research focuses on understanding the processes that generate, maintain and impact marine ecosystems. He uses this information to develop solutions to environmental problems, for example, via restoration of degraded marine forests.

Adriana Vergés is a marine ecologist based at UNSW Sydney and the Sydney Institute of Marine Science. Her research investigates the ecological impacts of climate change in our oceans and develops hands-on restoration solutions to protect and conserve underwater forests and meadows. Much of her research is experimental and takes place underwater, with a SCUBA tank strapped to her back. Adriana is one of the lead investigators behind 'Operation Crayweed', a project that is restoring missing seaweed forests along the Sydney coastline. This project was awarded a Green Globe Award for Impact by the New South Wales Government in Australia in 2017. More recently, Adriana launched 'Operation Posidonia', a collaborative project that is developing new citizen science initiatives to restore endangered seagrass meadows in collaboration with Indigenous rangers. In addition to marine ecology, Adriana is very passionate about communicating science to the wider public, especially through films and new media. In 2019, she was awarded the UNSW Emerging Thought Leader Prize.

Dorset Sutton had a long international business career with Colgate Palmolive before retiring with his wife Jenny Lim in Manly. Dorset and Jenny quickly immersed themselves in the natural beauty of Cabbage Tree Bay, Shelly Beach and the harbour foreshores of Manly, Fairlight and Clontarf. Dorset joined the Bold and Beautiful Swim group which swim each day to Shelly Beach and back, exploring the amazing marine life sanctuary we have on our doorstep, kayaking on the harbour and enjoying harbour foreshore walks. Not one to be idle, Dorset was keen to combine his professional skills, his wonder of the marine environment, and his enviable generosity of spirit. The Sydney Institute of Marine Science's work provided the opportunity for what has become a very unique partnership, where the value goes well beyond philanthropic support, as Dorset and Jenny are quite literally integral to the SIMS team. It has provided Dorset with the opportunity to learn about marine science from a layman's perspective and empowered SIMS with the dynamic energy of the Lim-Sutton Initiative.

Melanie Bishop is an estuarine and coastal ecologist with over 15 years of experience researching temperate ecosystems. Her team's research addresses how coastal ecosystems operate and respond to changes in climate, coastal development and shifts in management regimes. Her present research has a particular focus on the development and evaluation of engineering interventions that create habitat and conserve native biodiversity in degraded seascapes. She is co-leader of the Living Seawalls Project and the Green Engineering Working Group of the World Harbour Project. Her research leadership and impact has been recognized with a 2010 New South Wales Scientist of the Year Award, the 2012 Brian Robinson Fellowship from the Banksia Environmental Foundation, and the 2017 Jim Piper Award for Research Leadership from Macquarie University.

Moderator: Costa Georgiadis is a landscape architect who gardens with his hands and his heart and in 2019 won the Australian Logie award for the Most Popular Presenter. Costa has an all-consuming passion for plants and people – he knows how to bring out the best in both of them, and takes great pleasure in bringing them together.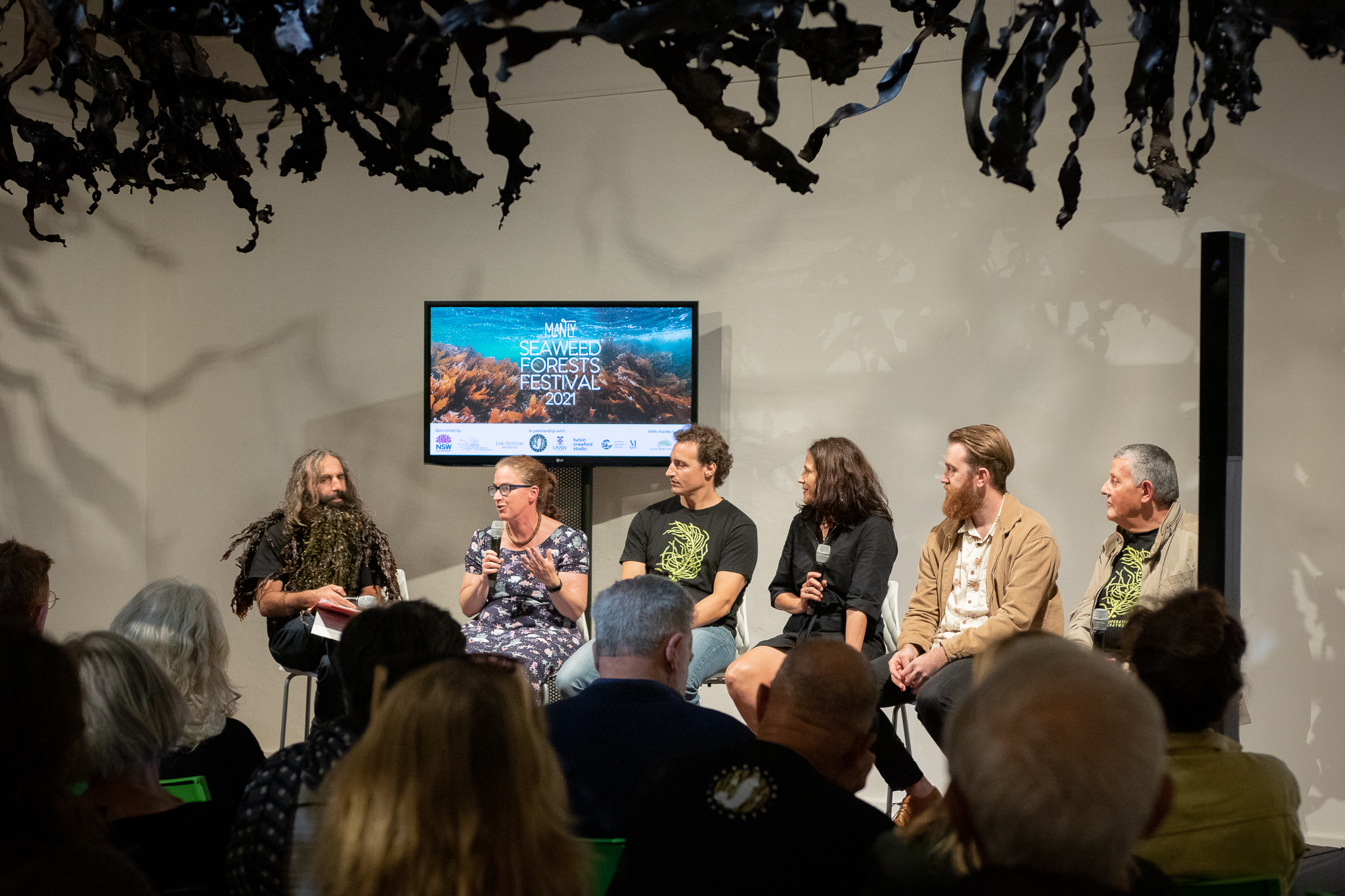 Generously funded by the My Community Grant program from the NSW Government, and sponsored by the Sydney Institute of Marine Science and the Lim-Sutton Initiative, the festival podcast provides an enduring resource which delivers a reminder to us all, of our critical role in caring for our marine wonder.
ABOUT SIMS
The Sydney Institute of Marine Science (SIMS) is committed to developing, activating and communicating the 'science we need, for the oceans we want,' throughout the UN Decade of Ocean Science (2021-2030) and beyond.
This goal requires collaboration, and SIMS is uniquely equipped to draw on the expertise of a broad diversity of skills in marine science through its partnership with UNSW Sydney, the University of Sydney, the University of Technology Sydney, and Macquarie University. SIMS research is solution focused and results in novel approaches for responding to a range of environmental challenges.
Operation Crayweed is one of SIMS' Flagship projects – a great success story where the science of restoring Sydney's underwater forests, is actively shared with local communities in a way that encourages an enduring stewardship and passion for the marine environment.
To find out more, please visit http://www.sims.org.au/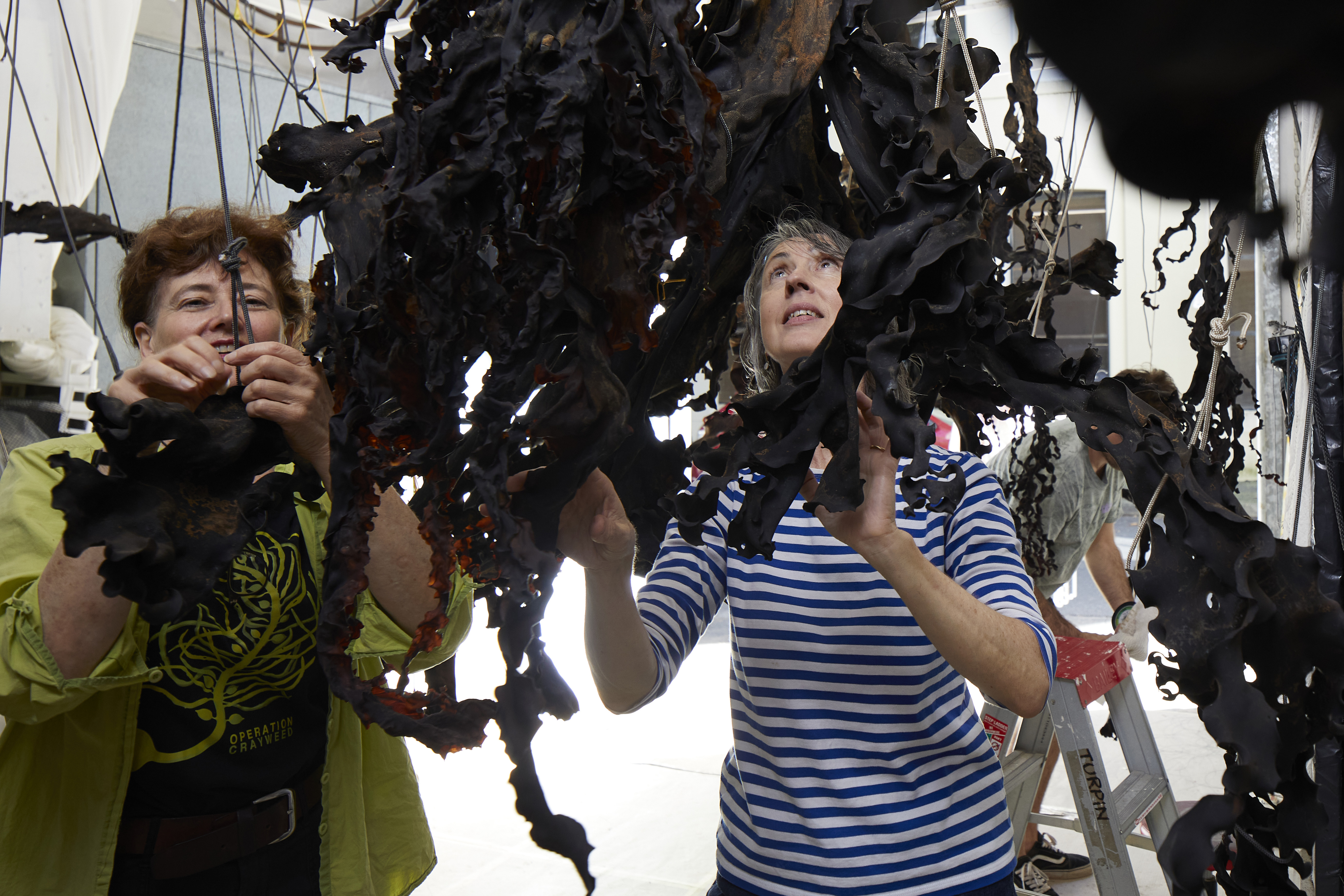 L to R: Artists Jennifer Turpin and Michaelie Crawford working on the seaweed exhibits in their Chippendale studio - photo by Ian Hobbs.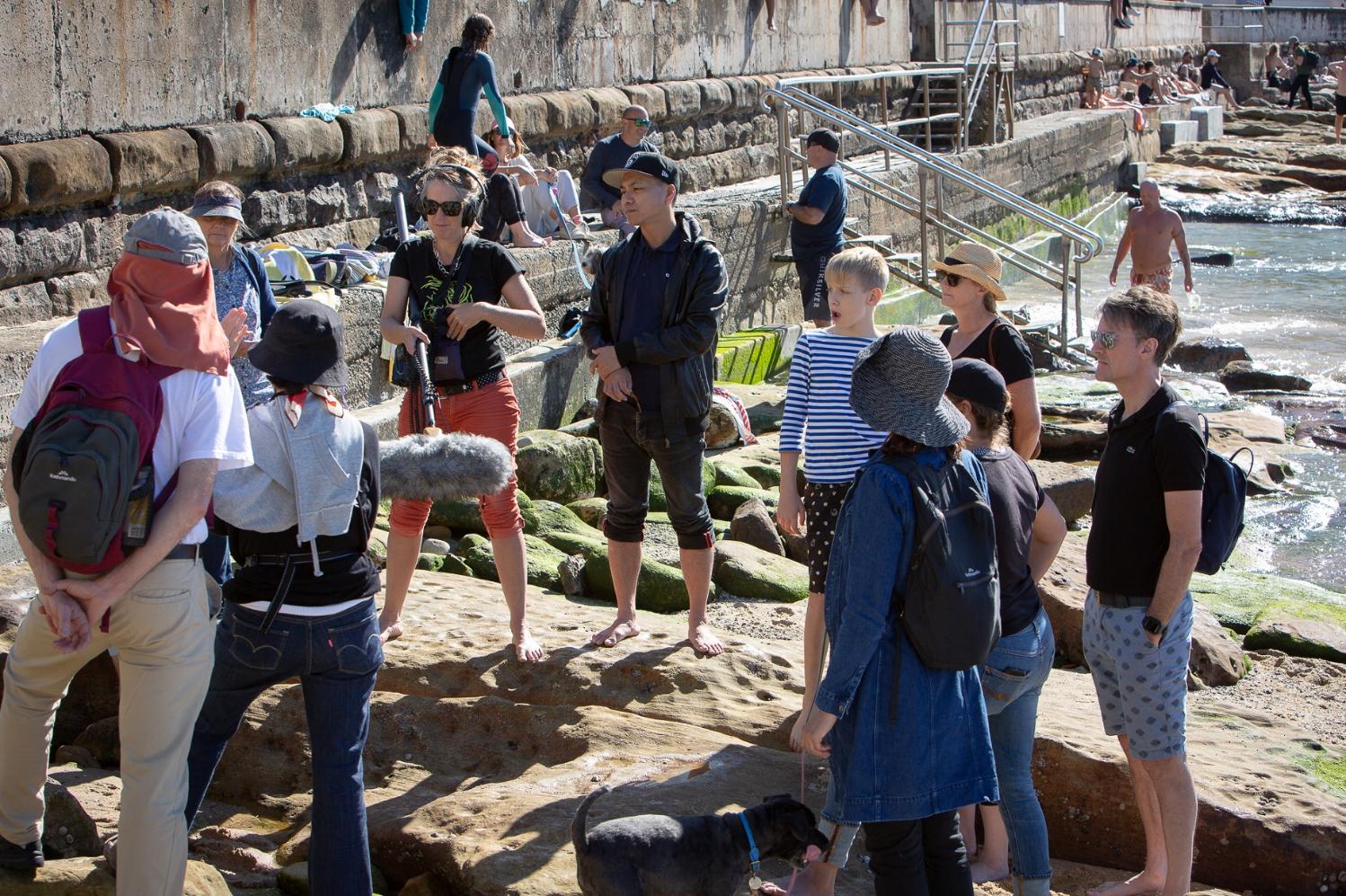 Foraging Workshop at the Manly Seaweed Forests Festival - SIMS photo