August 27 - September 2, 2023: Issue 596

Avalon Beach RSL Sub Branch Celebrates 75 Years Of Members Looking After Each Other
Historical 75th Anniversary Of Avalon Beach Sub Branch Insights
Collated From Sub Branch Records By Lynn Murphy, Avalon Beach RSL Sub Branch -

Commodore Richard Menhinick AM CSC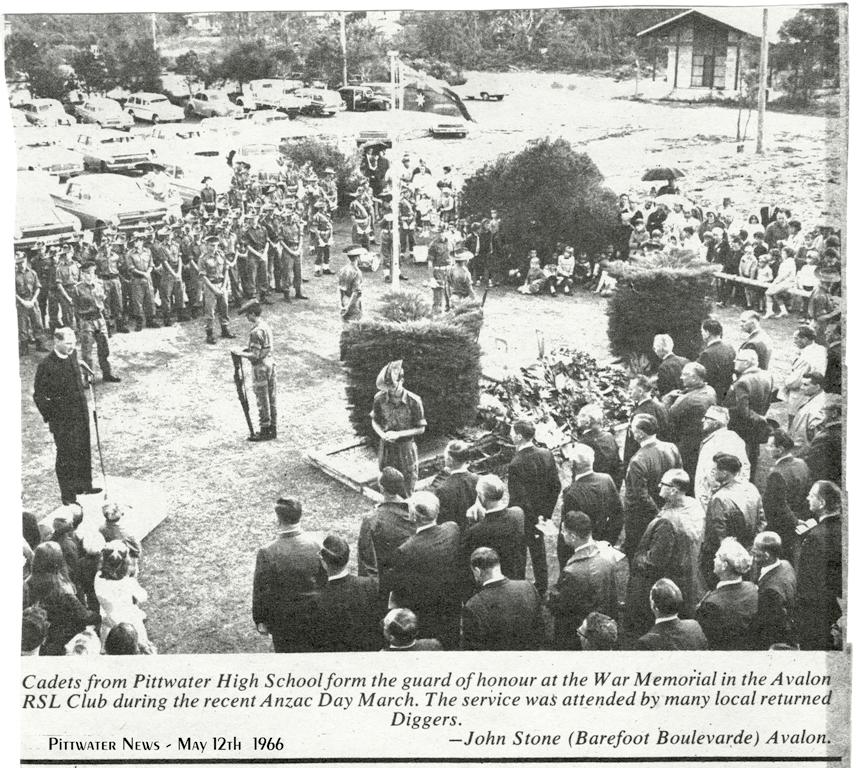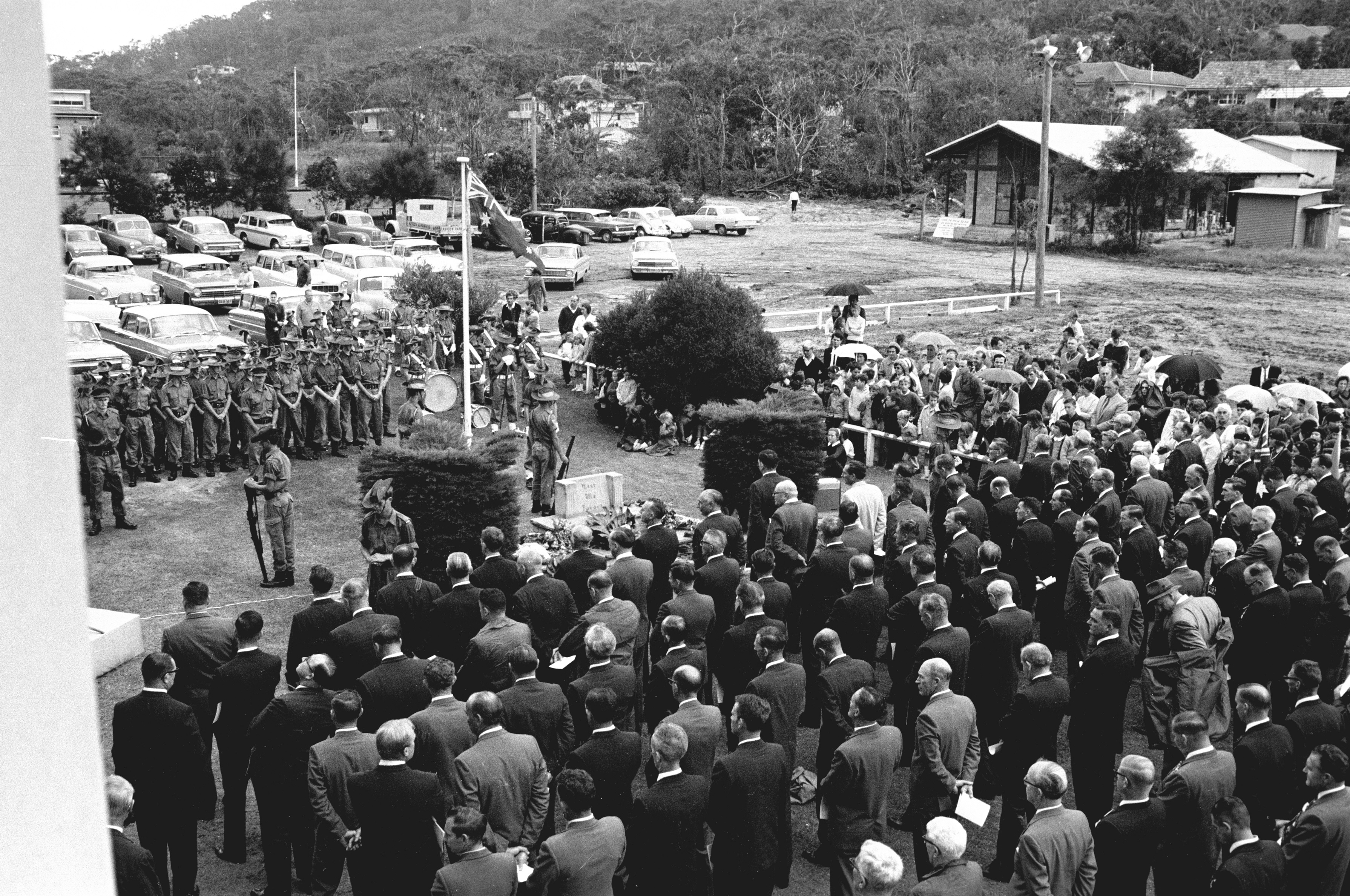 Photo by John Stone - the original courtesy same photographer - the Guide Hall, nearing completion, can be seen in background to right and how the hill above Central road looked then
On Monday August 21 2023 Members and special guests gathered at the Avalon Beach RSL Club to celebrate the 75th anniversary of the formation of the Sub Branch, with a core mission of looking out for and after Members and their families.
The Loyal Toast was given by Adrian Harding, The Toast to Members and Absent Friends by Tamara Sloper-Harding OAM, who had also organised a slide presentation of photographs taken over the years, which included every single member, past and present, of the Sub Branch.
Special guests included The Hon Bronwyn Bishop AO, Dr. Sophie Scamps, MP for Mackellar, Rory Amon, MP for Pittwater, Rob Stokes, past MP for Pittwater and wife Sophie Stokes, along with serving and retired Members of the Avalon Beach Sub Branch.
The 75th celebrations included a three-course dinner and a band 'Dazed and Confused', along with a very special presentation of a hand made quilt and laundry bag being presented to Sub Branch Member Skye Smith by Jan-Maree Ball, founder of Aussie Heroes Quilts.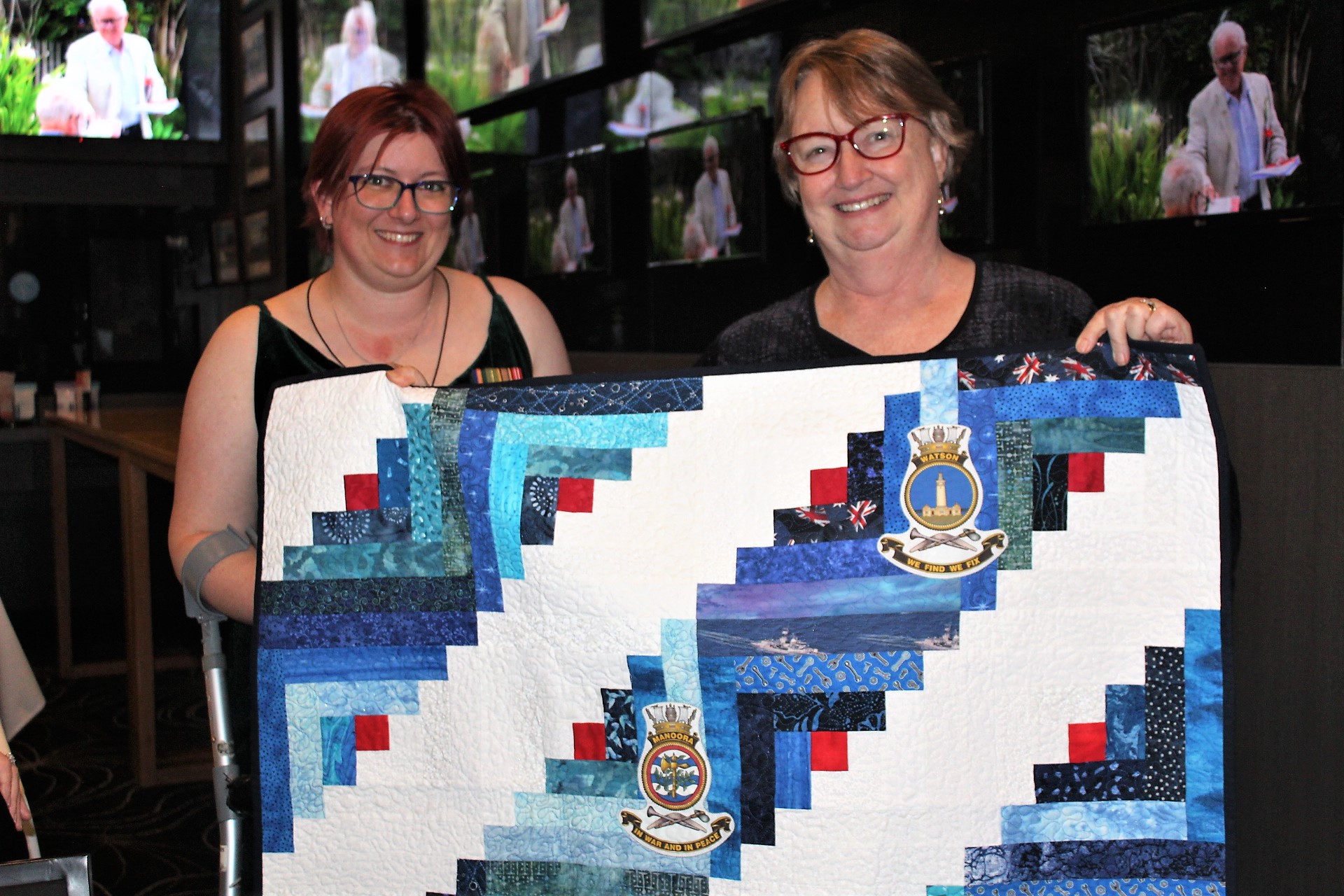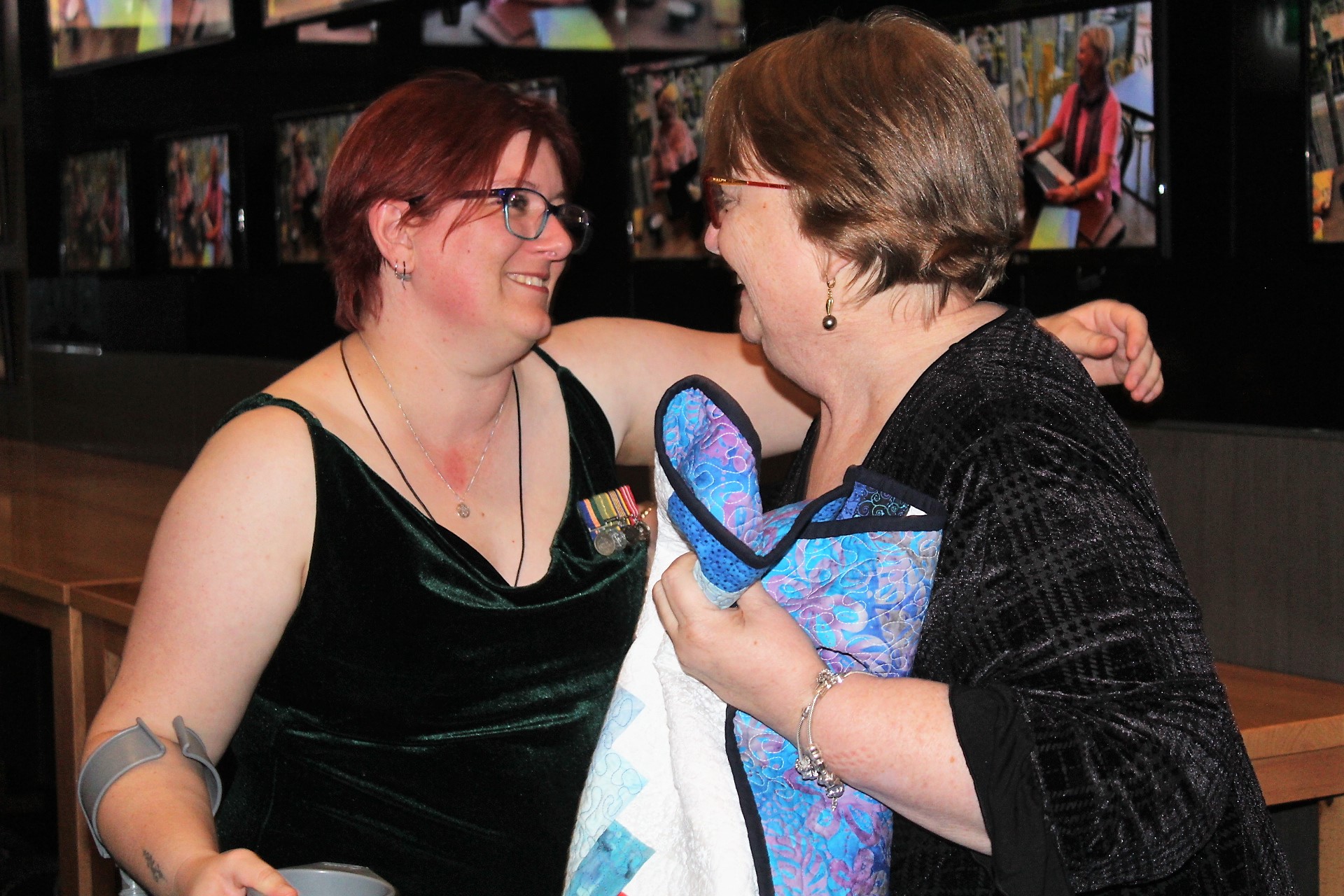 The following Historical insight, as read as part of an Address by Commodore Richard Menhinick AM CSC (RAN Rtd.), President of the Avalon Beach Sub Branch from details collated from Sub Branch records by Lynn Murphy.
Artefacts and records from the collection of Members were on display.
Commodore Richard Menhinick AM CSC 75th Anniversary Address:
Good Evening everyone and warm welcome to this 75th anniversary dinner for our RSL Sub Branch here in Avalon Beach.
A very warm welcome to everyone tonight and also to our guests, Dr Sophie Scamps MP, our Member for the seat of Mackellar in the Federal Parliament, Rory Amon MP, our member for the seat of Pittwater in the NSW parliament, and the Honourable Bronwyn Bishop, AO, a Sub Branch member as well, who for many years represented the people of this area as the member for Mackellar and before that in the Senate, and also who opened our beautiful remodelled cenotaph in 2004. I should also make a special mention too of the previous member for Pittwater, Mr Rob Stokes, who was always a great support to us and his wife Sophie. We know how busy you all are and we are thrilled to have you with us this evening.
Tonight, is about remembering those who have gone before us and who built and then by their efforts and dedication, left us this fantastic Sub Branch and Club. It is also about reminiscing over good times and some hard times. We have a local band to entertain us after dinner and the formalities have concluded and I hope that everyone can just relax and have a nice evening. I have no doubt that the food will be superb and we will be well looked after by the excellent staff here at the club.
Last week on 15 August was the 78th anniversary of the end of the Second World War. As I mentioned that day in my address, just behind me on the other side of the hedge are three plaques, one of which commemorates the 60th anniversary of the end of the Second World War. It is dedicated to those who served and to those who paid the supreme sacrifice "We Will Remember them" is inscribed on it. One of the plaques also has the nominal roll of World War II Avalon enlistments. On that plaque is listed the names of 28 men and 2 women. That at a time when the permanent population of this lovely suburb must have only been in the low 100s at the most.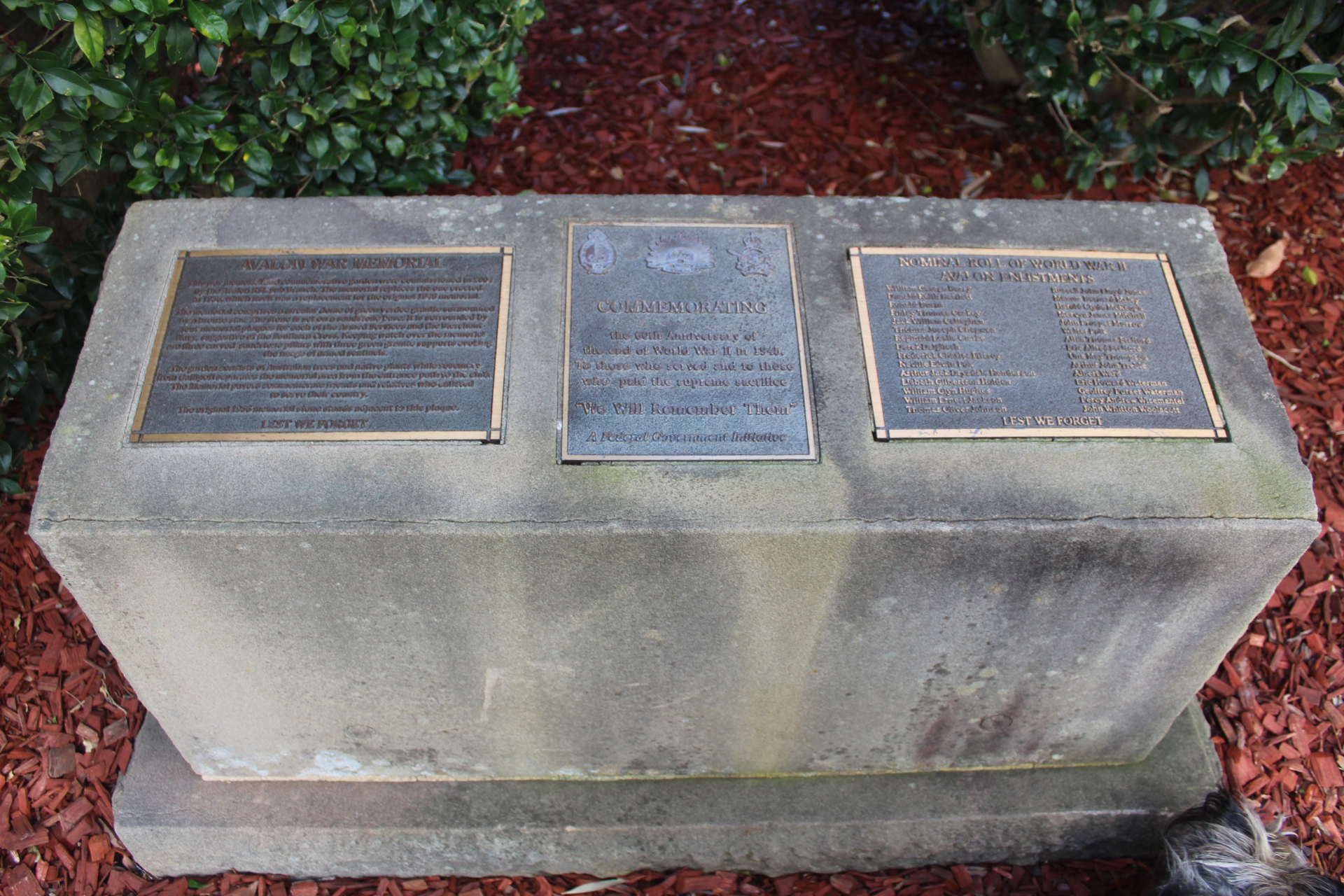 It is poignant that less than three years after the end of the Second World War, on 22 January 1948 there was a provisional meeting for the formation of the Avalon Sub Branch. It was to be called the Avalon-Palm Beach Sub Branch and at this meeting a committee of three was elected.
The next committee meeting was on 2 February and was held at the Provisional Chairman's house, Mr John Lloyd Jones followed by another meeting on 19 February, I believe at the Golf Club House. At that meeting to raise funds to start a Sub Branch a donation of a dozen bottles of beer and a bottle of Scotch Whisky was offered to be raffled for funds.
The first full meeting was held at Avalon Beach Surf Club house and at this meeting it was determined that a letter be written to the local rector to ask if an ANZAC Day Remembrance Service could be conducted at the local church.
The first small strip of land was donated to the Sub branch by Mr Lloyd Jones who also owned a block of shops fronting Avalon Parade. The Shire Council resumed the land in the rear of the club, this patch now being called Dunbar Park, in use as a sports field for local schools and community clubs.
A site has been purchased by the Avalon Beach sub-branch of the R.S.S. and A.I.L.A. on which a clubhouse will be erected. Opportunities for Business (1948, June 23). Construction (Sydney, NSW : 1938 - 1954), p. 5. Retrieved from http://nla.gov.au/nla.news-article222879862
There were many meetings in 1948 and they were held in various interesting locales from homes to garages.
The inaugural meeting of the "Avalon Beach Ex-Servicemen's Club" was held on Wednesday 3rd May 1948 at 8.10pm. Mr Lloyd Jones was elected President and Frank Coleman, father of Jan Roberts, Vice President. Mr. Lloyd Jones had served in World War One enlisting as an 18 year old in May 1915 and serving with the 56th Battalion, Mr. Coleman in World War Two with the RAAF and RAF.
A letter from the Sub Branch was read and the Secretary was asked to reply with thanks for letting the Hall to the club at a rent of five shillings per booking. Another interesting point is that in the treasurer's report stated we had cash in hand of 21 pounds, 8 shilling and sixpence. The stocktake revealed we had 5 dozen and nine bottles of beer.
Some records are sketchy and little contradictory, we do know that the first building was an ex-Army hut, purchased for £16 from the Sydney Show Ground. It was transported up here by a Bill McDonald in his greengrocer's truck. The first Sub Branch meeting held in the new hall was on 9 December 1948. We sent a letter of thanks to Pittwater Sub Branch for the loan of chairs for an indefinite period and later on 20 chairs were donated free of charge by Dee Why Sub Branch.
Things moved on from there but things never change. Apparently at a General Meeting on 19 July 1950, a request was made that Warringah Shire Council be asked to grant land to the club. This request was made several times over the following years without result.
In 1950 membership doubled to 104 and the Ladies Auxiliary was also powering along but by 1953 it had disbanded only to be reformed in 1957. A Mrs Morris designed the club's Crest of that surfboard and Avalon Beach RSL.
Some notable dates and events after this include:
Noise was an issue even back in 1950 as all dances were required to terminate not later than 1.00am!
Seats were obviously still an issue as it was agreed in 1951 to purchase 30 double seats from Kings Theatre.
In July 1951 the letting of the Hall to outside bodies was suspended for a few months following police visitation to a function on 21 July. Most local laws must have been broken as well as after the Police visit beer could then only be sold by ticket, lockers were introduced, only chips were used in Poker machines, a club member was appointed club steward, a door patrol was organised, a licence was applied for, membership cards were to be carried and trustees were appointed. It sounds like it was a little like the "wild West" in the very early days!
THE WAY I SEE IT — by Gilbert Mont
LEST we forget thought for Easter: The news bulletin of. Avalon Beach RSL sub-branch carries this report of a visit to the Anzac Memorial, Hyde Park:
"We found a sad state of things. Two of the huge stained-glass windows with their AIF motifs were shattered by the hailstorm, January 1, 1947. We counted 11 great panes still patched with what looks like dirty newspapers.
"The suspended marble floor, where we stood to look into the Well of Remembrance, has developed five cracks from wall to wall. "The four spacious balconies are permanently barred and padlocked. Only one figure of Rayner Hoff's many magnificent bronze sculptures has been installed — 17 years after the official opening and 36 years after Anzac!
"An inscription said,
'Let silent contemplation be your offering.' We contemplated that a Second Great War had passed into history, with; another dreadful toll, and that we are committed to a new memorial in the shape of Anzac House.
"We contemplated on the insult to our dead and on the spoliation of that AIF badge. Silent contemplation was our offering.
" Remember how a lovely tree was chopped down to give us a better, view of this memorial?'' THE WAY I SEE IT (1951, March 25). The Sun (Sydney, NSW : 1910 - 1954), p. 27. Retrieved from http://nla.gov.au/nla.news-article230068821
Schools Celebrate Arbor Day In The Rain: Children's Enthusiasm
By Our Special Representative.
'THE growing interest among school children in the planting and protection of trees was demonstrated last Friday at Arbor Day ceremonies at public schools in seaside resorts north of Sydney.
To celebrate Jubilee year and in support of the Festival of Trees special ceremonies had been arranged at Avalon, Newport and Mona Vale. These districts are well known surf and holiday resorts, but with increased building development they axe rapidly becoming suburban residential areas.
This part of our northern coastline is well endowed with trees and the undulating country sweeping down to the sea provides many picturesque vistas. With the change to suburbia., however, many of the tree clad hills are showing the effects of the axe and the five stick. As land is subdivided and building blocks cleared trees have to come down to make way for progress.
People Tree Conscious
A tour of the district last Friday during the school Arbor Day ceremonies revealed that many of the local public bodies and residents are tree conscious and are anxious to preserve as much as possible of the district's natural beauty.
The schools at Avalon, Newport and Mona Vale, therefore, received generous support in their tree planting programmes from their own parents and citizens' associations and other local organisations.
Be cause of continuous heavy rain Arbor Day was celebrated at the three schools with only token plantings of trees.
The extremely wet conditions, however, appeared to act as a spur to the enthusiasm of the youngsters and their parents and friends. Programmes of songs, physical culture exercises, verse speaking and tableaus were performed indoors or in the open in those few brief moments when the rain eased.
R.S.L. Support
The first ceremony was at Avalon, where the local sub-branch of the R.S.L. had provided the trees for a planting programme in the school grounds.
This is a comparatively new school. Only temporary buildings have been erected so far I and there is plenty of scope for tree planting in the four acres of grounds.
The headmaster, Mr. T. E. L. McGuire, explained that a master plan had been prepared on the advice of a nurseryman for laying out and planting the school grounds with trees and shrubs. The plan provides for windbreak and shade trees, an agricultural section and a properly equipped playground.
After the children had given several items short addresses on the value of trees and the need for their protection were delivered by Mrs. A. Wyatt, a vice-president of the Forestry Advisory Council and a member of the Kuring-gai' Tree Lovers' Civic League, and Mr. E. Breakwell, former organiser of Junior Farmers' Clubs, and representing the Australian Forest League.
Mr. Breakwell, who is well known throughout New South Wales for his work in the interests of school agriculture and tree planting, is now residing at Newport. He continues to take a moist active interest in the local schools and is particularly keen on the development of a tree consciousness among school children and the public generally.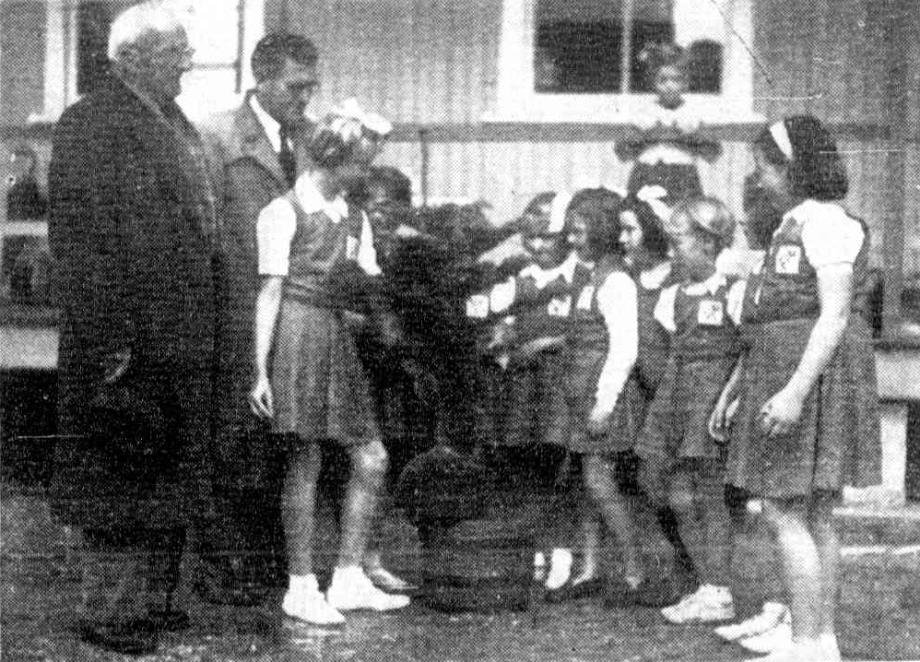 LEFT (above): MR. BREAKWELL, former organiser of Junior Farmer Clubs throughout N.S.W. and representing the Australian Forest League, took a prominent part in the tree-planting ceremony at Avalon Public School, The headmaster, MR. T. E. L. McGUIRE, is also in the picture.
With due ceremony a Norfolk Island Pine, one of many to be planted on the southern boundary, was "planted" in a large pot indoors, while the children recited the tree warden's pledge. Schools Celebrate Arbor Day (Continued from page 8) Schools Celebrate Arbor Day In The Rain; Children's Enthusiasm (1951, July 6). The Land(Sydney, NSW : 1911 - 1954), , p. 8. Retrieved from http://nla.gov.au/nla.news-article112489300
The first Sub Branch president Mr John Lloyd Jones sadly passed away in Nov 1951. He bequeathed land to the Sub Branch.
LLOYD JONES -Members of the Avalon Beach Sub branch RSS and AILA are Invited to attend the Funeral of the late Mr. J LLOYD JONES (first president Avalon Beach Sub branch) See Family notice Wednesdays paper for details
JONES Lloyd -October 21 1951 at Melbourne result of accident (late of Avalon Beach) beloved husband of Florence Ruby (Ruth) Jones dear father of Russell, Elaine father in law of Thelma aged 52 years
See Wednesday's Herald for funeral notice
JONES Lloyd -October 21 1951 at Melbourne result of accident beloved son of the late John Lloyd and Lily Jones of Roseville. Family Notices (1951, October 23). The Sydney Morning Herald (NSW : 1842 - 1954), p. 20. Retrieved from http://nla.gov.au/nla.news-article18236199
On 10 February 1955 it was resolved that the Ex Serviceman's club be absorbed by the Sub Branch.
The late 1950s saw extensive discussions on whether to build on the site or to move to land purchased already in Bellevue Ave. It was determined in October 1959 to retain the existing premises and approach Council for additional parking spaces.
1956 saw the first short march prior to the ANZAC Memorial Service which was held in the RSL Hall on Sunday 22 April. And 1956 also saw ladies being admitted to the Club on Saturdays from 4-8pm. How we have moved with the times and community standards is exemplified by the fact that we now have 40% female members in the Sub Branch, which I believe is amongst the highest in the state of NSW. Well done Avalon Beach.
The Community being included in the Anzac Day March is also a very important part of what the Sub Branch initiated and continues - we are not apart from our community here in Avalon Beach, we are a part of this place and its people, so it's great to see so many joining in the annual March and Services. It was also great to have Pittwater Sub Branch and Members join us for the first time this year, given their donation of chairs when we were commencing. Pittwater will continue to join us on the Anzac Day Community March, another way the camaraderie across the local Sub Branches is in action today.
Even in 1956 Poker machines were a problem – good cash flow but societal issues abounded. It was resolved that extra keys be fitted to the poker machines as there was a Poker machine thief who agreed to repay £50 and the cost of one bottle of gin and a bottle of Australian whisky – however his request for re-admission to the Club and Sub Branch was not granted!
In 1956 some rare good news from Warringah Council as they gave permission to fill the land adjoining the existing club. And in 1957 the additions to the building was completed.
£11 XMAS TREE PLANS
More than 800 children from Granville will take part in the annual R.S.L. Christmas treat on December 14.
The children will belong to R.S.L. families in the Granville area, and will range from babies up to 12 years. This year the treat will be a trip to Avalon Beach, where R.S.L. members and the ladies' auxiliary will arrange a real 'day out' for the kiddies.
The R.S.L., under its president (Mr. Charles Gardner), has been arranging this treat for the kiddies for many years. Since 1932 they have been carrying on this annual Christmas treat with staunch support from the ladies' auxiliary, whose president is now Mrs. N. Johnstone. Beach trips have been the fashion for the past five or six years, and here the children have a wonderful time, with sports, swimming, and general fun. The R.S.L Secretary (Mr. A. B. Barnes) says everything is being organised to give the kiddies a wonderful time this year. R.S.L. XMAS TREE PLANS (1958, November 19). The Cumberland Argus (Parramatta, NSW : 1950 - 1962), p. 11. Retrieved from http://nla.gov.au/nla.news-article132133488
In August 1960, the Sub Branch authorised the RSL Club to rebuild on the current site and tenders went out in February 1961. R Martin and Sons won the tender at a cost of £43,750 to build the new club and on 12 December 1961 the first meeting of the Sub Branch was held in the new building.
In 1962 the cenotaph was moved to its present site and the land in Bellevue Ave was sold to the Methodist Church – now the Uniting Church. And the Women's auxiliary disbanded again and then reformed in the 1970s.
In 1962 more land was purchased off a Mr Taranto for £3500.
In 1966 it was agreed that future marches and commemoration services be held on Anzac Day itself and not on the nearest Sunday and in 1966 E.H. Donnelly and Sons were paid $110, 476 to build club additions.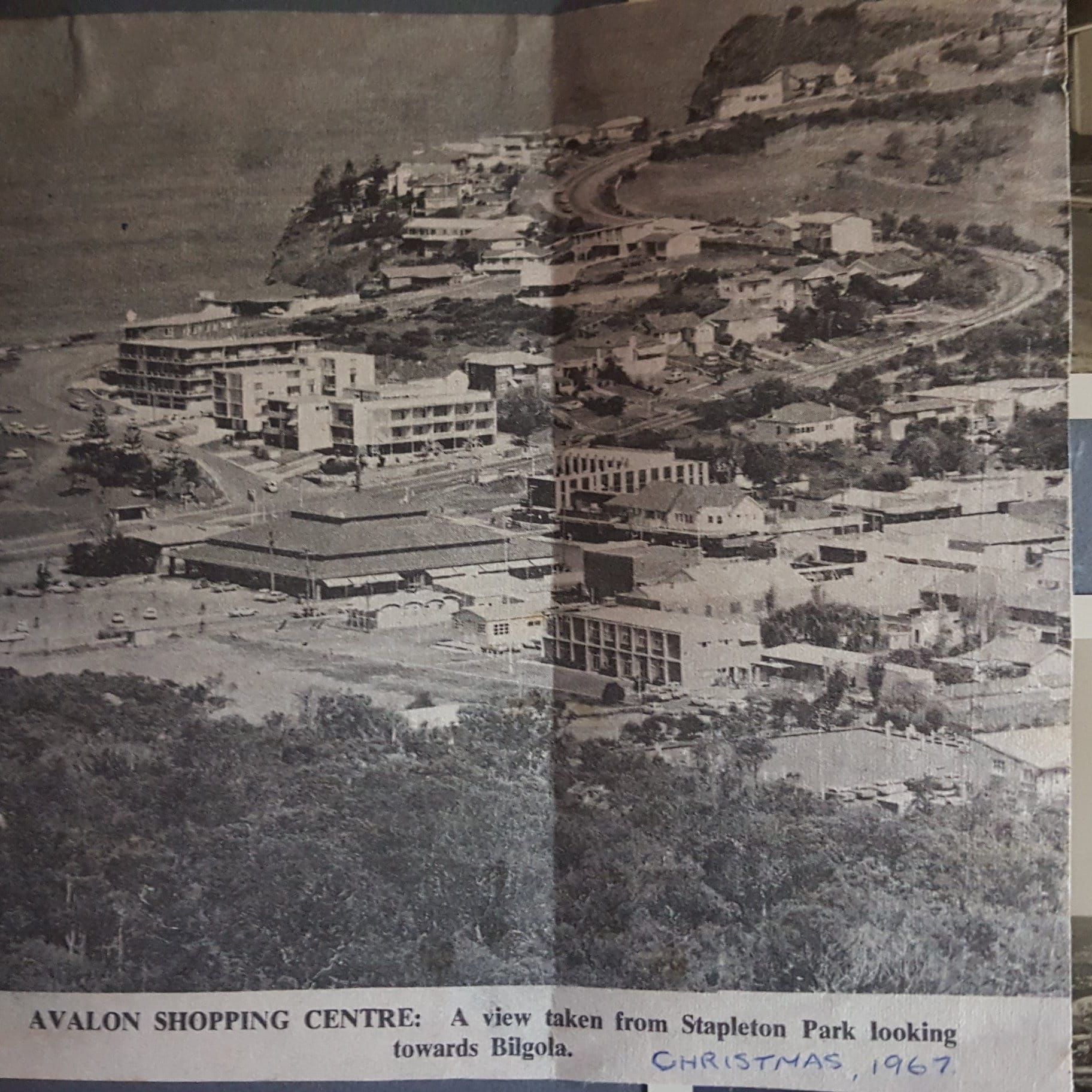 Avalon Beach in December 1967. Photo: John Stone, from the Avalon News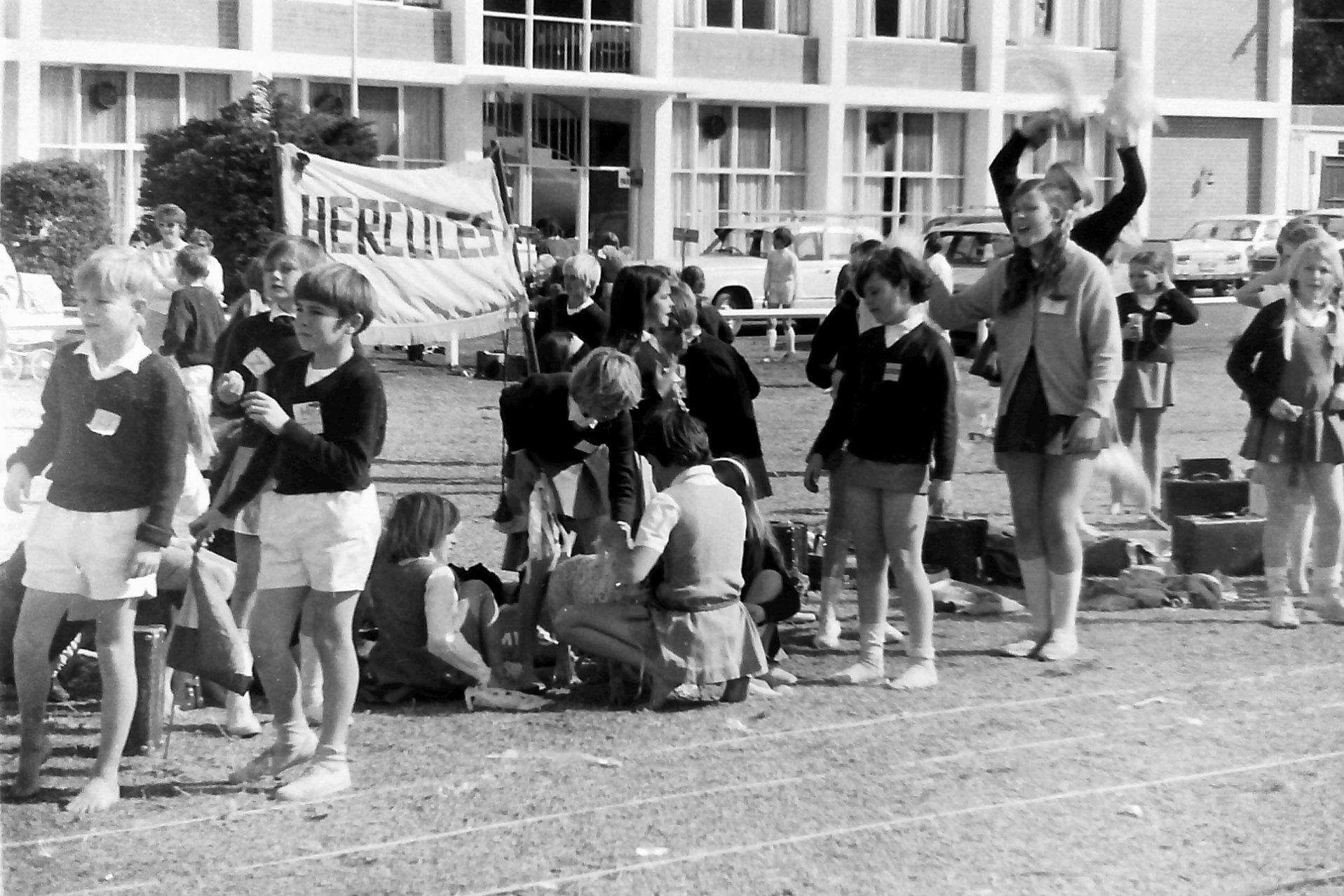 1970s Sports day in Dunbar Park, Avalon Beach RSL in background. Photo by Gary Clist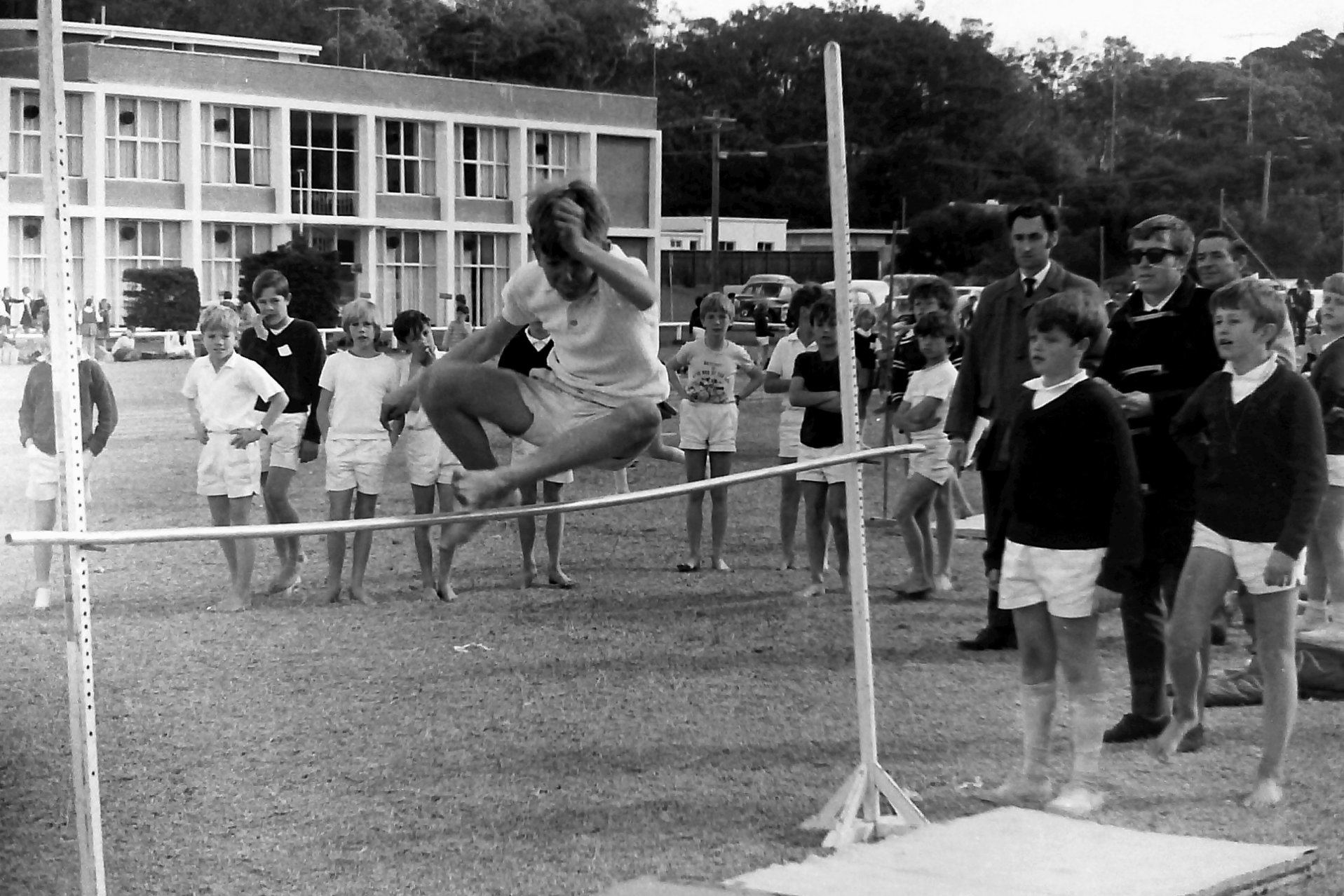 1970s Sports day - photo by Gary Clist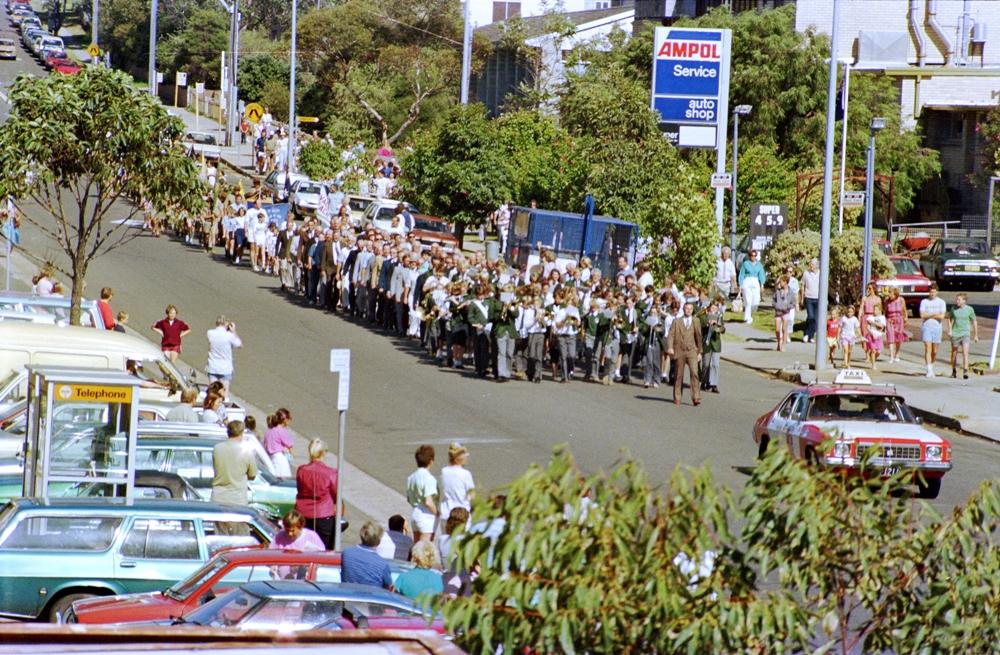 "This later Anzac Day March, in colour, was photographed from the roof of the shop, John Stone Photo & Record Centre, in Old Barrenjoey Road, Avalon." - John W Stone

1 May 1972 saw the inaugural meeting of the new Avalon Beach RSL Club Ltd which ran the premises under a lease from the Sub Branch.
1978 saw the first Sub Branch Dawn Service in Dunbar Park with refreshments and breakfast supplied by the RSL Club Ltd free of charge. 59 people were at the dawn Service – judged a huge success. The Parade and Service faced the rising sun, not the West as is customary when the Ode, last post and reveille occur.
On 24 November 1990 it was agreed that Sub branch meetings would be non-smoking.
By 1993 it seems that the Sub Branch was losing members regularly as WWII veterans were dying and it had a $800,000 mortgage on the land as well as a $100,000 overdraft.
On 28 May 1994 Sub Branch members petitioned Mrs B Bishop requesting Anzac Day be recognised as Australia's national day of commemoration and there was also a complaint that both Anzac Day service and padre's speech is too long.
VP Day was obviously a big event in 1995 – the estimated cost of the luncheon was $4700.
In 1997 the Sub Branch members were against selling the land to the Club Ltd and a new lease was determined to be arranged, linked to the CPI, but by 1999 membership had declined to just 165 with members leaving the area and passing away. Most members were in their late 70s. A letter was received from the Club Ltd expressing an interest in purchasing the building and on 31 July 1999 the Sub Branch agreed it would be beneficial to sell the building. An initial offer was $500,000 – and not accepted as current market value was over $1.2 million.
On 29 January 2000 a letter was received from Club Ltd. offering to purchase the property for $1.5m and our trustees recommended acceptance. This was apparently followed up on 27 May 2000 with a revised letter from Club Ltd offering $1.35m. As a result, a new lease was recommended to be prepared at an Extraordinary General meeting on 24 June with the rental being $30,000 per annum.
However, on 24 February 2001 at another EGM it was agreed to sell the building by 33 votes to 6 at a price of $1.5m. This was followed by a new offer of $1.8m on 21 July 2001 which was accepted and submitted to RSL State Council for approval. And on 27 October 2001 the sale was approved at another EGM by 113 postal votes for and 14 against. Contracts for sale of the property were exchanged on 26 April 2002 with settlement on 29 June.
And the final big thing is the 2004 re-build of our cenotaph which is a unique and most moving place of reflection and the centre piece of our Anzac Day Dawn Service, Main Service and other commemorative events.
Young and old remember together
Tri-service cadets did the honours by providing the catafalque party for a very special Remembrance Day ceremony in the grounds of Sydney's Avalon Beach RSL Club. They were supported by a team of divers from the RAN's dive school. The occasion was the dedication of a new $80,000 war memorial at the club.
Driving force behind the new memorial was the president of the club's sub-branch, and retired RAN Commodore, Graham Sloper. With the Barrenjoey High Band playing the cadets marched on. There were Australian Naval Cadets from TS Condamine, Army cadets from 20 1 RCU and Airforce cadets from 305 Squadron. During the ceremony two vintage aircraft did fly pasts of the memorial.
"I estimate more, than 100 people, ranging from small children to the elderly laid tributes on the memorial," club spokeswoman Kaye Griffiths said. "The tributes ranged from a sprig of rosemary to poppies to full wreaths. "Acting police superintendent David Walton led a team , of three police officers forward to lay a wreath," she said. Young and old remember together (2004, December 2). Royal Australian Navy News (National : 1958 - 2021), p. 2. Retrieved from http://nla.gov.au/nla.news-article267402252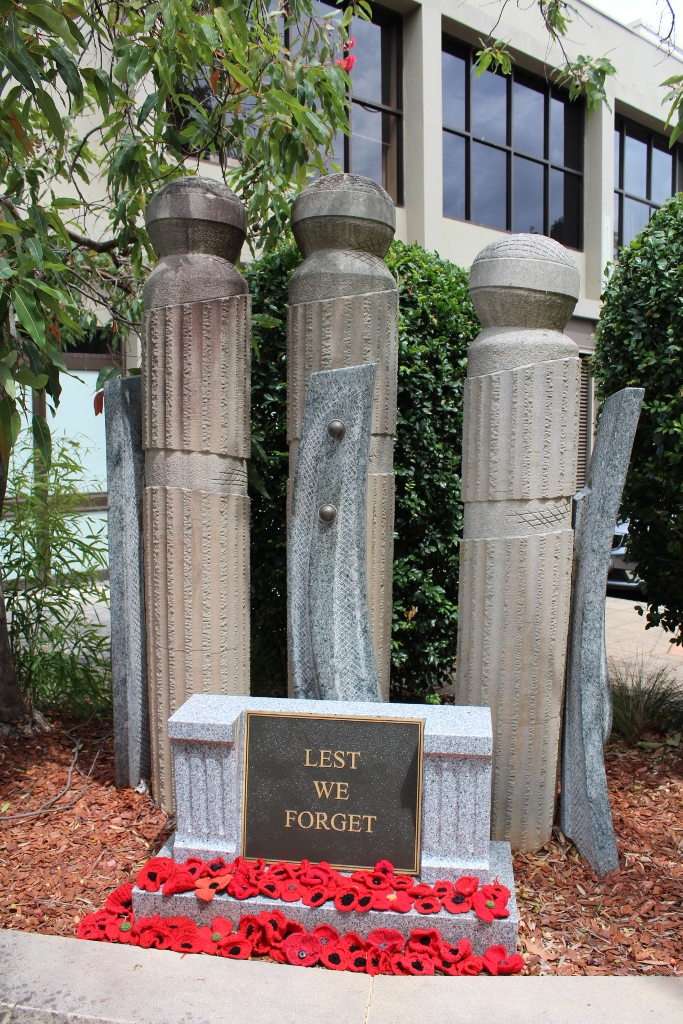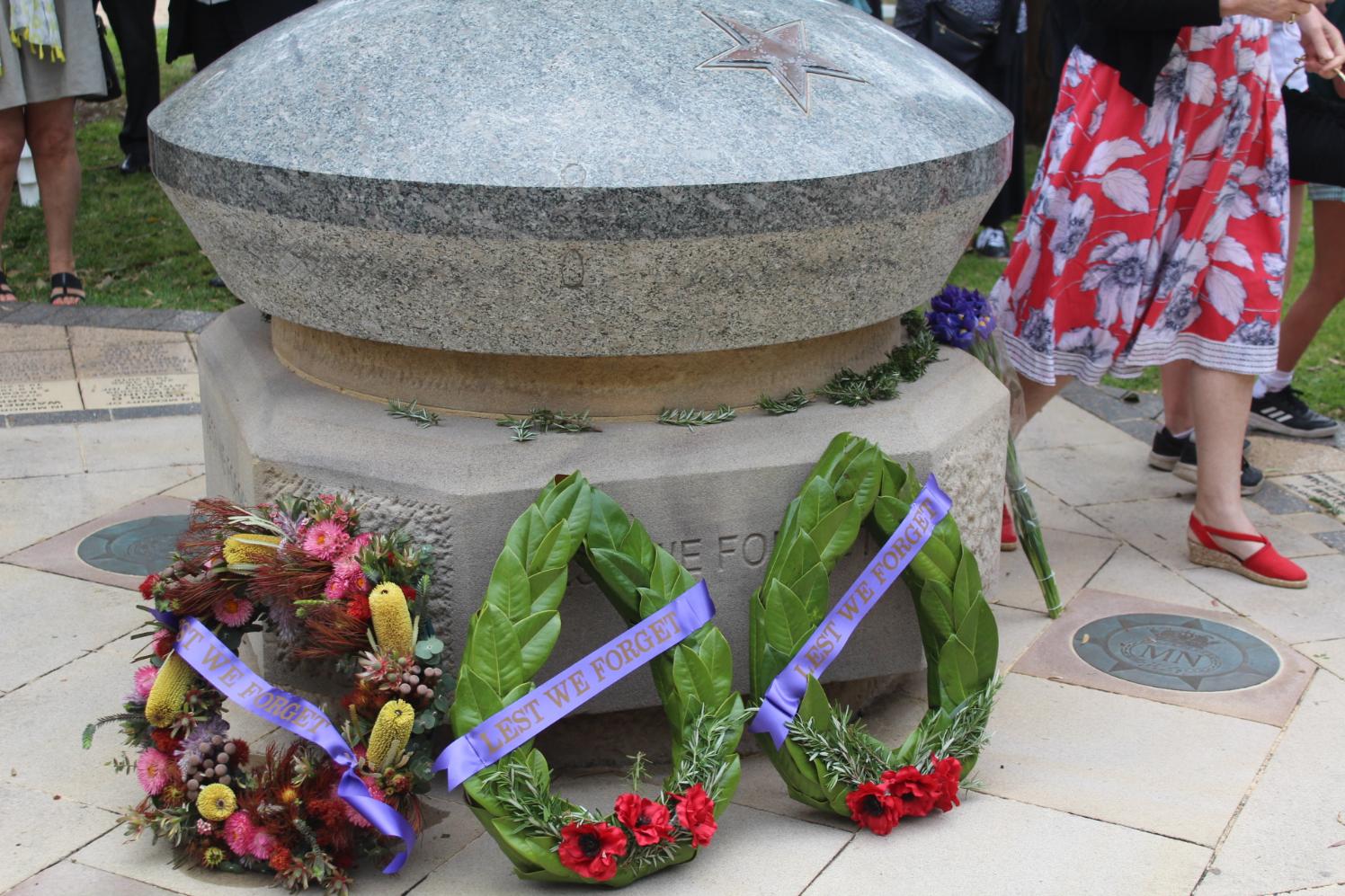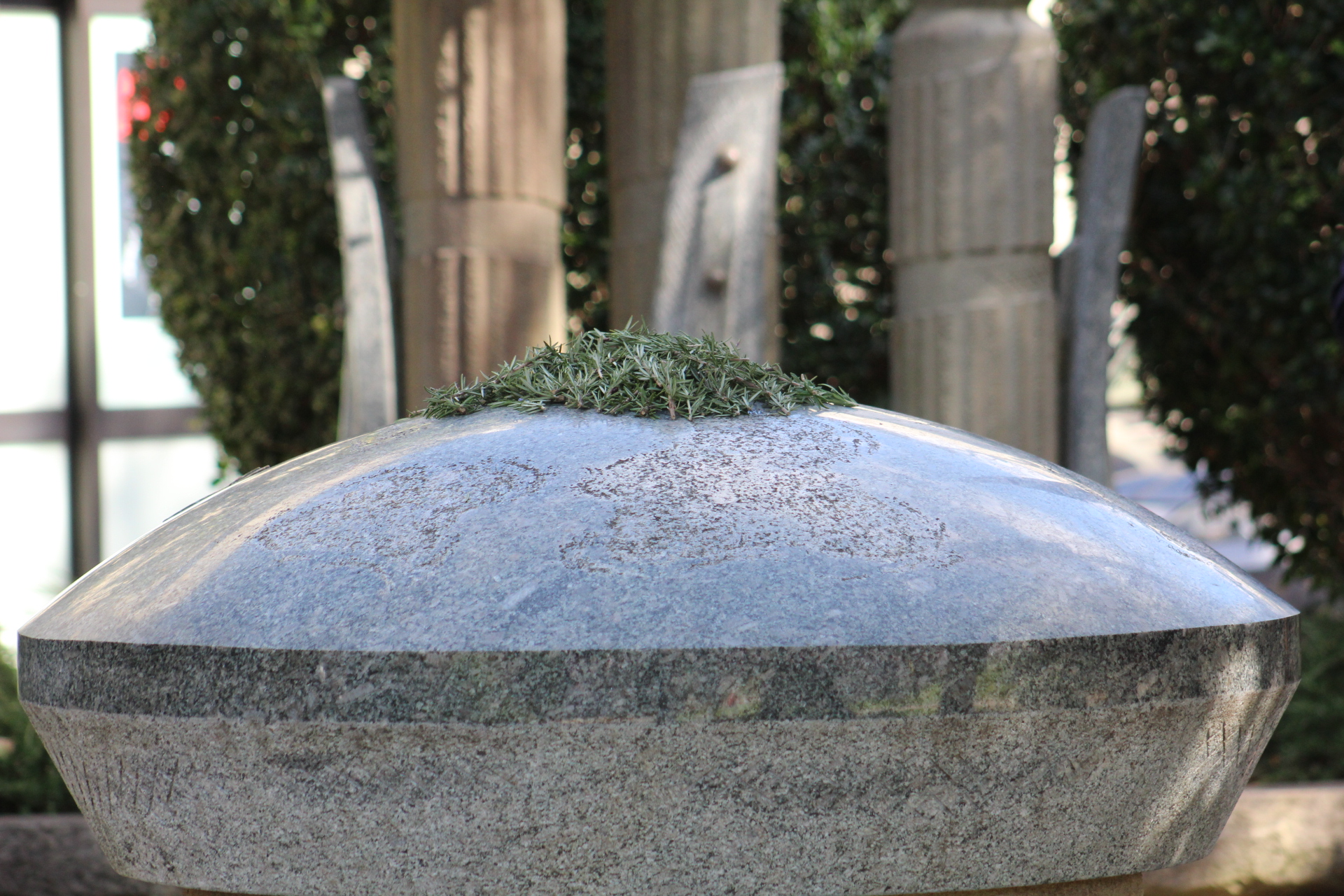 As we move forward from here to hopefully 100 years and beyond, we have a legally binding Deed of Agreement in place with the RSL Club Ltd. This is a vitally important document as it safeguards the usage of the Club by the Sub Branch and underpins our collaboration with Clubs Ltd into the future, and we need to ensure that we continue to honour and remember the women and men who have fought and died for our country and its allies.
The money from the sale of the property actually saved the Sub Branch, in my view. It allowed us to clear all debts, to invest money and to buy the Nelson Bay apartment. Having a positive cash flow allows us to serve you all and the veterans in our area, which after all is what the RSL and this Sub Branch is about – we are a charity organisation dedicated to helping veterans in need, first and foremost.
The work of our welfare officers and others should also be recognised tonight, especially as the Royal Commission into Defence Suicide draws to a close. There is much to be done to reform the Repatriation Medical Authority, the Department of Veterans Affairs and the Commonwealth parliamentary legislation that directs those two organisations and determines what and which benefits are paid and how we as a country looks after veterans and their families.
We should be very proud of those who have come before us and who have left us with this community club. The history and evolution of our Sub Branch actually mirrors that of our lovely beach suburb and indeed that of RSL NSW and the wider Australian community as well. We have grown, matured, mellowed and developed within and from our community, and it is only through continuing to do this and deepening our links that we can continue. Our community march on Anzac Day and links within our suburb to community and sporting groups is key to this. The schools in our area and community choirs and bands are vital to anything we do and we work hard to remain related to them and future generations.
From an initial Dawn Service in 1978 with just 59 people in attendance to the one earlier this year where thousands turned up, we have much to be proud of, but also much to be responsible for. So, on behalf of those who formed this great Sub Branch in 1948 and those who developed it the whole way up to tonight, let us renew ourselves to this.
Thank you again for being here tonight.
Lest we Forget.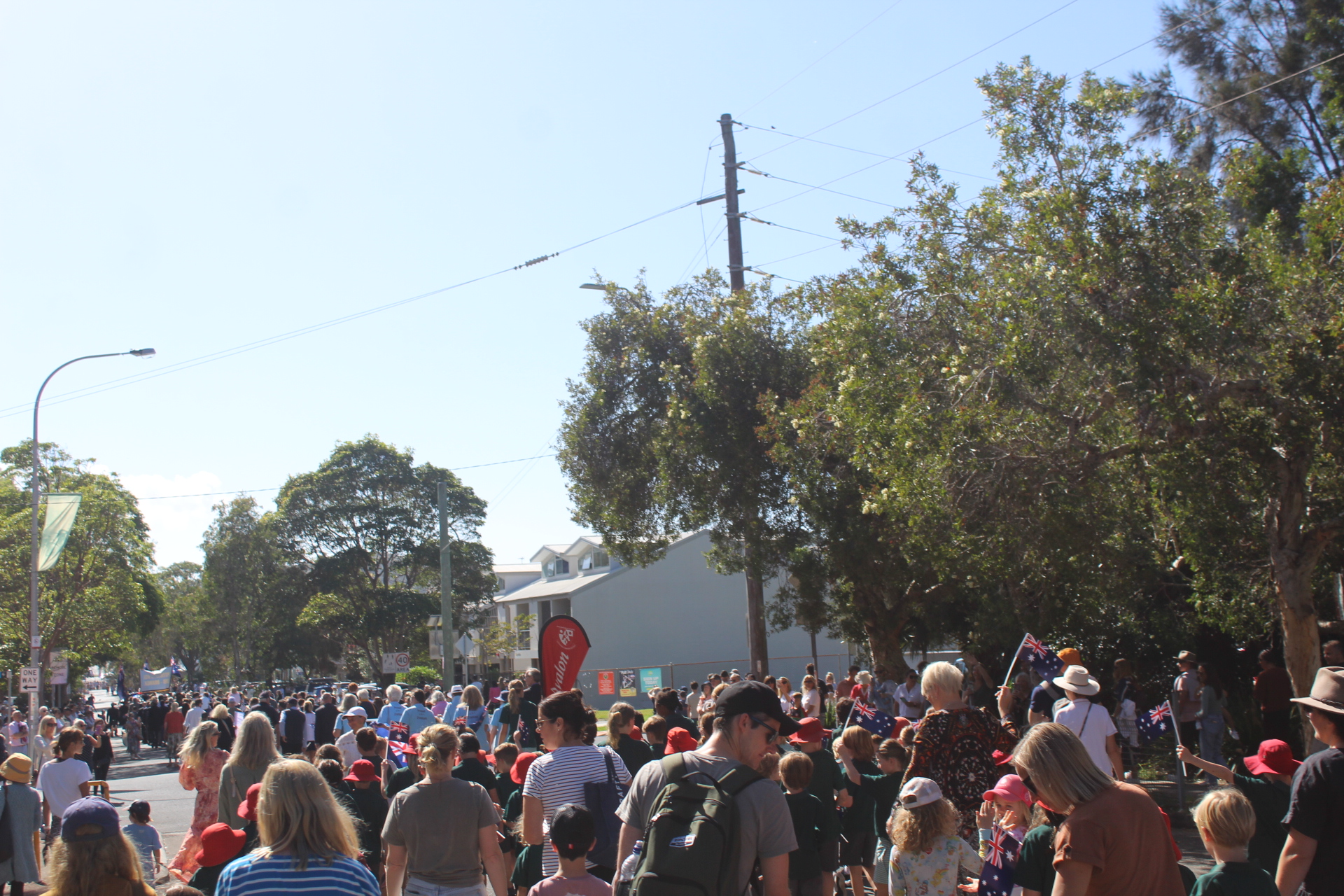 Notes - References
Avalon Beach RSL Sub Branch Records
TROVE - National Library of Australia
Avalon's Village Green: Avalon Park Becomes Dunbar Park - Some History + Toongari Reserve And Catalpa Reserve

Reservists help at Avalon Festival

(

2008, August 7

). Royal Australian Navy News (National : 1958 - 2021), p. 17. Retrieved from http://nla.gov.au/nla.news-article267254903

By and large, art seems to be burgeoning quite heartily in Sydney and environs. Up in the Warringah Shire, which has a greater concentration of talent than any place outside The Cross, John O'Brien is organising an art- show for the Avalon RSL. His preliminary list of exhibitors looks like a chapter from Who's Who in Australian Art and includes Paul Beadle, Frank MacNamara, Weaver Hawkins and a shoal of others. The show will be held in a big marquee at the Avalon Beach Fair on December 16. A Warringah artist is an artist who "habitually lives in Warringah during the weekends and holidays." The definition has dragged in a heap of big names, who paddle, fish or just loaf about between Manly and Palm Beach in their spare time. SYDNEY DIARY (1949, November 2). The Sun (Sydney, NSW : 1910 - 1954), p. 17 (LATE FINAL EXTRA). Retrieved from http://nla.gov.au/nla.news-article229233881
Avalon Beach Civic Centre
The third BIG lot of shops in Avalon Village came via Arthur Jabez Small in conjunction with others. NSW State Records and Archives
Avalon Development Pty [Proprietary] Ltd [Limited], Contents Date Range: 01-01-1939 to 01-01-1959
AVALON DEVELOPMENT PTY . LTD capital £5,000, in £1 shares, to acquire and deal In land and building,. and to acquire certain land in the Shire of Warringah. First directors, George K Cowlishaw, Gordon Hastie, John L Jones, Arthur J Small and Cameron M. Sparks. NEW REGISTRATIONS. (1939, October 2). The Sydney Morning Herald (NSW : 1842 - 1954), p. 4. Retrieved from http://nla.gov.au/nla.news-article17618114

Warringah Shire Council records show:
August 22nd, 1939: Avalon Development Pty. Ltd. brick shops, flats and residences, Lots 10/11, Avalon Estate: Approved subject to the floors of all stairways being constructed with, concrete, this rule to apply to all flats shown on the plan.

1. Recommending that the removal of an old tank at Avalon Beach some times used for living purposes, be ordered by a notice: Adopted. (Crs. Nicholas, Hitchcock) 12. Re Trading kiosks at public reserves at Avalon Beach tenanted by J. Hogan and S, Wickham, recommending (a) that when compensation in respect to the resumption of Mr. A.J. Small's land is finalised, consideration be given to the advisability of removing one of the kiosks; (b) that Mr. Hogan's tenancy be renewed from 1st October to 30th April next at a rental of £2.3.4 per month as heretofore, and that rental charges between- This is from page Number 4 of the Minutes of Meeting of Warringah Shire Council held on 3rd October, 1939.
Avalon Beach—Erection of 5 shops and three flats, for Avalon Development Pty. Ltd.—E. L. Thompson, Architect; R. H. Browne, 24 Potts St., Ryde, Builder. Tenders Accepted or Received (1939, December 13). Construction (Sydney, NSW : 1938 - 1954), p. 16. Retrieved from http://nla.gov.au/nla.news-article222857215

6a. Avalon Development Pty. Ltd., 16/2/40, requesting construction of concrete footpath, kerb and gutter, adjacent to Company's block of flats and shops on Avalon Parade. Engineer estimated - Meeting held 19/03/1940
Avalon Beach Civic Centre soon after completion. Photo: ABHS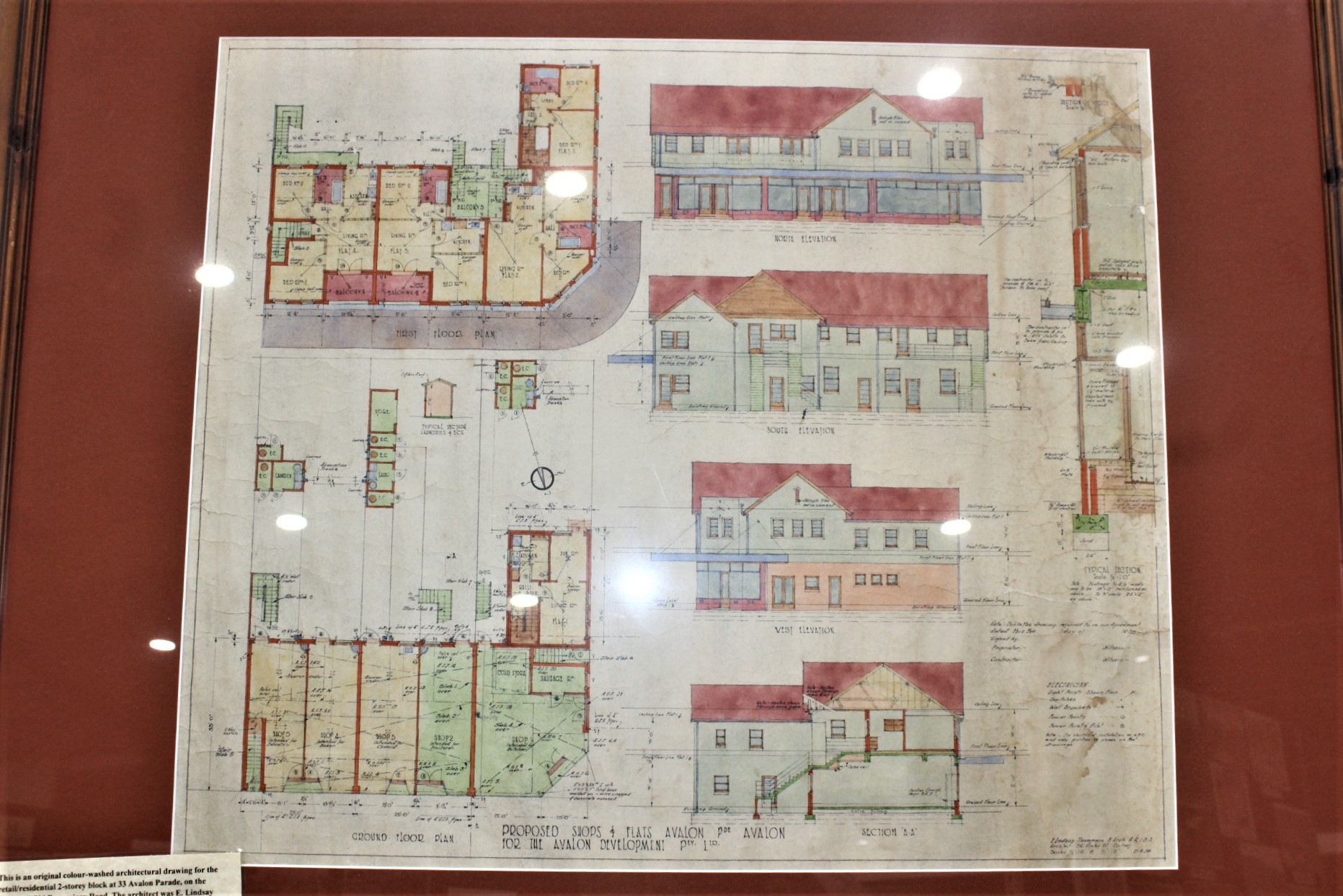 Architectural Drawings: ABHS
NOTICE OF INTENTION TO DECLARE DIVIDEND.
Part XII.
In the matter of John Lloyd Sydney Jones, of Avalon parade, Avalon Beach, builder.
NOTICE is hereby given that a preferential dividend of 20s. in the £1 and a second and final dividend to ordinary creditors is intended to be declared in this matter. The dividend will be paid to those creditors who have proved their claims on or before the sixteenth day of November, 1942.
Dated this twenty-third day of October, 1942.
V. C. BEAR, Trustee.
V. C. Bear & Horsfield, 11C Castlereagh-street, Sydney. 1176. NOTICE OF INTENTION TO DECLARE DIVIDEND. (1942, October 29). Commonwealth of Australia Gazette (National : 1901 - 1973), p. 2561. Retrieved from http://nla.gov.au/nla.news-article232678608
John Lloyd Sydney Jones served in World War One, enlisting on May 10 1915 as an 18 year old and had to get his parents permission to enlist. He served with the 56th Battalion and then served with the 20th Battalion with the 5th Australian Division in France. He was discharged on February 1st 1919 with a rank of Lance Corporal (appointed 27.5.1917). He was a Clerk on enlistment.
He was wounded in action on September 27th, 1917 - a gunshot wound to the chest, and was sent to England from the 3rd Station Hospital at Rouen.
OF 'THE BOYS'
Private John Lloyd Jones, lately of the Hornsby Shire clerical staff, is recovering from his severe wounds. OF "THE BOYS" (1917, December 22). The Cumberland Argus and Fruitgrowers Advocate (Parramatta, NSW : 1888 - 1950), p. 12. Retrieved from http://nla.gov.au/nla.news-article86084706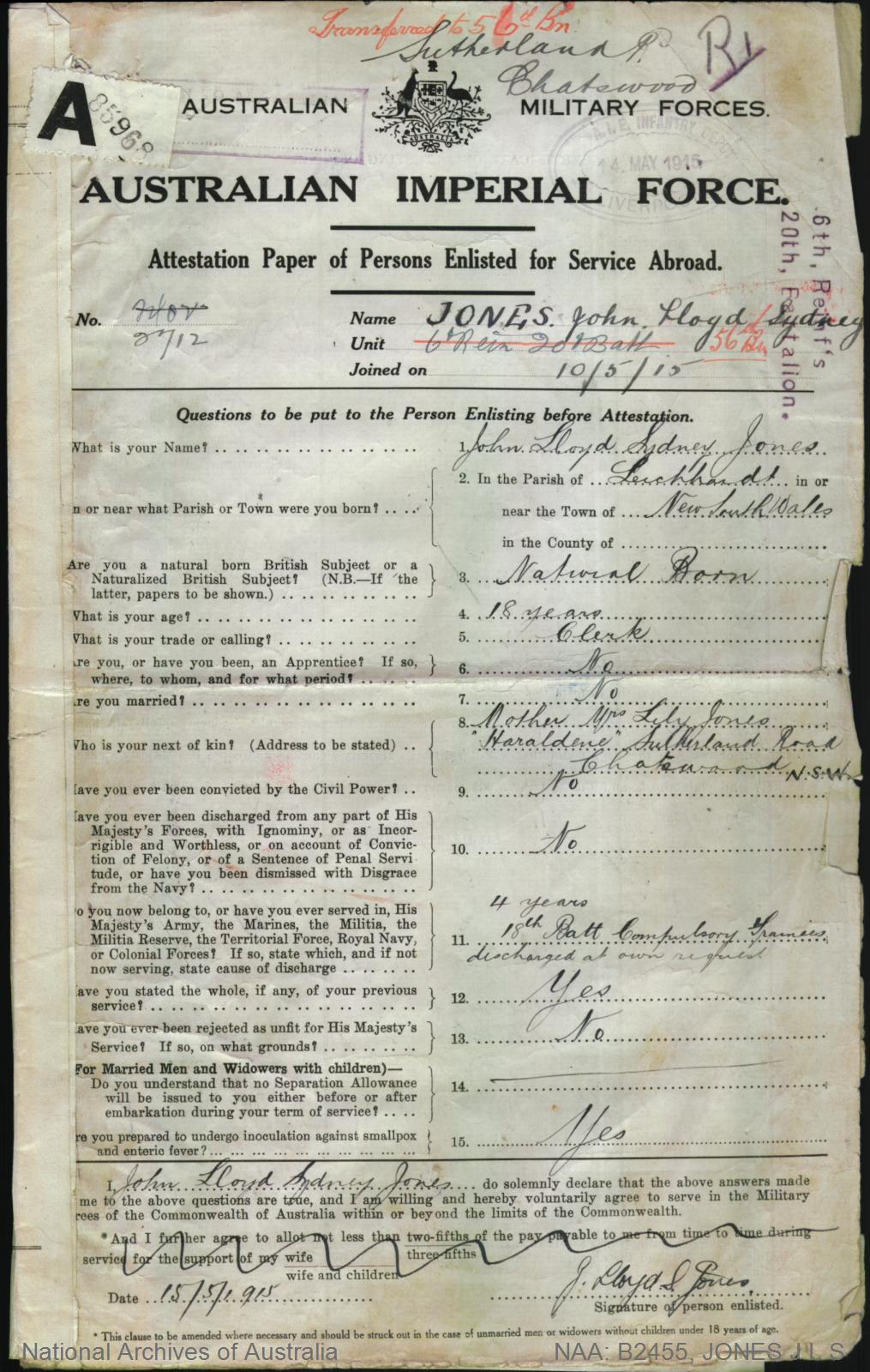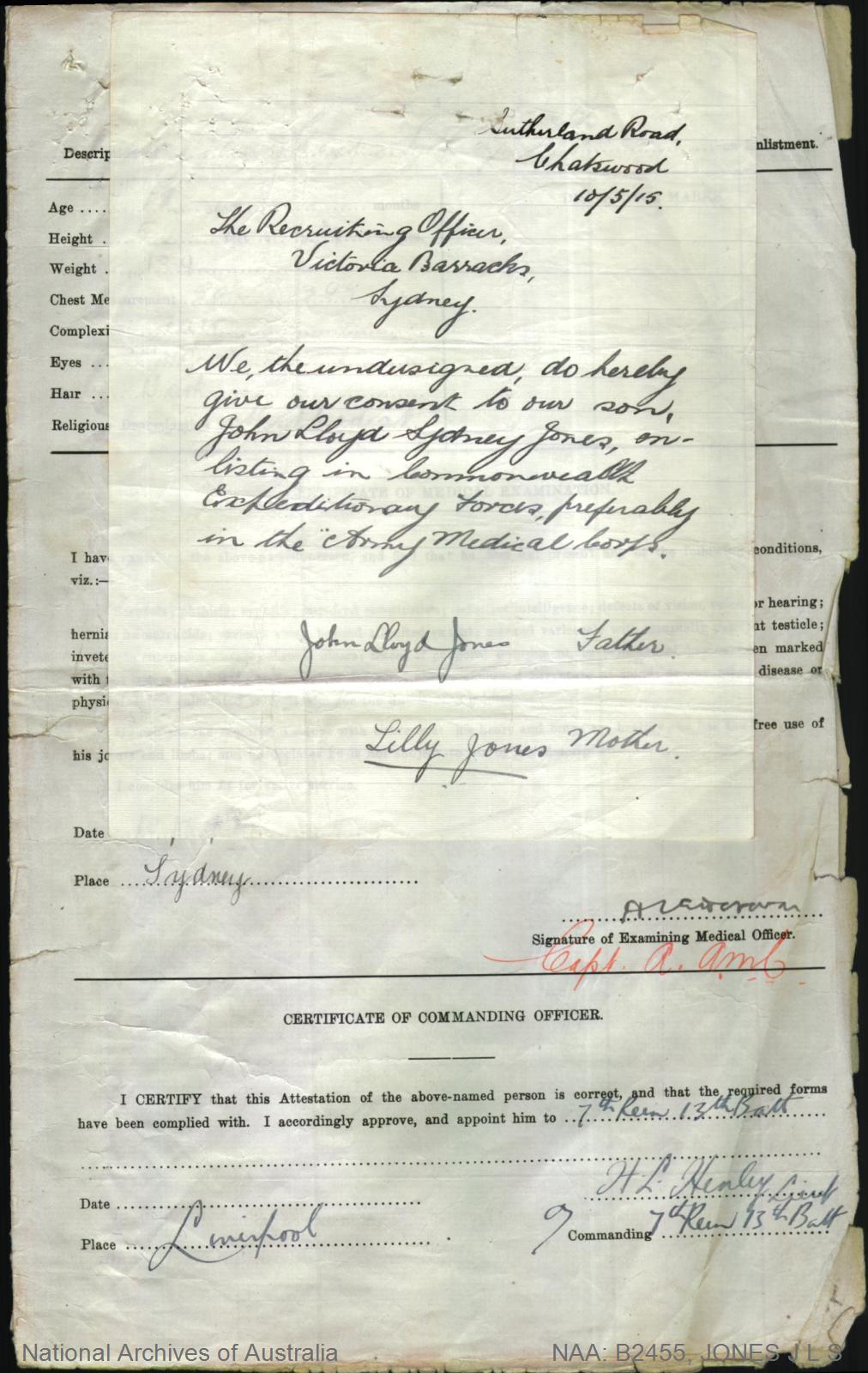 The 56th Battalion was raised in Egypt on 14 February 1916 as part of the "doubling" of the AIF. Half of its recruits were Gallipoli veterans from the 4th Battalion, and the other half, fresh reinforcements from Australia. Reflecting the composition of the 4th, the 56th was predominantly composed of men from New South Wales. The battalion became part of the 14th Brigade of the 5th Australian Division.
Arriving in France on 30 June 1916, the battalion entered the frontline trenches for the first time on 12 July and fought its first major battle at Fromelles a week later. The battle was a disaster, resulting in heavy casualties across the division. Despite these losses the 5th Division continued to man the front in the Fromelles sector for a further two months.
After a freezing winter manning trenches in the Somme Valley, in early 1917 the 56th Battalion participated in the advance that followed the German retreat to the Hindenburg Line. It was spared the assault but did, however, defend gains made during the second battle of Bullecourt. Later in the year, the AIF's focus of operations switched to the Ypres sector in Belgium. The 56th's major battle here was at Polygon Wood on 26 September.
With the collapse of Russia in October 1917, a major German offensive on the Western Front was expected in early 1918. This came in late March and the 5th Division moved to defend the sector around Corbie. The 14th Brigade, took up positions to the north of Villers-Bretonneux and held these even when the village fell, threatening their flanks.
Once the German offensive had been defeated, the Allies launched their own offensive in August 1918. The 14th Brigade did not play a major role in these operations until late in the month, but its actions were critical to the capture of Peronne, which fell on 2 September. The 56th fought its last major battle of the war, St Quentin Canal, between 29 September and 2 October 1918. It was resting out of the line when the Armistice was declared on 11 November. Soon after, members of the battalion began to be returned to Australia for discharge. It ceased to exist as a separate entity on 10 April 1919, when the remnants of all of the 14th Brigade's battalions were merged into a single unit. - Australian War Museum
He became a Builder on his return, with one of his projects being the original Avalon Beach Civic Centre, as seen above. He purchased Lots 45, 47 and 48 on Avalon Parade and backing onto Dunbar Park from the former Burnes estate with the Title registered on September 6th 1938 (Vol/Fol - 4982 - 95 & 96).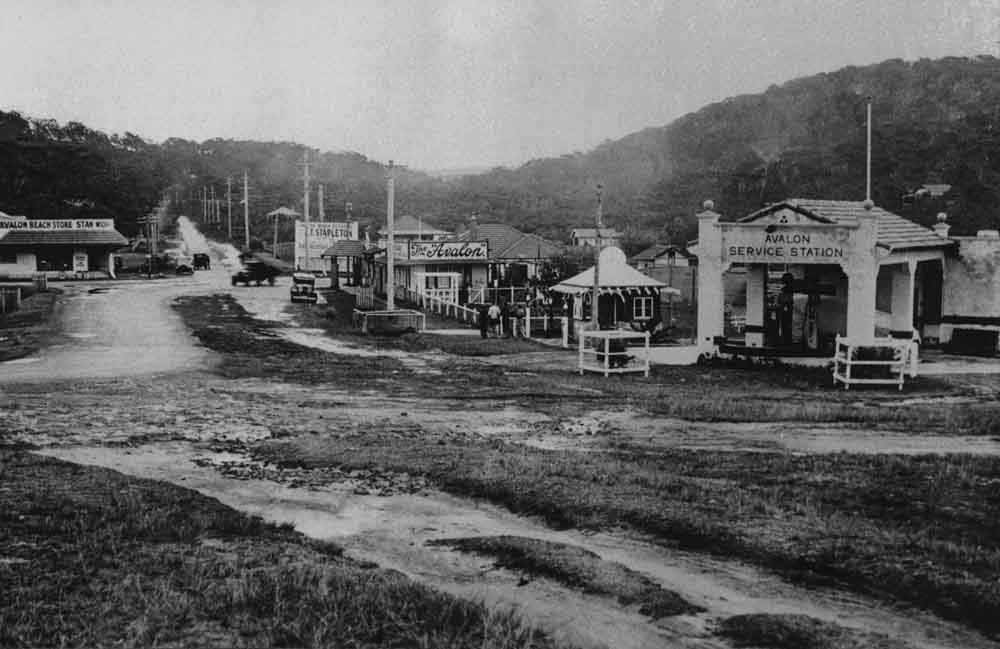 View along Avalon Parade in late 1930's- ABHS photo

From these Lots a section was devised for the use of the Avalon Beach RSL and entrusted via Vol-Fol 6211-55 for the club. The Certificate of Title, registered November 3rd 1950 records: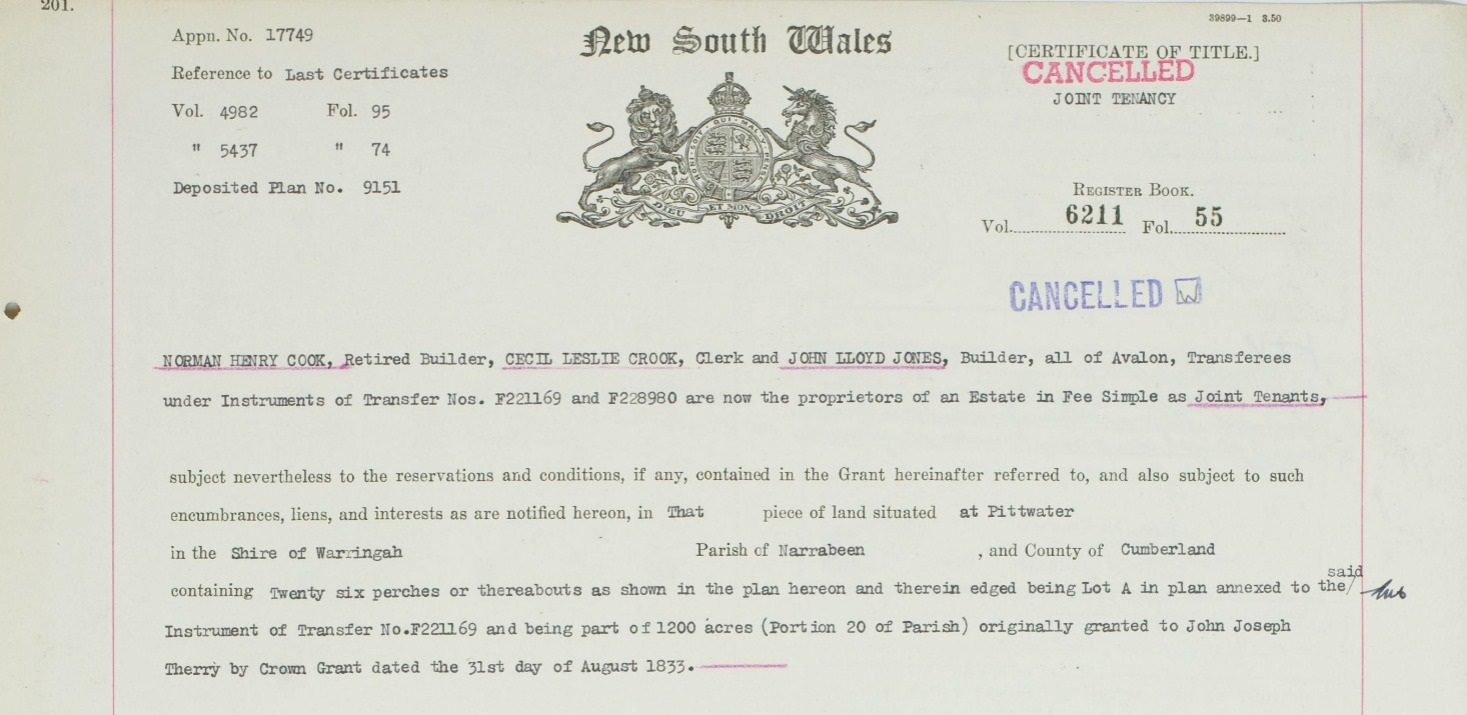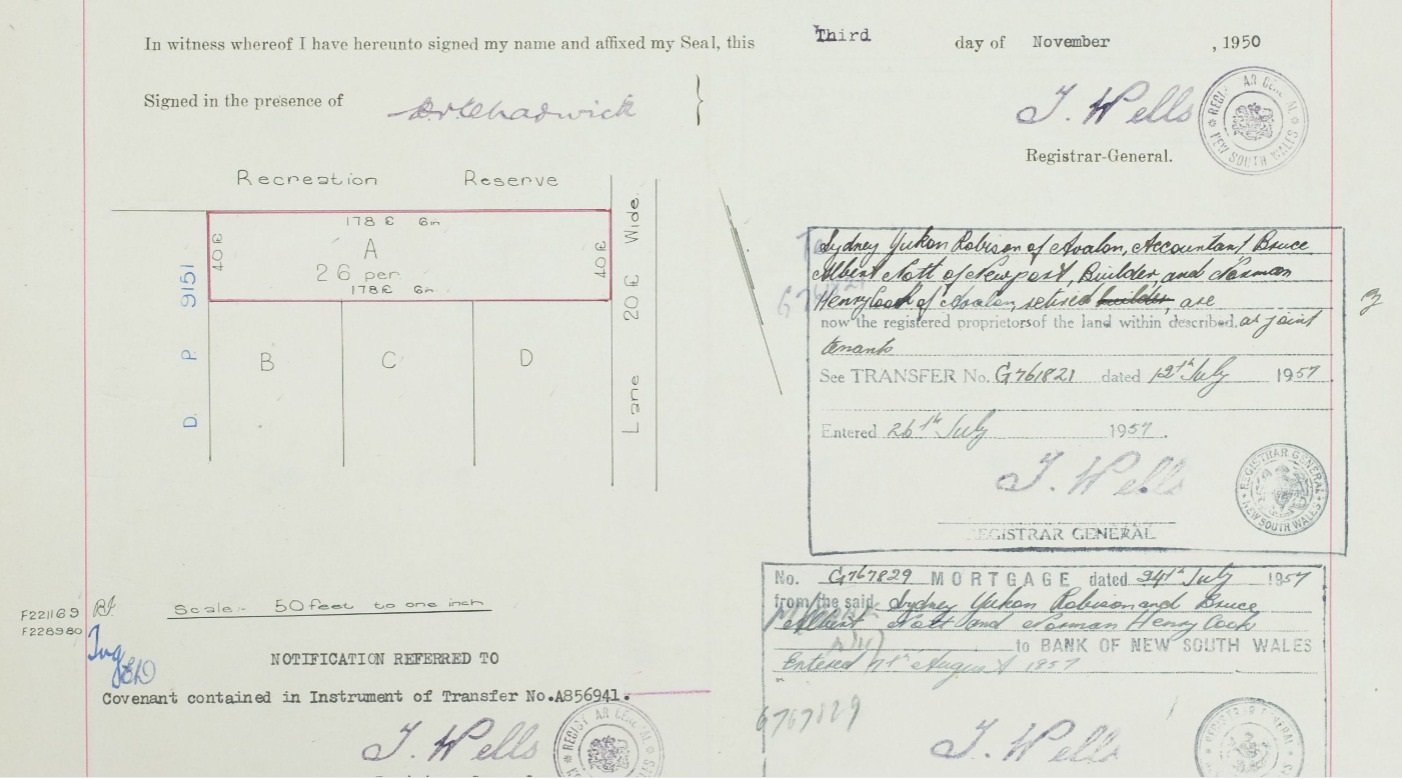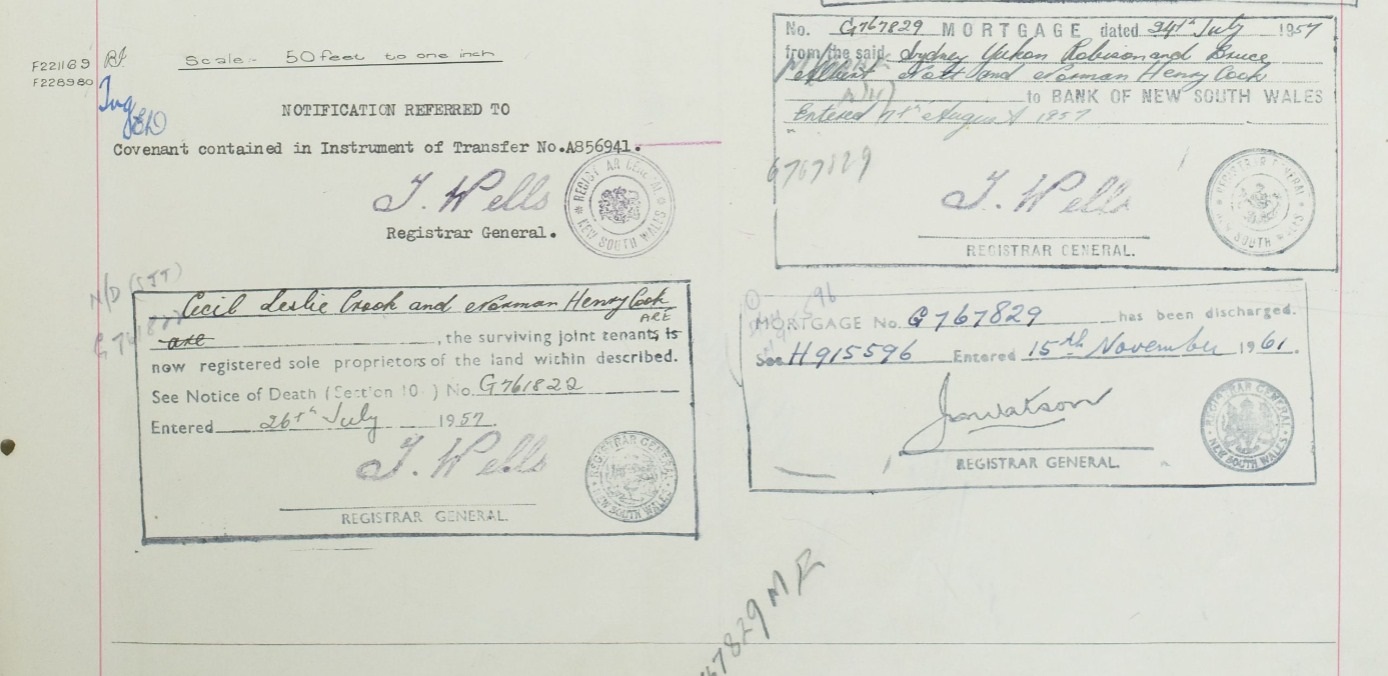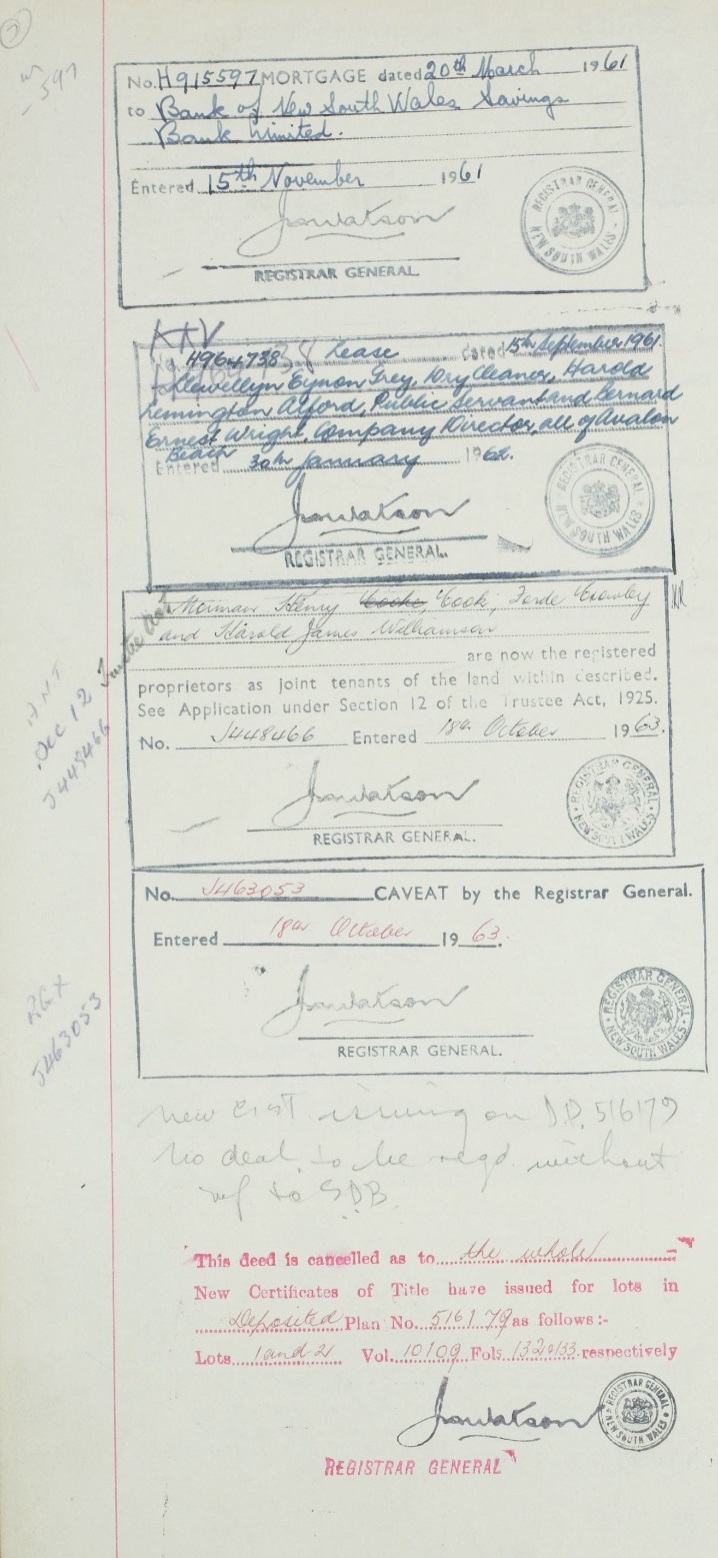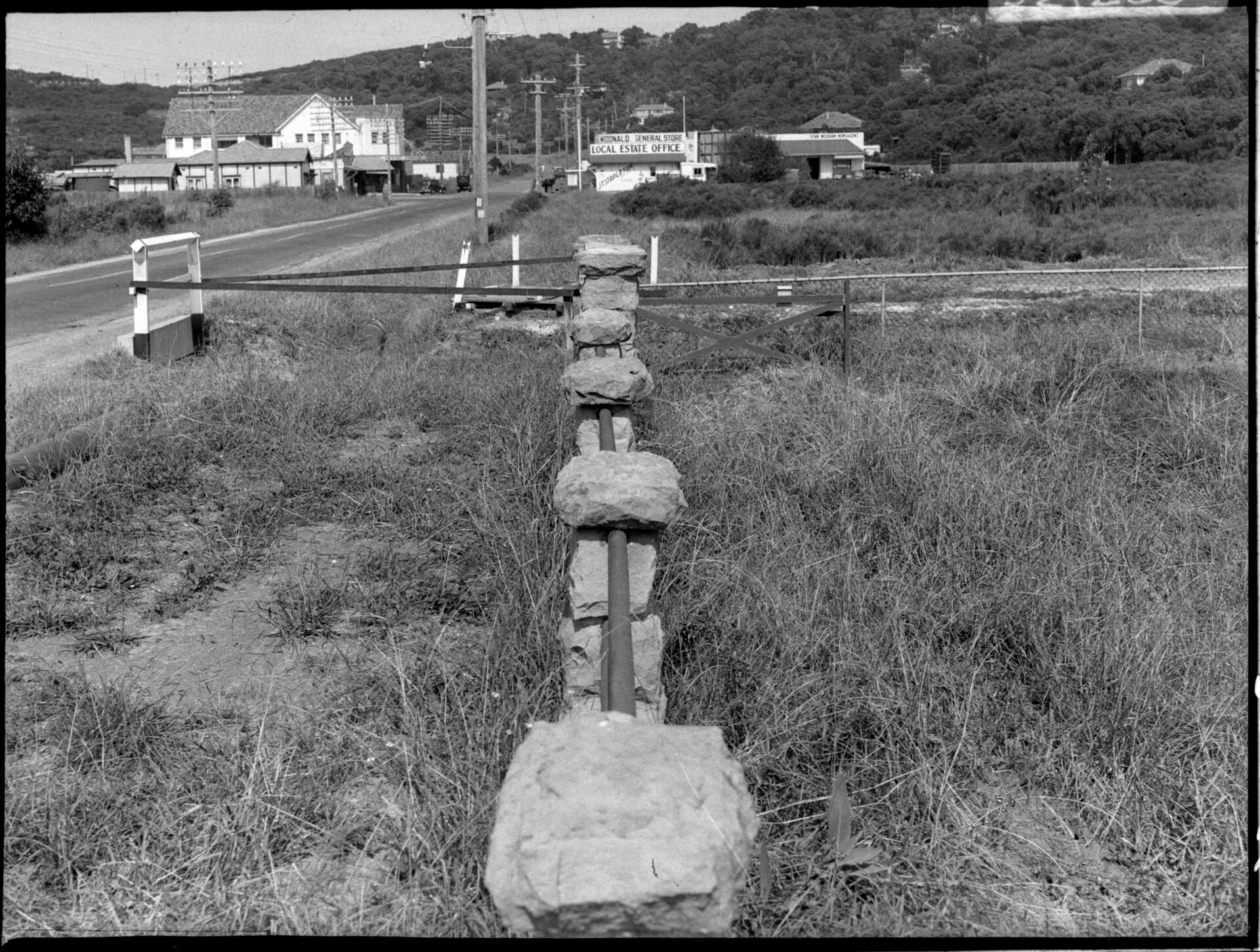 Government Printing Office d1_45760 - Avalon [From NSW Government Printer series: Government. Insurance.] Contents Date Range 01-01-1948 to 31-12-1948 NSW State Records and Archives Item: FL3814496
Personalities
Sketch by Kerwin Maegraith.
The Immediate Past - President of Manly-Warringah Branch, Mr. T. J. Chegwyn, has been a master builder for about 18 years, and is a well-known cottage-builder in the Avalon Beach district, where he resides. Mr. Chegwyn served his apprenticeship in Ealing, London. He came to Australia in 1912 and settled in N.S.W. He was in charge of construction for the Fresh Food and Ice Co. for a number of years. Previous to that, Mr. Chegwyn was engaged on Government Savings Bank works, and building. Before the last war he did construction work in South Australia and New Guinea. He formed the local fire brigade at Avalon Beach and played an active part in fire-fighting. During the war he was in the V.D.C. Mr. Chegwyn was president of Manly-Warringah Master Builders' Association for 12 months.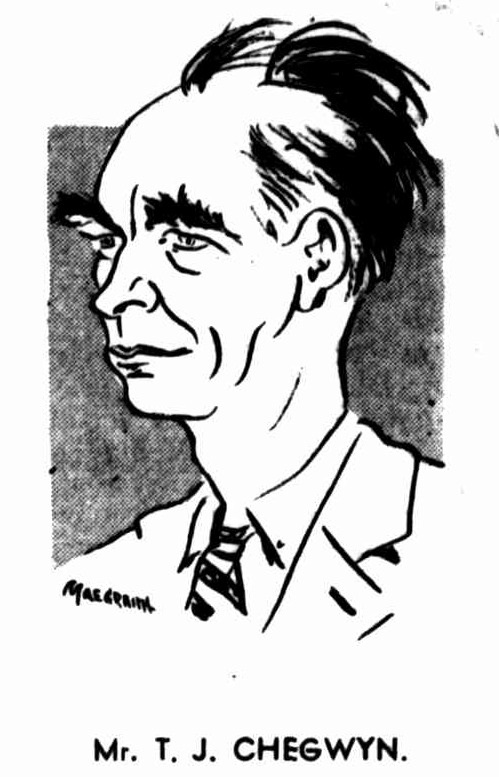 Mr. T. J. CHEGWYN.
The Treasurer of Manly-Warringah Branch, Mr. Dawson has been a master builder for 30 years. He commenced his career as a cottage builder on "spec," and in later years went Into flat-building in a big way. He has built many of the blocks of flats in his district, and he is one of the oldest-established builders in Manly. Mr. Dawson is an active member of the Rotary and civic clubs, and the Red Cross. He has a family of two boys and a girl. One son, Wally Dawson, is a civil engineer with the Cement Association, and will be remembered as an International Wallaby footballer, having played in England, U.S.A., and the Continent.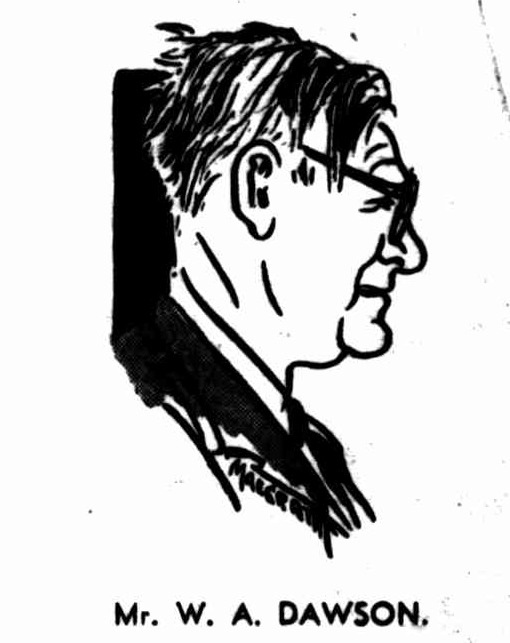 Mr. W. A. DAWSON.
Personalities (1953, August 5). Construction (Sydney, NSW : 1938 - 1954), p. 5. Retrieved from http://nla.gov.au/nla.news-article222897951
Wickham Lane, running beside the Post Office's present site is named after the Wickhams. The request initially came from residents soon after their Stanley McDonald Wickham son lost his life serving in the RAF, and then another came from the RSL and would clearly have been made to honour the young man lost as well as the family who gave so much to Avalon Beach during its formative years.
AIRMAN KILLED
Son of Stan Wickham
Pilot-Officer Stanley McDonald Wickham (22), who died on Monday while serving with the R.A.F., was a son of Mr. Stan Wickham of Rugby Union fame, and a grandson of the late Mr. Sydney Wickham, who preceded Mr. Syd. Davies as town clerk of Parramatta. His parents, who reside at Avalon, received the news yesterday In a cable from the British Air Ministry.
"Although the cable just says he was killed in an aircraft accident," Mr. Stan Wickham said last night, "we think he was serving on the Western Front.
Educated at North Sydney High School young Wickham gained his advanced A flying certificate as a member of Sydney Aero Club. He left Australia nearly two years ago to take up a four year commission with the R.A.F. AIRMAN KILLED (1939, December 20 - Wednesday). The Cumberland Argus and Fruitgrowers Advocate (Parramatta, NSW : 1888 - 1950), p. 1. Retrieved from http://nla.gov.au/nla.news-article106204407
AUSTRALIAN IN R.A.F. CASUALTY LIST
LONDON, Monday. 4
A Royal Air Force casualty list announces that Pilot-Officer S M Wickham who was born at Parramatta (NSW) has been killed on active service. Pilot Officer Wickham's father lives at Avalon near Palm Beach. AUSTRALIAN IN R.A.F. CASUALTY LIST (1940, January 2). The Argus (Melbourne, Vic. : 1848 - 1957), p. 3. Retrieved from http://nla.gov.au/nla.news-article11289589
The R.A.F. casualty list includes Pilot Officer S. M. Wickham, of Avalon Beach,
New South Wales, and acting-Flight Lieutenant E. J. Heatherington, of Timaru, New Zealand.
Both were killed on active service.
The sixteenth casualty list contains 66 names.
Details are :
Killed in action 5.
NAZIS LOSE TWO 'PLANES IN RAID (
1940, January 3
).
Northern Star
(Lismore, NSW : 1876 - 1954), , p. 1. Retrieved from
http://nla.gov.au/nla.news-article101492779
Warringah Shire Council Minutes of Meetings provide:
Meeting held February 2nd, 1940: E. Morehead: 16/1/40, suggesting that as old Barrenjoey Road is now being put into good order it is worthy of a new name, and perhaps could be named after a British Stateman, or better still, called Wickham Road, as the son of Mr. Wickham, at whose store the road finishes, has paid the supreme sacrifice for his country. Motion Lost. Name to remain the same.
Meeting held on July 11th, 1950: Avalon Beach RSSAILA, 4/7/50 requesting that the name "Wickham Avenue' be given to the lane adjoining the R.S.L. Clubhouse instead of "Wickham Place", as already approved. Resolved; That the Council agree to the change of name. (Crs. Butcher, Harries)
Meeting held on September 5th, 1950: 5) Avalon Branch RSSAILA, 23/8/50, inquiring whether the planting Council would be prepared to supply ornamental trees for planting along Wickham Avenue, leading to the Branch's hall from Avalon Parade. Resolved, - That trees be supplied to the Sub- Branch for planting et about 30-ft. spacing, as recommended by the Engineer.
Meeting held on April 30th, 1951: Avalon Branch RSSAILA, 9/4/51, requesting that consideration be given to laying a concrete path along Wickham Avenue from Avalon Parade to the land owned by the Sub-Branch, stating Avenue that the Sub-Branch has, at its own expense, placed quantities of sand in the Avenue, and requesting that early consideration be given to this request as Wickham Avenue is the only access 19. to the Hall. Resolved, - That £40 be voted for work on this roadway, the work to be treated as urgent. (Crs. Berry,Wheeler)
The Lane's name originally extended right through to Dunbar Park. That section between Avalon Parade and the park was officially changed in 1988 to honour a local doctor. The section that runs from the post office to Avalon Public School remains 'Wickham Lane'.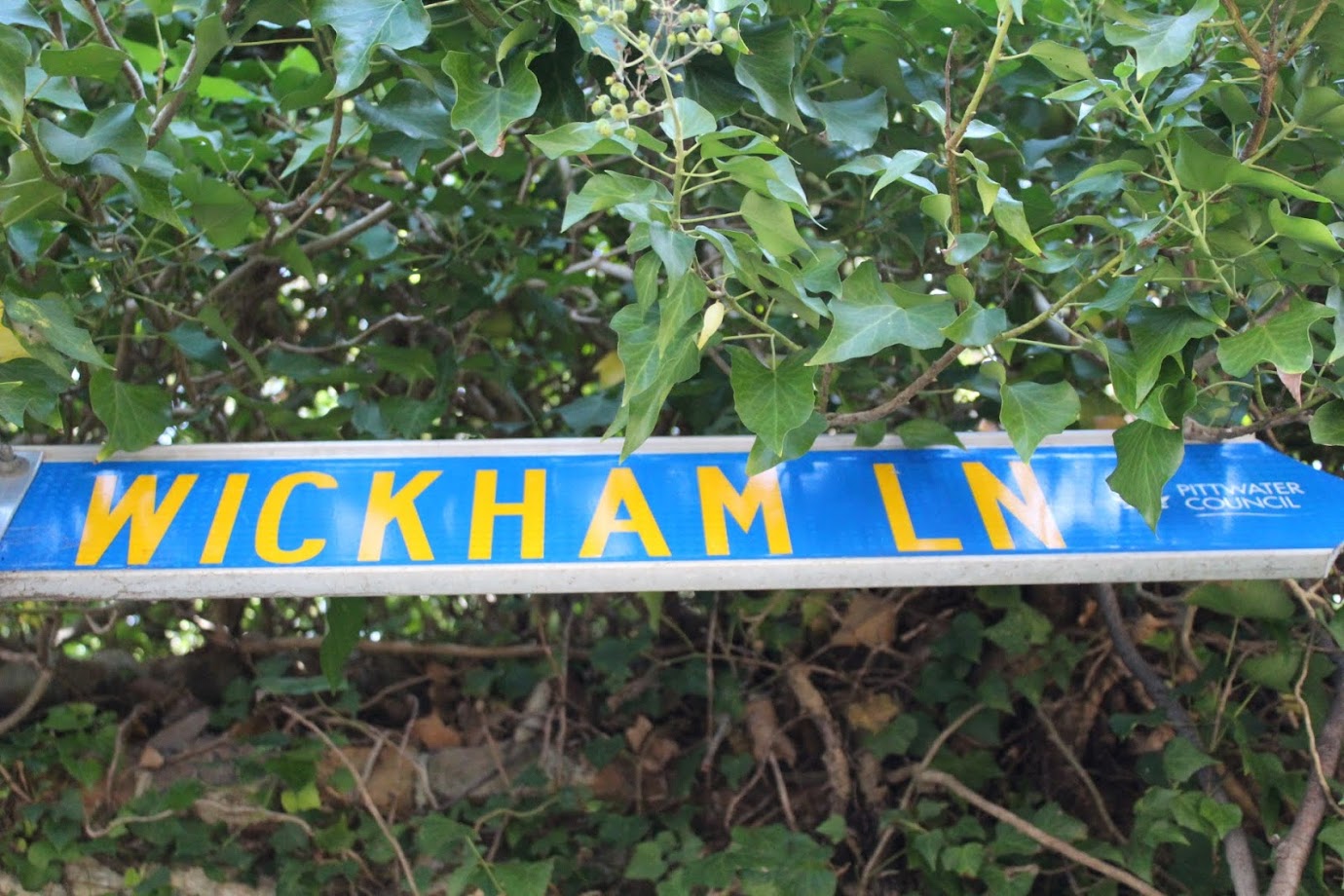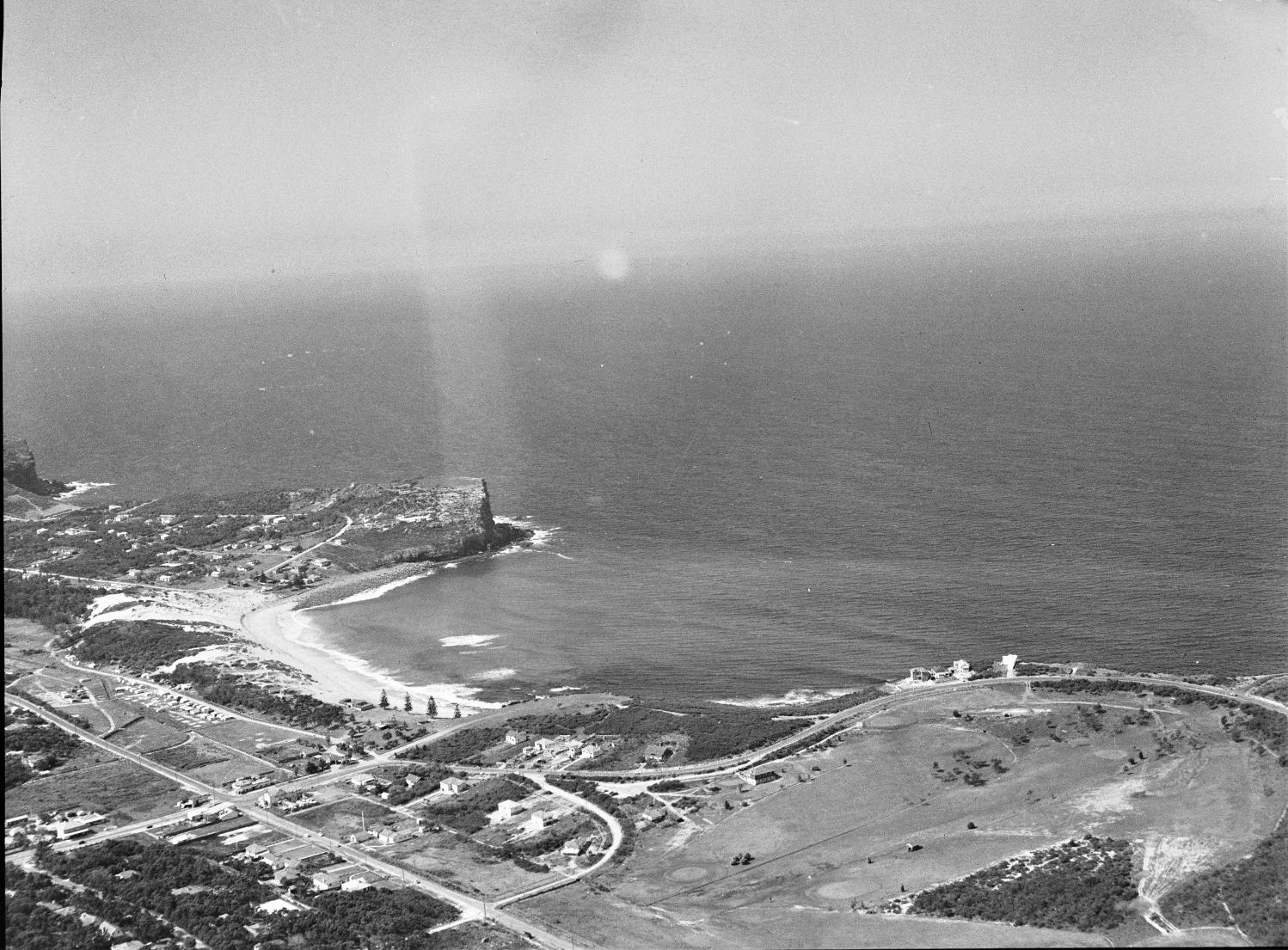 Hurley, Frank. Avalon Beach & surroundings [Aerial views, Sydney, New South Wales] circa 1950-52 (enlarged section from to show camping ground alongside Careel Creek and surrounds - including the Norfolk pines on south end of beach; 4 can be seen and the tip of a 5th one right at the southern edge, tucked behind the bank rise) Retrieved from http://nla.gov.au/nla.obj-160005527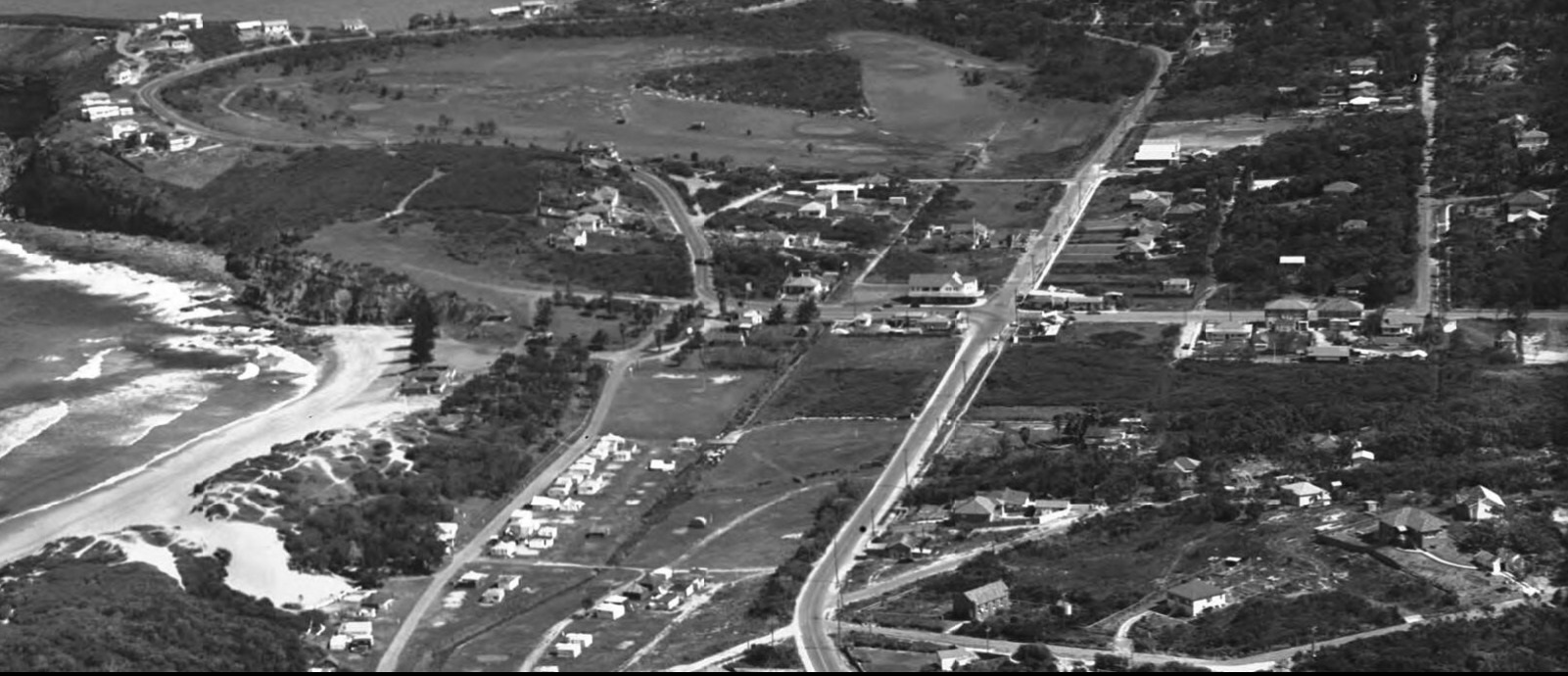 Avalon Sub Branch 75th Anniversary Attendees