September 22 - 28, 2019: Issue 422

A Week In Pittwater: September 2019
Rain Week
A great week for everything parched in Pittwater and for those missing the sound of rain in all its variations; fast and slow, soft and heavy. There has been frogsong everywhere, the wonderful smell of the earth and trees as the clouds lifted, centipedes, snails and slugs for little boys to 'ooo' and 'ahh' over, small ants re-digging their escape routes, small and big puddles and lots of mud for everyone to stomp through, birds taking a bath, the gloruous colour that comes out in the eucalypts trunks when they're wet and early morning low mists as the water rises.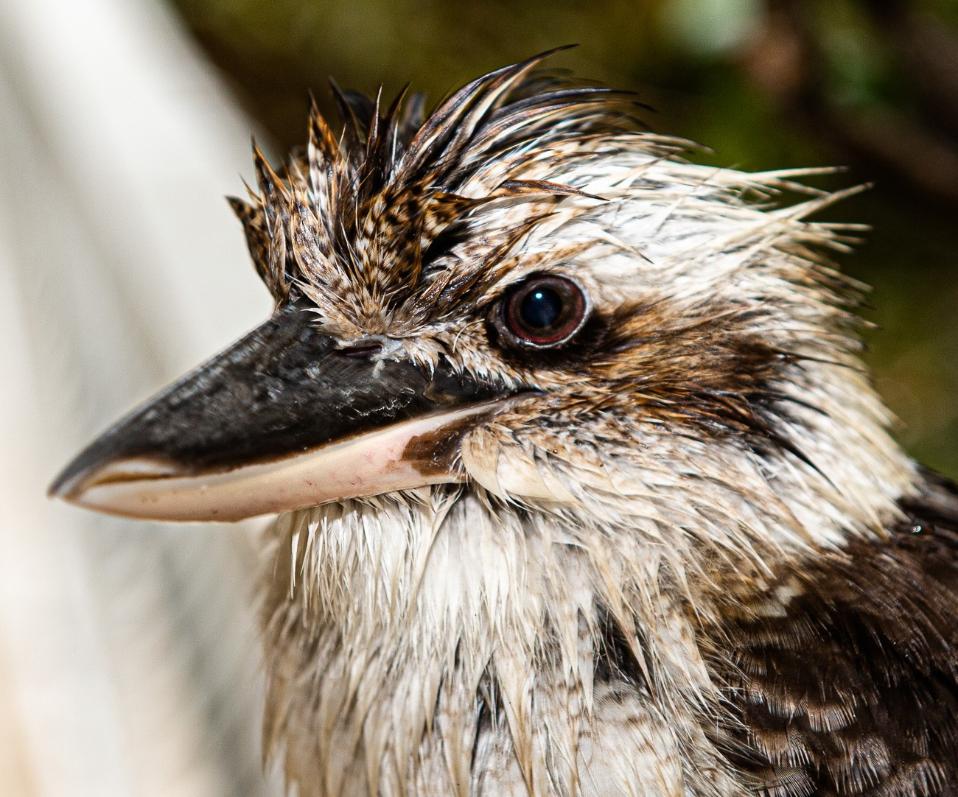 Wet Day In Pittwater, September 18 2019 - a Michael Mannington photo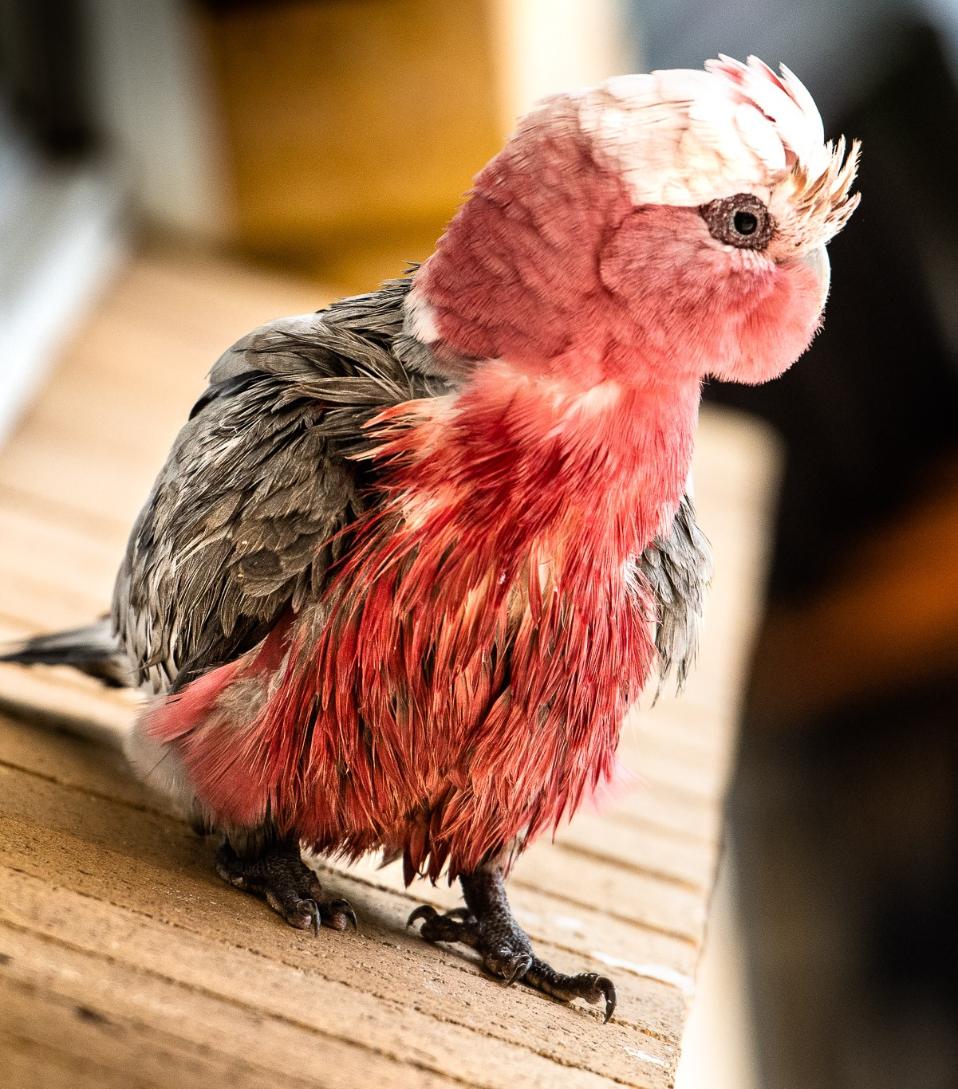 Bad Hair Day In Pittwater, September 19 2019 - a Michael Mannington photo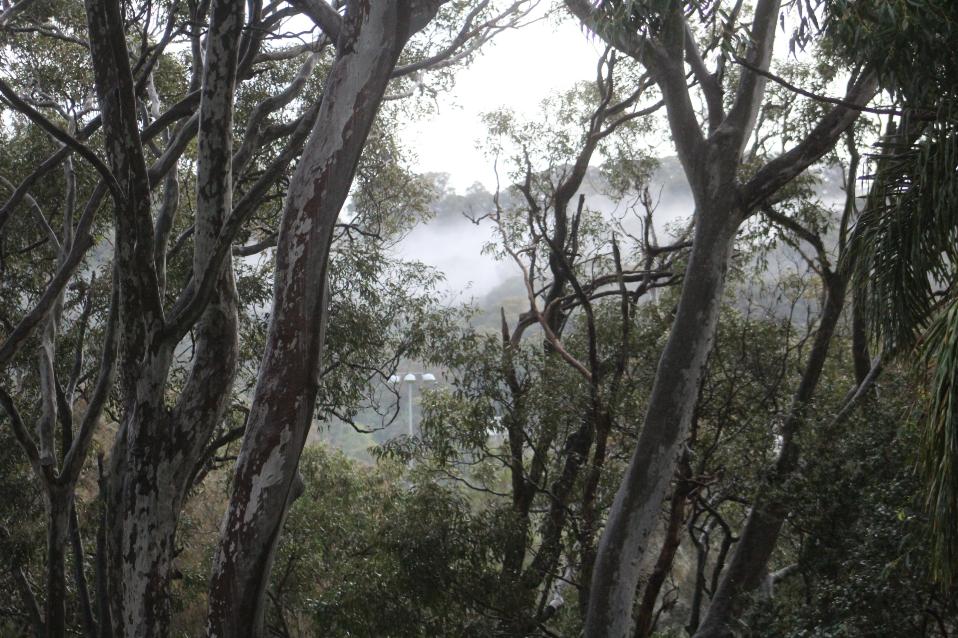 Misty morning below Careel Bay hills, September 19, 7am, A J Guesdon photo
KIALOA II Returns To Pittwater
On Friday, September 20th, KIALOA II rounded the Barrenjoey headland to come home after taking part in the 50th edition of the Transpac LA - Honolulu yacht race. They left Pittwater in late April with stops in Apia, Samoa and Honolulu on the way to Long Beach, California.

KIALOA II was designed in 1963 for Jim Kilroy by the premier naval architecture firm of Sparkman and Stephens. John B. "Jim" Kilroy (May 1, 1922 – September 29, 2016) owned and raced the record-breaking Kialoa sailboats from the 1950s to the 1980s, helping pioneer the era of maxi yacht racing.
In 1962 he and his KIALOA I crew won the San Diego-Acapulco race in record time. Within two years, KIALOA II had been designed with even faster speeds in mind and took line honours in the 1971 Sydney to Hobart.
KIALOA III, a maxi yacht, was the dominant sibling, winning the 1975 Sydney-Hobart race with a record time that stood for 21 years. A 1982 article described her legacy this way: "From her debut in 1975 until her retirement last year, Kialoa (a Hawaiian word for 'long, beautiful canoe') took part in 24 SORC (Southern Ocean Racing Conference) races. Time and again she was first across the line only to have some little 42-foot creep bring the wind from behind and beat her on corrected time. Still, Kialoa won four of her 24 SORC tests on corrected time — a remarkable showing, considering that in the same period only three other biggies out of a total of 19 won so much as one race without benefit of age allowance." Kilroy followed up with KIALOA IV and KIALOA V.
Patrick and Keith Broughton bought the 73' yawl KIALOA II in 2016 with the view to compete in the classic ocean races as Kialoa II did under Jim Kilroy. In 2017 KIALOA II completed the Rolex Fastnet Race and headed home to prepare for the second major goal for the owners Patrick and Keith Broughton, the 2017 Rolex Sydney Hobart. A broken boom during that race slowed the yacht and crew down a bit but they still finished.
On Boxing Day she and her crew will line up again to take part in the 2019 Sydney to Hobart Yacht Race.
In July KIALOA II was among the fleet in the 50th Transpac. Although the first Transpac race for all 16 crew members aboard, this was the 4th for yacht having raced the 2,300nm to Diamond Head, Waikiki in 1965, 1967, and 1971.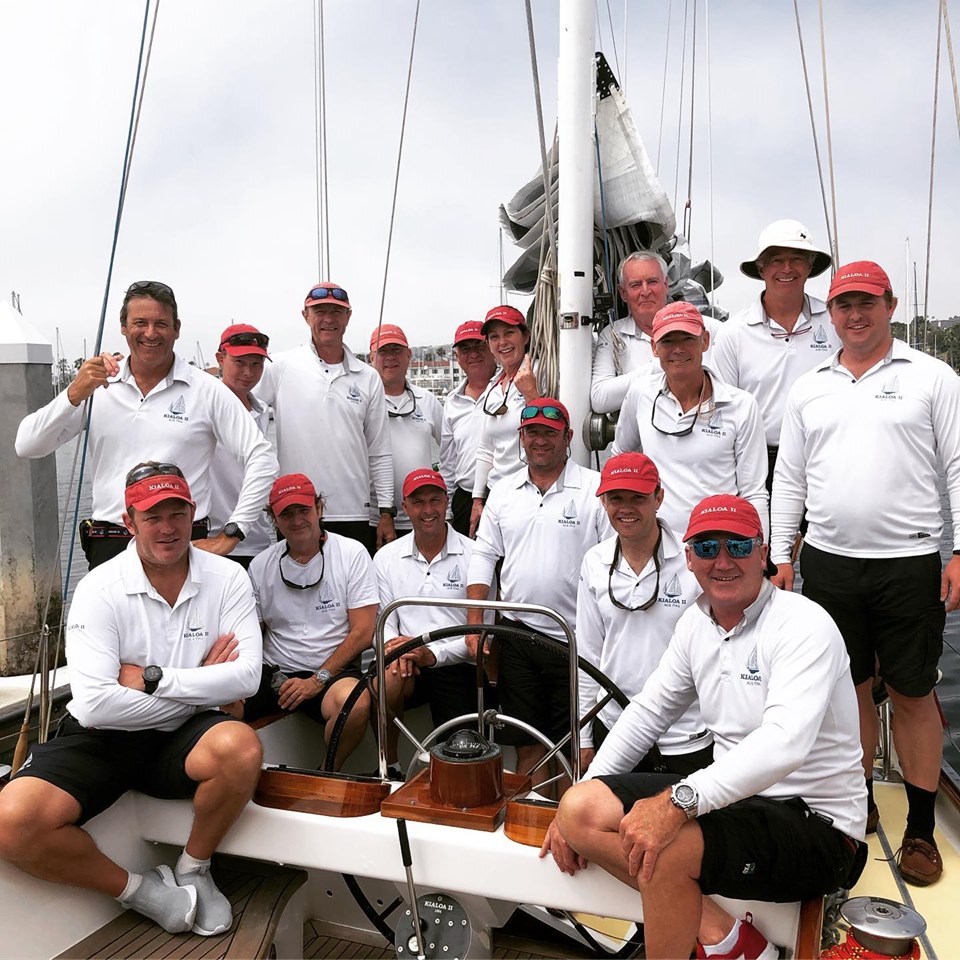 Transpac 2019 Crew: from back - Dallas Kilponen, James Shepherd, Paddy Broughton, Keith Broughton, Dave Sawdon, Gen White, Lindsay May, Jamie Hastie, Tony Hearder, George Jackson, Front - Matt Souter, Grant Chessels, Pete Sheldrick, Jason Toyne, Tom Gresty, Jeff Beaton.

At 20:09 on July 22nd KIALOA II crossed the finish line at Diamond Head, Hawaii to complete the 50th Transpac race and placed second in Division II and 51st overall. The 2210 nautical miles took 10 days 11 hours to complete.
The Ronald L. Burla Trophy for Media Excellence - awarded to the entry that provides the most creative and original media content related to their on-board experience while sailing in Transpac 50 - was presented to KIALOA II's Dallas Kilponen.
In early August she began the long sail home again, completed as this week ended, with the 75th Rolex Sydney to Hobart now in their sights.
You can follow her adventures on the KIALOA II Facebook page: www.facebook.com/kialoa2 and Website: kialoa2.com.au
Well done and Welcome Home - it's great to see you back!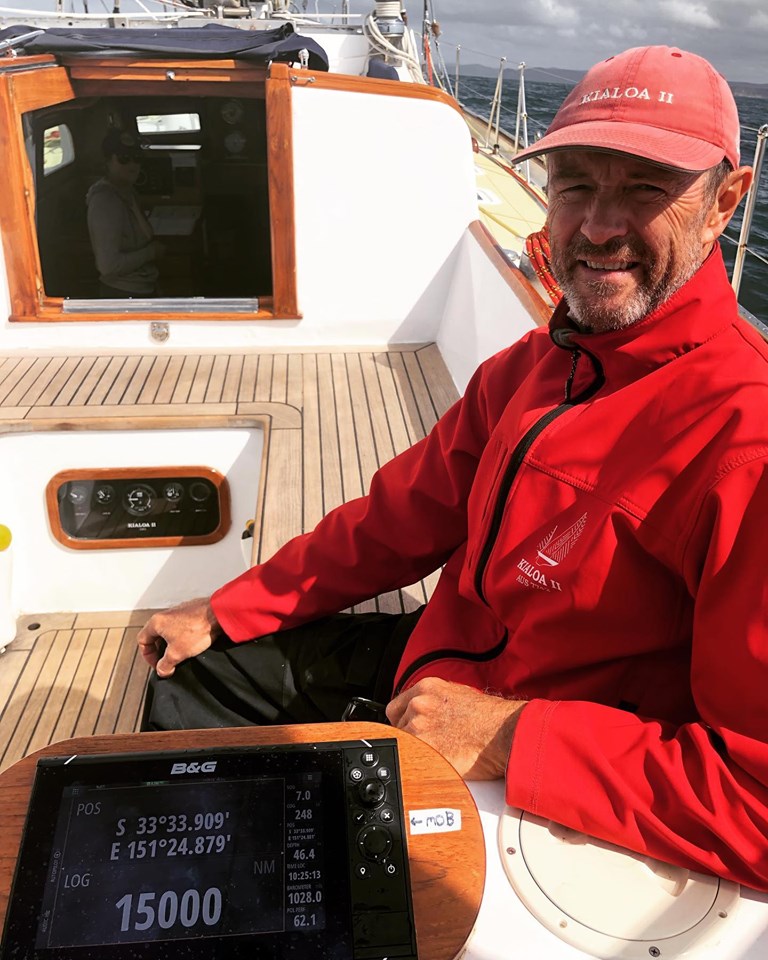 As we approach Barrenjoey Head at the end of the @transpacrace odyssey, the LOG ticks over to 15,000nm travelled for Paddys 5 month round trip. - Kialoa II, September 20, 2019 at 10:34 AM - Facebook post
Wakehurst Parkway Closed
On Tuesday September 17th, Live Traffic advised: Road Closed: Oxford Falls Road between Wakehurst Parkway AND Forest Way. Road closed in both directions. Reported 17 Sep, 2019 - 10:31 PM - Updated 18 Sep, 2019 - 5:08 AM

By 10:24 am, September 18th Road Closed: Wakehurst Parkway At Oxford Falls - Road closed in both directions.
The closure, one of several that have occurred this year, prompted many residents to question how safe anyone needing to access the new Northern Beaches Hospital is if they live beyond the Parkway and renewed calls for the road to be upgraded.
Photo courtesy Selena Griffith.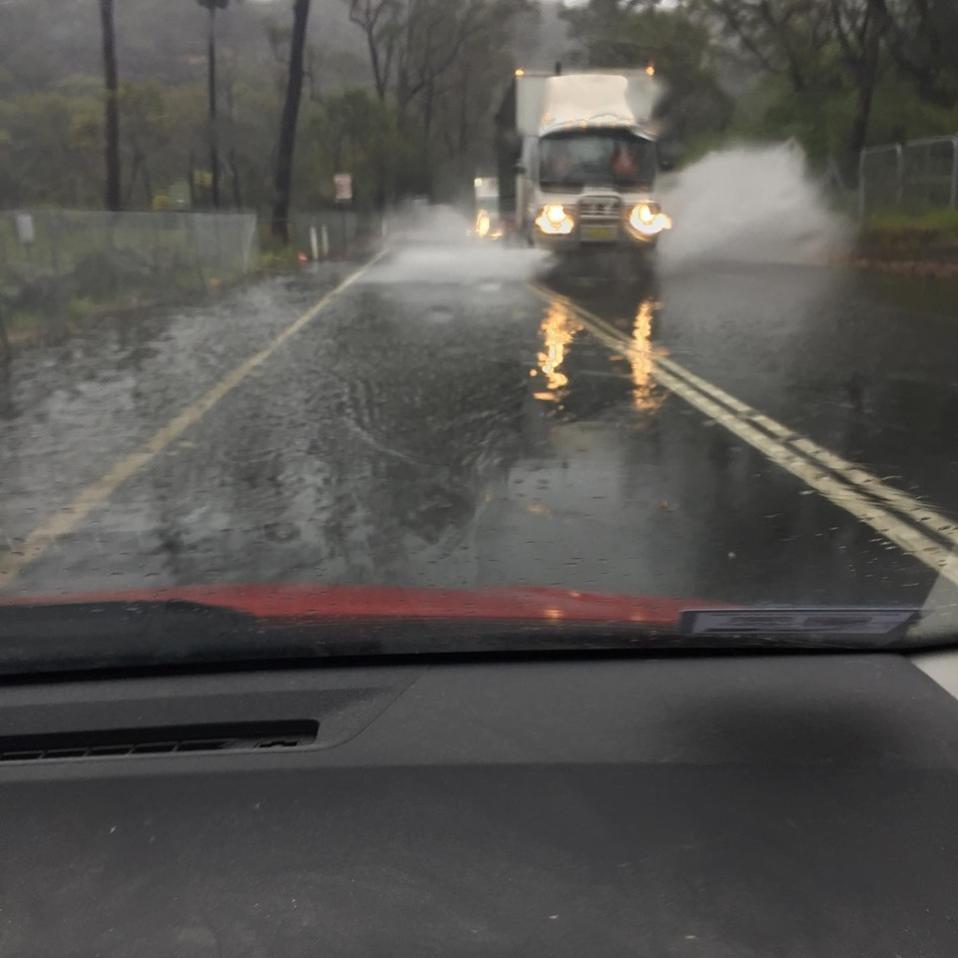 Avalon Bilgola Amateur Swimming Club Medallists At WASA Meet
September 21, 2019
Oh what a night! We had 15 swimmers in the Avalon Bilgola team for the WASA (Warringah Amateur Swimming Association) meet tonight. Congratulations to all swimmers who tried their best and swam so well. We had some medal winners - Jarrah (4 gold), Tahli (2 silver, 1 bronze), Harvey (2 silver), Krystal (3 bronze), Joy (1 bronze medal). And third place ribbons to the 14/u relay team of Jarrah, Krystal, Joy and Josh.
Thanks to our officials on pool deck - Bob, Richard and Nicole.
See you all at the first swim club meet at Bilgola pool on Saturday 19th of October.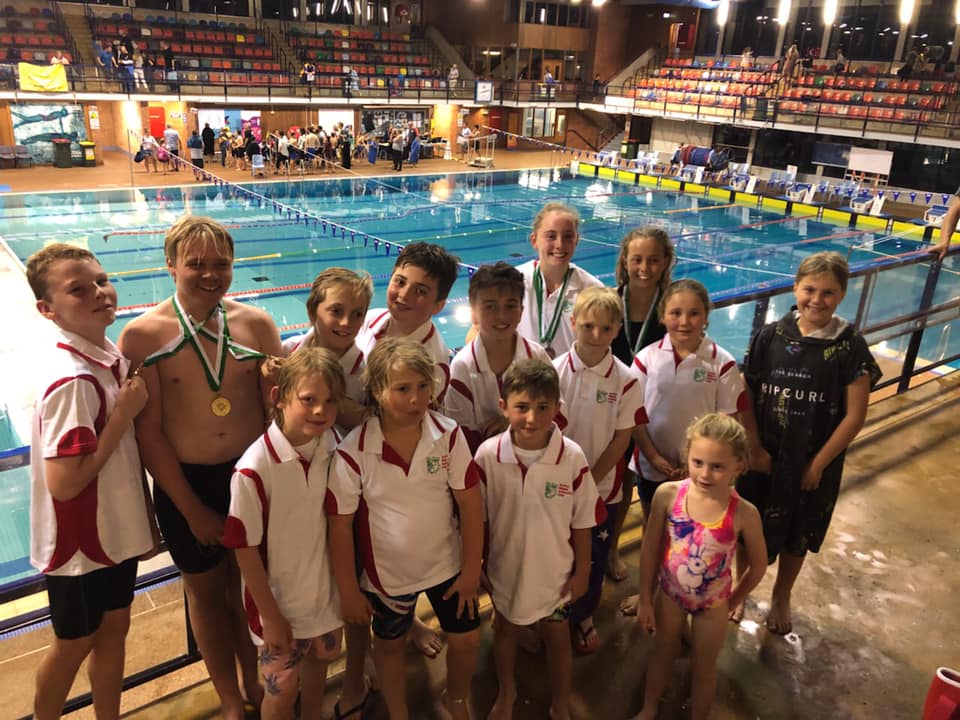 Ingleside And Scotland Island Rural Fire Brigade Volunteers At Work Far From Pittwater
September 17, 2019
Busy last day for our Ingleside and Scotland Island NSWRFS volunteers yesterday at the Long Gully Rd, Drake bushfire. Our crew as part of the 8 from the Northern Beaches District area were directly involved in saving 5 homes from the fire, particularly around the Drake and Rover Park areas.
This is a better shot of what was heading towards us - this is not a Hazard Reduction. If it doesn't rain the expected containment date for the is 7th of Oct but that could change.

This crew is due to return today and we have another volunteer heading to assist on the next rotation which will be deployed into the field today.
You too can volunteer: www.inglesiderfs.org.au/join-us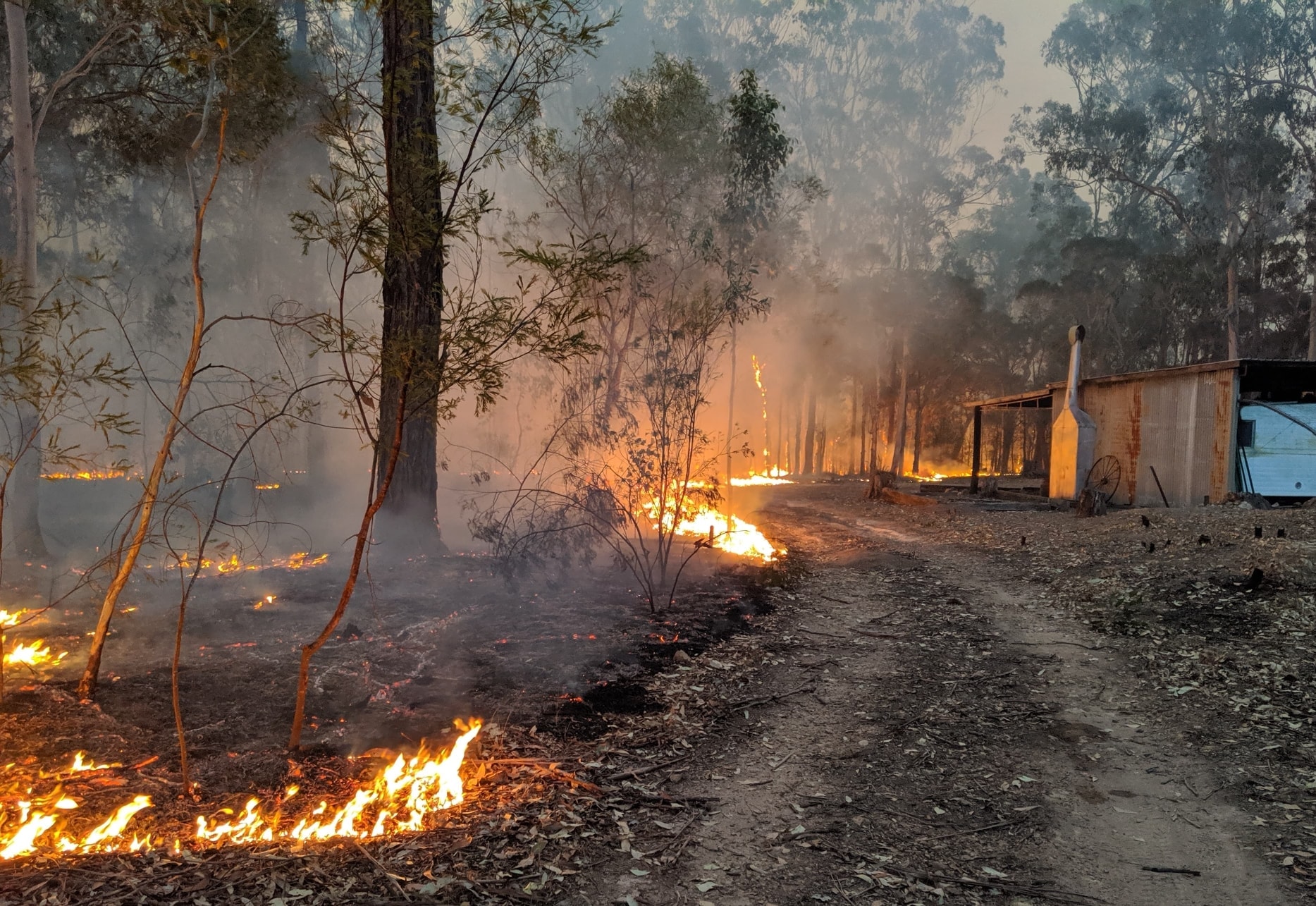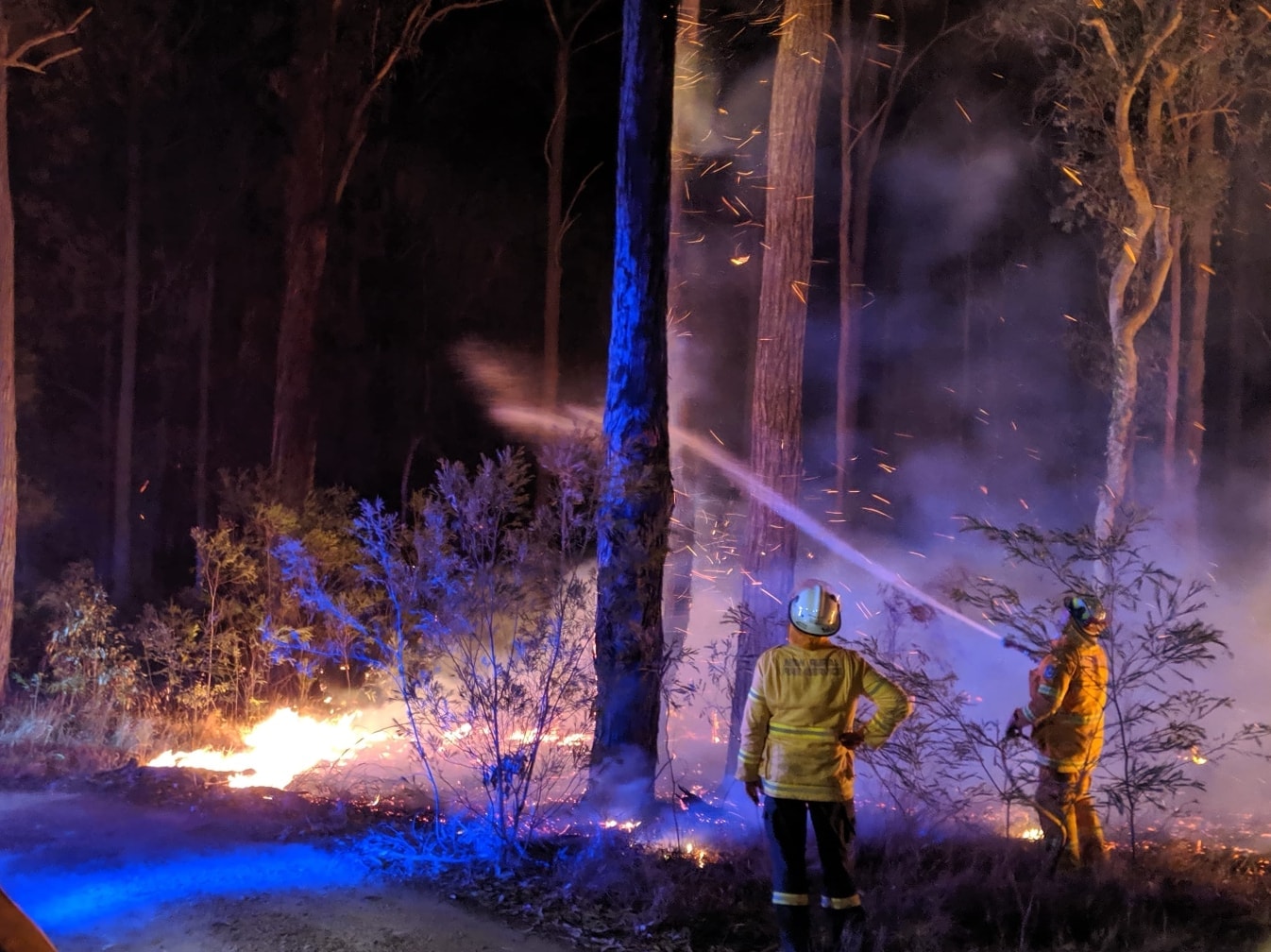 September 21, 2019
Ingleside NSWRFS continues to put RFS volunteers in the field at the Long Gully Rd, Drake bushfire near Tenterfield. Our volunteer Josh was deployed into the field Friday, patrolling Fire edges, clearing trees and mopping up smaller fires. Whilst they had a dusting of rain, that's already evaporated and it's dry again on the 53,000Ha fire.
Ingleside had 90mm of rain in the last week.
Ingleside NSWRFS have been volunteering since 1952 from our station in King Rd, Ingleside. The fire truck to the right is the Nubian, formerly an Airport Fire tender.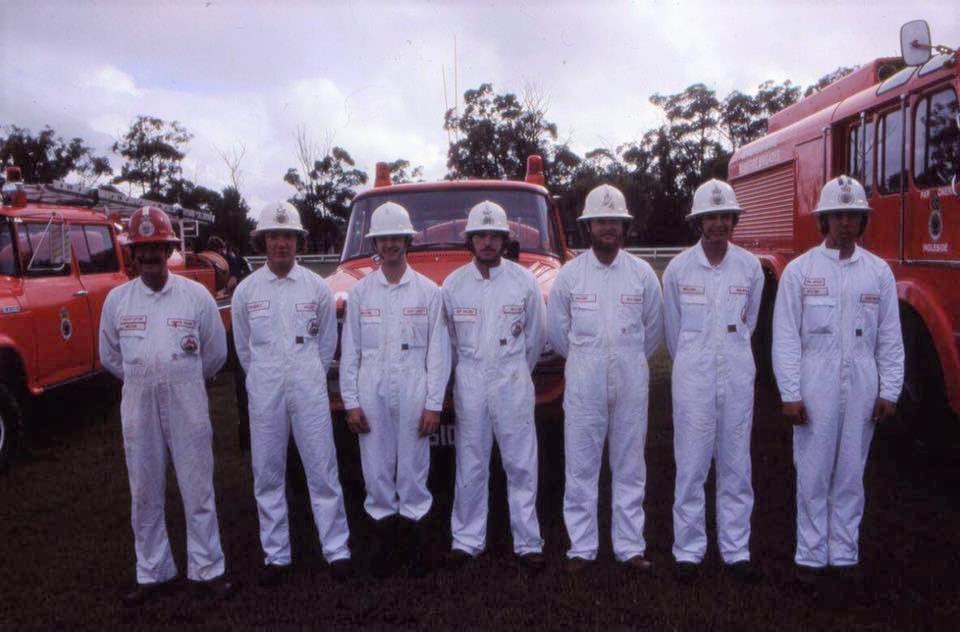 Left to R: Ingleside Senior Deputy Captain Graeme 'Willo' Wilson, Bob Birrell, Geoff Auckett, Geoff Phillips, Paul Wilson, Nick Nolan, Dave Walters.
Photo from NSW RFS Heritage. Heritage is great... The history is what made the 70,000 RFS volunteers what they are today...
Photos by and courtesy Ingleside RFB and and Wayne Gluyas, Scotland Island RFB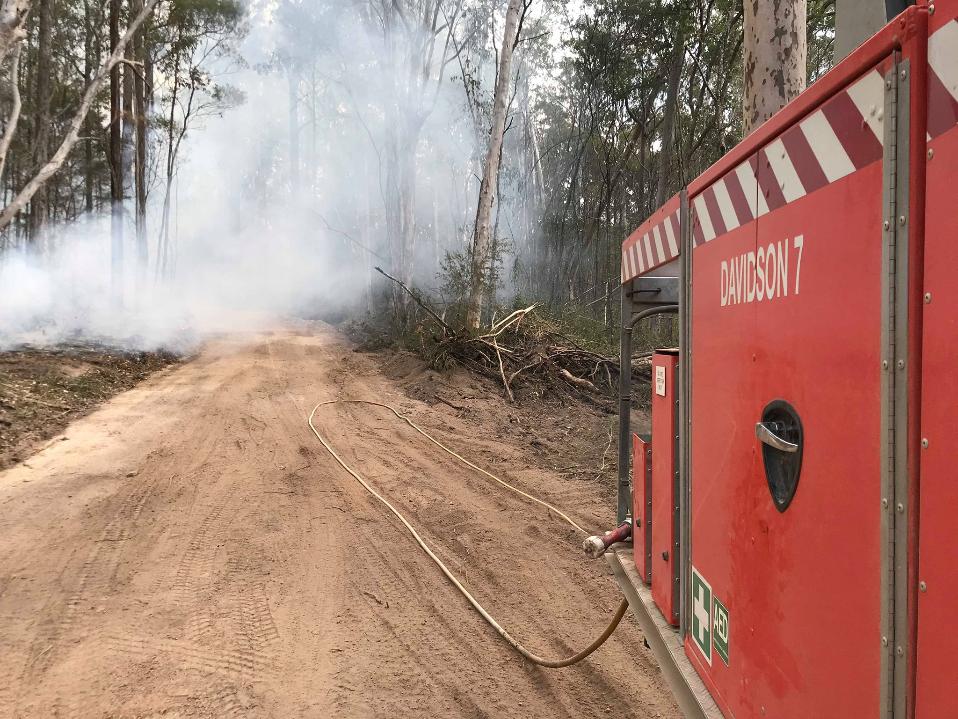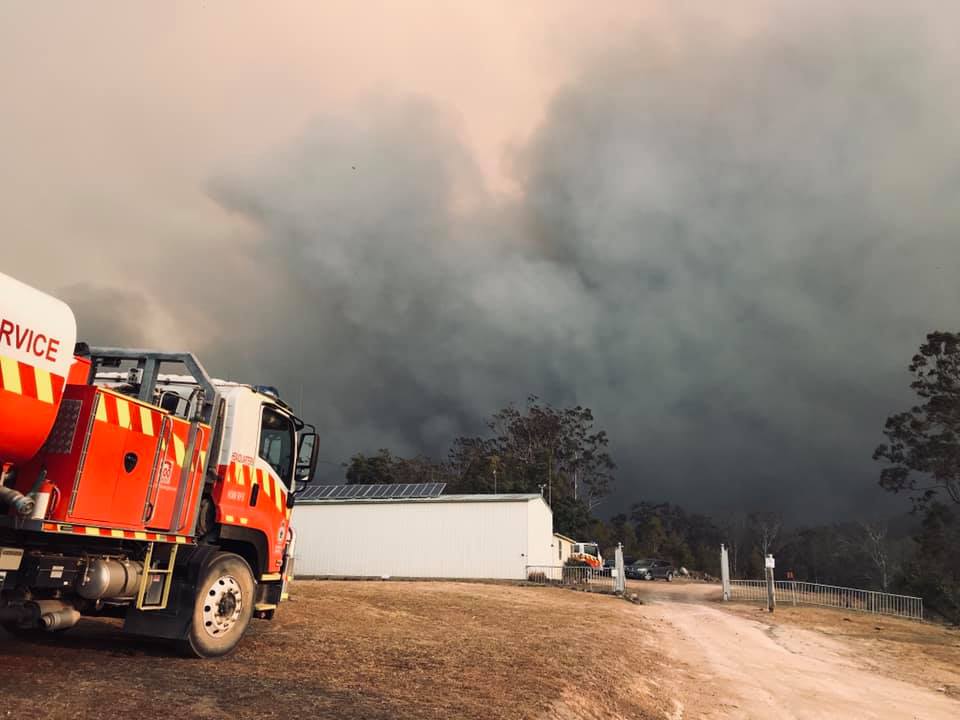 Thousands Of Residents Join Climate Strike
Students, workers and parent supporters headed into town on Friday to be part of the Spring 2019 Student Strike 4 Climate Change with hundreds of thousands of other Australians across the country and millions world wide. A report runs this Issue.

On Monday a standing room only meeting was held at Avalon Bowling Club, hosted by OneEighty, Stop Adani Mackellar and Stop Adanai Avalon.
Thanks to everyone who came to our 'Climate Change and Our Community' event last night , we had 80+ in attendance - standing room only! It was so great to hear snippets from David Attenborough himself, Tipping Point legend Josh Creaser, John Brooks from Future Super telling us how to divest our money from fossil fuels and Tess Northcott (Manly Selective) who's been helping with the School Strike 4 Climate! So great to see so many members of our community keen for more action on climate change and hoping to reduce their carbon footprint! Big thanks to One Eighty Inc. for helping us out, to the Avalon Bowlo for having us and to Julien Pulvermacher for MCing. - Stop Adani Avalon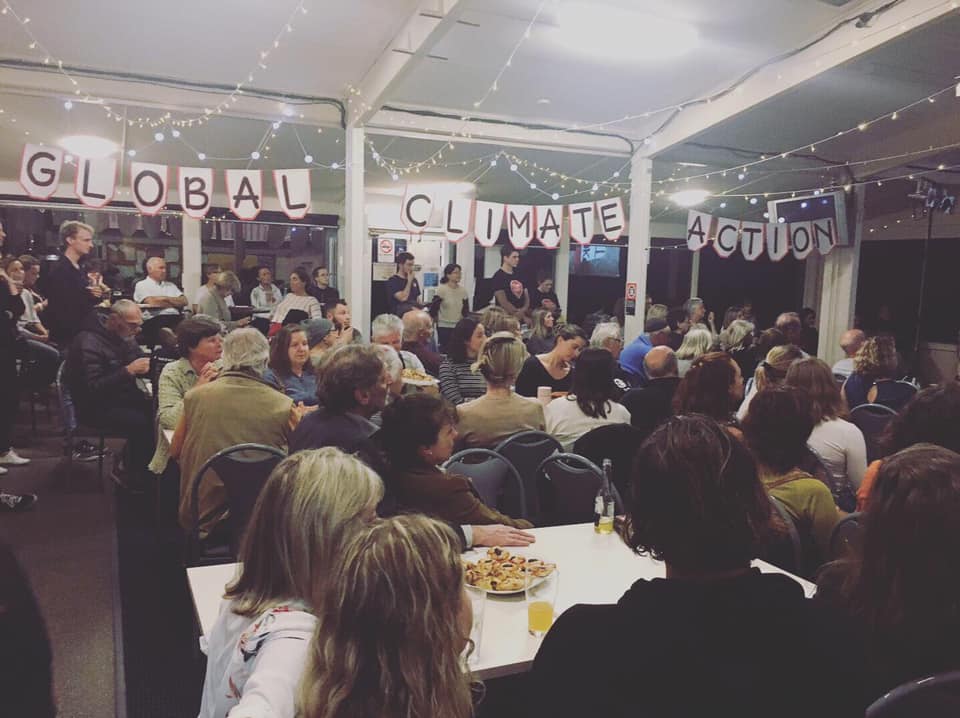 Photos - heading into town from Mona Vale on Friday morning, and from Manly Wharf, and some of the Stop Adani Avalon crew in at The Domain on Friday - photos supplied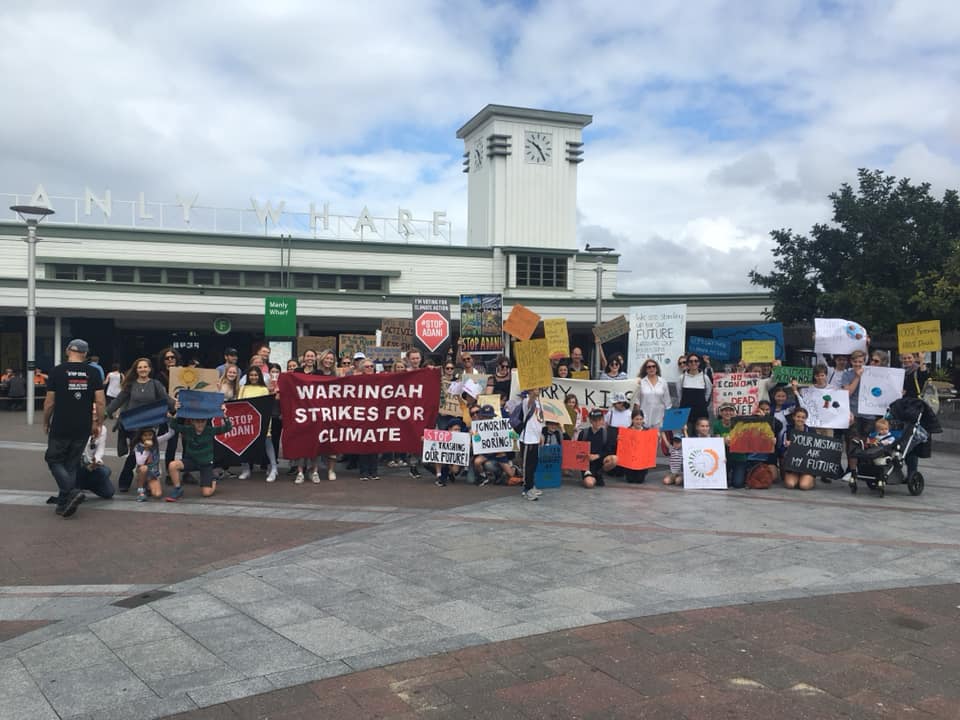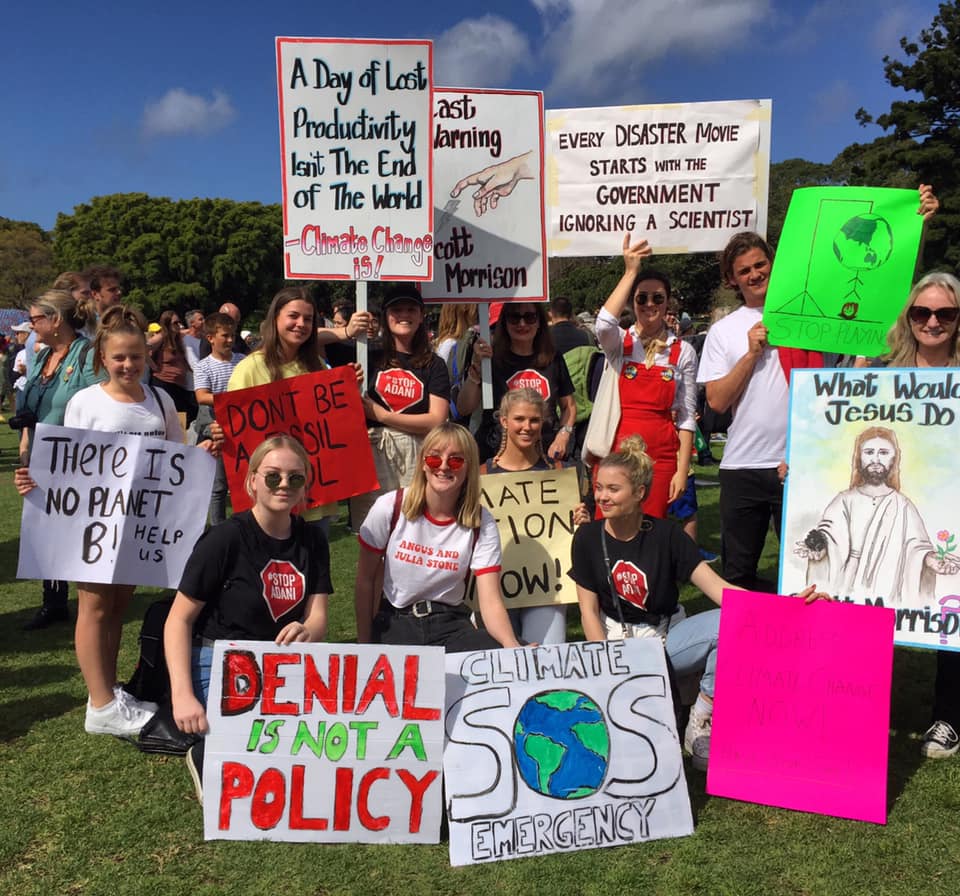 UAV Course For The SLS Sydney Northern Beaches Branch
Last Sunday, September 15th, Newport SLSC hosted the first UAV course for the Sydney Northern Beaches Branch. Newport will have 6 members who have been put through this course which will assist with the Branch Support Operations team.
The Volunteer Surf Patrols on all Pittwater ocean beaches commence from next Saturday, September 28th.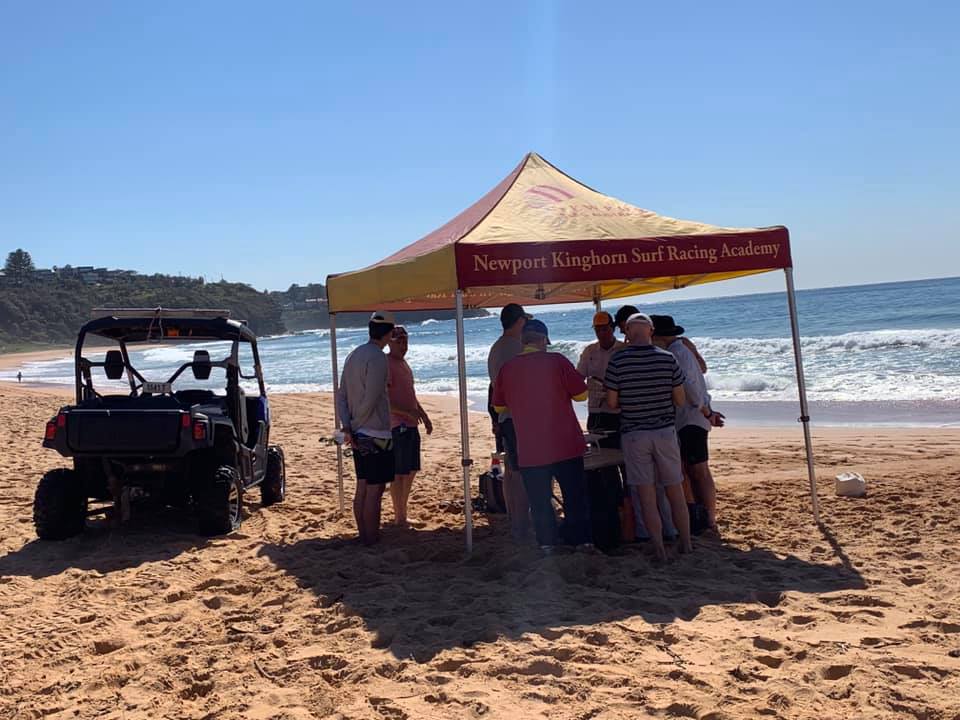 Palm Beach Sailing Club Members Catching Early Spring Winds
Meanwhile, at the northern end of the Pittwater Estuary yesterday, September 21st, PBSC members were making the most of the end of this week's windy weather and making it look easy in their turns off Station Beach. Photos by Trevor Gourlay