January 28 - February 3, 2018: Issue 345

A Long Weekend ON Pittwater
The last weekend of the Summer School Holidays, turned into a LONG weekend via Australia Day celebrations, means everyone is going to make the most of beautiful weather which was cloudy enough of a morning to keep it from becoming too hot and clearing each afternoon to bring out the wonderful colour of water, sky and bush.
With the regatta run on Friday by the Avalon Sailing Club,
hosting the 182nd Australia Day Regatta - Pittwater leg, the Royal Motor Yacht Club's annual Australia Day Boating Parade from Careel Bay back to the clubhouse at Newport,
Saturday's Woody Point Yacht Club annual Putt-putt Regatta, as well as everyone else getting out for a sail of some sort on the water or taking to the beach and local parks for Oz Day cricket, barbecues and breakfasts, it may be a little quiet today - unless you're having a BIG SWIM from Palm beach to Whale Beach - their 44th edition of this 'must do' destination ocean swim.
A few pictures from regular contributors help us celebrate another great Long Weekend in, on, and around Pittwater!
Australia Day In Pittwater: 2018
Australia Day Breakfast At Newport
Bert Payne Reserve was the place for a BBQ breakfast, live music, amusement rides and plenty of family-friendly fun again this year with proceeds raised supporting the participating clubs: the
Rural Fire Service,
State Emergency Service,
Rotary Club of Upper Northern Beaches,
Lions Club of Australia (Pittwater Branch) and the
Zonta Club of Northern Beaches.
There was music from
Russell Pearce and the
Northern Beaches Concert Band and an
Ambassador Address by Australia Day Ambassador, Arthur Alla,
Founder of 'Red Earth Connections', 2017 NSW Young Australian of the Year as well as the
National Anthem.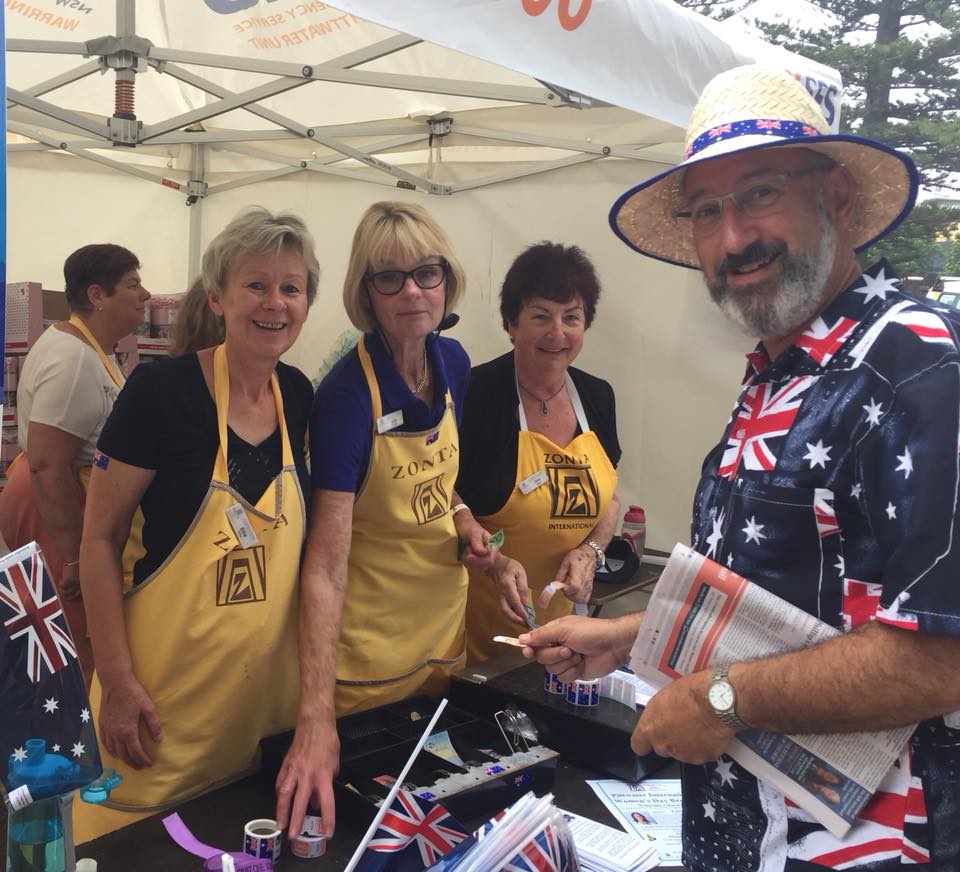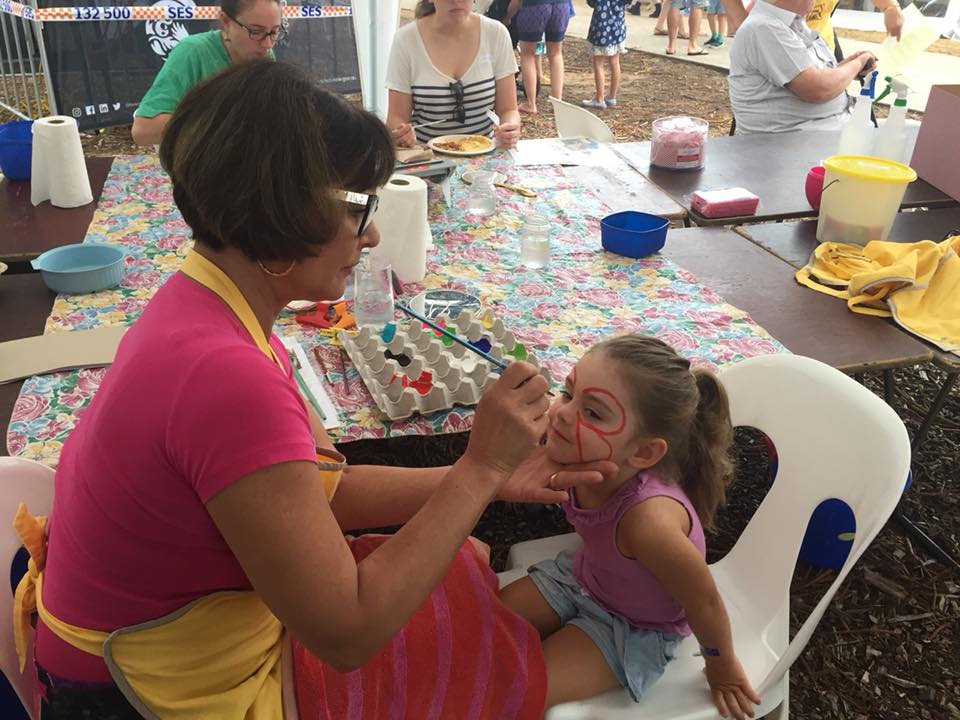 Photos courtesy Zonta Club of Northern Beaches.
In His Oz Day Hat: Sam, Avalon Beach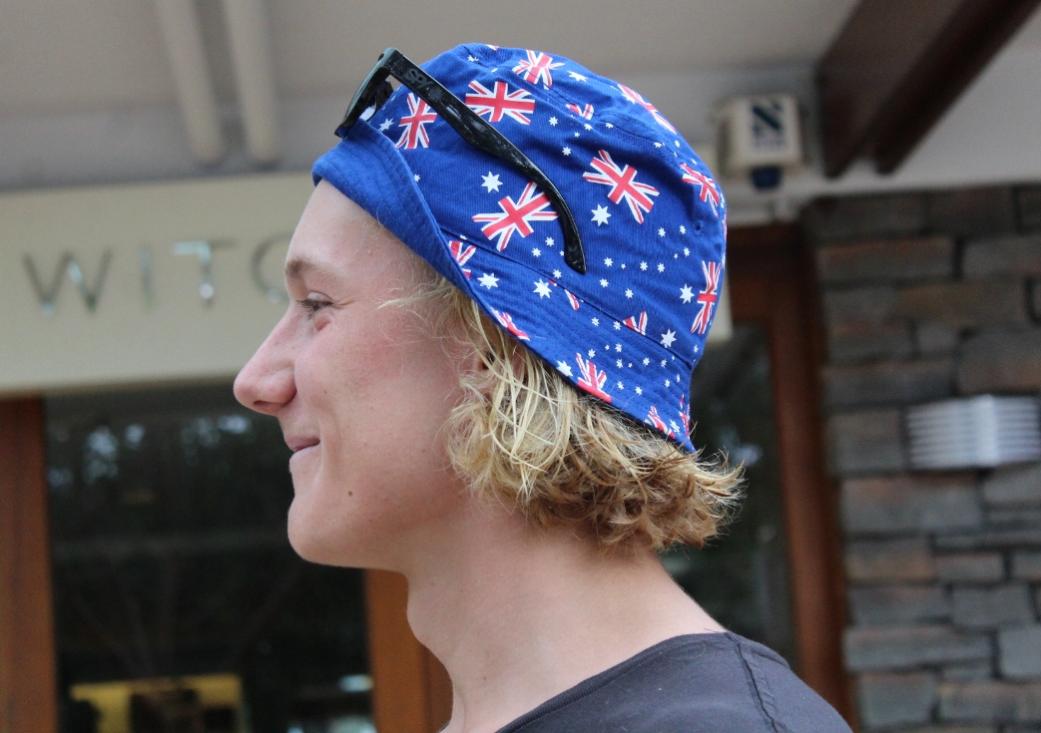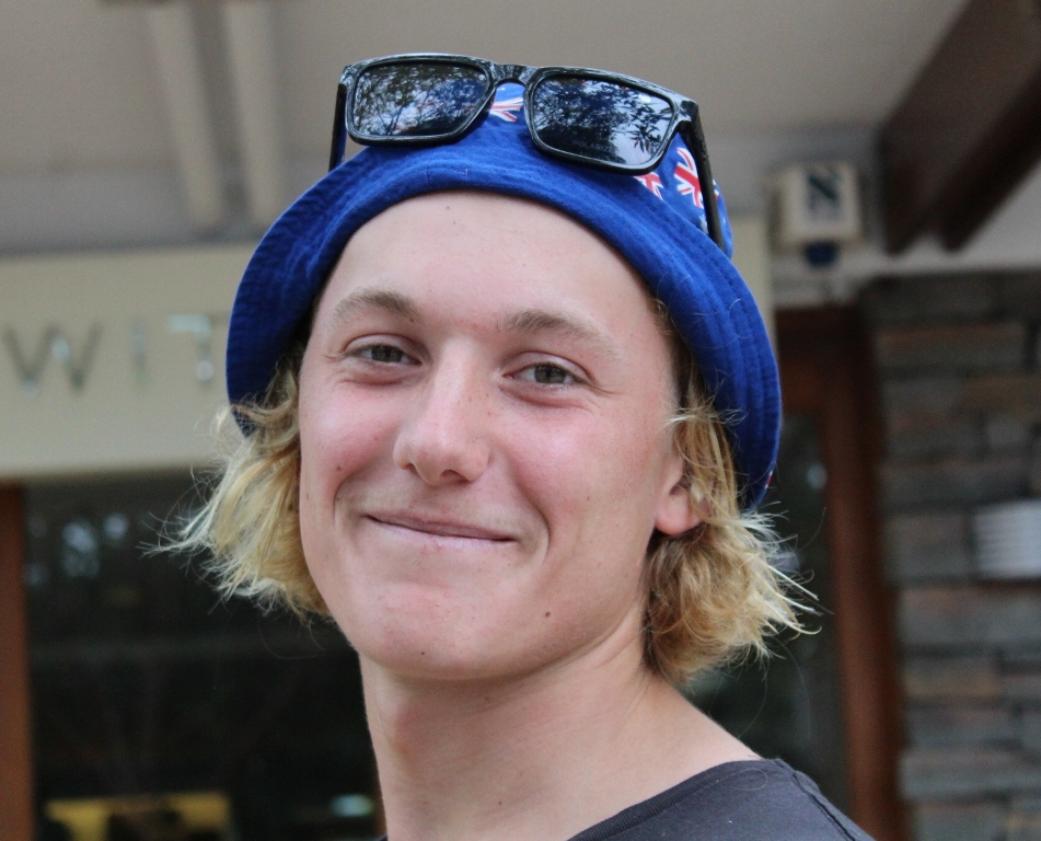 RMYC Australia Day Brunch And Boating Parade
The Royal Motor Yacht Club, Broken Bay (at Newport) holds an Australia Day Brunch & Boating Parade for members each
26th of January. The day commences with great food and the p
resentation of the RMYC Volunteer and Employee of the Year Awards.
This year the Volunteer of the Year was awarded to Christine Barrow
Unfortunately, Christine was unable to attend the Australia Day Celebrations. However that didn't stop
Commodore Chris Lee speaking a few words of praise to honour tthe lady on Friday:
"Christine has been an enthusiastic volunteer throughout 2017. With her Committee Christine has led the Cruiser Division in significantly expanding membership to more than 200. She has increased the number of social activities offered by the Division as well as their appeal to our members.
Her many innovative ideas for motor boat owners to come together and enjoy our beautiful waterways both here in Broken Bay and further afield has helped create a very vibrant Division and boating Club. As well as social events close to home she has been instrumental or heavily involved in organising cruises for members to Port Stephens, Newcastle, Lake Macquarie, Brisbane Waters and Sydney Harbour.
Christine also lives on the Central Coast, some significant distance from Newport, but this has not prevented her from volunteering considerable personal time to this role.
Christine exemplifies what being a fully engaged club member is all about and is a worthy winner of Club Volunteer of the Year."
The
Employee of the Year Award went to
Samantha Taylor – Duty Manager.
Commodore, Chris Lee:
"Sam joined the RMYC in September 2015 as a casual Food & Beverage attendant. Since then, Sam has become a very valuable employee who has worked in most areas of the Club. Sam has proved to be a very hard working, friendly and helpful staff member who is well respected by management, her peers and our members. Sam was rewarded for her efforts and promoted to the position of Casual Supervisor.
More recently Sam was again promoted and became a permanent employee in the very important and responsible position as a full time Duty Manager. Sam goes out of her way to ensure that are our members are always looked after and enjoy their time at the Club. She is a great role model for our younger staff."
At 10.30am all those participating in the Australia Day Boating Parade on Pittwater departed and
assembled at Careel Bay with the Boating Parade commencing. This was followed, as always by great entertainment and then the
Presentation of Best Dressed Vessel and Best Dresses Captain and Crew Prizes.
Some of the great efforts members went to run below.
Summer to Autumn is always a busy time at this club. On Sunday February 18th they will be again hosting the
Sydney SUP Festival.
Always a 'fun day out' paddling on beautiful Pittwater, w
ith racing and on-water fun for everyone. This year there will be the usual
3k and 6k races, a
Marathon,
Dash for Cash,
SUP Demo. Tips and Tuition, Clinics, L
ive Entertainment and the RMYC
Restaurants and bars overlooking the event.
With over $10,000 in cash prizes and giveaways from our generous sponsors and support: Civic Properties, Royal Motor Yacht Club Broken Bay, Naish Stand Up Paddling, Sunova Surfboards and Balmoral Paddlesurf. Along with a host of other supporting sponsors, this event promises to be one of the biggest on the Sydney 'fun event' calendar. Details
HERE
In March each year, the Royal Motor Yacht Club hosts a Classic Yacht Regatta. The regatta consists of four classic divisions; Classic Spinnaker, Classic Non-Spinnaker, Coutas and Jubilees. A spectacular weekend of racing, not to be missed - the 2018 edition will run over the weekend of March 3rd and 4th.
Notice of Race & Sailing Instructions and Entry page
.
The
1st RMYC Ladies Lunch of 2018 with special guests Sam & Cameron Bloom, is on Wednesday March 28th, ($65 for Member, $70 for non members) and as with all these luncheons, a portion of funds raised goes to a nominated charity. Phone 9997 5511 to book.
Clearly there's going to be a lot to continue to happen ON Pittwater over the first few months of 2018 through the RMYC BB.
Some of the RMYC Boating Parade fun: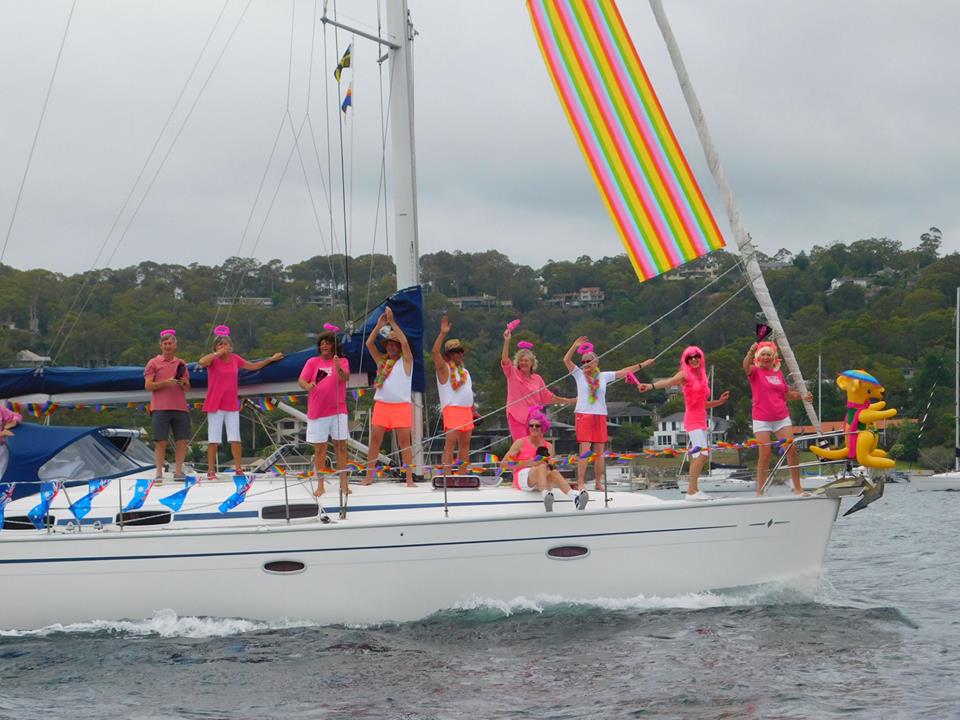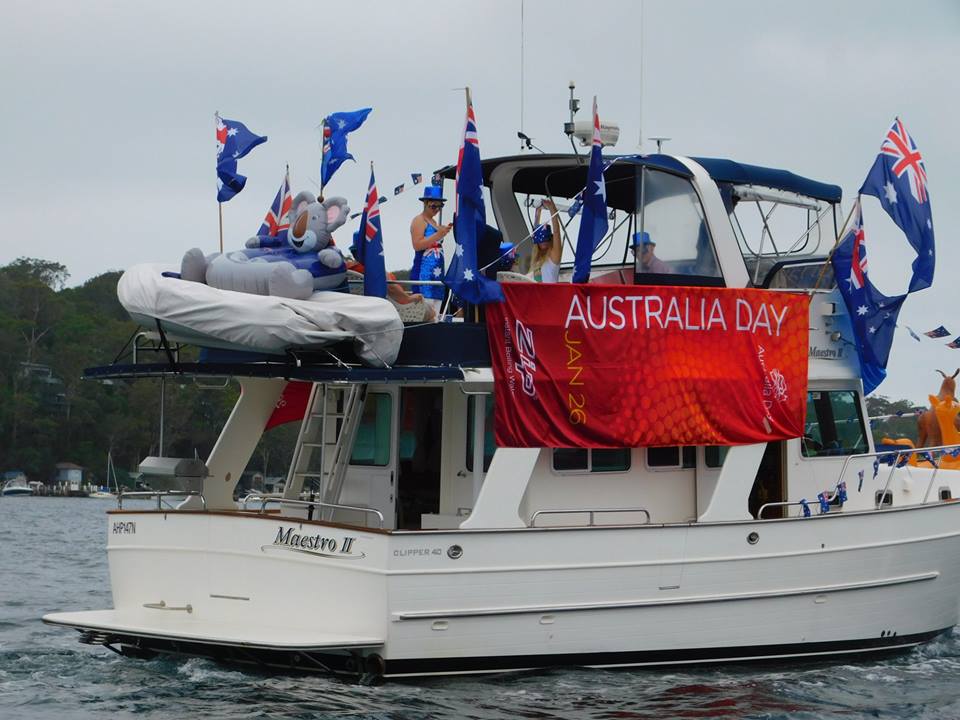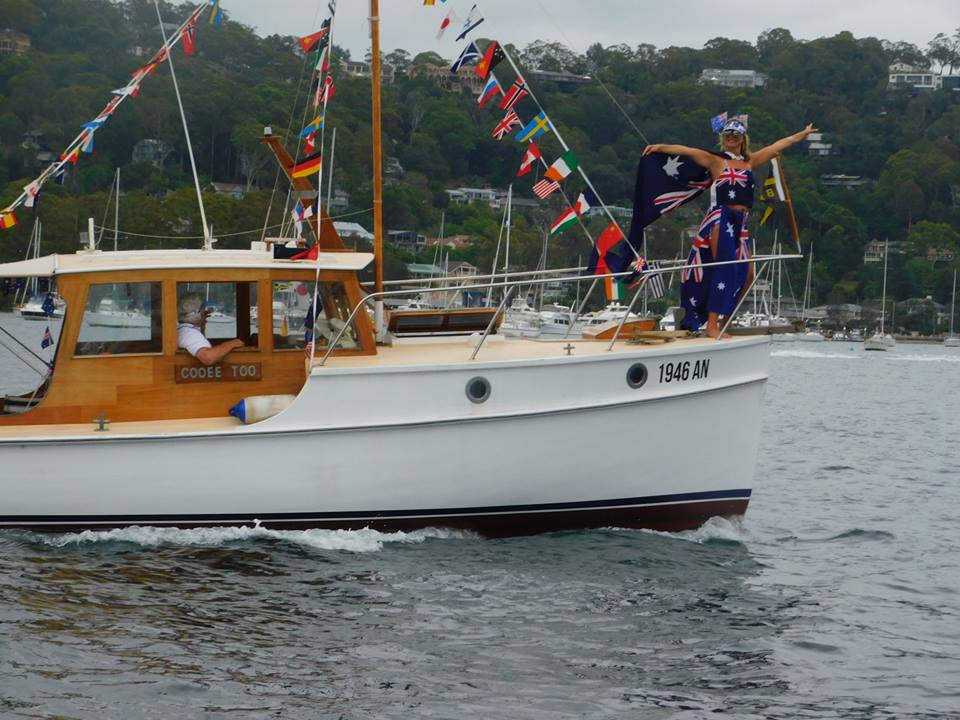 Photos courtesy RMYC BB
Avalon Sailing Club Hosts Pittwater Leg Of Australia Day Regatta 2018
Avalon Sailing Club again hosted the Australia Day Regatta on Pittwater. A cordial invitation is extended each year to owners of all yachts - including centreboard classes, one-design keelboats, gaff-rigged and classic yachts plus multihull yachts, to enter the oldest continuously conducted sailing regatta in the world on Australia Day, Friday 26th January 2018. This year was the 182nd edition.
There are prizes in each division for Scratch and Handicap as well as 'Best Dressed' prizes. First prize winners are invited to Sydney Town Hall for presentation of their medals at a later date and other prizes are awarded on the day at the Avalon Sailing Club.
Entry includes a sausage sizzle at ASC after the presentation. The races usually start after lunch although registration at the club commences in the morning, with lamingtons and hot coffee on offer!
Jane Durham is current Commodore at Avalon Sailing Club – Avalon was one of the first sailing clubs to have a female commodore, their first being Helen Carlson 1995-97.
This year was a bit of a classic turnout for the ASC Australia Day regatta, with couta boats form the Couta Boat Club – Pittwater Chapter, along with some other classic vessels making the most of a great day on the estuary.
Pittwater Online News spoke to Jane post-Regatta who confirmed;
"A great day was had by all."
The children's register at Avalon Sailing Club is currently full although people should keep up to date with upcoming Children's Camps on either the club's website or Facebook page. Last week four of the club's these younger sailors took part in the F11 Nationals at Manly being hosted by the Manly 16ft skiff sailing Club (M16SSC).
"All four sailors are a great example of
the Avalon Sailing club ethos of 'Fostering
encouragement, promotion, teaching and above all, enjoyment of sailing on the waters of Pittwater

'." -
Allan Bridge (F11 Class Captain)
Although the younger sailors register is full, there's still room for Adult Membership and if you're new to getting on the water, or with that brilliant Pittwater salt air in your lungs, the Adult Sail Training available at Avalon Sailing Club may be the place to begin.
ASC are a family oriented sailing club, sited at Clareville, on Pittwater. Founded in 1938, with the clubhouse built in 1958 the Club has a proud history offering a small, friendly environment for people of all ages and sailing interests. The Club promotes all aspects of sailing - racing, cruising and just have fun in boats,
with an emphasis on family involvement, making good friends, and offering enjoyment with a wide variety of sailing activities.
Find out more and keep up to date by visiting: HERE or the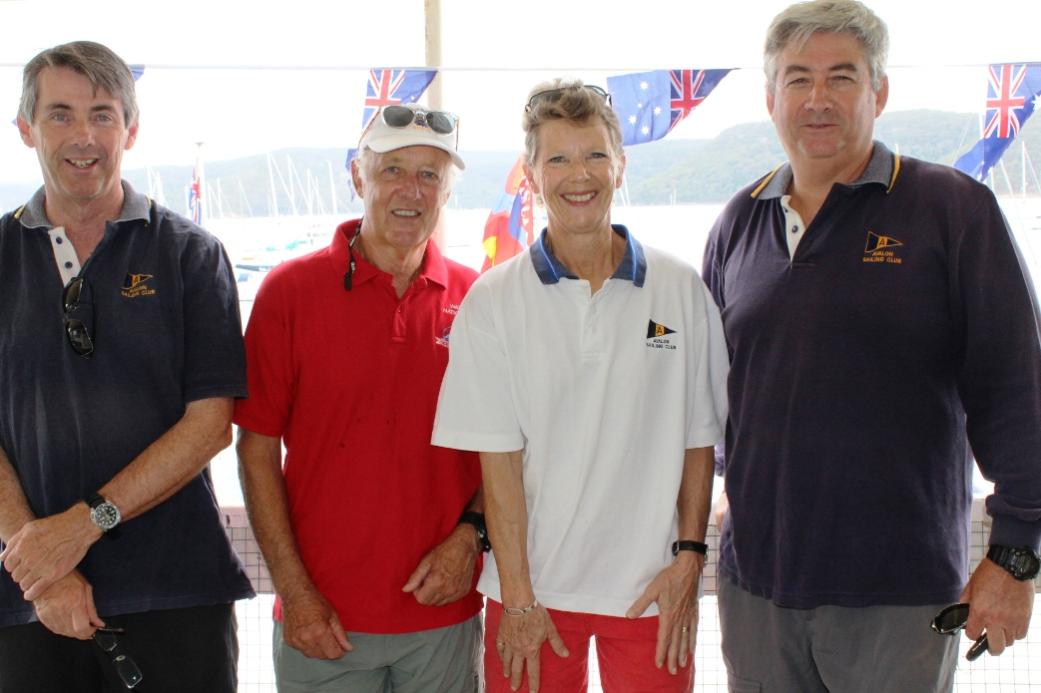 Brett Stapleton organiser, Kelly Holder (Couta Boat Club - Pittwater chapter – now at ASC), Jane Durham, Commodore of Avalon Sailing Club and David Hyde, on starter boat etc, one of the many volunteers that make this great club work. Photos by A J Guesdon.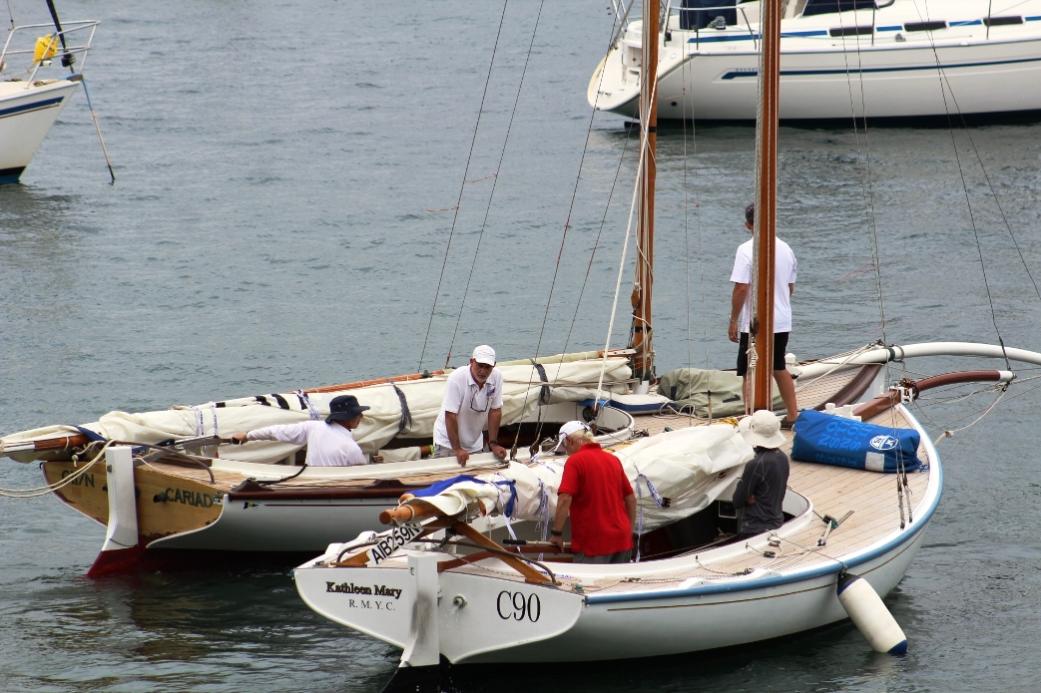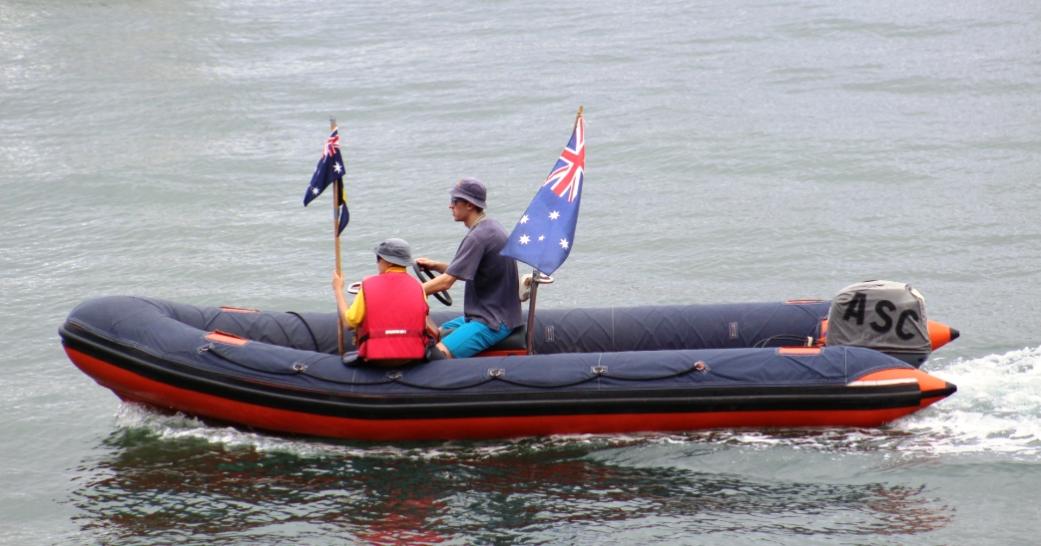 We had a particularly Aussie Straya Day with prawns on the barbie, pavlova and slip and slide on the lawn with an old tarp found in the back shed and smothered in dishwashing detergent (Earth Choice-Aussie owned :) under the sprinkler.
This pavlova was made by the girls, all from scratch ...very clever cooks these girls (Belle and her friend Emily) - photo by and courtesy Peta Wise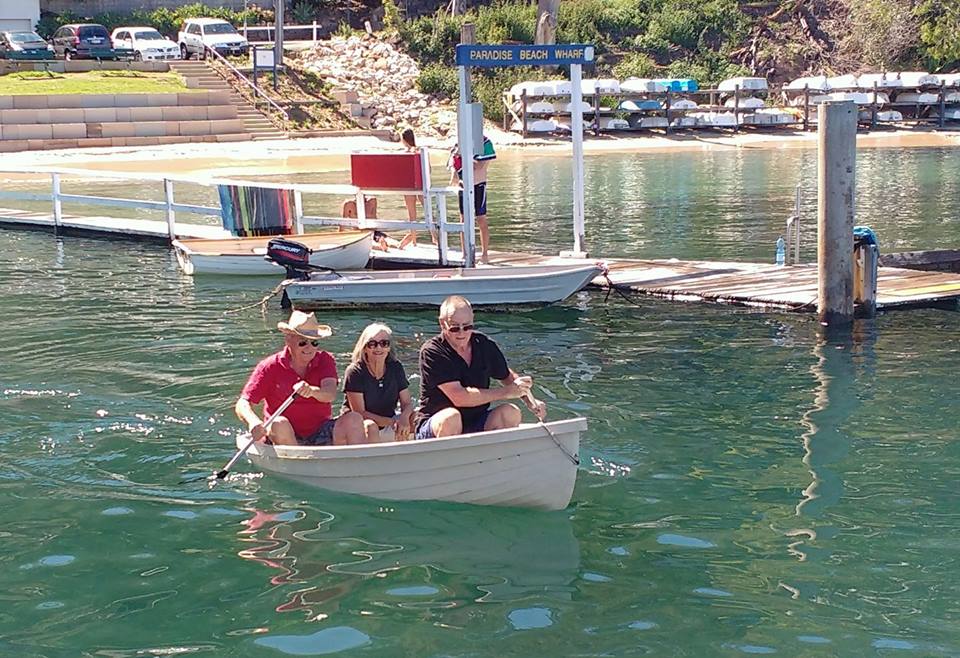 Paradise Beach, Pittwater - January 27th, 2018 (A Long Weekend ON Pittwater) - Photo by Neil Johnston
Woody Point Yacht Club's 2018 Putt-Putt Regatta And Gentleman's Launch Race
On Saturday January 27th, and hosted by the Pittwater yacht club renowned for focusing on fun (the

WPYC

) the annual Putt Putt Regatta and Gentleman's Launch race takes place on the day after Australia Day, shifted from that date due
The Gentlemen's Launch was scheduled to start at 11 am, the
Putt Putts soon after. This year this was a
staggered start from
Treharne Cove, around Scotland Island anti clockwise.
Afterwards there is always a barbecue on the beach with cooling drinks available and some fun - such as tug-of-war and other games. There are prizes for the best dressed boat, many dressed up to a theme, and best dressed crews on these, as well as other prizes and the trophy for 2018.
A few years ago we had the good sense to seek out this band of straight-talking people who clearly don't take themselves too seriously - what they do take seriously, and pursue in Summer and Winter Sailing Calendars, is enjoying Pittwater. Their original Charter, although they do have an official one too, gives you the gist of the spirit inherent in the Woody Point Yacht Club:
WOODY POINT YACHT CLUB CHARTER
This document aims to define the objects of the Club so that its original concept may not be lost or diluted with the passage of time and/or Members, nor fundamentally changed in any way. Persons desiring otherwise are free to choose from numerous other boating clubs which may better serve their requirements.
Founding Members of the Woody Point Yacht Club were a dedicated group of social drinkers with a boating problem. Their motivation was and is the enjoyment of the Pittwater and its inhabitants, largely facilitated by craft giving access to the remote foreshores and to the water itself. Suitable craft included tinnies, yachts, putt-putts, work boats, in fact anything that floats - and even some vessels whose buoyancy is questionable.
These craft provide a platform for the many and varied pastimes enjoyed by Members, including fishing, yachting, putt-putt regattas, picnics, parties, breakfasts, etc.
The Club does not favour a particular past time so long as a boat is involved either as a means to an end (ie. transport, fishing) or an end in itself (ie. sailing, cruising, just messing).
The Club has a penchant for all things traditional - timber boats in particular - and
prefers the simple family orientated atmosphere inherent in our unique community.
A Commodore shall be elected by popular vote at the Annual General Meeting together with other office bearers as required. A Committee of five Members shall be responsible for organising all functions during the year. The camaraderie shared by Members is such that 'rules' in the normal sense are inappropriate and any semblance of formality is purely for the entertainment such pomp and ceremony usually provides.
However, to maintain a friendly and intimate atmosphere, club membership shall be limited to 100 persons in any year on a first come first served basis. The club does not discriminate, even ladies and Kiwis are eligible to join. Senior citizens (capable of pulling beer) may also join and hold office.
_________________________
The WPYC Putt Putt Regatta is known statewide, with members receiving an invitation in 2017 to be part of the
Davistown Putt Putt Regatta, one of the early (1900) and reintroduced regattas that takes place on Brisbane Water as part of Gosford Regattas. Putt-putt boats usually range in length from 14-18 feet and are powered by either single or twin cylinder 2 to 10 hp Blaxland/Chapman, Simplex or Clay inboard petrol driven engines all of which make the vary familiar 'putt-putt' exhaust sound.
Sue Carter is the current Commodore of the Woody Point Yacht Club, backed up by stalwarts such asScotty Taylor, Vice-Commodore, and Ian Major. If this is a club you'd want to be part of, Membership details can be found here.
Penny posted afterwards, "Thanks for the race Adrian Matthews, Jane Matthews, and Mark Farrell."
Jools Farrell and Penny both kindly shared some photos they took
.
One image caught by Penny reminds of one found and run on purpose
because
it reminded us of a younger Pittwater and the Elvina, and even looked like Pittwater may
have
looked then when a page on the Elvina was shared a few Issues back. There's something about that Samuel Hood picture, a man who was a regular visitor to Pittwater, which makes you think you're looking at our offshore areas in that background - it captures the 'feel' of then, and now - a certain something
that's
been retained by our offshore idylls and ideals.
Just goes to show this place is a vision and getting to be part of such fun, while keeping it laid-back and among great people, is what the WPYC Putt Putt Regatta is about - every year!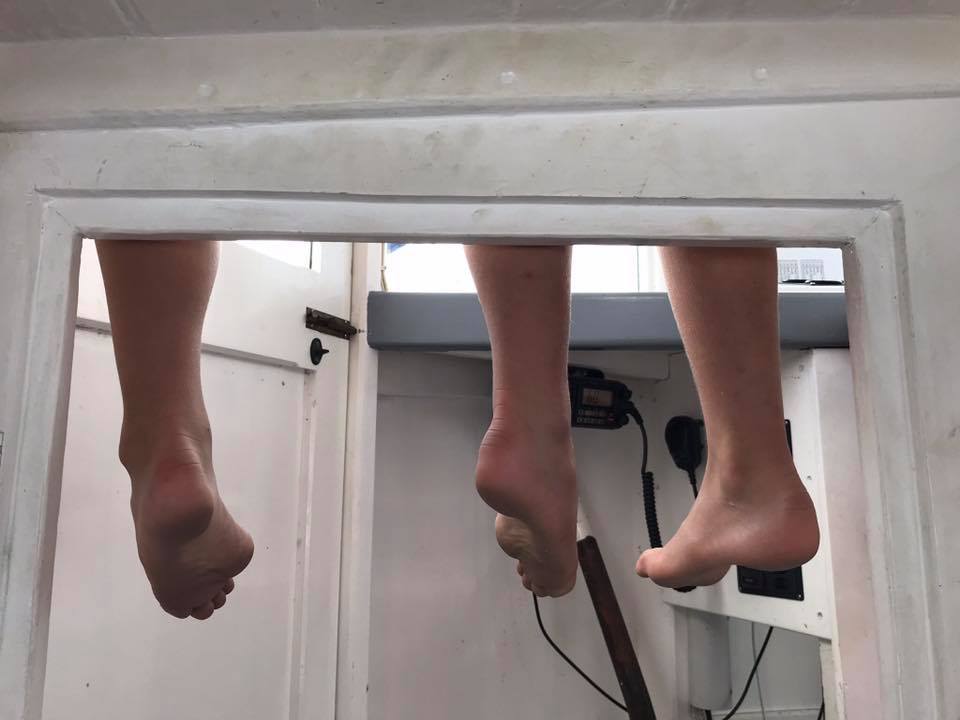 That
picture
- Photo by Penny Gleen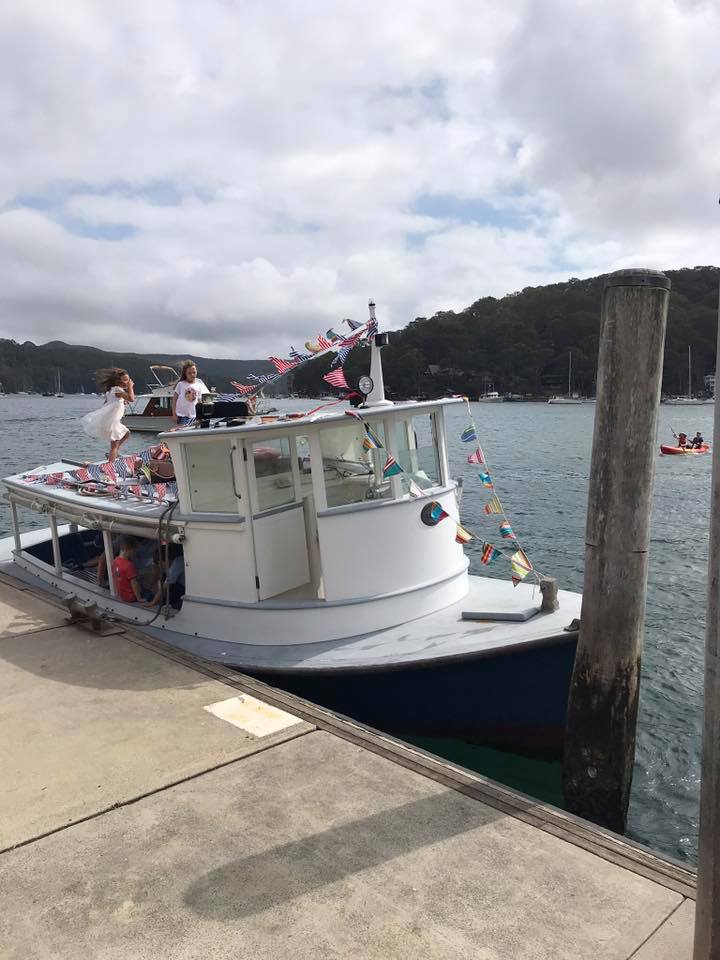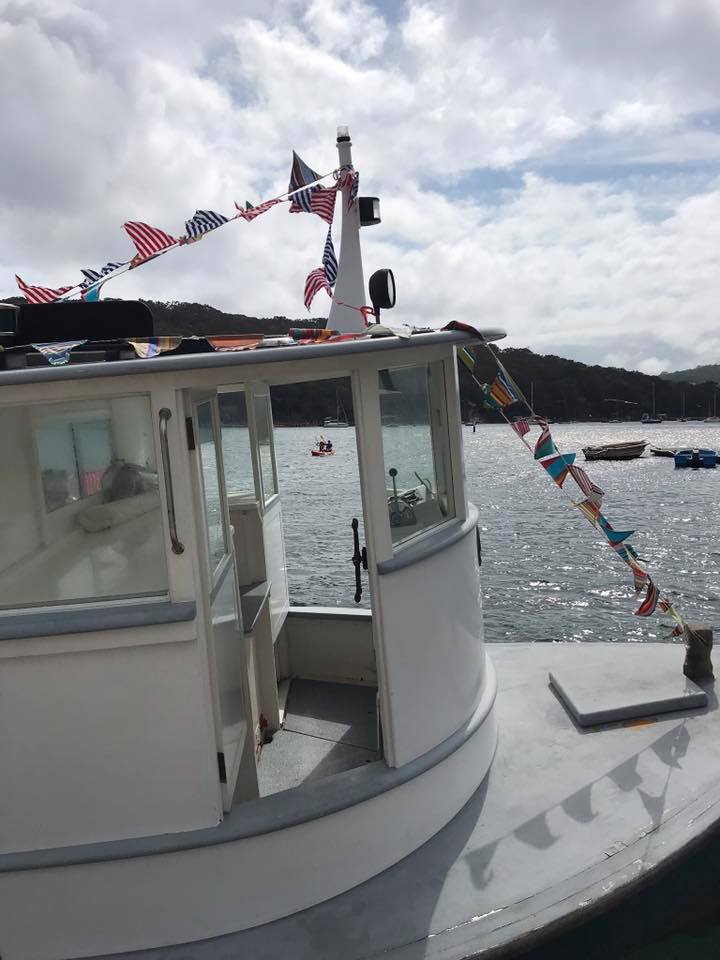 The Elvina - all dressed up and ready to go -
Photos by Penny Gleen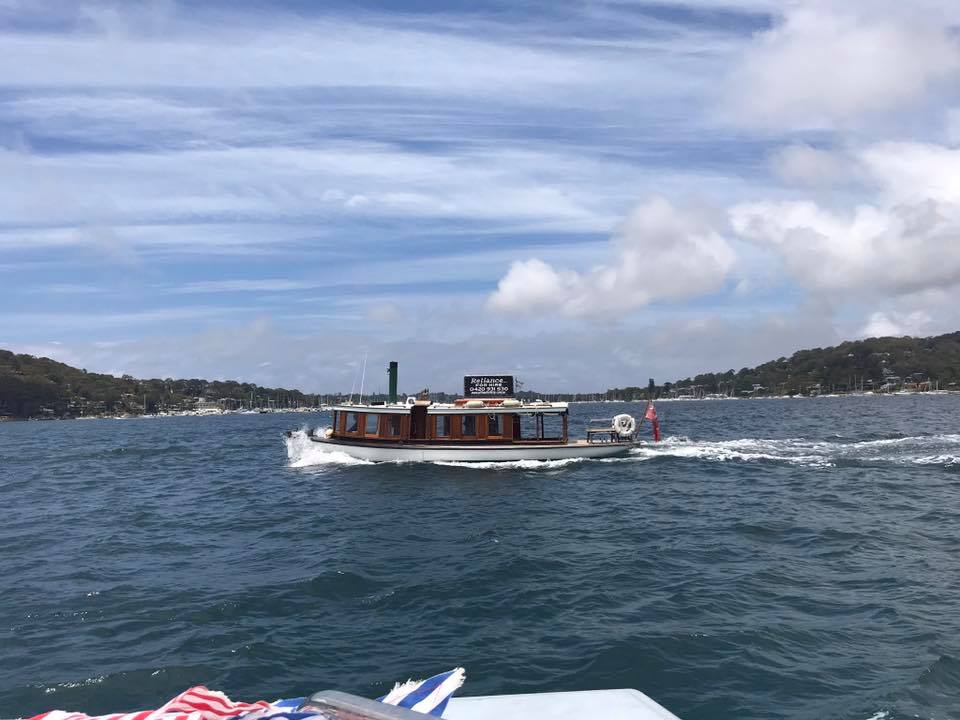 The Reliance, getting ready to race -
Photo by Penny Gleen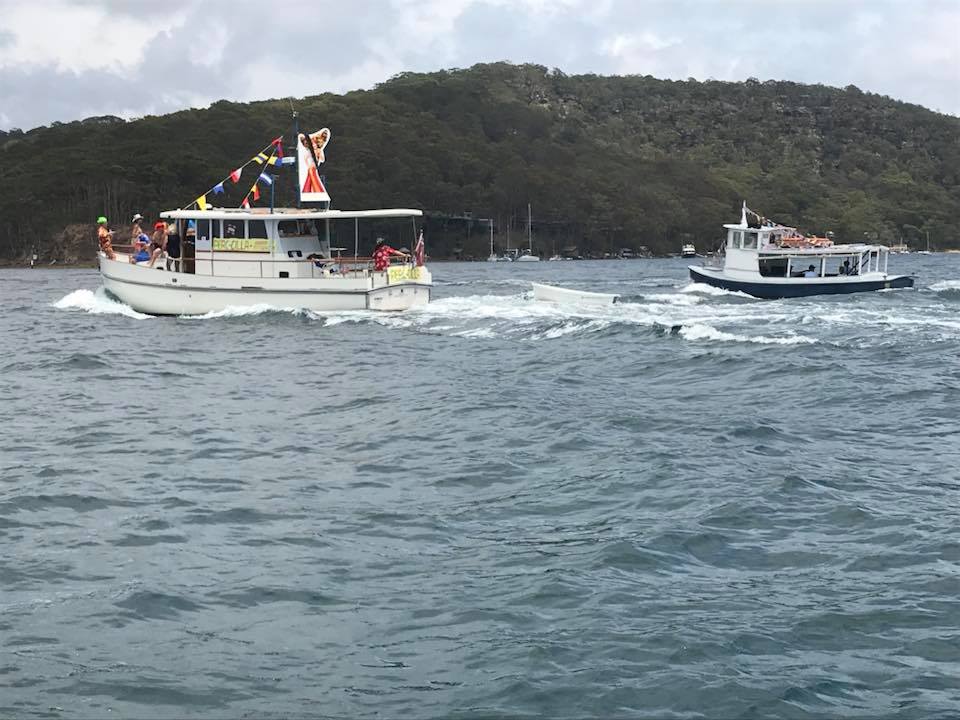 They're off and racing! - Photo by Jools Farrell
More Of A Long Weekend ON Pittwater