April 2 - 15 2023: Issue 578
New Pittwater MP will be Rory Amon - 2023 NSW State Election results Signal A Change In Pittwater voters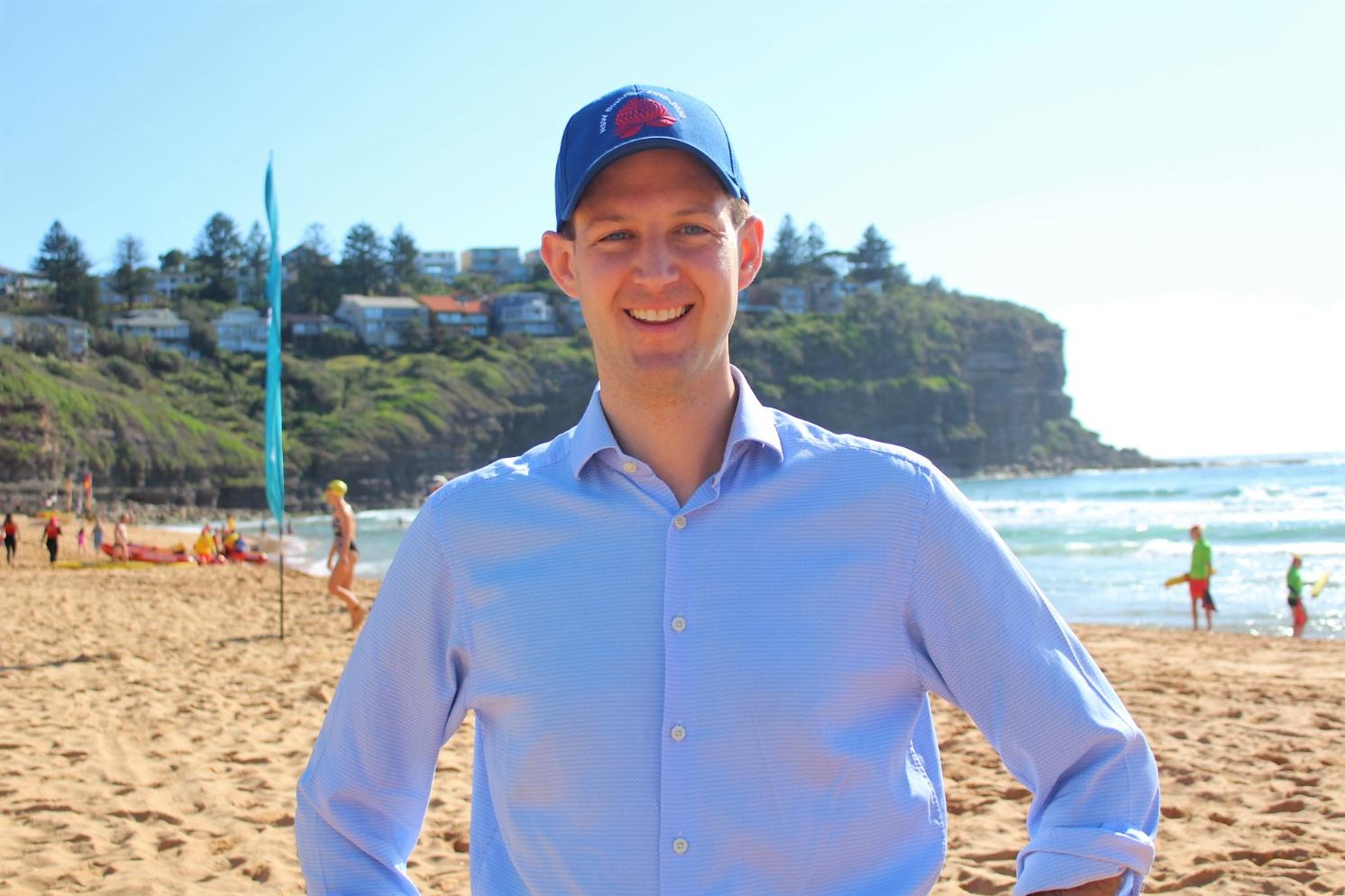 On Friday March 31 2023 Independent candidate for Pittwater Jacqui Scruby stated she had contacted Liberal party candidate Rory Amon to concede. The statement came after a result too close to call on election night and which saw the lead swap a few times over the counts of the Early Voting Centres conducted by the NSW Electoral Commission continued all last week.
The tally as is when going to press shows 19,963 for Scruby, 49.18%, and 20,627 for Amon, 50.82% - or 664 votes and just over 1% difference.
The seat had previously been held by the Liberal party with margin of 20.8%; now there has been a 21.4% swing away from the Liberals.

The count is a clear indication that 'the times they are a'changing' in Australian politics. The result means the incoming new Pittwater MP won't be taking his electorate for granted, and, has the other half of the electorate he must win over if the aim is to return the margin the Liberal party had held under Rob Stokes prior to the next state election in the seat of Pittwater.

Jeffrey Quinn, Labor Candidate won 4,487 votes, Greens candidate Hilary Green 2,878 and Simon Law 1,048.
Postal votes counts were continuing as Pittwater Online went to press, so the final tally will not be known until these are completed, however the count to date shows an astonishing 3,706 postal votes. Postal Voting is allowed if your circumstances make it difficult to vote at a voting centre on election day. You can apply if you are unable to vote in person on election day because you: ​will be outside New South Wales, will be more than 8km from a voting centre, will be travelling, are seriously ill, infirm or approaching childbirth (or caring for someone who is), have religious beliefs that prevent you from attending, are in a prison or a correctional centre, will be working, are a silent elector, are a person with a disability, believe that attending will pose a risk to your personal safety or the safety of your family.
The NSW Electoral Commission stated on Friday March 31st , ''Counting is proceeding as planned in line with legislative requirements and the published count timeline. This afternoon we will publish the expected vote numbers for inclusion in tomorrow's progressive count 2 (for postal and declaration votes). Results will appear progressively in the Virtual tally room as these counts are completed.''
''The Electoral Commissioner continues to remind voters that their completed postal packs must be received by 6pm, Thursday, 6 April to be included in the count.
We have now received around 410,000 postal packs, including 9,000 yesterday, and will continue to receive more in the coming week. The remaining two tranches of data for postal votes are currently scheduled to be included in the Virtual tally room results from 1 April and 8 April. The overall progress of the count remains on track for all districts to meet the timeline published on the NSW Electoral Commission website.''
Counting progress is available live through the Virtual tally room.
Jacqui Scruby stated on Friday March 31st:
''Thank you, Pittwater.
Earlier today I called Rory Amon and congratulated him on winning the election. I wish him all the best - his success is our community's success.
What our community movement achieved this election is nothing short of remarkable. We made one of the safest seats in the state one of NSW's most marginal seats. For the first time in a long time, the Liberal Party cannot take our community for granted - all because of you. Your volunteering, your turning up, your caring, your involvement in your democracy and your vote combined to change this community for good.
So thank you! Being your community-backed independent candidate was one of the greatest honours of my life.
This movement didn't stop on Election Day. With a lot of you having now been involved in a couple of history-making election campaigns, we are fast learning how to make our voices be heard by the major parties. We'll keep standing up for our values. If the major parties don't listen to us and reflect our values, they now know we'll take it to the ballot box. That's very good news for our democracy and for our community. Let's continue the fight, one conversation at a time.''
On election night Jacqui Scruby said to those who gathered in North Narrabeen SLSC; 'whether we win, we've won, whether we lose, we've won – this is an incredible win to overcome a 22% margin, this is no longer a safe seat. Like in business, competition is a really good thing.
Mackellar MP Dr. Sophie Scamps added one more thanks to election night acknowledgements, thanking Jacqui for contesting the sea and stating how honoured and proud everyone was to have her stand to represent them. Dr. Scamps stated was the most hardworking, intelligent woman she knew and that it would be great to have two voices standing up for our community at a state and federal level.
''A strong democracy absolutely needs the participation of its people and you guys (volunteer campaigners for Independent Scruby) have stood up and taken back your democracy. '' Dr. Scamps said.
Michael Regan has claimed victory in Wakehurst, securing former health minister Brad Hazzard's seat as he retires. There too there had been a massive 35 per cent swing away from Liberal candidate Toby Williams initially, although that has decreased as the count continued.
Although not a teal candidate, Mr. Regan said the Climate 200 organisation that swept through federal politics had made it "safer" to vote independent.
The founder of that organisation, Simon Holmes a Court, told the ABC, "Most of these seats haven't changed hands in a generation or two," he said "We'll be very happy if a number of these seats go marginal. Bringing genuine contest in these seats and the community engaging in politics, that's a win before we start."
Rory Amon, who only went into politics just a few years ago and won an opportunity to represent his community as a councillor in local government, has demonstrated rapid maturation in the role, shifting away from attentiveness to the persistently noisome to hear what is said by the many others.
Rory Amon, the new and incoming Pittwater MP, has stated;
''I am humbled and honoured to have been chosen by the people of Pittwater as their next representative in NSW Parliament.
Our community voted for my positive vision for Pittwater, and I will work hard every single day to ensure we have the services and infrastructure that our local community needs and deserves. I will fight to complete the widening of Mona Vale Road, flood proof the Wakehurst Parkway, upgrade Newport Surf Club and upgrade Narrabeen Sports High and Narrabeen North Public School. And I will do everything I can to preserve our unique natural beauty and stop overdevelopment.
Rob Stokes MP leaves big shoes to fill. His service was dignified, respectful, humble and characterised by the utmost integrity. He is an example I look to. I wish Rob, Sophie and their family all the best as they move onto their next chapter.
I would like to take this opportunity to thank my family and friends for their support, without which this result would not have been possible. Politics can be a lonely place, but I have been surrounded by the best.
Pittwater is the greatest place on earth. Over the coming days and four years, I will be out in our community: to thank you for this privilege and honour, and to listen.
No matter who you voted for, I will work hard every day to represent you and our community.''
The vote counting has had others having to wait for a result.
On Saturday April 1st it became obvious that Labor will not be able to form a majority government as incumbent Adam Crouch has retained the former Liberal stronghold of Terrigal despite a big swing to Labor at the NSW election. The seat of Holsworthy will also be retained by Liberal Tina Ayyad.
This means any Independents who have won a seat will be listened to by the incoming Minns ministry. As this Issue comes out, Labor have 45 confirmed seats, the Coalition 35, the Greens 3 and 9 have been won by Independents. Earlier in the week, key independents Alex Greenwich, Joe McGirr and Greg Piper issued a statement offering "confidence and supply" to the government.
There are obvious positives in the Labor win for residents of Pittwater. The Labor victory should bring about a saving of Barrenjoey Lightkeepers cottages and the headland itself from the privatisation plan that would have excluded the public from the last remaining lighthouse that has not been 'adapted for reuse' (private accommodation for hire) and remains accessible to all in a metropolitan area.
Incoming Environment Minister Penny Sharpe stated at 2023 Barrenjoey Rally;
'' National Parks are given the highest status of protection for a reason. We decide that we're going to set them aside to conserve everything that is important about what's in them. That includes, obviously, the plants and animals and the stories that are there, but it also includes the cultural and built heritage that has developed over time that tells a story of this nation.

This is something that is on the National Heritage register. It's on the State Heritage register. There have been more studies done about this lighthouse than we may ever read in a lifetime, thousand and thousands of pages and millions of words.

What it comes down to is this is a very special place. It is owned by the public, it's actually our responsibility and the government's responsibility to care for it into the future.'

In 2002 the previous Labor Government did the Plan of Management. The PoM's that are developed for National Parks are extremely important, they're very detailed, they are based on science, based on heritage assessments, and if they're working properly, they actually involve the local community and involve the First Nations people as they are developed.

It was decided then that this was a special place and it wasn't going to be commercialised or privatised.

In 2013 a new government comes in and straight away they're looking at how we can commercialise the site. No one is opposed to fixing it and looking after it and how the public can better use and access those buildings. No one is arguing against that – but when you start to put on all this about 'adaptive reuse' or a potential for a 'conference centre', as has been proposed across the water, or the potential for accommodation here, then you know you are starting to degrade the place straight away. There needs to be a careful conversation if ever that happens and it really is unacceptable.''
Mona Vale Hospital campus may also see a return of something old with a replacement something new.
Mr. Quinn, Labor Candidate for Pittwater, and a Member of the Save Mona Vale Hospital Committee which has since renamed itself the 'Rebuild Mona Vale Hospital Committee' said in answer to the community's questions about the same, ''I want Labor to state that after we analyse the contracts made by the Liberals with the private hospital, we would rebuild and regenerate Mona Vale Public Hospital on the existing site and keep it in perpetuity as an Acute Level 5 facility with teaching and nurse training capability.''
Labor's win will also give the community the chance it has waited for since May 12th 2016 - to get their Pittwater Council back. The campaign to return Pittwater Council commenced at a wake for the same held on the Friday following the Tuesday when the Coalition state government ignored Pittwater residents' expectations, wishes and vision, and fired and locked out local councillors, and subsumed their council into the place they fought to leave decades before, and put Pittwater under an administration appointed by that same state government for a year and a half.
That campaign to return Pittwater Council has not ceased since and has collected signatures on a petition of over 20% of Pittwater residents in the first instance this was done, only for this to be 'misfiled' for a year and then denied by the coalition government with campaigners and that over 10 thousand being told they must gather 10% of signatures across the whole of the newly created council area. A dubious judgement and decision given what is written in the Local Government Act and taking advantage of the fact that those they did not want to be re-joined to would vote in self-interest, again.
But with the NSW Labor party coming into government, who had voted against amalgamations at a state level when these were proposed, and promised from the outset they would allow residents the chance to get their councils back, and with campaigners already gathering the same signatures again, and almost there already, again, a more democratic system of this being applied solely inside the former council boundaries will become what gets discussed next.
NSW Opposition Leader Chris Minns stated in October 2021 a Labor government would scrap plans for the $10 billion Beaches Link toll road tunnel and redirect the money into public transport infrastructure for Western Sydney.

"Parramatta's population is set to increase by 204,000, Camden by 227,000, Liverpool by 229,000 and Blacktown by 264,000 over the next two decades," he said. "Meanwhile, the northern beaches will grow by just 31,000 and Mosman by just 1,000 people over the same period." he told the annual state conference of the Labor party
On December 1st, 2022 the State Government announced that Sydney's third harbour crossing had reached a major milestone with the $4.24 billion contract to deliver stage two of the project awarded to ACCIONA.
The 'tunnel funnel', as it is referred to by residents, as it was part of a proposal to put in towers of units around the Northern Beaches Hospital and any touted saving in travelling time as part of the big sell to commuters would thereby be diminished, may not be missed by those who didn't want it in the first place. However, once again, homes have been bought along the route, parklands and wildlife habitat destroyed already, and tunnelling commenced. Similarly the $75 million which had been allocated to upgrade the section of the Wakehurst parkway at the other end of where it floods to help out the tunnel funnel is also on the list to be reallocated into another use.
Readers have sent in queries as to whether Cr. Amon will now step down from his role as a Councillor. No formal announcement has been made as yet.
In 2012 the NSW Government passed a law prohibiting a person holding dual roles in state and local government.
According to the Parliament of NSW, the Local Government Amendment (Members of Parliament) Bill 2012 amends the Local Government Act 1993 to prohibit a person holding the dual roles of a member of the Parliament of NSW and a councillor or mayor of a council.
The bill allows a current MP who is also a councillor or mayor, or a councillor or mayor who is elected as an MP to continue to hold the office of councillor or mayor until the next ordinary election of councils for a period of two years(whichever is the shorter period). The next Local Government elections will be held in September 2024
It also allows an MP to nominate for and be elected as a councillor or mayor without first resigning from Parliament.
"If elected, the person will need to resign from Parliament before the first meeting of the council after the election," according to the Parliament of NSW.
On Tuesday March 28th 2023 the 58th Parliament of New South Wales NSW Premier Chris Minns and Deputy Premier Prue Car were sworn in at Government House Sydney.
Mr Minns becomes the 47th Premier of NSW. Ms Car will also take on the Education and Early Learning portfolio.
In order to hit the ground running and provide immediate leadership and direction, six additional senior Ministers were sworn in swiftly following the election result; Penny Sharpe, John Graham, Daniel Mookhey, Ryan Park, Jo Haylen and Michael Daley.
"I am humbled that the people of NSW have put their trust in us. And the work starts right away," NSW Premier Chris Minns said. "NSW has voted for a fresh start for NSW, and to put people at the heart of government – to invest in the human capital that runs our essential services.
"There's not a moment to lose in delivering on our plans, particularly for essential workers and essential services in health and education.
"We know there are challenges ahead and accept our responsibility to meet them.
"My message to people of this state is that we will govern for all of NSW. That's what people expect and deserve."
NSW Deputy Premier Prue Car said: "The people of NSW have provided a mandate for change and a fresh start. This Government has committed to a significant program of investment in education and health, repairing essential services, helping with the cost of living, improving housing and rental supply and affordability, and boosting local manufacturing, jobs and skills. Energy security is also an immediate priority.
"It is top of our agenda to invest in our education system for current and future generations and start negotiations on public sector wages as we fulfil our commitment to better remunerate our essential workers," she said.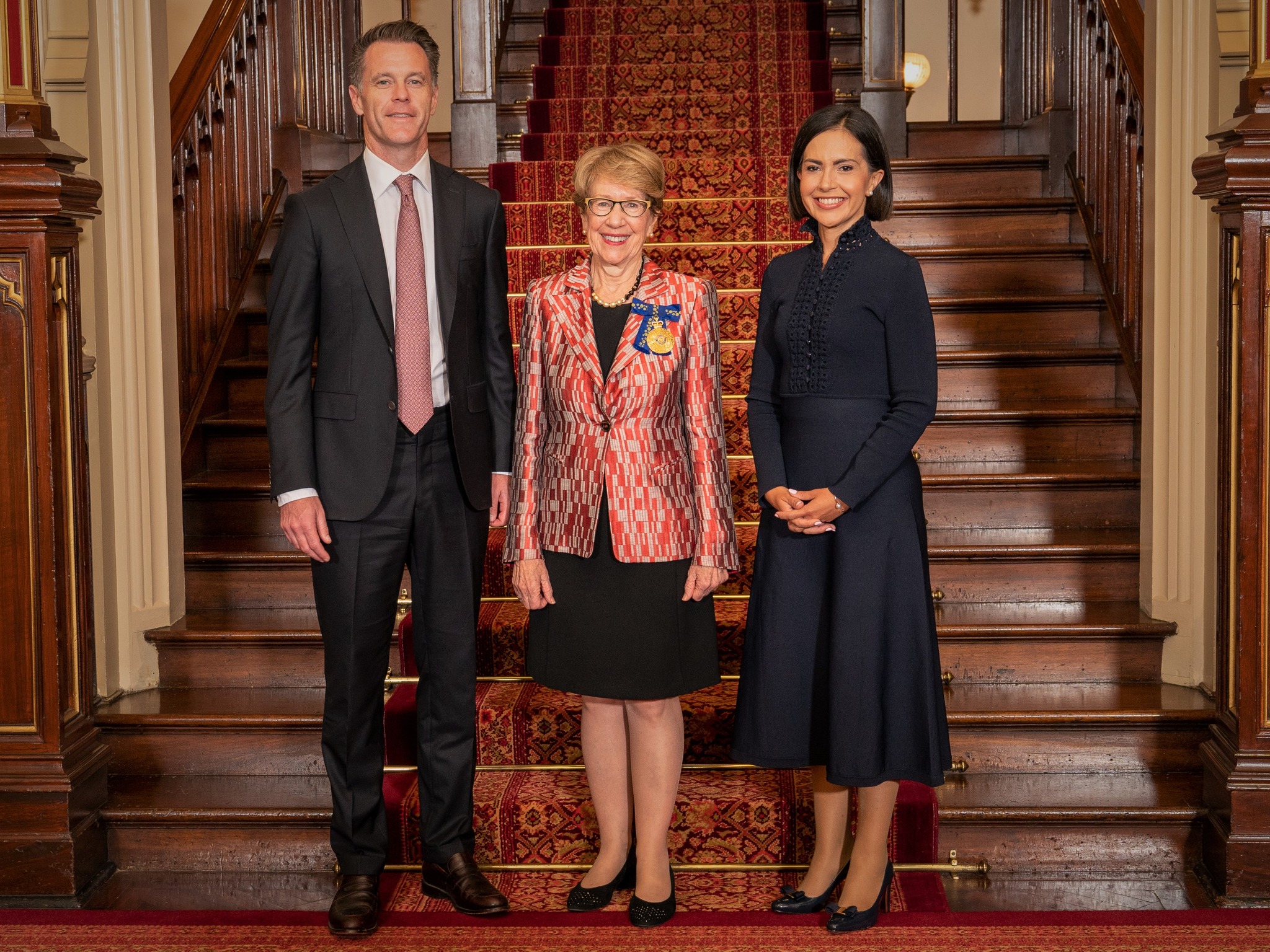 Officially the 47th Premier of NSW, The Hon. Christopher John Minns, with Her Excellency the Honourable Margaret Beazley AC KC and The Hon. (Prue) Prudence Ann Car, Deputy Premier of NSW. Photo: NSW Government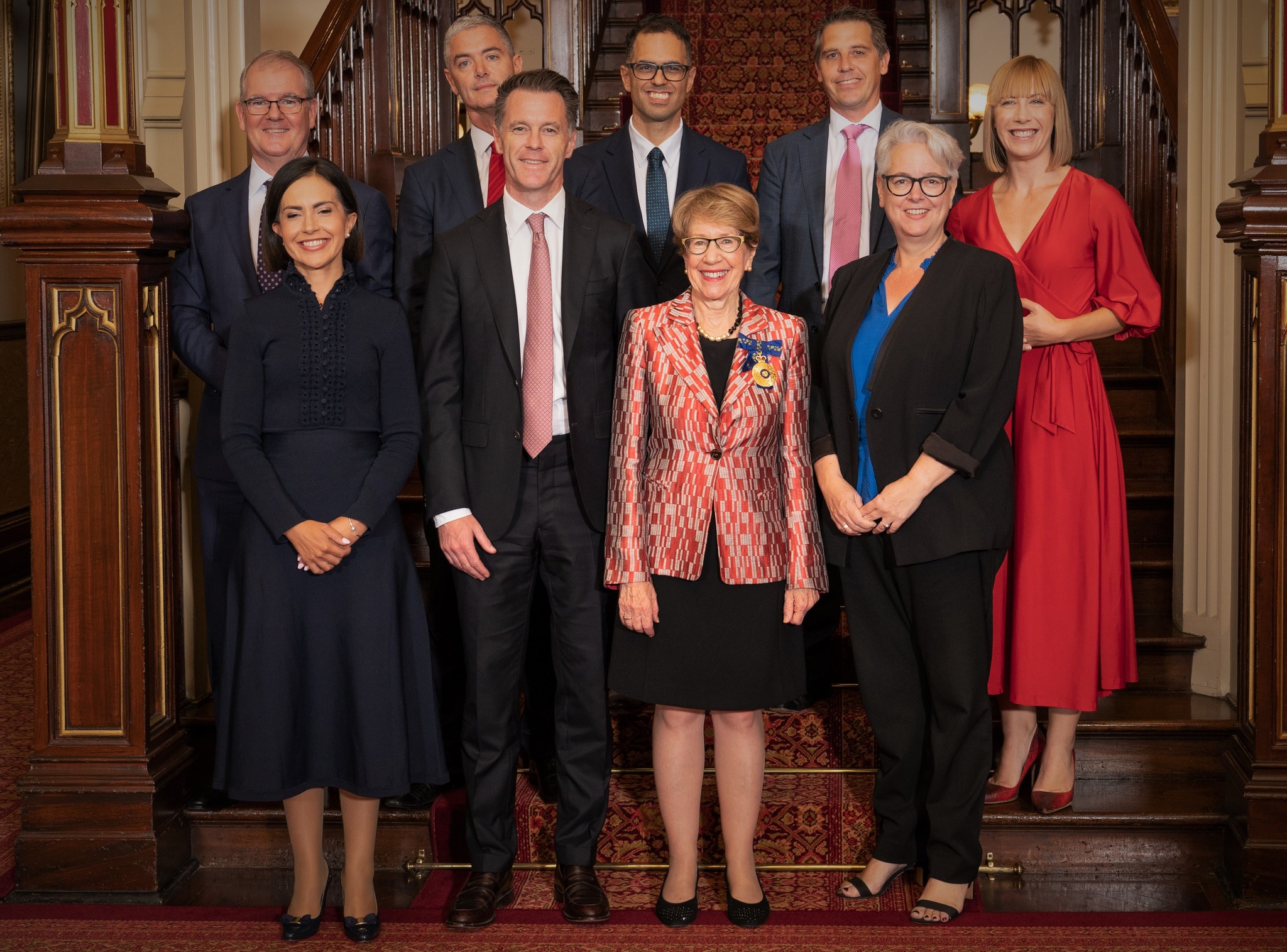 The Hon. Christopher John Minns, with Her Excellency the Honourable Margaret Beazley AC KC and The Hon. (Prue) Prudence Ann Car, Deputy Premier of NSW and The Hon.'s Penny Sharpe, John Graham, Daniel Mookhey, Ryan Park, Jo Haylen and Michael Daley. Photo: NSW Government