October 16 - 22, 2011: Issue 28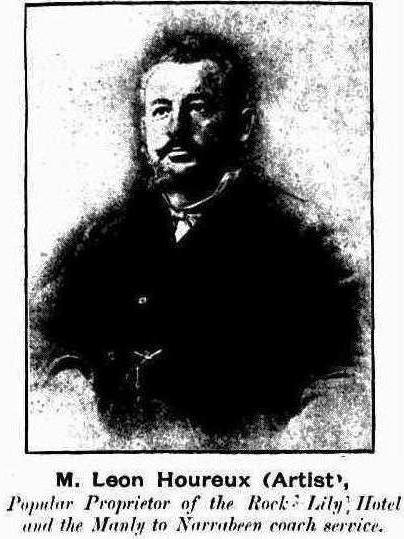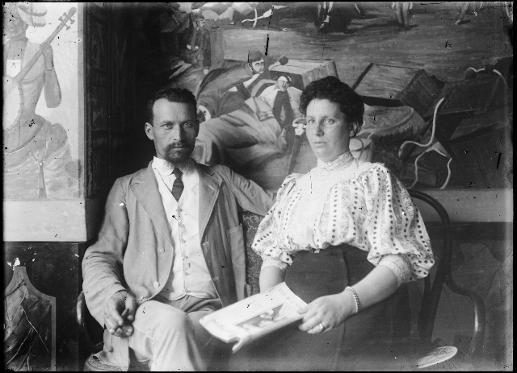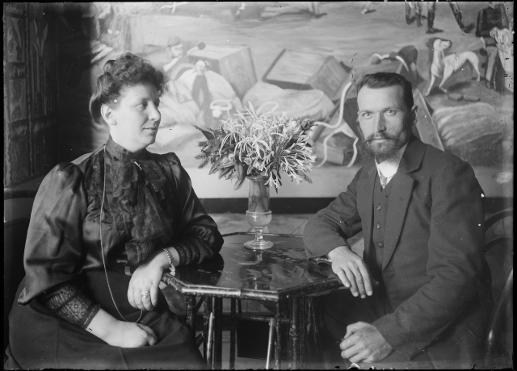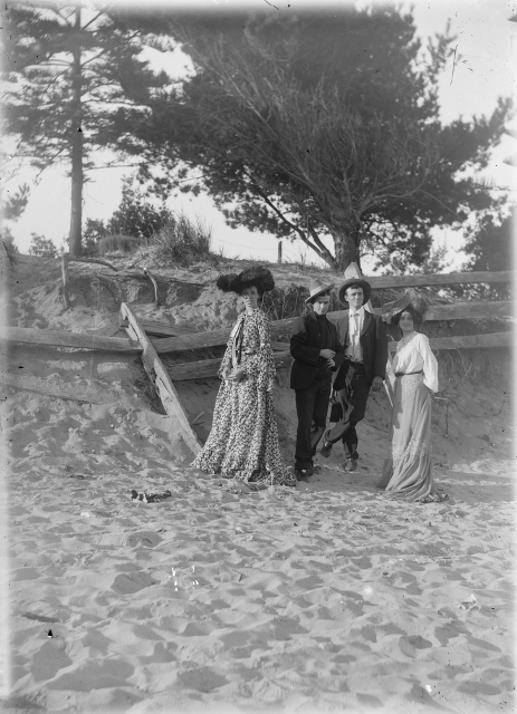 Images; Top; Photo of Leon Houreux from Sydney Morning Herald (TROVE), Second and Third; Pic No: a2005210 and a2005211, Leontine and Auguste Briquet. Last: 'Rock Lily Toughs and their Tarts' Pic No: a2005209, all from Portraits of Norman and Lionel Lindsay, family and friends, ca. 1900-1912 / photographed chiefly by Lionel Lindsay, courtesy of the State Library of NSW.
Leon Houreux
1831 – 27th of April, 1907
A man of energy and determination, with a penchant for fine wine and food, Leon Houreux also had a taste for creating. His murals or paintings, which covered the walls of the Rock Lily at Mona Vale, were a source of delight and bemusement to guests.
Originally describing himself as a farmer of Narrabeen, some sources state living in a hut at Warriewood and employed as a timber-cutter, Leon was also rumoured to be one of those who had an illegal still in the farming community Pittwater was during his tenure here.
Arriving, with wife Marie, from France and leaving daughter Justine Leontine at home. Leon Houreux had a look around first to decide where he would settle, travelling to South Australia in 1882.
Records of Marie disappear before he settled into his hotelier life.
There is reason to believe he may have been associated with Gustave Adolphe Lix, who came out to Australia from France for the International Exhibitions in Sydney and Melbourne, then stayed on, is shown in possession of 640 acres where one of the origins of Mullet Creek flows towards Irrawong's 'water pond'.
He may have been associated with the building of or cutting down trees for The Ingleside Powder Mill.
The family that saw a shift towards saving what was being spoiled through ignorance and unawareness of the 'half life' of some chemicals once commonly used in our waterways and poured into the good earth, has a surname of Heydon and it is in a cancelled Land Map of 1905 that we see the 640 acres of Warriewood Gustave Lix land has now been ascribed to J K Heydon. Born in or close to 1836, Monsieur Lix would have been around 50 years of age when his name was affixed to land in Warriewood in 1886, the same year Leon Houreaux, another French gentleman 'farmer' and timber cutter in Warriewood prior to then, applied for a publicans licence
In 1887 he had applied for a Naturalisation certificate, required by non-British subjects who wished to own land, and purchased property at what became known, for a while, as the area of 'Rock Lily'. Here he built an outstanding premises consisting of 'THE HOTEL contains 10 Bedrooms, Large Bar, 3 Dining rooms, 4 Sitting-rooms, kitchen, 2 storerooms, large verandah, capable of sitting 120 guests, commodious stabling accommodation, also Cottage of 4 rooms, etc. THE GROUNDS surrounding the Hotel comprise an area of 4ac. lrd. 20per:. and are laid out in orchard and vegetable garden, flower garden, vine- yard etc. The whole most artistically arranged, including several aviaries. Immediately opposite the Hotel are RECREATION GROUNDS of 1 ACRE in a tent, fitted up for Pleasure and Pastime.'
He also possessed a large stable of horses and coaches, 'EXTENSIVE COACHING STABLES, occupied by Messrs. Cooper and Co., Coach Proprietors. They comprise stable (24 stalls), coach Houses, workshops, blacksmith' forge, shelter sheds, feed rooms, etc. THE LAND about on to the hotel site, and has 324 feet frontage to VINEYARD-STREET, with a depth of 160 feet.'(1.)
In 1904 Leon was attempting to sell his establishment and retire. He would have been 73 years of age by then and was in the process of building another home, of sandstone this time, perhaps his retirement place, at Newport; 'NEWPORT. A WATERSIDE PROPERTY, comprising Lots 4 to 7, Section E, Newport Township, having 264 feet frontage to BEACONSFIELD-STREET, with a depth of over 200 feet, extending to the WATERS of PITTWATER, together with the weatherboard COTTAGE and UNFINISHED STONE RESIDENCE thereon.'(2.)
His daughter Leontine had arrived and on May 28th, 1906, in Sydney, married by Rev. Dunstan, married Auguste Briquet, who is recorded as being a Mona Vale electrician.
What can be sourced of records of Leon's dealings indicates a colourful character not above ensuring his premises continued despite his own characteristics. Having established a coach transport from Manly, where he also had stables, to his premises at the Rock Lily, his abandon and speed may have caused his licence as coach transporter to be almost cancelled in 1892. After entertaining a group of gentlemen in March of that year, one of the 'Honourable' guests then furnishing him with a letter read at a May meeting of the Metropolitan Transit Commissioners. These gents clearly didn't cancel his licence as 120 of them, and their friends, had a picnic on Tuesday the 18th of October of the same year. 'Foot races' and other entertainments filled their morning on the recreation ground opposite the premises. After this picnic they were treated to dinner and dancing inside the Hotel itself.
Reputed to be a lover of the grape, and growing his own vintages that rivalled the imports from France he also served, a large man of 20 stone, this dynamo also had a love of history and painting. The photos here, from 1912 and taken by Lionel, brother of Norman Lindsay, folk who visited, show his daughter Leontine and husband Auguste inside the Rock Lily with some of the murals still intact.
Leon's died on April 27th, 1907, a day after the Narrabeen Hotel burnt to the ground. This premises had been taken over by his managress of over 20 years, whom some mistok as 'Madame Houreux', Charlotte Boutin. Leon, after such a long association, obviously had some investment, monetary, emotional or personal, in this establishment and its total loss the day before his death would indicate the stress or distress his former manager was now in greatly affected him.
In 1910 Charlotte, who liked placing 'In Memoriam' notices in the Sydney Morning Herald, stated 'with regret, your friend, C.Boutin, while marking his passing. You never know what goes on behind closed doors or within other's hearts but it seems that decades of laughter and bonhomie were suddenly cut from the air of 1907 Pittwater. Leon was 76 when he passed, a good age and had lived an obviously full with the good things, including hard work, life.
Further:
Yabbying In Warriewood's Creeks

Waratah Farm: Ingleside The Narrabeen Plum

Ingleside Powder Mill: Pittwater Fields Of Dreams I

From 1. Advertising. (1904, January 9). The Sydney Morning Herald (NSW : 1842 - 1954), p. 19. Retrieved September 21, 2011, from
http://nla.gov.au/nla.news-article14591990 and
2. Advertising. (1907, September 7). The Sydney Morning Herald (NSW :
1842 - 1954), p. 25. Retrieved September 24, 2011, from
http://nla.gov.au/nla.news-article14879141
In File Below
Charlotte Boutin History
By A J Guesdon, 2011. All Rights Reserved.