September 25 - October 1, 2011: Issue 25
Charlotte Boutin (Madame)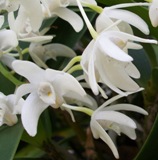 One of the livelier characters Pittwater had roaming its tracks at the turn of last century is Belgian born Charlotte Boutin. It is difficult to determine exactly when she landed in Sydney but a Madame Boutin, Miss Boutin and child Boutin arrived from New Caledonia on the Egmont in late August 1873. Madam Boutin then appears to have then departed to Galle (France) in early September 1873 but without 'Miss' or 'child'. We may wonder of the 'miss' is Charlotte, left behind to make her own living with Boutins already in Sydney.
By 1888 she seems to be established at the Rock Lily Hotel at Mona Vale, named for Dendrobium speciosum, an Australian orchid that was widespread around the premises at that time. Famed for her fare and large menu, sometimes rumoured to be disguising possum or snake, Charlotte was also appreciated for an 'earthy sense of humour'.
George Ellis, a botanist, and guest in 1895 states: "We are quite prepared on reaching Rock Lily to do justice to the good things provided for us by the burly host of the Rock Lily Hotel. The menu is extensive and varied and quite equal to the best of our metropolitan cafes, and after luncheon there are quoits, skittles, swings, and other aids to digestion in the recreation ground over the road, to which many of the visitors make their way. The landlord and his wife hail from La Belle France. He is somewhat expert in the use of the brush, and visitors to the hotel cannot fail to notice the evidences of his skill in the numerous sketches which ornament the walls of the rooms.
There were also tales of unattached ladies who would allow gents to buy beer for them in the bars and vine-covered trellises of a grape arbor to one side of the building around this time. Risqué and attractive to artists and statesman became the Rock Lily's reputation.
By 1901 Charlotte had purchased the license for the Narrabeen Hotel although she continued to be on hand at Mona Vale until at least February 1907. If she was the mistress of Leon Houreaux prior to her departure she seemed to be very fond of a George Battistella when enconsed at Narrabeen. This man was a bar-keep at that premises until his death in 1920. Charlotte continued placing notices in the SMH In Memorium section to his memory right up until her death in 1932. These were always from 'his loving friend C Boutin' or 'Madame Boutin' even seven years after her marriage to a John C Elliott. She was named as executrix and widow in his Probate Notices so perhaps she was 'Madame Boutin' to herself first, last and always.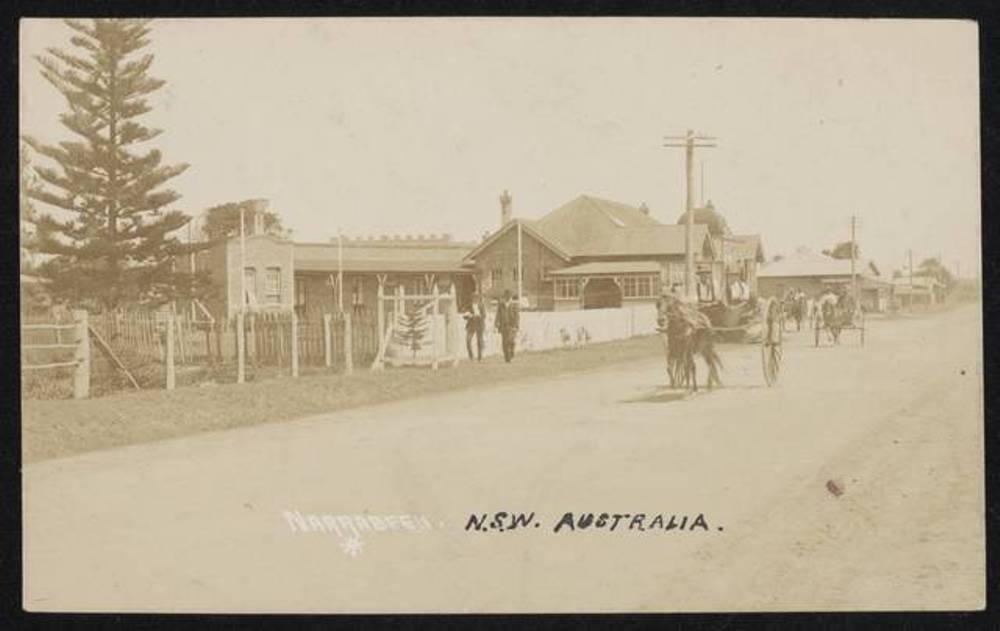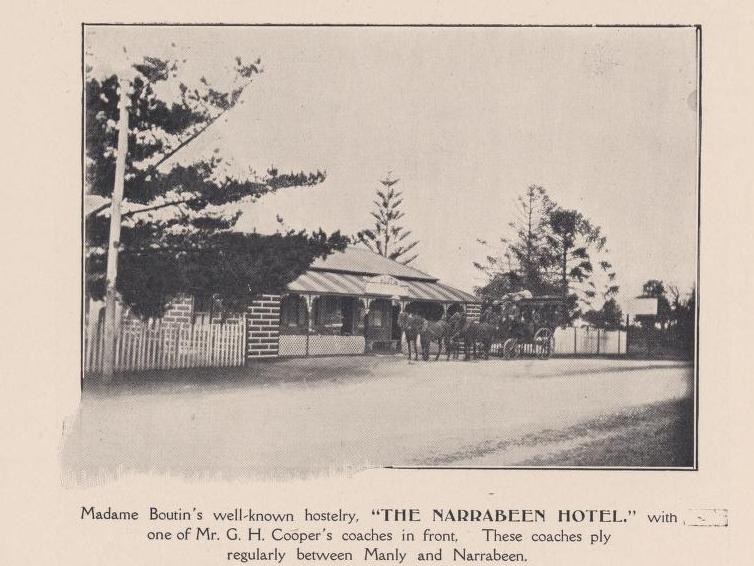 Narrabeen Lakes Estate, 1906 / Arthur Rickard & Co. Ltd Auctioneers. 1906. MAP Folder 114, LFSP 1695 (Copy 1). Part 2. (sales brochure) Image No.: 22704748, courtesy National Library of Australia.
On April 25th 1907 the Narrabeen Hotel, an edifice of some 20 bedrooms at the time, burnt to the ground at 5am in the morning. On April 26th Leon Houreaux died suddenly; whether this was from shock at what had happened to the Hotel at Narrabeen or not there is some indication of regret from Charlotte at this instance;
HOUREUX-In memory of Leon Houreux, late Rock-lily, died April 26, 1907. Regret from his old friend, C. Boutin. Family Notices. (1910, April 26). The Sydney Morning Herald (NSW : 1842 - 1954), p. 6. Retrieved September 21, 2011, from http://nla.gov.au/nla.news-article15136801
Leon was 76 when he died and was buried at Manly in the Catholic section. It is curious that this fire occurred at a time when, a few years later as Leon's daughter Justine Leontine Briquet, shows through trying to sell not only the Rock Lily, but also the extensive stables and property at Newport and Mona Vale, that Leon was virtually bankrupt. It is also notable that no one called for a fire brigade even though the Hotel had a telephone from 1904 (Number 152);
NÀRRABEEN HOTEL, Tel. 152 Manly-Madame C. Boutin. Close to beach, rod fishing, shooting-, etc. Advertising. (1904, September 20). The Sydney Morning Herald (NSW : 1842 - 1954), p. 10. Retrieved September 21, 2011, from http://nla.gov.au/nla.news-article14624820
Reports of the fire state that the local fire brigade would not have turned up anyway as Narrabeen was 'outside of their jurisdiction'. There is also an account of the building burning too fast and those on hand saving Madame's collection of birds from the front balcony.
By 1913 Charlotte had sold the licence to a man named Bacon, one of those whom added his name to her second last In Memorium to Battistella almost twenty years later. Charlotte was advertising a Green African Parrot next to the Narrabeen Hotel in 1920 but soon after George's death she began buying other Hotel licenses closer to town; The Imperial in Alfred Street North Sydney and the Flagstaff in Princes Street, The Rocks in 1923 and 1924. One of these changed license hands less then six months later.
Her romantic side surfaces as the last visible note in her marriage to John C Elliott in 1924 when she must have been mature. After that she disappears apart from the annual notices for George until her death on July 26th. 1932;
ELLIOTT-July 26 Charlotte beloved wife of John C Elliott at Randwick Private burial. Family Notices. (1932, July 30). The Sydney Morning Herald (NSW : 1842 - 1954), p. 12. Retrieved September 22, 2011, from http://nla.gov.au/nla.news-article16912266
Further: in file below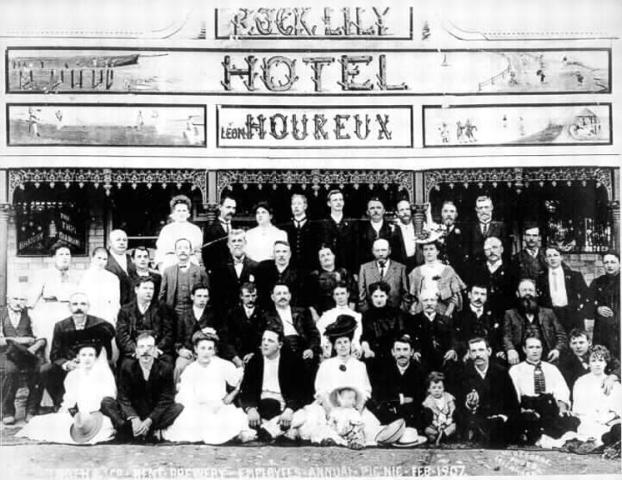 Above: Picture No: 603\60374 from Warringah Library. Inscription on front: "Tooth & Co. Kent Brewery Employees Annual Picnic Feb. 1907". Top row (L-R) (Women) Housemaid, May Bligh; Second row: Leon Houreux; Third row (L-R) second girl Caroline Marie Whittaker, wife of John Winter (local land owner). Lady at end of third row is Madame Boutin - right of photo (who, in 1907, opened the Royal Hotel, Narrabeen). CREATED: 1907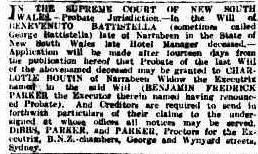 Below: Picture No: 41\WAR41247 from Warringah Library Horse-drawn vehicles; New South Wales; Narrabeen; Narrabeen (N.S.W.)
Bottom: Pic No: a2005208h, courtesy of the State Library of NSW and taken by Norman Lindsay when visiting the Rock Lily in 1912; the arbor at side of building.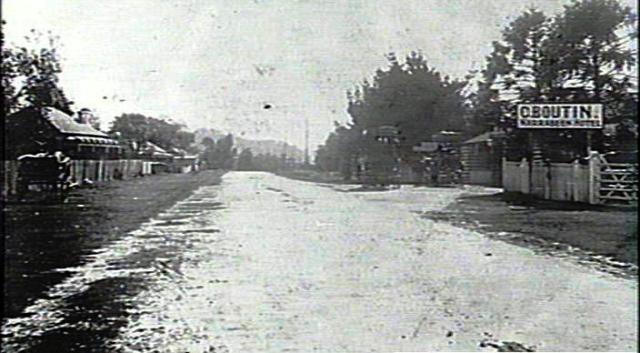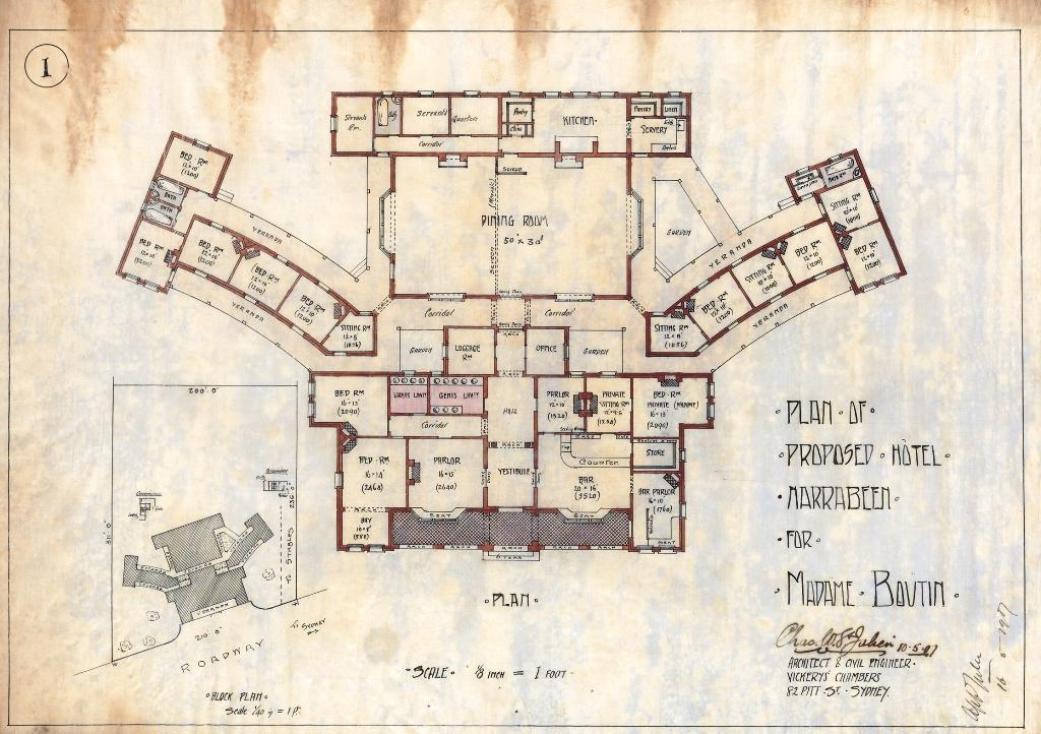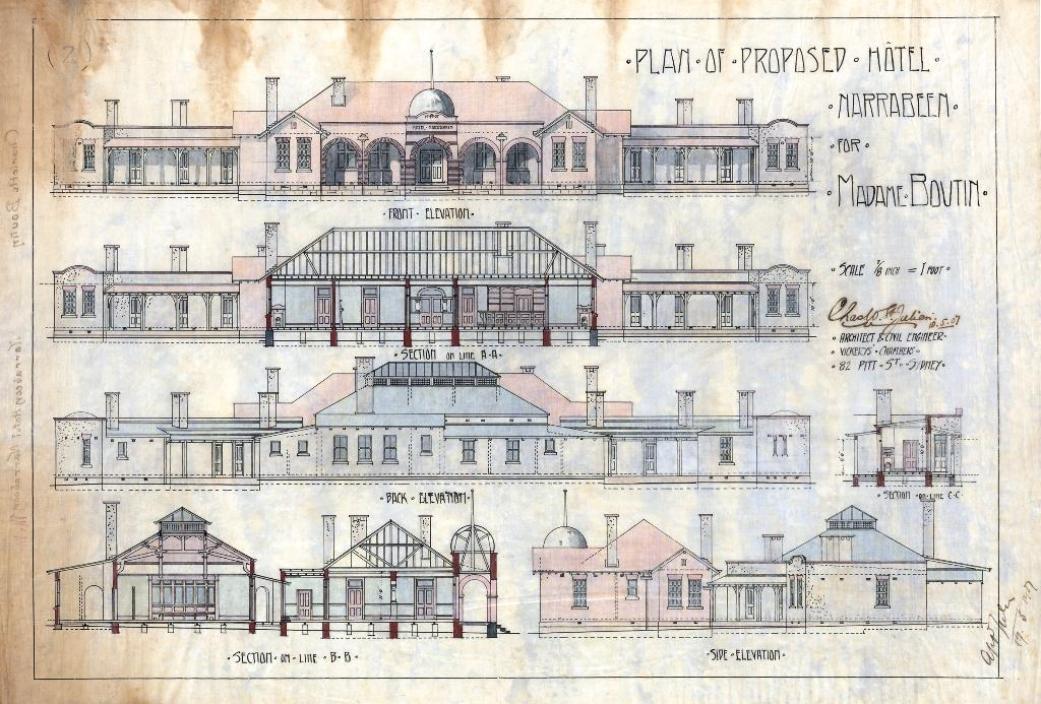 1907 plans by Charles Jakin- signed off 10.5.1907. Courtesy State Library of NSW.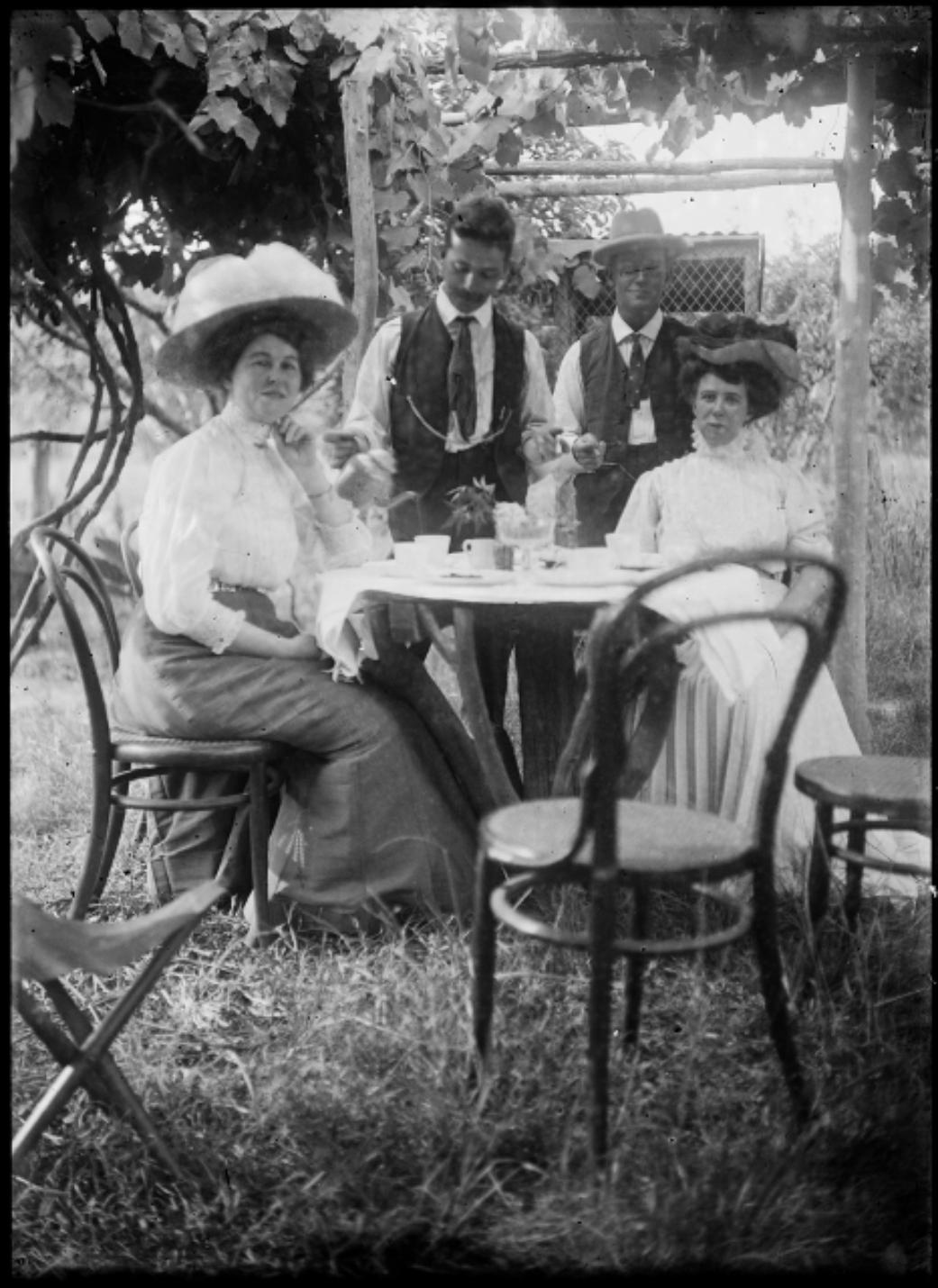 Charlotte Boutin threads collected and collated by A J Guesdon, 2011. All Rights Reserved.