September 25 - October 1, 2011: Issue 25
Charlotte Boutin (Madame)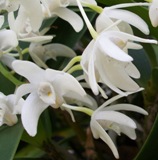 One of the livelier characters Pittwater had roaming its tracks at the turn of last century is Belgian born Charlotte Boutin. It is difficult to determine exactly when she landed in Sydney but a Madame Boutin, Miss Boutin and child Boutin arrived from New Caledonia on the Egmont in late August 1873. Madam Boutin then appears to have then departed to Galle (France) in early September 1873 but without 'Miss' or 'child'. We may wonder of the 'miss' is Charlotte, left behind to make her own living with Boutins already in Sydney.
By 1888 she seems to be established at the Rock Lily Hotel at Mona Vale, named for Dendrobium speciosum, an Australian orchid that was widespread around the premises at that time. Famed for her fare and large menu, sometimes rumoured to be disguising possum or snake, Charlotte was also appreciated for an 'earthy sense of humour'.
George Ellis, a botanist, and guest in 1895 states: "We are quite prepared on reaching Rock Lily to do justice to the good things provided for us by the burly host of the Rock Lily Hotel. The menu is extensive and varied and quite equal to the best of our metropolitan cafes, and after luncheon there are quoits, skittles, swings, and other aids to digestion in the recreation ground over the road, to which many of the visitors make their way. The landlord and his wife hail from La Belle France. He is somewhat expert in the use of the brush, and visitors to the hotel cannot fail to notice the evidences of his skill in the numerous sketches which ornament the walls of the rooms.
There were also tales of unattached ladies who would allow gents to buy beer for them in the bars and vine-covered trellises of a grape arbor to one side of the building around this time. Risqué and attractive to artists and statesman became the Rock Lily's reputation.
By 1901 Charlotte had purchased the license for the Narrabeen Hotel although she continued to be on hand at Mona Vale until at least February 1907.
The weekly meeting of the Water Licensing Court was held yesterday, when the
following transfers of publicans' licences were granted: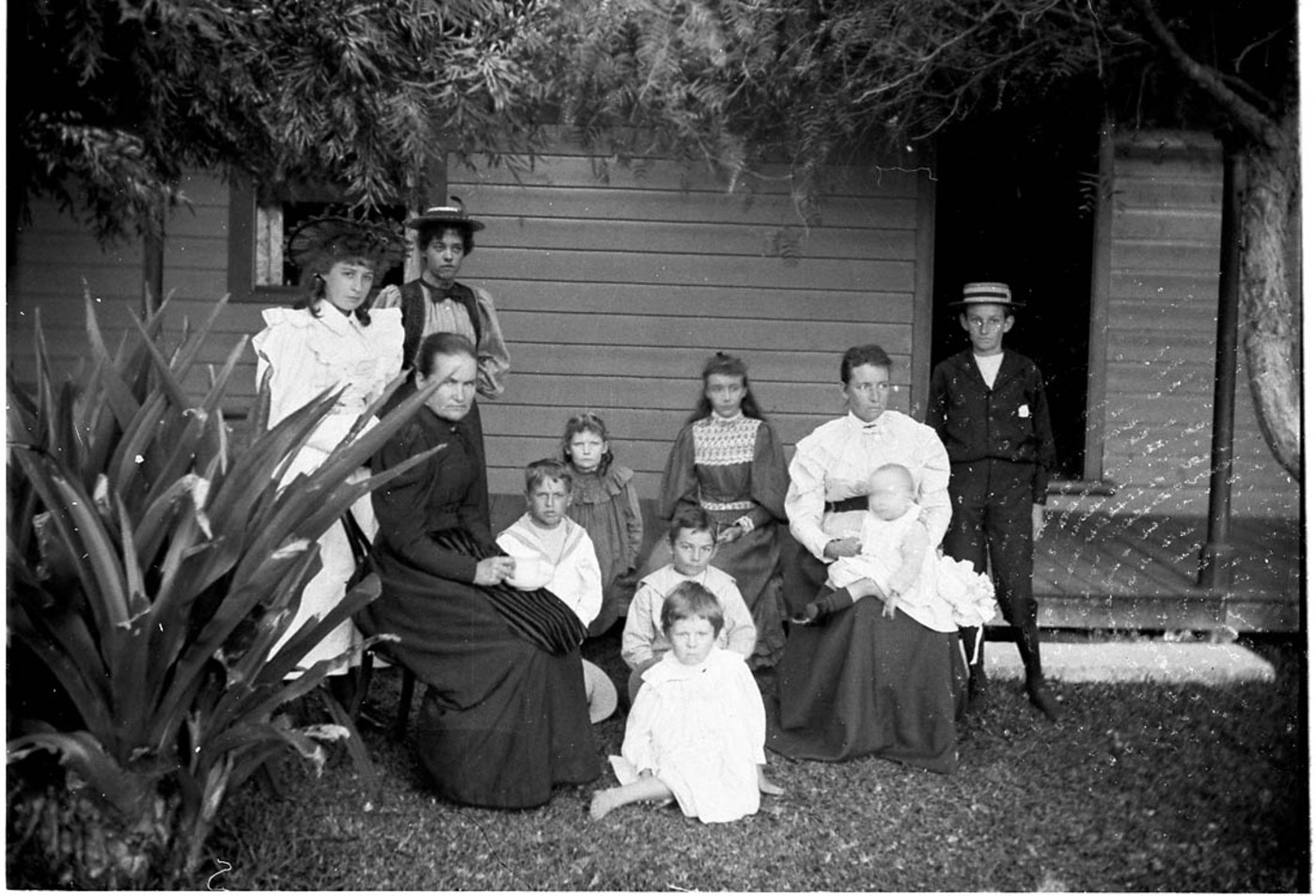 Mrs. Norris [Morris ?] and family group outside Narrabeen Hotel Circa 1890, by Perier, A. J. (Albert James), 1870-1964, Image No: Home and Away – 34425, Courtesy State Library of NSW
Licensee, Robert Morris (Sands 1890); Robert Norris (Sands 1900) - [see also ON 260/423 with "Robert Norris' Narrabeen Hotel" shown over the front door]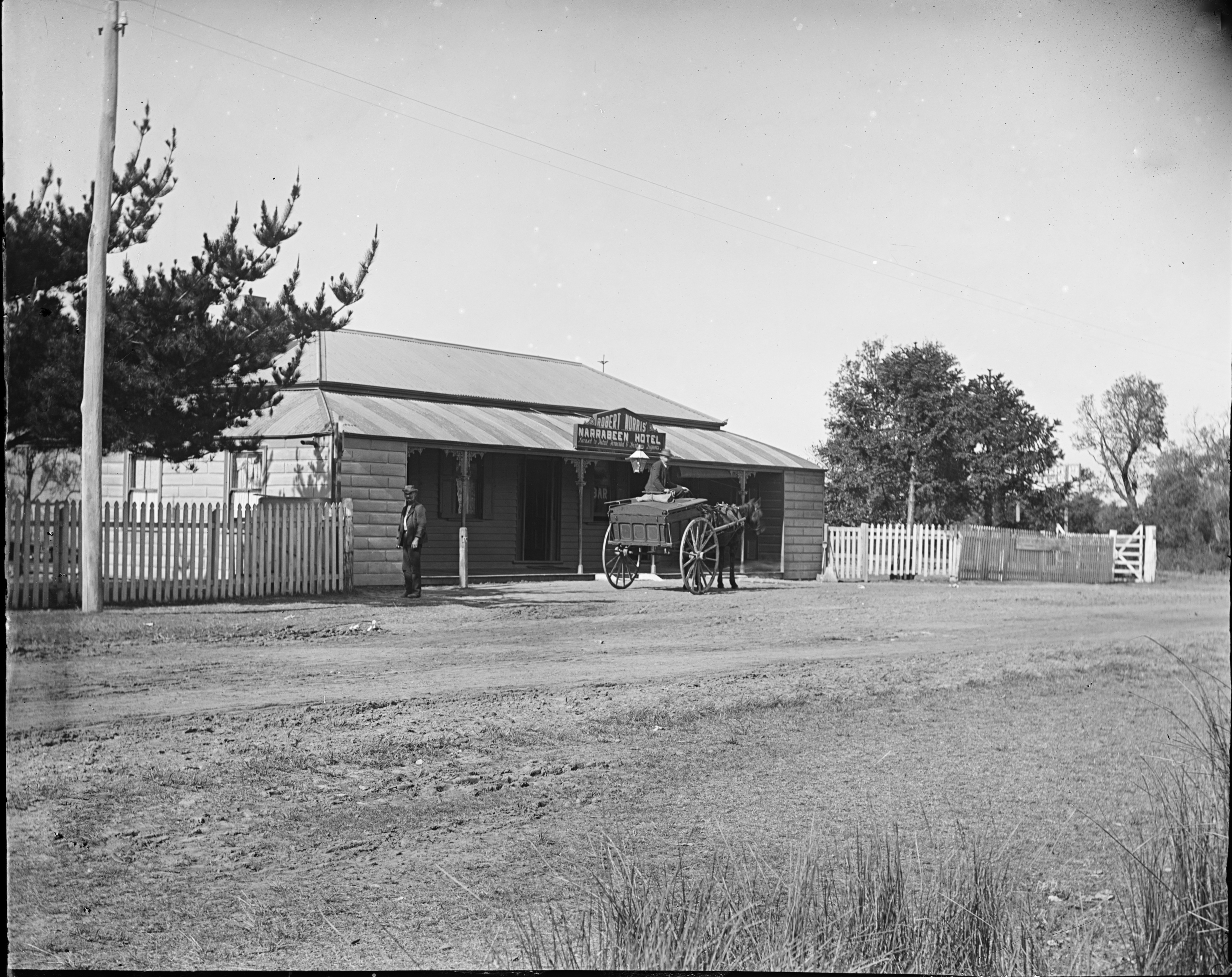 Narrabeen Hotel Pre 1900 - from album Box 14: Royal Australian Historical Society : photonegatives, ca. 1900-1925, courtesy State Library of NSW

The weekly sitting of the Water Licensing Court was held yesterday before
Mr. Payton, S M., Mr. Smithers, S.M., and Mr. Penny, L.M. The following
transfers of publicans' licenses were granted: ...

Ralph A.

Stennett to Charlotte Boutin, Narrabeen Hotel, Narrabeen.
If Charlotte was the mistress of Leon Houreaux, as some reports from the pages of then seemed to infer, prior to her departure she seemed to be very fond of a George Battistella when ensconsed at Narrabeen. This man was a bar-keep at that premises until his death in 1920. Charlotte continued placing notices in the SMH In Memorium section to his memory right up until her death in 1932. These were always from 'his loving friend C Boutin' or 'Madame Boutin' even seven years after her marriage to a John C Elliott. She was named as executrix and widow in his Probate Notices so perhaps she was 'Madame Boutin' to herself first, last and always.
However, this advertisement about some of her land holdings at Mona Vale, then called 'Rock Lily' and 'Turimetta' shows her as 'Houreaux':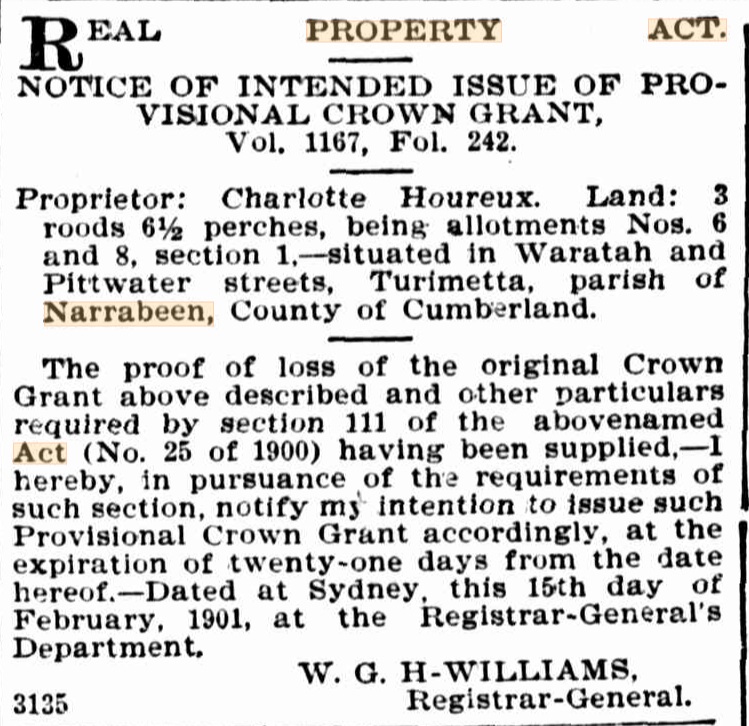 Advertising (1901, February 16). The Australian Star (Sydney, NSW : 1887 - 1909), p. 3. Retrieved from http://nla.gov.au/nla.news-article228515509

Visit: Pittwater Reserves: The Green Ways; Mona Vale's Village Greens A Map Of The Historic Crown Lands Ethos Realised and Pittwater Roads II: Where The Streets Have Your Name - Mona Vale, Bongin Bongin, Turimetta and Rock Lily and Taramatta Park, Mona Vale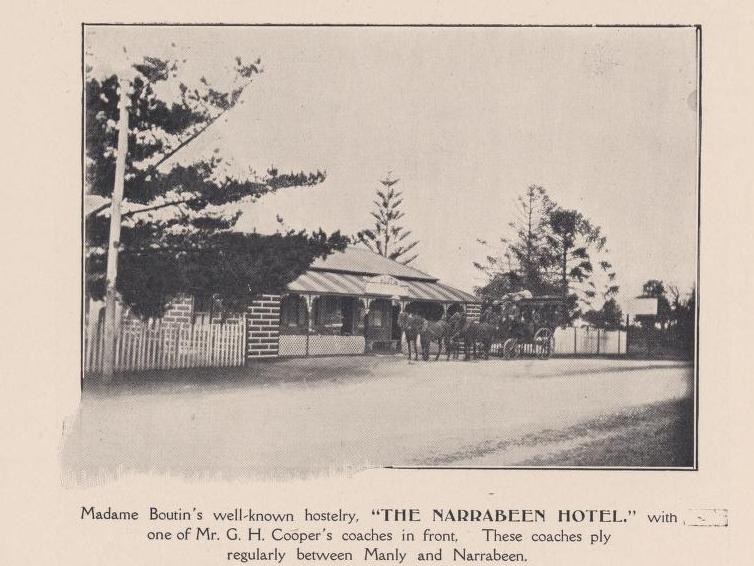 Narrabeen Lakes Estate, 1906 / Arthur Rickard & Co. Ltd Auctioneers. 1906. MAP Folder 114, LFSP 1695 (Copy 1). Part 2. (sales brochure) Image No.: 22704748, courtesy National Library of Australia.
On April 25th 1907 the Narrabeen Hotel, an edifice of some 20 bedrooms at the time, burnt to the ground at 5am in the morning. Charlotte rebuilt - similar to the plans below, although in stages it would seem if images from then are accurate:
NARRABEEN HOTEL DESTROYED
NARROW ESCAPE OF THE INMATES
DAMAGE ESTIMATED AT OVER TWO THOUSAND POUNDS
A rather sensational and disastrous fire which resulted In the destruction of over two thousand pounds worth of property, occurred at Narrabeen, near Manly, early this
morning. The Narrabeen Hotel. which is distant about seven miles from Manly, and on the road to Pittwater, of which Madam C. Boutin is the licensee, was the scene of the conflagration.

The building was a weatherboard one, and consisted of 22 rooms. It was built on a square, all the rooms being on the one floor.

All the rooms were destroyed, including several small structures which stood away from the house, and all that now remains to remind travellers of what was once an exceedingly popular house Is a small building at the rear of the hotel, which .managed to escape the flames, and a heap of charred and smouldering wood.
It was shortly after 4 o'clock that Madam Boutin who had secured the building late last night, was awakened, and felt a smothering sensation. She immediately jumped out of bed after donning some clothes warned the other people who were asleep in the house. The building was filled with smoke, and after some little difficulty they got out of the building. The alarm was Immediately given to the neighbours, but fortunately there was little need for alarm, as the wind was blowing from the west. A few minutes later the hotel was in flames, which, fanned by the stiff breeze, devoured the woodwork in a very short space of time.
The Manly branch of the Metropolitan Fire Brigade was notified by telephone of the conflagration, but on one of the firemen asking whether assistance was needed— the hotel Is situated outside the brigade area— he was answered In the negative. In the meantime Madam Boutin and the other people were sheltered in a neighbouring house. The occupants of the house and a number of others watched the building burn, as any efforts they might have put forth would have been useless. The flames had a hold of the building, and as they were assisted by the wind the light structure made excellent food for them. As the fire spread from room to room the furnishings were devoured, and all the crowd could do was to watch helplessly and see the building gradually destroyed. In about an hour after the first intimation of the fire was received the hotel had been razed to the ground, and it was then found, that

a rather valuable little dog belonging to Madam Boutin had perished in the flames

.
The licensee of the hotel, who is suffering from shock, and the effects of the smoke, is being cared for by one of the neighbours. The damage Is estimated at between £2000 and £3000. It Is not yet known whether the building or Its contents were covered by Insurance. DISASTROUS FIRE (

1907, April 24

). The Australian Star (Sydney, NSW : 1887 - 1909), p. 4 (FIRST EDITION). Retrieved from http://nla.gov.au/nla.news-article229525734
FIRE AT NARRABEEN. BRIGADE DID NOT ATTEND.
Shortly before 5 o'clock yesterday morning the Narrabeen Hotel, at
Narrabeen, which is a few miles from Manly, was discovered to be on
fire, and before the flames could be checked the building, which contained
20 rooms, was entirely destroyed. Madame Boutin, the licensee, and the
barman, named BATTISTELLA, each heard a crackling noise, as if the
ceiling was falling. They rushed from their rooms to the back of the
premises, and cried out, "Fire!" Battistella awoke the cook and other
inmates, and they had just time to escape in their night attire.
Fortunately
there were no boarders in hotel at the time.

A valuable dog was, however,
burnt

,

and Mme. Boutin's birds were rescued from the front verandah
under difficulties. The fire, which had broken out in the front portion of
the hotel, burnt with great rapidity, and within an hour there was nothing
left but smouldering ruins.
As soon as the fire was discovered Mr. Donald
M'Lenn, at the local post-office, telephoned to the Manly fire brigade, but
as Narrabeen is outside the municipality of Manly the Manly brigade
replied that the scene was outside their jurisdiction. Consequently no
brigade was present

, and the neighbours were left to do the best they
could.

The hotel-a large cottage-was the property of Mme. Boutin,

and
was insured in the Australian Mutual Fire Insurance Company for 800
pounds.

FIRE AT NARRABEEN. (

1907, April 25

). The Sydney Morning
Herald (NSW : 1842 - 1954), p. 8. Retrieved from
http://nla.gov.au/nla.news-article14836988
METROPOLITAN LICENSING COURT
The Metropolitan Licensing Bench sat yesterday (.Messrs. Smlthers, Macfarlane, and Donaldson), and adjudicated In the following business as under:...
Charlotte Soutin, of Narrabeen, applied for leave to carry on the bar business in a building put up temporary.
The hotel had been recently burned down and the proposed bar for temporary service was 12 x 14ft.
It was explained that this was quite large enough for all requirements until the building could be rebuilt.Mr. Donaldson, S.M., did not consider it to be sufficient, and put some queries to the applicant as to the rental of a house in the vicinity. She explained that she lived In a cottage at the rear, but considered It preferable to sell In temporary premises. The application was adjourned for a fort- ' night. METROPOLITAN LICENSING COURT (
1907, May 3
).
The Australian Star
(Sydney, NSW : 1887 - 1909), p. 7. Retrieved from
http://nla.gov.au/nla.news-article229521824
It is also notable that no one called for a fire brigade even though the Hotel had a telephone from 1904 (Number 152);
NARRABEEN HOTEL, Tel. 152 Manly-Madame C. Boutin. Close to beach, rod fishing, shooting-, etc. Advertising. (1904, September 20). The Sydney Morning Herald (NSW : 1842 - 1954), p. 10. Retrieved from http://nla.gov.au/nla.news-article14624820
Reports of the fire state that the local fire brigade would not have turned up anyway as Narrabeen was 'outside of their jurisdiction'. There is also an account of the building burning too fast and those on hand saving Madame's collection of birds from the front balcony. It wasn't the only time she lost property at Narrabeen, and even with the Narrabeen Fire Brigade now installed, commencing February 3rd, 1920, many of the weatherboard homes in the area would quickly burn and be totally destroyed before firemen could save them:
Fire at Narrabeen
A six-roomed weatherboard cottage in Lagoon-street, Narrabeen. was destroyed by fire last night. The origin of the outbreak is unknown. The cottage was owned by Madam Bouten, and occupied by Mrs. Elliott. Fire at Narrabeen (1924, June 15). Sunday Times (Sydney, NSW : 1895 - 1930), p. 7. Retrieved from http://nla.gov.au/nla.news-article128140930
Image No.: a106069h from Scenes of Narrabeen Album ca. 1900-1927, Sydney & Ashfield : Broadhurst Post Card Publishers, courtesy State Library of NSW - the second Narrabeen Hotel may be seen with the dome a little north of the butcher's shop.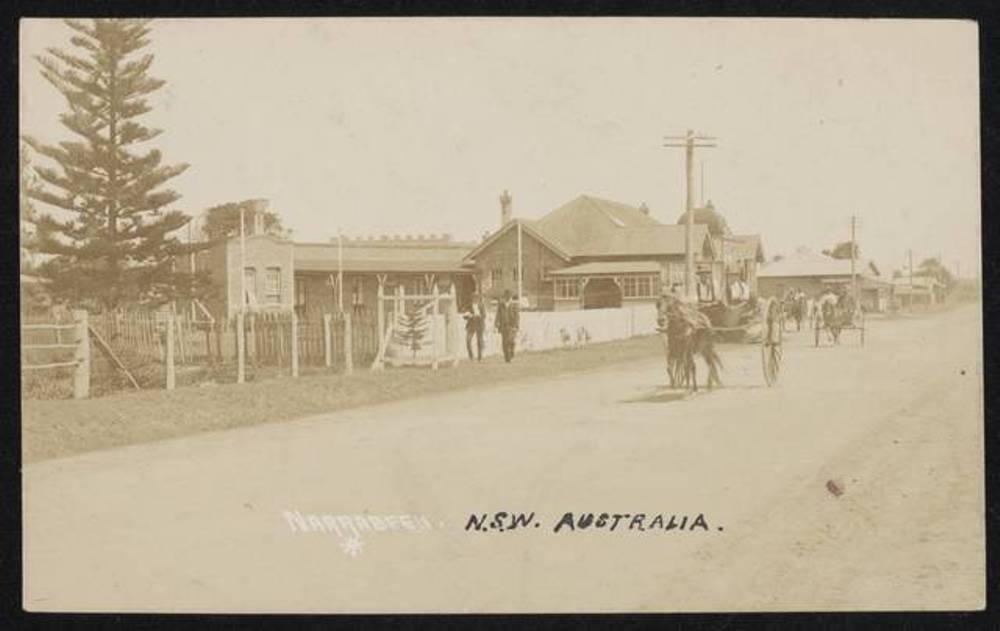 Postcard from the National Museum of Australia Collection
On April 26th Leon Houreaux died suddenly; whether this was from shock at what had happened to the Hotel at Narrabeen or not there is some indication of regret from Charlotte at this instance;
HOUREUX-In memory of Leon Houreux, late Rock-lily, died April 26, 1907. Regret from his old friend, C. Boutin. Family Notices. (1910, April 26). The Sydney Morning Herald (NSW : 1842 - 1954), p. 6. Retrieved from http://nla.gov.au/nla.news-article15136801
Leon was 76 when he died and was buried at Manly in the Catholic section. It is curious that this fire occurred at a time when, a few years later as Leon's daughter Justine Leontine Briquet, shows through trying to sell not only the Rock Lily, but also the extensive stables and property at Newport and Mona Vale, that Leon was virtually bankrupt.
By 1913 Charlotte had sold the licence to a man named Bacon, one of those whom added his name to her second last In Memorium to Battistella almost twenty years later. Charlotte was advertising a Green African Parrot next to the Narrabeen Hotel in 1920 but soon after George's death she began buying other Hotel licenses closer to town; The Imperial in Alfred Street North Sydney and the Flagstaff in Princes Street, The Rocks in 1923 and 1924. One of these changed license hands less then six months later.
Her romantic side surfaces as the last visible note in her marriage to John C Elliott in 1924 when she must have been mature. After that she disappears apart from the annual notices for George until her death on July 26th. 1932;
ELLIOTT-July 26 Charlotte beloved wife of John C Elliott at Randwick Private burial. Family Notices. (1932, July 30). The Sydney Morning Herald (NSW : 1842 - 1954), p. 12. Retrieved September 22, 2011, from http://nla.gov.au/nla.news-article16912266
Further: in file below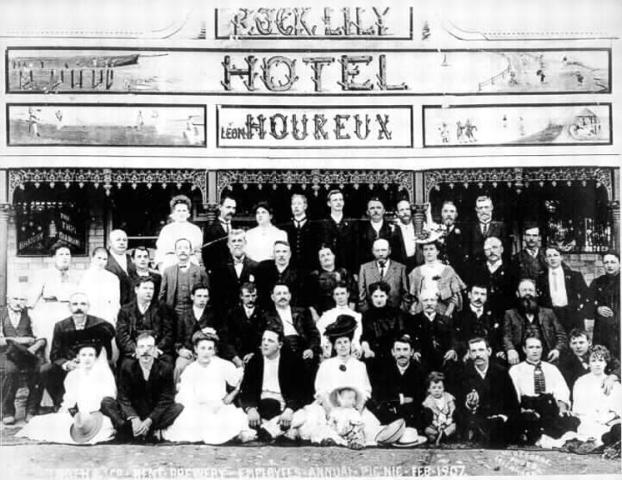 Above: Picture No: 603\60374 from Warringah Library. Inscription on front: "Tooth & Co. Kent Brewery Employees Annual Picnic Feb. 1907". Top row (L-R) (Women) Housemaid, May Bligh; Second row: Leon Houreux; Third row (L-R) second girl Caroline Marie Whittaker, wife of John Winter (local land owner). Lady at end of third row is Madame Boutin - right of photo (who, in 1907, opened the Royal Hotel, Narrabeen). CREATED: 1907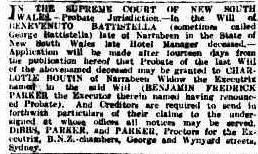 Below: Picture No: 41\WAR41247 from Warringah Library Horse-drawn vehicles; New South Wales; Narrabeen; Narrabeen (N.S.W.)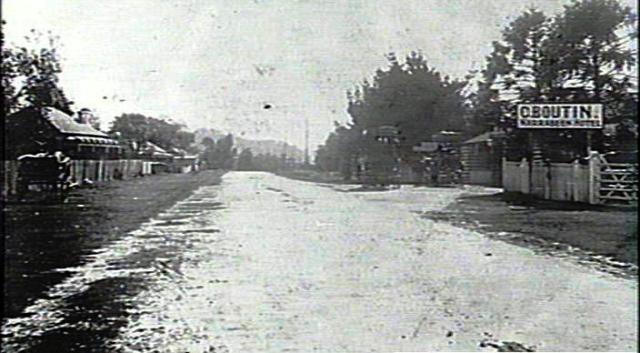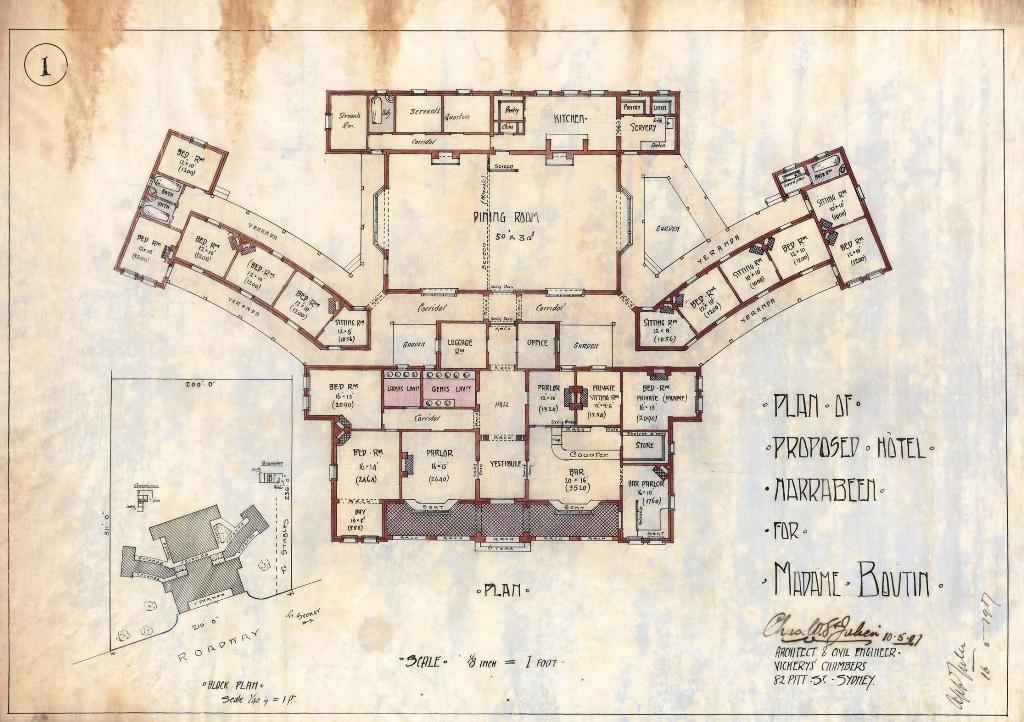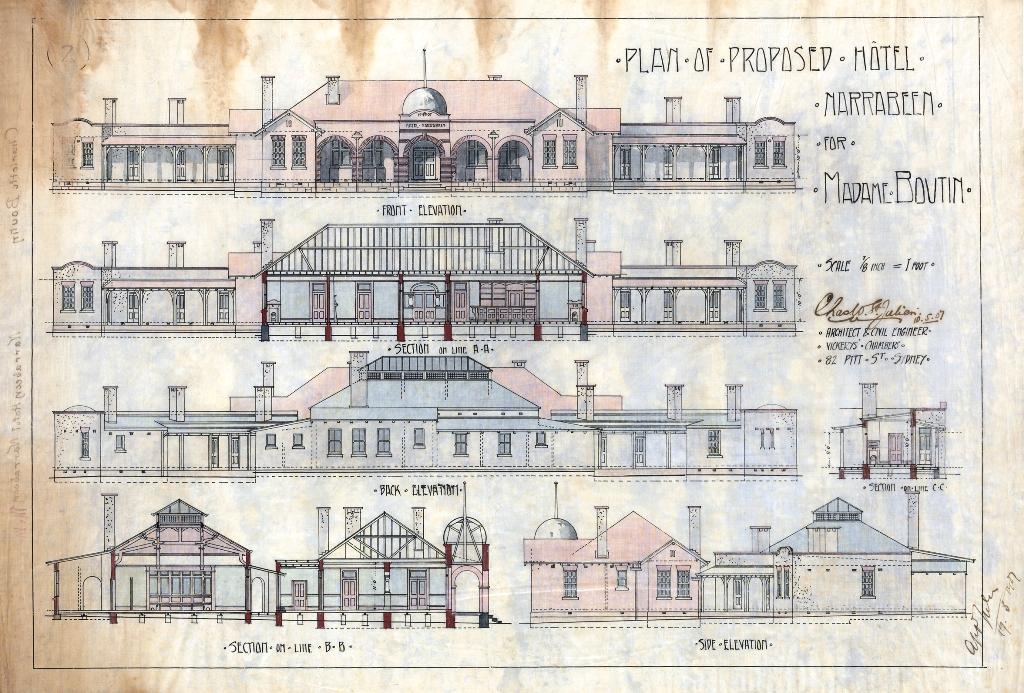 1907 plans by Charles Jakin- signed off 10.5.1907. Courtesy State Library of NSW.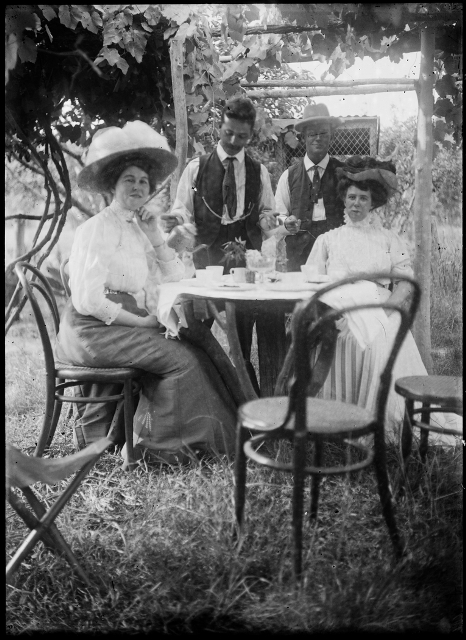 Bottom: Pic No: a2005208h, courtesy of the State Library of NSW and taken by
Norman Lindsay
when visiting the Rock Lily in 1912; the arbor at side of building.
Charlotte Boutin threads collected and collated by A J Guesdon, 2011.