April 25 - May 1, 2021: Issue 491
narrabeen cenotaph and RSL History: Two Anniversaries in 2021 - ANZAC Day tributes
The Narrabeen RSL Club in its present location has been servicing and supporting the community since 1956, which means this year the club and its members are celebrating their 65th year. The club would like to hear from or see any old photographs people have associated with its members and history.
This year, 2021, also marks a centenary for another tribute to those who have served our country from Narrabeen - the installation in October 1921 of a War Trophy, or German Machine Gun captured in France in the triangular reserve at the corner of Ocean street and Pittwater road Narrabeen which today serves as a cenotaph for all conflicts Narrabeen residents, and members of the RSL.
When a search of the National Archives of Australia is done there are numerous residents of Narrabeen who will be represented, not all of them from Narrabeen as the district as a Parish extended into Pittwater and some names are from Mona Vale, Newport and further afield, but of those who are known to have been residents of this place then, there are few families whose sons and daughters did not serve in WWI, WWII and conflicts Australians have served in since.
Many of the street names of Narrabeen, when these first began to be allocated and then expanded from 1881 on were given to honour the names of famous generals and soldiers of the past by John Wetherill. This was reiterated as the suburb grew and subdivisions followed the 1913 opening of a tramline to the Narrabeen terminus near the lagoon itself.
When Britain declared war on Germany on August 4th 1914, most Australians, who had strong ties to the 'mother country', responded with great enthusiasm. They had little idea of how long, and how devastating, the war would prove to be. At that time, most people living in Australia were known as British subjects (it was not until 1949 that the status of 'Australian citizen' was created under the Nationality and Citizenship Act). The declaration of war came in the middle of a federal election campaign in Australia. Even before war broke out, Prime Minister Joseph Cook and Opposition Leader Andrew Fisher had pledged their full support for the British Empire. In a speech at Horsham, Victoria, on 31 July 1914, Cook said, 'Remember that when the Empire is at war, so is Australia at war … all our resources in Australia are ... for the preservation and the security of the Empire.' On the same day, in Colac, Fisher declared, 'Australians will stand beside our own to help and defend her [Britain] to our last man and our last shilling.'
During the course of World War I, approximately 420,000 Australians volunteered to serve in the Australian Imperial Force (AIF), and many more attended medical examinations but were rejected. The AIF's name acknowledged Australia's national identity while at the same time declaring its allegiance to the British Empire. Of the 324,000 members of the AIF who served overseas, more than 60,000 were killed and 156,000 were wounded or taken prisoner.
In 1914, the Australian public celebrated its allegiance to the British Empire in a variety of ways. Britain was widely referred to as 'the mother country'; school children swore allegiance to the King and learned about the Empire and its values through textbooks, songs and plays; and images of the King were displayed in schools and other public buildings. Empire Day was celebrated each year on 24 May – the birthday of Queen Victoria – with gun salutes, displays of the Union Jack, patriotic music and speeches, and street carnivals with bonfires and fireworks.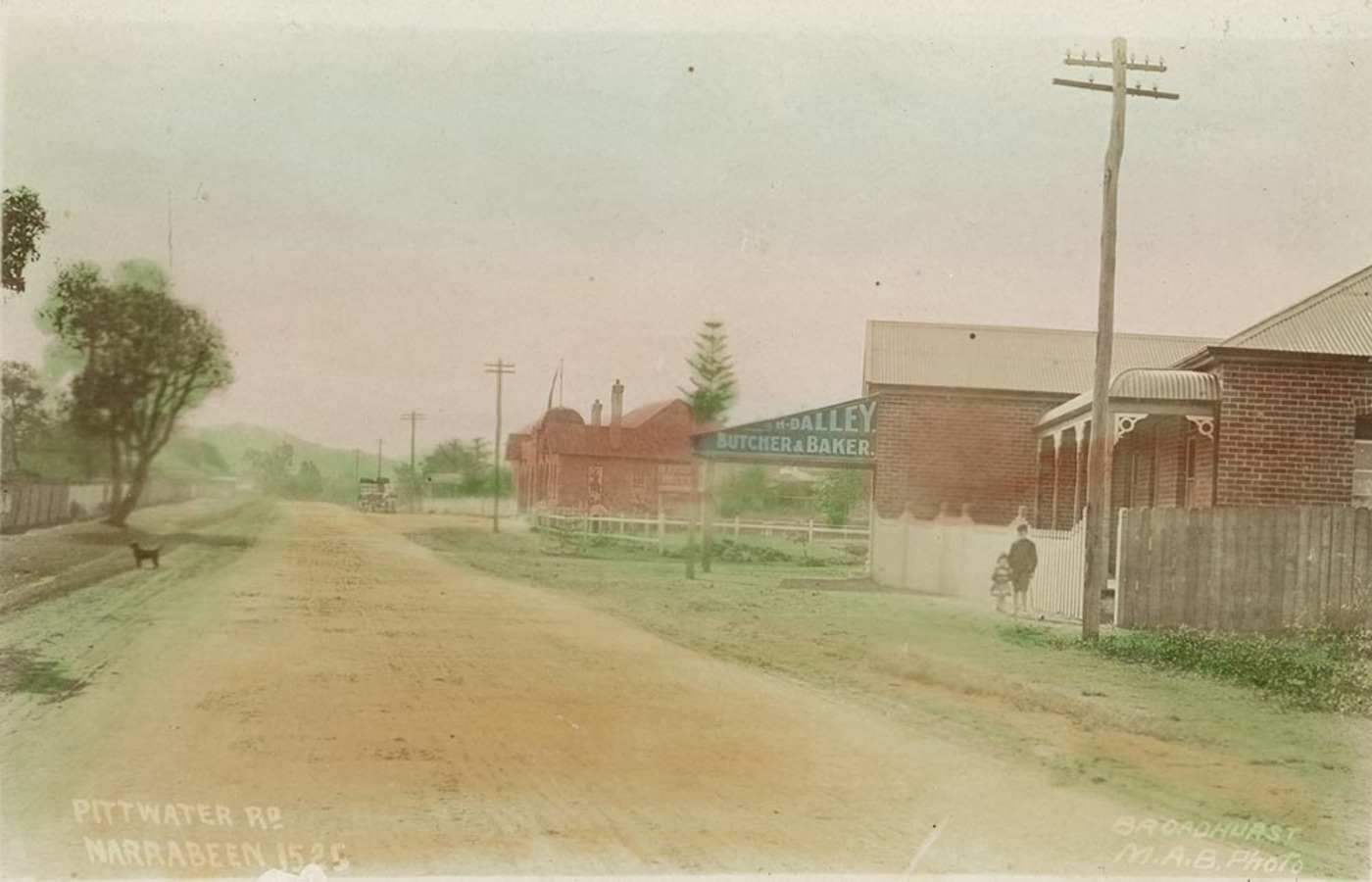 Image No.: a106069h from Scenes of Narrabeen Album ca. 1900-1927, Sydney & Ashfield : Broadhurst Post Card Publishers, courtesy State Library of NSW - the second Narrabeen Hotel may be seen with the dome a little north of the butcher's shop.
References and Extras
TROVE - National Library of Australia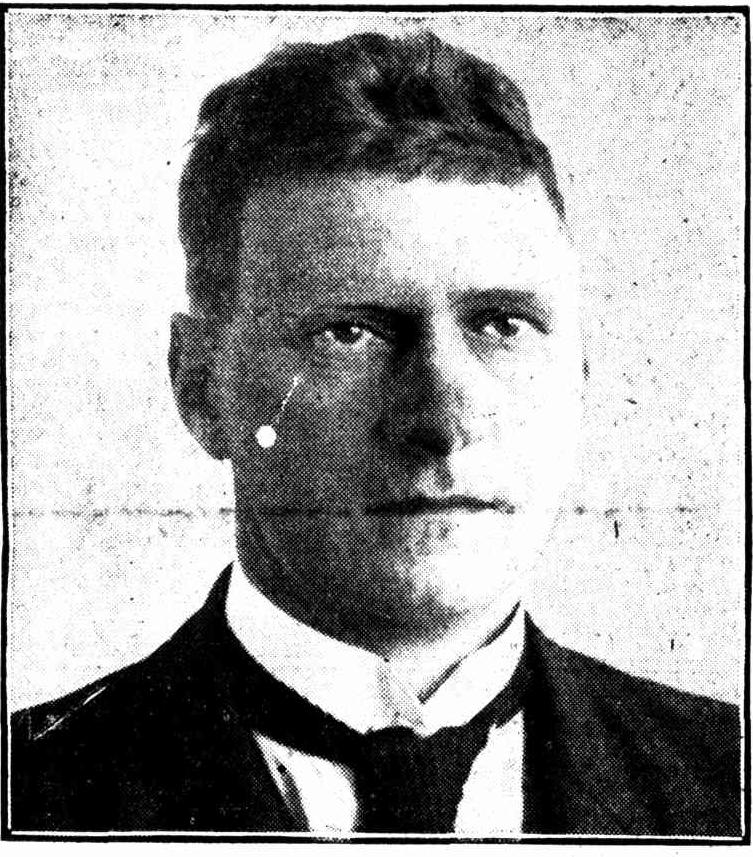 COUNCILLOR ATKINS is Narrabeen's. universal 'provider.
COUNCILLOR HAROLD ATKINS. president of the local Progress Association and a prominent man in other directions at Narrabeen, followed, in the father's steps, for he, too, is a nursery man. A scheme the Progress Association has in hand is building a first-class road right round Narrabeen Lake.
Electric light and city water are laid on in the portions of the district which range from Manly to Narrabeen, and the whole of this area now carries within the Sydney fire district. The area of the shire is 109 square Miles, and it extends from Manly on the south to Barrenjoey on the north, from the Pacific Ocean on the east to Middle Harbor, French's Forest and Pymble' on the west.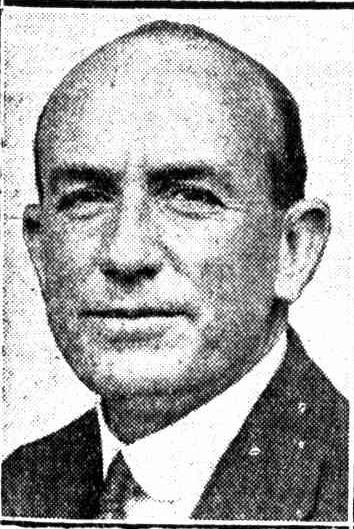 MR. ROBERT GEORGE JAMIESON has been Shire Clerk for the past 10 years. He came to Warringah from Coolamon.
Mr. Patrick Bernard McCauley, proprietor of Narrabeen Hotel, is known from end to end of the shire, and is a popular figure in several spheres, though he has been in the district only three years.
Born at Clyde River N.S.W., half a century, ago, he takes a keen interest in all sports, and before moving to Narrabeen was known from Newcastle to Goulburn, an area of 200 miles. Recently he showed his horses at Gosford Show and won two first prizes. He is a member of the executive of Warringah Shire Association, and works hard to make the annual show a success. Mr. McCauIey was for 15-years a member of the Metropolitan Fire Brigade, hold the Bronze Medal, and was present at many of the biggest fires in Sydney. During the time he has resided at Narrabeen Mr. McCauIey has made his presence felt, by building shops and dwellings, and laying out an area for fruit growing. He is also the owner of a mixed farm, and guests of his at the hotel are always assured of everything fresh.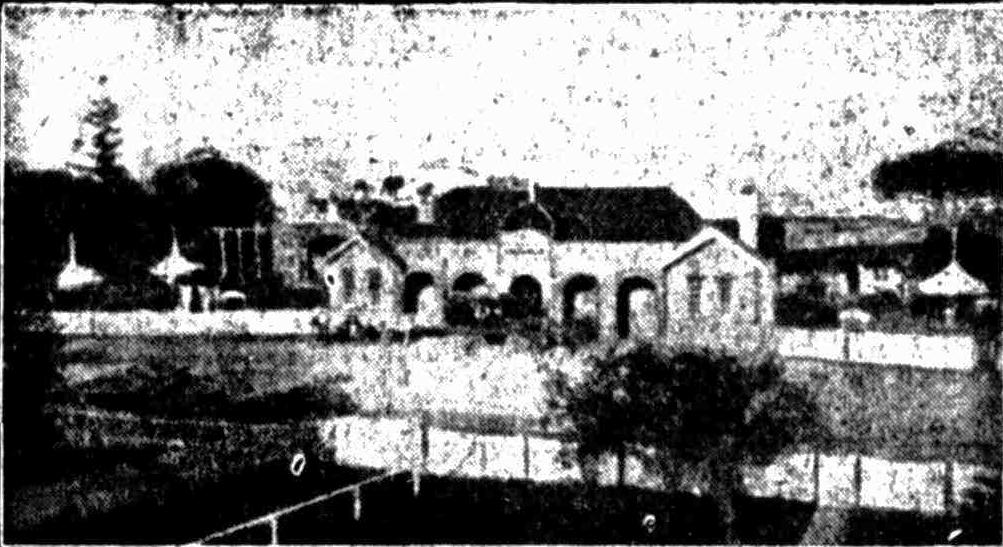 MR.McCAULEY'S NARRABEEN HOTEL.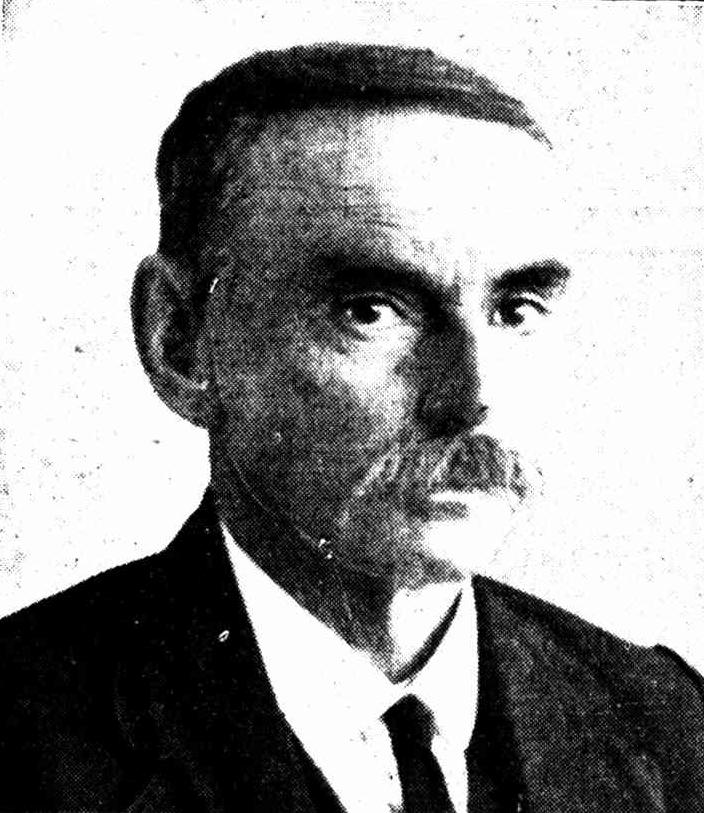 MR. P. B. McCAULEY. of Narrabeen, is a prominent figure in Warringah Shire.
As a result of the construction of a bridge of concrete across Middle Harbor between Roseville and French's Forest
, the distance between the northern suburbs as far west as Parramatta and the coastal beaches north of. Manly has been greatly reduced.
Traffic over the roads leading from the bridge to the coast, especially at weekends, and on holidays, is enormous. The council is asking the Main Roads Board to proclaim the chief road a main road, so that it may be kept in reasonably good order.
The construction of the bridge brought French's Forest and the adjoining, settlement of Belrose within easy-distance of the North Shoreline, and in consequence the development of French's Forest, by way of subdivision and increased values, is considerable.
Rapid development is taking place on the northern side of the lake. An estate recently cut up (Collins' Estate) is rapidly being built; on.
Other large estates on the northern side are now being subdivided, notably, Macpherson's Wimbledon Estate
, Carefree Estate, and Elanora Estate. In each case portions of the lake frontage are being dedicated to the council for public recreation purposes, and the time when there will be a public road or public reserve right round the lake, should not be far distant.
Some of the land on the north side is low-lying, particularly part of Wimbledon Estate — the land nearest the main road — but the owner, with commendable enterprise, has just entered into a contract, for the raising of the land by dredging operations.
This will not only render useful what is now waste land, but will deepen the lake channel and make it more attractive for boating, etc. '
'About £30,000 was sunk in the electric lighting scheme, the president went on, 'and 500 private consumers were benefiting — after two years. We thought that was wonderful, but to-day we have 1400 people subscribing. And hundreds of -new applications are coming in from all parts, of the shire.
'The new reinforced concrete; bridge over Middle Harbor, between Roseville and French's Forest, has proved a splendid thing for the district. Sir Geo. Fuller, when he sanctioned this work, rendered a great service to a large number of Returned Soldiers who hardly needed employment at the time. Those who had land at French's Forest had it converted into residential block.'
Councillor Parr does not make mention of the fact, but, as a matter of fact, the returned men of French's Forest showed their appreciation of the work he had put in on their behalf during the agitation for a bridge by presenting him with a handsome silver service.
The projected road of concrete between Manly and Newport – 9 ½ miles —is still a live matter in the shire and it is hoped that it will not be long ere the work is begun. As soon, as the Main Roads Board is formed the shire hopes for, better treatment in the way of monetary grants, and when it is mentioned that among her beaches are Harbord, Curl Curl, Dee .Why, Collaroy, Narrabeen, Mona Vale, Newport, Avalon, Whale Beach, and Palm Beach, it will be realised the need there is for good communication between Sydney and these populous spots.
The Shire President, Councillor Arthur George Parr, was born in Sydney 47 years ago of Australian parents, and he takes a real Australian view of things Warringah. Though it is but 12 years since he entered the shire, he has prospered in business, and all his eggs are in one basket
'I wouldn't have money anywhere else,' he says, 'for I think the shire has a wonderful future. It seems only yesterday since we got electric lighting. Now we are busy promoting all sorts of bigger schemes, and will go on doing so for many years, I hope.
COUNCILLOR PARR, the Shire's President.
Narrabeen has no more ardent admirer than Mr. Edward N. Atkin, of Lagoon-street. Born 46 years ago at Auckland, N.Z., he tripped round the world for five years as a lad, and worked as a sugar boiler in almost every European capital before he settled 'in the richest district in Australia,' to quote his own words. Mr. Atkin says Narrabeen, less than 20 years back, boasted three houses, and no roads other than the main road.
Today the total-assessments of the shire every year exceed £1,000,000:
'All I make here in business I invest in 'Narrabeen. That's what I think of the place, ''he added. 'The place badly needs boosting, and I am glad to know the Sunday Times is out to give it a shove along.'
He thinks not another resort on the coast can be compared with Narrabeen, which has bush-flowers, beautiful panoramic views, glistening beaches, and jutting headlands, and a wonderful beach.
Two buses ran daily between Manly and Narrabeen. To-day a string of fashionable cars almost continually passes through the town. 'In two decades roads have been cut, bush has been cleared, surf sheds erected, a capital hotel has been built, businesses established, and a residential population has sprung up. Who can tell what Narrabeen will be in another 20 years ?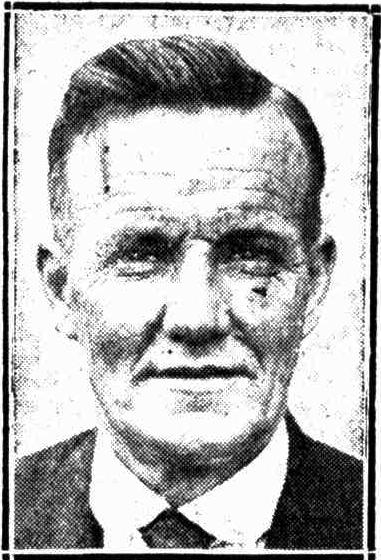 MR. ATKIN, an old resident of Narrabeen.
Mr. A. C. Greenwood, J. P.,
who has been prominently identified with real estate transactions and the progress of the district for a decade, says it is typical of the area that the values of business sites in Collaroy have increased during that period from 17/6 to £50 a foot. Choice residential sites are now worth up to £20 a foot.
There is little doubt that this pretty spot will before long lose its week-end aspect, and become a suburb of Sydney in which business men of Sydney will reside permanently. Speedier transit is all that is required, and that is coming fast.
The popularity of the district was never so much in evidence as it is this season, and this in spite of the wretched climatic conditions which have prevailed. People from many parts of the country were present on January 3 at the sale held by Messrs. Raine and Horne, of Sydney, associated with Mr. A. C. Greenwood. Forty seven lots were sold out of 65 offered. Prices ranged from £2/15/ to £5/15/ a foot, and the total proceeds of the sale were approximately £11,000. The land forms part of the famous Collaroy Heights Estate, owned by the Salvation Army, and is opposite the pretty Dee Why Lagoon. At the present time the Army authorities are constructing, at their own expense, a footbridge on the northern end of the lagoon, and this should prove a boon to residents, for it will provide a quick cut to the surfing beach.
Attention is directed to the Plateau Estate, the views from which are said to be quite equal to those obtained from the heights of Bulli. About 800 subdivided lots of this estate were acquired by the late Mr. T. H. Green; who was a successful speculator and a keen judge of land value. The estate is rather difficult to get at owing to the steep grade of Alexander street, the natural link between the estate and the main street; but once it is possible for a motor car to reach the Plateau Estate, this land will be of great value indeed for residential purposes. Vendors and persons, interested should bestir themselves to obtain better access to this valuable rate-producing estate.
The beach resumption at Collaroy is eagerly awaited in its final stages. About half of the purchase price is already assured, as the result of the Government contribution of £6000, a gift of £2000 from the Property Board of the Salvation Army, and £1000 from the ratepayers in the immediate vicinity. When the area is finally resumed, no doubt schemes of beautification will be carried out. The Surf Club have money in hand for the erection of a club-house worthy of the club and the district. Another great attraction to Collaroy is the nine-hole golf course, which is exceptionally well patronised. The tennis courts have been so popular, as to warrant extensions. The swimming pool or rock bath is a big draw.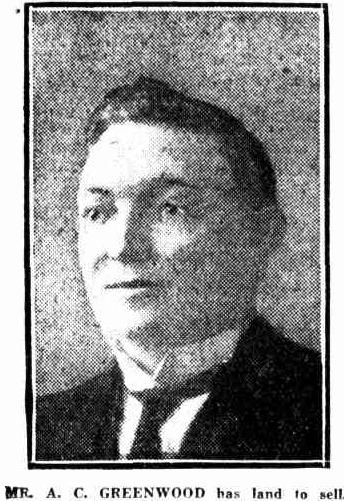 MR A. C. GREENWOOD has land to sell.
Telephone .Y 8249.
A. C. GREENWOOD,
VALUATOR and REAL'' ESTATE AGENT.
Offices: Collaroy- Beach Tram Section, and at Corner South Creek-rd., Dee Why.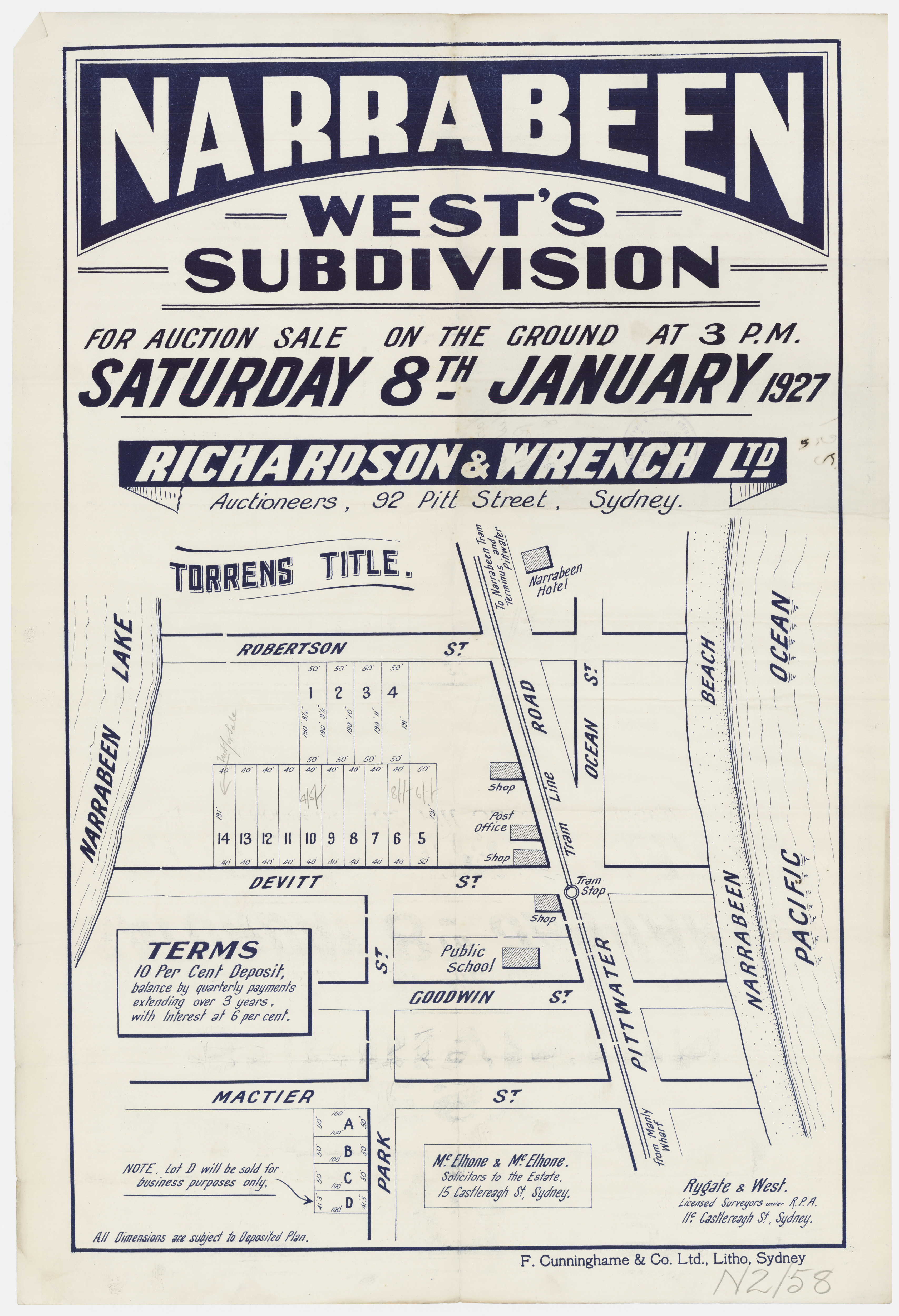 Narrabeen west 1927; Robertson, Devitt, Goodwin and Mactier- Item c050370059
Vista of Glasshouses
A general view of the acres of glasshouses at Mona Vale and Warriewood, just north of Sydney. The glasshouses are used for the production of early tomatoes. With a north-easterly aspect the glasshouses are concentrated in a small area near the ocean which can be seen in the back ground. (See Story, Page 37.)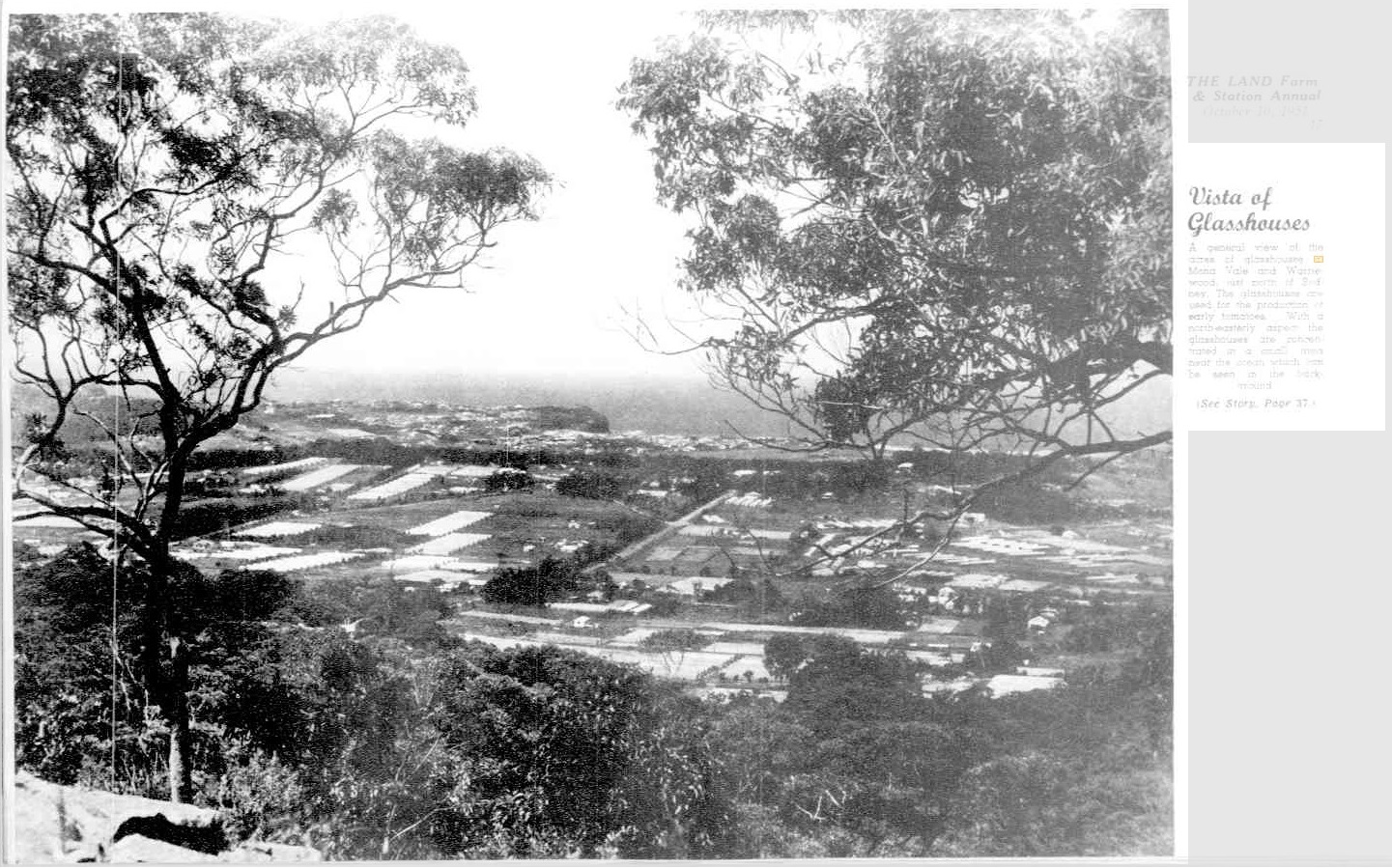 Glasshouse Tomatoes – Development of Important Industry in Coastal Strip by H. A. McCallum
THE major industry to-day on that scenic and fertile coastal strip lying north of Manly in N.S.W., and embracing chiefly the fast-developing, hail-free, frost-free districts of Warriewood and Mona Vale, is glass-house tomato culture.
A little more than 20 years ago, there was not one glass-house in the whole of that area. To-day, there are upwards of 2,500, providing a lucrative outlet for a band of energetic and efficient producers.
The romance. of the rise and astonishing development of this industry is one of the most fascinating in the agronomic history of the County of Cumberland. And it all had its genesis in the mind and brain of an extremely capable and far-seeing field officer of the N.S.W. Department of Agriculture, now living retired on the heights of Collaroy plateau, overlooking the scene of his early labors.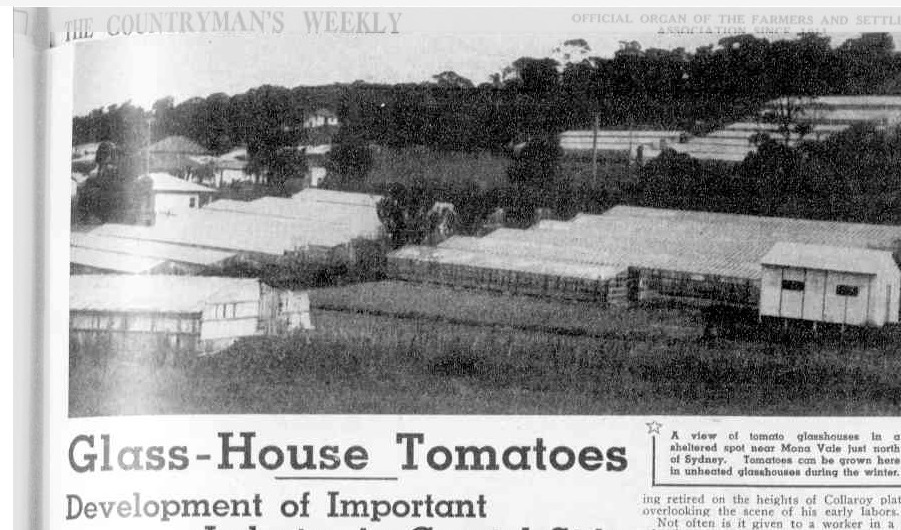 A view of tomato glasshouses In a sheltered spot near Mona Vale just north of Sydney. Tomatoes can be grown here in unheated glasshouses during the winter.
Not often is it given to a worker in a field of primary production to see his project take shape, develop and ultimately become an unqualified success. But that is exactly what has happened in the case of Mr. A. J. Pinn, whose name will always be held in grateful memory by those of the early glass-house pioneers who survive.
BACK in the thirties, Mr Pinn was casually informed by an acquaintance that tomatoes were being grown successfully in low unheated glass-houses just outside Adelaide. Mr. Pinn made inquiries from Mr. D. Kelly, at that time an executive officer of the South Australian organisation equivalent to the N.S.W. Agricultural Bureau. As a result of information obtained, Mr. Pinn visited Adelaide and gathered at first hand all the available data.
Mr, Pinn then prepared plans and specifications for suitable glass-houses, wrote a treatise on the technique of glass-house production, addressed the annual conference of the N.S.W. Agricultural Bureau at Hawkesbury Agricultural College on the subject, and published all the information at his disposal for the benefit of those anxious to start in the then new industry.
The first glass-house of the type recommended by Mr. Pinn was erected at Warriewood, which soon became the centre of the young and thriving industry. It became apparent, however, that some form of heating would give greater security to growers on the higher land, further back from the coast. To test the matter for himself, Mr. Pinn built a small glass-house alongside his residence at Gordon, and there tested out his theories.
It was not long before he discovered that the small unheated glass-house required a variety of tomato which would set fruit under cooler conditions than was necessary for the more widely-known and better-shaped varieties.
It was ultimately found that South Australian Dwarf Red measured up to this requirement, but that for high quality fruit: larger houses and heating were necessary in many cases. It was not long before a number of growers concentrated on these. Today, Vetamojd and Potentate are among the most popular varieties, but Red Cloud, Grosse Lisse. and other new varieties are expected to come into their own.
AFTER Mr. Pinn had been transferred to other Departmental duties, Mr. John Douglas, now director of rural broadcasts for the A.B.C., who had been his assistant in the vegetable section of the Department, took up the oversight of glass-house production. He was responsible for the development of the larger type heated houses to be seen to-day.
Ever since, Mr. Douglas has maintained his interest in glass-house tomato culture, and today his heated houses at Harbord are among the best in the State, and his crops amongst the finest. In his 120 feet by 24 feet glass-houses, more than 1,000 plants in each are now covered in fruit, the lower hands having had their fruit set by the use of a hormone spray.
From the time the fruit sets until it is ready for harvest, there is one long round of preventive measures to beat off mildew, grey mould, blight, wilts and other diseases to which the glass-house tomato is prone.
Before planting, soil is sterilised, the equivalent of tear gas being jetted four to six inches deep, to ward off any possible disease. Sprays are kept in constant use to combat mites and thrips. Irrigation is applied as required, and blood and bone and sulphate of ammonia worked into the soil that has been enriched with well-rotted animal or poultry manure.
All this is typical of the methods used in the heated houses from planting time to harvest.
But to-day, emphasis round Warriewood and Mona Vale is on cold houses, for the simple reason that they arc cheaper to construct, the overhead is not so great, and the absence of frosts lessens the risk of crop losses. The standard cold glass-house is usually about 96 feet by 14 feet, but there are quite a few of the newer types with varying sizes up to 112 feet by 14 feet.
The disease and insect pest problems are. much the same with these as with the hot houses. The number of cold glass-houses on the farmlets varies according to the labor available or likely to be available. They range in number from half a dozen up to more than 20.
Usually the houses are kept in the one position for anything from five to eight years, then moved to new sites, while the old ones are sown to a rotation of crops to restore soil fertility. In some cases where soil sterilisation and annual incorporation of animal manure are regularly and skilfully carried out, the one site has done duty for anything up to 20 years.
In all glass-houses, hot or cold, the vines (single stemmed, no branches being permitted) are trained up to the roof about nine to ten feet on strands of rope unwound from stout hawsers discarded by shipping firms.
The cost to-day of a properly equipped hot house measuring, say, 100 feet by 30, would easily exceed £1,000, whereas a standard cold house, 96 feet by 14 feet, could be built for approximately £200, and even for less, if the grower were content to do the job himself. A Yugoslav recently erected one on his property in the record time of four days, and at a cost well under 50 per cent, below a contractor's quote.
Fortunately for the industry round Warriewood and Mona Vale, hail is not a problem, otherwise there would never have been any glass-house industry there; but twice in the last few years gales have wrecked a number of these structures. Some 200 or more were severely damaged during a recent heavy blow.
Harvesting of the tomatoes starts about mid August with the earliest crops, and continues without a break till the end of the year, or even a little later in some instances. After this the inrush of the cultural field crops makes further harvesting of the glass-house products uneconomic.
Returns naturally vary from glass-house to glass-house, according, as a general rule, to the efficiency of the grower and the care bestowed on his plants. The gross yield would average approximately 100 cases from the 600 trees in the standard house, and price realisations are round 30/- to 35/- a case for early good quality tomatoes.
There have been instances of 200 cases and more being taken from one house, and up to £2 a case paid for the early consignments. Glass-House Tomatoes (
1951, October 10
).
The Land
(Sydney, NSW : 1911 - 1954), p. 41. Retrieved from
http://nla.gov.au/nla.news-article112493040