January 24 - 30, 2016: Issue 248
Pittwater's Young Citizen of the Year 2016 Australia Day Awards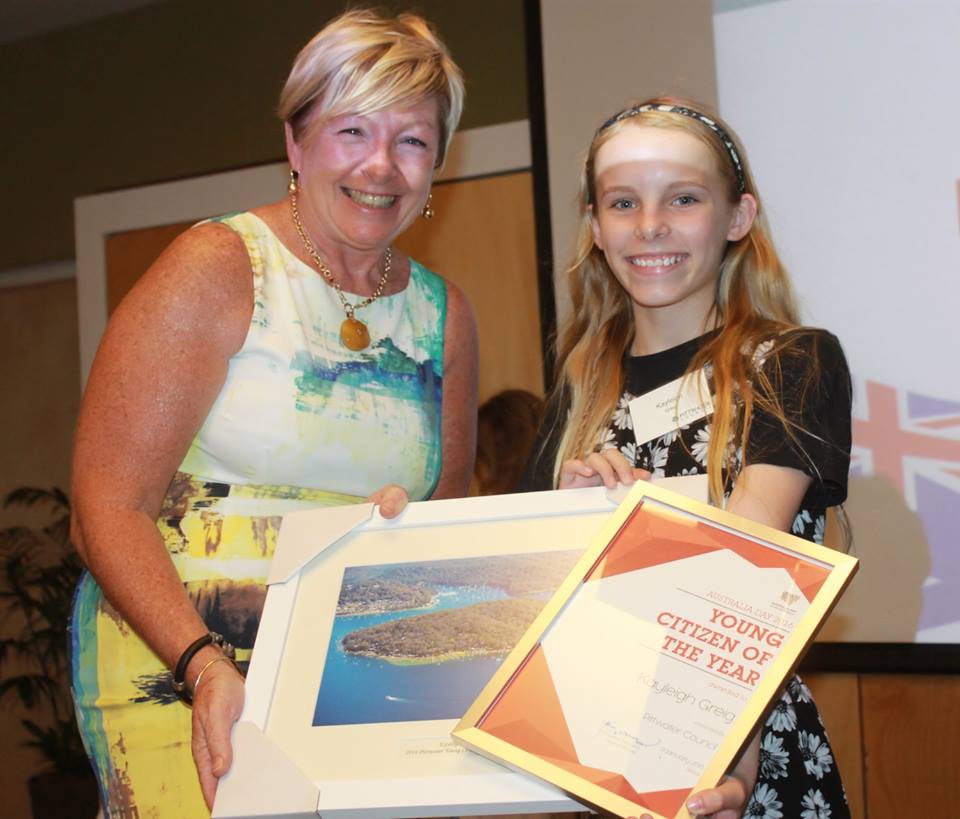 Above Kayleigh Greig receiving her Australia Day 2016 Young Citizen of the Year Award from the Mayor of Pittwater. Cr. Jacqueline Townsend. - A J Guesdon photo
On Thursday 21 January Pittwater Council announced its Pittwater Citizen of the Year, Young Citizen of the Year and Sportsperson of the year at a reception held at Avalon Beach Surf Life Saving Club.
The Pittwater Citizen of the Year is Romilly Madew, the first Independent Chair of the Currawong State Park Advisory Board (NSW) and President of Bilgola Surf Life Saving Club .
The 2016 Pittwater's Sportsperson of the Year has been shared between two recipients, Alyse Saxby and Charlie Brooks.
Alyse has represented Australia at the World Games for Special Olympics three times and won gold in LA last year.
Charlie is a member of the Newport Surf Life Saving Club who won medals at local and state events in 2015, including five gold and two silver medals at the Australian Championships, earning him the title of 'Male Athlete' the 2015 Aussies. Charlie also represented Australia in the 2015 Youth Surf Life Saving team.
Pittwater's Young Citizen of the Year is Kayleigh Greig, a wonderful ambassador for our native wildlife.
Kayleigh shares a great insight this week of how this all began in an article she wrote:
When One's Alarm Clock Says Hiss, Not Beep, You're At Kayleigh's House!
More about Pittwater's Australia Day Award finalists, including more from Romilly and an interview with Kayleigh, runs in
Mona Vale SLSC Open Mens Surfboat Crews Winning Winning Winning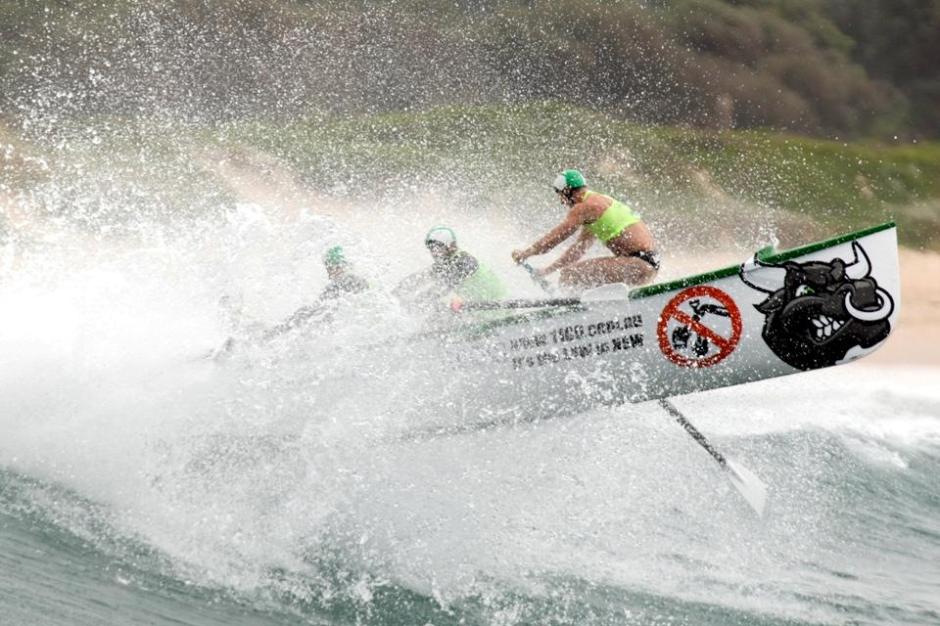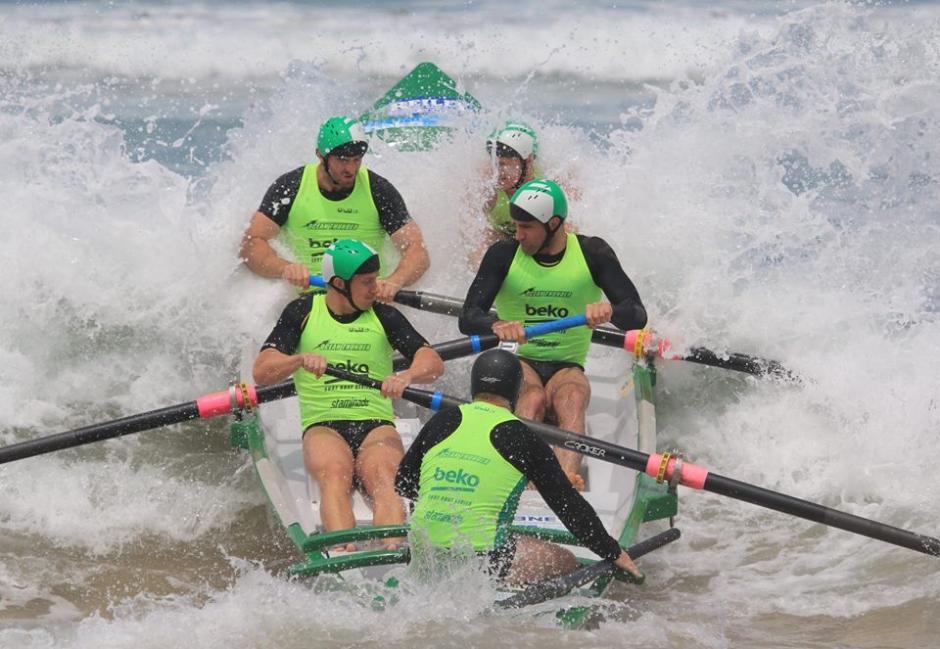 Mona Vale at Ocean Thunder 3 – photos by Surfboat Photography-Katie Rogers -wife of MV SLSC surfboat crew member Trent Rogers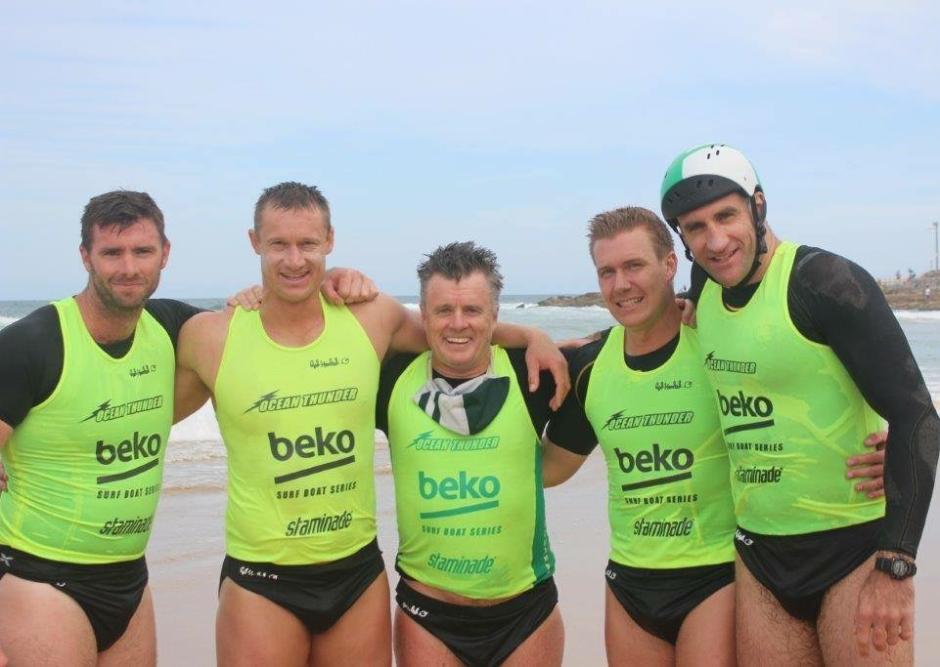 Since before Christmas Mona Vale SLSC's Open Mens and Womens crews have been taking 1sts all over the place. On December 20th, 2015 the Mona Vale 'Dial Before you Dig' crew of David Schumacher, James Bezer and Jaxon Rudduck, Trent Rogers and Sweep Matt Collins were selected as the 2016 Australian representatives in the Trans -Tasman.
Each year Surf Life Saving Australia and Surf Life Saving New Zealand select an open men's and open women's surf boat crew to represent each country respectively to compete in the annual Trans -Tasman Surf Boat Test Series.
This year's event will be held as part of the ASRL Open on Saturday February 20th at Shellharbour.
Two weeks ago, January 9, 2016, Mona Vale competed in Round 3 of the 2015/16 Ocean Thunder Surfboat Series held at Dee Why Beach, with the Dial Before You Dig crew taking 1st and 2nd being won by Boat Captain and Sweep Ryan Halangahu's Mona Vale Rocks Open Men's crew. The Mona Vale ladies, the Kone Elevator Open woman's crew, placed 3rd.
Current Ocean Thunder titleholders Currumbin placed fourth in the final, their lead reduced to just one point from the 'Dial Before you Dig' crew with the final round to be decided at Dee Why on February 6.
Matthew Collins is the gentleman who, along with Kim Marsh, has been running Sweeps School and rowing schools all over the country since 2003.
Yesterday, Saturday January 23rd 2016, the Mona Vale Big Macs, Chris Reid, Mathew Chave, Ryan Halangahu, Samuel Wallrock and Nick Ellis,.won the Open Men at the Team Navy ASRL Manly Open!
Palm Beach SLSC took 2nd and 3rd was claimed by Queenscliff.
Today is also a pretty big day for Mona Vale SLSC with the 39th Don Jenkin Memorial Swim commencing from 10 a.m. from Warriewood Becah and finishing at Mona Vale. Those who haven't entered and want to be a part of this second last swim for the Pittwater Swim Series need to get to Warriewood to register from 8.30 a.m. and by 9.45 a.m.
Congratulations to the Open Women from North Cottesloe SLSC Westerfeld Engineering who won the Open Women final at Manly this year with South Curl Curl 2nd and Elouera in 3rd.
Avalon Beach SLSC's Pinkies Under 23 men qualified 1st for the NSW State Team at the Manly Carnival, the final NSW State Team Selection Event, and 1st for the Australian under 23 development team.
Conditions at Manly were challenging leading organisers to cancel the Under 19 and Under 23 womens rows. Bilgola's beautiful Carol McManus boat sustained some serious damage, as did the sweeps oar - some indication of how difficult getting out, and then getting back in was. Fortunately everyone was ok.
Last Sunday Avalon Beach SLSC launched a new surfboat, named for Daryl Johnson, one of the club's long service members and long term boatie. He was in the old boys Masters crew last year and part of the crew who won the Club's first national surfboat championships in 1993 with Rick Millar, Michael Heathcote, Brent Walker, and Nathan Press in 1993 at Kurrawa.
Avalon Beach SLSC's Ocean Swim 2016 is the Pictorial for Issue 248 celebrating that Summer is Surf Life Saving Club peak season and a great time to dive into one of the remaining Pittwater Ocean Swims.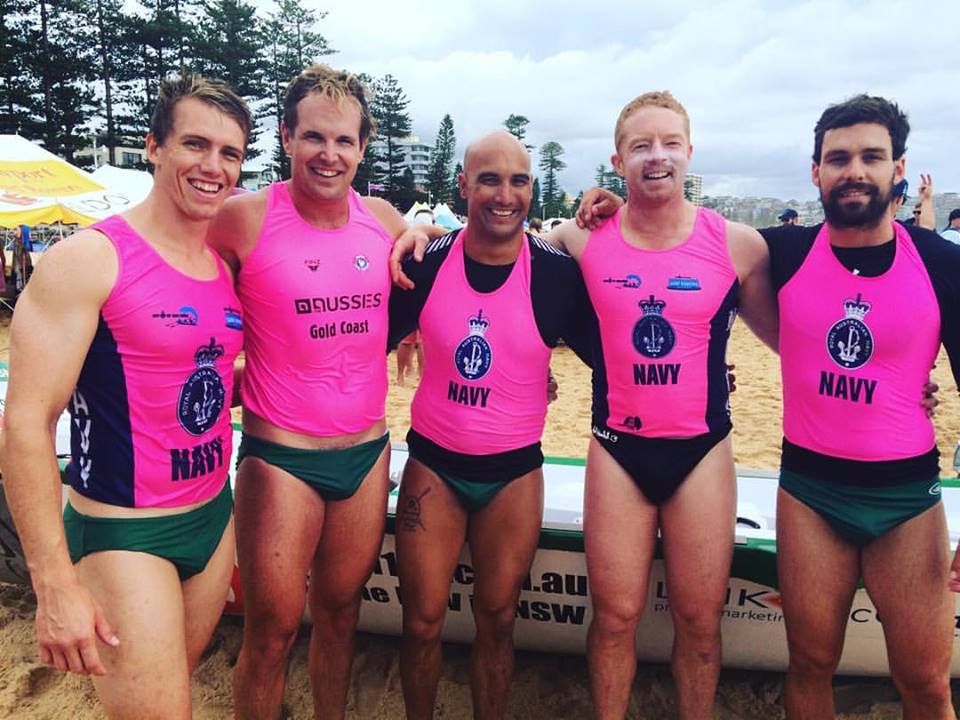 Mona Vale Big Macs win Manly 2016 - photo courtesy Team Navy ASRL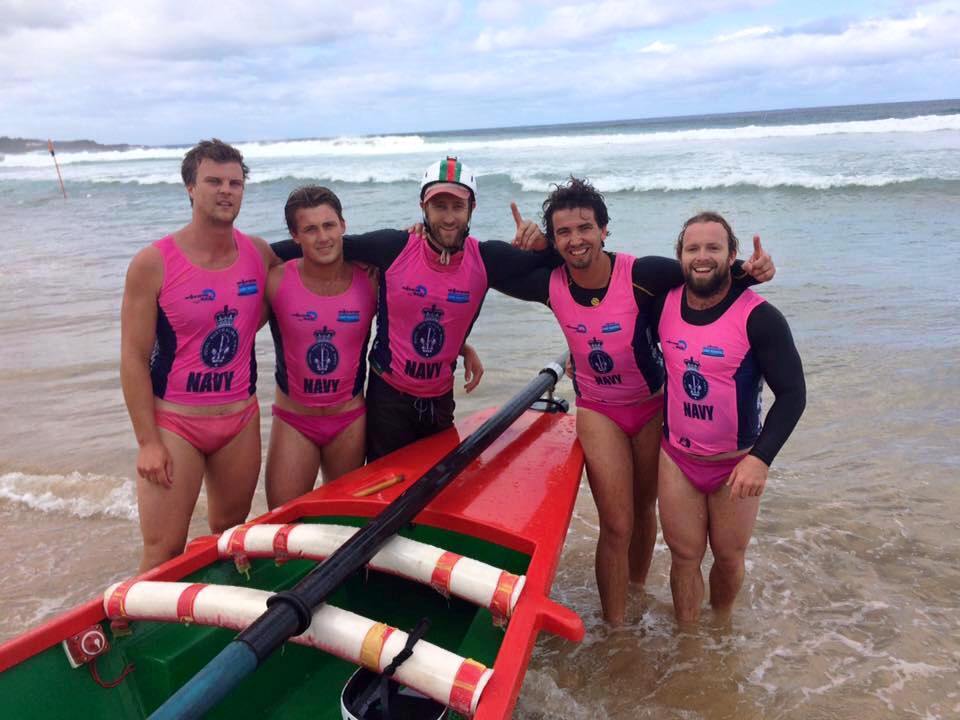 Above: Avalon Beach Pinkies Under 23 men triumph at Manly Team Navy Boat Carnival
Below: The Daryl Johnson!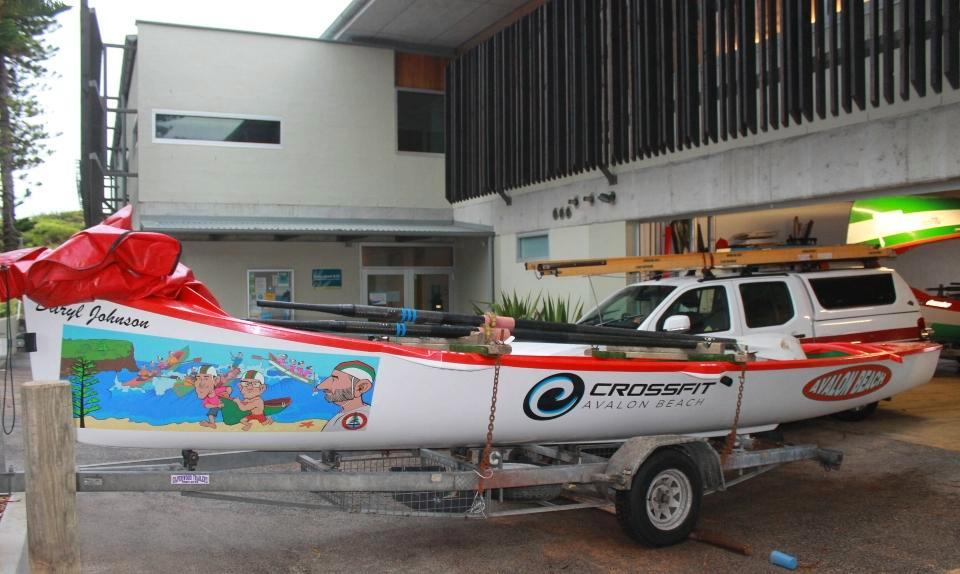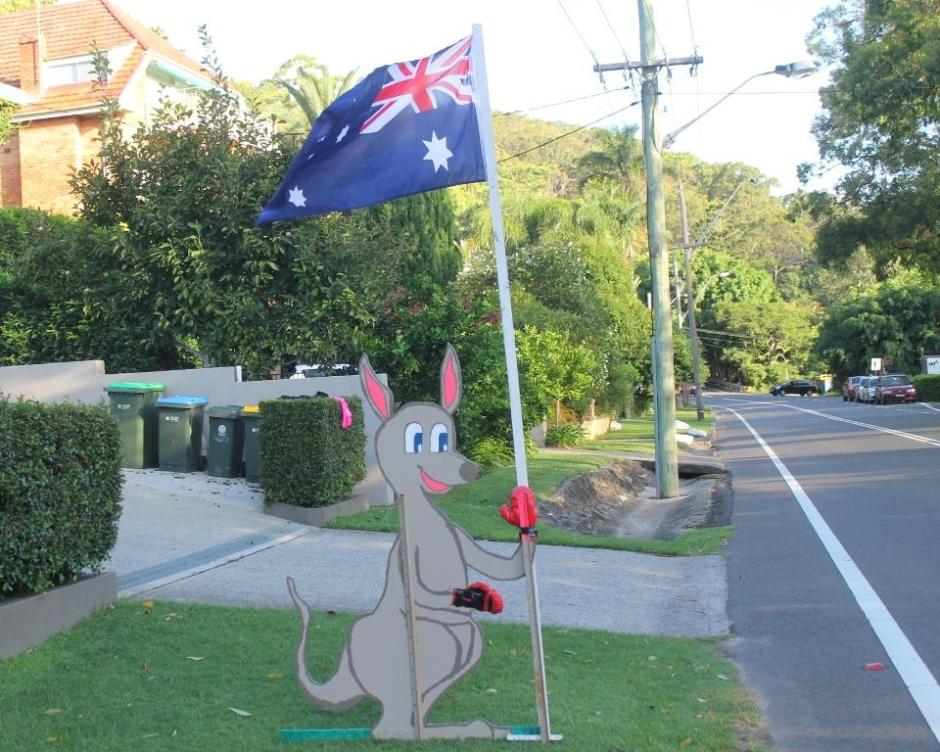 Spotted at Palm Beach 23.1.2016 - photo by A J Guesdon
Events in Pittwater to celebrate Australia Day this year include Breakfast by the Beach, supported by Pittwater Council with great food and drinks provided by the RFS, SES, Zonta, Rotary and the Lions Club. Newport Beach Surf Life Saving Club is hosting the thong-throwing event and there's beach volleyball for the young and young at heart.
See Issue 248's: Park Bench Philosopher: Bert Payne Park, Newport: Named for A Man with Community Spirit - The site for the Australia Day Breakfast on the Beach Celebrations each year is in Bert Payne Park (Reserve) at Newport. Younger readers may wonder who the person honoured and even how this reserve came to be.
On the estuary Avalon Sailing Club hosts the 180th Australia Day Regatta, the world's oldest continuously conducted sailing regatta, on behalf of the Australia Day Regatta Management Committee. Owners of all yachts - including centreboard classes, one-design keelboats, gaff-rigged and classic yachts will be part of the regatta.
The Royal Motor Yacht Club of Broken Bay (at Newport) members will be dressing their flotilla of vessels and themselves for the annual Parade of Sail. This will be preceded by a Brunch and followed by the announcement of the best dressed crew and boat plus some great music.
If you're thinking of venturing into the harbour for the Ferryathon, Tall Ships race, Australia Day Harbour Parade, other components of the 180th Australia Day Regatta or even the Tug and Yacht Ballet (?!) ... these events and more are listed here and here
Palm Beach SLSC's BBB's Carnival 2016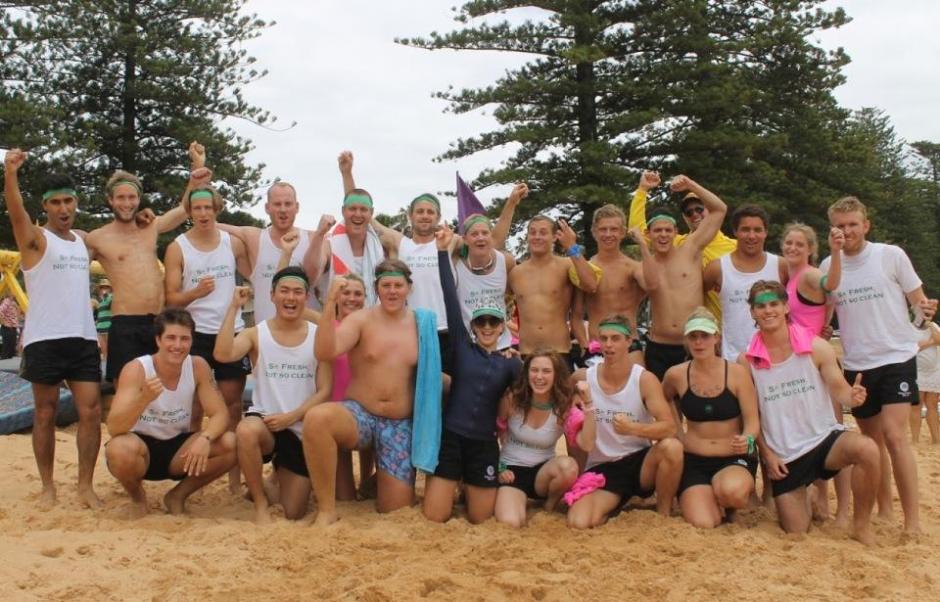 Palm Beach SLSC Freshers Team 2015/2016
The annual Brats (Freshers), Brutes (Active Members) and Bruisers (Active Patrol and Masters Members) Carnival held by Palm Beach SLSC members is a chance for mature experienced and younger life savers to test the perimeters and parameters of the skills, wits, finesse and determination of each other. Although the teams are comprised mainly from age groups that indicate whether they are a Brat, Brute or Bruiser you will see a two year old mascot among the older representatives and a gent sporting frosting about the ears prepared to support the younger members as part of their efforts each year.
When we asked Gordon Lang, Masters Captain, Open Carnival Organiser and Adrian Curlewis Twilight Masters Carnival organiser at Palmy 'so, who won?' during the week the initial response was,
'It was a good day – the winner is not important.'
More HERE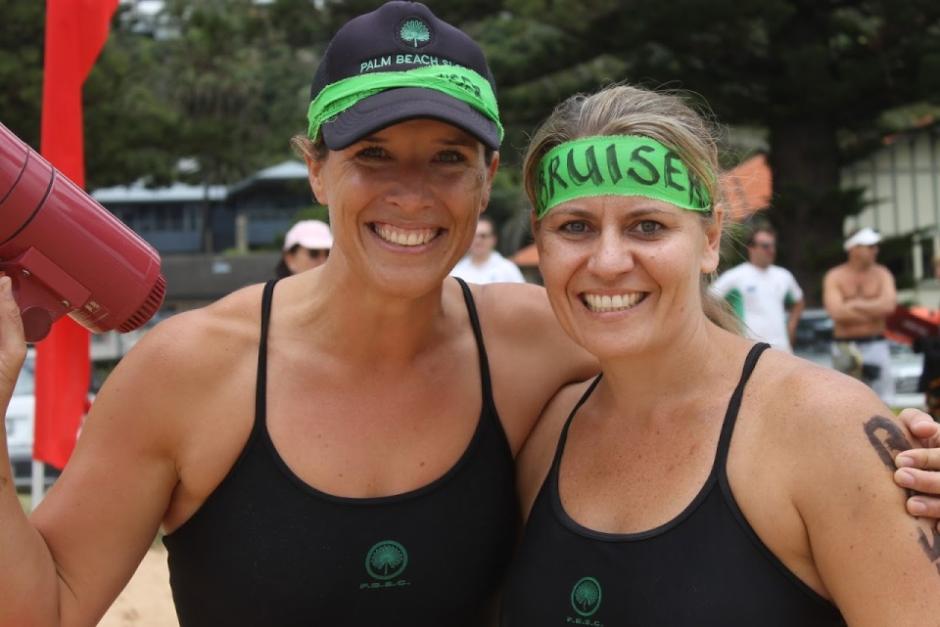 Palm Beach SLSC Captain Alex Tyrell and Palm Beach SLSC President Kate MacDonald are leading a great team doing great things
Summer in Pittwater - January 2016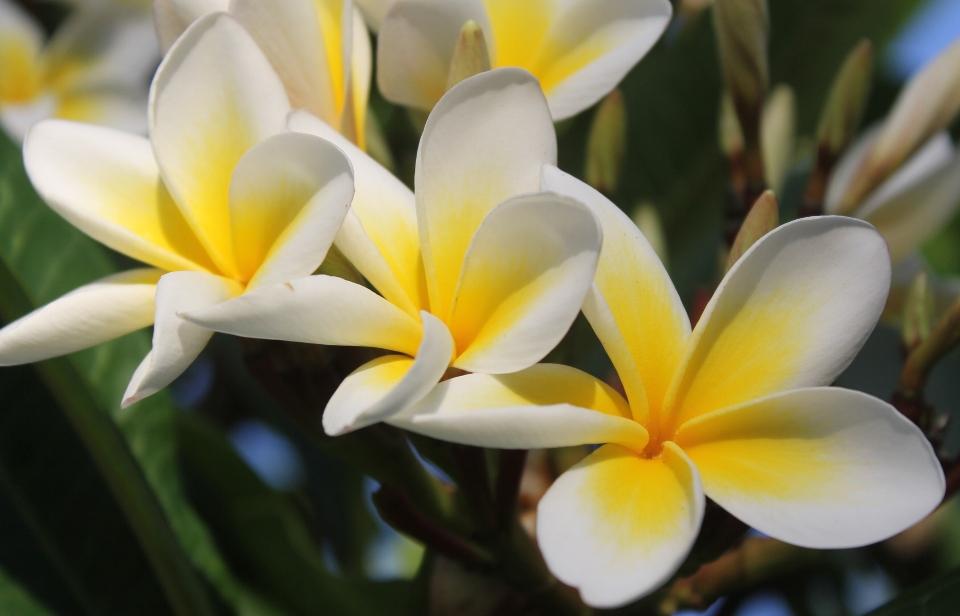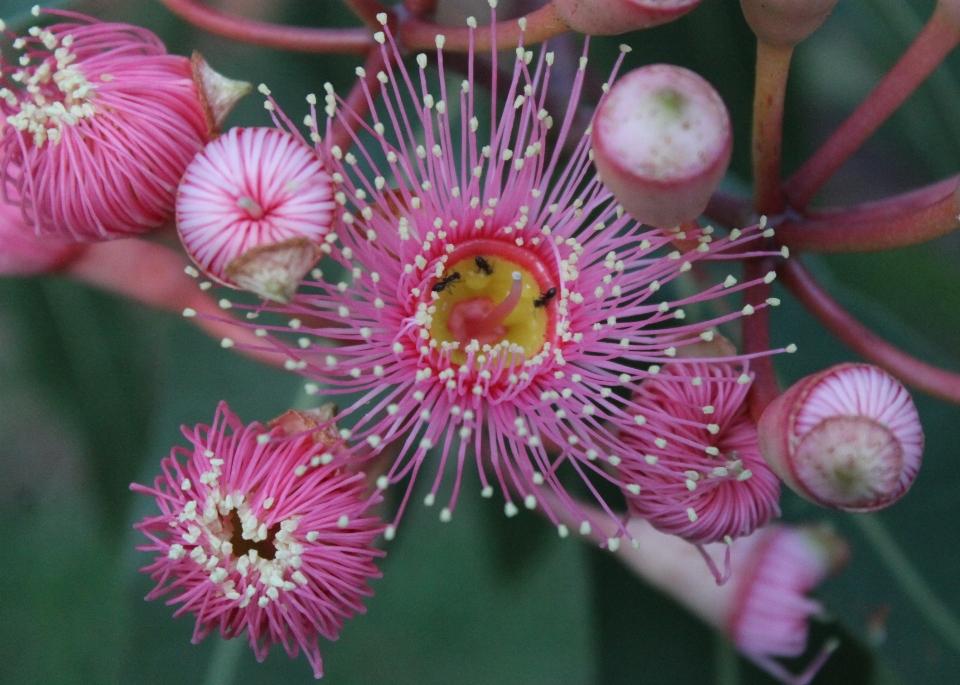 Out this week in Pittwater, and why Summer smells so sweet - photos by A J Guesdon photo, 2016.
Past Features Archives (pre 2014)
Pittwater Online News was selected for preservation by the State Library of New South Wales and National Library of Australia. This title is scheduled to be re-archived regularly.
Archived Issues (2014 on) may be accessed here: pandora.nla.gov.au/tep/143700