January 20 - 26, 2013: Issue 94
Anthony Patrick Chandler
At last November's Pittwater Community Arts Annual Art Show we met a gentleman well known for his sculpture works due to a clear communicating of the essence of their subjects. At this annual exhibition he was showing some beautiful new paintings of African animals with eyes that hold wisdom and regard those who look at these paintings with a quiet dignity. Mr Chandler stated at this exhibition:
'Animals may look very different from us Human Animals but in the most important qualities we are much the same. All animals have a soul and possess spirit and the spirit to love. We know also that they respect authority in their tribes and groups, which means they can also impart dignity. Observance of this dignity can take many forms. My particular study is of their eyes as I hope and believe I am encountering their souls and the spirit that lies within. I hope you also see the dignity I have tried to show in my paintings and why I find it impossible not to love them also.'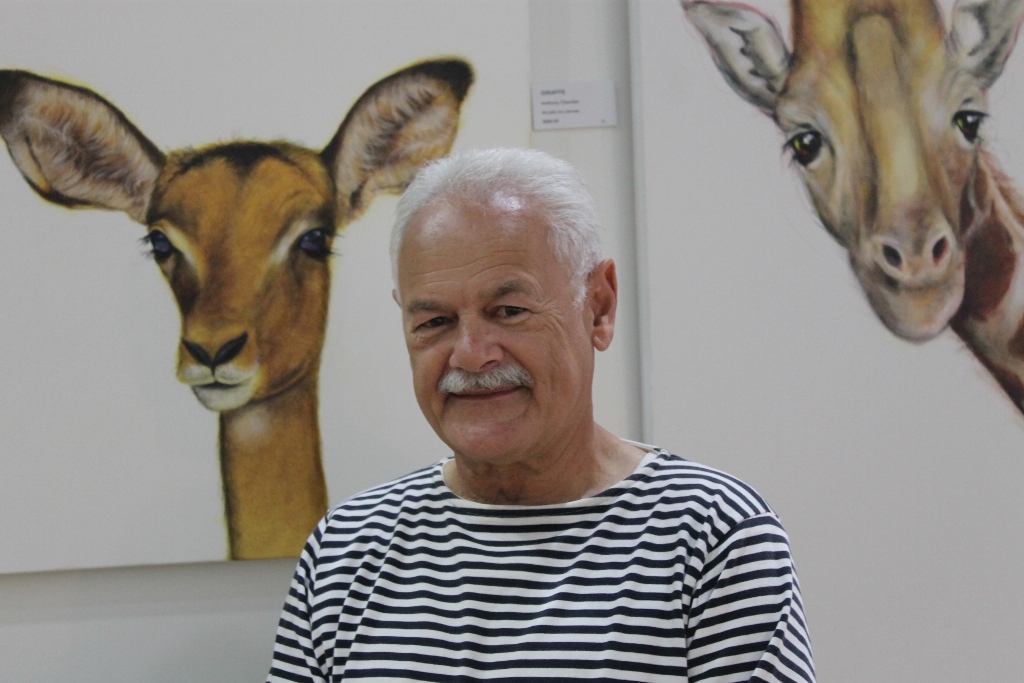 This week we are privileged to present a small insight into one of Pittwater's most talented artists in the mediums of Sculpture, Portraits and painting:
Anthony Chandler was born in Northern Ireland in 1941. He has been an Advertising Illustrator and Art Director for over 40 years and a professional sculptor for over 10 years. He started exhibiting with The Sculptors Society in 1996 in Parliament House, Darling Park and various local venues. He also teaches Graphic Design at TAFE and has run sculpture courses there and community centres within the Sydney area.
Anthony's sculpting style is largely traditionalist. His aim is to always imbue his subject pieces with "The power and dignity that lies within" in that most of these qualities are released through his belief in the eyes being the mirror of the soul. He sees more hope and inspiration in the most humble of our fellow man and it is these people from whom he learns the most.
When and why did you move to Australia? .
I was born in Nthn. Ireland in 1941. My Mother died when I was 3. My Father married an Australian lady we subsequently decided to emigrate to Australia...a wonderful choice.

How did begin venturing into sculpture?
I was an Advertising Illustrator for over 35 years so I decided to take a walk on the wild side for me and see what things looked like in 3 dimensions instead of 2.
What was the first piece you sculpted and its inspiration?
I decided my first piece would be a life-size bust of Prof. Fred Hollows. It apparently turned out quite well as I was invited to start teaching sculpture the following term.
You now teach sculpture (at the Ku-ring-gai Art Centre, Roseville). What are the three basic rules you would impart to any would be sculpting student?
1. Don't model your subject from photo ref. entirely...remember the interview you had with the subject and any sittings, look at your photo reference then put it out of sight and model from memory. Remember you are going for accuracy in their CHARACTER, not their anatomy. 2. Be prepared to destroy various parts of the project and start again...I have been known to re-do the eyes in some subjects up to 18 times. 3. Go DEEP into the clay for features, the usual mistake students make is to stick all the features on the surface of the main shape.
Portraits also form part of your talents. How does this help with sculpture works? ( if it does).
Painted portraiture is much harder and more skilful than modelling them in clay because when painting you are CREATING THE ILLUSION of dimension. Of all the arts, I would say that portrait sculpting or painting would be the hardest. It is also better if your subjects are deceased because you may just be surprised at their opinion on completion! Remember that a person will only ever see a mirror image of their live self.
Recently you have expanded your creative focus and begun painting animals. How/why did this come about and what subjects are you drawn to and why?
Apart from their wonderful beauty and presence, they have no way of defending themselves from the parasitic nature of that other animal...man, so I guess my quest in a way is to show these wonderful creatures in their best light if only to dissuade as many humans as possible from their abuse of them. When you study them, the one thing that keeps coming across to you is their dignity, especially elephants...I guess they are my favourites.
How are you continuing to develop your skills?
Being Irish AND Aries I seem to jump from one medium to another. I think I'll stay in constant bewilderment till the day I die.
What are your plans for the future?
To understand myself...this may never happen
If you could be another creature for a day (furred, finned, feathered) what would you be and do?
A bird...they to me are the most enigmatic of all living things. I feel that they are possessed of a more wholesome view of the earth and it's meaning. I would do anything a land-born creature would do only higher up!
What is your favourite place in Pittwater and why?
Clareville Beach for a twilight barbecue. It is one of those rare little places that has stayed almost the same as it was over several decades, beautiful, calm and safe for the kids.
What is your 'motto for life' or a favourite phrase you try to live by?
To thine own self be true. If you cheat on others you're cheating yourself.
Should anyone wish to view any other of my pieces they may be found on www.sculptorssociety.com

THE GATEWAY EXHIBITION is from 4th to 29 March, 2013.
The Gateway building, 1 Macquarie Place (across the road from Circular Quay)
Anthony shall be exhibiting a bust of The Late Bryce Courtenay (pictured) in it.
I believe it to be one of my better pieces.
Another portrait is of "Banjo" Paterson which can be viewed in Gladesville Park in the courtyard of The Banjo Paterson Restaurant.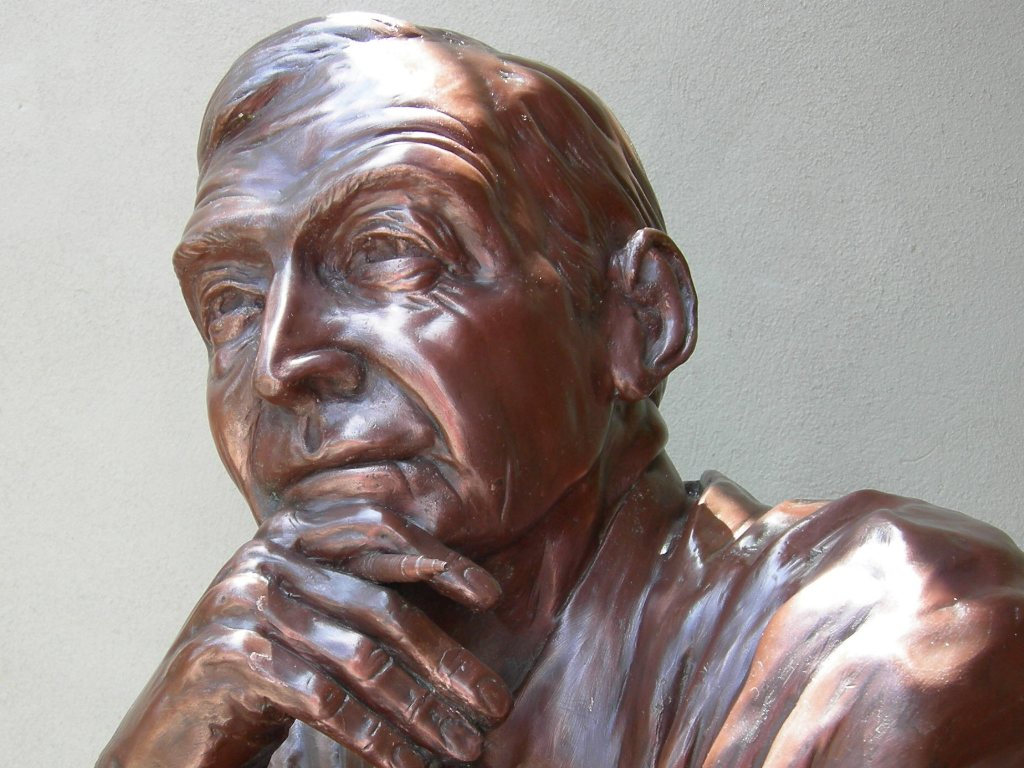 Anthony Chandler's bust of Bryce Courtney
ANTHONY PATRICK CHANDLER - PORTRAIT SCULPTOR
SCULPTURE HISTORY:
1999: Commissioned to sculpt "Banjo" Paterson which was unveiled by The Rt. Hon. John Howard in Gladesville Park NSW.
This sculpture also stands in Fairfax House Darling Park and at his birthplace in Orange, commissioned by The City of Orange Municipal Council.
1999: Sculpted life-size bust of Writer Bryce Courtenay for entry in The Wynne Prize, 2000.
2002: Commissioned by BHP Coal Pty. Ltd. To sculpt a full figure life-size of an Indigenous Hunter as a gift to The Posco Steel Mills, South Korea.
OTHER PORTRAIT WORKS:
Relief plaques of Sir Stirling Moss, Juan Manuel Fangio, Ayrton Senna, Jim Clark and Tazio Nuvolari.
The Late Artist Emily Kngwarreye.
Councillor The Hon. P. Derwent.
Clothier and Stockman R. M. Williams.
Jockey Darren Beadman.
Caricatures of: Shane Warne, Steve Waugh, Sir Donald Bradman, Mark Webber, Kostya Tszhu,
Sonny Bill Williams and Reg Reagan. Commissioned by Legends and Memorabilia Pty. Ltd.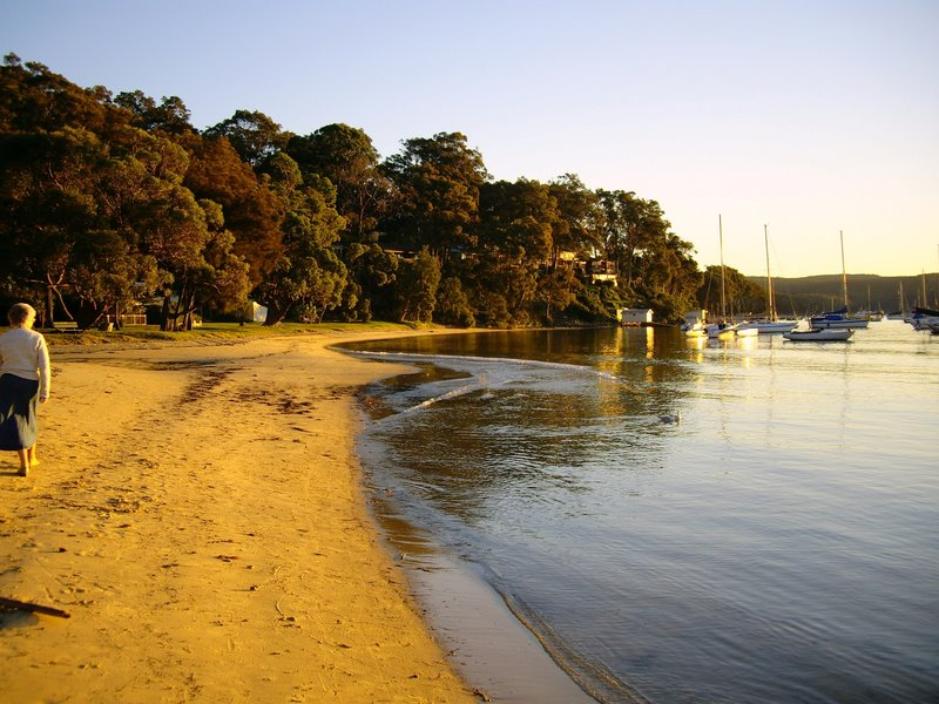 Clareville Beach in afternoon light. Photo by and courtesy of Geoff Clarke. Top photo portrait of Anthony Chandler by A J Guesdon.