December 9 - 15, 2018: Issue 387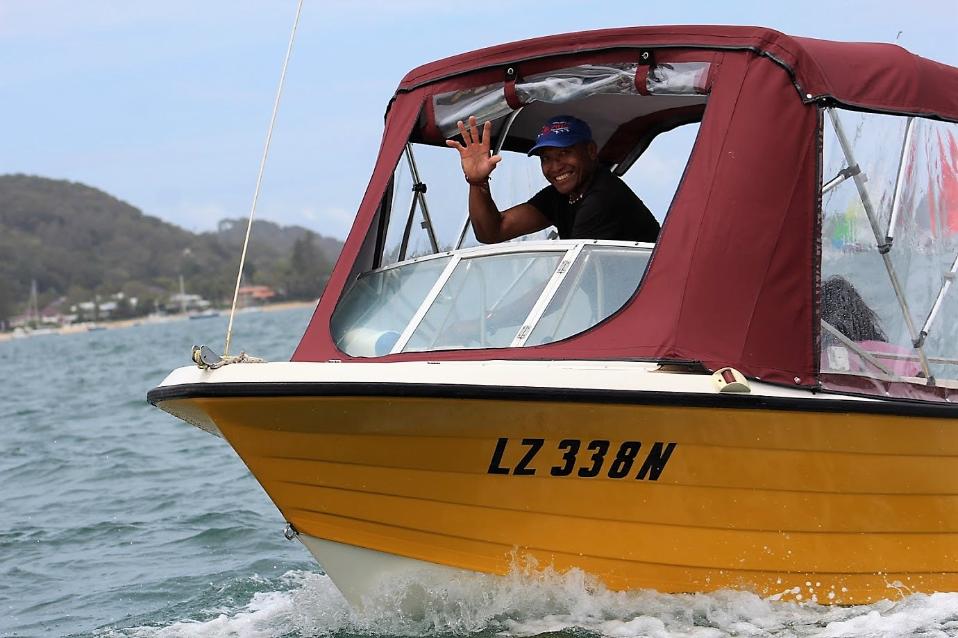 A rare honour has been awarded to one of our favourite Hobie sailors, Upu Navu Kila. Upu, is the recipient of an MBE (Member of the Order of the British Empire). This award is presented to individuals for outstanding service to the community.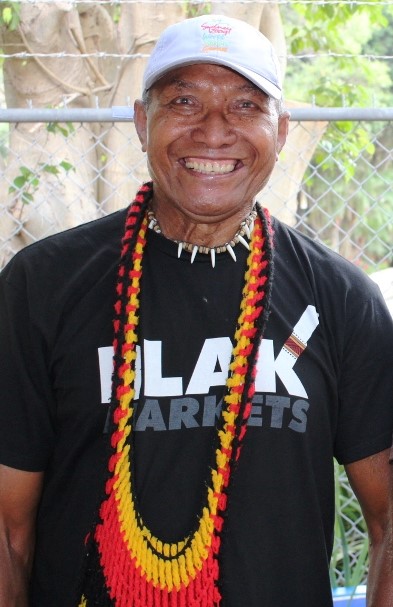 For almost 40 years, Upu has represented Papua New Guinea in sailing. He was the first Indigenous person from PNG to sail Hobie Cats and was the first Indigenous sailor to represent their country in the South Pacific Games. A lifetime of participation is only the beginning of this story. Upu has given back to the sport he loves in many ways, but his passion has been introducing and supporting youth sailing. He has worked for many years to have Papua New Guinean kids accepted into the Royal Papua Yacht Club, often needing to secure grants to cover their membership. Yacht Club membership costs a years wages for many locals. Upu's legacy is that now the entire team representing PNG are all Indigenous sailors.
A longtime resident of Australia, Upu is the regular PNG entry in the Australian Hobie Cat Nationals. Upu has introduced and encouraged dozens of Australian youngsters in Hobie sailing too. He has given his time and served on the committee at his home club, Palm Beach Sailing Club on Pittwater, and on the NSW Hobie Association committee.
His story is one of serving, and while the MBE was presented by the Governor-General of Papua New Guinea "For service to sport, particularly Hobie Cat Sailing", this honour is celebrated in Australia too, especially at Palm Beach where Upu has served as a commodore for the Palm Beach Sailing Club and was recently honoured among the club's World and Olympic champion members.
When and where were you born?
My parents left my village of Hula in the Central Province in 1948 and travelled to Port Moresby on a 40 foot double hull canoe. They moored the canoe off Koki harbour. That is where I was born, on a canoe on Koki harbour on 17 August 1954.
Where did you grow up?
My parents made friends with one of the Motuan landowners from Vabukori village near Port Moresby. We were from a different tribe but he allowed my parents to berth and settle at his village, still living on the canoe. A few years later my parents were allowed to build a house on Vabukori land. We still have the family home at this village, with several brothers and sisters and their children and grandchildren living there.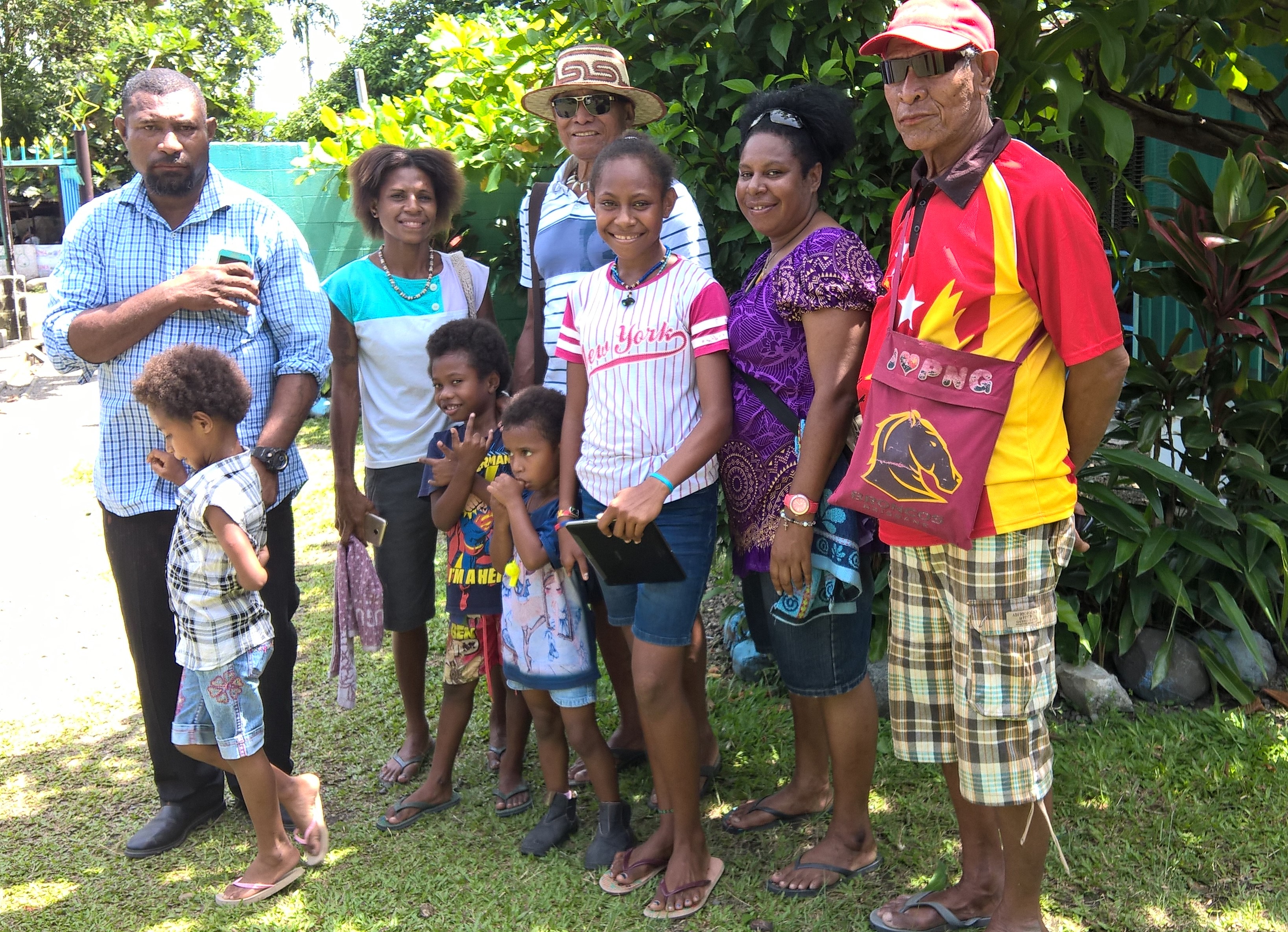 My son on the far left with his ex and current wife and my brother on the far right.

Where did you go to school?
I went to primary school, but in those days there was not a strong culture of schooling and parents needed their children to help with fishing as that was our main food source. Although they tried to send me, I kept running away from school. My parents gave up on me and I dropped out from primary school. I started going out fishing with my parents and learned from them how to fish. We caught fish to eat and sold any left over at the local village market for other things like tea and flour and rice.
What did you do for a job after that?
In my teens I went to live with my uncle in Madang, to play in the family band, playing in YWCA clubs, hotels and motels. Then my uncle found a job for me at Carpentaria Exploration, where I started my working career. This is where I learned to speak English, which is my fourth language. After 10 years in Madang, I joined Ok-Tedi Ltd, a very big gold mine in the mountains near the border with Indonesia, working as a core-shed supervisor. I resigned from Ok-Tedi Ltd because I was offered a job at the Dept of Minerals & Energy in Port Moresby, as the senior data manager. After 15 years, I went and worked for Oil Search Ltd as their database manager.
When did you begin sailing and who taught you to sail?
My father was a master canoe craftsman. He built traditional canoes, large ocean-going and small outrigger racing canoes. I started to sail on these canoes when I was 7 years old. I started with a job of bailing water out of the hulls, then I got promoted to deck-hand, then to skipper.
I met my wife, Charmaine Beckett when she came to PNG to work at the Geological Survey in the early 1980's. She encouraged me to join Hobie Cat sailing (Fleet 405) at Royal Papua Yacht Club (RPY) in 1983. She helped me pay half of my share to purchase a Hobie Cat with an English work-mate. From there, I never looked back.
It was during this period that I started sailing Hobie Cats with my partner Charmaine. I was the Commodore of the Hobie Fleet 405 at the Royal Papua Yacht Club and dominated Hobie sailing during the 1980's and early 90's. In 1992 I emigrated to Australia to live with my partner, Charmaine Beckett. We lived on the Northern Beaches. I continued to work in Australia until I retired four years ago. We now live in Woy Woy on the Central Coast, but I still belong to Palm Beach Sailing Club and am currently the Race Director.
You are a champion sailor – how did this begin?
My wife Charmaine was my first crew. I was selected to represent PNG at the South Pacific Games, now known as Pacific Games. I took Mula Stanley, my brother-in-law to crew for me because we were both Papua New Guineans. Mula and I went on represent PNG at three South Pacific Games and won several team bronze medals. We were finalists at the Hobie Cat World Championships in Guadeloupe in the Caribbean in the mid 1980's. We also took part at many international events, including Australian National Championships. We also gained a wild card entry to the Pre-Olympics linked to the 2000 Olympic Games held in Australia.
You are passionate about sharing the joy of sailing with others. How did this begin?
My family are all sailors. My ancestors were probably the first peoples to set off across the oceans. The Hula settled on the coast of Papua between 5,000 and 10,000 years ago with the migration of the Polynesians across the Pacific. So sailing is in our blood and the way we learn is from our mothers and fathers. My Dad taught my everything about the sea. That was our schooling. So it is natural for me to want to pass on those skills to the younger generations. I am also not the sort of sailor who gets upset on the water. If I make a tactical mistake, I still enjoy the sailing. So parents of kids in our Hobie family like me to take their kids out because there is no yelling. I also think encouragement is the best way for kids to learn. One young fellow from Toukley, Rory, crewed for me in a regatta when he was ten. Another, Noah from Vincentia crewed for me in a Nationals when we won the Grand Masters, becoming one of the youngest ever National title holders. Also, my current crew Ainslie Gordon, now one of the most experienced Hobie crews, started her sailing career when the club started sail training courses, which I held down at Sand Point.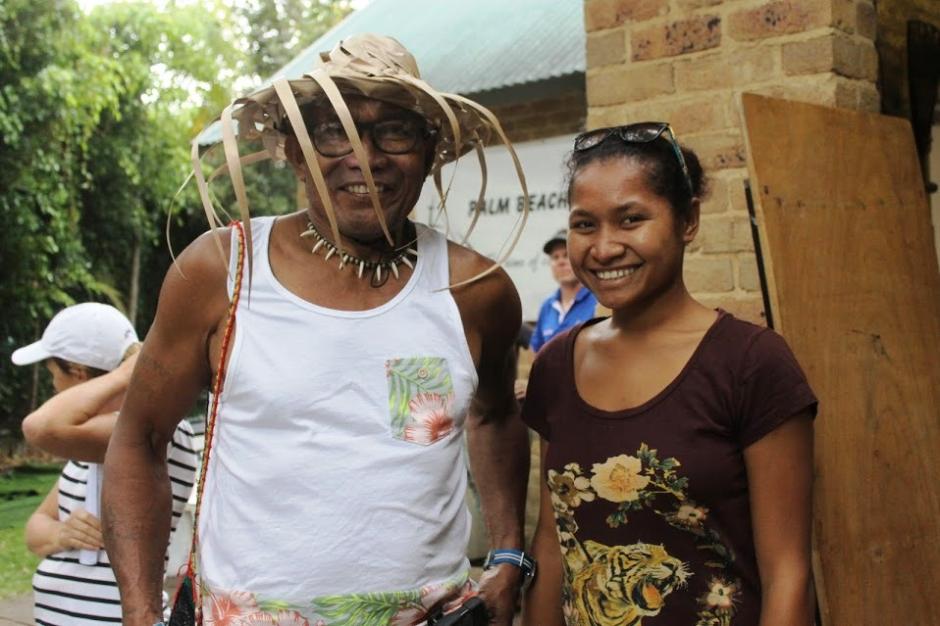 Upu Kila with niece Charmaine at 2015 PBSC Regatta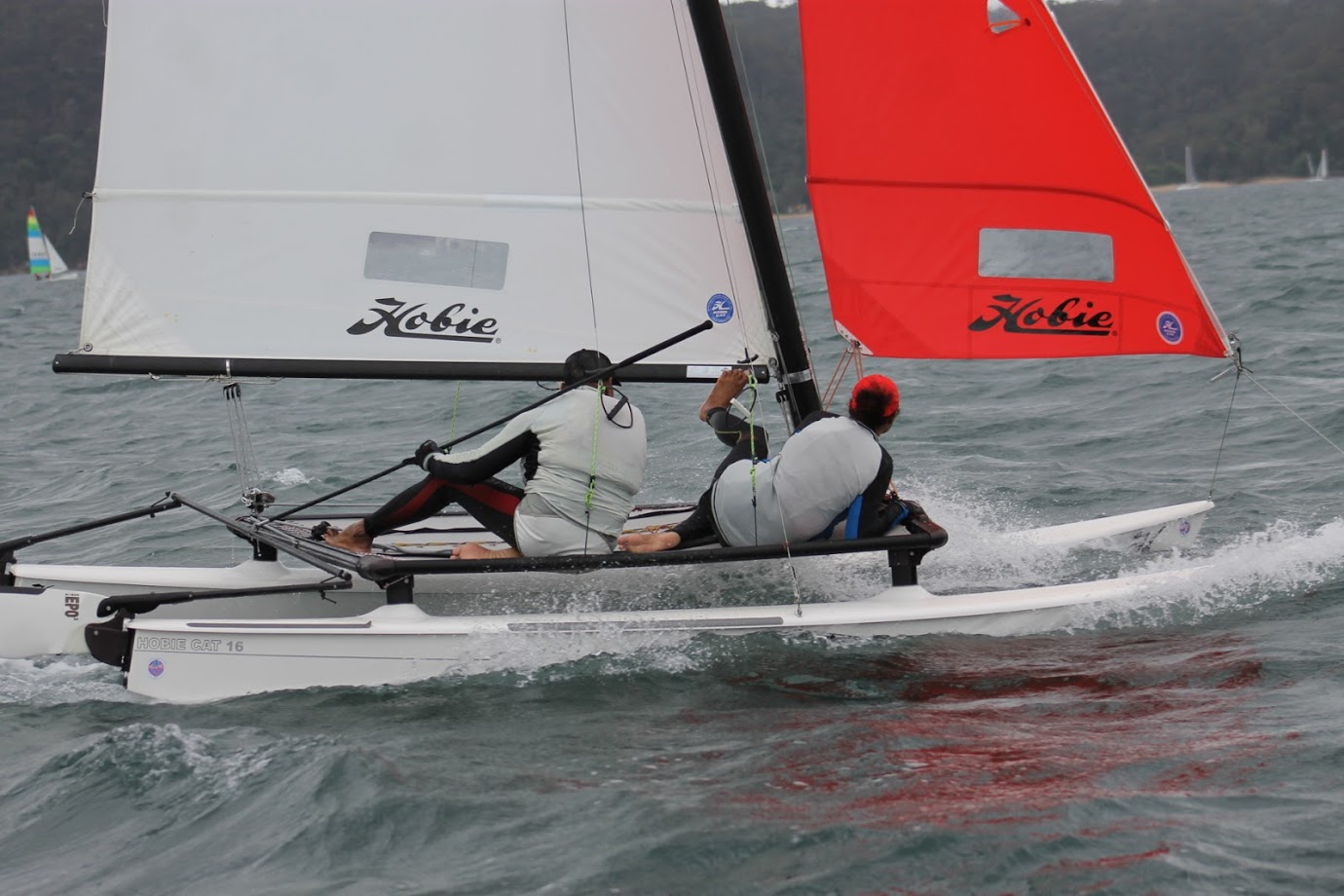 You have been awarded an MBE this year in recognition of your Services to Sailing – how has this recognition made you feel?
Most people don't realise that PNG is a Commonwealth Country and that we still participate in the Queen's Birthday honours awards. Papua New Guineans are mostly proud of the Queen and these awards are very highly regarded, so I was amazed when I was told about it. Of course, like in Australia, I had to keep it secret for a while and I didn't even tell Charmaine at first. I now realise what an amazing honour it is, not just for me, but my family and for sailing. I am also quite touched at how the Hobie sailors have reacted, with lots of congratulations. I just wish my Dad was still alive to see it. He was a quiet man and very dignified. I think he would have just smiled and shaken my hand. I had to hold a big feast for the Elders and senior people of the village as I was the first person of the village to receive such an honour.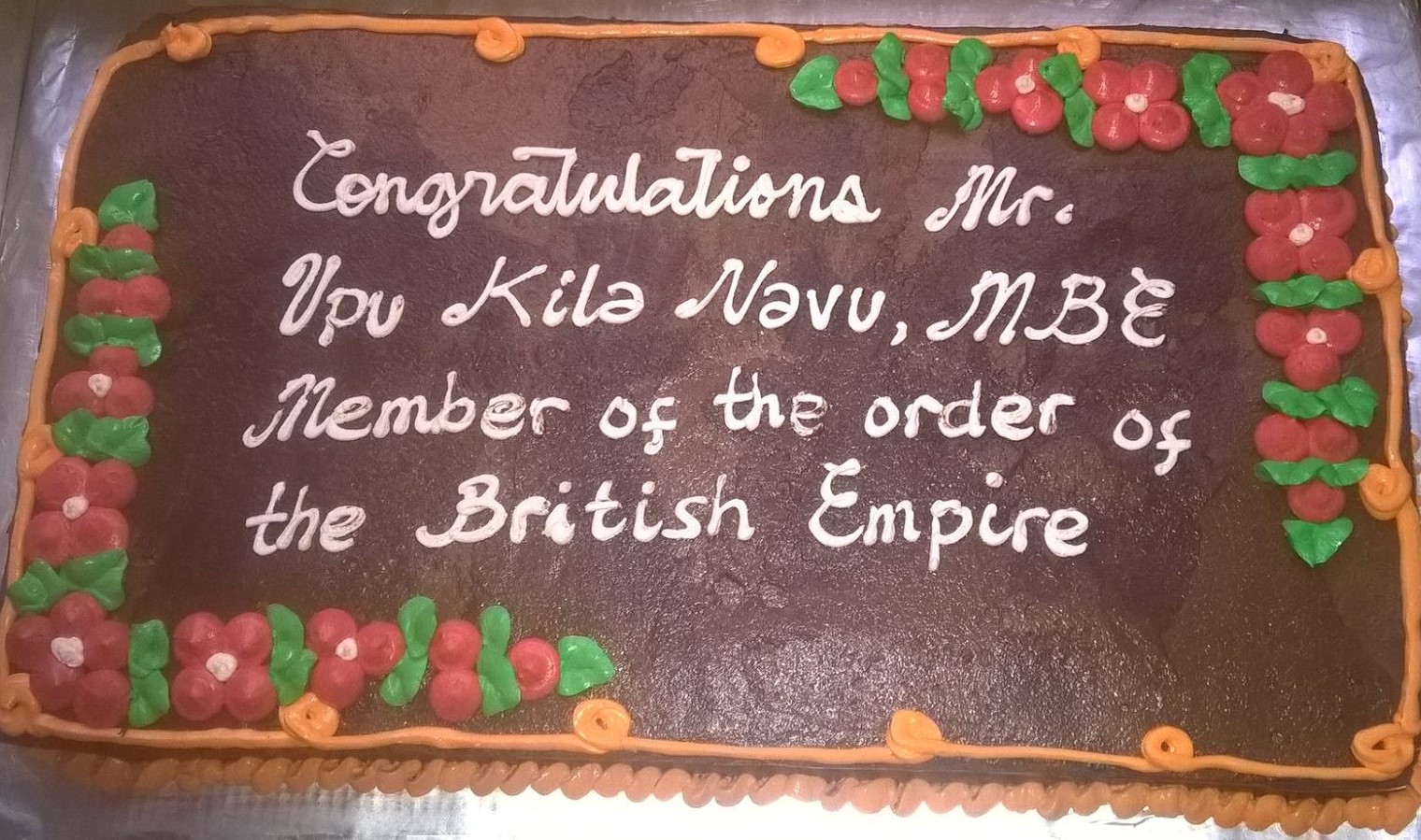 The Investiture was held on the November 29th and the medal was presented by our Governor General, His Excellency Grand Chief Sir Bob Bofen Dadae. It was a very solemn occasion, attended by several diplomats, including those from USA, Switzerland, and the Solomon Islands. It was also a very long ceremony, lasting about 4 hours. My own family also attended, which was really nice.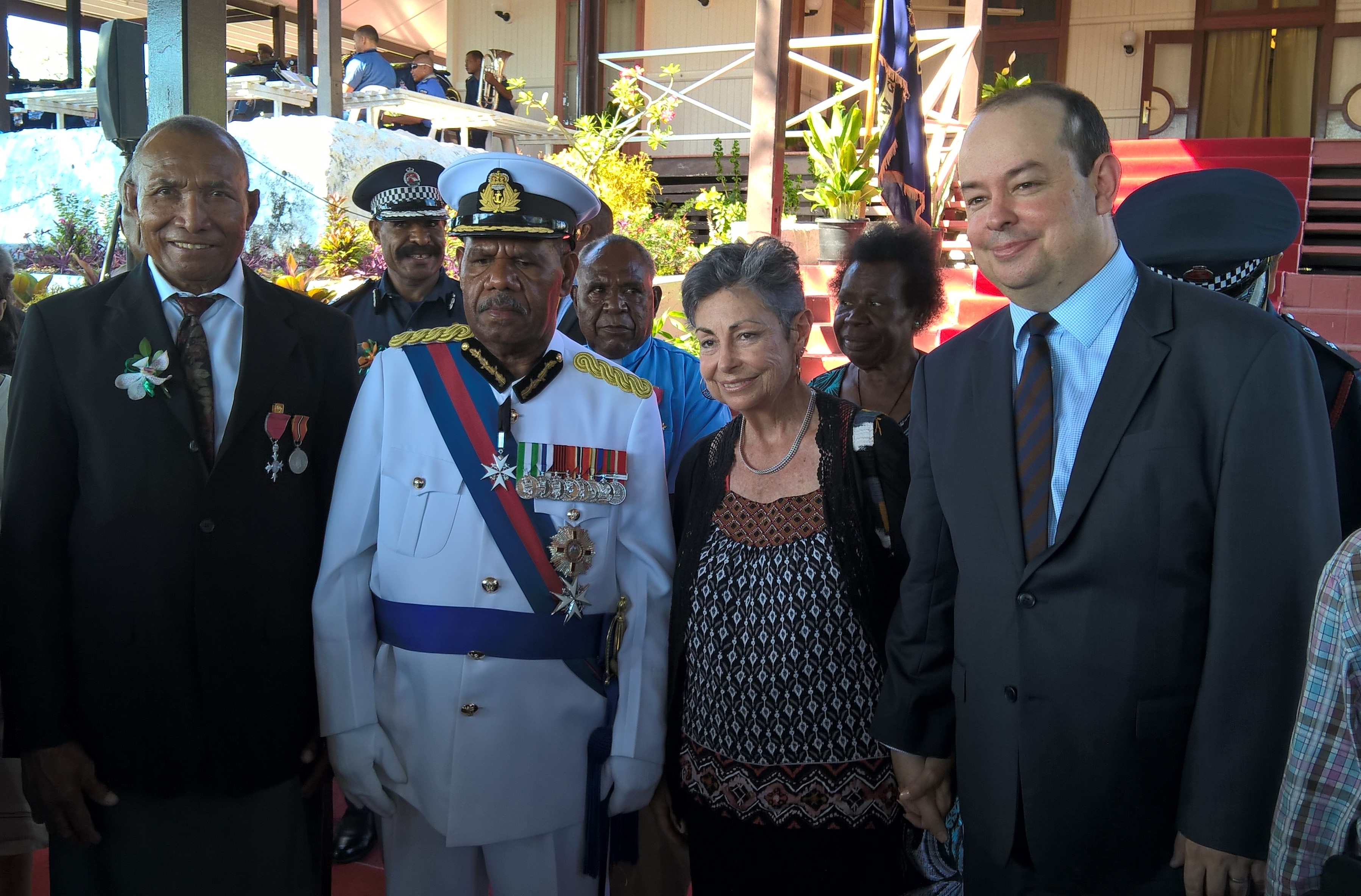 Upu with the Governor General of Papua New Guinea, His Excellency Grand Chief Sir Bob Bofen Dadae, Charmaine and son Cain
How did you meet Charmaine?
As I mentioned I met Charmaine at the Geological Survey where she was a geologist and I was a technical officer. She encouraged me to study geology and I got her into sailing. She had been a good surfer but had never sailed before. We ended up champion sailors in PNG and she was the Secretary of Fleet 405 at the Royal Papua Yacht Club.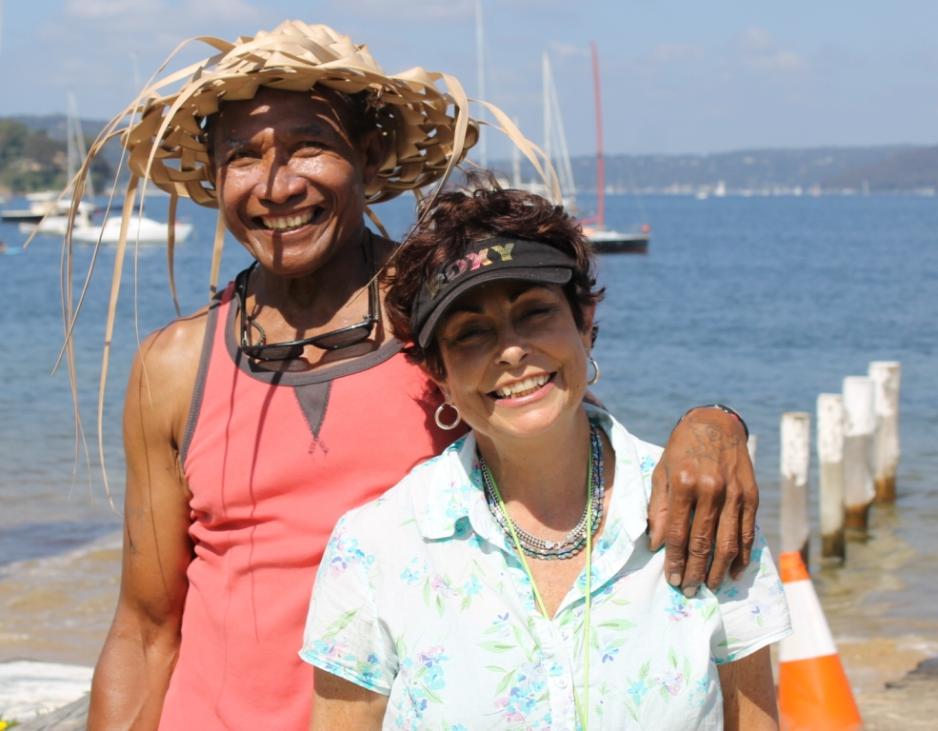 Upu and Charmaine at a PBSC Regatta in 2013
You are a long standing and respected member of PBSC – what are the best things about this club for you?
PBSC is a very old club. I enjoy the family atmosphere and the way many of us travel to regattas. It is also a very well respected club with many champion sailors. I have enjoyed helping the club grow from an esky in the park to now having the small facility in Iluka Road.
What do you enjoy most about the courses sailed on Pittwater by the PBSC?
Sailing on Pittwater is not a great place to sail, but it is a best place to train and sail because you race in different wind conditions, and you learn to use wind shifts and tactics. Most of our catamaran Olympic sailors have all sailed on Pittwater to improved their skills.
What are your favourite places in Pittwater/Central Coast and why?
I like to live near the water, so I can continue my catamaran sailing and continue to enjoy my fishing. We decided to live in Woy Woy, on the Central Coast as it is so close to the water and easy to travel to PBSC to race.
What is your 'motto for life' or a favourite phrase you try to live by?
My motto is "When you grow, good grow". It was something a friend used to say. He couldn't speak English, but we knew what he meant. Enjoy life, learn from my mistakes and be better in the future. I think I've done OK for a school dropout to where I am today, with my wife Charmaine, we are both enjoying retired life and living at Woy Woy.
Sailing Awards:
3 Team Bronze Medals - South Pacific Games, Hobie Cat Sailing

NSW Hobie Cat State Champion,

Australian Masters Hobie Cat Champion

2 x Australian Grandmasters Hobie Championships

3 x Finalist at World Championships, Hobie Cat Sailing.

Won few major events in NSW, Hobie Cat Sailing.
Other Awards:
Tenth Anniversary of Independence Medal - presented on 16 September 1985. For Services to Mining and Petroleum.

2018 - MBE, Member of the Order of the British Empire - Services to Sports, particularly Hobie Cat Sailing.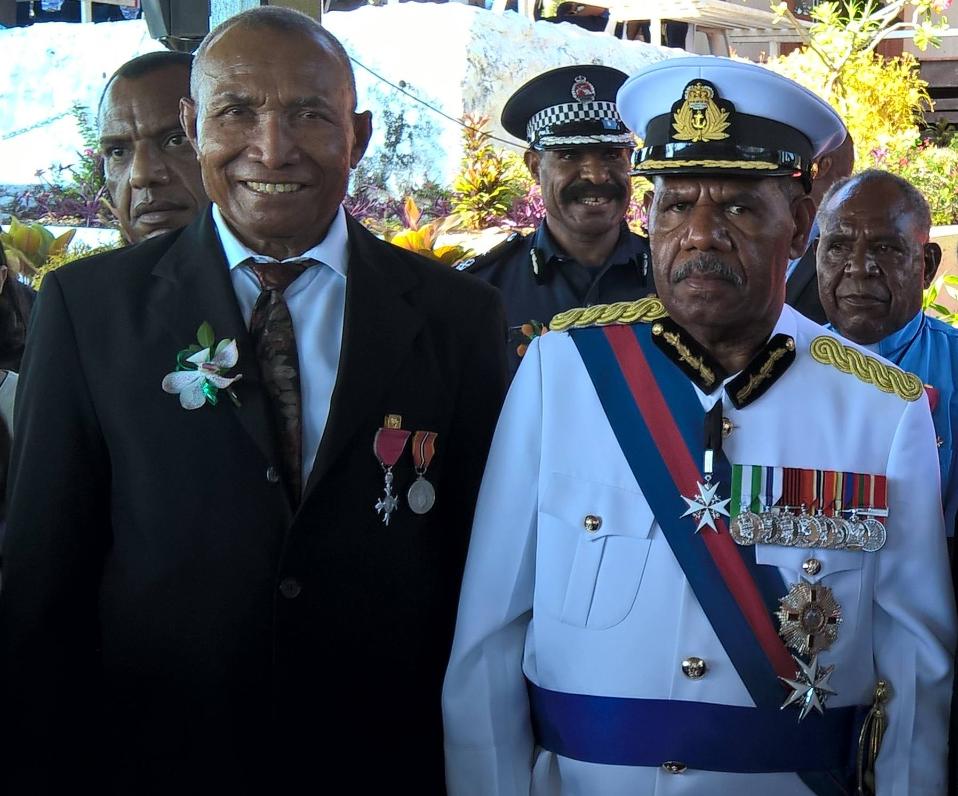 Upu Kila Navu MBE and the Governor General of Papua New Guinea, His Excellency Grand Chief Sir Robert Bofen Dadae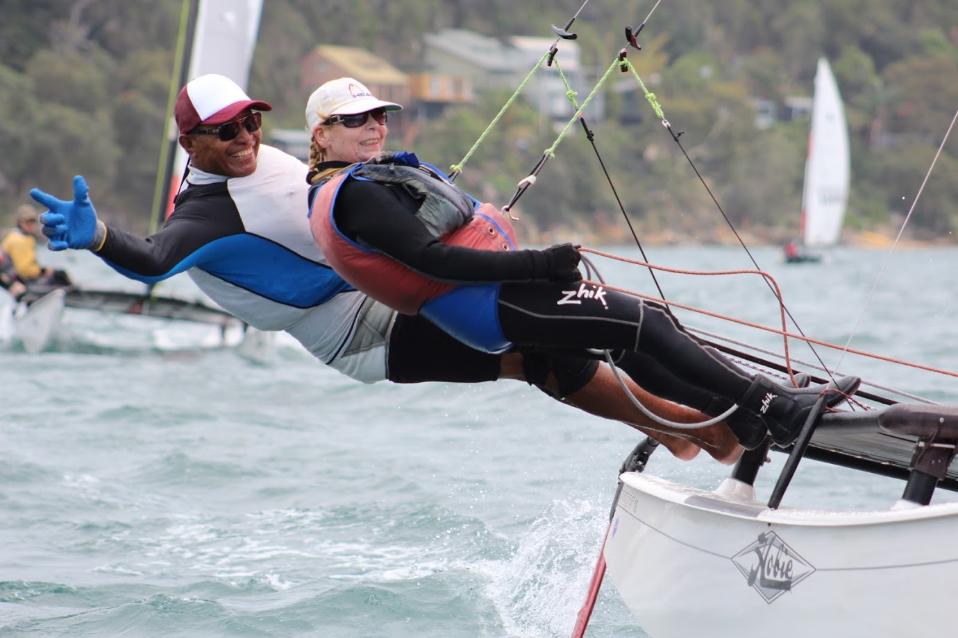 IN PBSC Beware the Bullets Regatta with Susan Miller-Duchatel